Pacsafe Venturesafe X Anti-Theft Sling Pack Review
Sleek, durable, and comfortable, the Pacsafe Venturesafe X Anti-Theft Sling Pack is a solid sling bag—plus it'll keep your stuff safe on the road.
Our Verdict
Unlock the Pro Summary
Save time. Get access to brief summaries of our reviews so you can browse and make decisions more efficiently.
Pros
Full of security features
Made of quality, durable materials
Great internal organization
Cons
One of the heavier sling bags we've tested
We have concerns about the longevity of some plastic components
When you lock the zippers, it may take a while to access your stuff
Recent Pack Hacker Video
Technical Details
Capacity

6l

Weight (lb)

1.01 lb (0.5 kg)

Dimensions

14.57 in x 7.87 in x 4.33 in (37 x 20 x 11 cm)

Notable Materials

Nylon, Polyester, Polyethylene, Dyneema®, YKK Zippers, Ripstop Nylon

Manufacturing Country

China

Warranty Information
Full Review
Get up to 15% off Pacsafe • Join Pack Hacker Pro
As you may have guessed by its name, the Pacsafe Venturesafe X Anti-Theft Sling Pack is known for its top-notch security features.

All of this bag's security features offer great peace-of-mind when traveling—which can be a stressful or scary experience at times. But the Venturesafe X Anti-Theft Sling Pack is also just a solid sling bag. It's a great size, comfortable to carry, and made of quality materials.
There is so much going on with this sling bag that this review is a long one, folks. So grab a cup of coffee or tea (or your beverage of choice) and let's take a closer look.
Materials & Aesthetic
At the time of this review, this sling is available in three colorways: Plum, Blue Steel, and Black. We're almost always partial to black, but we're particularly partial to the black colorway here. One of the best ways to stay safe while traveling is to blend in with the crowd, which isn't as likely with the two bright colorways that scream tourist. That said, you only live once, and if you're partial to purple don't let us stop you.
We also think the black looks quite sleek and sophisticated. It doesn't scream "security" either, which is a major plus.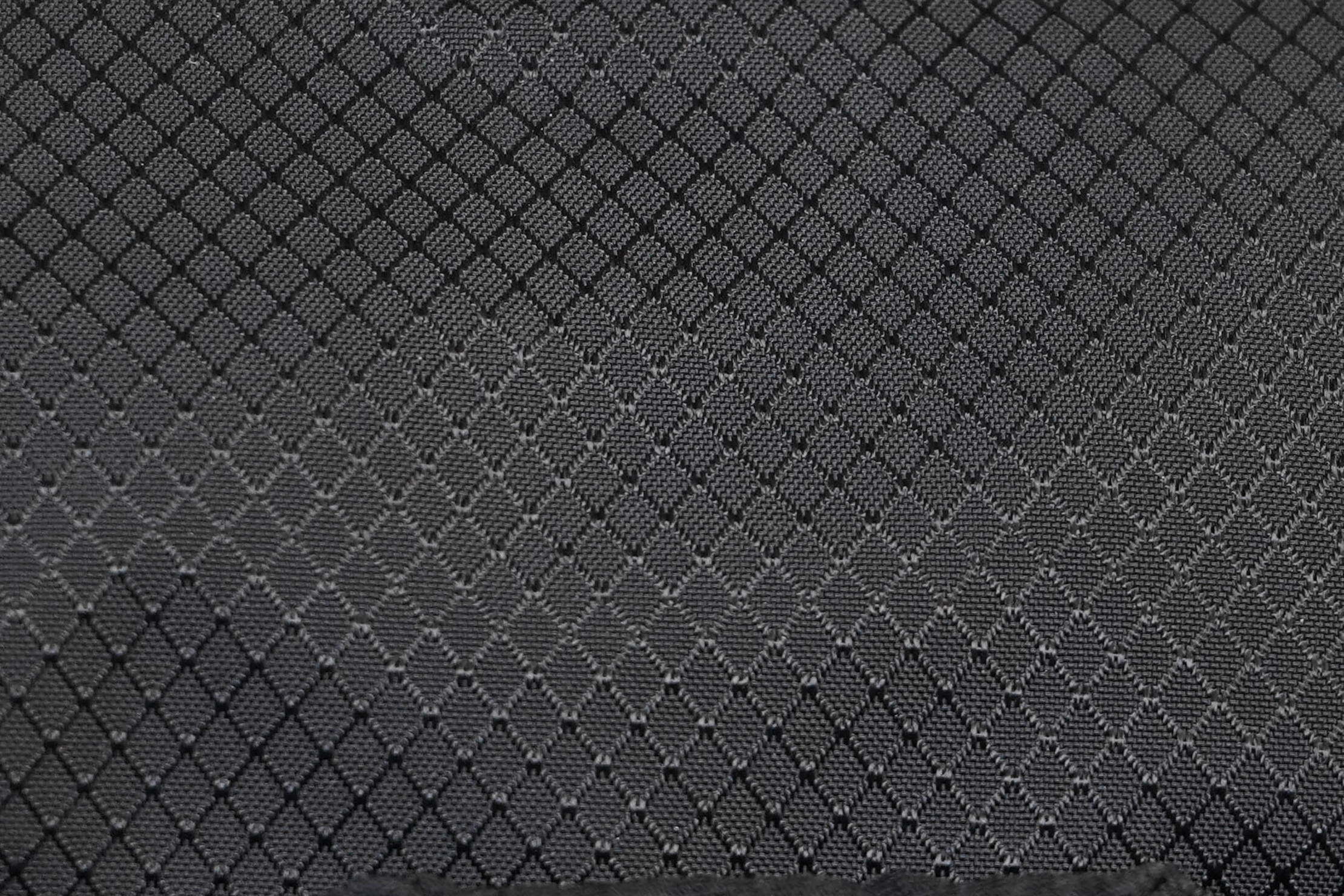 Its exterior is constructed from 210D Nylon Diamond Ripstop, which as the name suggests stops rips (so many minds blown). If you were to accidentally poke a hole in this bag—already an unlikely scenario with the durability of the fabric—the hole likely won't expand.
The pack is also coated with polyurethane, which adds water and abrasion-resistance while keeping this pack lightweight.
Still, with all of the security features, this is one of the heavier sling bags we've tested, clocking in at a little over 1lb. Not a dealbreaker, but something to note.

The zippers are all from YKK, so you shouldn't have any problems there. The external zippers are also lockable—more on that and other security features in a bit—and water-resistant. This thing won't keep your stuff dry if you take it underwater with you, but it holds up in the rain (and, yes, we speak from experience. Hello, autumn in London).
External Components
One of our favorite things about this sling bag is its strap. The folks at Pacsafe have innovated on the classic strap, turning it into something with features. Yes, this strap has features.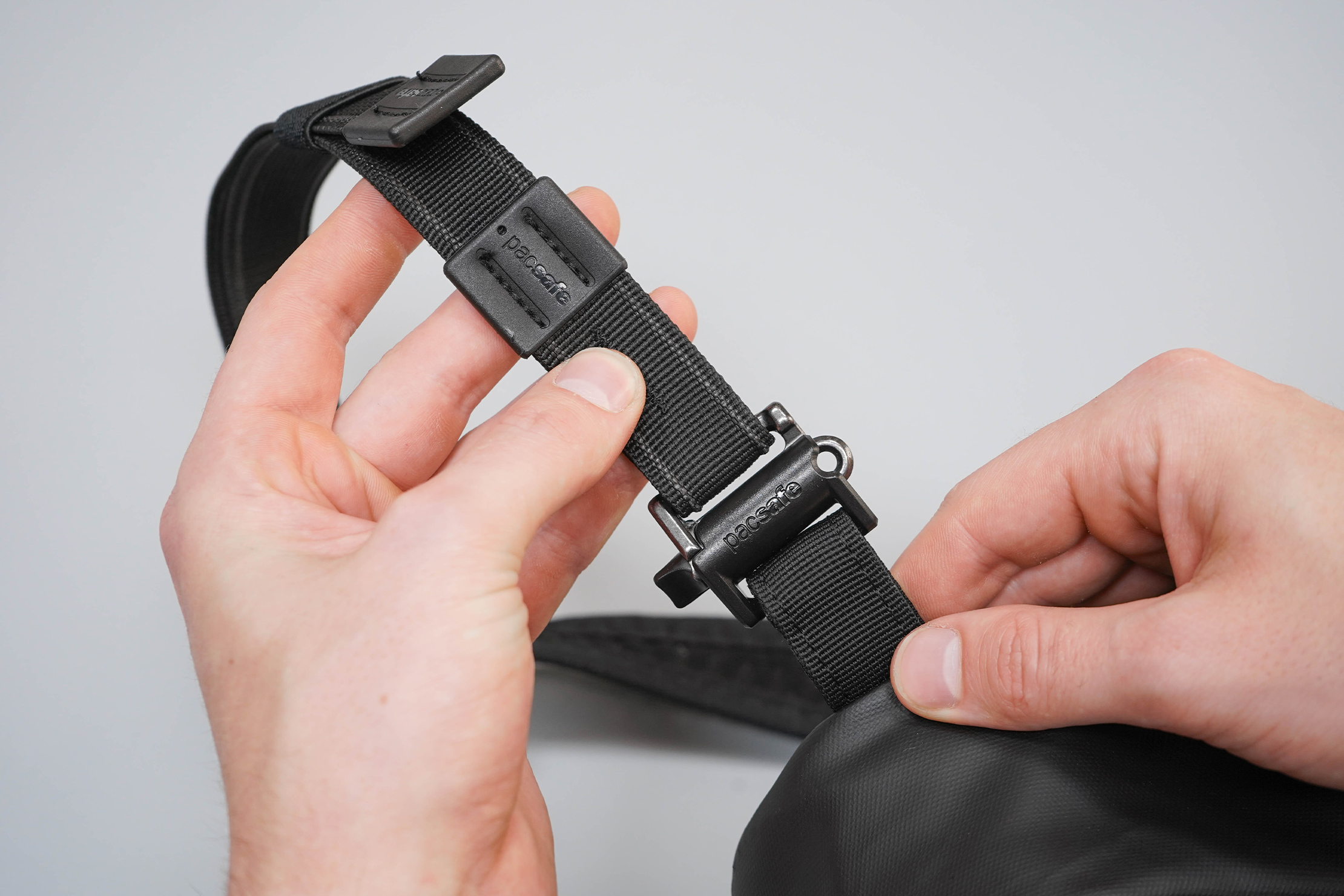 First of all, it can be anchored on either side of the bag allowing you to wear it on your left or right shoulder. Not only is this excellent news for lefties who are often ignored by sling bag manufacturers, but it's also helpful for everyone who plans on wearing this sling for hours at a time. Carrying all the weight of a sling bag on one shoulder gets tiring—it's super nice to be able to switch it up.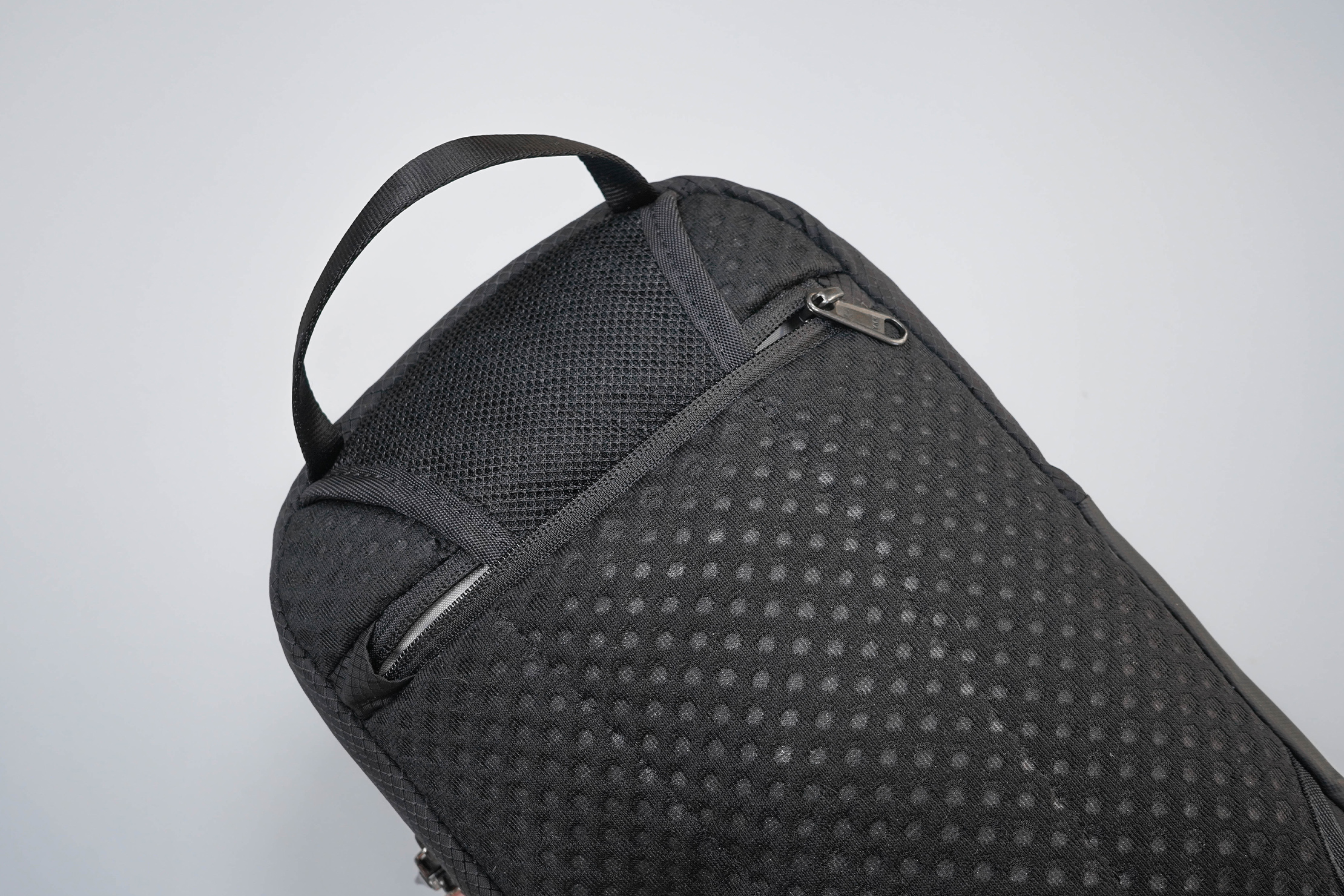 You can also detach the bottom of the strap and partially tuck it into the back pocket, turning this sling bag into a pseudo accessory pouch.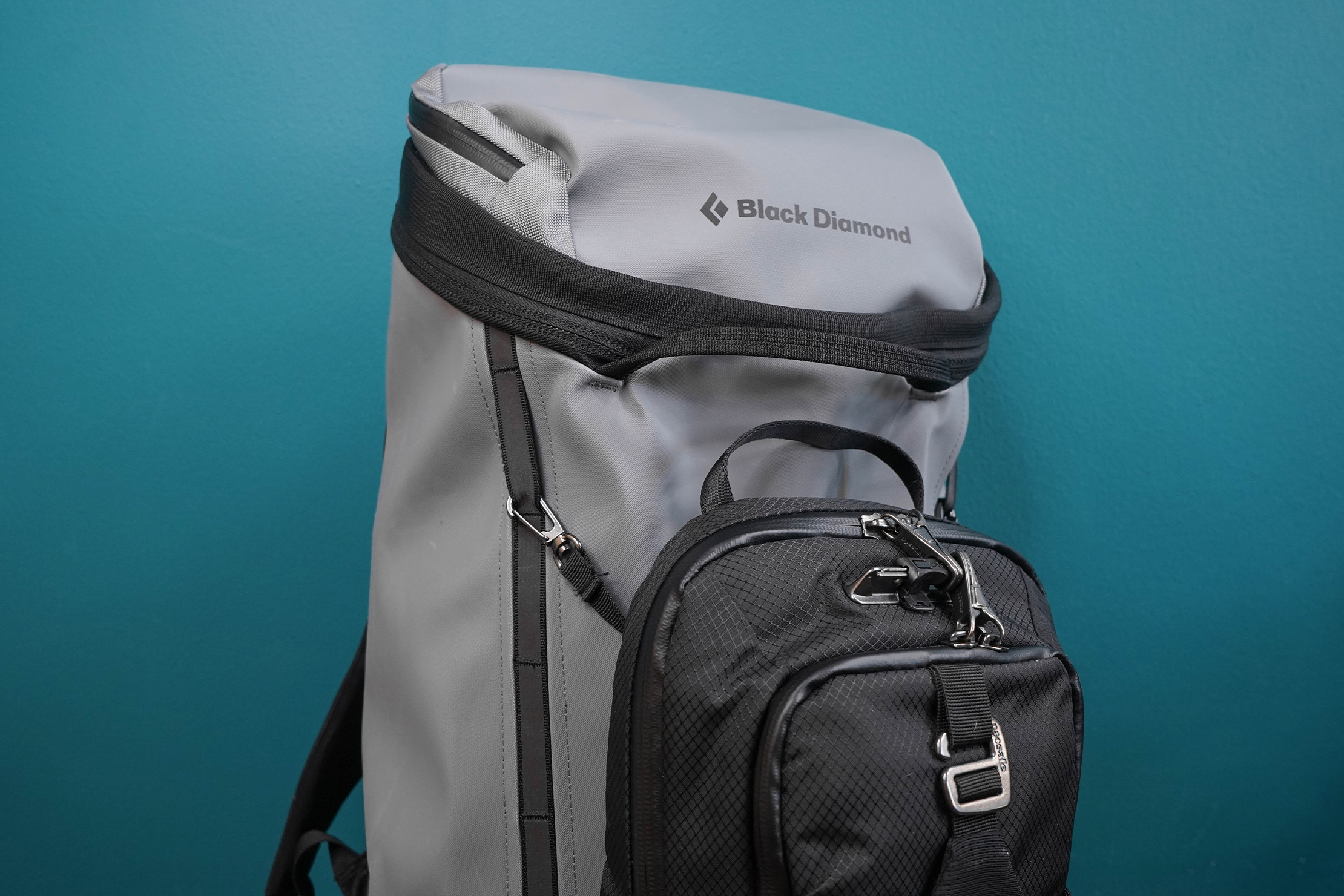 Plus, the folks at Pacsafe included two metal hooks so you can attach this sling to your larger backpack via daisy chains, webbing, or cleverly-placed carabiners. We've used this feature frequently—expanding the space of our commuter bag.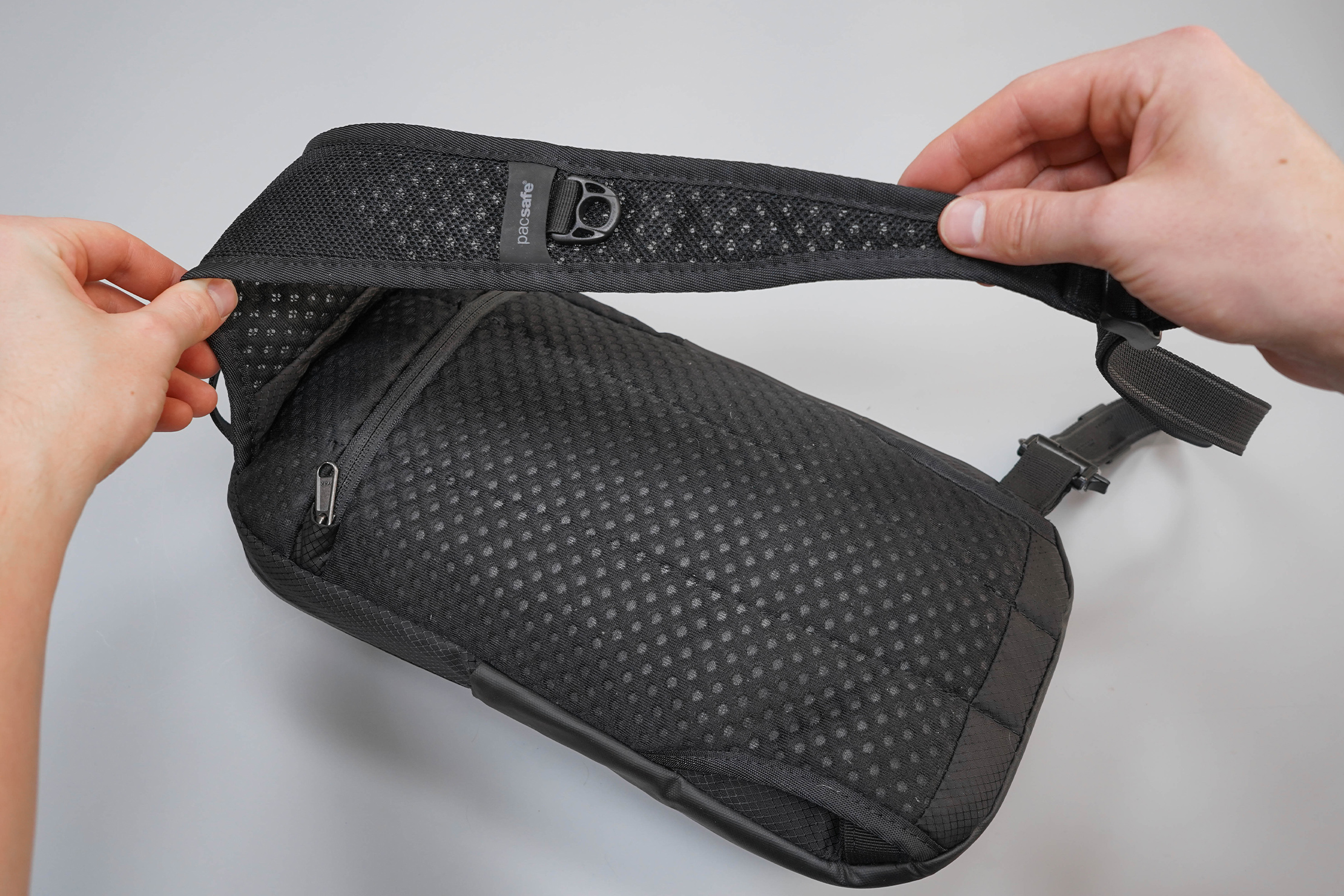 But wait, that's not all the strap has to offer (cue cheesy talk show host smile). It's slash-resistant (more on this later), has a small loop so you can attach a carabiner or whatever, and is surprisingly comfortable. It's slightly padded and features breathable mesh. The buckle isn't too unwieldy either, meaning it won't dig into your chest or back while you're wearing it.
The back panel boasts the same breathable, comfortable mesh as the strap. Of course, you'll never be able to escape sweaty backs on hot days—unless you're a robot—but this breathability does a great job of limiting it. We've tested this sling riding bikes on hot days and escaped without that dreaded swamp back. A major win in our books.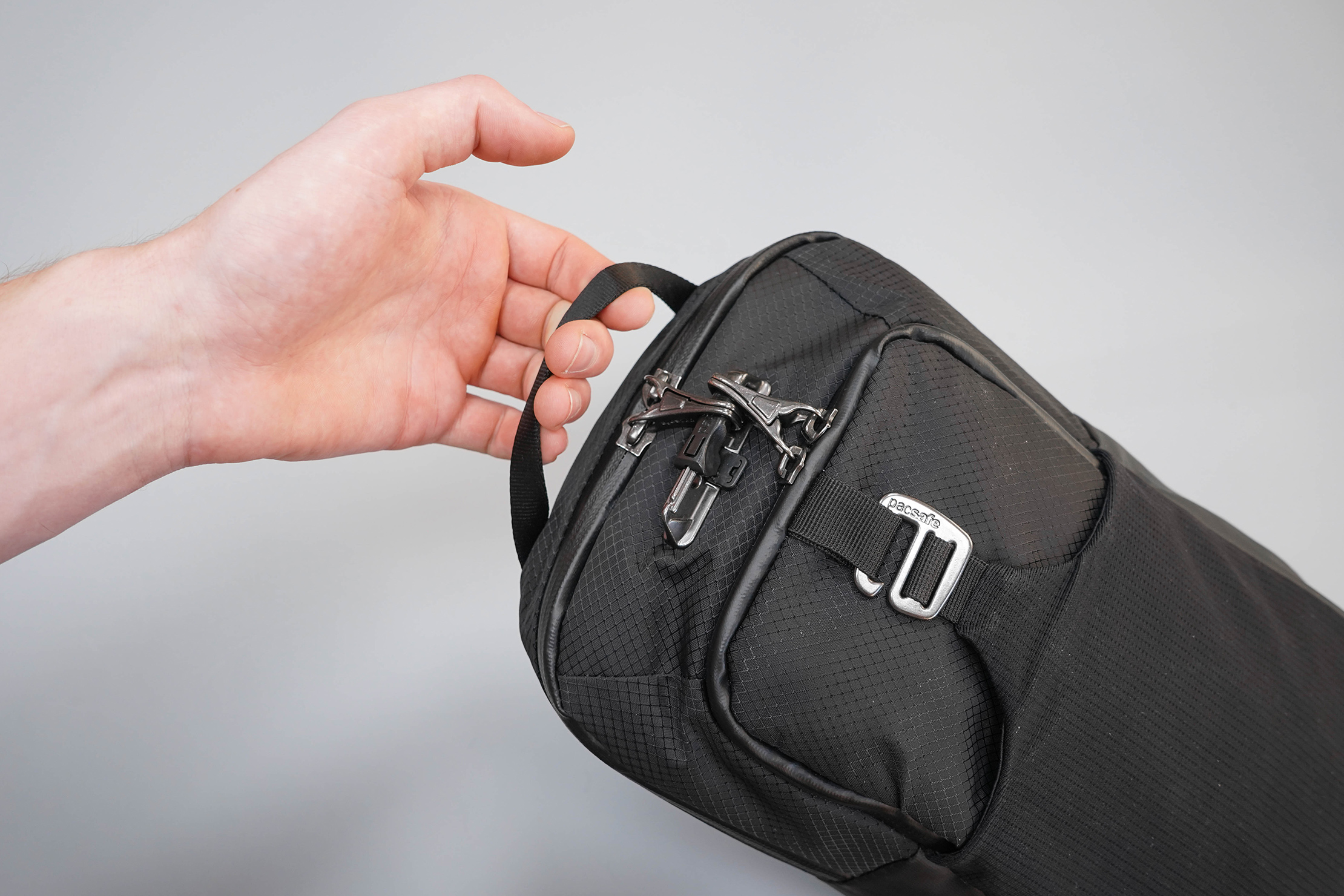 Finally, you've got the top handle, which is silky smooth and great for all handle-type things. Hang it up, grab it, even loop it through a lanyard around your neck if you'd like. You've got options, people.
Inside the Sling Bag
The Venturesafe X Anti-Theft Sling Pack has four pockets, two with prime security features.
The front mesh pocket isn't super secure—it closes with a g-hook after all—although it's made from slash-resistant eXomesh®. You're more likely to lose whatever you're storing in this pocket by dropping it than to a thief with a knife.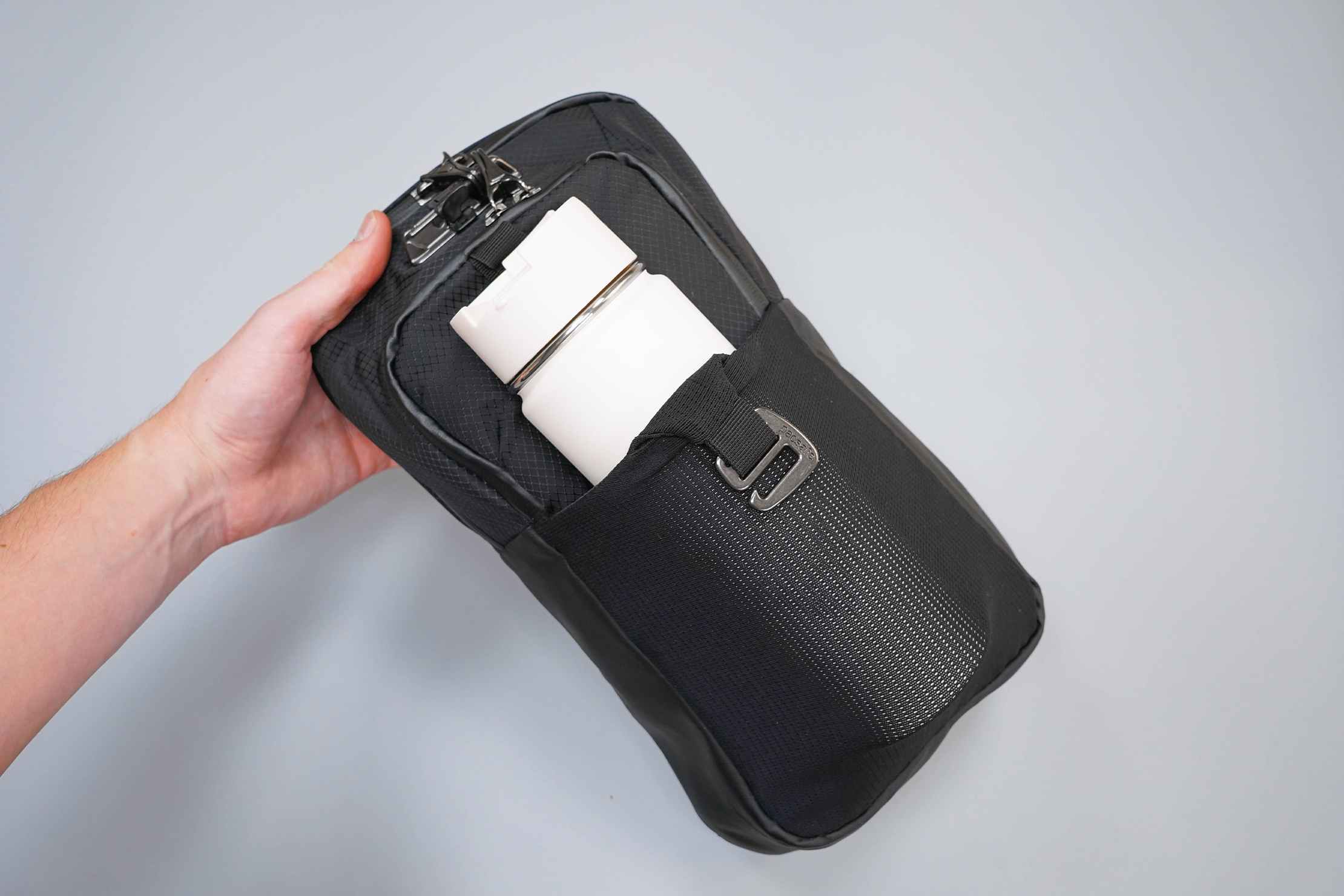 The eXomesh® is super stretchy, so this pocket fits a lot. It's a great spot for a jacket or water bottle.
On the opposite side of the sling, you'll find the back pocket. It's basically as deep as the sling is long with no internal organization, so it's not ideal for small items. The pocket sits against your body when you're wearing it, so it's secure in that way, though it's not lockable like the other two pockets in this bag.
Alright—let's talk about those pockets. As we just said, both of them are lockable (we'll discuss this more in a minute, we promise).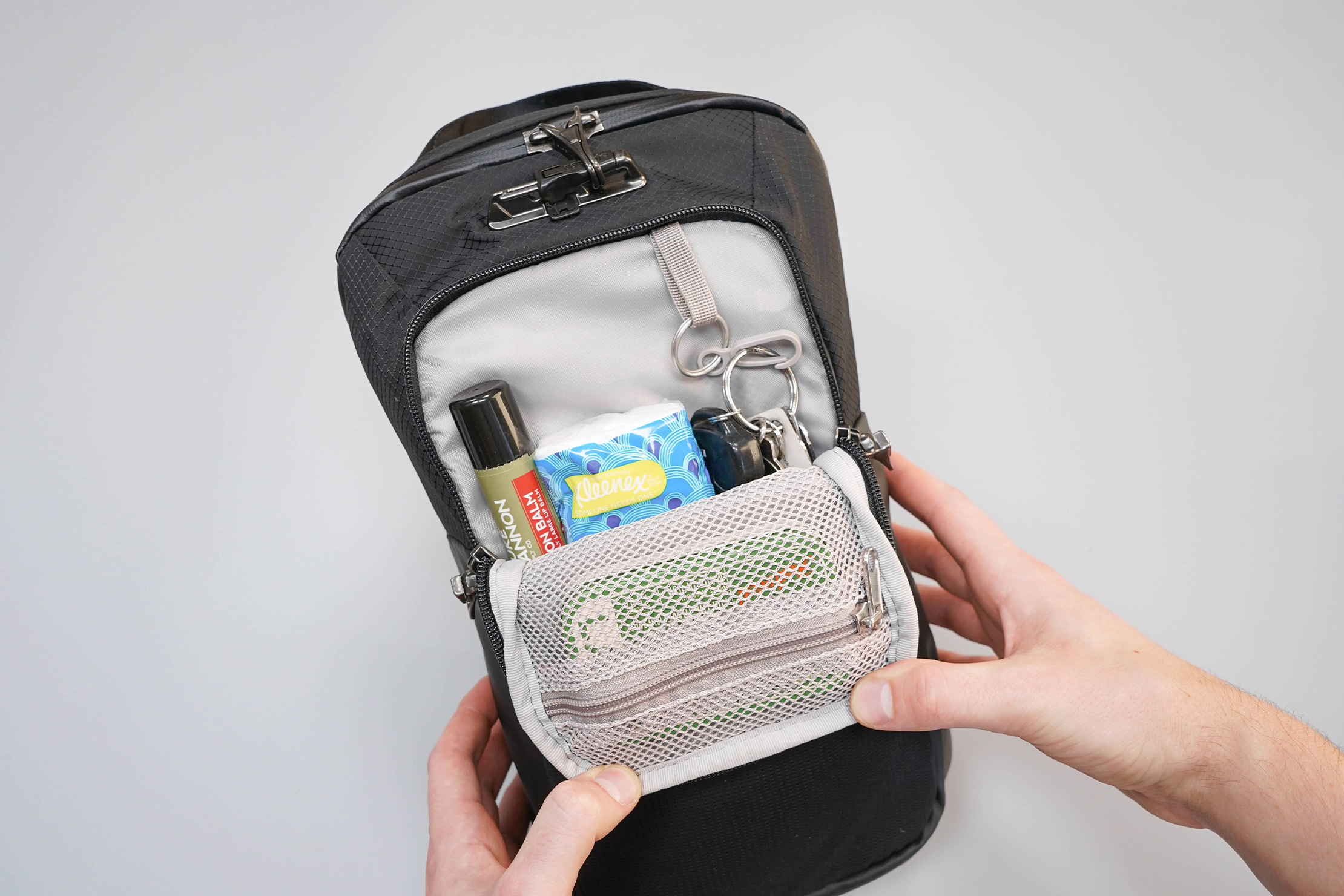 Starting with the front pocket—this one is also as deep as the bag is long. It has a small zippered mesh pocket to organize your smaller things—a pack of gum, headphones, earplugs, etc. It also has a key clip.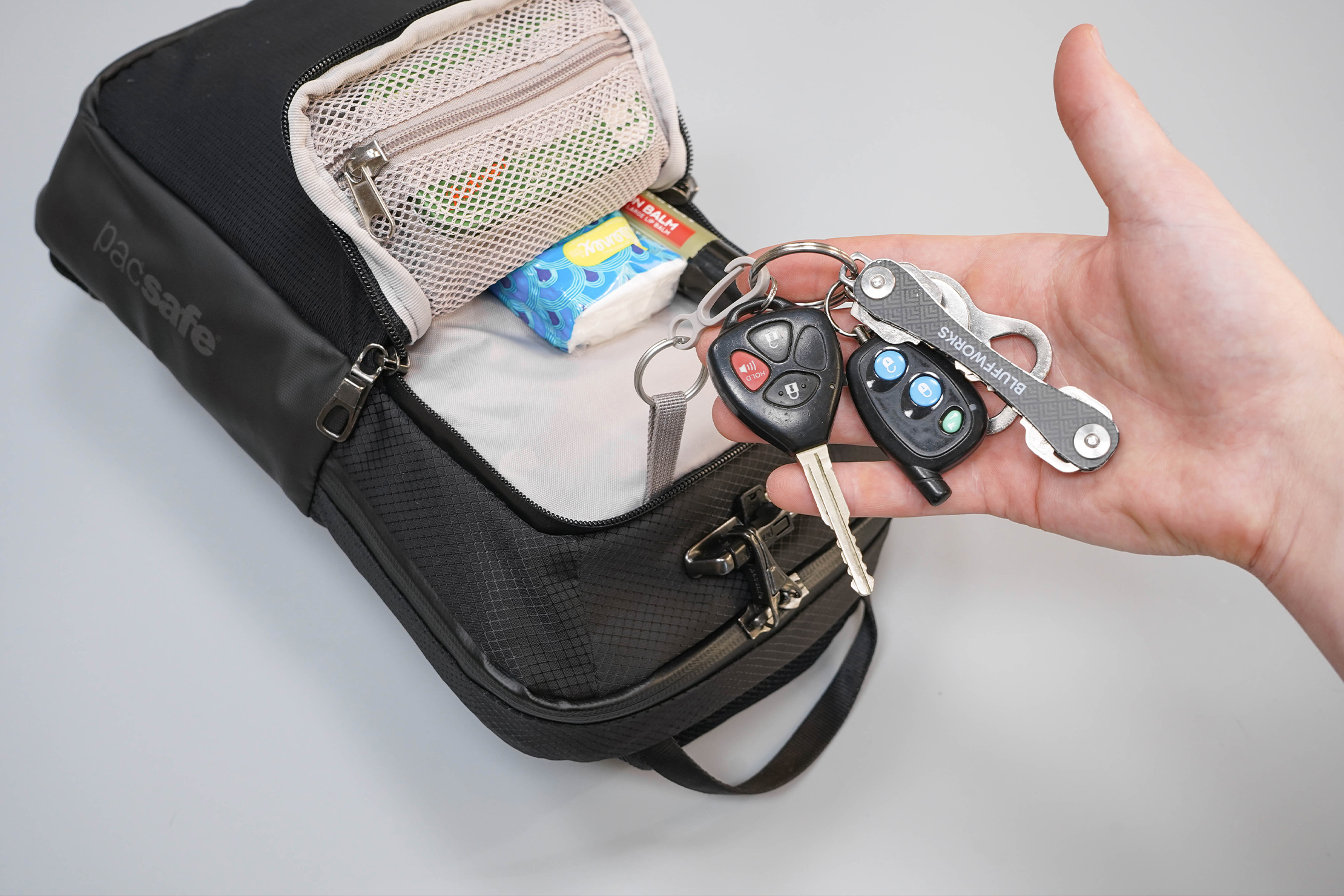 Having a key clip comes in handy on those trips when your keys become obsolete. Secure them to the clip, forget about them for the duration of your trip, and you won't have to go digging through your bag when you disembark to your home airport and need them to start your car. But this key clip is pretty weak, especially considering the high-quality materials used elsewhere on this pack. It's made of plastic and feels like it'll break after a few months of use. It's like the folks at Pacsafe just tossed it on last minute.
But we digress.
This pocket is super roomy—we've kept an umbrella, parka, and sunglasses here for day trips while traveling (weather be finicky, you know?).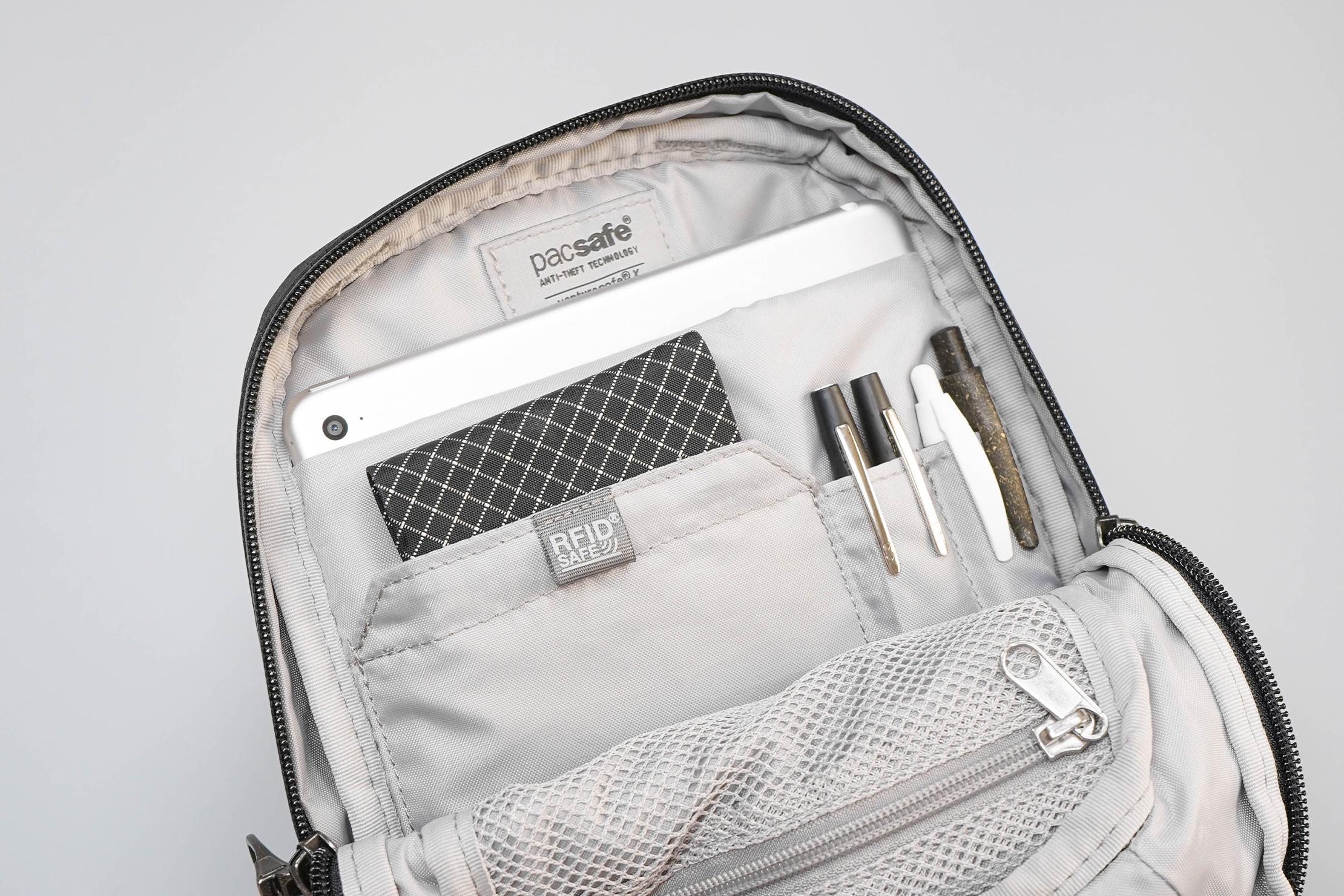 The last compartment is the main one, which is also quite cavernous. Seriously—you can fit a lot here. Plus, it has a good amount of organization. The back, padded sleeve will fit small tablets or e-readers. In front of that is the RFID safe pocket (again, we'll discuss this further in a minute). Even if you're not concerned about RFID crimes, it's a good spot for your wallet or passport. It fits multiple passports too—perfect for couples and families.
Next to the RFID pocket, there are two small pockets designed for pens, markers, or styluses (styli?). You could also stick a toothbrush here if you like to brush your teeth on planes or airports during long trips.
Opposite that, you'll find another zippered mesh pocket. Again, this is good for tossing smaller items.
And the open space is good for everything else—sweaters, books, maps, eye masks, journals, etc. You can even fit a water bottle, or two or three, in here. Which is definitely a plus.
At 6L, the Venturesafe X Anti-Theft Sling Pack is a great size. It'll hold everything you need for a comfortable transatlantic flight or a day out exploring.
Security Features
Alright, let's talk safety. This sling bag has so many security features going on, we're going to list them out for your reading pleasure.
An RFID-protected pocket
If you have a credit or debit card that can do contactless payments, it's possible your financial information could be stolen by a wrongdoer with an RFID-reader. While it's unclear how many of these financial crimes have been committed, keeping your credit card in an RFID-blocking pocket means you can be 100% certain that your information won't be stolen via radio frequencies. You can also toss your passport and hotel keycard in this pocket to ensure that information is protected as well.
Lockable Zippers
Pacsafe uses what's known as the Roobar™ sport locking system to make the two main pockets lockable. There are a few layers of security here and you can choose how secure you want to be. It's like a real-life Choose Your Own Adventure.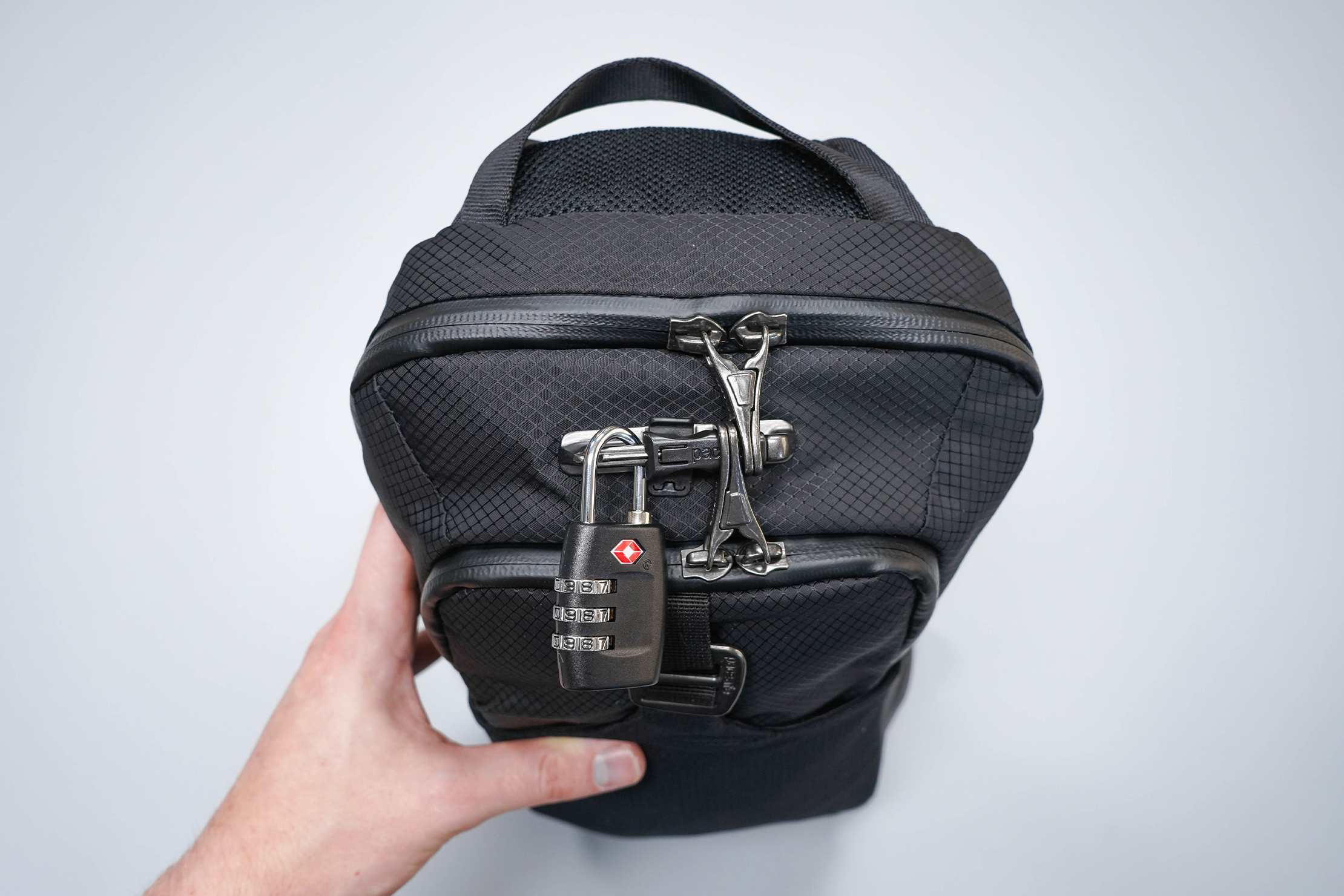 The zippers are interlocking. While it's easy to detach them from one another, simply interlocking them acts as a deterrent to pickpockets who are after the easiest targets. You could also slide a lock through the interlocked zippers for one more layer of security. (We suggest a TSA compliant lock.)
You can also hook the interlocked zippers through the Roobar™, slide it closed, and push down the clip. This is a real, solid deterrent for pickpockets. It takes seconds to undo—and that's once you know how to undo it.
If you want to go one step further—say you're in an extra-crowded area, you're carrying especially valuable items, or you've set the sling down and are taking a nap—you can put a lock through the bar and zippers. You can lock both pockets or one at a time.
Now, as aforementioned, undoing the locks is a process. If everything is locked up, it'll take you a few minutes to get in and out of these pockets. We don't suggest locking the zippers if you'll be accessing your stuff frequently.
You can always put all your valuables in one pocket, lock it, and keep the stuff you'll want to access quickly in the other pocket.
Slash-resistance
Let's be honest, even with a slash-resistant strap and mesh panel, it'll be pretty upsetting if someone attempts to cut your sling bag off of you while you're wearing it. But it's better to be traumatized with your passport and wallet then without them. The slash-resistance also comes in handy when you're not wearing the sling—see the next point.
PopNLock Security Clip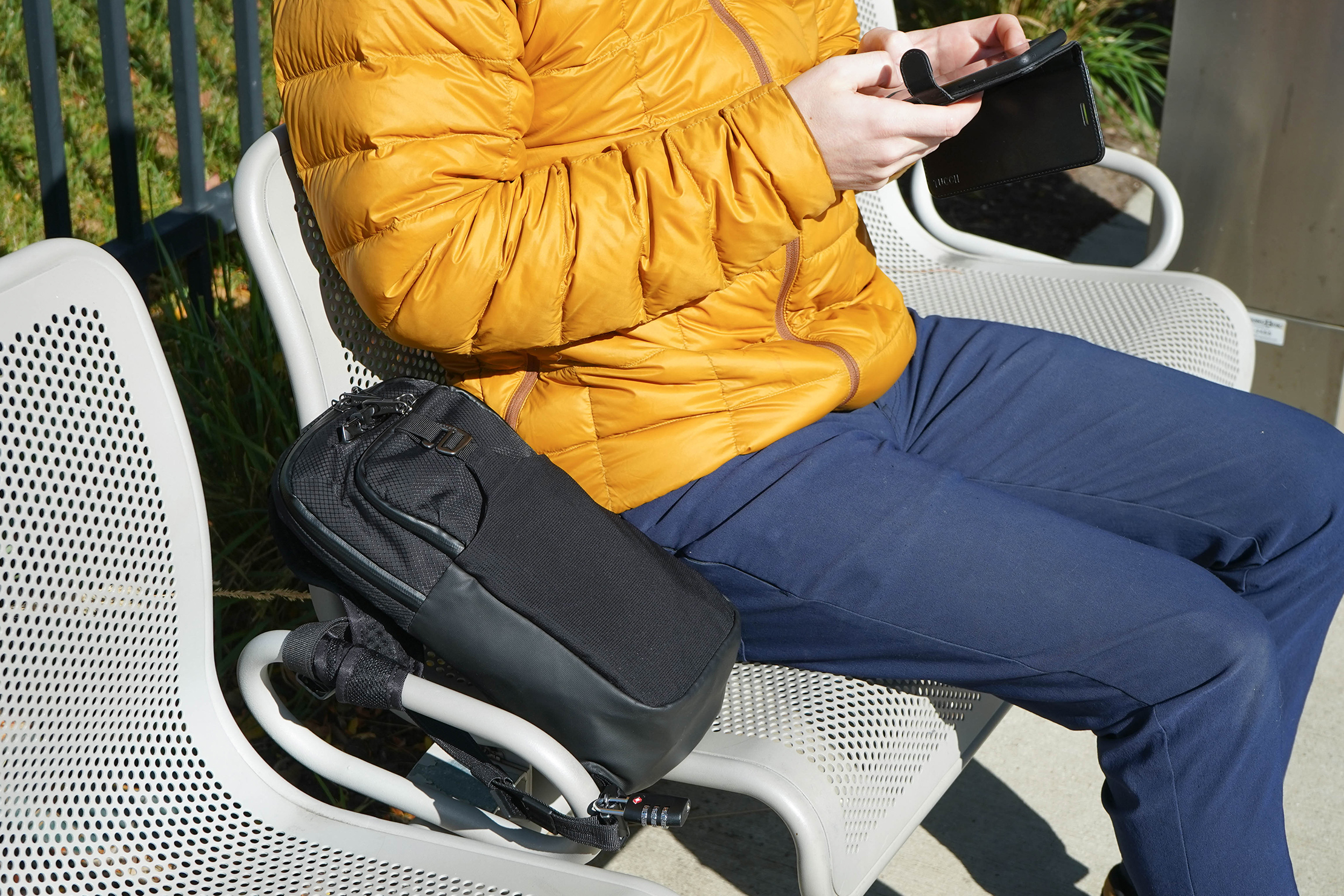 If you've ever wanted to take a nap while on a bus/metro/park bench by yourself then you'll love this feature. You can loop the strap through whatever solid item is nearby—the legs of a park bench, your armrest, a random pole—and use a lock to secure the attachment point. Since the strap is reportedly resistant to being cut, lock this sling to a secure object and it's unlikely that someone will be able to steal your pack. That said, you have to trust the quality of your lock.

Now some of the security features—like the PopNLock Security Clip—hinge on a small bit of plastic. If those break, this sling loses a lot of value. So hopefully those don't break.
Durability & Testing
We've been testing the Pacsafe Venturesafe X Anti-Theft Sling Pack for a month in Detroit, Michigan, as well as on a transatlantic flight to Germany and England. We like this bag. Even without all the security features, it's a nice sling. It's comfortable to wear, made of high-quality durable materials, and looks pretty sleek to boot.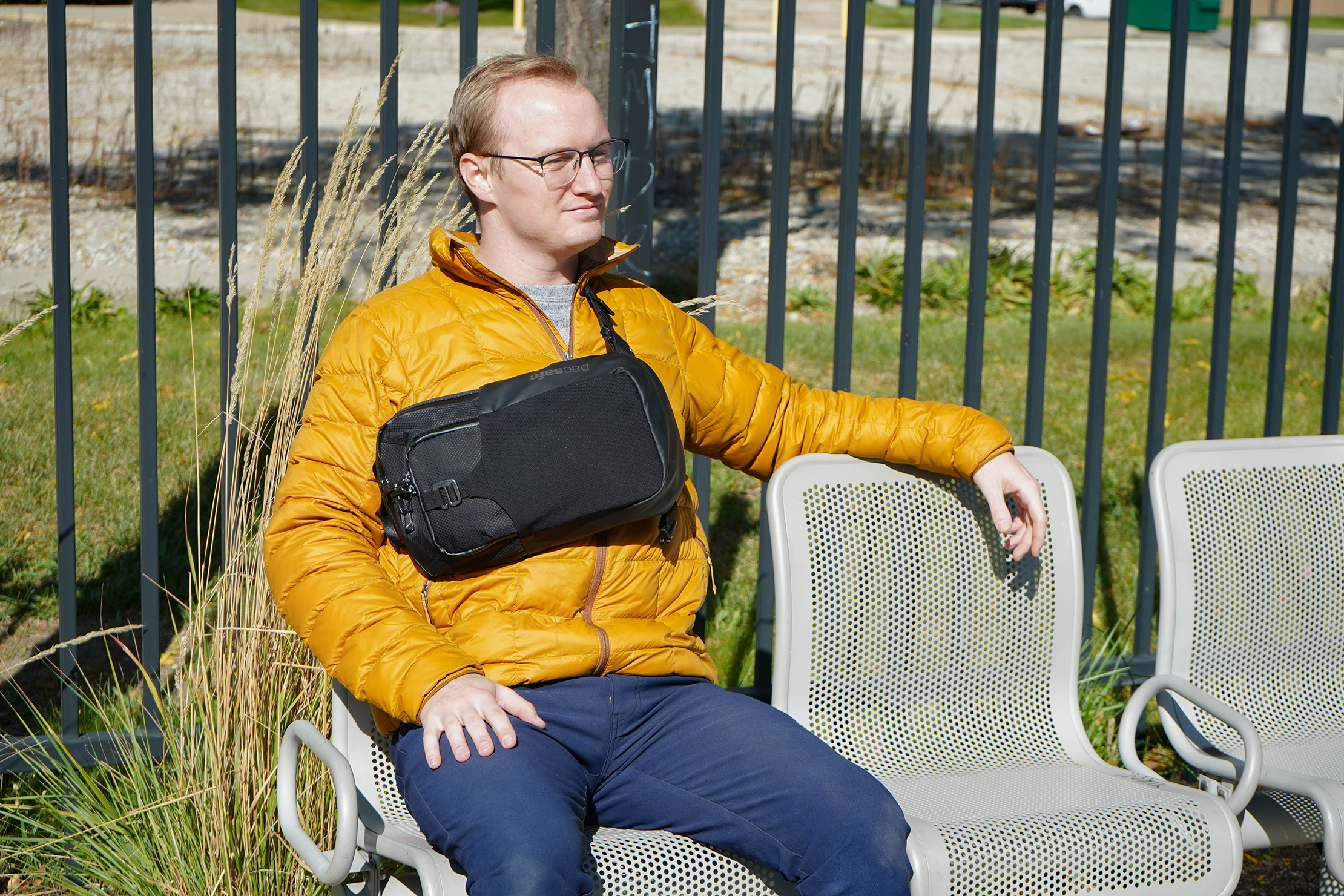 So far, we have no durability issues to report. And we expect it'll continue to hold up for a long time to come.
Usage Timeline
Initial Usage
Condition: Excellent
Shoulder strap can be switched for left or right handed carry
Three step security clip on front pocket keeps items safe
Slash resistant materials used in shoulder strap
2 Weeks of Use
Condition: Excellent
Loving this sling! It's comfortable and has solid internal organization.
1 Month of Use
Condition: Excellent
No durability issues to report
Access the Pro Community Discussion
Get your questions about the Pacsafe Venturesafe X Anti-Theft Sling Pack answered from our team and the Pro Community right here on the page. Plus, join discussions with other members about gear, guides, and more.
Other Bags & Luggage Reviews