Pacsafe Travel Packing Cubes Review
The Pacsafe Travel Packing Cubes have large capacities that make them great for long trips, though it's at the cost of general versatility.
Our Verdict
Unlock the Pro Summary
Save time. Get access to brief summaries of our reviews so you can browse and make decisions more efficiently.
Pros
20L and 9L sizes can store a lot of clothing
Dual zippers for flexible opening options
Mesh material's stretch means some expandability
Cons
Large sizes not fit for smaller travel bags
No compression zipper means space isn't maximized
Zippers sometimes snag around corners
Recent Pack Hacker Video
Technical Details
Capacity

20l

Large; 9L Medium

Weight (lb)

0.65 lb (0.3 kg)

Denier

75D

Dimensions

11.8 in x 15.8 in x 4.7 in (30 x 40.1 x 11.9 cm)

Large | 7.87 in x 11.8 in x 3.93 in

Notable Materials

Ripstop, Recycled Polyester, SBS Zippers

Manufacturing Country

China

Warranty Information
Full Review
Get up to 15% off Pacsafe • Join Pack Hacker Pro
Getting the right tool for the job often comes with the subtask of finding the perfect size. This is why you wouldn't use a sledgehammer to drive a nail into the drywall to hang the family portrait. Yes, you could technically get the job done with it, and it'll probably look super awesome on video. However, there's probably a more efficient—and safer—way to do it.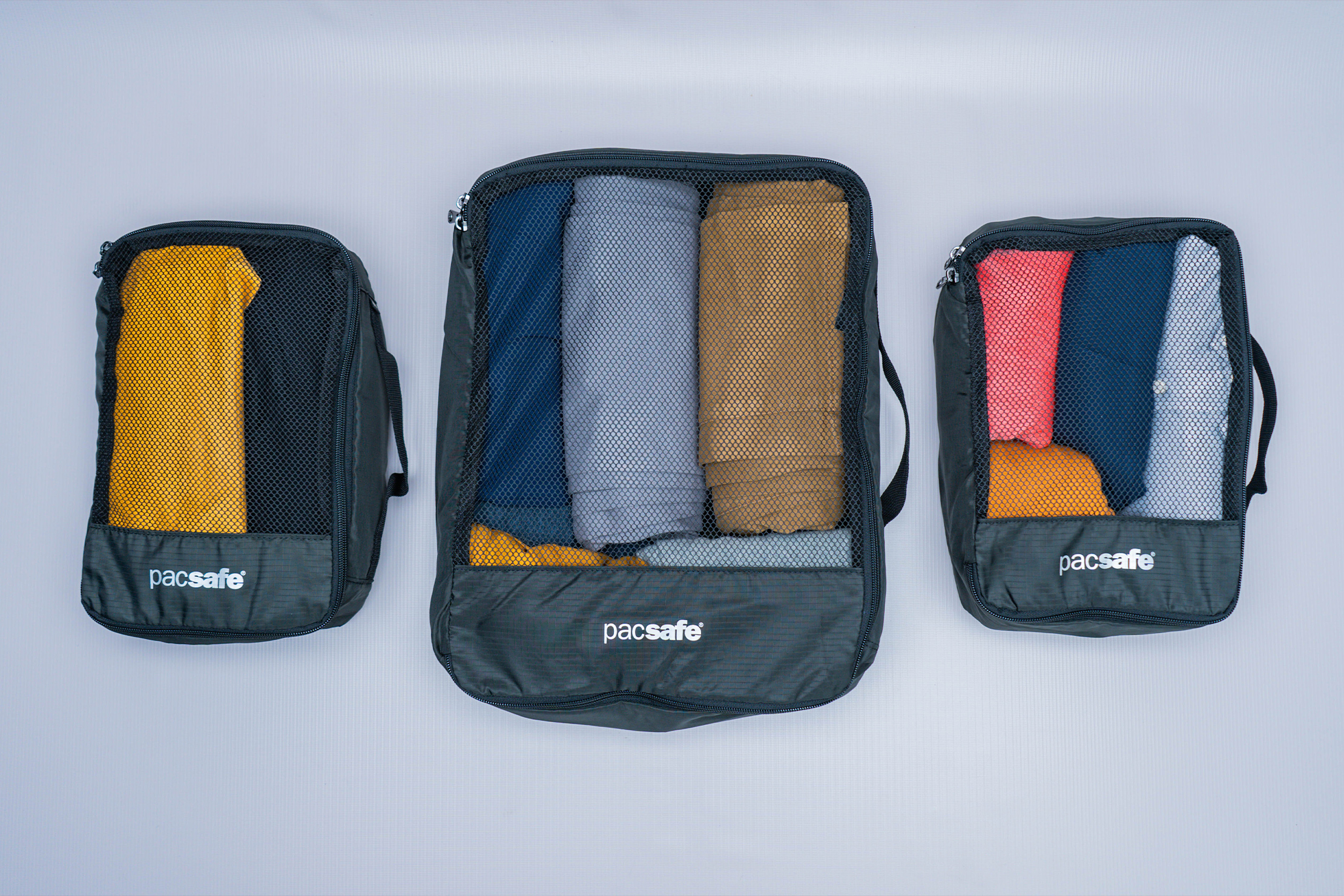 On the surface, Pacsafe's Travel Packing Cubes seem large—and that's because they are. Standing at 9-liters and 20-liters, both cubes can fit a ton of clothing, more than enough for a quick trip over the weekend. But what's the point of a packing cube that's almost as big as a daypack? Well, it turns out not all packing cubes are made equal, and some are better suited for particular situations than others. Join us as we explain the use case for these packing cubes. Who knows? The Travel Packing Cubes might just fit your needs.
Materials & Aesthetic
The Travel Packing Cubes are the textbook definition of what a packing cube typically looks like. Put in another way, Pacsafe went very conservative with their design. The corners are rather sharp, with the edges being shaped flat, making them an almost perfect fit for squared-off luggage. The approach is more practical than stylish, which we don't mind at all as we tend to put function over form.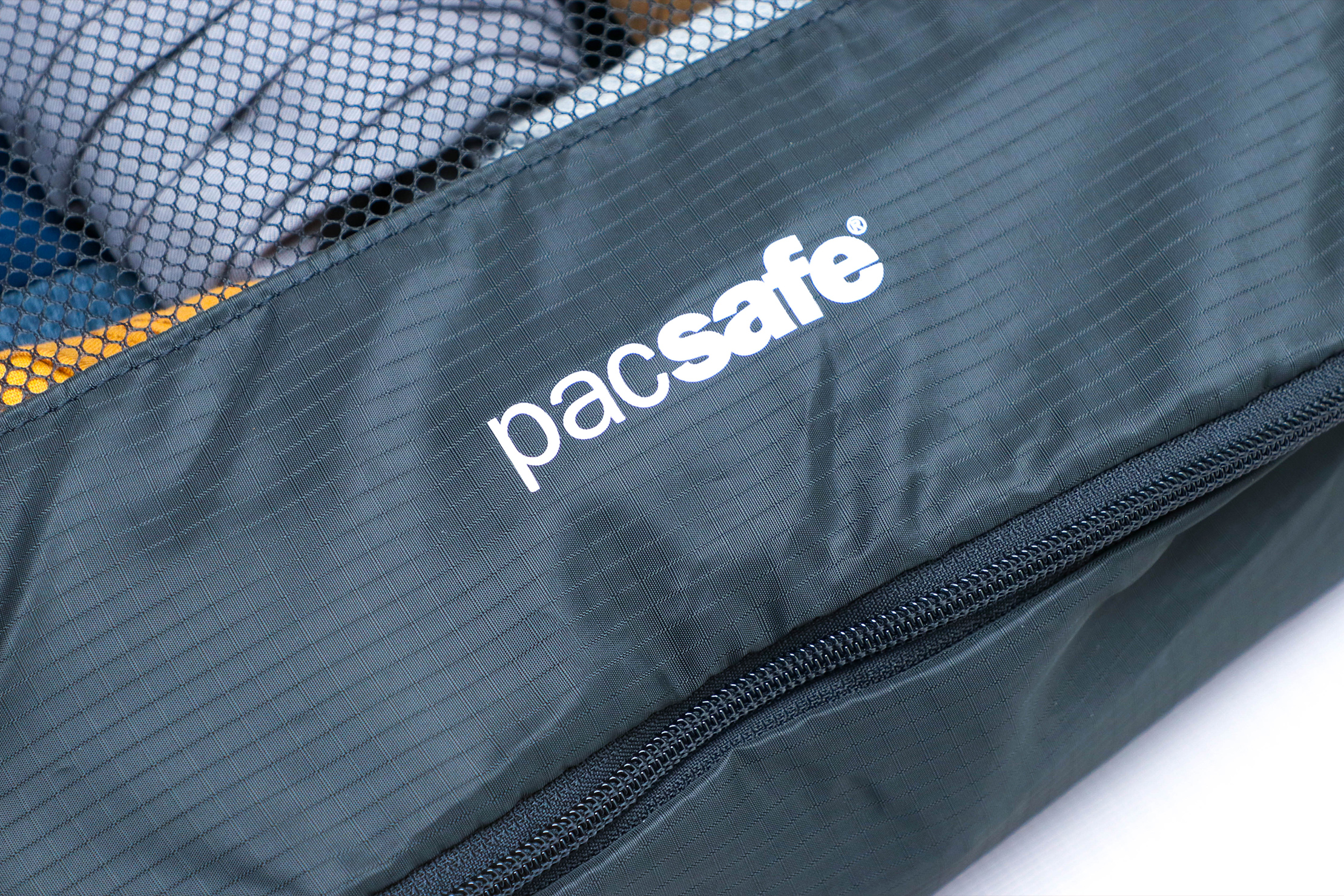 In case you're not satisfied with plain black cubes, good news: Pacsafe has got you covered. At the time of writing, there are two other colorways available: Citronelle and Pacific (that's yellow and light blue, respectively). We have to admit; those two are more fun to look at than the Black colorway, which we're sampling in this review. Plus, the brighter fabric on those two should make it easier to look for that one black sock that's always going AWOL.
For fabric, Pacsafe uses 75D recycled ripstop polyester. Yep, it's not ripstop nylon, it's ripstop polyester. We've seen this on other gear, such as the lightweight Travelon Tech Accessory Organizer, and the switch to lighter fabric does make a difference in saving space. That said, this fabric doesn't feel like it will just spontaneously fall apart in your hands. It's still ripstop, so tears and holes shouldn't deteriorate if they show up.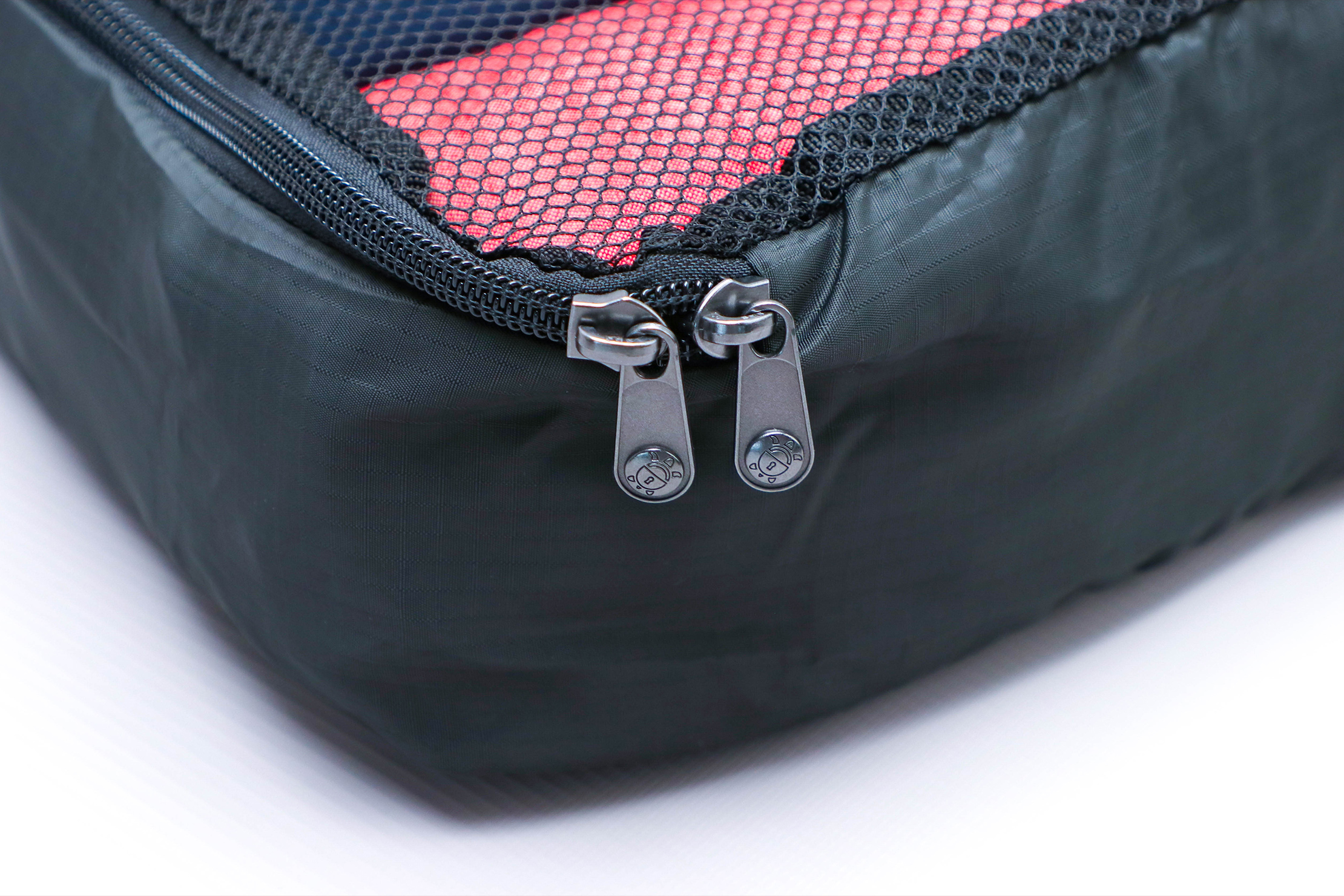 At the front, there's see-through mesh material for visibility coupled with a lower chin bar that bears the Pacsafe logo. Lastly, we have dual SBS zippers on both the 9L and 20L sizes, and they generally performed well. They're not perfect, though, as we've had instances where they'd snag around corners. For the full story on how these packing cubes perform, let's get into usage and features.
Usage & Features
Straight out of the packaging, the immediate impression we got out of these packing cubes is that they are huge. Between the 9-liter and 20-liter cubes, we were able to get an entire weekend's worth of clothing (with multiple outfit changes) into just these two cubes with plenty of room to spare. However, this two-size-only approach isn't the best for separating clothes and organizing them.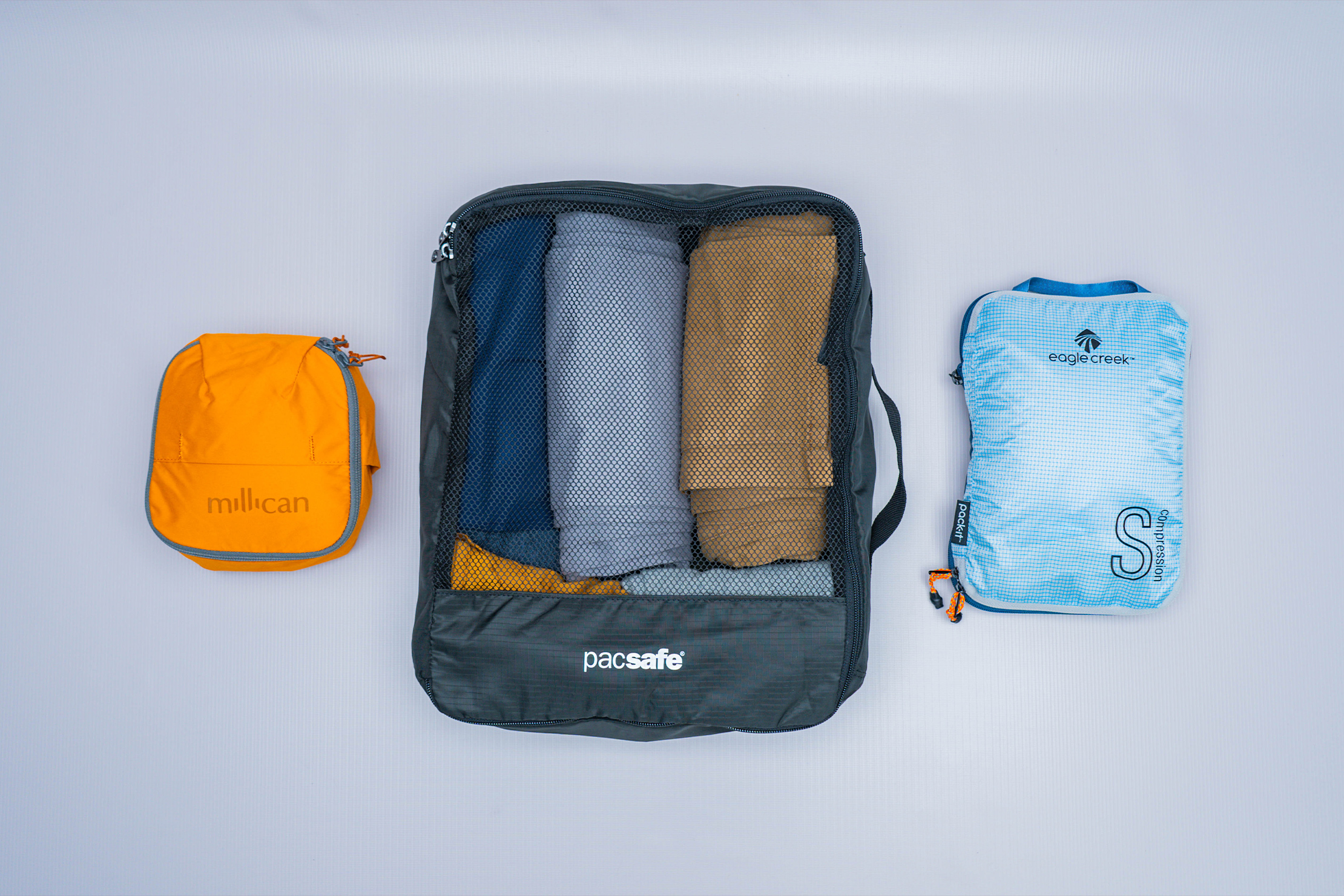 Consider this: the 9-liter and 20-liter cubes are enough to fill most of our travel bag. But with just two cubes, we were forced to put both our sweaters and pants in the 20-liter cube, while shirts and underwear went inside the same 9-liter cube. All of the clothes we needed fit, but we usually prefer separate cubes for different types of clothing.
This is where packing cubes with more granular sizes have an advantage. For example, the WANDRD Packing Cubes come in 1.5-liter, 2.7-liter, and 4.75-liter sizes, while the Osprey Ultralight Packing Cube Set also comes in a similar three-size set. The small cubes are great for underwear and socks, the medium cubes are for shirts, and the large sizes take care of the bulkier stuff like pants, sweaters, and towels.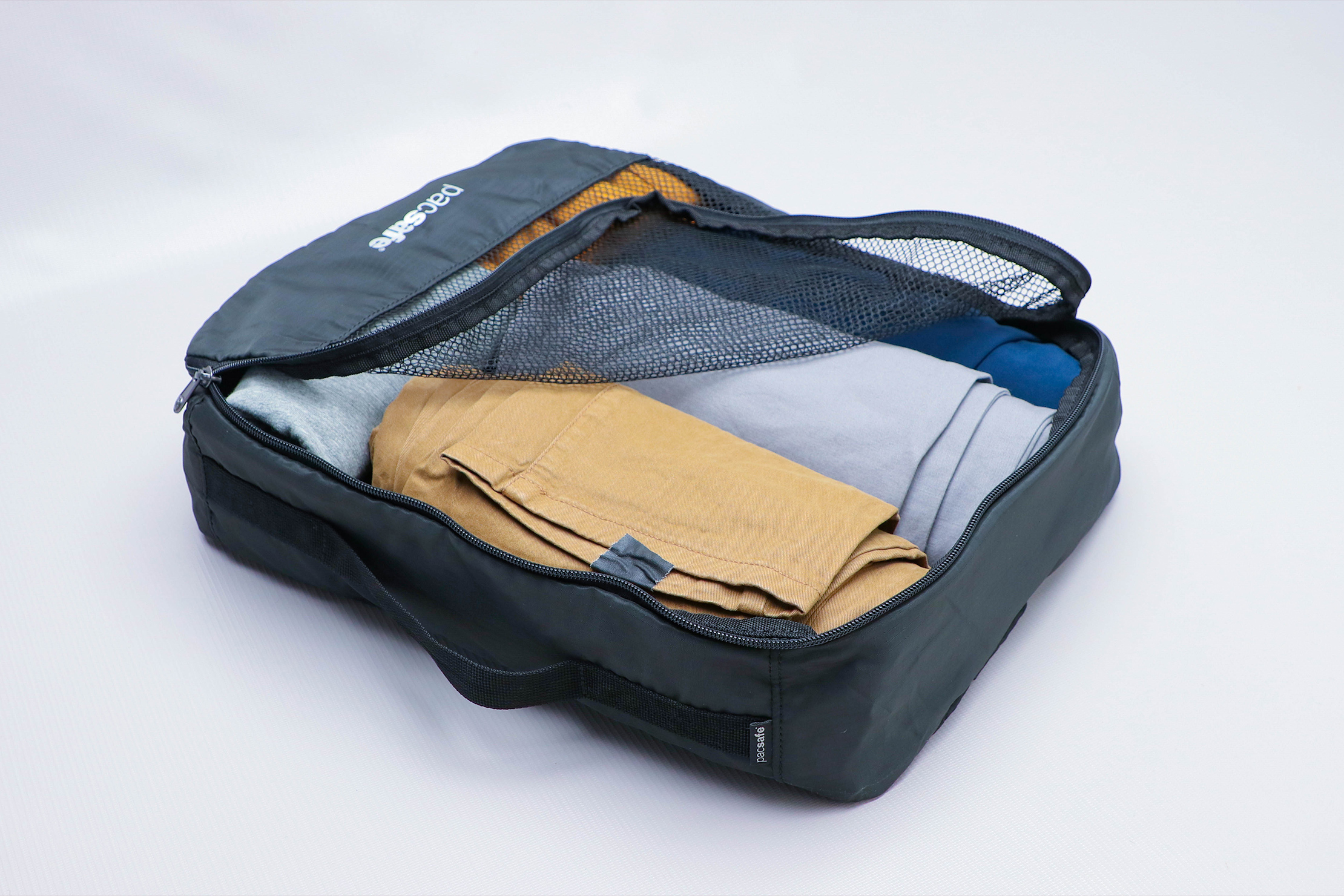 The good news is that these large-capacity cubes are a perfect match for those who are looking to haul a ton of clothes with them for a long trip. The 9-liter cube will easily hold a week's worth of socks, and so will the 20-liter cube with rolls upon rolls of shirts. You won't need to stop by the local laundry shop if you're packing this much clothing, even on a week-long trip.
While capacity isn't an issue with these big packing cubes, actually getting clothes inside them is a different story altogether. Fortunately, the Travel Packing Cubes come with a fully clamshell design, which means the entire front folds over neatly. This makes for completely unhindered access for clothes, and in our experience, we had no trouble getting even stiff denim jeans and puffy jackets inside. Thanks to the mesh material at the front, everything inside is quite visible once you've finished filling the cubes with clothes.
Where we did encounter an issue is with zipping and unzipping the cubes. First off, we're glad to find that there are dual zippers on both cubes. Some cubes, like WANDRD's, only come with one zipper for each cube. This limits the opening and closing to just one direction. With dual zippers, though, you can position them anywhere along the elements, depending on where you want them to start unzipping.
The problem with these zippers is that they often get caught around the corners. Thankfully, none of them have completely jammed, but we often had to use both hands to fully zip and unzip these cubes. Given how large these cubes are, two-handed zipping and unzipping wasn't the best experience.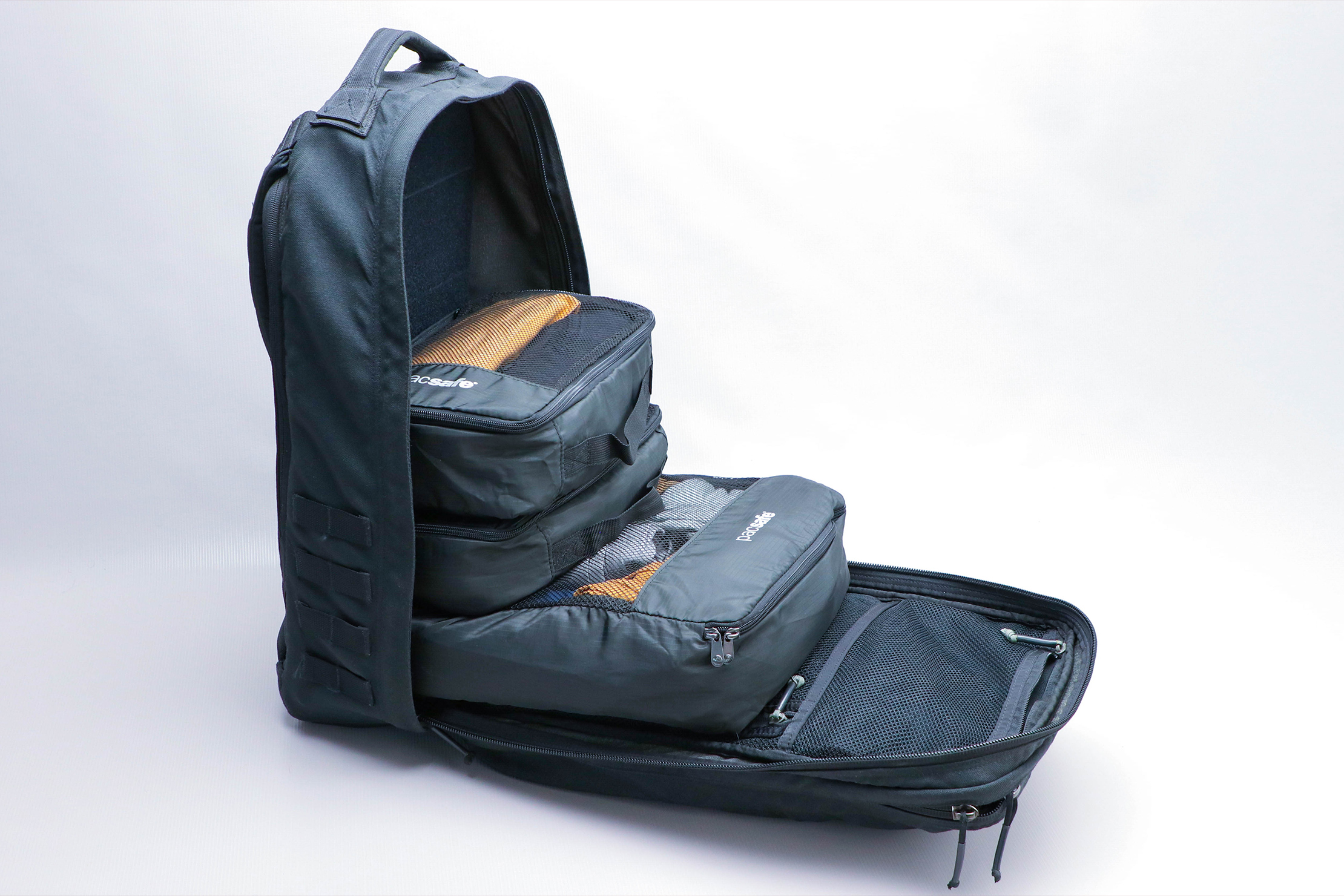 As mentioned earlier, these large cubes take up a lot of space inside even large bags. Unfortunately, they lack a means of compression to really tighten them down and shave off any excess bulk—this is one feature that we really would have liked to see on these cubes. A square inch saved here and there adds up, and it could mean the difference between having a Dopp kit and leaving it at home.
On the opposite side of things, the mesh material at the front actually has a fair amount of give, which allows you to pack even more clothes inside the cubes. So while you can't compress these cubes, you can overpack them rather tightly. Of course, if you do overpack them, they tend to bulge out and prevent them from stacking neatly.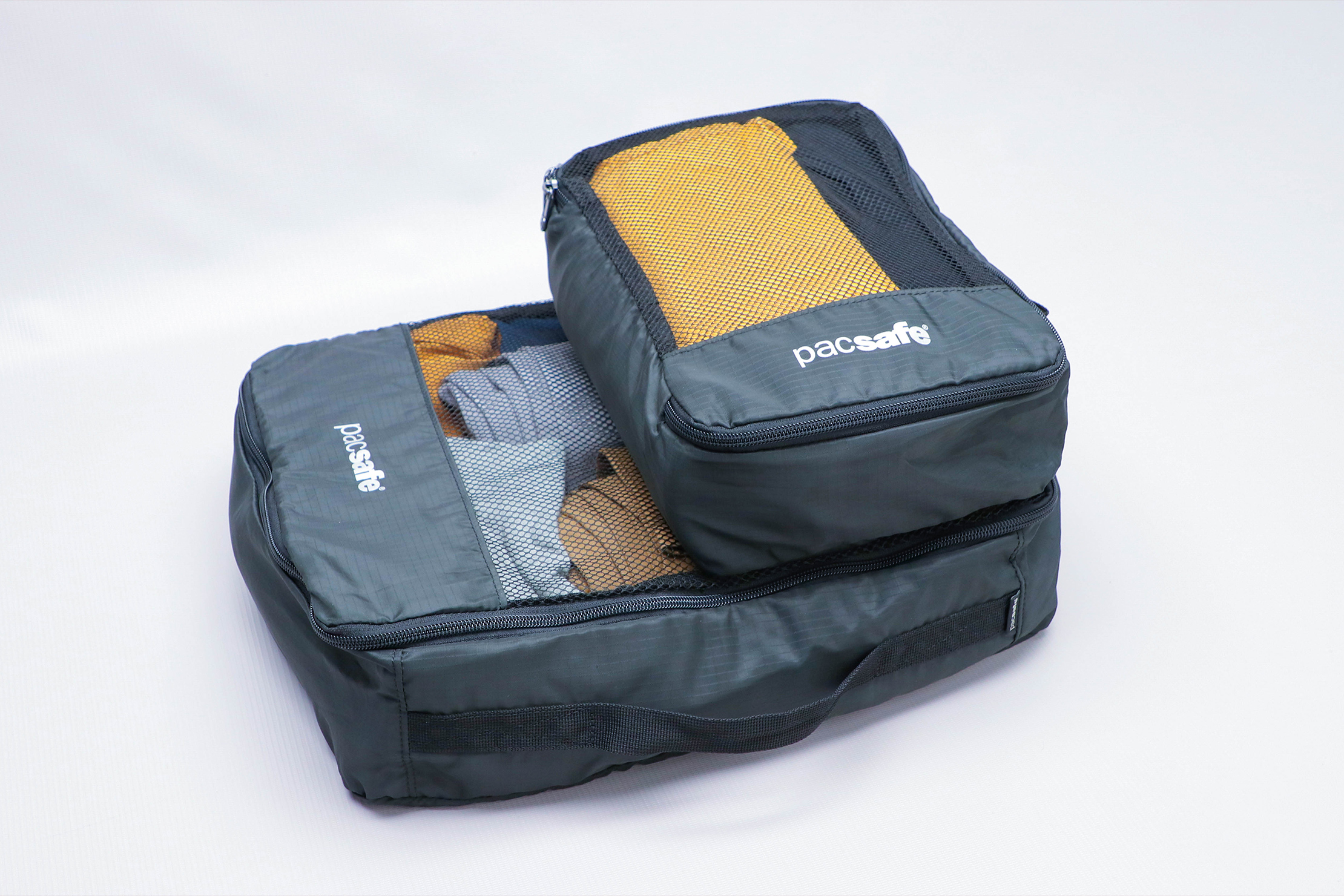 We're more in favor of preserving the squared-off design's advantage and almost 2:1 ratio of the 9-liter and 20-liter cubes. Having the ability to stack these cubes neatly is worth way more than overpacking them. And if we really need to pack more, then getting extra cubes may be the better option.
Lastly, each cube comes with a grab handle. Many packing cubes come with grab handles, but we think Pacsafe's large design necessitates them more than the others. In fact, carrying the 20-liter cube using the handle shows noticeable bowing around the top, showing just how heavy the cube can get. The bowing is completely expected since the cubes don't have a ton of structure—we're just glad that there's a handle so we can easily carry the large cubes to the laundry room.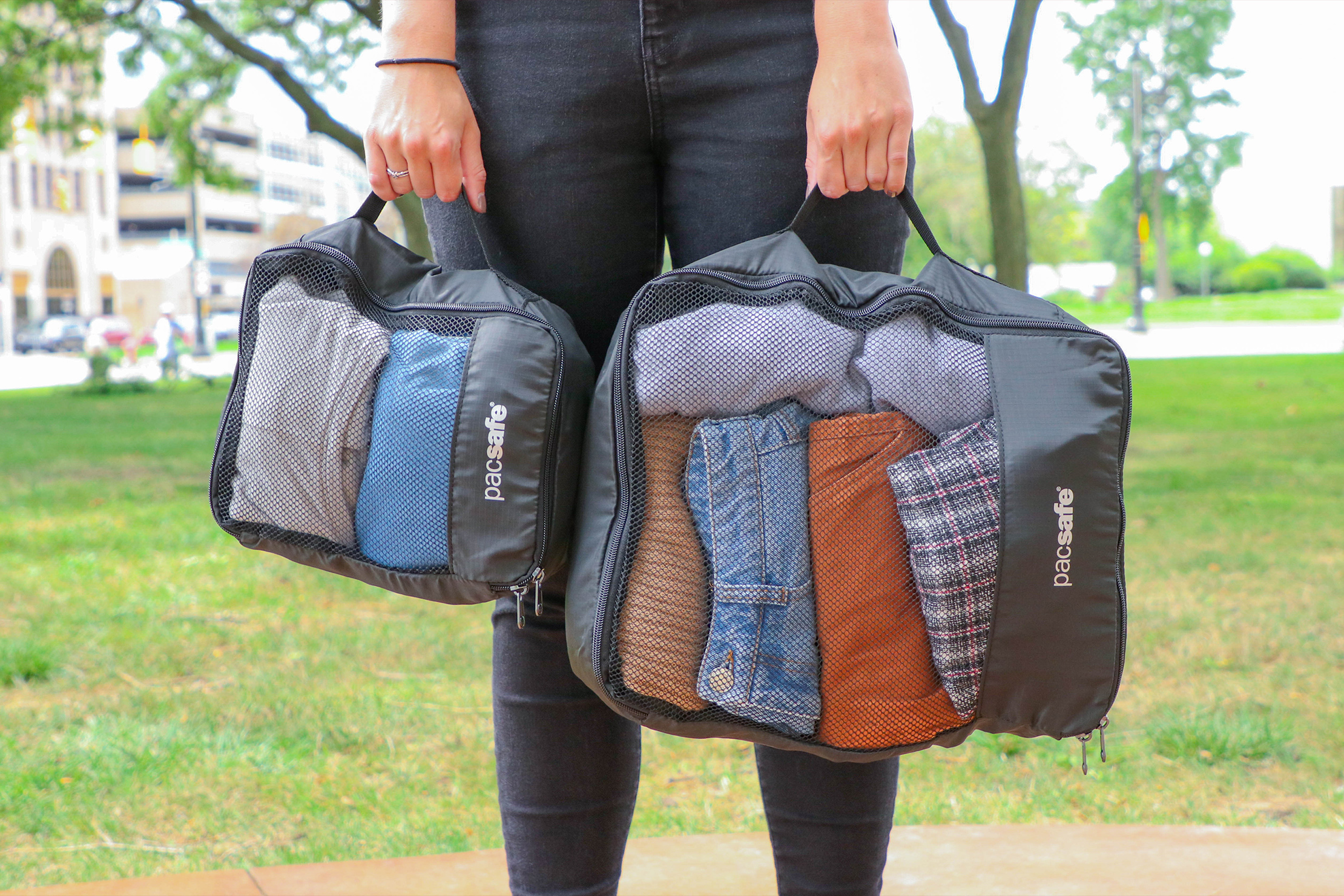 Pacsafe's Travel Packing Cubes are some of the largest packing cube sets we've seen. Despite the lack of smaller sizes and compression, we think they definitely have their place for those looking for large-capacity packing cubes for long trips. They're not the most versatile option out there, but they're well-built for that purpose.
Usage Timeline
Initial Usage
Condition: Excellent
Comes in two sizes: large and medium
See-through mesh front
Has a built-in grab handle
2 Weeks of Use
Condition: Excellent
Size different between Medium and Large is pretty significant
Zippers sometimes stick around the corners
Handles are convenient for carrying, but we wish they were more low-profile
Because of the large size, we wish there were compression zippers
Access the Pro Community Discussion
Get your questions about the Pacsafe Travel Packing Cubes answered from our team and the Pro Community right here on the page. Plus, join discussions with other members about gear, guides, and more.
Other Organizers & Pouches Reviews