NOMATIC Access Sling Review
The NOMATIC Access Sling's wide profile makes it feel spacious and easy to pack despite its meager half-liter capacity.
Our Verdict
Unlock the Pro Summary
Save time. Get access to brief summaries of our reviews so you can browse and make decisions more efficiently.
Pros
Well-structured when empty and packed out
Main compartment's wide opening is good for accessibility
Good balance between space and organization
Cons
Strap touches the neck depending on adjustment
Wide opening makes it feel like gear could fall out in crossbody sling mode
Though relatively spacious, capacity should still be considered carefully
Recent Pack Hacker Video
Technical Details
100 %
Carry-on Compliance
Capacity

0.5l

Weight (lb)

0.36 lb (0.2 kg)

Denier

1680D

Dimensions

7.75 in x 5.75 in x 1 in (19.7 x 14.6 x 2.5 cm)

Notable Materials

Ballistic Nylon

Manufacturing Country

Vietnam

Warranty Information
Full Review
Get up to 20% off NOMATIC • Join Pack Hacker Pro
We like small slings. They're the "just enough" bags we can pick up, throw our everyday carry items in, and start walking out the door with. Pick one that's the perfect size for your needs, and you'd have found yourself a good travel buddy, albeit for short trips.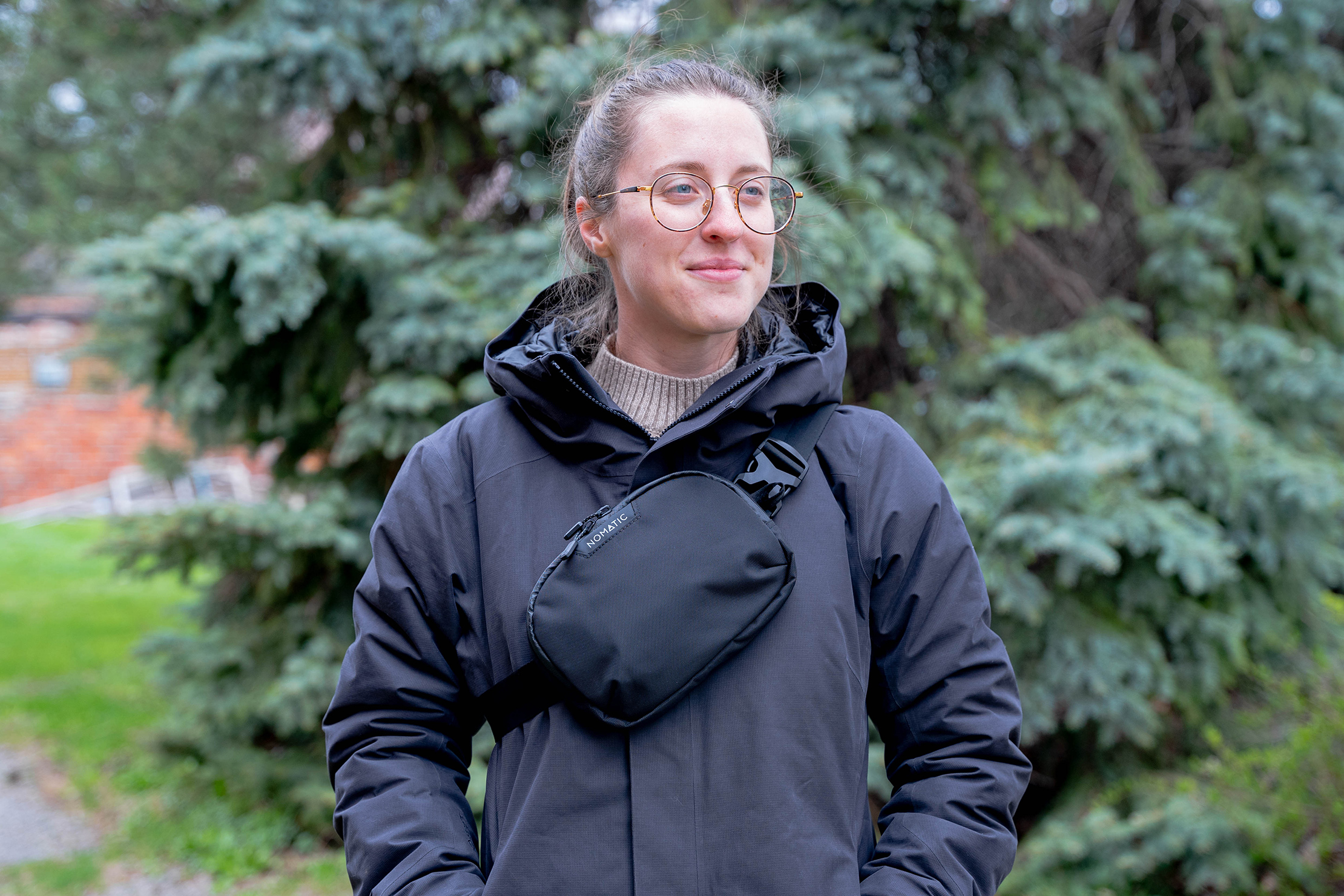 Size is one of the reasons we like NOMATIC's 0.4-liter Access Pouch. It's small, solidly built, and not lacking in organization. A part of use wished it was a little bit bigger, though, and that's where the Access Sling comes into the picture.
As the name suggests, the Access Sling is more sling than a pouch compared to its smaller sibling. Very obvious stuff based on on-the-nose naming, we know. But what isn't obvious are the details and nuances of actually using the sling, so let's get into it.
Materials & Aesthetic
Let's start with how this sling looks. Compared to the more futuristic-looking Navigator series, the Access Sling looks a tad conservative. It doesn't have the clean lines and space pod-like styling of the Navigator bags. Fret not, however, because it still dons the all-black aesthetic we rarely see NOMATIC deviate from. In lieu of most garnishing, the Access Sling only gets a single yet tastefully applied NOMATIC logo along the top edge—which is frankly enough if you prefer discreteness over outlandishness.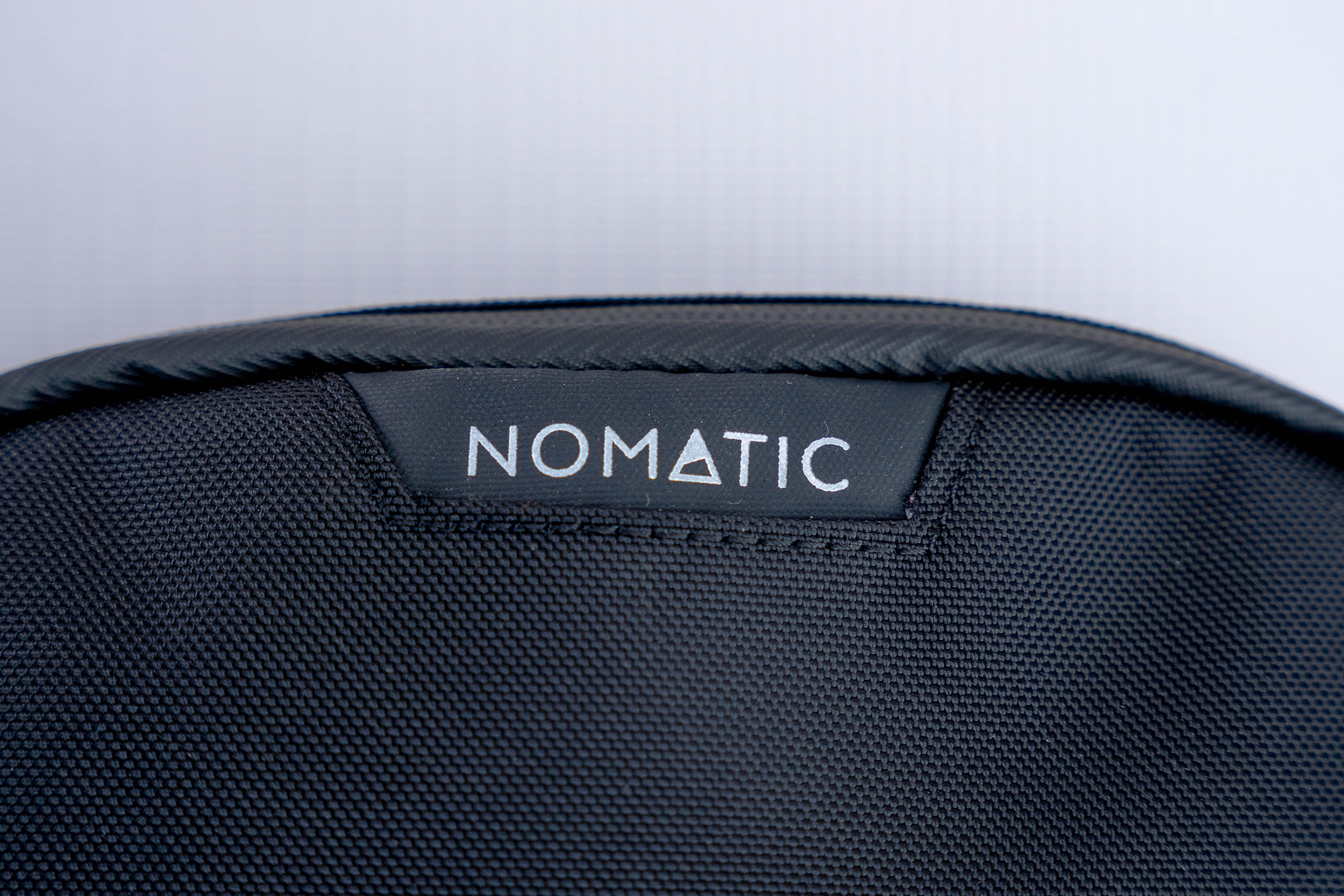 Something else that's characteristically NOMATIC about the Access Sling is how structured it is. Structuredness is a trait we've more or less come to associate with the brand. That's not always the case, though, as their Travel Bag suffers from a related issue. Fortunately, whether empty or packed out, the Access Sling has enough structure to not collapse into itself.
The culprit? Our good 'ol friend 1680-denier ballistic nylon. This is one of the heaviest fabrics in terms of denier. For the uninitiated, denier is the measure of how heavy the individual fiber is per 9000 meters. It sounds complicated, but the long and short of it is that the higher the denier, the thicker the weave of the fabric is. For something as small as the Access Sling, it's a bit overkill, though we don't mind the extra durability that comes with it—not even a little.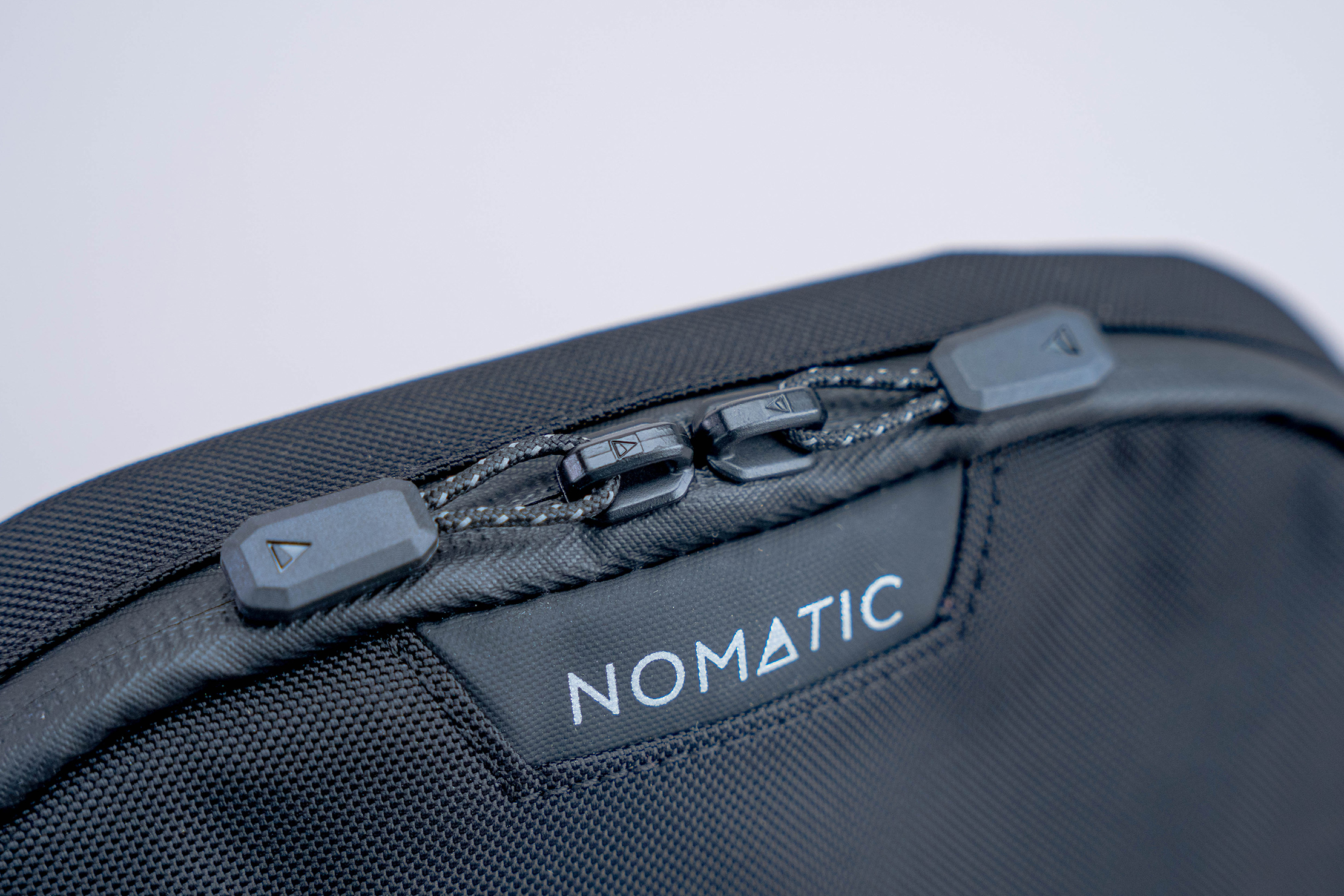 Some areas do get 420-denier fabric instead, though the sling is still predominantly covered in 1680D fabric. Additionally, there's also some water-resistant coating to help fend off accidental splashes. We still wouldn't stand in heavy rain, though, so best if you walk to the nearest roof, just in case.
On the whole, the Access Sling's build quality is rather solid. The only kink in its armor is the use of unbranded hardware. That said, a lot of NOMATIC's gear has unbranded hardware, but they've worked okay, and we've really yet to see any of them fail. Plus, both zippers are of the reverse coil variety, with the main compartment being similar to YKK's AquaGuard (i.e., water-resistant).
External Components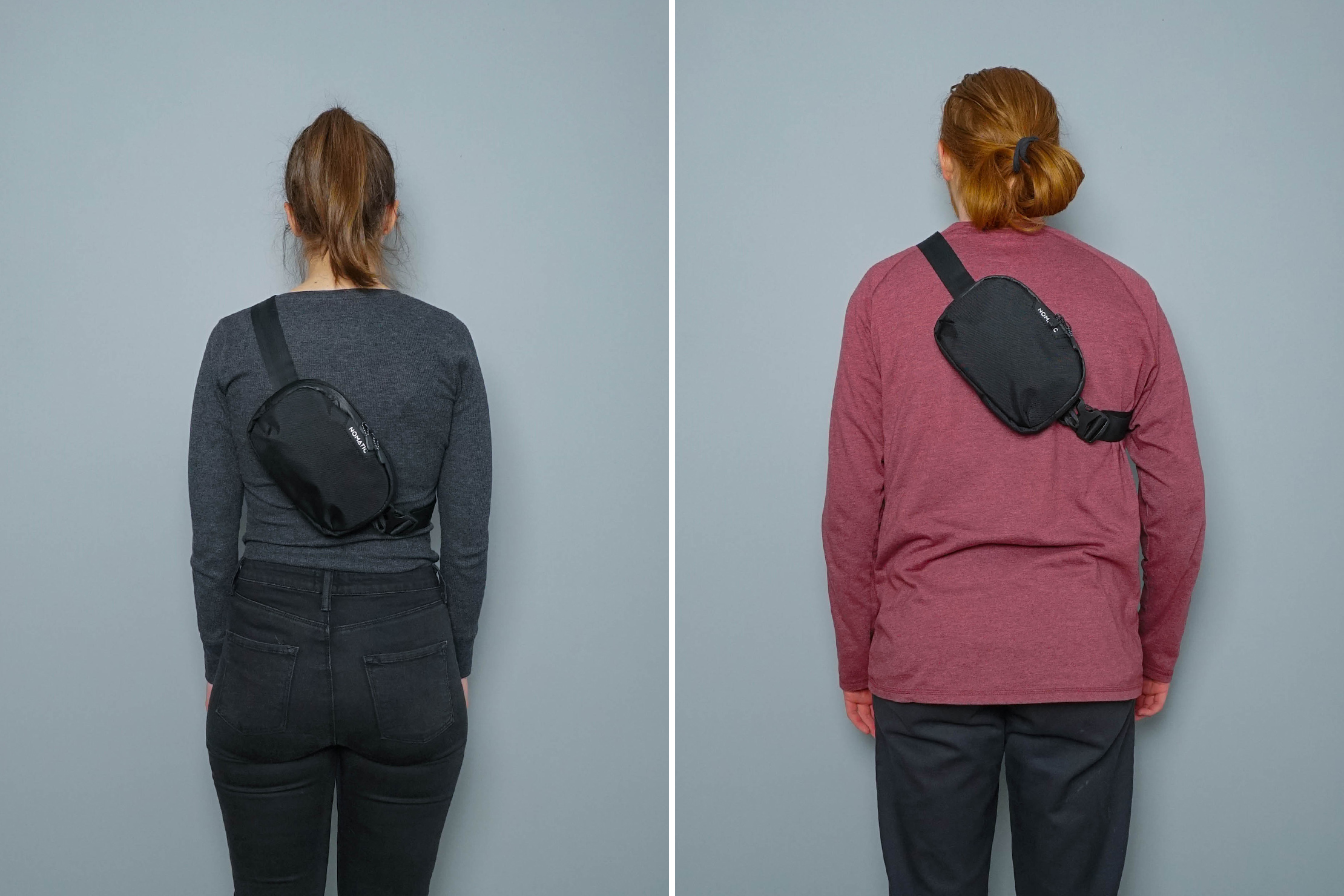 The Access Sling has two distinct advantages over the Access Pouch: capacity and a more robust carrying strap. The strap this time around is built-in, meaning it's not removable. You lose some flexibility there compared to the Access Pouch, but the strap itself is soft, relatively thick, and wide enough to be supportive, so we wouldn't want to replace it anyway. If it had any weaknesses, we'd say that it's not hinged and well explain why later on.

The Access Sling can be worn either as a waist pack or as a sling, and we prefer the latter. Why? For one thing, a crossbody sling-style carry makes compartment access easier by bringing it closer to where we can see inside. We'll get more into the topic of accessibility in the next section. Secondly, waist pack carry is not really our style. Note that this is a purely aesthetic preference and the Access Sling carries well as a waist pack too.
In crossbody sling mode, you can have the strap either on the left or the right. We keep it on our left shoulder so that the quick-release buckle sits near the top. As with compartment access, this makes the buckle easier to reach. That said, some may not like showing off a relatively big buckle, so putting the strap on the right shoulder is also an option.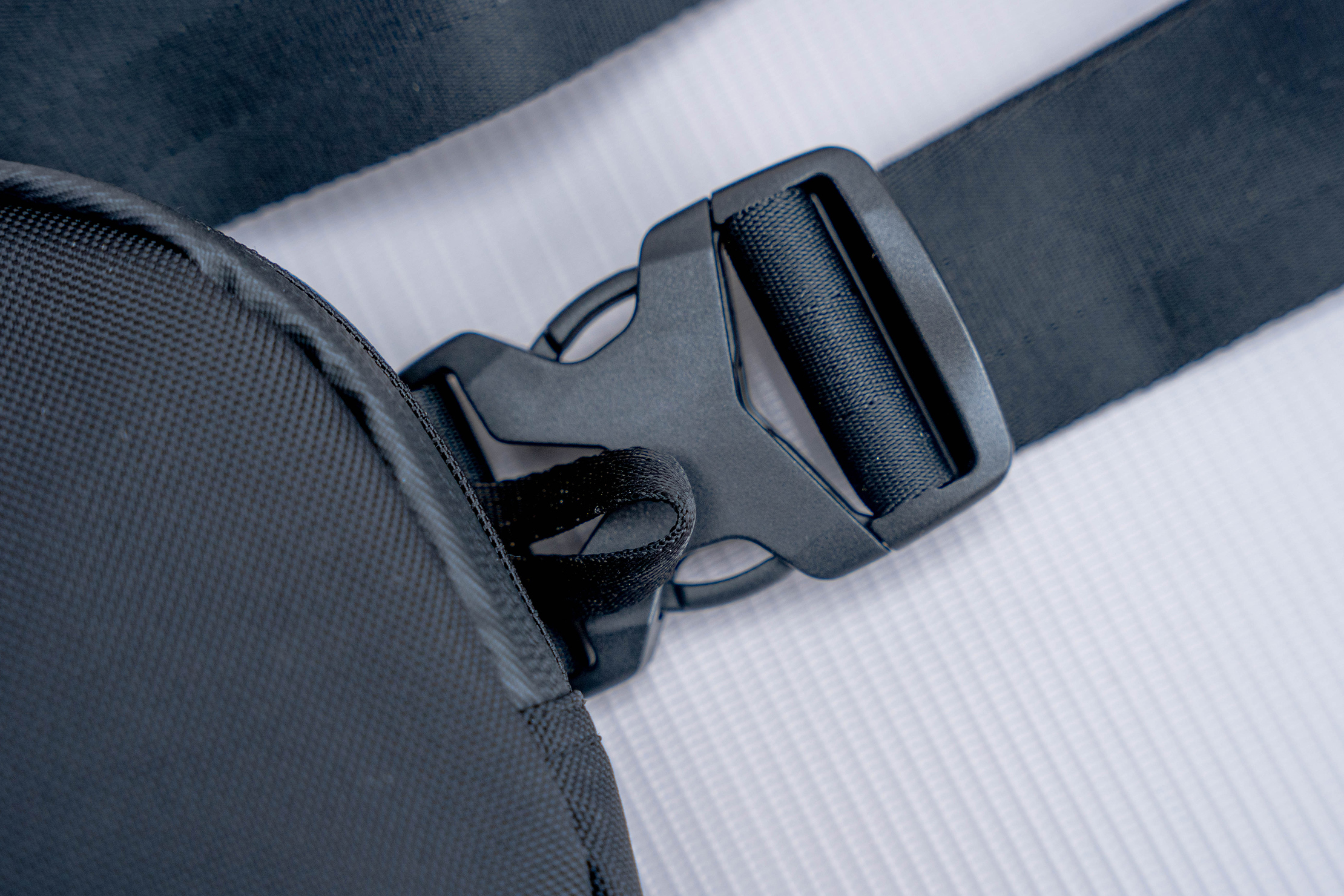 The Access Sling sits at a steep near-45-degree angle with the strap tightened. It achieves a tight fit if that's what you're going for, but consequently, it also makes the strap scrape the neck area as well. Alternatively, you could also loosen the strap, which hangs the bag in a more relaxed position. This is more comfortable than a tighter adjustment. However, this also causes the portion of the strap near the bottom (the part where it's stitched to the bag) to bunch up. This is why we think that the strap not being hinged is somewhat of a weakness.
Inside The Sling
The main compartment has a horseshoe-style opening that goes about halfway down the sides. It's a pretty wide opening for a sling this small. So much so that a bit of caution should be exercised when opening to prevent items from falling out. On the other hand, this is great for accessibility because you can really see what's inside.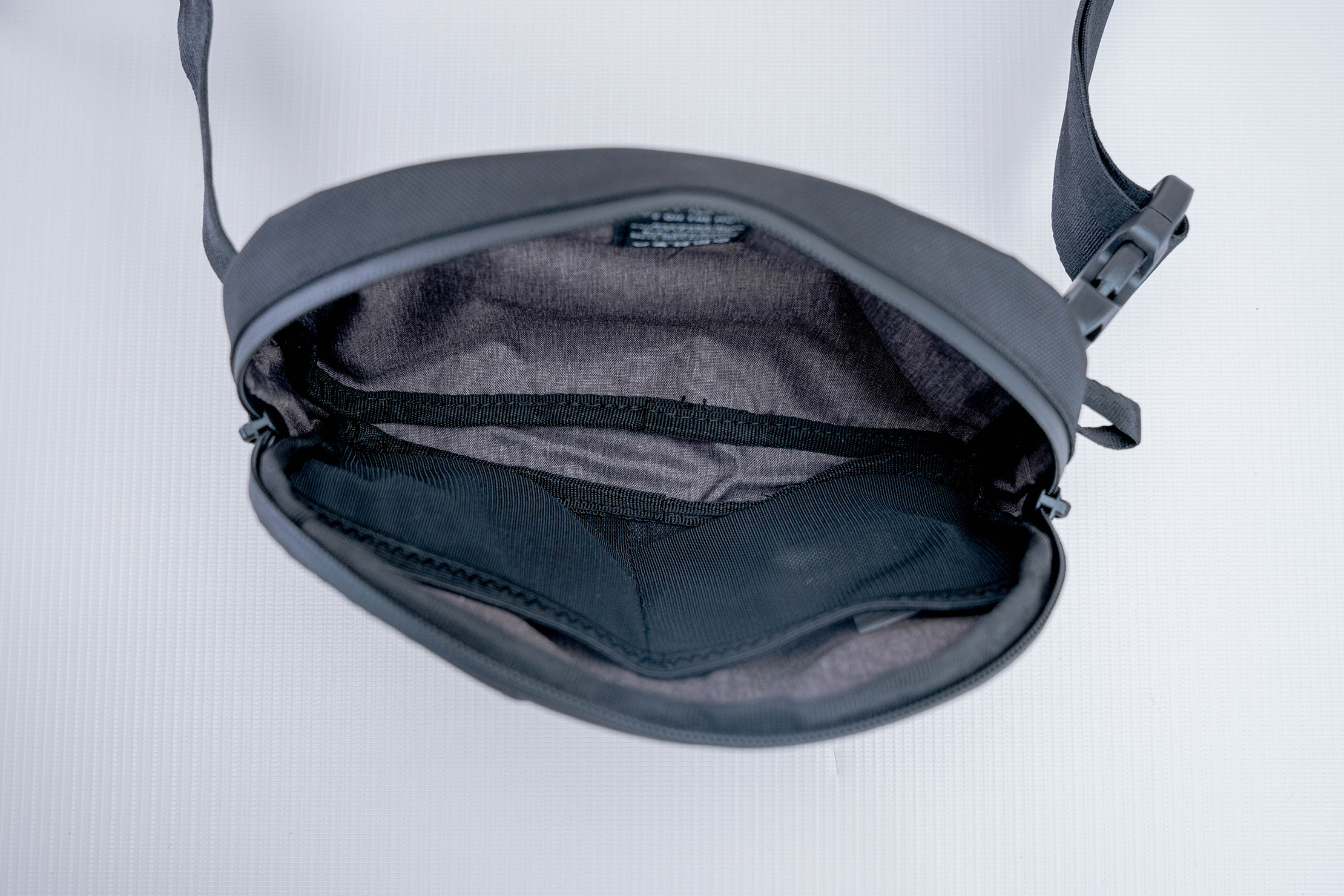 The opening is also noticeably positioned more towards the front rather than being centered. This creates a sort of bucket space at the back where items can settle into more easily without a negative impact on accessibility.
At the back, there's an RFID-safe pocket where you can keep credit cards and ID where they'll be safe from skimmers. There's not a ton of space here, so you'll want to keep bulk to a minimum, keeping in mind that there's no back panel to counter-act items that jut out.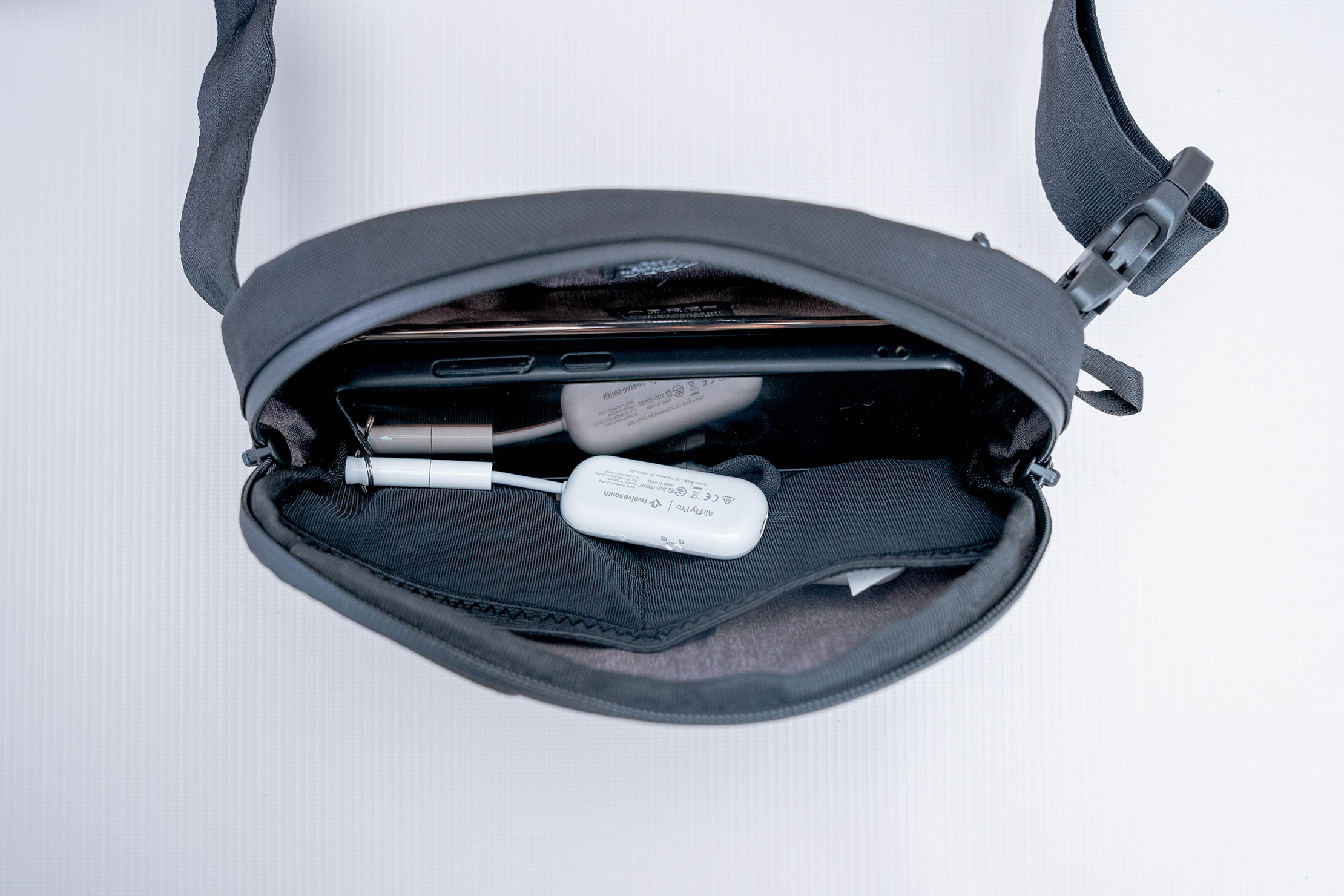 Main compartment space is as you'd expect from a 0.5-liter sling; there's not much of it, though that isn't the point to begin with. There's enough room for our wallet, iPhone 13, and medium-sized power bank. The space is spread out lengthwise because of the sling's slim profile, so some Tetris-ing is required to maximize it.
Compared to the Access Pouch, the Access Sling outright has more capacity to work with and makes better use of it. Between the two, the Access Sling's more typical lengthwise profile means items don't have to stack on top of each other. This is not only better for accessibility, but is also better for organization.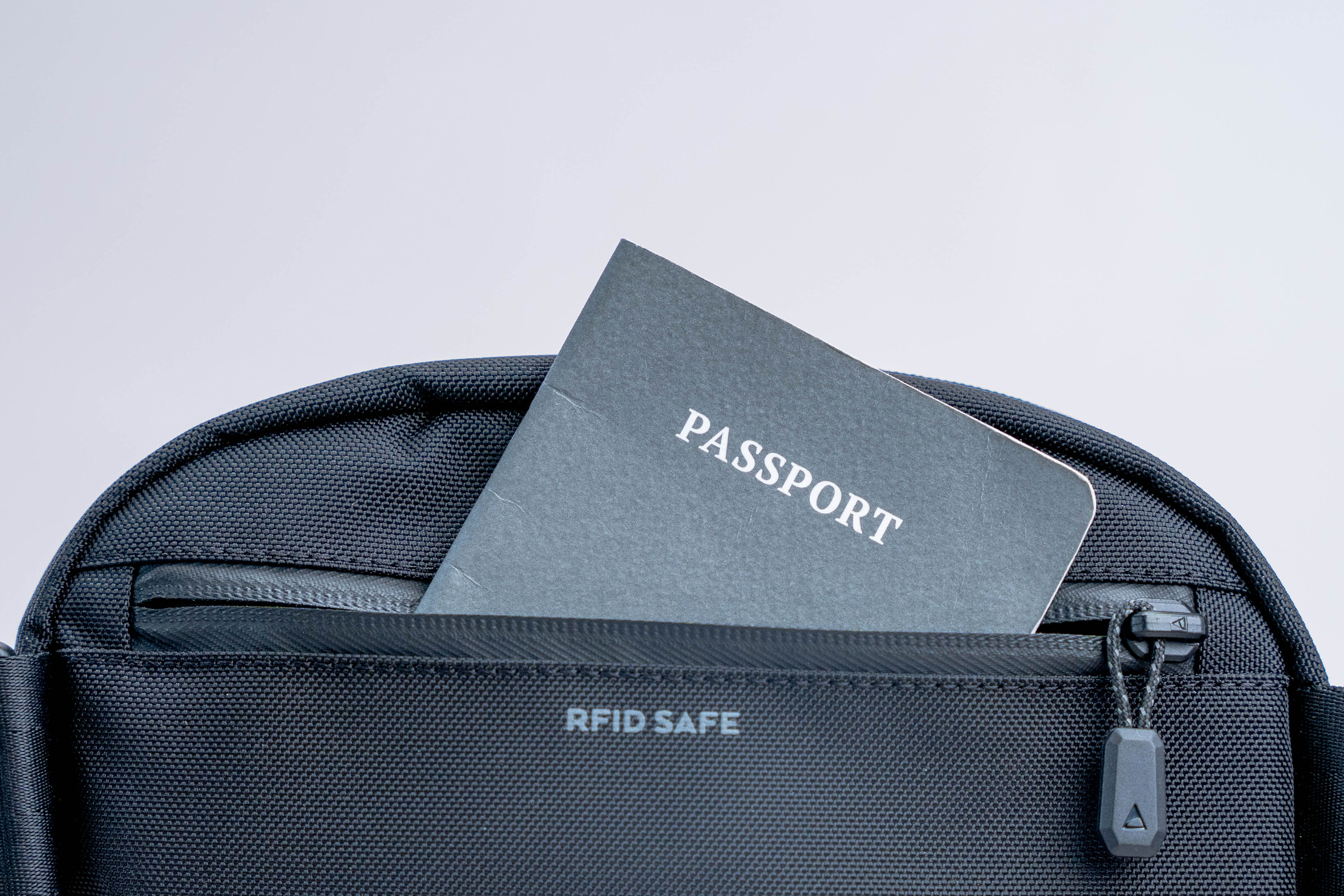 Speaking of organization, some small slings forgo internal pockets in order to maximize volume, but not the Access Sling. Inside, there are two mesh pockets on the front side. It's not exactly a groundbreaking amount, but it's enough to get our usual everyday carry items sorted. One of the pockets is for our lip balm and gum, while the other carries coins and a few keys.
It's worth noting that the mesh pockets stay fairly flat when not occupied. We've seen slings like lululemon's Everywhere Belt Bag, where the mesh pockets feel loose and, therefore, scattered over the interior space. It doesn't sound that big of a deal until you also consider that both that and the Access Sling have dark liners; therefore, it also affects interior visibility.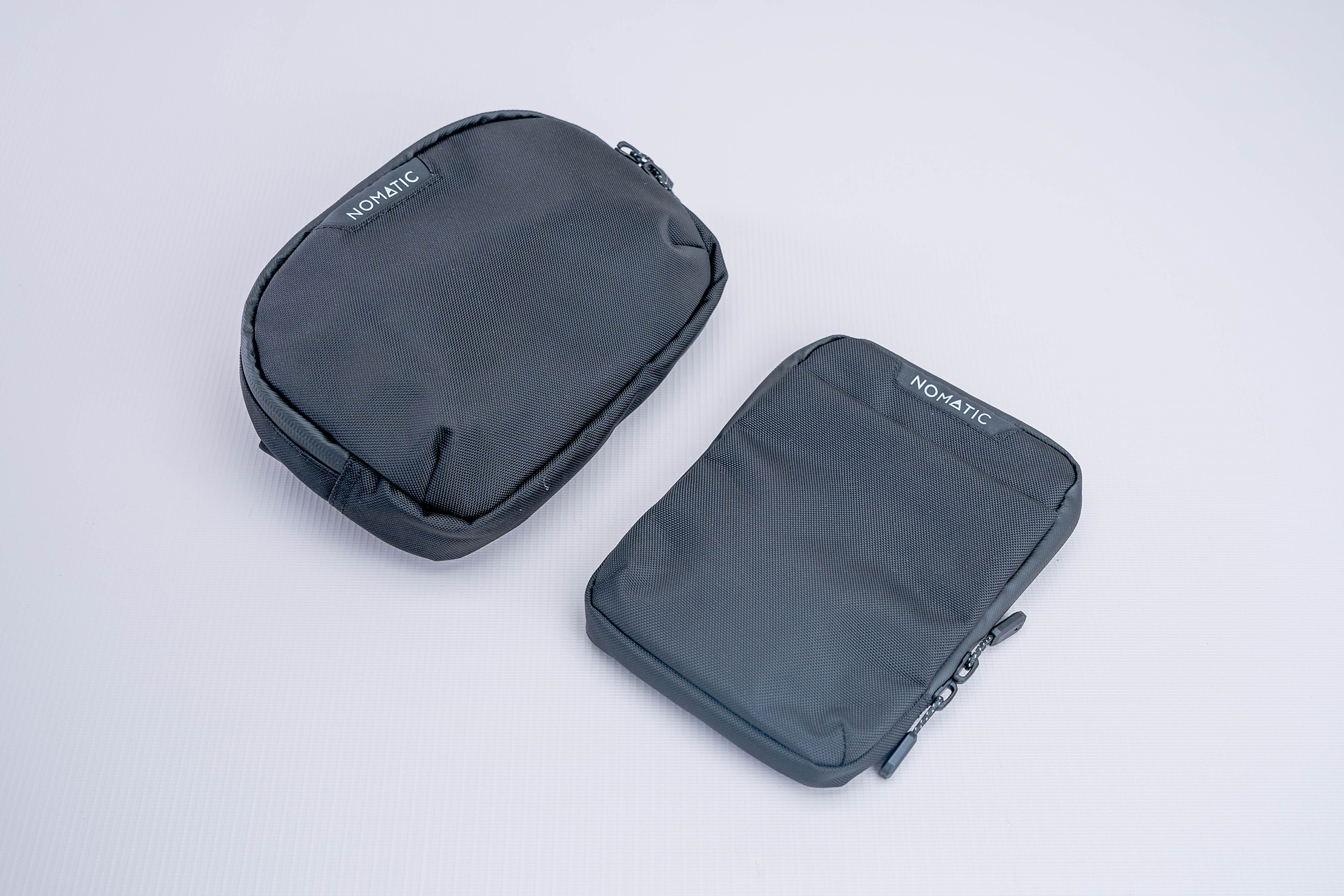 Picking the right compact sling is tricky business, especially when you're down to ounce-for-ounce considerations. That sounds like the start of a vague cop-out conclusion to a review, but don't worry, because it isn't. It retains the simple yet not barebones design of the Access Pouch, which we like, but with more space and easier compartment access.
Simply put: the Access Sling does a good job of being a compact sling without feeling like you've compromised.
Usage Timeline
Initial Usage
Condition: Excellent
1680-denier fabric feels very robust
Mesh pockets' elastic rims are fairly thick
Has a built-in RFID-safe pocket at the back
2 Weeks of Use
Condition: Excellent
Pretty spacious for .5 liters
Hangs at a pretty sharp angle in sling mode, so it sometimes feels like gear will fall out when opening the bag
Thick strap can sometimes dig into neck
Wide opening makes loading easy
Access the Pro Community Discussion
Get your questions about the NOMATIC Access Sling answered from our team and the Pro Community right here on the page. Plus, join discussions with other members about gear, guides, and more.
Other Bags & Luggage Reviews