Mystery Ranch Sling Thing Review
Sleek, comfortable, and built to last, the Mystery Ranch Sling Thing is great for EDC and flights alike—as long as you don't mind simplicity.
Our Verdict
Unlock the Pro Summary
Save time. Get access to brief summaries of our reviews so you can browse and make decisions more efficiently.
Pros
Made of quality, durable materials that feel good
Water-resistant
Holds the perfect amount of stuff for EDC
Cons
Interior fabric is the same color as the exterior, meaning it can be difficult to spot your stuff
Not much internal organization
Accessing your stuff can be slow
Technical Details
Capacity

9l

Weight (lb)

.7 lb (0.3 kg)

Dimensions

15.5 in x 9 in x 6 in (39.4 x 22.9 x 15.2 cm)

Notable Materials

Nylon

Manufacturing Country

Vietnam

Warranty Information
Full Review
If you're all about simplicity, you'll likely love the Mystery Ranch Sling Thing. This sling bag has a simple aesthetic, simple organization, and it simply works.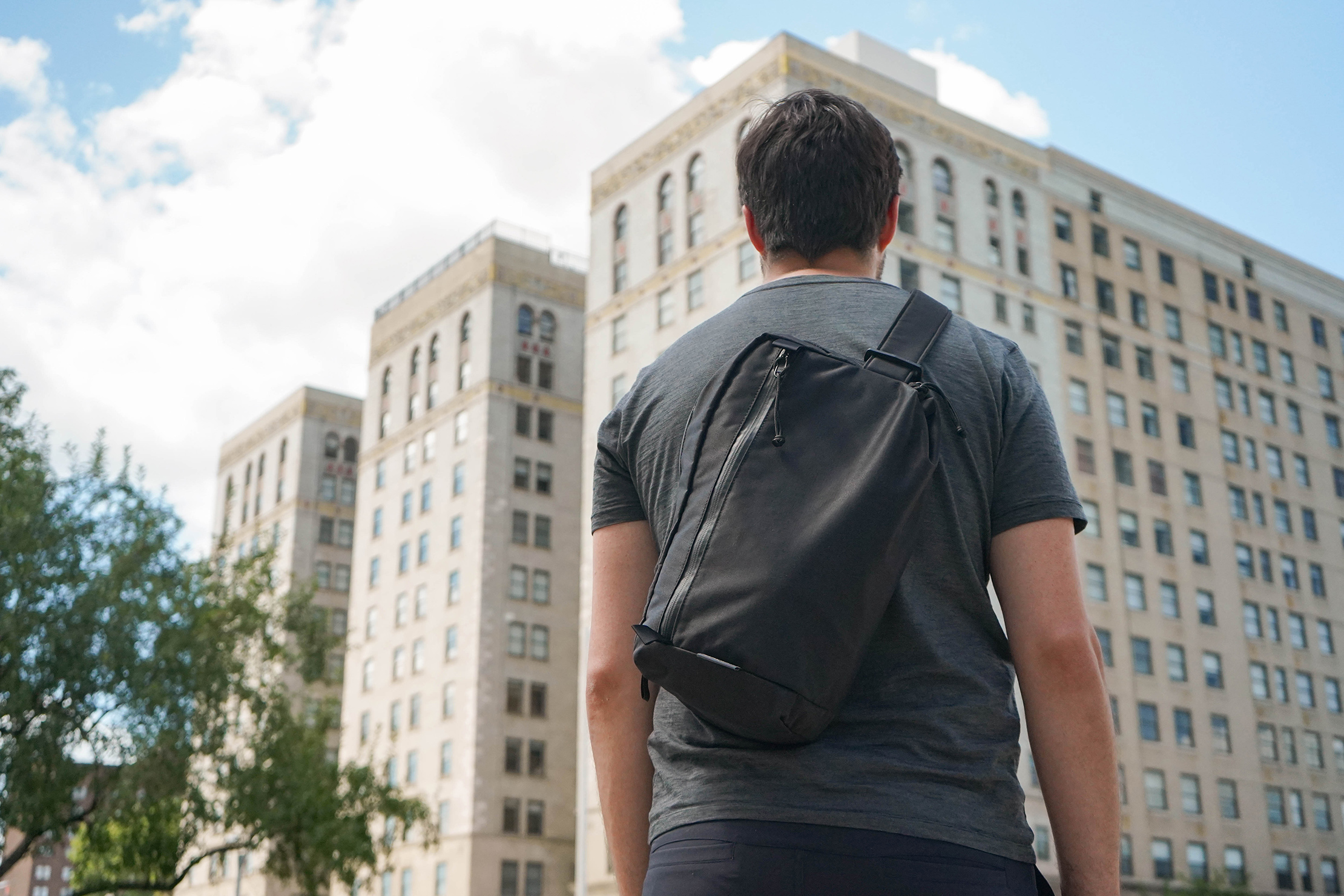 At 9L, it holds the essentials and then some. A smaller laptop, a tablet, snacks, and everything else you carry on the regular. It also makes an ideal personal item for flights (if you travel within the U.S.), carrying everything you need to make a long flight comfortable (or more comfortable, anyway).
So let's check it out.
Materials & Aesthetic
We're digging the Sling Thing's sleek, urban vibe. At the time of this review, the Sling Thing is available in three colorways, Vintage Blue, Black, and Coyote (light brown), the latter of which looks a little more tactical than the other two colors.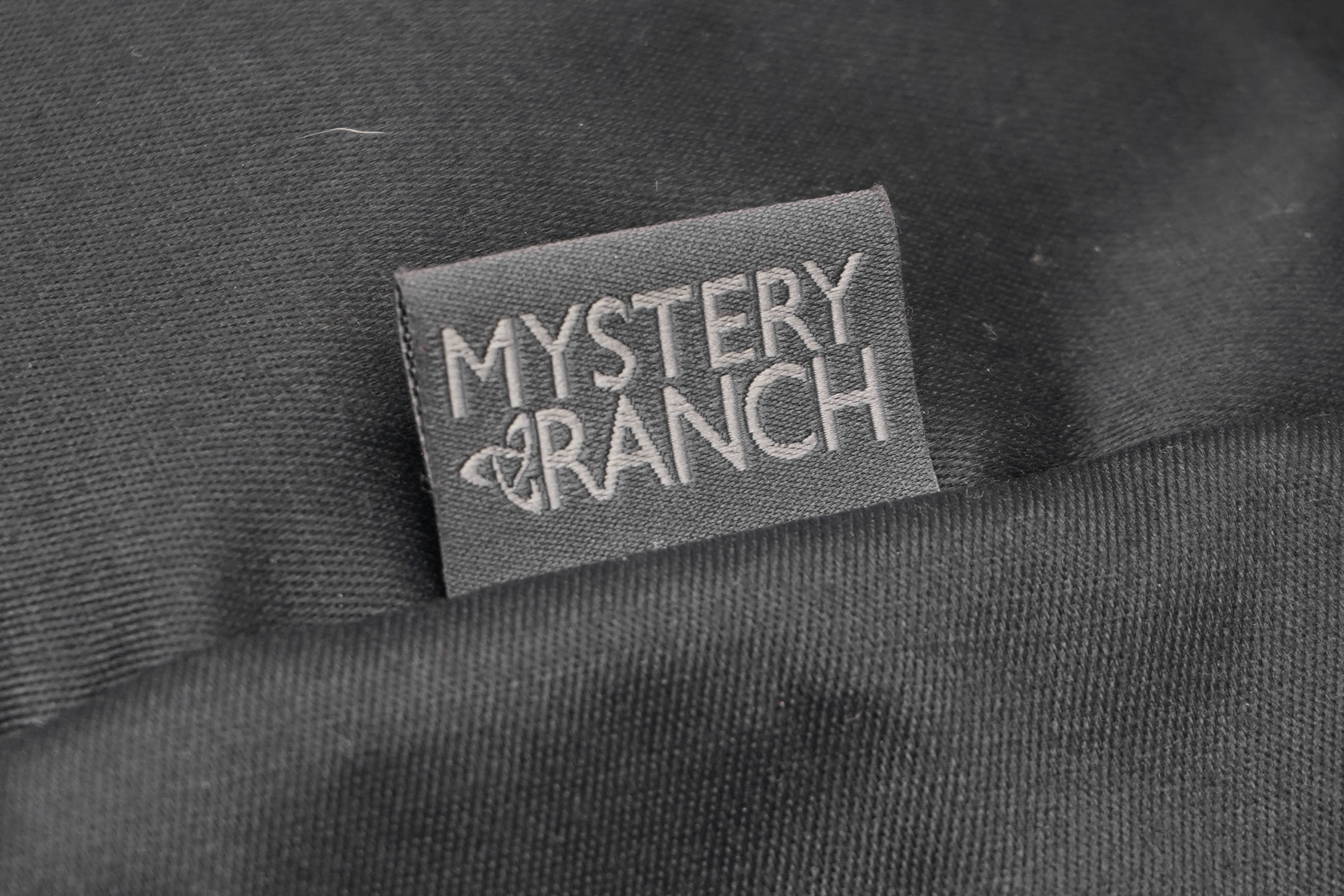 Mystery Ranch seems to live by the motto: Big Logos or Bust. While the logo tag is noticeable on the Sling Thing—you won't forget it's brought to you by Mystery Ranch—it's subdued compared to what we usually see. Which is definitely a plus in our books. You'll find more branding on the shoulder strap, but it's also muted.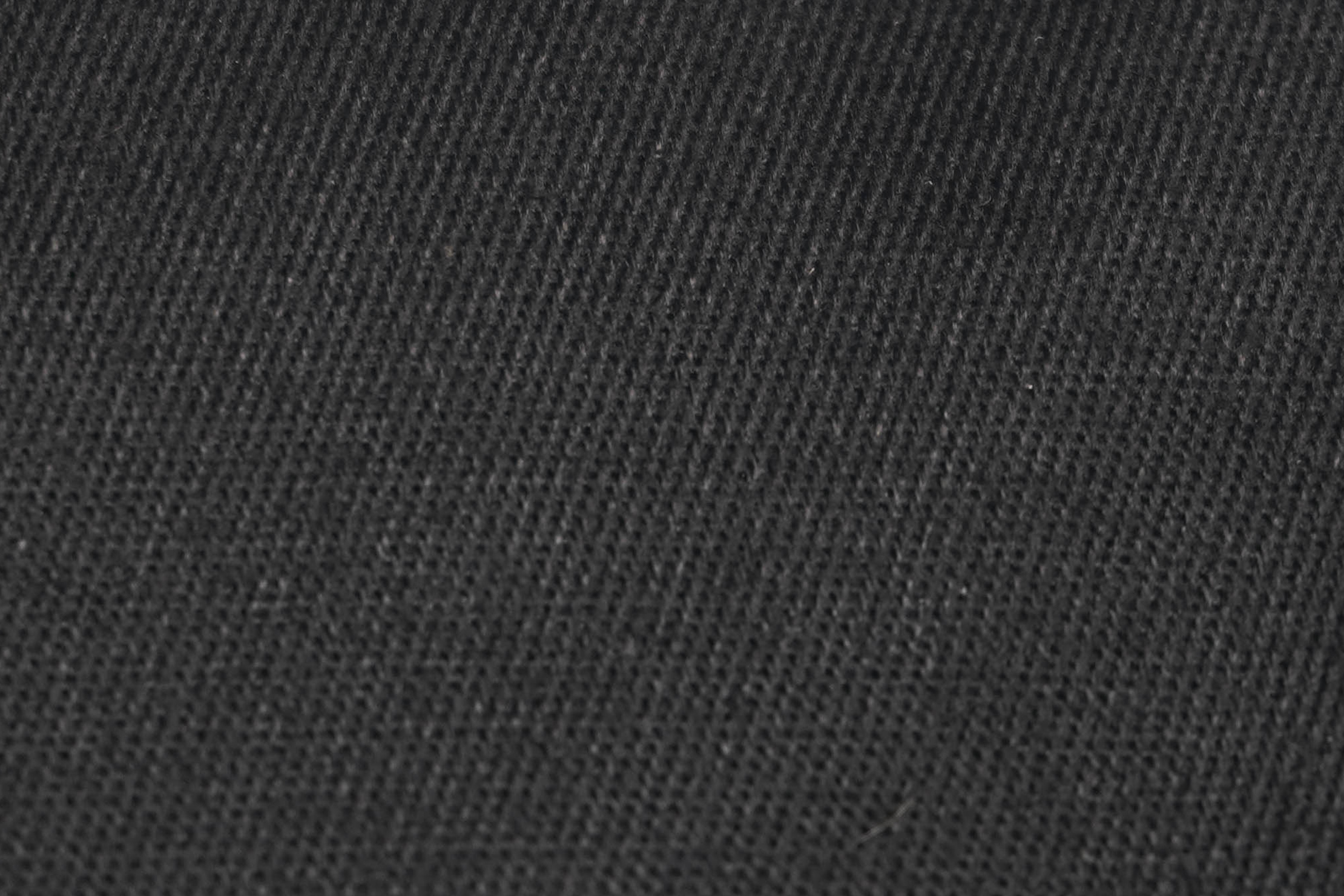 The Sling Thing is made of nylon twill fabric, which we love. Not only is it durable, but it feels luxurious. We just like to touch it (as creepy as that may sound…). It's finished with a DWR coating on the outside of the fabric and a polyurethane coating on the inside of the fabric for solid water-resistance.
But don't confuse water-resistance with water-proof. We've tested this thing in a rain shower with good results (i.e. everything inside the sling stayed dry), but if you're planning on traveling to Thailand during monsoon season or spending a year on a boat, you'll probably want to pick up a rain shell or a waterproof bag.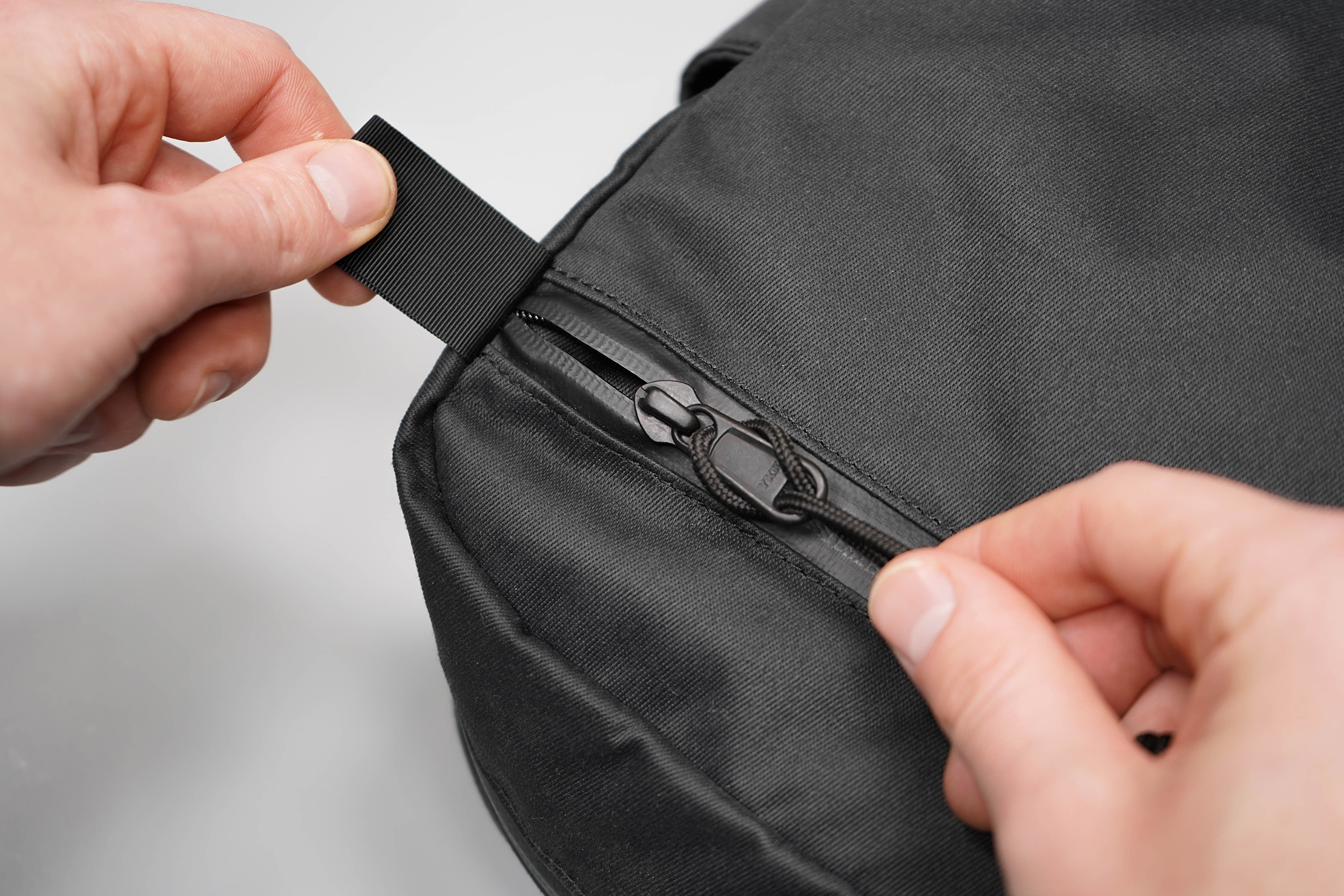 The zippers are from the quality Japanese manufacturer, YKK, so they shouldn't give you any trouble. Plus, they're both YKK AquaGuard® zippers, meaning they add to that water-resistance we just mentioned.
Its simple aesthetic and quality materials combine to mean that this sling bag should last for years without breaking or going out of fashion.
External Components
Moving right along to the external components, most important of which is the shoulder strap. Now, as is the case for all sling bags, it's going to get uncomfortable to carry after long periods of time. Unlike a backpack, it doesn't evenly distribute weight between your shoulders—which means your right shoulder will get tired eventually. Especially if you like to carry your brick collection around.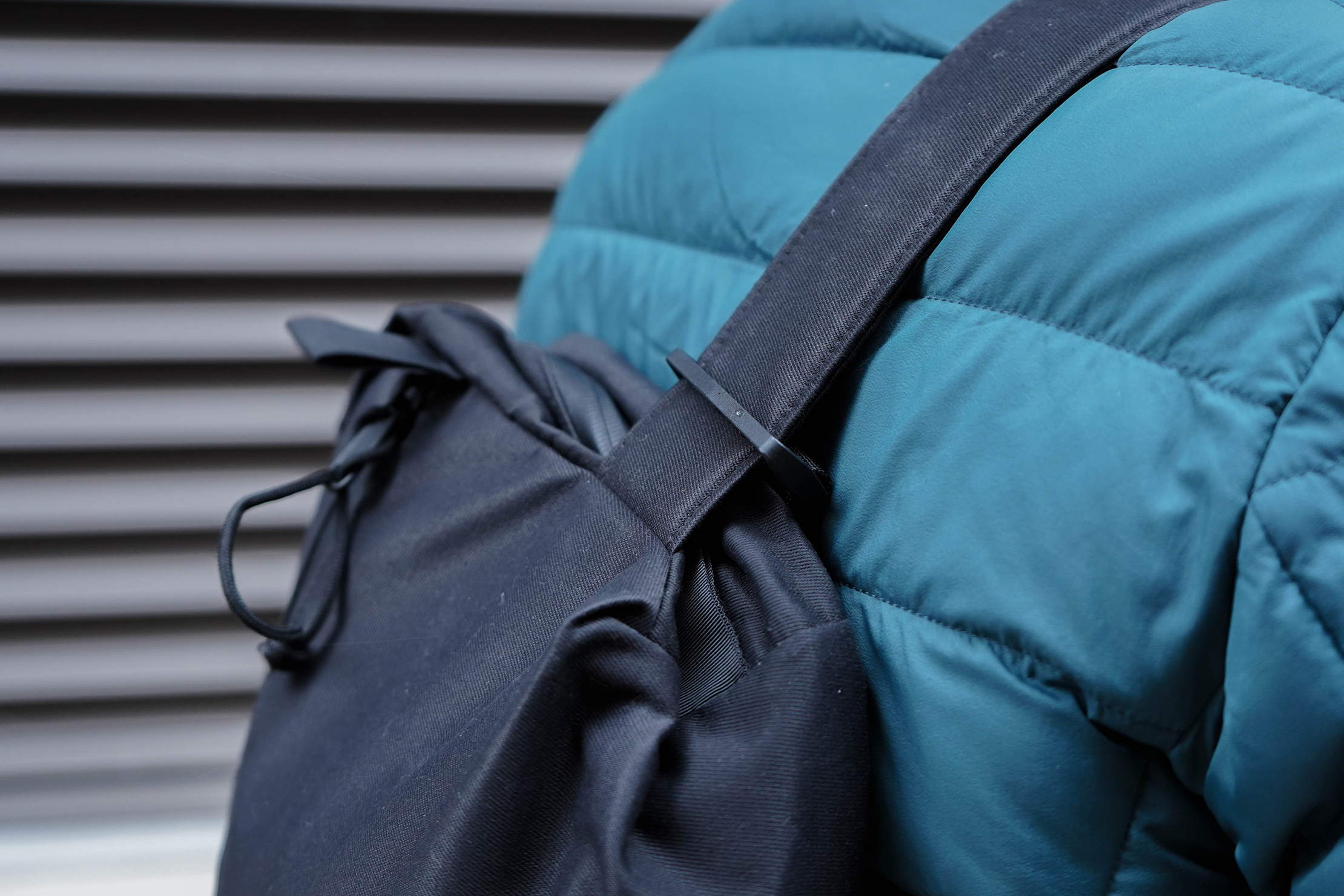 That said, it has an exceptionally comfortable carry for a sling bag. For short excursions, you may even forget you're wearing it. The shoulder strap is nicely padded and is thick enough it helps disperse the sling's weight without feeling too excessive or bulky. It's minimal, yet effective (like the rest of the pack).
The strap is also attached in a way that it sits over the zipper—helping you compress the pack and adding some security, which are both great features.
While this sling doesn't have the same versatile methods of carry as others on the market, the strap is anchored in such a way that you can carry it multiple ways. First of all, you can go traditional sling and wear it on your back. And the strap is adjustable, so you can wear it lower or higher on your body, whichever is more comfortable for you.
You can also carry the sling over one shoulder if you need to quickly grab it and go. And, finally, you can wear the sling on your front. Now, this isn't the most comfortable or, let's be real, the hippest way to carry this thing, but it comes in handy if you'll be using it in conjunction with a travel backpack.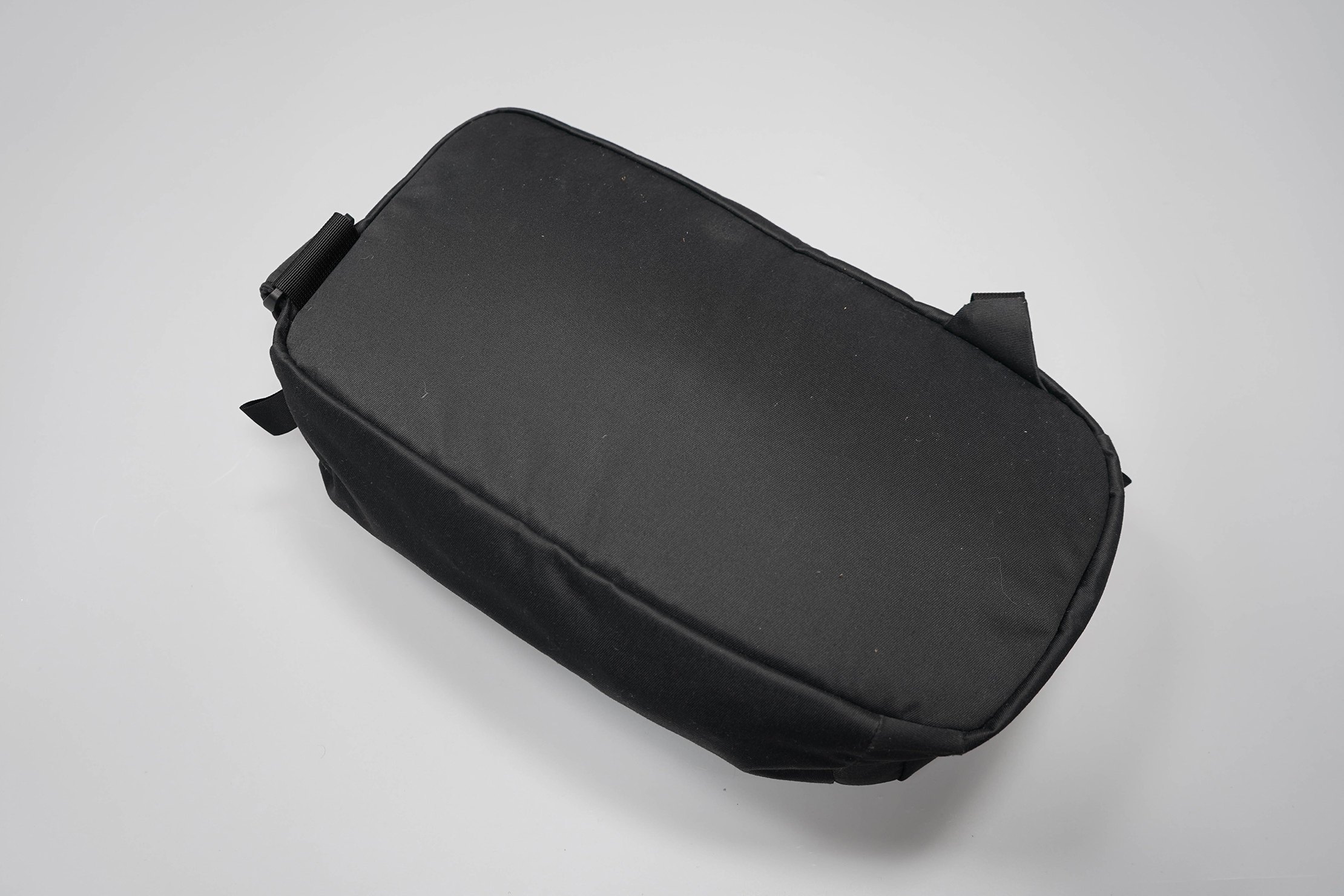 One last note about the shoulder strap: there's quite a bit of excess. We recommend picking up a strap keeper if you're looking for that #DangleFreeExperience.
Okay, moving on. The back panel is great—although there's no mesh, it's nicely padded for comfort and additional laptop or tablet protection (which we'll discuss more in the next section).
The last external components are the two zipper tabs, which may seem like small things, but actually add a lot of value to this pack. AquaGuard® zippers are notoriously sticky, meaning that they can be difficult to unzip and zip quickly. The tabs make them much easier to work.
Inside the Sling
If you're the type of person who wants a place for everything, then you're not going to dig the interior organization of the Mystery Ranch Sling Thing. There's not much going on, which we like, but understand may be a deal-breaker for some.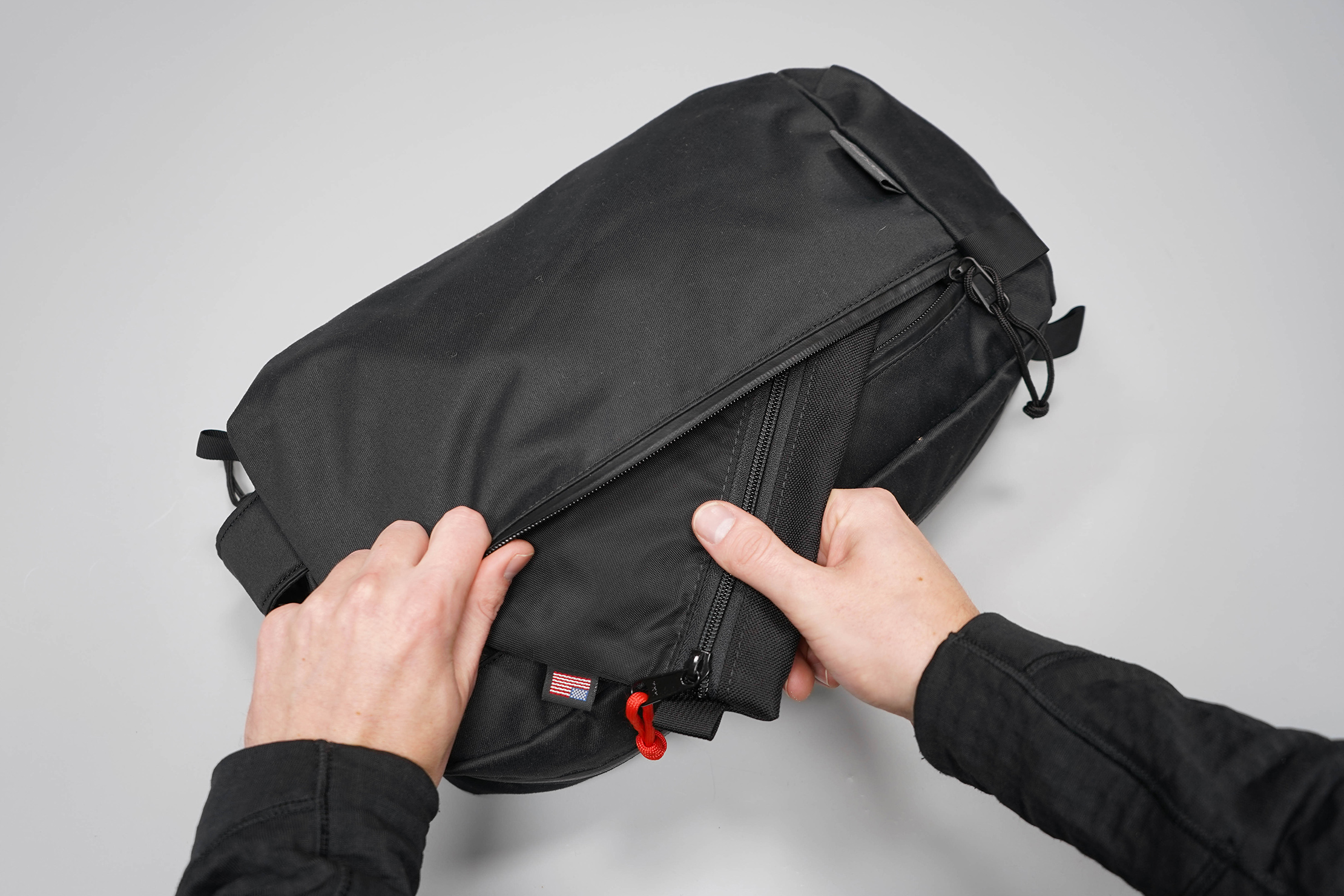 Let's start with the quick-access pocket. You can fit a decent amount of stuff inside, although there is no organization to keep all that stuff, well, organized. Everything can end up jumbled and you have to dig around for smaller items. Especially as the interior fabric isn't any lighter than the exterior fabric. (Bright interior fabrics help your stuff pop, making them easier to see.) That said, there's an easy solution here—accessory pouches.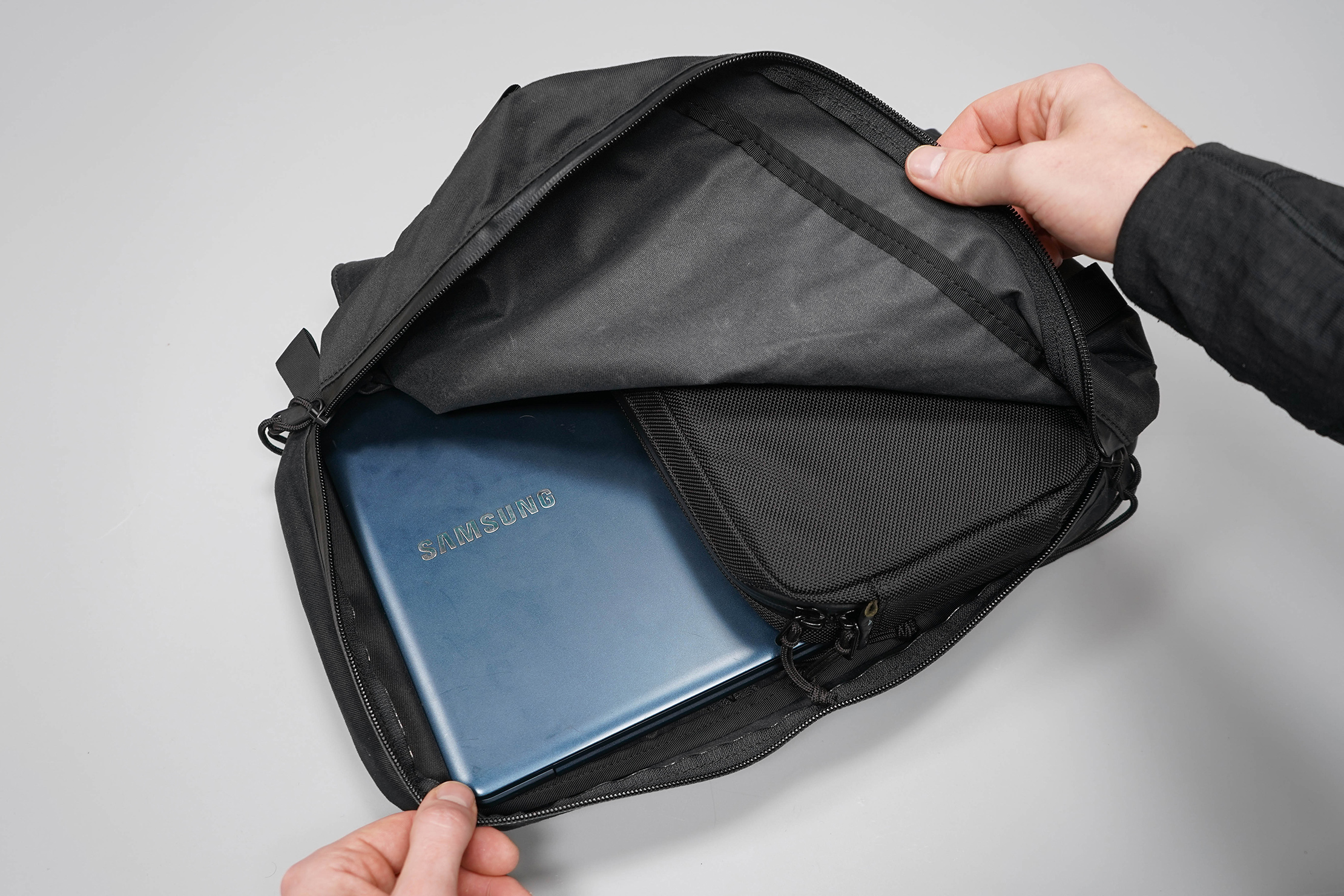 The main compartment doesn't have much organization either. It's large enough to fit a 13'' laptop with a case. And your laptop will definitely need a case as, while the Sling Thing has some padding, we would worry about putting our fragile laptop in there unprotected.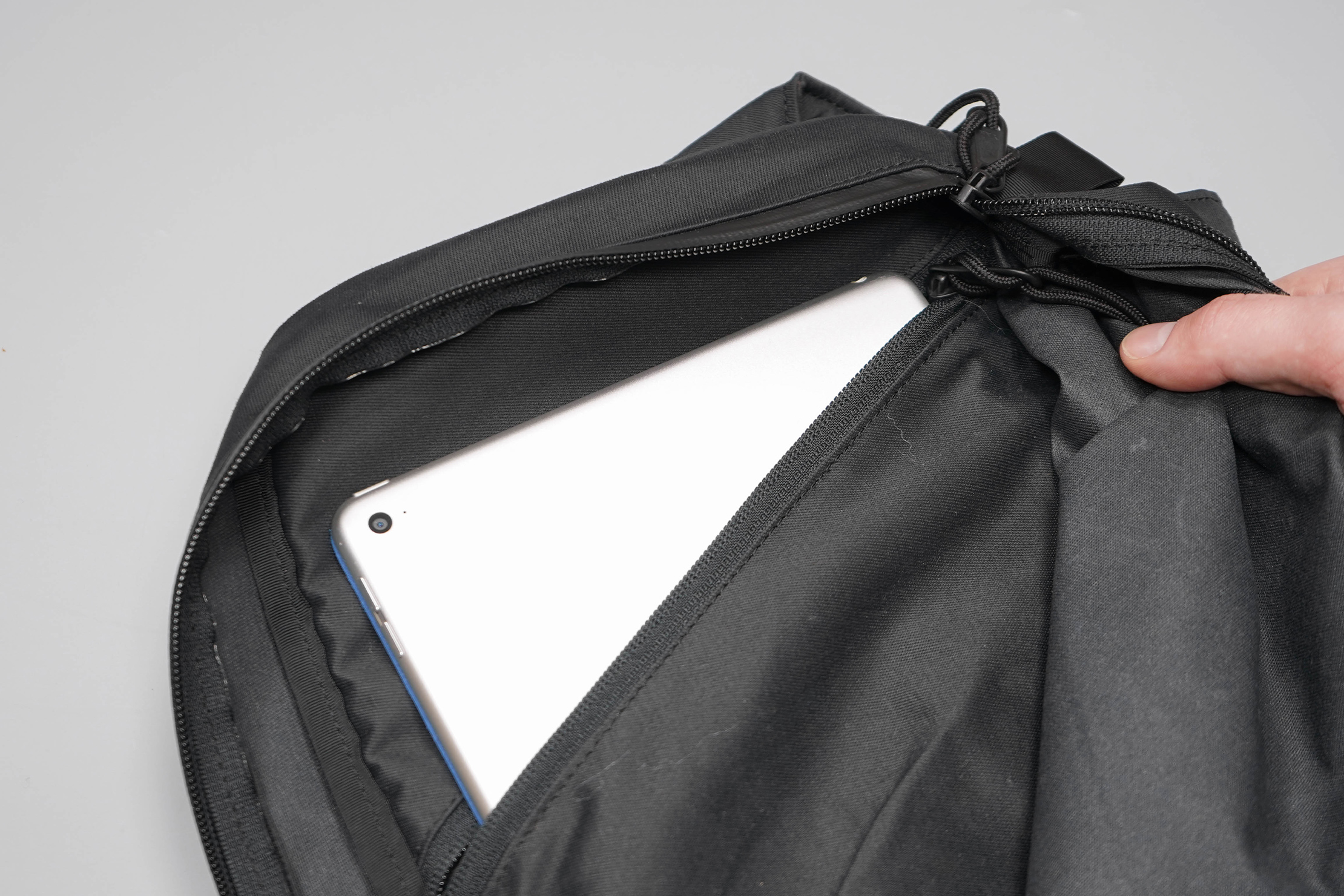 The back has a zippered pocket that's nearly the same length as the bag. It's large enough to fit an average-sized tablet and has a decent amount of padding for protection. But it's difficult to get in and out of quickly, especially when the rest of the compartment is packed. For this reason, we haven't used this space much. But it's a good spot for a tablet or for items you want to keep secure and don't need to grab quickly. Think extra cash, passport, a love note.
This compartment also fits more than you would initially think. Your laptop (up to a 13″), your chargers, whatever random knickknacks you have. Though it does have the same problem as the quick-grab pocket in that smaller stuff can easily get lost and jumbled—again, a quick solve is to use accessory pouches.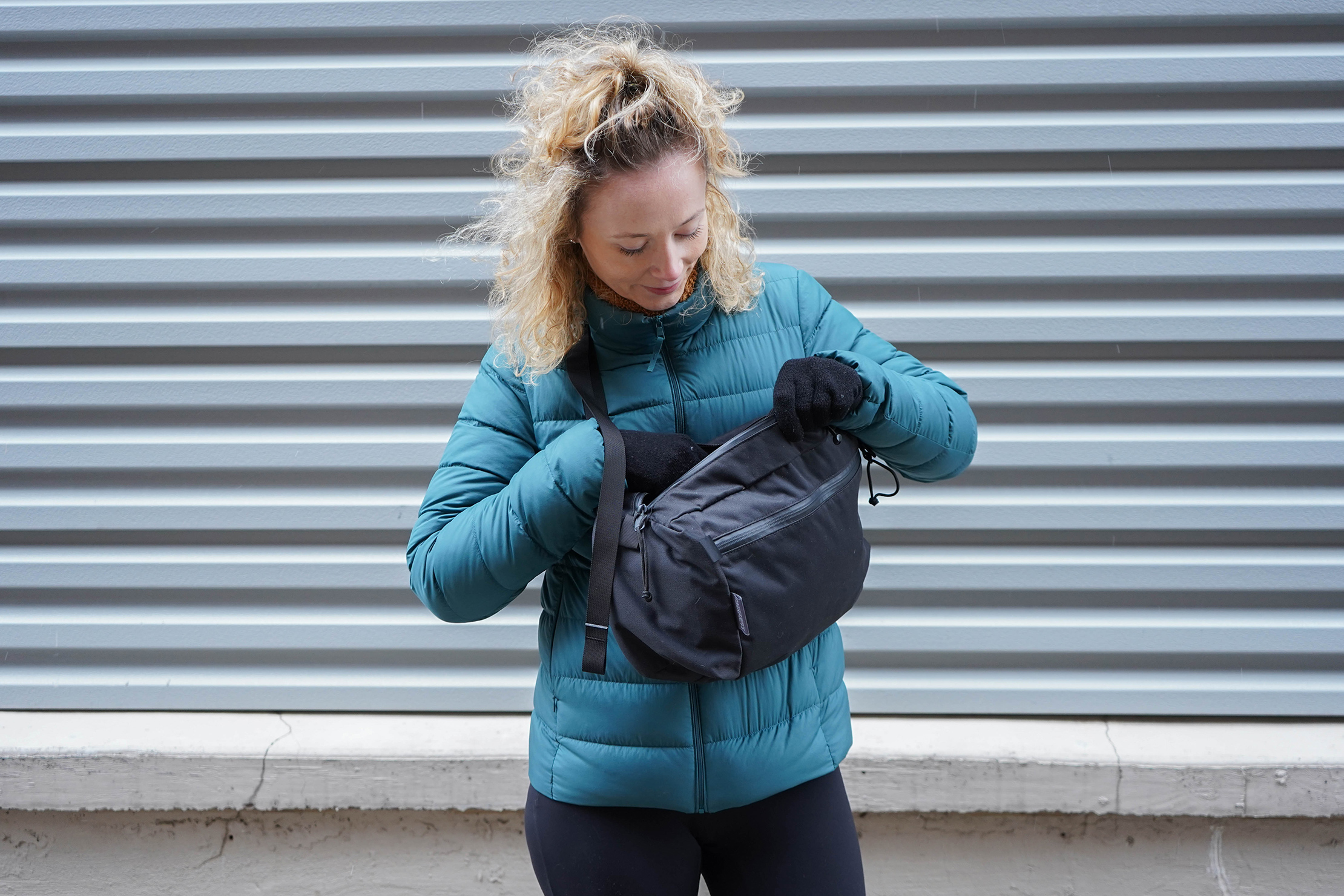 As with most slings, a major plus is that you can sling this bag forward to quickly get in and out of the compartments. The fabric is so soft that it makes this process as smooth as butter.
Durability & Testing
We've been testing the Mystery Ranch Sling Thing for three weeks as a daily driver in the Motor City. It's been perfect carrying the everyday essentials to co-working spaces and coffee shops. It holds everything we need in a slim, simple body that wears comfortably on the back.

As far as durability is concerned, there are a few tiny marks, but nothing too worrisome or even noticeable. Other than that, everything is holding up nicely—and we don't expect that to change any time soon.
Usage Timeline
Initial Usage
Condition: Excellent
Minimal and streamlined design
Shoulder strap design compresses bag and keeps the profile low
Almost no internal organization
2 Weeks of Use
Condition: Excellent
A few little marks, especially on the interior of the bag, but they should come out.
Access the Pro Community Discussion
Get your questions about the Mystery Ranch Sling Thing answered from our team and the Pro Community right here on the page. Plus, join discussions with other members about gear, guides, and more.
Other Bags & Luggage Reviews