Millican Smith Utility Pouch Review
The Millican Smith Utility Pouch delivers on durability, simplicity, and versatility. The Bionic® Canvas fabric is one of the best we've come across, and while the rolltop opening may not be as quick as a zipper, it has performed well for us in real-world testing. It does have a lack of internal organization, but if you're after a minimal pouch that does its job well, this is a great piece of gear.
Our Verdict
Unlock the Pro Summary
Save time. Get access to brief summaries of our reviews so you can browse and make decisions more efficiently.
Pros
Durable, weather-resistant, and sustainable fabric.
Incredibly versatile.
Adjustable capacity.
Cons
Lack of internal organization may be an issue for some.
Stitching is frayed in places.
Recent Pack Hacker Video
Technical Details
Capacity

2.5l

Weight (oz)

3.9 oz (110.6 g)

Dimensions

8 in x 6 in x 3 in (20.3 x 15.2 x 7.6 cm)

Notable Materials

Aluminum, Cotton, Polyester, DWR Coating

Manufacturing Country

Vietnam

Warranty Information
Full Review
Located in the Lake District of England, Millican is a brand that has been making some exciting travel gear that we've been eager to test for a while now. In this review, we will be taking a look at their Smith Utility Pouch.
Here at Pack Hacker, we're big fans of versatile accessory pouches that help compartmentalize gear inside your pack. And to date, the Trakke Laggan Travel Accessory Pouch, Mapgul DAKA Pouch, and Peak Design Tech Pouch sit among our highest rated.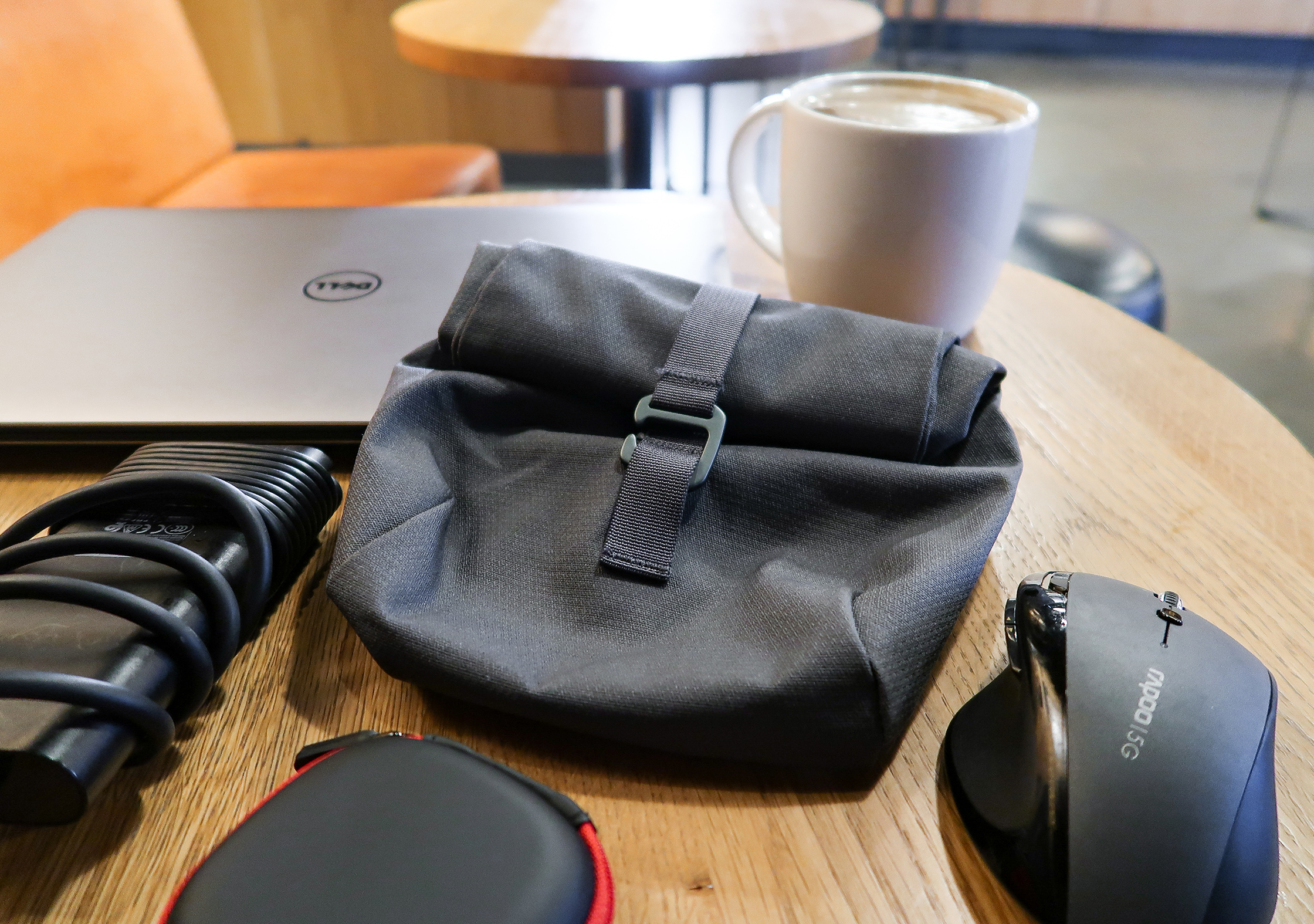 At the time of this review, we've been testing the Millican Smith Utility Pouch for three months, and it's seen nearly everyday use in and around the UK. So let's dive into this review and find out how it performed!
Material & Aesthetic
We're digging the minimal design of this pouch, and the heritage-yet-streamlined aesthetic is hard not to like.


The Smith Utility Pouch is available in graphite grey, moss (green), slate (dark blue), tarn (light blue), and rust (red). The colors are neutral and subdued, and while we opted for graphite grey, we'd be happy to rock any of the other options.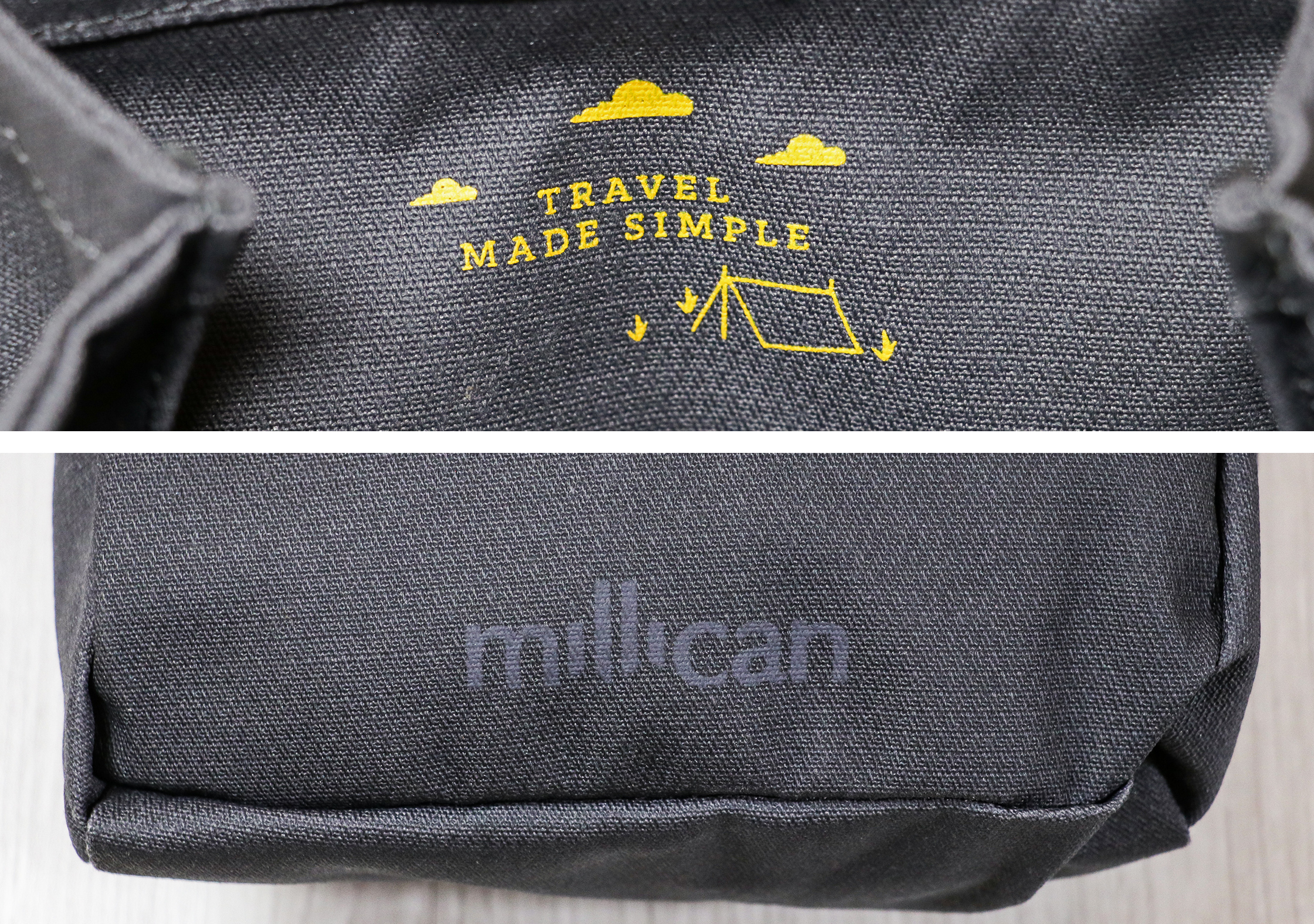 The branding on this thing is sleek and super discreet. There is a logo on the back that's near-invisible, seeing as it's the same color as the pouch. And there is a Millican "Travel Made Simple" tagline with a cute campsite drawing on the inside. The internal branding is bright yellow, but it's understated, and you only ever see it when you open the pouch up.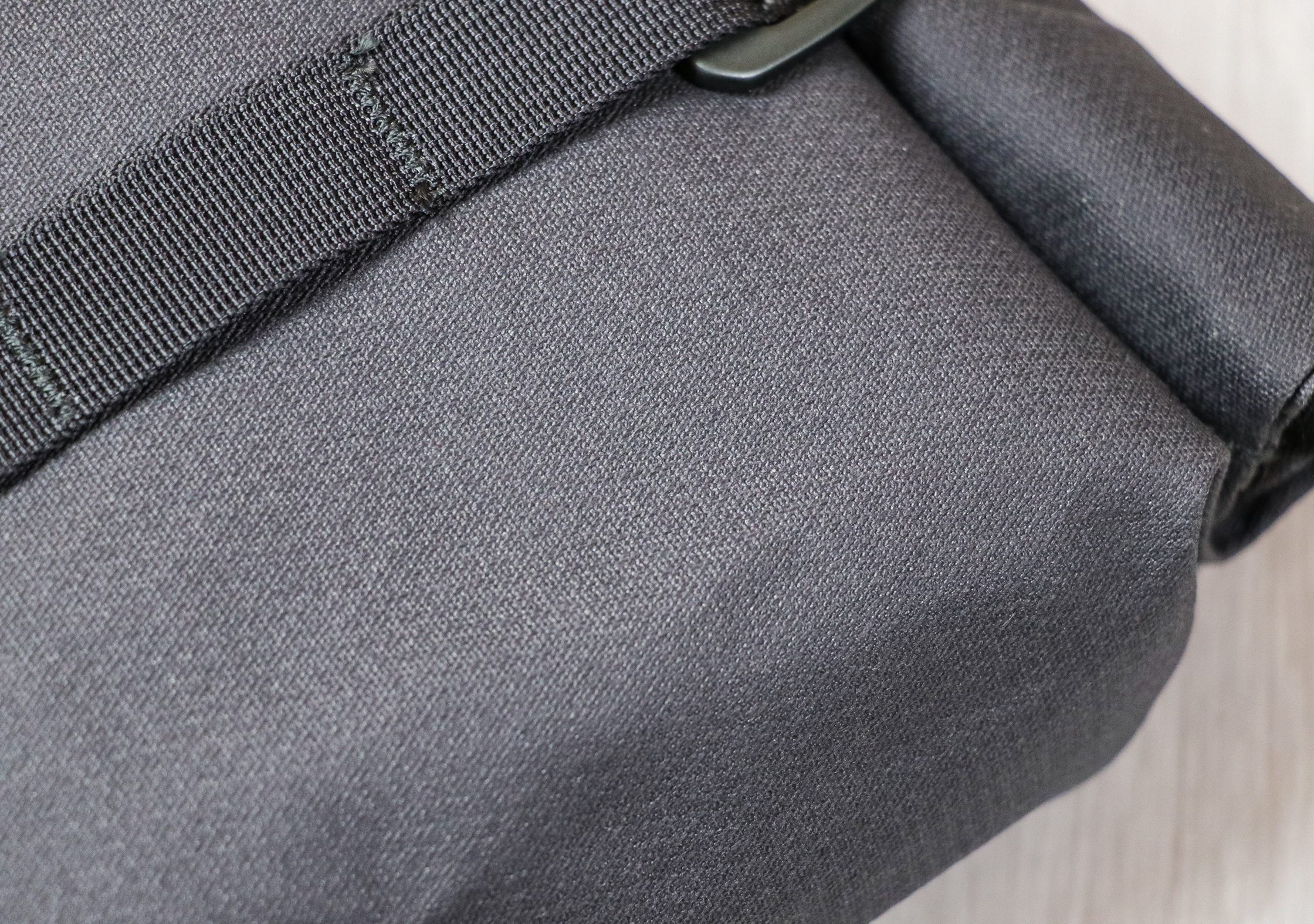 Moving into the materials, the Millican Smith Utility Pouch is constructed from their exclusive Bionic® Canvas. Sounds awesome right? Well, it is! In fact, it's one of the most impressive fabrics we've come across to date.
The Bionic® Canvas is 38% cotton, 57% recycled polyester, and 5% high-tenacity polyester (a material commonly found in seatbelts). Millican states on their website that "using recycled polyester, rather than virgin polyester, cuts energy by 50%, saves 20% on water and reduces air pollution by 60%."
Yeah, we're pretty sure this pouch is going to save the world. And as if that wasn't enough, the canvas material is treated with DWR (durable water-repellent) and impregnated with paraffin wax for even more weather-resistance.
To summarize, the Bionic® Canvas is super durable, good for the planet, and highly weather-resistant. It's also remarkably lightweight for a canvas material and , adding only 3.9oz (to be precise, because we hate rounded numbers) to your overall carry.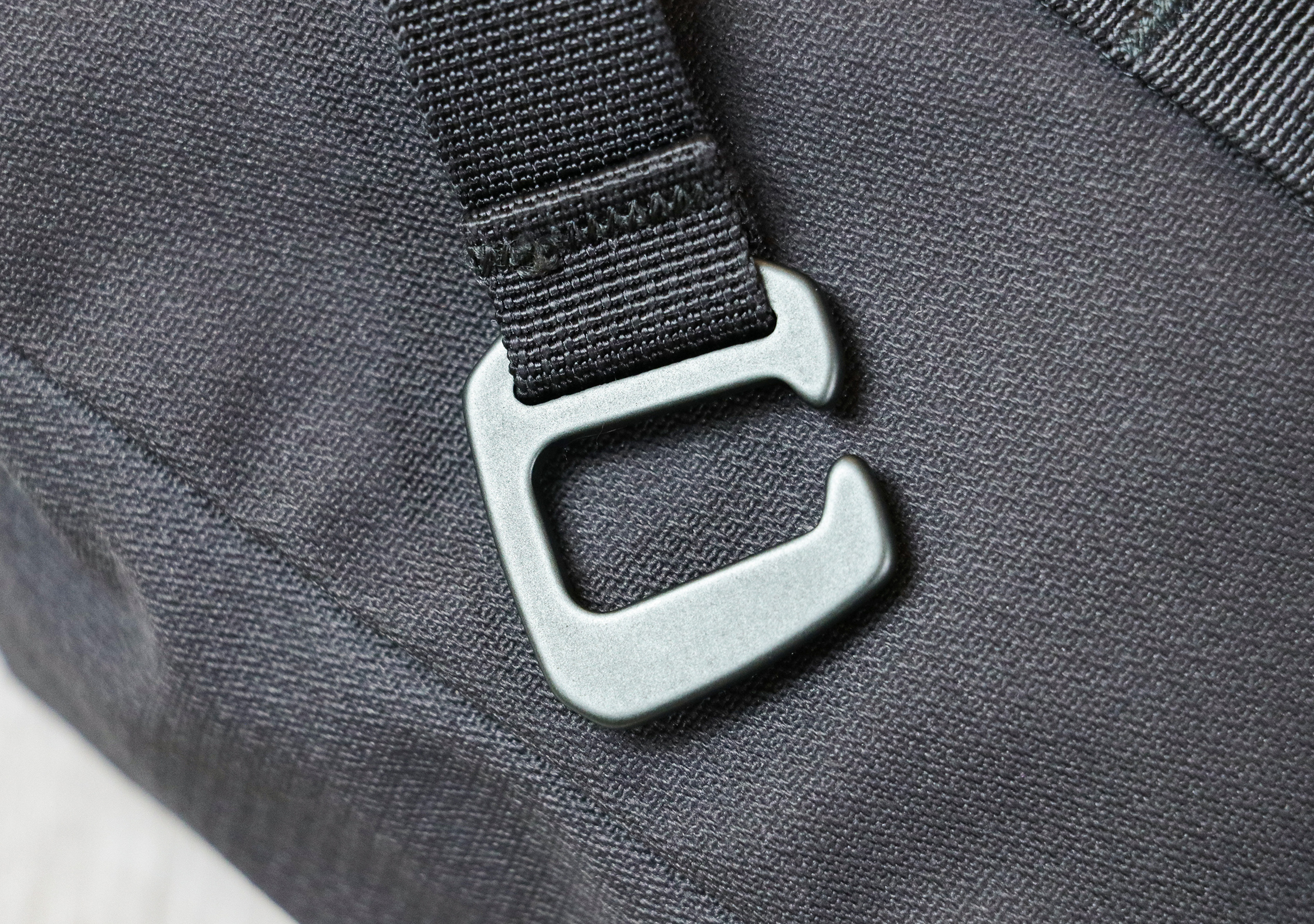 Rounding off the materials, the buckle that holds the rolltop in place is made of lightweight aluminum. It's strong, sturdy, and gives the pouch a premium feel.
Usage & Benefits
The Millican Smith Utility Pouch has a rolltop opening, which is common among backpacks but not often found on smaller pouches, which tend to have a zippered opening. We were skeptical at first, but we've found this feature works well in practice.
The most significant benefit is the versatility it brings to the table, as the rolltop can be rolled down more or less, depending on how much gear is inside. It's a great space saver when you're not carrying much, but it will also help the bag expand to carry a whole lot more than you'd think. You'll notice there are four notches on the front, which stand for four different capacities.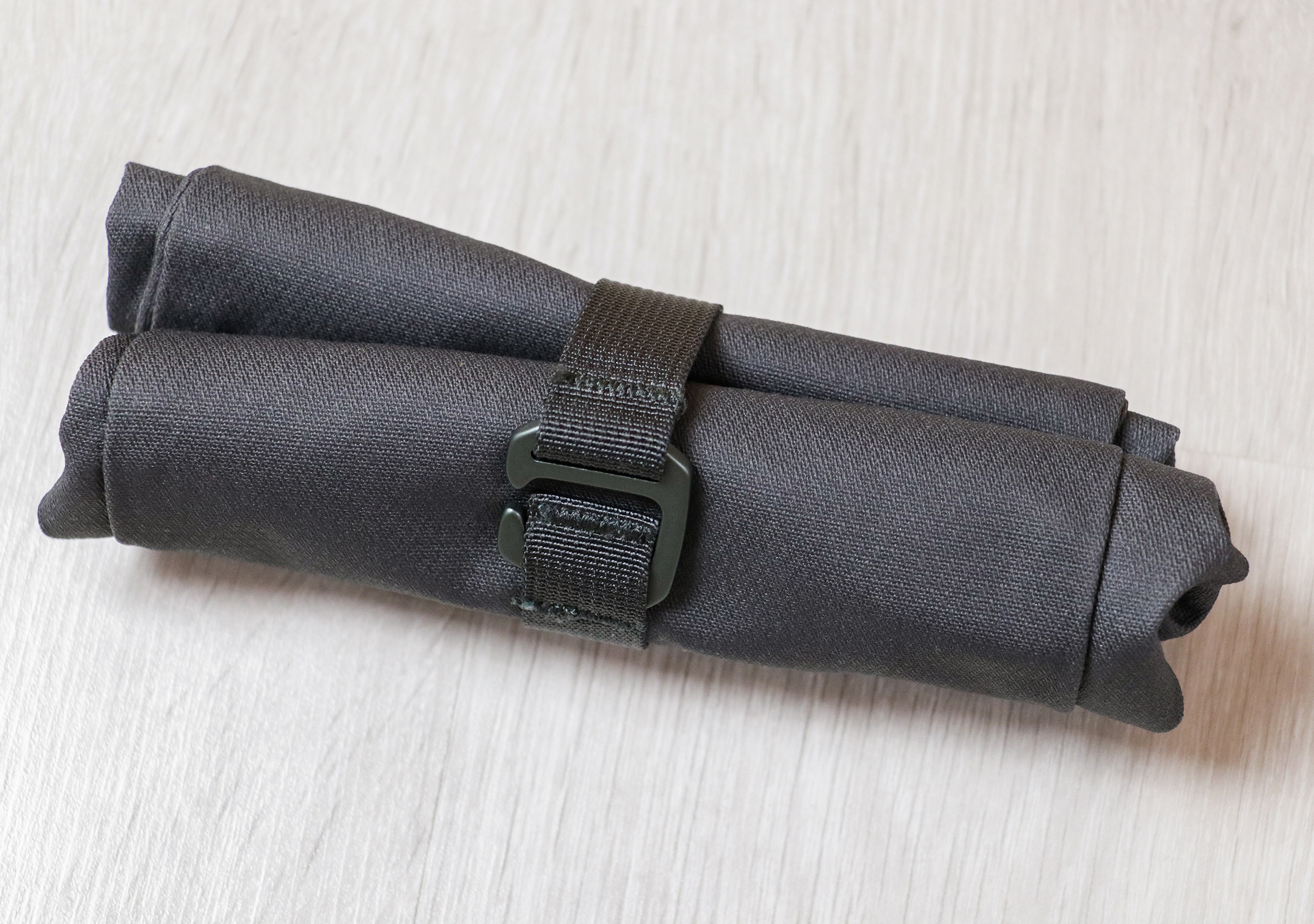 The Smith Utility Pouch can also be rolled up completely, thanks to a small additional notch on the back of the pouch. This is a nice touch and an excellent example of the smart thinking going on over at Millican. If you don't need to use this pouch for whatever reason, you can roll it up entirely to save a bunch of room.
The rolltop buckle is easy to use and has never unhooked itself during our testing, which is (obviously) great. That is always one concern with a rolltop buckle, and with a pouch like this it could mean a whole bunch of cables and chargers strewn about the inside of your pack. But alas, that has not happened to us and we think the chances of it ever happening are quite slim.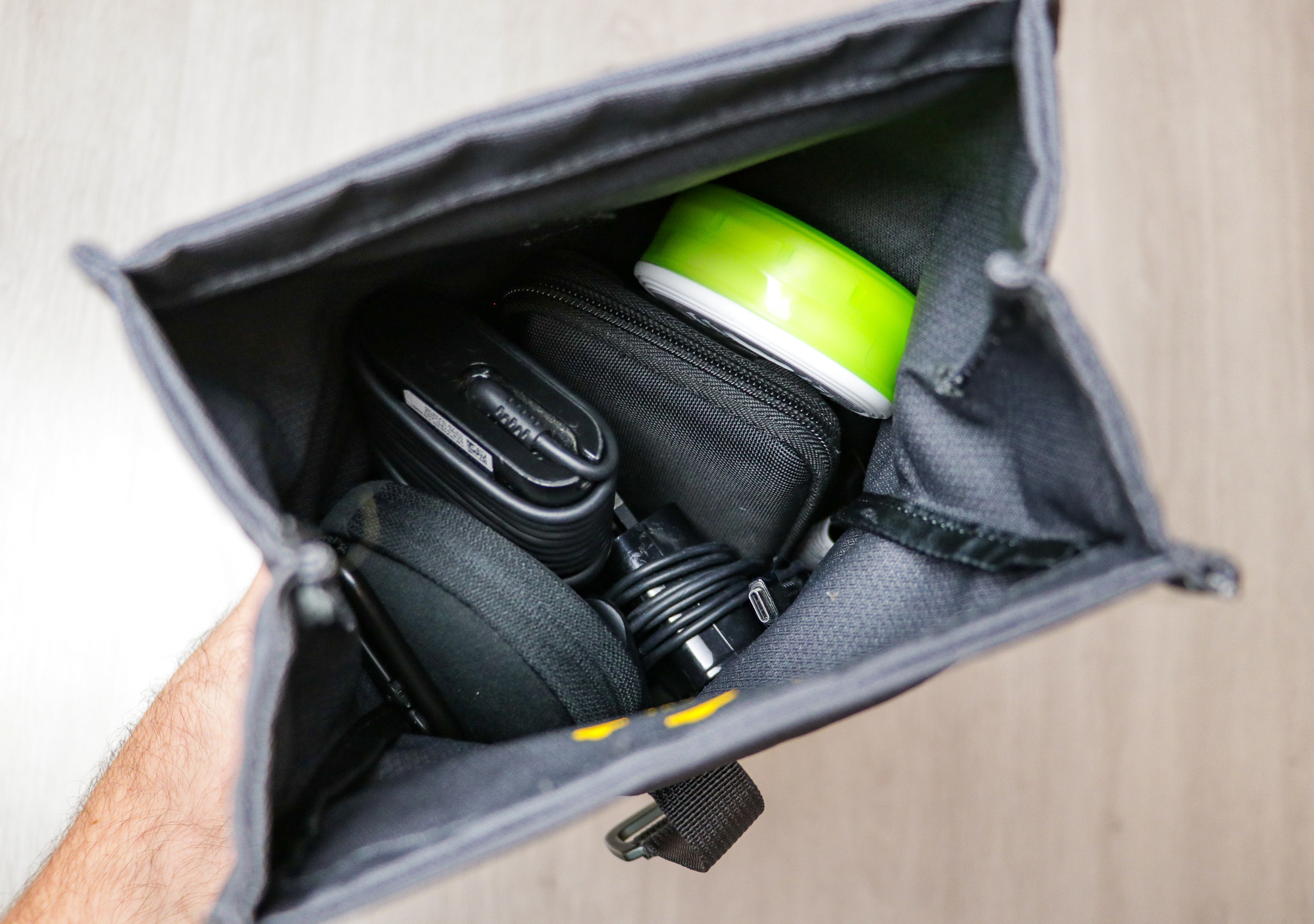 Moving inside the pouch, you'll notice that there is little internal organization. In fact, there isn't any organization whatsoever. None. Nada. Zip. We think this is great for quickly stuffing gear inside, plus it makes the pouch a whole lot more versatile as you can throw in larger items without worrying about them not fitting in pockets or compartments.
However, this does have its downsides. The lack of organization can be problematic if you're carrying a lot of tiny items as you'll likely have to empty the whole pouch to find what you're looking for. But that's just it—this pouch really isn't intended for carrying tons of tiny items. If you are in need of an organizer with a boatload of useful internal pockets and dividers, we'd recommend taking a look elsewhere. (Like the Peak Design Tech Pouch, for example.)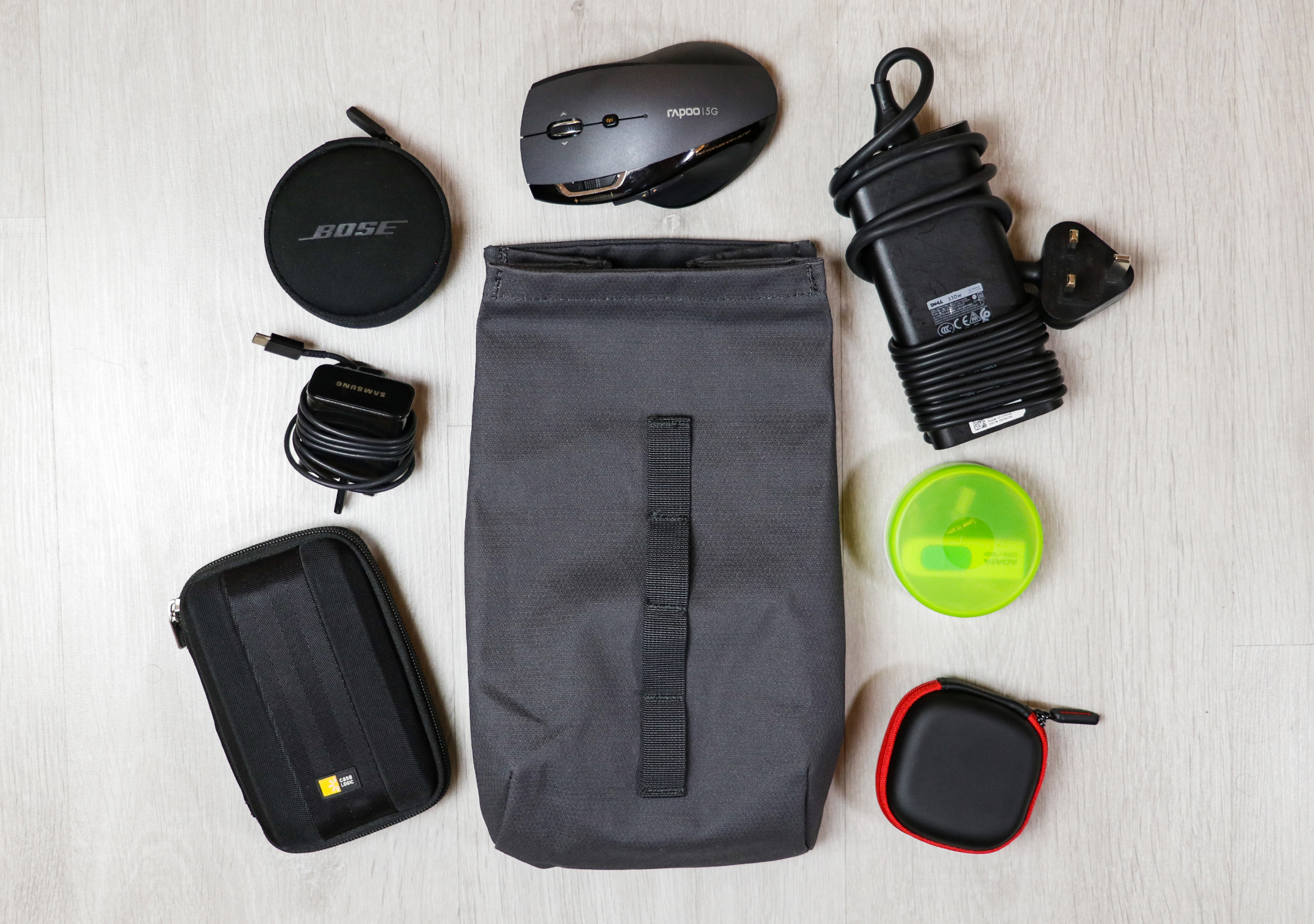 We've found the Smith Utility Pouch to be ideal for chargers and other medium-sized tech gear like mouses or plug adapters. Smaller items like earbuds, memory cards, and USB sticks can be stored inside too, but we'd strongly recommend picking up a small container—like the GoTubb—to keep them all together.
Durability & Testing

We've been testing this pouch for three months and it's seen close to everyday use in and around the UK. We've crammed this thing full to the brim and thrown it in a pack more times than we can count, and we're happy to report there are no signs of wear and tear as of yet.
This pouch is built to last, but if for whatever reason it doesn't, Millican offers a lifetime guarantee. While we haven't tested this ourselves, Millican states they will offer to repair, replace, or refund you if your gear fails in any way during normal use. That's an excellent guarantee, and it's reassuring when a brand stands so firmly behind their products.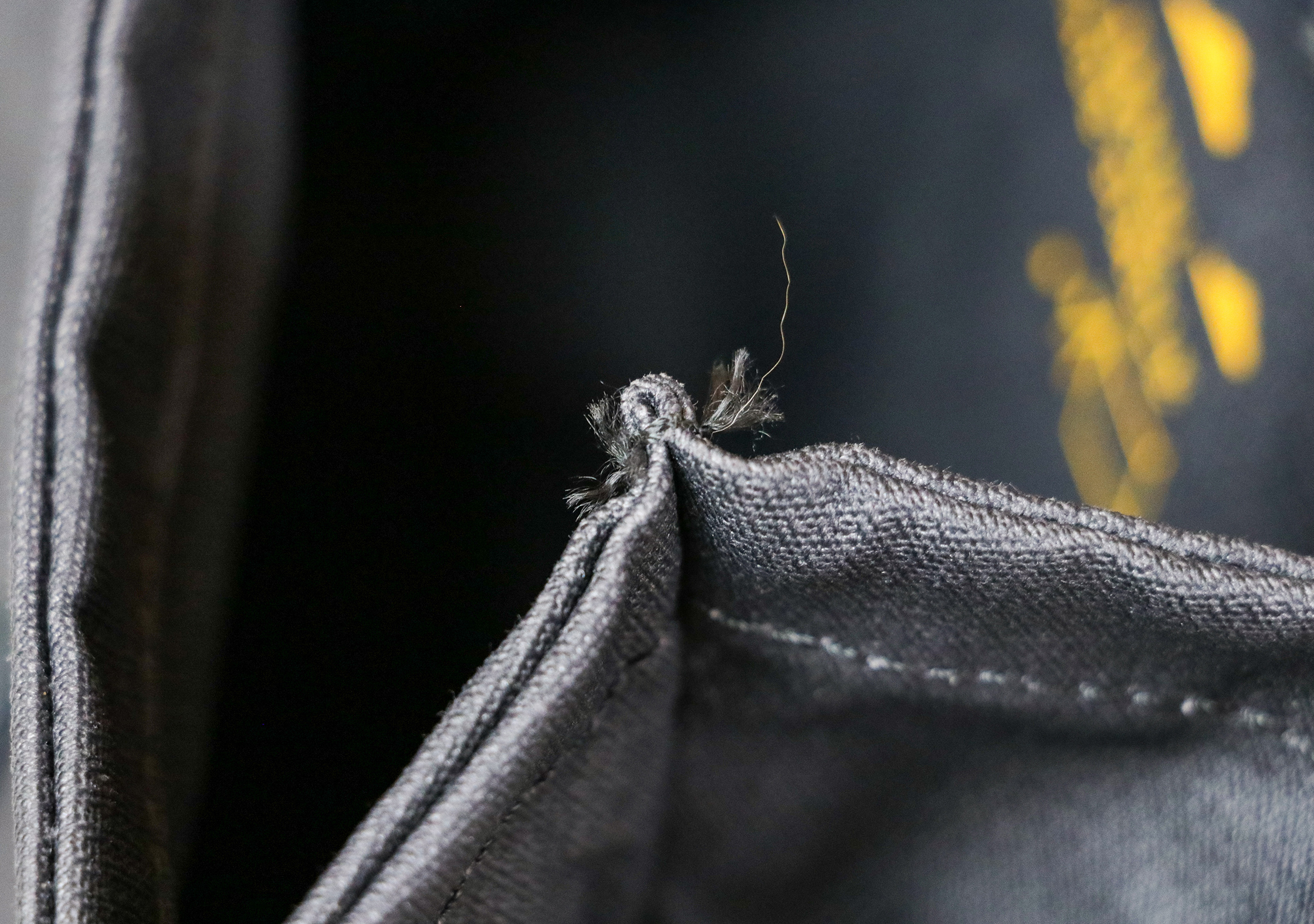 One small note on the craftsmanship, however, is that the stitching has become frayed at the ends in a few places. It's nothing that affects the integrity of the pouch, but it's worth mentioning and there's certainly room for improvement.
In testing, we've enjoyed the simplicity of this pouch. While we'd recommend popping smaller items like memory cards in a container and valuable items like hard drives in a protective case, the Smith Utility Pouch does a great job at organizing your tech gear on the road.
Usage Timeline
Initial Usage
Condition: Excellent
Digging the feel of the Bionic® Canvas fabric.
1 Month of Use
Condition: Excellent
We were skeptical about the rolltop design, but it's working well in practice.
2 Months of Use
Condition: Excellent
The adjustable capacity is super handy when you're traveling light (or you want to fill this thing to the brim).
3 Months of Use
Condition: Good
Noticed a few frayed ends on the stitching, but nothing that affects the overall integrity of the pouch.
Access the Pro Community Discussion
Get your questions about the Millican Smith Utility Pouch answered from our team and the Pro Community right here on the page. Plus, join discussions with other members about gear, guides, and more.
Other Organizers & Pouches Reviews