Melin A-Game Crushed Hydro Review
The A-Game Crushed Hydro from Melin is a well-designed, lightweight, packable hat with a sporty style, however, its style may not always suit everyday wear.
Our Verdict
Unlock the Pro Summary
Save time. Get access to brief summaries of our reviews so you can browse and make decisions more efficiently.
Pros
Materials are lightweight, durable, and dry quickly
Folds reasonably small and is easy to stow
Rubberized grab-point on interior makes adjusting the brim easier
Cons
Brim and back adjuster can loosen after unpacking
Sporty look may not fit all occasions
Can't easily wear it flat-brimmed
Recent Pack Hacker Video
Technical Details
Weight (oz)

2.54 oz (72 g)

Without Carrying Case

Weight (oz)

2.96 oz (83.9 g)

With Carrying Case

Notable Materials

Recycled Polyester, Spandex

Manufacturing Country

China

Warranty Information
Full Review
A hat is an essential piece of travel gear. It keeps the sun out of your eyes, can keep sweat from trickling down your face, and hides a bad hair day. However, you don't want to lose your favorite hat when a wicked wind comes out of nowhere overlooking an Italian cliffside, have to take it off and carry it for the duration of your tour through the Vatican, or crunch it inside your bag next to the five bottles of limoncello you bought. The Melin A-Game Crushed Hydro is a do-it-all hat that folds into a small carrying case to avoid all the above problems—apart from when you bought too much limoncello. Is the Crushed Hydro a worthy travel companion, or will it leave us wishing we had brought a different hat? Let's find out!
The Rundown
The Melin A-Game Crushed Hydro is a foldable hat crafted from a blend of spandex recycled polyester. There are a handful of colorway options available at the time of writing, most of which are fairly lowkey and subtle. A few designs are available, but most options feature a plain front without a large logo. We have the Yosemite version with a Melin logo on the front and a fun interior print. To make a long story short, there are many options for colorways and design, so there's something for everyone.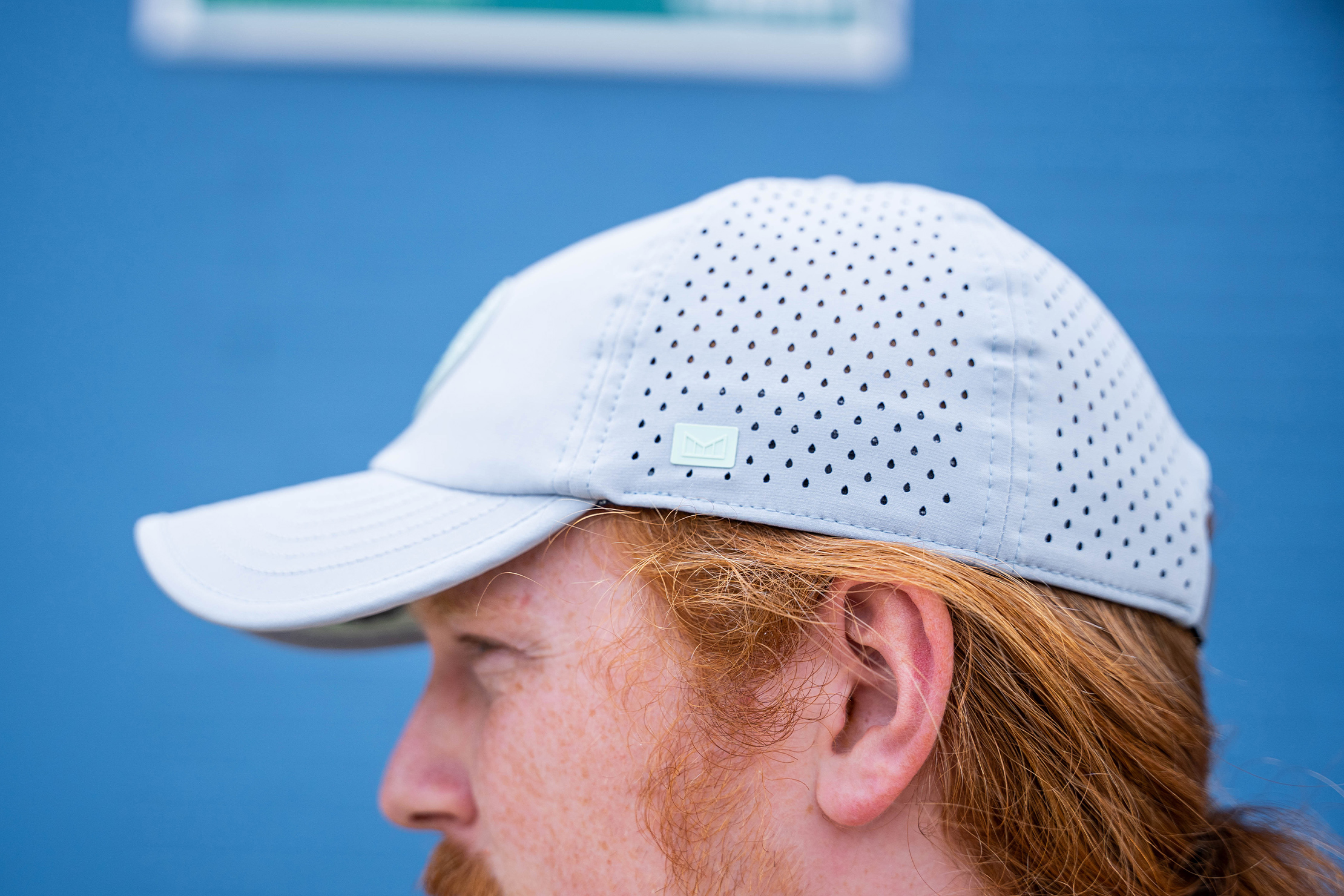 The hat has six panels. The front two are standard fabric and the back four have aeration to keep air flowing. This keeps things cool even on warm days and during strenuous adventures. There are a few small rubberized logos around the hat's exterior, none of which are too busy, at least for our liking.
The back closure is a small buckle that holds firm but is easy to unbuckle if needed. The strap material is soft yet durable and doesn't slide through the adjustor when you don't want it to. If you have a smaller head, you can hide the extra material inside the hat by feeding it through a small access hole.

The brim of the hat is relatively malleable but firm when it counts. There are aeration holes here to help with general aeration, enabling it to dry quickly should it get wet, too. There's a quarter-sized rubberized logo on the underside of the brim, which makes it easier to grab onto the hat while you're wearing it, and it comes in handy more often than you might think.
The interior rim on the hat is reasonably padded and picks up a lot of the sweat on your forehead on sweltering days. It doesn't smell and rinses easily with water, which makes it a good candidate for longer hikes.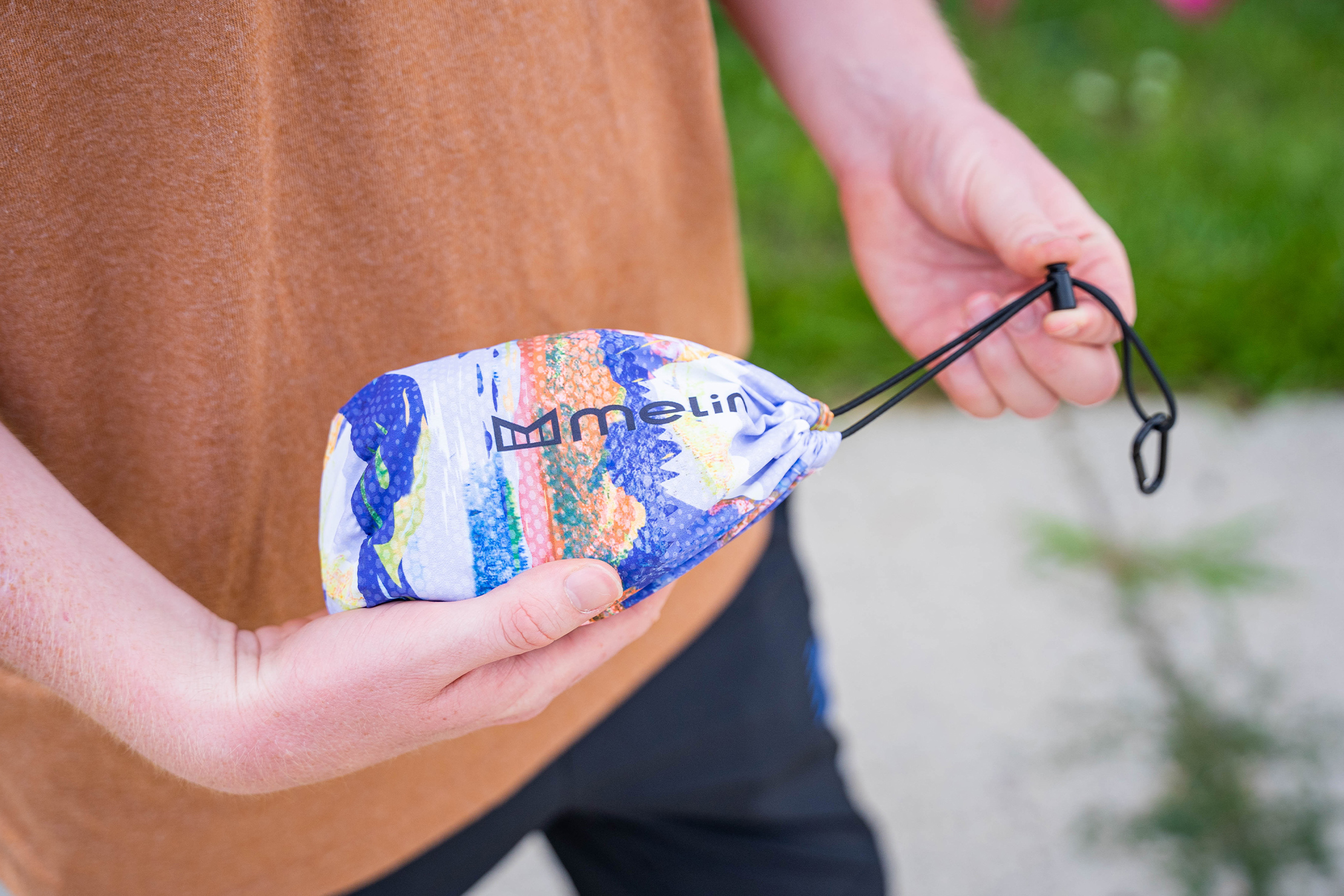 The stuff sack for the hat has saturated graphics of Yosemite. This makes it easier to find when you're in a hurry, which we dig. The material is relatively thin, which allows it to breathe. It secures using an elastic closure with a hard plastic adjustor, and there's a carabiner attached to the end. The clip is pretty small and feels fairly durable, and it makes it easier to loop it onto the exterior of your pack or sling when the hat is wet or to hang it on the inside of your daypack or travel backpack.
Packability
To stow the hat into the stuff sack, fold the brim in half, then wrap the hat's panels around the bill. It's an easy process and takes a few seconds. It isn't super tight to save space, but the material is easy to compress inside your pack. When stowed away, it's roughly the size of a large potato. We know, that's an odd way to describe size, but it's larger than a can of pop and smaller than a water bottle, you know—perfectly large potato-sized.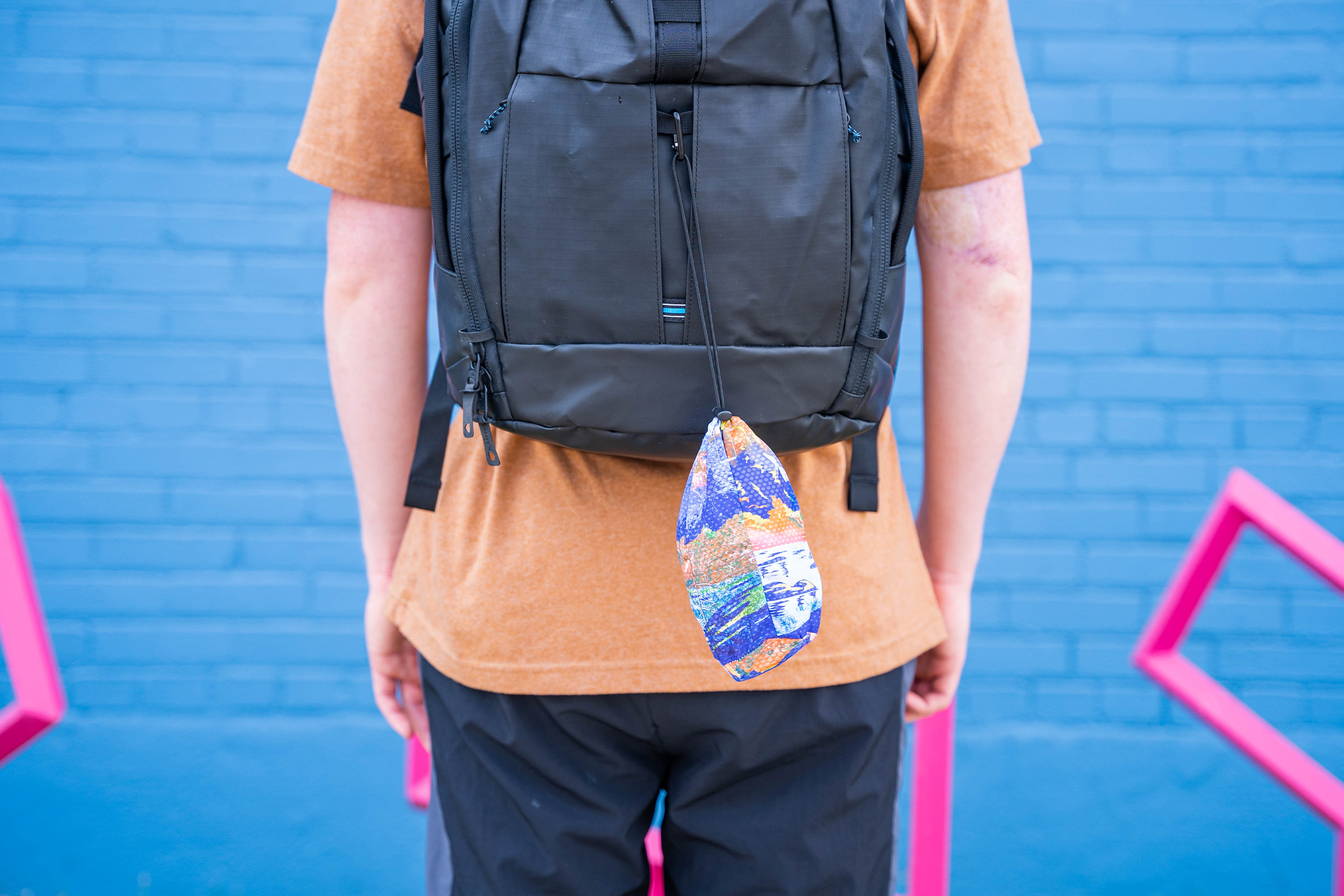 We dig the ability to pack the hat away for more than just saving space. If you're an avid hat wearer at home but know you won't be wearing a hat on vacation the entire time (going into historic churches, on boats, etc.), it can be awkward to bring a hat with you everywhere. You don't want to ruin the brim by stuffing it inside your pack, but you don't want to be disrespectful by wearing it all the time, either. The Melin A-Game Crushed Hydro gives you the best of both worlds, allowing you to wear it when you want and stow it away when you don't need it. It'll fit just about anywhere, from your pocket to the packable daypack your partner brought because they like to think ahead more than you do.
Fit Notes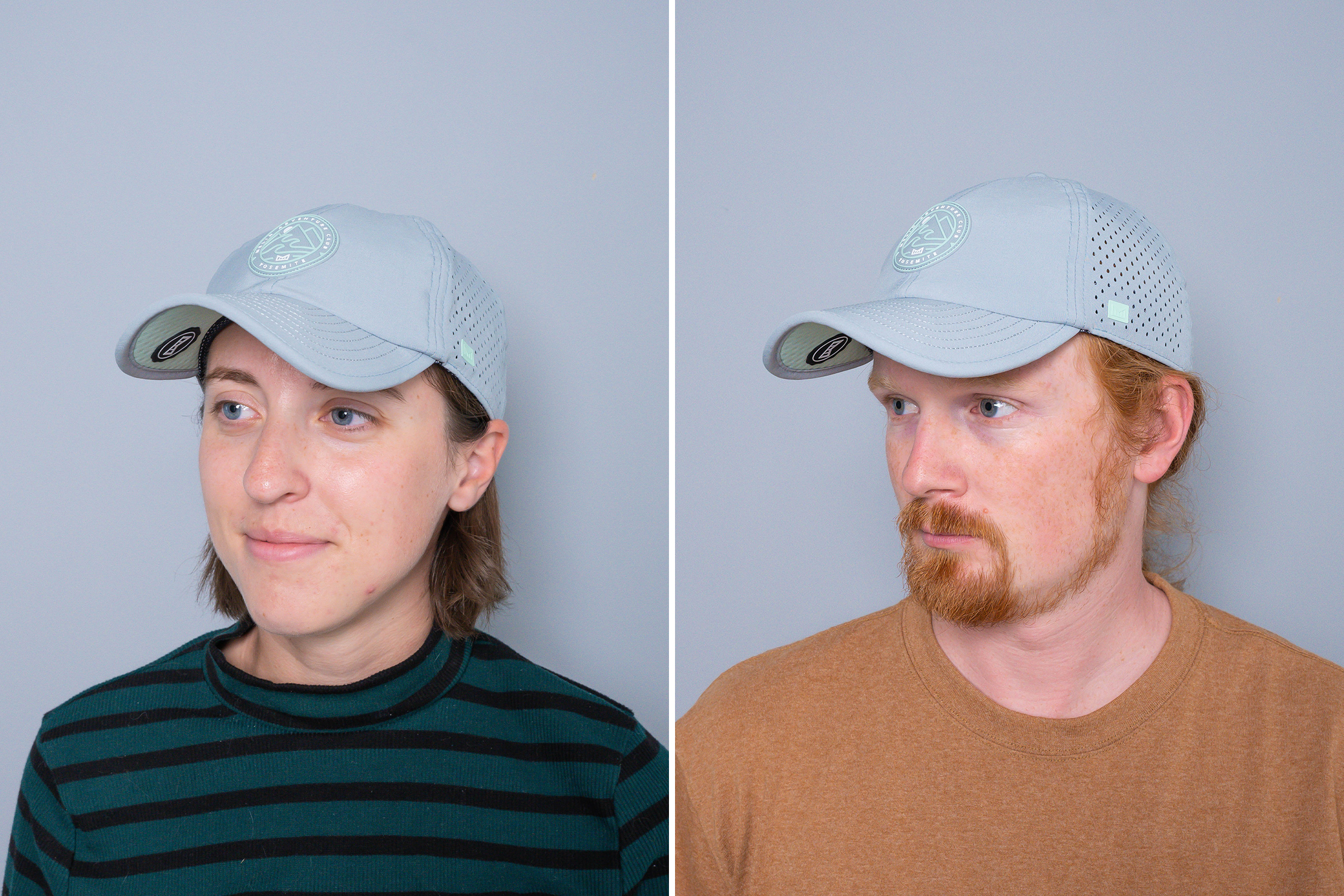 The Melin A-Game Crushed Hydro is a comfortable fit whether you have a small, medium, or large head. It's quick to adjust and doesn't come off easily, even if it's incredibly windy or the going gets bumpy. We find ourselves adjusting the brim frequently, but that's more to do with how often we stuff it into the stuff sack than the materials not holding up. It's a packable hat, so we expect to make a few adjustments each time we bring it out of its storage container. For the most part, once you've sorted the brim and fit, you're set until you pack it away and unpack it again.
Quick Comparison
The Melin A-Game Crushed Hydro feels more like an athletic hat than a standard baseball cap. It's well suited for outdoor activities like running, hiking, or anything in between. It isn't as stiff as a classic old English D Tigers hat, but it isn't meant to be. It feels like a hat that's been pre-worn-in for you in the best way possible.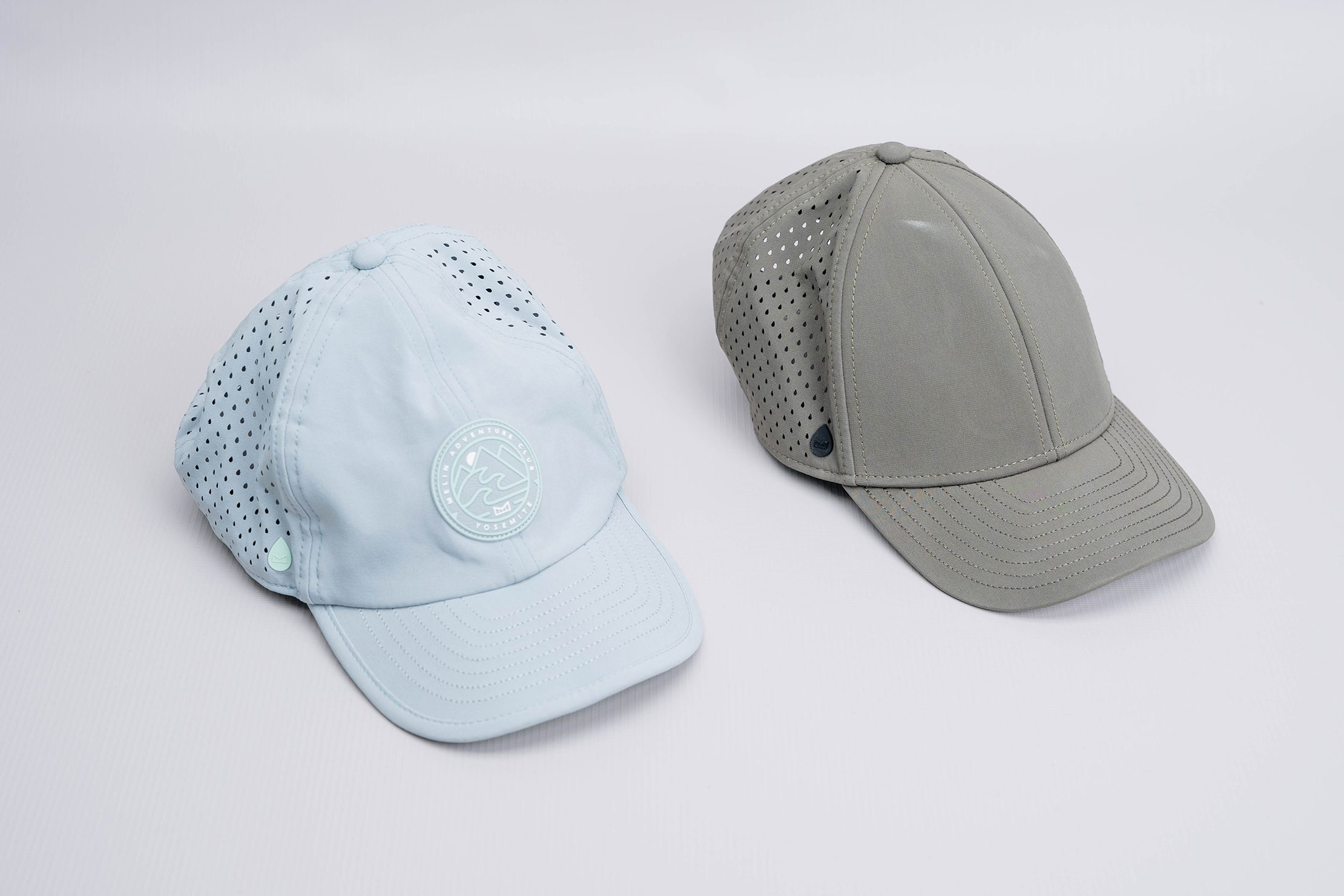 If you like to wear your hats with a flat bill, the Melin A-Game Crushed Hydro might not be your best bet. Melin offers other hats that match that style, but this isn't a review about those hats. That said, we've had great experiences with Melin hats in general (we even include the A-Game Hydro Floating Performance Snapback in our Vacation Packing List), so it's worth checking out a style that works for you.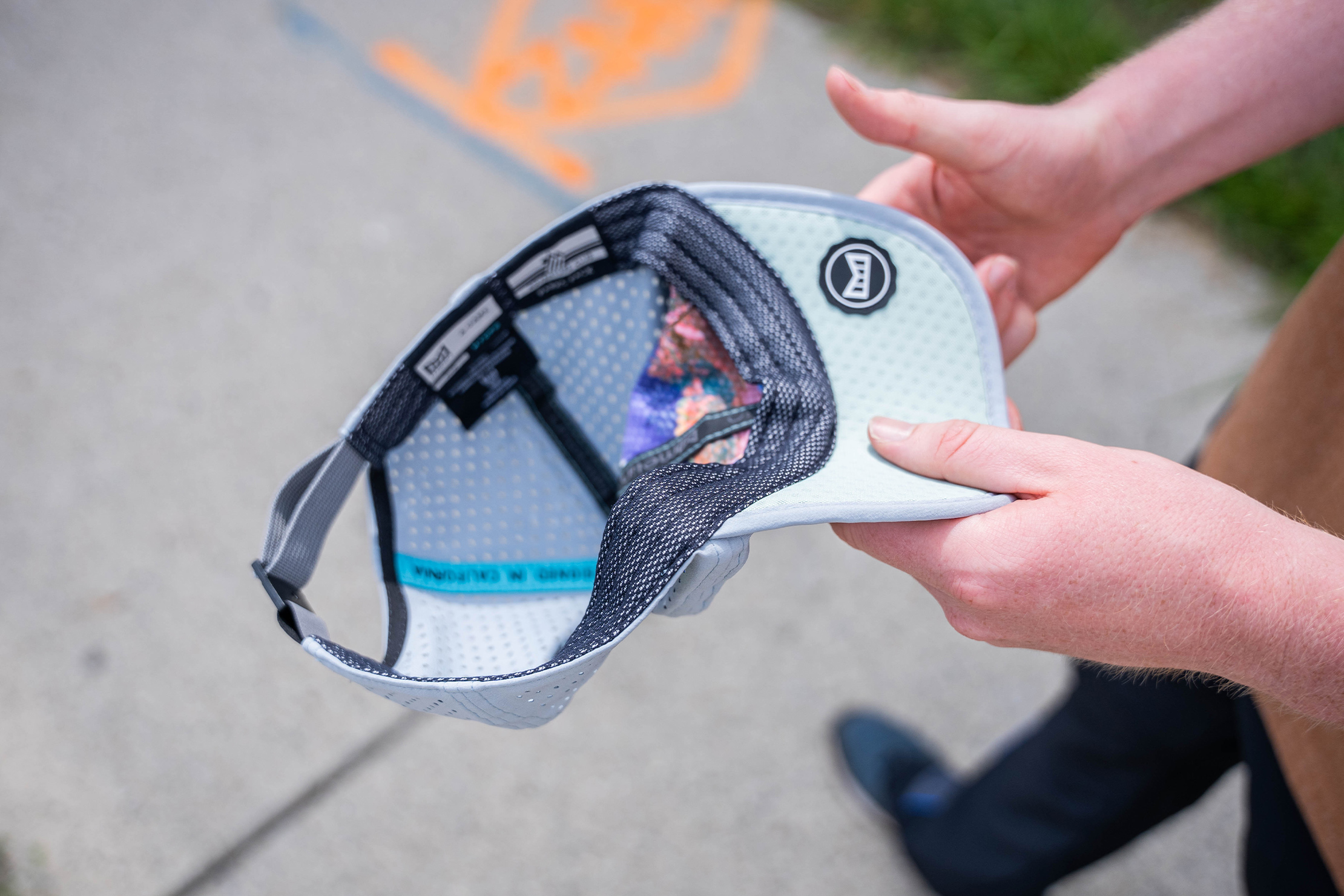 Overall, we enjoy using the A-Game Crushed Hydro. Being able to bring a hat along for any journey without worrying about damaging it is freeing. It may not have a timeless look like a standard baseball cap, but it's comfortable and does the job.
Usage Timeline
Initial Usage
Condition: Excellent
We have the fun National Parks version—with more color options and a different logo
Making size adjustments is easy, and the elastic band makes for a comfortable fit
The material feels durable yet breathable for more adventurous activities
2 Weeks of Use
Condition: Excellent
No tears or abrasions on the materials
No visible sweat staining on the interior or exterior
The stuff sack material is thin but has proven durable
Access the Pro Community Discussion
Get your questions about the Melin A-Game Crushed Hydro answered from our team and the Pro Community right here on the page. Plus, join discussions with other members about gear, guides, and more.
Other Clothing & Accessories Reviews