lululemon More Miles Duffle 40L Review
The lululemon More Miles Duffle 40L bag was made with the gym-goer in mind and is super easy to clean, but the straps can get uncomfortable real quick.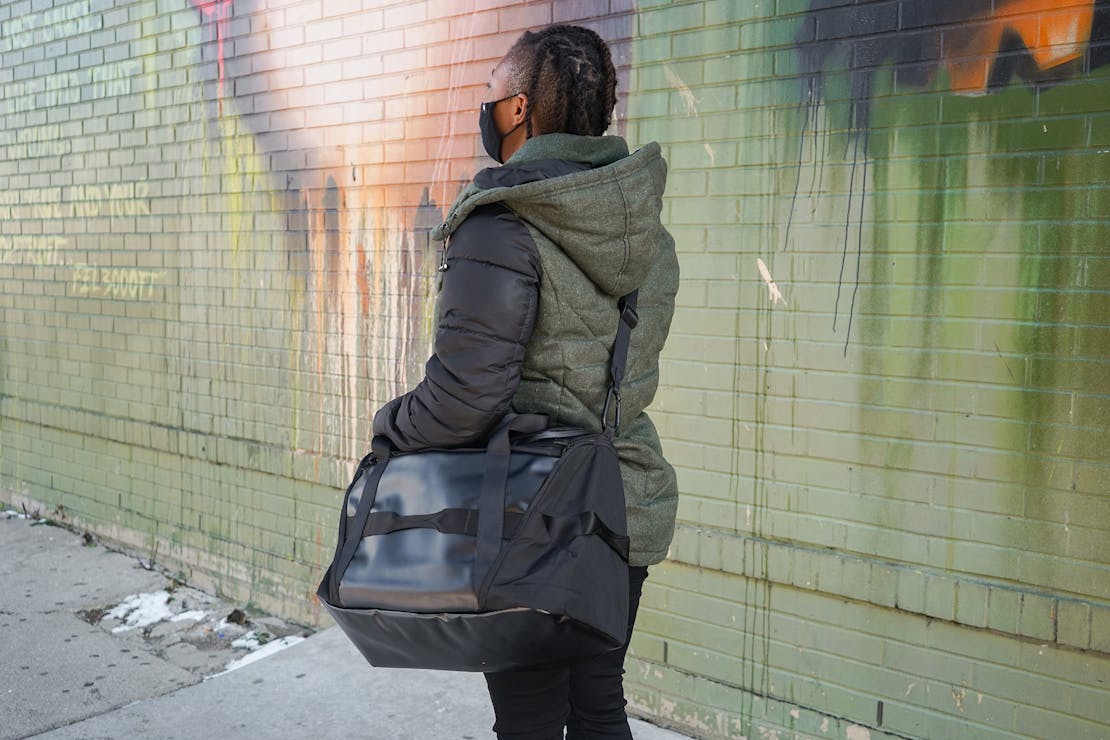 Our Verdict
Unlock the Pro Summary
Save time. Get access to brief summaries of our reviews so you can browse and make decisions more efficiently.
Pros
Weatherproof fabric is easy to clean
Sturdy and holds its shape even when empty
Good amount of internal pockets for a duffle
Cons
Outside pockets take up space inside the bag when filled
No padding on the crossbody strap
TPU material can scratch up pretty easily
Recent Pack Hacker Video
Technical Details
Capacity

40l

Weight (lb)

2.7 lb (1.2 kg)

Dimensions

20.9 in x 10.8 in x 11 in (53.1 x 27.4 x 27.9 cm)

Notable Materials

Polyester, Thermoplastic Polyurethane (TPU), Polyurethane, YKK Zippers

Manufacturing Country

Vietnam

Laptop Compartment Size

15"

Warranty Information
Full Review
If you're anything like us, you're the type of traveler who has 25 different "to-do" tabs open in your brain. You're an expert-level multitasker. You're going to hit the gym, get some work done (yes, even on vacation), and wait… did you remember to pack extra underwear? Okay, maybe your multitasking isn't expert level yet, but you're a work in progress. It's okay, so are we.
Thankfully, for folks like us, lululemon's More Miles 40L Duffle bag has enough compartments for pretty much everything. This thing has pockets on pockets both inside and out. One for your laptop, another for toiletries, some for snacks, and even more for your sweaty clothes. It was our go-to gym bag for several weeks and held up extremely well against protein shake spills and dusty gym floors.
In true lululemon fashion, this bag is totally sleek and gets extra points for style if you're into the faux leather look. On the downside, it's not very comfortable to carry seeing as the crossbody straps have zero padding—a true tragedy.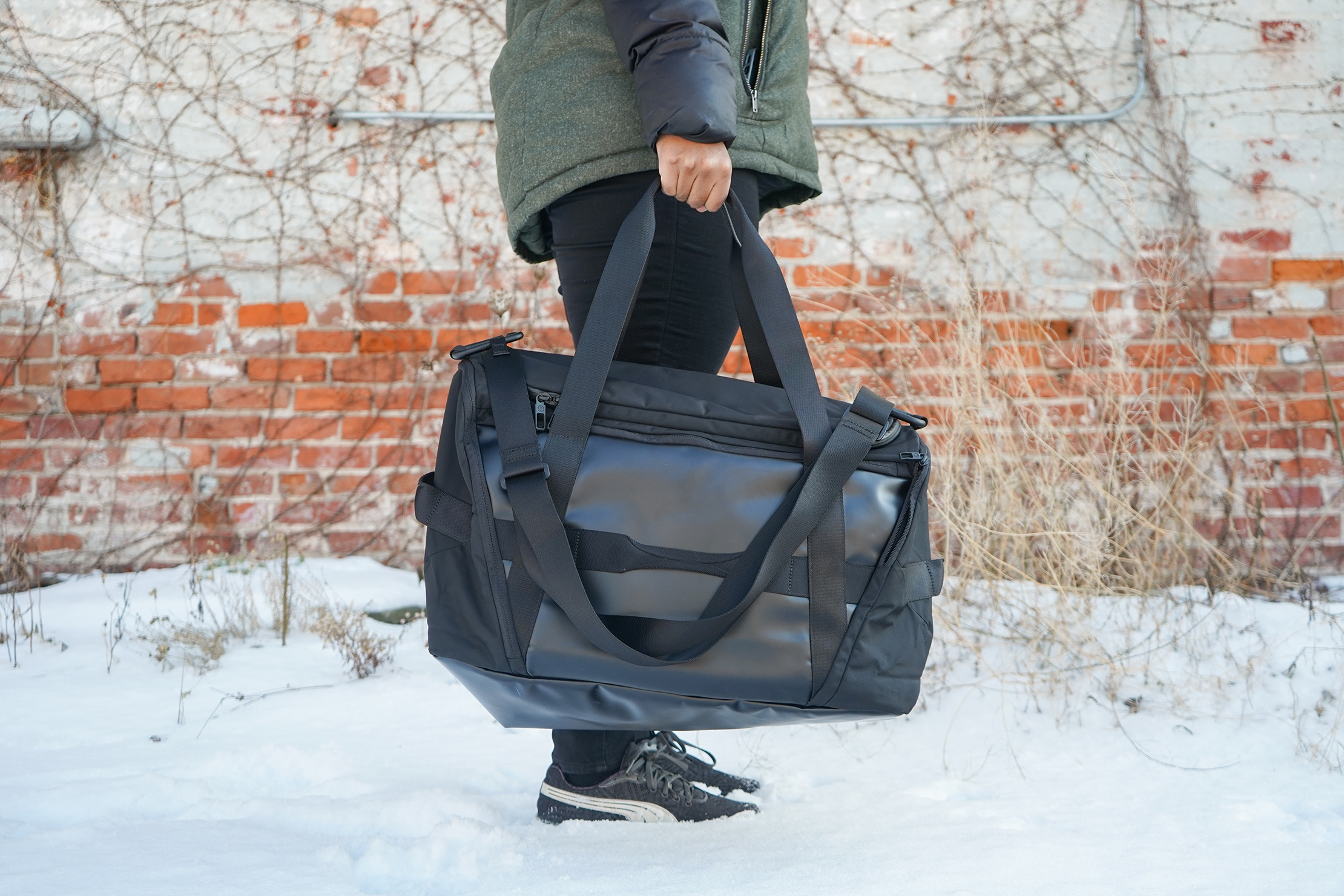 External Components
Fabric-wise, the More Miles Duffle is made mostly of TPU and is water-resistant all around making it easy to clean with a nice swishy sound. Contrasting polyurethane on the center panels gives it a snazzy faux leather wet look and the whole thing is smooth to the touch. You will turn all the heads as you stroll into the gym ready to get your swole on. Who is that dapper human with the lululemon bag, they'll wonder. It's you, ready to make some gains.


Beyond just being stylish, the 100% weatherproof material gives the bag a slight stiffness meaning it holds its shape relatively well even when it's empty. We did find after about two weeks, however, that the duffle starts to lean to one side when you put a laptop in the dedicated compartment. Not a huge turn-off overall, but something to consider.
The duffle uses trusted YKK zippers, which we really dig and regard as the godfather of all zipper manufacturers. Though the carabiners are definitely not strong enough for climbing (seriously, there's a warning right on them), they don't feel cheap at all and the spring is pretty tight, despite being unbranded.
Compared to other lululemon duffles we've tested like the Command the Day Duffle 37L, the More Miles duffle is more durable and easier to keep clean.
Overall, the design on this bad boy is pretty slick and it still looks fresh after several weeks of consistent use. Where we ran into a problem was the functionality of the straps. With no padding on the crossbody strap, it gets uncomfortable to carry real fast. The straps are removable, and you can just use the handles to carry it, but they don't have any padding either so not much relief there.
You should be aware that the snaps on the handles are not very strong compared to other bags with wrap-around velcro. So just be careful picking it up if you have it loaded up pretty heavy.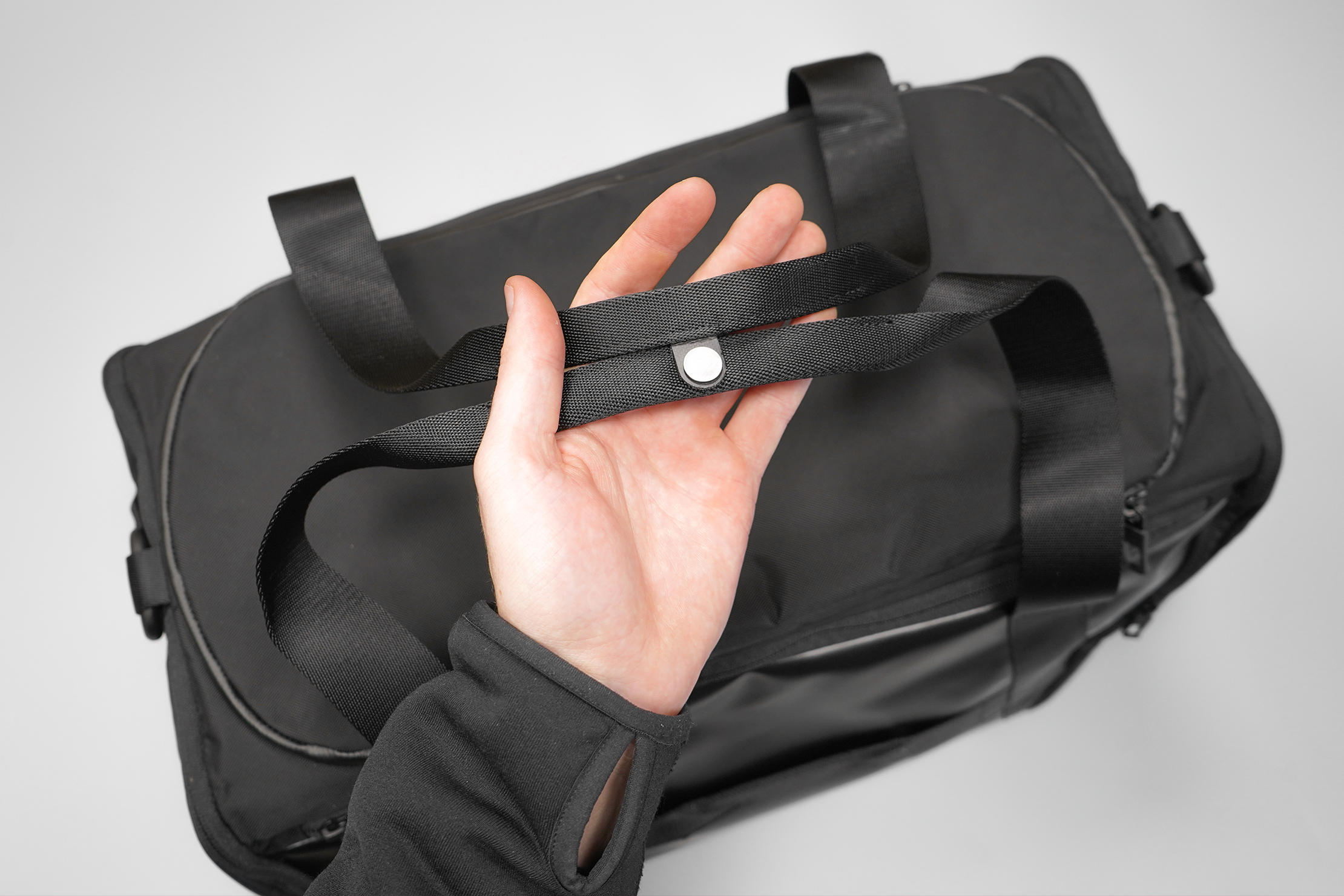 What's Inside
The digital nomad in us appreciated the outer compartment where you can slip your laptop (up to 15 inches). There isn't much wiggle room here though, so if you usually carry your laptop in a sleeve, you'll have to leave it behind. The padding itself is extra thick, but the compartment doesn't have a false bottom, so if you're generally on the rough side with your gear watch out. We will not be held responsible for any broken laptops, sorry y'all.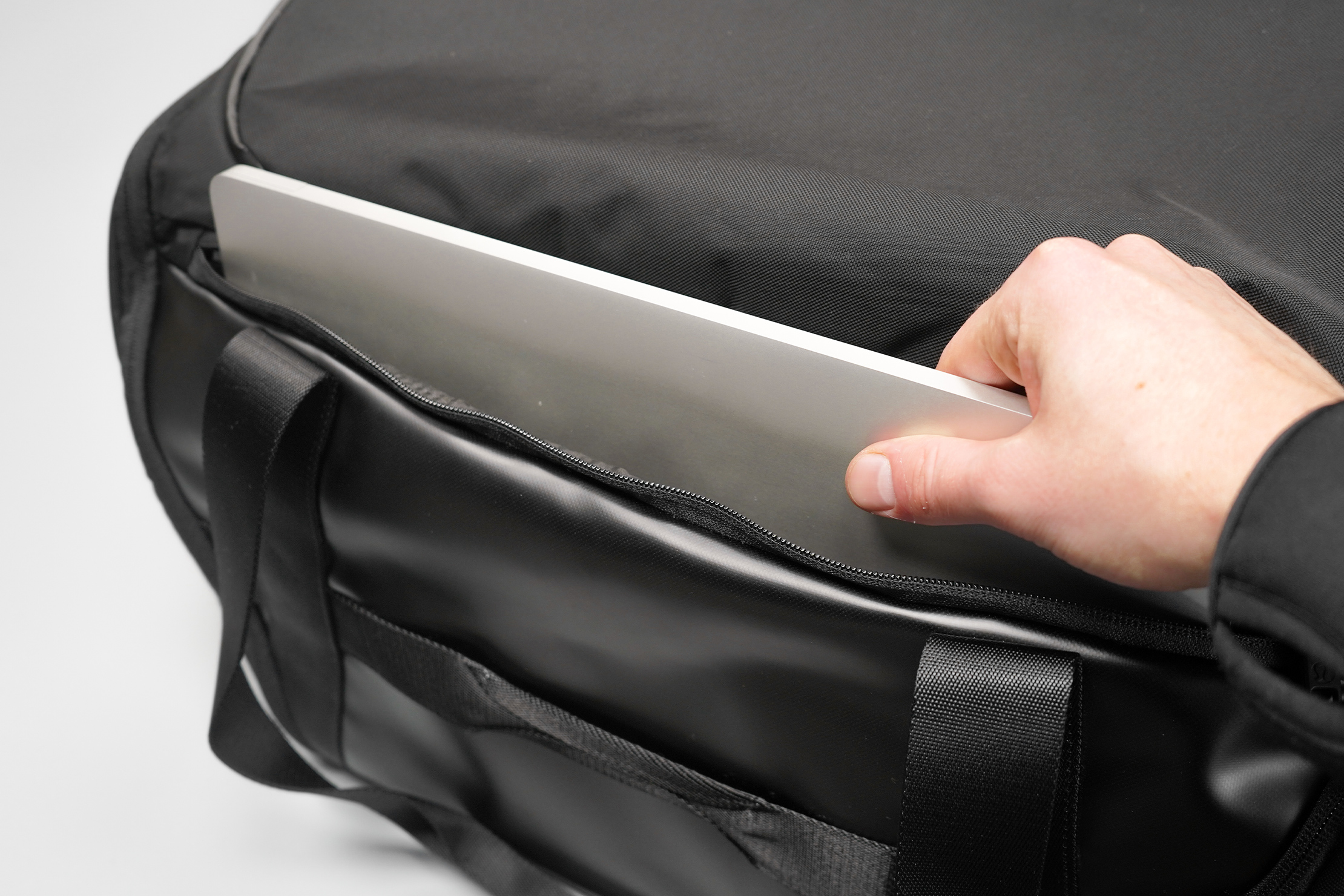 While we generally prefer bags with the false bottom if we're going to be putting a pricey MacBook inside, the thickness of the padding here is a little reassuring. Unfortunately, that comes with a catch 22. The padding causes the compartment to jut into the bag a little too much for our tastes and makes the internal pockets that are attached to the laptop compartment cramped.
There are three pockets inside here—two slim horizontal ones, and a slightly wider vertical mesh. Without the laptop, these pockets are ideal for essentials like toiletries, wet wipes, and phone chargers, or other cables. When carrying a laptop, these things will still fit, but it's a bit of a tight squeeze.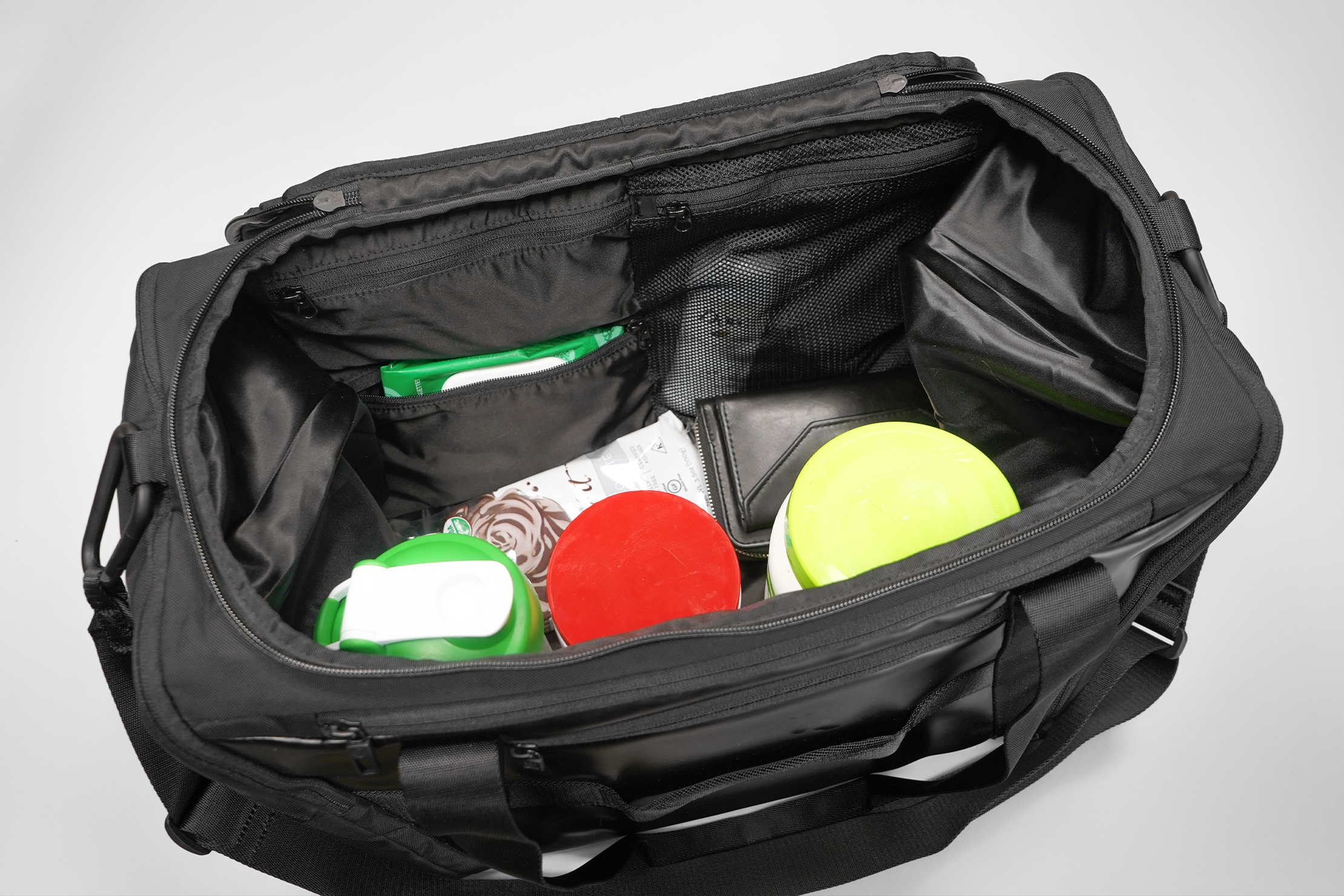 We had the same issue with the outer pockets on either side of this bag. The shoe compartment is cavernous enough to fit a six-pack of beer, but that vast cave leads straight into the bag itself. When shoving clothes in here, there isn't much of a problem as you can roll them up or organize them in space-saving packing cubes. On days that we wanted to bring an extra pair of shoes, for example, we found that it just took up too much space. Good thing we're not the type to bring a six-pack of beer to the gym, but if you're using this bag for traveling, you may run into some space issues.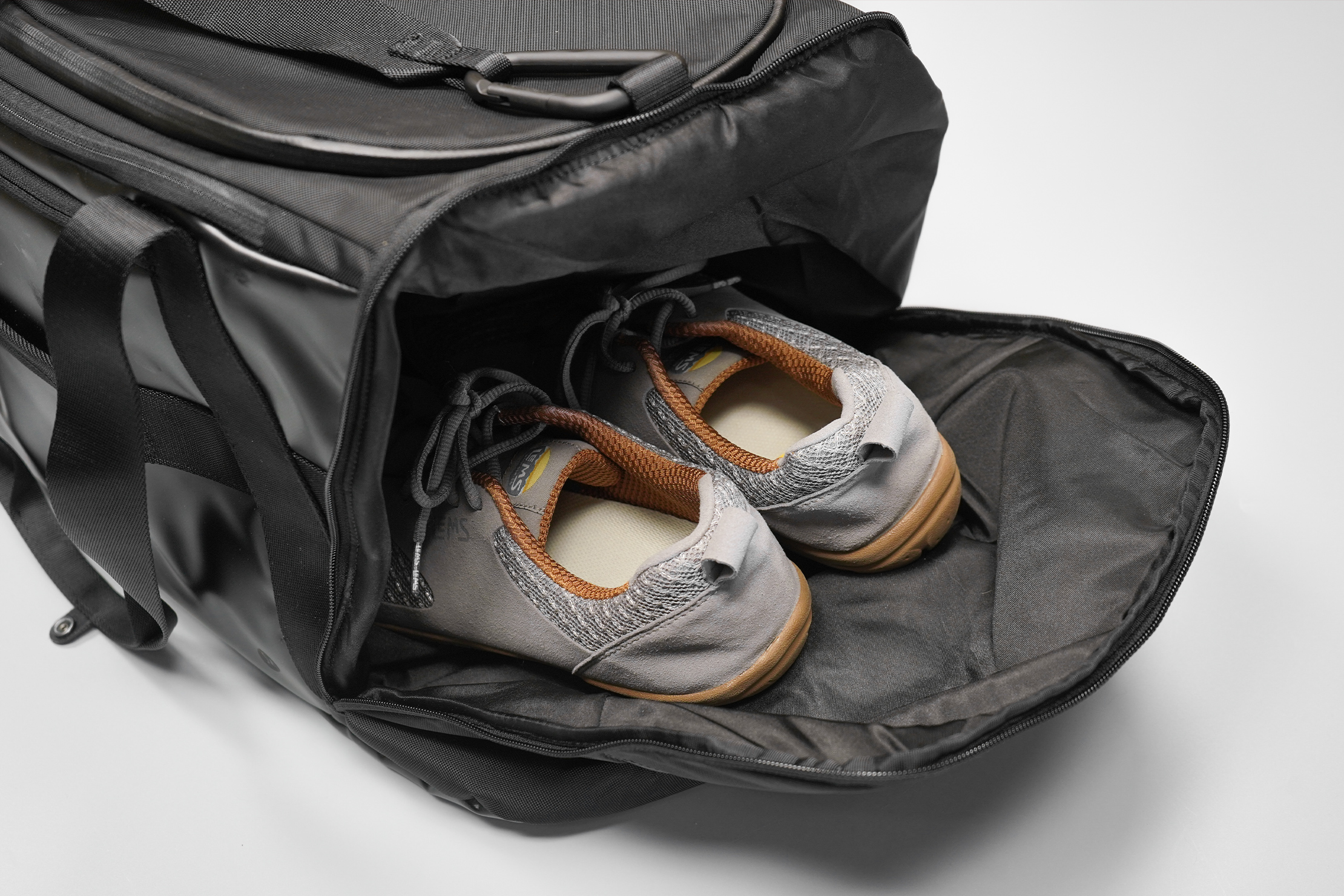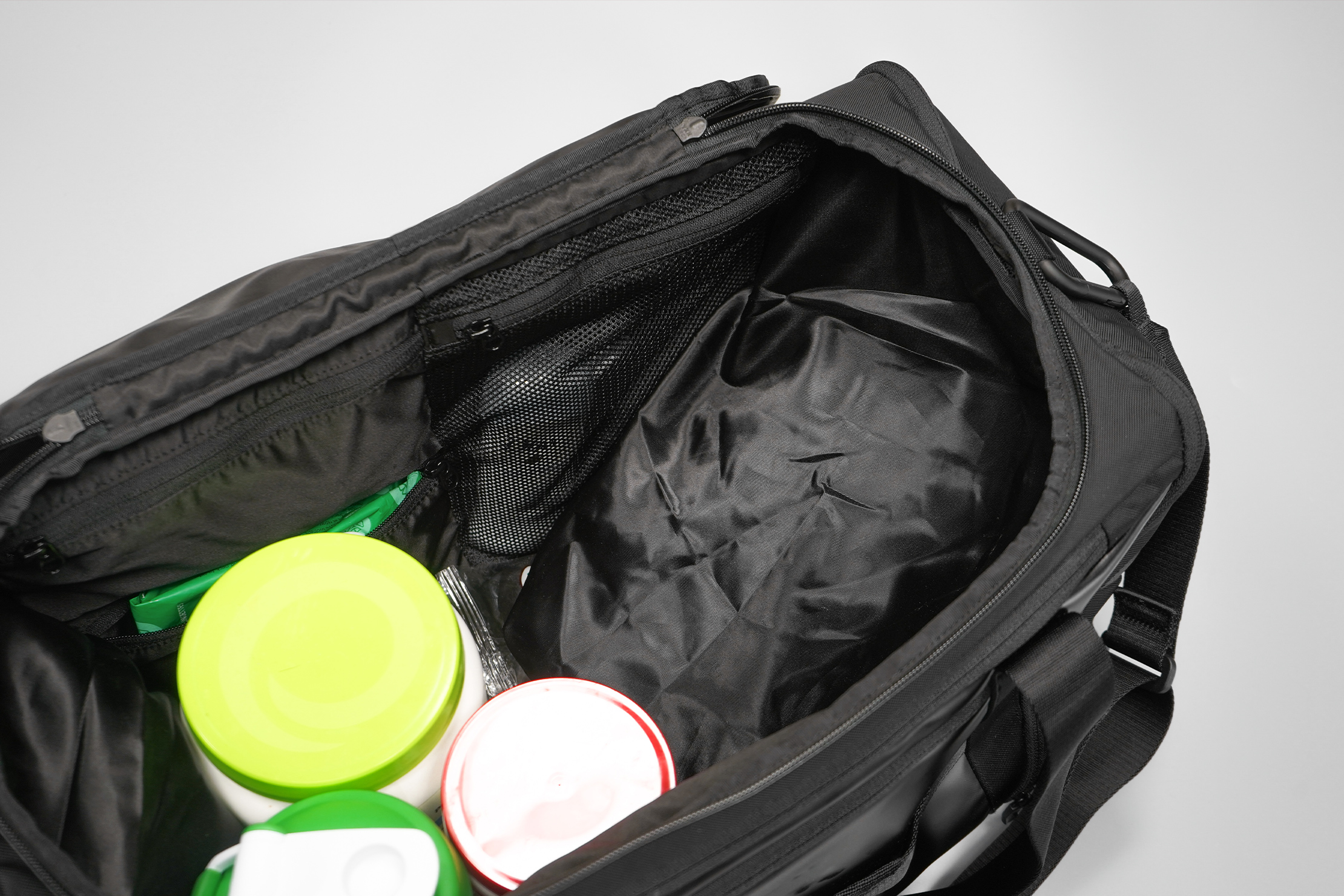 We haven't tried using the lululemon More Miles Duffle as a carry-on yet, but it may or not be suitable depending on the type of traveler you are. If you're a minimalist packing genius who only travels with well-organized essentials, then this bag will suit you well. If you're a gearhead with a lot of equipment or someone who needs alternate outfits and shoes for every day, then lululemon's More Miles Duffle 40L is going to get heavy and a pain to carry really fast.
What Purpose is This Bag Best Suited For?
This lululemon duffle works best for the gym, but it's also suitable as an overnight bag. With a bit of careful organization (seriously, investing in packing cubes is a game-changer), it can be easily used for longer trips. Lugging it around on a hike probably isn't the best choice as it will be slightly bulky depending on how much gear you load in it.
Gym goers who need to carry their meal prep, protein powder, wrist straps, and a gallon of water with them will get the best use out of this bag. Makes sense that it's made with fitness freaks in mind, as it is lululemon after all.
We found that using it as our primary bag for a three-day road trip worked extremely well also. Yes, we did remember to pack the extra underwear and there was more than enough space for them and the snacks too.
The Takeaway
If you need a gym bag big enough to fit all your gear, water, and food, get the More Miles 40L bag. If you're a digital nomad who is going to work on the road and then hit the gym later, even better.
If you're planning a long trek or extended stay, you may want to get something that can also be worn on your back. This one only has hand straps and a removable crossbody strap, so it's not very practical for carrying long distances.
Lululemon seems to have a thing for making duffle bags with no padding on the crossbody strap, as this isn't the first bag of theirs we've had this issue with. While it's true that walking into the gym with swanky gear can be a huge mood booster and motivator for getting your workout done, functionality is more important than style. Once this thing gets loaded up with all your workout gear and sweaty clothes, carrying it in your hands or across the body with no padding is a huge pain in the…shoulder.
Usage Timeline
Initial Usage
Condition: Excellent
The sturdy, weatherproof material is easy to keep clean
The abundance of handles and strap points offered plenty of ways to handle the bag
Fabric feels smooth to the touch
2 Weeks of Use
Condition: Good
The bag has a little gangsta lean going on when we use the laptop compartment
Noticed this scratch… not sure where it came from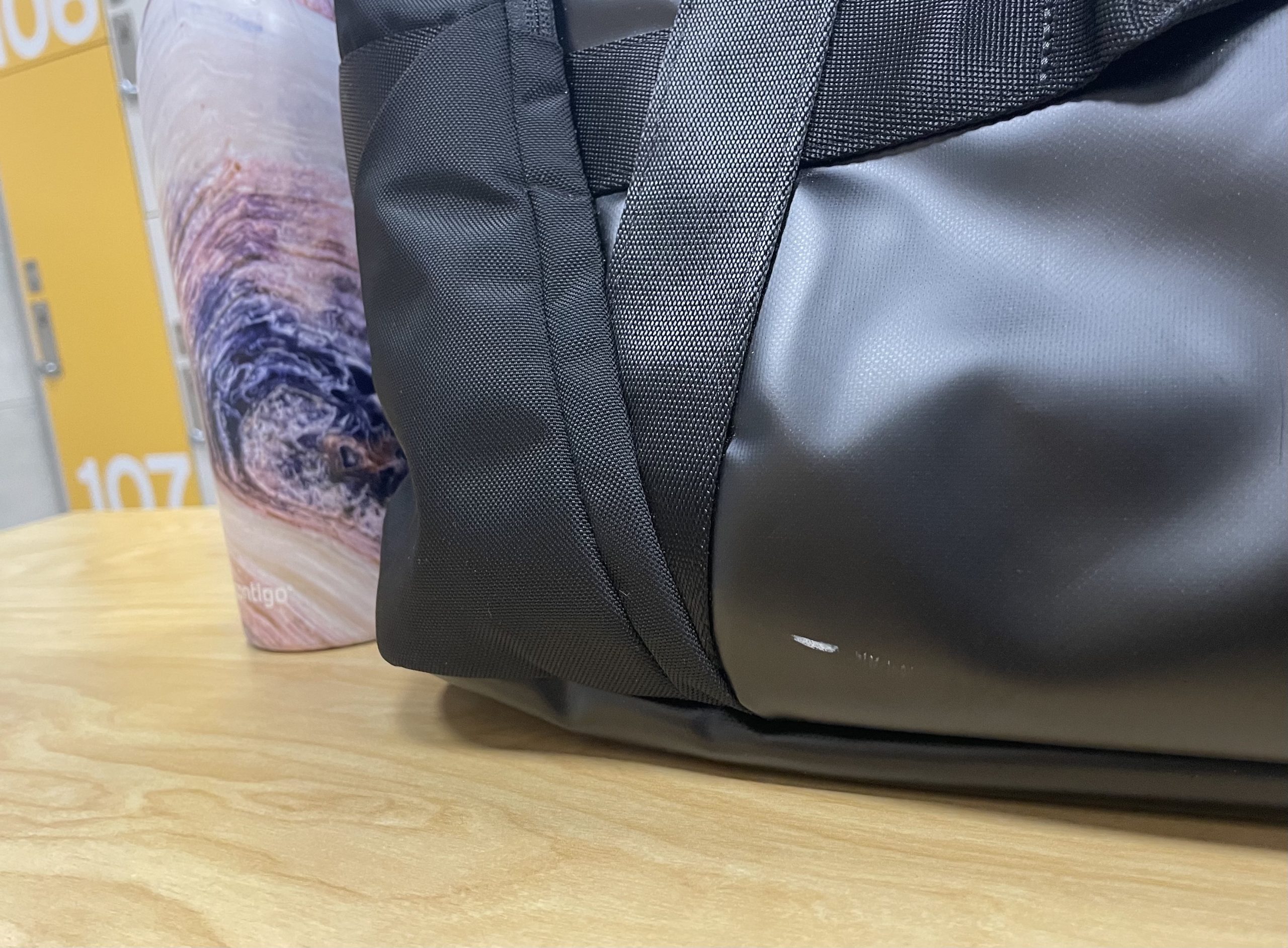 1 Month of Use
Condition: Good
Still shiny with minimal signs of wear!
Spilled a protein shake on it, but the TPU was easy to wipe clean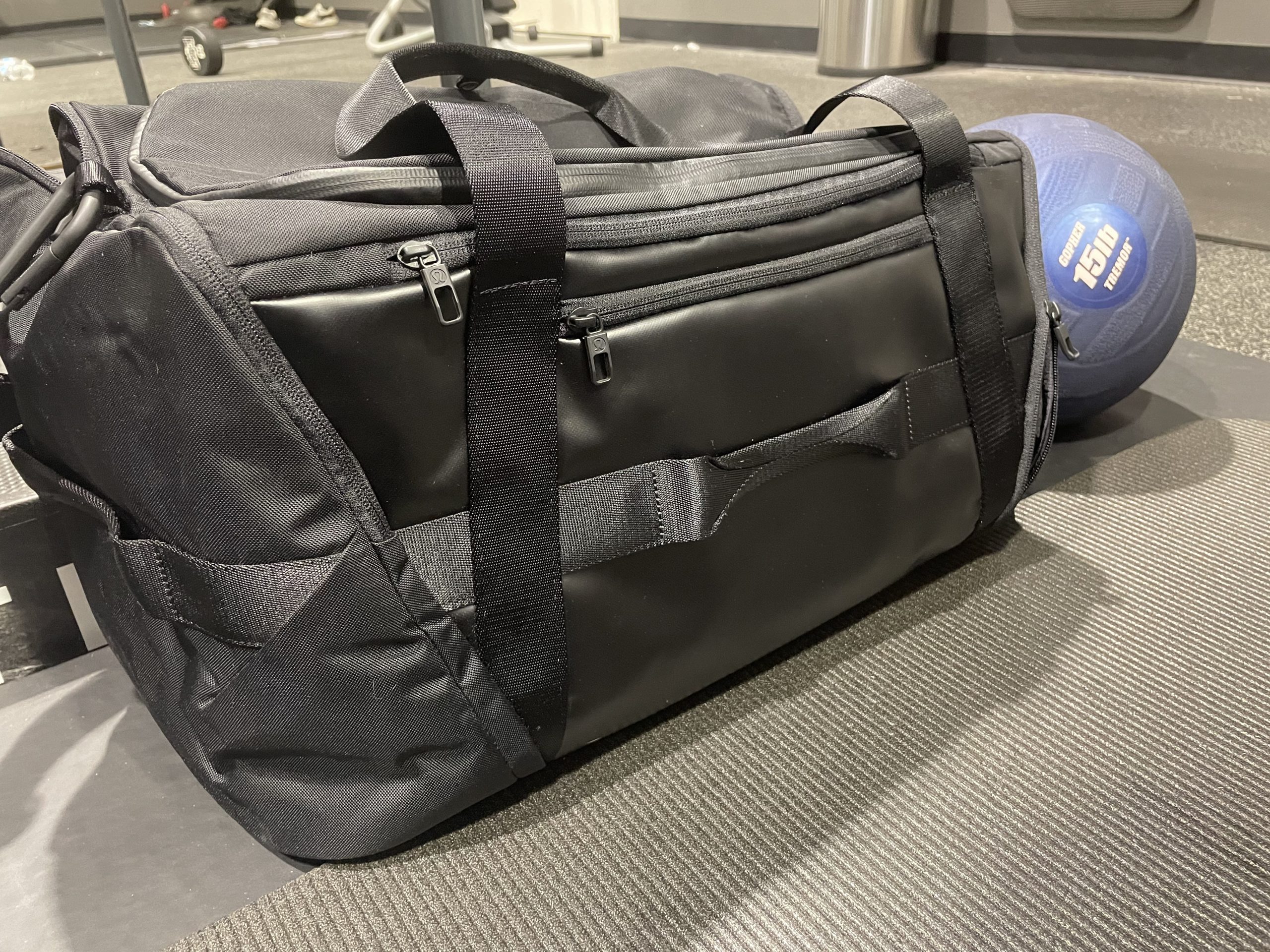 Access the Pro Community Discussion
Get your questions about the lululemon More Miles Duffle 40L answered from our team and the Pro Community right here on the page. Plus, join discussions with other members about gear, guides, and more.
Other Bags & Luggage Reviews