Lever Gear CableKit Review
The Lever Gear CableKit is a portable charging cable that offers additional SIM card features; we just wish they stayed put while the cable is in use.
Our Verdict
Unlock the Pro Summary
Save time. Get access to brief summaries of our reviews so you can browse and make decisions more efficiently.
Pros
Outer shell is protective and durable
Durable cable shows no signs of wear
Can get multiple adapters to cover charging needs
Cons
SIM card garage isn't locked in place
Can only store one adapter at a time
Charging cable can only bend two ways
Recent Pack Hacker Video
Technical Details
Weight (oz)

.55 oz (15.6 g)

Dimensions

3 in x .75 in x .25 in (7.6 x 1.9 x 0.6 cm)

Notable Materials

Thermoplastic Elastomer (TPE)

Manufacturing Country

China

Warranty Information
Full Review
The Lever Gear CableKit is a charging cable first and foremost, but it also includes a SIM card removal and storage system, which is super helpful while traveling from country to country as a digital nomad. We can't help but wonder how well these features are integrated into the CableKit, and whether they're more complicated to use than the convenience is worth. We'll cover all of that and more in this review, so let's dive in!
Materials & Aesthetic
The kit's hard plastic exterior doesn't feel that durable, but it shows hardly any wear and tear over two weeks. We've noticed a few scuff marks, but they wipe off easily with a finger or wet paper towel.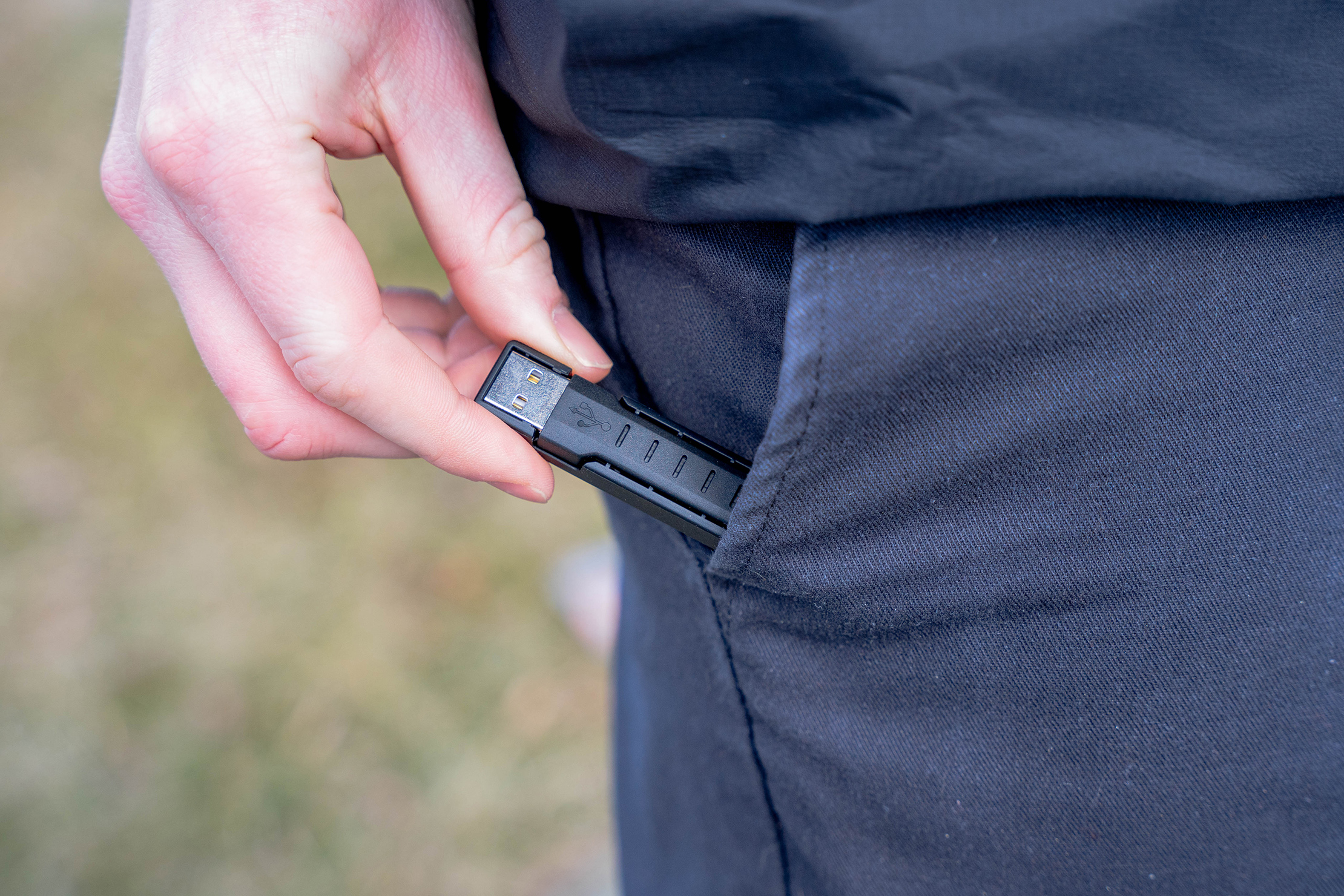 On the top of the hard plastic exoskeleton is a little loop so that you can clip it onto your keys, a key ring, or anything with a clip. We find this most useful on our keyring. It isn't that much longer than a standard key, so it's hardly noticeable unless you have an extremely minimalistic set of keys. That said, it's a bit too big to fit into a key organizer like the Jibbon Key Organizer or Orbitkey Key Organiser.
There's a clip on the backside of the exoskeleton that allows you to slide it onto the top of your pants pocket or into a daypack or sling, a feature with which we found very useful.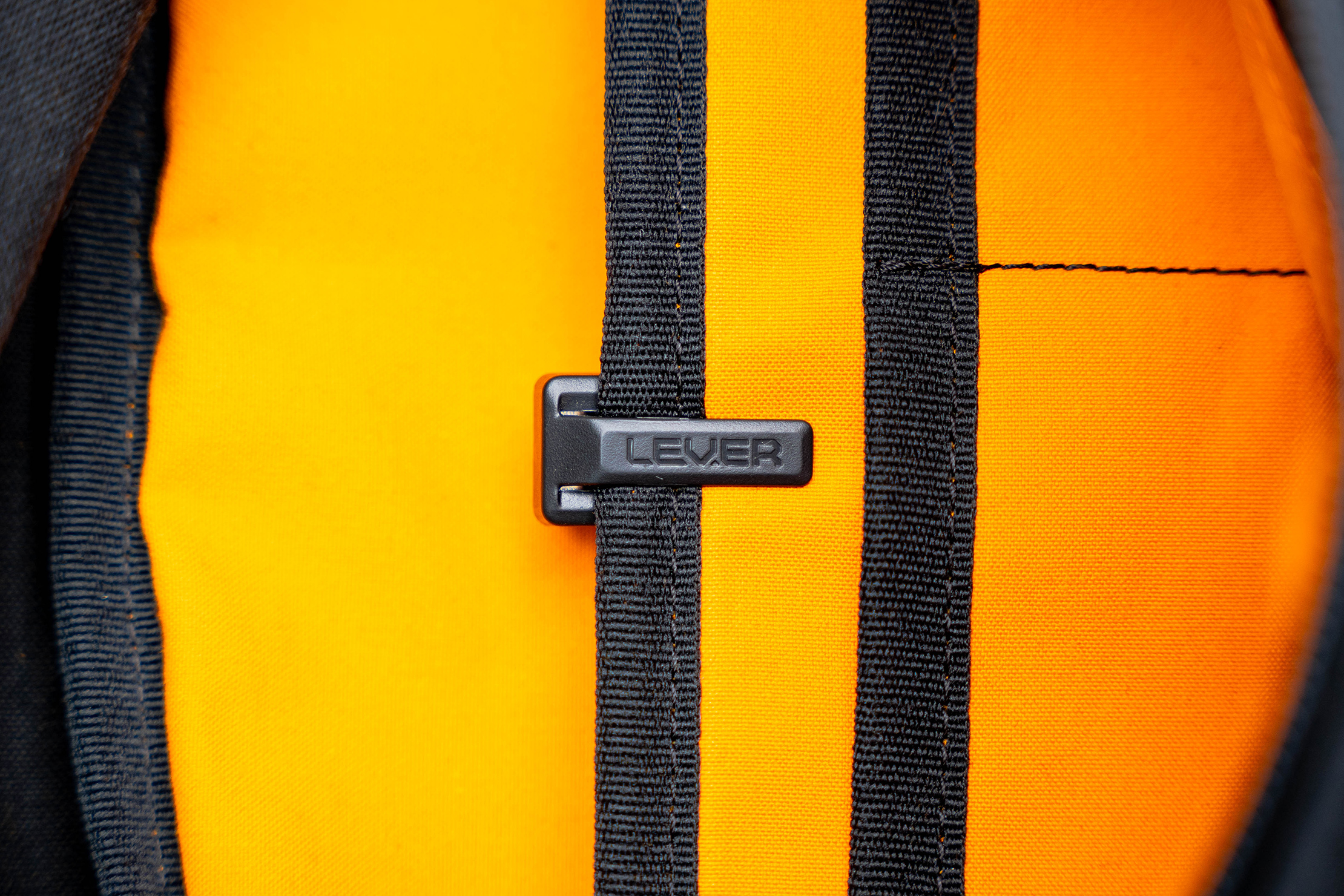 Not only does this lock the charger into a place where you will always know where to find it, but it can also act as a make-shift key clip. If your pack doesn't have one or your pants pockets are super deep, attach the Lever Gear CableKit to your keys and then slide the hard plastic clip onto the pocket you want to hang your keys from. We were a little worried that this would be a too rough on the hard plastic exterior, but after dozens of retrievals and replacements from various pockets, we haven't had any issues.
There's a small SIM card removal poker hidden on the backside of the exterior. You can see the rounded end poking out slightly when stowed, and we've only had issues with it falling out of its home a couple of times. We found it easier to knock it loose when the cable was removed from the shell, so it's important to be careful with the shell when the cable isn't locked in place.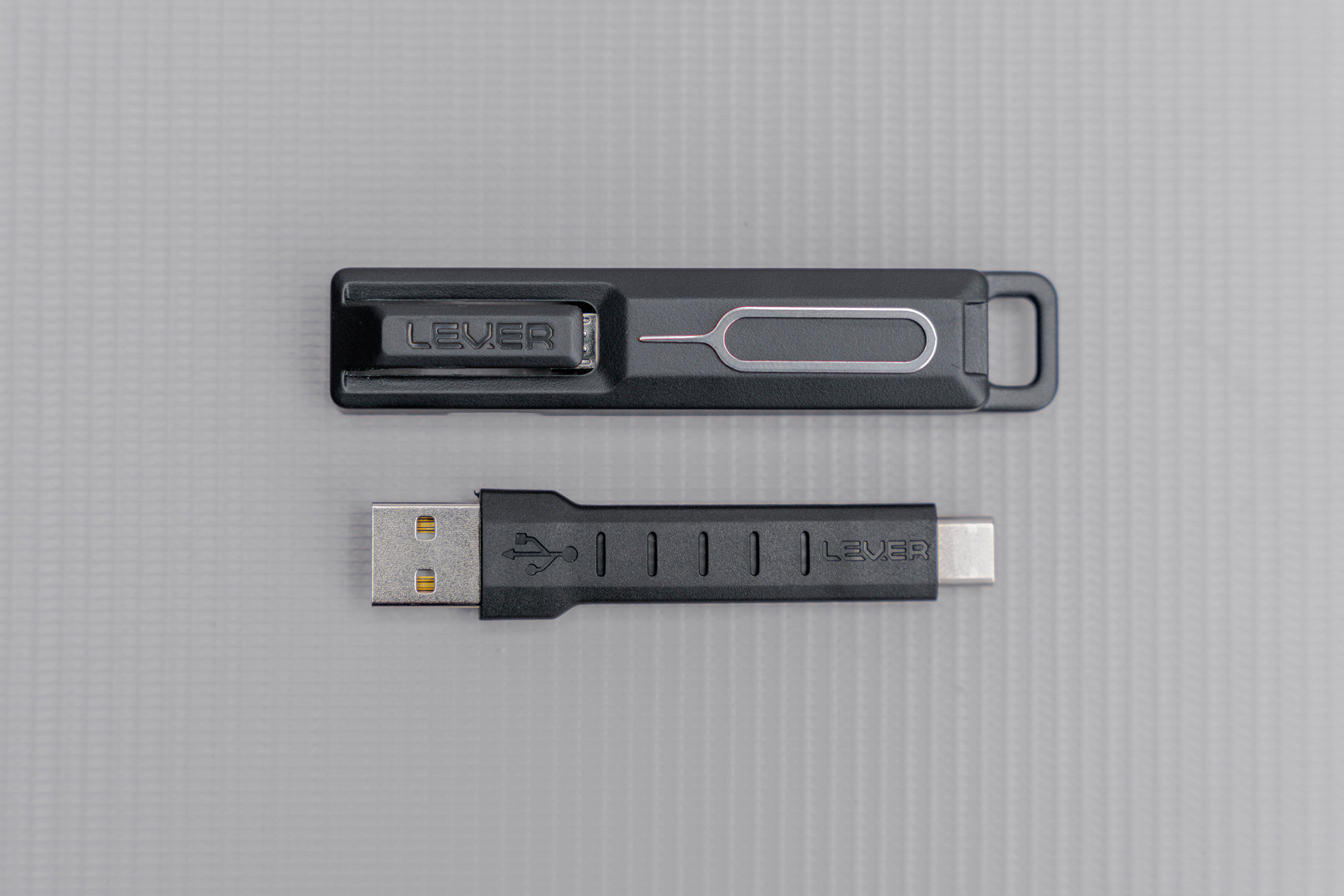 Speaking of the cable, we think that it's one of the better small cables we've tested in terms of durability. It's by no means flimsy, but isn't terribly hard to manipulate, either. It locks into place by sliding the charging end into a plastic garage, and the USB-A charging end sits nicely on the other side. It stays in place well during transit for the most part, but if you give it a good knock on a hard surface deliberately, the cable can fall out.
The front face of the cable has Lever spelled out and the USB icon. The backside has the Lever logo on the left and right. All of the logos and words are imprinted in the plastic without any color changes, so they're hardly noticeable even up close. There are no discerning marks on the hard plastic exterior, so things are just as minimalistic there.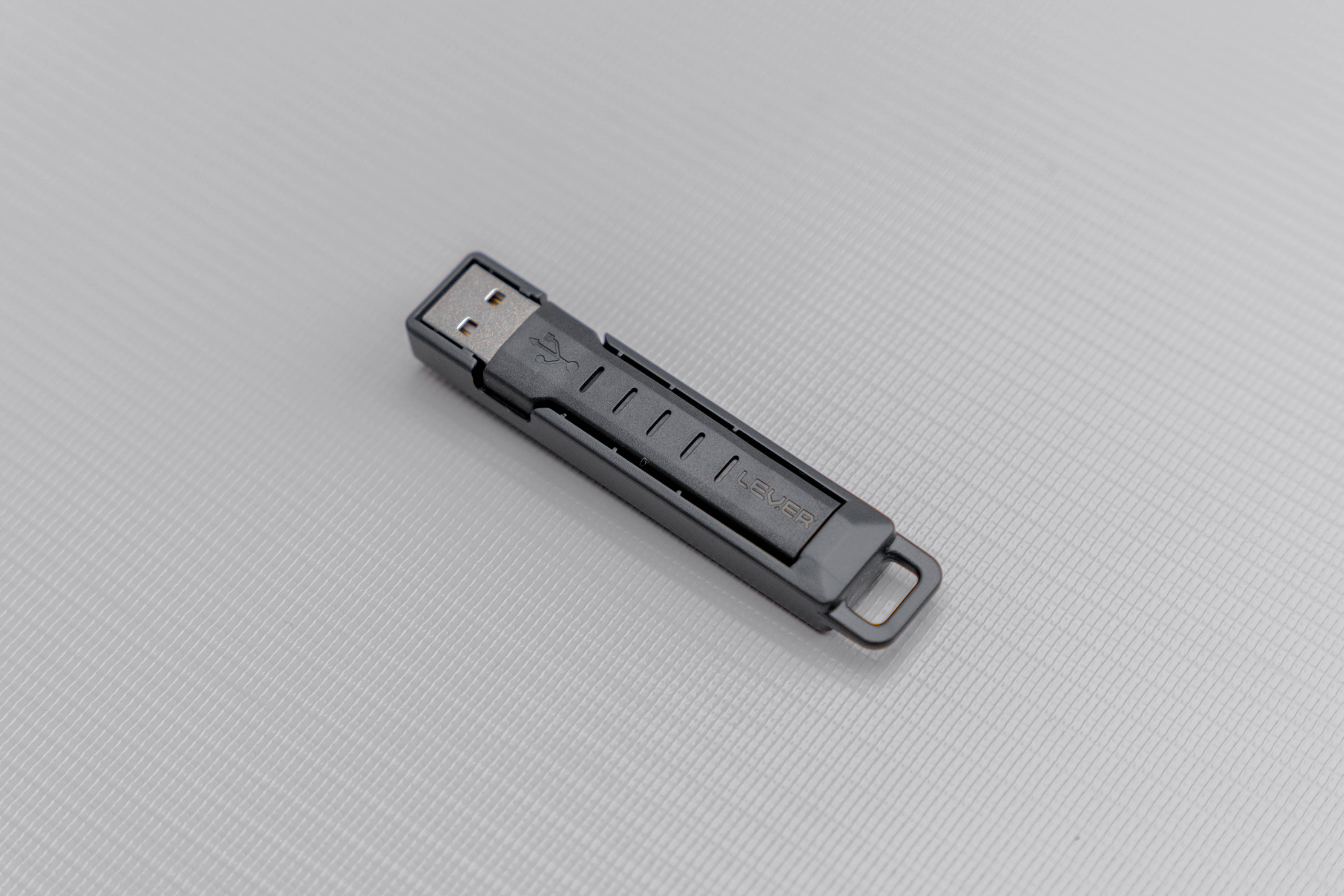 The cable is hard rubberized plastic, so it has a fair amount of bend to it, but it can only bend up or down due to its construction. It can't twist left or right, which is slightly inconvenient. Unlike other cables like the Rolling Square inCharge X, you can't easily angle it towards yourself when it's plugged into your laptop to look at a text message or all of the likes and comments on your fire Instagram post of the gelato you got by the Trevi Fountain. We like the stiffness for durability's sake, but it does affect usage.
The cable comes in three different configurations, all of which start with a USB-A on the charging end. The three different options are USB-C, Micro-USB, and Lightning. Each comes with an adapter that fits nicely underneath the cable inside the hard shell. There is an adapter for each of the three cable options, and you can purchase them separately. It's important to note that just one adapter fits into the hard shell at a time, so even if you have two adapters, you can only carry one inside the CableKit at a time.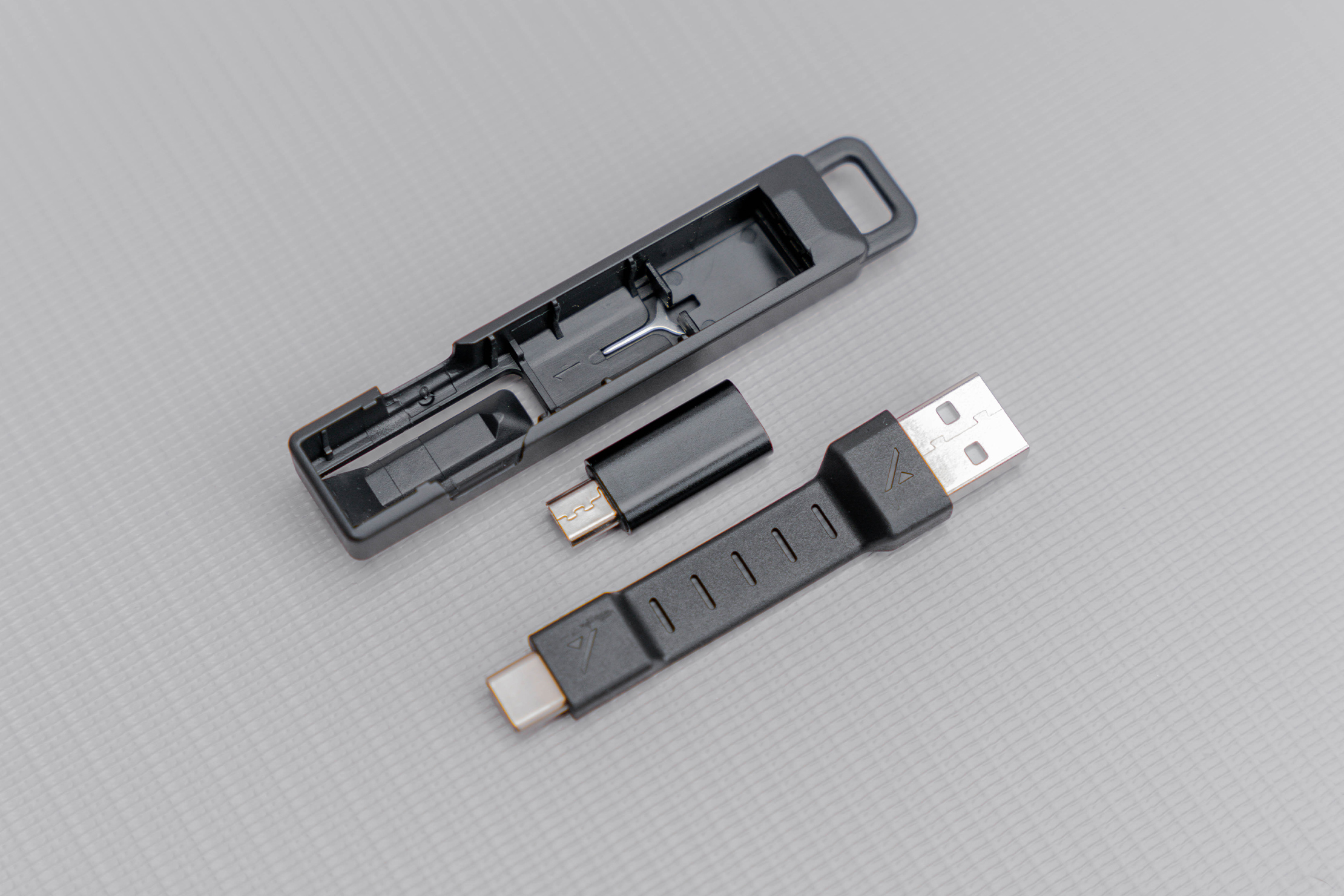 The adapters are crafted from hard plastic, similar to the exoskeleton, and feel just as durable.
Beyond the adapter is a little garage for a SIM or MicroSD card. You can stack cards on top of each other, too, and it fits around 3 in the garage (depending on the thickness of the cards). When the adapter is removed, the garage slides out, and you can completely pull it out of the exoskeleton.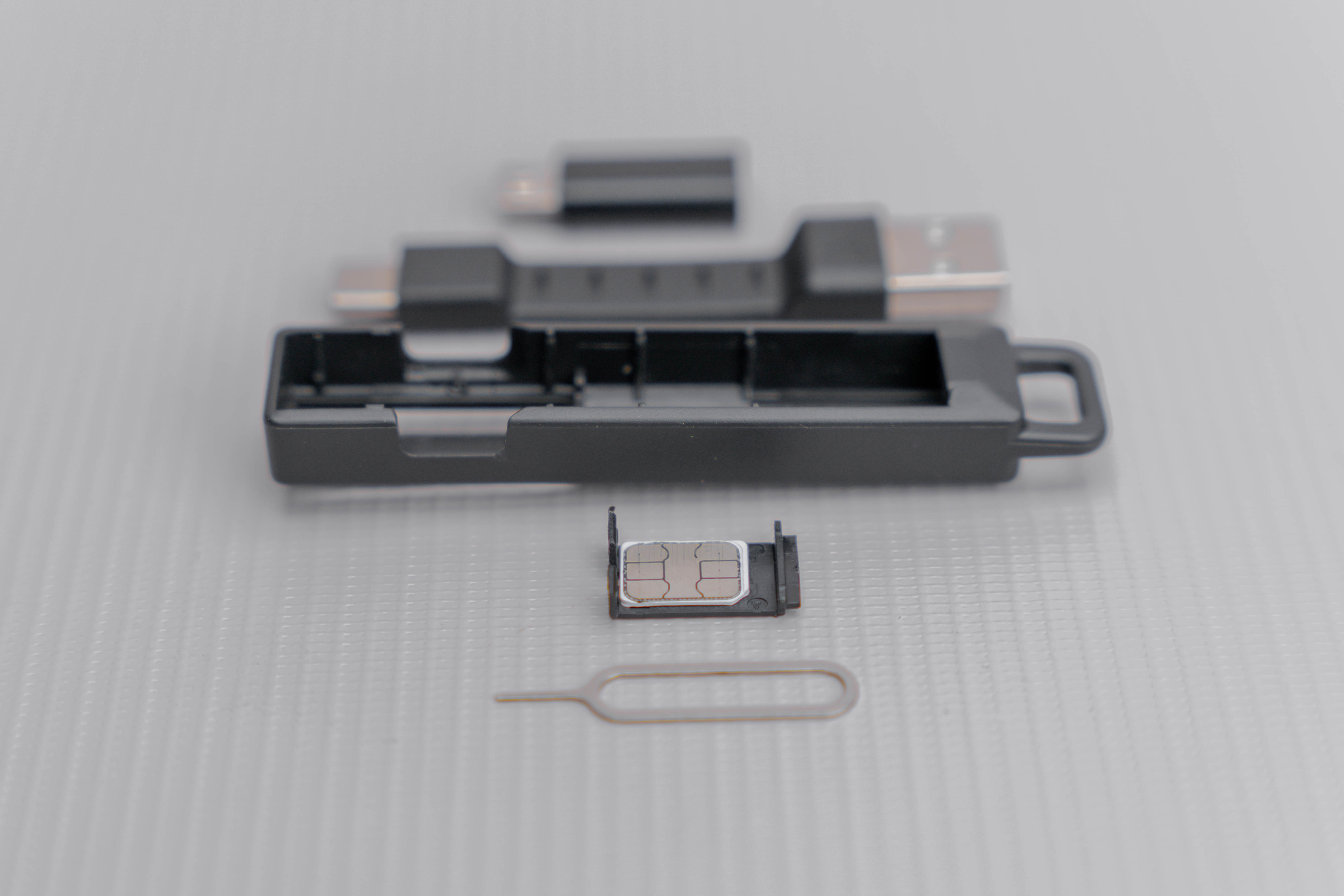 The adapter and SIM garage stay put relatively well if the cable is locked in place. There might be a little shaking going on, but they're protected from falling out by the cable. Once the charger is gone, they can move around a bit more, which makes them easier to lose. We aren't sure that there's a fix for this, so be sure to always replace the cable or have the shell in a safe place when in transit without the charger attached.
Usage & Features
When it comes to usage, the Lever Gear CableKit offers a lot of unique charging capabilities. It's a small cable but can easily fit into your pocket, on your key chain, and inside a day pack or sling. The portability of this thing alone makes it a capable travel companion, and when you factor in the other capabilities, we think that the concept is awesome.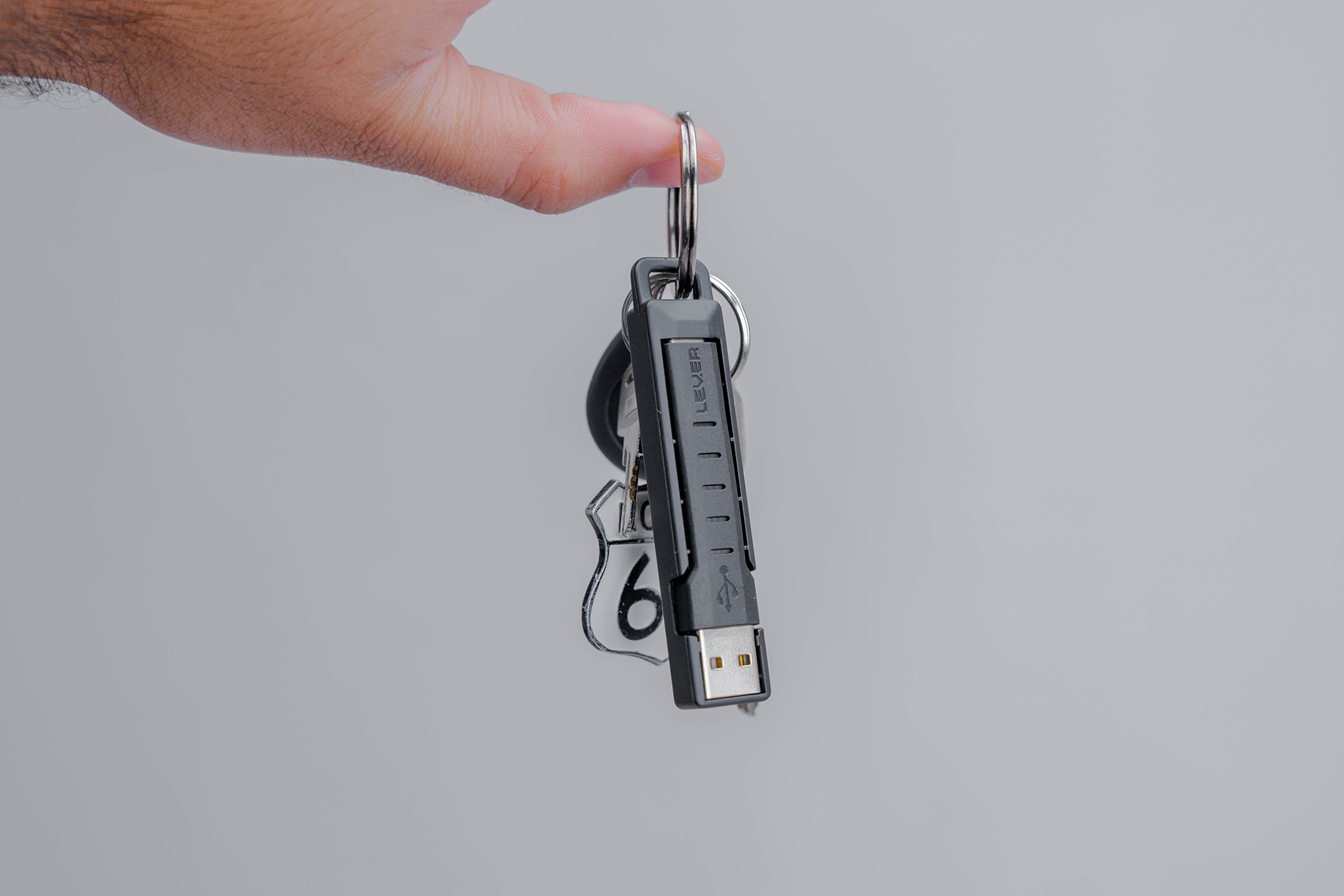 The cable itself is protected from the hustle and bustle of traveling by the hard casing, which we dig. A charger is useless if it breaks, and there isn't much worse than being stuck in a foreign place without a way to charge your phone.
Having a dedicated place to store your SIM or extra MicroSD cards is a worthy addition, too. Although there are now options other than replacing your SIM while traveling, it's still the easiest way to get service in some countries. When paired with the SIM tool, you have everything that you need to switch cards as soon as you cross a border or run out of data on a card. You won't have to go on an all-out assault for a paper clip, find one, realize that it's too thick, and start the whole process over again.
However, we don't particularly love how easy it is for the SIM garage to be removed from the hard shell, especially when the cable isn't locked into place. We don't want our SIM card flying out onto the ground when we're getting the key for our Airbnb.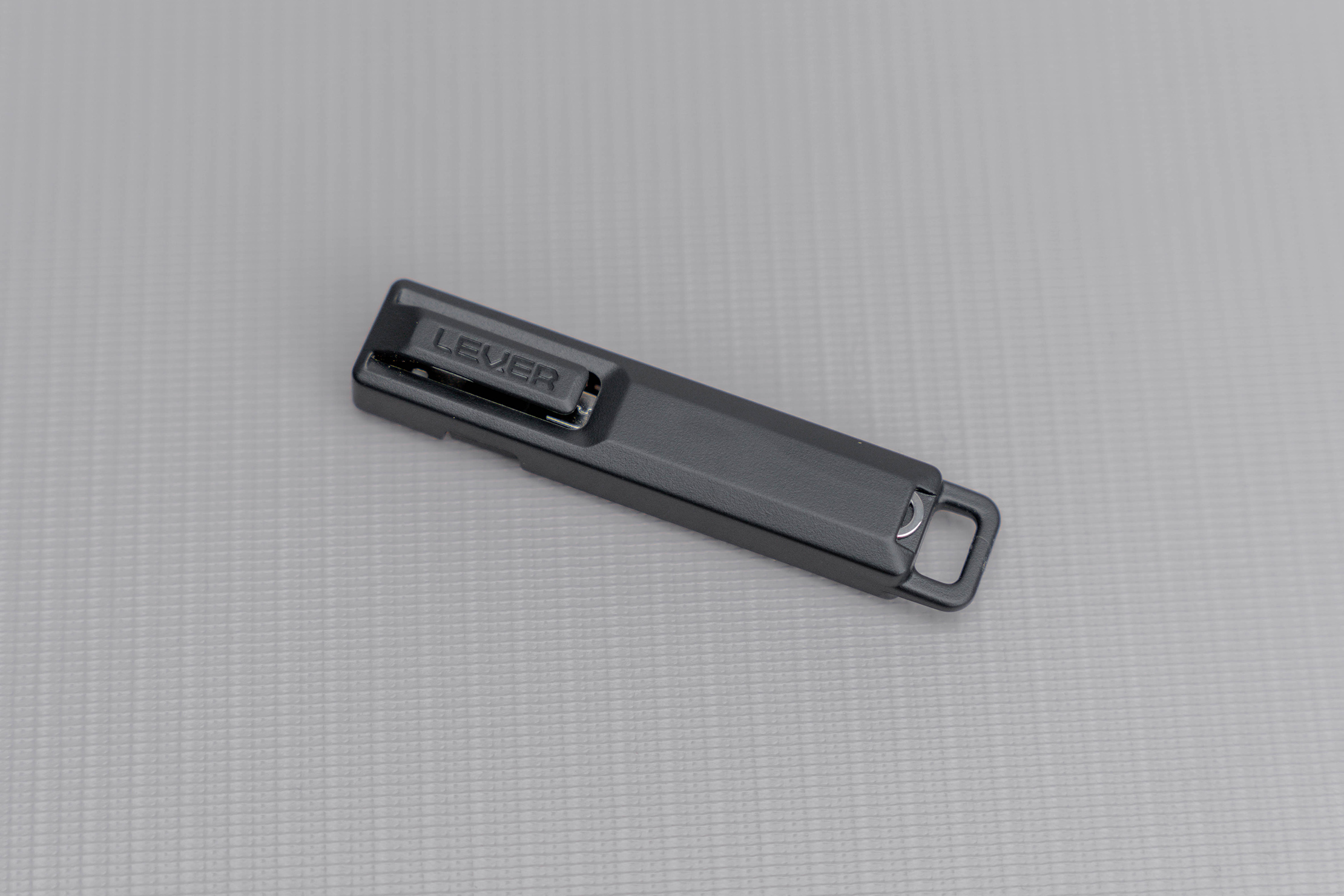 Although cable adapters are nothing new, we think the portability of the CableKit is quite useful. In one small package, you can charge your iPhone and Nintendo Switch, your iPhone and your partner's Android, or your iPhone and your off-brand MP3 player from 2008 that uses a Micro-USB cable to charge. The possibilities are endless!
However, it's designed to best work with portable chargers or for charging off other devices. While charging from a wall outlet, if there isn't something directly below the outlet to hold the device you're charging, it will just hang awkwardly. We didn't have any issues with either end of the charger falling out if the plug has the standard orientation (the teeth running vertically). If the plug is horizontal, we did see the cable fall out once while charging on a horizontally oriented plug, but that isn't nearly as common.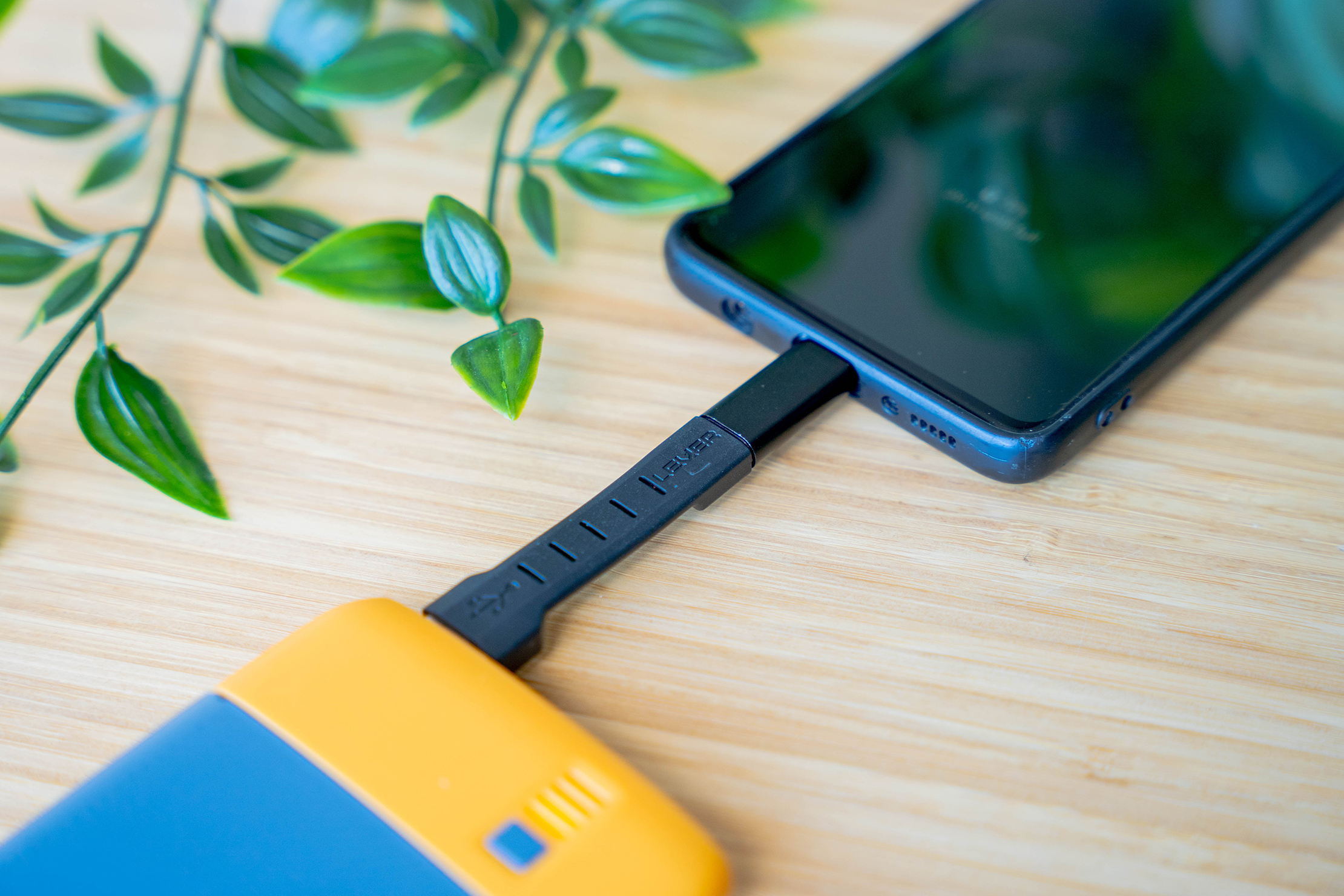 Overall, we're quite happy with the Lever Gear CableKit. There are a few issues that aren't our favorite, namely how the smaller pieces can fall out and get lost, but for the most part, we think it's a great travel companion. The ability to charge your phone without bringing much other than your keys is a huge plus for us, especially when you want to go out without a backpack or a sling.
Usage Timeline
Initial Usage
Condition: Excellent
It's a cable, but it's stiffness makes it entirely different from typical cables
It adds noticeable bulk to a keychain
The SIM tray ejector tool is a separate piece that could potentially get lost
2 Weeks of Use
Condition: Excellent
Hard plastic case still looks brand new
No issues with durability on the cable
Adapters are still snappy to connect
Access the Pro Community Discussion
Get your questions about the Lever Gear CableKit answered from our team and the Pro Community right here on the page. Plus, join discussions with other members about gear, guides, and more.
Other Productivity & Tech Reviews