Knomo Cromwell Review
The Knomo Cromwell is an expandable rolltop backpack that's comfortable to carry when it's packed full—less so when it's mostly empty.
Our Verdict
Unlock the Pro Summary
Save time. Get access to brief summaries of our reviews so you can browse and make decisions more efficiently.
Pros
Roll-top expands to fit more gear as-needed
Fabric has good water resistance
Interior panel well-balanced with diverse pockets
Cons
Grey interior makes it tricky to see what's inside
Feels saggy when packed minimally
Rolltop design isn't the fastest for accessibility
Recent Pack Hacker Video
Technical Details
Capacity

27.3l

Weight (lb)

2.2 lb (1 kg)

Denier

600D

Dimensions

24.4 in x 13 in x 5.9 in (62 x 33 x 15 cm)

Notable Materials

Thermoplastic Polyurethane (TPU), Nylon

Manufacturing Country

China

Laptop Compartment Size

13"

Up to 14"

Warranty Information
Full Review
When it comes to packing space, we'd rather have too much than too little. It's a frustrating feeling when we've packed everything away only to find we're a few ounces short of fitting in our Nintendo Switch. Having excess space has its benefits to an extent, and designs like a rolltop backpack take advantage of this philosophy.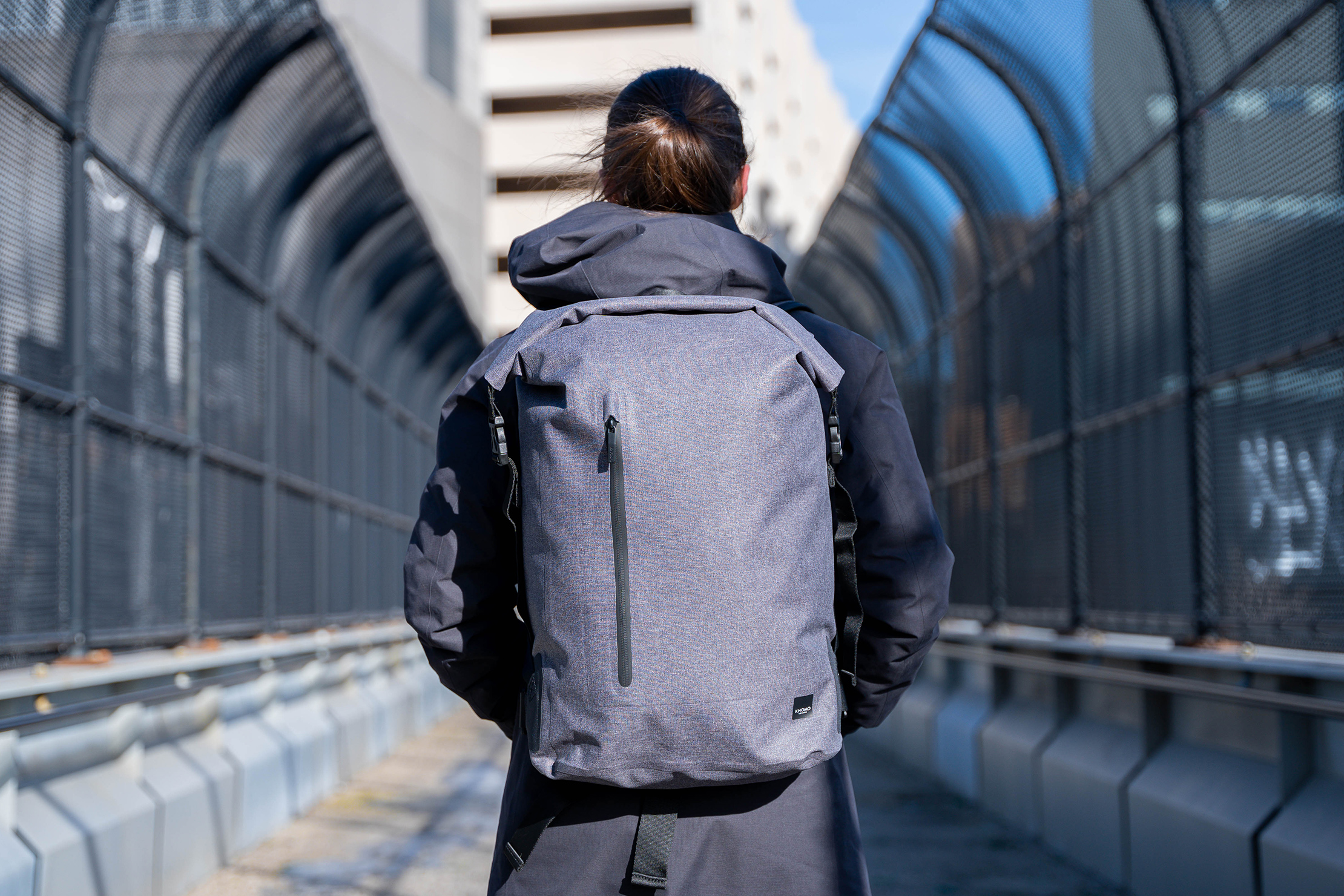 Knomo's Cromwell is one such rolltop backpack. The 27.3-liter bag already has a ton of space available at its base form. The downside is that this bag doesn't carry that well when it's mostly empty. There's a back-heavy, saggy feeling when it's not packed to the brim. Whatever is packed inside, though, should be pretty safe from moisture thanks to the TPU-coated fabric. Other interesting features include a floating panel of pockets and a unique serial code for identifying each Cromwell. Features are one thing, but testing a rolltop backpack draws a lot from hands-on experience, which we're happy to share with you in the full review below.
Materials & Aesthetic
With a very English-sounding name like Cromwell, one half expects this bag to be laced with velvet and gold. Something like a burgundy-colored Adventure Slipstream Backpack from Troubadour Goods comes to mind. Despite the name, though, the Cromwell is about as modern and techy as a 21st-century laptop. Check out the black-on-grey color scheme it has going on—it feels at home in Cupertino or Mountain View.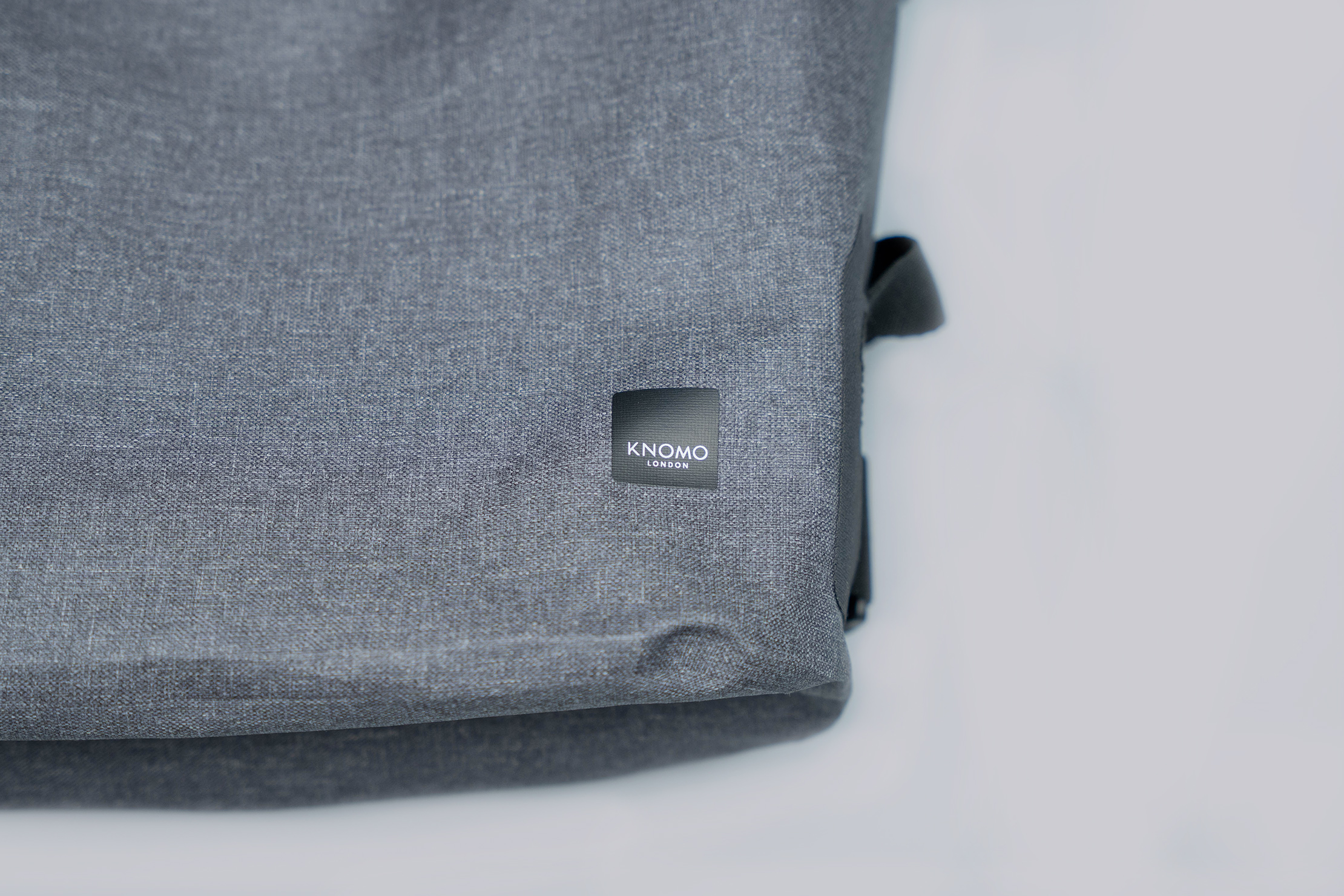 The profile is that of a typical rolltop where most of the body is sack-like, then topped off by a wide roll. A rolltop design like this doesn't hide the Cromwell's large 27.3-liter size well, but it does maximize the available space, and it's not gaudy. The black hardware accents the predominantly grey fabric well. The result is that the Cromwell never really feels like it's too plain to carry. Those looking for a more stealthy option can opt for the black colorway, which is the only other available design at the time of writing. However, that one does come with an all-black interior, so there's a tradeoff in the main compartment's visibility.
The main fabric is a very slick-feeling TPU-coated 600D nylon. The TPU (thermoplastic polyurethane) coating gives the fabric good water resistance in addition to a matte appearance. Quality feels good, but we do see some loose threads along some of the stitching inside the bag. There are two or three of them so far, but nothing catastrophically bad that would lead to everything unraveling.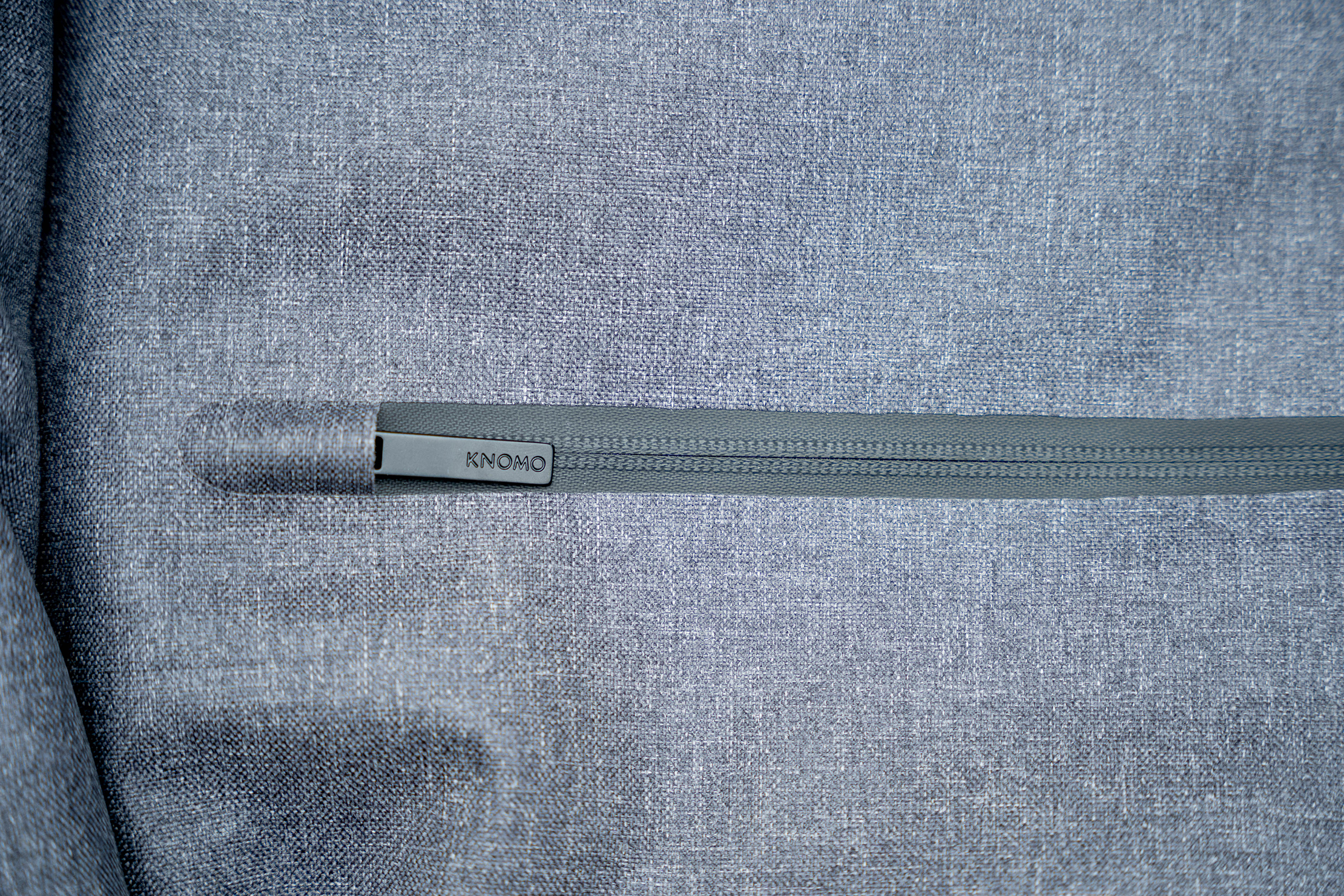 We usually lean more towards branded hardware and zippers. Whenever we see familiar brands like YKK, Duraflex, or Woojin, we don't have to worry that a zipper will get stuck or a buckle will snap one of its teeth off. On the one hand, the Cromwell doesn't have any of these brands—none of the zippers and hardware are branded. On the other hand, we've really nothing to complain about either; the zippers and buckles feel secure, tactile, and they don't jam.
External Components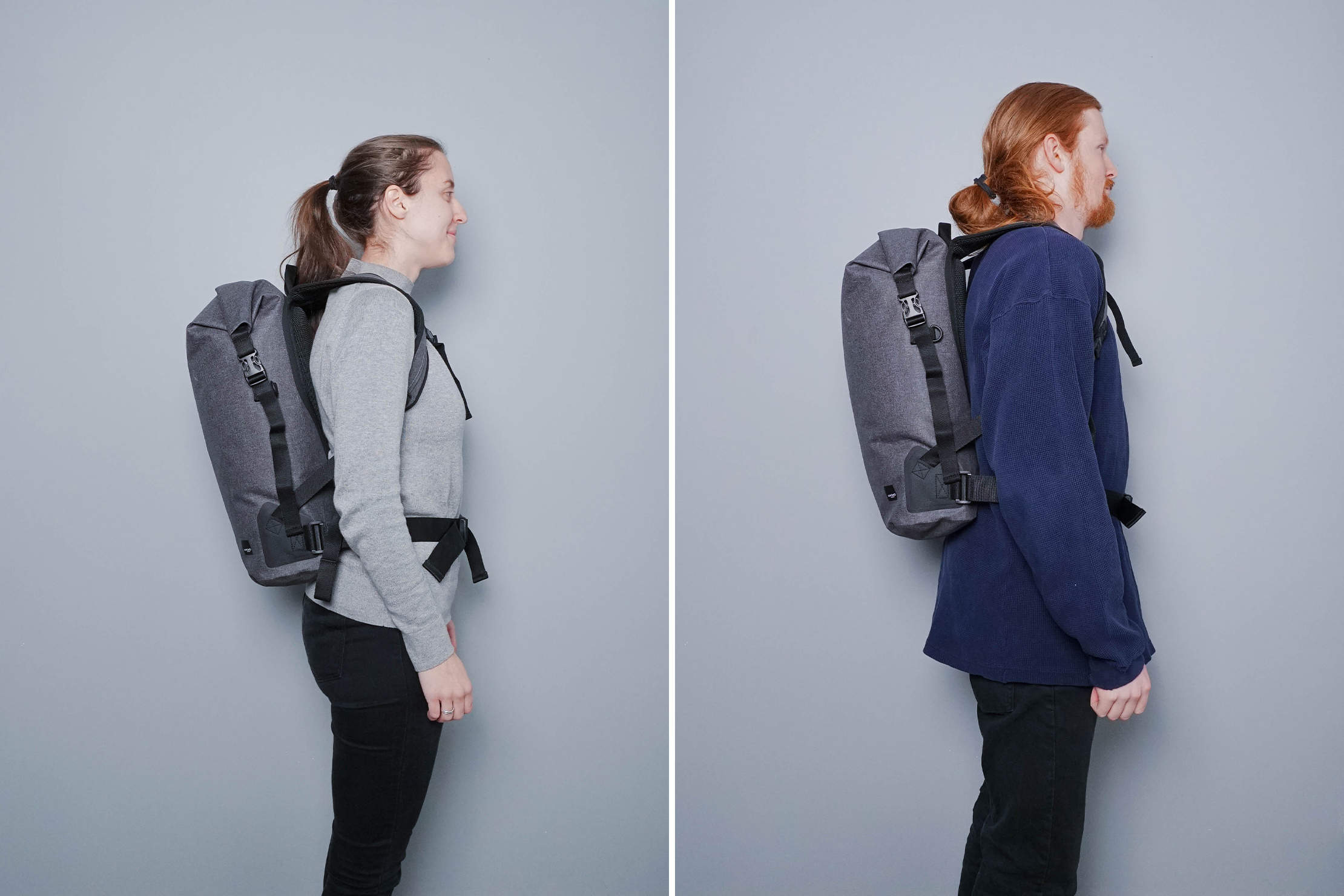 The Cromwell's large appearance gave us pause once we saw the shoulder straps. They're relatively thin with respect to how wide they are. While we would've liked to see more padding here, they are still comfortable to wear. The straps have a slight curve to them, but it's very subtle and doesn't play a huge role in terms of comfort. There's not a ton of garnishing like loops or hardware along the surface of these straps, just reflective strips, some strap keepers, and the sternum strap.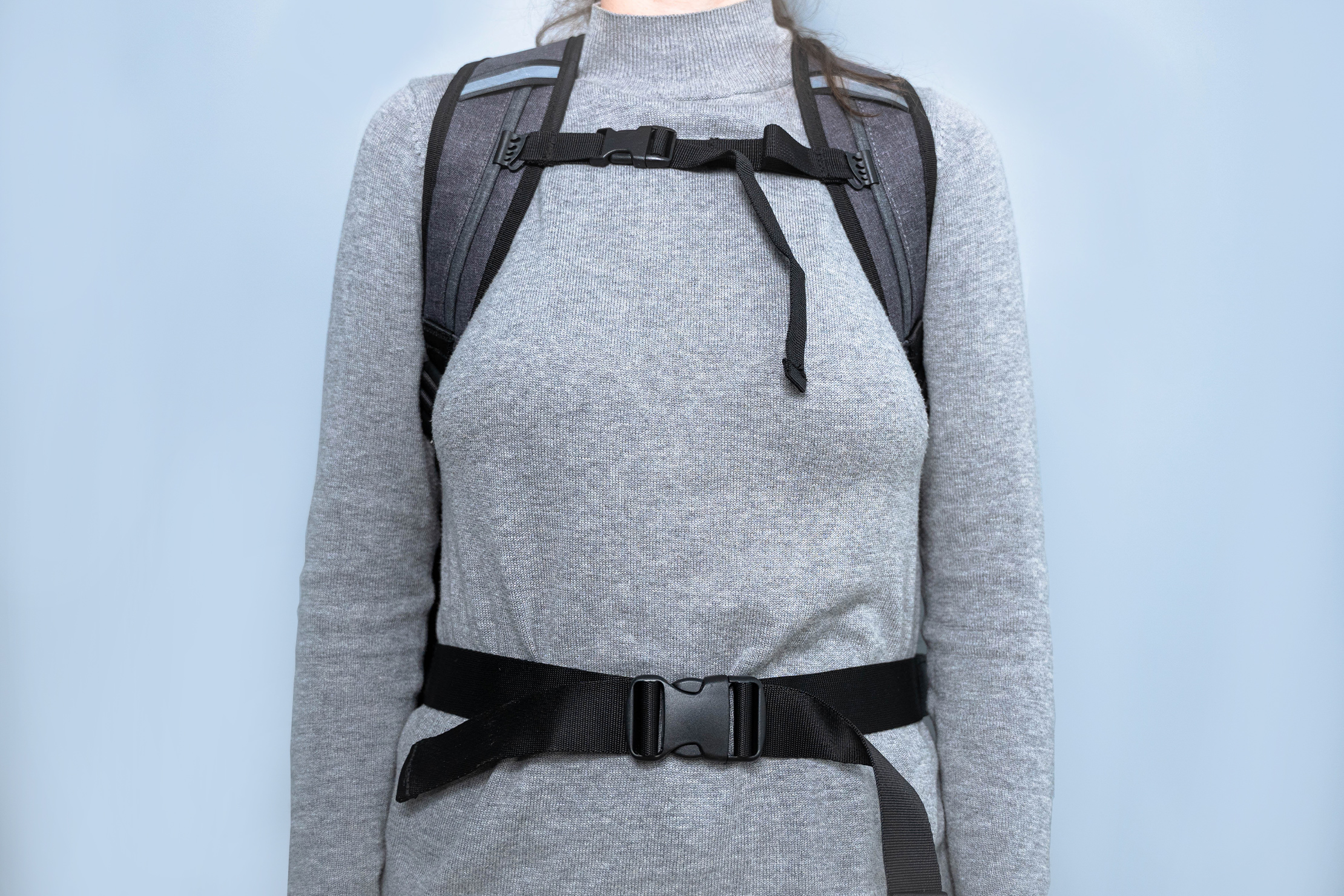 The sternum strap is mounted on a rail system. Even though they're often not removable, it's our favorite kind since it offers very granular adjustment compared to having it mounted on a set of loops. The con with an on-rail sternum strap is that the adjustment can be too loose or too tight—something we've observed on a few backpacks. Fortunately, that's not the case with the Cromwell. The sternum strap is easy enough to move around but stays in place with just enough resistance once it's set.
The shoulder and sternum straps are mated to a well-padded back panel. There's enough foam padding that the whole meshed section is noticeably elevated. It feels nice to lean against, and we can hardly tell if anything is jutting out. In fact, the back panel has enough elevation that we don't feel the hip belt's beefy buckle press against our lower back when we're not wearing it. The hip belt is removable via loop and hook fasteners, but we opt to tighten it down so it sits flush and out of the way.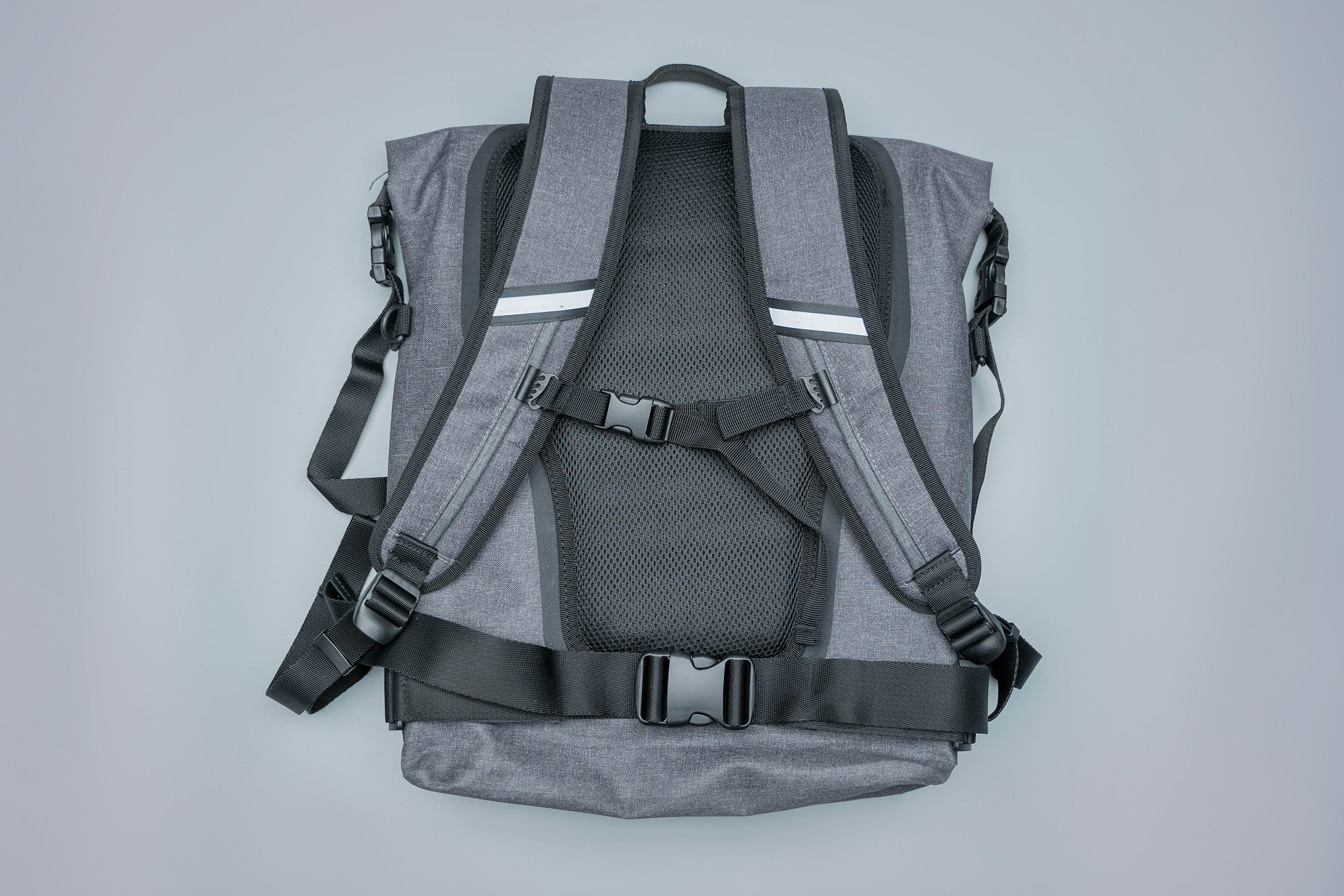 Despite the large 27.3-liter capacity, we never really feel the need to use it on a daily basis. The few occasions we do use it are during bike rides, where extra stability is very much appreciated. The hip belt is quite wide (hence why the buckle is equally beefy) and is noticeably smoother than the other straps. The texture is similar to a seat belt's, so it doesn't introduce needless friction around the waist area.
There's not much in terms of exterior features on the Cromwell outside of the harness system. The most noteworthy thing to point out is that the buckles for the rolltop closure each have a small D-ring for hanging accessories. These are good to have, but they're not direct replacements for, say, a water bottle pocket. You can technically hang bottles off these D-rings, though awkwardly. The good news is that there's a ton of space inside the main compartment where you can put a bottle.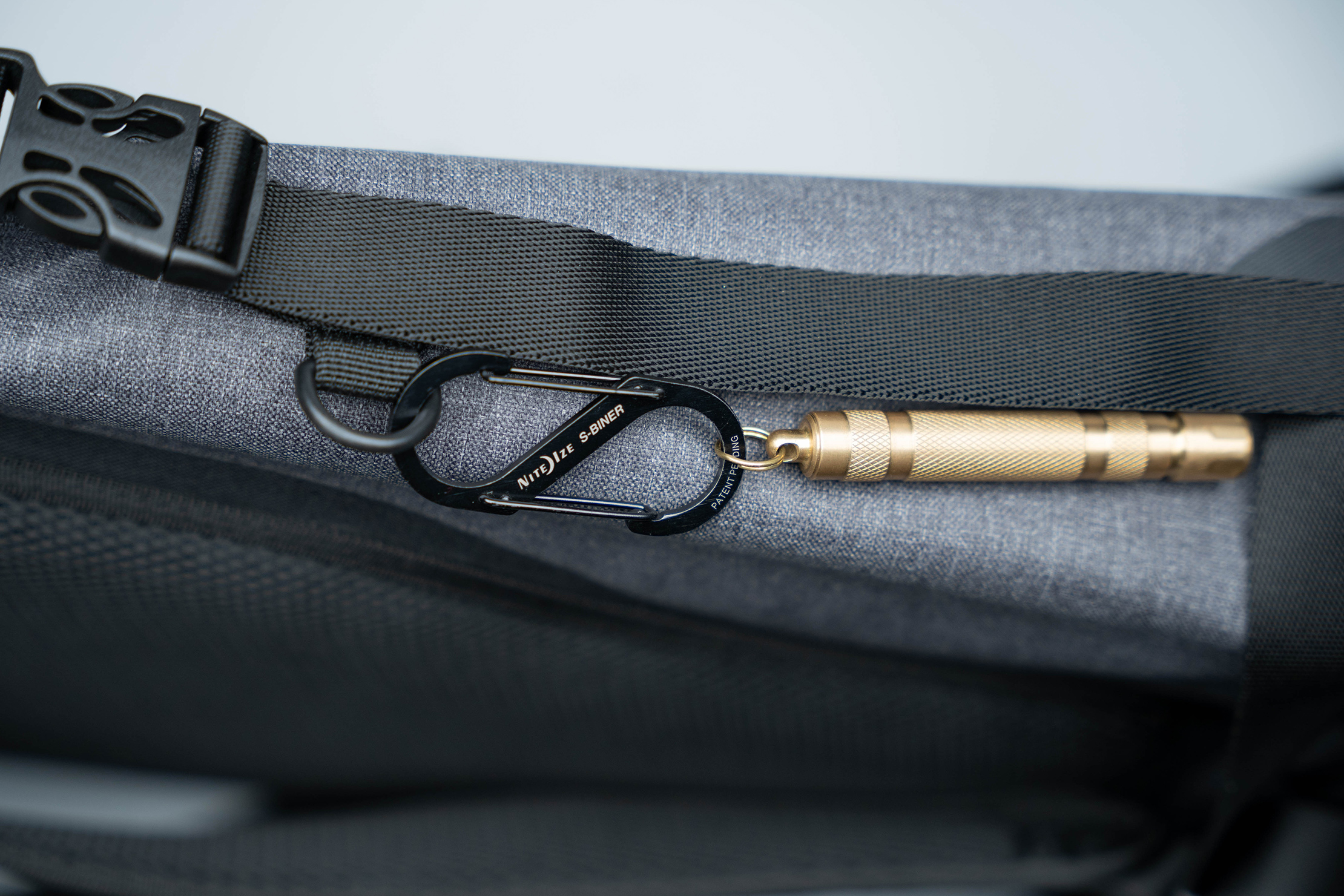 Another thing to note about the Cromwell's exterior is the lack of strap keepers apart from on the shoulder straps—all other adjustments hang off freely. Depending on how much you've tightened or loosened them, it can impact the Cromwell's aesthetic. Mind you, this is arguably less of a practical issue and more of a styling issue, and a minimal one at that.
Inside The Backpack
We'll first start off with the front pocket. Despite the Cromwell's relatively large capacity, not much of it is allocated here. The opening is very wide, spanning about ¾ of the Cromwell's total height. The zipper in charge is of the reverse coil variety, and there's even a small garage at the top to further shield it from splashes. There's very little chance water will get inside with that much protection in place.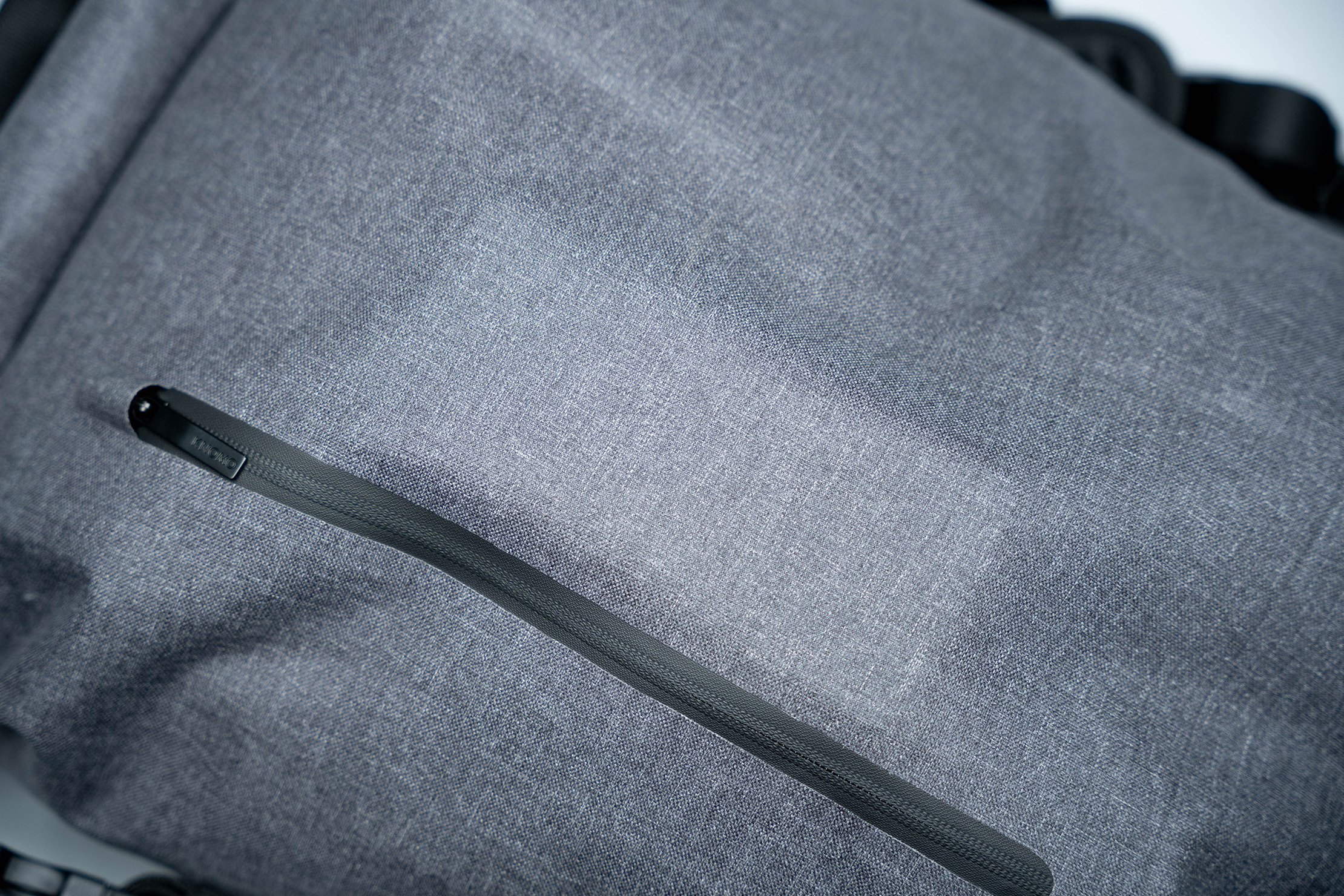 Because of its low-profile design, we only ever put slim items like our wallet, smartphone, passport, and earphones in this pocket. Bulkier items will otherwise form a noticeable outline against the grey fabric. Even with just our wallet and smartphone inside, it's already packed out enough that we can see the outline of the pocket itself. The photo above should give you a good idea of the pocket's shape based on that outline.
To open the main compartment, you first have to undo the two side release buckles at the edges before you can unravel the top. To close, you simply do the process in reverse. The rim of the opening is reinforced with a stiff material that makes it easier to roll up. As far as rolltop openings come and go, the Cromwell's closely resembles that of a dry bag like Earth Pak's Original Waterproof Dry Bag 10L (except the Cromwell buckles outward rather than inward). However, its worth noting that even with the roll-top design, this bag isn't waterproof and therefore not intended to use as a dry bag.
Additionally, since the buckles are length adjustable, this gives the Cromwell the ability to expand. Not that it's lacking in space, to begin with, but this extra expandability ups its versatility even further. That said, the main drawback of a rolltop is the ease of access (or lack thereof). Rolling and unrolling isn't as quick as unzipping a zipper. Unfortunately, a lot of the Cromwell's organization is inside the main compartment, so you have to go through it often.
Inside there's a floating panel lined with pockets. There's a tablet pocket, two liner pockets, one passport-sized pocket, two pen silos, and a tiny pocket for something like wireless earphones. There's also a key clip beside the panel, which we often don't use. If you often use your keys, going through the rolltop isn't very convenient. On the other hand, this is a good spot to keep house keys when you're out of town. It's deep enough and away from prying eyes, but not so deep that you'll be digging all the way to the deep end of the bag. The clip itself feels pretty high quality too, so it shouldn't break even after repeated use.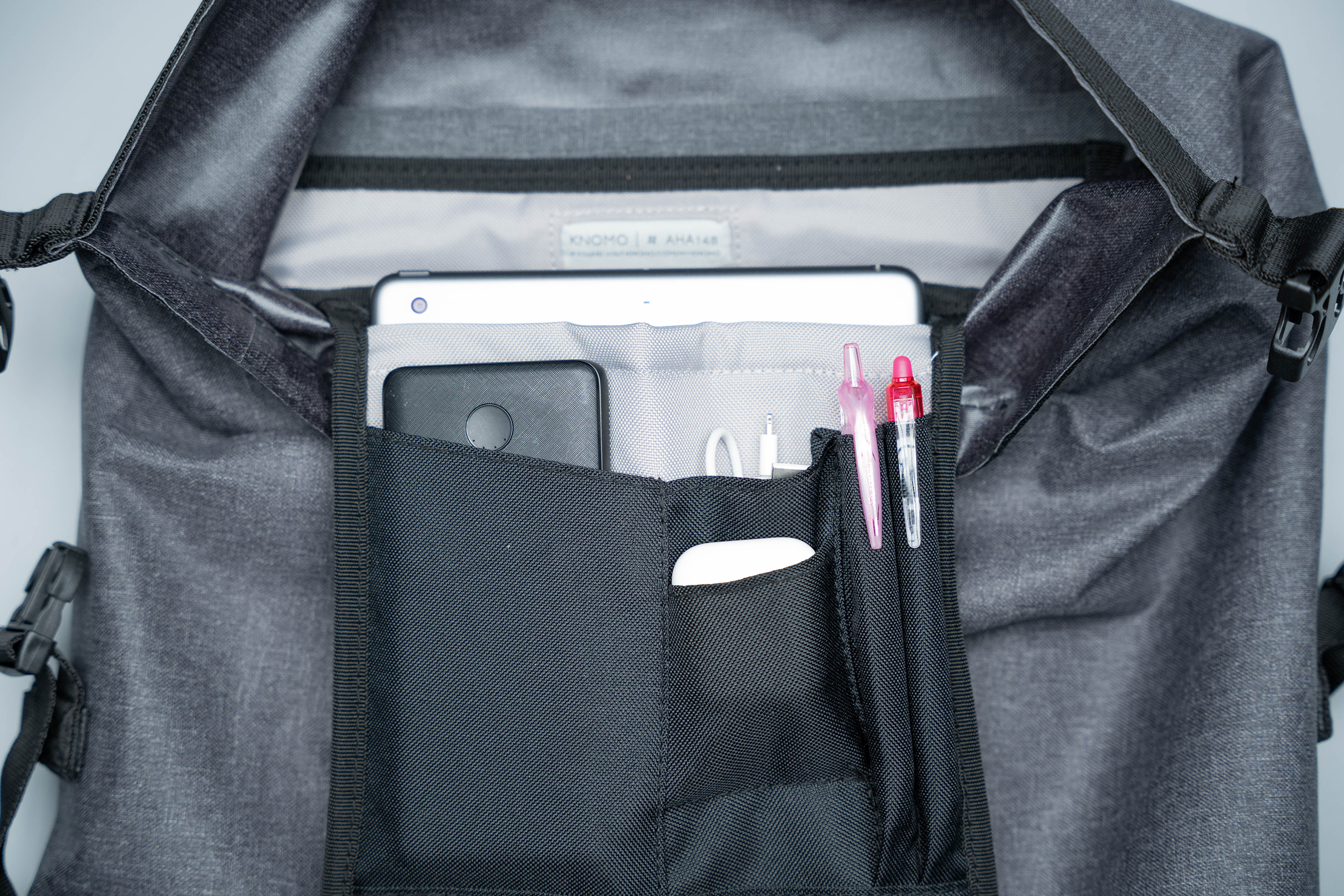 At the rear-most side of the main compartment is the built-in laptop sleeve. It's only rated for a 14-inch laptop, which is rather conservative for a backpack of this size. Other backpacks in this range, like the EVERGOODS Civic Half Zip or Patagonia Black Hole, support 15 or even 17-inch laptops. Silver lining: the Cromwell's laptop sleeve is elevated a good inch or so from the bottom. False bottoms like this help absorb impact whenever a bag is set down—an extra layer of protection like this isn't something we take for granted.
There's also a tag just above the laptop sleeve's opening with a unique serial code. Each Cromwell comes with one, and you can register it on their website in case the bag gets lost and someone finds it. They can then look up the serial code to find the rightful owner information. The bad news is that whoever finds your Cromwell has to first register on Knomo's website before they can look up the code.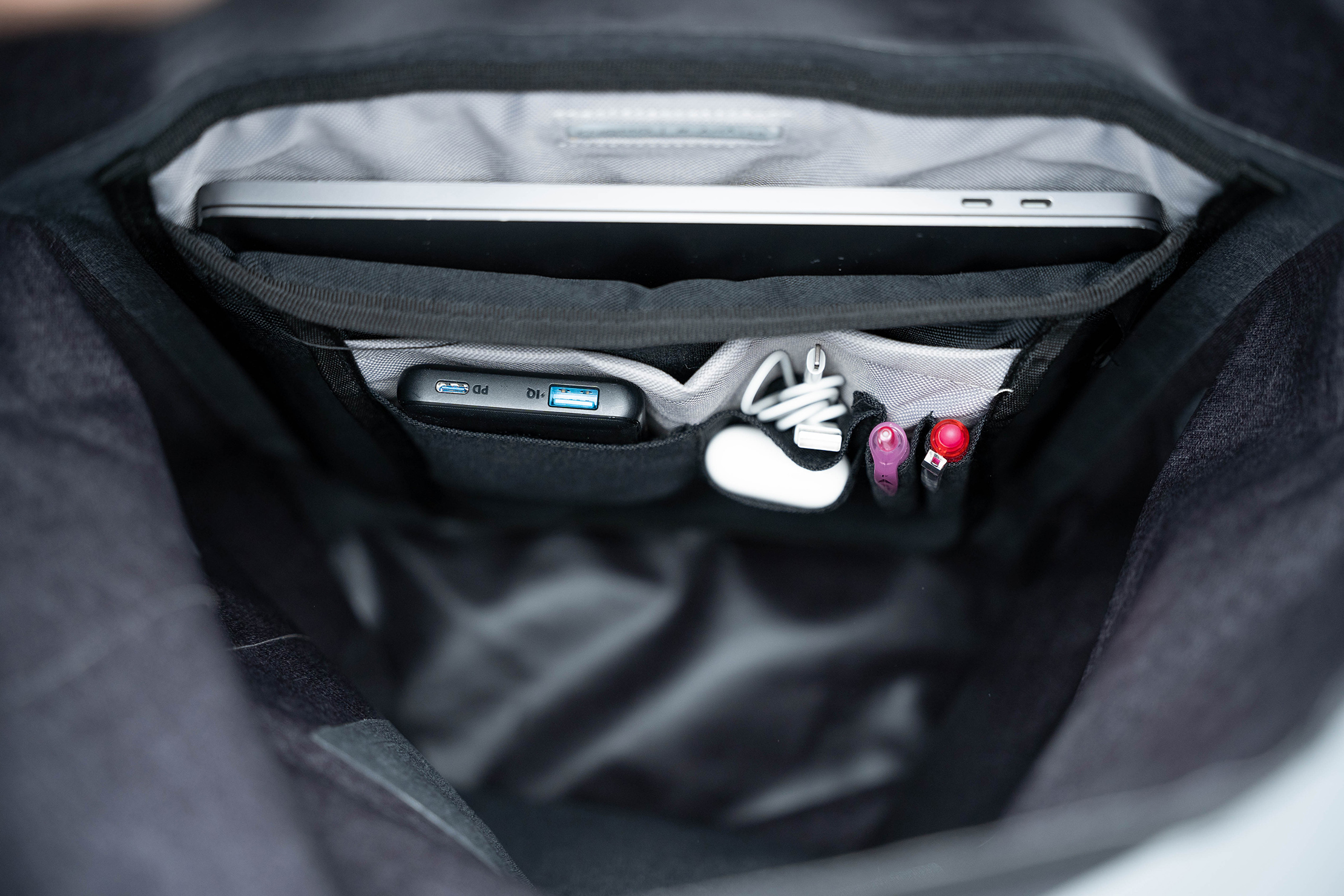 The amount of space available inside the main compartment is pretty generous. Almost the entire 27.3 liters of space is maximized here. We're able to fit three medium-sized packing cubes and a tech pouch in addition to the accessories in the liner pockets and our MacBook. There's still room to spare even with this much inside, and we can still expand the rolltop if we need more space.
We do have to note that the grey color of the fabric doesn't help with interior visibility. The Cromwell's main compartment goes fairly deep, so it can be tricky trying to sort through small items. Compound that with the top-down perspective of the rolltop, and it becomes clear that accessibility isn't really the bag's strong suit.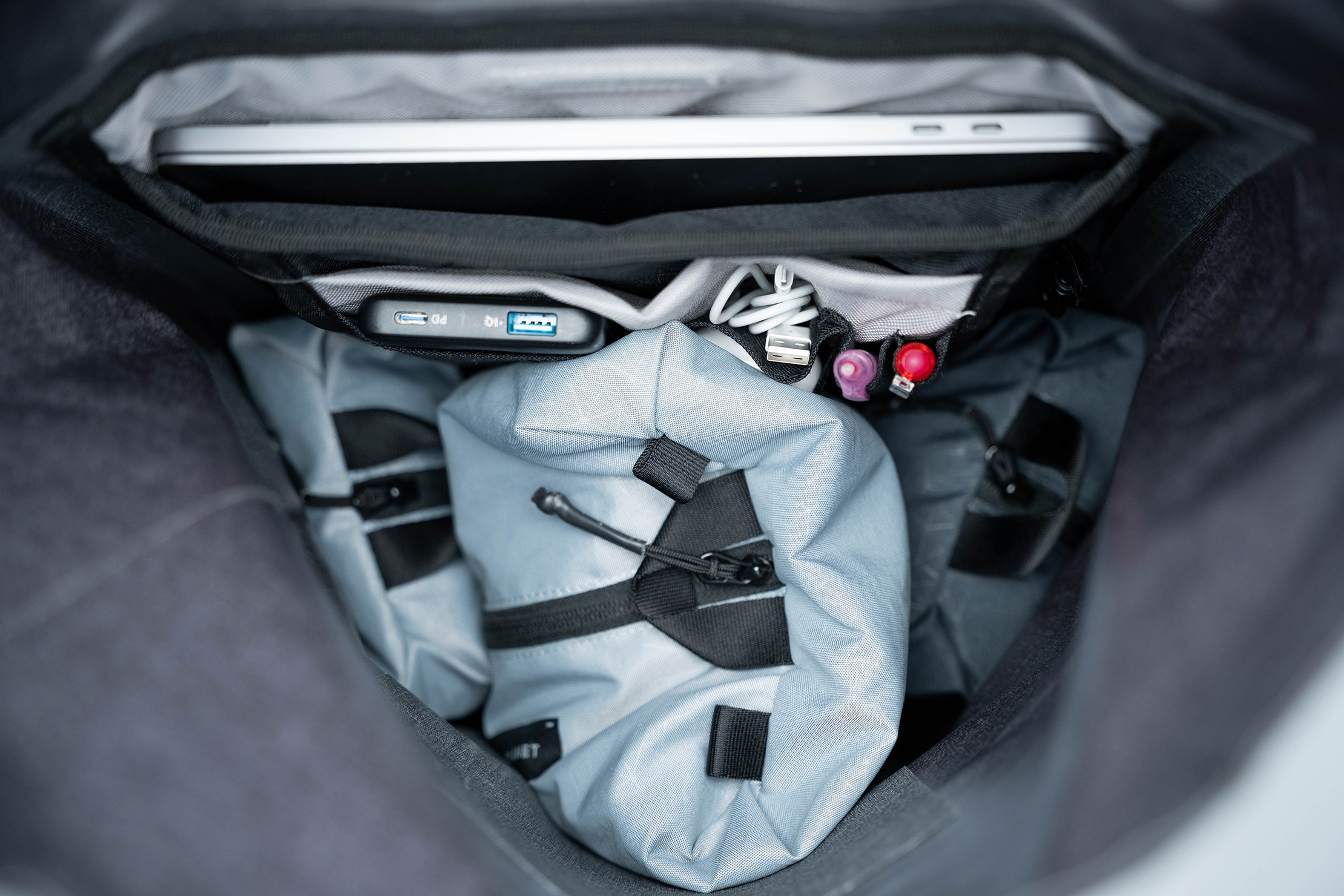 Finally, having the Cromwell mostly empty affects the way it carries. With only a single packing cube alongside our laptop, it feels very back-heavy and saggy to carry around. This is a bag that's most optimal to carry with a full load. We'd say it's best matched with heavy users who require a ton of space and will utilize most of it.
Usage Timeline
Initial Usage
Condition: Excellent
A lot of the pockets inside are stacked onto each other
Roll-top's straps dangle at the sides
TPU-coated exterior takes care of minor splashes well
2 Weeks of Use
Condition: Excellent
Material is in really great shape; feels like-new
A few loose threads have cropped up, but nothing too intense; seems like they're leftover from the stitching, not unraveling
Good flexibility in storage, but the long rolltop makes it hard to see inside the bag
Access the Pro Community Discussion
Get your questions about the Knomo Cromwell answered from our team and the Pro Community right here on the page. Plus, join discussions with other members about gear, guides, and more.
Other Bags & Luggage Reviews