Knomo Beauchamp Review
The Knomo Beauchamp Laptop Backpack has great organizational features packed into a stylish bag, but it can be uncomfortable to carry when fully packed.
Our Verdict
Unlock the Pro Summary
Save time. Get access to brief summaries of our reviews so you can browse and make decisions more efficiently.
Pros
Bright red lining makes it easy to find gear
Strap keepers prevent excess straps from dangling
Nylon material resists stains
Cons
Organizational pockets make it difficult to reach all available space inside the bag
Lack of padding makes for an uncomfortable carry
Doesn't evenly distribute weight, so it feels heavy when packed
Recent Pack Hacker Video
Technical Details
Capacity

13.6l

Weight (lb)

1.76 lb (0.8 kg)

Dimensions

16.5 in x 11.6 in x 4.72 in (41.9 x 29.5 x 12 cm)

Notable Materials

Nylon, Leather

Manufacturing Country

Cambodia

Laptop Compartment Size

13"

Up to 14"

Warranty Information
Full Review
With its sleek shiny design and flashy metallic zippers, the Knomo Beauchamp Laptop Backpack stands out from the crowd. It offers the organization of a laptop bag in a chic package that feels like an old-school backpack updated for the lifestyle of today.

It works well for short-term commutes, but there's not enough padding to comfortably carry a laptop or tablet (or both) for very long—the backpack begins to rub uncomfortably on the small of the back after about 10 minutes use. However, as a pack for a remote worker or office commuter, this daypack from works well. Let's take a look at all of its features.
Materials & Aesthetic
The tagline for Knomo is "bags that work beautifully," and style certainly seems to be front and center on the Beauchamp. Crafted in nylon with leather trim, we like that it complements a wide array of styles, from jeans to business attire. The 13.6L capacity is large enough to easily carry our daily essentials, and there are pockets and slots galore for organization. However, we found that trying to make use of each and every pocket led to discomfort as the minimalistic harness system doesn't alleviate any extra weight. The straps dig into our shoulders, and the bottom of the bag digs into our backs, but more on that later.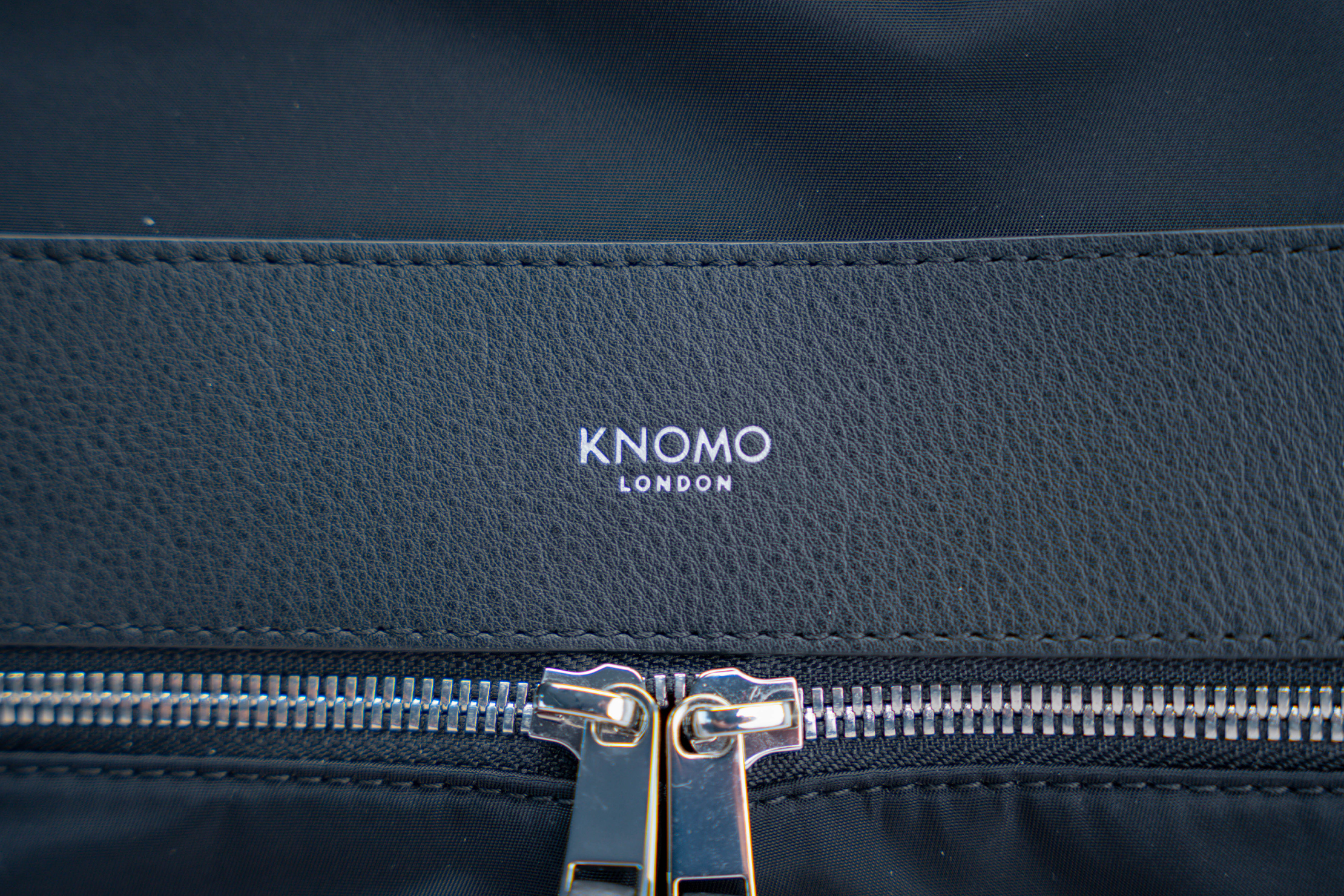 As of this writing, the Knomo Beauchamp Laptop Backpack is available in black with silver hardware, as well as black with gold hardware and poplin blue with silver hardware. On each, the metallic zippers of an unknown brand stand out from the backpack by design. Most of the zippers have leather pulls, making them easy to use. However, we wish there was a leather pull on the interior pocket to make the small zipper easier to grasp with gloved hands. There is a small Knomo London logo centered on the leather accent on the front of the bag, and that's it for branding—an aesthetic choice we appreciate.
The nylon shell material is slick and easy to slide over a shoulder. It seems to be stain resistant, and it looks exactly the same after three weeks of use as it did upon unboxing. Knomo said spills should be treated with a damp cloth only, though we haven't had a need to test that yet. While the material seems extremely slick, it hasn't led to the bag slipping off our shoulders whether we're using one or two straps, even while wearing a nylon jacket, a fact we appreciate. Now, let's take a look at some of the features.
External Components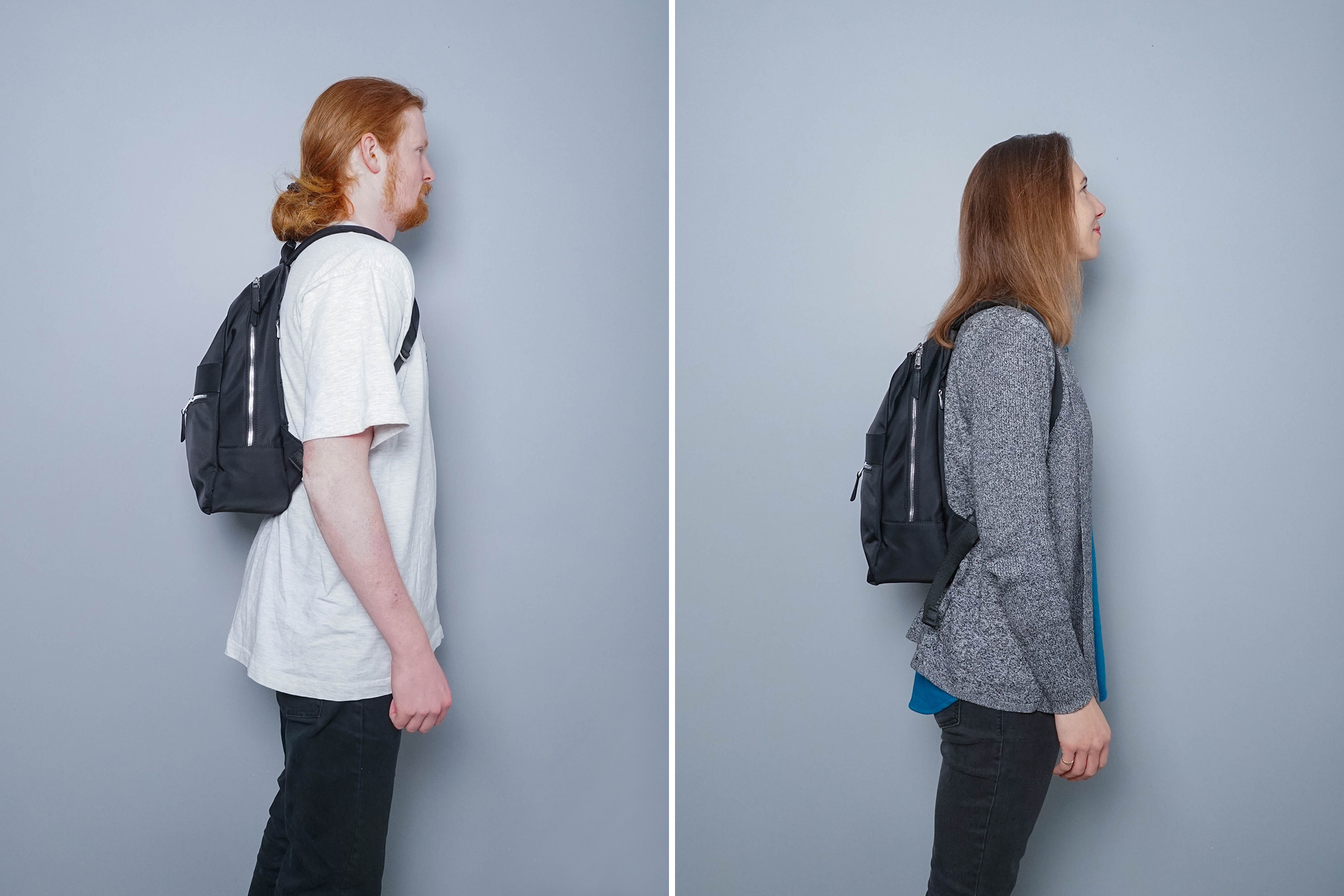 The Knomo Beauchamp is a simple backpack with two lightly-padded shoulder straps. The straps are S-shaped to allow for a comfortable fit on a variety of body types and are easy to adjust to the right size. We're happy to see strap keepers as well, although the thin leather loops sometimes slip down the strap and need to be readjusted. When they're functioning properly, however, they continue the streamlined look Knomo seems to be aiming for with their bags. A leather-trimmed handle atop the bag makes it easy to hang on a hook or carry for short distances, but we don't recommend carrying it that way for long—it's not padded, and the shoulder straps are there for a reason.
A new feature on this version of the Beauchamp Backpack is a strap to be slipped over a luggage handle on the back of the bag. This works well, as long as the bag is not over-stuffed. Packing it with a laptop, tablet, notebooks, phone, wallet, cords, and other accessories expands the bag and makes it more difficult—although not impossible—to fit a luggage handle through the loop.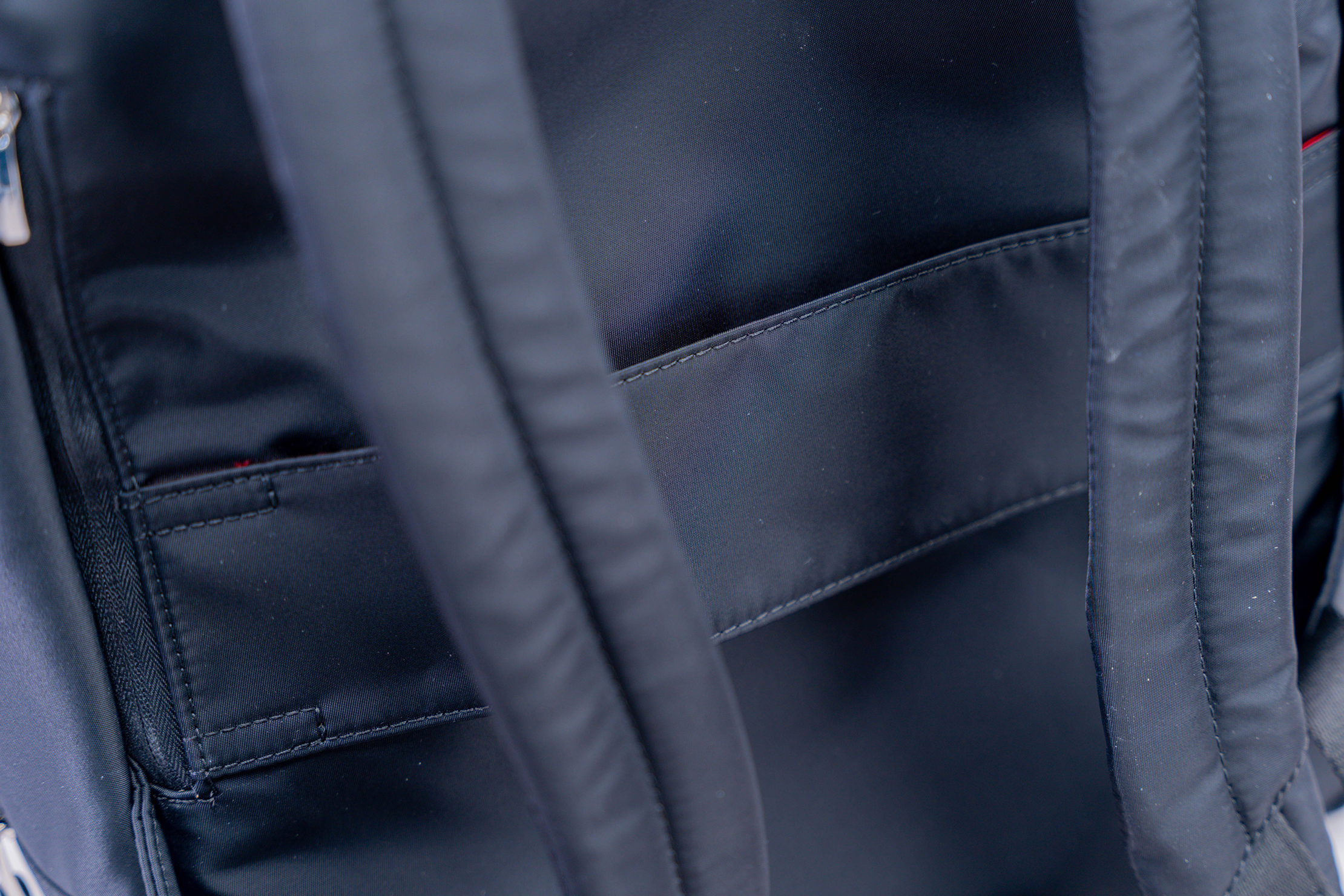 The back and bottom of the bag are padded, and this definition allows it to stand upright in most circumstances, although it can become front-heavy depending on how it's packed. Knomo says the bag is drop-tested, but the minimal padding doesn't seem to be enough to completely protect a laptop if it were to, say, fall off our shoulder onto the sidewalk.
The padding isn't enough to prevent a user from feeling exactly what is in the bag while wearing it for a long period of time either, and we found ourselves trying to readjust the straps multiple times to find a more comfortable way of wearing it on a long walk. No matter what, though, we still feel the outline of a laptop rubbing the small of our back and the weight of the backpack pulling our shoulders after longer use.
Inside The Pack
The main compartment of the Knomo Beauchamp backpack opens with a large, metal dual-sided zipper to 3 inches from the bottom on each side, where a reinforced seam forms a gusset that prevents the bag from fully opening, keeping contents from spilling out when completely unzipped.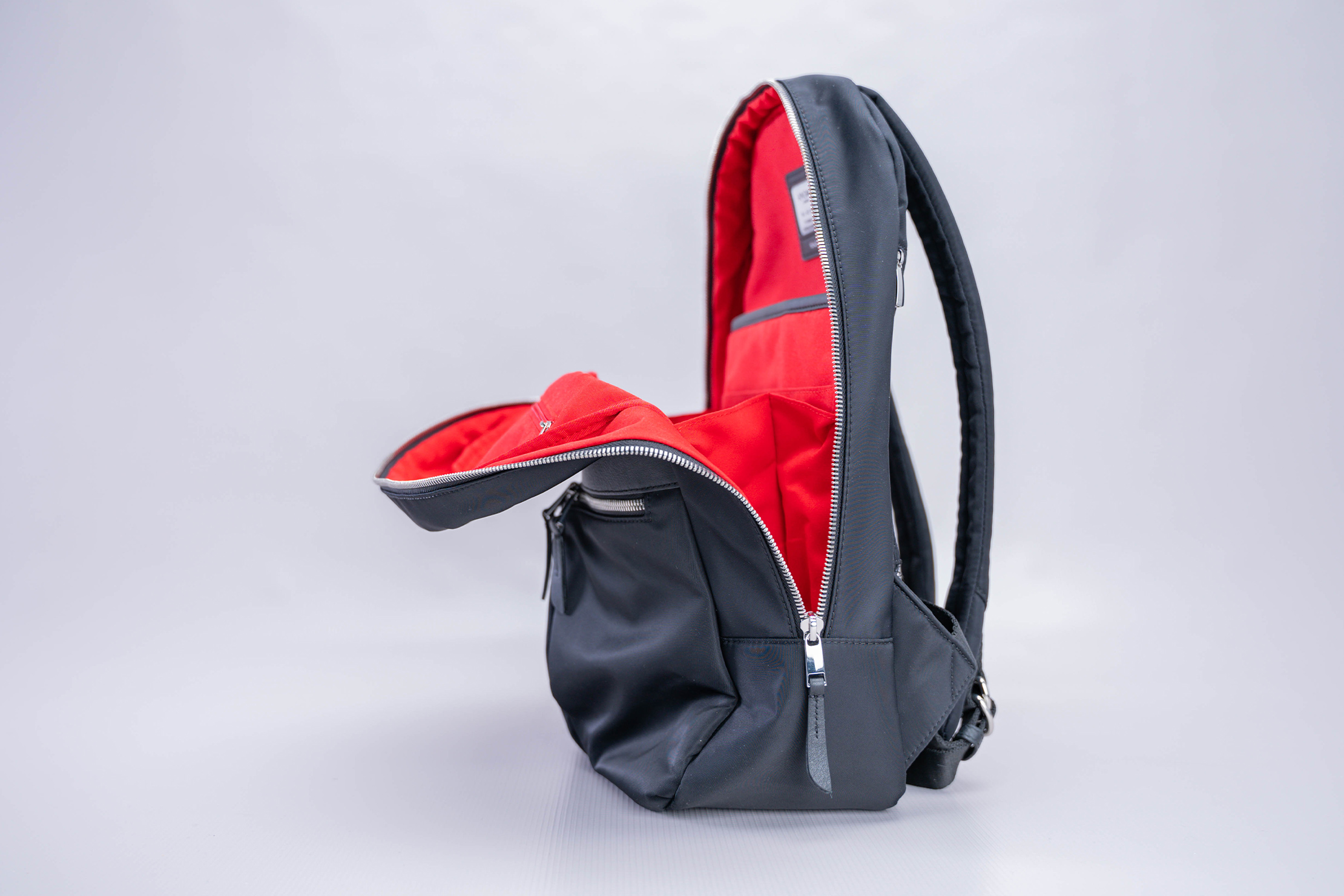 The front of the pack features two small quick-grab pockets with a unique zipper style: they zip toward the center of the bag and meet together in the middle. We had initial concerns that the quick grab pockets would not remain closed since the zippers sit so close together, but we had no issues during testing. Each 4.75-inch wide, 6.5-inch deep pocket has a center gusset to hold contents safe when unzipped and is a great place to toss things like AirPods, lip balm, hand sanitizer, and a small phone—an oversized model may have problems squeezing into this pocket.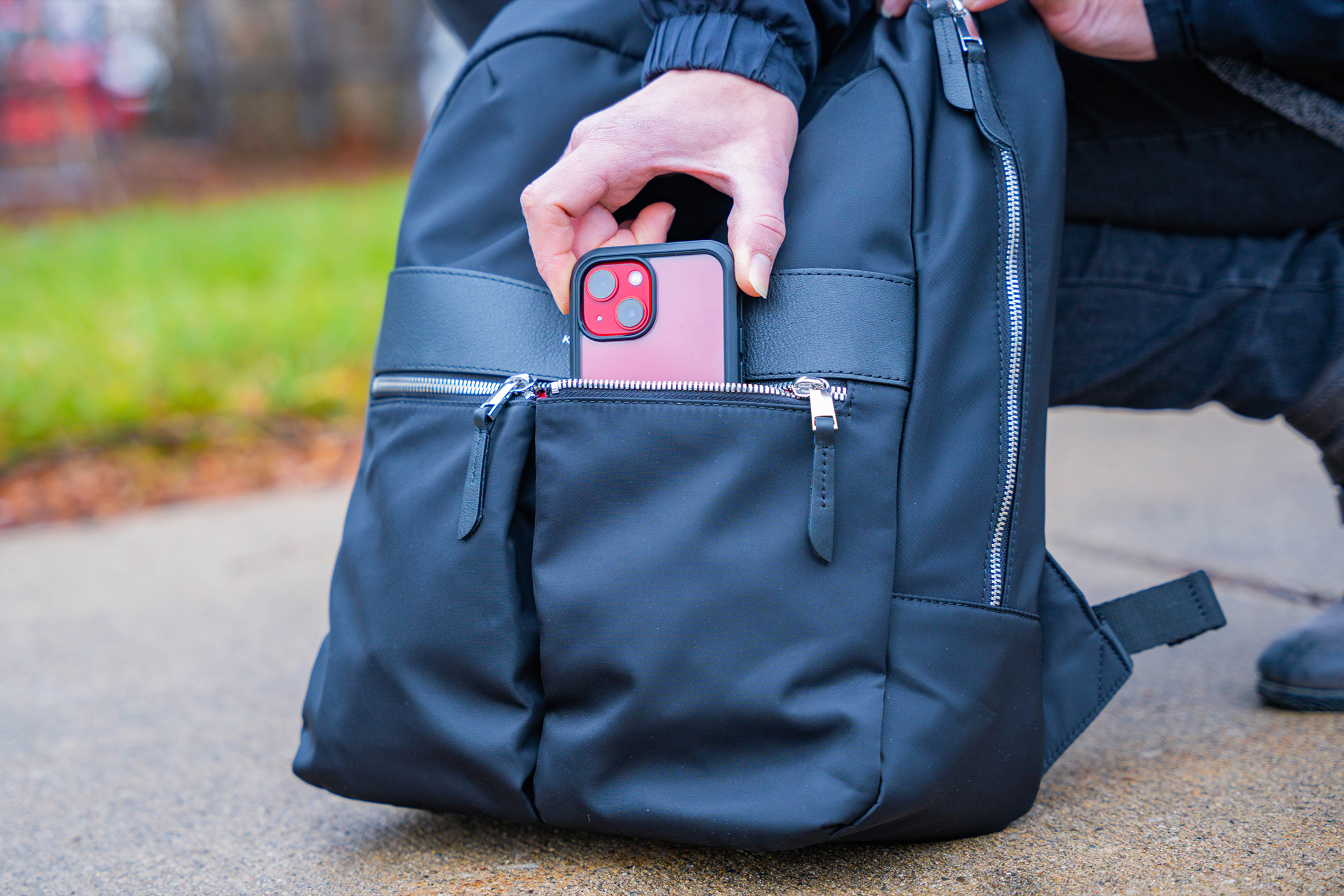 Unzipping the Knomo Beauchamp Laptop Backpack, we're greeted with a woven scarlet liner throughout the entire interior. It's aesthetically-pleasing and useful, as well—nothing gets lost in this pack. Should the pack itself be lost, each Knomo bag comes with a unique MyKnomo ID, which is indicated on a leather-trimmed patch centered in the top back of the bag. Anyone who finds the backpack can simply input the number into Knomo's site and they ought to be able to connect with the owner. It's a luggage tag updated for the modern age, and we appreciate the feature.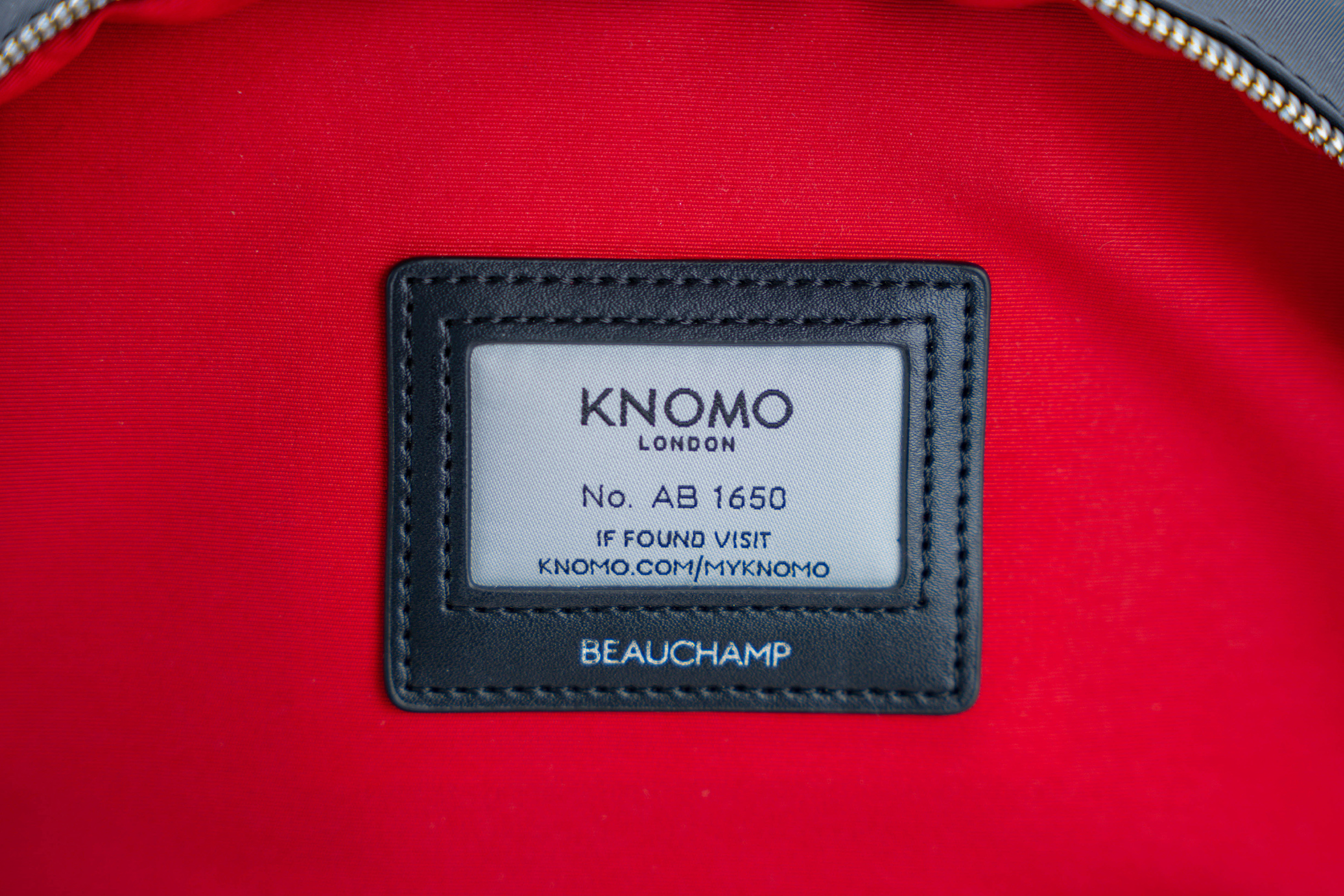 On the rear of the bag is a minimally-padded 15" laptop sleeve. A pocket on the sleeve can hold a tablet, and a zippered liner pocket on the front-side of the pack is large enough for cords, a mouse, battery packs, and other accessories. The outside of that pocket has slots for two pens and an RFID-protected pocket large enough for a wallet that also contains two slots for memory cards, although with no zipper or other way of closing those slots, cards could fall out if the bag is tipped. There is also a pocket large enough for a passport or small notebook.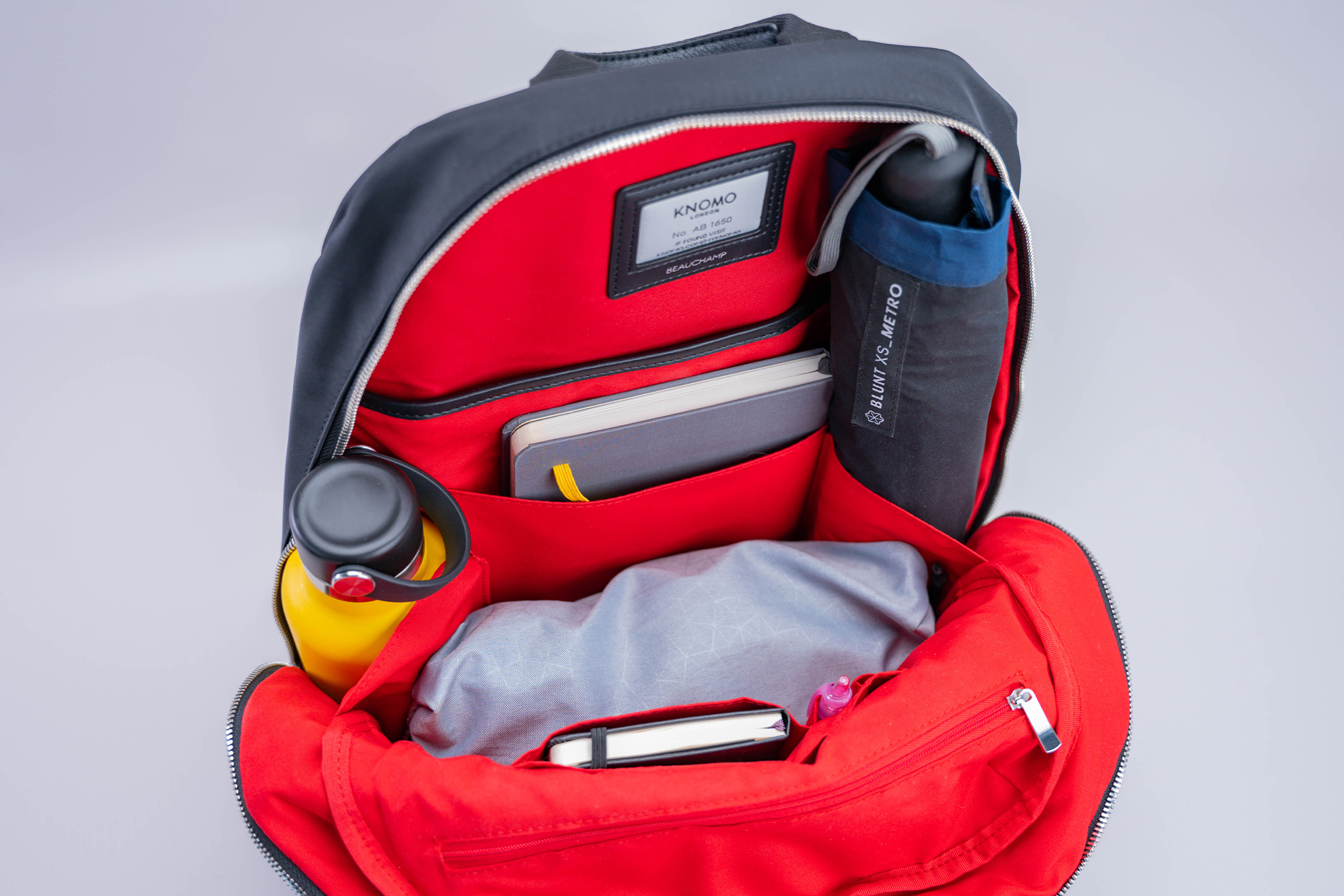 The center of the main compartment is open for books, notebooks, or even a small pair of shoes or sandals. Knomo has also placed two water bottle or umbrella holders on the side of this space, which you may recognize as the gusseted sides we mentioned earlier—it's quite a clever use of space. While a wide bottle won't fit, a slender container like the EcoVessel's The ASPEN Insulated Water Bottle slides in well. Using them both minimizes the interior capacity of the bag, however.
In addition, completely packing the bag with a laptop, accessories, tablet, notebooks, wallet and two water bottles can make it more difficult to zip. While the zippers are sturdy, the nylon material has no give, so it can't stretch over added bulk. We found it can be difficult to use the main zipper while holding the bag by the shoulder straps instead of sitting on a flat surface, as well; however, your mileage may vary.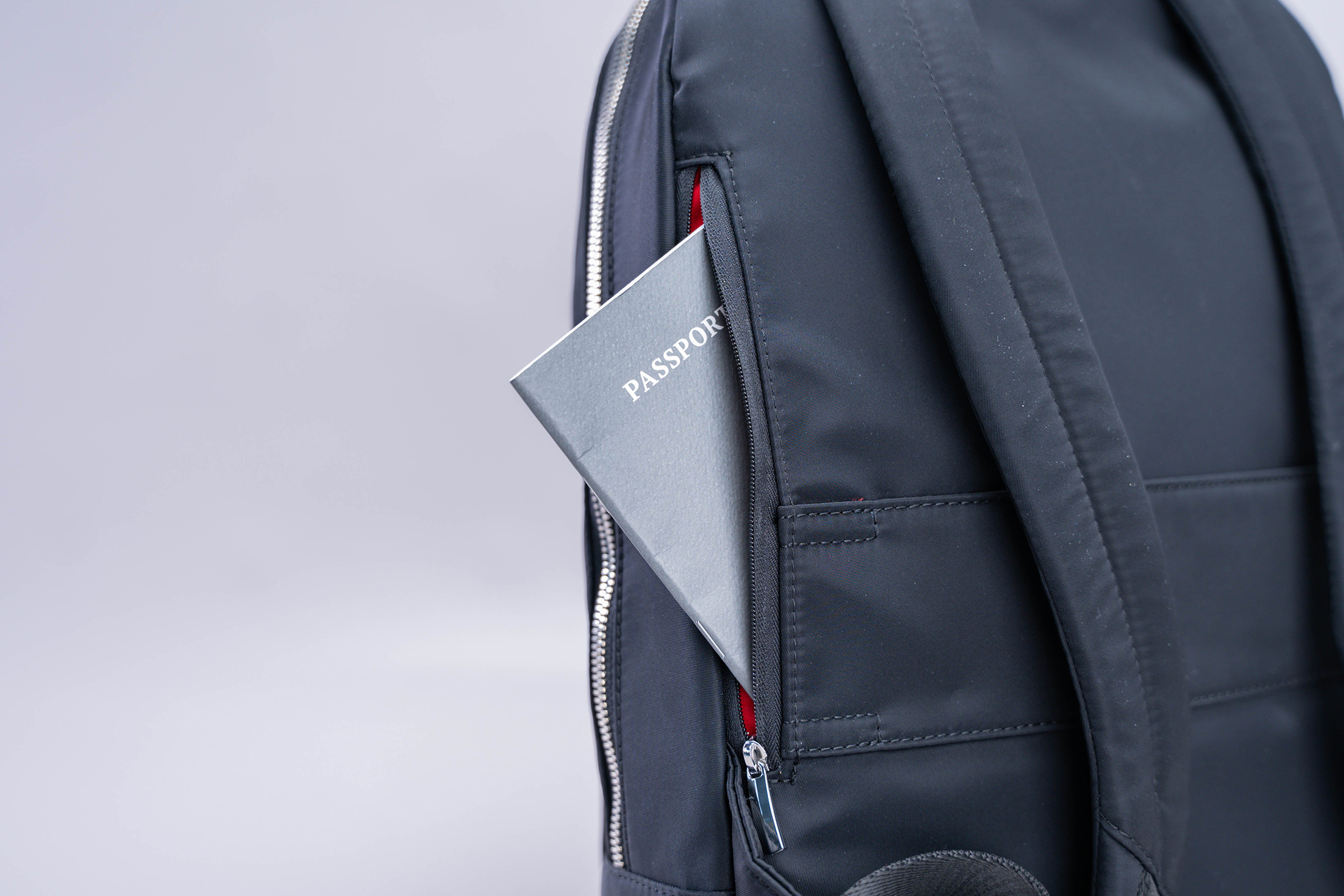 Finally, there's a rear zippered security pocket with a 6-inch opening on the side. A place to stash extra cash or a passport, it could also accommodate a larger phone, but we found that anything we put in that pocket digs into our back as it is on the outside of the padded laptop compartment. When zipped up, however, it is easy to miss, which makes it a great place to stash cash, extra credit cards, a passport, or other flat items we want to conceal.
The Knomo Beauchamp offers a lot of features for the remote worker or commuter who cares about form over function. At its heart, Knomo seems to highlight the aesthetically-pleasing fabrics and sleek lines, though some features of the bag fall a bit flat. It works great as a way to get a laptop and accessories, along with a phone and wallet, from one place to another, provided we don't have to carry it for very long en route. Traveling by car, bus, or subway? The Knomo Beauchamp works well and looks great at the same time. Looking for a way to carry a lot of gear all day while exploring a city or park? We might recommend a pack with more padding and capacity, such as the Samsonite Xenon 3.0 Large Backpack.Your back will thank you.
Usage Timeline
Initial Usage
Condition: Excellent
Dual front pockets are a nice touch for organizing quick-grab items
There's also two sleeves inside for a laptop and a tablet
Gusseted main compartment aids accessibility
1 Month of Use
Condition: Excellent
Nylon material resists stains and gives the backpack a sleek, stylish look
Front quick-grab pockets are an easy way to access a small phone or a wallet
Rear security pocket not comfortable for bulky items
Strap keepers a great addition when they function properly
Access the Pro Community Discussion
Get your questions about the Knomo Beauchamp answered from our team and the Pro Community right here on the page. Plus, join discussions with other members about gear, guides, and more.
Other Bags & Luggage Reviews