Samsonite Xenon 3.0 Large Backpack Review
A great workday companion, the Samsonite Xenon 3.0 Large Backpack is a business bag with plenty of space to carry gear and organization galore.
Our Verdict
Unlock the Pro Summary
Save time. Get access to brief summaries of our reviews so you can browse and make decisions more efficiently.
Pros
Lots of built-in organization
Well-padded and comfortable shoulder straps
Structured enough to stand up on its own
Cons
Carry handle sometimes caves in, which hides the zippers
Zipper pulls occasionally twist and become stuck, which can hinder zipping
No strap keepers for excess straps when adjusted for a smaller-sized user
Recent Pack Hacker Video
Technical Details
Capacity

27l

Weight (lb)

2.8 lb (1.3 kg)

Denier

1680D

Dimensions

17.5 in x 12 in x 8 in (44.5 x 30.5 x 20.3 cm)

Notable Materials

Ballistic Polyester

Manufacturing Country

China

Laptop Compartment Size

15"

Warranty Information
Full Review
Heading back and forth from home to the office or school, by car or by foot, the Samsonite Xenon 3.0 Large Backpack will get you and all your accouterments there safely and comfortably. The padded shoulder straps stay put whether using one strap or both, and even packed to the brim, the pack is well balanced and doesn't tip or try to slide down your shoulder. Need to run a few errands along the way? No problem, since there's plenty of room for a wallet and phone, plus dedicated spaces to slide extra cards and cash right in the bag.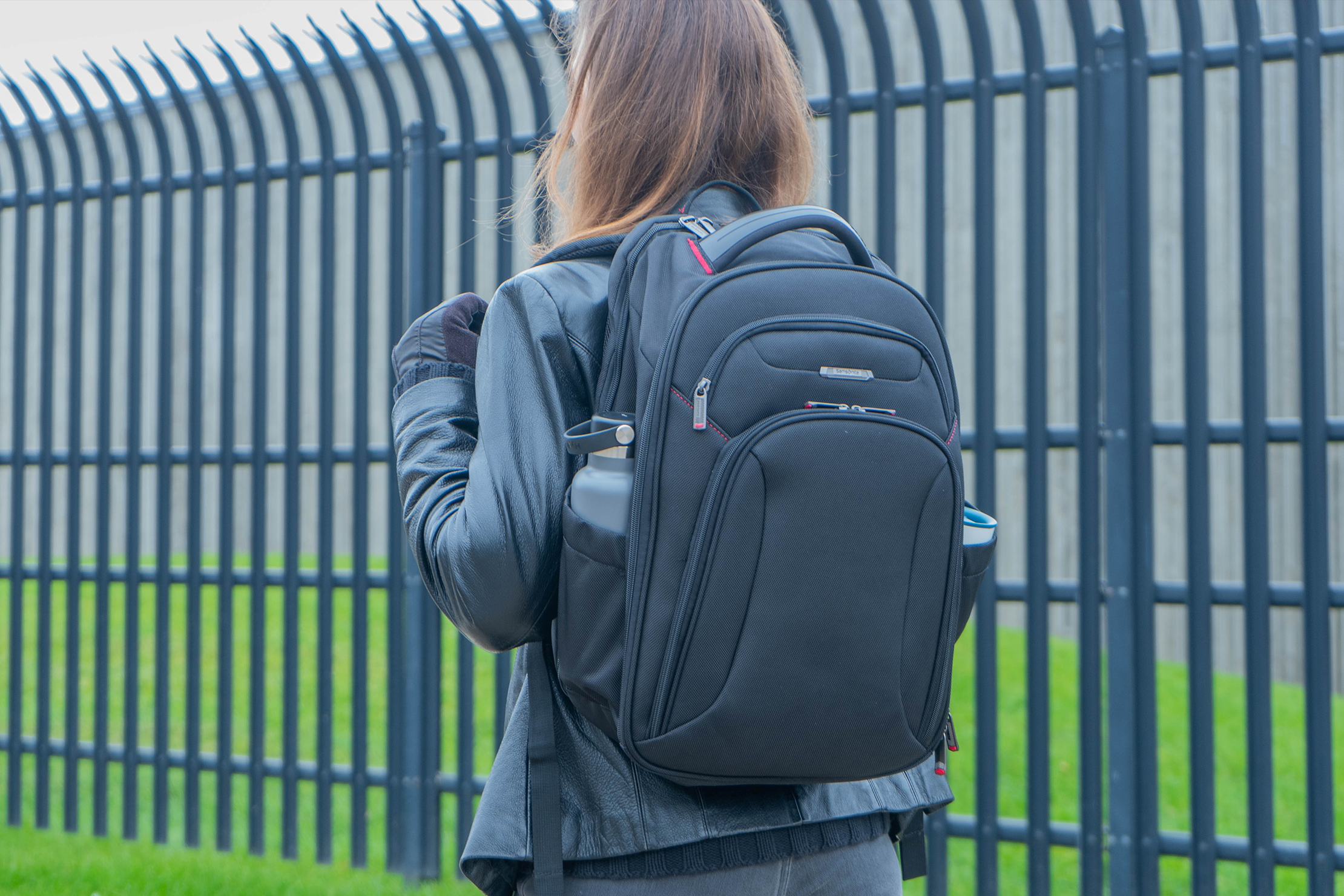 Along with wallet-like organization, the Samsonite Xenon 3.0 Large Backpack has space for file folders, a computer, and accessories as well. Part of the luggage company's business line, Samsonite has designed the Xenon 3.0 for the modern worker and student, providing plenty of organization for electronics and accessories. There are pockets, slots, and compartments galore for gear organization. It's well-balanced and doesn't tip easily, which means we can still reach our phone or notebook from the bag when it's sitting on the passenger seat of the car, and the Smart Sleeve strap slides easily on the handle of a rolling bag or briefcase when zipping through the airport.
Materials & Aesthetic
From the outside, we like the streamlined look of the pack, which is a more ergonomic option than traditional computer bags or briefcases, while offering the functionality of both. As of this writing, the Xenon 3.0 Large Backpack is only available in black with red accents and top stitching. At 27 liters capacity, it's large enough for everything we need over the course of a day—a computer, mouse, tablet, phone, cords, earbuds, dongles, notebooks, file folders, coffee mug, water bottle…you get it. The great thing is, we're carrying our life with us but we don't feel like a turtle lugging its shell when using it.
Constructed from 1680 denier ballistic polyester, the exterior material feels sturdy and hasn't managed to pick up any stains or marks, despite being tossed in the car, on the floor, on seats and under desks. It seems like it should be easy to wipe off but nothing has stuck to it yet, so we haven't had to give that a try. The interior is a mix of shiny silver nylon and soft black tricot fabric, both of which are durable and subtle. We can easily spot our items in any pocket against the silver nylon, and it's hard to lose something in the bottom of the bag because it isn't a large, dark black abyss like some other backpacks.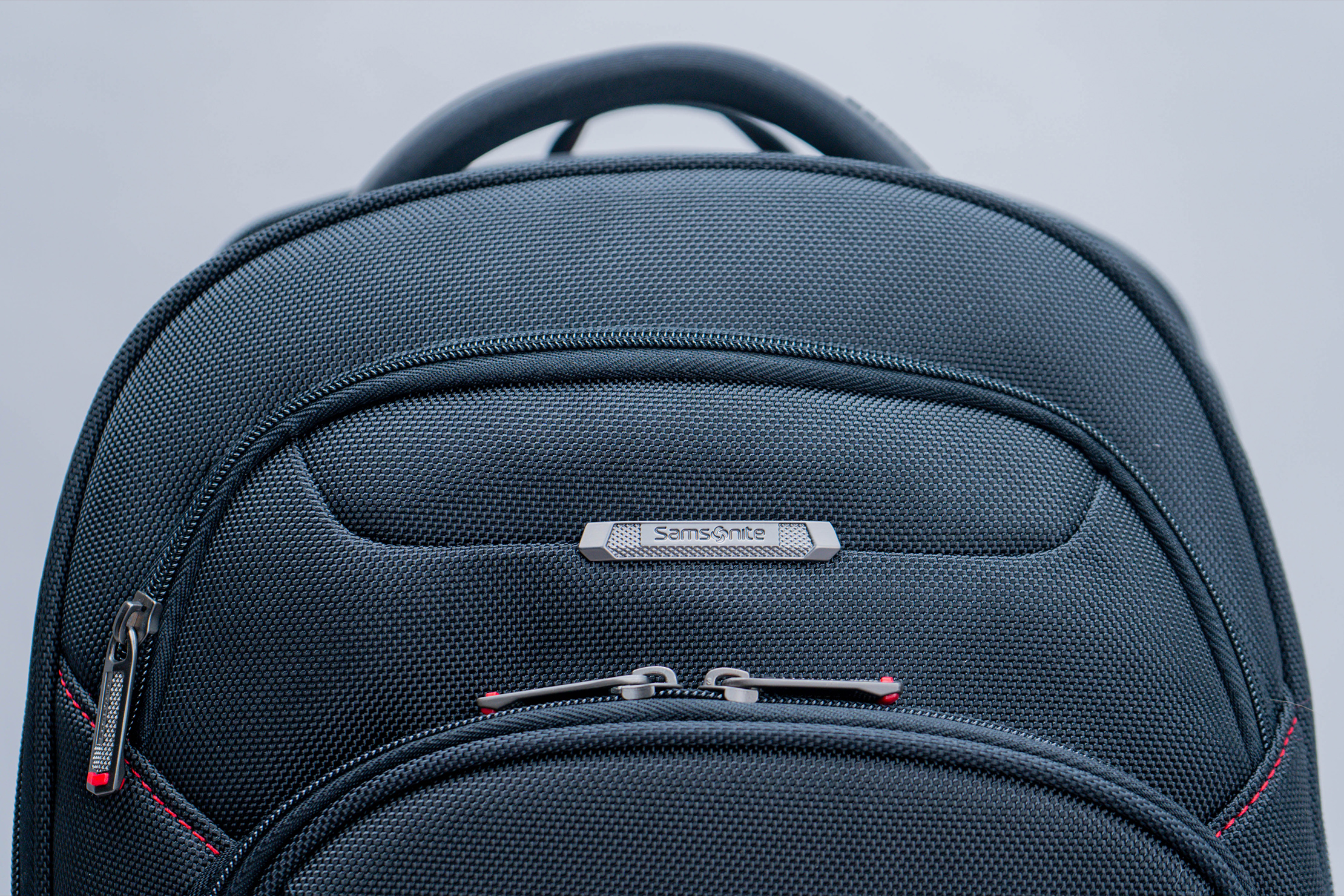 One small logo on a piece of matte gunmetal is centered on the front, and we like that we don't feel like a middle schooler carrying a bag with a big logo to show off to our friends. Each zipper pull features the same matte gunmetal with the Samsonite brand name and a red chevron at the bottom. The inset dual-sided zippers are an indeterminate brand but function well so far, with the only hiccup that occasionally the pull twists on the zipper and becomes stuck, making zipping difficult until we can get it straightened out. It's nothing we haven't experienced before on other bags, but something worth mentioning. There is also black-on-black branding in the rubberized plastic of the top carry handle.
More icons are scattered throughout the interior of the pack to indicate what piece of technology should be packed where, and another logo on the rear of the back indicates that the back has an air channel system of padding. All together, the understated look of the bag makes us feel that Samsonite knows what clientele it's aiming for with this bag and hit the nail on the head.
External Components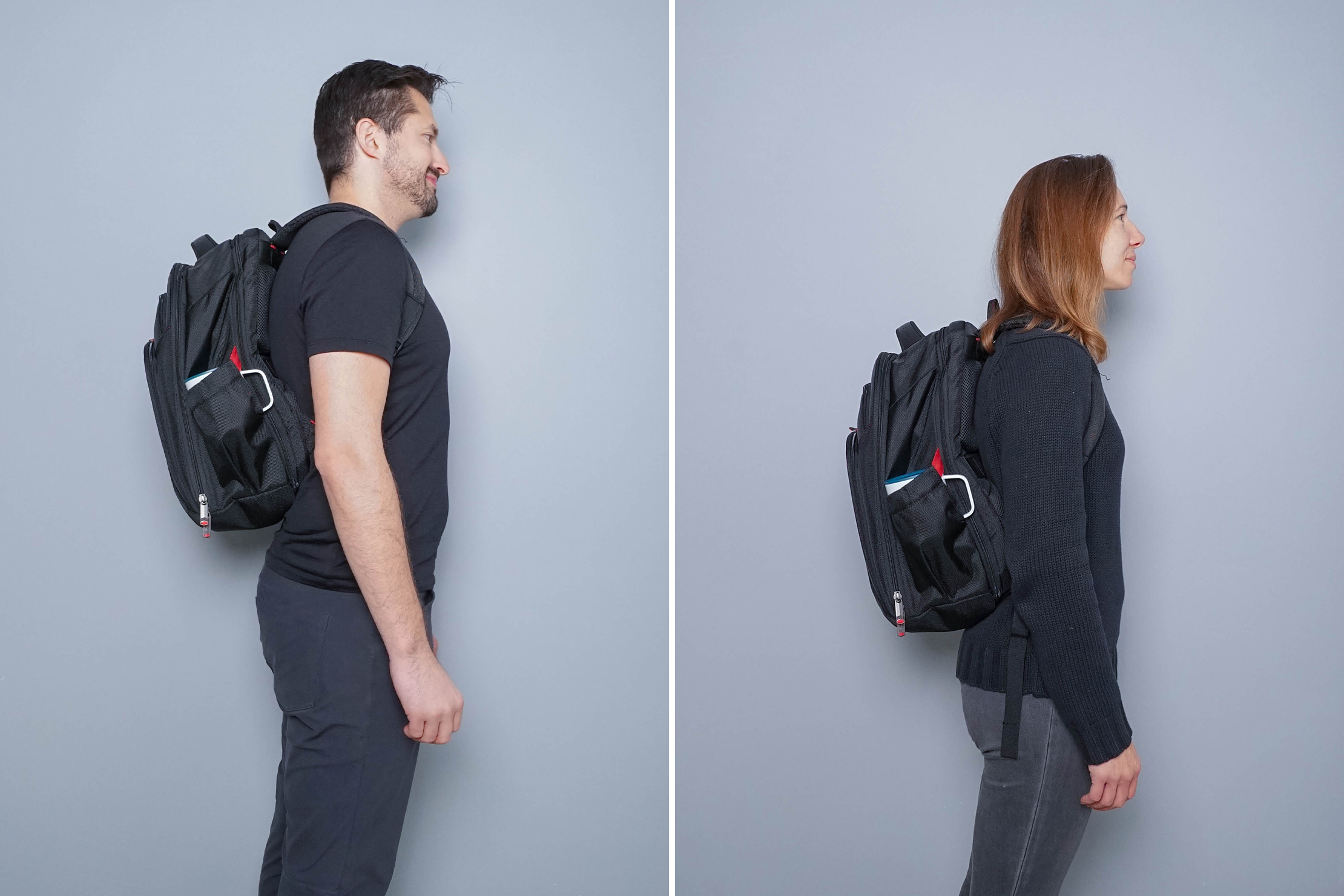 Reaching to grab the Samsonite Xenon 3.0 Large Backpack, there are a couple of options. Begin with the top carry handle, which features a comfortable micro injected top—which seems a fancy way to say rubberized plastic—with a neoprene padded grip. We put this handle through its paces during our two-week test, as other users had noted that it's a weak point on the bag, but we didn't have any problems. We do wonder if the stitching that holds the handle in place will stand the test of time, however, as we noticed a loose thread at the end of our two week test; might that come unraveled in the future? Hard to say, but we'll keep you posted in the usage timeline down below.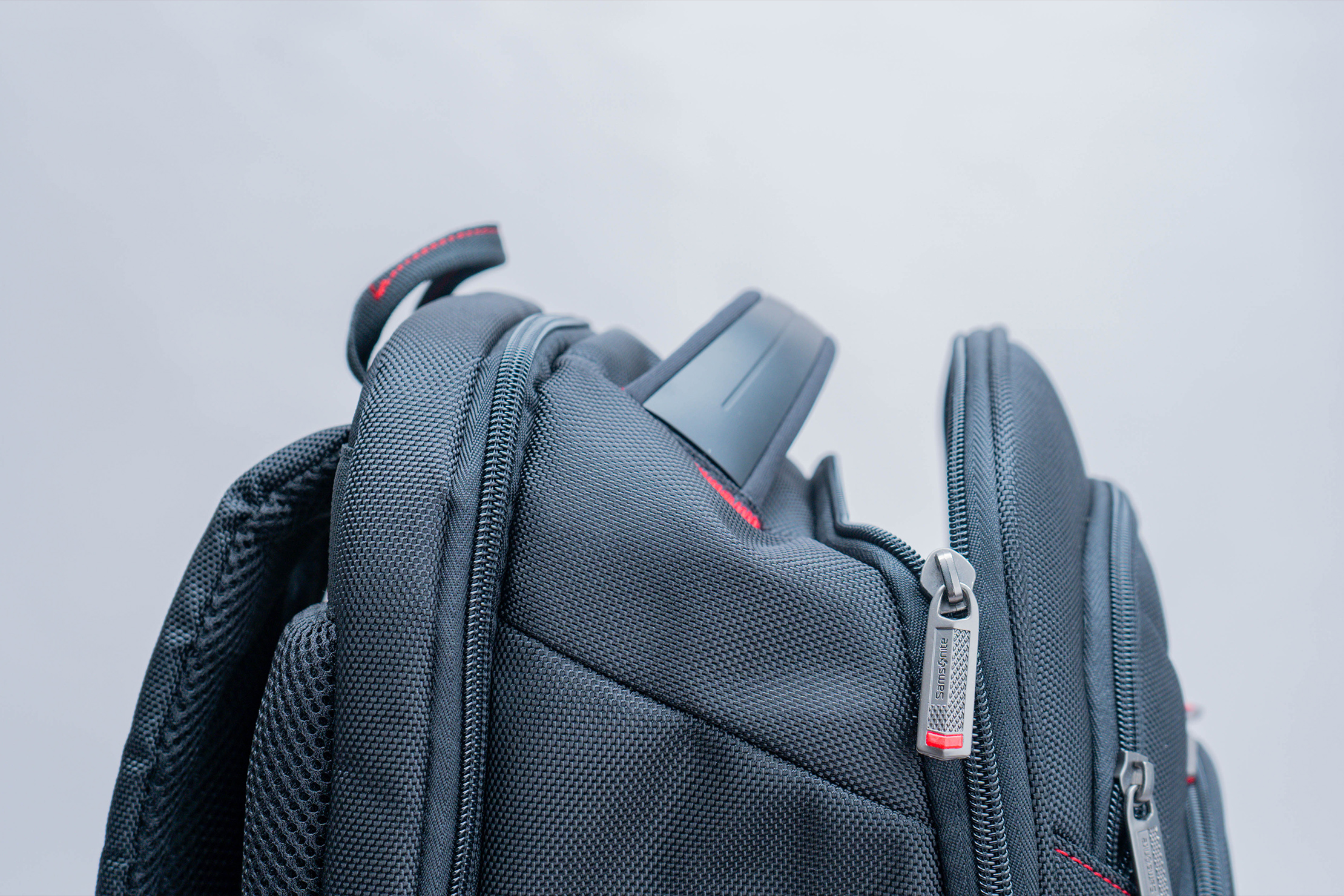 The carry handle is quite bulky and heavy, sagging down into the middle compartment if that section is not completely zipped or stuffed. Nitpicking, sure, but the aesthetics bother us and it hides the zipper pulls. There's also a small hanging loop, made of black nylon webbing with red top stitching.
The way we're most likely to carry the Xenon 3.0, however, is via the padded shoulder straps. The straps are extremely comfortable and easy to adjust, but the lack of strap keepers is an annoyance. The dangling excess straps get caught in doors and would benefit from a way to keep them contained—perhaps with VELCRO Brand Cable Ties. The straps also have a curved stitching to help them comfortably conform to any chest size and shape, but that can cause them to flip inside-out, especially when grabbing just one strap to swing it over a shoulder.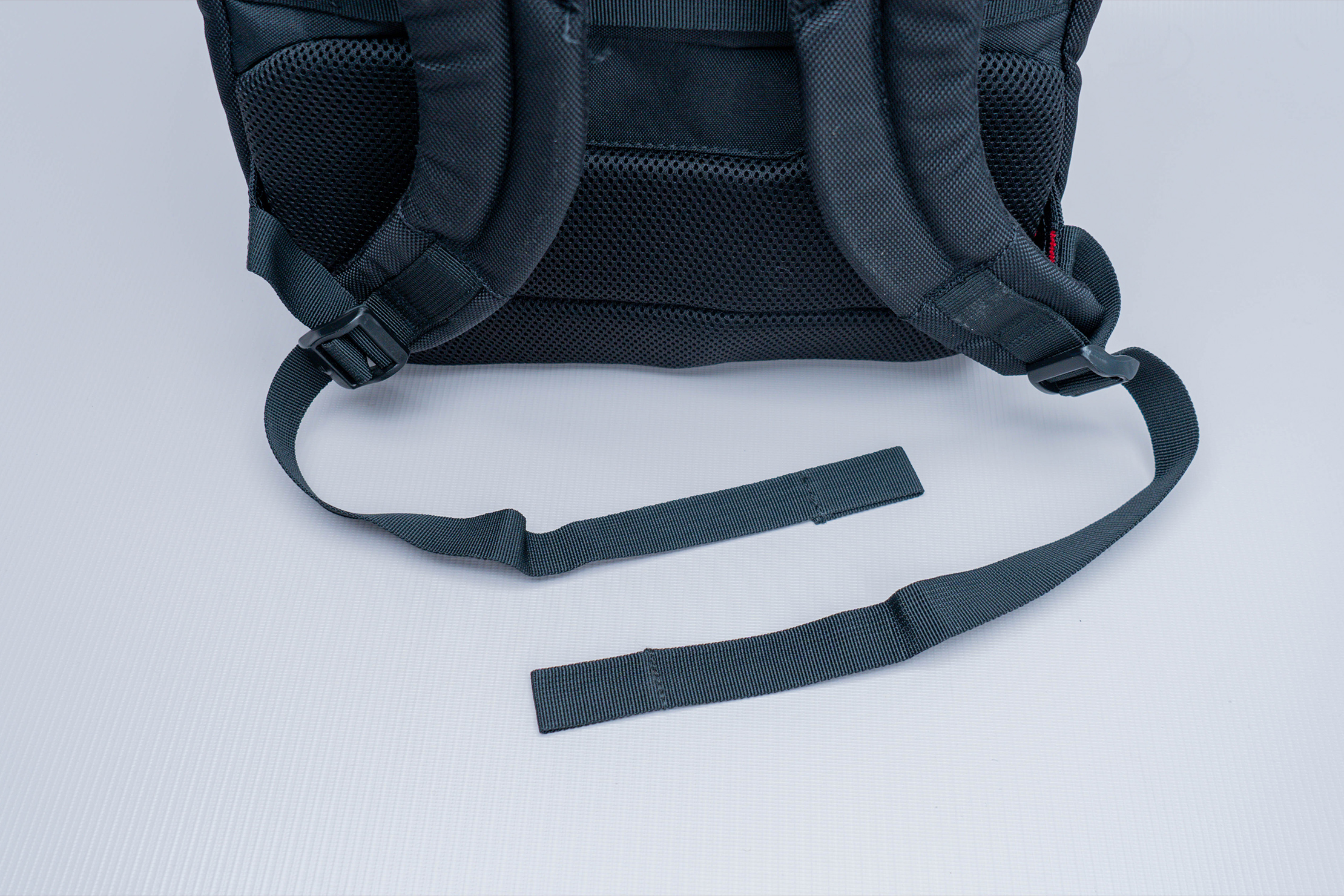 The back of the pack features an "air channel system" you can't miss—because Samsonite tells you so with a 2.5-inch silver printed icon. Samsonite says it features air mesh padding and lumbar support. We believe the air mesh padding will prevent most sweaty backs, although that typically depends more on the person and the weather than anything a backpack can do. We don't think the typical user of a business backpack like this will be using it to hike the Serengeti, so it will likely do its job.
While we're not sure where the lumbar support is coming in (perhaps in the placement of the padding?), the backpack is quite comfortable to carry around once the straps are adjusted to the correct length. For just running to and from a vehicle into a building, grabbing one shoulder strap to sling over a shoulder is a breeze, and we found the pack never slips off our shoulder—nice! Walking several blocks from the bus stop to the office or home, however, is a trip that likely benefits from using both shoulder straps.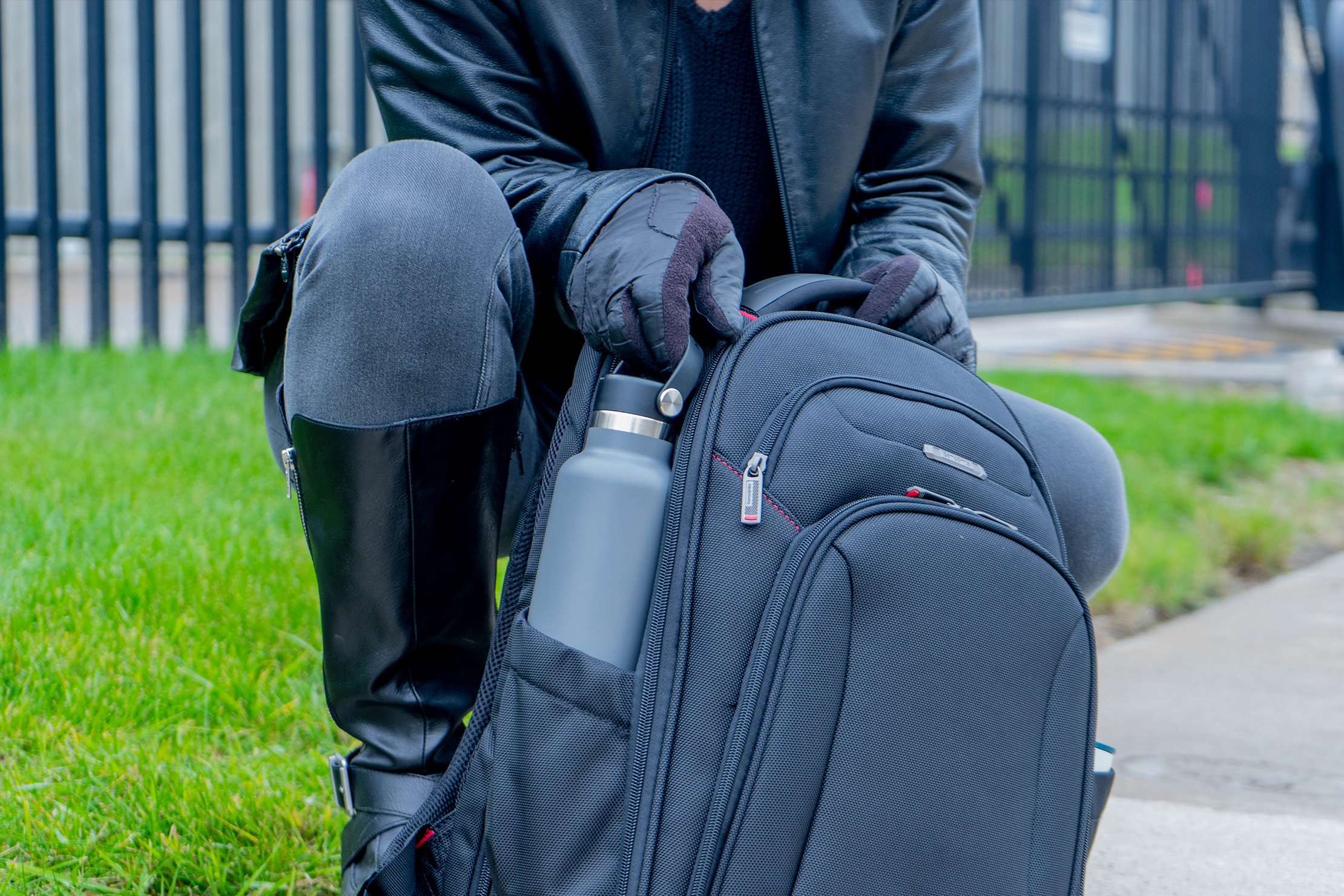 Two deep water bottle holders occupy both sides of the backpack, with red elastic gussets to help them expand for larger bottles while still retaining the ability to hold smaller bottles in place. They're tall enough that we're able to carry a travel coffee mug and never have it shake or spill while in transit–a nice feature. A variety of bottles, from 20-ounce sports bottles to a Hydro Flask 12-ounce Coffee Mug with handles, easily fit in the pockets and stay put as the bag is tossed in the car or stashed under a desk.
Inside The Pack
Now for a look inside the pack, which is where the Samsonite Xenon 3.0 Large Backpack really shines. It has a spot for everything we need and then some. The tricot-lined quick stash pocket easily holds a phone, AirPods and a wallet. The lining is black, and while we generally prefer brighter colored linings to make items stand out, this pocket is small enough that we can still easily find our gear.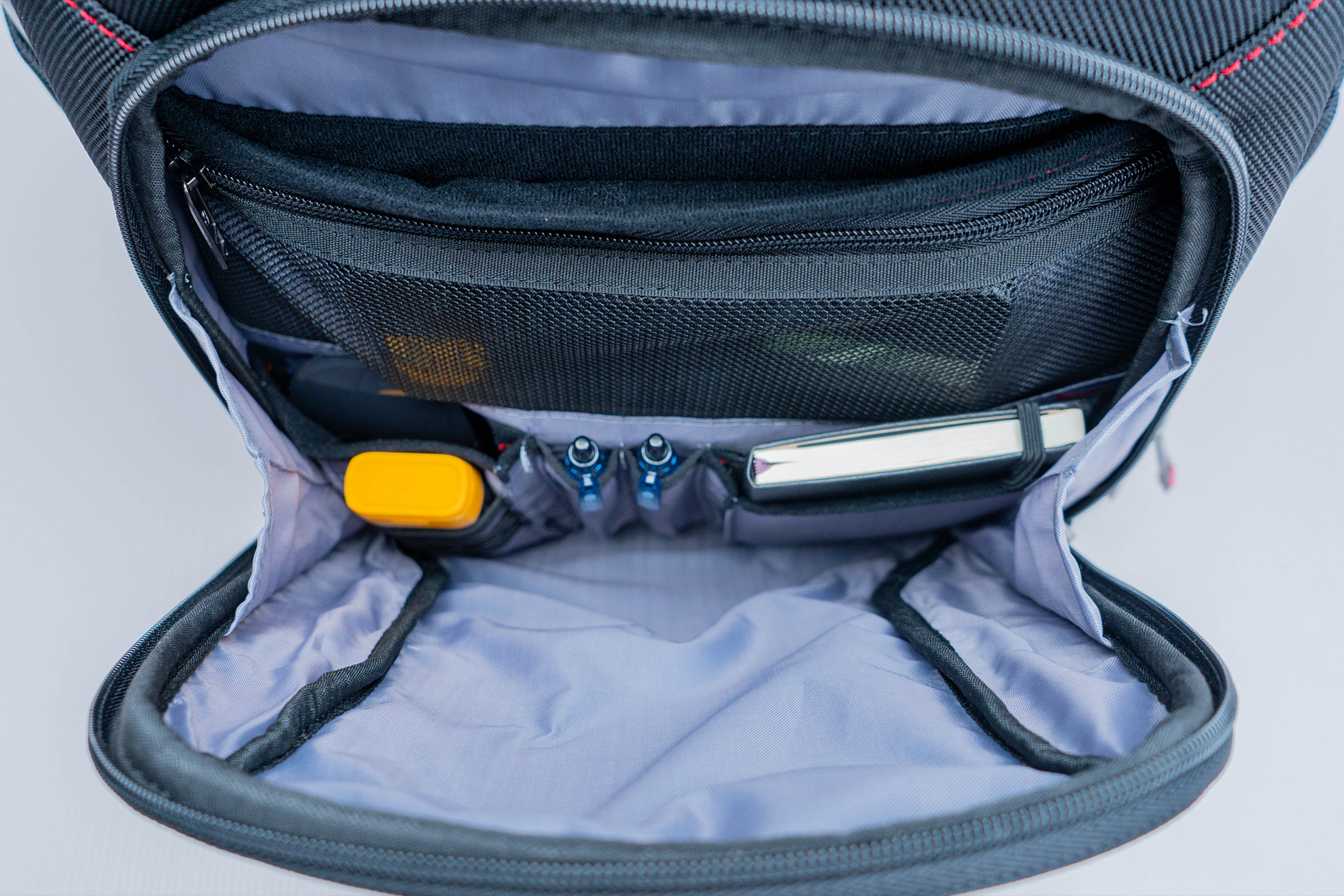 The two-way zipper on the front pocket opens clamshell style, but nylon gussets keep it from falling open and spilling belongings. Inside this compartment is a zippered mesh compartment the width of the pack that can hold extra battery packs, a small notebook, power banks, dongles, memory cards and more. Below that are three slots for ID, credit or business cards, two slots for pens or pencils, and several other pockets that could fit a power cord or mouse (but there are dedicated spots for those in another compartment).
Behind all of that is a hidden, but large, opening for a large notebook, cash, or passport. This is about the only place where things could get lost, as it's lined with black tricot, so visibility isn't great. But, because it's so unobtrusive, it could act as a security pocket if necessary. With all of that storage space, it's not necessary to carry a sling or wallet when using the Xenon 3.0—just don't forget to grab all your stuff on the weekend!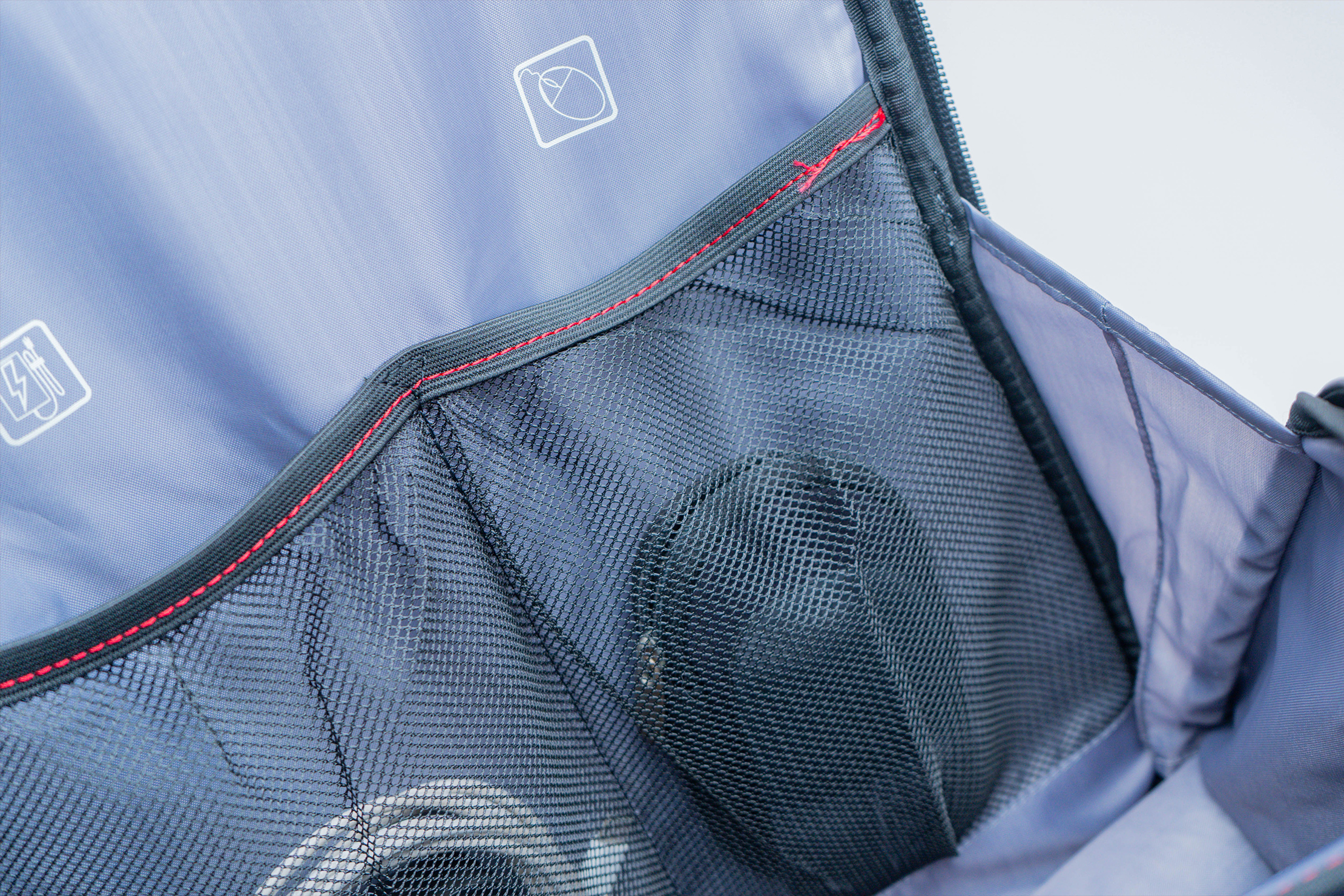 The middle compartment unzips the same way as the front: a clamshell opening held together with nylon gussets. It's here that Samsonite starts making suggestions: a mesh pocket on the left side of the outer opening has a graphic of a charging block and cord, and the mesh pocket on the right has a mouse icon. Both have elastic at the top to keep items from easily falling out when the bag is vertical, not enough to keep them contained if the bag is tipped upside-down. We find a mouse falls out when the bag is overturned, but your mileage may vary.
There are two pockets inside to keep files and folders easily organized, each expandable with a 2.5-inch nylon gusset. The bright silver lining in this compartment makes it easy to find everything, even if a book or business card slips down to the bottom. This is the compartment that can become hindered by the carry handle. Although the bag is generally fairly sturdy and inclined to remain upright, if this middle compartment is completely unzipped, we found it tips over onto the front. Minor annoyances, for sure, but one worth mentioning.
Open the rear compartment to find a black tricot-lined laptop compartment that will hold a computer up to 15.6 inches. Again, you'll know where to put it because of the handy icon of a laptop on the silver nylon exterior of the pocket. The laptop sleeve doesn't extend the full height of the bag, instead being held in place by a "TSA Checkpoint Friendly" strap that stays in place with VELCRO. This strap keeps the laptop in place while allowing it to remain quite easy to access.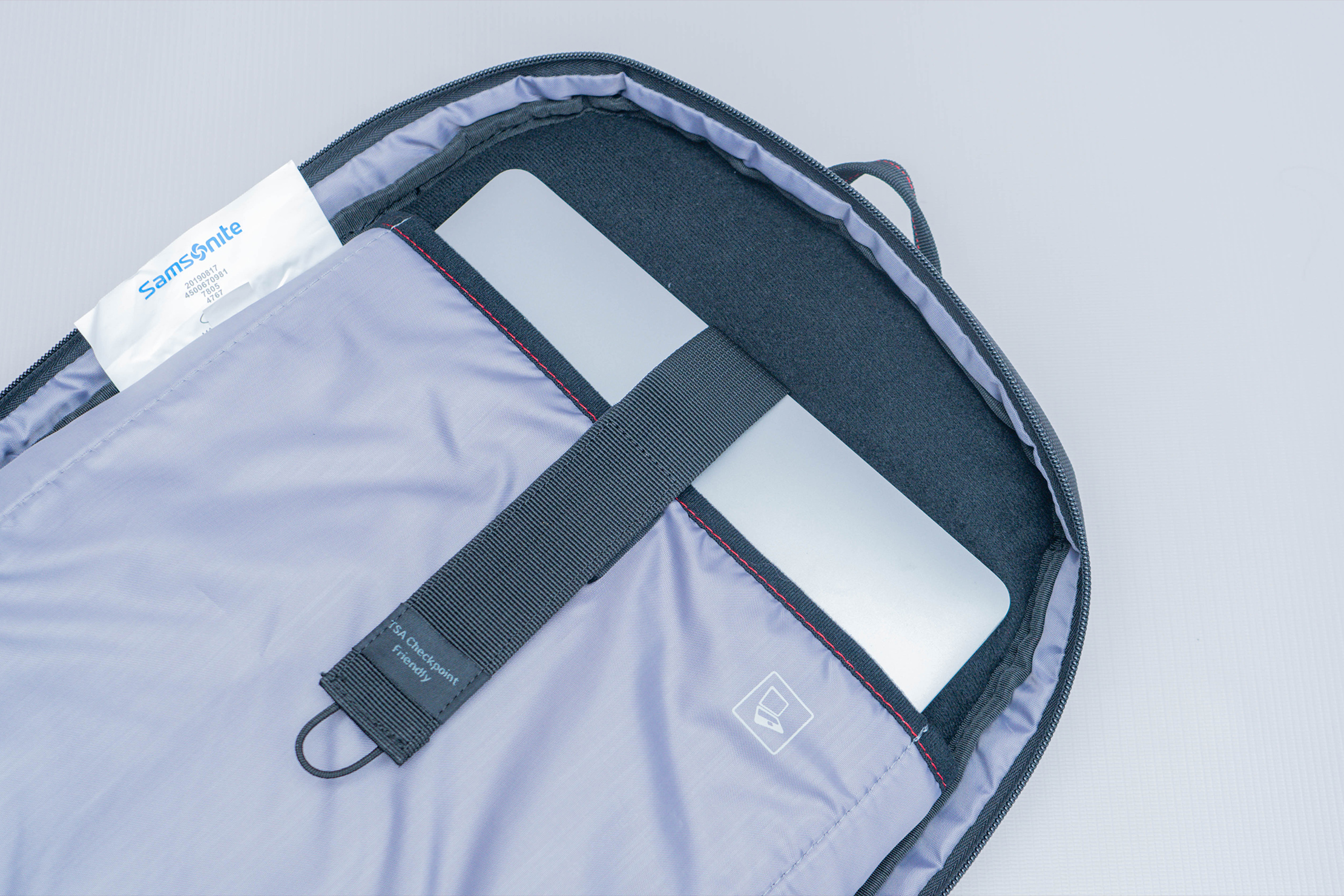 On the opposite side of the compartment is a silver nylon padded space marked with a tablet icon—this is clearly where you put your iPad or Android tablet—and there's also a slot next to it for an Apple Pencil or other stylus, a handy feature to keep from losing that fancy technology. The bag can handle many devices while remaining easy to carry: we're able to fit two 13-inch MacBook Airs inside (one in the laptop compartment and one in the tablet sleeve) with no problem and without pulling a muscle. There's plenty of padding in between each sleeve to prevent any scratches, so bring the whole office home or to the coffee shop with ease with the Xenon 3.0.
Having so much organization available in a pack is great, of course, but we did find ourselves forgetting just where things had been stashed at the beginning of our two-week test. With two large main compartments and two smaller compartments, it can be hard to remember which zipper unzips which, but that becomes second nature with more use. Having dual-sided zippers is great, though, for grabbing something when the bag is on the passenger seat in the car and we just need to grab one quick thing—there's no need to reach all the way around the bag.
Durability and testing
After two weeks of daily use, the Samsonite Xenon 3.0 Large Backpack looks almost exactly like it did when we first received it. There are a few tiny loose threads on the ends of seams here and there, in the top stitching and on the strap, but there doesn't seem to be unraveling. The backpack has been a great way to carry everything from home to the office and everywhere in between, and we really appreciate not having to search in the bottom of the bag for anything. Because of the variety of compartments, each with a plethora of organizing features inside, nothing ever rests there unless it's supposed to, as in the case of novels and notebooks. The hardest thing to do is remember to unpack weekend necessities when the workweek is over. All in all, this is a backpack that can bring order, organization and ease to daily working life.
Usage Timeline
Initial Usage
Condition: Excellent
Solid and well-structured overall
With three compartments and pockets within each, it's very well-organized
The top handle looks and feels very beefy
2 Weeks of Use
Condition: Excellent
A few loose threads found at the end of top stitching, but no major problems
Easy to grab by the carry handle or the shoulder straps
The dual-sided zippers are very convenient and one of our favorite features
Access the Pro Community Discussion
Get your questions about the Samsonite Xenon 3.0 Large Backpack answered from our team and the Pro Community right here on the page. Plus, join discussions with other members about gear, guides, and more.
Other Bags & Luggage Reviews