Klean Kanteen Insulated Classic 25 oz with Pour Through Cap Review
Klean Kanteen's Insulated Classic with Pour Through Cap is a hassle-free way to split drinks on trips—just remember to keep it clean to avoid smells.
Our Verdict
Unlock the Pro Summary
Save time. Get access to brief summaries of our reviews so you can browse and make decisions more efficiently.
Pros
Pours drinks easily while keeping ice cubes at bay
Fairly simple design that's easy to clean
Effectively keeps drinks cold for long periods
Cons
Have to remove cap for direct drinking
Smells tend to linger
Sometimes collects liquid around edge after pouring & drips down
Recent Pack Hacker Video
Technical Details
Capacity

25oz

Weight (oz)

15.5 oz (439.4 g)

Dimensions

11 in x 3.1 in (27.9 x 7.9 cm)

Notable Materials

Stainless Steel

Manufacturing Country

China

Warranty Information
Full Review
There are many ways to make new friends on a flight. It can happen with a simple icebreaker, a polite invitation to a card game, or something as wholesome as sharing your hot chocolate—everyone loves hot chocolate, right? We sure do, and so we're thankful bottles designed for pouring lovely beverages such as these exist.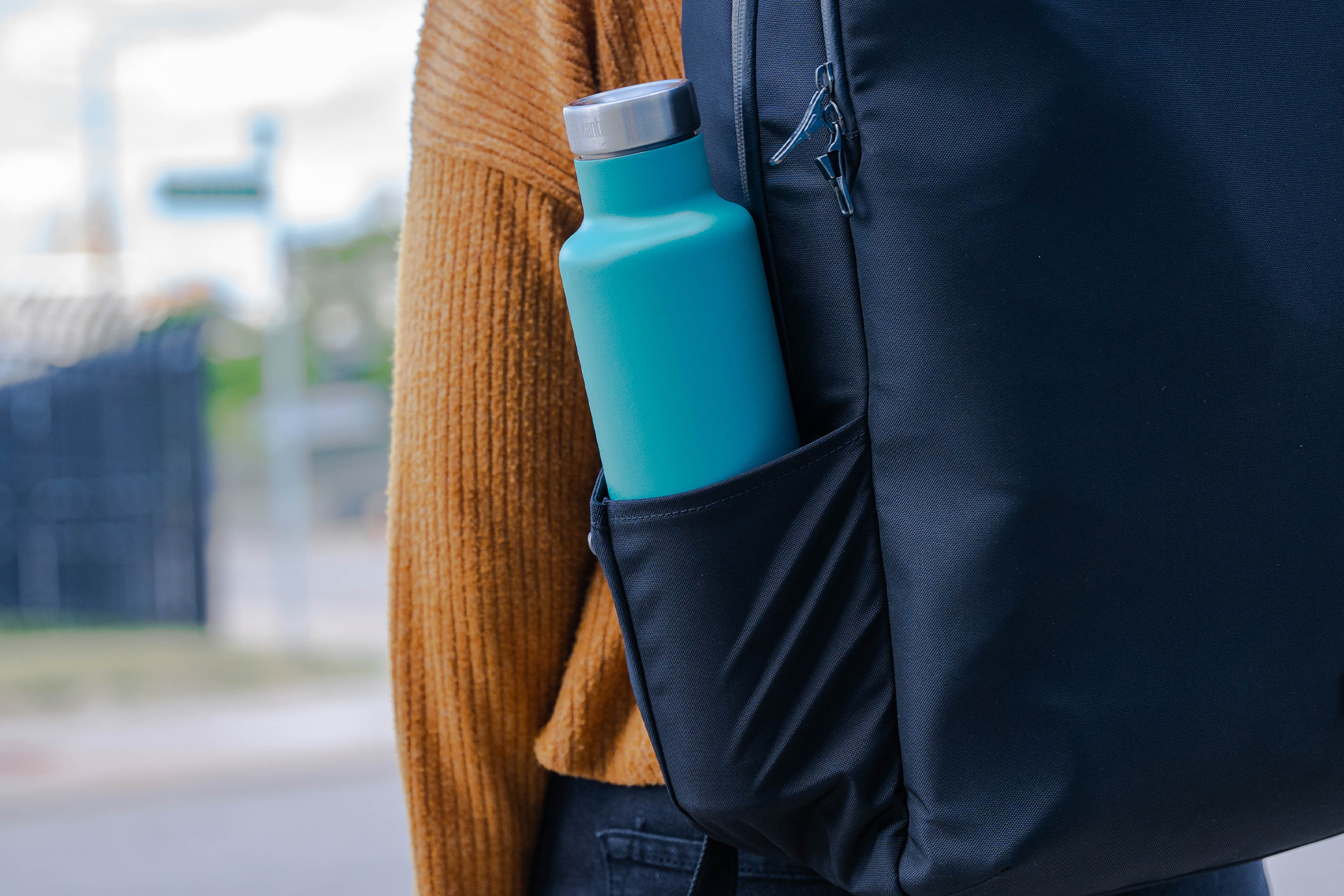 One such example is Klean Kanteen's Insulated Classic 25 oz with Pour Through Cap. Self-explanatory naming aside, it performs well as a bottle for pouring and sharing drinks. The secret lies with the cap, which twists to open. However, unlike a standard cap on a wide-mouth bottle, it only creates a small gap between the rim and the cap's edge, letting drinks flow and keeping solids like ice at bay.
There's more to this bottle than just the cap, so without further ado, let's check out what else the Insulated Classic has to offer.
Materials & Aesthetic
The Insulated Classic comes with a clean (or should we say "Klean"?) design. It's all very uniform on the outside, save for the minimal logo tucked away at the bottom and the stainless steel top and bottom. The branding is relatively small on this 25-ounce bottle, so there's really nothing especially distracting about the aesthetics. There's not even a handle that sticks out and spoils the bottle's clean outline.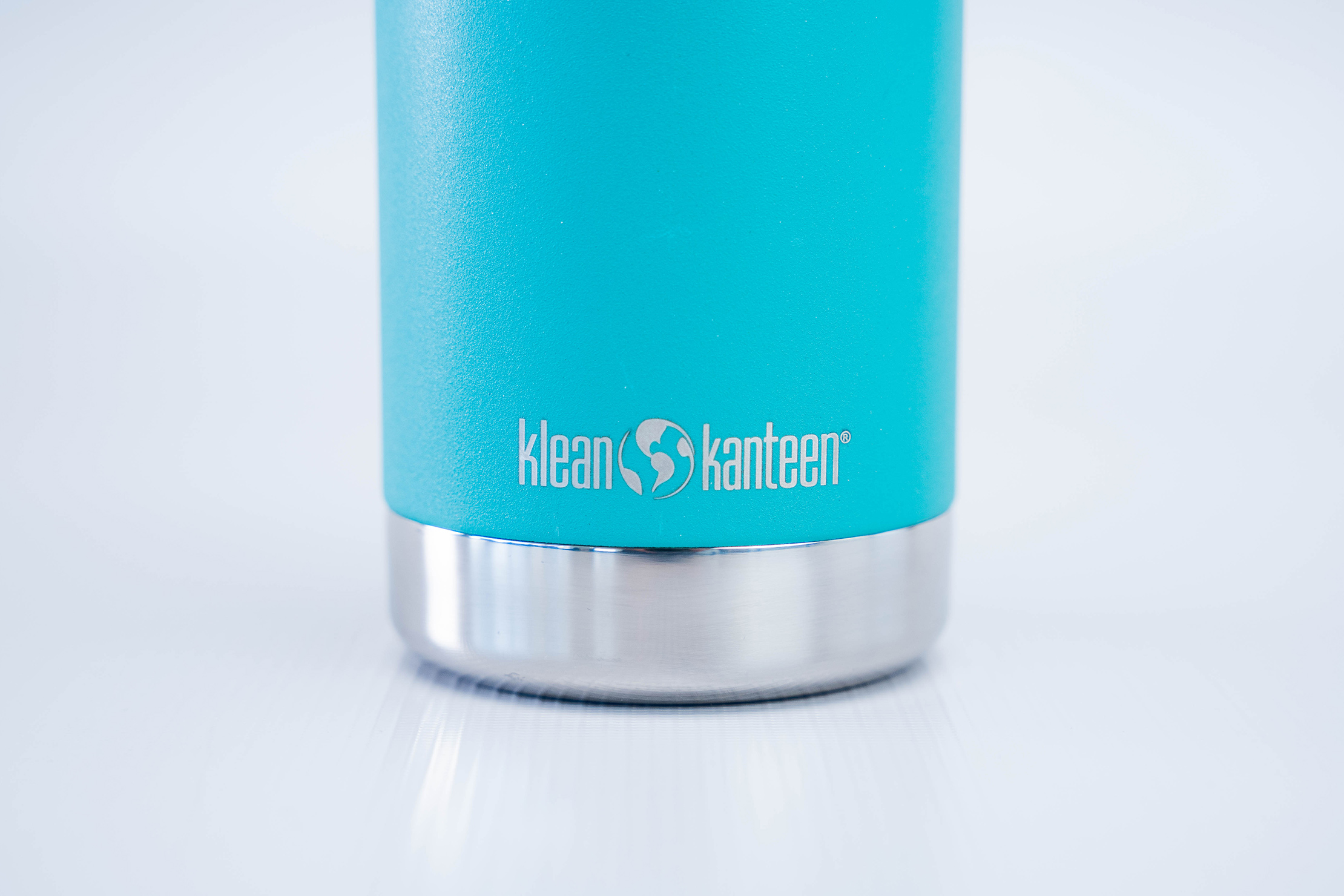 We do like the Porcelain colorway we're sampling here; nothing says "refreshing" quite like a teal color. There's also the option of a black colorway, just in case we want to go with our usual preference for darker colors. On the other hand, if eye-catching is how you roll, there's Marigold (yellow) and Brushed, which is basically a brushed stainless steel finish.
At the heart of almost any insulated bottle is, of course, a stainless steel body. For Klean Kanteen and the Insulated Classic, this means 90% postconsumer recycled 18/8 stainless steel, with 18/8 signifying how much chromium and nickel, respectively. And in case you were wondering, 18/8 stainless steel is pretty common in food-safe gear.

The bottle's exterior is powder-coated, and Klean Kanteen claims it's four times more durable than their previous paint finish. While we can't test that precisely, we will say that it's still not immune to blemishes. We've had ours for a couple of weeks now, and some very minor scratches have shown up in at least one area. Powder coats have always been susceptible to blemishes, so we're not totally surprised if it's not perfect. Fortunately, the bottom of the bottle where the most damage is likely to occur isn't powder coated. Instead, it has an Impact Basecap that's bare stainless steel.
Usage & Features
Now, let's get into the juicy part of the review: the Pour Through Cap. If you've been following and shopping around for insulated bottles, you may have noticed that brands differentiate bottles within a lineup by the cap they use. Some come that are designed for sipping, some are for pouring hot beverages, and some use good ol' fashioned caps that cover wide mouths.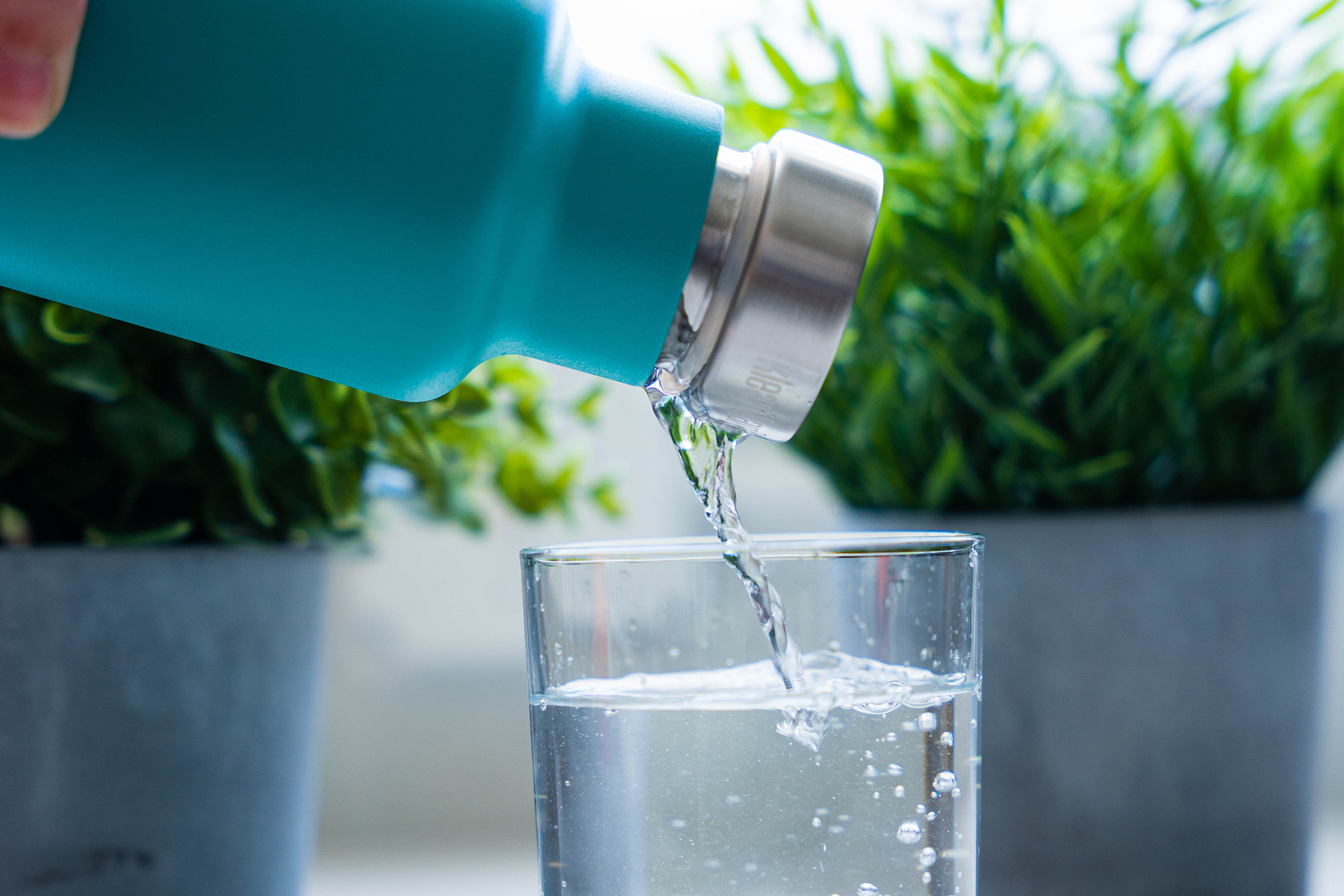 As for the Pour Through Cap, its specialty is, to no one's surprise, pouring drinks. The cap unscrews normally, but it stops and remains captive up to a fixed height. The resulting gap is wide enough for drinks to flow out and virtually in any direction. Sounds convenient, but what are the pros and cons of a cap like this?
We'll start with a con: some residue is left around the edge of the gap, which could drip down the bottle's side. It's not a huge deal in our experience, as the residue is still just residue and not a super huge amount.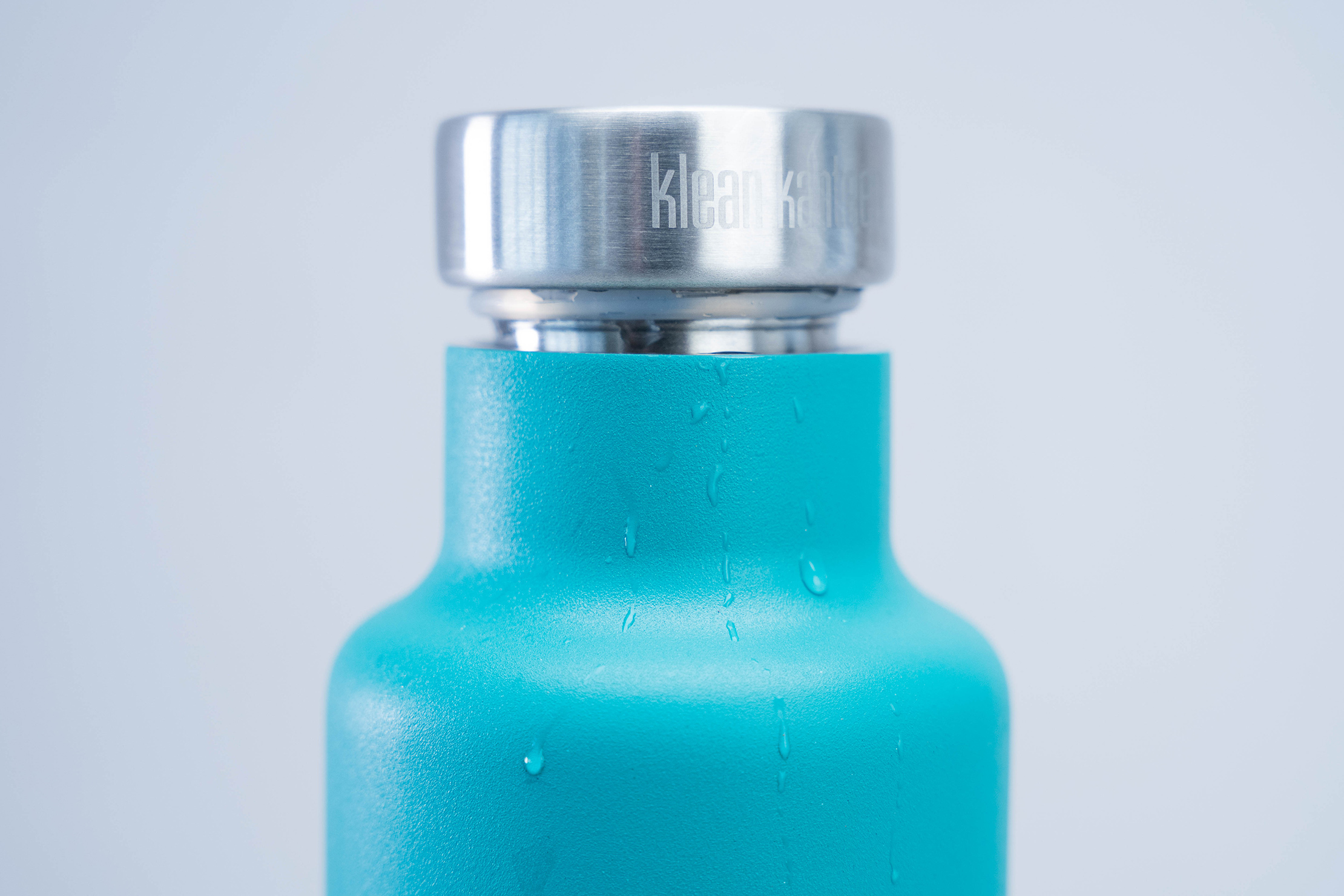 For the pros, the cap is really well-sealed. You'd think that's a given for vacuum-sealed insulated bottles. To an extent, yes, it is a given, but we have seen such bottles leak when they're filled to the brim; not so with the Insulated Classic.
Another benefit of a cap design like this has to do with ice. Unlike with a wide mouth opening, ice cubes cannot pass through the small gap. If they do, they'd be small enough to swallow anyway. That said, it is a con if you want ice along with your drink.
Now let's take a closer look at the cap's design to see how it works.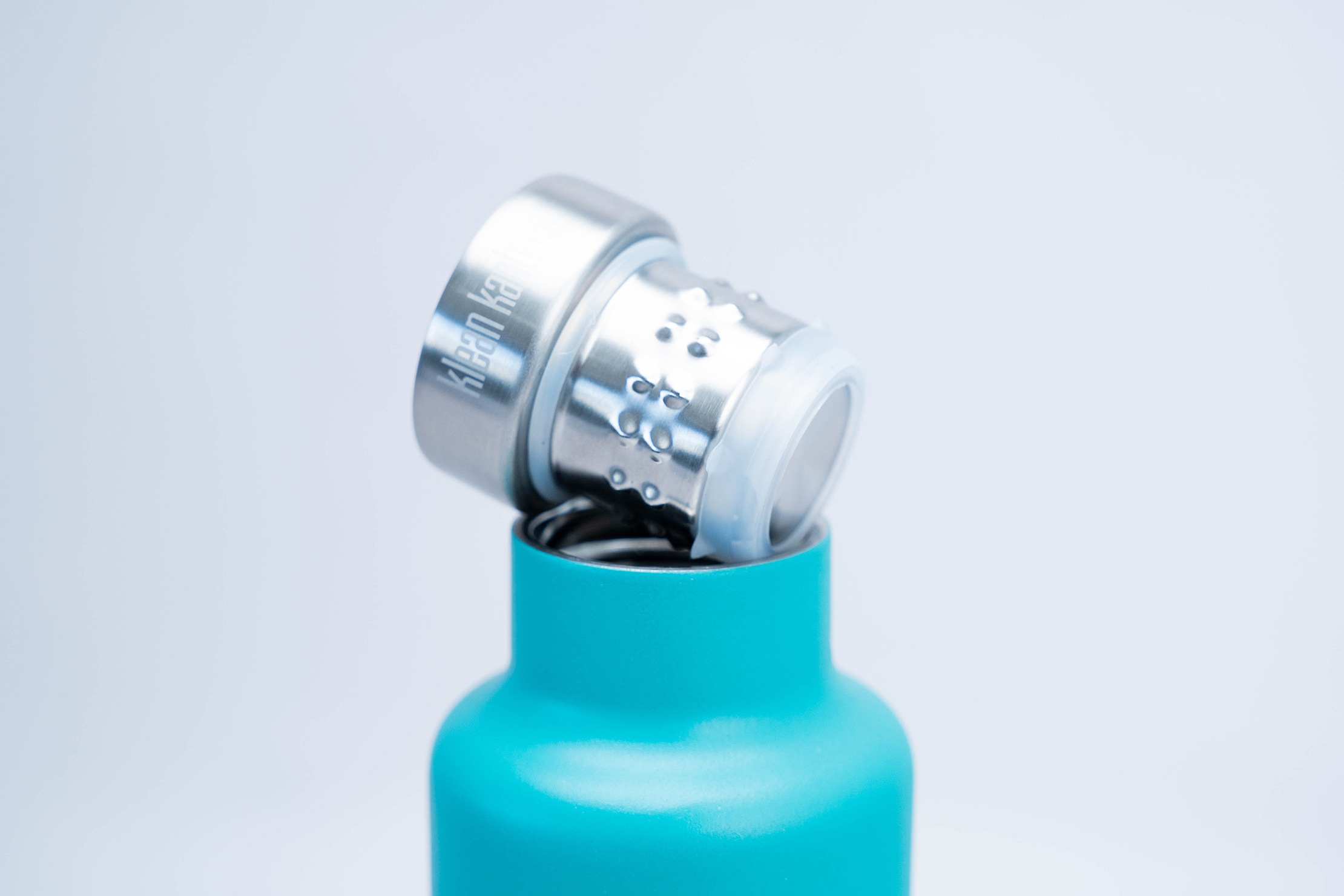 The cap itself plugs into the bottle's mouth using bumps instead of the usual threads. These allow drinks to pass between them, unlike spiraled threading which would block the flow. At the base of the cap is a silicone stopper that stops the cap (and drinks) from pouring out when it's unscrewed too far.
It's a good design specializing in pouring drinks. For drinking directly, however, you really have to remove the cap. That is unless you're okay with holding the bottle above your mouth and pouring your drink from there.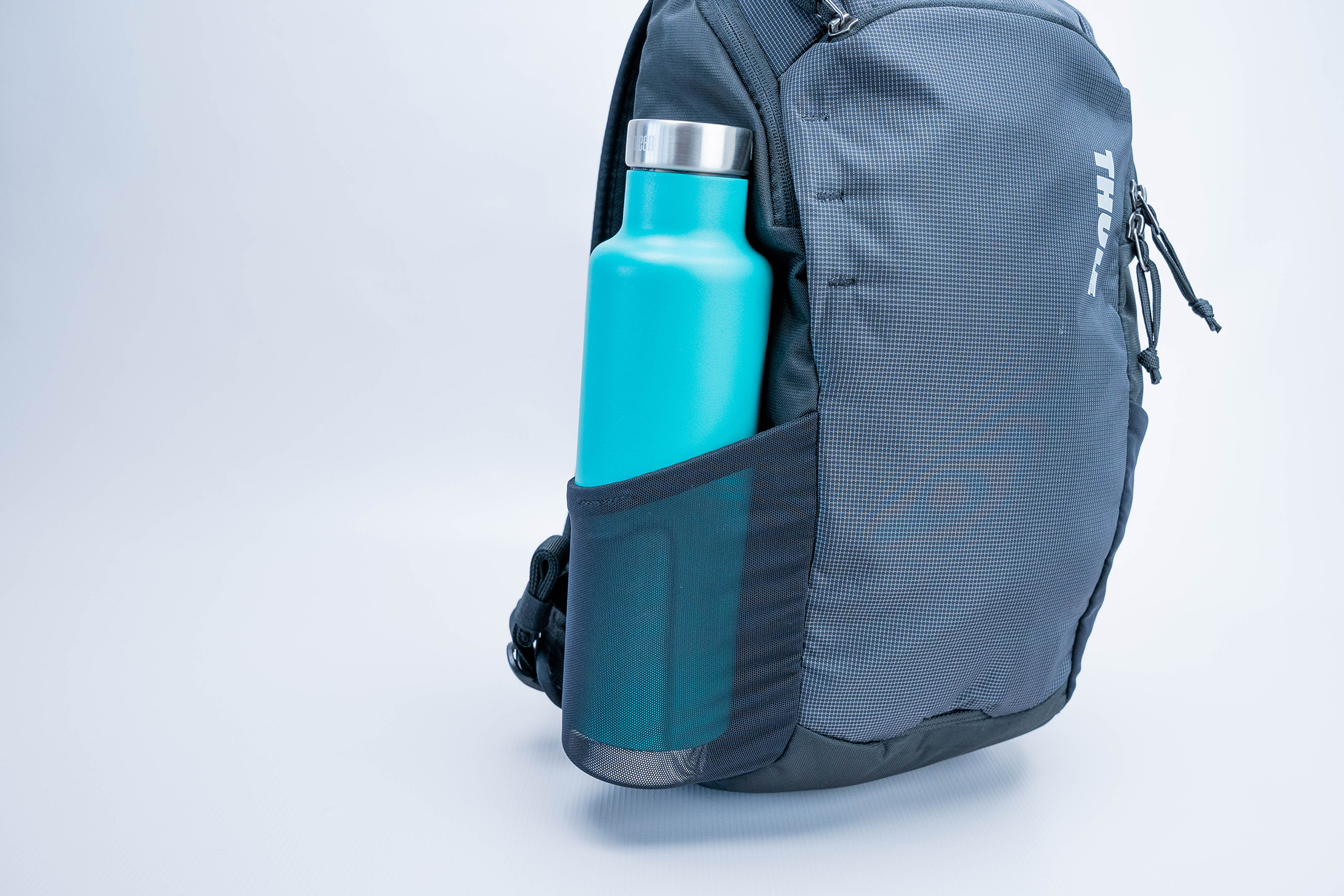 At this point, we do have to point out that the Insulated Classic with Pour Through Cap is only available at a 25-ounce size at the time of writing. You'll have to check out the TKPro if you want another size but with the same cap design. That's a different bottle design (other than the cap) though, so we're not getting into that in this review.
Speaking of size, we do think that 25 ounces is just the right starting point if you're looking to share some coffee or cocktail with a few people. As for drinks that you'd want to chug down like lemonade or iced tea, you may be left wanting more. Of course, your mileage may vary depending on your needs.
On the other hand, while the size is middling, it's also just the right size for a car's cup holders. Again, your mileage may vary on this one since not all car cupholders are built the same. But at least in a Honda HR-V, it fits just fine with little room to spare. The takeaway? It's a good bottle to pick for a road trip.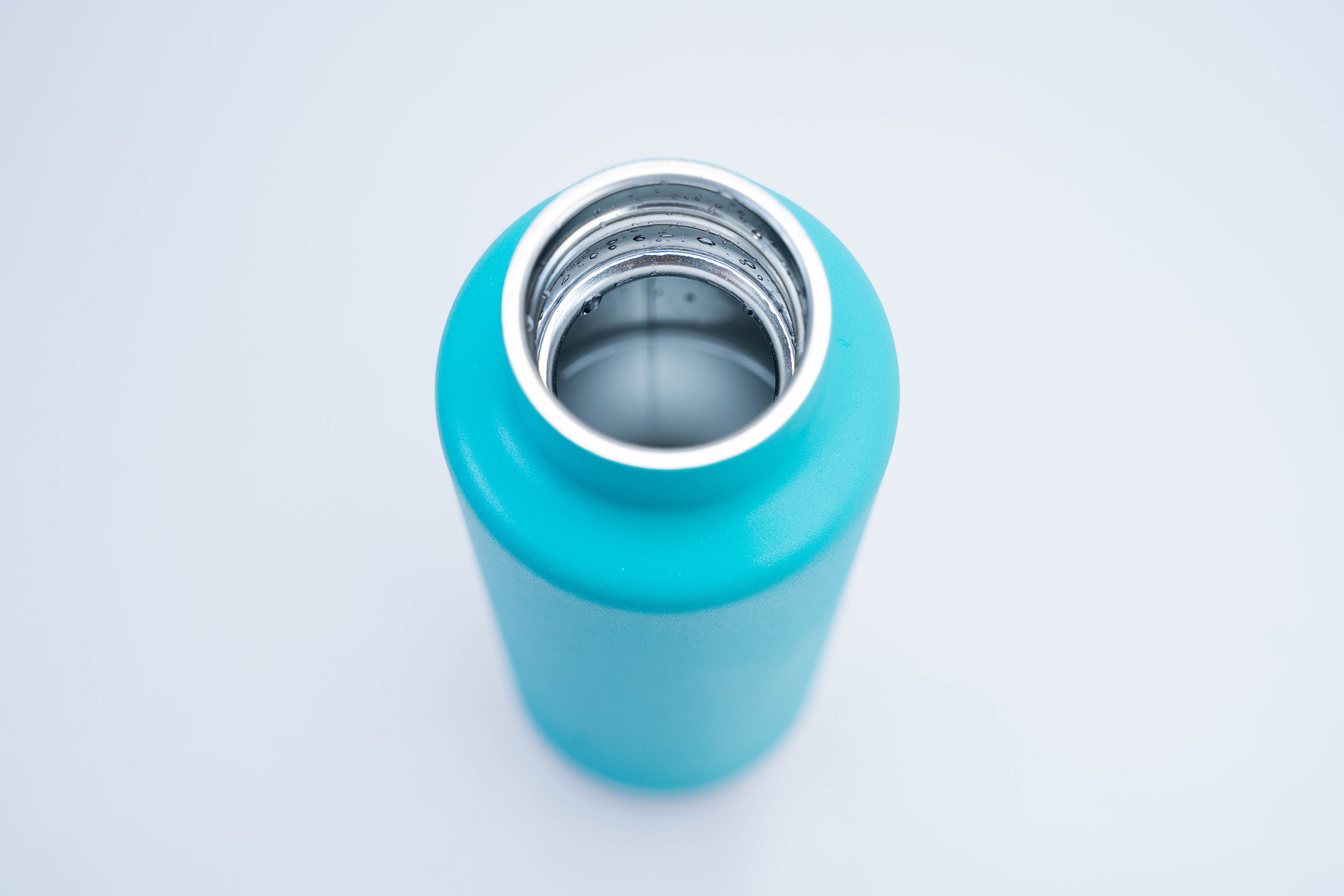 Thermal performance is good, as expected of an insulated bottle from Klean Kanteen. We're of the opinion that the true litmus test for any insulated bottle is how well it keeps water cold when left in a car that's parked under the sun. The Insulated Classic passes, able to keep our water cold (without any ice) despite being left in the cup holder for a good couple of hours. Needless to say, the Climate Lock double-wall vacuum insulation does seem to be doing its job. Chuck a few ice cubes in there, and we're confident it would last an entire day or more.
Maintenance is about as easy as you'd expect. In essence, the opening isn't much narrower than a standard wide mouth. However, at 25 ounces, it is a relatively big bottle, meaning your cleaning brush must have some serious reach to really get in there. Alternatively, it is dishwasher-safe, so you can throw it in there for an easier time.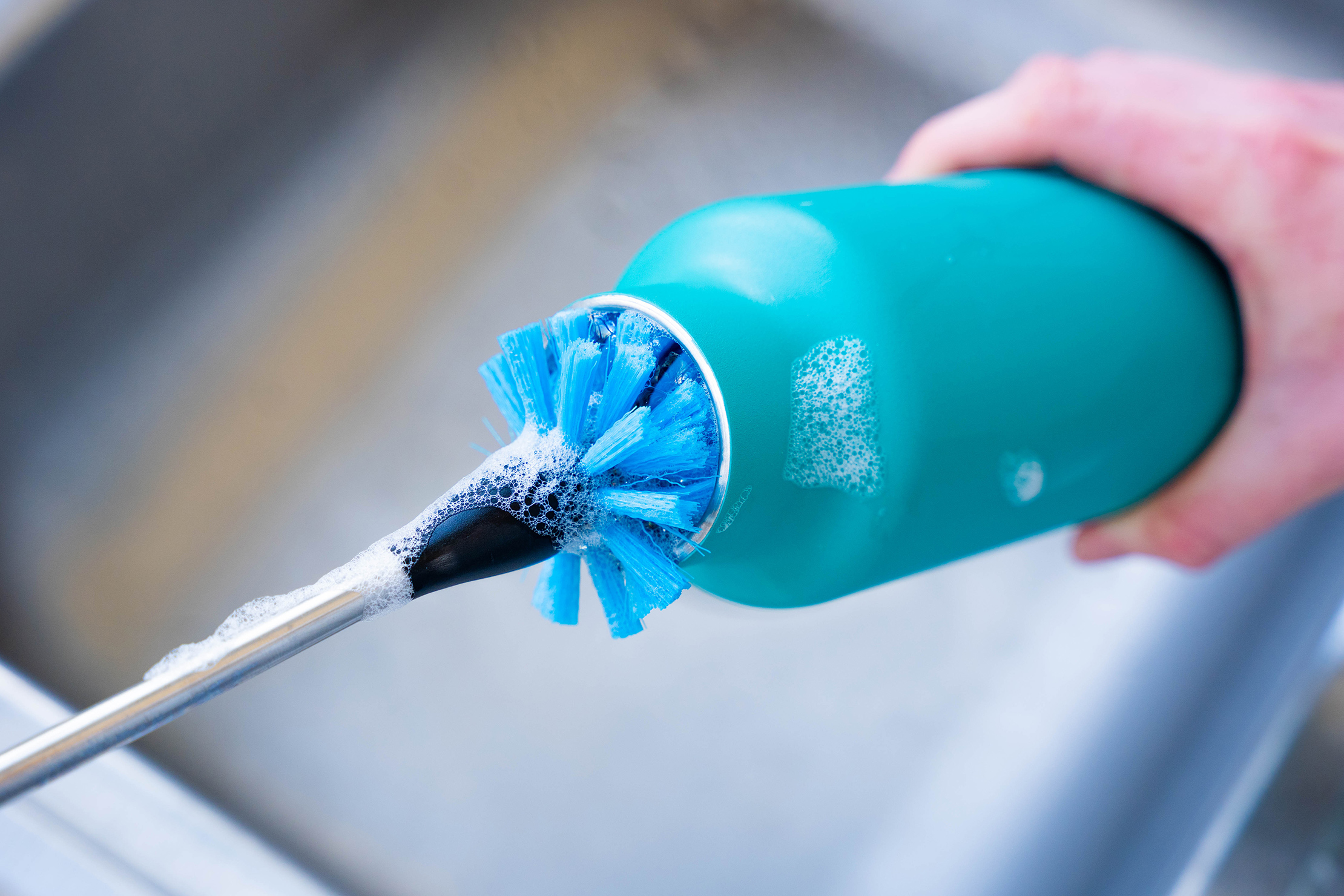 Since the cap specializes in pouring drinks that are made for sharing (i.e., ones that have a scent), smell can linger. Fortunately, the taste doesn't transfer even when the smell does. Still, we recommend washing after each use if it's anything other than water. Oh, and the silicone stopper does come off, so you can give the part it's covering a good scrub, too.
So, if you're looking for an insulated bottle that specializes in pouring drinks, the Insulated Classic 25 oz with Pour Through Cap is a good bet. Just keep in mind that it's not a convenient bottle to use for direct drinking. It may not be the most versatile bottle out there, but for what it's intended for, it does a good job.
Usage Timeline
Initial Usage
Condition: Excellent
More tall than wide, so it fits in a car cup holder
Mouth is wide enough to easily add ice cubes
Pour Through Cap makes a slightly grating noise when unscrewing
2 Weeks of Use
Condition: Excellent
A few scrapes have appeared on the powdered coat, though nothing that looks too bad or obvious
Holds on to scent of what you had in there before (coffee, sugary drink) without transferring flavor
Very easy to clean all components
Access the Pro Community Discussion
Get your questions about the Klean Kanteen Insulated Classic 25 oz with Pour Through Cap answered from our team and the Pro Community right here on the page. Plus, join discussions with other members about gear, guides, and more.
Other Miscellaneous Reviews