Kathmandu Pocket Pack V4 Review
Lightweight and comfortable, the Kathmandu Pocket Pack V4 is a solid packable daypack—but a hole in ours has us concerned about its quality.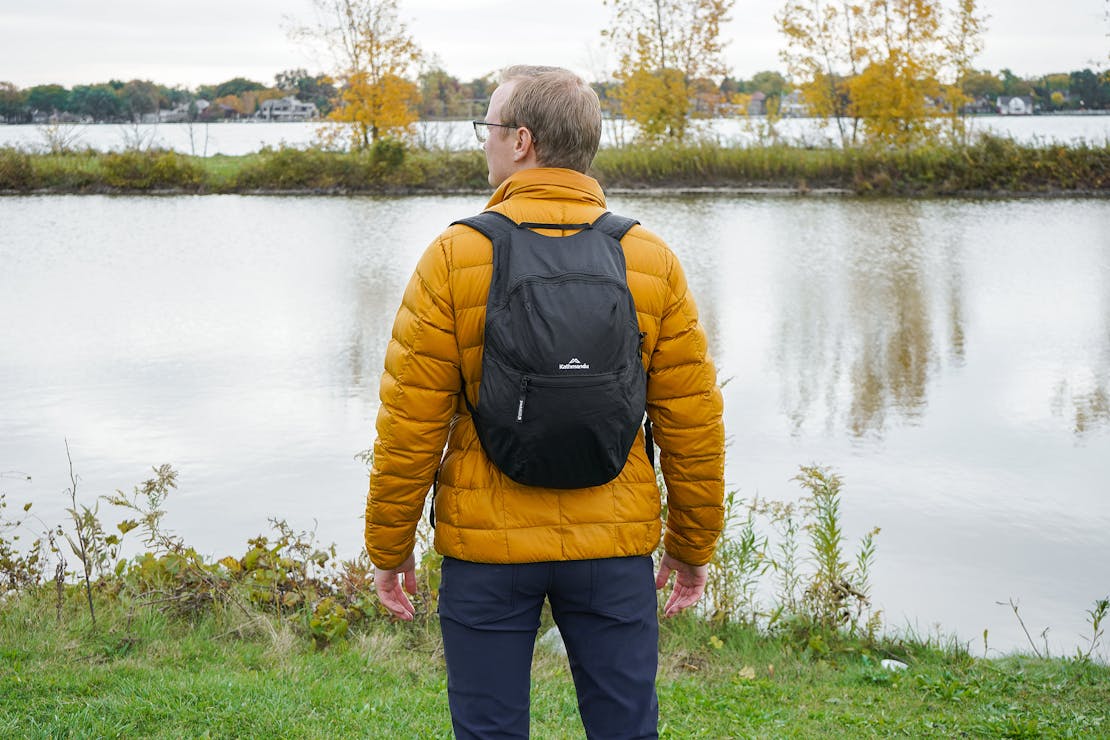 Our Verdict
Unlock the Pro Summary
Save time. Get access to brief summaries of our reviews so you can browse and make decisions more efficiently.
Pros
Looks more like a classic backpack than a packable daypack
Lightweight
Compresses down to a small size
Cons
Zero internal organization
A hole developed along the seam in the front pocket after only two weeks of testing
Concerns about overall durability (because of the hole)
Technical Details
Capacity

15l

Weight (oz)

5.6 oz (158.8 gm)

Dimensions

15.1 in x 8.5 in x 5.9 in (38.4 x 21.6 x 15 cm)

Deployed

Notable Materials

Ripstop Nylon, YKK Zippers

Manufacturing Country

Vietnam
Full Review
If you haven't heard of packable daypacks, prepare to have your mind blown. These nifty backpacks compress down to exceptionally small form factors—think soda can—so you can stash them in a larger travel bag and deploy them when needed.

Which is exactly how we've tested the 15L Kathmandu Pocket Pack V4 packable daypack, which compresses down to the size of a small notebook (or, for all of you animal lovers out there, a little turtle). We took this bag on a trip to Belize, throwing it inside the Incase EO Travel Backpack and pulling it out for day trips. And, after landing back in Detroit, we've tested the Pocket Pack V4 as a daily driver, putting some weight in it to see how it would hold up against more intense use.
So how has it performed? Let's take a look.
Materials & Aesthetic
The Kathmandu Pocket Pack V4 has that classic backpack vibe, which we're certainly digging. Most packable backpacks look like packable daypacks, and we're happy that that's not the case here. Of course, you can't escape the fact that it is a packable daypack. Its small form factor and nylon ripstop exterior fabric emphasize that fact.

The nylon ripstop is strong and resistant to tears. It's a solid choice, and we expect it'll hold up. That said, we've experienced major durability issues in other places (spoiler alert, there's a hole), which we'll discuss further on in this review.
Ripstop is also lightweight—this pack clocks in at 5.6 ounces. While it's not the lightest packable daypack on the market, it's not going to be weighing down your travel bag.

You'll find YKK zippers throughout this backpack, which is a reputable brand that makes reliable products, so we have no concerns about longevity here.
Finishing off this section, the Pocket Pack V4 is available in two colorways at the time of this review: Black and Russet (a reddish-pink). As always, we're partial to the black that calls less attention to itself and hides more stains/dirt than the brighter color. But you do you.
External Components
Packable daypacks aren't known for their robust harness systems. And the Kathmandu Pocket Pack V4 is no exception.
The straps are thin, flat, and surprisingly comfortable. You know, for a packable daypack. They're not going to win any awards compared to backpacks with beefier harness systems.

Still, the straps handle weight well. As we mentioned earlier, we've tested this pack as a daily driver, carrying everything we need for a successful day at the co-working space. And it's stayed super comfortable to carry, despite the heavy load. Plus, the straps have a thin layer of mesh to help with airflow. They're also smooth to adjust. We've read a review on the Kathmandu website that says the straps are slippery and will come unadjusted on their own, although we have not experienced that ourselves.
And that's it—the entire harness system. You won't even find a sternum strap. We don't think you need anything fancy on a 15L backpack. Besides, anything beefier would add weight, which is the exact opposite of what you want for a packable daypack. That said, if you need a lot of support, you'll be disappointed with this harness system (though, as we've said, it's comfortable for what it is).

Externally, you'll also find a thin top handle. We like that it's small and nondescript—again, cutting down the weight of this pack. It's useful for maneuvering the pack off the ground or out from under the seat in front of you. But we have some trust issues here. Remember that hole we hinted at earlier? Well, it's developed along a seam and has made us wary that another seam will tear while we're holding the pack by this handle. So far, nothing bad has happened. But we're nervous.

Finally, when you've compressed the pack, you'll find a little clip to secure it to your travel bag or belt if you have some serious confidence.
Inside the Pack
There's not much going on inside the Kathmandu Pocket Pack V4, which is common with all packable daypacks. You have to sacrifice clever organization to achieve such packability.
Here, there are two pockets—the zippered quick-grab one on the front and the main compartment.

The quick-grab pocket doubles as the stuff sack. It's super easy to stuff the pack in and get it out, which isn't the case for several packable daypacks out there. We like that there are two different colored zipper pulls to help you differentiate the zipper to use to compress the pack and the zipper to use to simply get in and out of the pocket.
Inside, you'll find the clip that sits on the top of the pack when it's compressed. When the pack is in backpack mode, this clip acts as a key clip.

And that's it…well, other than the giant hole. Yes, this is where you'll find it. To be clear, this hole is specific to our pack and looks like it may be a manufacturing defect—it's developed along a seam. The material that ripped isn't that main ripstop, but is where the softer stretchier material connects to it. In order not to aggravate this hole further, we've hardly used this front pocket. If we have, it's only been for snacks. If the hole wasn't here, we'd toss all those quick-grab items here—phone, keys, wallet, etc.

Up next, there's the main compartment, which is just a big, empty space. There's no organization inside. It gussets out just a touch, so it fits a lot of stuff. We've put a 15'' laptop (in a case, of course), Roost Stand, tech kit, and a water bottle here.
We recommend packing cubes and accessory pouches unless you're a fan of jumbled up messes. Or you don't have much stuff to carry.
Durability & Testing
Unfortunately, durability is where Kathmandu misses the mark. As we've said throughout this review, the massive hole that runs along the seam inside the front pocket is concerning. Particularly because it developed out of the blue after two weeks of testing. Seriously, we have absolutely no idea how or why this hole developed. Again, it seems like this hole could be a defect with our specific pack, but we can't say for sure.
And, as we've continued to test this thing, the hole has only gotten larger—even though we haven't been using the front pocket for anything other than a few lightweight snacks. Needless to say, it doesn't give us much confidence that this pack will last. Overall, it's disappointing since we like so many other things about the Pocket Pack.
Usage Timeline
Initial Usage
Condition: Excellent
Great size bag for short day trips when you don't want to bring your main bag
Packs up small when not in use
Ripstop nylon gives it good durability while remaining lightweight
2 Weeks of Use
Condition: Mediocre
The pack has been super handy to have while on a trip to Belize…BUT we found a hole in the front compartment (which is also where you stash the pack when in its compressed form). We have no idea how or why this hole developed. And it's super disappointing since we've only been testing this thing for two weeks.
1 Month of Use
Condition: Bad
The hole has doubled in size, although we've been careful not to put anything heavy or pointy in the front pocket. We're bummed because we like a lot of other things about this pack—like its low weight, aesthetic, the main ripstop material, and its capacity. But we don't trust that this pack won't continue to fall apart.

Access the Pro Community Discussion
Get your questions about the Kathmandu Pocket Pack V4 answered from our team and the Pro Community right here on the page. Plus, join discussions with other members about gear, guides, and more.
Other Bags & Luggage Reviews