Incase EO Travel Backpack Review
The Incase EO Travel Backpack is a streamlined, functional, and versatile bag that expands from 24–33L. But we wish the harness system was more robust.
Our Verdict
Unlock the Pro Summary
Save time. Get access to brief summaries of our reviews so you can browse and make decisions more efficiently.
Pros
Thoughtful organization and access
Expandable from 24L to 33L—great for versatile modes of carry
Streamlined look with some great functionality
Cons
Buckles can be hard to use (the straps get in the way)
Position of grab handles are not ideal while expanded
Harness system is lackluster
Recent Pack Hacker Video
Technical Details
Capacity

24l

Not expanded, 33l expanded

Denier

900D

Weight (lb)

3 lb (1.4 kg)

Dimensions

21.5 in x 15 in x 5 in (54.6 x 38.1 x 12.7 cm)

Not expanded

Notable Materials

Polyester, Cotton, Thermoplastic Polyurethane (TPU), YKK Zippers, Duraflex Hardware

Manufacturing Country

China

Laptop Compartment Size

17"

Warranty Information
Full Review
The Incase EO Travel Backpack is a 24L backpack that can be used for your everyday essentials or expanded to 33L to pack for longer trips.
The folks at Incase frame their designs around "protection and mobility to meet the evolving demands of today's creatives." Basically, they want to make sure your laptop is safe. And they specifically focus on those creatives who use Apple products—but let's not get ahead of ourselves.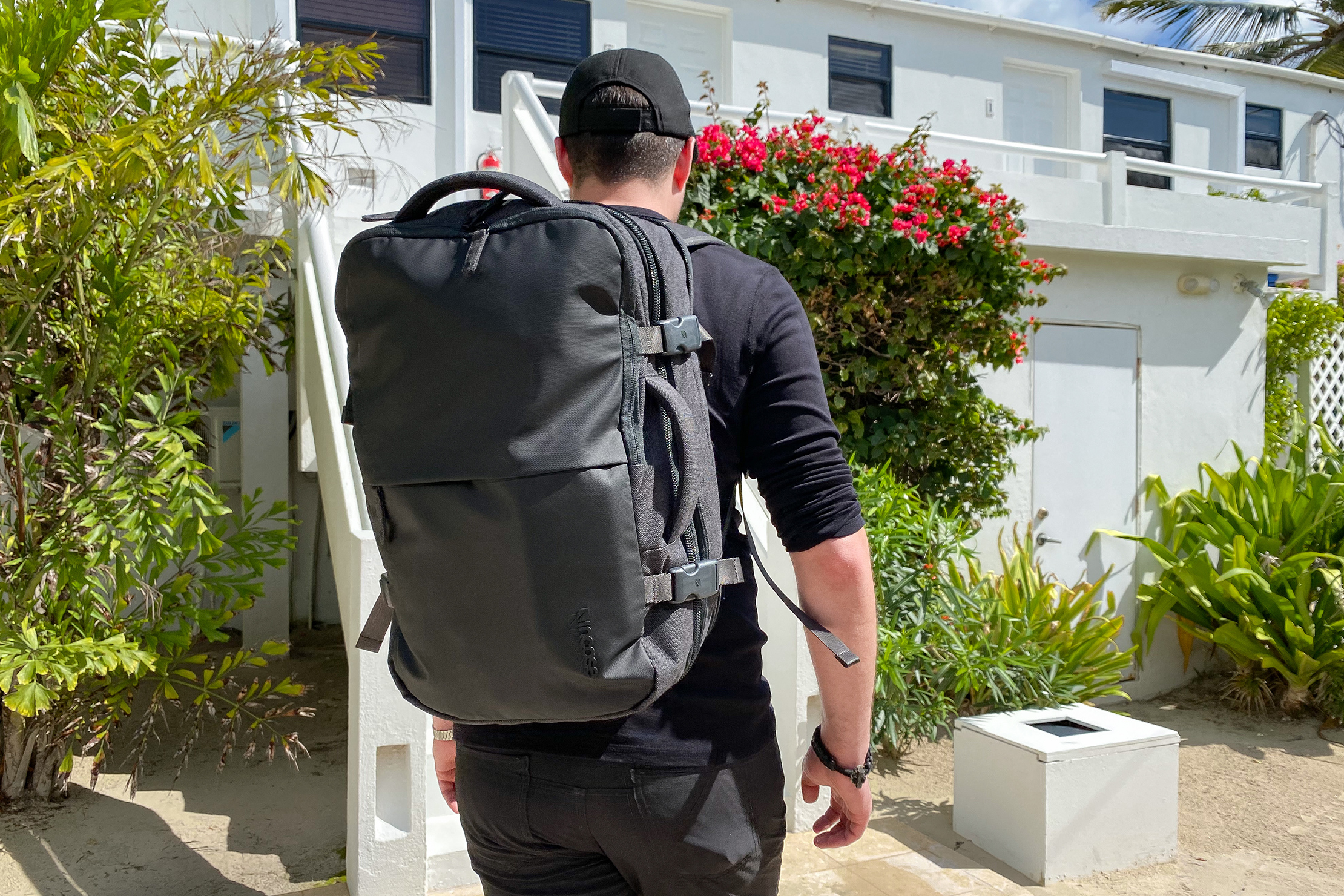 We've been testing the Incase EO Travel Backpack for the last month in Detroit, Michigan, Atlanta, Georgia, and San Pedro, Belize.
So, let's dive into the details.
Materials & Aesthetic
The main material on the Incase EO Travel Backpack is a 900D polyester. On the front is a triple-coated TPU. Since this material is not used around the entirety of the bag, it may be more for aesthetic purposes instead of additional weather resistance.
We've seen a decent amount of marks develop on the TPU—which isn't surprising. We've seen scuff marks like these develop on other bags that use this material, too. So, if you get this bag, you'll probably experience the same.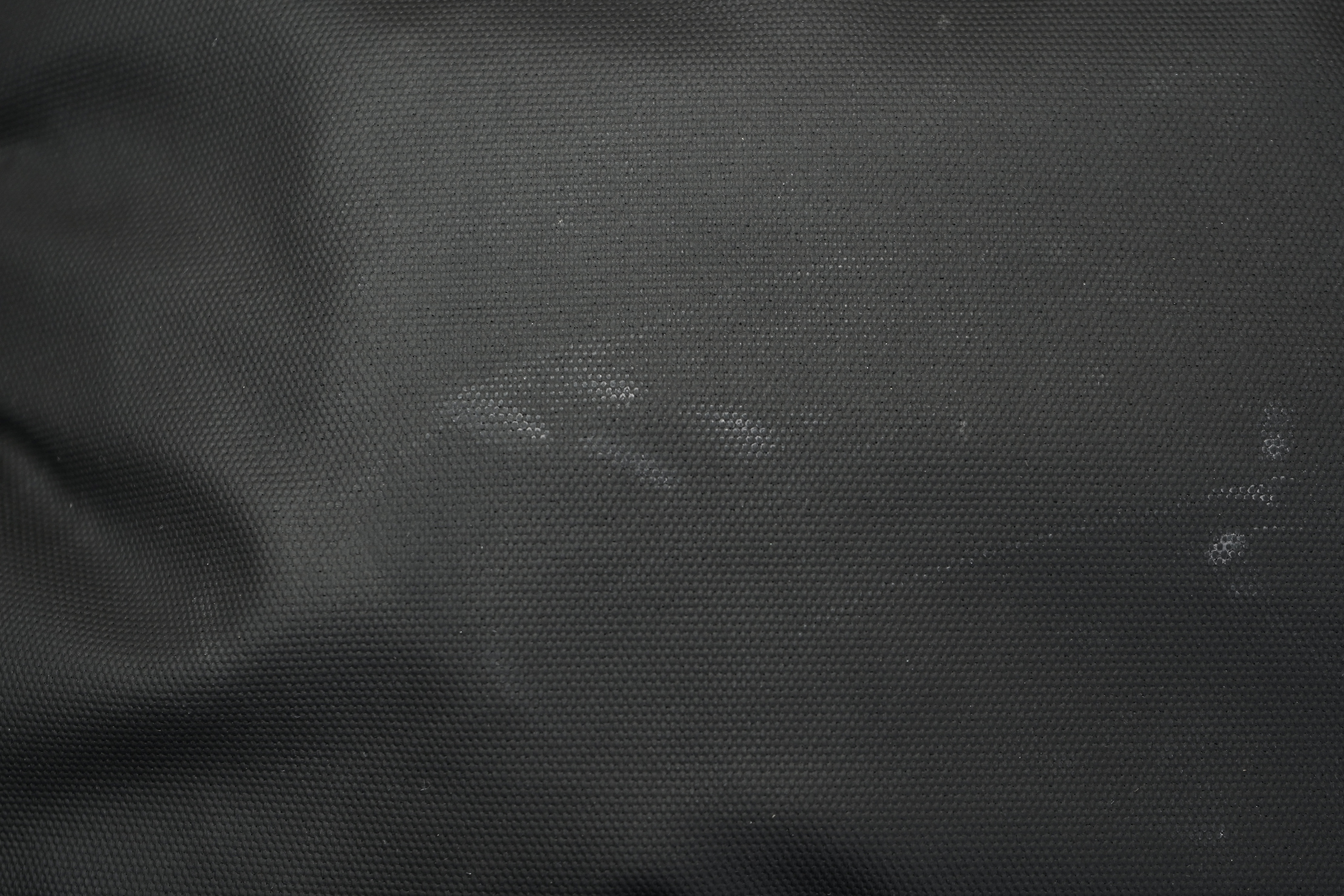 From a branding perspective, you'll see a black-on-black Incase logo on the front of the bag and near the strap. You'll also see little Incase leaves on the edges of the zipper pulls, as well as where the strap attaches to the bag. Personally, we like the look of this logo, so we don't mind it popping up in various places.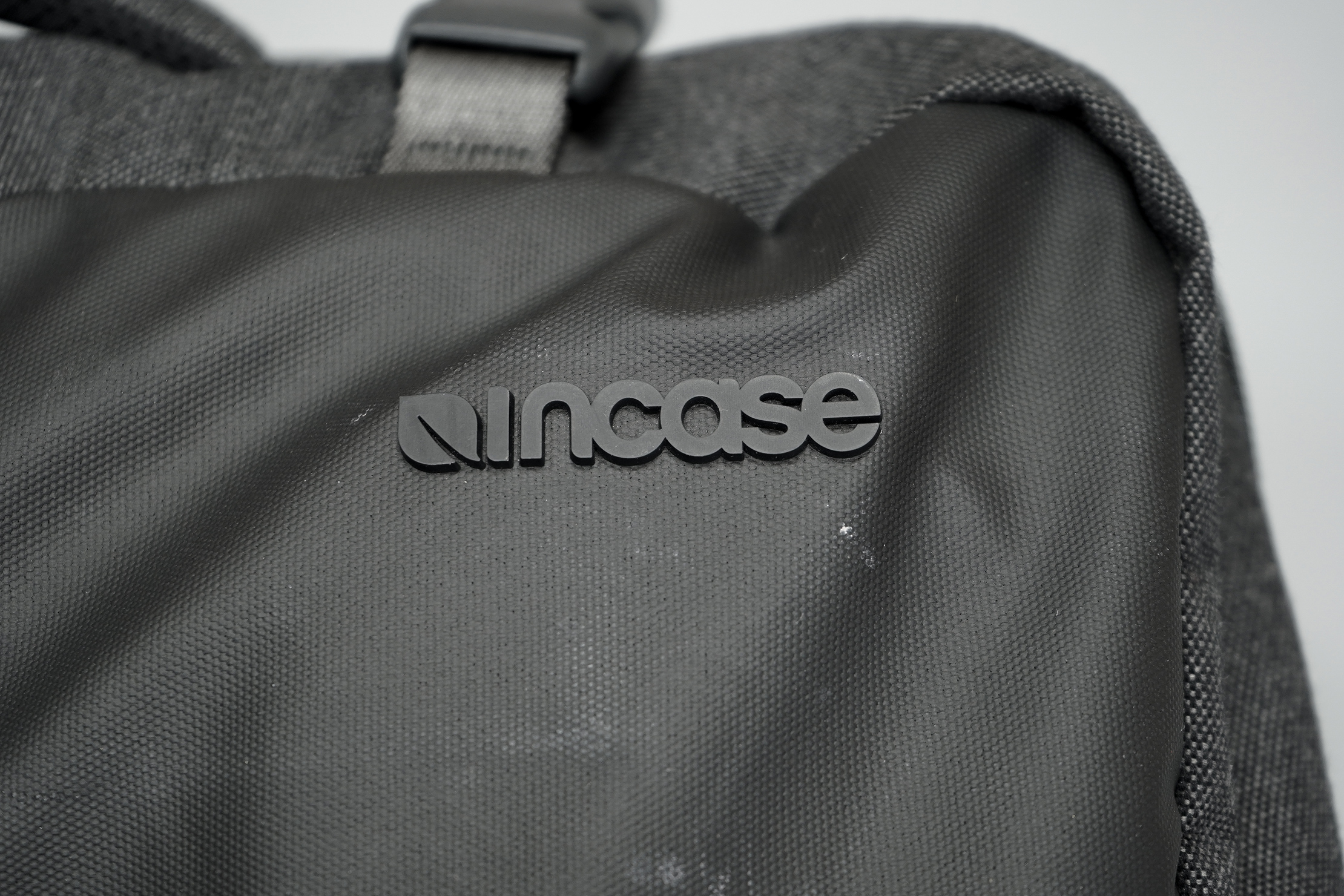 At the time of this review, you can pick up the Incase EO Travel Backpack in a few different colorways which come with slightly different materials. We've been testing the Black (obviously) which features the materials we mentioned above. The Heather Gray is made with an eco-friendly 300D polyester, while the Navy has 100% polyester on the exterior.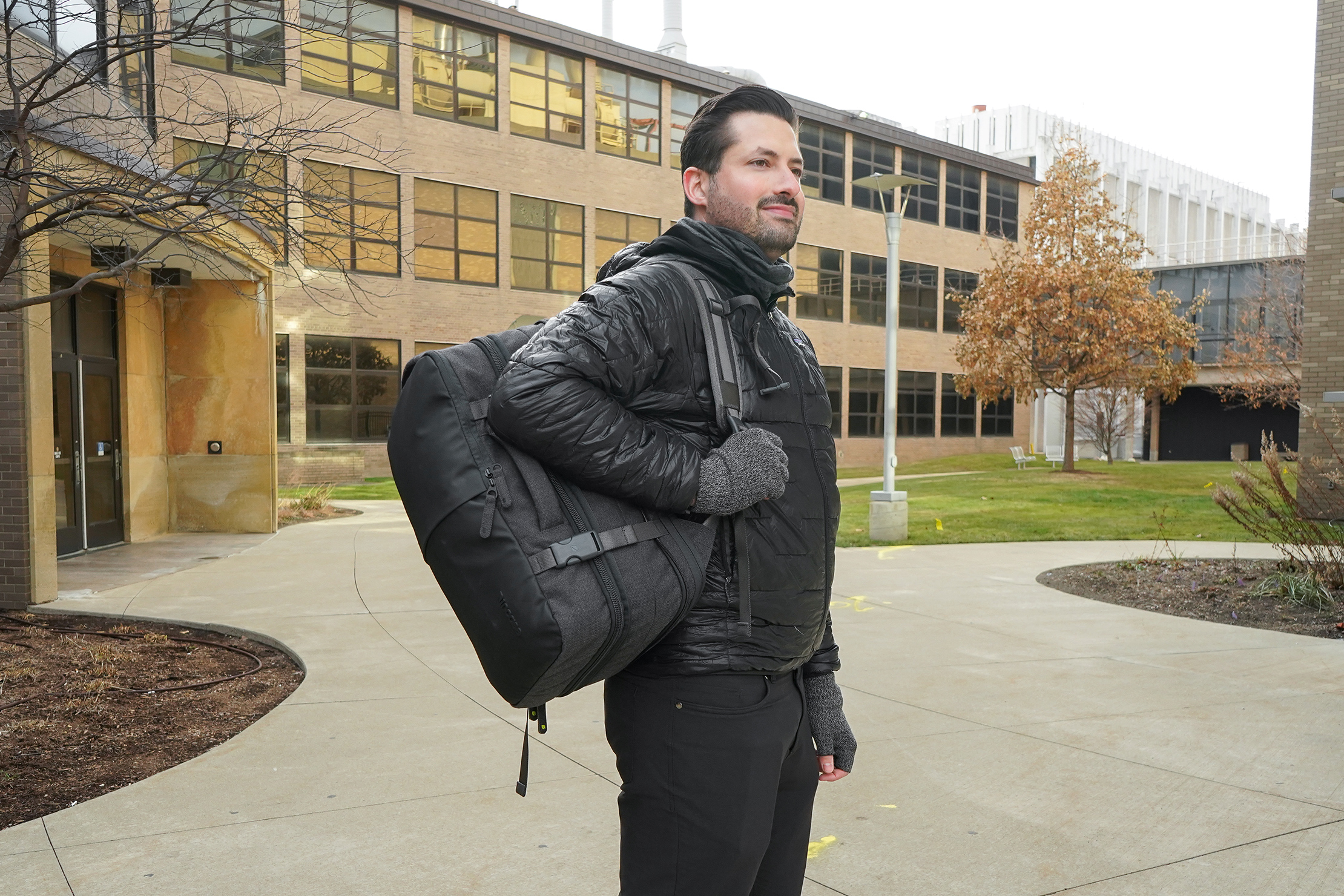 When this bag is compressed, it looks pretty slick. Fully expanded, the EO Travel Backpack definitely has a boxy look. It can appear bulky and a bit saggy (more on that in a minute), but functionally, it does a pretty good job standing up on its own. Especially if you pack it right.
Overall, we're digging the look of the Incase Eo Travel Backpack—especially when compressed—but our Instagram audience is pretty split. About 51% gave this bag a thumbs up in the aesthetic department. (Make sure to check us out on Instagram to participate in future polls.)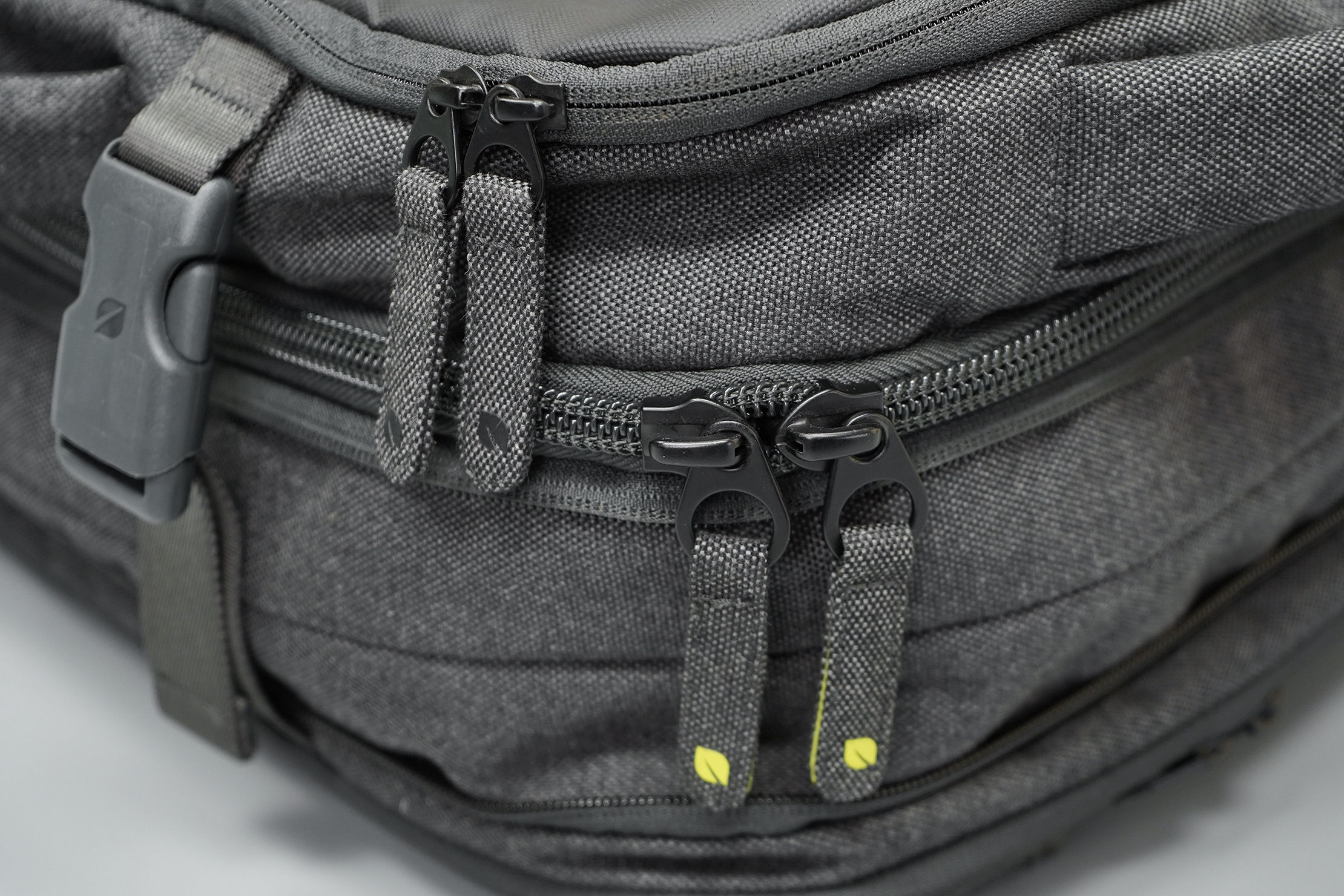 Wrapping up the rest of the notable materials on this bag, we have beefy YKK zippers with easy-to-grab zipper pulls. Plus, durable Duraflex plastic hardware on the compression straps, strap adjusters, and sternum strap.
Exterior Components
The harness system on the Incase EO Travel Backpack is pretty straight forward. The shoulder straps do a decent job, but they're nothing to write home about.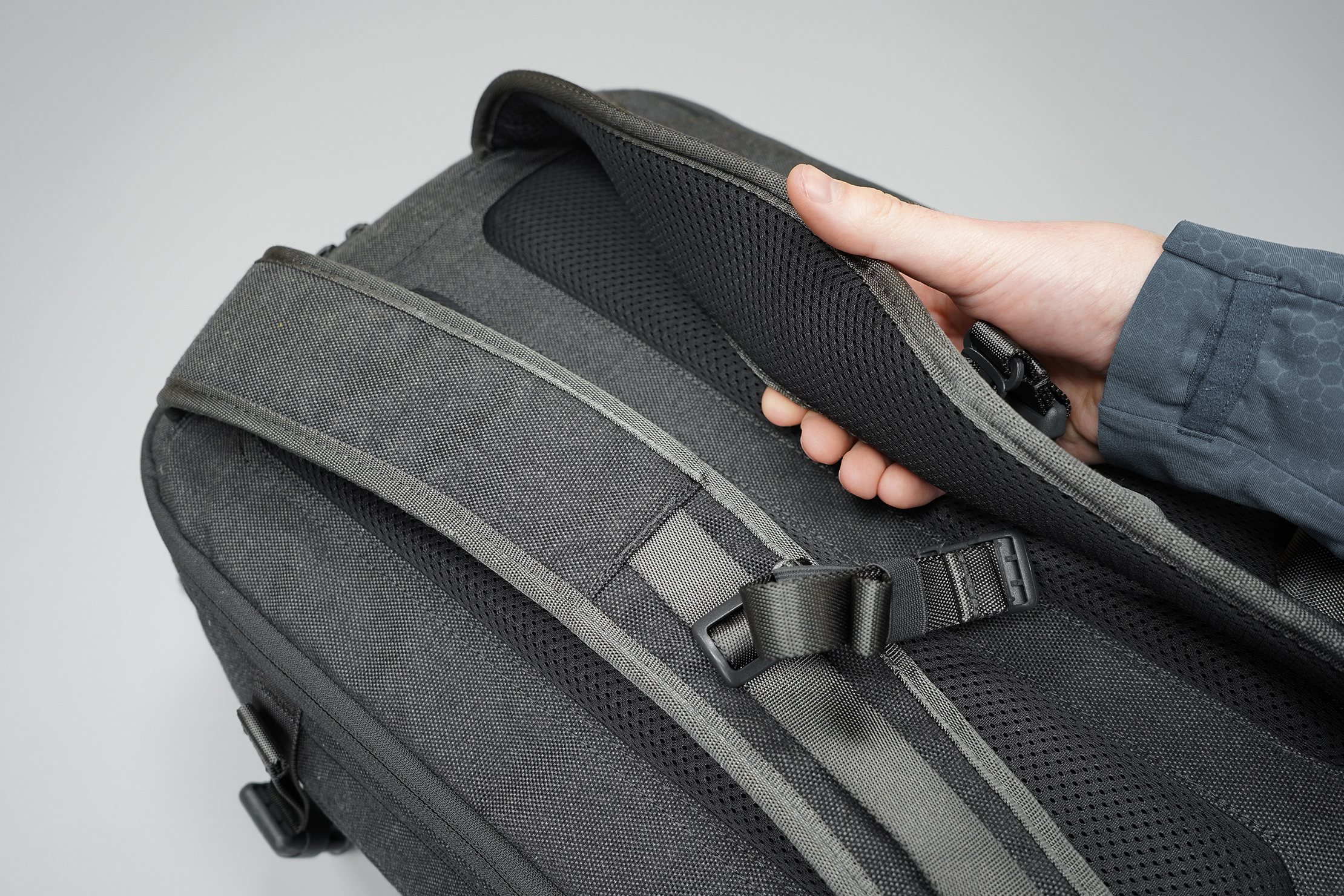 Compared to similar travel bags, the amount of padding and its density is pretty low. There's also a noticeable edge to the strap, which can sort of cut into your chest and shoulders if it's fully loaded with heavy gear. Plus, since there are no load lifters, the bag can be a little saggy. On the plus side, the mesh below the shoulder straps adds some great breathability.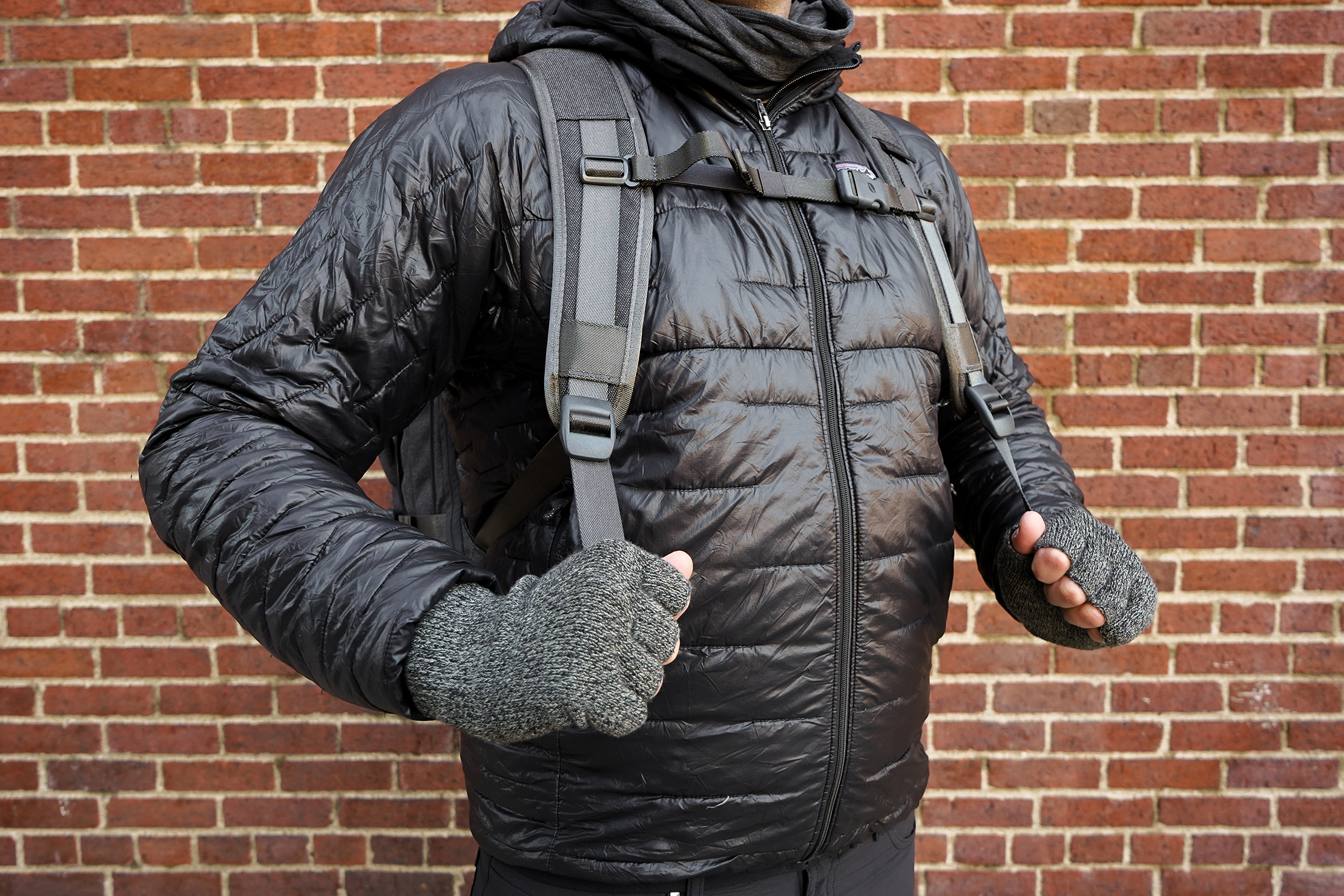 The straps themselves are easy to adjust with Duraflex hardware. This harness system is permanently attached to the bag, so there's no hiding the straps like you can on other packs. While we don't have an issue with this, it may be a deal-breaker for you.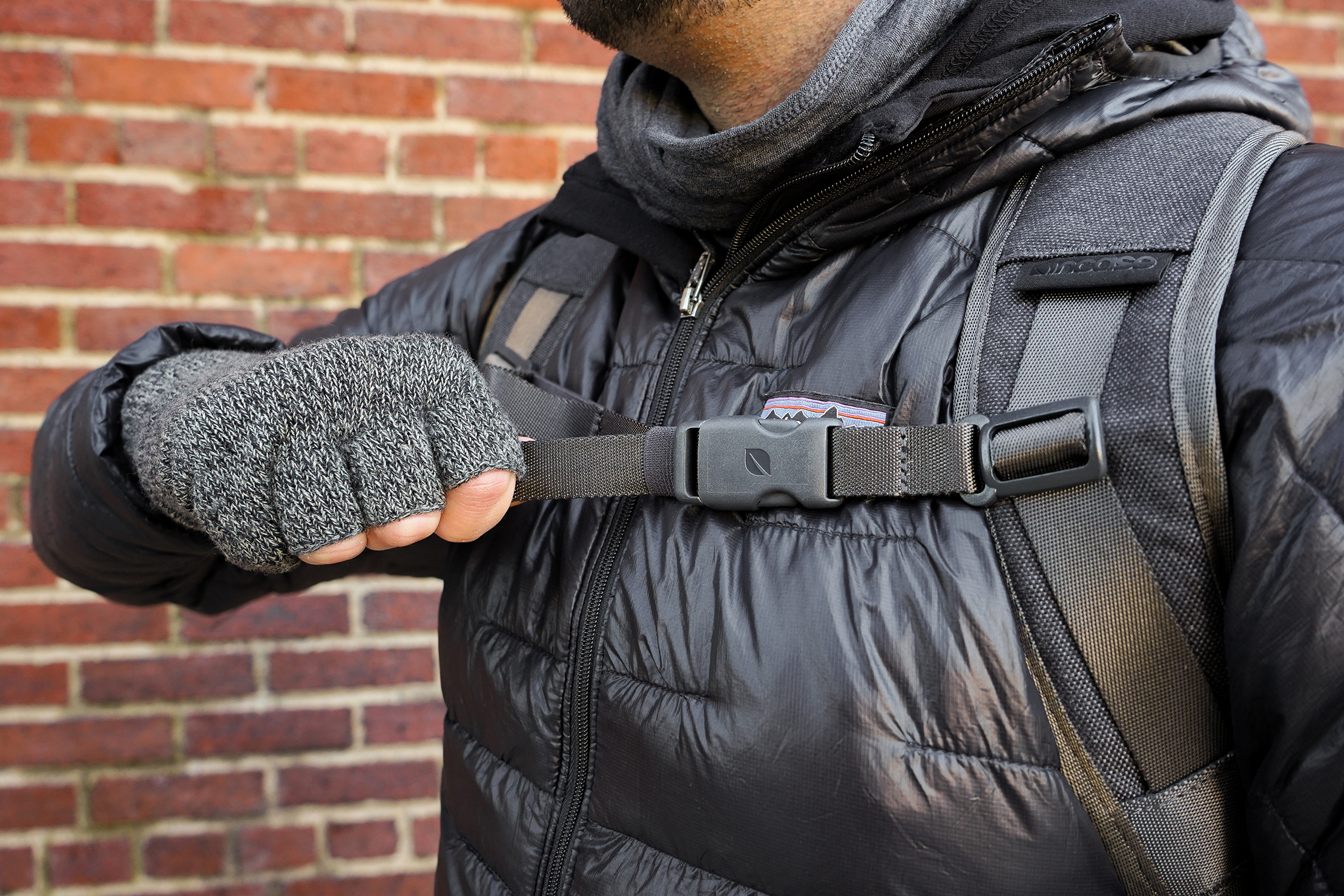 We really like the sternum strap on this bag. It's pretty much permanently attached, so it won't get lost. And there's a bit of elastic that gives the sternum strap some flexibility to move with you when walking. We've found that straps designed like this are a lot more comfortable to wear than ones without the elastic. And there's a strap keeper to help you achieve #DangleFreeExperience.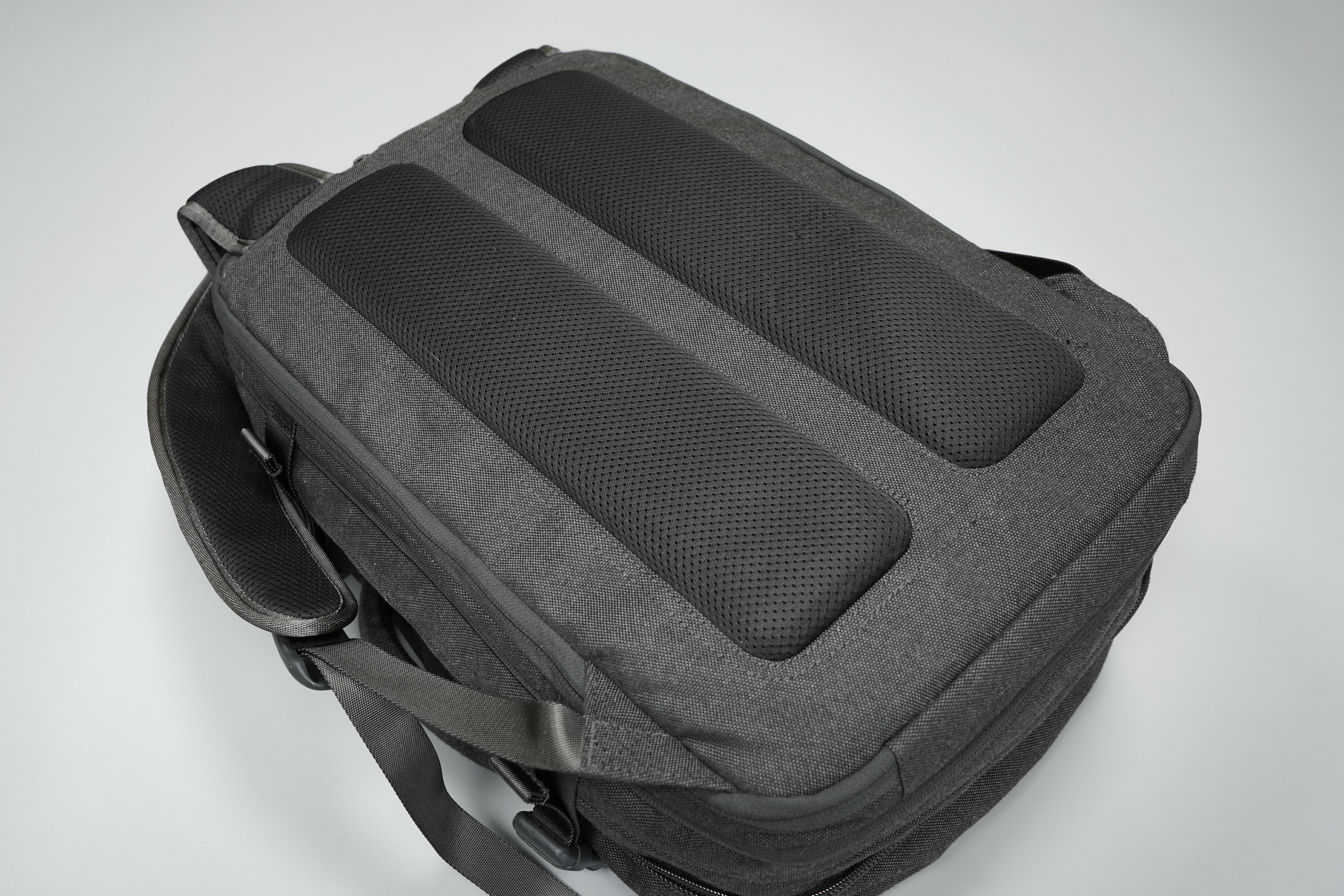 Taking a look at the back panel, you'll find two rounded rectangles that do a pretty good job of promoting airflow and breathability. It also looks great as a design element compared to the boxy nature of the rest of the bag. Visually, the back panel is pulled together nicely—and that's exactly what we'd expect from Incase. As for the functionality, that dreaded swamp back is always hard to avoid, but these panels should help a bit.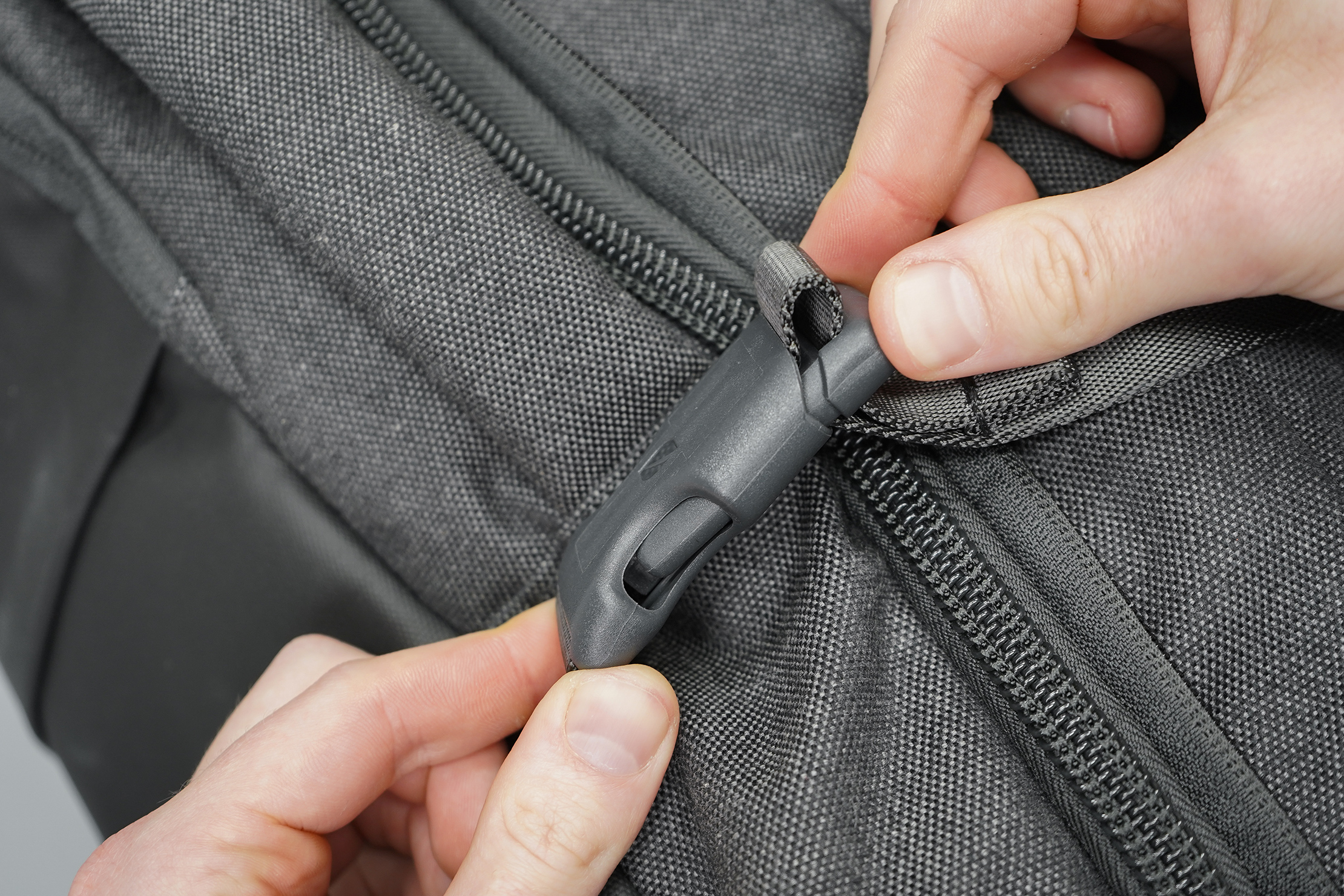 Now, before we move on, we do have a weird little nitpick with the buckles on the Incase EO Travel Backpack. The female side of the buckles acts as a sort of a sheath to cover up the strap on the opposite side. This gives the buckles a clean look, but if the strap is even the slightest bit loose, it obstructs buckling the clip. It's not a deal-breaker by any means, but these small design details can really make a difference when you're rushing to catch your train or flight and trying to do things quickly.
Another thing to point out on the Incase EO Travel Backpack is that the entire harness system is held on by a #5 YKK zipper. We're all about YKK zippers, but a No. 5 is pretty measly compared to the larger #10 on the main compartment. If this #5 zipper were to break, the bag would pretty much become useless—except for holding it by the handles. We're surprised that Incase didn't opt for a #10 here.
Speaking of handles—there are two pretty nice grab handles on this bag. One at the top and one on the wearer's right-hand side. They're nicely padded, have some mesh for breathability, and generally feel good in the hand. That said, they're a little crinkly.

You'll want to keep positioning in mind with these side handles. When the bag is in compressed-mode, they're pretty grabbable. When the bag is expanded, however, the handle goes way to the front which gives you a floppy, angled carry. Especially if you have a lot of weight inside. Some bag companies skirt this by anchoring the handles at an angle, or they'll place it right in the center, but that isn't possible with the compression zipper design Incase chose for this bag. Ultimately, this will just mean a slightly unbalanced carrying experience that'll be more pronounced when the bag is fully loaded with heavy gear.
To expand the EO Travel Backpack fully, simply unzip the compression zipper and completely loosen all four compression straps. When it gets to that point, the bag is pretty wide and boxy. If you don't have the bag stuffed full, you can use the compression straps to give this thing a slimmer profile. This gives you quite a bit of customizability between 24L and 33L, which we're big fans of. If 24L is too small but 33L is too big, no problem. Just tighten up the compression straps on the sides and you're good to go.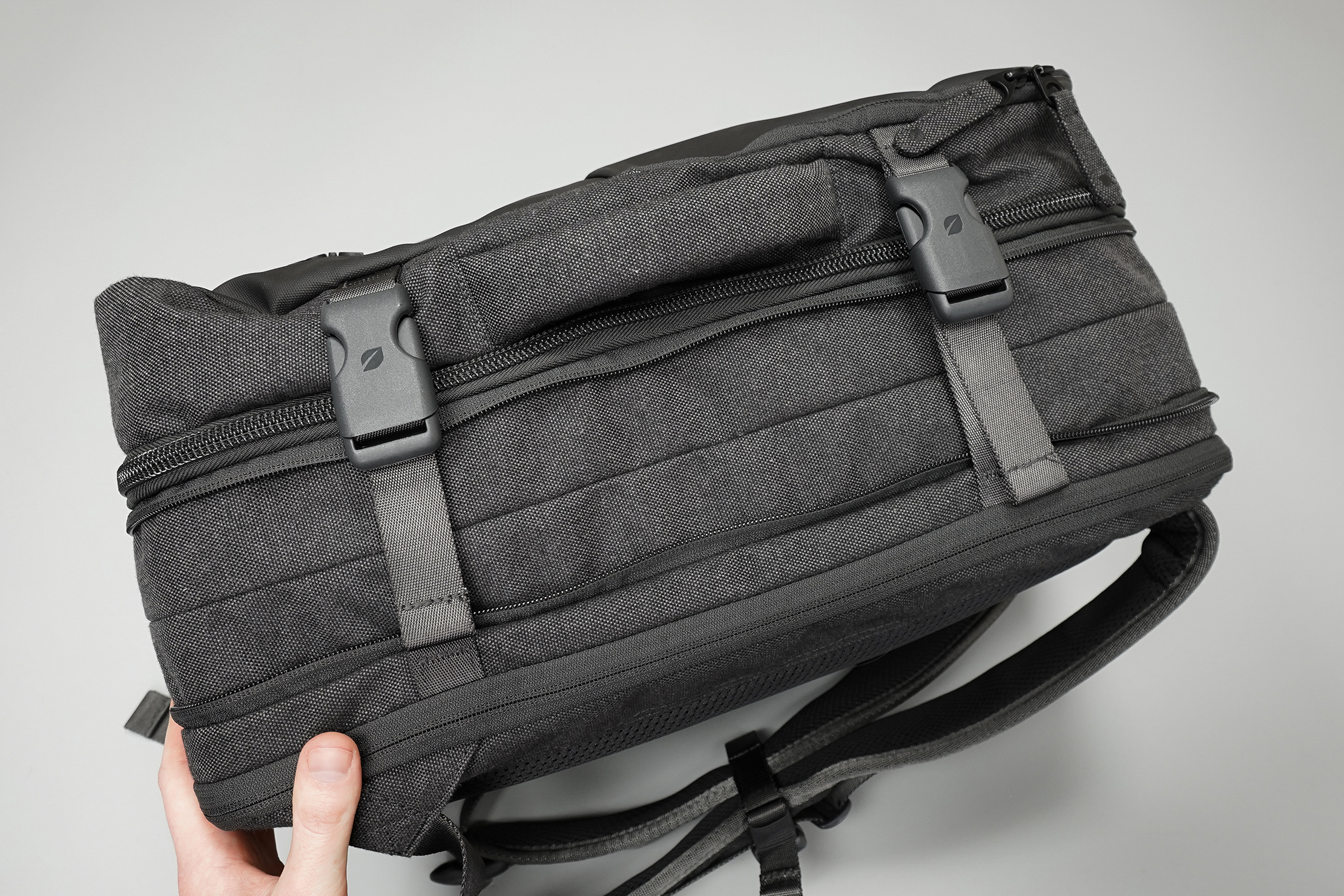 We want to point out that the compression straps can only be unbuckled on the wearer's right-hand side to get access to the main clamshell. The other side has no buckle—just strap adjusters. When the bag is fully compressed, these compression straps can get very dangly very quickly. We wish they would've offered elastic keepers like they did on the sternum strap, but alas.
One other quick note: due to the way the EO Travel Backpack compresses, there is no external water bottle compartment.
Inside the Pack
The inside of the Incase EO Travel Backpack has some great organization going on. Let's start with the thing you're probably most excited about—the laptop compartment (Incase does talk it up after all).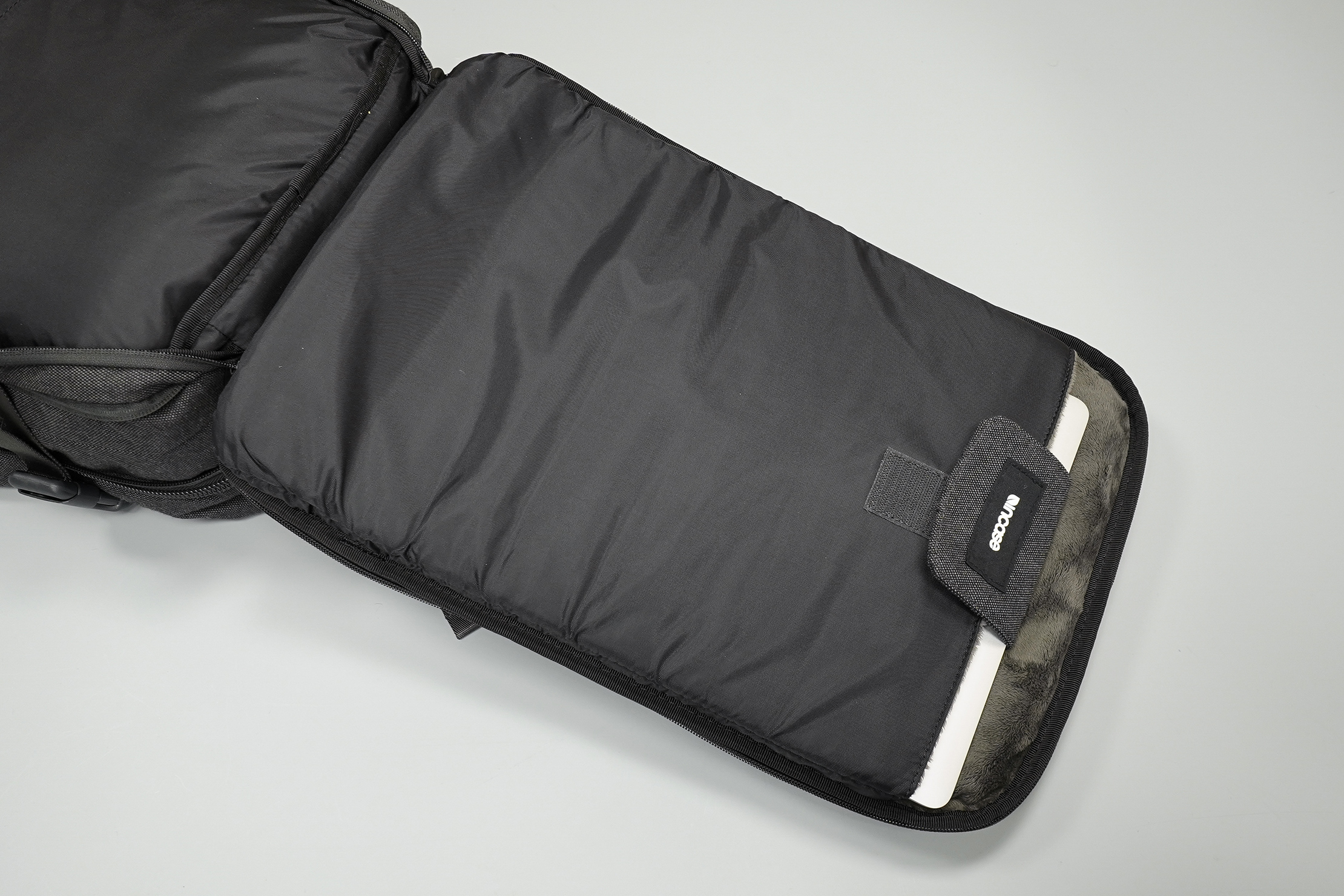 The laptop compartment opens up clamshell-style. This means, during a security checkpoint, TSA might let you lay it open flat and leave your computer in your bag. We've had low success rates in getting through security like this, but your mileage may vary.
We really dig how padded the laptop sleeve is. And it's lined with a fur-like material that's so soft, you may find yourself petting it for minutes on end. (No? Just us?) Seriously though, it's great. The only problem with this laptop sleeve is that there's no false bottom—meaning, your laptop is not suspended within the compartment. If you drop your bag, there's not much to stop your laptop from hitting the ground, which could lead to some damage. There is some padding on the bottom of the bag, which should help.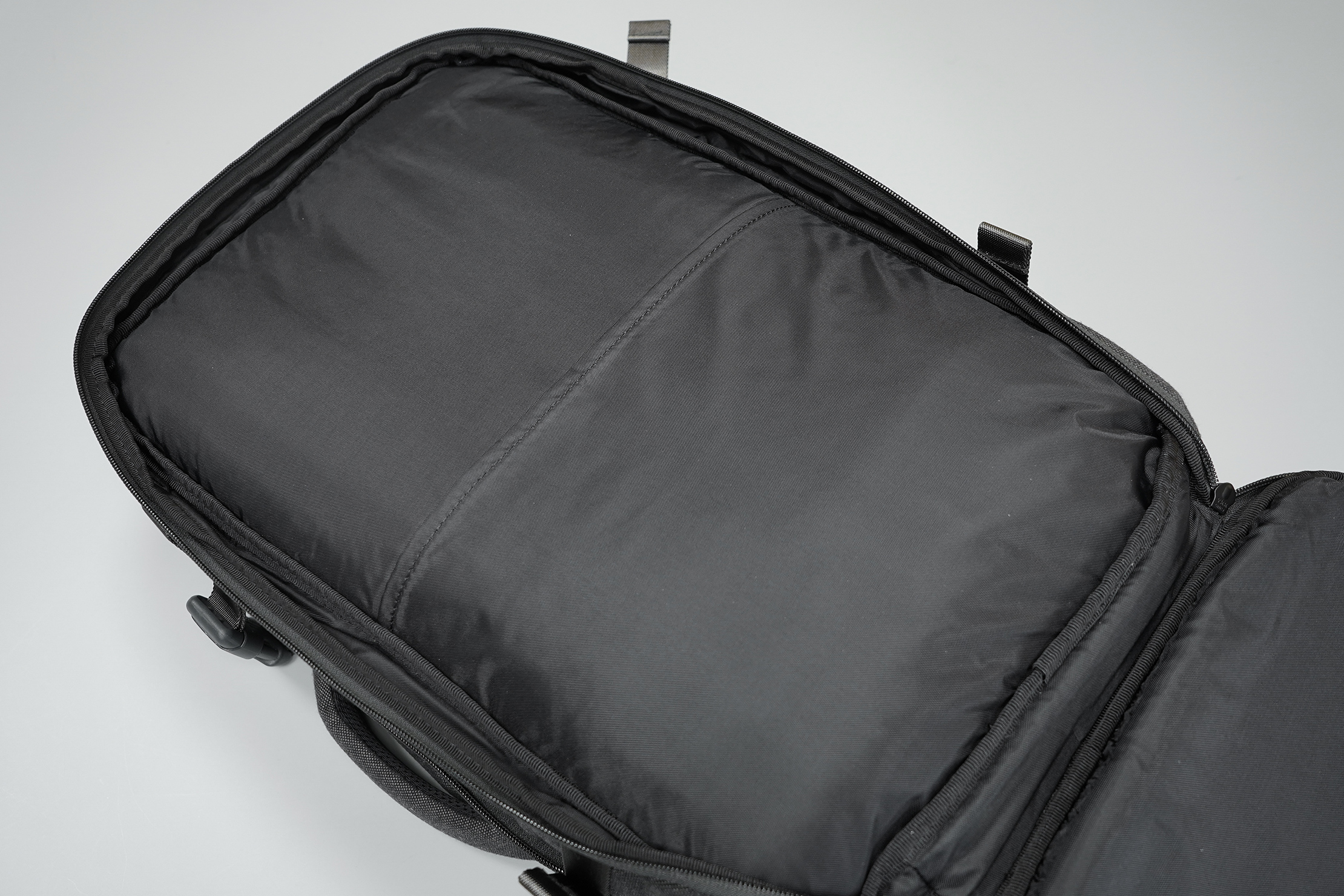 Opposite of the laptop sleeve, you'll find a liner sleeve where you could put documents, a slim keyboard, or other flat items.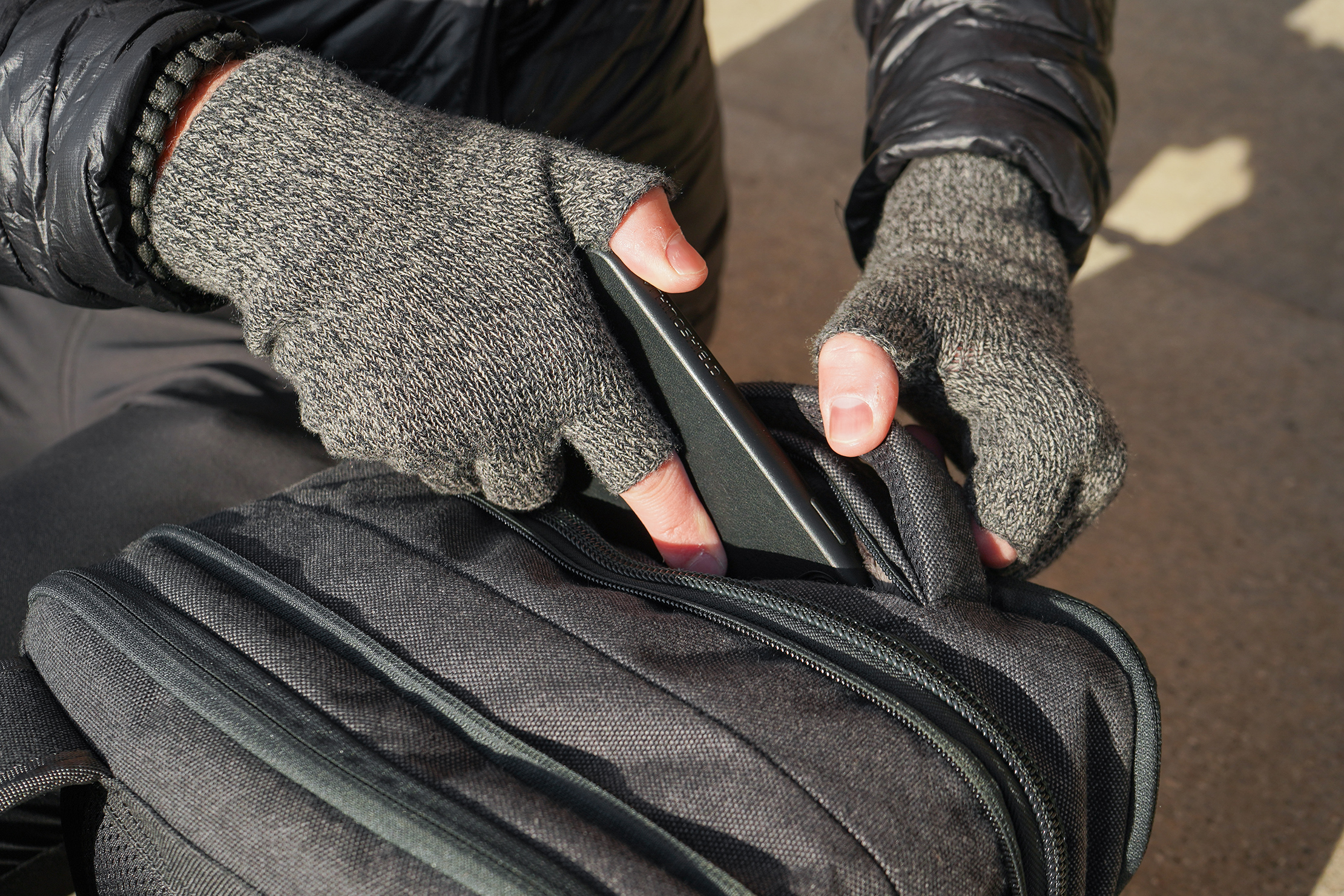 At the top of the bag is a quick-grab pocket that's about the width of the handle. It's lined with that same incredibly soft faux-fur found in the laptop sleeve. This pocket is a little bit on the small side—we've even had some trouble getting a plus-sized iPhone in it—so it's much better suited for something like sunglasses.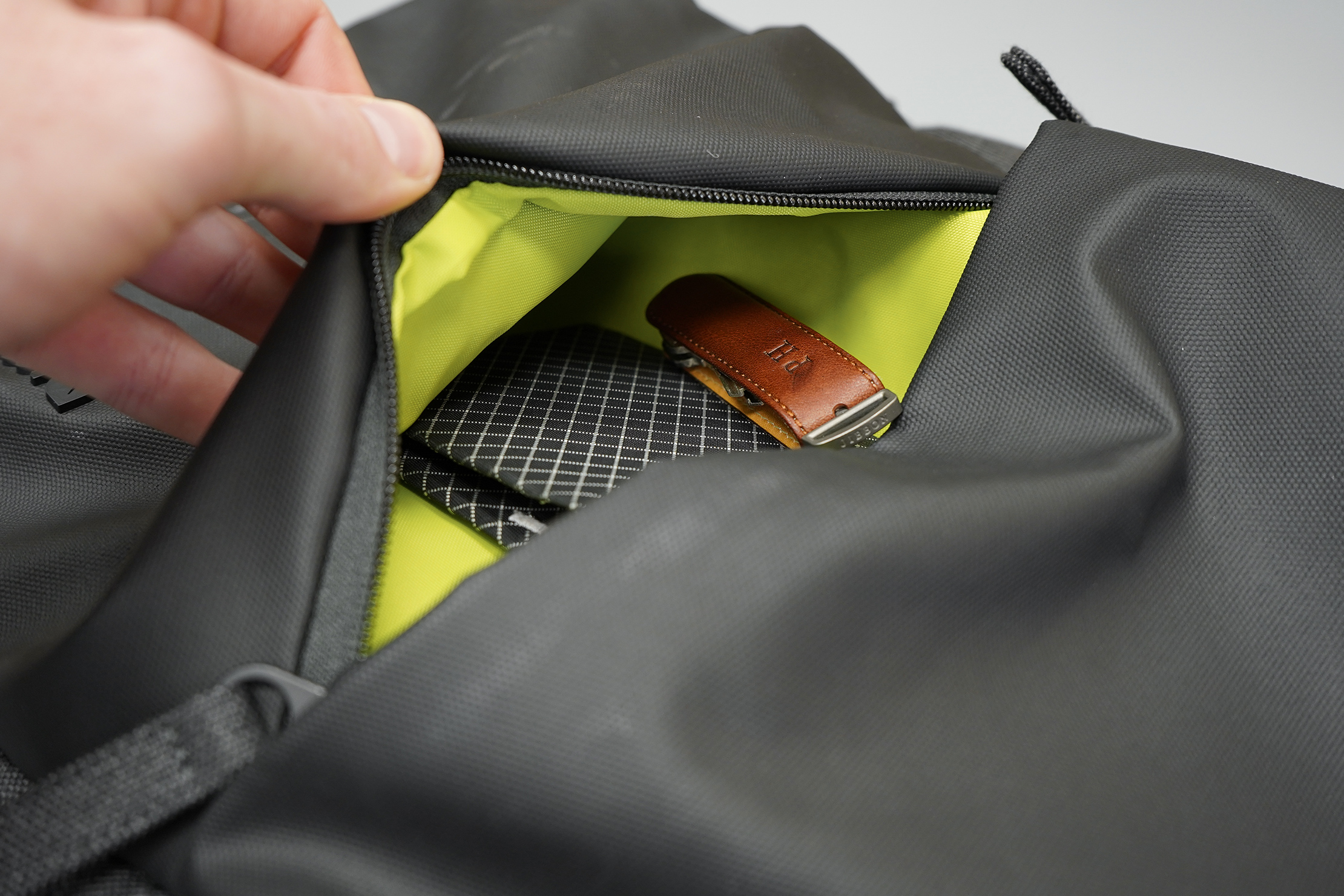 If you'd like a larger quick-access pocket to dump the contents of your pockets into when you're going through airport security, the front pocket of the EO is a better fit. It has ample room inside and we like the yellow-green interior—it turns on the lights and makes it easy to find your stuff. We also dig that the zipper is hidden beneath a fabric welt, promoting a clean look that goes along so well with the backpack.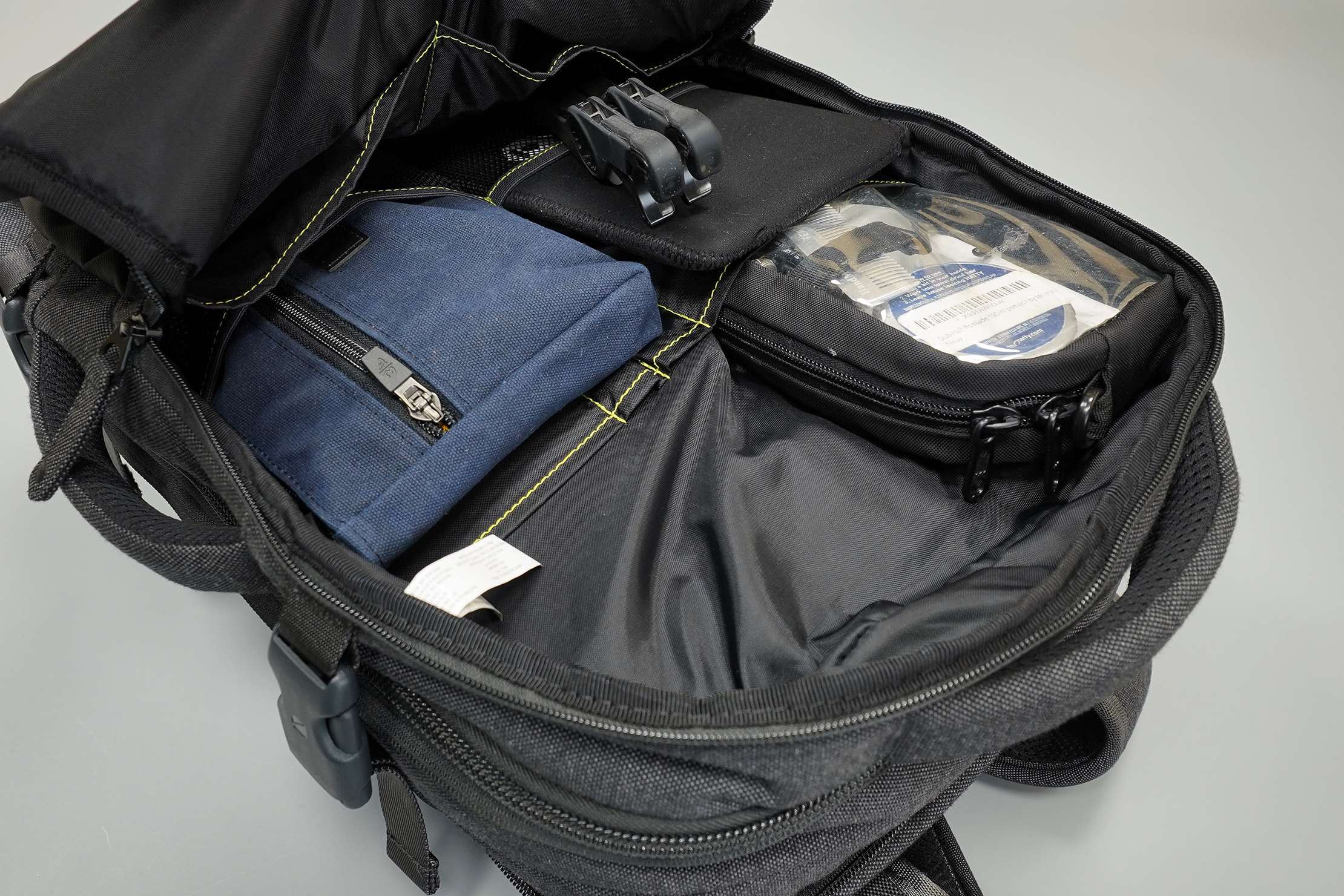 The tech area on the Incase EO Travel Backpack is excellent. The zipper on the front opens up horseshoe-style about halfway down the bag. On the front flap towards the bottom, you'll find two nylon divider pockets. If you keep this bag pretty fully loaded, we think the nylon pockets could be cut—with the outer pocket, main pocket, and two layers of organization, it just gets to be a little bit much. We found ourselves not using these liner pockets very often.
Towards the back panel is two stretchy mesh pockets, which are great. We kept an Apple Magic Keyboard inside of a neoprene sleeve in one, and a tech pouch in the other.
This organization panel also has liner divider pockets that can house items like a battery bank, snacks, pens, pencils, styluses (styli?), or a small notebook. There's plenty of space above these liner pockets so you should have room to fit taller items, like a notebook. Plus, depending on how you use these pockets, you may have room for another pouch (like a toiletries bag) in this top area.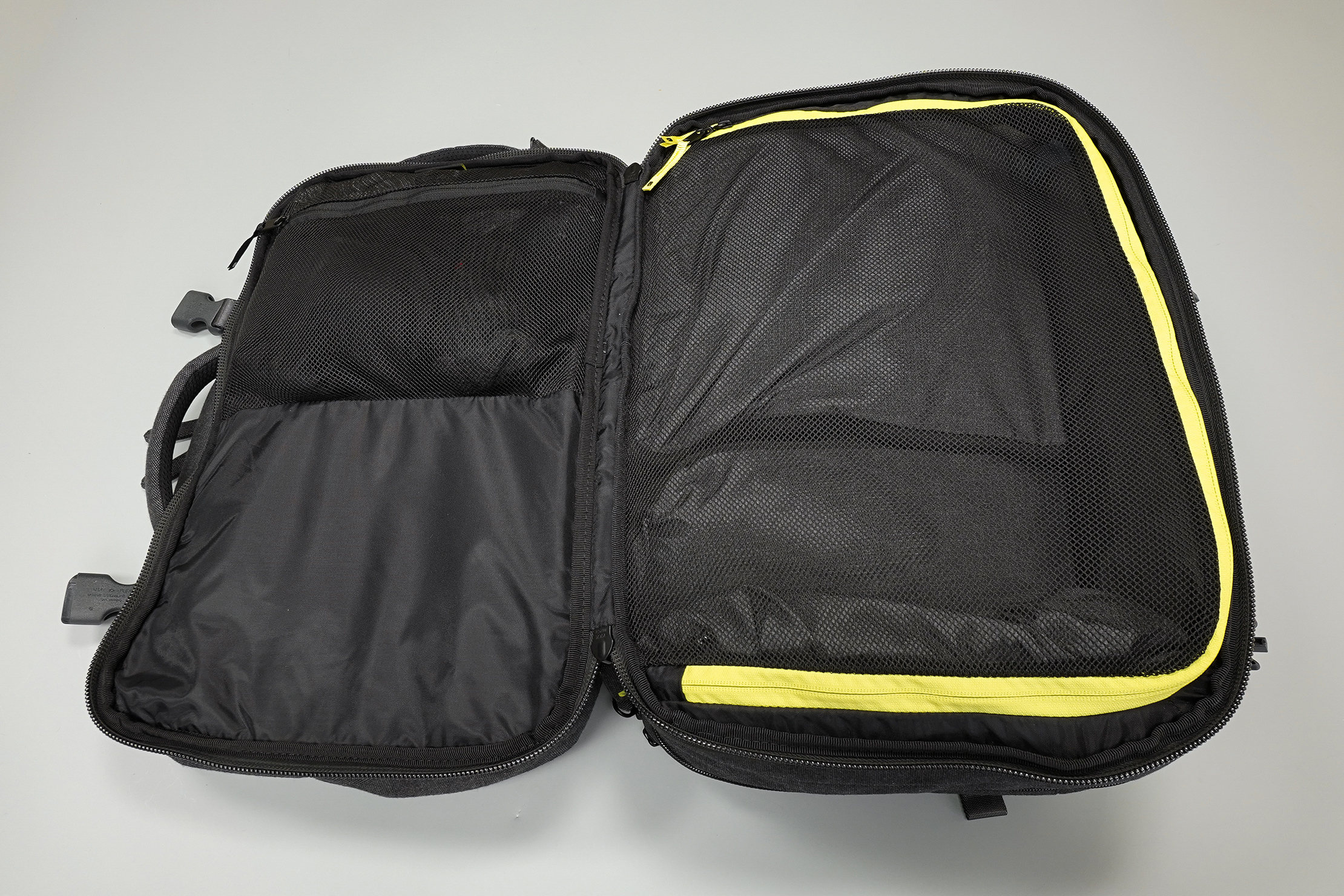 The EO Travel Backpack's main compartment opens up suitcase-style. The left side has a smaller, mesh pocket, which is nice for things like socks, underwear, a small Dopp kit—anything you don't need quick access to. Above it, you'll find a small tag that reads "Travel well." And we enjoy that little reminder.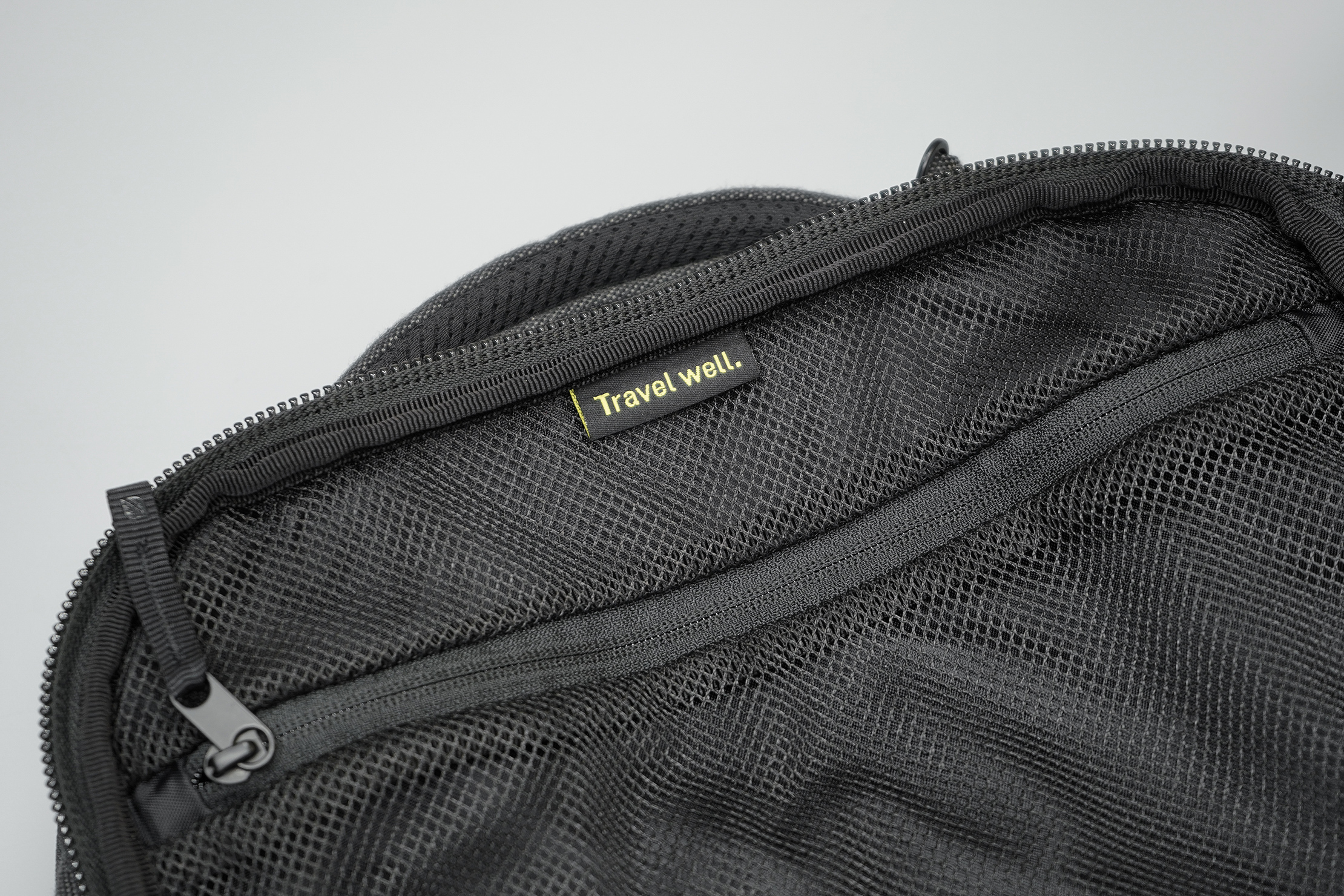 On the right side, you've got a mesh compartment with a neon yellow-green zipper that's super easy to spot and unzip. It's pretty much designed like a clamshell suitcase. The cavernous space that opens up inside is ideal for packing cubes. Or, you could fit quite a lot of loose clothing in here if that's more your style.
The lining inside the main compartment has this funky gray and black pattern. This isn't as much of an issue for visibility here since the bag opens up fully clamshell, but we're curious what it would have looked like with the yellow-green liner used in the front pocket.

On a trip to Belize, we packed one small and one medium Peak Design Packing Cube—which fit in there pretty much perfectly inside the main compartment—as well as a shoe pouch with some sandals inside and a Blunt Metro Umbrella.
Now, keep in mind that the main compartment is what expands and compresses. So, if you have the expansion zipped up and fully compressed, it becomes significantly smaller.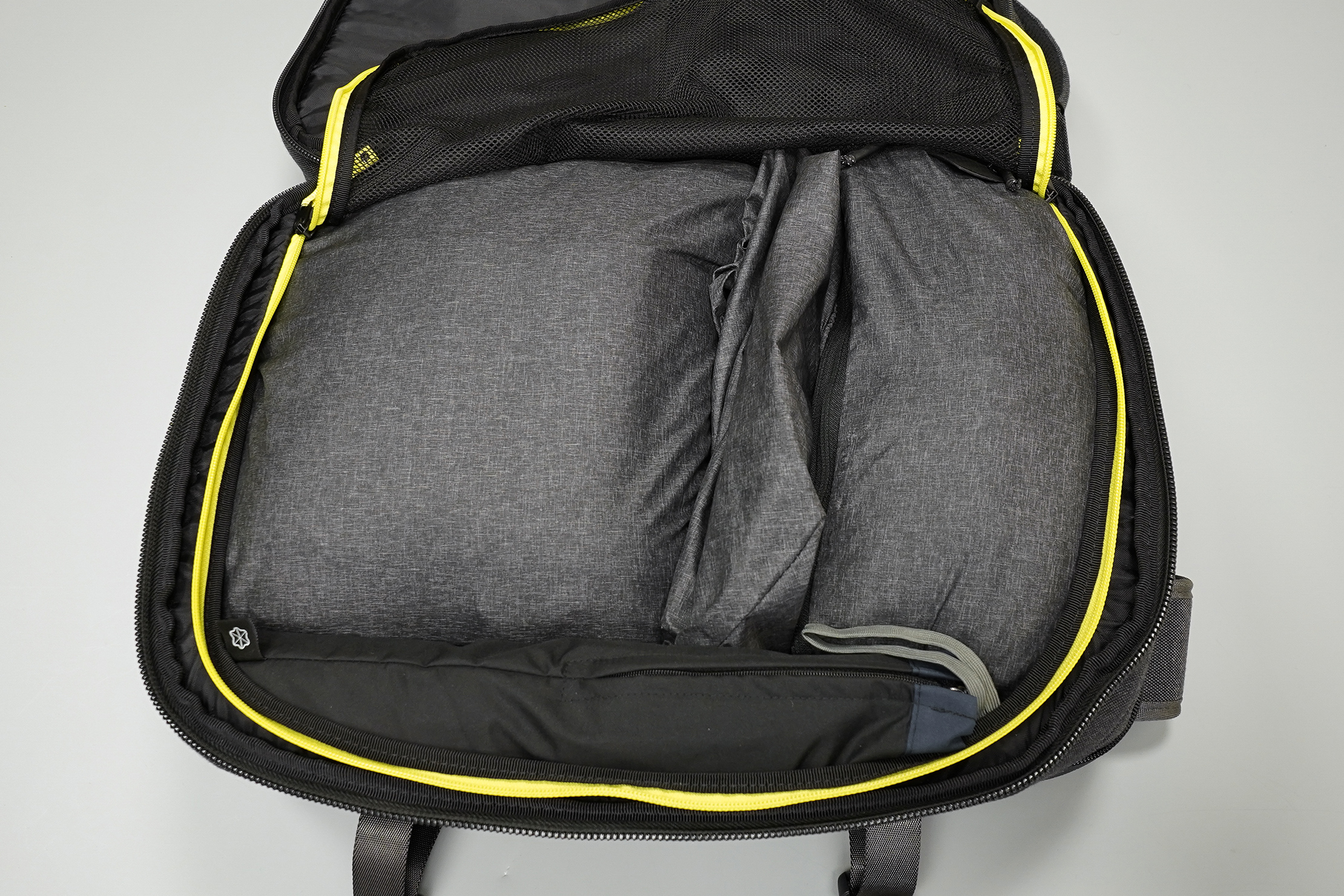 All in all, it's a nice, simple main compartment. And we've liked the versatility of being able to compress this bag down based on what you have inside.
Durability & Testing
At the time of this review, we've been testing the Incase EO Travel Backpack in Michigan, Georgia, and Belize. In Michigan, we've been using it as a daily driver to bring our essentials to and from work. We found it to be a bit large for everyday use, but not so big that it's cumbersome (if you keep it compressed to 24L).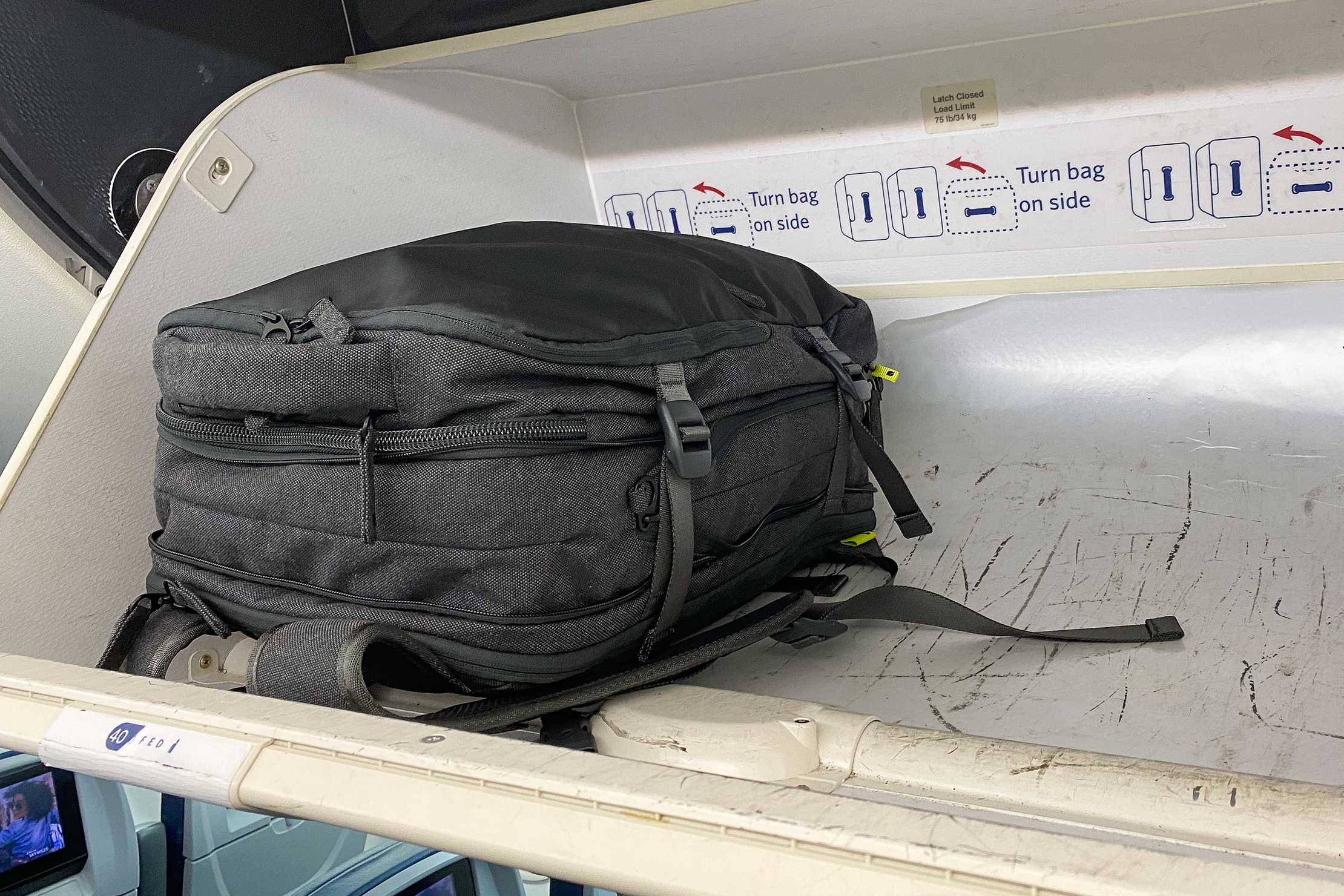 As a one-bag travel pack, the EO is pretty solid as well. The thoughtful pocket layouts make it great to organize all your stuff. But we did notice that some of the design details—like the positioning of the handles and lackluster harness system—were a pain to use in transit.
Overall, we've enjoyed testing this bag for both EDC and travel. It's a solid contender if you're looking for one bag to do it all.
Usage Timeline
Initial Usage
Condition: Excellent
Middle compartment expands to give you 35% more carrying capacity, great for longer trips or just hauling more clothes and gear
Laptop compartment feels secure and has a super soft lining
Good amount of organization in this bag
2 Weeks of Use
Condition: Excellent
It's a little big for daily carry, but the thoughtful organization is working out well. And that laptop sleeve is so soft!
1 Month of Use
Condition: Excellent
Took this on a trip to Belize, fully expanded and packed out. While the expansion works well, the harness system isn't our favorite and feels a little cheap.
Access the Pro Community Discussion
Get your questions about the Incase EO Travel Backpack answered from our team and the Pro Community right here on the page. Plus, join discussions with other members about gear, guides, and more.
Other Bags & Luggage Reviews