HEX Aspect Black Sling Review
The HEX Aspect Black Sling only has its main compartment to work with, but the available space and ease of access mean it doesn't feel too compromised.
Our Verdict
Unlock the Pro Summary
Save time. Get access to brief summaries of our reviews so you can browse and make decisions more efficiently.
Pros
Simple, straightforward one-compartment layout
Good capacity and accessibility
Wears close and easily detachable via the quick-release buckle
Cons
No secondary compartments for separating gear
Strap is a bit lacking in length
All-black interior not great for finding small accessories
Recent Pack Hacker Video
Technical Details
100 %
Carry-on Compliance
Denier

600D

Weight (lb)

0.37 lb (0.2 kg)

Dimensions

5.25 in x 8.5 in x 2 in (13.3 x 21.6 x 5.1 cm)

Notable Materials

Recycled Polyester

Manufacturing Country

Vietnam

Warranty Information
Full Review
Get up to 20% off HEX • Join Pack Hacker Pro
When we first looked at HEX's Evolve Sling, we noted two things that we liked: its space and industrial design. In a nutshell, practicality takes center stage in the brand's gear. They won't turn all heads, nor will they catch all eyes, but that doesn't mean they can't impress in other ways—ways that matter.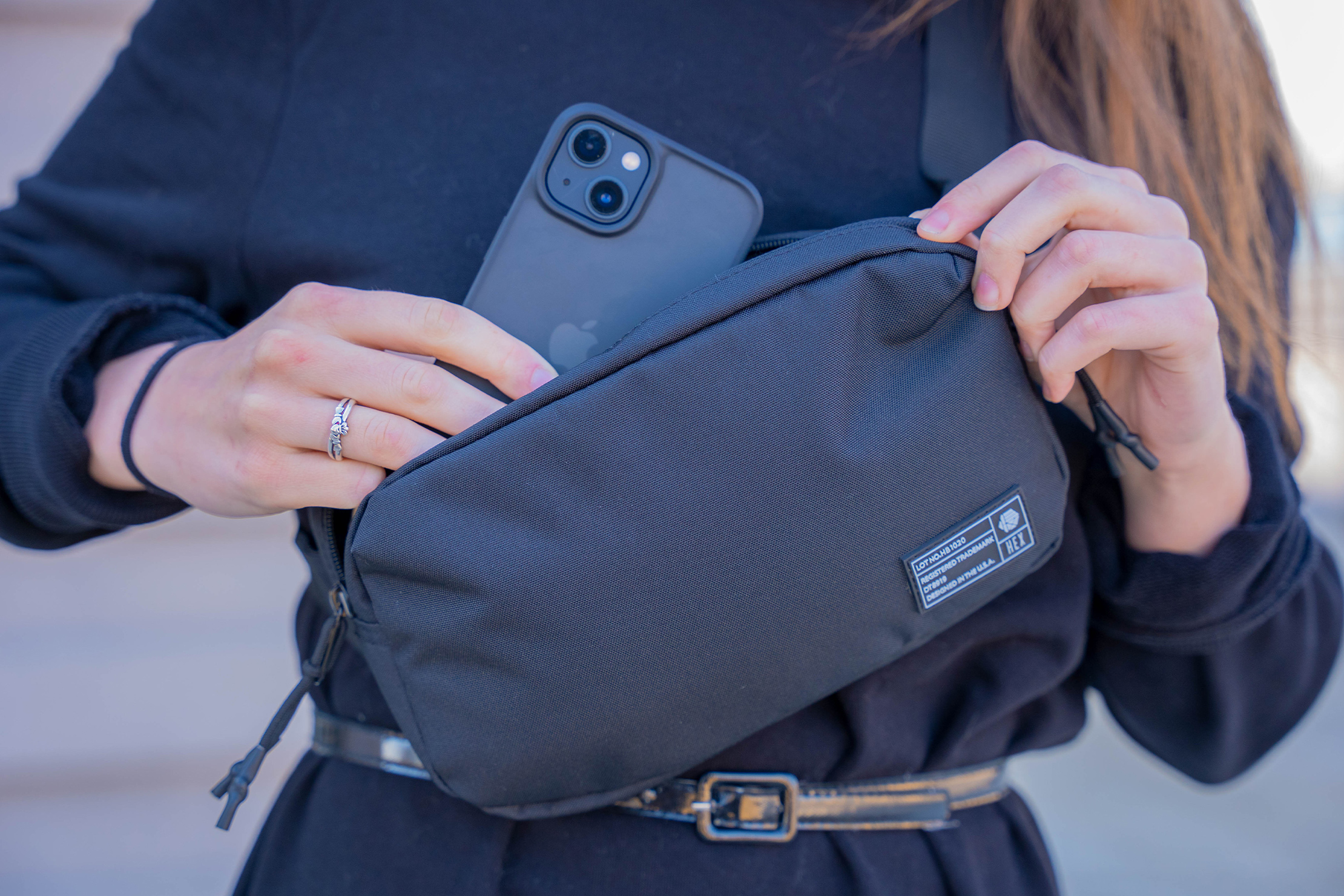 The Aspect Black Sling takes the same two key characteristics but puts them in a more cut-down (read: simpler) package. There's no front pocket and no rear pocket—just a main compartment to manage all your everyday carrying needs. It's not the best fit for those looking for a more comprehensive sling, but it's a good alternative to the ones that are just a bit too small.
Materials & Aesthetic
HEX takes a no-nonsense approach for the Aspect Black's styling. It's a black sling with their logo on it—'nough said, right? To be fair, a lot of HEX's gear leans more towards industrial designs that appeal to the utilitarian within. Check out the logo; it looks like something you'd find stuck to the side of heavy equipment or in the corner of a 200-page manual. That said, we can't blame you if you find the Aspect Black to be a bit mundane.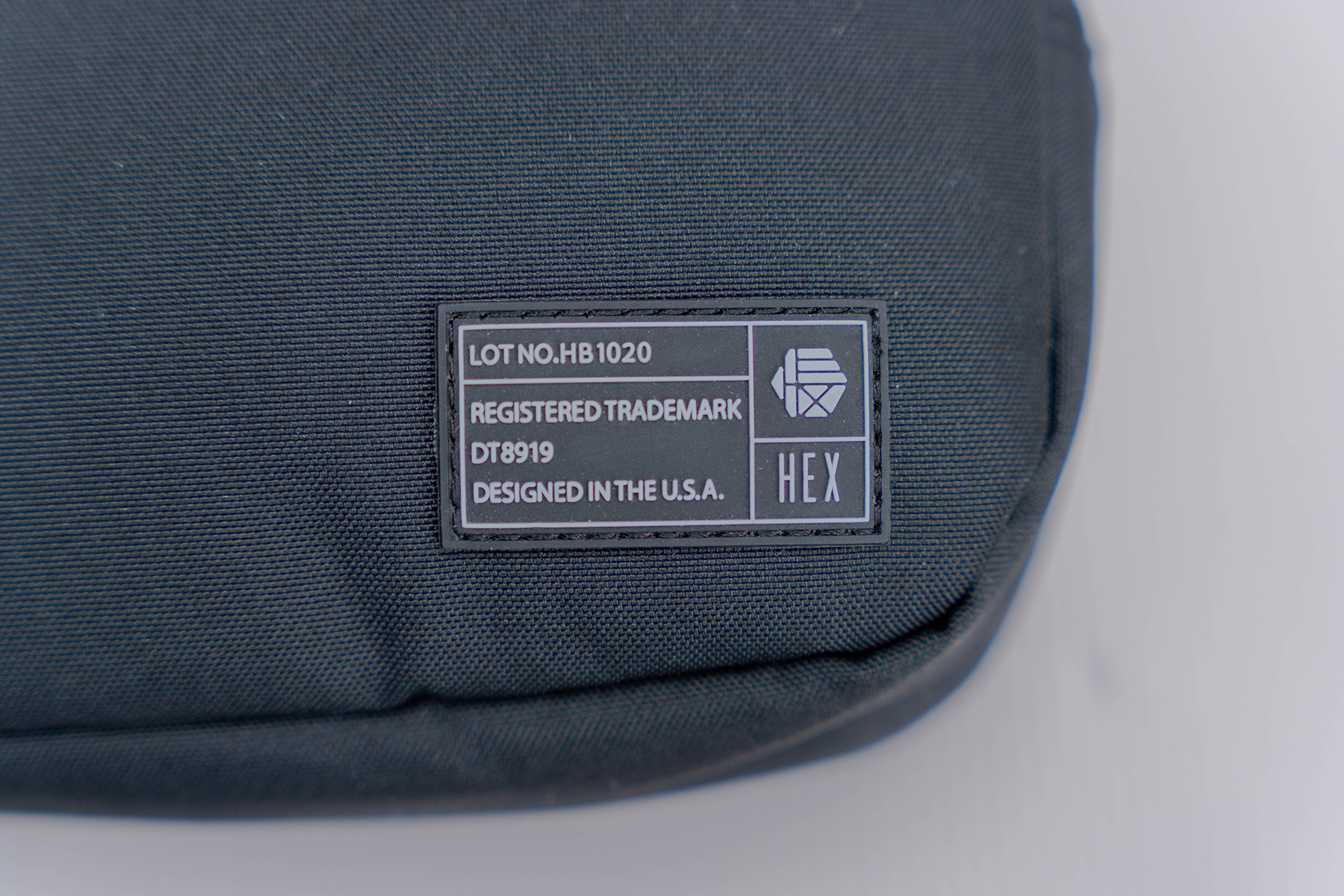 Unfortunately, there are no other colorways available, which is not a big surprise given that it's called the Aspect Black. If you're still interested, let's continue.
First impressions are always important, and the Aspect Black makes a solid one. The sling's structure is relatively robust and the fabric itself feels durable. It has a bit of abrasion-resistant vibe going on that we typically attribute to fabrics like nylon or ballistic nylon—which it isn't. It's 600-denier recycled polyester, so despite the industrial-looking design, it's kind to the environment, too.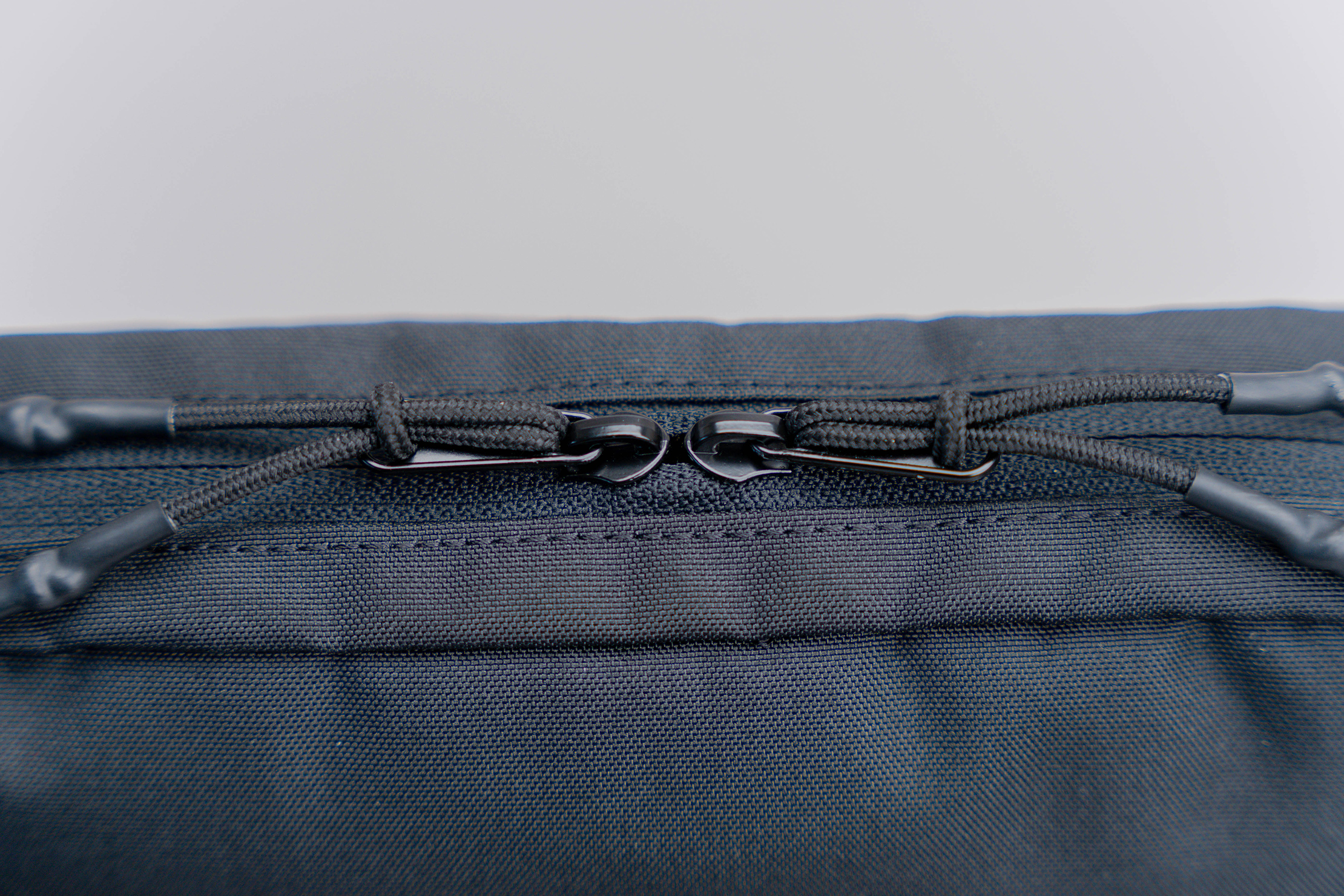 Mind you, the Aspect Black isn't indestructible by any means. In fact, HEX's use of unbranded zippers and hardware leaves some doubts about long-term durability. Fortunately, no part of the sling has shown any signs of early wear and tear. Not even the heat shrink material on the zipper pulls shows any significant damage.
External Components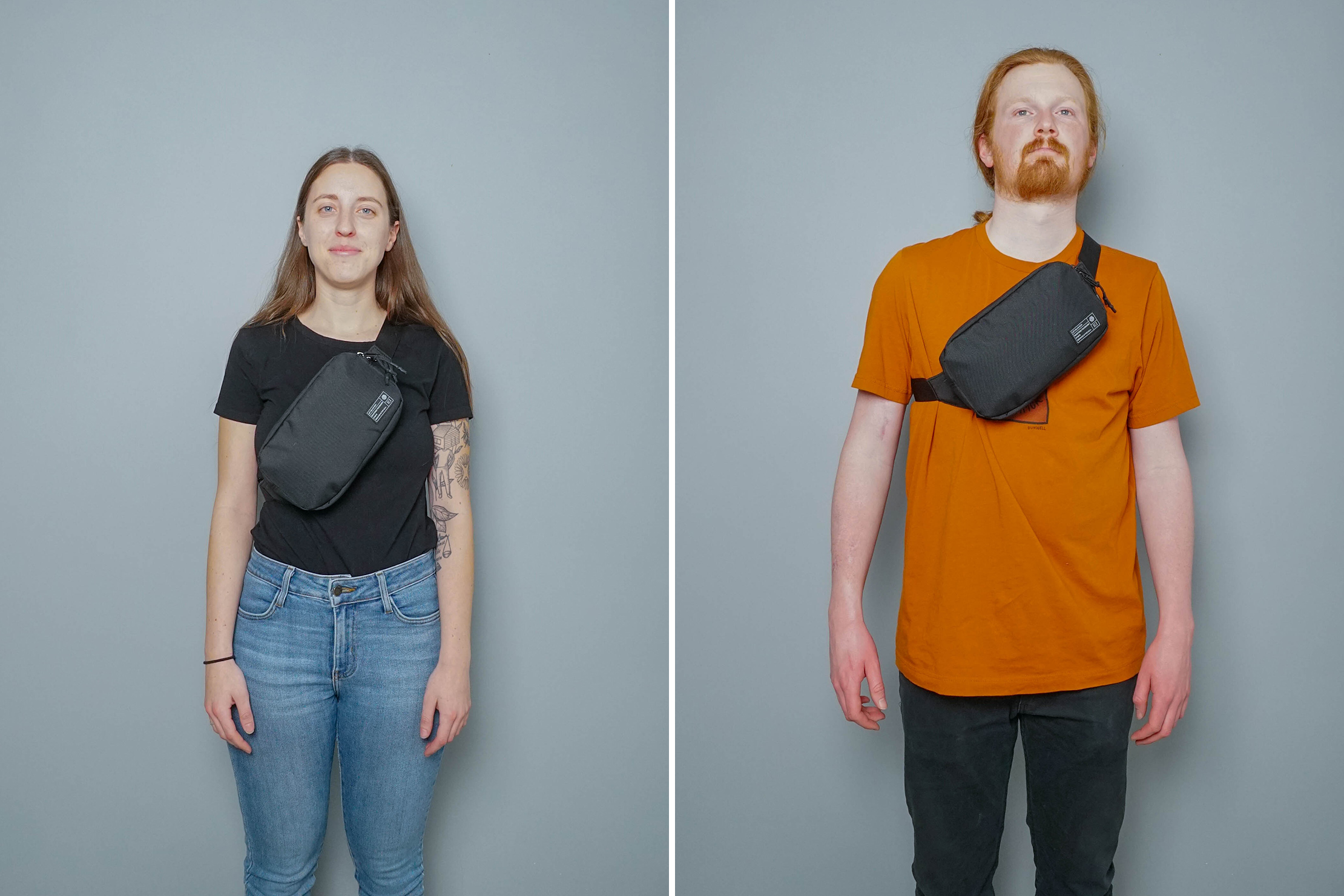 The harness on the Aspect Black is pretty simple and straightforward. It uses a length-adjustable strap with a quick-release buckle in the middle. The strap itself is wide, has a relatively rough but still smooth seatbelt-like material, and is mounted to wingtips extending from the sides of the bag. These wingtips allow the sling to sit closer and more snugly fit around the body.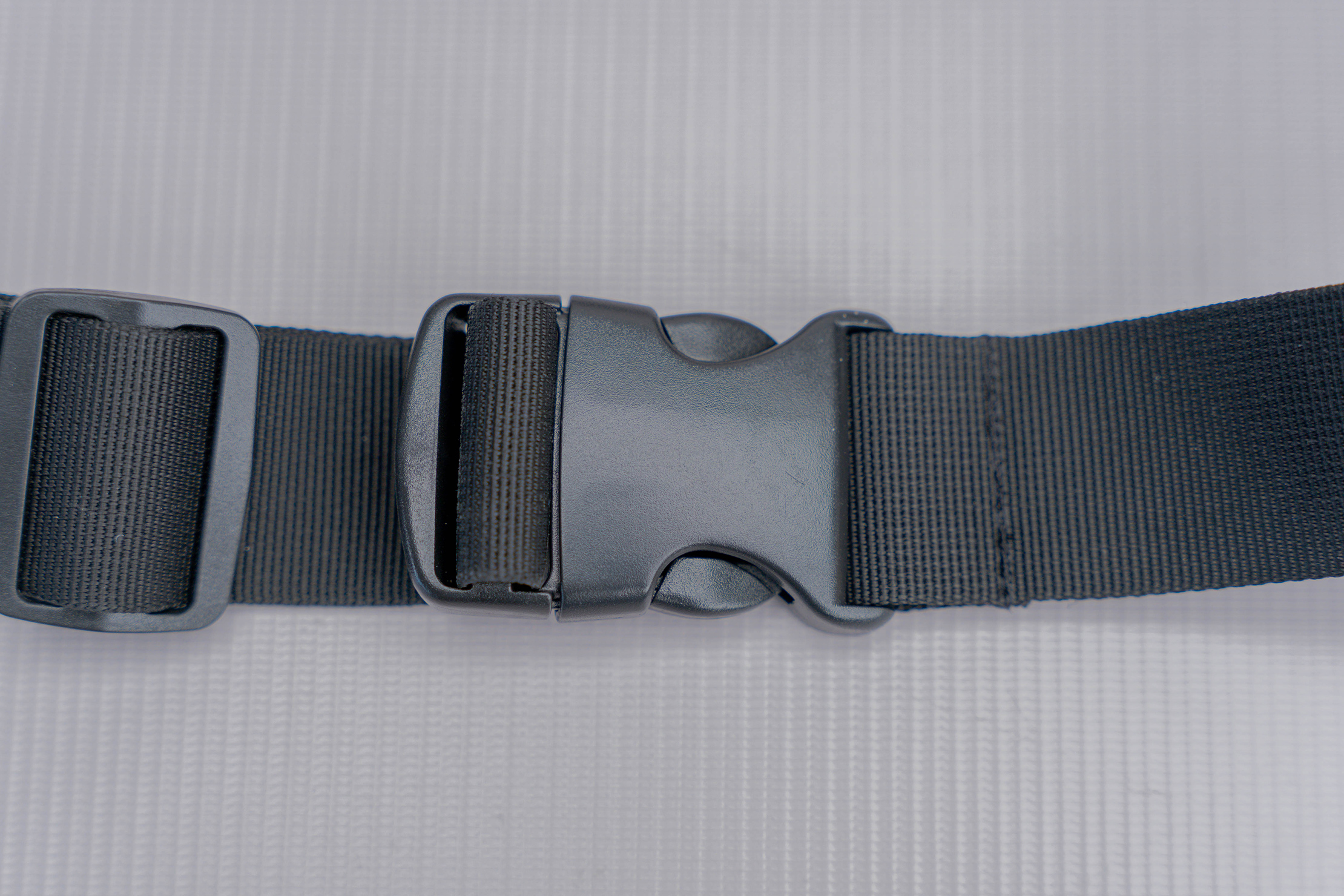 Do they work? It's tricky to isolate which aspect of the sling contributes the most to comfort. What we can say is that, on the whole, the Aspect Black wears comfortably in day-to-day use. Our only real gripe is that the strap doesn't offer much in terms of length.
When worn by the small framed among our crew, there are only a few inches of leeway at the strap's widest adjustment. This is bad news for those with larger builds and/or who wear a ton of layers, especially during the winter months. We get that the Aspect Black is a small sling, but we wish the strap had more length or was at least removable so that we could use an alternative strap.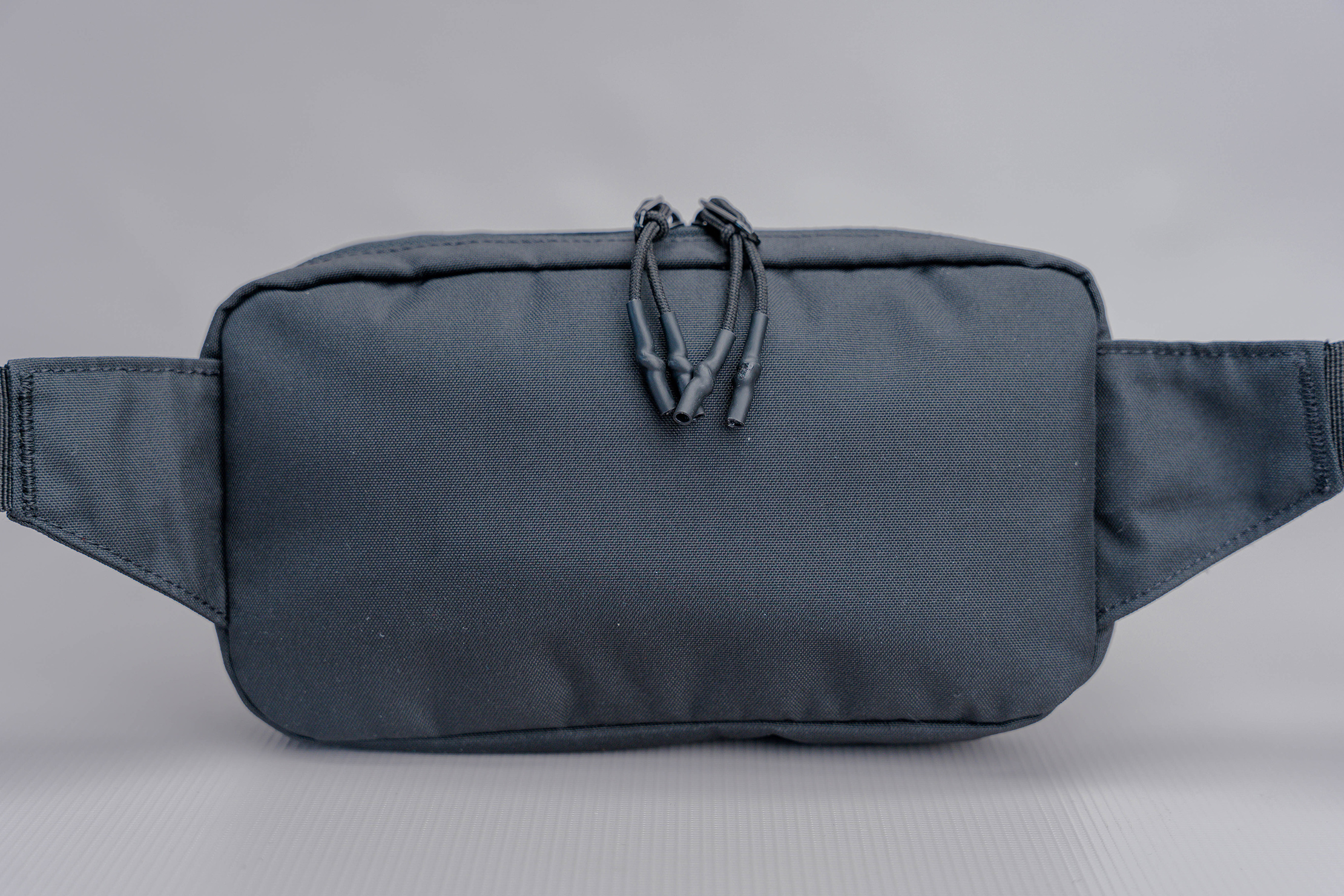 When worn crossbody-style, the Aspect Black hangs at a notably steep angle. It's steep enough that we find it worth the effort to put the main compartment's zippers at whichever side is pointing upwards. Not only does it put the zippers closer within reach, but it also means you'll be zipping downwards rather than up and have more control of gear that's shifted around inside.
The Aspect Black is a bit bare in terms of exterior features, which isn't really a problem in and of itself. Adding features for the sake of padding the spec list doesn't always make a product good; it sometimes just makes it more gimmicky.
Inside The Sling
The same can be said when we get to the inside of the Aspect Black. It only has one compartment with no secondary pockets to speak of—no hidden security pocket or stealthily gusseted one at the front. HEX expects all of our everyday carry items to live in harmony inside the main compartment, but can they?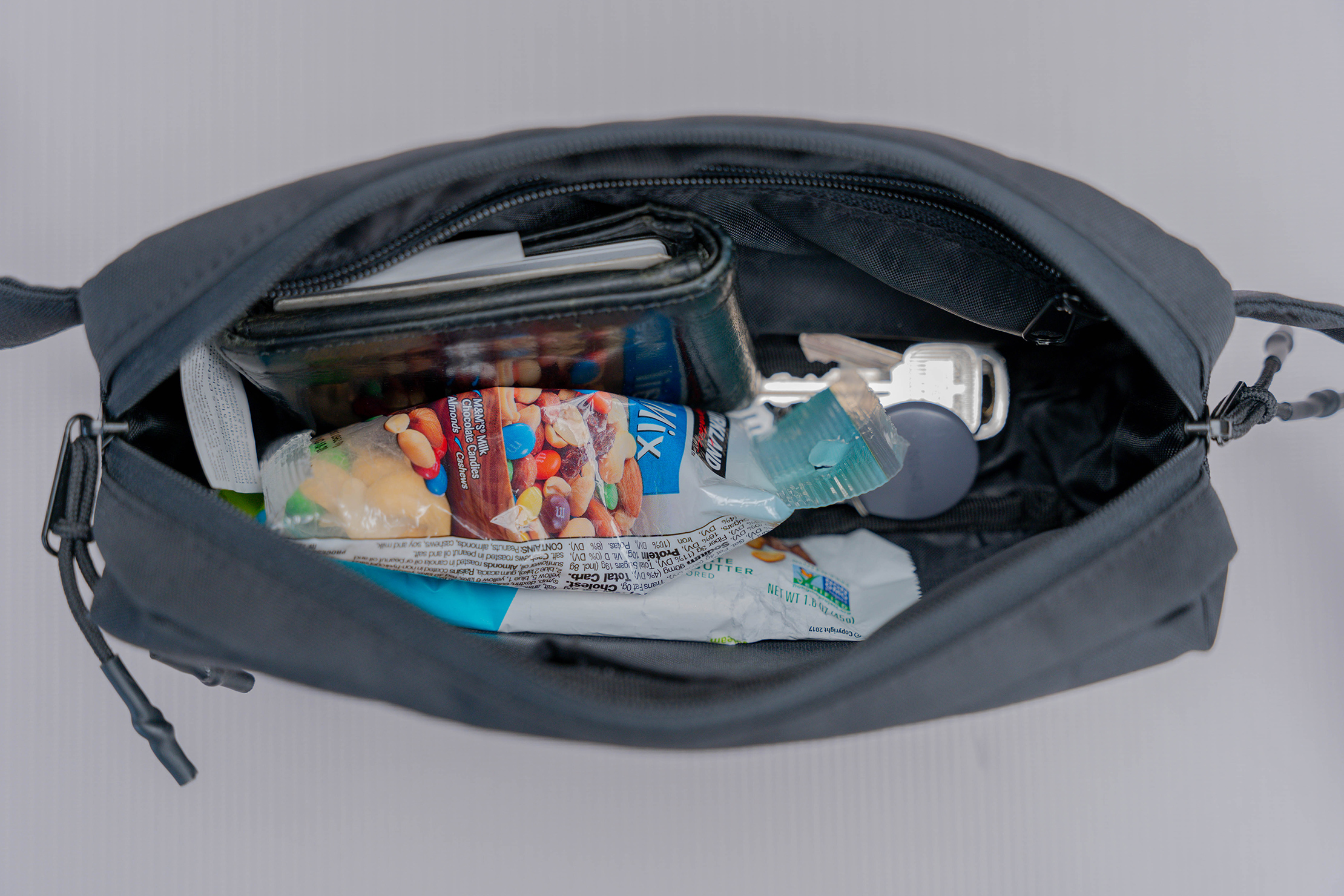 The main compartment's opening is a standard horseshoe-style opening, with the zippers going about a third of the way down at the sides. It's nothing too crazy, but compared to similarly small slings like The North Face Bozer Cross Body or NOMATIC's Access Pouch, main compartment accessibility here is quite forgiving.
The horizontal shape of the Aspect Black means items sit side by side rather than stacked top to bottom. In other words, unlike the two slings we mentioned earlier, there's less fussing and shuffling of items around in order to get to them. We don't have a problem taking out our wallet, snacks, keys, or iPhone 13, even with all of them inside, plus some other accessories.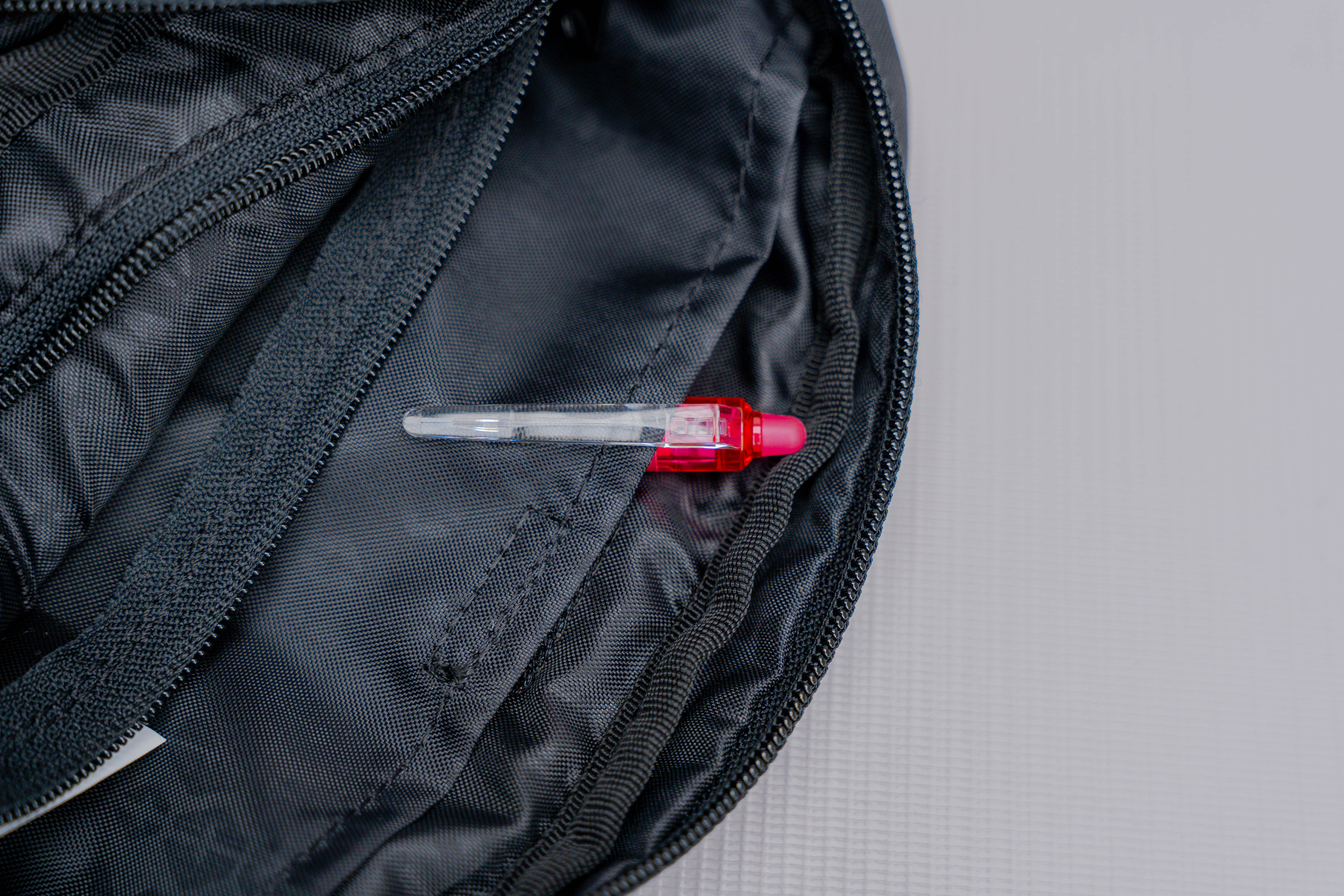 As mentioned earlier, the Aspect Black has some structural rigidity to it. Part of the reason is that the main compartment is padded. This means more sensitive items like small point-and-shoot cameras and sunglasses get some protection in case the sling gets knocked in day-to-day use. That said, it's nowhere near the level of protection typically found in more professional-grade camera cubes. Plus, the all-black interior makes going through similarly black tech accessories a tricky task.
As for getting these items organized, there's a zippered pocket towards the rear. This one acts as the most secure spot in the Aspect Black in lieu of a security pocket. It's not RFID-blocking in any way, though, so bear that in mind if you plan to put credit cards inside.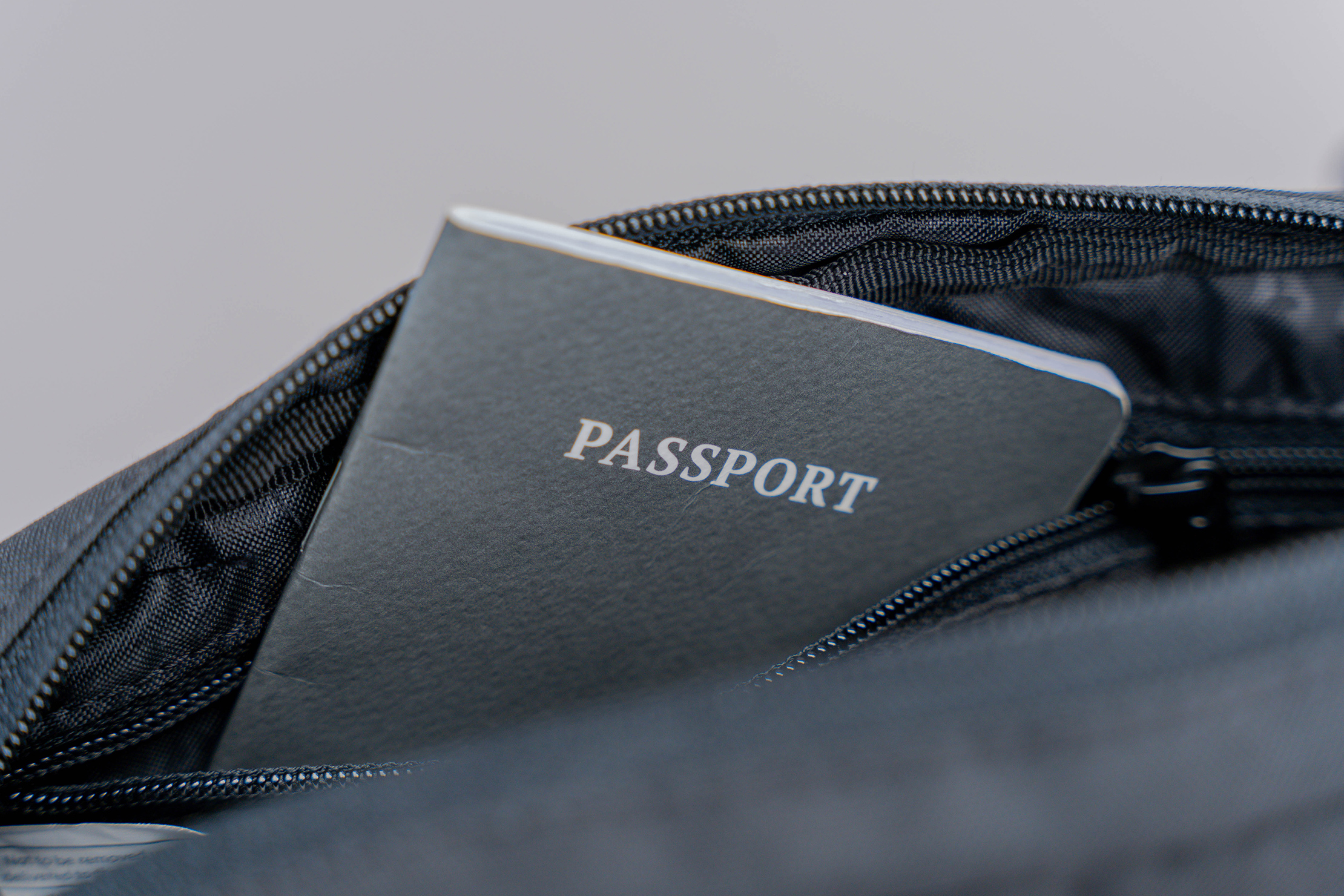 On the opposite side of the main compartment (the front side), there's a wide liner pocket secured by a hook and loop patch. We've seen a similar style pocket inside HEX's Evolve Sling. However, this one feels a bit more secure and tidied up. The hook and loop patch is still small, though, so smaller items can still get tossed out.
The lack of any secondary compartments is a noteworthy mark against the Aspect Black. Even the similarly-sized Bozer Cross Body and Access Pouch have secondary compartments that help with organization, even if those two have less spacious main compartments.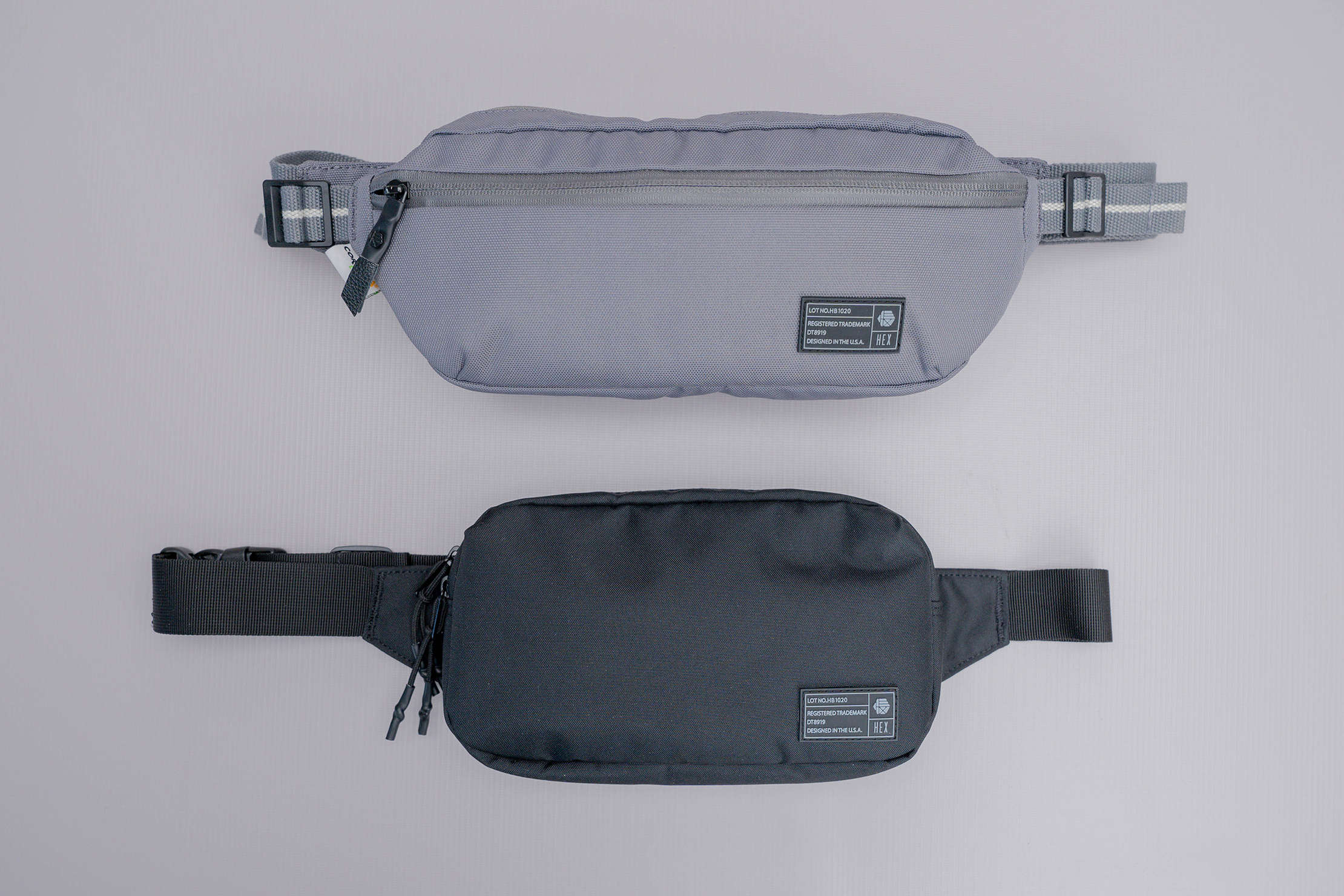 On the other hand, the Aspect Black doesn't have to contend with compartments bulging into each other's space. In turn, we don't have to micro-manage which compartment has to have fewer or more items just to balance things out. It's a very subtle quality-of-life improvement that may not sit well with those who want more organization, but it definitely has its upsides.
Usage Timeline
Initial Usage
Condition: Excellent
Buckle is quite big relative to the sling's overall size
Strap feels soft and slick
The zipper pulls' heat-shrunk tips dampen jingly-ness
2 Weeks of Use
Condition: Excellent
Digging the sleek look
Hangs at a pretty sharp angle, so it's worth being careful when choosing which side to keep your zippers on for opening
Has a decent amount of space for everyday carry items
Access the Pro Community Discussion
Get your questions about the HEX Aspect Black Sling answered from our team and the Pro Community right here on the page. Plus, join discussions with other members about gear, guides, and more.
Other Bags & Luggage Reviews