Heimplanet Travel Pack 28L (V2) Review
The Heimplanet Travel Pack 28 features a smart design with the looks to match, though the bottom-only compression straps don't cinch the bag as tightly as we'd like.
Our Verdict
Unlock the Pro Summary
Save time. Get access to brief summaries of our reviews so you can browse and make decisions more efficiently.
Pros
Built-in strap keeper system creates a dangle free experience
Bag opens way up, allowing for easy packing & organizing
3D pockets are smart & lay flat when not in use
Cons
Compression straps (bottom only) don't cinch the bag as tightly as we'd like
Padding is absent on the hip belt—doesn't distribute much weight
External carry is limited without purchasing sold-separately Carry Straps
Technical Details
87 %
Carry-On Compliance (Beta)
Capacity

28l

Weight (lb)

3.2 lb (1.5 kg)

Denier

800D

800Dx660D Nylon

Dimensions

20 in x 12.5 in x 7 in (50.8 x 31.8 x 17.8 cm)

Notable Materials

Nylon, Polyurethane, Polyester, YKK Zippers, ITW Hardware, Aluminum

Manufacturing Country

Vietnam

Laptop Compartment Size

15"

Warranty Information
Full Review
Get up to 15% off Heimplanet with our Deals Vault • Join Pack Hacker Pro.
We're no stranger to Heimplanet's polished, streamlined products that combine unique functionality with a futuristic look. So, naturally, testing out the Heimplanet Travel Pack 28 was on our list.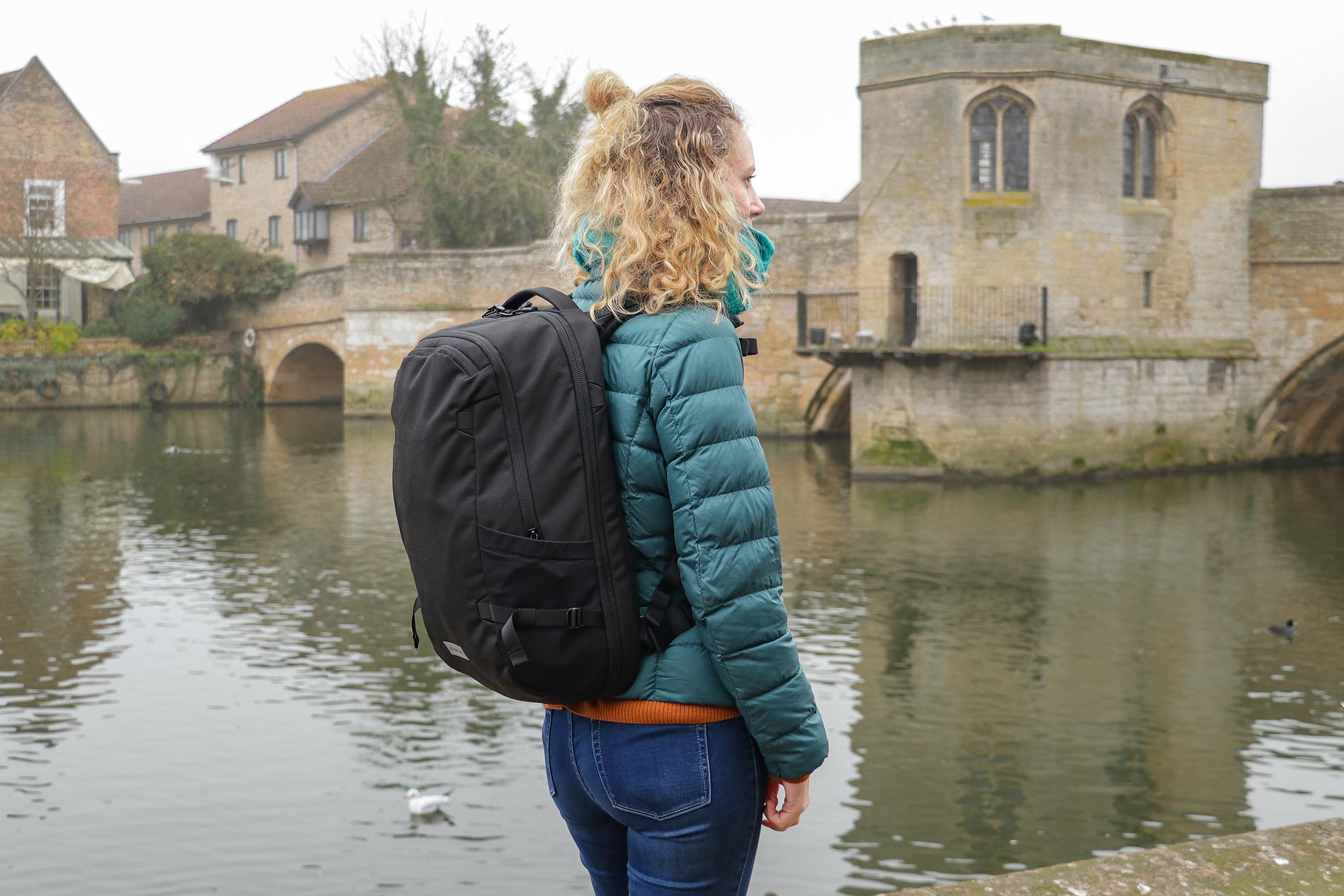 This pack holds about 28L, making it an ideal travel pack for those who prefer to travel minimally. If that doesn't describe you, fear not—we've still found it to have all the room we need for daily carry—and then some.
If you're interested in learning more about this bag, you're going to want to check out the review below—it's got all of our experiences from the last two weeks of testing!
Materials & Aesthetic
The Heimplanet Travel Pack 28 has the durability and functionality you want in a travel pack rolled into a smart, clean design. We've found it to work great not only functionally-speaking but aesthetically-speaking, too.
Like various other Heimplanet packs we've tested, the Travel Pack 28 is only available in two colorways at the time of this review: Black and Castlerock (dark grey). We've been testing the Black colorway ourselves (surprise, surprise) and appreciate how clean and subtle it keeps this bag.

Branding-wise, you'll spot the wavy-looking planet logo on a patch toward the bottom of the bag's front. It's a technical accent that adds some classic Heimplanet futuristic flair to the bag's overall vibe—we dig it.
We've seen this bag's DYECOSHELL fabric before; an 800Dx660D Nylon dope dyed nylon that Heimplanet incorporates on several other products. Not only does it save energy and resources with its dope dying process, but it's also proven to be highly durable and has held up well so far throughout our testing. Plus, it feels great in the hand.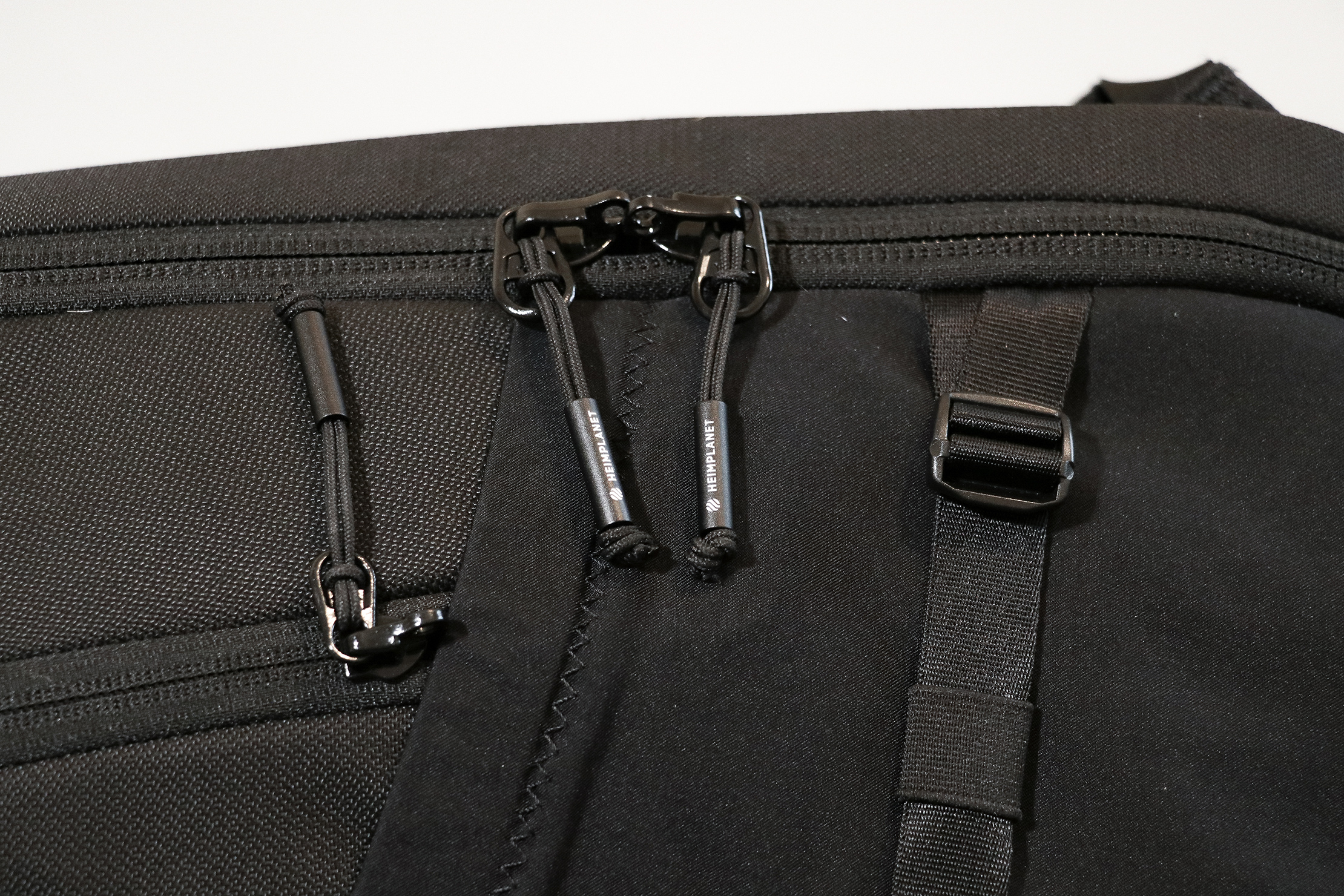 We're not surprised to see YKK zippers on this pack, but boy, are we happy to see them. They have super easy-to-grab pulls that make opening every pocket and compartment a breeze. We've had nothing but success with these zippers so far and don't expect anything less from this trusted brand.
ITW and aluminum hardware are also integrated throughout the bag. Everything has been working as it's supposed to so far. Still, we will update our Usage Timeline if anything changes, functionally or aesthetically.
External Components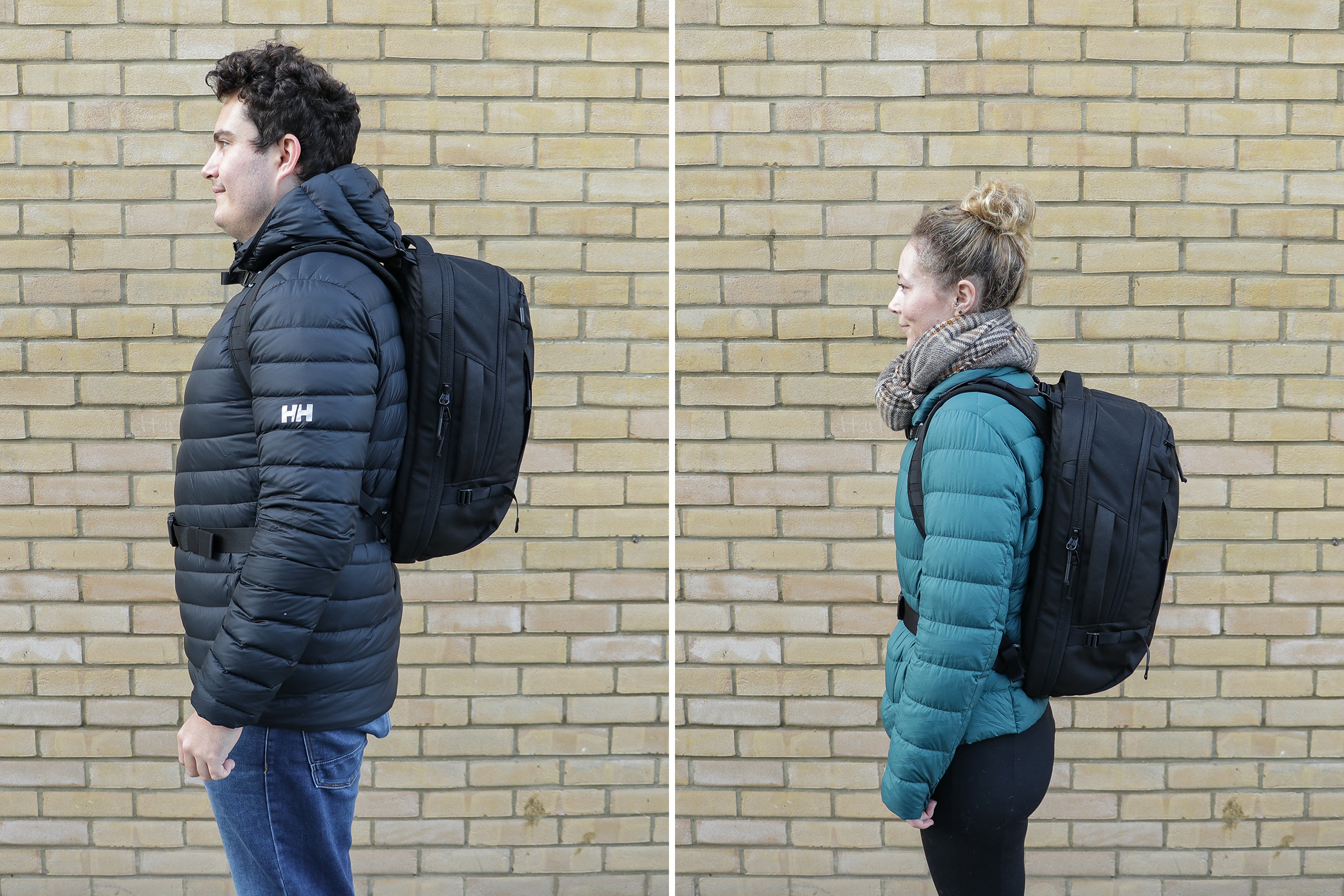 This bag's shoulder straps don't look especially padded, but the foam inside is dense and has been comfortable enough for the pack's size and capacity. Plus, the straps are a little wider than average, which we've found helps them better distribute weight across each shoulder so that the bag doesn't feel too heavy even when it's fully packed.
The load lifters at the top of the straps help with weight distribution as well, as they keep the bag closer to the body when appropriately adjusted. We've also found load lifters to be helpful with allowing this bag to work for a wide variety of frames—they create that extra level of customizability to cater to your body type and many others.
On a 28L pack like this one, a sternum strap can really help add some extra stability, and that's precisely the case here. The Travel Pack 28's elasticated sternum strap can be secured to one of five attachment points to where it best supports the weight you're carrying and moves with you as you walk, so it never feels out of place.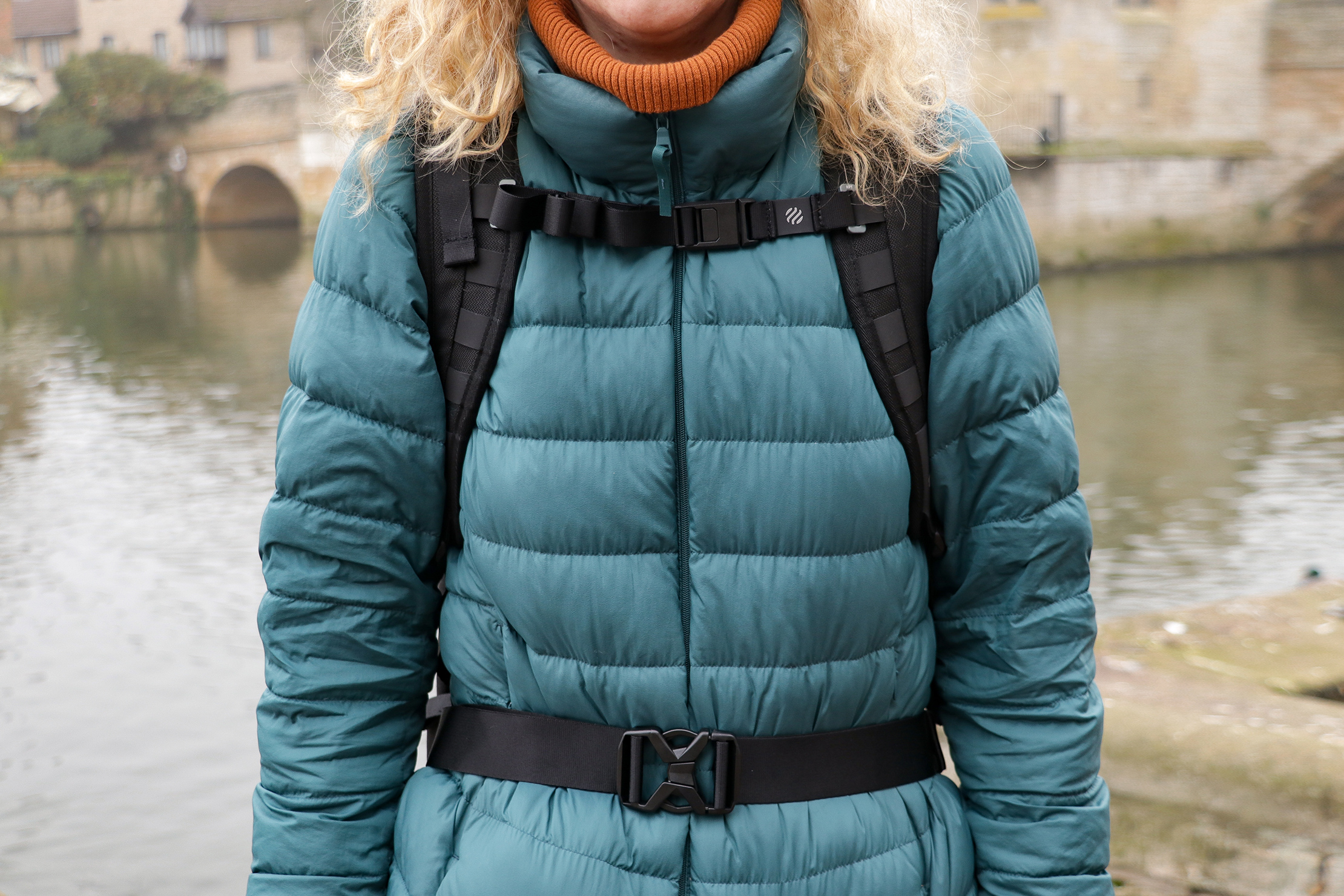 This strap also secures with a magnetic buckle that is quick and easy to disengage, which we appreciate. Plus, you can remove it and store it away when you don't need it—it can be a little tricky to get off, but once you get the hang of it, it's smooth sailing.
The hip belt on this bag is more of a waist strap than anything else, as it doesn't feature any padding that helps cushion and support the load you're carrying. That said, it's not an absolute necessity on this pack and can be removed if it's not for you (of course, your mileage may vary if it is a necessity for you). We especially like the consistent inclusion of elastic keepers that keep any excess strap well-managed, so we're not left with any dangling loops at our sides.
The back panel is comfortable-built with ample padding and provides a lot of structure to the overall carry. While there is an air channel toward the middle, we would've appreciated an integrated mesh lining to better combat sweat, especially when we're wearing this thing in the sun or for extended periods of time.
Additionally, there's a pass-through sleeve at the bottom for your suitcase that doubles as a place to store the shoulder straps when need be. And when would you have that need? When you need to cram it into a tiny overhead bin on your flight or train ride, for example.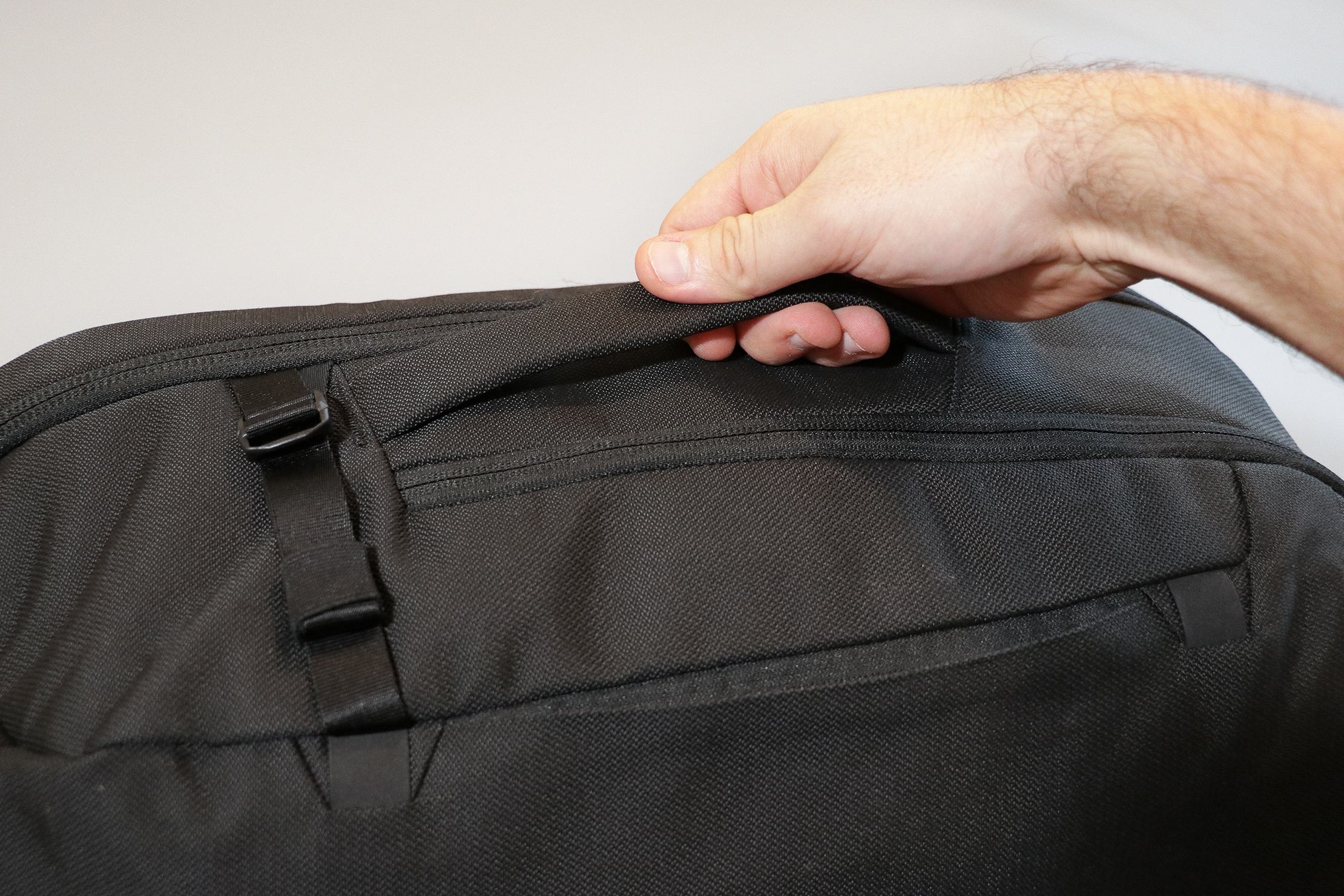 In terms of handles, you have two at your disposal—one on the top and one on the side. The top handle is convenient for grabbing the bag when you need to get something out or hanging it up when you have a spot and need to do so. In contrast, the side handle allows you to briefly carry this thing in a briefcase-style fashion for any reason—even if it's just to give your back a well-earned break.
There are two compression straps on this pack as well, one of which sits over the water bottle pocket—this is handy for tightening the pocket down to better secure your bottle in place. Although, we haven't found these compressions straps to do as great a job at actually compressing the bag down to make it more minimal, which is something to note if you're hoping for as low-profile a carry as possible. That, and we also found that these straps left dents at the bottom of the pack because of their placement when in use, which isn't very aesthetically pleasing.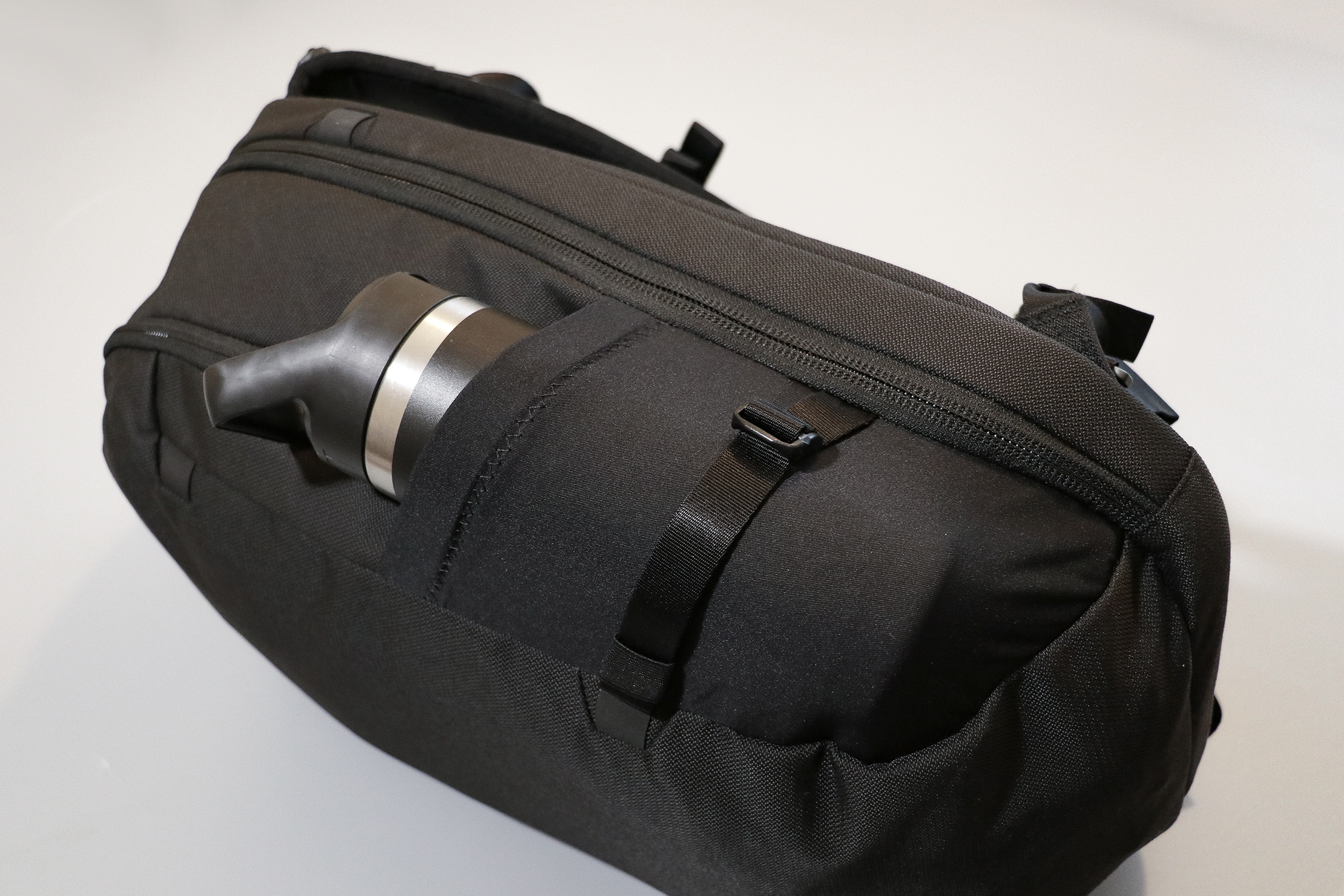 You can also slip a water bottle into the external water bottle pocket along the side of the bag. It's elasticated, which allows it to stretch to your bottle easily, and for reference, we've found the YETI Rambler 18oz Bottle to be a great fit during testing. If you're not planning to bring a bottle along with you for the day, you can stash a collapsible umbrella or an extra pair of gloves here for easy access.
We want to point out the four attachment points around the bag's front. They're very subtle, and blend almost entirely into the surrounding fabric, so they can be easy to miss—but more importantly, they're convenient for clipping carabiners and other accessories, too, so they're always handy for when you need them. You can even purchase Carry Straps separately on the Heimplanet website to attach here in order to carry additional accessories on the front of the bag—a blanket, tripod, jacket, among other things. The bummer here is that it's a sold-separately accessory and not included with the pack.
Inside The Pack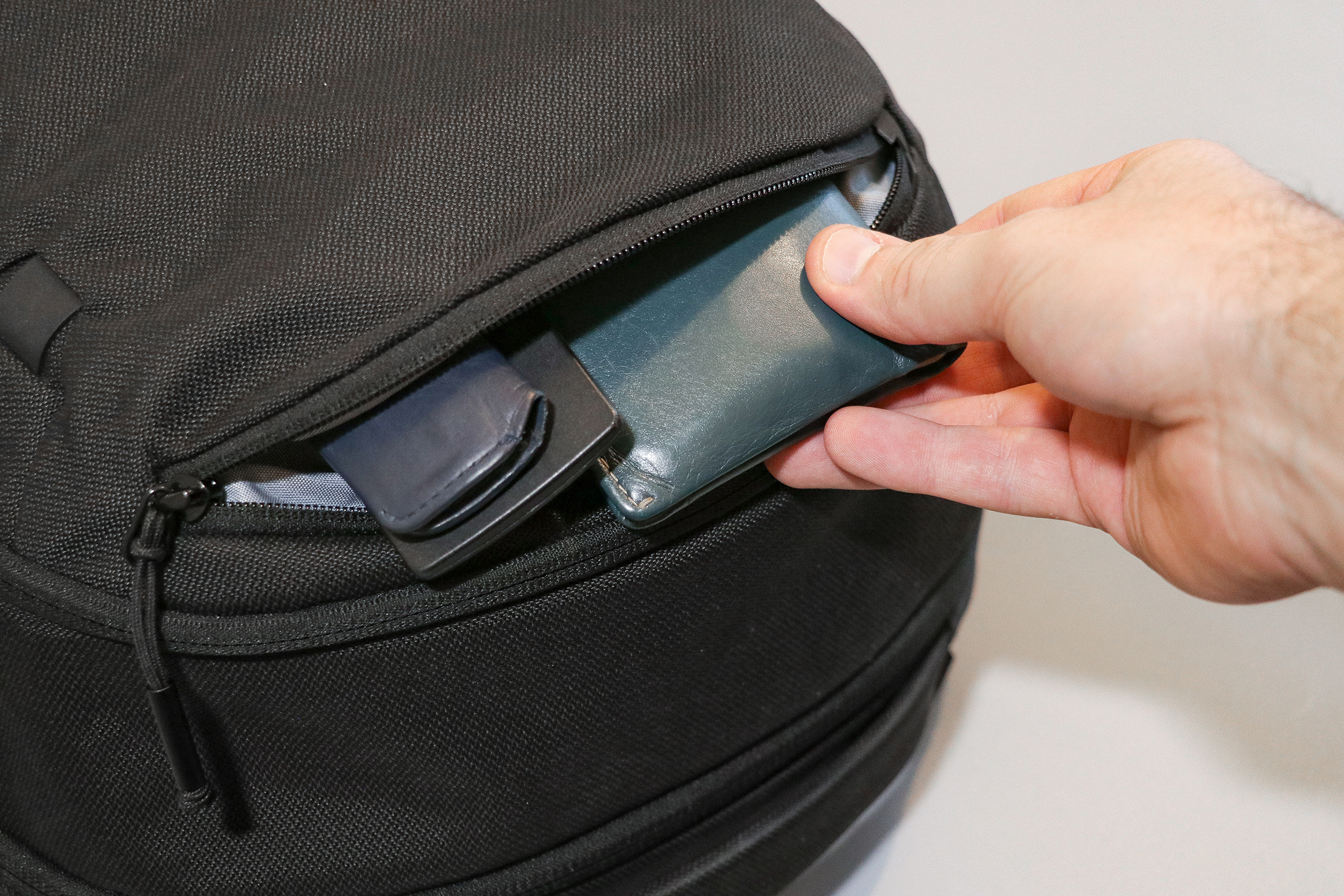 Before we go any further, we need to talk about this pack's pockets, the first one of which is a quick-grab pocket positioned toward the top of the bag. It's a convenient place to stash your phone, chapstick, charger, etc., so you don't have to go all the way inside the main compartment to grab them.
This pocket also features a small key loop, which we haven't found very useful, as it's a time-consuming process trying to get our keys onto it—we'd rather just toss them in and call it a day, but your mileage may vary. Just be aware that anything too small tends to get stuck in the pocket's corners, so incorporating a separate pouch may help mitigate this.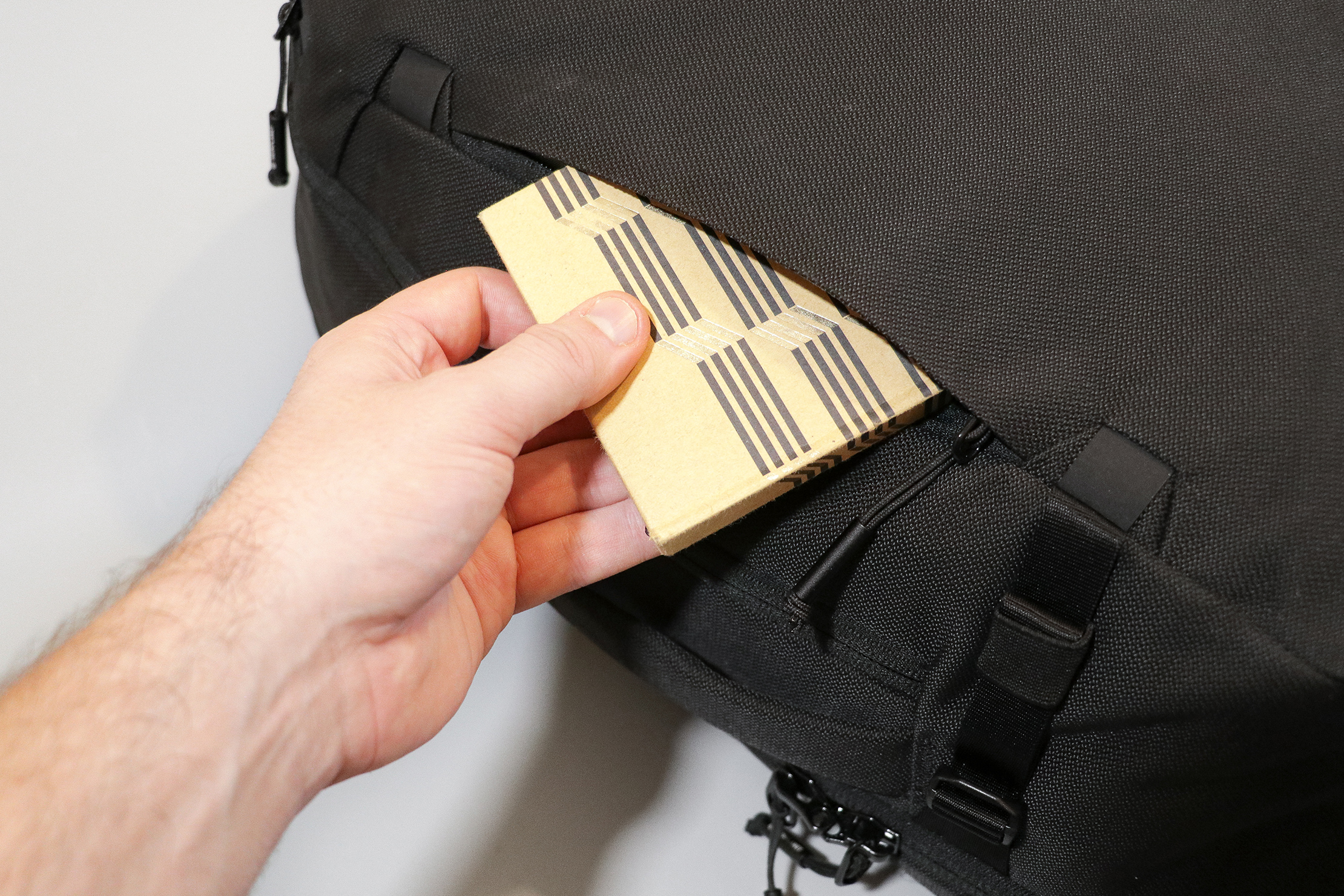 There's yet another external pocket that stretches most of the bag's front. Its zipper is discreetly hidden by a fabric welt that helps this pack retain a clean look, which is always appreciated—not to mention, this makes it just that much harder for moisture to make its way in, something we want to avoid at all costs.
You're getting a lot of visibility from this pocket's bright liner, making it easy to see and grab whatever you have inside. What can you keep in here, you're wondering? Well, any other kind of gear you need quick access to while traveling. That includes your wallet, passport, extra cards, and snacks, you name it. We're also happy to report that even when the main compartment is fully packed, it doesn't limit your capacity in this pocket as much as we've seen on other bags—so pack away!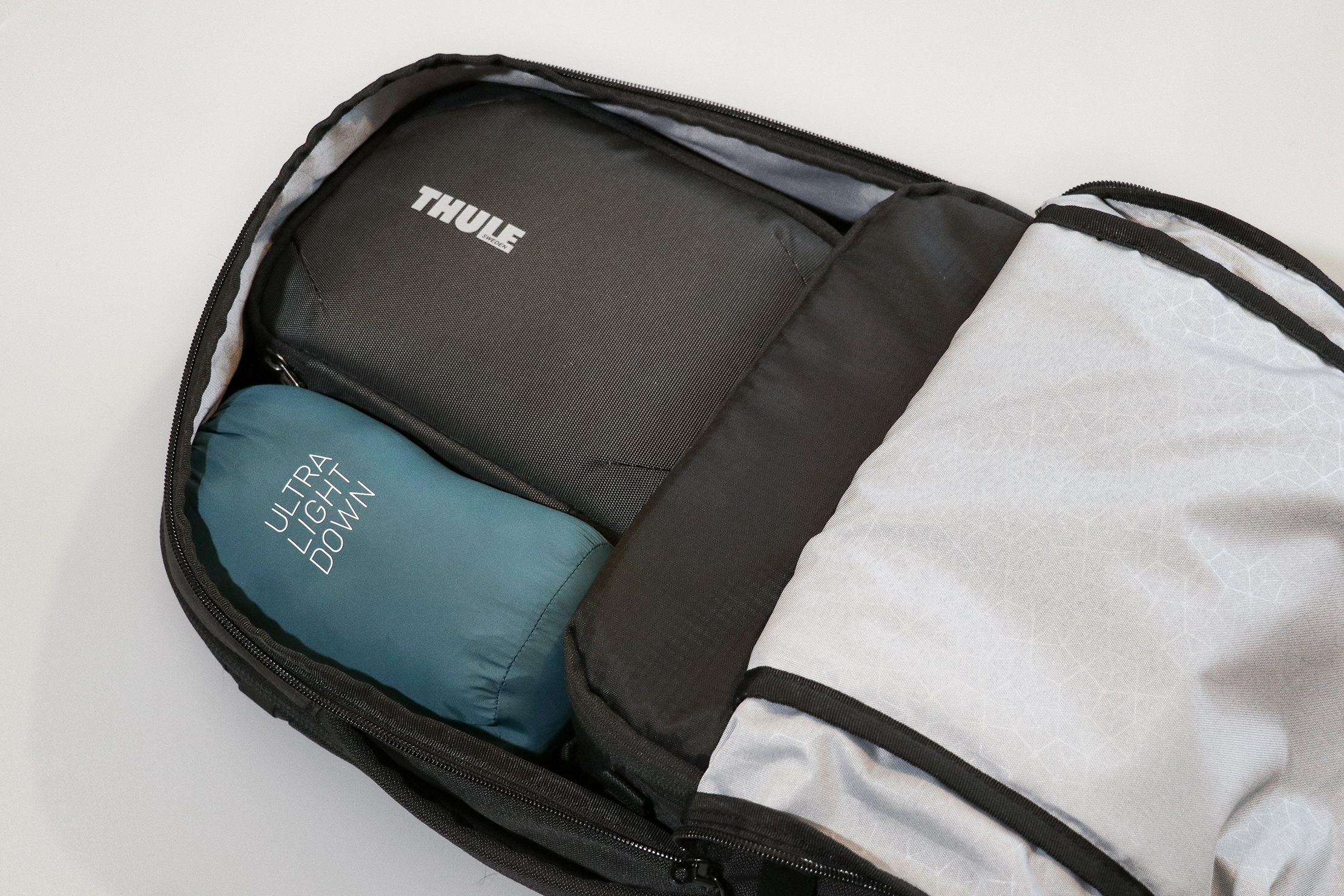 Speaking of, you can access the Travel Pack 28's main compartment one of two ways, and the first one we'll cover is the horseshoe-style zippered opening towards the front. Once unzipped, you can fold the front flap back of this front compartment pretty far, so you're getting a fair amount of visibility and ease of access of your gear inside that you need.
Your other option is to unzip the laptop compartment zipper towards the back. In doing so, you'll open up this pack fully clamshell, which makes for even quicker and easier packing and unpacking. We're also really digging this compartment's organizational setup. When you first get into this compartment, you're met with a bucket of space on one side and an organizational panel on the other.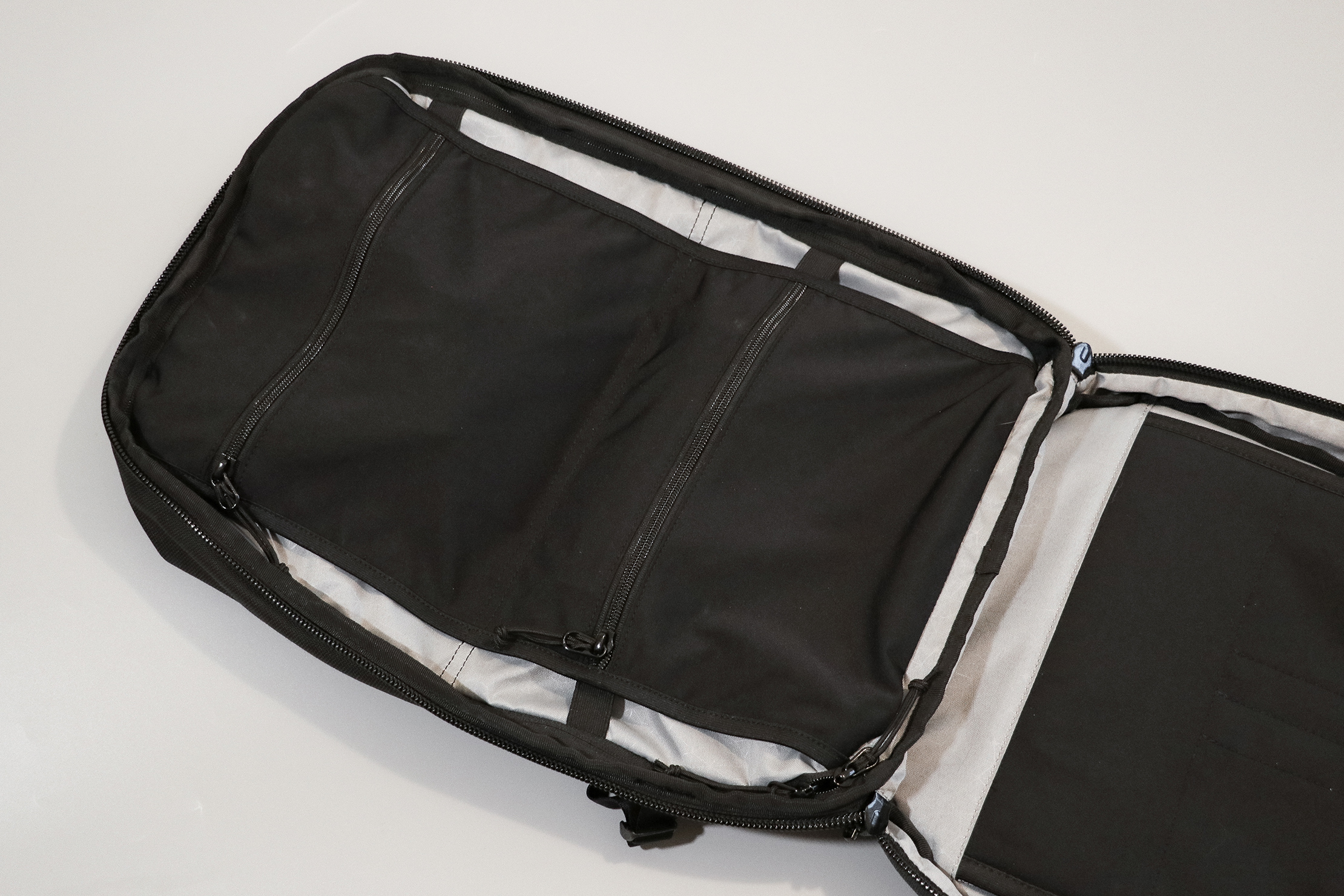 The free space is yours to fill up with packing cubes, a tech pouch, a packable jacket, clothing, and whatever else you need for your trip if you're using this thing for travel purposes. Then, to segment this from the rest of your stuff, there's a hidden sleeve that's packed into the bottom of the compartment you can deploy to zip this space off (to see how this works, check out our video). That way, your gear gets all the space you need, and you can take advantage of the bonus organization that this sleeve offers.
When zipped into place, this sleeve adds two more zippered pockets—one larger, one smaller. They're elasticated 3D pockets, so you have some flexibility with how full you can pack them, and they work great for tech accessories, toiletries, personal care items, you name it. You just want to be careful not to pack stuff too full, as they will begin to eat up space on the other side of the compartment if excessively packed out.
Now, we can venture over to the organization panel. Toward the very back is a sleeve that can hold up to a 15″ laptop, secured with a velcro strap. There is a soft lining and a false bottom, so you're getting added protection from any scratches and accidental drops—plus, the frame sheet we mentioned earlier acts as a support for your tech if and when it gets jostled around on your ride or commute. Our laptops have felt super secure inside, and we appreciate the level of protection that this sleeve offers.


In front of this sleeve is another, smaller one that works as a spot to keep your tablet or e-reader, should you travel with one. This sleeve doesn't get the same kind of support from the frame sheet in the back panel, something to be aware of—a protective case might help put your mind at ease if this is concerning.
Then, in front of this sleeve is a set of divider pockets. You have a medium-sized slanted pocket on either side that fits smaller notebooks or planners, with smaller sleeves in the middle that you can slip pens, pencils, or a stylus into. They're all nice and stretchy, too, so you can store both bigger and smaller items inside.
Usage Timeline
Initial Usage
Condition: Excellent
Opens fully clamshell for easy packing and unpacking
Suspended and soft laptop compartment offers excellent protection
Removable sternum and hip straps provide more support if you need to load this bag up
2 Weeks of Use
Condition: Excellent
We found that this pack works well as a daily driver and a travel pack due to the versatile compartments
The divider down the middle of the laptop and main compartment works well to separate your items so that you can access your laptop easily—plus; we found that if we just wanted to make use of the space in the whole pack and not use the divider, it didn't get in the way
The elasticated pockets have come in handy for extra organization inside the pack, and we were surprised at how much they hold
The pass-through sleeve is discreet, and you barely notice it when it's not in use
There's a great range of quick-access pockets on the pack, which are big enough for larger items like notebooks and chargers
The clamshell design makes this bag really easy to pack
The laptop compartment has some reliable protection from the false bottom and the structured back panel
We appreciate the strap keeper system on this pack, which helps to keep the straps tidy
The harness system is fully adjustable, which works well for multiple body types
We found that the compression straps don't really help to compress the pack for daily driver mode, and when we did use them, it creates dents at the bottom of the bag
Access the Pro Community Discussion
Get your questions about the Heimplanet Travel Pack 28L (V2) answered from our team and the Pro Community right here on the page. Plus, join discussions with other members about gear, guides, and more.
Other Bags & Luggage Reviews