Heimplanet Commuter Pack Review
The Heimplanet Commuter Pack offers convenient versatility in its external storage & harness system, but the organization is a bit too simple for its use case.
Our Verdict
Unlock the Pro Summary
Save time. Get access to brief summaries of our reviews so you can browse and make decisions more efficiently.
Pros
Liter independent hover pocket is handy for internal and external storage
Comfortable, customizable harness system
Dual access points to main compartment
Cons
The rolltop opening doesn't secure as tight as we'd like
Not quite enough organization for intended use case
Elastic keepers don't manage excess strap well on smaller frames
Recent Pack Hacker Video
Technical Details
Capacity

18l

Weight (lb)

1.87 lb (0.8 kg)

Denier

800D

800Dx660D Nylon

Dimensions

25 in x 11 in x 4 in (63.5 x 27.9 x 10.2 cm)

Maximum rolltop size

Notable Materials

Nylon, Polyurethane, Polyester, YKK Zippers, Aluminum, ITW Hardware

Manufacturing Country

Vietnam

Laptop Compartment Size

15"

Warranty Information
Buying Options

$149.00
$159.00
Full Review
Get up to 30% off Heimplanet • Join Pack Hacker Pro
We've tested out a few of Heimplanet's slings, travel packs, and even their packing cubes with relatively positive experiences (we've rated everything an 8.0 or higher out of 10 so far, for reference).
The natural next step was testing out a daypack, which is where the Commuter Pack comes in. Like others we've tested from this brand, this pack is a comfortable carry with a durable, water-resistant fabric.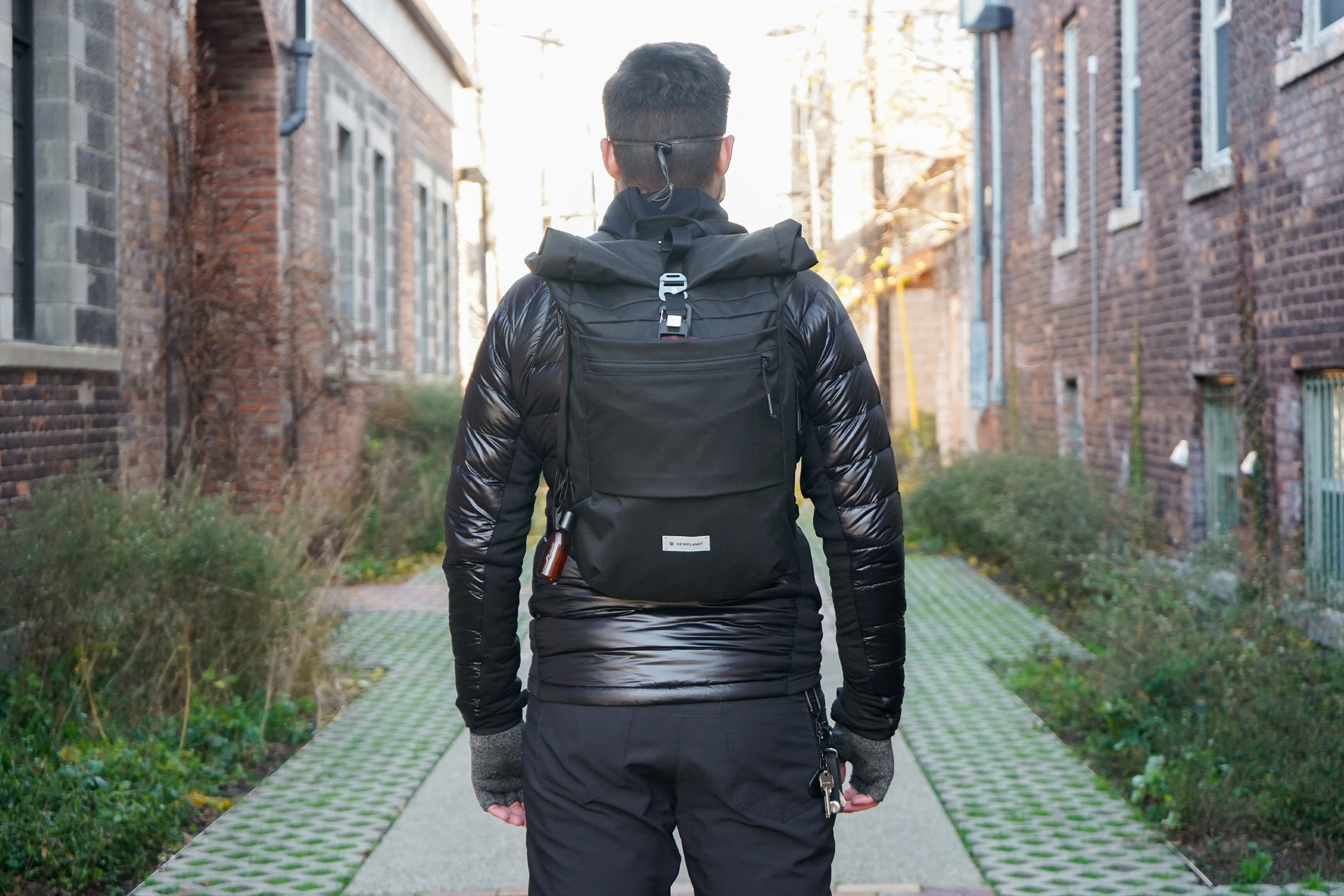 What do we think after two weeks of testing? What does it do well, and what is it missing? We answer all these questions and more in the review below!
Materials & Aesthetic
Our Instagram followers dig this bag's clean, subdued vibe, giving it a 76% score on our aesthetic poll. We agree—it employs a slim, polished design that's carefully crafted for commuting in the city. Heimplanet products typically have a look & feel to them that's hard to describe in the best way possible.
The Commuter Pack is only available in Black at the time of this review, which is an ideal colorway for solidifying the bag's overall low-profile look. We wouldn't be surprised if they offered this in Castlerock (grey) in the future like most of their other products (and maybe they do already at the time of you reading this review).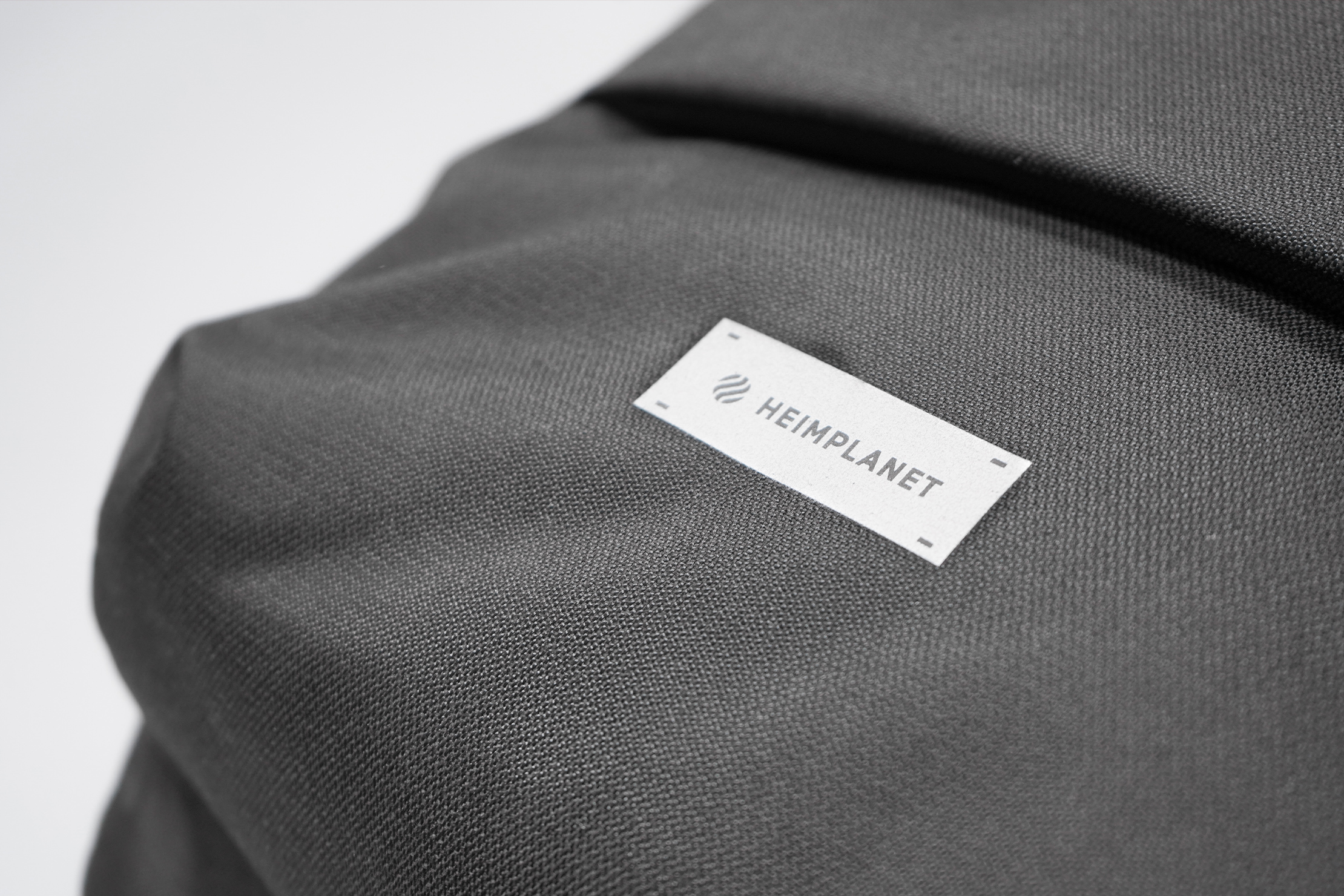 We've landed on this brand's wavy-yet-geometric planet logo on several of their products and are happy to see it integrated here as well. It appears on the hardware, zipper pulls, and a small tag toward the bottom of the bag's front, offering some subtle techy accents. The logo patch is also reflective, offering a bit of visibility if you're biking or walking at night.
As for the material, we've also seen Heimplanet's DYECOSHELL fabric before. It consists of 800D and 660D nylon PU that's dope dyed, which the brand indicates is a more environmentally-friendly process than standard dyeing. Its 300D and 150D polyester combination lining is dyed the same way, saving resources and energy from the inside out—not to mention, both materials have held up nicely throughout testing (not just with the Commuter Pack, but other Heimplanet products we've tested, too).

We're zipping through this pack's water-resistant YKK zippers. They feature easy-to-grab zipper pulls to aid in smoothly opening and closing every access point; plus, the zipper on the front pocket of the pack fits nicely into a Hypalon garage at one end for added water resistance.
Finally, there's a combination of standard aluminum and ITW hardware. In particular, the aluminum hardware offers a more premium look and feel, but both have been working correctly throughout testing—no damage or inefficiency to share.
External Components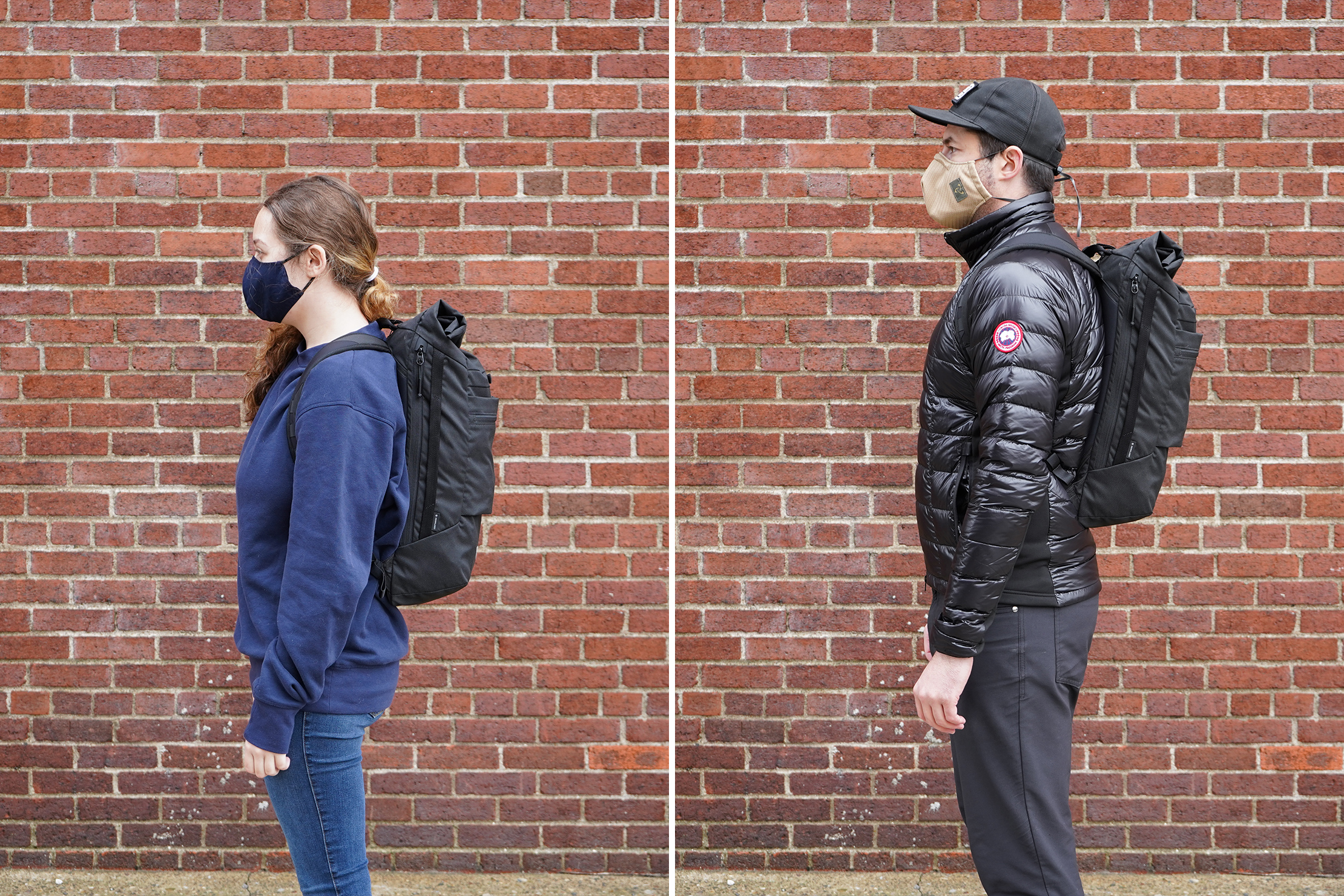 Even though the padding on the shoulder straps is thin, we've found that the spongy EVA foam comfortable cushions our shoulders for the load were usually carrying. Even with this thing full of 5 wine bottles, we felt supported.
The straps feature elastic keepers that glide up and down to better manage excess strap for a cleaner look. One thing to note, though, is that this elastic keeper only goes so far. If you're on the smaller, shorter side and need to max out the bag's adjustment, you'll be left with a loose loop of the strap at each side. You can always try grabbing some Velcro ties to flatten and secure them down if you find this to be a nuisance, but it defeats the purpose of such a cleverly-designed strap management system (and you can use Velcro on any old bag).
While we didn't find it to be a vital addition (except when carrying all those bottles of wine), you can take advantage of the included sternum strap when you're looking for added stability in your carry. It connects to one of four Hypalon attachment points along the shoulder straps where it's nice and secure—this also means it's removable if you don't plan on using it and would rather it be out of the way. Its elastic keeper operates similarly to those on the shoulder straps, meaning you'll have to deal with a loop of the excess strap if you have to really tighten it.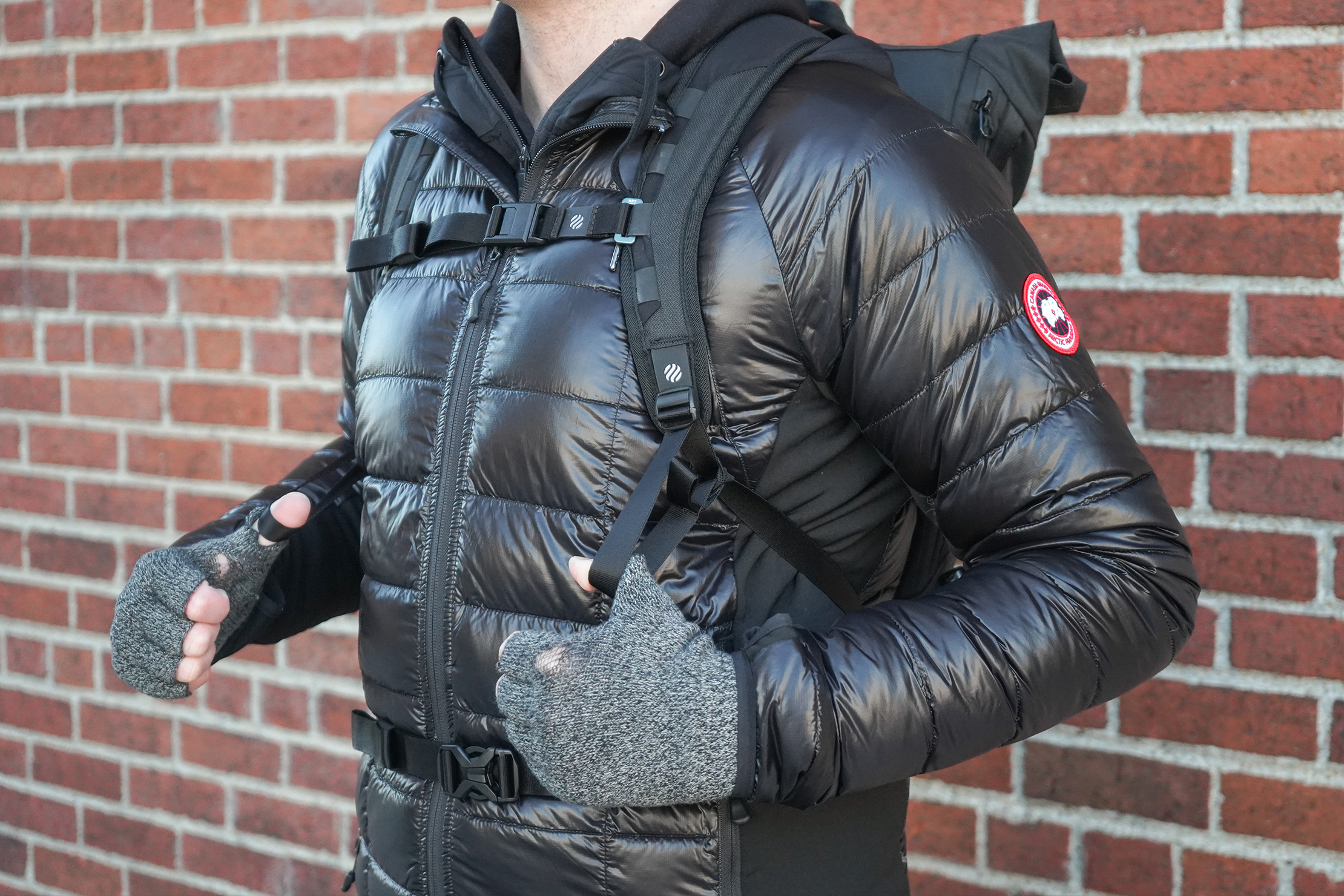 There's also a waist strap at your disposal. It's not padded, nor does it offer much support, but we found it to help keep the bag a little closer to the body. It mostly came in handy when we were biking back and forth between the store with groceries in tow (we'll mention the wine bottles again)—the strap kept the bag more secure against our back, so it didn't feel like it was bouncing around on the ride (and our stuff along with it).
We've also been thankful for the more classic buckle that secures it, as we found it was quicker and easier to engage than the magnetic clasp you see on the sternum strap. Not that we have anything against magnetic buckles—we just find classic buckles a little easier to deal with.
Also, be aware that this strap is completely removable if you don't feel you'll need it. Still, it's a little trickier getting its hardware through these attachment points than those for the sternum strap, as they're made of nylon as opposed to a rubbery Hypalon.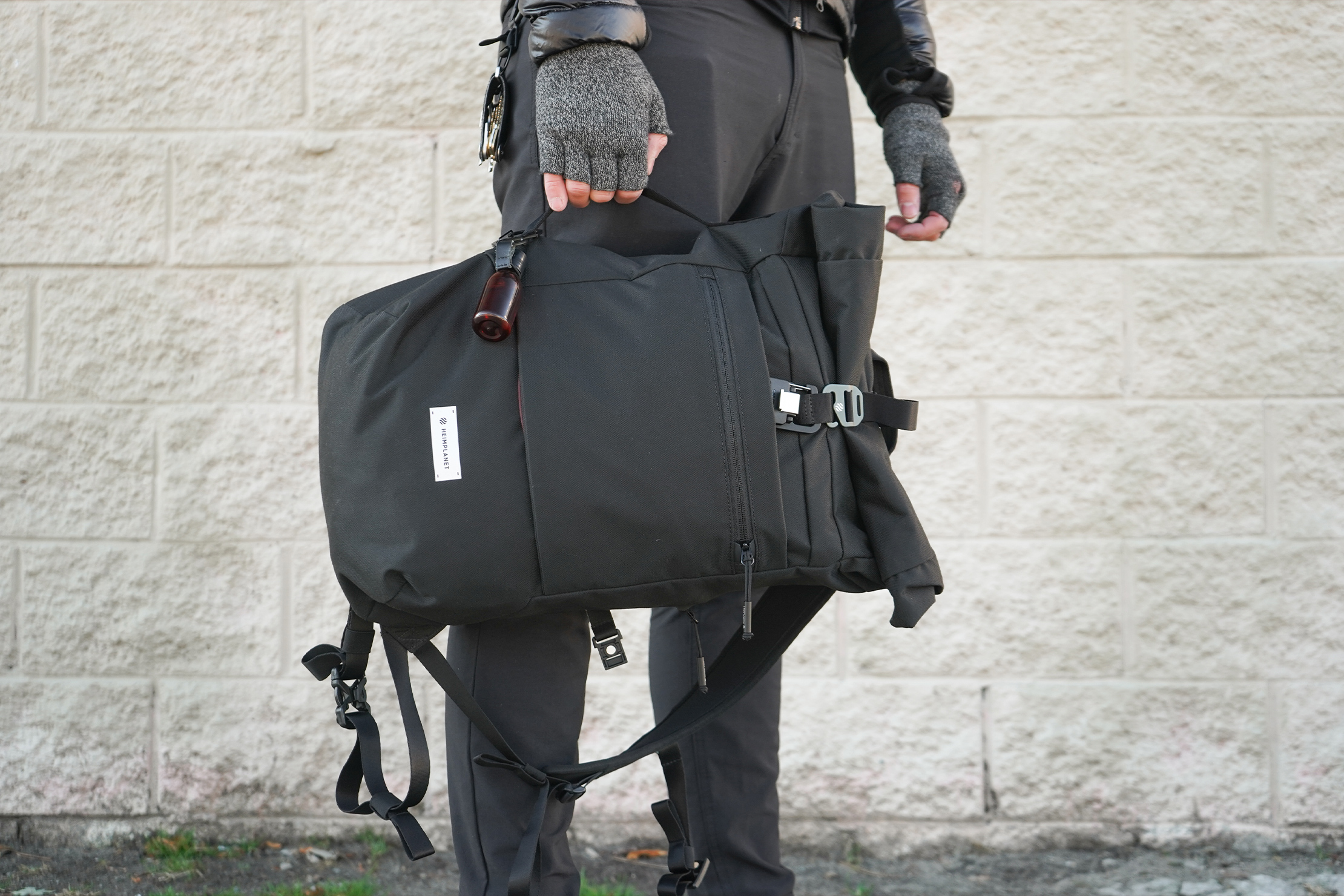 Movie idea: Back to the Back Panel. A gear review company travels back in time to cover the back panel of this bag and must find their way to the next section of the review before it's too late.
Thoughts? No?
Anyway, the back panel. We first want to mention that we're digging its design—it's stamped with a geometric pattern we've seen the brand use with their tents and adds a bit of flexibility to the foam. However, we would've liked to see some mesh incorporated back here for bonus breathability. It does an alright job without it, but some sweat will be unavoidable.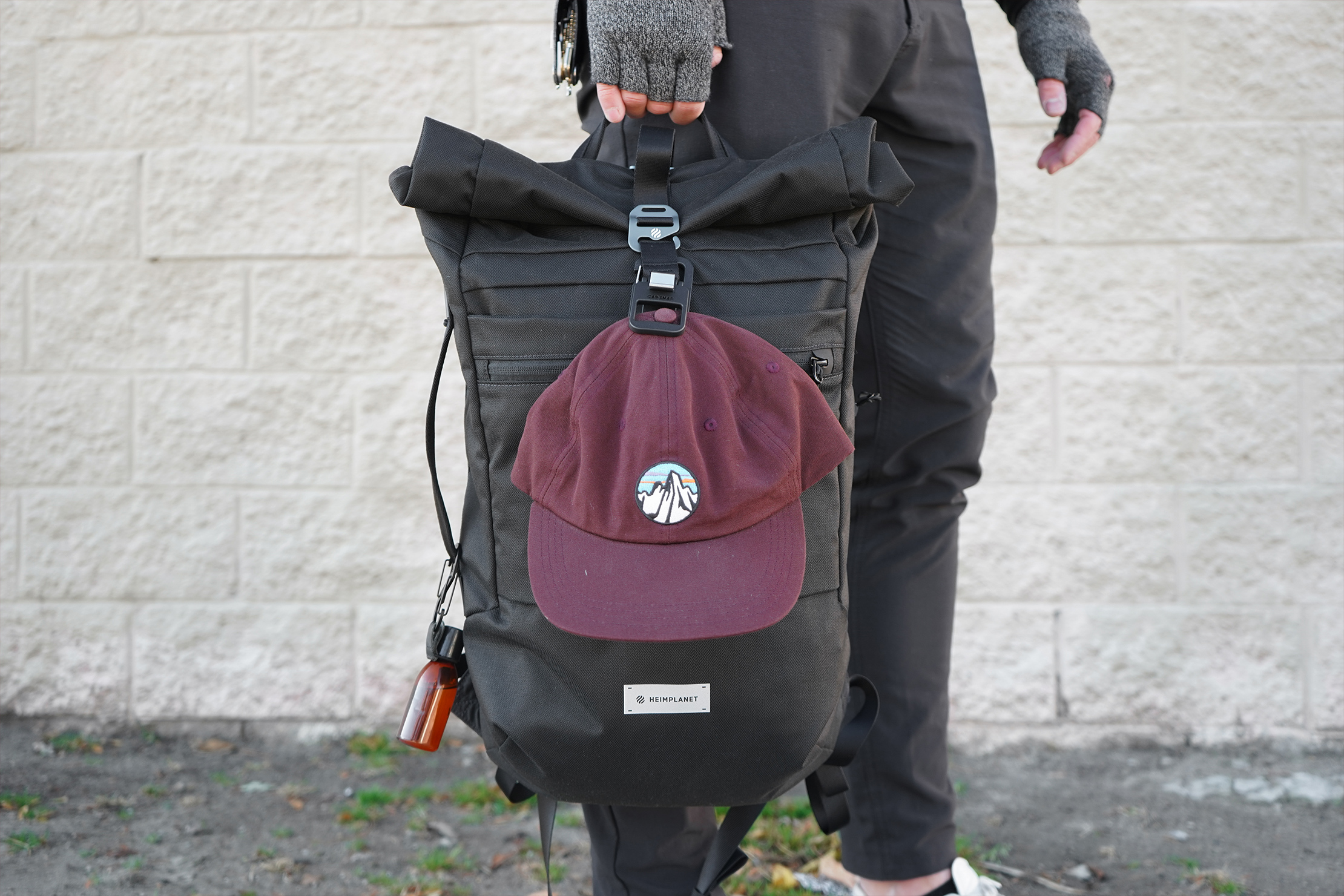 You'll have a choice to grab this bag from the handle at the top or side. Both are essentially just some nylon material folded up and sewn to the bag, but they're helpful for quickly moving the bag around when need be and are surprisingly comfortable to use. The side handle is handy to hold when trying to access the main compartment by its side opening.
Oh yeah, we should probably go into detail. The main compartment can be accessed from the rolltop opening to pack it out for the day or side zipper to grab gear quickly—but more about that in the next section.
Hop in our DeLorean, and we'll race against time to the next part of this pack! Still no? Alright.
Inside The Pack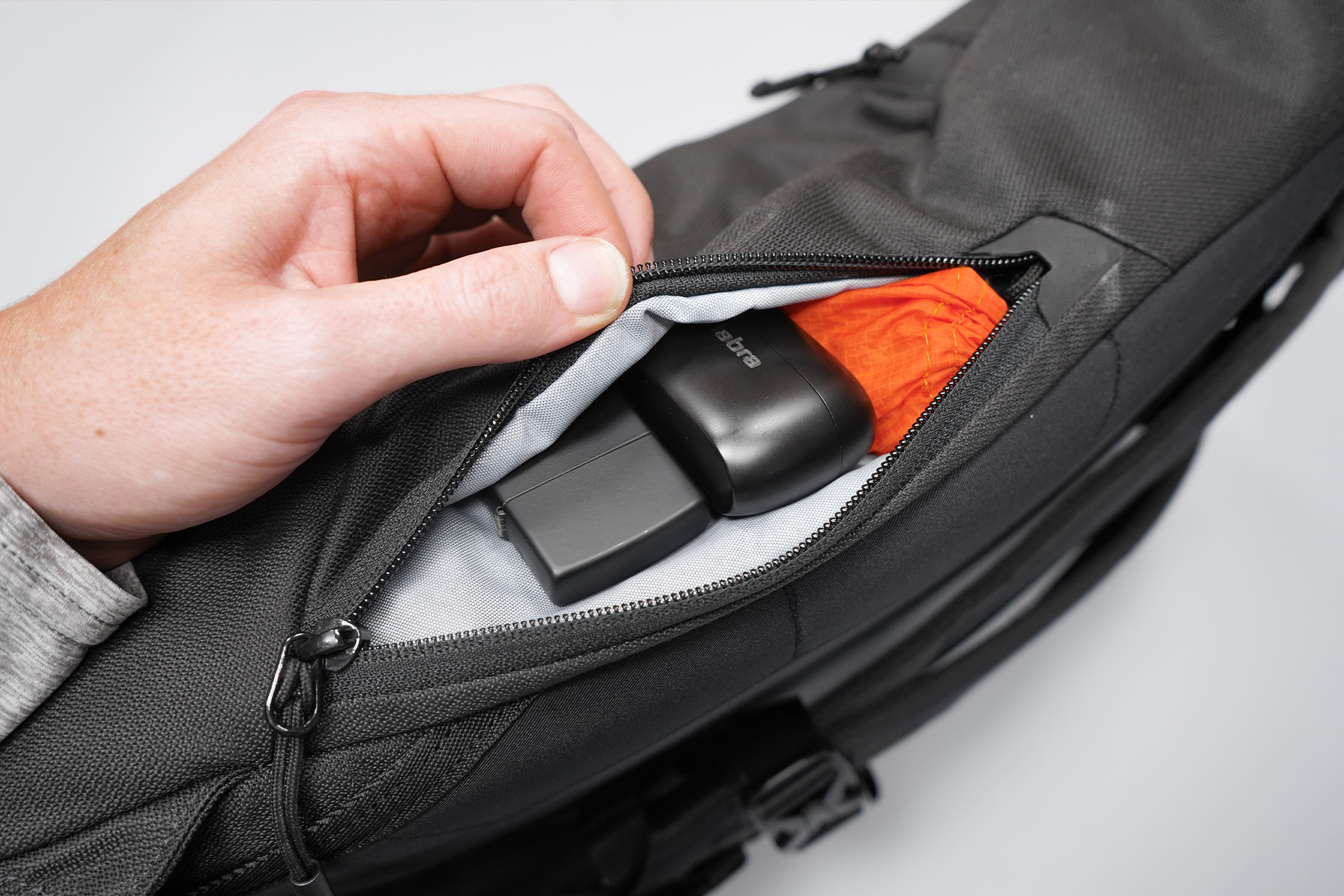 Now that we're back, we can talk about this pack's pockets. There's a hidden quick-grab pocket along the bag's side where you can store frequently-used items. For reference, we've been stashing a travel spork, Zippo lighter, and a pair of headphones inside for safekeeping. Typically, pockets like this one are ideal for more valuable stuff like your passport or wallet since it sits closer to the bag and is harder to get into (FYI, this pocket is too narrow to fit a passport, just to give you an idea on sizing).
Now, you could fit a wallet inside, but it would need to be a minimal one, as this pocket is limited in its capacity. We'd also like to say that a sleeve would've been appreciated here, as it would create more segmentation and make stuff easier to find and grab. This desire for more compartmentalization has been a theme for this bag, which will make more sense once we touch on the main compartment.
Next up, we have the front pocket. Opening it up, you'll notice two divider pockets inside against the back wall. In one, we've been keeping a Field Notes Notebook, the Peak Design Mobile Tripod, and some ROAV Eyewear Franklin Sunglasses, while we've been slipping a slimmer power bank in the other.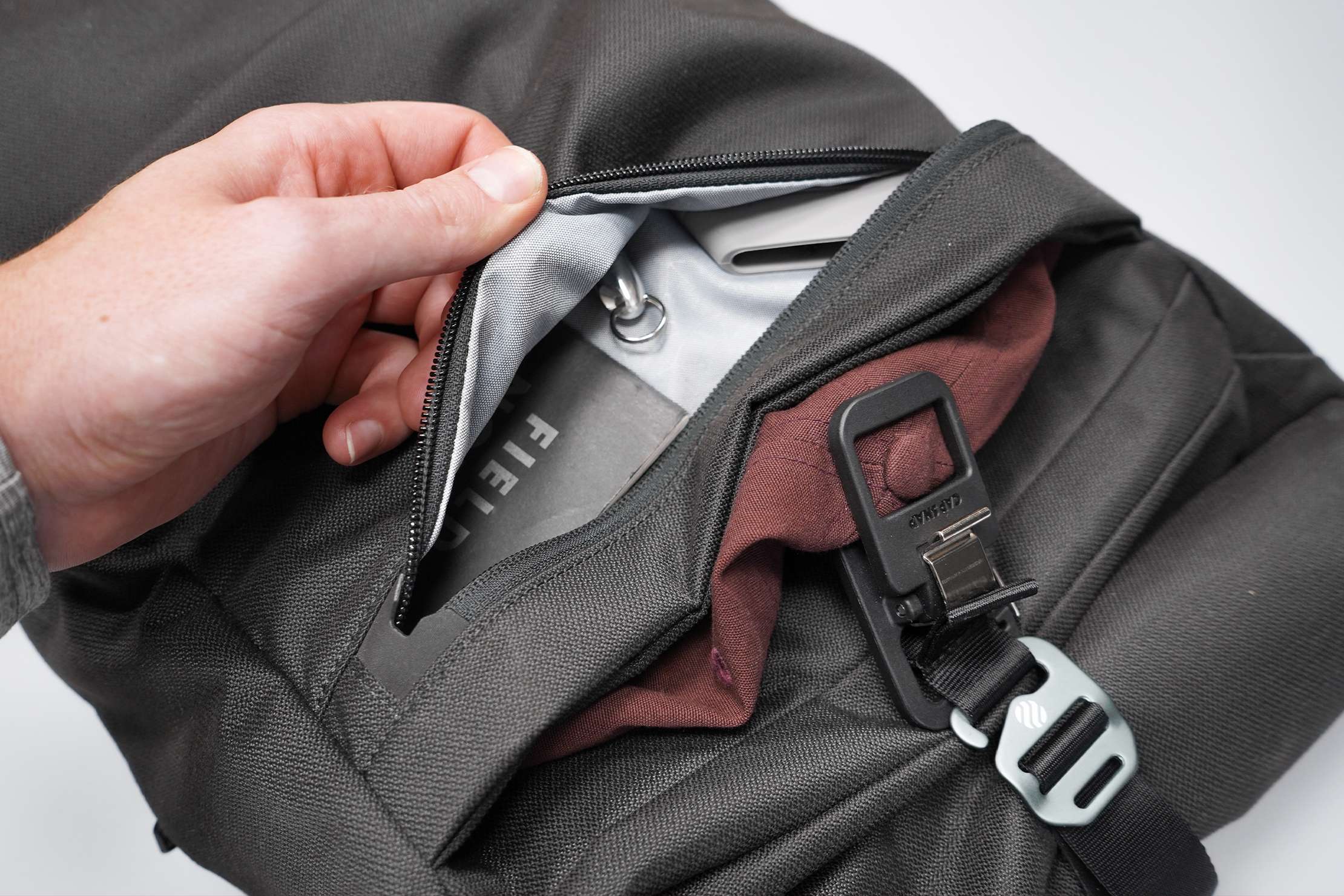 We typically store a pen in the sleeve between the two and leave things like our wallet to float around in the free space. This pocket even houses a key clip to keep your keys handy when you need to unlock your door quickly, but it kind of just gets jumbled up in this small pocket.
Perhaps the most significant thing about this pocket, though, is its liter-independence. To clarify, the pocket is only attached to the pack at its sides, leaving it to float in the middle. This set up allows you to pack out both the pocket and the compartment behind it without limiting what you can keep in either.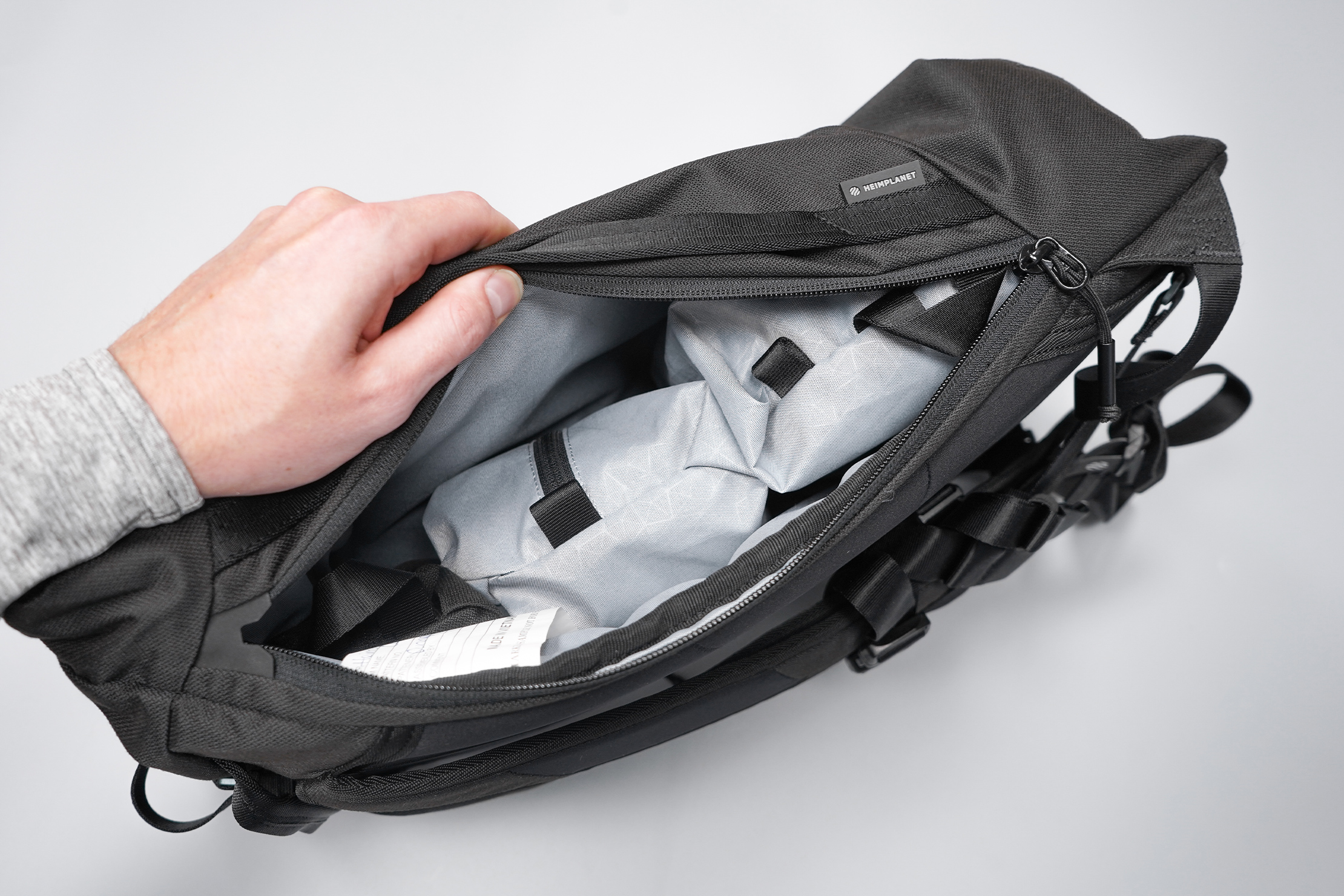 We've also found it to be a super convenient spot for a hat. We've secured one to the bag via a DSPTCH Cap Snap and have been slipping it underneath the pocket for a bit of added protection. We love discovering unique functionalities like this and wanted to share with all you hat-wearers out there. Of course, you could also drape your coat over this pocket or something else you wish to drape over the outside of your bag.
Remember the rolltop opening on the main compartment we mentioned? We're going to go into more detail here. The first thing you should know is that the material at the top of the bag has magnets inside that allow it to connect to close the compartment. Then, once the fabric is combined, you can roll it down and pull the accompanying strap over the opening, securing its g-hook in place.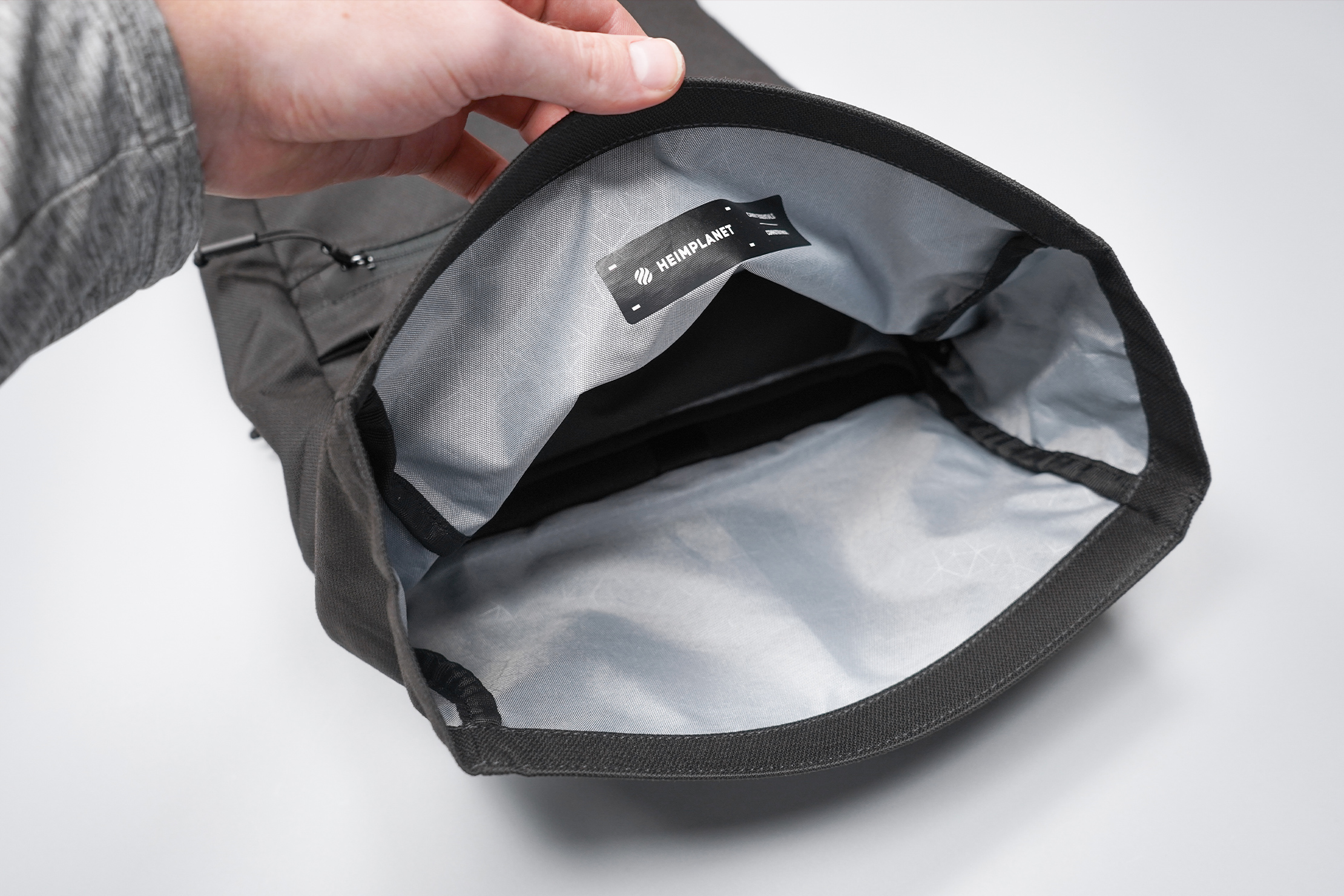 This hook has been relatively easy to disengage but does require some energy and can be a nuisance. So, if you've got the bag next to while you're working, we recommend leaving this opening, well, open, so you can more quickly and easily grab the stuff inside. That, or you can make use of the side zipper to reach directly inside the compartment and get what you need.
Another note with this opening—when we're carrying a lighter load, we prefer to cinch the material down as much as possible to keep the bag low-profile. However, when we tighten the strap at the top, we're left with a similar loop (or strap mohawk, if you will) as we've experienced with the sternum and shoulder straps. There's no way to remedy this, so if you leave it loose, just be aware that this opening may not feel as secure as you'd like.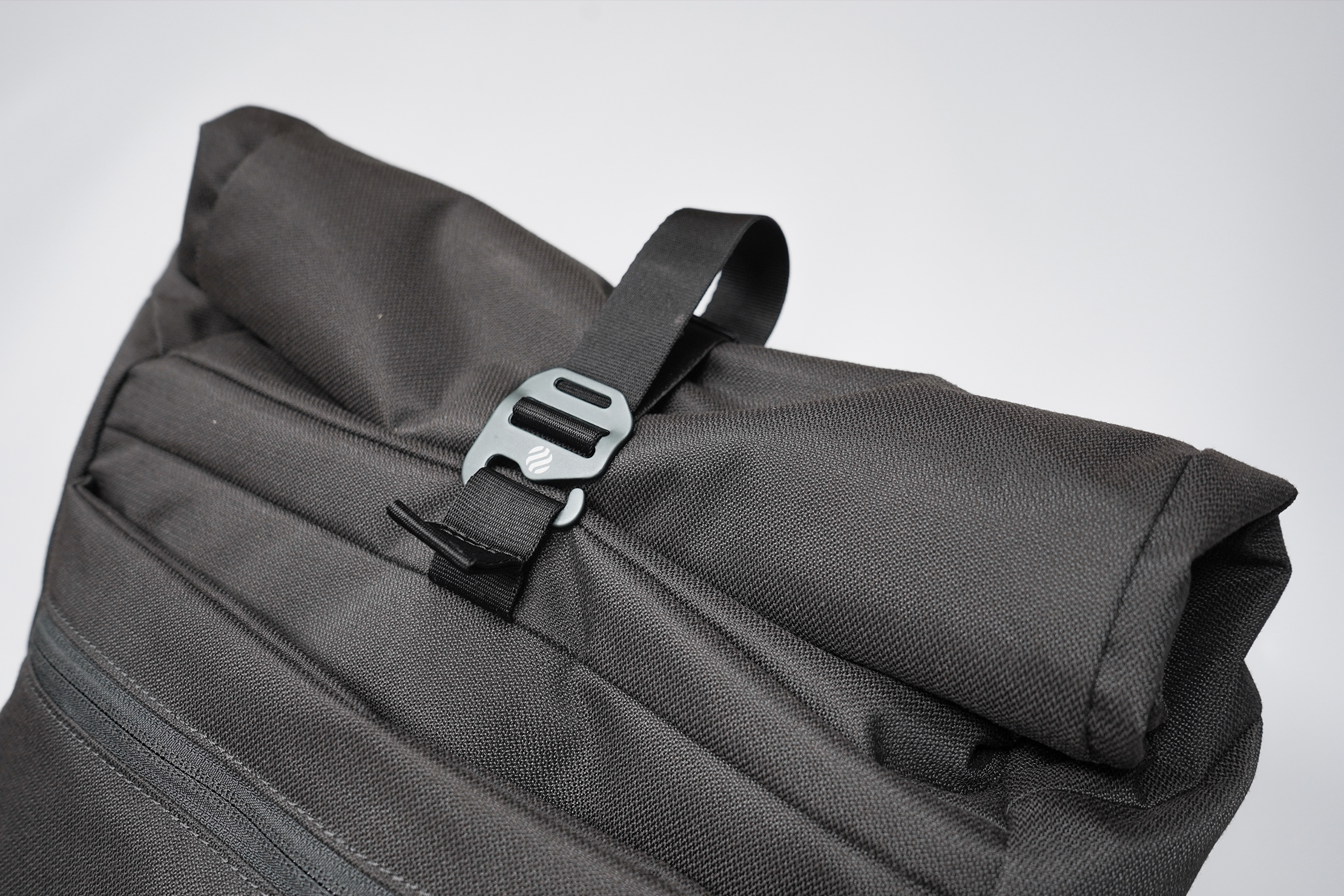 Looking inside, you'll see a laptop sleeve against one side that can fit up to a 16″ MacBook Pro. It has a Velcro strap over the top to keep your tech from slipping out of the sleeve as well. Plus, its material is nice and soft to protect your tech from any scratches.
The remainder of the compartment is 18L of free space to pack out with your everyday items. You can keep an extra hoody inside as we have, along with a lunchbox (if you're taking this thing to work or getting tasks done at the park) and extra snacks (if your work session turns into a picnic). Pro tip: we love using Stasher Reusable Silicone Bags for snacks as they're easy to pack, clean, and reuse.
If you're left wanting more organization as we've been, integrating packing cubes or a tech pouch is one option to create some bonus segmentation. Otherwise, you can let your gear free-float around in this space—whatever floats your boat.
Usage Timeline
Initial Usage
Condition: Excellent
Slim profile keeps this bag close to your back
A few more liters can be added if you expand the rolltop all the way
Harness system is thin but has dense padding that makes it comfortable to carry
2 Weeks of Use
Condition: Excellent
Really like the liter-independent hover pocket—a full main compartment doesn't affect the usefulness of the pocket too much
After 2 weeks of testing, we're left wanting a bit more in the way of organization for a commuter pack
Hidden pocket at the back is nice but feels a little small
Comfortable harness system and excellent design which seems to be a standard with Heimplanet
Access the Pro Community Discussion
Get your questions about the Heimplanet Commuter Pack answered from our team and the Pro Community right here on the page. Plus, join discussions with other members about gear, guides, and more.
Other Bags & Luggage Reviews