Fjallraven Raven 28L Backpack Review
The Fjallraven Raven 28's harness system is a bit simple for a 28L backpack, but the versatile storage capacity & durable materials have us excited about it.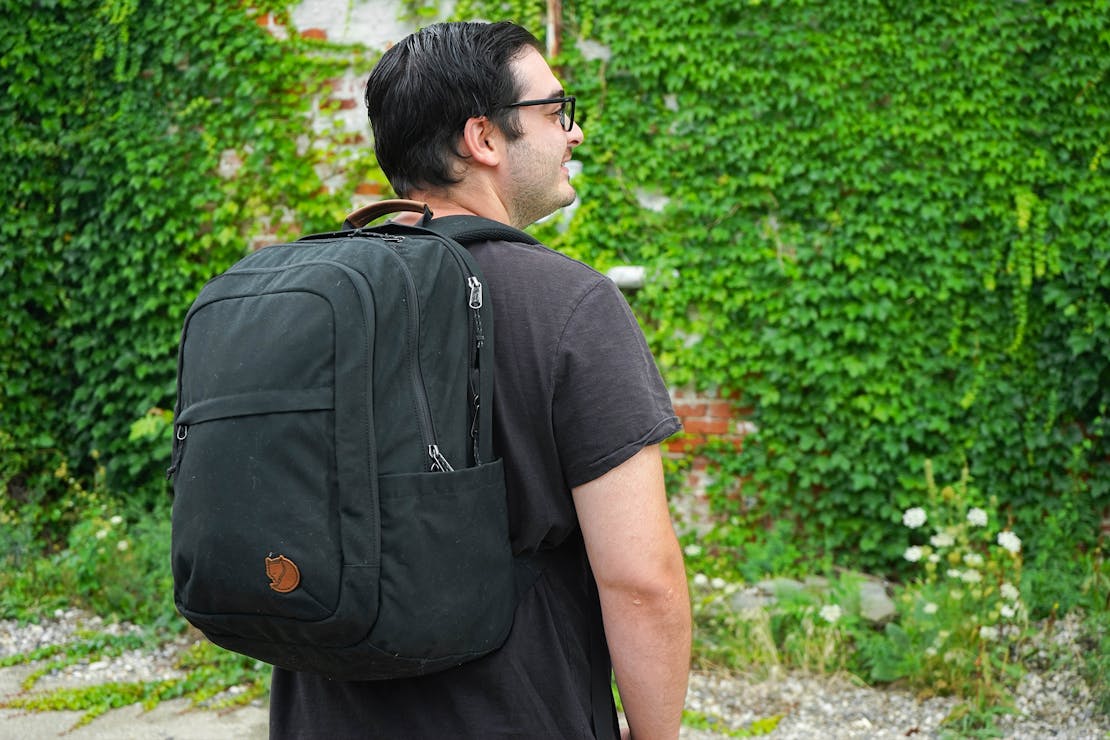 Our Verdict
Unlock the Pro Summary
Save time. Get access to brief summaries of our reviews so you can browse and make decisions more efficiently.
Pros
Great mid-size for both EDC and shorter trips
Several compartments have separate built-in dimension so they don't take space from one another
False bottom in the laptop compartment
Cons
Shoulder straps dig into the neck/upper shoulders (especially when the bag is fully packed)
Material picks up debris easily (can look dirty after just a few wears)
External water bottle pockets don't feel very secure
Technical Details
0 %
Carry-On Compliance (Beta)
Capacity

28l

Weight (lb)

2.13 lb (1 kg)

Dimensions

18.11 in x 12.2 in x 11.02 in (46 x 31 x 28 cm)

Notable Materials

G-1000, Polyester, Cotton, Duraflex Hardware, YKK Zippers, Leather

Manufacturing Country

Vietnam

Laptop Compartment Size

15"

Warranty Information
Full Review
There are lots of things we at Pack Hacker value in a daypack—a durable construction, a comfortable harness system, and versatility, to name a few. And the Fjallraven Raven 28 fits the bill.

This pack features high-quality materials that are up to the task of protecting your gear. The harness system here is simple, and missing a few components, but we've still found it to be comfortable enough. Plus, it's a great mid-size for everyday commutes as well as quick trips.
We have lots to cover after two weeks of testing—so let's get into the review, shall we?
Materials & Aesthetic
We're digging this bag's subdued aesthetic, though it's not the most low-profile bag we've ever tested—it can get pretty bulky when fully packed, causing it to stick out far off our backs. But this isn't as big of a concern when you're using it for mid-size and smaller loads.
If you're familiar with us here at Pack Hacker, it should come as no surprise that we're testing the Black colorway of this bag. We like that it gives the bag a simple, classic aesthetic, while the brown leather from the top handle and logo offers a subtle, yet sophisticated accent. But in typical Fjallraven fashion, there are plenty of other earthy and subdued colorways to choose from if black isn't your vibe.

Speaking of logos, you'll find the classic Fjallraven Arctic Fox in the bottom-right corner of the front of the bag—like we said before, its contrast from the black fabric makes for a nice accent. You'll also find this logo on one of the shoulder straps, though this one is black-on-black and blends right in. But even one fox is enough for everyone to know you're wearing a Fjallraven—there's no need to scream it from the rooftops (unless you want to, of course).

As for material, this pack is made with the brand's G-1000 HeavyDuty Eco fabric—which is 65% recycled polyester and 35% organic cotton. This fabric feels nice and smooth in the hand as it's also impregnated with Greenland wax, which offers added durability and added water-resistance, too. Meaning you should be just fine if you get caught in some rainy, or windy weather.
Plus, the recycled material means this bag is also eco groovy, which we can certainly get behind. But like many Fjallraven products we've tested, this material scuffs easily—and picks up lots of fuzz, dust, and other debris. So it may need some attention after a few uses, in which case Fjallraven recommends cleaning with a soft brush and lukewarm water. It's not a huge deal, but at the same time, we don't want to have to worry about cleaning off our bag every time we grab it on our way out the door.

The zippers on here are from the trusted brand YKK, which we've had lots of positive experiences testing with. We can say the same for this pack as well, as these zippers have all been working smoothly so far during testing.
You'll also find some Duraflex hardware, which we've had a ton of positive experiences with on other bags. And we're happy to report that, as expected, everything is working as it should be.
External Components
We have a few external things to cover before we get inside this pack—starting with the harness system. It's pretty simple overall for a bag of this size, and is missing a few components like a sternum strap and a hip belt.

The shoulder straps have a decent level of padding and some mesh lining for added breathability. They also have some curve to them, which we like, as this helps them fit nicely over our shoulders, but we've found that you can feel them digging into your neck when you've got the bag on—especially when it's fully packed. This is likely due to how close together the straps are anchored on the bag, though it also depends on your body type. We've tested on several team members and have found it's most noticeable when you have the bag cinched higher up. So if you're like us and prefer to carry your bag this way, it may be a problem.
Again, there's no sternum strap on this pack—or load lifters, or a hip belt. None of these things are necessities as this bag isn't too huge, but it's also not small. So it would be nice to have the extra stability and weight distribution that these features offer, but their absence isn't necessarily a deal-breaker.

Flipping it over, the back panel on this bag is nicely padded with foam and has some rigidity that gives the bag some structure. This helps it to stay stiff and not floppy against your back. But you won't find any mesh or air channels back here of any kind. And since it's an all-black bag, you'll be in for some sweat if you wear this thing out in the heat.

You have a handle at the top of the bag with some leather that feels nice and soft in hand. It's comfortable and convenient for grabbing the pack as well as hanging it where possible/desired.

You also have not one, but two external water bottle pockets. We've been keeping the Stanley Classic Easy Clean Water Bottle 25 oz in one of these, but both of them are fairly large—we've even been able to fit the Stanley Classic Legendary Bottle 1.0 qt (which, if you didn't gather from the name, holds a quart of liquid). So this size and anything smaller will fit.
Something to note here is that these pockets are pretty simple. There isn't any elastic to secure them, so the bottle does feel loose. If you have the inside of this bag fully packed, this pocket gets tighter—which usually is a bag thing, but in this case, it helps keep the bottle more secure. Though you'll still want to be mindful of your water bottle if this bag is getting jostled around or tipped over.
Inside The Pack
Now that we've covered all that, we can get into this bag. This pack has all the room you need for the daily essentials. And at 28L, it's an excellent middle-size that also works for shorter trips. We've been able to pack it for a short trip up to Northern Michigan with plenty of room for our gear.

First up is a quick-grab pocket at the very top of the bag. It's a convenient spot to store your most frequently-used gear, like your wallet, keys, or phone. It features a nice soft lining material, so if you are planning on keeping something like your phone or a pair of sunglasses in here, you can be sure they're safe from scratches.
One thing to note about this pocket though is that when the main compartment is fully packed, it can make it a little harder to slip gear in and out. We've been keeping some Felix Gray Nash Glasses in a case inside here and it fits well enough, they just take some extra maneuvering to get out when the main compartment is full (like on that short trip we mentioned).

Moving on, you have a zippered pocket on the front. It has some built-in dimension, so we don't have to worry about losing space in here when we have the other compartments packed out. We've just been keeping some snacks inside for easy access, but this pocket is pretty tall, so feel free to stash some taller gear in here if need be.

Behind that pocket is a larger compartment that opens almost full-clamshell to give you easy access to whatever is inside. This compartment also has some dimension built-in, meaning you're not losing a bunch of space even if you have the main compartment loaded up. And this dimension offers enough space for us to fit a Roost Laptop Stand and medium-sized notebook, no problem.

When you open this compartment, you'll notice two mesh pockets on the front flap. The mesh offers nice visibility into the pocket so we always know what we're grabbing when we open it up. During testing, we've found that the bottom pocket is a great size for a laptop charger, while the smaller pocket at the top works well for loose cords and other miscellaneous tech gear. We're big pouch fans over here, and this is all stuff we would usually keep inside of one. That said, we're happy to report that these pockets have been working well to keep our gear organized without the need for a tech pouch.

And against the back wall are some liner pockets for your other tech accessories—two larger pockets and a pen sleeve. We've been storing an Apple Magic Mouse in one of the larger sleeves, a pair of headphones in the other, and then, naturally, some pens in the sleeve.
While the size of these pockets works well for our gear, they're also pretty simple (which seems to be a theme of this bag)—like the water bottle pockets, they don't have any elastic to secure the top, meaning our gear isn't very secure inside. This isn't a big deal if you have the bag upright (like when you're carrying it) but if you have the bag on its side, your stuff may slip out.

On to the main compartment. It opens up horseshoe-style and offers plenty of unrestricted access inside. There's not much in terms of the organization in here, other than the large zippered pocket on the front flap. We didn't get much use out of it during testing, but it's a great size for things like your passport or some extra snacks. You can even use it to separate things like socks and underwear if you're taking this thing on an overnight adventure.

The rest of this compartment is free space—and this bag is pretty deep, so there's plenty of it. If you're looking for more organization, you can compensate with pouches and/or packing cubes. At least, that's what we've been doing.
For our quick trip up to Northern Michigan, we were able to keep a large packing cube inside, with room left at the top for a small Dopp kit. There is enough space to stash a second packing cube if you stack it on the first one—but this can cause it to get pretty bulky when heavily packed out. And less comfortable to carry with such a simple harness system.

At long last, we've reached the laptop compartment. On the front flap, you have a large liner pocket that we've found works well for storing flatter items, like a keyboard. Something to note here is this compartment doesn't have the same built-in dimension as the others, so if you really pack out the main compartment, it makes the pocket's capacity a little tight. We've still been able to fit our stuff inside, it just takes some wiggling.
The laptop sleeve has some dense padding and soft lining material, which we always appreciate. However, this lining only appears on one side of the sleeve, so if scratches are something you're worried about, we recommend still keeping your tech in a protective case.
It fits a 15″ laptop in a protective case with room to spare. And it has a false bottom to protect your expensive tech from daily wear-and-tear—you know, from setting the bag down to those accidental drops.

Durability-wise, everything is holding up nicely. As we mentioned earlier, the bag can get a little dirty after a handful of wears, but we've only encountered aesthetic damage so far.
Usage Timeline
Initial Usage
Condition: Excellent
We're digging the overall organization of this bag, padded laptop compartment, main compartment for larger items, and a thinner large compartment in front for tech/EDC gear
Fleece-lined quick-grab pocket on top is great for storing sunglasses or a smartphone
Water bottle pockets lay flat when not in use
2 Weeks of Use
Condition: Excellent
Been using this thing to carry our everyday work items as well as on a weekend trip to Northern Michigan. At 28L, it's a good middle size to work for both
Shoulder straps have decent padding and a nice curve which we like, however, you can feel them pinching/digging into your neck. Especially when it's fully packed up. Seems to be because the straps are anchored close together at the top
Digging that all of the compartments have separate built-in dimension—although, this thing can stick pretty far off your back when loaded up for a trip
Material picks up a lot of fuzz, dust, hair, etc. (which we've encountered on several other Fjallraven products we've tested too)

Fjallraven Raven 28 Lint and Dust on Material
Access the Pro Community Discussion
Get your questions about the Fjallraven Raven 28L Backpack answered from our team and the Pro Community right here on the page. Plus, join discussions with other members about gear, guides, and more.
Other Bags & Luggage Reviews