Ethnotek Raja 30L Backpack Review
The Ethnotek Raja 30L Backpack's swappable front panel showcases unique designs from all over the world and adds straps and a pocket for better functionality.
Our Verdict
Unlock the Pro Summary
Save time. Get access to brief summaries of our reviews so you can browse and make decisions more efficiently.
Pros
Rolltop is relatively easy to open and close
Secondary hatch easier way to access the main compartment
Removable front panel adds functionality and aesthetics
Cons
Air channel gap fairly noticeable while wearing the bag
Shoulder straps' collared design feels a bit tight on larger torsos
A few loose threads on the Ghana Kente fabric
Recent Pack Hacker Video
Technical Details
Capacity

30l

Weight (lb)

2 lb (0.9 kg)

Dimensions

12.2 in x 19.7 in x 6.3 in (31 x 50 x 16 cm)

Notable Materials

Ballistic Nylon, YKK Zippers, Unbranded Hardware

Manufacturing Country

Vietnam

Laptop Compartment Size

17"

Warranty Information
Full Review
At first glance, the Ethnotek Raja 30L Backpack is banking solely on its eye-catching design. The headlining feature here is its removable front panel with unique handmade designs that each come with an interesting backstory. We dig bags like this that exude personality, though, of course, we also have to look at practical aspects like functionality, comfort, and build quality. Fortunately, Ethnotek ticks the right boxes after it made sure to check off "eye-pleasing style."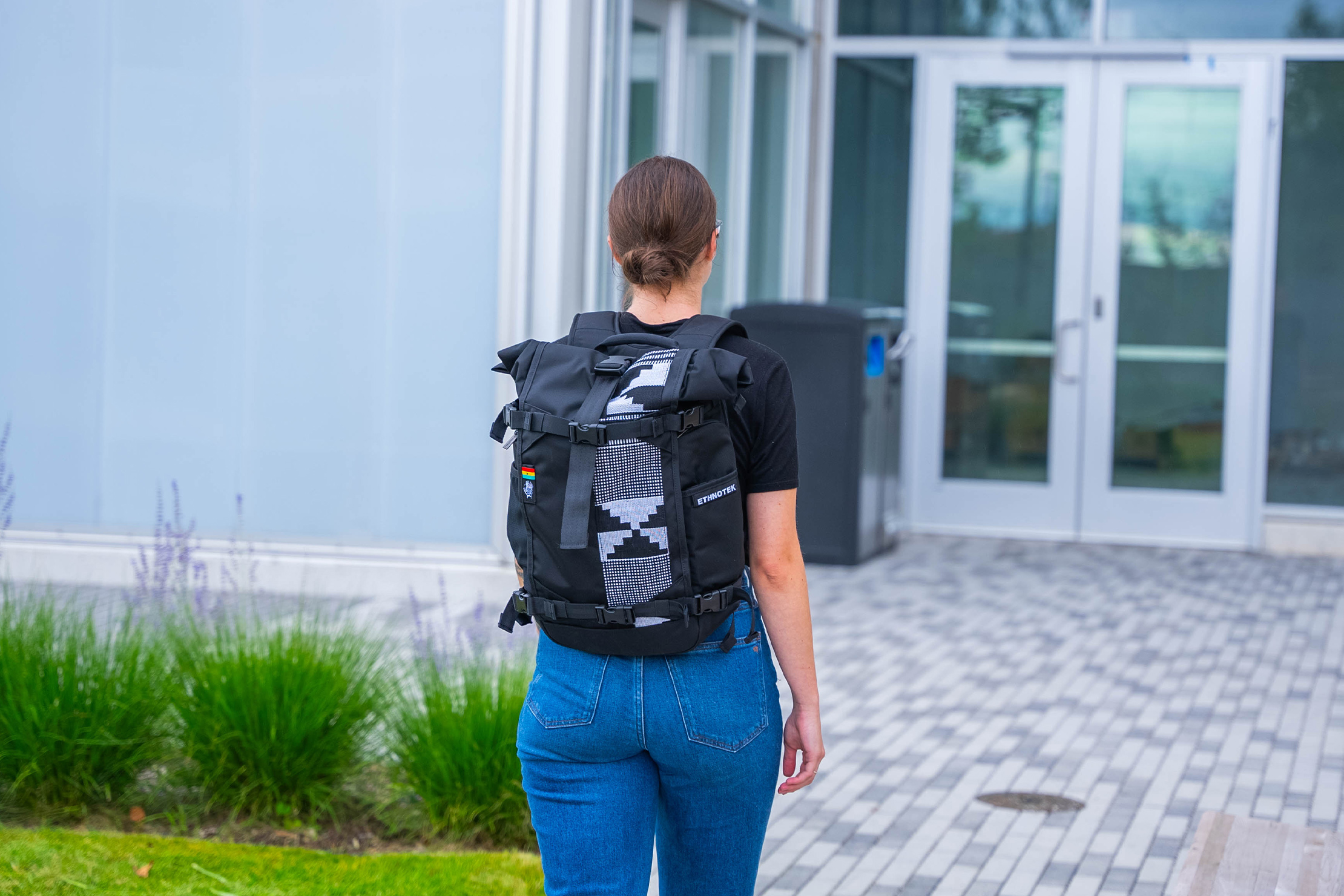 As far as rolltop bags go, the Raja 30L isn't tricky to get into. You still have to roll and unroll, but it only has one strap to keep the roll down, plus a secondary hatch for quickly taking out smaller gear. The Thread (that's what they call the removable front panel) also performs core functionality, having a built-in pocket, anchoring one end of the rolltop's strap, and housing two front accessory straps. It's actually a well-considered backpack beyond its aesthetic design, so let's check it out!
External Components
There's no denying that the Raja's main appeal comes from its unique aesthetic design. These come in removable panels called Threads, each with a different style and a unique backstory from different parts of the world. The sample we're testing has the Ghana Kente Thread. Kente is a type of woven cloth originating from Ghana. The particular design Ethnotek selected here is made by a family that has been weaving Kente for five generations, plus a team of skilled artisans. We dig it, and not just because of its stealthy black-and-white color scheme—it also looks very authentic, but not in an overdone way.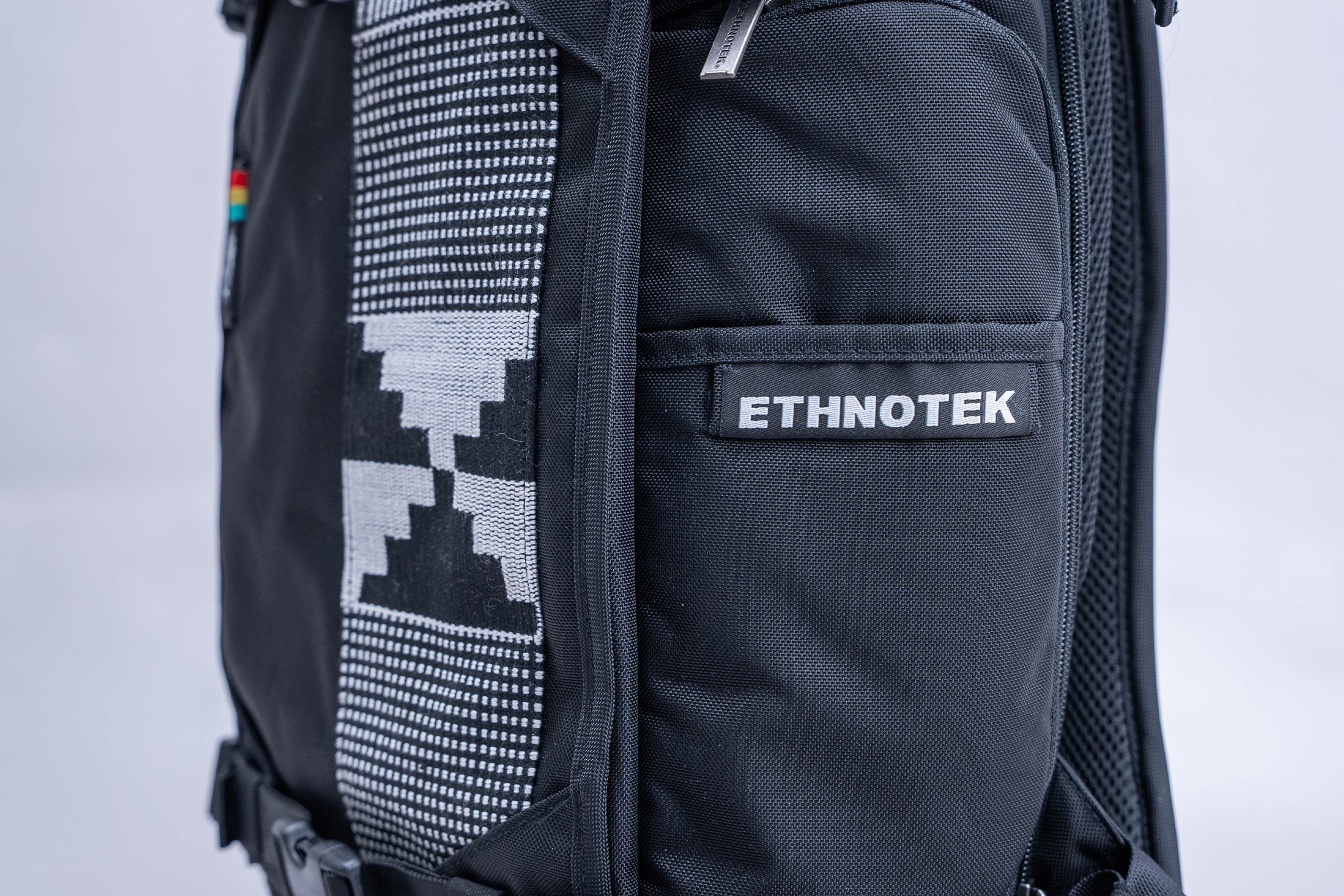 The Thread attaches to the front via two hook-and-loop strips running down the length of the Raja. It's fairly secure, especially once you tuck the bottom end into the corresponding pocket. Meanwhile, the top rolls along with the Raja's rolltop, so you don't have to worry about that end. There are also four buckles on the sides of the Thread to lock it in place further. If you think that's bordering redundancy, just keep in mind that the Thread itself has two accessory straps that you can use to attach bulky gear externally—since it's designed to carry heft, it needs all the help it can get.
Overall quality feels relatively durable thanks to the Raja's 840-denier ballistic nylon. Apart from the Thread, this fabric makes up most of the bag, and it's a solid foundation. It's not the heaviest denier we've seen on a backpack, but it's thick enough that abrasions shouldn't worry you too much when you take the bag outdoors. The icing on the cake is the Raja's YKK zippers, which have been reliable throughout testing as expected. Oh, and the fabric is vegan, just in case you needed a cherry on top of that icing.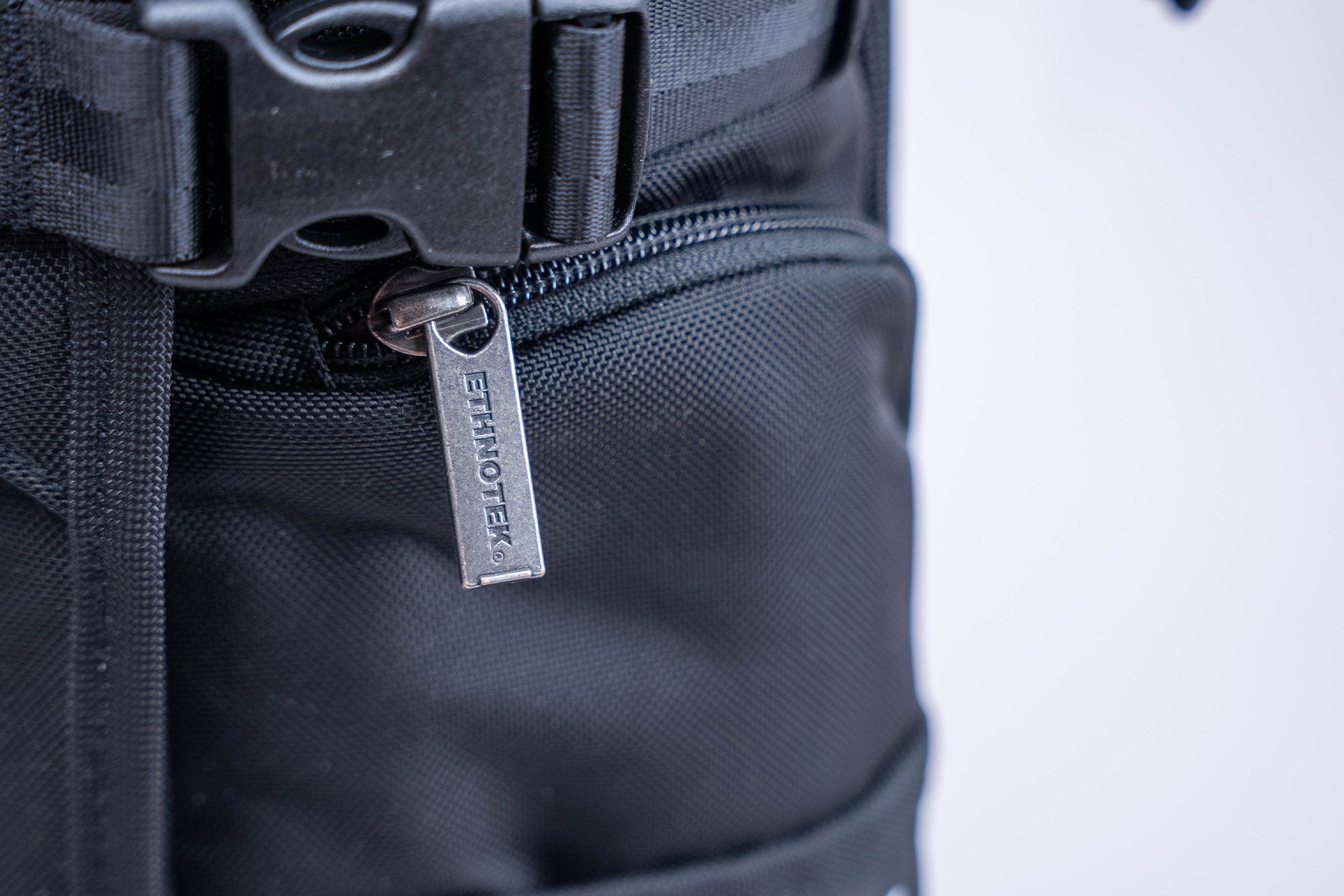 It's worth noting that the Thread does have a handful of loose threads. Though they're not super noticeable, thanks to the black-and-white color scheme, they're definitely there. Fortunately, none of them have deteriorated at the time of writing.
The Raja's harness system isn't lacking in features, though we're not usually fans of the shoulder straps' collared design. The connection around the neck area usually inhibits movement, though thankfully, that's only a minimal issue with the Raja. The straps themselves have a decent amount of padding and enough width to distribute the bag's weight effectively. Each strap comes with a D-ring for attaching extras like a keychain or a small bottle of hand sanitizer (our favorite choice).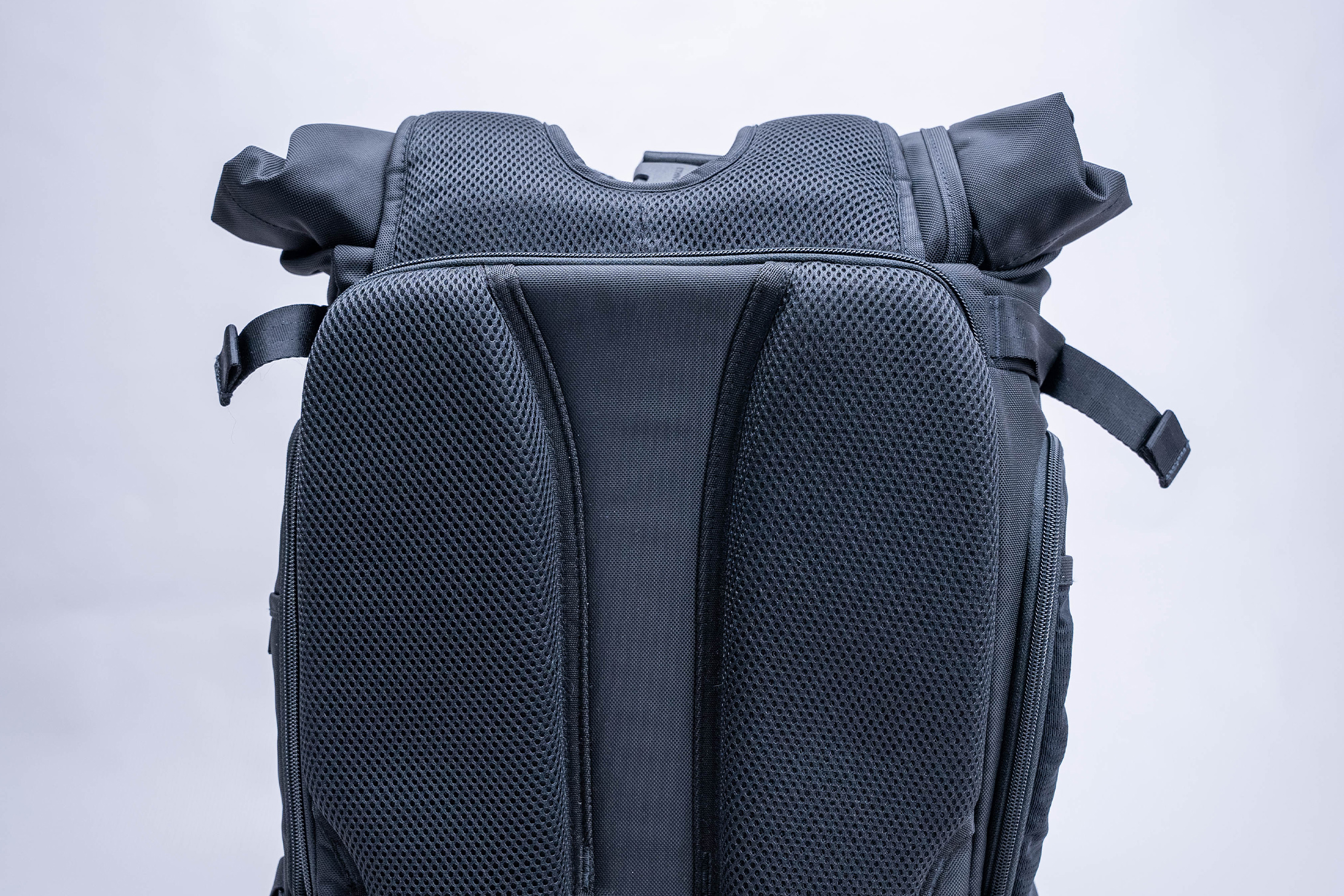 Both sides of the sternum strap are mounted on rails. We've said it a million times in our other reviews, but a rail-mounted sternum strap is our gold standard since it allows very granular adjustment. Whether you want to move the sternum strap by millimeters or by inches, it can handle it. Loop mounts, on the other hand, are set at arbitrary levels.
The Raja's back panel has two parallel sections of thick mesh-covered foam padding. This should translate to high levels of comfort, and it does, but with a small caveat, which we'll mention in the fit notes. Hint: notice how much of a gap is between these foam-padded sections. There's also a pass-through behind each of these sections that lets you attach a hip belt. It's a separate purchase, though, and at the Raja's middling 30-liter size, the extra stability isn't essential.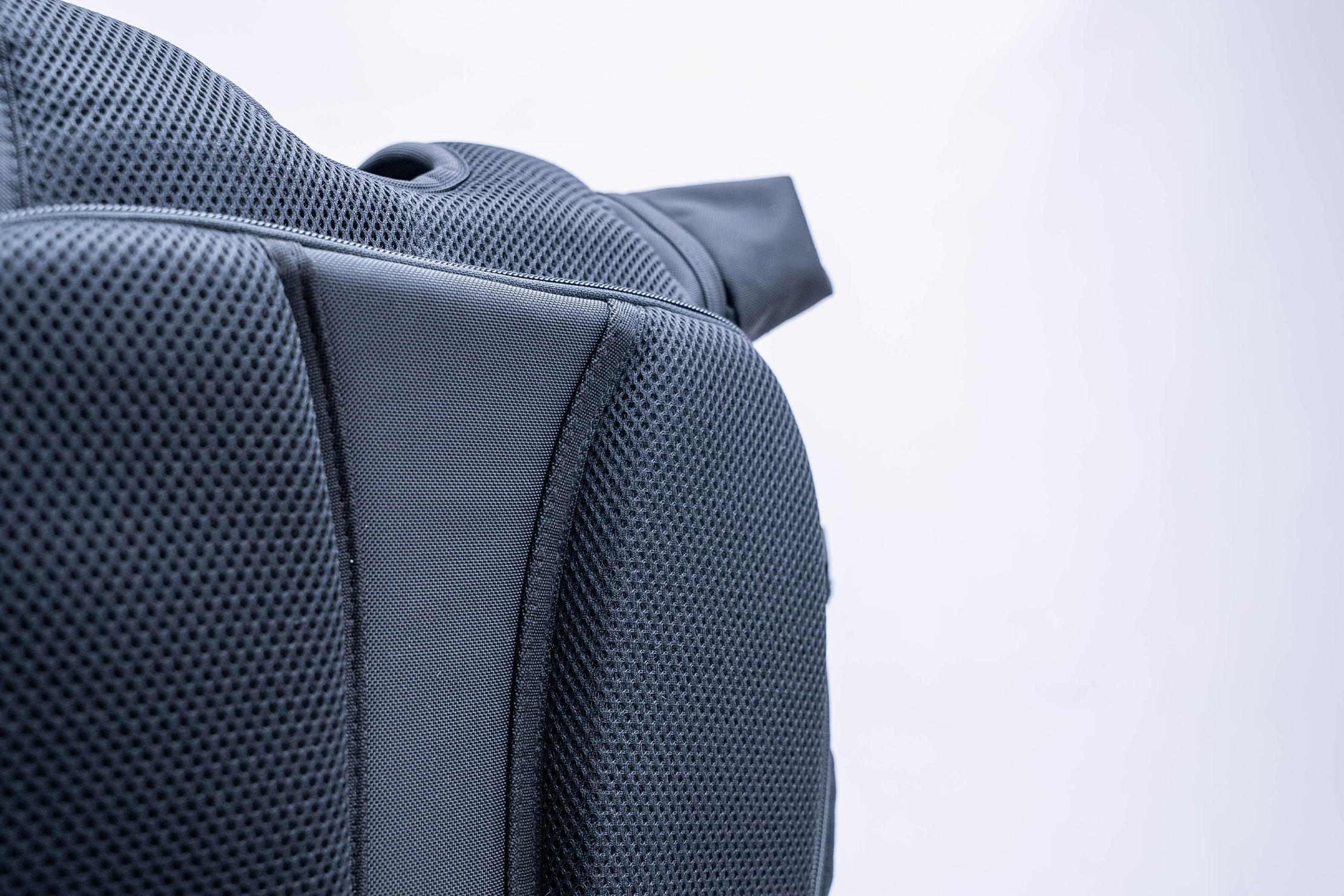 Lastly, there's also a padded handle at the top for quickly grabbing the Raja. It's not too big or too small, but just the right size so that it doesn't dig into the sides of your hand while holding it. If we were to nitpick, we wish there were handles at the sides as well, but that's more of a travel backpack feature and not a daypack one.
Fit Notes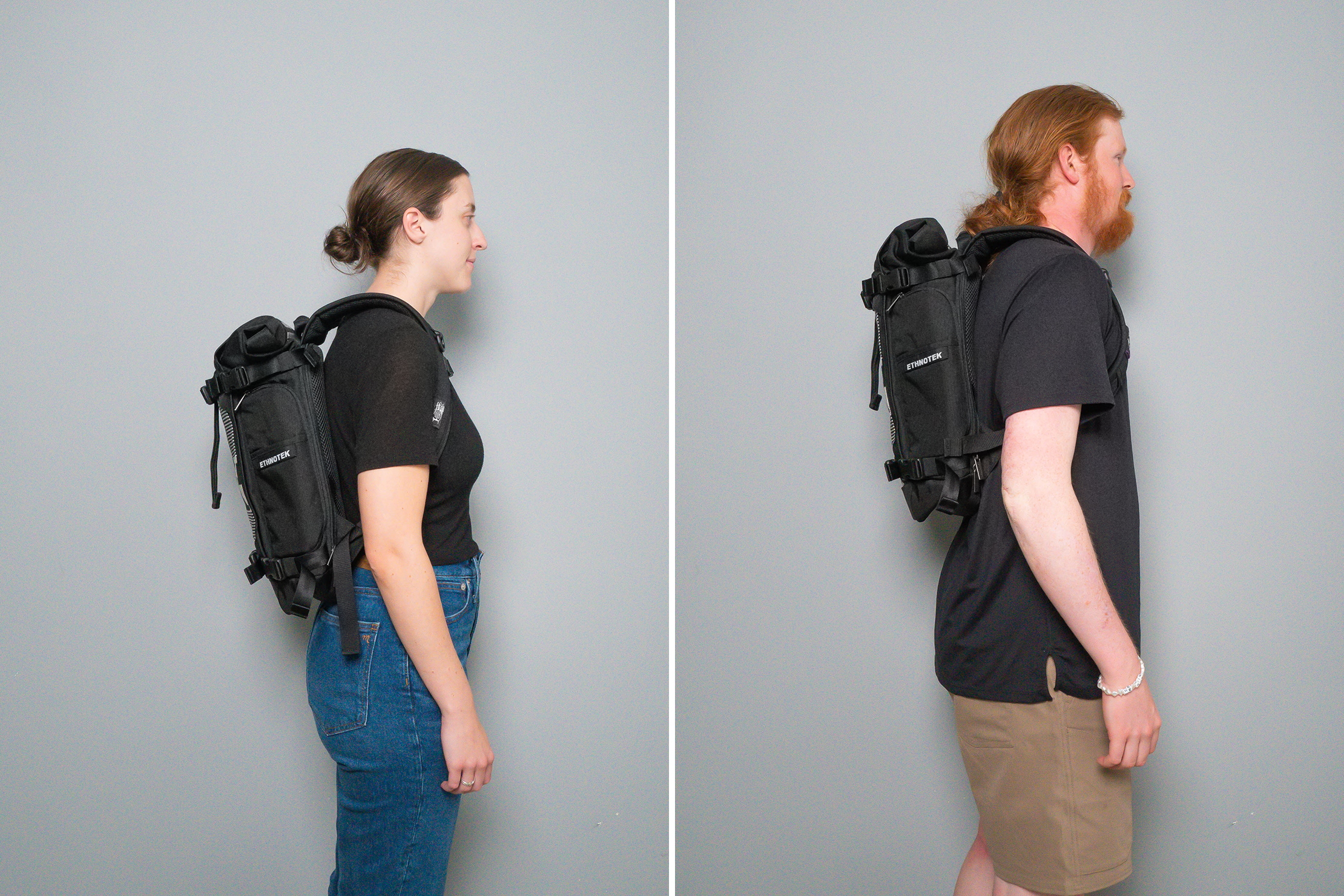 Let's loop back to the Raja's back panel and its huge air gap. For starters, many backpacks have air gaps or channels like this. The benefit is obvious: it lets air flow more freely and prevents heat from building up too much on your back. While we've tested plenty of backpacks with this subtle feature (it's practically taken for granted in most cases), it's pretty noticeable with the Raja, especially around the lower back. Fortunately, it's not too distracting, let alone discomforting.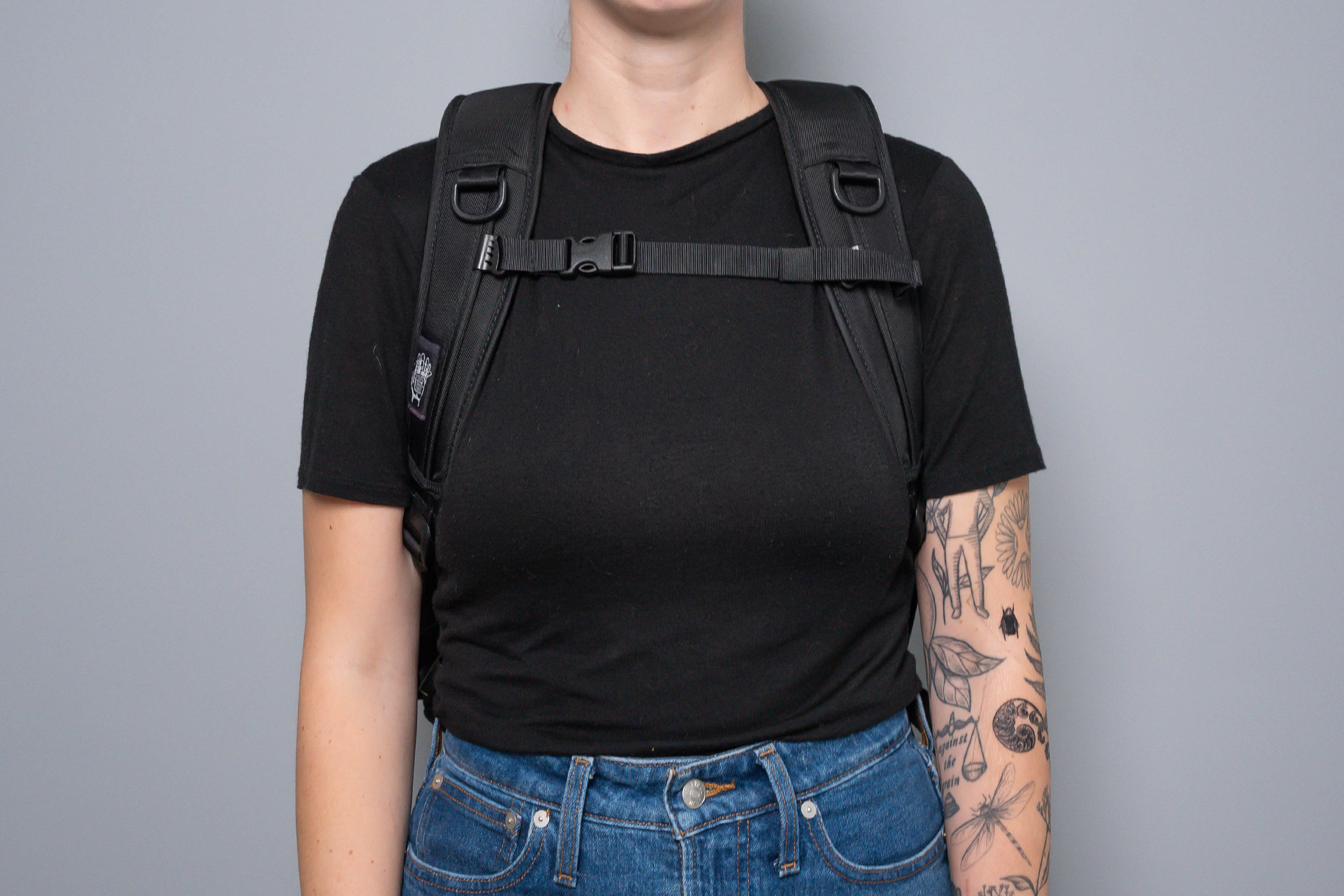 As for the harness system, the fit feels comfortable overall, though on the tighter side for those with a large torso. The culprit? It's the collared design of the shoulder straps. Movement isn't affected too badly, though the straps may feel too close to the neck for those with larger frames. On the plus side, most of the Raja's straps feature keepers, so there's very minimal distraction from dangling slack.
Inside The Backpack
Secondary storage on the Raja is mainly handled by the pocket on the right. The outside has a slip pocket where you can quickly stow your wallet or smartphone, albeit not so securely. The main pocket opens in a crescent shape, revealing a stretchy mesh pocket. We use this pocket to store everyday carry items like a smartphone, keys, and wireless earphones. Practicality aside, though, we appreciate having more of that Kente fabric, plus the soft felt-like liner at the back. Small touches like these really raise the Raja's quality feel, and we wish more brands would do something similar.

There's also another quick-grab pocket on the Thread itself. It's much roomier than the right-side pocket, though its deepness makes it less suitable for small accessories. This makes it more suitable for bulkier items like a power bank, an extra layer, a buff, or a pair of gloves. However, note that while the Ghana Kente Thread we have has a top opening, other Threads may have a side-facing pocket.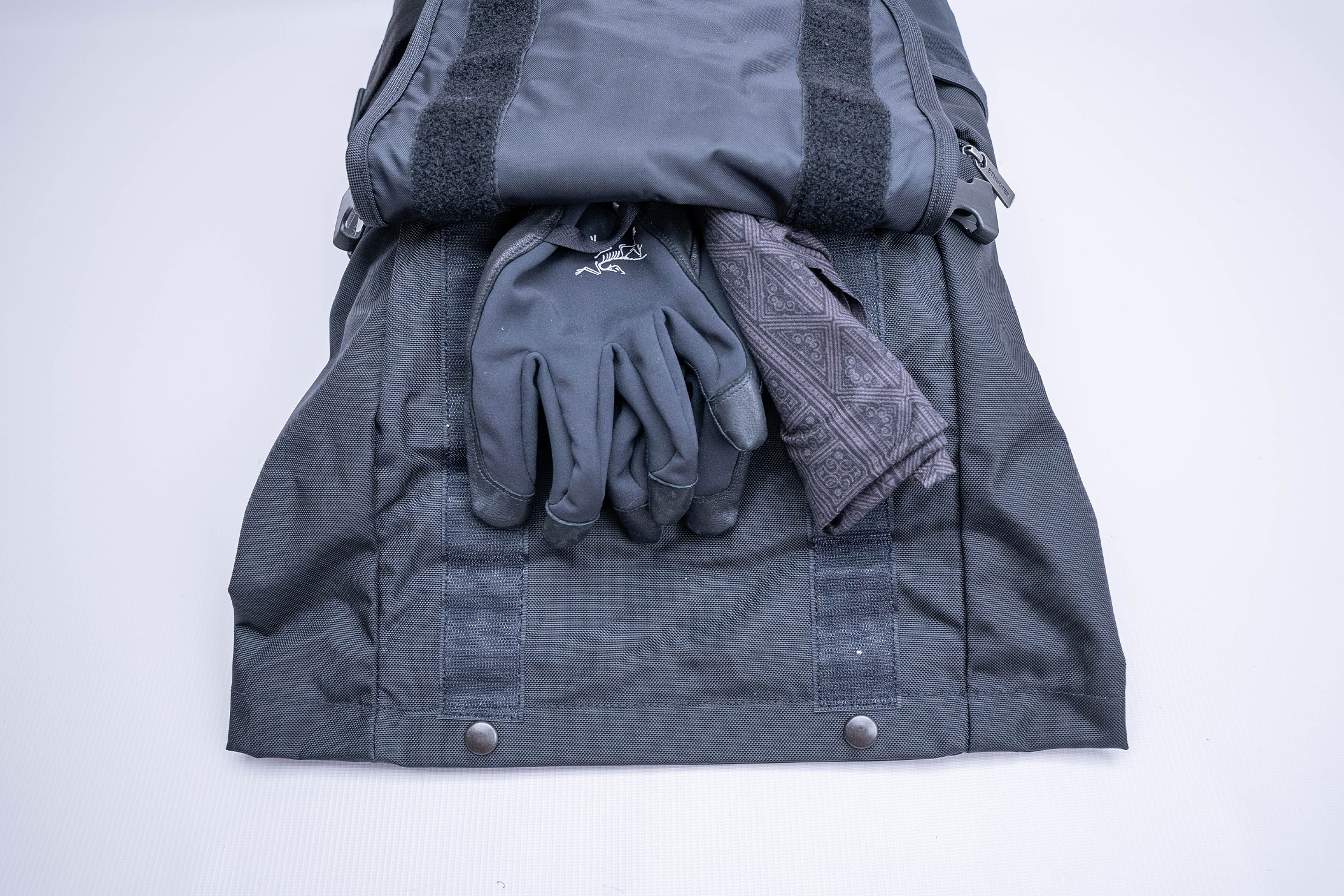 On the left side of the Raja is a pocket similar-looking to the one on the right. Instead of a slip pocket on the outside, though, this one has a water bottle pocket. Thanks to its small gusset and stretchy material, it's big enough for a 24-ounce Owala FreeSip Water Bottle. Smaller bottles in the 21 or 18-ounce range tend to slip more, but you can use the strap above to secure the bottle's handle (assuming it has one).
Okay, this left-side pocket may look similar to the right one. However, it's actually a secondary hatch leading to the main compartment. Yes, the Raja may be a rolltop, but you won't have to deal with rolling and unrolling each time you need to take something out of it. Granted, the opening isn't big enough to take out a huge packing cube. For a hoodie, a tech pouch, or a power bank, though, it will suffice. Our only nitpick here is once there's a bottle inside, it can be hard to open this hatch due to heft and bulk.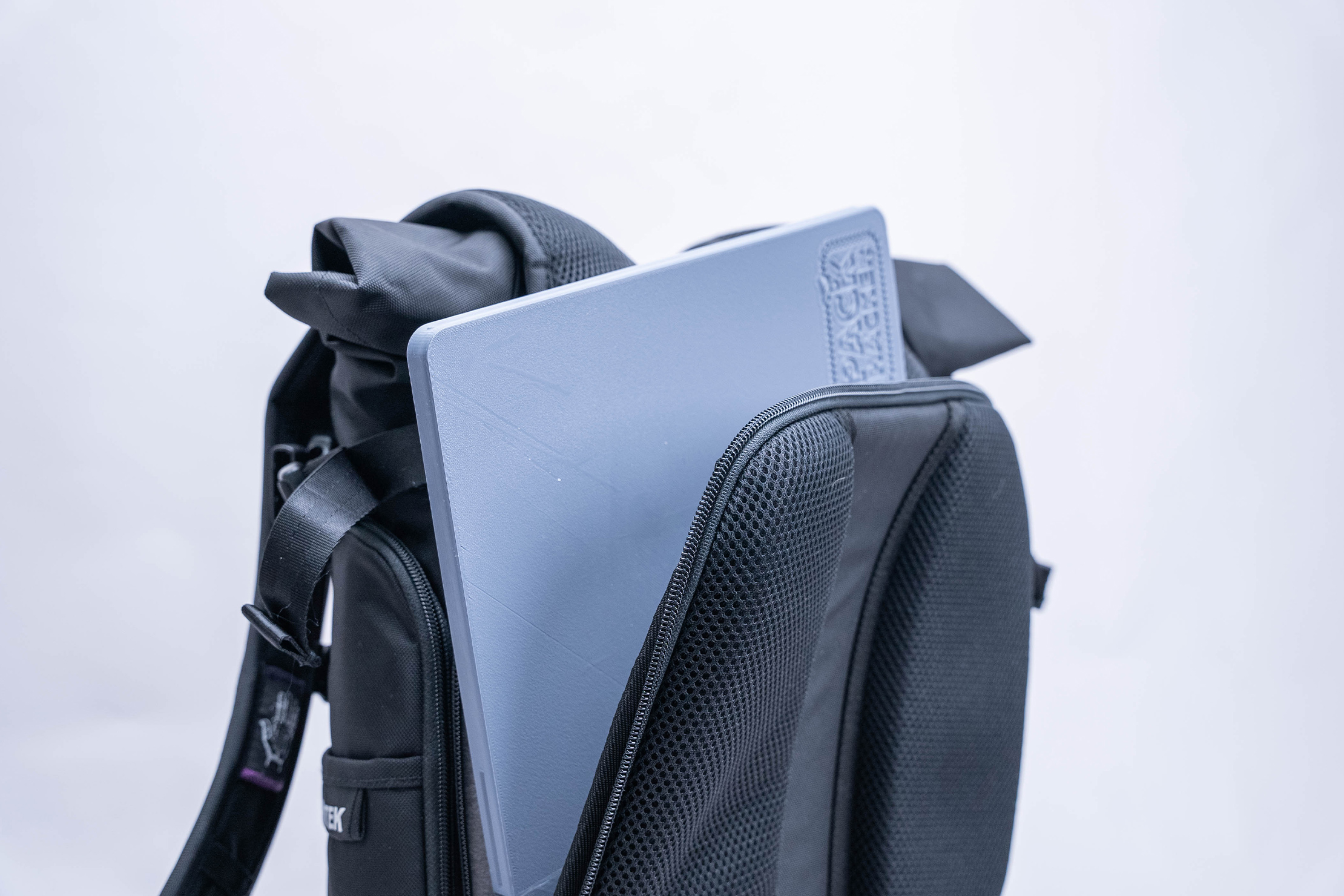 The Raja's 16-inch laptop compartment is built into the back panel, separate from the main compartment. This way, you can take your laptop out without having to fuss with the rolltop or squeeze it through the secondary hatch. The zipper opens along the side and across the top of the back panel, forming an L-shaped opening. We dig how the zipper track goes around the outside of the shoulder straps rather than inside, meaning we don't have to push the straps to access the laptop.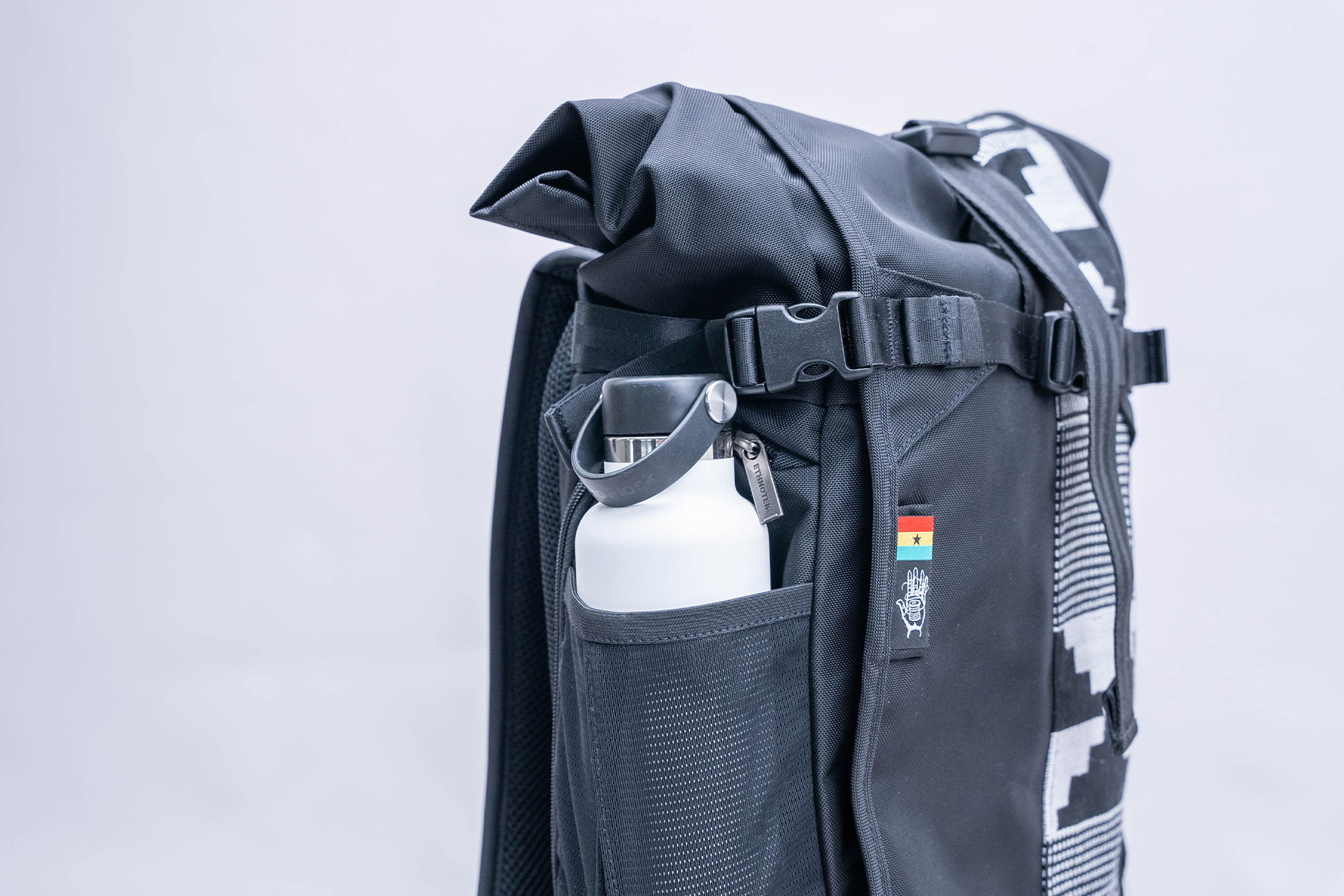 Since the Raja is a rolltop bag, we're not expecting super fast and easy access to its main compartment. However, Ethnotek deserves commendation for making accessibility as painless as possible. Apart from the hatch we mentioned earlier, the rolltop itself isn't too complicated to operate. There's a wide strap going over front-to-back that cinches the rolled fabric. Yes, the strap's front side is attached to the Thread, so we're glad that it mounts securely via those hook-and-loop fasteners and side buckles.
Luckily, this single strap holding the roll down is enough to keep it down. This is much simpler than other rolltop bags that use buckles on each end of the roll, with very little impact on weather resistance. Though this is one of the few straps on the Raja not to have a strap keeper, there are still those two accessory straps on the Thread to keep it tucked in place. The rolltop itself has two snap fasteners along its edge to keep the opening closed and easy to roll. The reinforced edge is rigid, thus preventing it from collapsing while you're packing and inserting gear inside.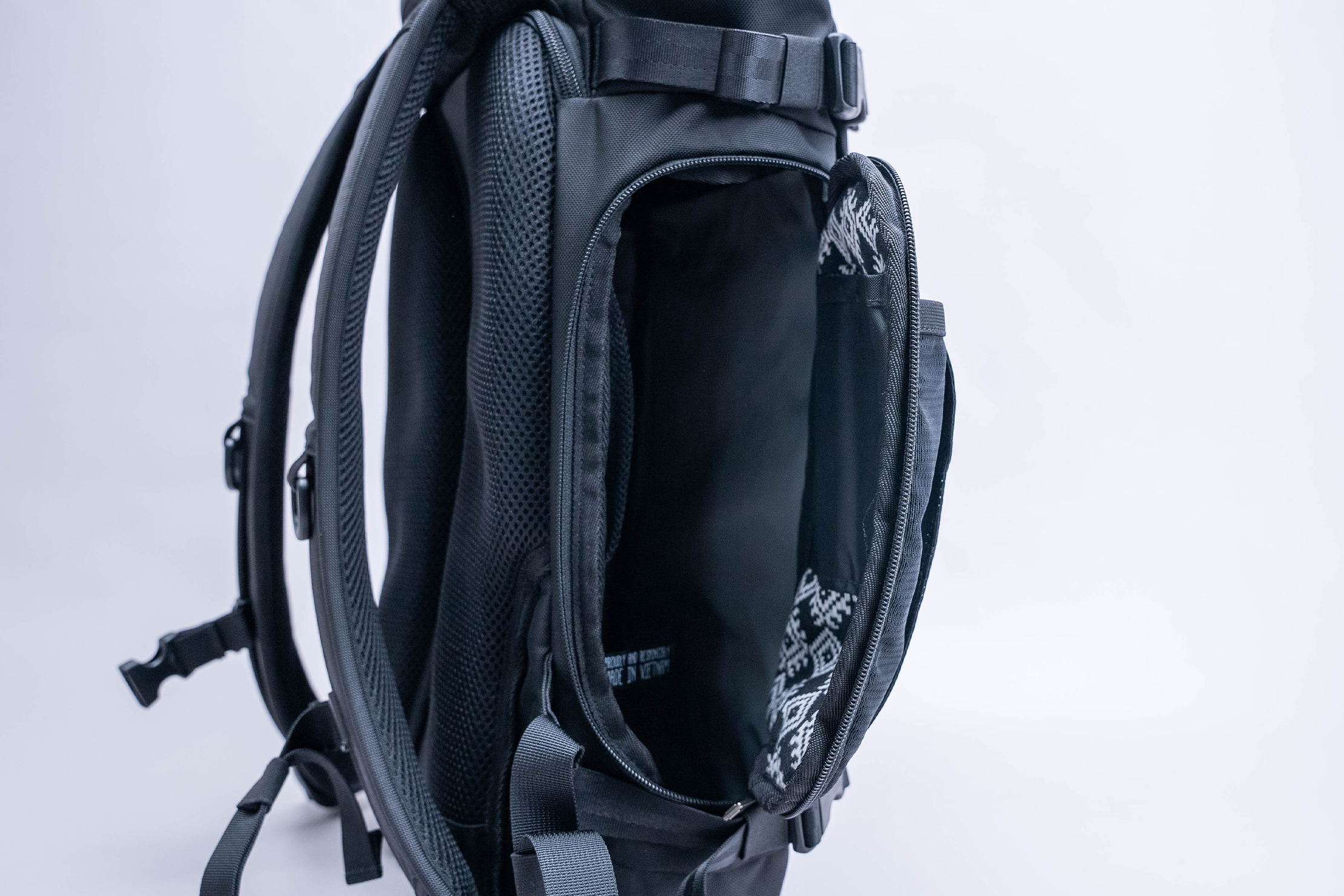 As you might expect of a 30-liter rolltop backpack, the main compartment is very spacious. We're able to fit two to three packing cubes worth of clothing to get us through a weekend trip (two to three days). You can definitely squeeze more packing cubes if you loosen the rolltop and stack gear on top of each other. That said, remember to keep items you frequently need near the secondary hatch for convenient access.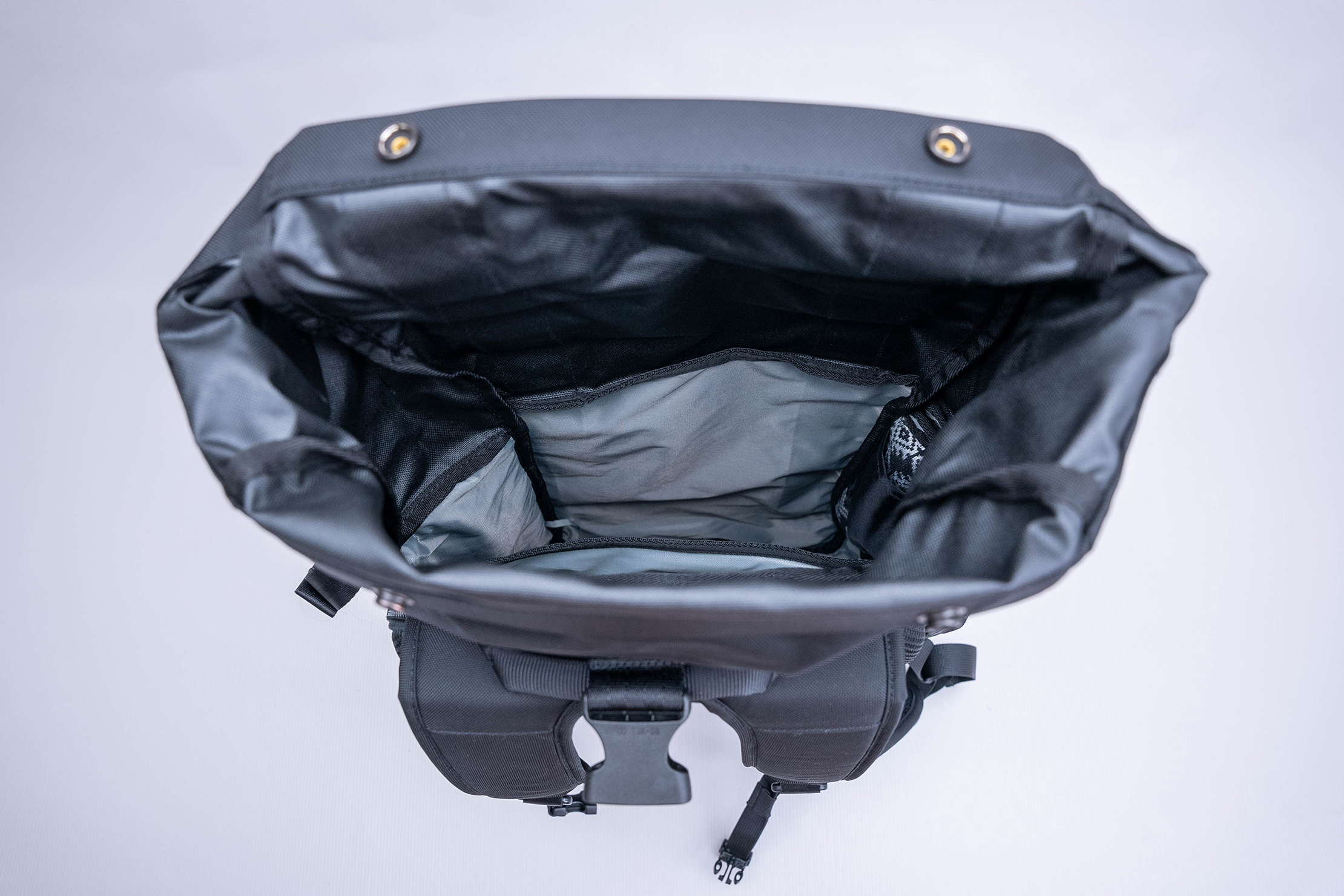 You'd expect the main compartment to be devoid of any organization since it's a rolltop, but there is some compartmentalization. At the back is a document sleeve with an adjacent zippered mesh pocket. The former doesn't have a false bottom, so we don't recommend using it to store a laptop (the Raja has a dedicated laptop compartment anyway). On the other hand, the zippered mesh pocket is handy for storing extra tech accessories if you don't have a separate tech pouch.
Usage Timeline
Initial Usage
Condition: Excellent
Digging the option to change out the pattern on the front
Back panel seems cushy and comfortable
Digging the side access and laptop compartments
2 Weeks of Use
Condition: Excellent
Glad to have side zipper access since rolltop bags can make getting into main compartment inconvenient
Comfortable fit for team members with smaller toros, but less comfortable for those with long torsos
Can feel the air channel a bit, but it's not bothersome
Access the Pro Community Discussion
Get your questions about the Ethnotek Raja 30L Backpack answered from our team and the Pro Community right here on the page. Plus, join discussions with other members about gear, guides, and more.
Other Bags & Luggage Reviews