Eagle Creek 3-1-1 Travel Sac Review
The Eagle Creek 3-1-1 Travel Sac is a highly lightweight liquids pouch that quickly gets you through airport security, though we have durability concerns.
Our Verdict
Unlock the Pro Summary
Save time. Get access to brief summaries of our reviews so you can browse and make decisions more efficiently.
Pros
Materials are extremely lightweight when weight is a concern
Bottom gusset helps pouch stand solo on counter
Loops are excellent for securing inside a toiletry bag or daypack
Cons
Materials give us durability concerns long-term
Can be hard to stack gear on top of Silicone Bottle Set
Open area above zipper can trap small gear like q-tips
Recent Pack Hacker Video
Technical Details
Capacity

1l

Weight (oz)

8 oz (226.8 g)

Dimensions

8.75 in x 7 in x 2 in (22.2 x 17.8 x 5.1 cm)

Notable Materials

Thermoplastic Polyurethane (TPU), Unbranded Zippers

Manufacturing Country

China

Warranty Information
Buying Options
$30.95
Full Review
Get up to 20% off Eagle Creek • Join Pack Hacker Pro
The Eagle Creek 3-1-1 Travel Sac is a basic liquids pouch with an extremely thin exterior. We've tested a handful of similar products in the past, but the Eagle Creek is extremely lightweight and has a simple design. Will this simplicity be positive, or will the lightweight materials be its downfall? Let's dive in to find out.
Materials & Aesthetic
The name of this product, the Eagle Creek 3-1-1 Travel Sac, is derived from TSA's 3-1-1 rule for liquids. Liquids under 3.4 ounces need to be stored inside a one-quart-sized bag, and each passenger can have one bag. By printing the container size on the front of the pouch, you'll be able to breeze through security as they'll understand that you're following the 3-1-1 rule (so long as you only have one bag and the liquids inside it aren't larger than 3.4 ounces).

The 3-1-1 Travel Sac is crafted from TPU, or Thermoplastic Polyurethane. It's clear, plasticky, and has an almost surgical feel to it. We've heard a few reports that the material will cloud over time, but ours has not had this issue so far—we'll keep you updated in our Usage Timeline.
The TPU on the Travel Sac is extremely thin—like, one of the thinnest we've come across. Comparing it to similar pouches we've tested, like the Osprey Ultralight Liquids Pouch and the Tom Bihn 3D Organizer Cube, feels like comparing free paper towels from a restaurant bathroom to the most expensive roll at the grocery store. You know, the kind with commercials on primetime TV. Initially, that might seem like a bad thing, but saving weight is always important, and this brings a different edge to TSA-safe toiletry bags.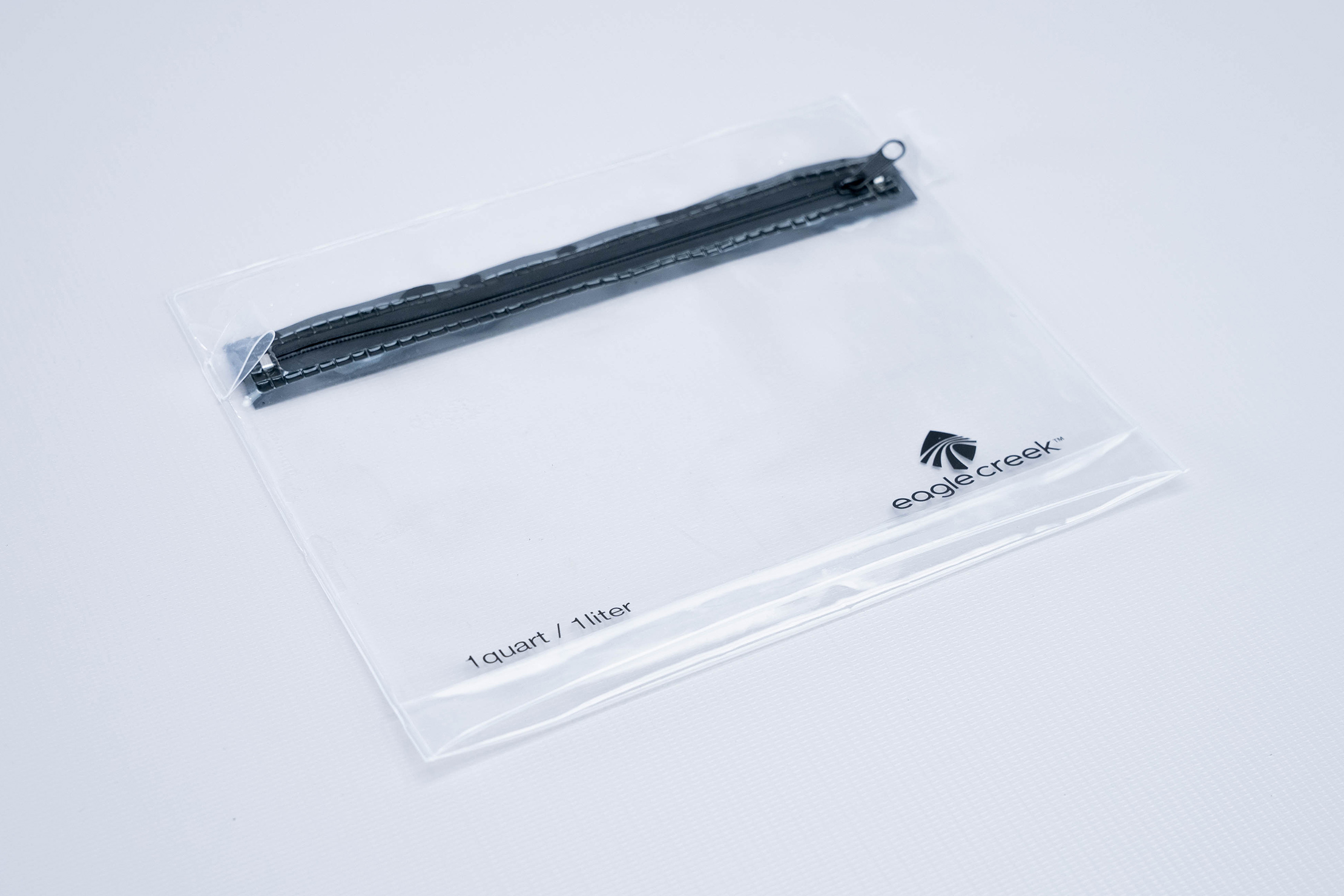 The Travel Sac weighs in at 26 grams (0.9 oz). This is extremely lightweight, especially compared to the two pouches we mentioned earlier. It's 19.4 grams lighter than the Osprey Ultralight Liquids Pouch (1.6 oz, 45.4 g) and 36.9 grams lighter than the Tom Bihn 3D Organizer Cube (2.22 oz, 62.9 g). If you're worried about keeping the weight of your carry-on down, this is an excellent option.
Unlike many 3-1-1 bags, the zipper is on the side, not the top. It's a simple unbranded zipper with a water-resistant track. It isn't completely waterproof, but it'll contain any toiletry explosions well enough. It does feel a little flimsy, but in our experience, it works as it should. Long term, we question how long it will last.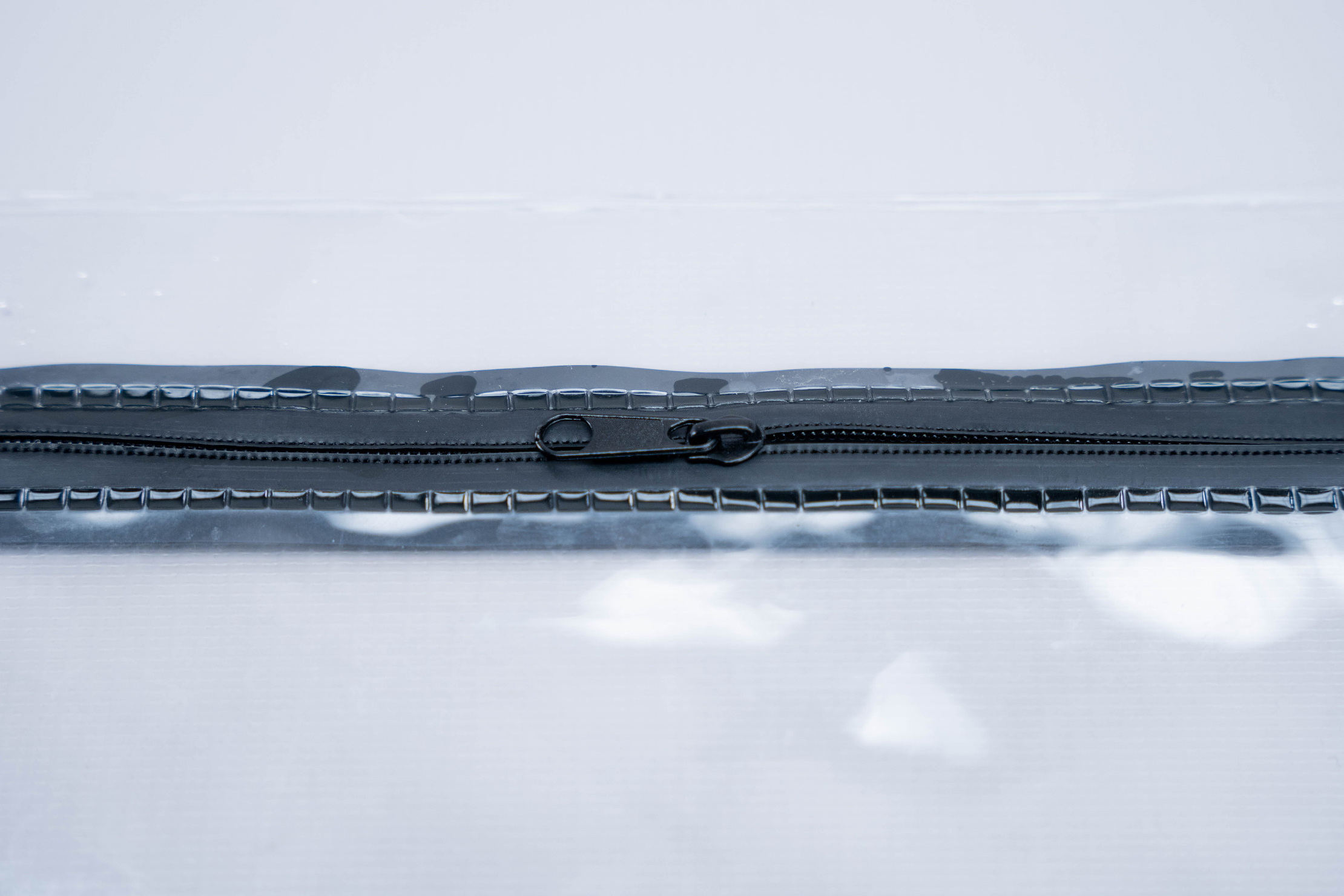 The Eagle Creek logo is in black lettering on the front of the pouch. It's pretty large but doesn't look out of place. Depending on what color the items you store inside are, it's more or less visible. Darker things blend in with the logo, whereas brighter gear will showcase it better.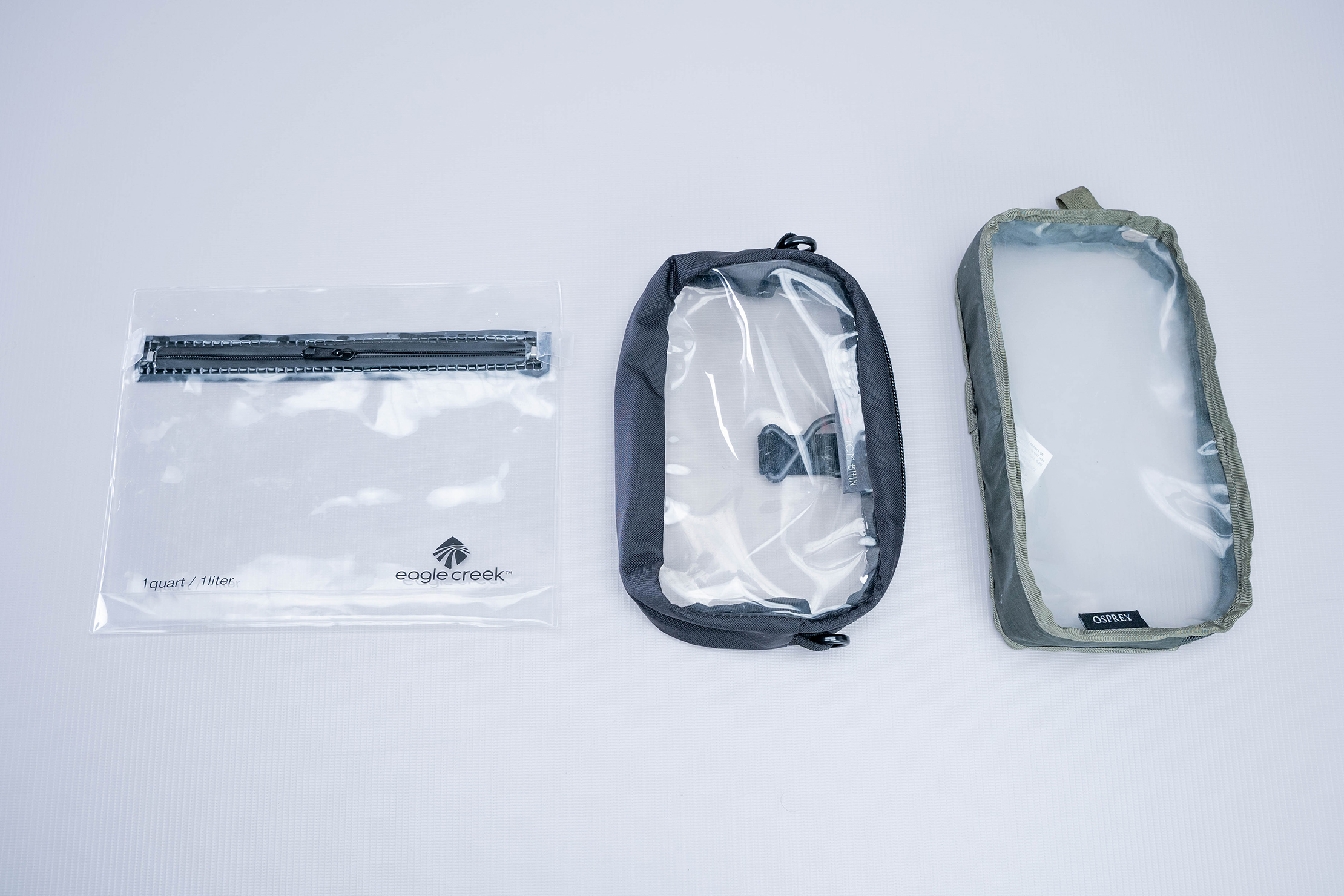 On the other side of the front of the pouch is a little graphic that reads '1 quart / 1 liter.' This is here for when you're going through airport security, and they question the size of your toiletry case.
Usage & Features
The loops on either side of the zipper track are crafted from the same TPU material as the rest of the pouch. These are ideal for attaching the Travel Sac inside a larger toiletry bag, inside your daypack, or at your hotel or Airbnb. The loops aren't very big, so you can't hang the pouch directly from them unless you use a hook with a small diameter like a carabiner or small clip. Ultimately, it depends on where you're trying to attach or hang it.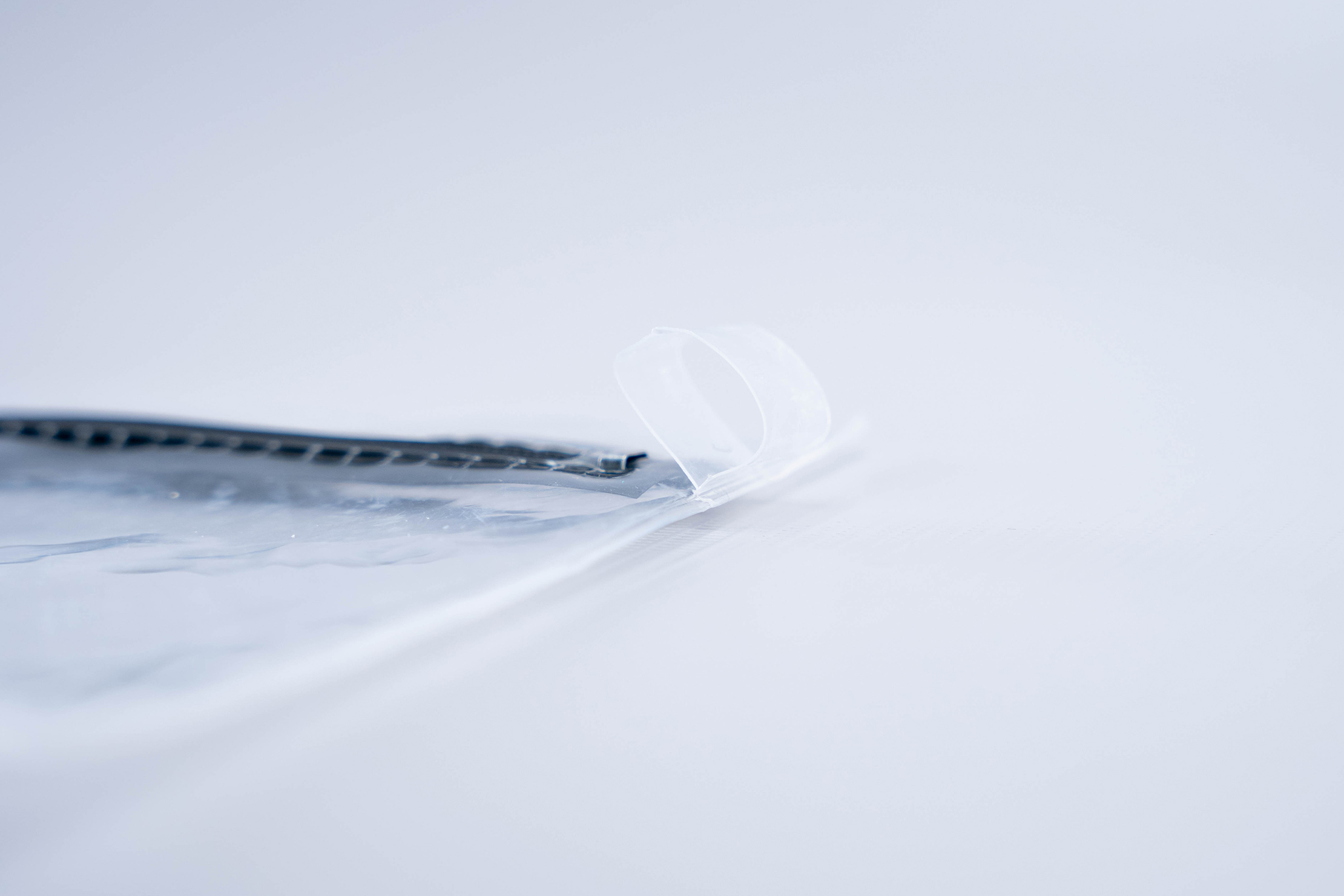 Given the thin materials used to construct the pouch, we worry that the loops will eventually stretch out. This hasn't been an issue yet, but with such lightweight TPU, it's been on our mind during each use.
The bottom of the Travel Sac gussets out to sit flat. It's a pretty thin base but can stand on its own once gear is set inside. Most of the travel-sized toiletries we have at Pack Hacker HQ sit nicely on the bottom, but larger widths can sit awkwardly.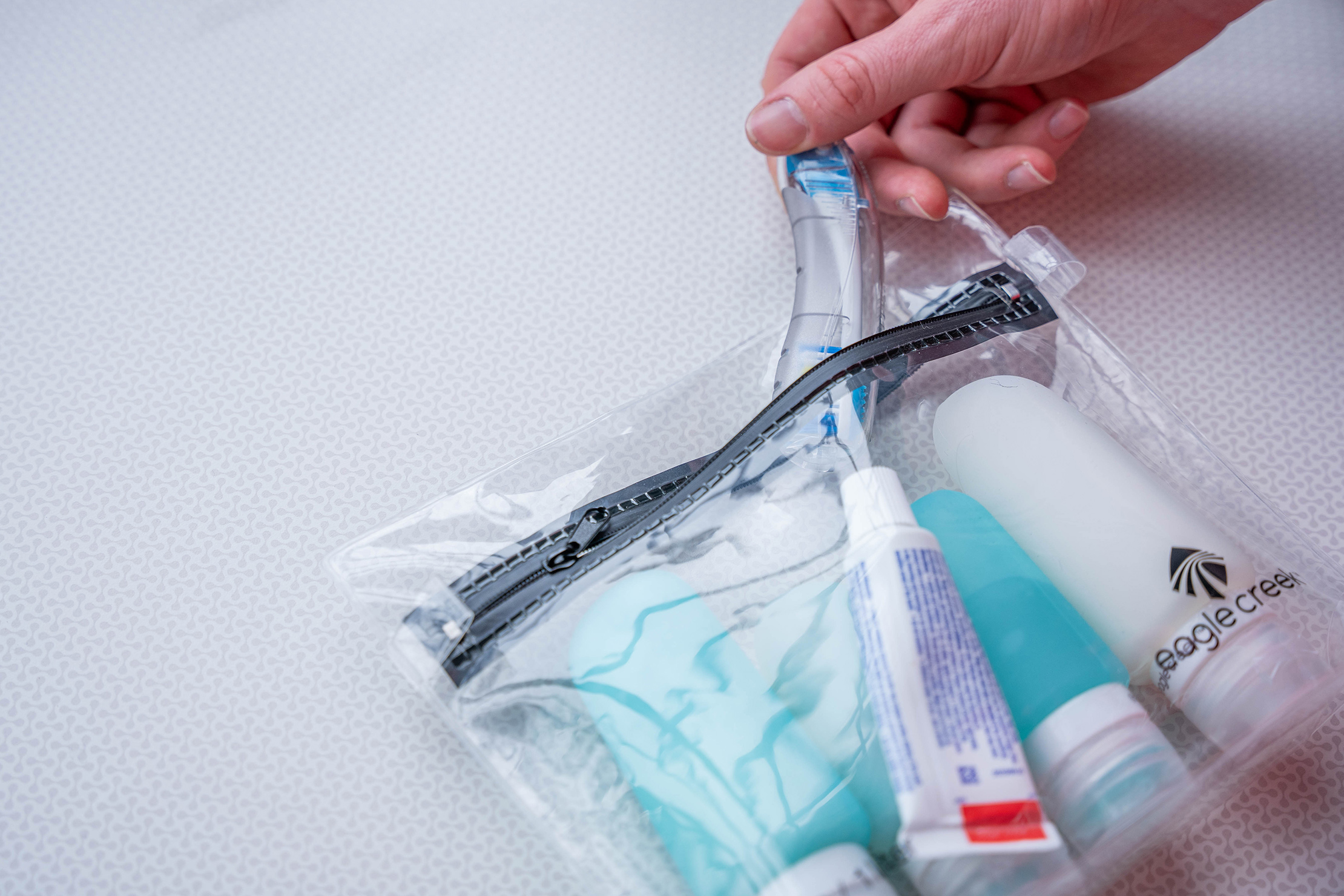 The most common way to purchase the 3-1-1 Travel Sac is alongside the Eagle Creek Silicone Bottle Set. The caps of the set are just under the width of the pouch, so they sit inside it nicely without stretching the TPU.
The tops of the toiletry bottles are rounded, which is nice in your hand, but it's hard to stow gear on top of the bottles once they're inside the sack. The system looks nice and sleek, especially if you're only storing the bottles inside, but when you try to put extras on top like a toothbrush or deodorant, things can get a little tricky.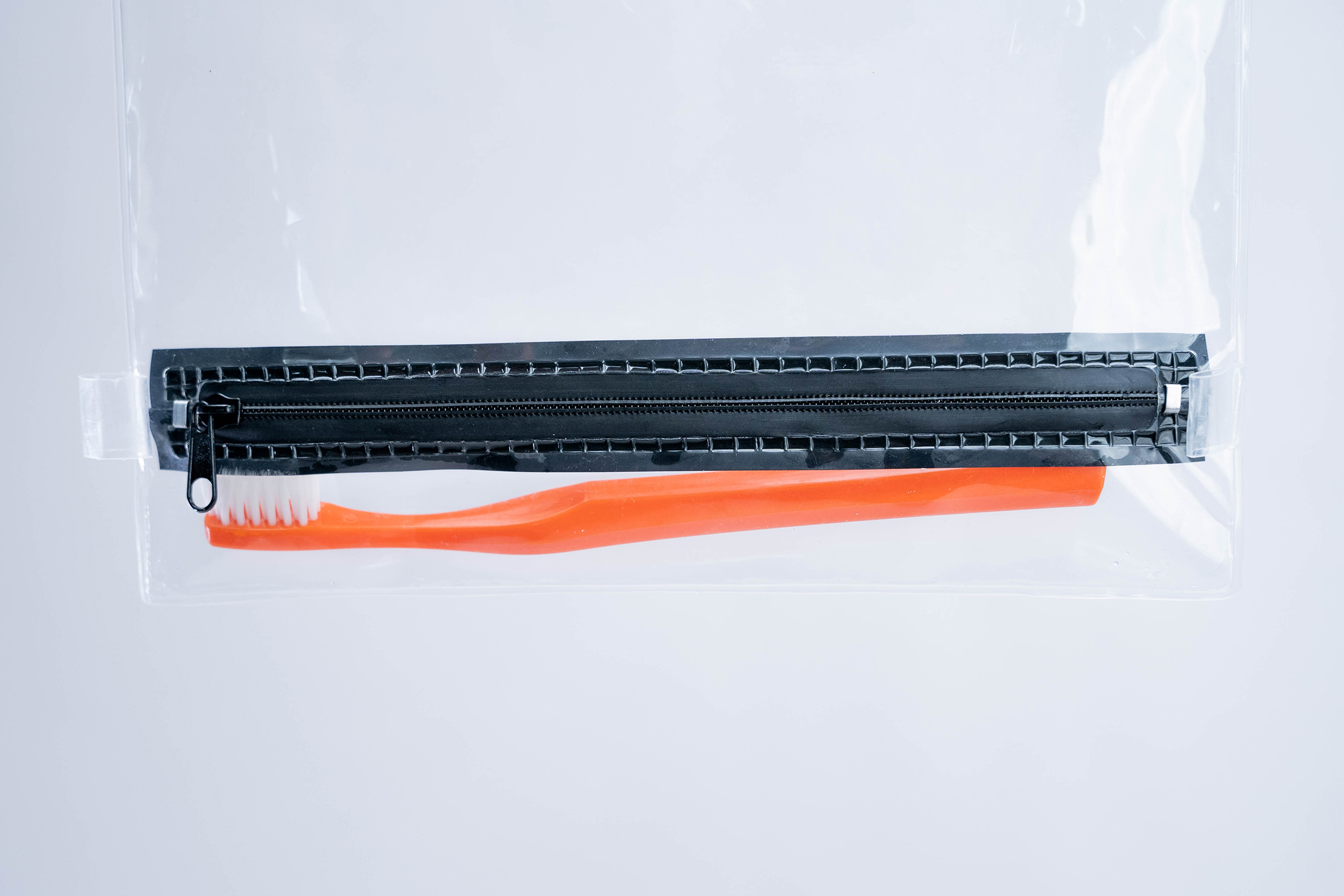 Because the zipper is on the pouch's side, not the top, there's a small storage area above the opening. Things can get stuck up here—think q-tips or cotton balls—but it can be used as a final destination storage area when you've filled up the rest of the pouch. There's nothing worse than packing out your toiletry case only to realize you forgot your toothbrush at the last minute. This small area can accommodate smaller items for such scenarios.
The Eagle Creek 3-1-1 Travel Sac is a lightweight option for those hoping to cut some weight, and we're able to fit all of our travel toiletries inside. If you use the Silicone Bottle Set, stacking gear on top can be problematic but still works. The materials give us durability concerns, but we have no issues to report (yet). If we do, you'll be the first to know!
Usage Timeline
Initial Usage
Condition: Excellent
The side hooks make opening the zipper easier but give us durability concerns
TPU feels pretty durable, albeit thin
Extra space above the zipper is excellent for last-minute add-ons
2 Weeks of Use
Condition: Excellent
TPU has held up, even in rough use
Materials smudge and dirty easily, but clean quickly
Bottom gusset works for most gear, but wider gear can bunch up the fabric
Access the Pro Community Discussion
Get your questions about the Eagle Creek 3-1-1 Travel Sac answered from our team and the Pro Community right here on the page. Plus, join discussions with other members about gear, guides, and more.
Other Organizers & Pouches Reviews