Osprey Ultralight Liquids Pouch Review
The Osprey Ultralight Liquids Pouch is a handy TSA-friendly accessory made from durable materials, though its simple design may not satisfy everyone.
Our Verdict
Unlock the Pro Summary
Save time. Get access to brief summaries of our reviews so you can browse and make decisions more efficiently.
Pros
Extremely lightweight, yet durable
Larger on the bottom to stay upright
TSA compliant
Cons
The zipper doesn't quite close all the way
Seams retain water
TPU material gets dirty easily
Recent Pack Hacker Video
Technical Details
Capacity

1l

Denier

40D

Weight (oz)

1.6 oz (45.4 g)

Dimensions

8 in x 5 in x 2.125 in (20.3 x 12.7 x 5.4 cm)

Notable Materials

Thermoplastic Polyurethane (TPU), Ripstop Nylon

Manufacturing Country

Vietnam

Warranty Information
Full Review
Osprey is known for making outdoor travel packs, gear, and accessories. They've fostered a reputation as a company that crafts quality products with sustainable materials, and we've reviewed a lot of their products favorably over the years here at Pack Hacker. Their Ultralight Liquids Pouch honors that reputation but is a step in a new direction that adds extra convenience to travel. Let's take a look.
Materials & Aesthetic
The outside of the pouch is made with 40D diamond ripstop that's smooth and satisfying to touch. It does make the same 90's wind-pants noise when it rubs up on things, but because there's so little of this material, we don't find it to be too obnoxious. The material itself is water-resistant, but if you were to submerge it or if a toiletry item were to open inside the pack, it leaks a little over an extended period. The lip of the material is a bit less water-resistant and will stay wet for longer than the ripstop, which is something to keep in mind when setting it down on a bathroom counter.

The clear section of the pack is TPU Film, which is thermoplastic polyurethane. It's a little sticky to the touch, but not so much that anything will physically stick to it. As it's clear, it tends to get marked up pretty quickly. Darker materials like mascara, charcoal toothpaste, or other makeup products are the easiest to see on the transparent film. It's effortless to clean off with a towel if caught early, and dried on toiletry smudges typically can be scraped off with your fingernail.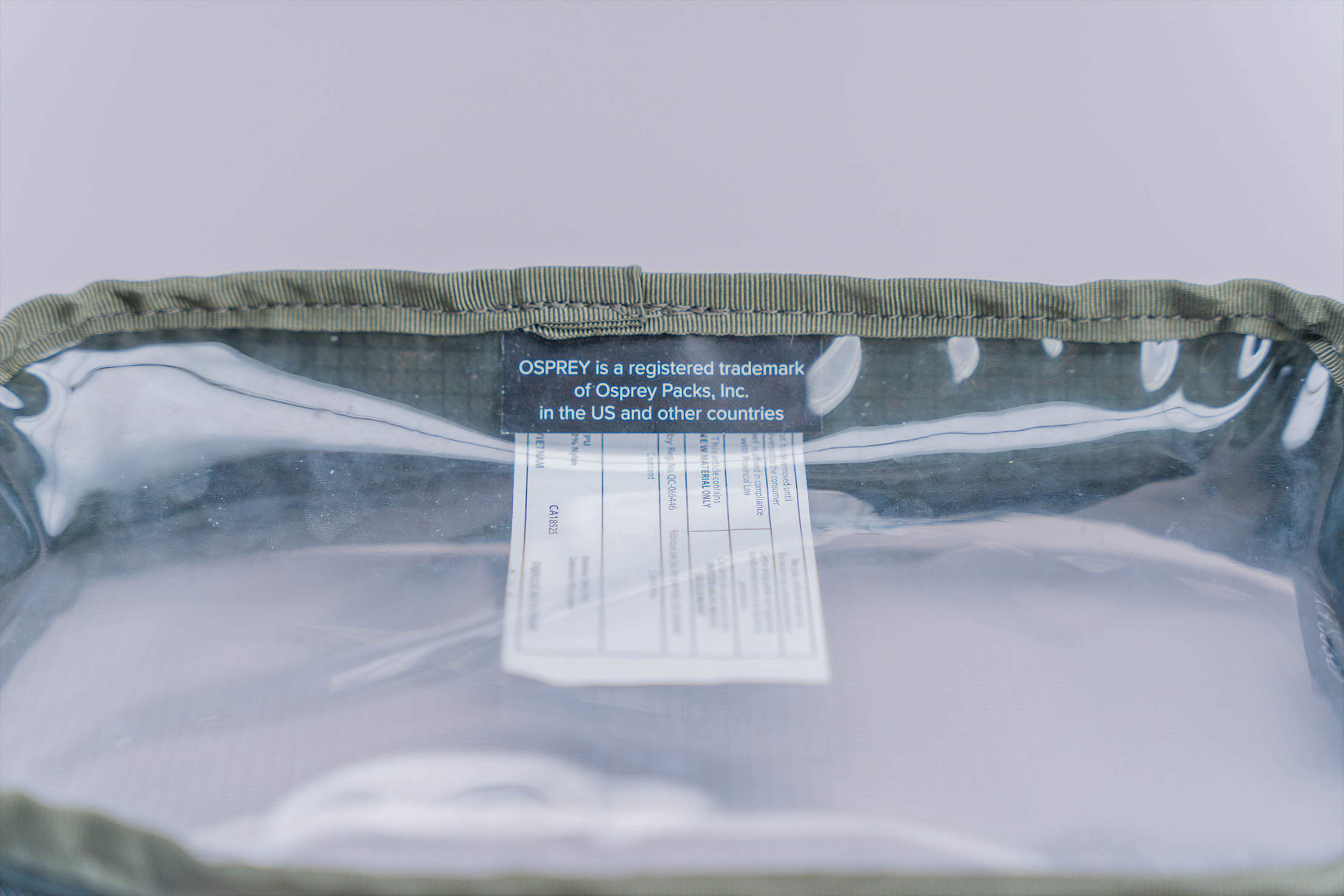 The logo tag is small on the pouch's exterior, stitched between the TPU film and the lip of the ripstop. We like the minimalist style of the logo tag and enjoy that it's on the outside of the bag compared to some pouches that include it on the interior, like the Tom Bihn 3D Organizer Cube. We've found that toiletries can get interior tags dirty, but it really depends on your personal preference; either way, no complaints from us on this one.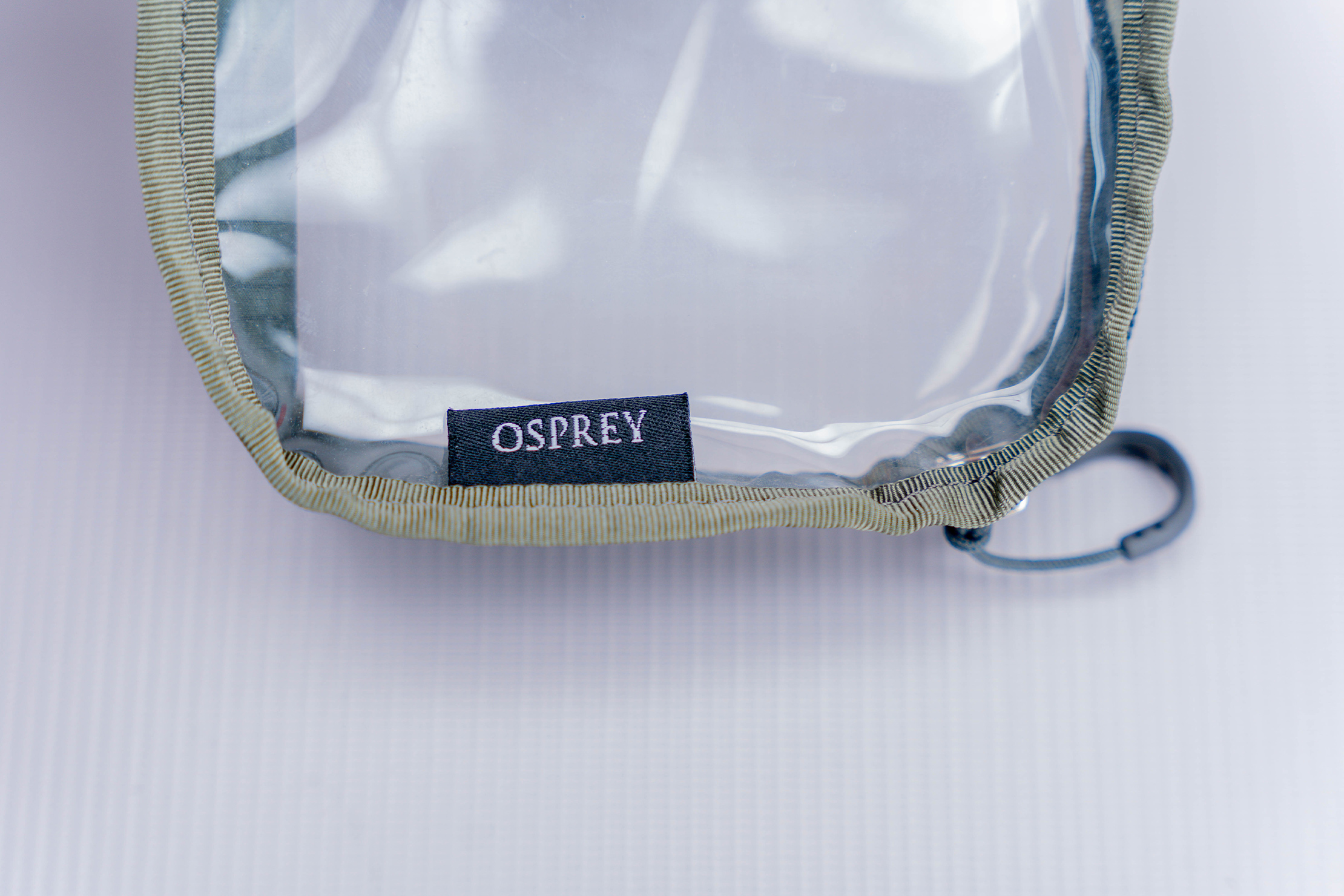 There's just one zipper on this pack that opens and closes the main (and only) compartment. It's a YKK #5 zipper, a more than capable model for this usage from a more than respectable brand. The zipper doesn't have a waterproof coating, which has the potential to be problematic if you have a toiletry explosion. If that does happen, you might question the toiletry container more than the zipper, but that's up to your discretion.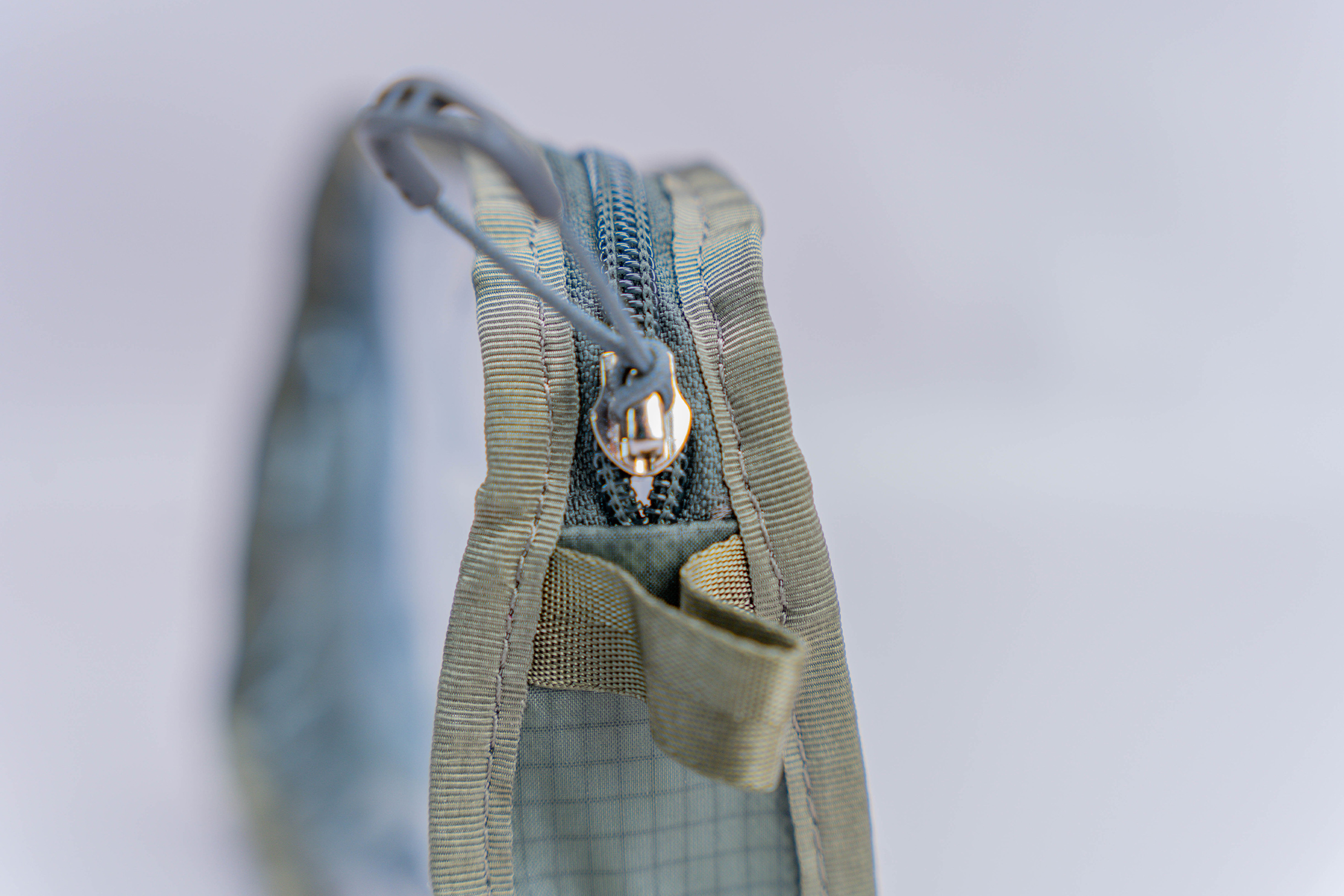 The zipper track doesn't completely close when you pull the zipper head as far as it will go, which gives us pause. It isn't a tiny hole either—we estimate you could fit roughly three toothpicks into it. That might not seem like a colossal circumference, but if a liquid or powder toiletry item breaks open inside, that hole is enough for it to get all over anything just outside the zipper.
Usage & Features
The zipper pull is a thin loop of nylon-like material with hard plastic on the tip. The hard plastic is easy to find and grab onto, although its lack of texture is a little slippery when wet. That being said, we don't have any issues getting the pouch open or closed.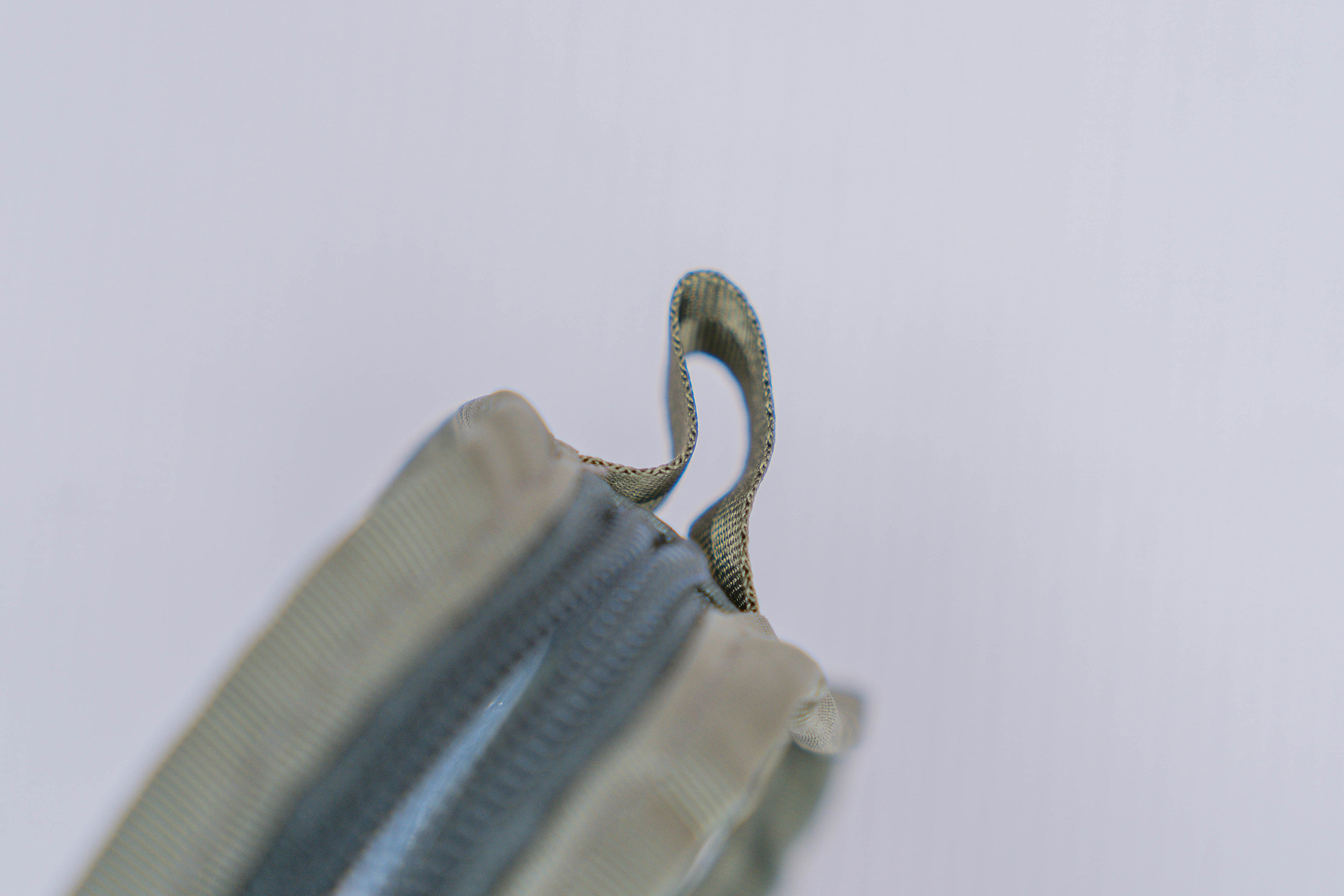 Situated just below the zipper when the pouch is closed is a small loop that can act as a tab to hold onto to assist in opening the compartment. This makes opening a breeze, but the lack of one on the other end leaves us a little disappointed. The loop is actually for hanging the pouch up once you get to your hotel or Airbnb, which we appreciate, but we find ourselves missing one on the other side, which could make the pouch as a whole feel a little more versatile.

Coming in at just 1.6 oz (45.4 g), this pouch lives up to its namesake of Ultralight. Another toiletry pack that we love, the Tom Bihn 3D Organizer Cube, weighs 2.2 oz (62.4 g), roughly 30% more than the Osprey. A few grams might not seem like much, but as anyone who has made a packing list knows, a few small changes can go a long way. But if we're being honest, the ultimate ultralight option is probably a quart-sized Ziploc bag. Coming in at just 0.2 oz (5.7 g), it weighs just 12% of the Osprey. Whereas we do love a good old plastic bag, the Osprey is much nicer looking, more sustainable since you only need one, and ultimately more durable. We all have to grow up sometime, I guess.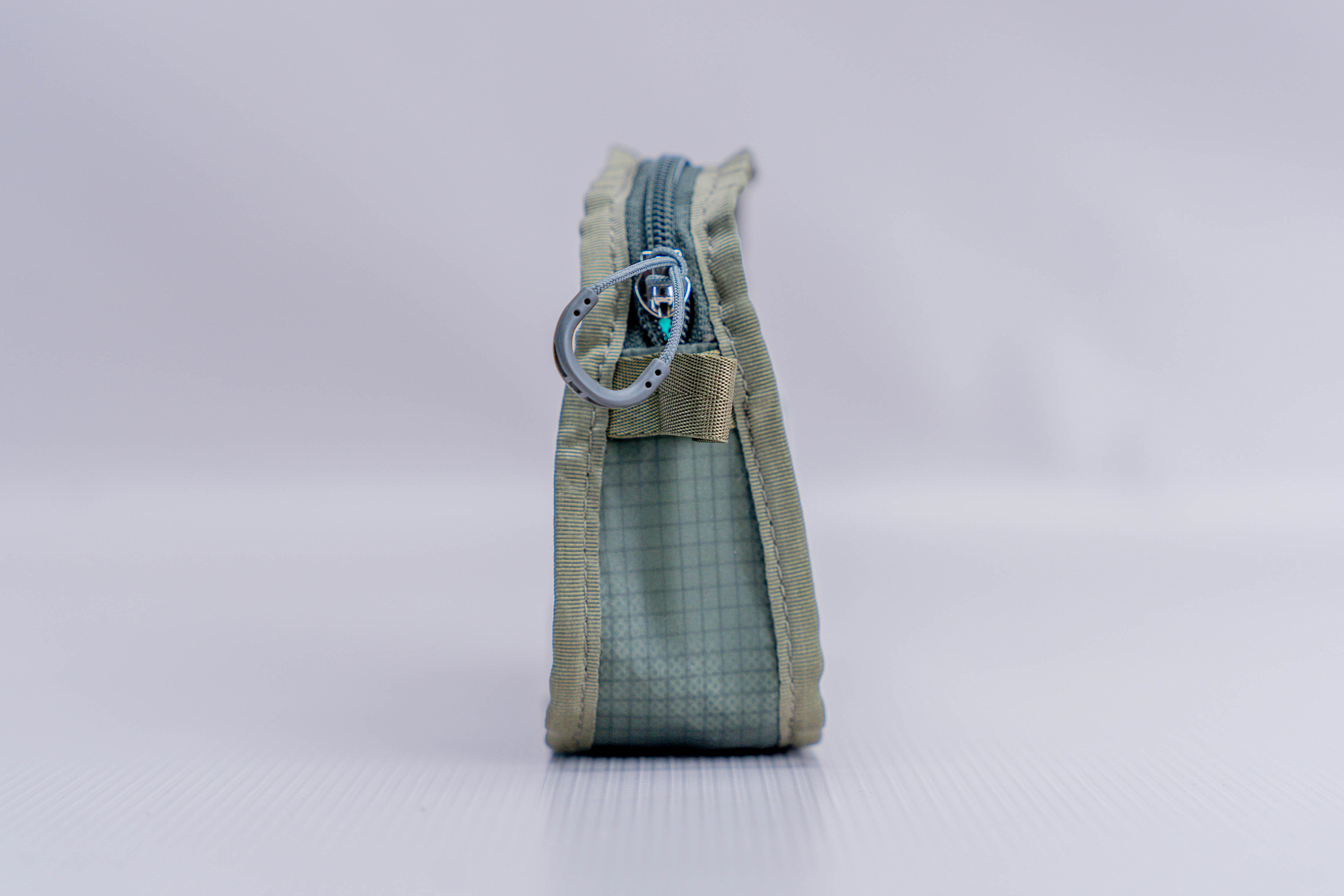 The bottom of the pouch is larger than the top, which is an excellent shout from us. Not only were we able to fit our larger items into the bottom, but the wider surface area at the contact point also enables the pack to stand up straight even when the top of the pack is filled. If it were the same size throughout, it would be much easier for it to topple over, potentially spilling your items all over. This is a great feature from Osprey, and we're here for it!
Inside The Pouch
The interior of the pouch is basic, but that's intentional. Its main purpose is to quickly get you through a TSA or another security checkpoint. A toiletries pouch can be up to 1 quart to be TSA compliant. This pouch is 1 liter, which is technically just over a quart. In our experience with security, this pouch should be just fine, but knowing that you are technically .05669 quarts over regulation is nice to know beforehand.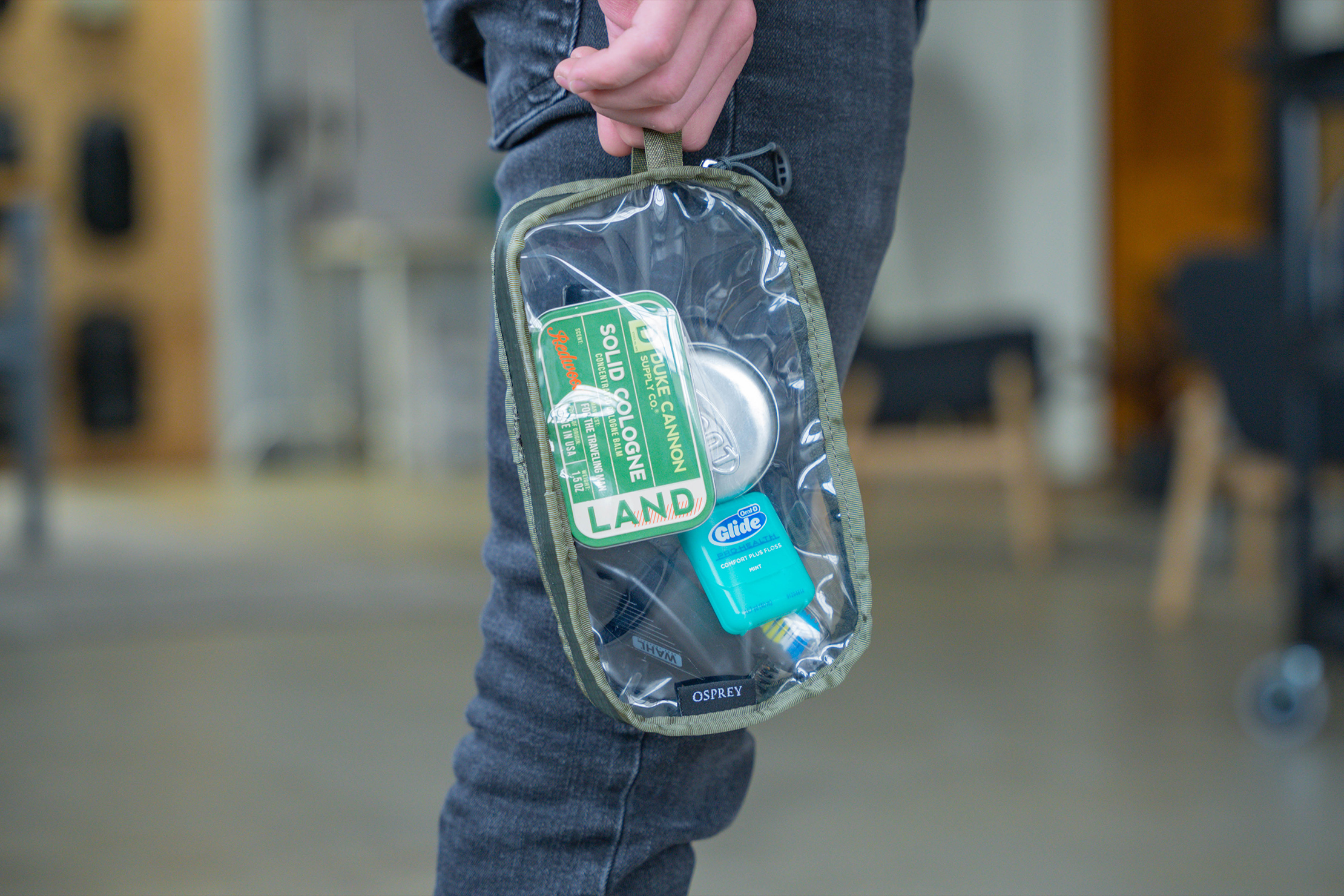 Another rule to be TSA compliant is to ensure that all of your toiletries are 3.4 oz (100.55 g) or smaller. As we mentioned above, we love the fact that this pouch is larger on the bottom than the top so that we can stow away as many TSA-friendly bottles as possible When there is no variation in size within a toiletries pouch, items don't fit together as well, but with the widening size, we're able to arrange things to fit more like a puzzle. It may take a few tries to get your toiletries acting more neighborly, but once you figure it out, it works wonderfully.
The interior of the pouch has an incredibly, almost laughably, large materials tag. It's white and, honestly, pretty ugly. You can cut or rip the label out, but we would recommend cutting it as it's stitched into the seam of the pack, and tearing it may damage the seam.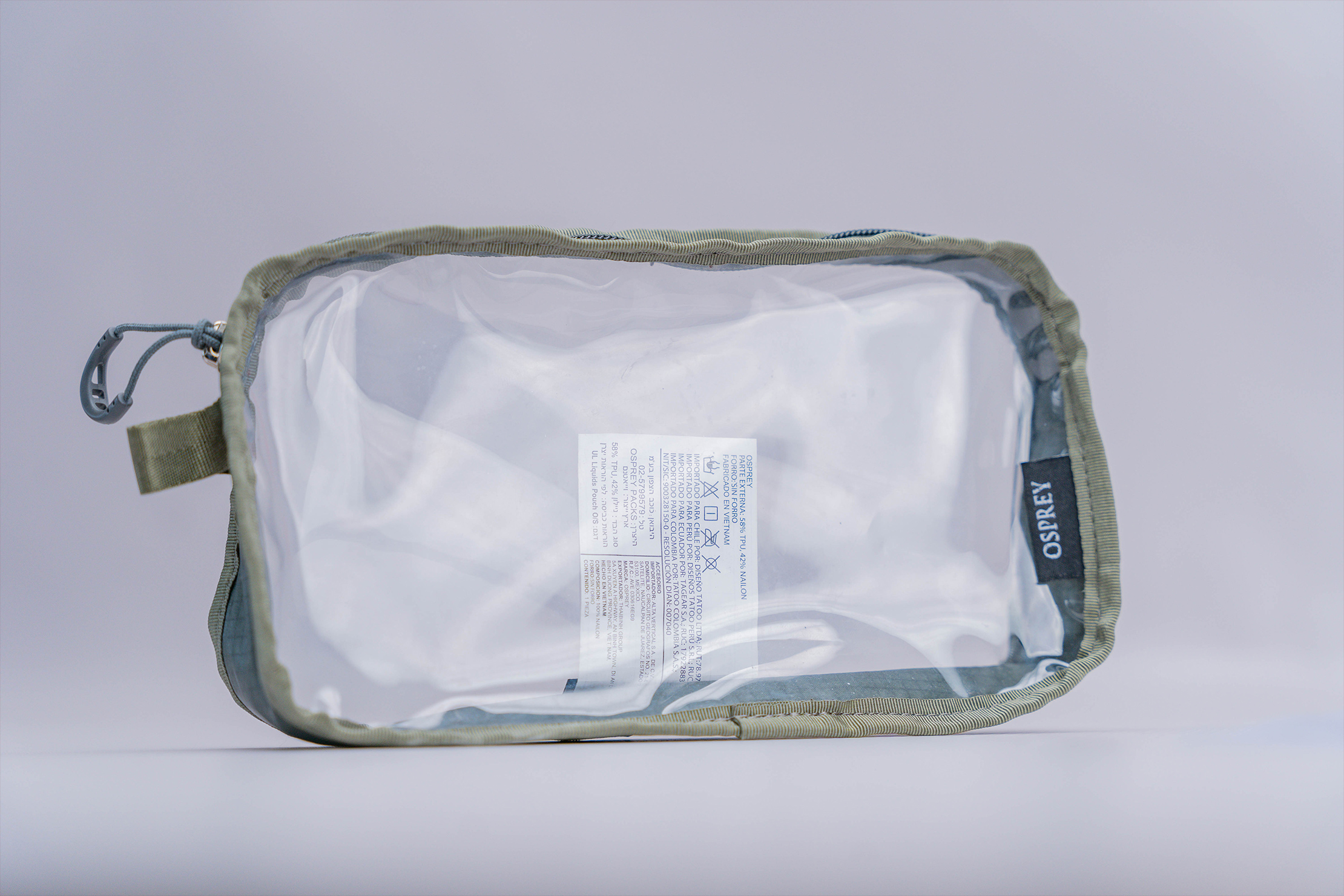 Overall, we like the Osprey Ultralight Liquids Pouch for its durable materials, its design that tends to stay upright even when fully packed, and its ability to get us through the TSA line quickly. We wish the zipper closed fully and that it had another tab for hanging the pouch and assistance closing it, but those are far from deal breakers for us. Coming in at around $10 at the time of this review, this is a great budget option for most people that need something that just works. Pair it with a set of packing cubes, and you're ready to go!
Usage Timeline
Initial Usage
Condition: Excellent
Very lightweight thanks to its TPU and ripstop construction
Wide enough for regular-sized toothbrushes
Completely see-through main body makes it easy to keep track of toiletries
2 Weeks of Use
Condition: Excellent
TPU film collected some smudges from toiletries but cleaned up very easily
Zipper doesn't quite close all the way, but that didn't affect usage.
Ripstop has not shown any signs of wear
Access the Pro Community Discussion
Get your questions about the Osprey Ultralight Liquids Pouch answered from our team and the Pro Community right here on the page. Plus, join discussions with other members about gear, guides, and more.
Other Organizers & Pouches Reviews