DUER Never Fade Pant Review
With a slim silhouette and classy styling, the DUER Never Fade pants are flattering and versatile. We have a few nitpicks, but they're solid overall.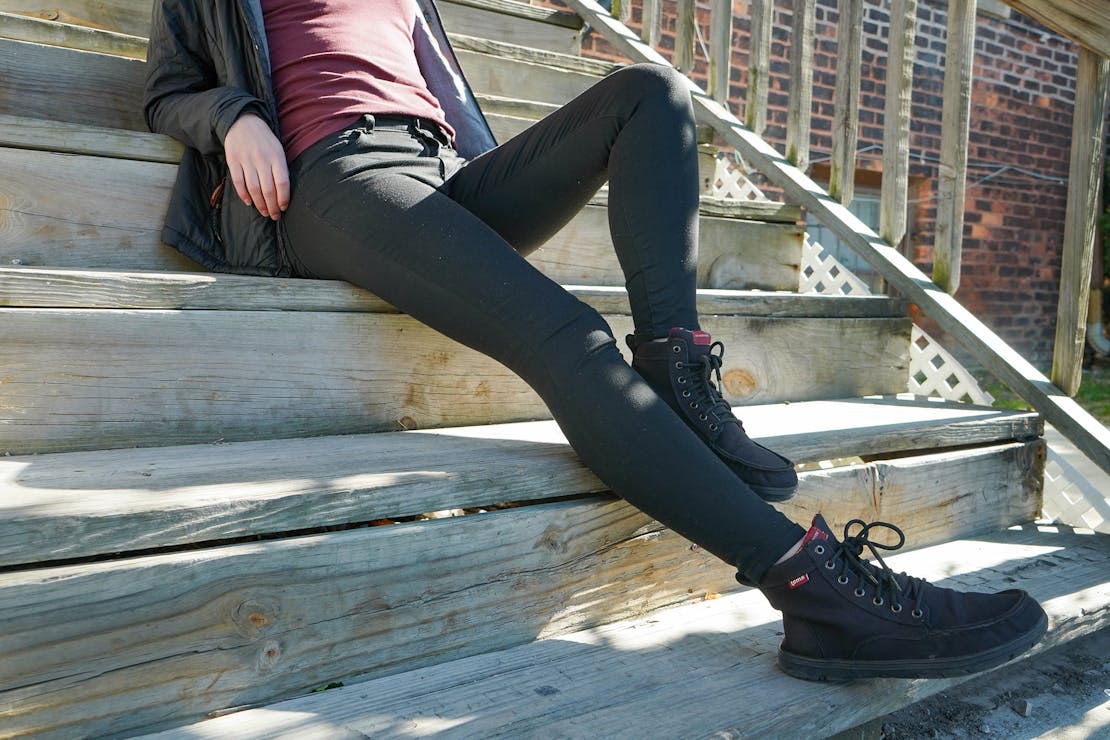 Our Verdict
Unlock the Pro Summary
Save time. Get access to brief summaries of our reviews so you can browse and make decisions more efficiently.
Pros
Flattering
Versatile—ideal for business meetings and bar crawls
Four-way stretch is great for an active lifestyle
Cons
Not ideal for hot weather
Lacks functional pockets
SILVADUR™ treatment may not be environmentally-friendly
Recent Pack Hacker Video
Technical Details
Notable Materials

Polyester, Modal, Spandex

Manufacturing Country

China

Warranty Information
Full Review
The folks at DUER make a lot of promises about their women's DISH Never Fade pants, starting with the name. Never Fade is quite the claim.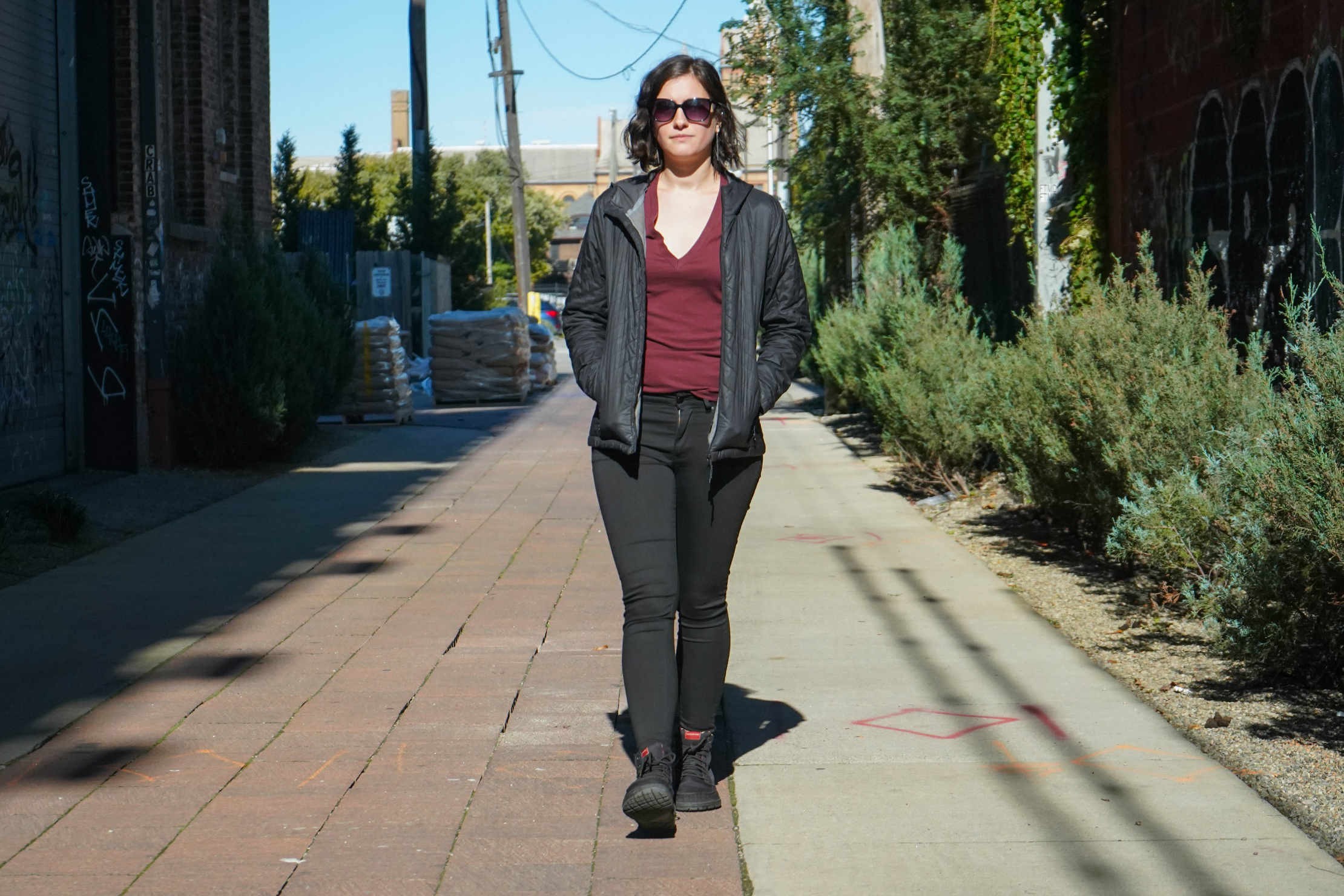 They also claim these pants are temperature regulating, odor-resistant, crazy comfortable, stretchy, and easy to care for.
So does the Never Fade Pant live up to these promises? Let's find out.
Fit, Fabric, & Features
With a slim silhouette and fabric that hugs the body, the DISH by DUER Never Fade Pants are flattering. Even if you haven't washed your hair in a bit and your under-eye circles have seen better days, throw these pants on you'll be looking good.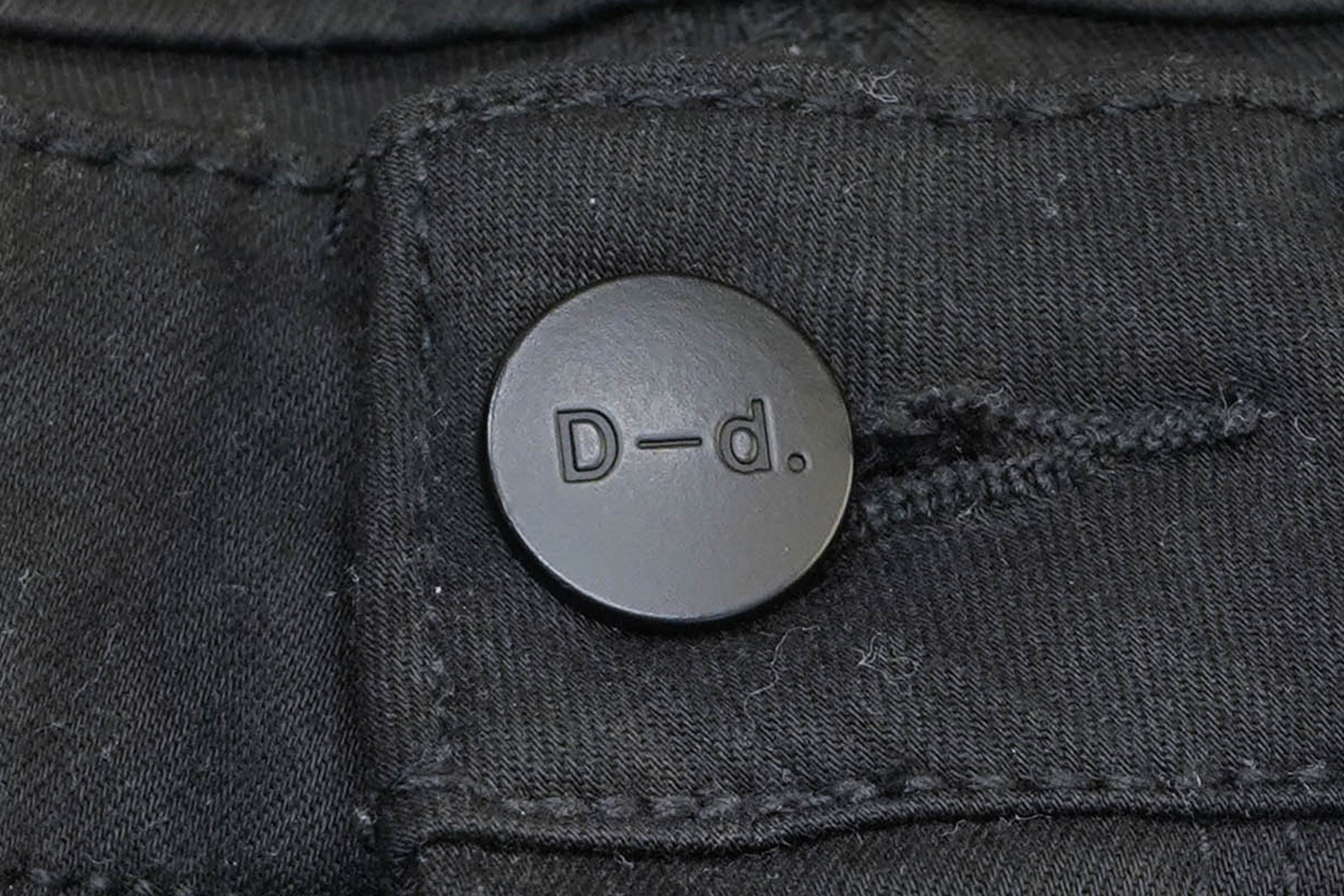 With a classy style, including all-black hardware, they're easy to dress up with a blouse or blazer—but you can easily keep it casual with flip flops and a t-shirt (just don't forget that French tuck).
Versatility is a must when it comes to travel clothing, especially as a digital nomad. You need pants that work as well in a business meeting as a bar hop. These fit the bill. Not to mention the rich black colorway goes with everything. Rock the monochromatic black-on-black look or pair the pants with something fun and colorful. You do you—these pants have your back no matter what.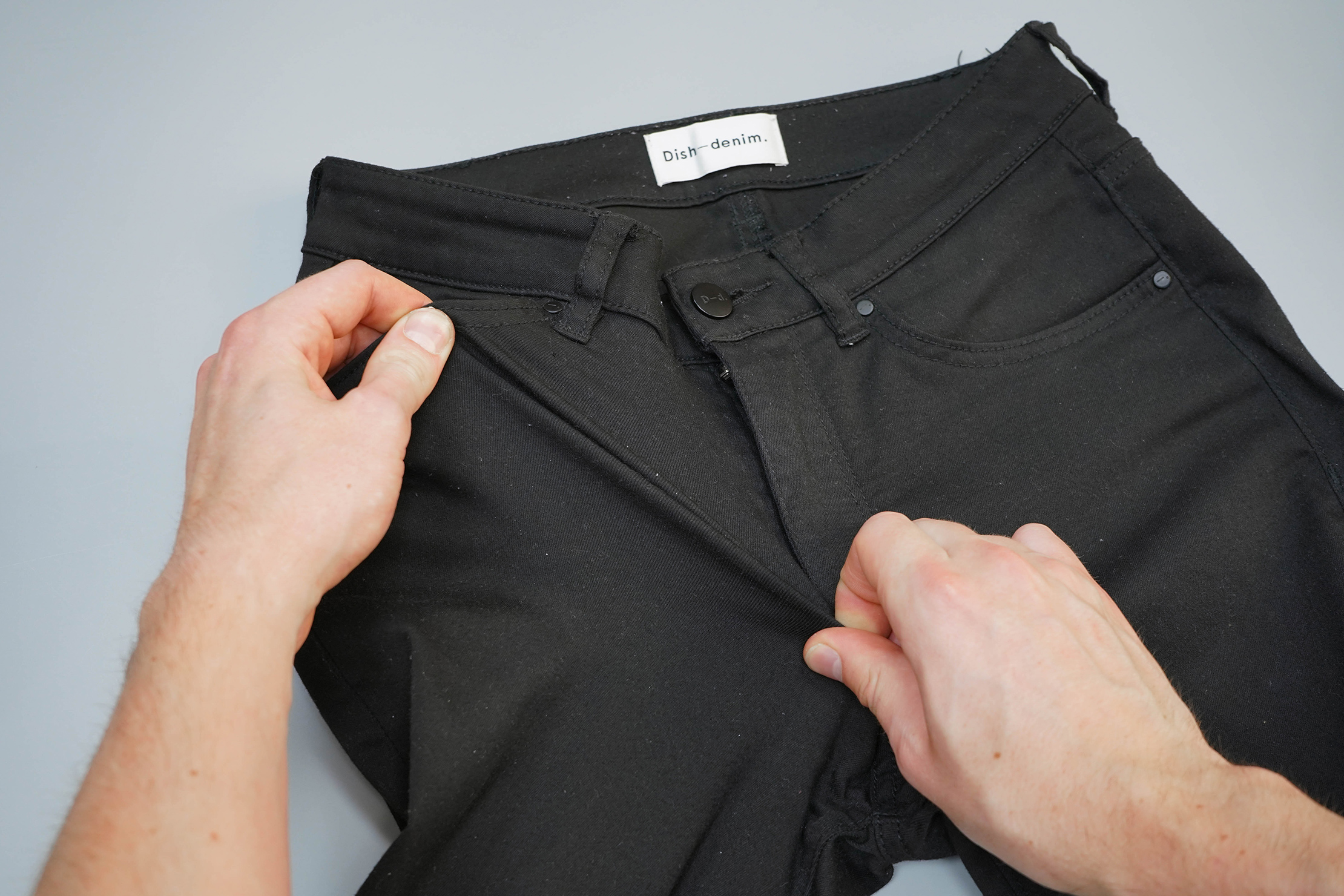 The pants are made from DUER's Infinite Stretch™ fabric, which is as stretchy as the name suggests. They stretch in all directions and have a 94% retention, meaning they won't lose their shape after a few washes. And, don't worry, they don't look like leggings or athleisure.
The stretch means these pants are quite comfortable—even when you're strutting down city streets for hours at a time. We haven't tested them while riding a bike, but some reviews have mentioned they work well for quick rides and we believe it. We like that these pants have an "articulated rise," which essentially means they don't slide down in the back, keeping your rear covered. That's great for riding bikes, sitting on planes, or just living your life.
Now, DUER suggests buying a size down because they're stretchy, but we disagree. We opted for a size down and wish we would've gone for our normal one as the waist can definitely get tight—especially after a large meal. And what is traveling but killing time between large meals?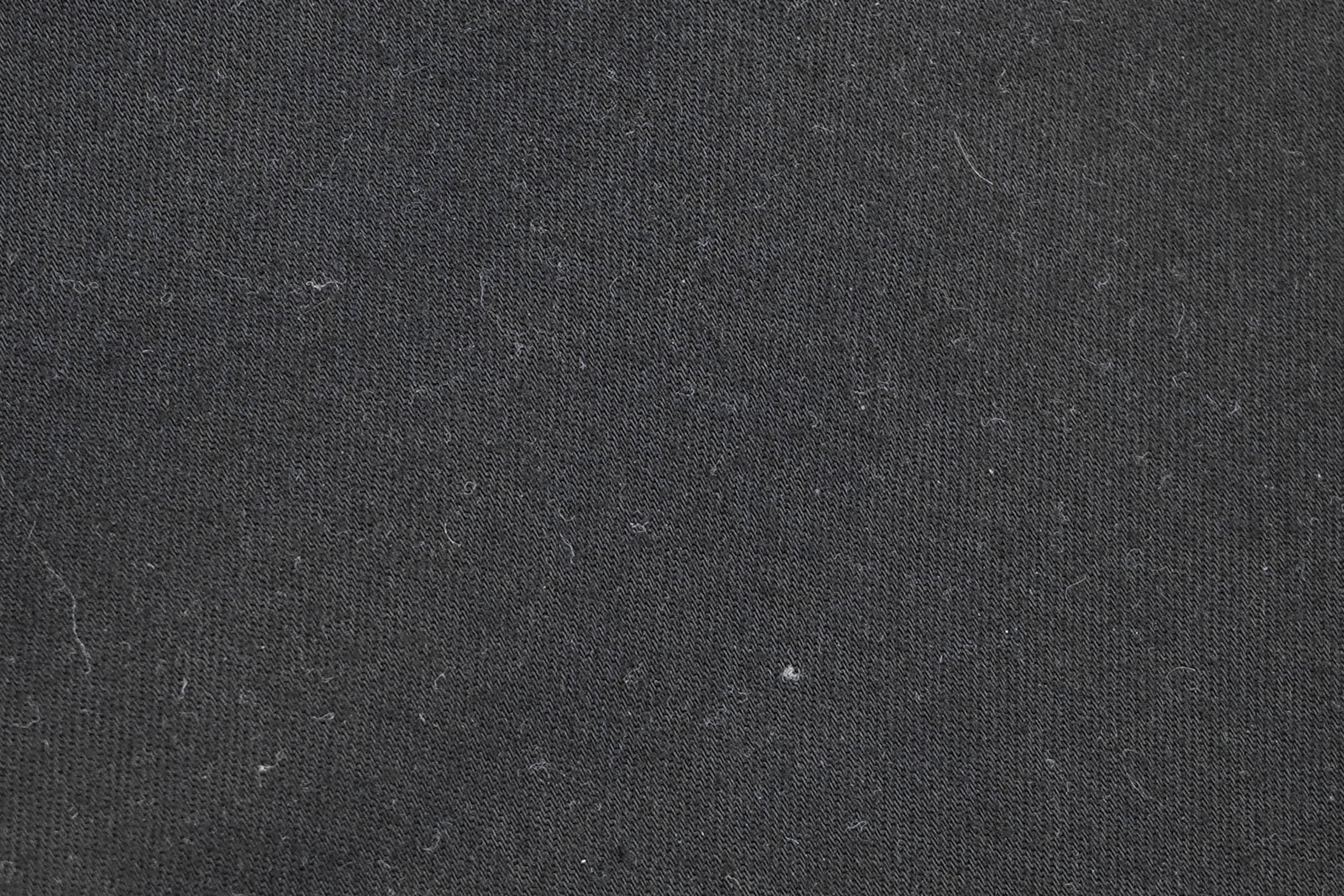 The Infinite Stretch™ fabric, which is a special blend of Polyester, Modal, and Spandex, is also infused with a SILVADUR™ treatment which gives it antimicrobial properties. We're not chemists and won't be diving into what exactly DuPont's SILVADUR™ treatment is or how it works (if you're interested may we suggest Google). Briefly, SILVADUR™ releases silver ions that kill odor-causing microbes.
Using silver nanoparticles to keep clothing and textile stink-free is a relatively new technology and there have been concerns about environmental impact. We're not going to get into it, but if this is something you're interested in—definitely go check it out.
All that to say, we haven't noticed that these pants are any better at resisting odors than regular ole' denim. Yes, you don't have to wash these pants much, but we don't wash our other jeans much either (but maybe we're gross?).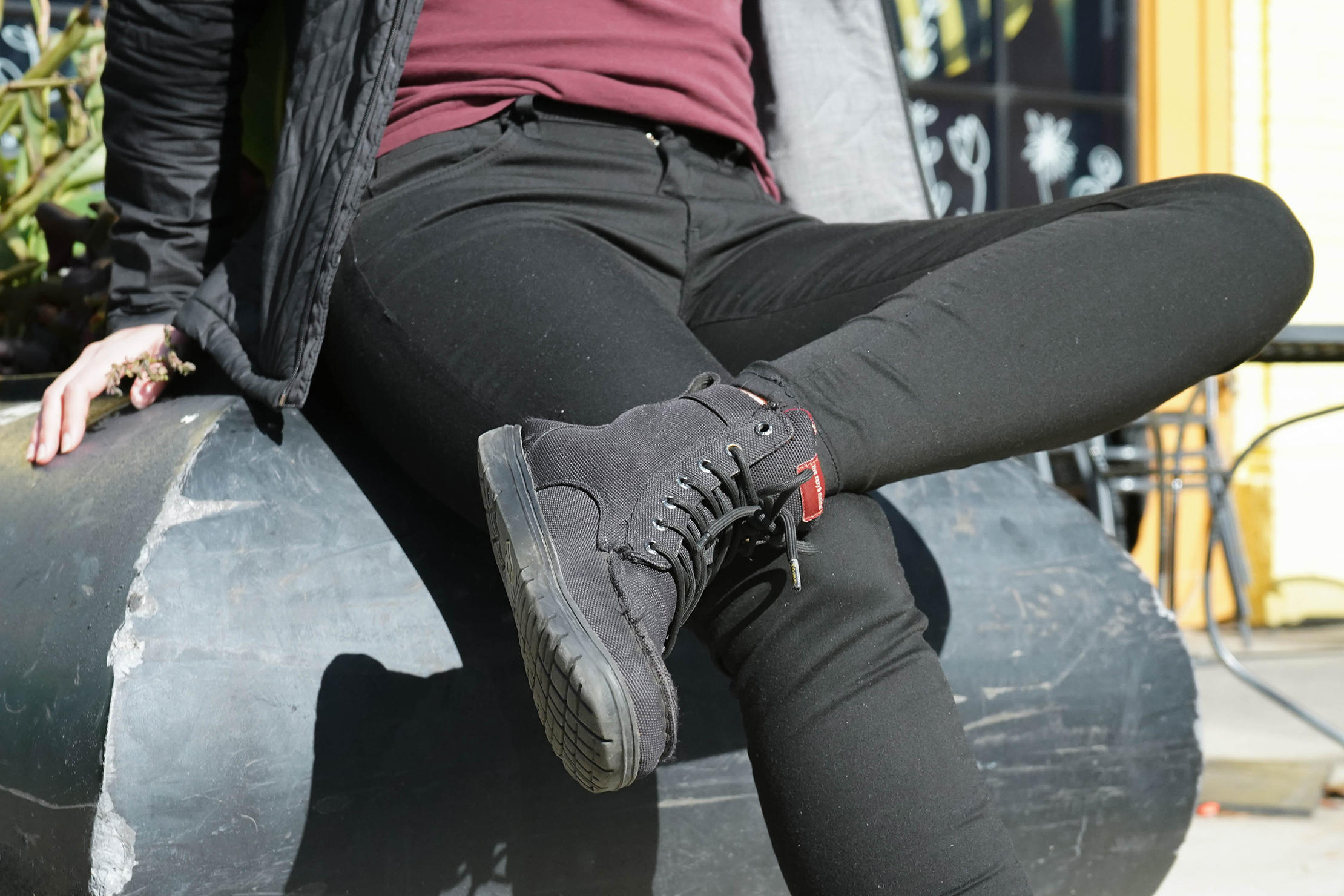 DUER also says they integrate COOLMAX® fibers into these pants, which "wicks moisture from the body in heat, and insulates for warmth in the cold." We've found this to be almost true. They're certainly great for cooler weather and they aren't terrible in the heat either. But these pants are tight and black—two things that aren't known to keep you cool.
We're not sure about you, but when it's 95 °F outside with 99% humidity (hello, Michigan summers) we're not excited about wearing pants that cling to your legs like a second skin. Still, we have to admit these pants do better than a regular pair of tight, dark-washed denim.
So that brings us to the boldest claim DUER makes: the black colorway will NEVER fade. Okay, that's not quite true. If you look into the "never fade" claim, it's really a "won't fade in 20 washes" claim. We don't think forever equates to 20 washes, but whatever.
For now, this claim holds up—but we haven't neared 20 washes yet. We're probably at less than four. The black looks as rich as ever, which, to be fair, is still pretty rad as some black pants fade after a single wash. We'll be sure to update the Usage Timeline below as we approach that 20 wash benchmark.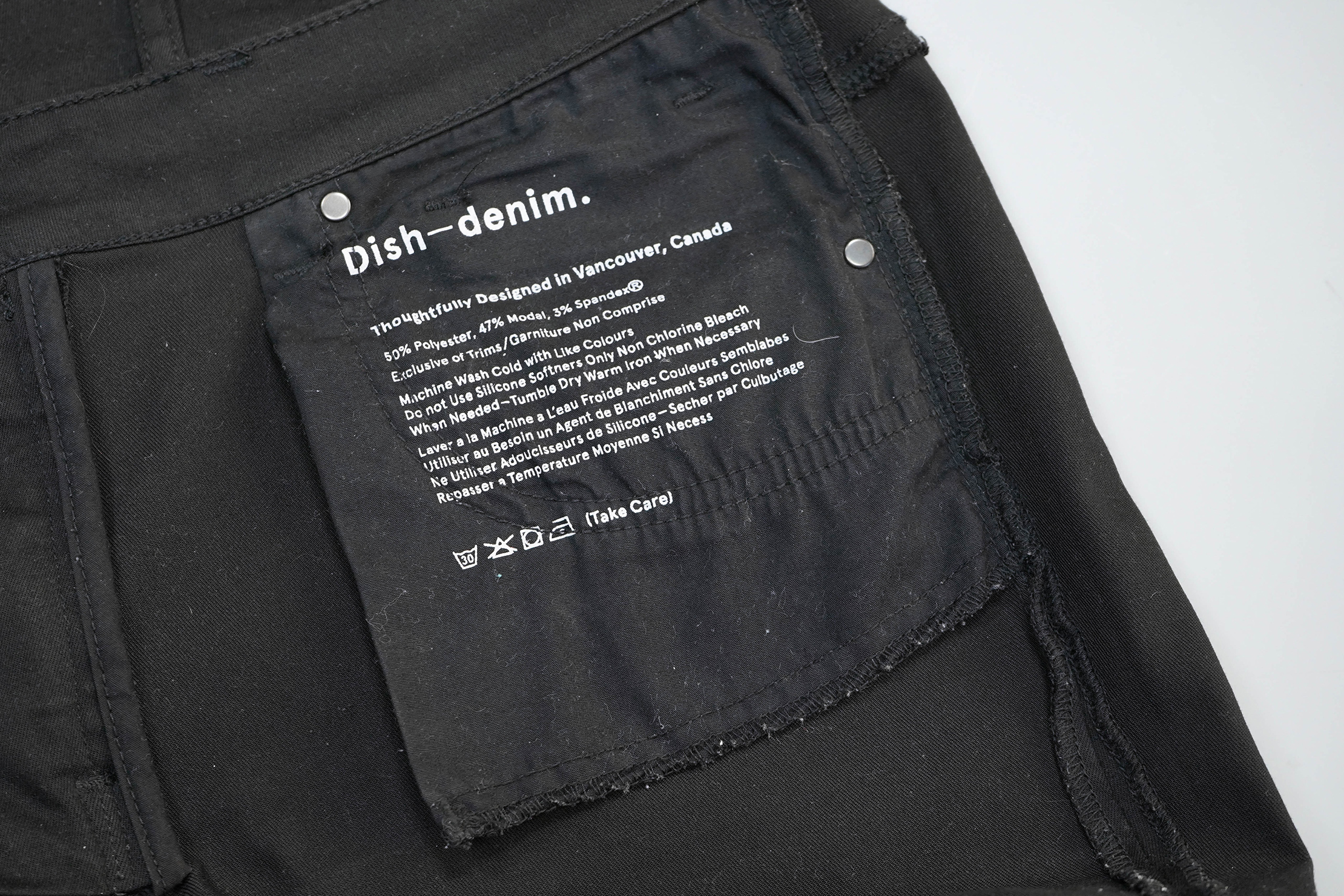 Speaking of washing—we appreciate how easy it is to take care of these pants. DUER touts this as a feature—as they should. You can toss them inside-out in the washer on cold and—get this—you can throw them in the dryer (!). We still suggest hanging them to dry when you can to increase their longevity, but it's nice to have the option in a pinch.
We've also noticed a few other features that DUER doesn't mention on its website. For one, they're wrinkle-resistant. In general, denim is usually wrinkle-resistant, but it's still worth noting as most dressy pants aren't. And you can get away with wearing these as dressy pants.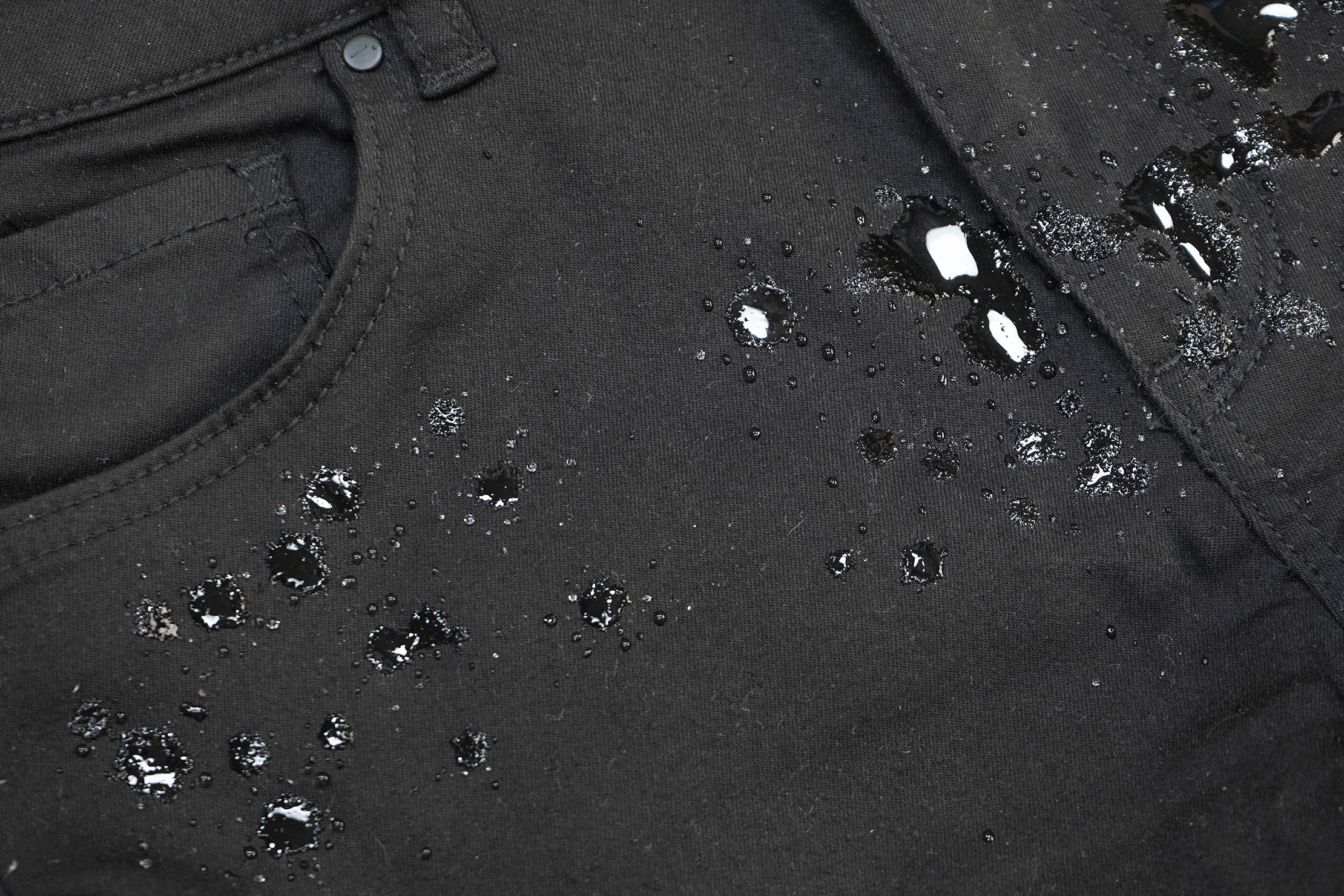 We've also noticed a small amount of water and stain resistance. Now, these pants aren't as stain or water-resistant as pants that are built for said things, but they're better at it than regular denim. Liquid beads on the pants, so you can quickly wipe it off before anything is absorbed. There may have been an incident involving orange juice, which was resolved without a Tide To Go pen—for us, that is a major win.
One last feature worth mentioning doesn't have anything to do with the pants themselves but is important nonetheless. The folks at DUER are dedicated to making ethical clothing and share the two factories they work with on their website—one in Lahore, Pakistan and one in Shanghai, China.
Visibility is huge when it comes to social responsibility, so we're glad to see that DUER is upfront about its manufacturing process.
Durability & Testing
We've been testing the DISH by DUER Never Fade Pant for over two months in Detroit, Michigan and have taken them on multiple trips, including to Santa Fe, New Mexico. So far, so good.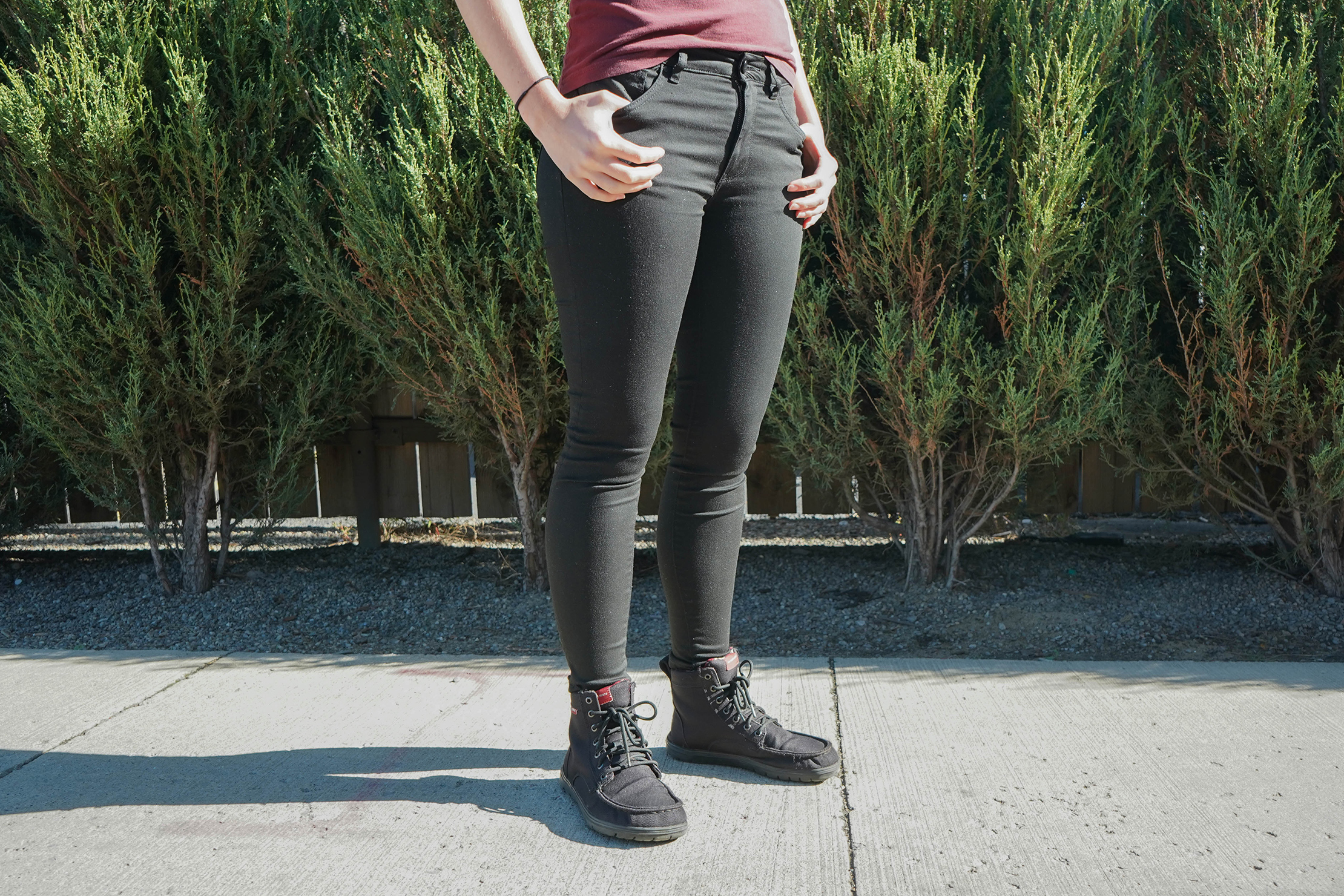 The black colorway is still super rich and bold, and we haven't noticed any loose threads or pilling. Of course, since we don't have to wash them frequently, they're bound to hold up longer than pants that need to be washed weekly.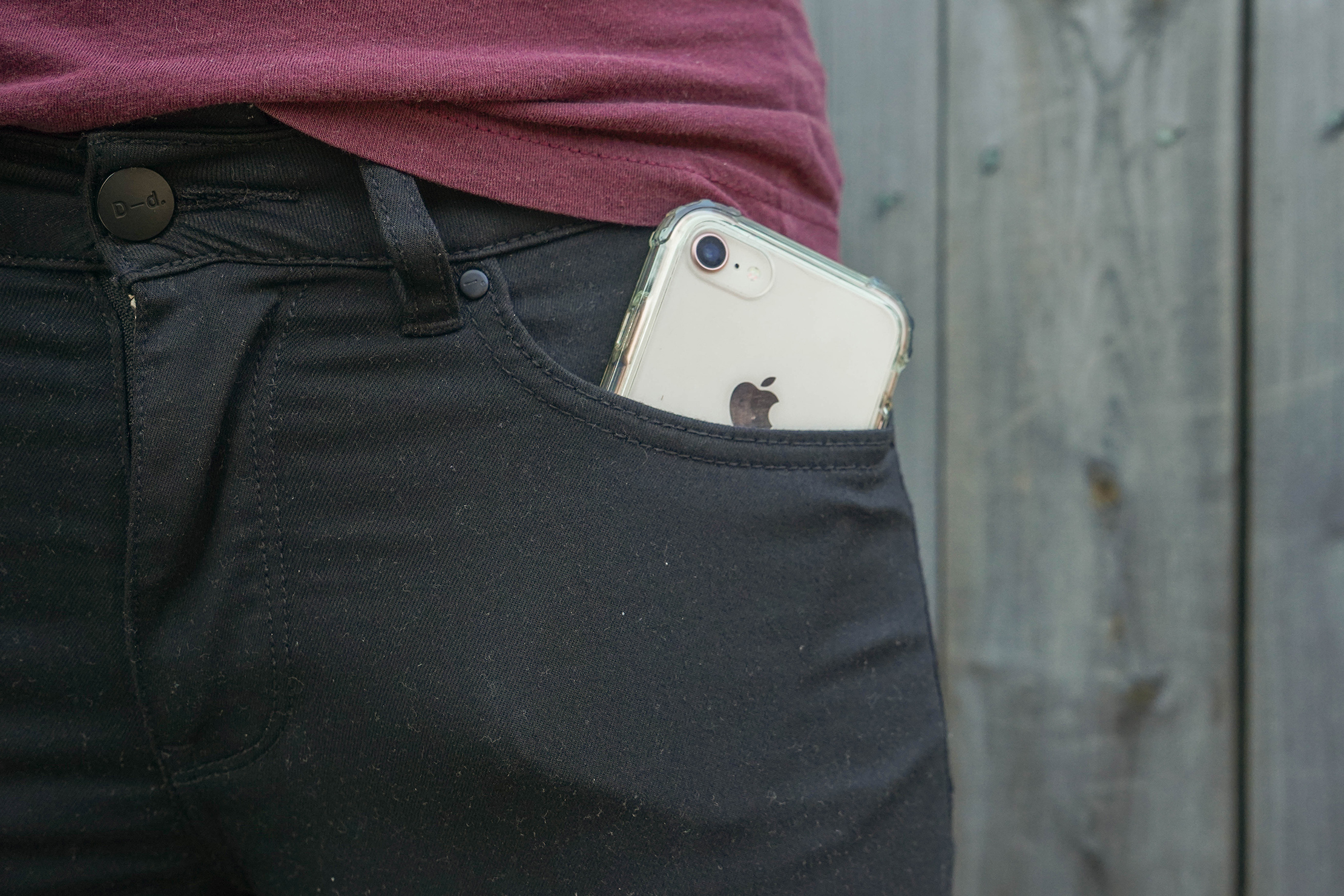 One disappointing, albeit not surprising, thing we've noticed during testing is the lack of functional pockets. Most women's clothing doesn't have useful pockets, so we're used to it. Plus, with how tight these are, we're not sure how you could hide large pockets or how good they would look full of stuff.
Obviously, if you're looking for pants to hold your phone, keys, multi-tools, and lucky charms, you'll want to look elsewhere.
Usage Timeline
Initial Usage
Condition: Excellent
Stretchy Waistband makes them comfortable to wear
Pockets can not fit a smart phone
Material is a little stiff, interested to see how they break in
2 Weeks of Use
Condition: Excellent
A little tight, but loving the versatility.
1 Month of Use
Condition: Excellent
Everything is looking good! Seems to be pretty dang water-resistant, although DUER doesn't advertise that as a feature.
2 Months of Use
Condition: Excellent
The black color is as rich as when we first got our hands on these pants!
Access the Pro Community Discussion
Get your questions about the DUER Never Fade Pant answered from our team and the Pro Community right here on the page. Plus, join discussions with other members about gear, guides, and more.
Other Clothing & Accessories Reviews