Dango D03 Lite Dapper Rail Wallet Review
The Dango D03 Lite Dapper Rail Wallet suits a cash-free lifestyle, though it only secures cards, so you may need to look elsewhere to carry other items.
Our Verdict
Unlock the Pro Summary
Save time. Get access to brief summaries of our reviews so you can browse and make decisions more efficiently.
Pros
Aluminum is lightweight and durable
Silicone band adds grip on slippery surfaces
Paracord tie is easy to grab
Cons
Inserting and removing cards can be difficult
No place for cash without silicone band
Harsh metal edges may damage cards if used incorrectly
Recent Pack Hacker Video
Technical Details
Weight (oz)

1.5 oz (42.5 g)

without silicone band | 1.8 oz with silicone band

Dimensions

4.5 in x 2.5 in (11.4 x 6.4 cm)

Notable Materials

Aluminum, Silicone

Manufacturing Country

United States
Full Review
At first glance, the Dango D03 Lite Dapper Rail Wallet has a unique look due to its aluminum body and grippy silicone cash band. We've tested other Dango wallets, and we see a few similarities and differences, so we're curious to see how they affect card access and general storage. Let's dive in!
The Rundown
The primary material used on the wallet is 6061 aluminum. We've seen this material used on other gear in the past; it's extraordinarily common because of its price and durability.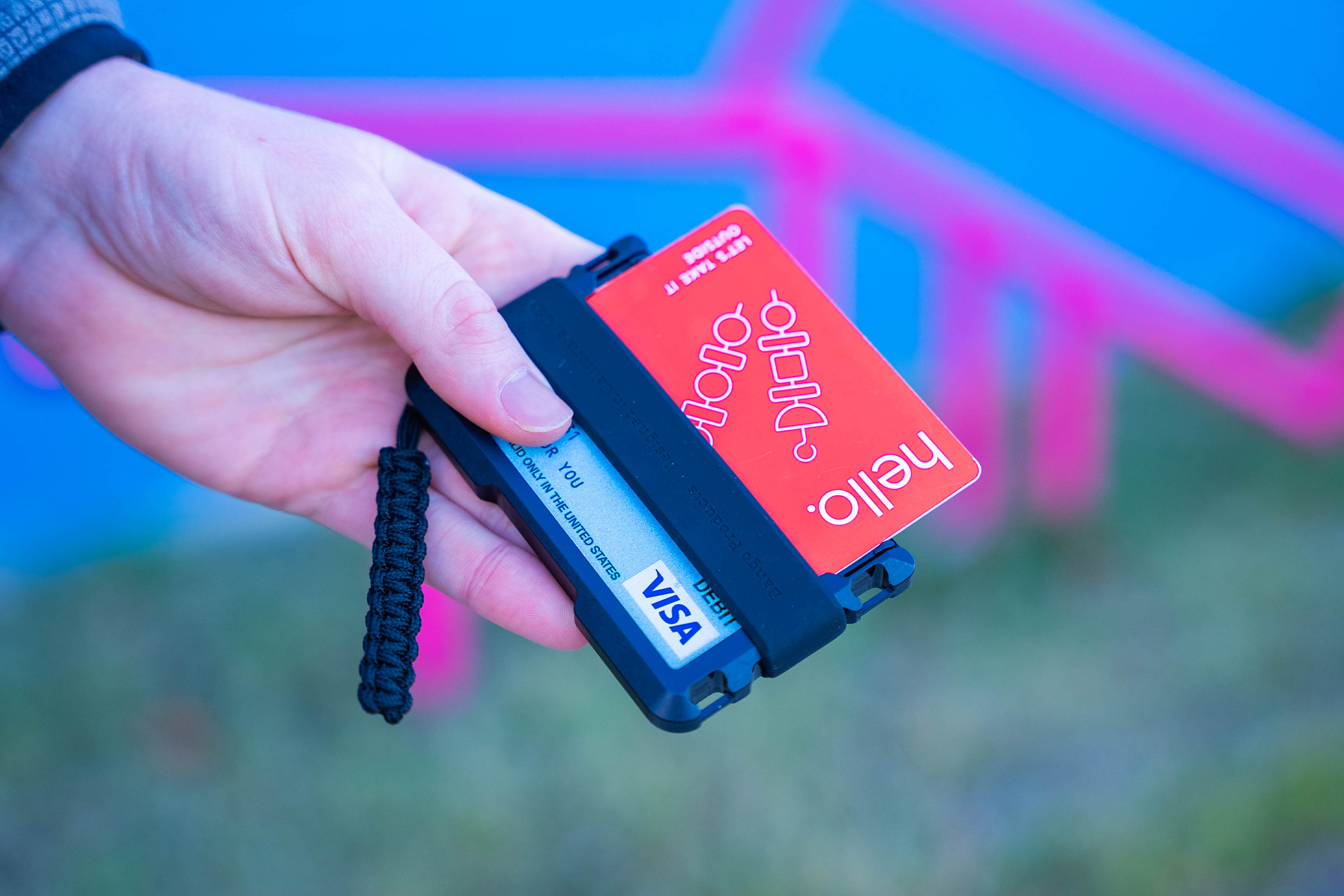 With all that said, the D03 Lite Dapper Rail Wallet is very sturdy. It doesn't have any give when you mess about with it, and we haven't noticed any significant chipping or scratches in use.
The aluminum is anodized, a protective coating that changes the color in this case. There are two colorways available, Satin Silver and Jet Black. We dig the darker option we have on hand. It's sleek and matches the Pack Hacker travel ninja guidelines.
Around the exterior of the wallet, there are four mounting points. You can attach a lanyard, carabiner, or strap—you name it, through the eyes. If you don't want to connect anything, the mounting points don't get in the way.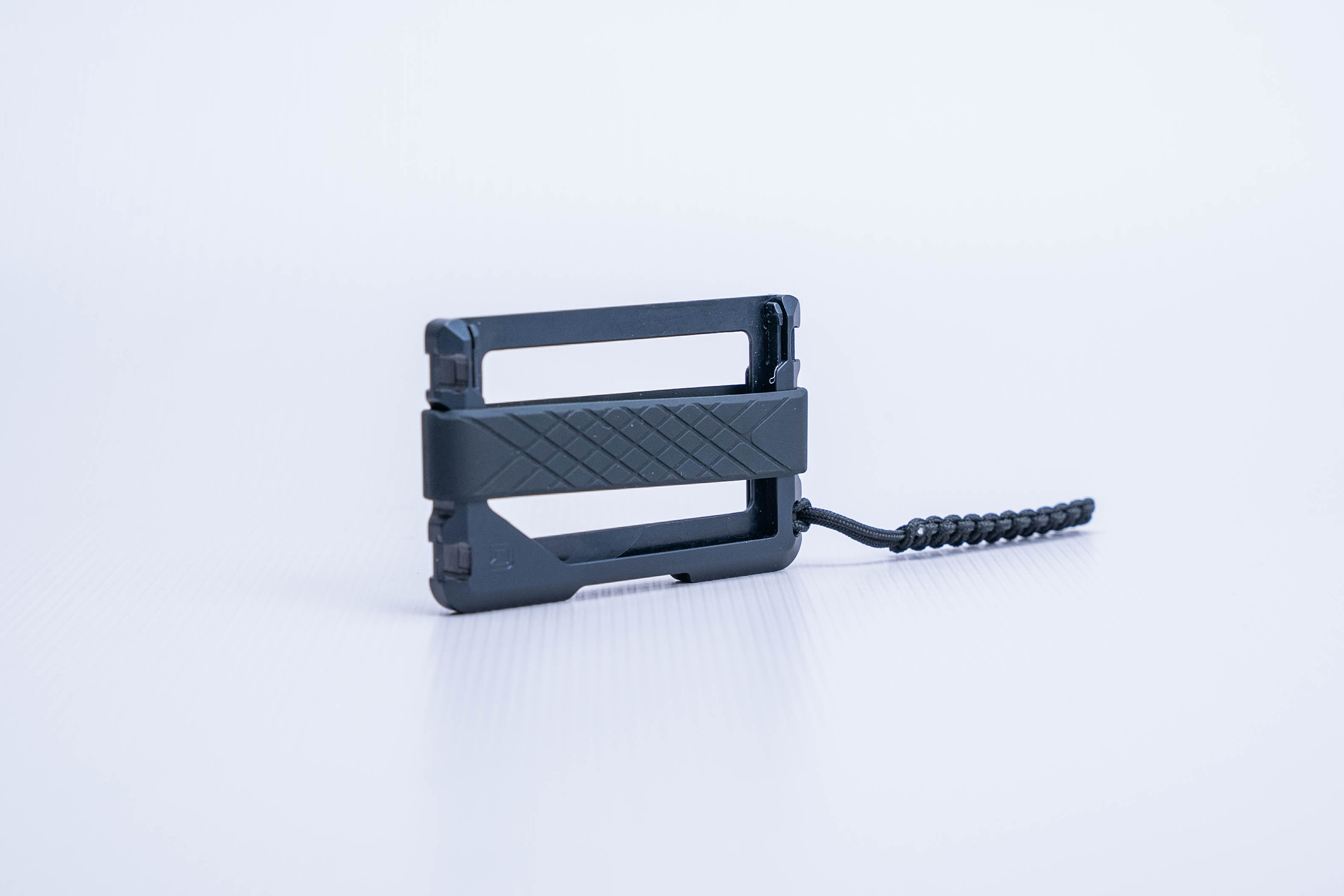 The wallet comes with a silicone band that runs around the exterior of the wallet. When it is engaged, you can put cards, cash, or similarly sized things underneath it. It isn't as secure as the card slots, though we'll get to that in a moment.
The band adds texture to the wallet so it doesn't slide around on slippery surfaces. It's also fun to play with, but that isn't why you're buying this wallet. Well, who knows, maybe it is?
Without the band, there are two places you can put cards. Slots on either side can fit up to five cards, depending on their thickness. That's ten total, which is more than enough for most folks to carry with them on a trip or every day.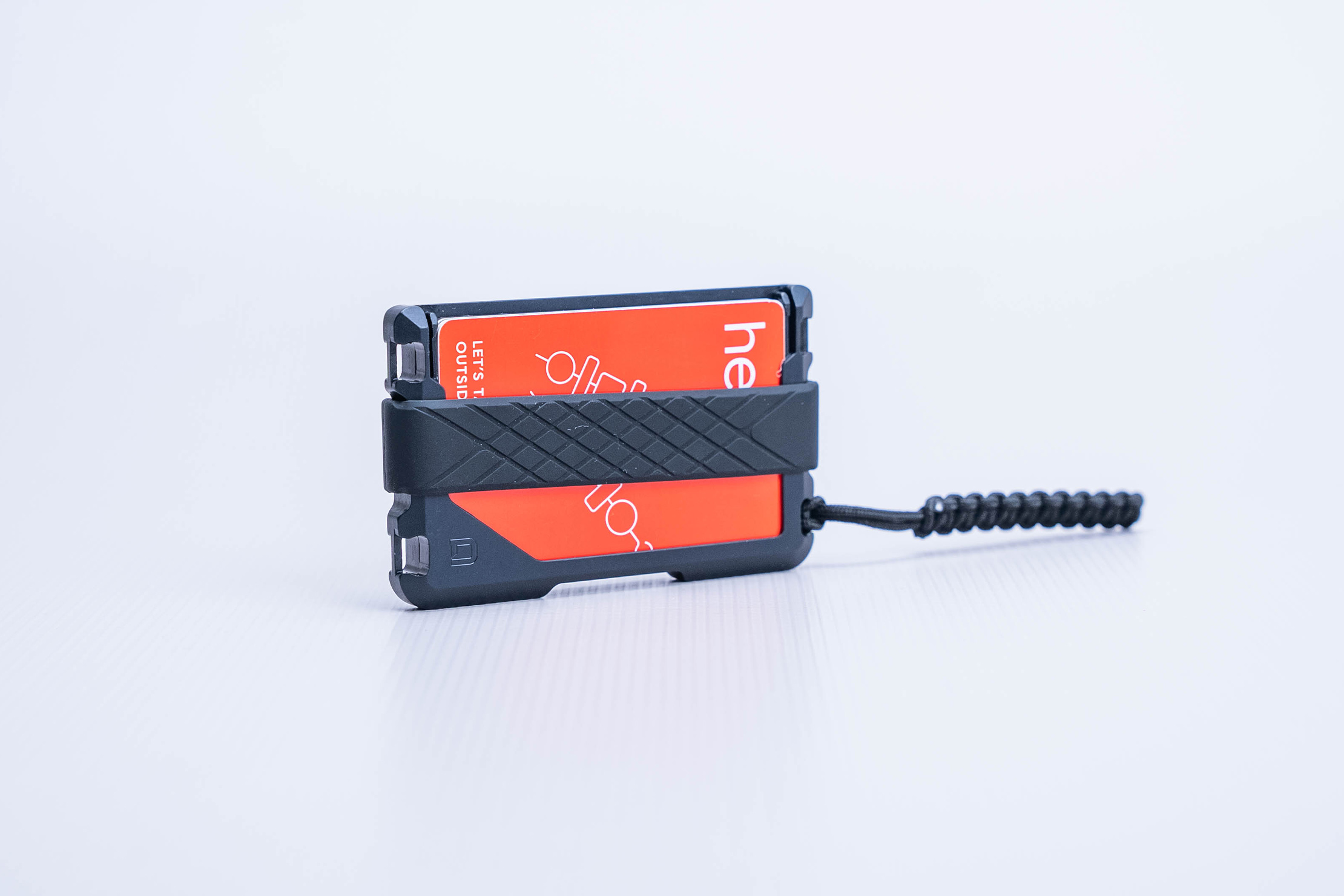 To add cards, you have to slide them in at a diagonal. It takes some getting used to, and even after you do, sometimes it takes a moment to slide a card back into place.
Without the band, there's nowhere to stow cash or other items. You can fit cards; that's it.
Packability
When it comes to size, this wallet does reasonably well. It's a bit larger than the size of a credit card and is roughly the height of a Lego brick.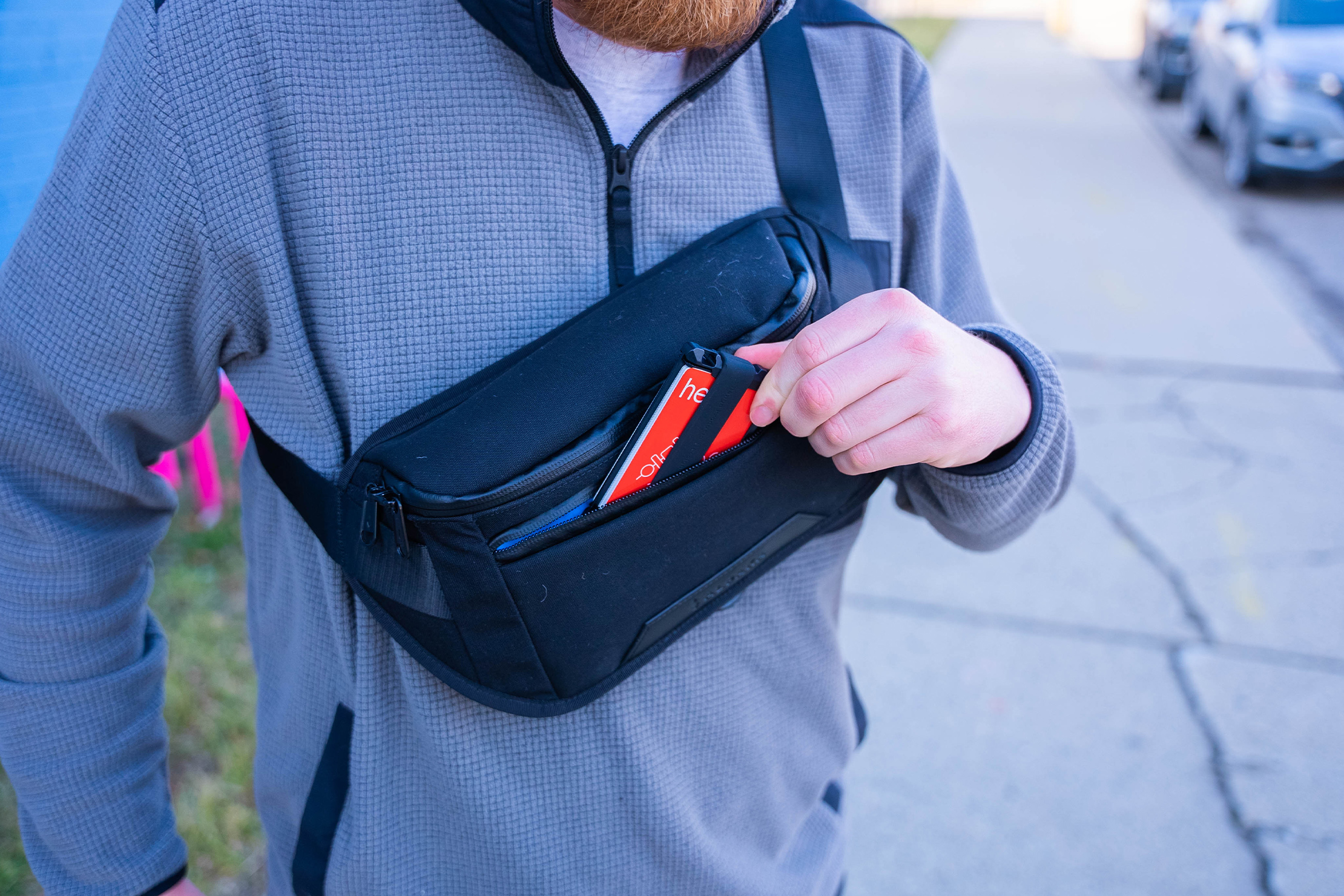 With the silicone band engaged, the wallet weighs 1.8 ounces. Without it, 1.5 ounces. It isn't the lightest wallet we've tried, yet it won't weigh you down.
The attachment points are handy for grabbing the wallet quickly. If you have it in your pocket, you can leave the lanyard or toggle hanging out to be easier to grasp, which is especially helpful if you're wearing tighter-fitting pants.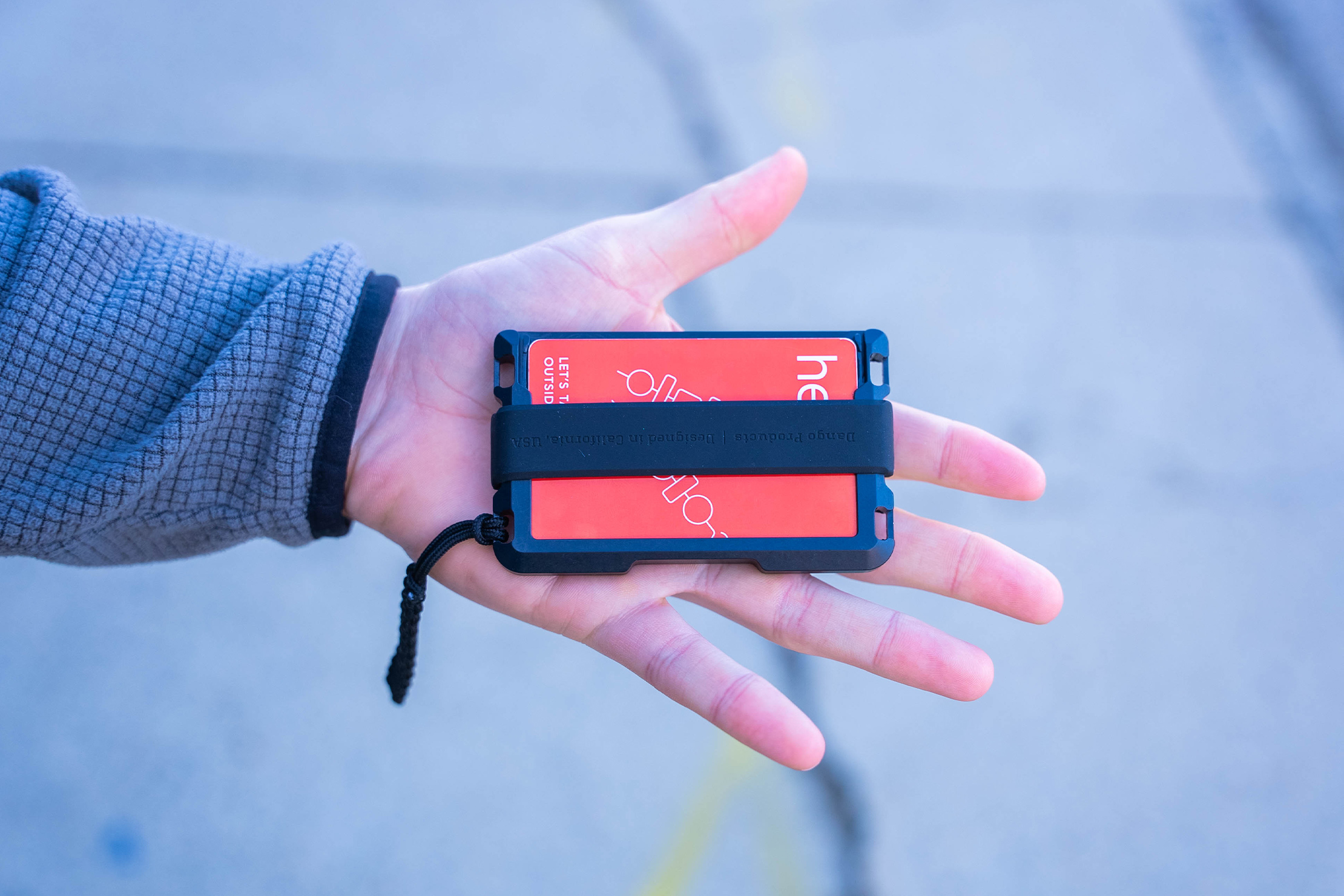 If you like to keep your wallet locked down in your daypack or sling, you can quickly grab it out of a liner pocket by leaving whatever you have attached to the eye hanging out. You can also hook a key ring to it, so long as the attachment connector isn't too wide. While it feels less minimalistic with an attachment, it is helpful in certain situations.
Quick Comparison
Dango's D01 Dapper Wallet is similar to the D03 but has a few major differences. Let's check them out!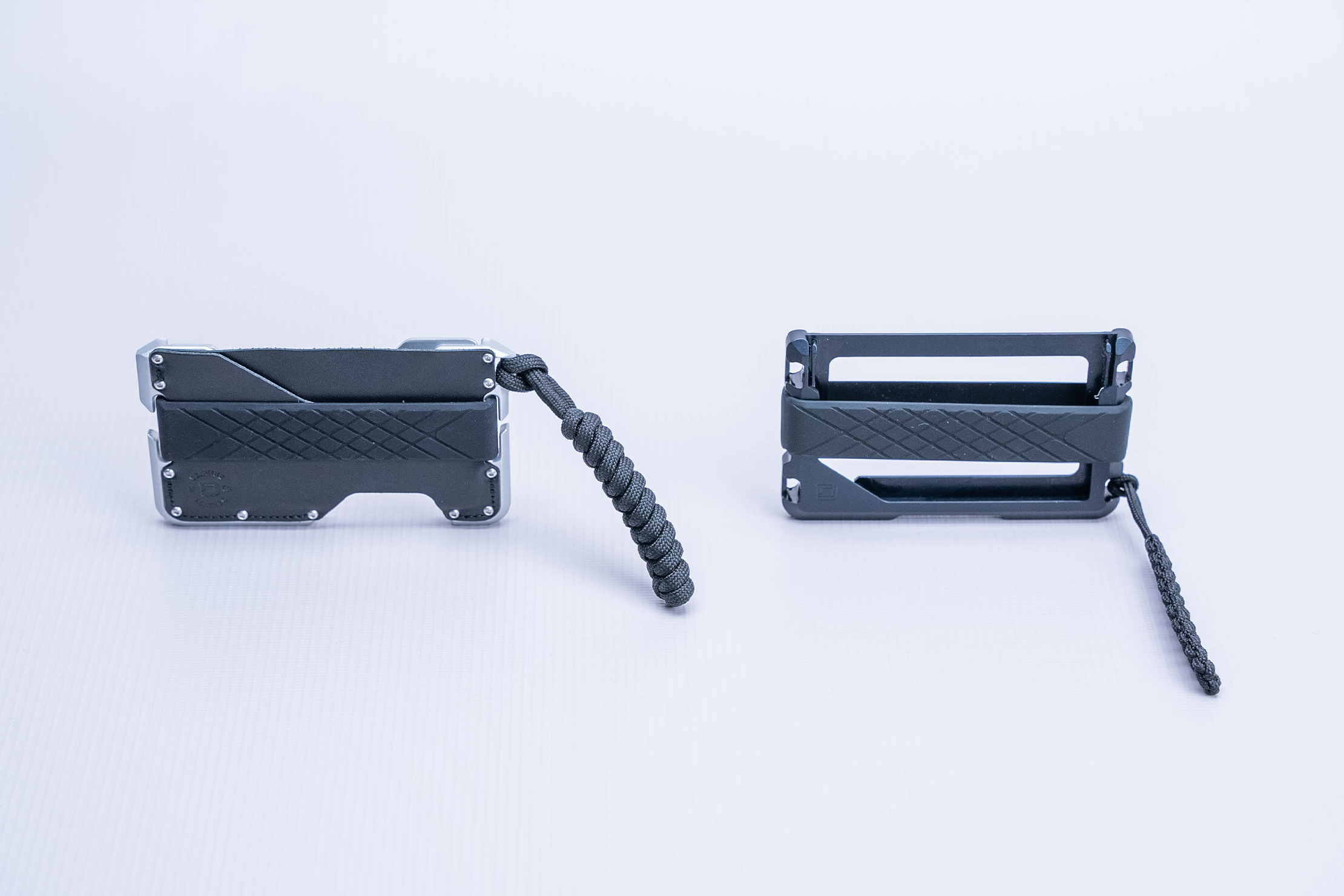 The D01 has a leather accent and doesn't work without the silicone band, which isn't the case for the D03. Whether or not you have the band on, the D03 is ready to roll.
The Rail Wallet has a different access system for your cards. Whereas the D01 clamps your cards between two plates using the silicone band, the D03 has the angle slide-in system we discussed earlier. Neither approach is our favorite, though the D03 gets the leg up because it's slightly easier to operate.
These wallets are similar in form factor, though the D03 is much lighter percentage-wise. The D01 is 2.5 ounces—1.67 times heavier than its Lite counterpart without the silicone band. While that isn't a ton of weight, for ultralight packers, every ounce counts!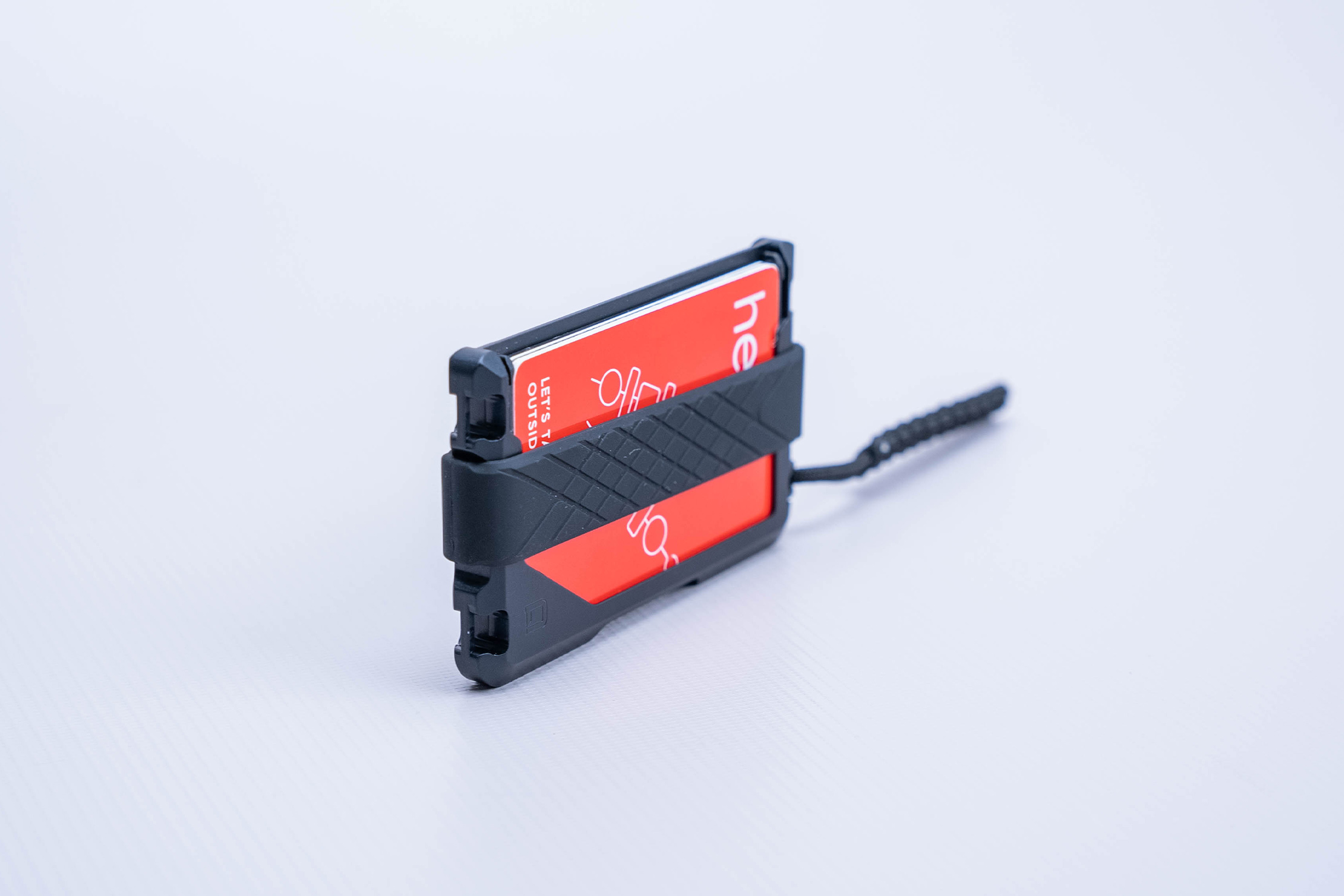 Overall, the Dango D03 Lite Dapper Rail Wallet is an excellent option for those who don't like clutter in their wallet and have made the complete transition into the cashless world. However, the silicone band might not be your fancy if you always have cash. Either way, your wallet will look sleek and remain intact.
Usage Timeline
Initial Usage
Condition: Excellent
The materials feel durable but are lightweight enough for front-pocket carry
Inclusion of a silicone band is critical for stowing cash and other non-card-shaped documents
Sliding cards in and out feels awkward initially, but it may get easier with time
2 Weeks of Use
Condition: Excellent
The aluminum has held up well, even after multiple drops
No issues with the silicone band stretching out
It can be hard to get cards in and out, and we worry about that process damaging cards
Access the Pro Community Discussion
Get your questions about the Dango D03 Lite Dapper Rail Wallet answered from our team and the Pro Community right here on the page. Plus, join discussions with other members about gear, guides, and more.
Other Organizers & Pouches Reviews