Cotopaxi Vaya 18L Backpack (Cada Dia) Review
Cotopaxi's Vaya 18L Backpack (Cada Dia) has a simple, low-profile design that makes it a comfortable everyday backpack—even with the sternum strap going AWOL.
Our Verdict
Unlock the Pro Summary
Save time. Get access to brief summaries of our reviews so you can browse and make decisions more efficiently.
Pros
Clean, low-profile design that's comfortable to carry
Laptop sleeve has a sizeable false bottom for protection
Main compartment's mesh pockets are relatively easy to access
Cons
Narrow shape makes gear at the bottom hard to access
Fragile items in the soft-lined pocket can get scratched if you use the key leash
Sternum strap fell off
Recent Pack Hacker Video
Technical Details
Capacity

18l

Weight (lb)

1.375 lb (0.6 kg)

Denier

840D

Dimensions

19 in x 11 in x 6 in (48.3 x 27.9 x 15.2 cm)

Notable Materials

Nylon, Thermoplastic Polyurethane (TPU), YKK Zippers

Laptop Compartment Size

15"

Warranty Information
Full Review
An 18-or-so-liter backpack is a good starting point if you want a "comfort pick" for an everyday daypack. It's not so big that you feel like a bipedal snail, yet not so small that you can't bring something like a laptop. Of course, everyone will have their own set of requirements for a daypack, but that kind of capacity will be enough to get you by—such is the case with Cotopaxi's Vaya 18L Backpack (Cada Día).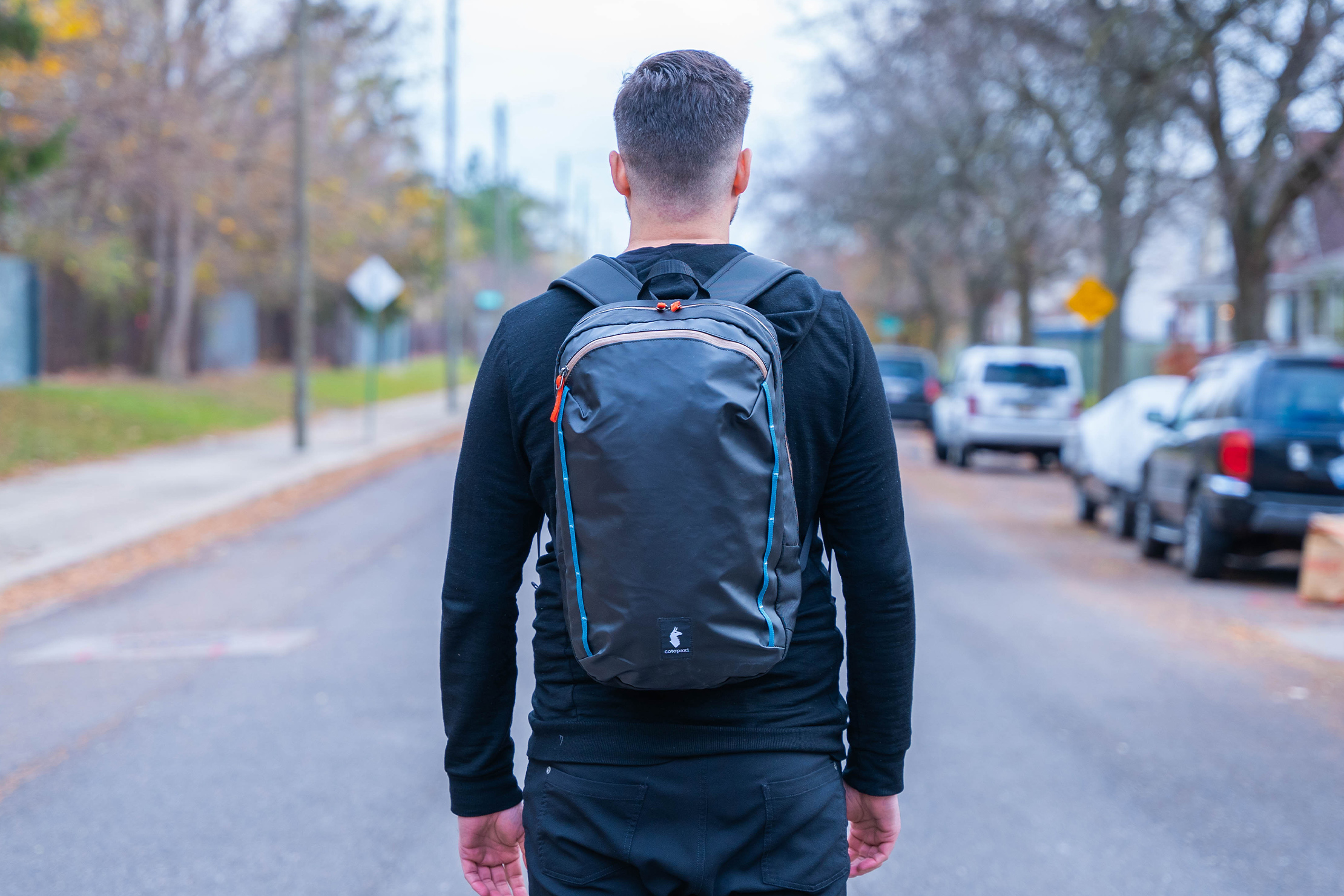 On looks alone, we already like what we see. Its sleek exterior, coupled with its small and slim profile, makes it a not-at-all-intimidating backpack. Then there's the interior. Its aquamarine-colored liner is easy to see into, which is a good thing since, for an 18-liter backpack, the inside feels rather deep. There's a lot of verticality in the design, and this makes accessibility good in some ways but tricky in others. The question is, is there a deal-breaker in between that stands out? Let's find out.
External Components
We have to say; the Vaya is one of the more visually-appealing backpacks Cotopaxi has put together. Perhaps it's the very daypack-like 18-liter size that makes it look inviting, but we think the slick texture of the TPU-coated 840-denier nylon really sells it. The particular colorway we have here, which is Maritime, has a dark outer shell that doesn't look as overpowering as Cotopaxi's other colorway offerings. The brand's penchant for a patchwork of colorful options is fun to look at, but we really dig this more subdued appearance.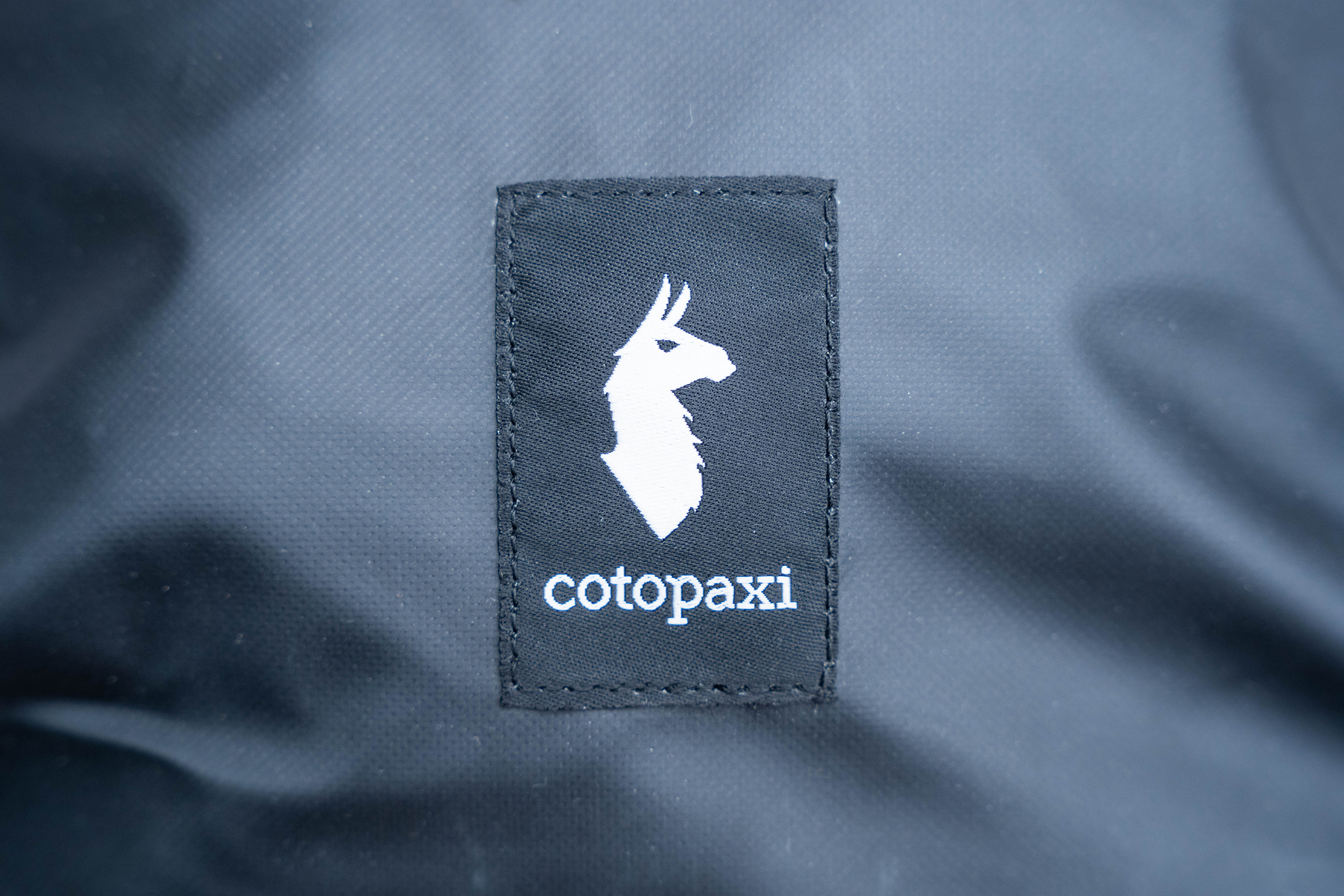 In any case, the TPU-coating comes with the practical benefit of being very water-resistant. On the other hand, it's not very scuff-resistant. This sample already has a bunch of markings around the bottom, which makes sense location-wise. If you're the kind that likes to keep their backpack spick and span, you may have to be extra careful with the Vaya. However, those who prefer to wear scuffs and marks like badges of honor may be less bothered.
In terms of structure, the Vaya's construction holds up really well. The fabric isn't thin, nor does it feel baggy like some of their other bags. In part, that's because it's not so big like the Allpa 42L that there's more room for wrinkling. For a more emphasized example, look no further than Cotopaxi's own Coso 2L Hip Pack. That sling uses the same fabric for its outer shell as the Vaya, and it makes it feel very structured.
Oh, and speaking of holding up, the zippers perform reliably as well. They're from YKK, a very reputable brand when it comes to zippers. They come with orange pulls for this colorway, but other than that, there's really nothing noteworthy about them. They say the best feature in any product are the ones that no one talks about because they simply work, and these are good examples.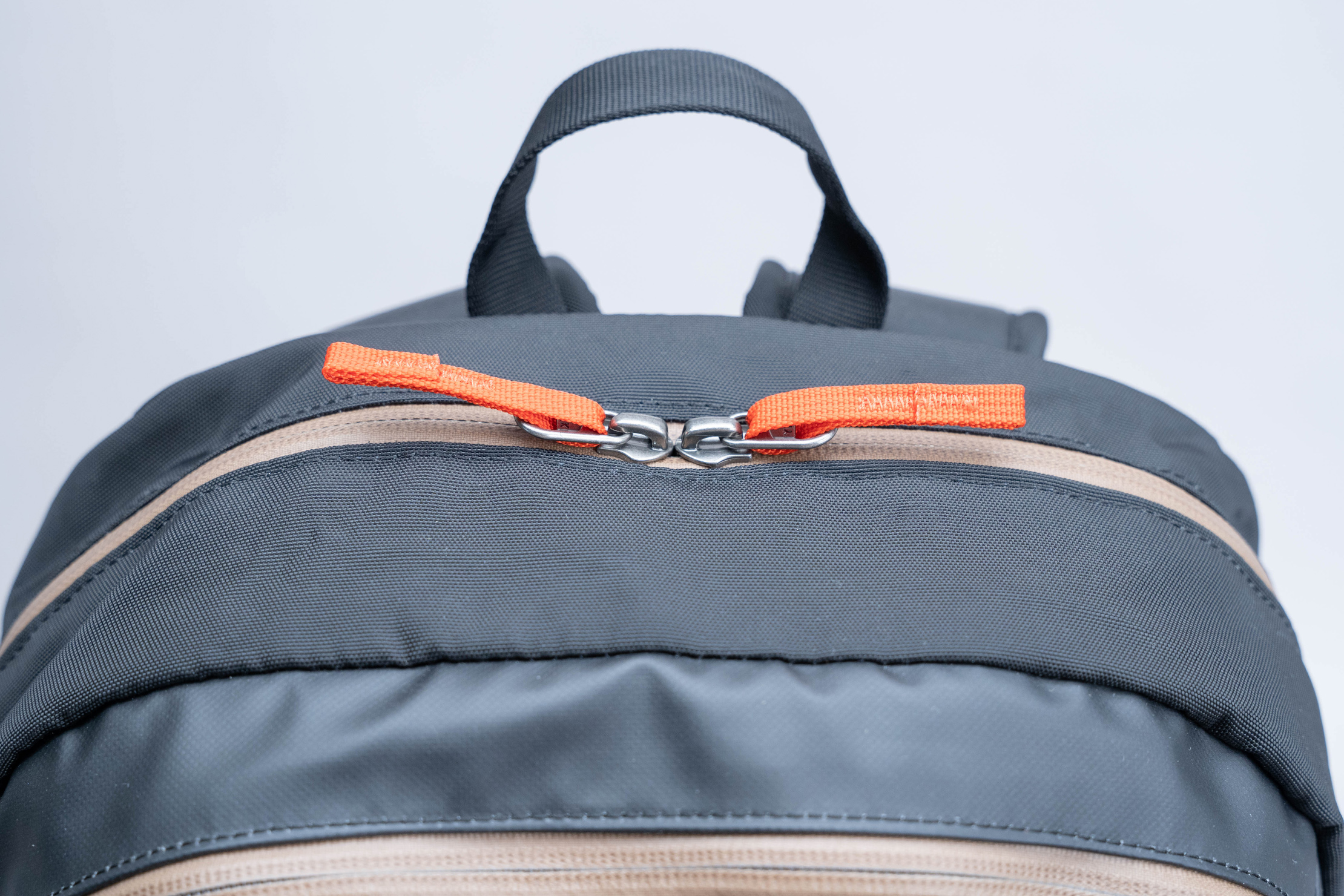 Cotopaxi's signature llama logo is at the front, as you'd expect. The darker-than-usual color of the fabric makes the logo stand out less, but we don't really mind if it does. Other than the logo, you'll find two sets of daisy-chained loops, each with six for a total of twelve. We'll let your imagination run wild with what kind of accessories you'd want hanging off these loops.
For Cotopaxi's part, they've shown off these loops taking the role of a bottle holder, where they attached one via a carabiner. We're not really fans of this approach, especially for a daypack. Having a bottle of liquid flailing around can be distracting, and it leaves them unprotected from scratches. We would've preferred to see dedicated bottle pockets at the sides instead.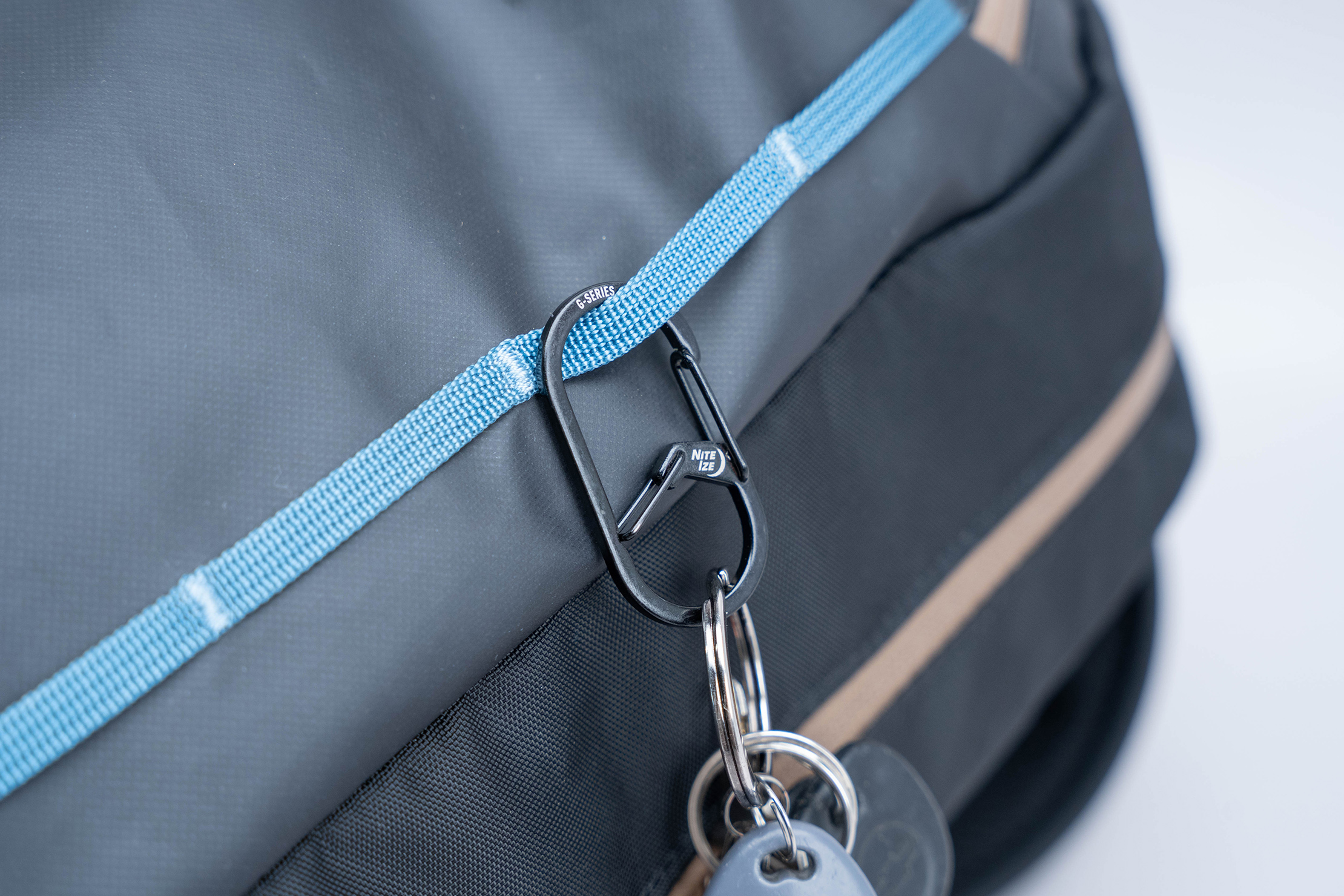 Apart from the daisy chain of loops, though, there's nothing else on the Vaya's exterior that can be called a "feature." Then again, the lack of frills can be seen as a feature in and of itself. The Vaya's clean and simple design is arguably a welcome breath of fresh air from other designs that come with too many straps, pockets, and hardware.
This simplistic trend continues with the Vaya's harness system. It's just a pair of shoulder straps and a sternum strap. Well, half a sternum strap—let us explain.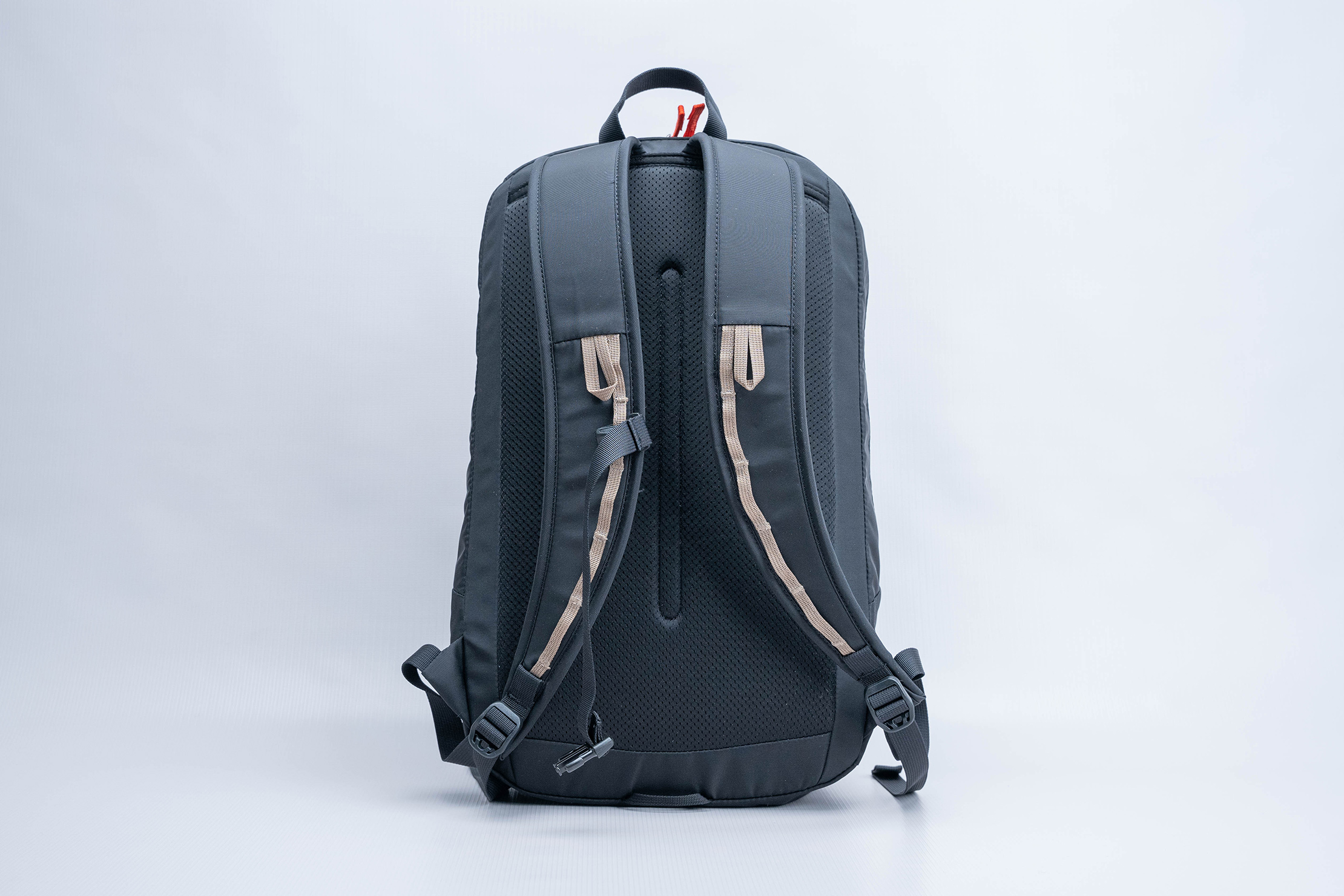 The sternum strap's mounting system uses a daisy chain of loops on each of the shoulder straps. It hooks on through clips, and users can adjust the height using the loops—simple enough. There are even two extra loops along the top where you can put additional accessories if you don't want to occupy the ones meant for the sternum strap. We've seen similar styles used on different backpacks, and we're usually not very enthused with them. We much prefer the kind of sternum strap that's mounted along a rail because they're more adjustable, easier to use, and generally more secure.
In the case of the Vaya's sternum strap, the clips don't do a good enough job of holding onto the loops. In fact, we're able to slip the sternum strap (well, the half we still have, anyway) just by pushing it out with one hand. The good news for the Vaya is that a sternum strap isn't a must-have for a comfortable carrying experience. The shoulder straps may look thin, but the padding is dense and is able to cushion the bag's weight adequately. Still, a sternum strap that can go AWOL isn't a good thing.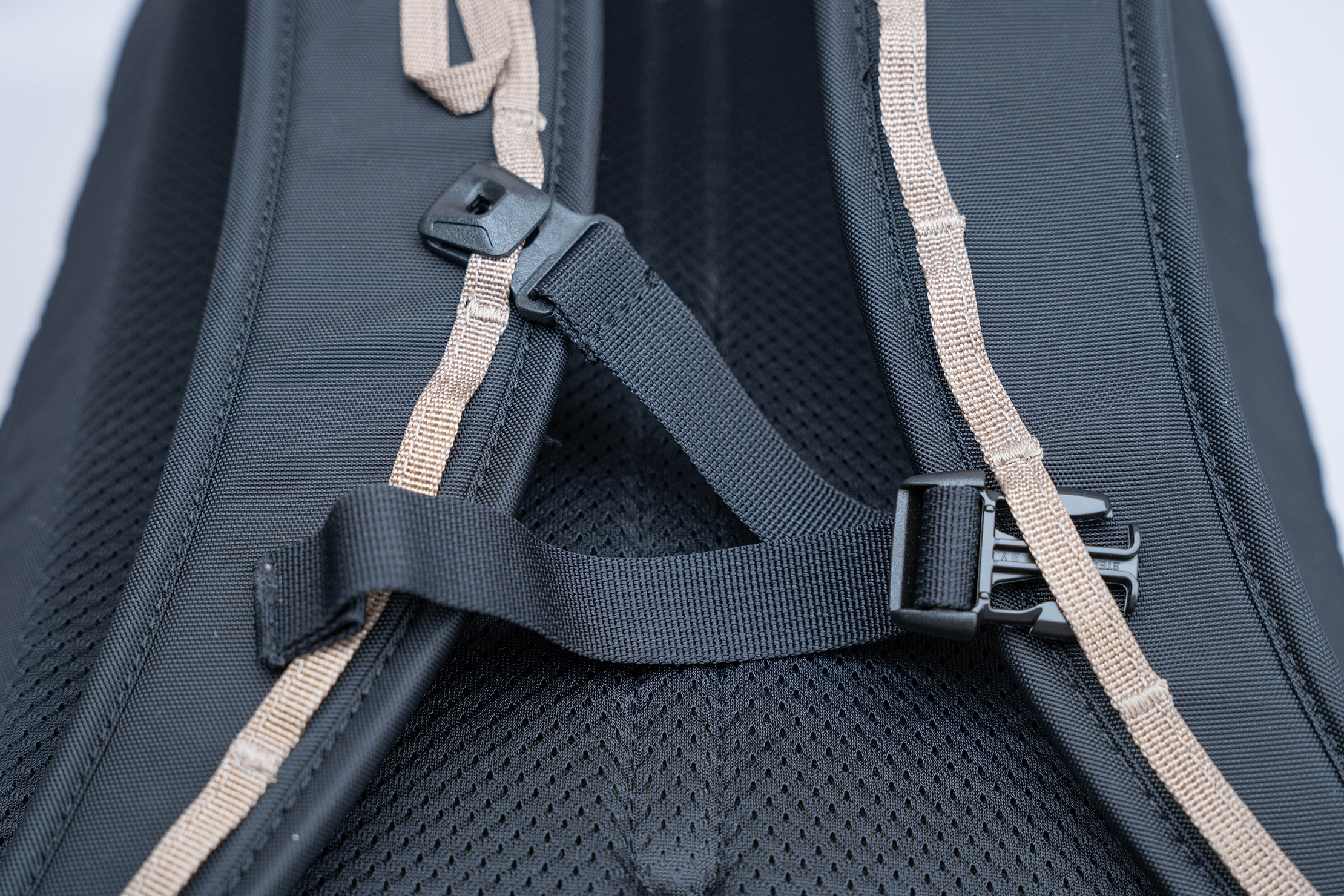 Last but not least is the back panel. It's padded and covered in mesh, as you'd expect, keeping the wearer's back comfy and cool. Mind you, no amount of mesh will prevent a sweaty back if it gets hot enough, particularly during the summer. There's also no luggage pass-through, which may be a bit of a letdown if you're planning to take the Vaya alongside rolling luggage. You'll have to get creative with the shoulder straps instead.
Fit Notes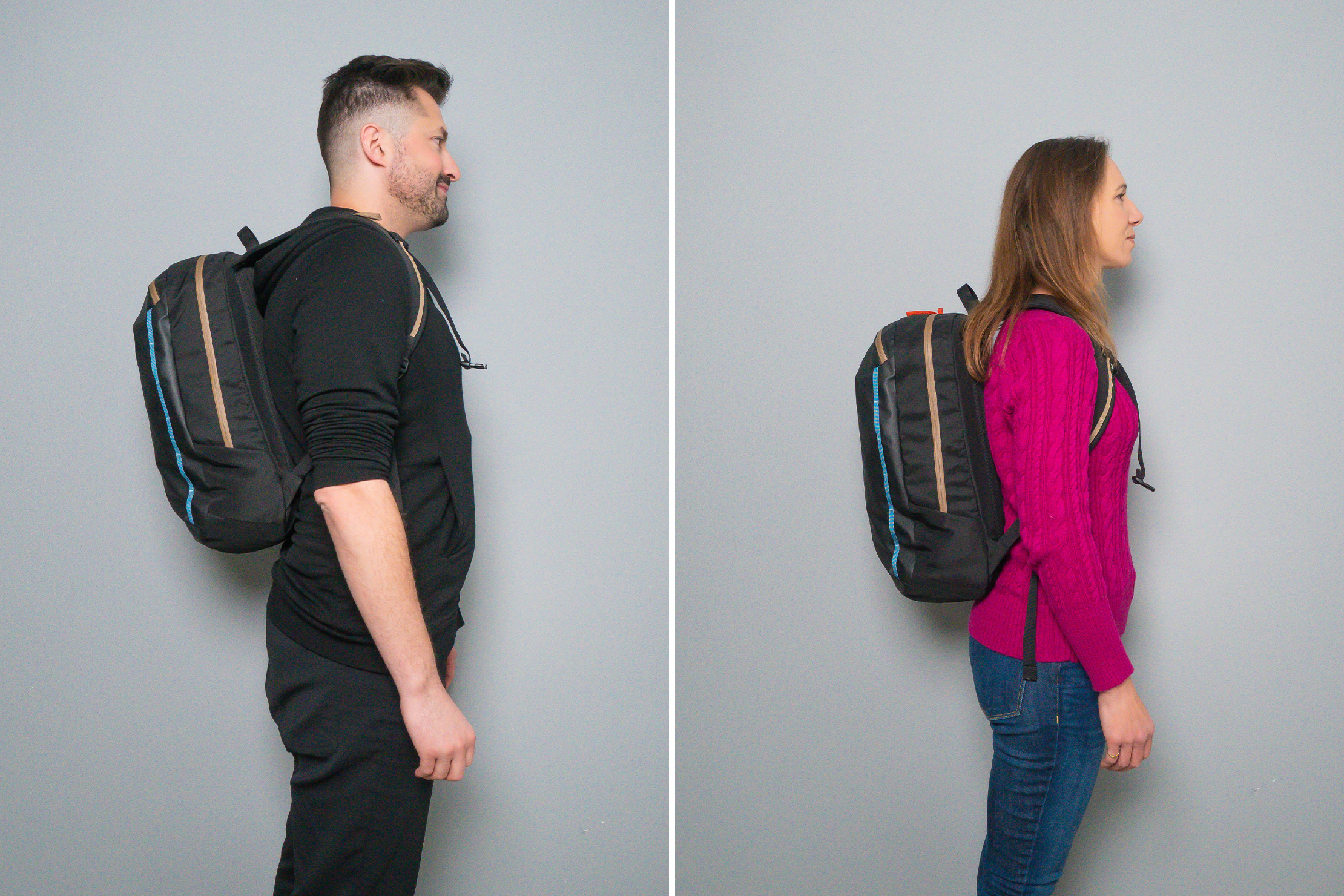 Despite its sternum strap going on holiday somewhere we don't know, carrying the Vaya remains comfortable. We do miss the small amount of extra tightness it brings, but the sternum strap isn't missed at all. The bag's low profile and relatively modest capacity don't require a ton of taming, so a sternum strap is just a nice-to-have rather than a requirement.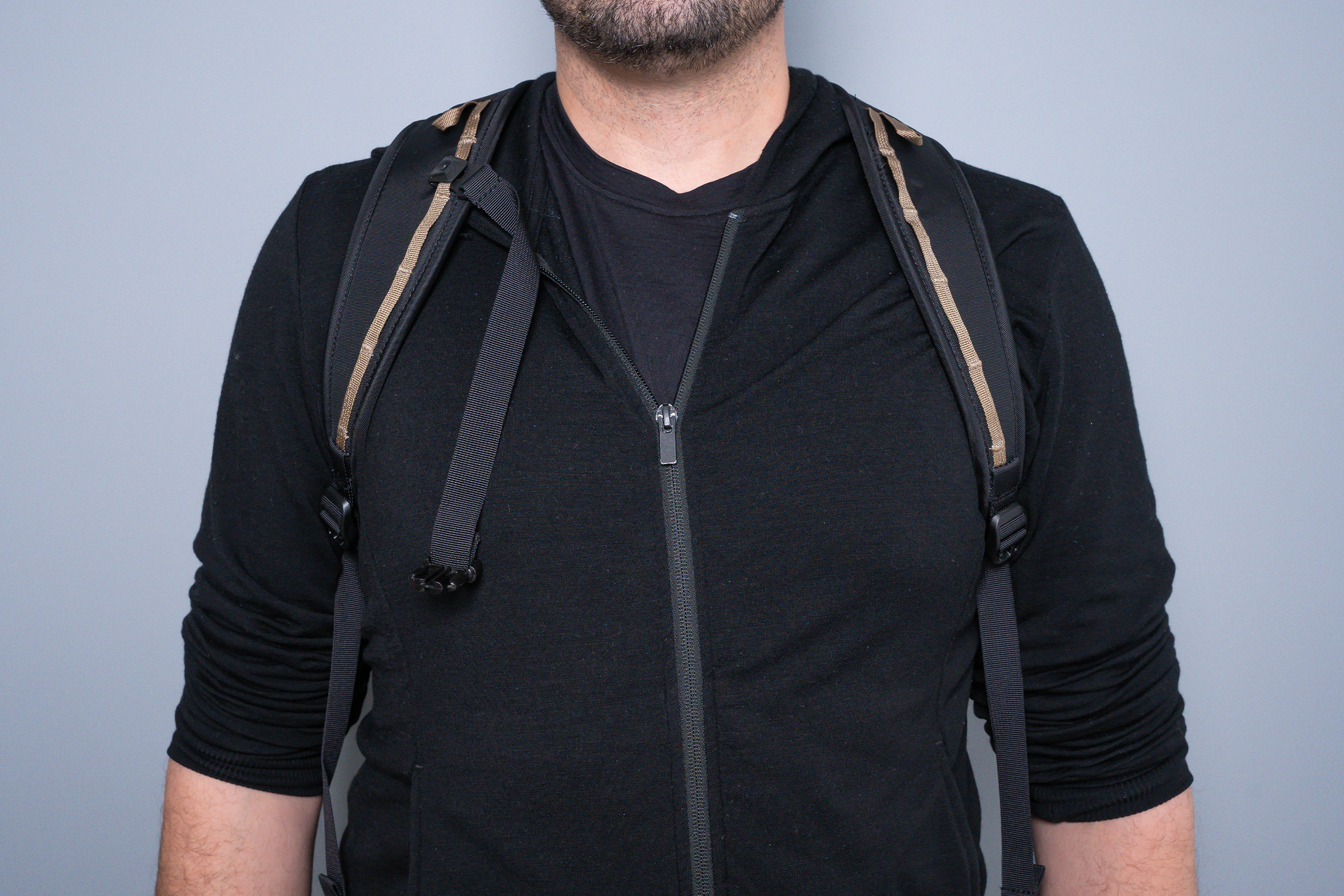 That said, being small doesn't necessarily mean that a bag automatically gets by with just a pair of shoulder straps like the Vaya. Backpacks like Freitag's F306 HAZZARD and Mystery Ranch's Market Pack share a similar capacity rating with the Vaya, yet their shoulder straps lack the comfort the lattermost has. Cotopaxi did a good job with the shoulder straps' design, half a sternum strap going AWOL, notwithstanding.
Inside The Backpack
The Vaya has two compartments: the main compartment and the front compartment. There are no quick-grab pockets at the front, nor are there security pockets hidden along the seams. In other words, you're going to have to rely on the front compartment for all of your everyday carry or quick-grab items, such as your wallet, keys, and smartphone.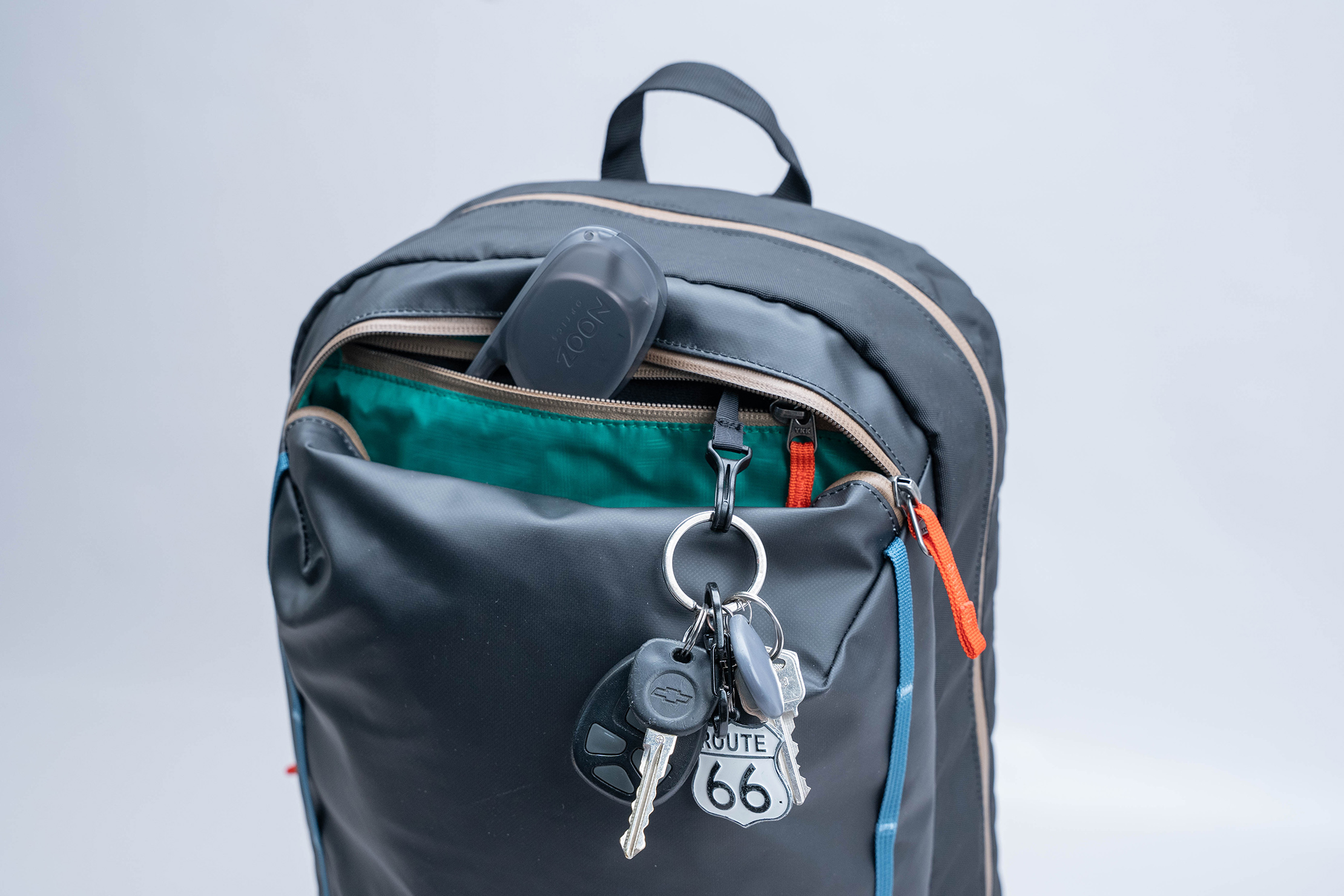 The front compartment is deep, extending all the way to the bottom of the Vaya. It means bulky items like a packable jacket, buff, or a high-capacity power bank will have no problem fitting inside. That said, the zippered opening is rather small for the front compartment's overall space. It makes reaching in and taking bulky items out tricky, especially when both of the Vaya's compartments are packed out. Small items put inside that have sunk towards the bottom will be particularly hard to dig out.
Fortunately, the front compartment has a smaller zippered pocket near the opening. This is actually the Vaya's quick-grab pocket. It's lined with soft material, the kind that helps prevent scratches on fragile items. Strangely, though, Cotopaxi also put a non-removable key leash inside. It kind of defeats the purpose of having a soft liner if you're also meant to put keys here. Needless to say, we don't recommend putting keys and sunglasses at the same time; go with either, but not both.
More than that, though, we wish there was a quick-grab pocket on the outside. Having to go through two zippers to get to everyday carry items is one too many, in our opinion.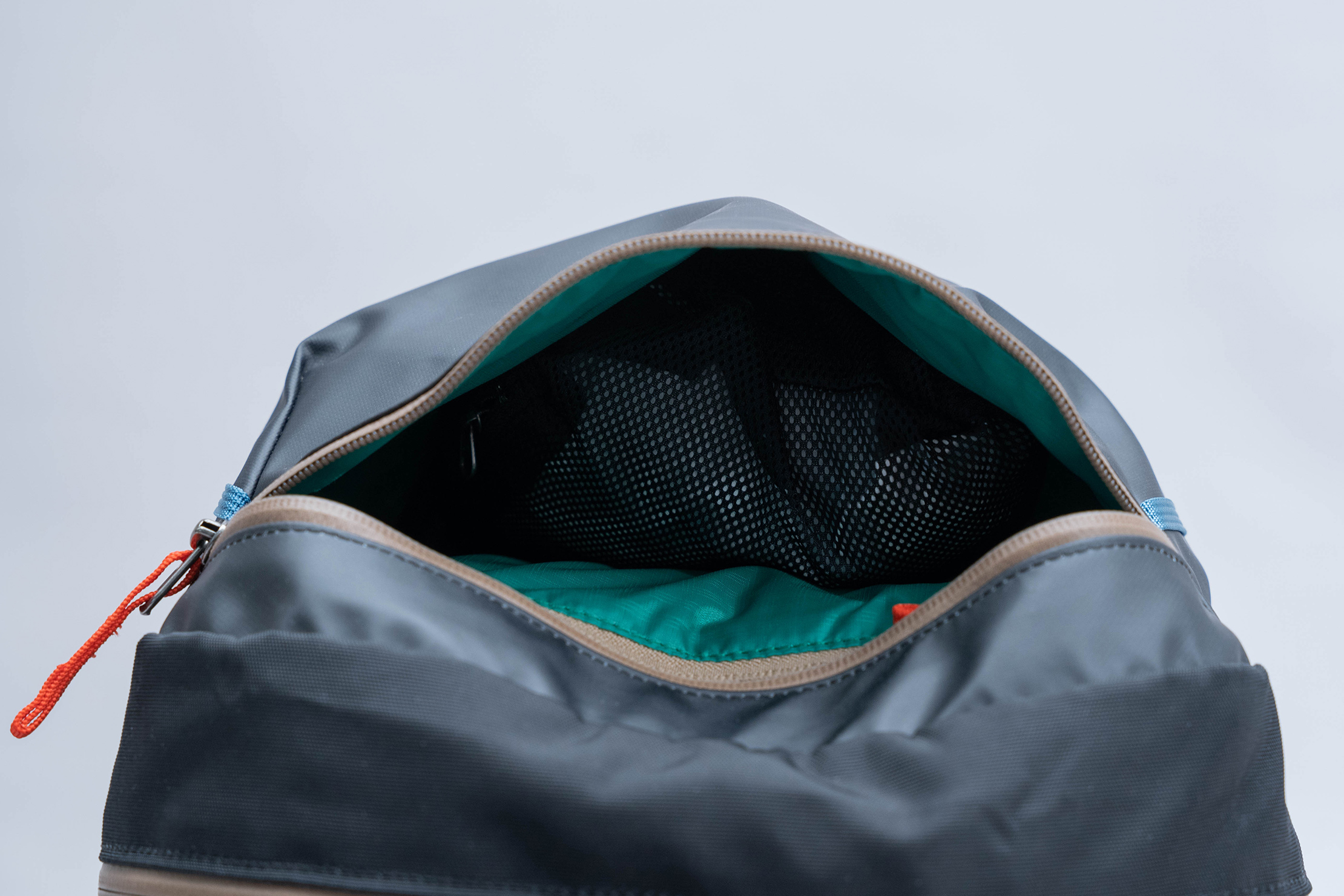 Next up is the main compartment. Unlike the front compartment's limited opening, the opening here extends down on each side, covering about 3/4ths of the Vaya's height. This gives it better accessibility relative, not just to the Vaya's front compartment, but to even other backpacks with a similar horseshoe-style opening.
Like the front compartment, the main compartment has a deep interior space because of the Vaya's tall but slim profile. Horizontal space can feel limited, especially if the adjacent front compartment is packed out. This means stacking gear like packing cubes and pouches is more or less inevitable if you want to make full use of all the available space. Silver lining: the Vaya's aquamarine-colored liner makes finding gear inside easier than if it were colored black. Your mileage may vary, though, as liner color may differ between colorway options.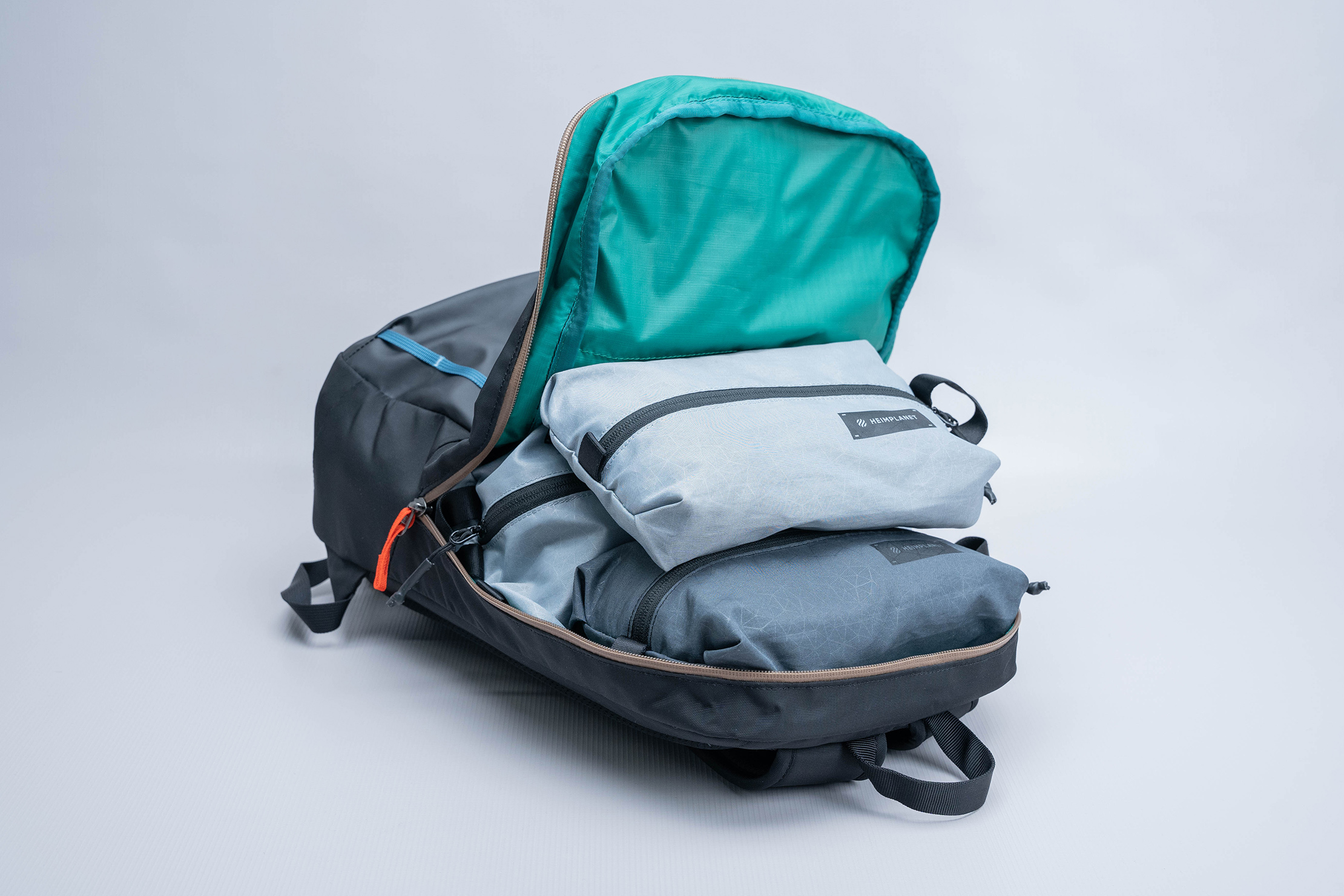 As for organization, you get two mesh pockets in front of a built-in laptop sleeve at the back. We're a bit apprehensive whenever we're confronted by such a configuration. Pockets placed in the rear are susceptible to being blocked by gear, especially when you start stacking them in front of the said pockets.
Interestingly enough, this sort of pocket arrangement works okay in the Vaya. We think it's the size of the pockets relative to the Vaya's 18-liter capacity that makes it work. The pockets are large enough that they only serve to segment beefier items like power banks and e-book readers. At the same time, the Vaya's small size means you really don't have to reach too far for the pockets, nor is there room for too much gear to obscure them. Tl;dr these mesh pockets are easy to get to.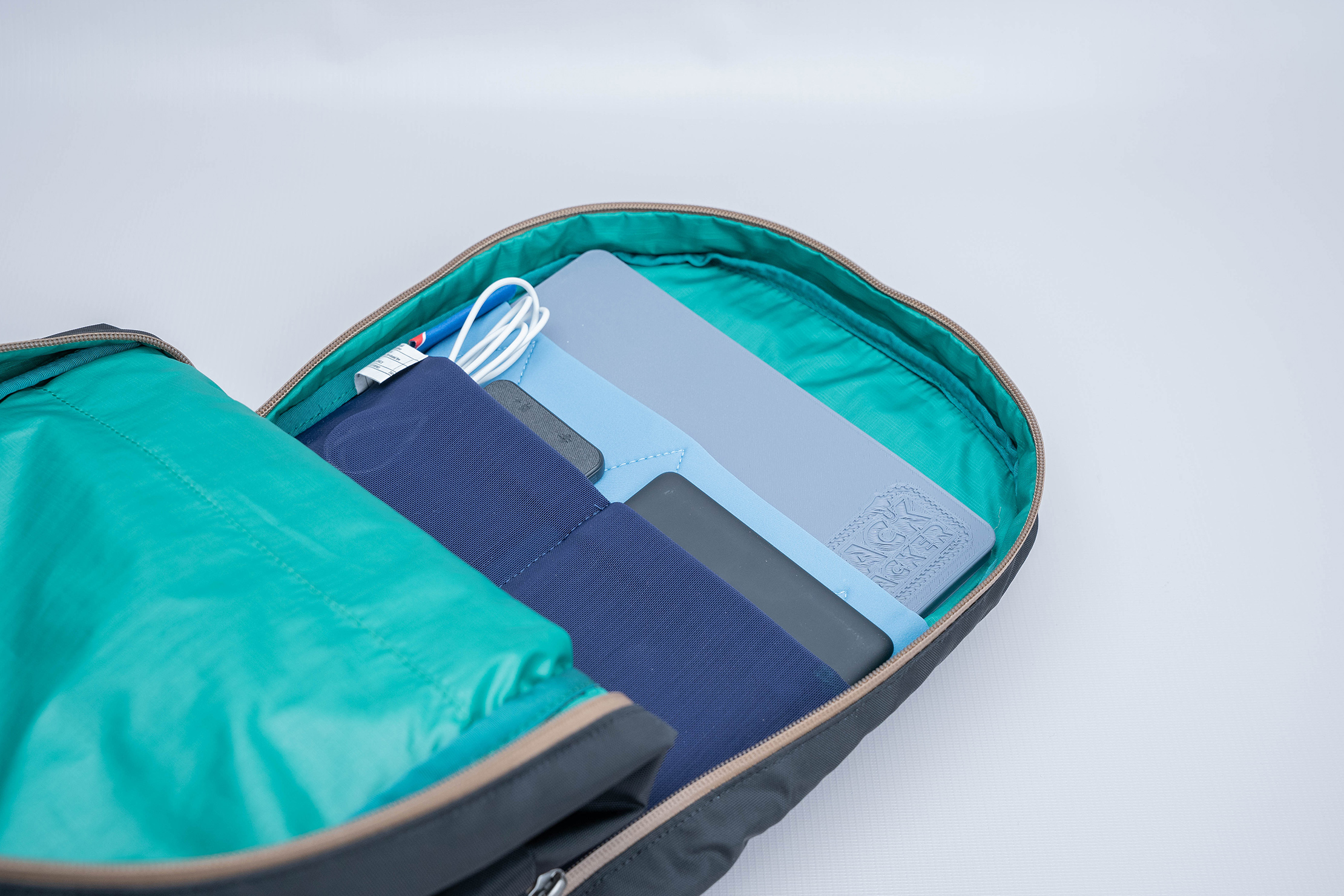 Meanwhile, the laptop sleeve is fairly impressive as well. It fits a 16-inch MacBook Pro without any issues. More than that, though, it also has a sizeable false bottom that gives it limited protection from shocks. This is quite noteworthy as other backpacks in the Vaya's size range sometimes forgo having a false bottom, so we appreciate having it here.
So to answer the question earlier, are there any deal breakers in the Vaya? The short answer is no. The long answer is still no, but there are a few rough edges. The lack of a truly quick access pocket stands out to us, and so does the key leash placement. The insecure sternum strap is also a letdown, one that we'd leave home rather than risk losing (but it's kind of too late for us, anyway).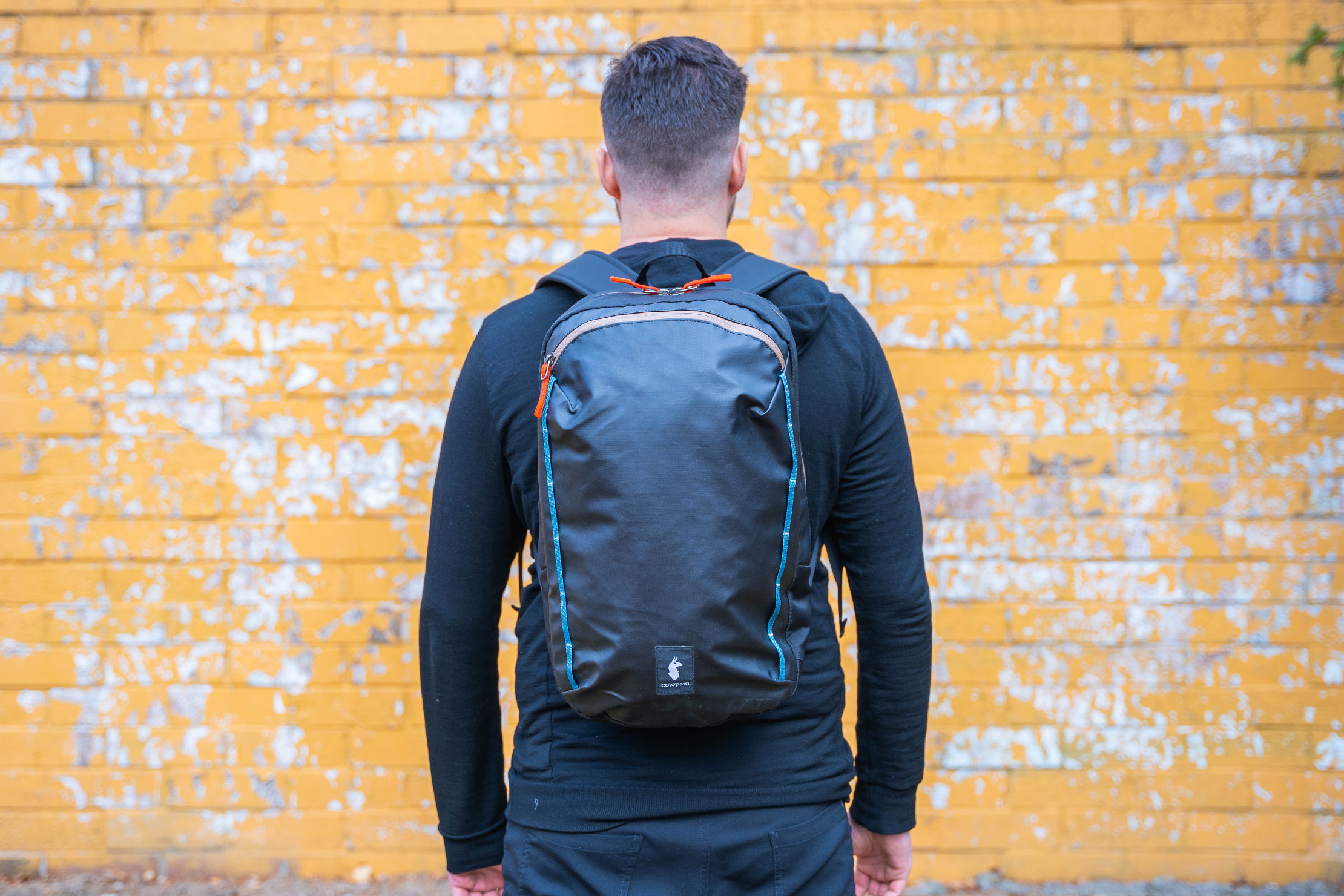 If there are any deal breakers, it's for those who want or need dedicated bottle pockets on their everyday backpack. We really can't get a hundred percent behind the idea of mounting a Hydro Flask on a carabiner and calling it a day. If you're okay with putting your bottle inside the main or front compartment, though, then the Vaya is a comfortable pick as an everyday backpack, owing to its comfortable carry and simple design.
Usage Timeline
Initial Usage
Condition: Excellent
So far digging the simple design and layout with a slim profile
Wish the quick access pocket was only 1 zip away versus 2
Straps seem a bit thin, but more testing will tell how comfortable it is
Decent false bottom in the laptop sleeve
2 Weeks of Use
Condition: Good
Lost half of the sternum strap due to the attachment design—this has happened with other bags we've reviewed in the past that have the same design
Bag looks great and slick—not a lot going on on the outside
Front pocket and main compartment can be a bit of a black hole since they go all the way to the bottom of the bag and have relatively thin openings
Access the Pro Community Discussion
Get your questions about the Cotopaxi Vaya 18L Backpack (Cada Dia) answered from our team and the Pro Community right here on the page. Plus, join discussions with other members about gear, guides, and more.
Other Bags & Luggage Reviews