Cariuma OCA Low Review
The Cariuma OCA Low has us a little concerned with its durability, but we're still digging it as a casual and comfortable everyday shoe.
Our Verdict
Unlock the Pro Summary
Save time. Get access to brief summaries of our reviews so you can browse and make decisions more efficiently.
Pros
Made with sustainable materials
Padded insole is comfortable and features arch support
Casual, subdued look
Cons
Concerns with durability (fraying thread and worn tread)
Doesn't feel very secure (heel lifts while walking)
A little pricey
Recent Pack Hacker Video
Technical Details
Notable Materials

Cotton, Canvas, Cork

Manufacturing Country

China
Full Review
Cariuma is a brand that prides itself on creating comfortable, stylish shoes using sustainable materials that are better for the planet—and the Cariuma OCA Low is a solid reflection of this.

It's a casual, comfortable shoe that's made with the environment in mind. In fact, with each pair sold, Cariuma plants not one, but two trees in the Brazilian rainforest as part of a reforestation initiative. We dig it.
We've been testing the women's version of these shoes for a month, and we're ready to tell you what we think, so let's get to it.
Fit, Fabric, & Features
Before we go any further, we want to note something. We all have our own wants and needs in a shoe here at Pack Hacker, and we realize you do too. For example, you may appreciate a more active shoe that helps you get around—or, you might like the feel of a more minimal, barefoot-style shoe that's easy to pack away while you're traveling.
The OCA Low is neither of these. This shoe has quite a bit of drop to it, it's not easily compressible, and it's not designed for rigorous exercise. It's more just a nice, casual shoe that's at home in casual settings—it reminds us of a low top Converse, or a Vans shoe. They work well for getting around campus, commuting to the coworking space, or even a leisurely walk through the park.
We've been testing the Mystic Grey colorway for the last month now. Cariuma claims the inspiration for this colorway comes from the fog that ascends over Rio, Brazil (where they're headquartered) early in the morning. We're digging the subdued aesthetic—but if you're looking for a little more color, or even a different material, there are lots of different options for both available at the time of this review.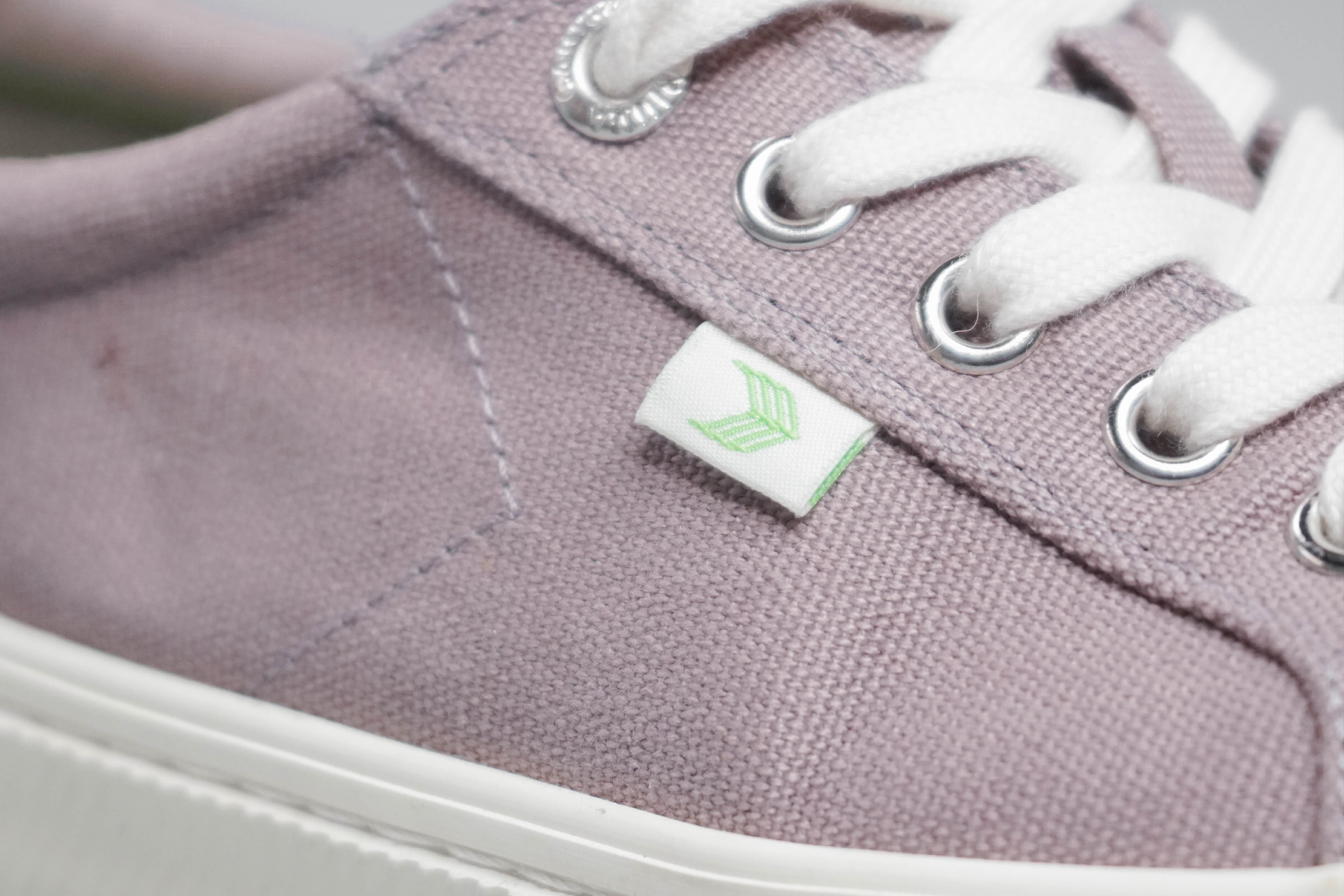 You'll notice quite a bit of branding on this shoe—and it looks a little familiar. The arrow symbol on this shoe looks similar to the star-and-arrow Converse logo. The placement of this logo is also reminiscent of Vans—on the back of the heel, on a small tag on the side, and the shoe's tongue. It's not the most subtle branding, but the other logos are smaller or are stamped into the insole, which we prefer the look of.
Now, let's take a look at materials. The upper and lining of this shoe are made entirely of cotton canvas, which is smooth in hand but feels a little thin. We've also noticed some of the thread starting to fray in a couple of spots—it's minor and merely aesthetic so far, but has us a little concerned about this fabric's durability.
Unlike the Crocs LiteRide Pacer, this shoe doesn't have air ports around it to keep your feet ventilated. We wouldn't say our feet are gasping for air, necessarily, but we recommend a lighter pair of socks if you're going to be wearing these things for extended periods. Anything to avoid that foot sweat (and smell), right?
Cariuma also recommends keeping these shoes away from water when possible—so you probably don't want to splash around in any puddles with these on, or strap them on if the forecast is calling for showers. If you're looking for a waterproof shoe, check out the Vessi Everyday Shoes.

The colorway we've been testing comes with two different color laces—cream and grey—that easily feed through the debossed metal eyelets. We opted for cream during testing, but the grey laces blend in nicely with the surrounding fabric if you're looking to keep this shoe as minimal as possible.
The thing we appreciate about these laces, though, are the metal aglets on the end (which are also debossed with the Cariuma wordmark). Some of us are slow to re-tie our laces when they come undone (a dangerous game, we know), and often trample the plastic aglets on other shoes, causing them to break and the thread to fray. But the metal offers some added durability so even if we do step on them once or twice, they're still intact. Plus, they look nice.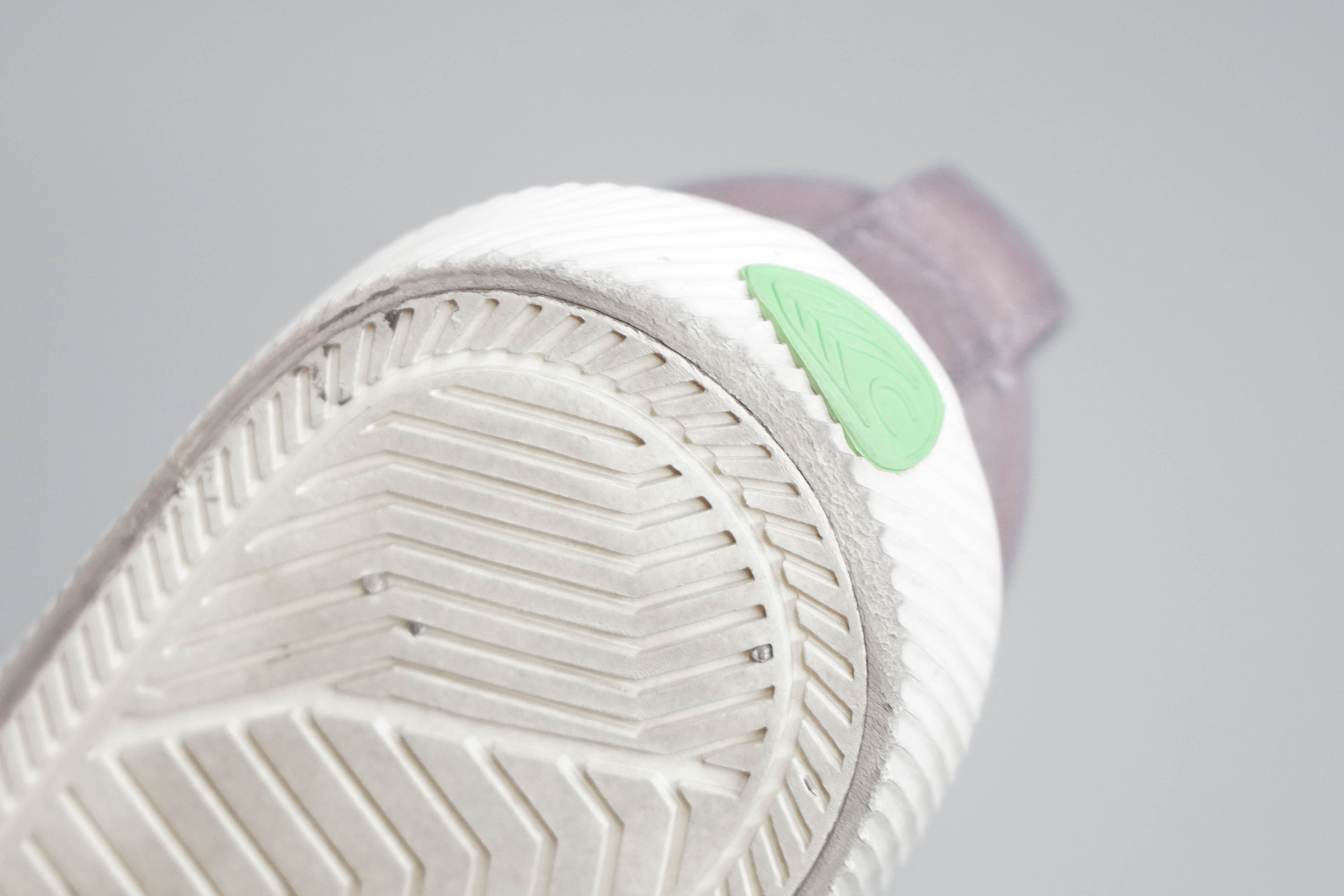 To wrap up the outside, you'll find a thick, slip-resistant rubber outsole that wraps around the sides and bottom of the shoe. We've tried testing this rubber out by attempting to slide dramatically into the room with these on (like a scene out of our favorite 80's movie). We're happy to report that there was no slipping nor sliding, so if you work in a fast-paced environment, you can be sure these shoes will keep you upright.
However, we've noticed that the rubber on the back of the outsole has started to wear down after only a month of testing—which is sooner than other shoes we've tested in the past. It's still minor and hasn't affected the function of the shoe so far, but it does raise some further concern about the shoe's durability.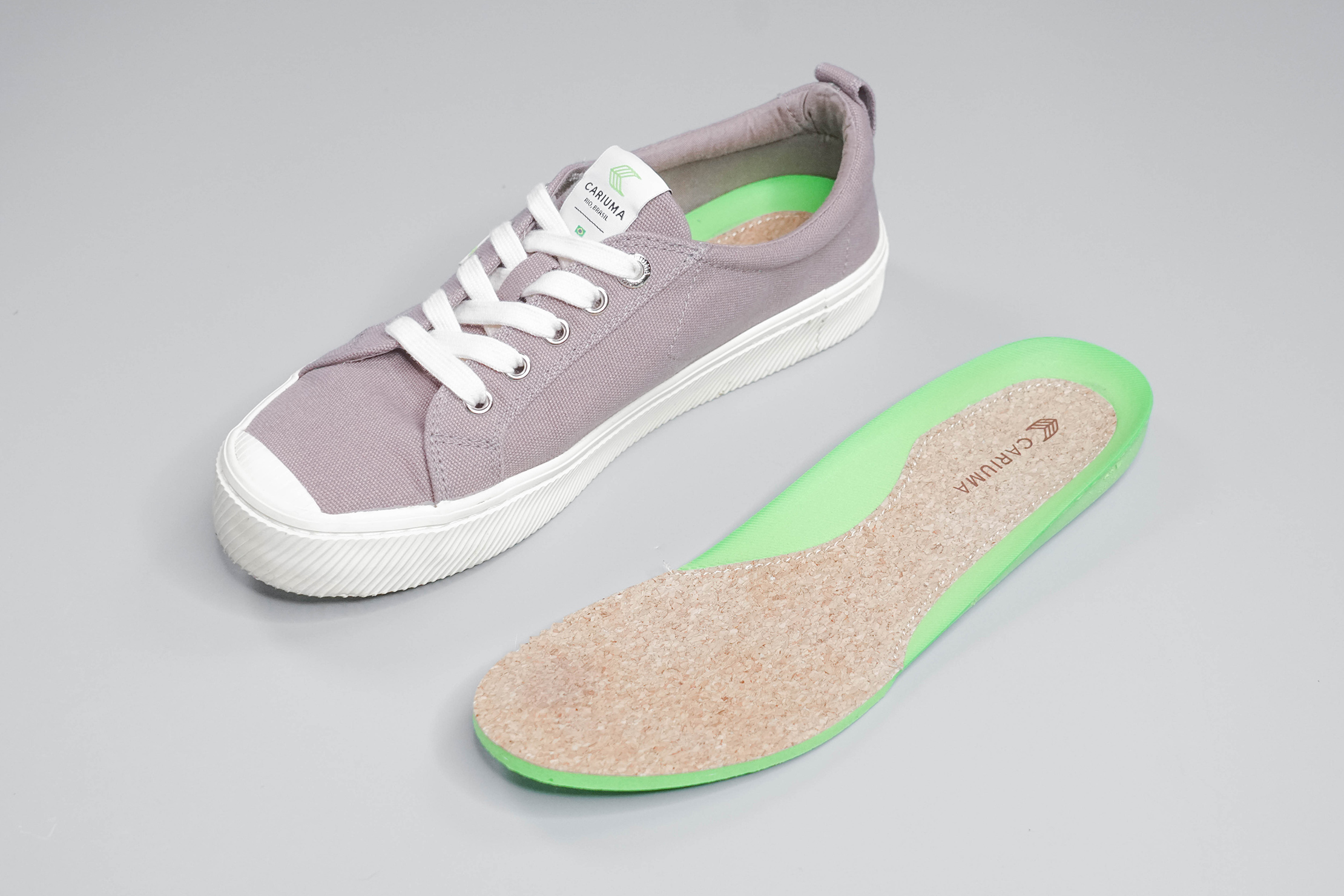 Let's take a look inside the OCA Low, shall we? Cariuma used to include a leather insole in their shoes, but have since opted for more sustainable materials. Now, their insoles are made with mamona oil and cork, making this shoe 100% vegan. You'll also feel dense memory foam padding to keep your foot comfortable, as well as some built-in arch support to better distribute pressure while you're walking.
Overall, we've found them to be surprisingly comfortable. They fit true-to-size and don't feel especially loose or tight. That said, we have noticed that our heel lifts a bit while walking. It's not a huge deal if you're just getting around, but they don't feel secure enough for a run around the block (which they're not really built for, anyway). If you're looking for a more active shoe, check out our reviews of the Allbirds Wool Runners, or the Vans UltraRange EXO.

Now, all this comfort and style comes at a price, and that price is around 80 bucks a pair. So these are a little pricier than a pair of Converse or Vans (by about 30 bucks), but if you're someone who likes having the extra support without sacrificing style—and appreciate sustainable materials and ethical production—you may find that they're worth it. Or not. Either way, it's something to note.
The OCA Low is also a solid contender for those who appreciate a more ethically-produced, sustainable shoe. As we noted, Cariuma uses environmentally-friendly materials, and also strives to produce up-to-date styles as responsibly as possible. If their mission aligns with yours, all the more power to you.
Usage Timeline
Initial Usage
Condition: Excellent
Cool and casual look
Cork insoles provide great cushion
Metal tips on laces for added durability
2 Weeks of Use
Condition: Excellent
Still digging the muted aesthetic of these shoes
Lots of branding but most of it is subtle which we appreciate
Fit true-to-size, but aren't the most secure—our heels come up out of the shoes while walking
1 Month of Use
Condition: Good
We've noticed the back of the outsole on this shoe is starting to wear down after only a month of testing, which raises some concern about its durability.


Access the Pro Community Discussion
Get your questions about the Cariuma OCA Low answered from our team and the Pro Community right here on the page. Plus, join discussions with other members about gear, guides, and more.
Other Clothing & Accessories Reviews