Crocs LiteRide Pacer Review
The Crocs LiteRide Pacer combines sleek design with comfort and function—even though it's not an all-climates shoe.
Our Verdict
Unlock the Pro Summary
Save time. Get access to brief summaries of our reviews so you can browse and make decisions more efficiently.
Pros
Super breathable
Material dries quickly after getting wet making them great for travel
Sleek, modern look (compared to other Crocs)
Cons
Not ideal for colder weather
Not the most minimal shoe (may not be an issue for you)
Doesn't tighten/secure super tight for activities like running
Recent Pack Hacker Video
Technical Details
Notable Materials

EVA Foam

Manufacturing Country

Vietnam
Full Review
When you hear the name Crocs, you probably think of the casual, and customizable sandals that have been around forever. And, let's face it, while most agree that they're comfortable, you also probably don't consider them the pinnacle of fashion.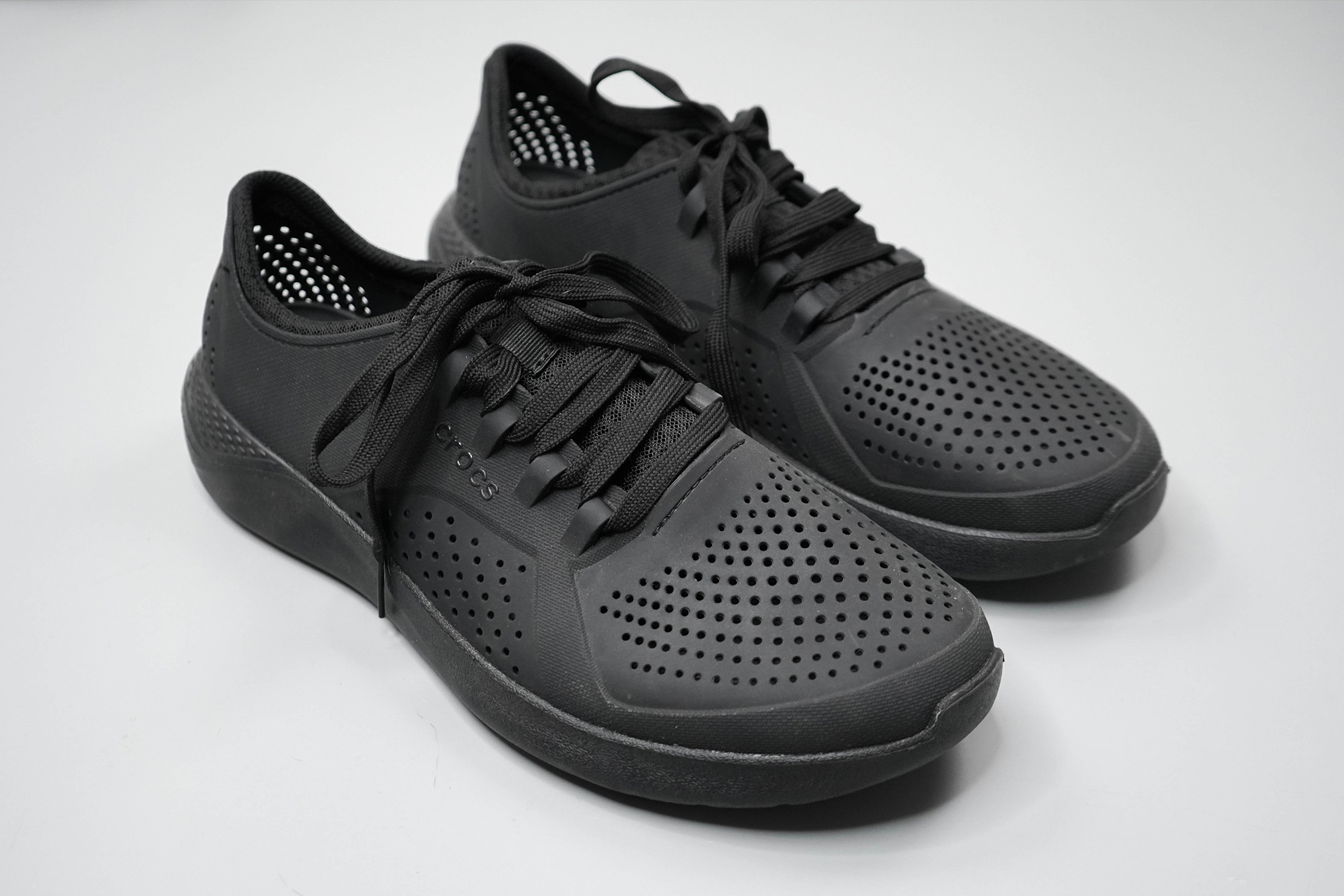 The Crocs LiteRide Pacer ditches the old, bulky look of the classic Crocs clog and opts for a sleeker, more streamlined appearance, while also adding a new kind of functionality. These shoes are designed to be able to work for your more active pursuits, whatever those may be. For us, that mostly consists of exploring new cities and or getting outside to test new gear—and there's lots of cushion on this shoe that keeps us comfortable while doing both.
Something we want to clarify—the LiteRide Pacer collection includes Men's, Women's, and Kid's shoes. In this review, we'll be focusing on the Men's version, which we've been testing for two weeks now.
Let's get to it.
Fit, Features, & Usage
Before we get too far, there's something we want to note: when it comes to shoes, we typically prefer a more barefoot-style, minimal shoe—one that's flexible so it's easy to pack away, with zero drop so you can really feel the ground, and lightweight so it barely feels like they're there. We find them to be comfortable and work for our purposes. Of course, your mileage and preferences may vary. Not all of these characteristics apply to this shoe, as this LiteRide Pacer has a fair amount of drop to it, are not the easiest to pack away, etc. but you may find that the extra support makes them more comfortable for you and your needs—it all depends on what works for you.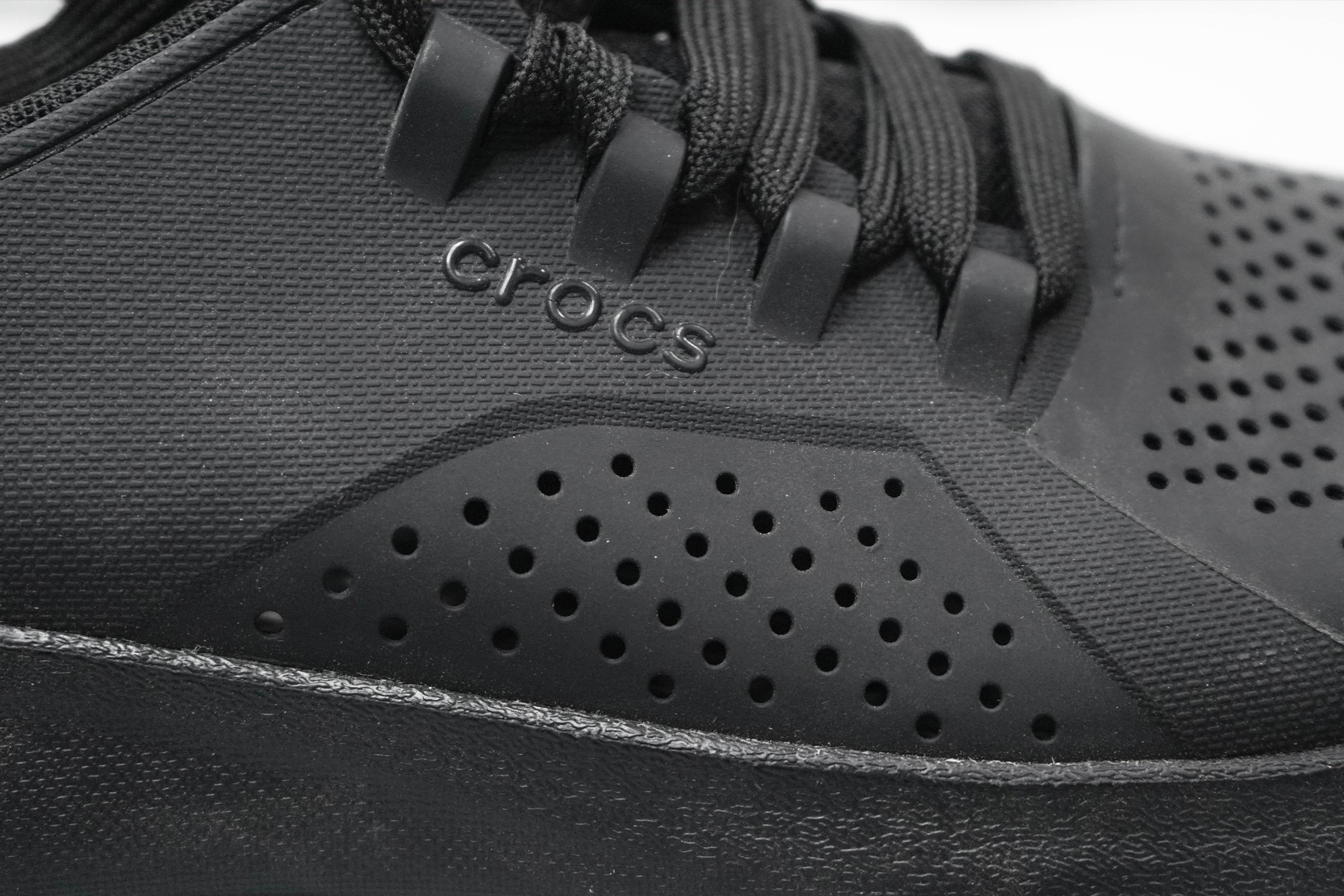 Normally, you know a pair of Crocs when you see one—their rounded shape, the array of ventilation ports, and the strap to keep your heel secure. But with the LiteRide Pacer, it's hard to tell they're even from the same brand unless you spot the Crocs name that appears throughout the shoe—stamped on the side, stitched onto the tongue, and nestled into the bottom tread. All of which are so subtle that they almost completely blend in.
This subtle branding coupled with the black-on-black colorway we've been testing makes this shoe much sleeker and more streamlined than the traditional clog. It's also available several other colorways at the time of this review if you're looking for something more vibrant. While we're digging this new look, we still wouldn't run into an important business meeting with these on—but you should be able to get away with them in casual work environments or outings.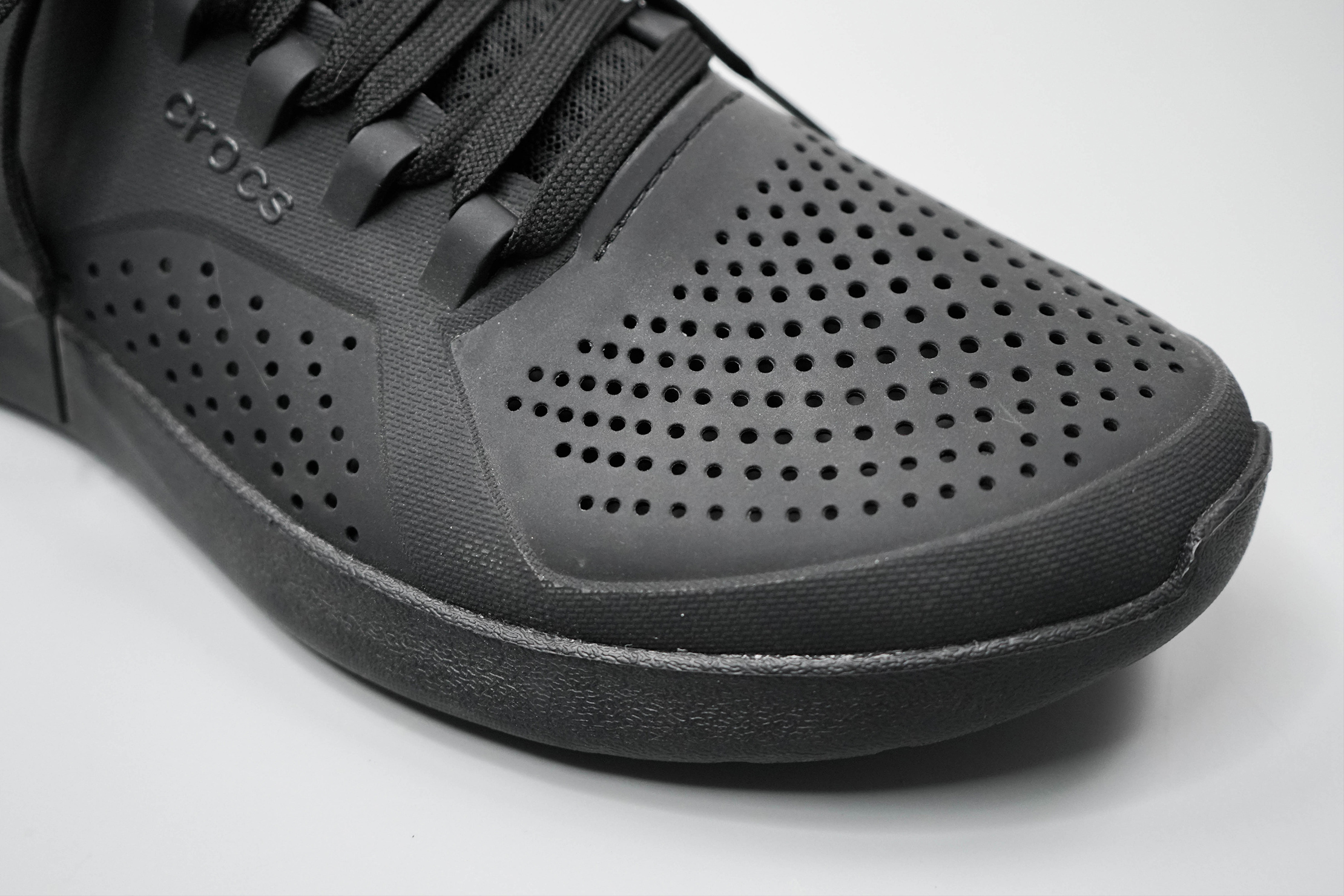 As for material, this shoe's upper is entirely made of a Matlite™ material that feels rubbery and soft in the hand. This makes most of the shoe pretty flexible, with the exception of the outsole. So these shoes wouldn't take up a ton of room in your pack, but they're also not the most compressible shoe we've ever tested.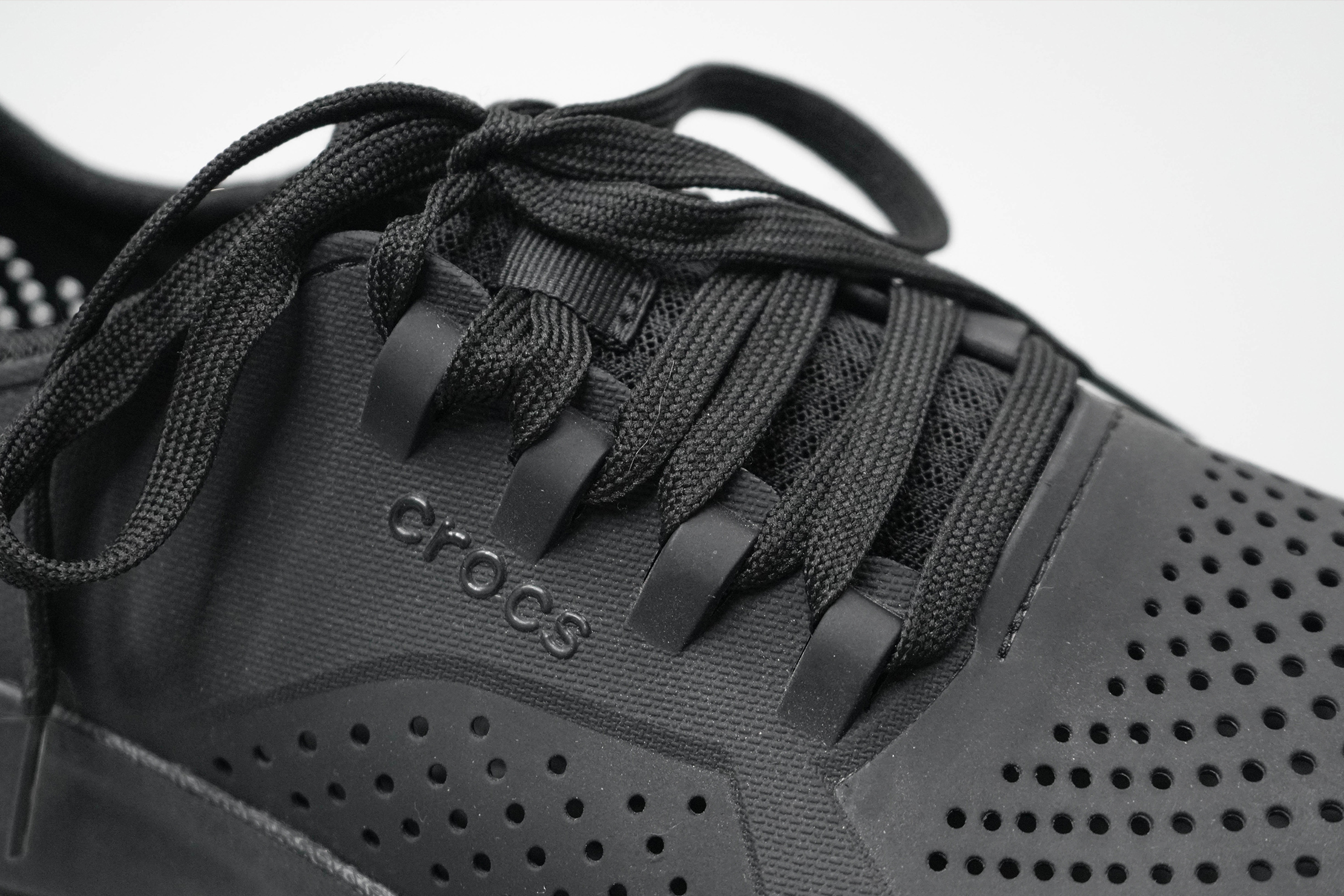 Something we really appreciate on this upper is how the lace eyelets are cut directly into the shoe. They're satisfying to look at, feel sturdy, and the laces slip through them easily—we dig it.
And this LiteRide Pacer is nothing if not breathable. There are lots of tiny ports (or air holes) all the way around the shoe that allow your foot to inhale and exhale with ease. There is a slight, noticeable breeze from these ports, which is refreshing in warm weather. But you might want to throw on a pair of thicker socks if you're wearing these when it's colder out. What else are these air holes good for you ask? Reducing that pesky foot sweat, as well as quick-drying when you're caught in some light rain.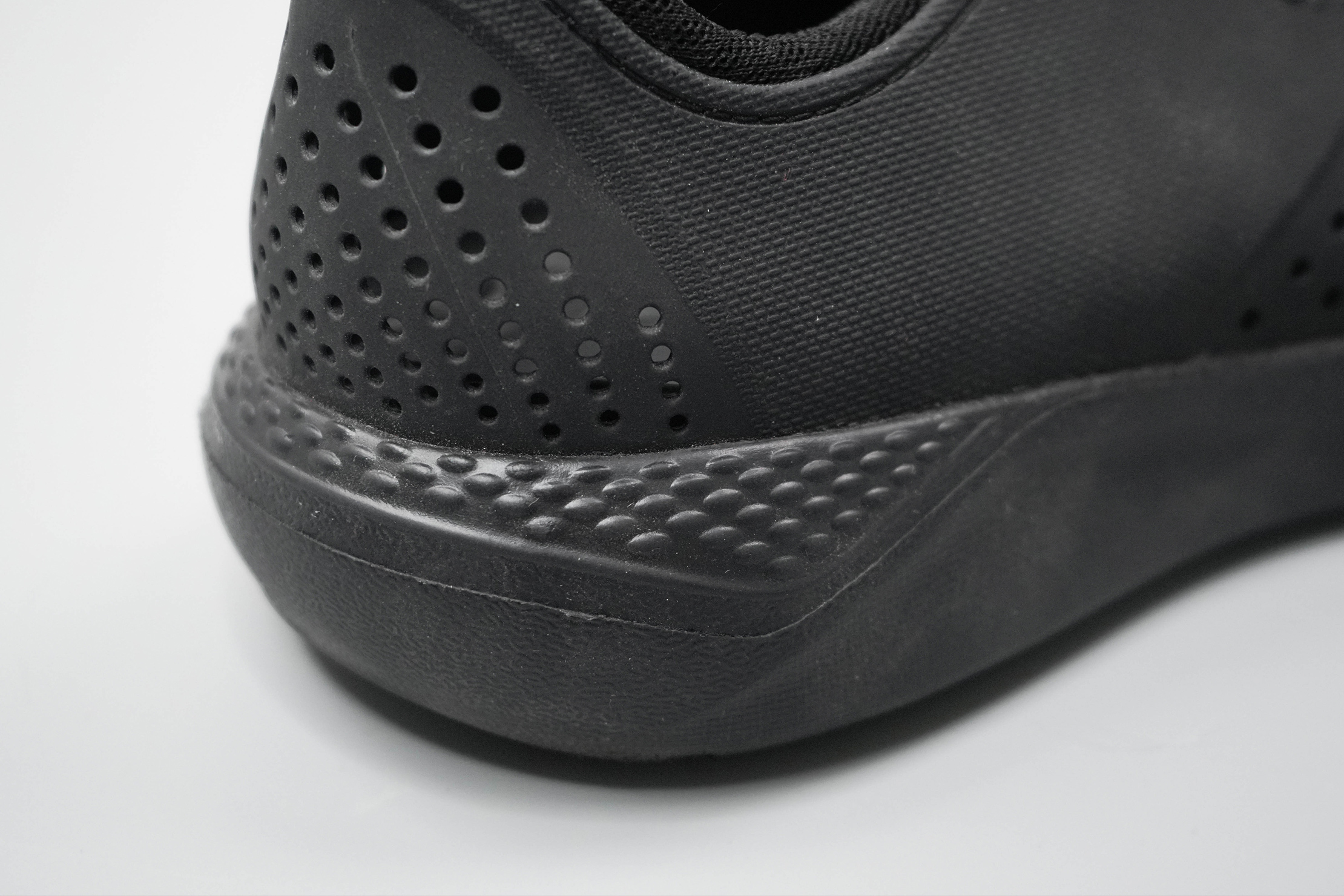 Moving down the shoe, the outsole is heavily padded with EVA foam that gives it quite a bit of structure. It reminds us of the Vans UltraRange EXO, though this foam feels stiffer.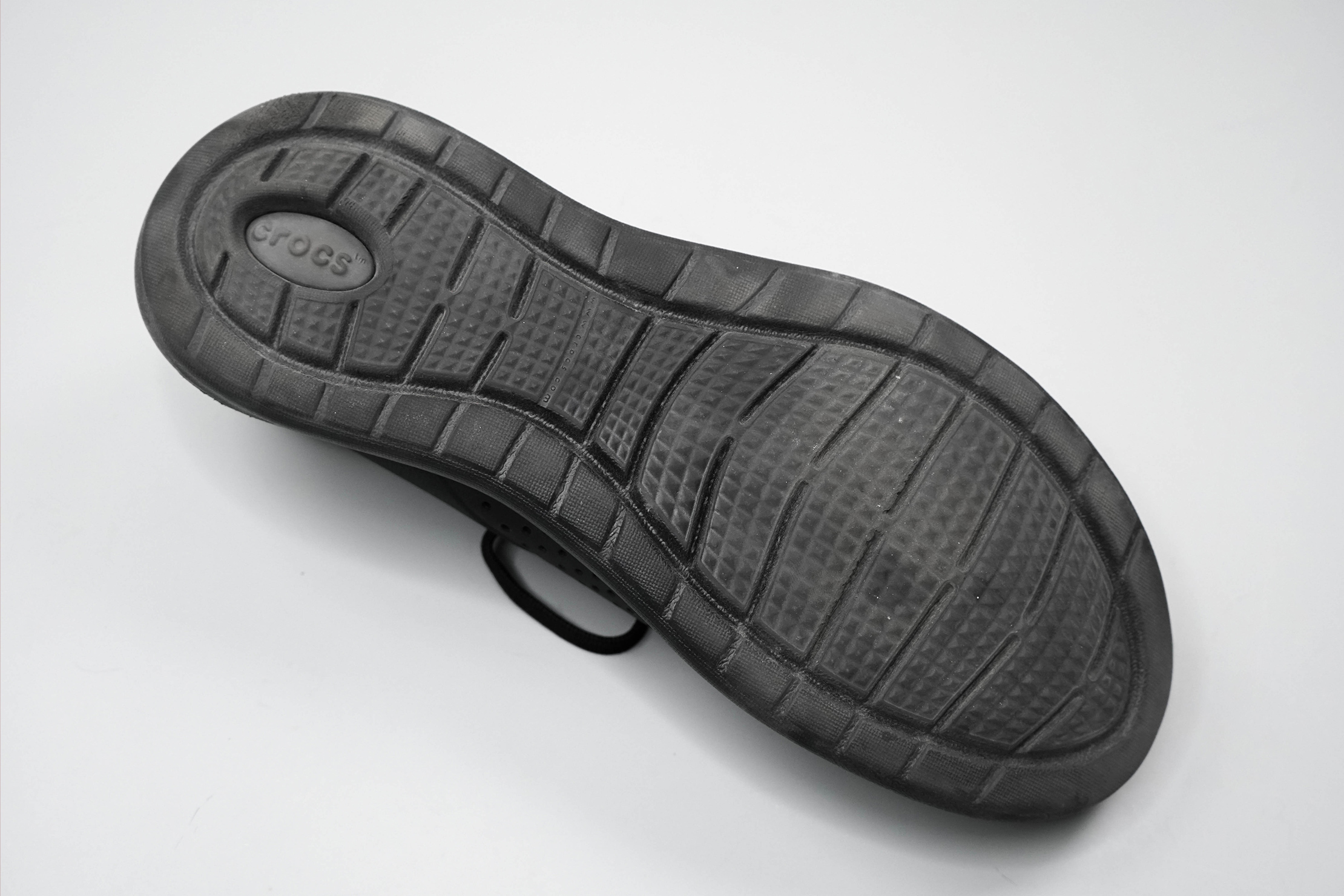 The tread on the bottom of the LiteRide Pacer helps keep you stable on most surfaces, such as gravel, dirt, and cement. If you work somewhere like a hospital or restaurant and are looking for something non-slip, Crocs does make a slip-resistant tread, which is available on other styles of Crocs shoes. This shoe also isn't the best for the beach, as it'd be easy for sand to get in through all the air holes around it. You might not have a problem walking on the sand so much—the trouble is that you'll eventually be walking in it.
As for the fit, Crocs describes this shoe as "relaxed," which we've found to be pretty accurate—you have some wiggle room but it's still pretty secure. The toe box is fairly wide like you would see with a minimalist shoe, which we think is part of what makes them so comfortable—your feet aren't suffocated in here. If you're into minimalist footwear then you might find this ideal for running, as your toes have room to splay. However, we've found that the shoe does not feel very secure around our feet, even when we tighten the laces down. If you prefer a tighter fit in an active shoe, we recommend something that molds to your foot better. Again, it all depends on your personal preferences.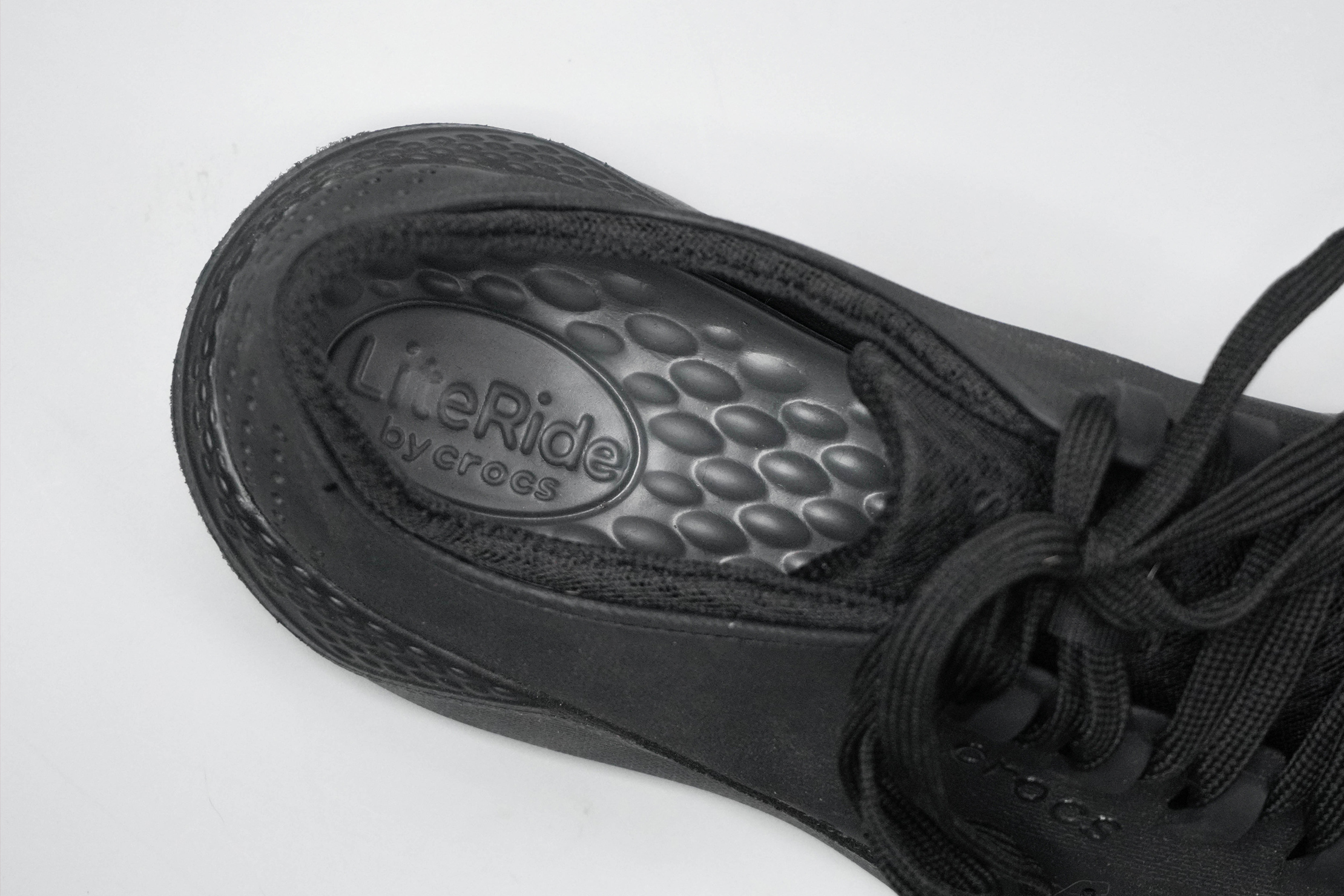 The "LiteRide" in this shoe's name applies to the foam used in its insole. This insole provides lots of cushion for your feet, so they're comfortable enough to slip on and wear all day (that's what we've been doing, anyway).
And finally, we want to add that these shoes are not machine washable according to Crocs. If they get dirty from your adventures, you can always check out our step by step gear cleaning tips for methods that have worked for us. Also, something to note—the insole is not removable, so you can't clean it separately.
Durability & Testing
We've had the Crocs LiteRide Pacers on our feet for about two weeks—while they're not the kind of shoes we typically prefer, we can stay in these the whole day and be comfortable doing so. (And we really can't stress enough how much we prefer their streamlined look over other products we've seen from Crocs.)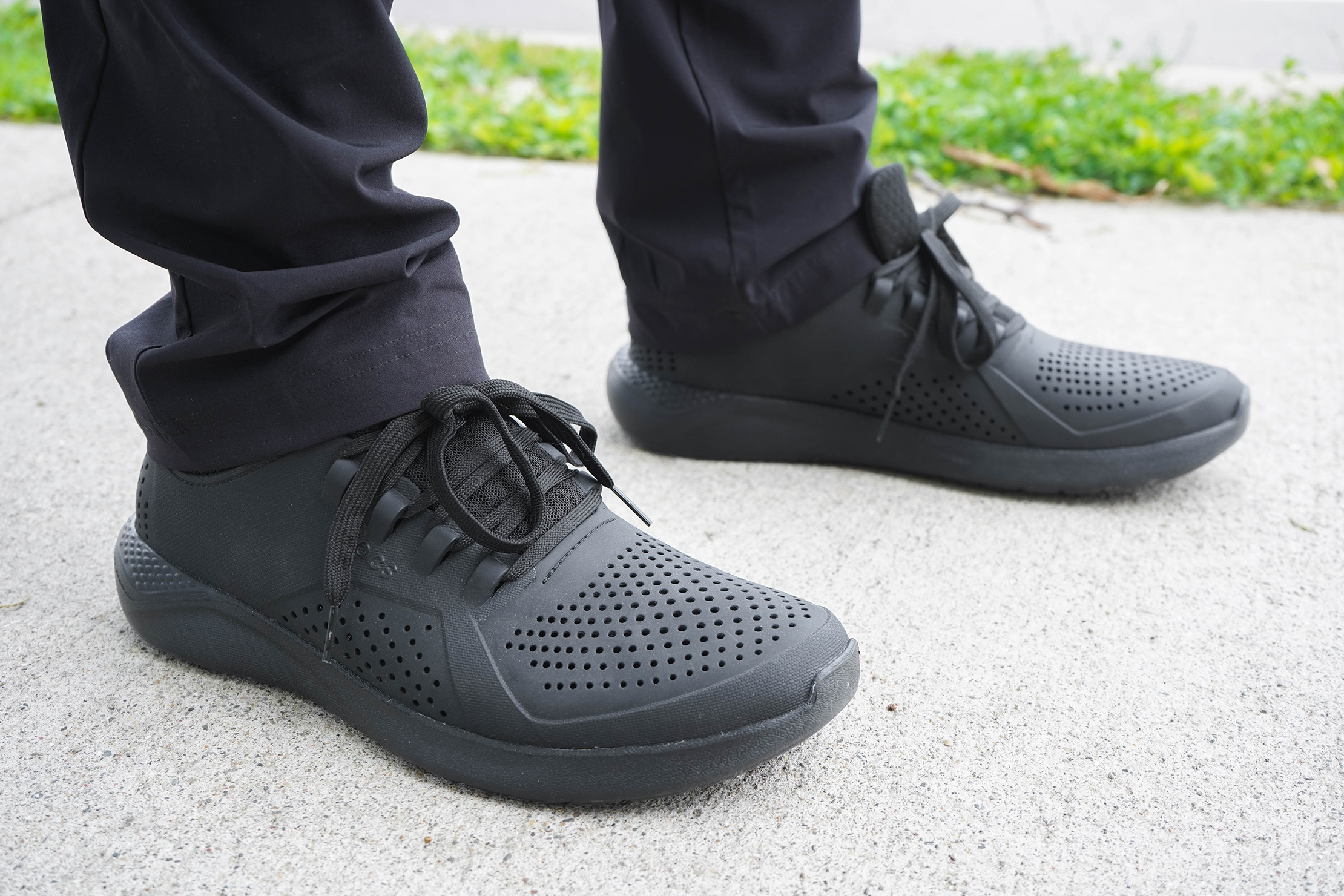 For the most part, this shoe is fairly water-resistant. We've even tested it by getting the shoes wet in the sink and leaving them in the sun to dry. The results? Most parts of the shoe dry very quickly. The tongue holds on to water the most, but since it's mesh, air is constantly circulating and it doesn't take too long to dry out. This makes it great for travel in wetter climates as you can step in a puddle or walk through some rain without having to wait days for your shoes to dry—though we still don't recommend stomping through any snowbanks in these.
As for durability, they've held up well in our testing. They still look and feel like new.
Usage Timeline
Initial Usage
Condition: Excellent
Materials seem like they would be very water-resistant, we'll be interested to see how they perform
Thick cushion and padding on the soles
Not the most minimal travel shoe
We like that these do not look like typical Crocs
2 Weeks of Use
Condition: Excellent
Shoes dry off quite easily if they get wet—the mesh upper can take longer than the rest of the shoe
A breeze is noticeable while walking due to the ventilation in the shoes—this is great for warmer climates, but not so great in cold climates.
These shoes are very cushioned and comfortable, plus they have some drop. Not a minimalist shoe
There's something satisfying about the lace eyelets being cut directly into the shoe
Access the Pro Community Discussion
Get your questions about the Crocs LiteRide Pacer answered from our team and the Pro Community right here on the page. Plus, join discussions with other members about gear, guides, and more.
Other Clothing & Accessories Reviews