Vans UltraRange EXO Review
The Vans UltraRange EXO shoes are as comfortable as they are versatile—although the foam midsole is beginning to wear quite quickly.
Our Verdict
Unlock the Pro Summary
Save time. Get access to brief summaries of our reviews so you can browse and make decisions more efficiently.
Pros
Versatile
Comfortable and lightweight
Stylish, modern look
Cons
Foam midsole isn't the most durable
Not as compressible as other travel shoes we've tested
Not as easy to clean
Recent Pack Hacker Video
Technical Details
Notable Materials

Nylon, EVA Foam, Rubber

Manufacturing Country

Vietnam
Full Review
If you haven't heard of Vans, where have you been? They started out back in the '60s by making what many now consider the classic, iconic skateboard shoes. Fast forward to today, and you're likely to see them as a fashion piece for just about anyone—including non-skateboarders and even celebrities.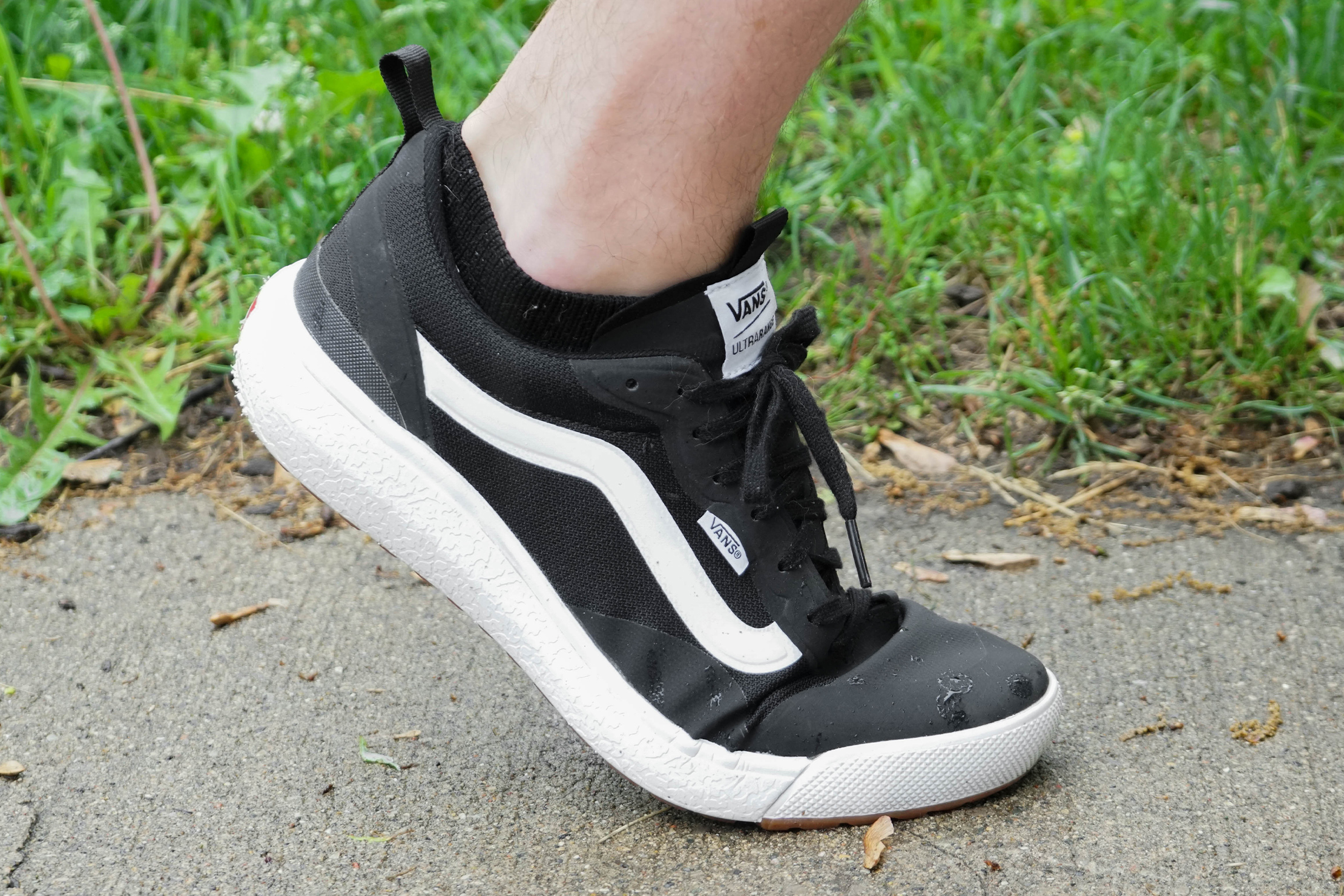 The UltraRange line of shoes was originally designed for the Vans surf team as a versatile travel shoe they could wear across all their adventures. And we've been testing them for a month on all our daily adventures—from trips to the store to jogs around the neighborhood. Now, there are a few other styles in the UltraRange line, but, in this review, we'll be focusing on the Vans UltraRange EXO shoes. While some of the features we'll cover are common across the line, these shoes also have some specific things to offer.
So, let's check them out.
Fit, Fabric, & Features
The first thing you recognize on the outside of this shoe is the classic Vans "Old Skool" design. The stripe gives it that vintage look that's making a comeback in modern style—it's simple but timeless. And with a ton of different colorways available at the time of this review, it's easy to make this style your own. We opted for the universal Black—but there's a color or pattern that should satisfy most aesthetics.

The upper of the UltraRange EXO is made with nylon. While Vans doesn't offer a ton of information about the specific materials they use, we've found the upper to be durable and breathable—and because it's breathable, this fabric acts as a first defense against odor. (Because no one likes the smell of sweaty feet.) There's also a water-resistant coating that extends slightly past the toes to help keep moisture out. Though, we've found this coating to be on the lighter side, so we don't recommend wearing these in the snow or particularly wet weather. (You may get "cold feet", ha)

On the outside of the shoe, you'll see its EXO Skeleton (where this shoe seems get its name). It has both internal soft padding and a thicker, external rubber to support your foot at the toes and the sides, not just the top and bottom. The EXO Skeleton also wraps around the back of the shoe, creating a "heel lock" as Vans calls it. Essentially, it supplies the structure that makes for a snug fit—the shoe doesn't feel so tight that it binds around our ankles but it does feel secure (as in not loose).

As for the laces, they're the standard 45" polyester laces you see on other Vans shoes. They're nothing too special but the do their job. We haven't had issues with them coming loose on their own. They also blend in well on the Black colorway we've been testing as they're the same color as the body of the shoe.

Now, what are you walking on exactly? A mix of EVA foam for the midsole and die-cut rubber for the outsole. The foam lines the outer sole of the shoe and makes it incredibly comfortable—plus, super lightweight, like walking on clouds. (How awesome would that be?) On the Vans Lite line (an older style of Vans we've tested that uses similar materials for the sole), this foam extended all the way to the bottom of the shoe. This was an issue when it rained as it made them much more slippery.
That's where the rubber outsoles on the UltraRange EXO come in. They have a "reverse-waffle" lug pattern that has provided adequate grip in our testing on most terrains—dirt, gravel, cement, and the like—rain or shine. It's a thoughtful solution. Of course, you may prefer a dedicated hiking shoe if you'll be traversing technical terrain.

The UltraCush® Lite midsole ensures a super comfortable wear without adding much weight. The shoe's tongue by the same UltraCush® name is heavily padded and has ports that allow your feet to breathe, because again, no one likes the smell of sweaty feet (or having sweaty feet for that matter).

As far as standard sneakers go, the UltraRange EXOs are relatively lightweight. While it's nice that they're not heavy, they're also not the most collapsible shoe we've tested. You can squeeze most of the shoe down but its heel is pretty sturdy. (This is great for when we're actually wearing them because it offers extra support, though.) In general, we've found flatter, sleeker shoes fit better in a backpack when packing for minimalist travel.
So yes, because these are bulkier and not as easy to compress, they're not as convenient to pack. However, these shoes are very versatile. You can hike, walk, work out, and casually wear them anywhere you go. (Just maybe not to a business meeting or fancy dinner) This way, you only have to pack one pair of shoes which is going to save room in your bag. Not a bag tradeoff in our books.
Durability & Testing
Like we said earlier, we've been testing the Vans UltraRange EXO shoes for about one month around Detroit. We've been slipping them on pretty much every day to wear around the house, out to the store, and on daily runs (about three miles each). These Vans feel comfortable on our feet the whole time we're in them—and they're lightweight so they don't slow us down.
But our favorite thing about this shoe has to be its versatility—it's durable enough for exercise, and plush enough for casual outings. You can go from one to the other without skipping a beat. (If you want to skip, you can do that in these shoes, too.)

We have noticed some minor damage along the edge of the foam midsole in our testing. The foam is so soft that the rubber on the bottom of the shoe compresses up when we strike the ground, so the edge of the foam becomes the main contact point. This hasn't affected the overall function of the shoe so far but it is beginning to wear quite quickly—we'll definitely be keeping an eye on it.
A lesser issue we've been experiencing is a loose thread that has appeared on one of the shoes—which we'll also be watching for further issues as we continue to test these shoes.

Also, something to note: As with any other shoe, the insole absorbs a certain amount of moisture and odor with continued use. With these Vans, the insole appears to be glued to the rest of the shoe—this isn't a huge deal, it just means it's not as removable if you want to wash the sole and shoe separately.

Usage Timeline
Initial Usage
Condition: Excellent
Extremely comfortable and versatile shoes
Seem like they'll be good for just about anything but we'll see how they work in the rain
Casual and lightweight but not as compressible as other travel shoes we've tested
2 Weeks of Use
Condition: Good


We've been running about 3 miles a day in these and they are awesome! Lots of lightweight cushion that provides great support but doesn't add too much weight. However, we have had some noticeable wear on the foam. Nothing more than aesthetic damage so far but we'll keep an eye on it.
1 Month of Use
Condition: Good
Nothing new to report. Still wearing these shoes every day.
2 Months of Use
Condition: Bad

There's a large very noticeable rip on the front of the left shoe. There's still another layer of fabric underneath so it's not all the way through however it does not look good.
Access the Pro Community Discussion
Get your questions about the Vans UltraRange EXO answered from our team and the Pro Community right here on the page. Plus, join discussions with other members about gear, guides, and more.
Other Clothing & Accessories Reviews