Vessi Everyday Shoes Review
The Vessi Everyday Shoes are as waterproof as advertised, but they cause your feet to sweat—we're not sure the trade-off is worth it for most people.
Our Verdict
Unlock the Pro Summary
Save time. Get access to brief summaries of our reviews so you can browse and make decisions more efficiently.
Pros
100% waterproof
Antimicrobial coating helps with the stink factor
Thick padding and sock-like feel make them super comfortable
Cons
Not breathable
Our feet sweat a lot when wearing them
100% waterproof sneaker may be overkill for a lot of people
Recent Pack Hacker Video
Technical Details
Notable Materials

EVA Foam, Rubber, Polyester, Nylon, Dyma-tex

Manufacturing Country

Taiwan
Full Review
The main selling point of the Vessi Everyday Shoes is that they're waterproof.
Which, after a month of testing the men's version, we can confirm is true. Jump in a puddle or take a long stroll in the pouring rain and your feet will be protected.
In their highly successful Kickstarter campaign, the folks at Vessi said their Everyday Shoe is what would happen if rain boots, socks, and sneakers had a shoe-baby. Also, more or less, true.

But during our month of testing, we've been wondering: Does the world need a waterproof sneaker? Maybe rain boots, socks, and sneakers shouldn't have a shoe-baby.
Especially considering the (metaphorical) cost. Yes, we're talking sweaty feet.
Perhaps, if you're traveling to rainy climates—Southeast Asia during Monsoon season, Ireland in the winter, Seattle during always—you'll think the trade-off is worth it. But, otherwise, we're not so sure.
But we're getting ahead of ourselves. The main selling point of the Vessi Everyday Shoes may be that they're waterproof, but there's more to them than that.
Let's begin with their aesthetic.
Materials & Aesthetic
The Vessi Everyday Shoes look like knitted sneakers…which is exactly what they are. At the time of this review, they're available in three coloways: Midnight Black, Pebble Grey, and Pearl White.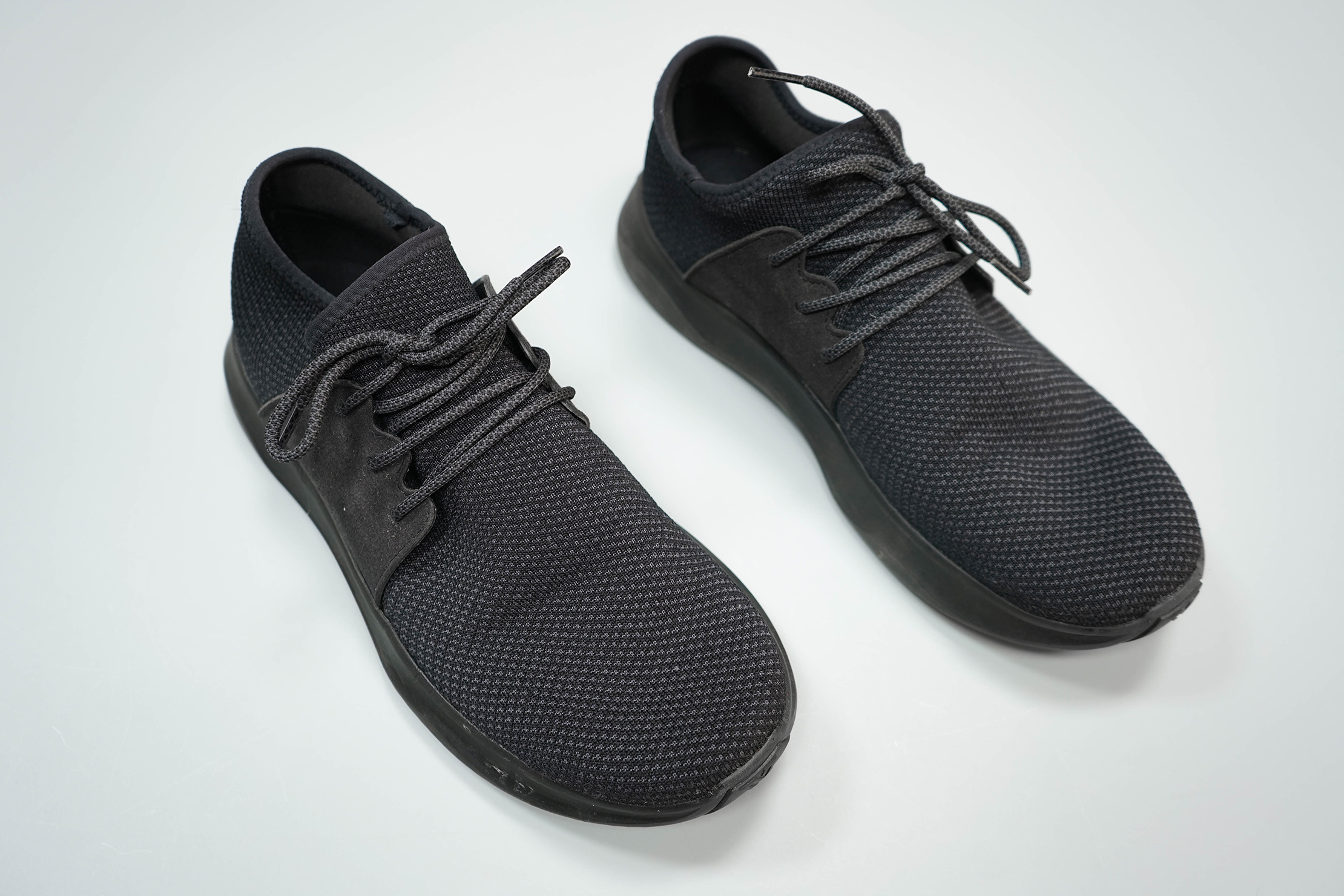 We recommend not opting for the white unless you're a super neat, clean person who can handle such a momentous responsibility. The waterproofness of the shoes mean that they're easy to clean—simply hose them off—but the white is still a dangerous choice. Keep in mind, these shoes have been built for certain types of travel: beaches, muddy fields, hikes. Not things known to keep your shoes pristine.
The Everyday Shoes are also currently available in five limited edition colorways. But, by the time you're reading this, they've probably been switched out.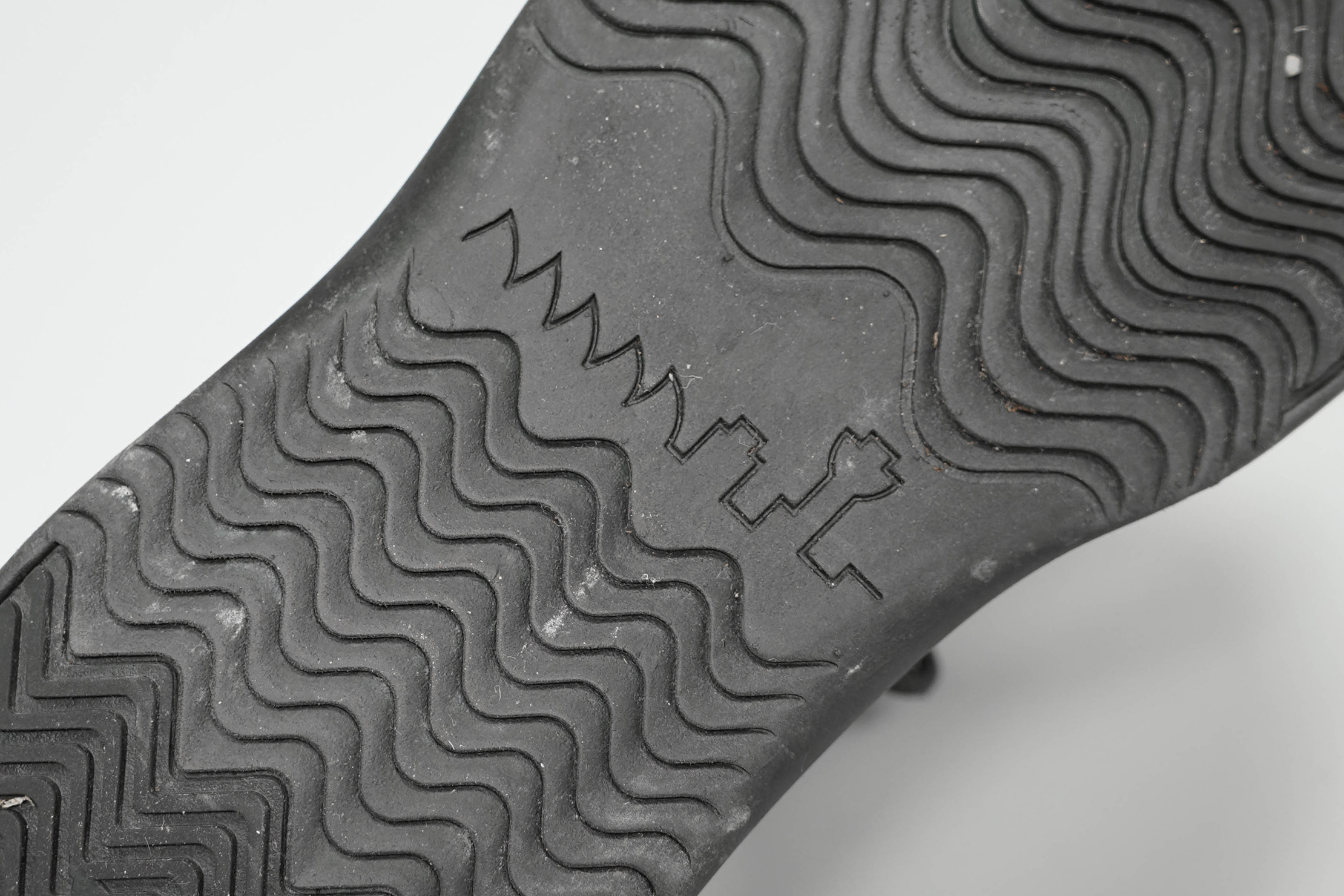 When you flip the shoes over, you'll be greeted with a wave pattern. Waves—get it? Because these shoes are waterproof. We're digging it and, coupled with the skyline printed into the EVA, the outsole is quite fun.
It also has decent tread and texture—its grippiness is pretty average to other sneakers. It should keep you upright most of the time, but it's not as secure-feeling as a dedicated boot built for navigating difficult terrain.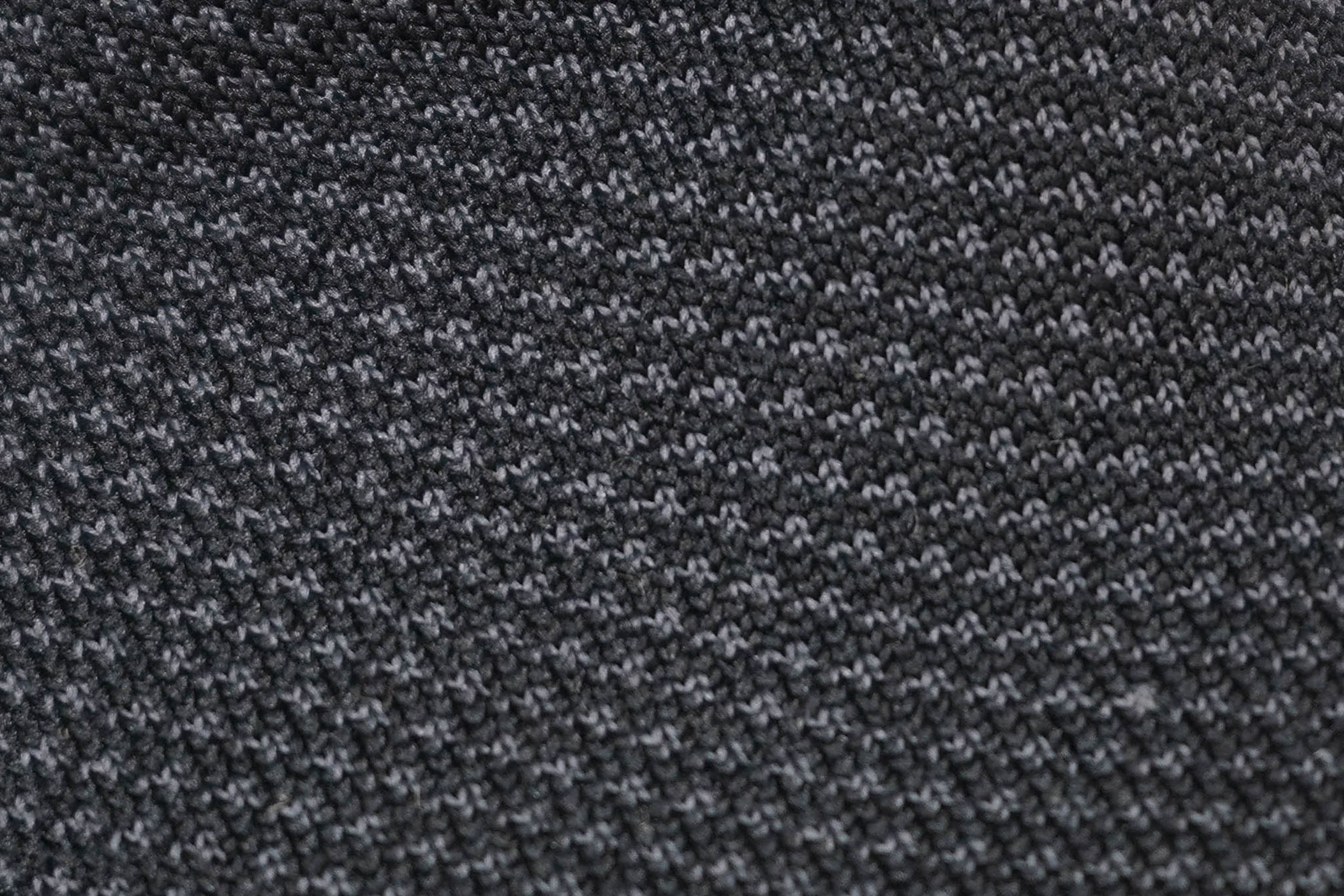 The upper is made from a synthetic knit material layered with Vessi's own patented Dyma-tex fabric. According to Vessi, the Dyma-tex material has "Nano-sized pores too small for water molecules to pass, but large enough for heat and sweat to pass through."
So the waterproofing isn't due to a coating, which is definitely a plus as it won't wear off. But we haven't experienced sweat being able to pass through this material—we'll discuss more in a minute.
There is a coating on the exterior material, which repels mud, sand, dirt, etc. There's also an antimicrobial coating on the insole to keep stink down to a minimum. We haven't noticed any stink issues yet, which is a promising sign.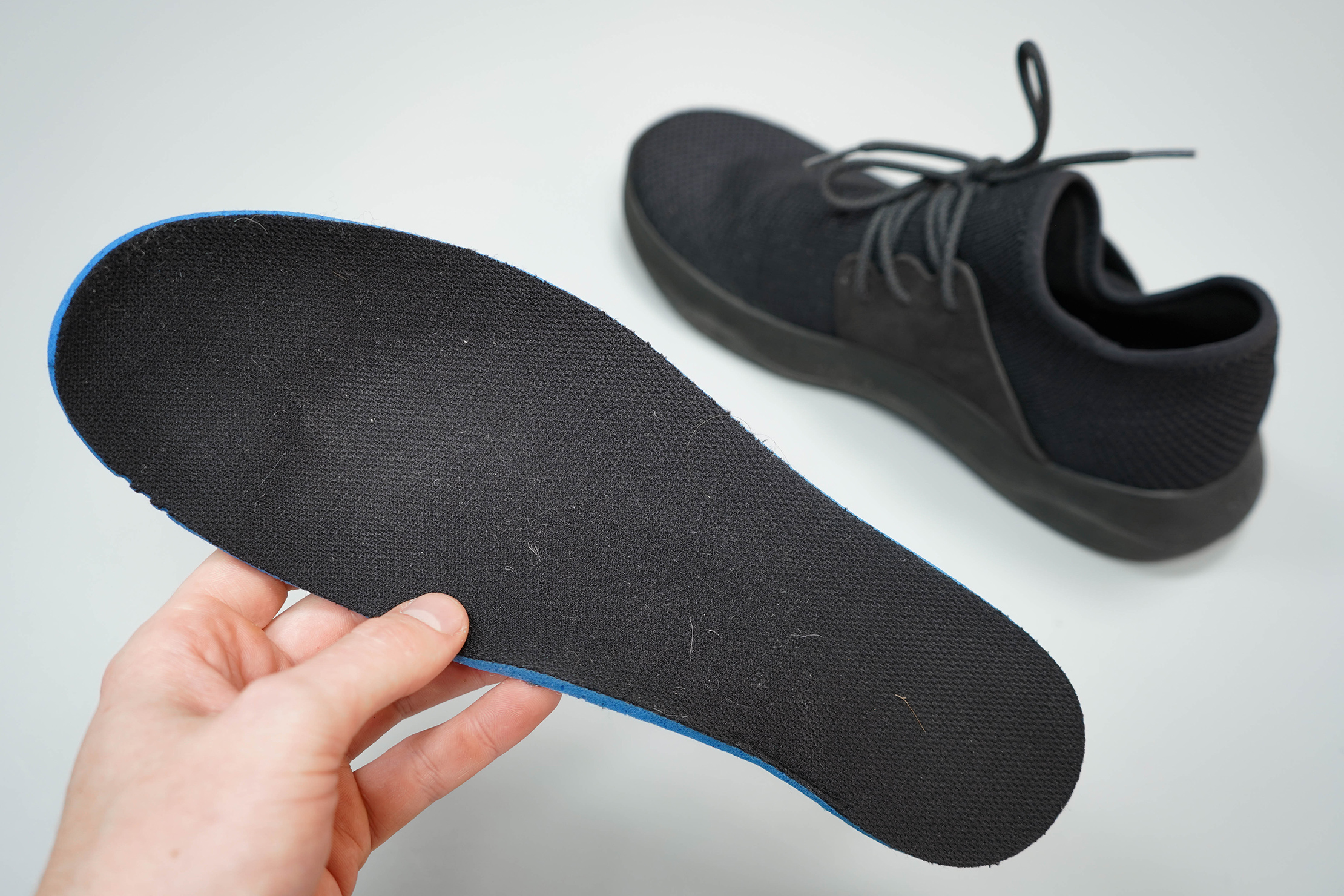 Before we dive into the features of the Vessi Everyday Shoes, we want to point out that they're entirely vegan. Even the glue isn't made of animal by-products. Which is a major plus for all of our vegan shoe-wearers out there.
Features & Benefits
As we alluded to at the beginning of this review, we've spent the past month trying to figure out the best use case for 100% waterproof sneakers.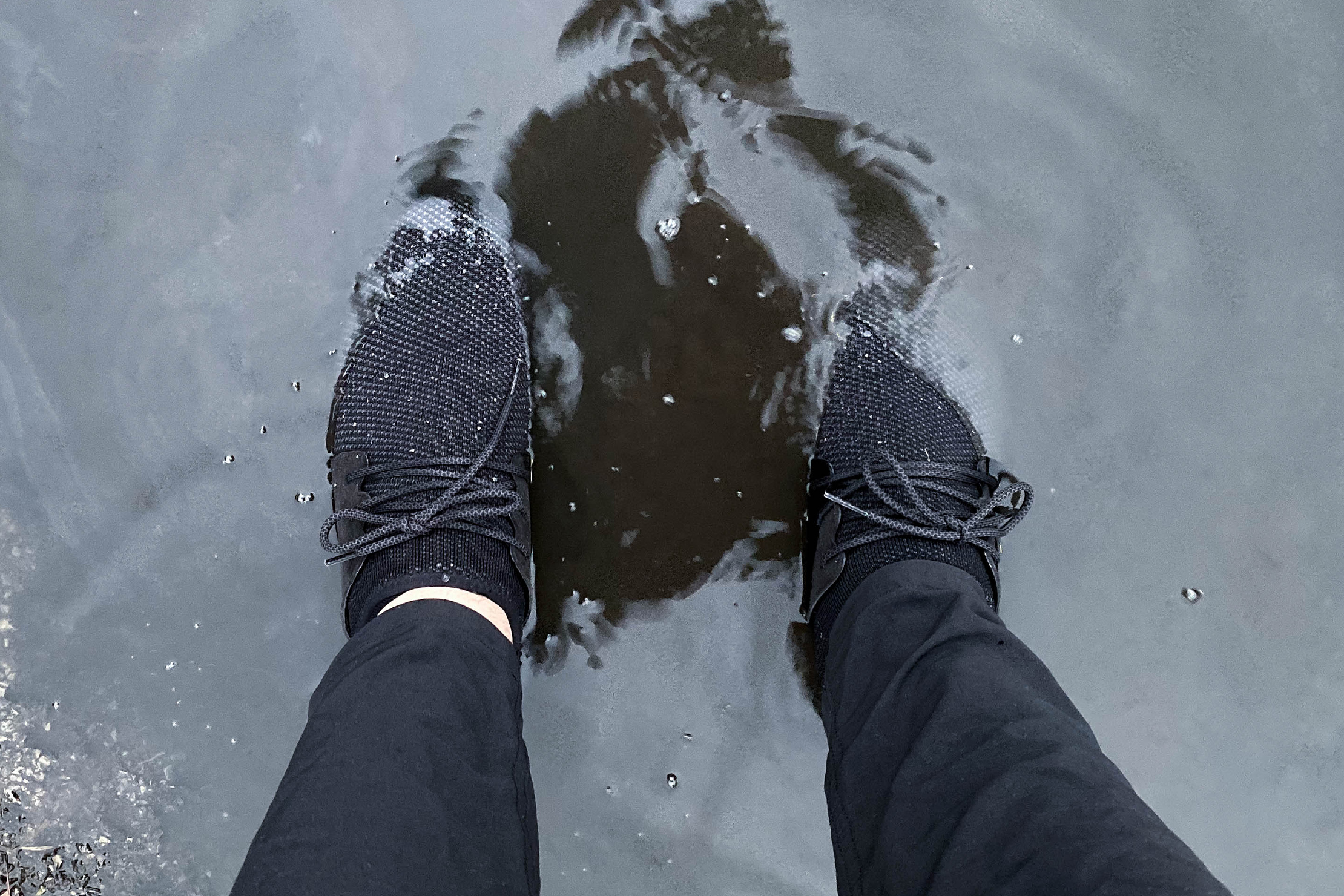 Particularly because, in waterproofing them, the folks at Vessi ensured that the Everyday shoes will make your feet sweat. Like a lot. Like an uncomfortable amount. Suffice to say, Vessi's claim that the Everyday Shoes are breathable is not true (at least for us).
Sure, your feet will be protected from the occasional rainstorm, but they'll be perpetually wet from sweat. We're not sure about you, but we'd prefer our feet to get wet when we step in a puddle for the trade-off that they'll be dry a majority of the time.
That said, you may have a different life or travel style than us. Maybe you live in Vancouver, Canada—where the Everyday Shoes were born and where it's always raining. Maybe you enjoy hiking in wet climates but aren't fond of full-on hiking boots. Maybe you're planning to backpack through Southeast Asia during Monsoon season and don't want to pack multiple pairs of shoes.
Or maybe you like to impress your friends by jumping in puddles. If that's the case, a word of warning—be selective of the puddles you jump into. While the shoes are waterproof, water can seep in from the top. Deep puddles are not your friends (not that we're, uh, speaking from experience).
And, if your feet naturally don't sweat much, you may feel that the trade-off is worth it.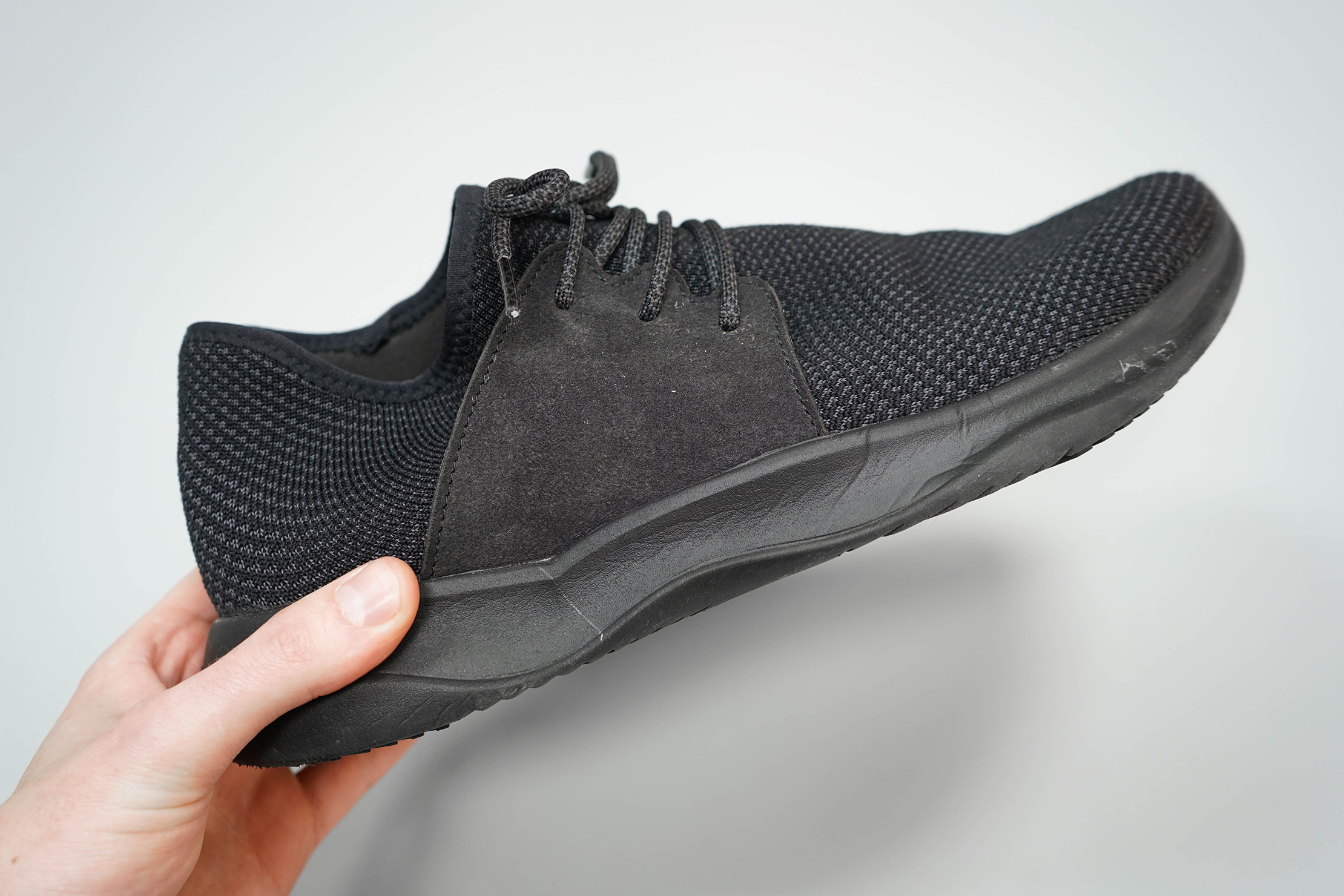 Vessi also advertises that the Everyday shoes are supremely comfortable with 4-way stretch. We don't usually see 4-way stretch in a shoe and are really digging it. And they're not exaggerating about that comfort (if you look past the whole sweaty feet thing). These shoes feature substantive arch support and thick padding. And the insole feels foam-y.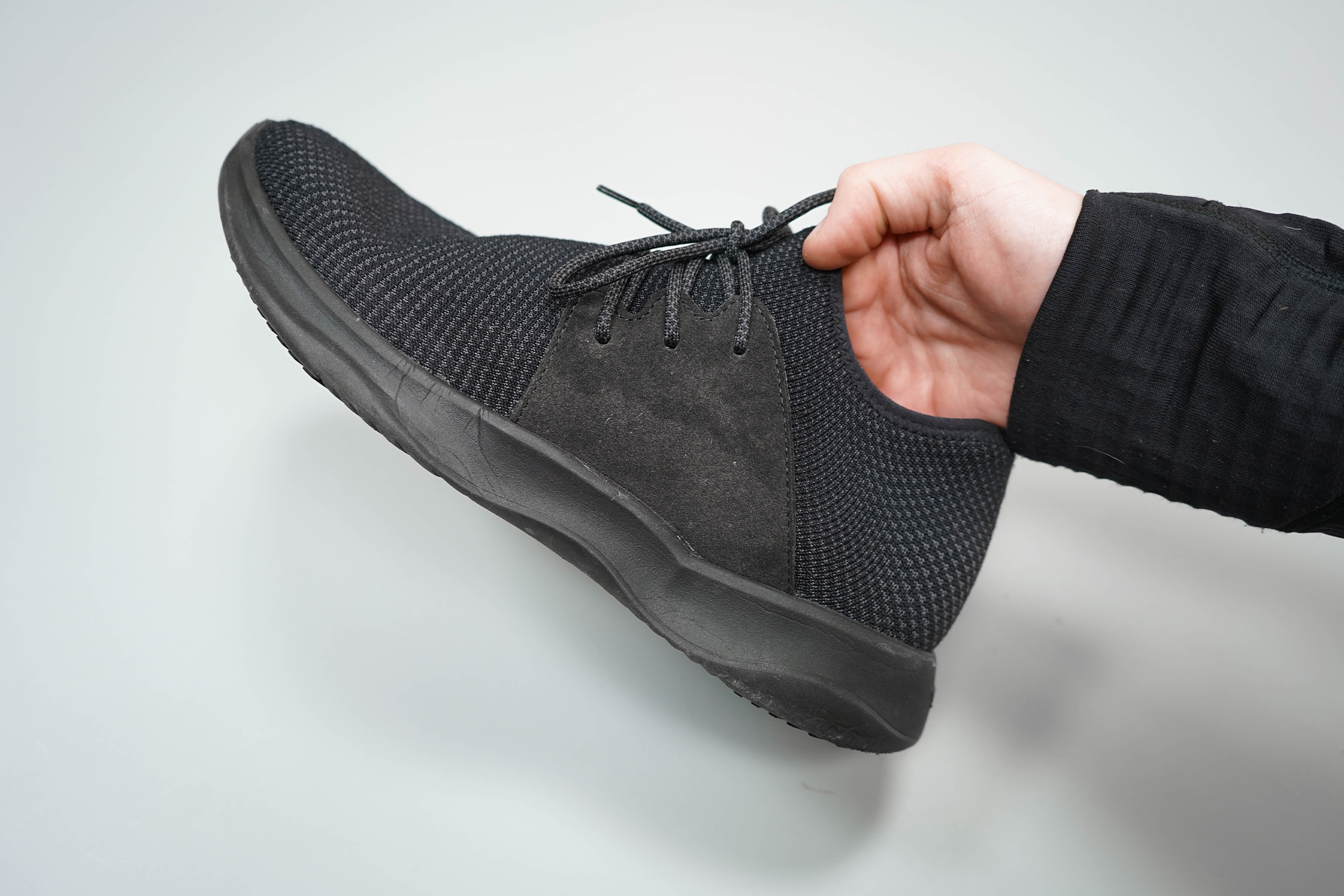 Plus—and this is where the whole sock parent thing comes in—the upper feels like a neoprene sock and has been designed to contour to the shape of your feet over time to create a personalized fit. We haven't seen this happen yet in our testing, but we'll keep you posted in the Usage Timeline down below.
Of course, if you're partial to minimalist shoes like we are here at Pack Hacker, the Vessi Everyday Shoes are not for you. But, these shoes do have a couple of things in common with minimalist shoes.
They have a wider toe-box, which is great for those of you who have naturally wider feet or for air travel and long hikes when feet tend to swell.
And these shoes are also lightweight. This is not only great for comfort—as you'll hardly notice you're wearing the shoes—but for travel. The lighter you pack, the less of a struggle dragging your travel backpack around the world will be.
Durability & Testing
As we've already said, we've been testing the men's version of the Vessi Everyday Shoes for a month in Detroit, Michigan. While we appreciate that they're as waterproof advertised, we simply don't have a use-case for waterproof sneakers in our lives and travel styles. Especially considering the sweaty feet you get in return.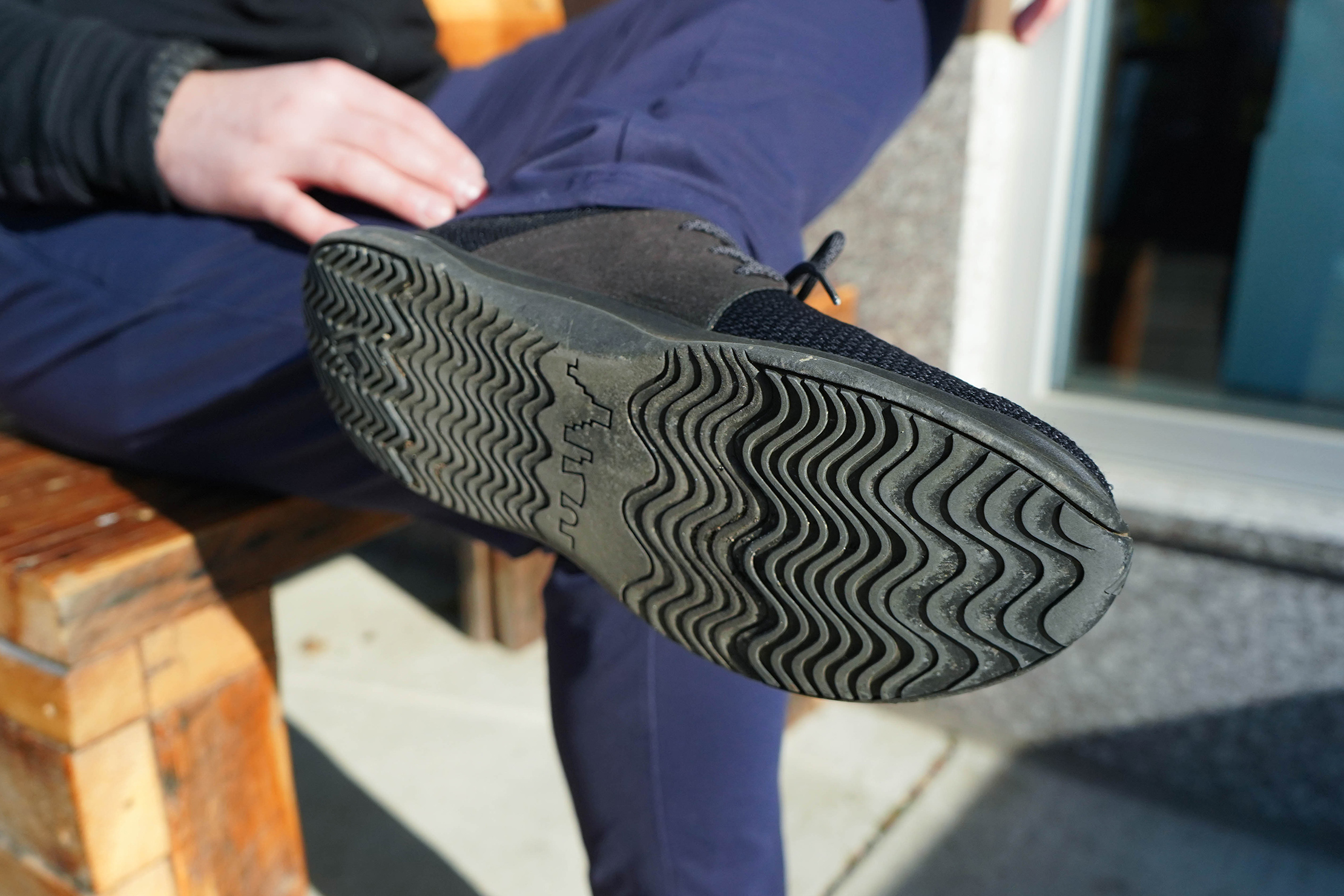 But you may feel differently—and if you need waterproof sneakers then you'll be happy to have these guys.
As far as durability is concerned, we have nothing to report so far. Everything is holding up nicely.
Usage Timeline
Initial Usage
Condition: Excellent
Waterproof but sacrifices some breathability
Great construction and quality
Digging the overall look and feel
2 Weeks of Use
Condition: Excellent
Definitely as waterproof as advertised!
1 Month of Use
Condition: Good
Haven't noticed any stink-issues, yet. A great sign considering how much our feet sweat in these shoes.
Access the Pro Community Discussion
Get your questions about the Vessi Everyday Shoes answered from our team and the Pro Community right here on the page. Plus, join discussions with other members about gear, guides, and more.
Other Clothing & Accessories Reviews