Carhartt Single-Compartment Backpack (27L) Review
Carhartt's Single-Compartment Backpack (27L) is roomy and easy to pack despite its relatively simple design, though the laptop sleeve lacks convenience.
Our Verdict
Unlock the Pro Summary
Save time. Get access to brief summaries of our reviews so you can browse and make decisions more efficiently.
Pros
Spacious main compartment
Roomy secondary pockets don't cut into the main compartment
Large water bottle pockets fit big bottles
Cons
Hard to adjust straps when wearing bag
Tricky access to the laptop sleeve
Water bottle pockets are too loose for smaller bottles
Recent Pack Hacker Video
Technical Details
Capacity

27l

Weight (lb)

1.6 lb (0.7 kg)

Denier

1200D

Dimensions

18 in x 12 in x 9.5 in (45.7 x 30.5 x 24.1 cm)

Notable Materials

Polyester, DWR Coating, YKK Zippers, Woojin Hardware

Manufacturing Country

Vietnam

Laptop Compartment Size

15"

Warranty Information
Full Review
With a name like "Single-Compartment Backpack (27L)," you might dismiss this bag from Carhartt as rudimentary, basic, and even barebones. Well, it's good that the internet has pictures because you do get more than just a sack with some straps with this bag. No, it's nothing like those three qualifiers we just mentioned. In fact, if you look closely, Carhartt did a pretty bang-up job with the details on this one.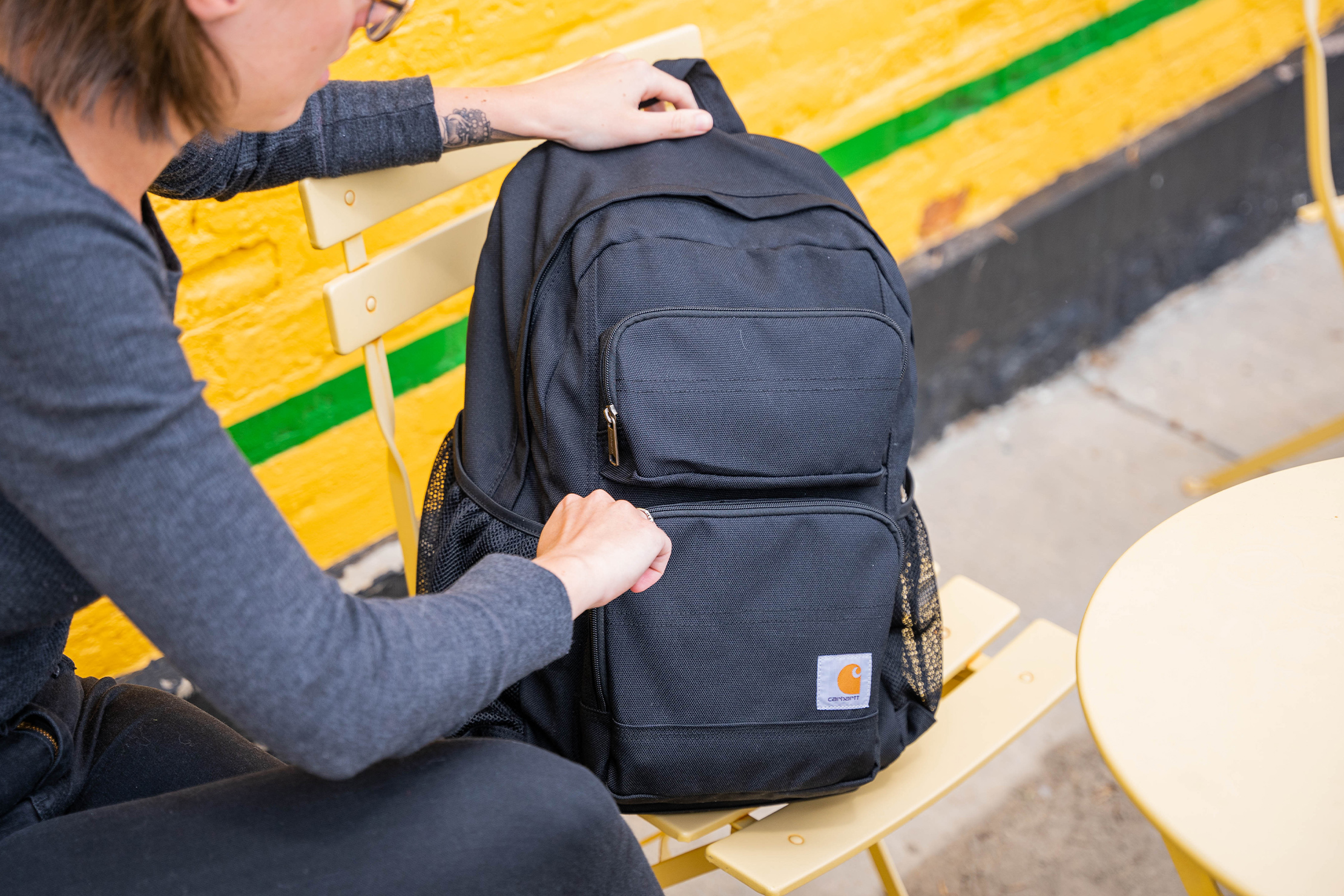 A backpack that has a big, roomy, and undivided main compartment isn't a new concept. We've seen plenty of daypacks and travel backpacks in this style. What makes Carhartt's design stand out is its attention to detail. Both front pockets have independent volume, so they don't jut into the main compartment even when they're full. The opening may be horseshoe-style, but it's nearly as easy to pack as clamshell luggage. Ease of access and spaciousness must have been on top of Carhartt's priorities when they designed this bag because it shows.
Of course, we'll have to look out for the traits that have sunk to the bottom of the priorities list as well. So without further ado, let's get into it.
External Components
We'll be switching things up by starting from the bottom of the bag. Here is where we have the Duravax base, a slick kind of fabric that deals with dirt and abrasions better than the main 1200-denier polyester fabric. That's not to say the main fabric isn't sturdy. That high denier and durable water-repellent finish is quite durable in and of itself, and it holds up well in everyday use.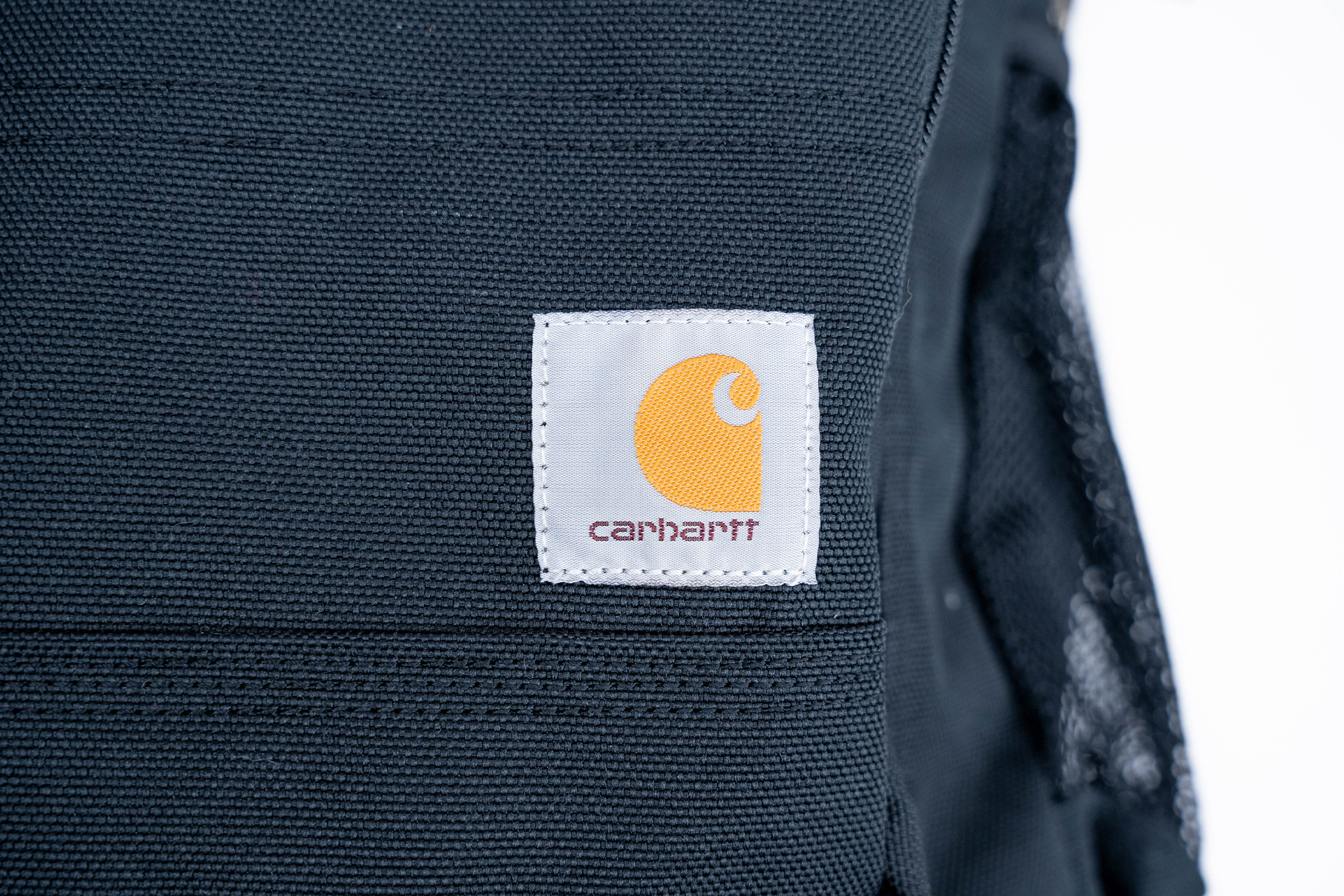 Secondary handles are one of the key features we look at whenever we're testing gear while we travel. At first glance, Carhartt doesn't seem to equip anything special in this regard. The lone top handle looks more or less like your typical quick-grab handle situated between the shoulder straps. This design works well enough for most daypacks for quickly picking them up and setting them down nearby.
Upon closer inspection, though, the Single-Compartment Backpack's top handle is a notch above normal. It's large enough that a hand can comfortably slip through, while its relative thickness makes it comfortable to use for short periods.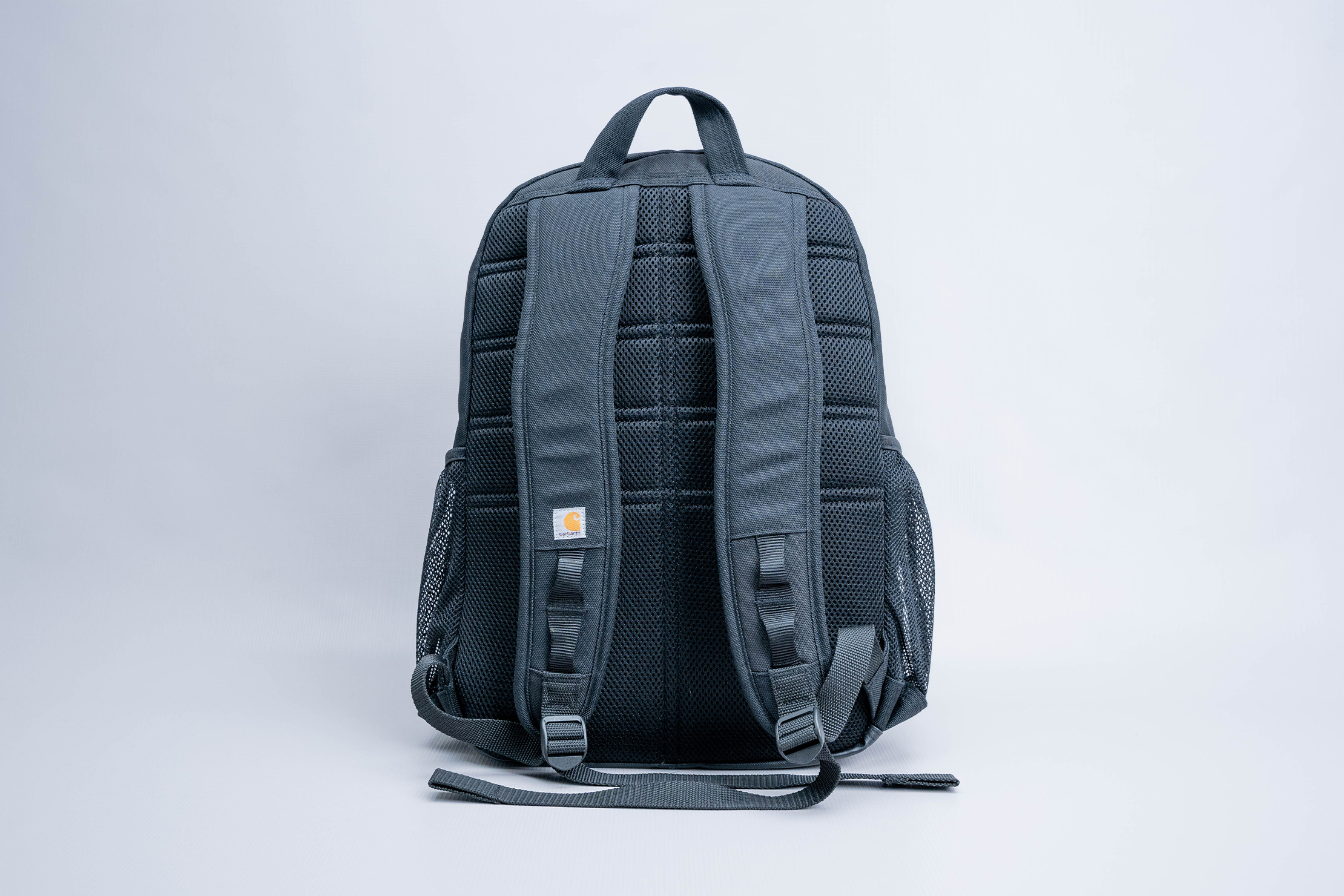 That said, the fact that it's mounted closer to the back panel does mean that balance is an issue, as the bag noticeably leans whenever we use the handle. On the flip side, since it's mounted so close to the back, it's also much easier to hang onto shallow pegs and hooks—something incredibly indispensable when you're relying on public bathrooms.
Next up are the water bottle pockets. The first thing you'll notice about these is that they're quite baggy and stick out of the sides. While this spoils the bag's profile a bit, it also means that large-capacity bottles fit without much issue. We've been able to store both 40-ounce and 32-ounce bottles, and there is an elastic rim that helps keep them held in place. Still, it's not enough to stop either bottle from slipping out if the bag's jostled around, and this goes double for slimmer bottles in the 18 to 21-ounce range.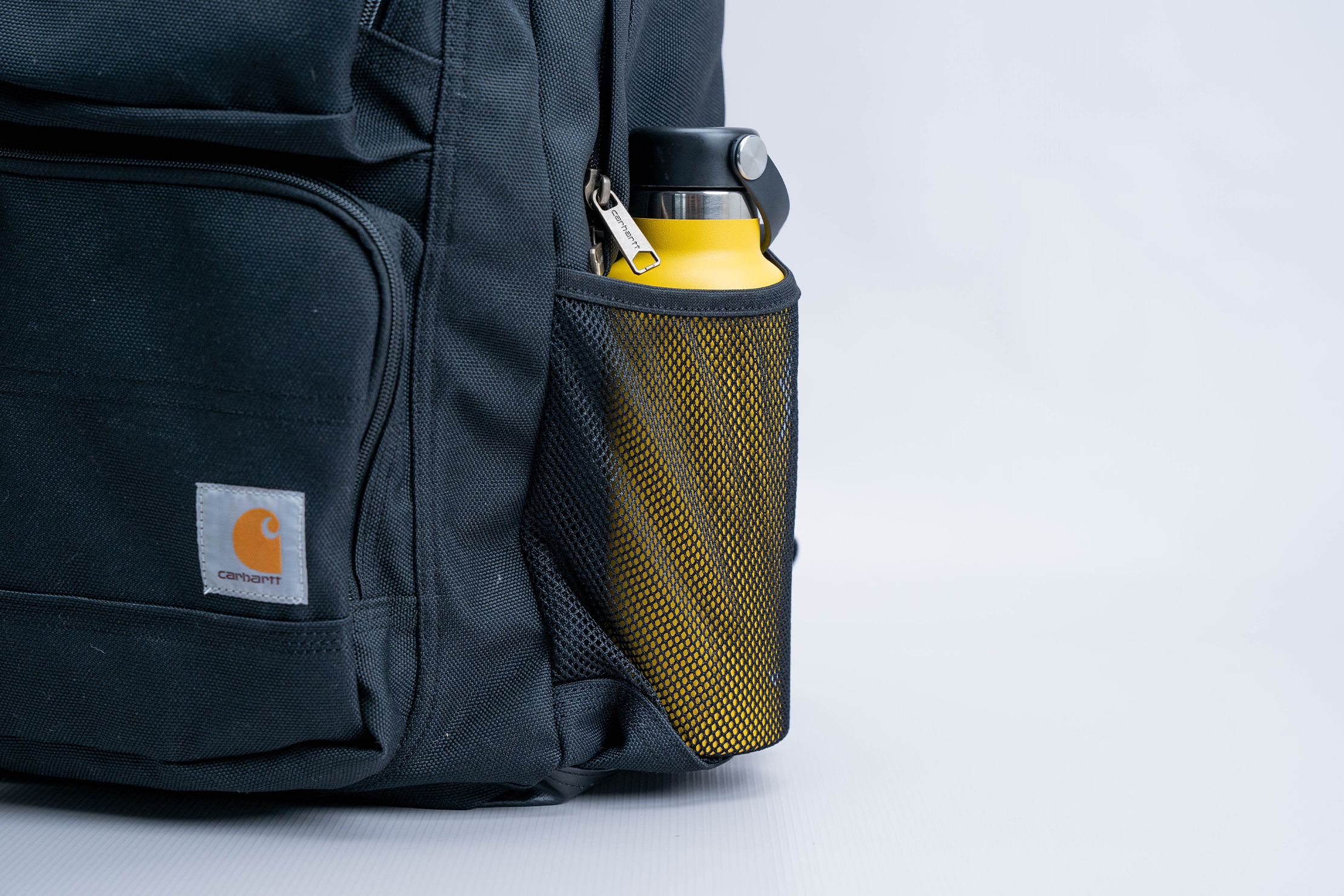 The harness system on the Single-Compartment Backpack is kept relatively simple. The shoulder straps aren't especially thick, nor are they too thin. We'd say their biggest strength in delivering comfort is their width, though your mileage may vary depending on how broad your shoulders are.
We do find the fabric rough against bare skin, something we notice whenever we go sleeveless for the day. We chalk this roughness up to two things. First is the stiff, thick piping along the edges of the straps. Second, the mesh Carhartt uses here is simply just rough. It's not the fine kind of mesh you'd see on other bags, though this does technically mean bigger holes for better breathability.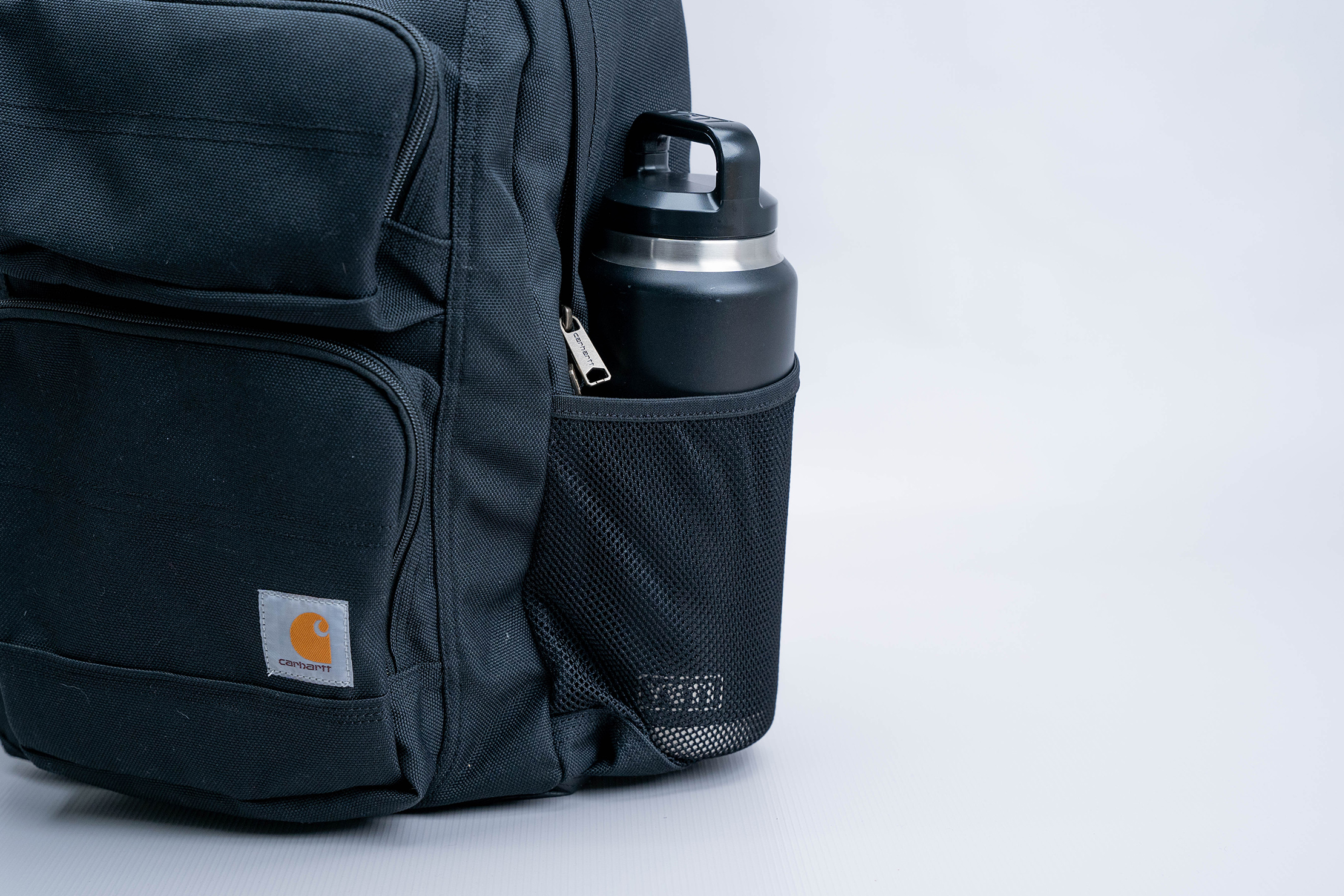 You may have noticed how the shoulder straps are curved. Indeed they are, though we can't see how they make any difference. Apart from the slightest change in aesthetic, the curve is too minimal to really contour to a body type. At the very least, this tiny detail doesn't harm functionality.
Both shoulder straps have two attachment loops where you can attach additional accessories like a carabiner, keychain, luggage tag, or even a sternum strap. That last one may be a must-have for some, and unfortunately, Carhartt doesn't include one, so you'll have to source one for yourself.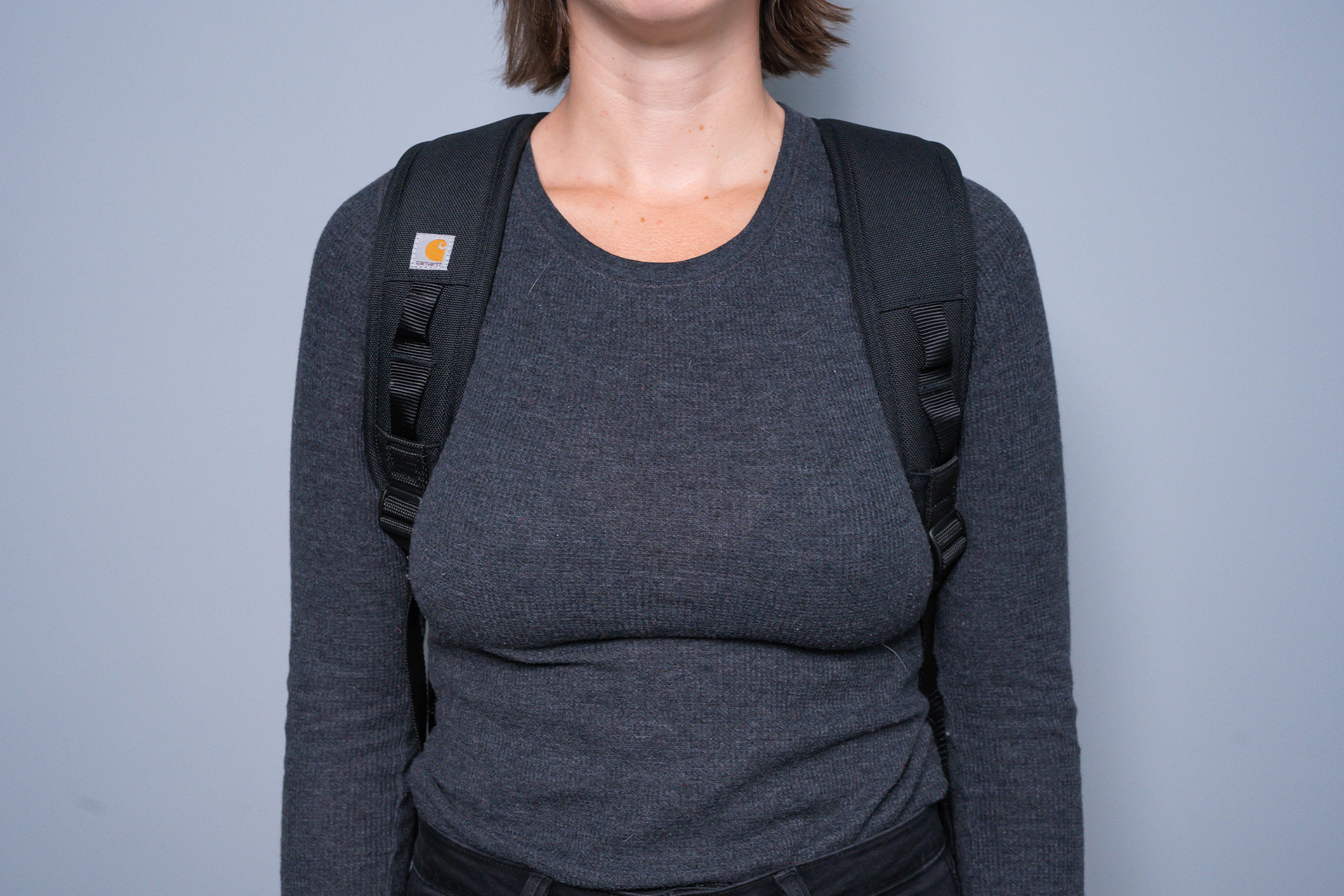 The strap adjusters used here are from Woojin, so they should be pretty reliable. At the same time, though, they're relatively difficult to adjust. The straps themselves don't slide all that easily, and we have to feed them through if we want to make adjustments.
The back panel is covered in the same type of mesh on the underside of the shoulder straps. There are also rows of air channels and a single vertical one that allows air to escape easier. In our experience, however, no amount of mesh can prevent a sweaty back when it gets hot enough.

For those who're wondering if there's a hidden luggage pass-through somewhere, no, there isn't. So if you're planning to take this in combo with roller luggage, you'll have to carry this bag separately or get creative with the shoulder straps.
Fit Notes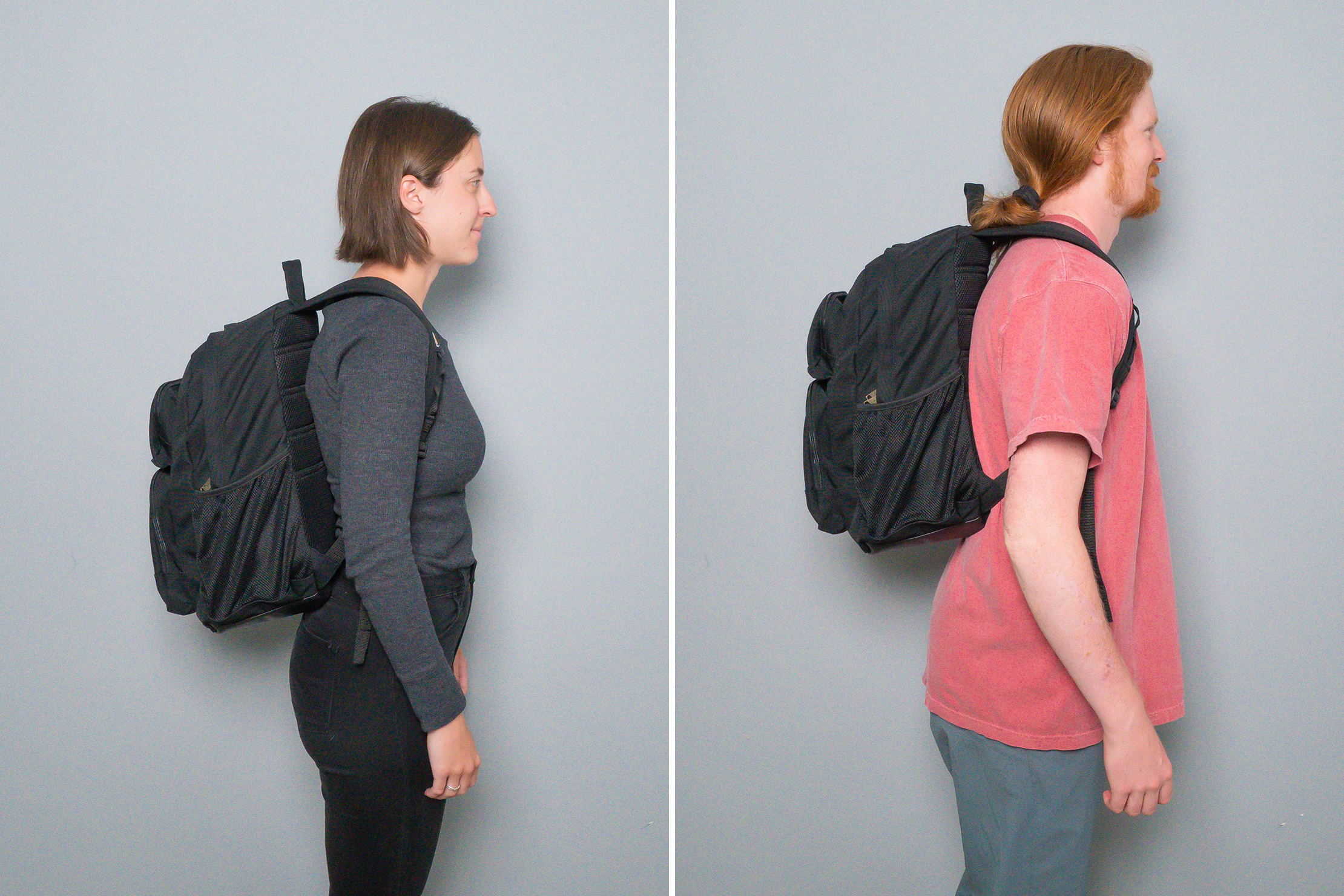 Despite the fabric's heavy denier, the Single-Compartment Backpack has a somewhat saggy appearance. It's most noticeable when we don't have the bag packed to the brim. This won't be an issue if you're the type to need all of its 27 liters of space on a day-to-day basis, but it's something to note for the more minimalist travelers looking into this bag.
As we mentioned earlier, the wide shoulder straps may or may not be comfortable depending on who's wearing them. For those with narrow shoulders within the Pack Hacker crew, the shoulder straps noticeably dig into the neck area and spill over to the sides. They're a much better fit for the broad-shouldered among us.

The saggy look also translates to a saggy carry. We can feel the base of the bag dig into the lower back area. Tightening the shoulder straps' adjustment to bring the bag closer can somewhat alleviate the problem. However, since the adjusters are stiff, adjusting these on the fly can be rather difficult.
Inside The Backpack
The Single-Compartment Backpack's front side is very encouraging. Why? Two words: independent volume. Both of the front pockets stick out, giving us a clear clue of how spacious they are inside. This design reminds us of the TUMI Brief Pack, which also has a very compartmentalized look on the outside. Mind you, the look is hardly pioneered by either brand, as we've definitely seen it done before.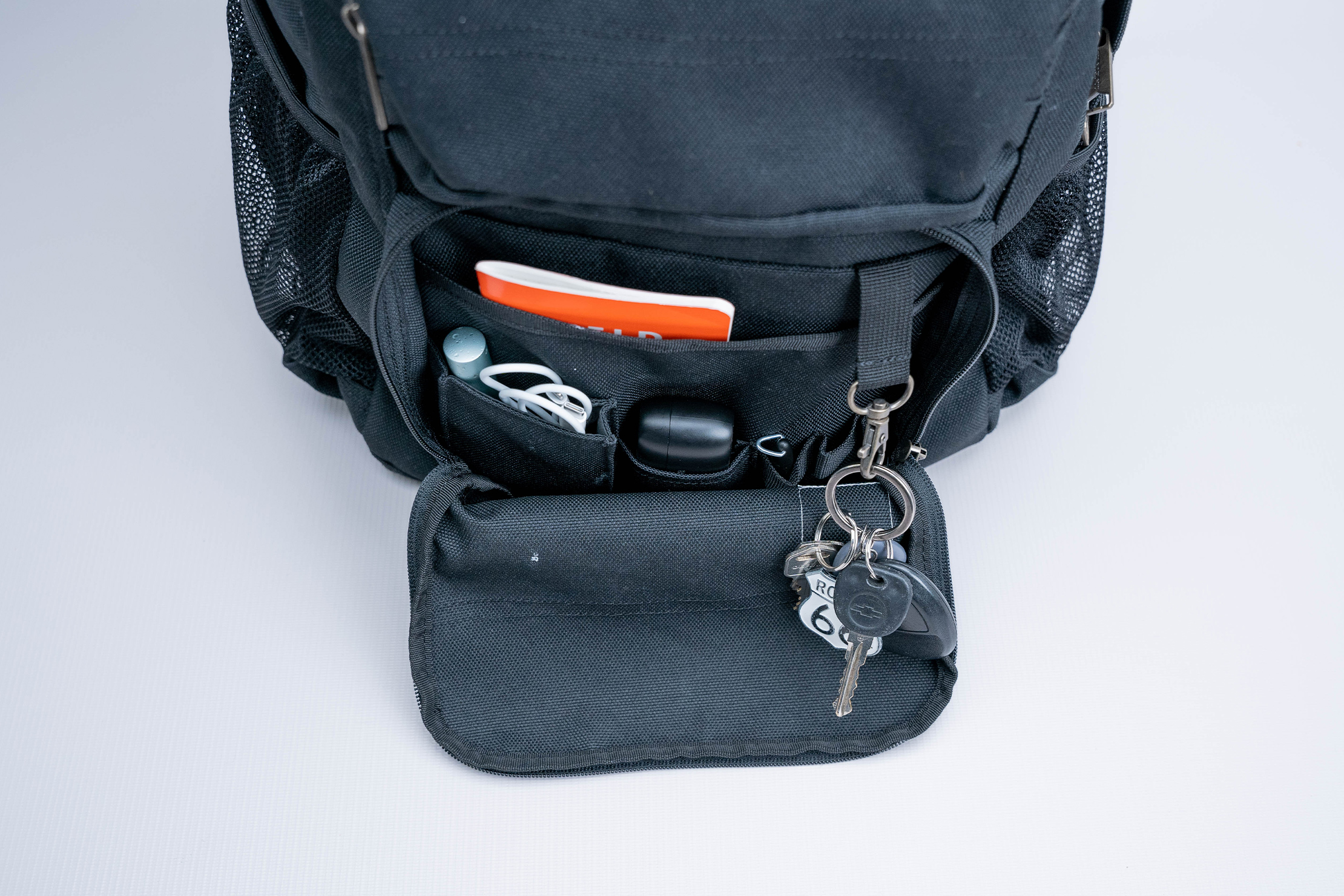 Let's start with the lower front pocket. The zipper opens from the left side and down the middle of the right side, giving it a horseshoe-style opening. This style is great for accessibility. However, since the pocket itself is in a square shape, getting the zipper around the corners can be tricky at times. Moreover, the zipper track sits below the upper front pocket, so that can get in the way of unzipping depending on the angle at which your hand is approaching the bag.
The lower front pocket's interior is easy to access, thanks to that horseshoe-style opening. The front can be folded down for virtually unobstructed access. In some ways, it reminds us of a clamshell tech pouch or packing cube, only that it's been stuck to the bag's front.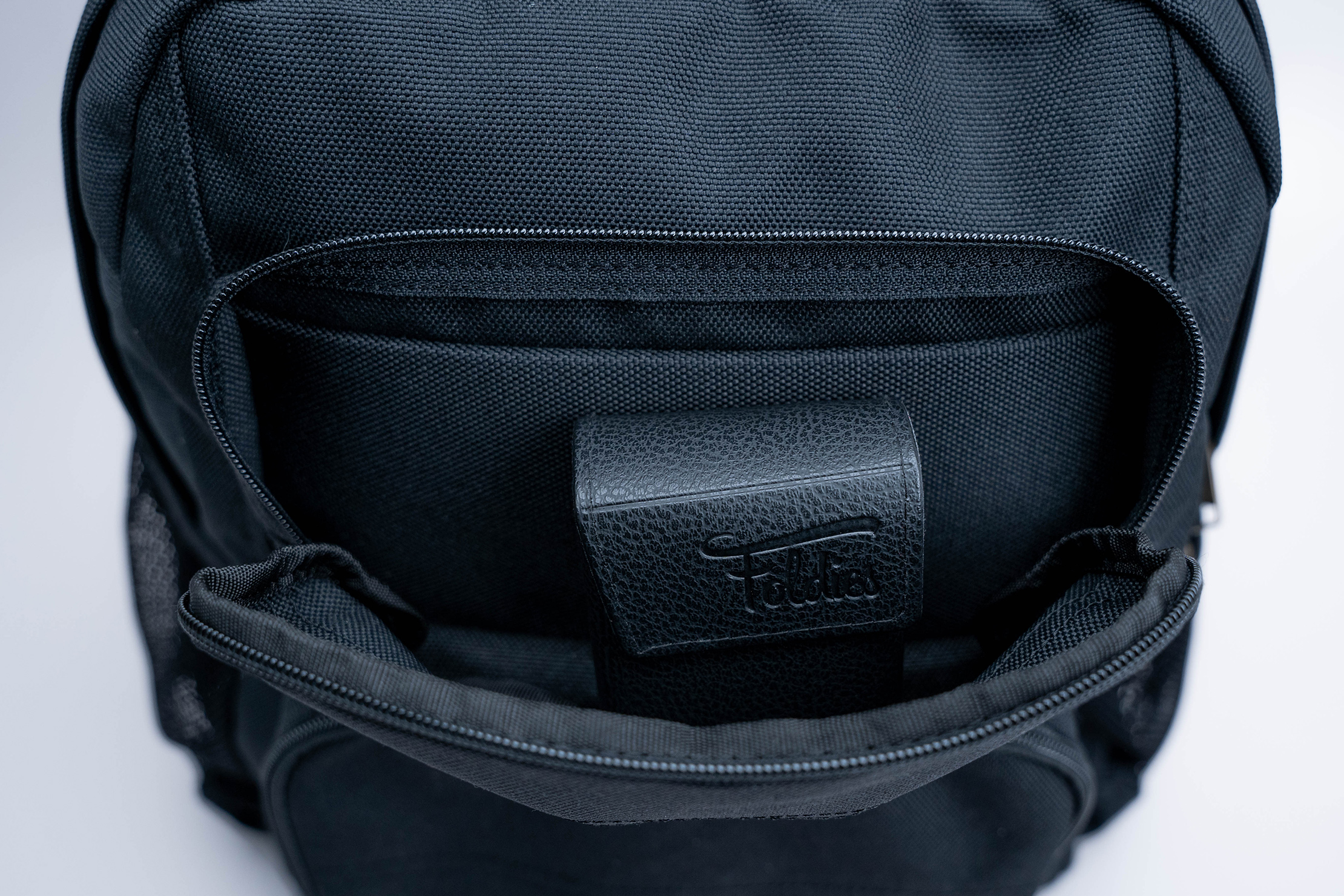 The interior isn't barebones either, as you do get a fair amount of options for organization. There's a key strap with a very easy-to-use clip. The strap itself is very short and can't reach locks, so it's fortunate that we can easily detach our keys whenever we need to unlock something.
As for pockets, there's a square slip pocket on the left where we put our compact wallet, a smaller pocket in the middle that fits our Apple AirPods, and three pen loops on the right. We do find the loops a bit too loose for our liking, though they get the job done holding our lone pen. Lastly, there's also a Kindle-sized liner pocket towards the back where we keep our e-book reader.
Whereas the lower pocket is feature-rich, the upper front pocket keeps things simple. There's nothing but empty space inside, though you do still get a horseshoe-style opening. This makes it a good dump pocket or an exclusive space for just for your sunglasses, including its hard case. Generally speaking, this pocket is well-suited for quick-grab gear, so we'll leave it to your imagination as to what that might be for you.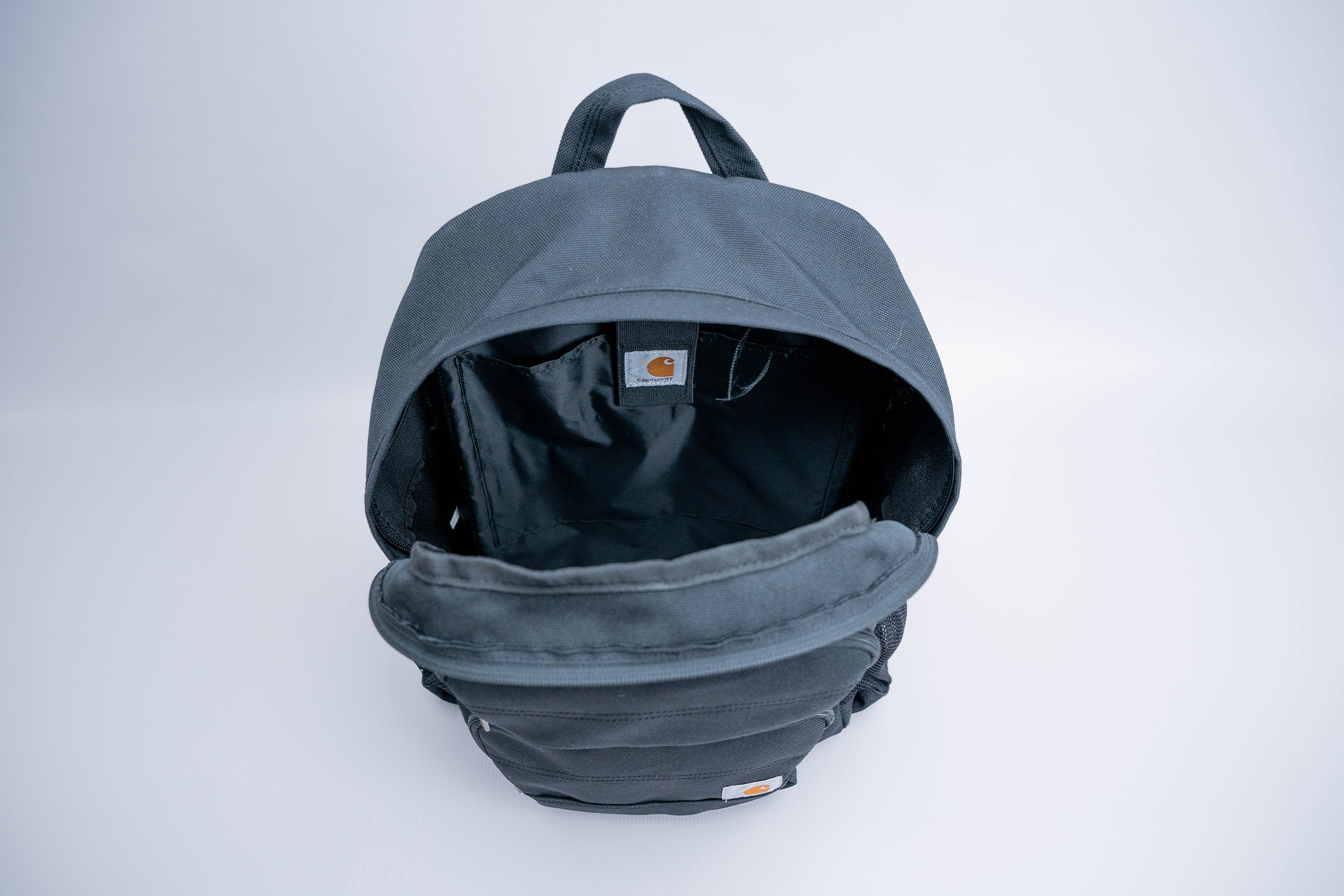 We've now come to the main compartment, where the Single-Compartment Backpack really starts to live up to its name. This bag has a cave of an interior: big, spacious, and relatively dark because of the black liner. That last one would normally be a sticking point for us, but in this case, we're going to be more forgiving since the opening is fairly large.
We have a sort of love-hate relationship with this main compartment. On the one hand, it's really easy to pack. Packing cubes, pouches, hoodies, and other bulky gear can easily be stuffed and stacked right next to each other. The process of packing the bag reminds us of clamshell-style bags in some ways.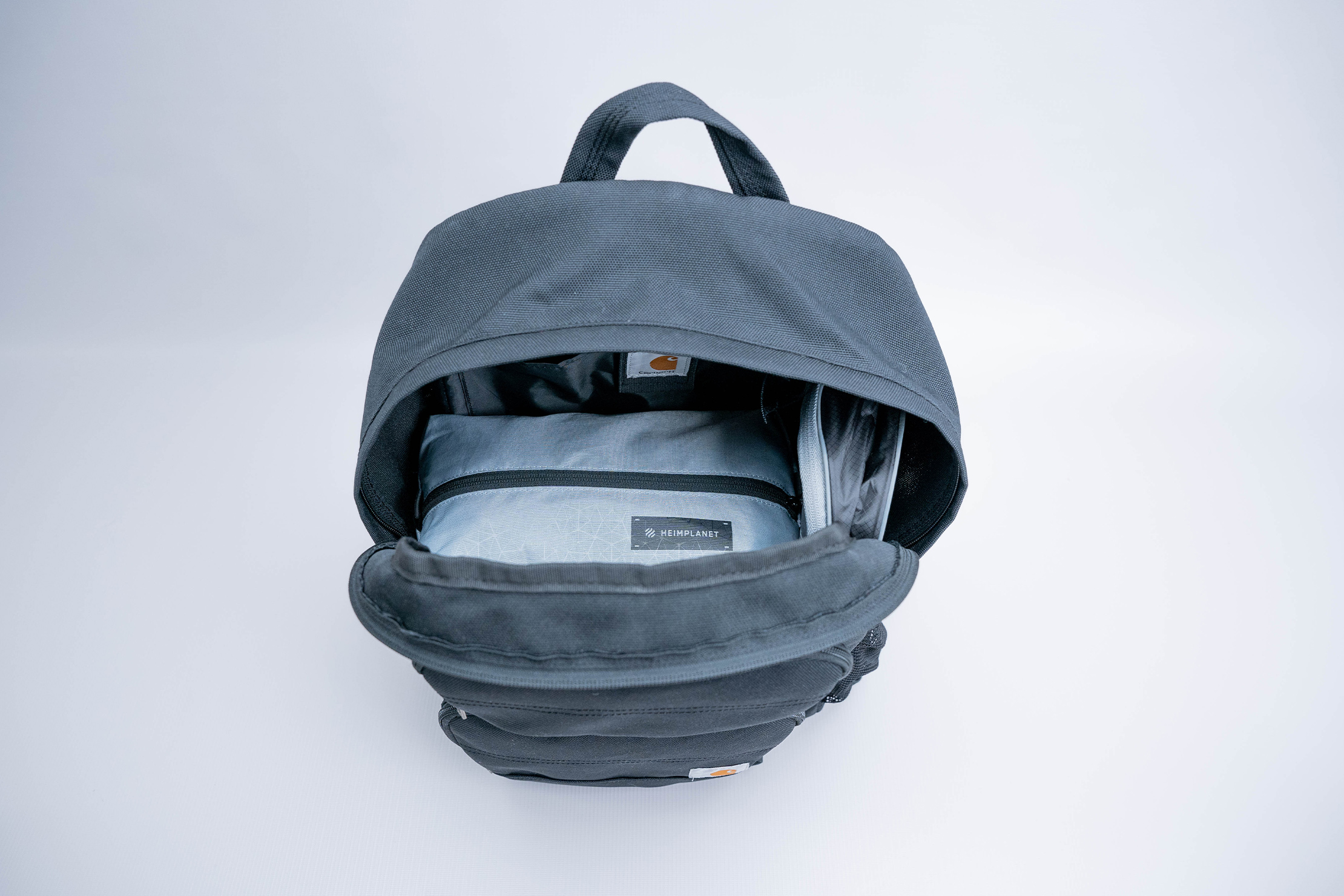 Now for the part we dislike most on this pack: laptop access. As you might have guessed by now, the Single-Compartment Backpack forgoes a dedicated laptop compartment in favor of an interior sleeve for 15-inch laptops (though our 16-inch MacBook Pro fits). Since this sleeve is located towards the back, getting to it can be difficult once there's already gear packed inside. The hook and loop strap is a nice touch that makes sure your laptop doesn't slide up. At the same time, it's also another thing to undo before you can get your laptop.
Another obstacle for your laptop to hurdle is the main compartment's ceiling. Because of the interior's bucket shape, you get a sizeable amount of fabric right up against the laptop sleeve. This is the same issue we have with Timbuk2's Divison Laptop Deluxe. In both cases, we have to fold or maneuver around this fabric ceiling, and it can be quite tricky depending on the circumstances—easy when the bag's empty and you're in a hotel room, hard when you're flying in economy class, and the bag's packed out.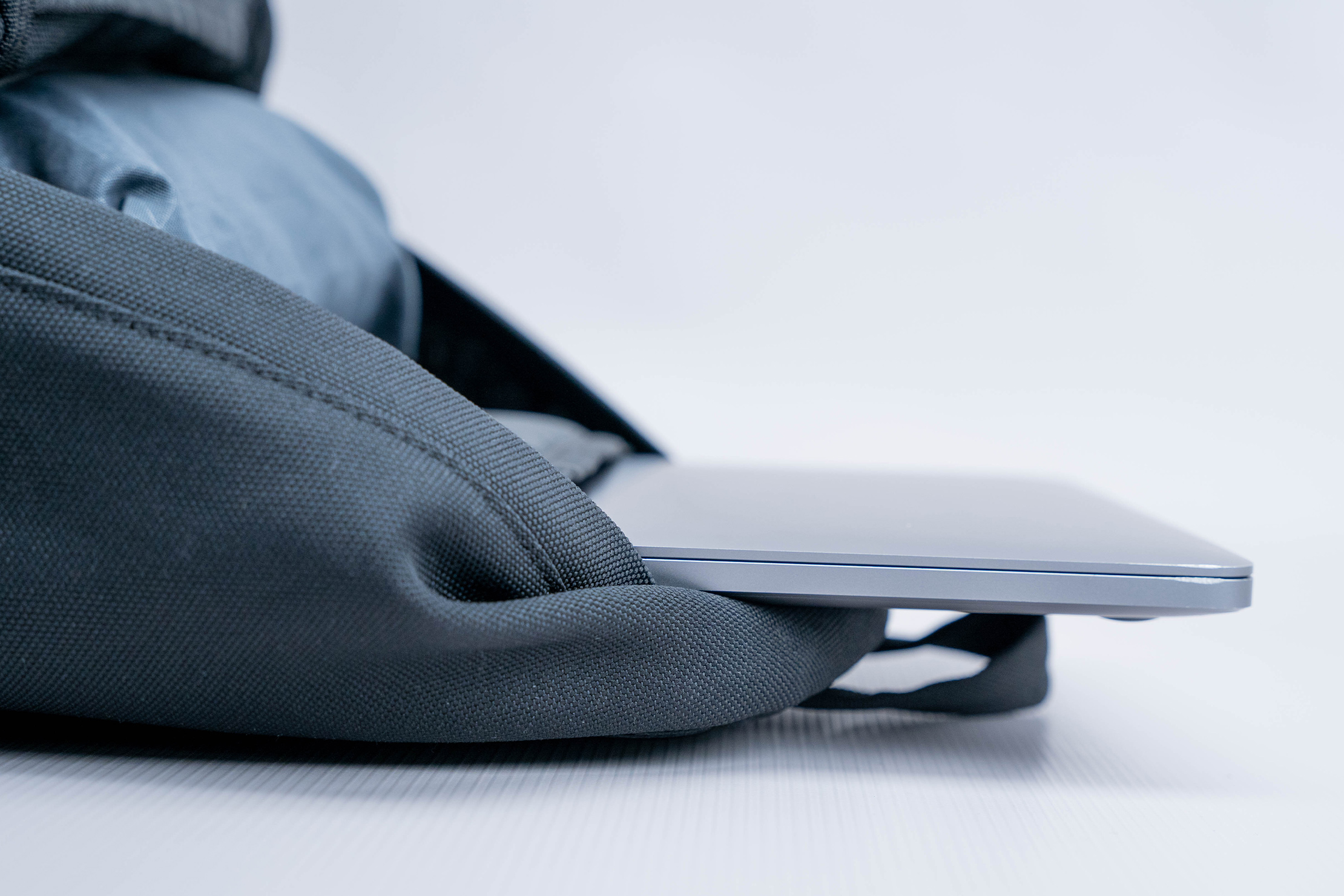 Moving on to the more positive traits, the laptop sleeve does have some padding for protection and a false bottom. You also get a secondary pocket in front of the sleeve where you can store a tablet or some documents. We wouldn't put anything too expensive in this pocket, though. The fabric Carhartt used here feels pretty thin and flimsy.
Speaking of flimsy, we also found some loose threads inside. It's a bit worrying since it's arguably the main compartment that will be seeing the most action with packing and unpacking of gear—gear that may have zippers or other sharp features which may catch on those loose threads.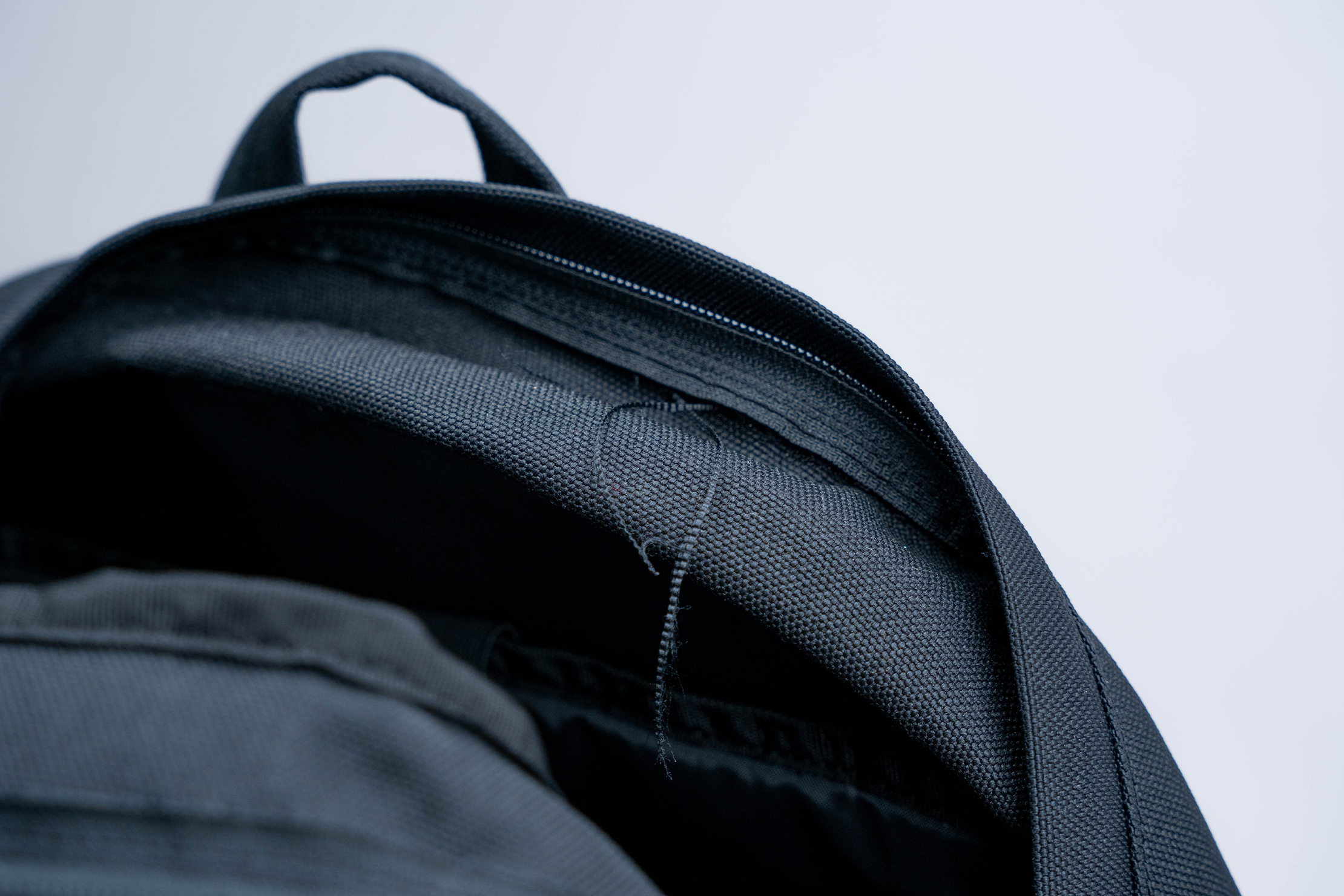 It's clear that ease of access and spaciousness were indeed given emphasis in the Single-Compartment Backpack. Though not perfect in certain areas (like the laptop sleeve's accessibility), we still think they do a good job of maximizing the main compartment's space—excellence in the core concept's execution, though neglected in other aspects.
Usage Timeline
Initial Usage
Condition: Excellent
Good amount of space to play with
Material feels lightweight but durable
Interested to see how the wide water bottle pockets hold on to gear
2 Weeks of Use
Condition: Excellent
Tons of storage space for a few days worth of gear
All materials in great shape, though the loose threads on the inside are pretty disappointing to see from a brand focused on durability
Shoulder straps can feel rough on bare skin but it's overall comfortable
Has a slightly saggy look when not packed out fully
Access the Pro Community Discussion
Get your questions about the Carhartt Single-Compartment Backpack (27L) answered from our team and the Pro Community right here on the page. Plus, join discussions with other members about gear, guides, and more.
Other Bags & Luggage Reviews