CamelBak Pivot Sling & Waist Pack Review
Sleek and sophisticated, the CamelBak Pivot Sling & Waist Pack is great for carrying the essentials—but its durability may be a concern.
Our Verdict
Unlock the Pro Summary
Save time. Get access to brief summaries of our reviews so you can browse and make decisions more efficiently.
Pros
Sleek aesthetic
70% of the materials are recycled
Security pocket is a nice touch
Cons
Wears better as a waist pack than sling bag
Felt-lined pocket is too large
Front material has a small tear after a few weeks of testing
Recent Pack Hacker Video
Technical Details
Capacity

3l

Weight (oz)

7 oz (198.4 g)

Denier

600D

Dimensions

15.4 in x 16.9 in x 1.2 in (39.1 x 42.9 x 3 cm)

Notable Materials

DWR Coating, Polyester, Nylon, YKK Buckles, YKK Zippers

Manufacturing Country

Indonesia
Full Review
Despite having both sling and waist pack in its name, the CamelBak Pivot Sling & Waist Pack really just wants to be a waist pack. In case you're unfamiliar, waist pack is one of the modern terms for fanny pack. Because wearing a fanny pack is one thing but calling it a fanny pack is another much more embarrassing thing (apparently).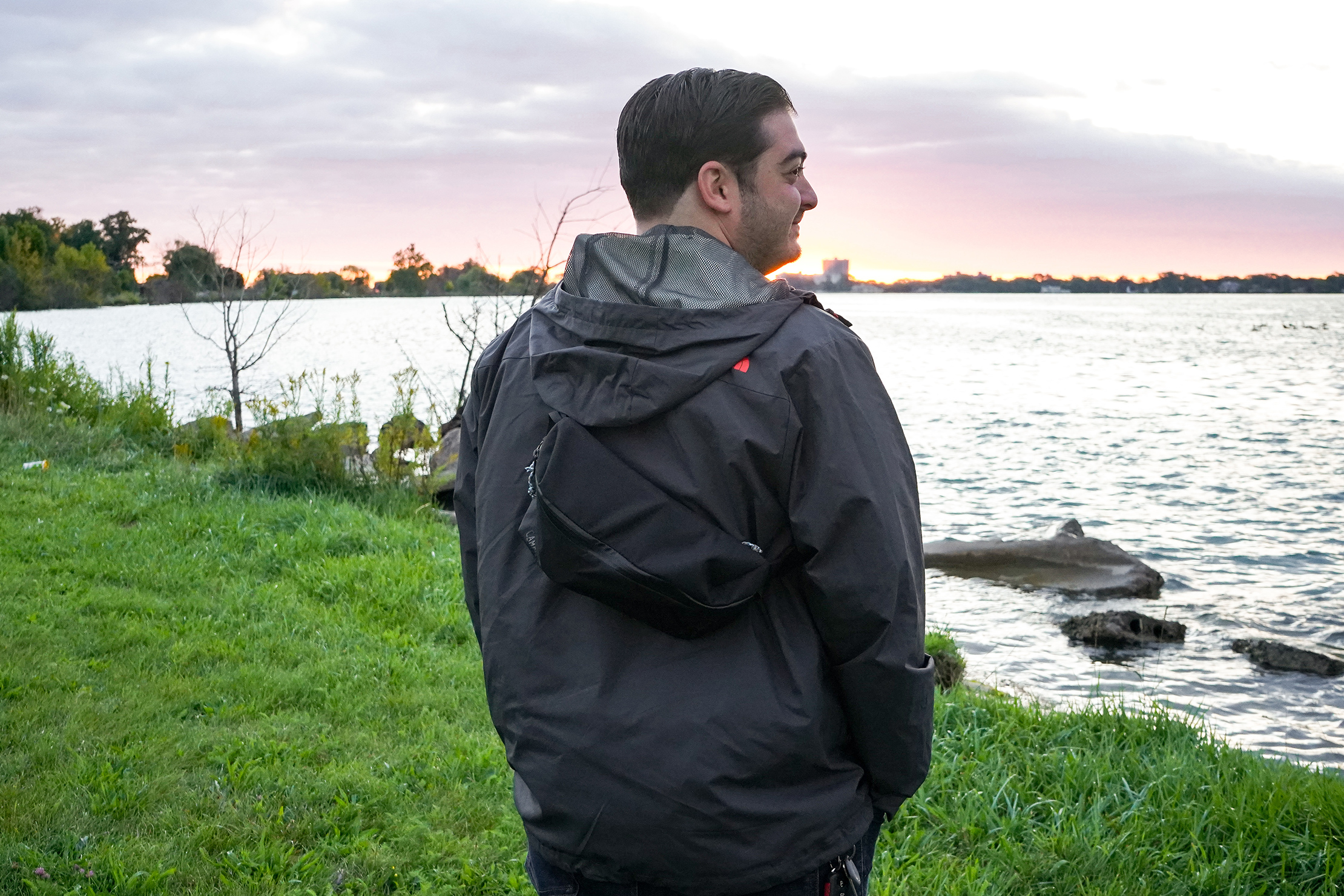 Anyway, you can technically wear this bag across your chest or back sling-style if you'd like, but it's not ideal (we'll get into why later). As long as you're okay with that, read on. This bag touts some awesome features. If you're not okay with that, may we suggest reading our handy dandy sling bag guide where we list dozens of sling bags that may work better for you.
Still here? Let's get into the review.
Materials & Aesthetic
Aesthetic is certainly subjective, which is why we asked you guys to weigh in on the look of the CamelBak Pivot Sling & Waist Pack on Instagram. If you're not already a follower, go check us out to participate in future polls.
Sixty-one percent of you gave this waist pack a thumbs up, which is practically unheard of. Usually, waist packs get slaughtered by all of you (oh hello, Topo Designs Mini Quick Pack). So this one must truly look dope.
With its oblong shape, this bag has strong fanny pack vibes (#fannypackvibes). But its black logo on its black body is nicely minimal and ups the sophistication factor. The diamond weave adds sleek detailing and the patterned zipper pulls add a fun pop of color.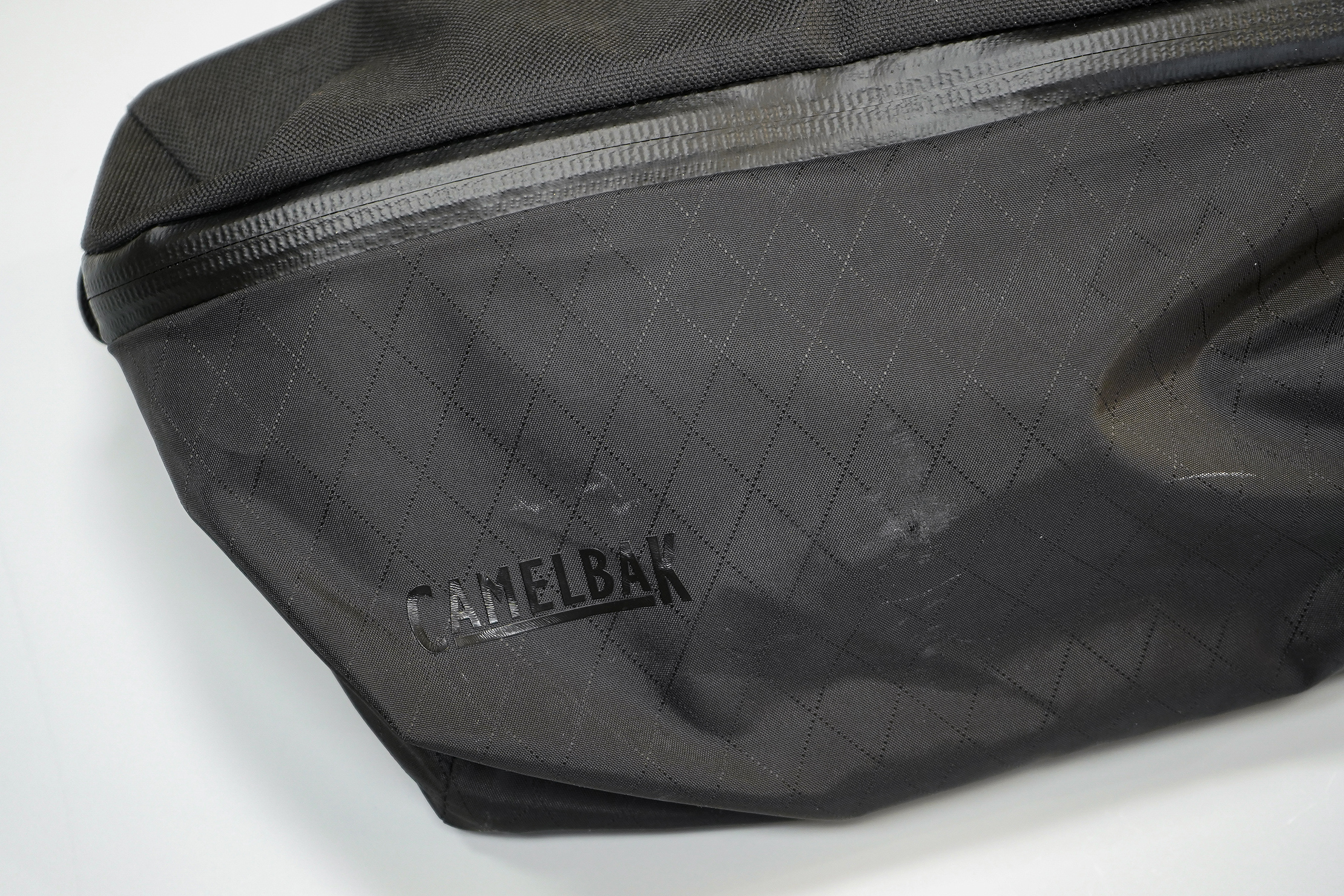 At the time of this review, this waist pack is available in black and…black. Of course, we usually opt for black here at Pack Hacker so we can't say we're disappointed. But if you're all about screaming your love of waist packs through bright neon colorways, you'll probably want to opt for a different pack (oh, hello again Topo Designs Mini Quick Pack).
Now, let's talk about materials. Some neat things are going on here. First of all, that diamond pattern we mentioned earlier actually has a purpose beyond looking sleek. It's 105D Nylon Diamond Ripstop, which is a hardy fabric that prevents small tears from becoming full-on rips. The rest of this waist pack is made from 600D recycled polyester and lined with 135D recycled polyester.
In total, 70% of this waist pack is made from recycled materials, which we can probably all agree is pretty awesome. Plastic waste has been a hot topic lately and it's great to see CamelBak acknowledging the problem with its Repurpose line. Six plastic bottles go into every Pivot Sling & Waist Pack.
External Components
Neither sling bags nor waist packs are known for their external components. And the CamelBak Pivot Sling & Waist Pack is no exception.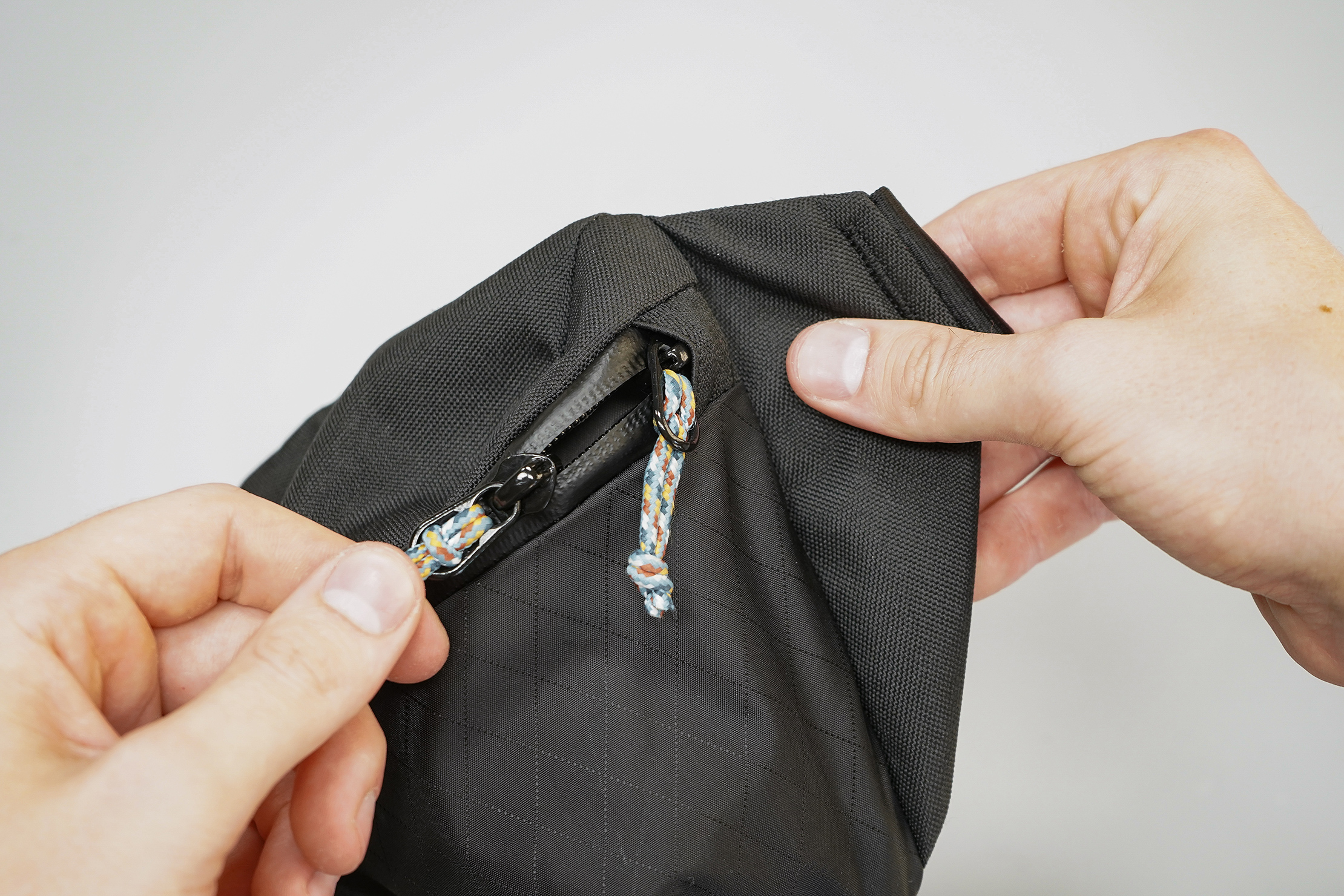 First up, there's the small counter pull that's great for helping you fly through the zipping experience…as long as the zippers in the right spot. If they're on the wrong side of the bag when you go to zip this thing up, the counter pull isn't going to help much.
You can also use this loop as a way to hang the sling up, keeping it off the ground in airport bathrooms or other not-so-clean places.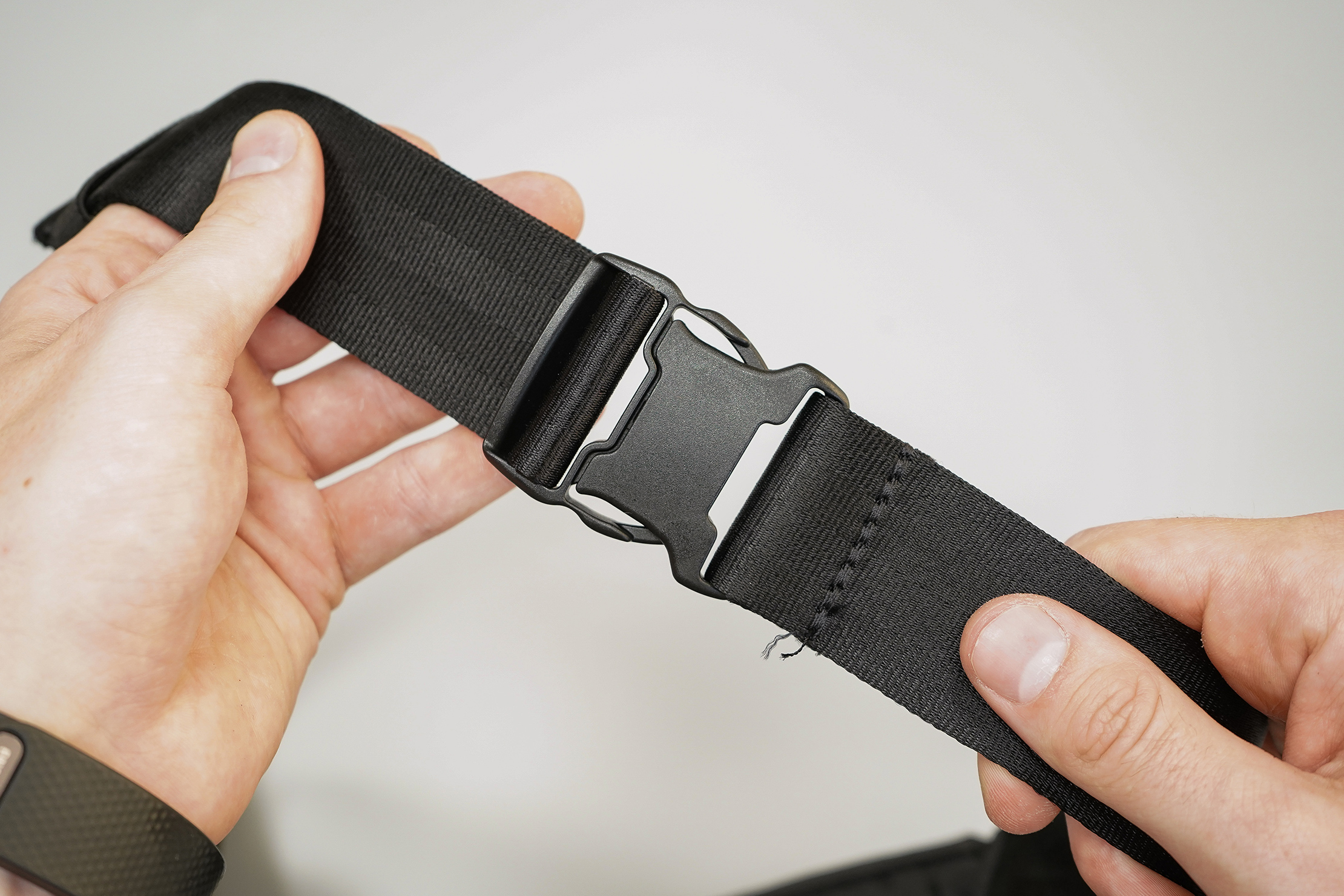 The buckle is thick enough we haven't worried about it breaking on us, but it's not too bulky to the point of being uncomfortable. Plus it's YKK, so win-win-win.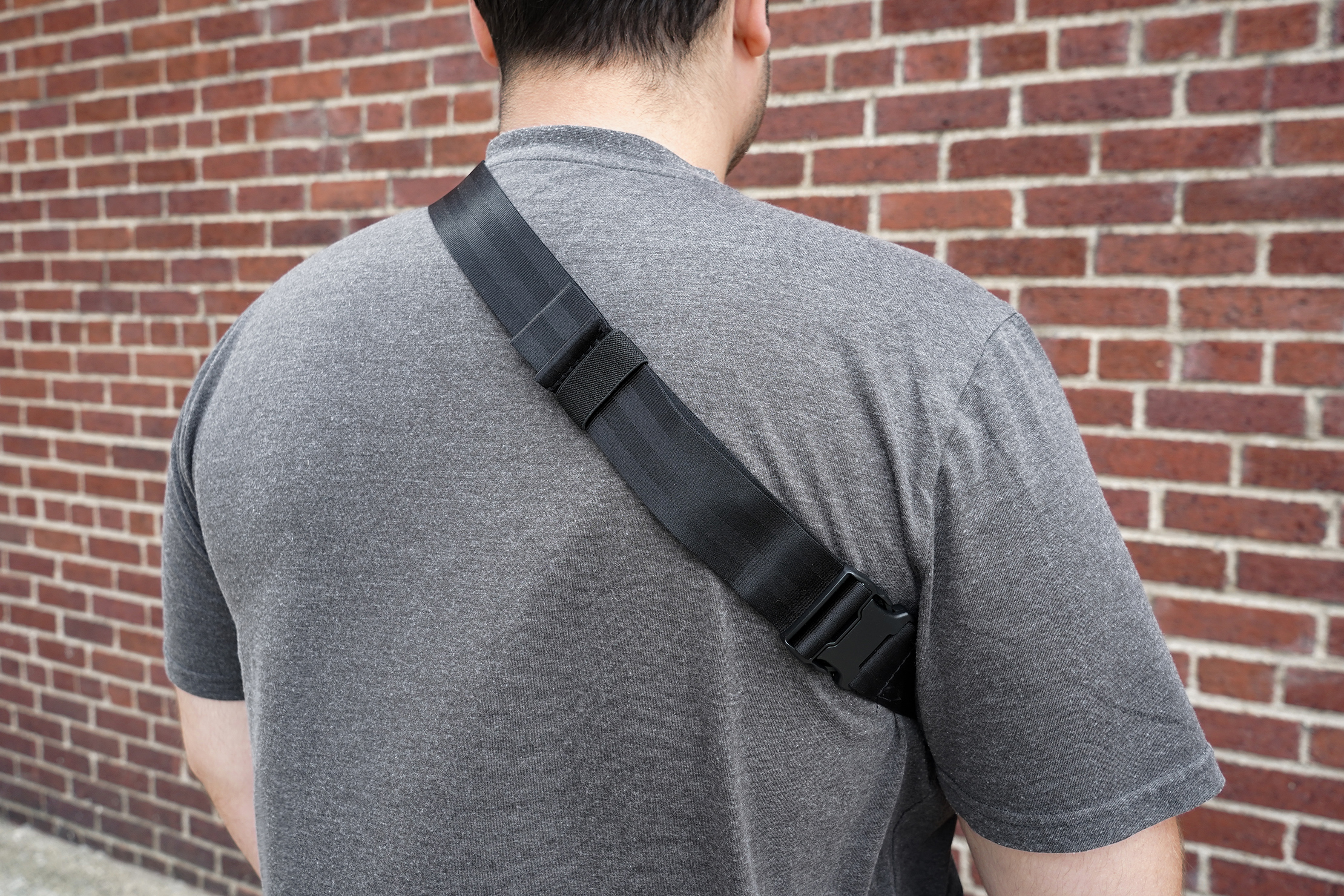 The strap, on the other hand, can get uncomfortable. But not for the reason you might think. The strap is slippery. Yes, slippery. It's soft to the point of being slinky, which can get bothersome when you're wearing this bag sling-style. It'll slide all over your back or chest as you walk.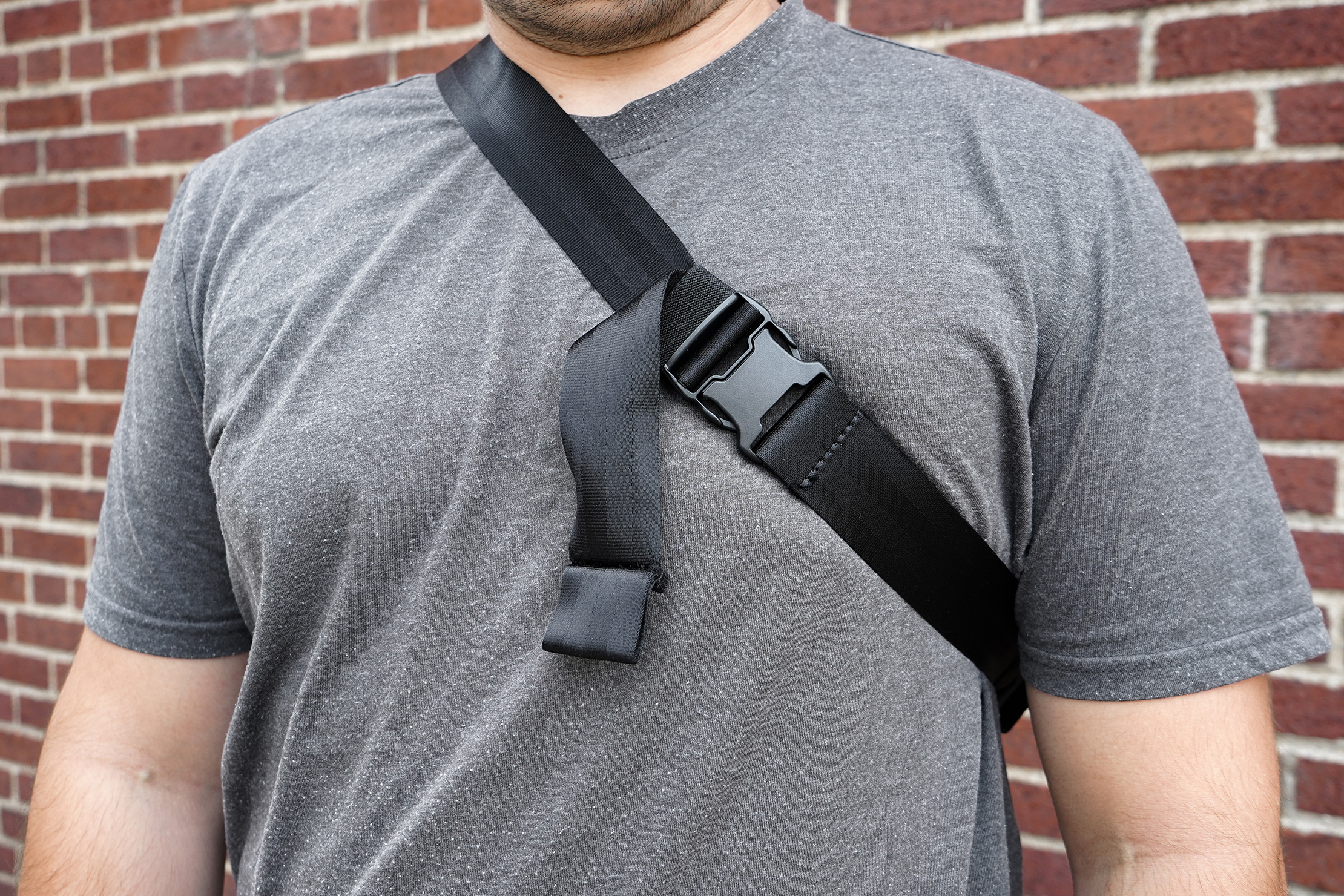 Not to mention the elastic strap keeper, which has trouble gripping the strap and thus will often slide down, not "keeping" the strap at all. If you wear this bag sling-style, you'll want to ensure you have gravity working on your side to help the strap stay neat. Otherwise, it'll dangle all over the place.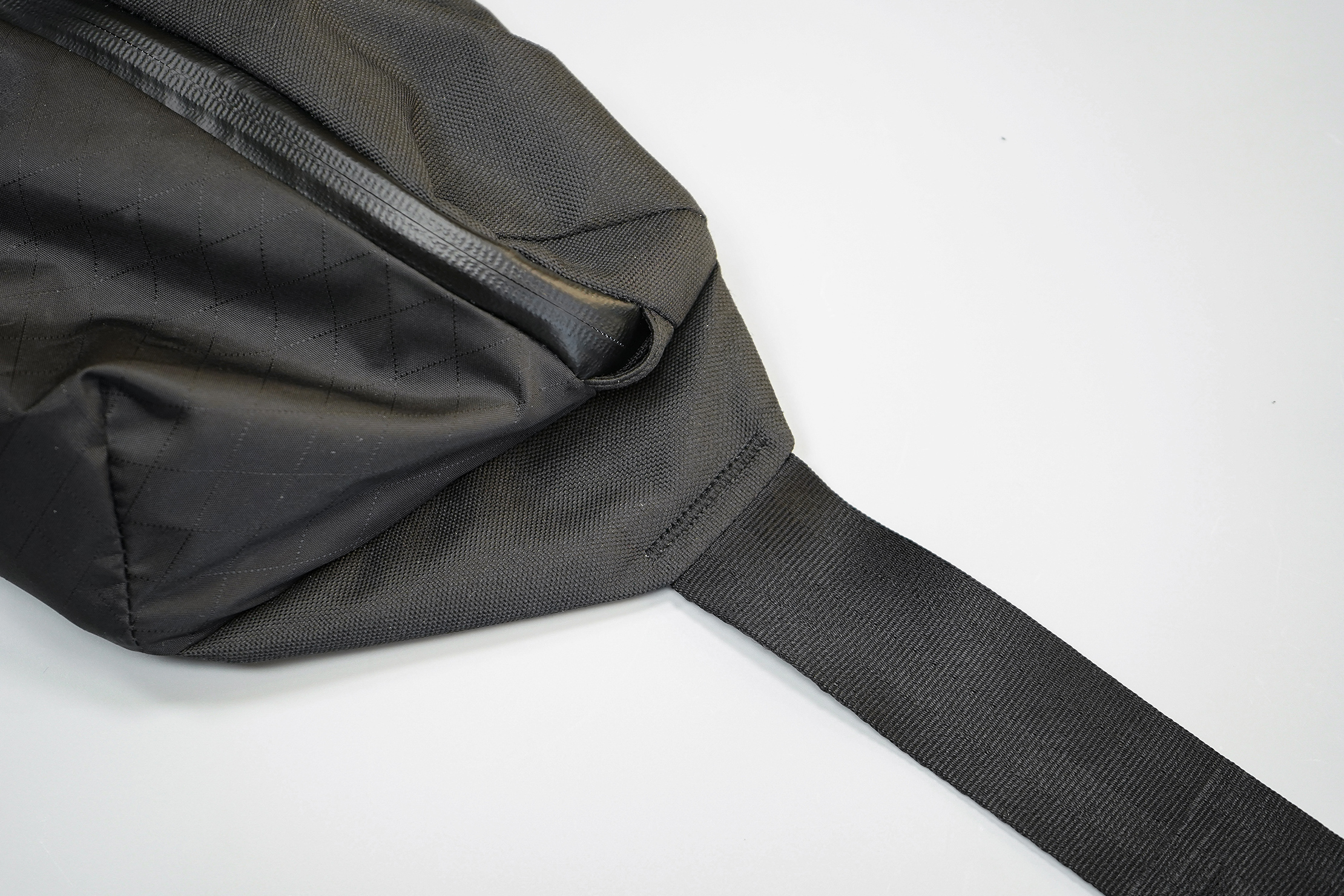 That, coupled with the way the strap attaches to the body of the bag, is why this bag works so much better as a waist pack. It's simply more comfortable to wear that way.
Inside the Pack
With two pockets, there's not much going on inside this pack either.
The first pocket is a security one, tucked away at the back of the bag. It'll sit against your body as you wear this thing, out of reach from all but the cleverest of pickpockets. It's a great spot for some extra cash, your passport, or whatever other important items you have. It doesn't work well for bulky items—so probably not the best place to carry your expensive collection of rare jewels.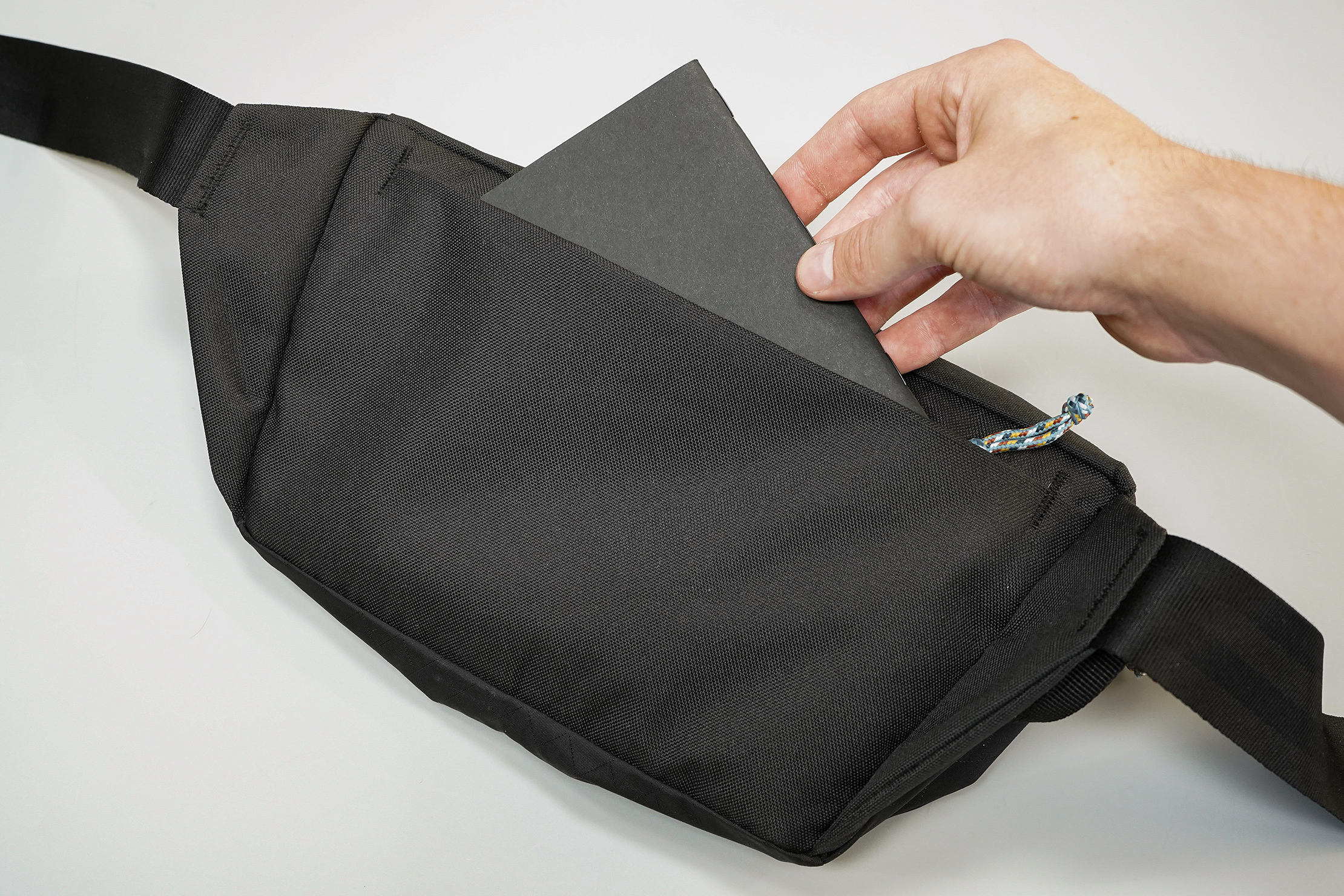 The other pocket is the main one. Inside, you'll find two liner pockets. The first is the same material as the outside of the pack and the perfect size for a pack of gum or a super minimalist wallet.

The second liner pocket is about double the size of the first. It's lined with soft felt and meant for fragile items, which is great…in theory. But it's not executed that well. This pocket is so large that you end up putting your fragile items with your other stuff, risking scratches and negating the point of this pocket in the first place.
We've kept a phone and sunglasses here standing up but haven't liked the way they bounce around and clash with each other and our other items. You can fit most smartphones in this felt pocket horizontally (which is nice) but we would've liked to see this pocket halved. Or, at the very least, would've preferred the smaller pocket have the felt to better use the space.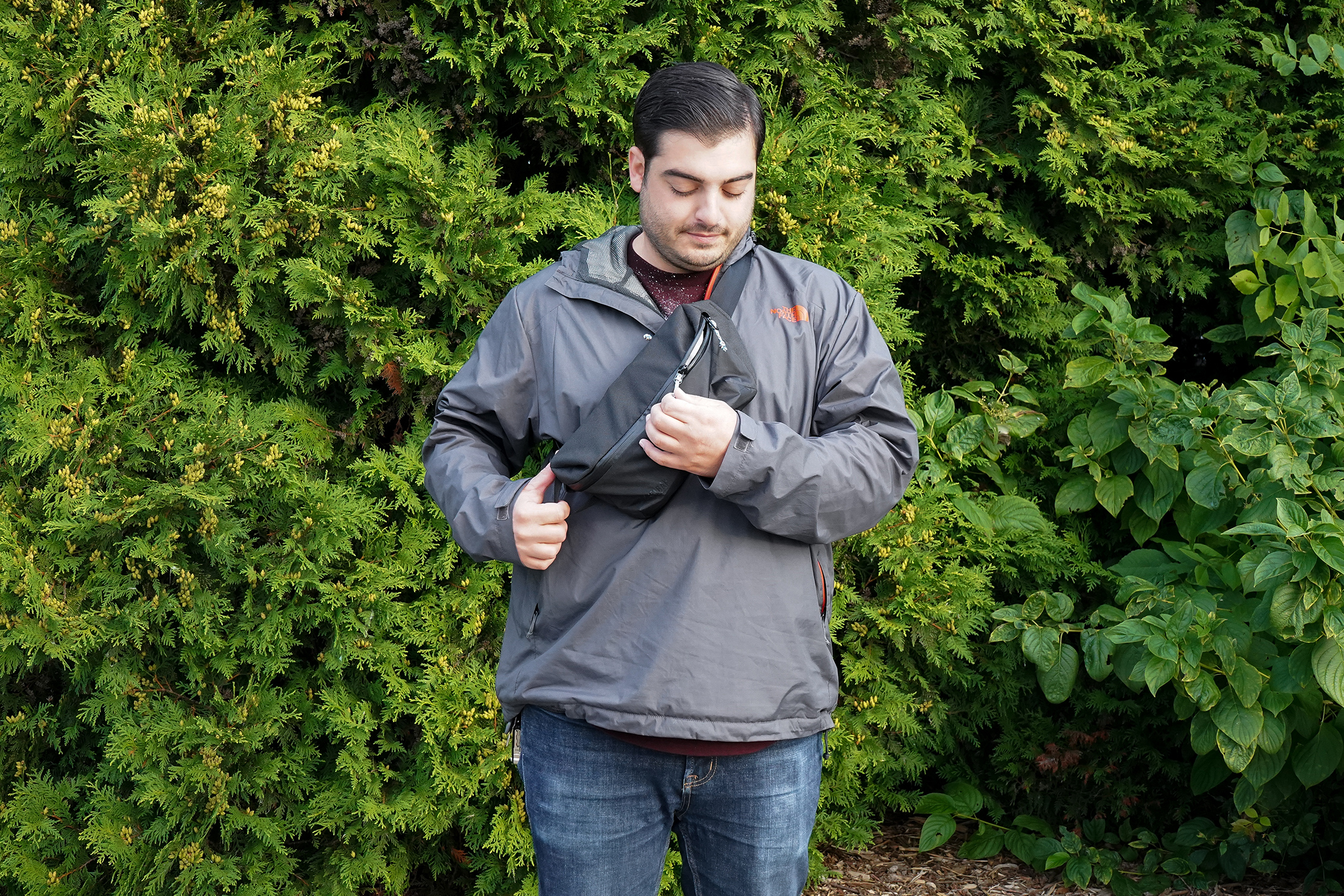 Neither of these two liner pockets has elastic, which isn't a big deal, but something to keep in mind. If you prefer pockets with stretch, these won't be your favorite.
The rest of the main compartment is open space. It's rather large and you'll be able to fit more than you think. In a pinch, you can even cram a lightweight jacket inside this space. Of course, it's more comfortable to wear when it's not stuffed to its limit. But it's nice to have the option.
Durability & Testing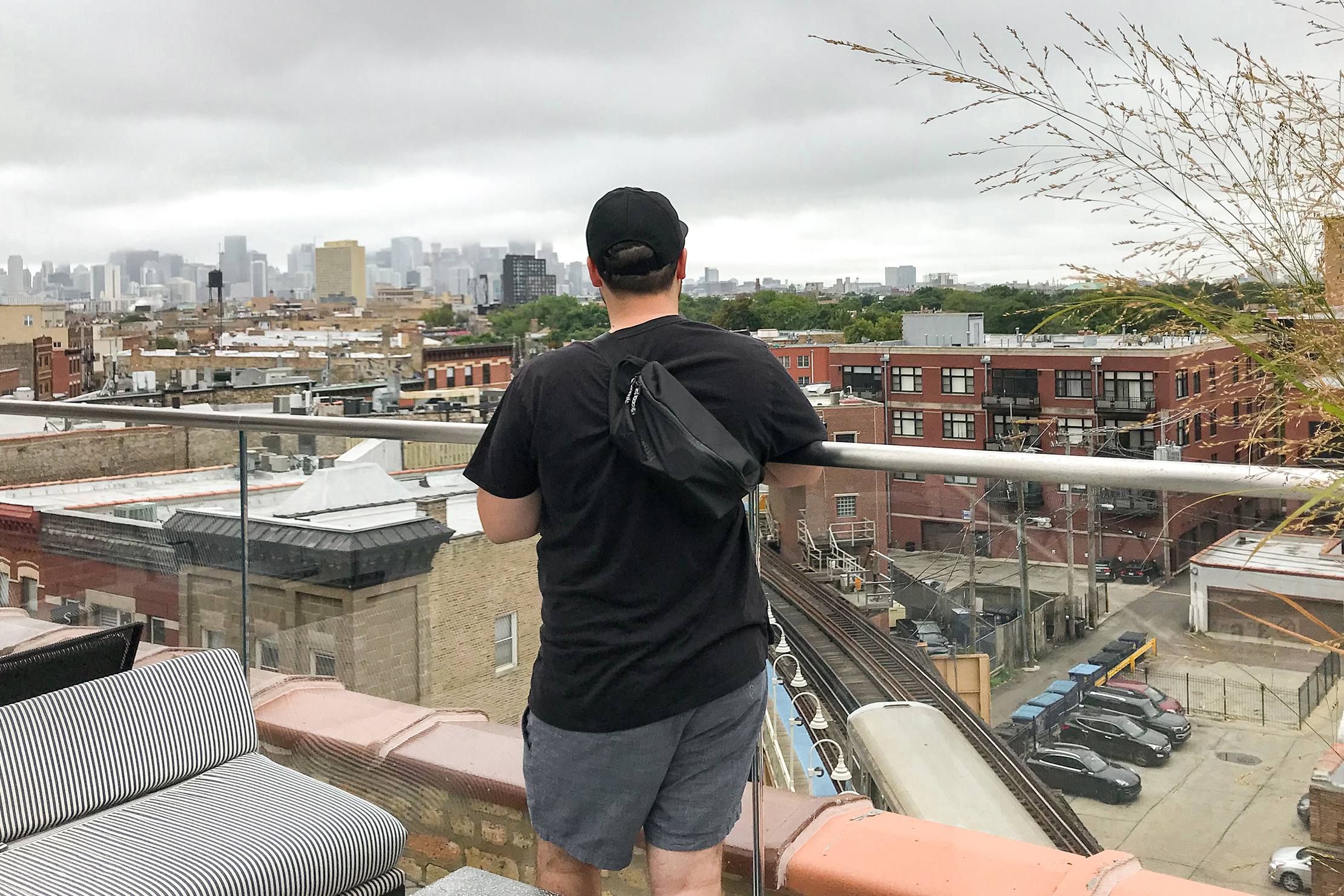 We've been testing the CamelBak Pivot Sling & Waist Pack for a month around Detroit, Michigan, including a short trip to Chicago, Illinois. It's a great bag for organizing our everyday items and looks pretty dope to boot.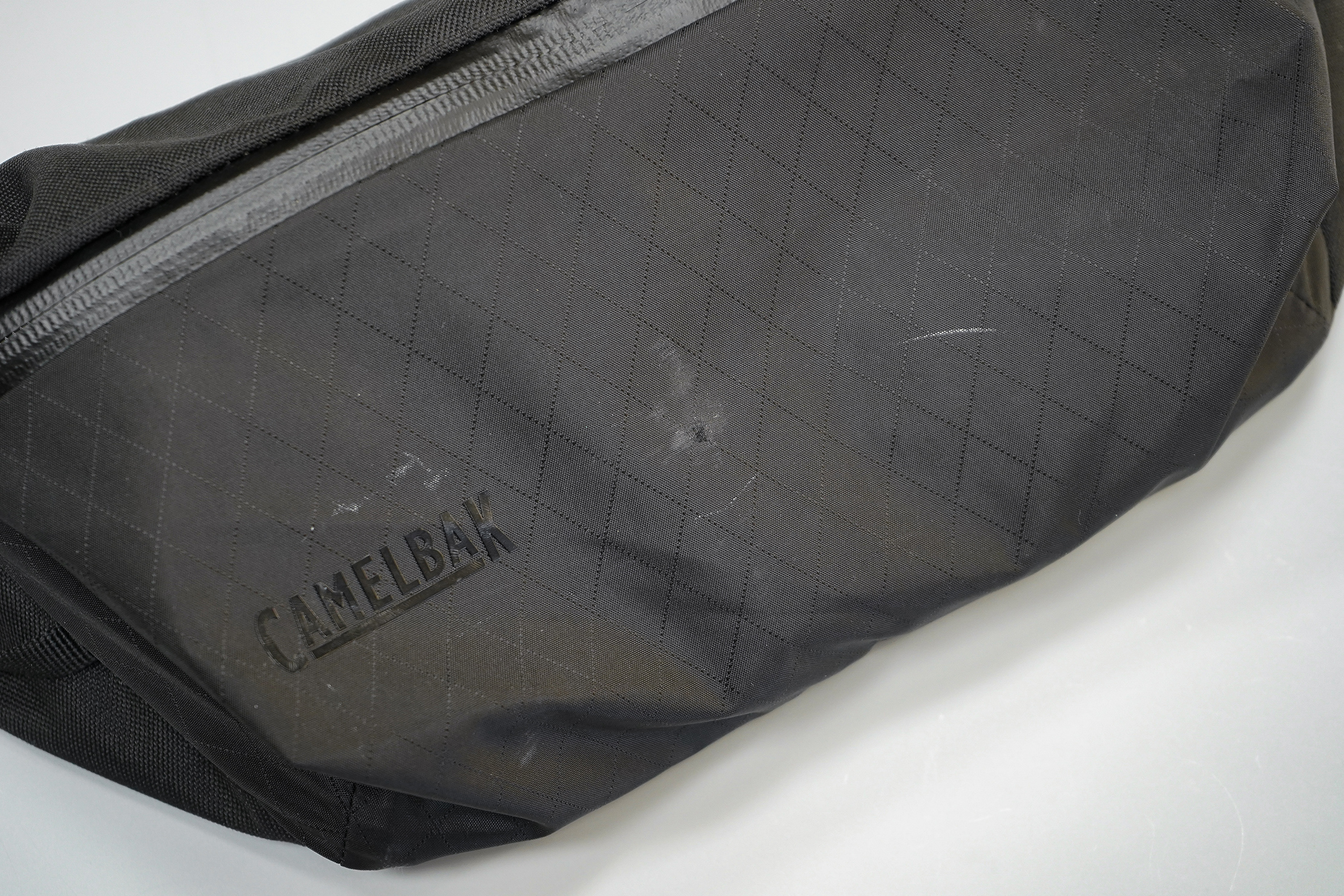 As far as durability is concerned, the front diamond nylon material is scuffing…a lot. It's also developed a small tear. Frankly, we're puzzled as to why. We've hardly been putting this bag through the wringer. We're also disappointed. It's never a good sign when a bag is already showing this much wear after only a few weeks of testing. The good news, however, is the tear has not gotten any bigger. We'll make sure to keep you updated in the Usage Timeline below.
Usage Timeline
Initial Usage
Condition: Excellent
Minimalist sling design with little internal organization
Internal soft pocket for phones or other fragile items
Great strap management that keeps everything from dangling
2 Weeks of Use
Condition: Good
It's showing a lot of scuffs on the front, and we've found it's definitely more comfortable as a waist pack.
1 Month of Use
Condition: Mediocre
A small tear developed on the front of the pack—so far, it has not gotten worse.
Access the Pro Community Discussion
Get your questions about the CamelBak Pivot Sling & Waist Pack answered from our team and the Pro Community right here on the page. Plus, join discussions with other members about gear, guides, and more.
Other Bags & Luggage Reviews