Brevite Jumper Photo Backpack Review
While simple on the outside, the Brevitē Jumper Photo Backpack offers unique customization options paired with a simplicity that just works.
Our Verdict
Unlock the Pro Summary
Save time. Get access to brief summaries of our reviews so you can browse and make decisions more efficiently.
Pros
Densely-padded integrated camera cube
Customizable storage in the main compartment
Straps for external storage of a tripod or other gear
Cons
Can feel stiff against the back, especially with a laptop inside
The strap above the water bottle pocket has disengaged a few times during testing
Laptop compartment features a small false bottom (.5")
Recent Pack Hacker Video
Technical Details
Capacity

18l

Weight (lb)

2 lb (0.9 kg)

Denier

600D

Dimensions

17 in x 11 in x 5.5 in (43.2 x 27.9 x 14 cm)

Notable Materials

Polyester, Zoom Zippers, Duraflex Hardware

Manufacturing Country

Vietnam

Laptop Compartment Size

16"

Warranty Information
Buying Options


$169.99
Full Review
If you're a photographer that's always on the go, you need a bag that will safely and conveniently store your camera kit wherever you take it. Thankfully, that's where the Brevitē Jumper Photo Backpack comes in.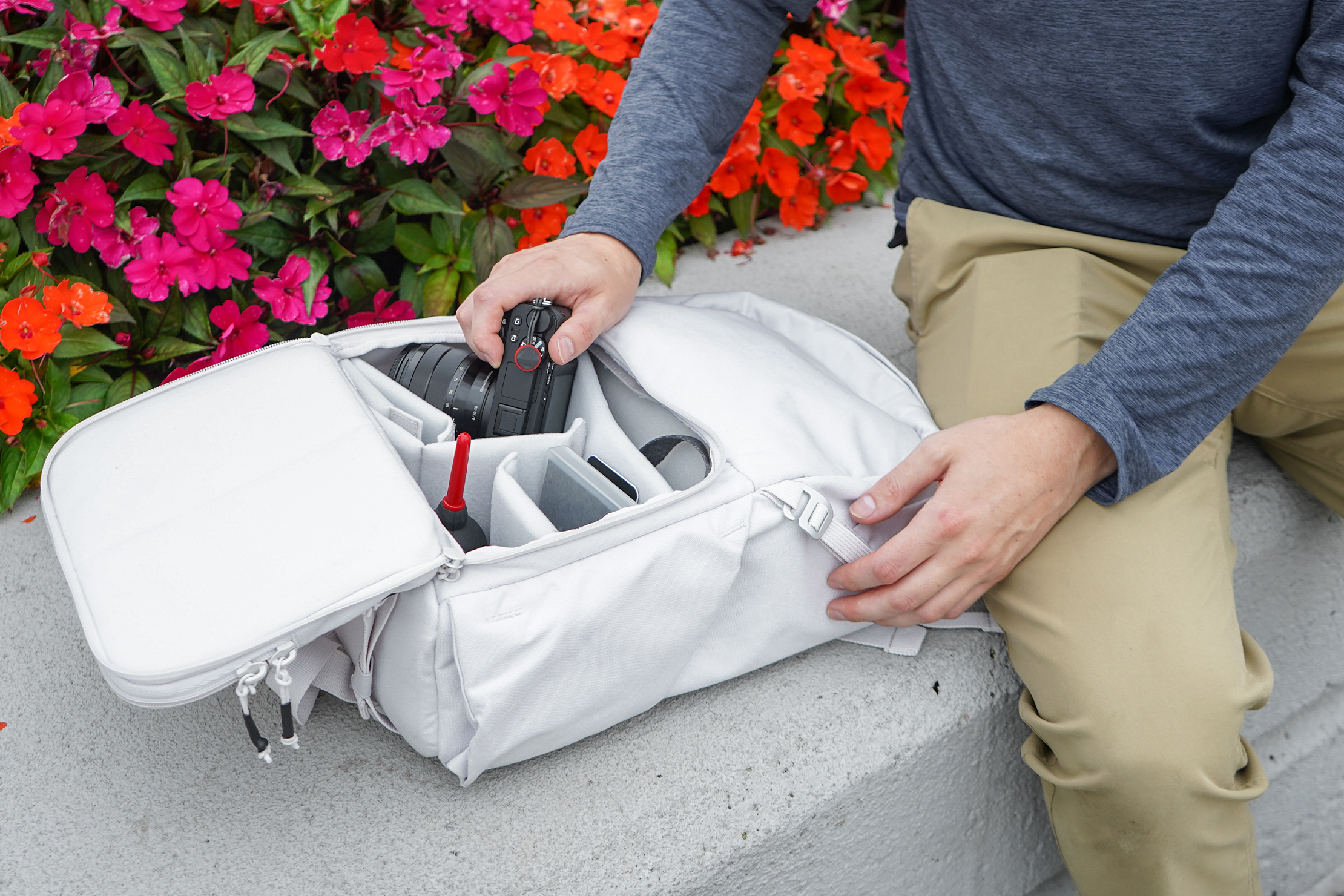 The Jumper Photo Backpack doesn't just accommodate your camera essentials, but your other basics, too. With this daypack, you can pack everything you need for a day of shooting photos or videos, along with your everyday gear.
We've enjoyed these last two weeks of testing, and want to share our experience. Let's get into it!
Materials & Aesthetic
This bag has the look of a standard, classic backpack with modern functionality. You all seem to be split down the middle with its look, as our Instagram poll revealed a 51% approval rating on the bag's aesthetic. This isn't a surprise, as there's not too much on the outside of this pack to be excited about—it shines most on the inside.
We've been testing the bright, almost-white Nimbus Gray colorway these last two weeks and are quite impressed that we've been able to avoid any stains so far in our testing—alas, we know that marking up this particular colorway is inevitable.

The only branding that makes an appearance on this pack are two small logos on the front. They're white-on-white on the colorway we've been testing, and they blend in nicely with the bag as a whole while still showing all that Brevitē spirit—subtle, yet effective.
If you're curious about the kind of fabric this pack is made with, you can expect some durable 600D polyester. Now, this material doesn't feel quite as rugged as others we've tested, like a high denier nylon. Rather, it's super soft in hand. It also doesn't have any sort of water-resistant coating, but altogether it's held up surprisingly well so far during testing—we don't have any tears, scratches, or scuffs to report at this time.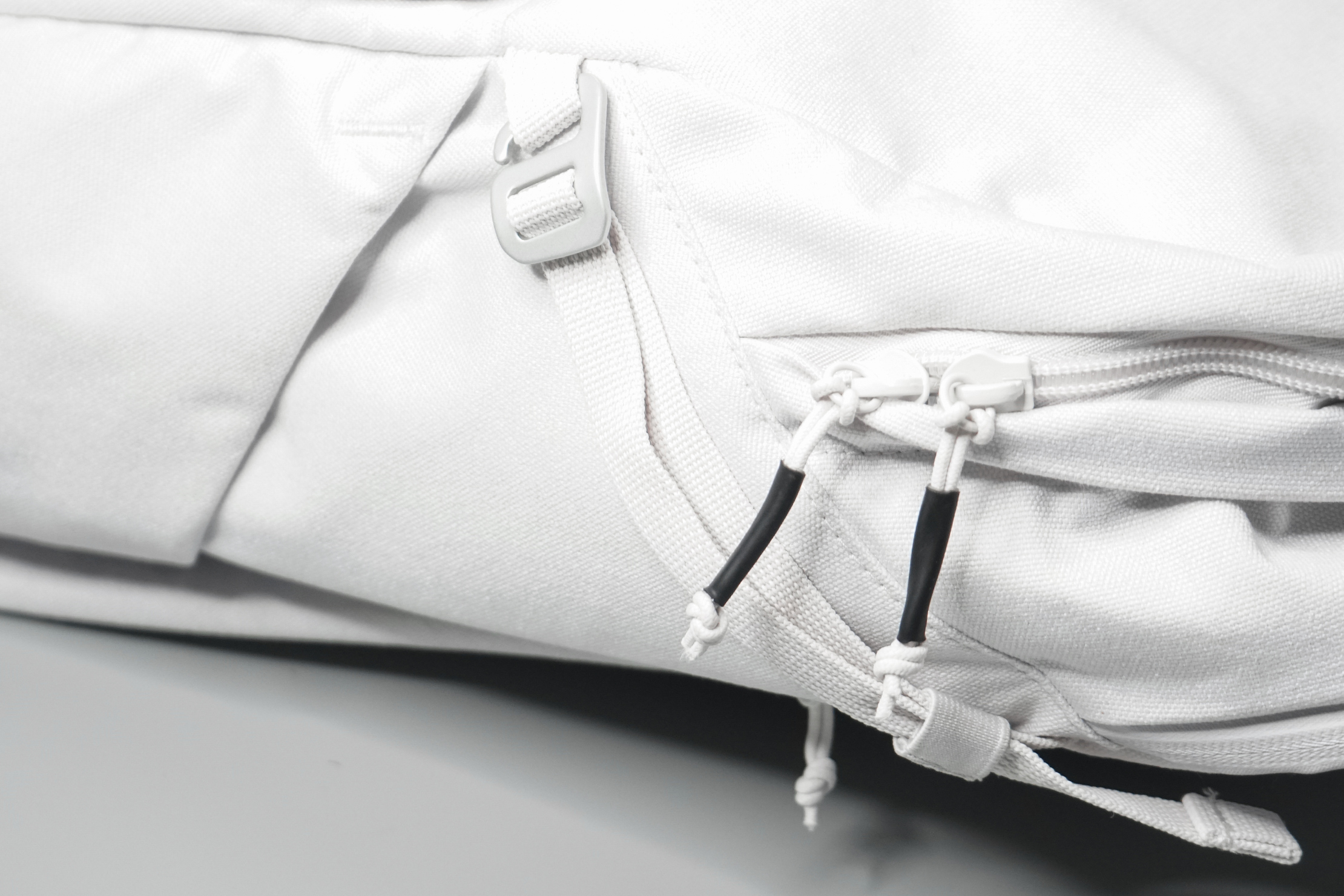 This bag's zippers come to us from Zoom. Of course, we're not talking about the video conferencing tool—we're talking about the zipper manufacturer! We've had some positive experience with this brand on Peak Design's Everyday Line V2, and we're happy to report that these zippers have been working well so far. They're not giving us any trouble around corners or getting stuck in spots, so no complaints here.
On the other hand, the hardware is Duraflex, which we've tested a lot of on other packs in the past. We have a nitpick with the G-hook above the water bottle pocket, but we'll cover that in the next section.
External Components

There's not a lot going on with the Jumper Photo Backpack's harness system—it's pretty simple. That said, even without a sternum strap and extra padding, we've found it to work just fine for a bag of its size (even with a ton of heavy camera gear inside).
Looking at the shoulder straps, you'll notice they're relatively thin. Still, they do have a small amount of padding, which makes them comfortable enough for the load we're usually carrying. One thing to note is the lack of elastic keepers to manage excess strap, so if you're pulling the straps down all the way, you'll have some dangling to deal with.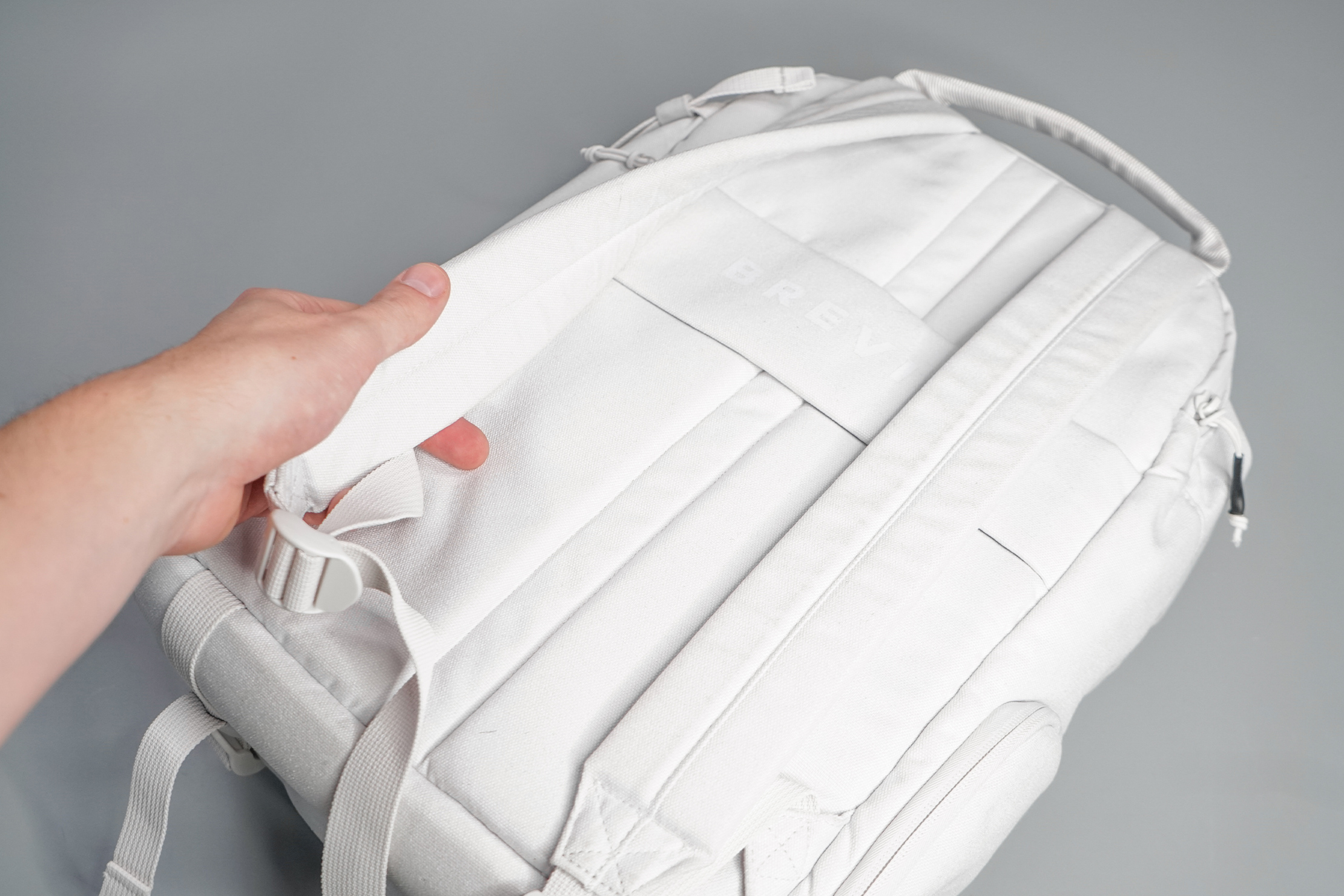 The back panel lacks any mesh lining, so some level of back sweat is inevitable with this bag. What it does have is a luggage passthrough, so if you're using the Jumper Photo Backpack as your carry on, you can slip on your roller luggage for easy wheeling around the airport.
Then, you also have the standard backpack handle at the top. We've found it surprisingly comfortable in hand, as it's thickly padded. It works best for grabbing, hanging, or moving the bag around when needed.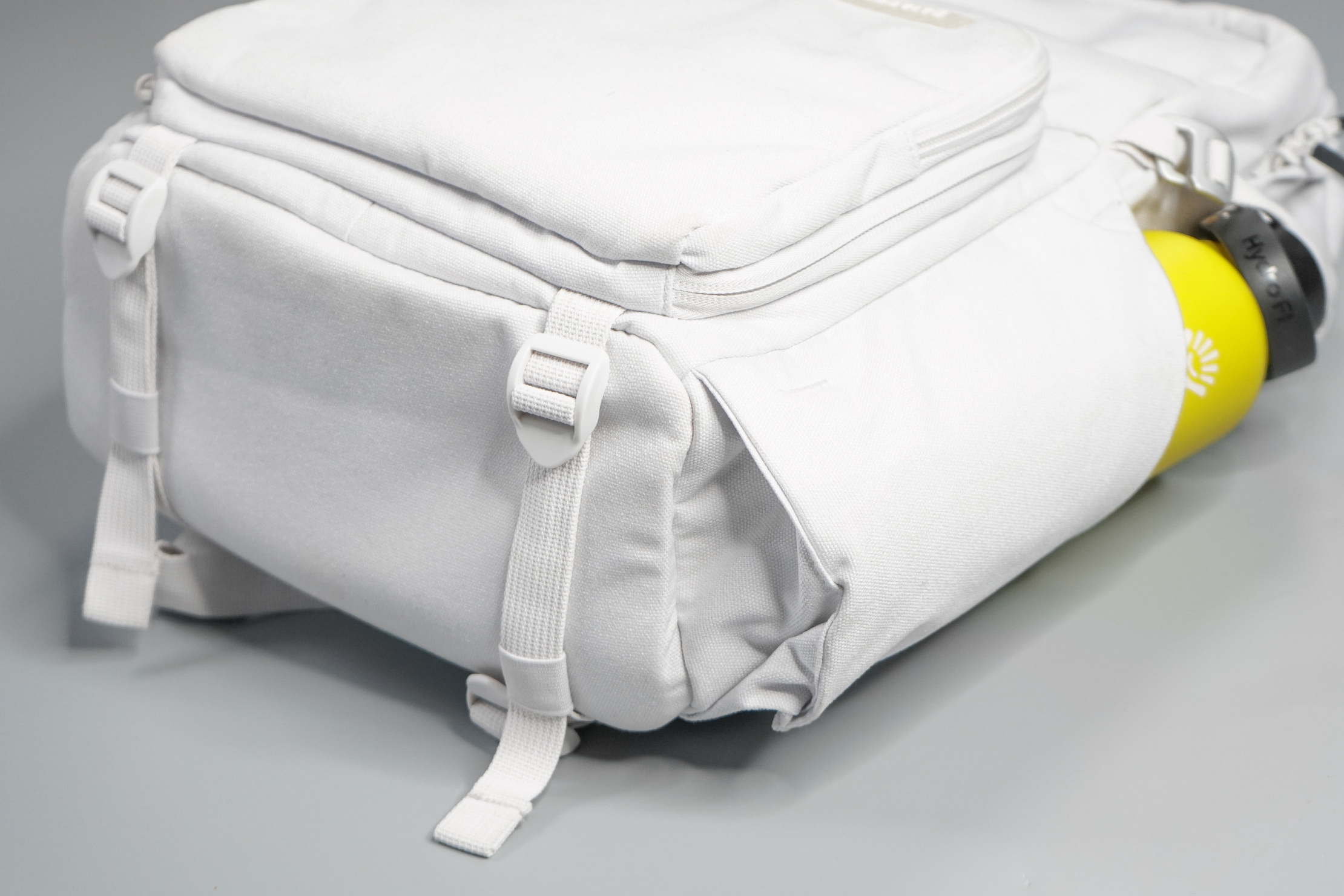 We didn't get too much use out of them, but there are also straps at the bottom of the bag you can use to secure a tripod when you're out shooting on the go. You're not limited to just this use case though. You can use these to hold an umbrella, jacket, or even your yoga mat before and after class. They stay relatively flat and close to the bag when not in use, too, so they're not getting in the way or causing any excess dangle otherwise.
Also at your disposal is a water bottle pocket on one side that comfortably fits a taller, thinner bottle like the Hydro Flask Standard-Mouth Water Bottle with Flex Cap 21 oz we've been using during testing. If you're not carrying one, you can slip a smaller tripod in this pocket instead, and secure it in place with the strap above the pocket. However, we have had an issue with this strap's G-hook disengaging when loose. Because of this, you'll want to make sure the strap is tightened as much as possible to minimize the risk of losing your gear.
Inside The Pack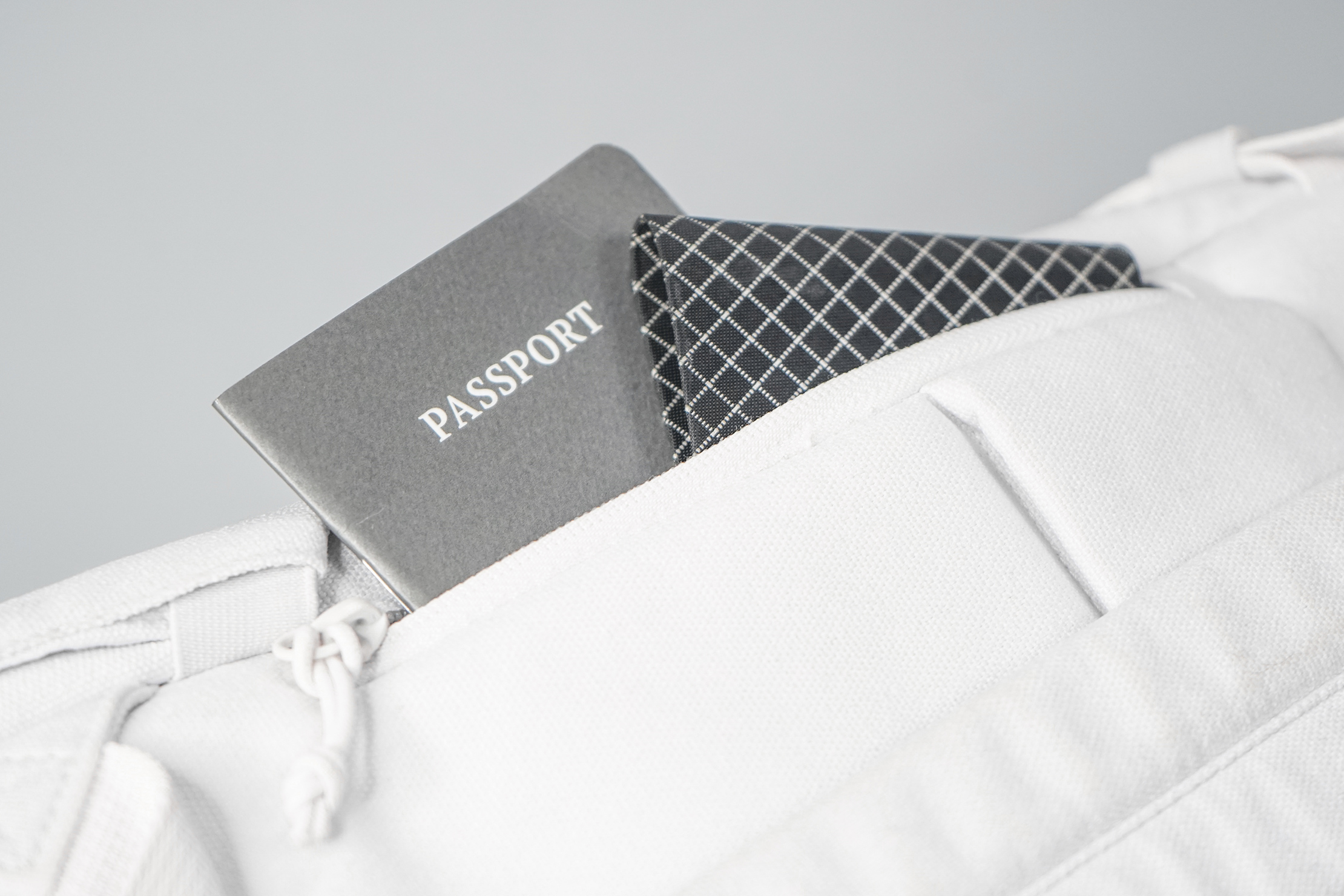 We have some pockets on the outside of this pack to go over before we get inside, starting with the hidden pocket on the back panel. The zipper lies flat and faces your back, making it hard to spot and tricky for any pickpockets to gain access to. This level of security is great for when you need to store things like your wallet or passport.
Flipping the bag back to the front, there's also a medium-sized zippered pocket that we've been using to keep our tech gear organized. Inside, there are four mesh pockets—two on the front flap and two against the back wall. They're more accommodating to larger accessories than other mesh pockets we've seen on bags, and we like having this flexibility with what we can pack.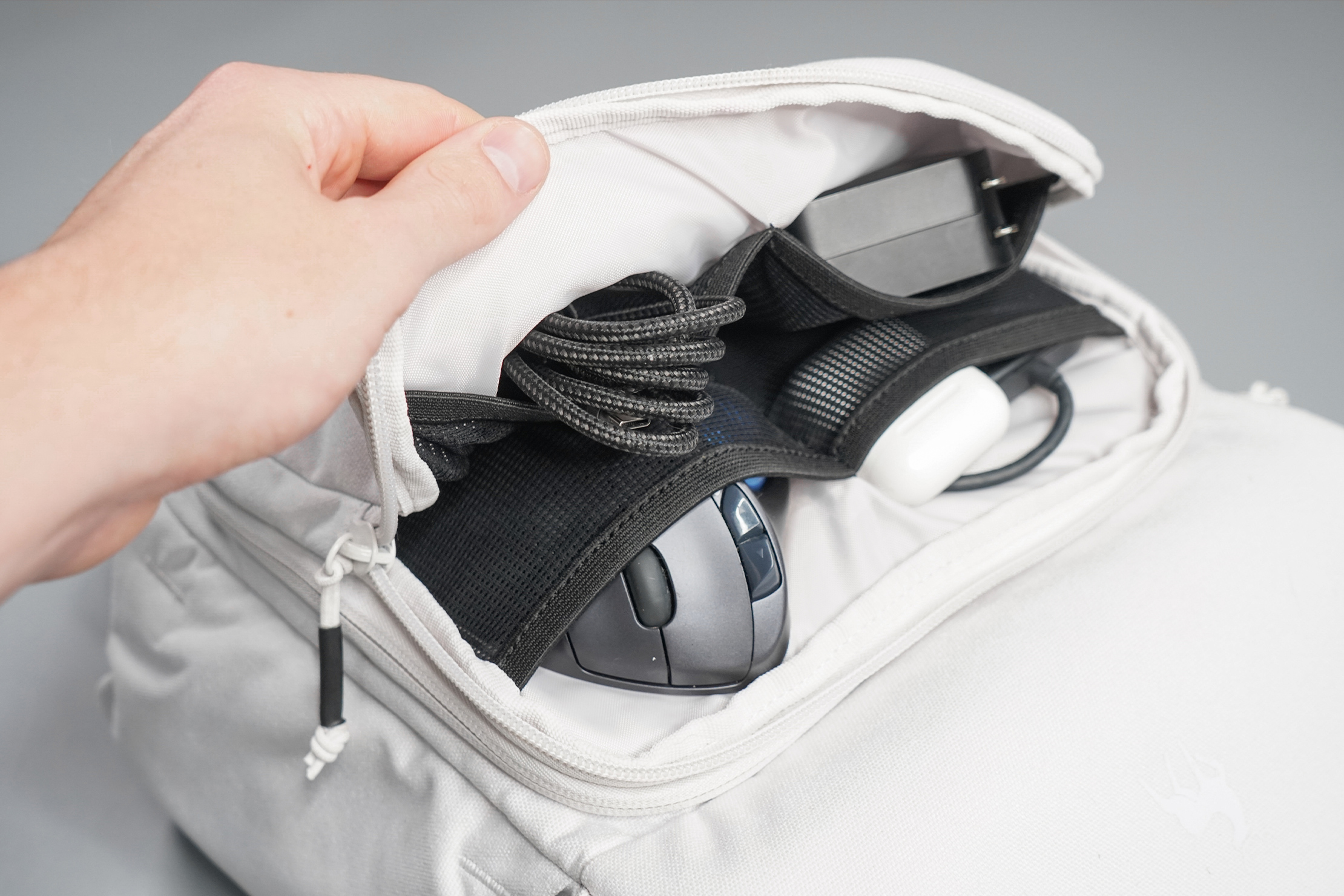 We've been slipping in things like a large mouse, cables and charging blocks, dongles, and even a pair of Apple AirPods in each of these so that they're well-segmented and easy to grab. We also appreciate the open space in the middle for when we want to bring along any extra accessories that we can't fit in the pockets. Plus, even with all of this inside, the pocket doesn't look overly bulky or overpacked—it retains a slim profile.
Behind this front pocket is your access into the pack's integrated camera cube. There's thick, soft padding throughout this compartment to keep your camera gear protected from damage, which is essential for a pack that is this camera-focused. We would've liked to see this level of padding in the laptop compartment as well, which we'll cover shortly.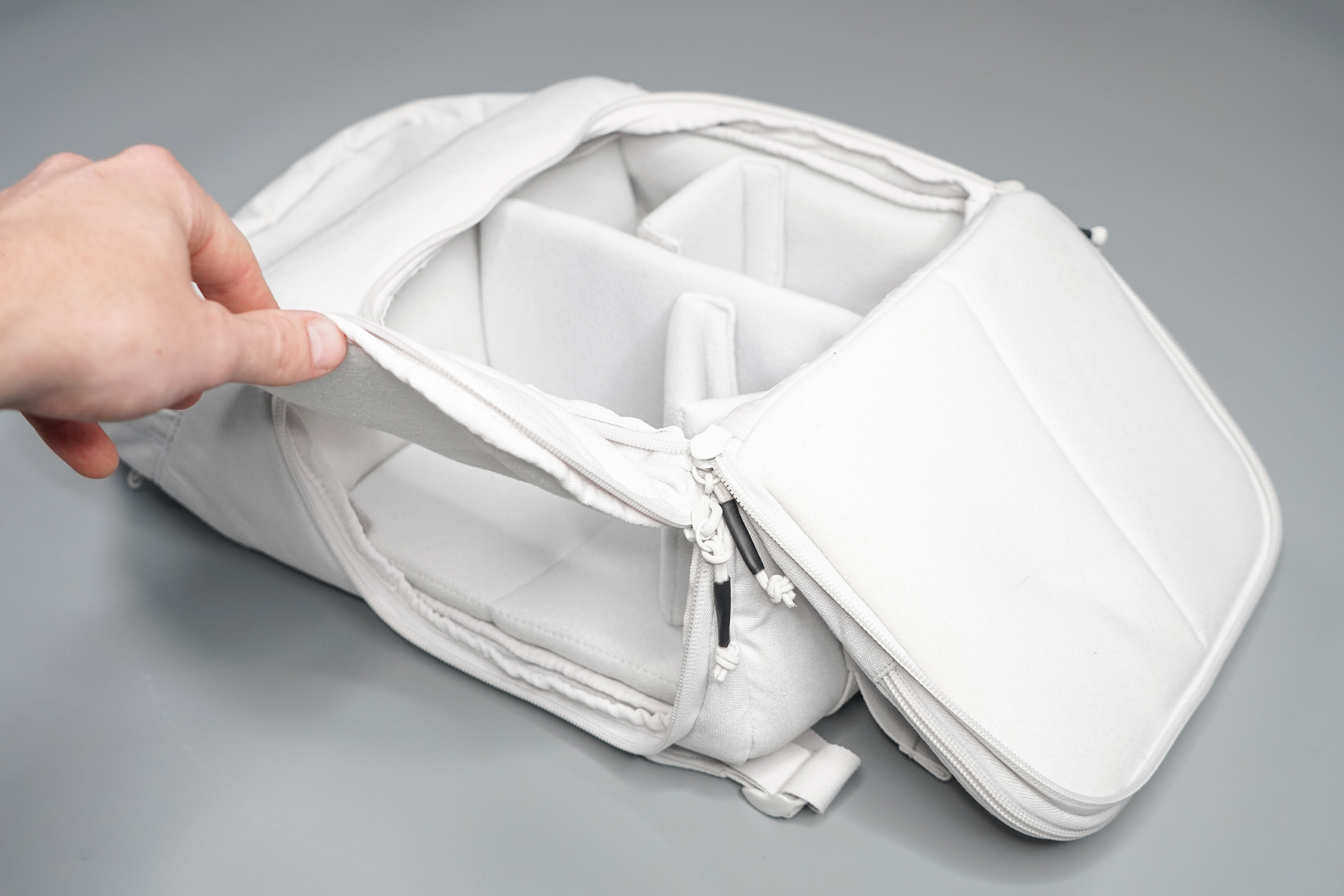 You have foam dividers inside that are removable, so you can adjust them in whatever design best accommodates your camera set up. You have room to keep the basics, including the camera itself, a lens or two, extra batteries and memory cards, along with other accessories.
This cube can also be accessed from the side, which makes for easy access to your camera. That way, you don't have to pack and unpack it continually. You can simply sling the bag to your front, unzip, and snap a photo faster than you can say cheese.

The main compartment is essentially the remaining space above this camera cube. In terms of organization, you have a wide zippered pocket that works for items you're not constantly grabbing since you have to go through two zippers to get to them. For us, that's mostly consisted of a luggage scale for weighing our packs, some personal care items, and a pen or pencil for jotting notes down on the go.
This top section isn't very deep when you're using the camera cube, but you're able to fit things like a larger pair of headphones or a notebook or two. If you're hoping to stash some smaller items, you can incorporate some pouches or smaller packing cubes to add some segmentation.

If you're not taking your camera gear with you for the day, you can adjust the divider that separates this section with the camera cube and velcro it flat against the back wall. This action turns the main compartment into what you would see on a more traditional-style pack, with open space to store your everyday items—books, an extra jacket, a lunchbox, and the like.
Last up; we have the laptop compartment towards the back of the bag. It can accommodate a laptop as large as 16″ and has a small amount of padding to cushion it while on your commute. There's only a slight .5″ false bottom for the laptop compartment, which is small compared to most other bags we've tested that have this feature. Because of this, we've been more comfortable keeping our laptop in a protective case.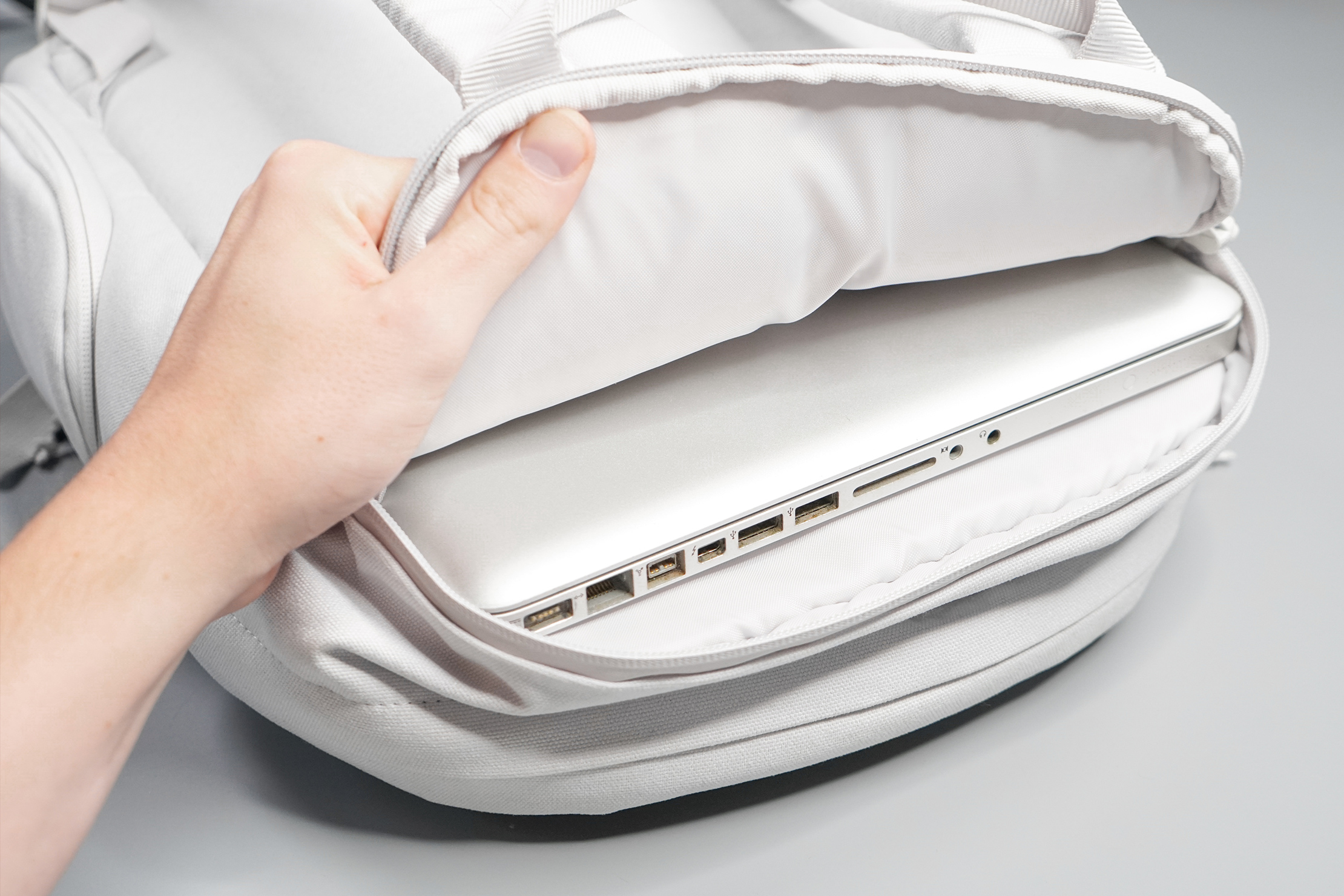 One thing to note about this bag is that there is no frame sheet or stiffer material to give it structure. Therefore, when you do have a laptop inside the laptop compartment, its proximity to the back panel causes your laptop to act as a frame sheet. It hasn't been a deal-breaker for us, but we noticed it can cause the bag to feel stiff when we've got it on, which isn't the most comfortable.
Usage Timeline
Initial Usage
Condition: Excellent
Built-in camera cube with a full-access zipper and a quick-access zipper
Simple and casual style but also a lot of bold colorways to choose from
Great size for all your tech and EDC gear along with a simple camera kit
2 Weeks of Use
Condition: Excellent
We've been really impressed with this bag. It's a solid bag overall and the design and general organization is simple but just works. It's a perfect size for our small camera set along with our tech and EDC items but still keeps a slim profile. We haven't come across any stain or marks on our white bag but being a white, soft material, it's inevitable.
Access the Pro Community Discussion
Get your questions about the Brevite Jumper Photo Backpack answered from our team and the Pro Community right here on the page. Plus, join discussions with other members about gear, guides, and more.
Other Bags & Luggage Reviews