Black Ember TKS (Tech-Kit Sling) Review
The Black Ember TKS's clever design and use of high-quality materials give it good versatility, though it's borderline overengineered.
Our Verdict
Unlock the Pro Summary
Save time. Get access to brief summaries of our reviews so you can browse and make decisions more efficiently.
Pros
Secure Hypalon zipper pulls
Charging cable pass-through between front and main compartment
Tech-oriented organization
Cons
Juts in noticeably when carried sling-style
Overall accessibility can be slow
Accordion-style organizer bulges out if packed improperly
Technical Details
100 %
Carry-On Compliance
Capacity

2.5l

Dimensions

5.5 in x 11 in x 3 in (14 x 27.9 x 7.6 cm)

Notable Materials

Aluminum, YKK Zippers, Fidlock Hardware, Ripstop Nylon, Hypalon®, Microhex HTX, Woojin Hardware

Warranty Information
Full Review
When we last reviewed gear from Black Ember, we walked away with a distinct memory of the way they design their gear. It was the Citadel Modular Backpack's modularity (believe it or not) that stuck with us the most, though the rest of the backpack was also cleverly engineered, even nearing overly-engineered territory.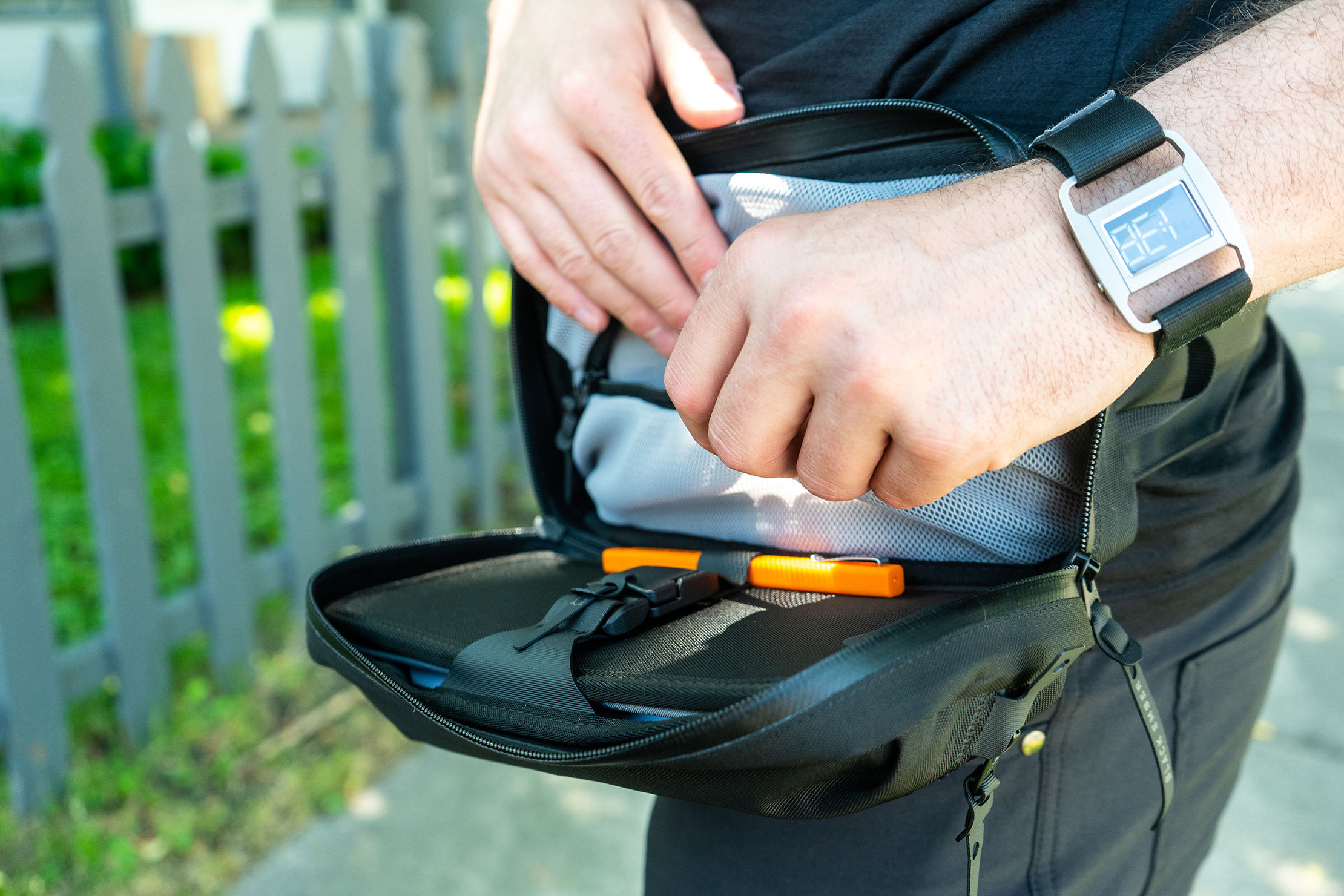 In this review, we'll be taking a look at what Black Ember brings to the table with its TKS (Tech Kit Sling), which is a hybrid between a sling and a tech pouch. You can probably already spot a few familiar features from the photo above, one of which being the zippers, but there's much more to unpack. If you're a fan of Hypalon, Fidlock, and just great materials in general, the TKS delivers in spades.
Materials & Aesthetic
The TKS has a somewhat boxy, pill-like profile that doesn't stand out too much, instead opting for a more subdued aesthetic. The black Microhex HTX fabric—the only available color at the time of writing, by the way—is contrasted only by the more zipper elements running across the front and the top of the main body. Squint a bit, and the Hypalon zipper pulls almost resemble whiskers—all of which have Black Ember branding on them. They're tastefully applied, however, and not in-your-face by any means.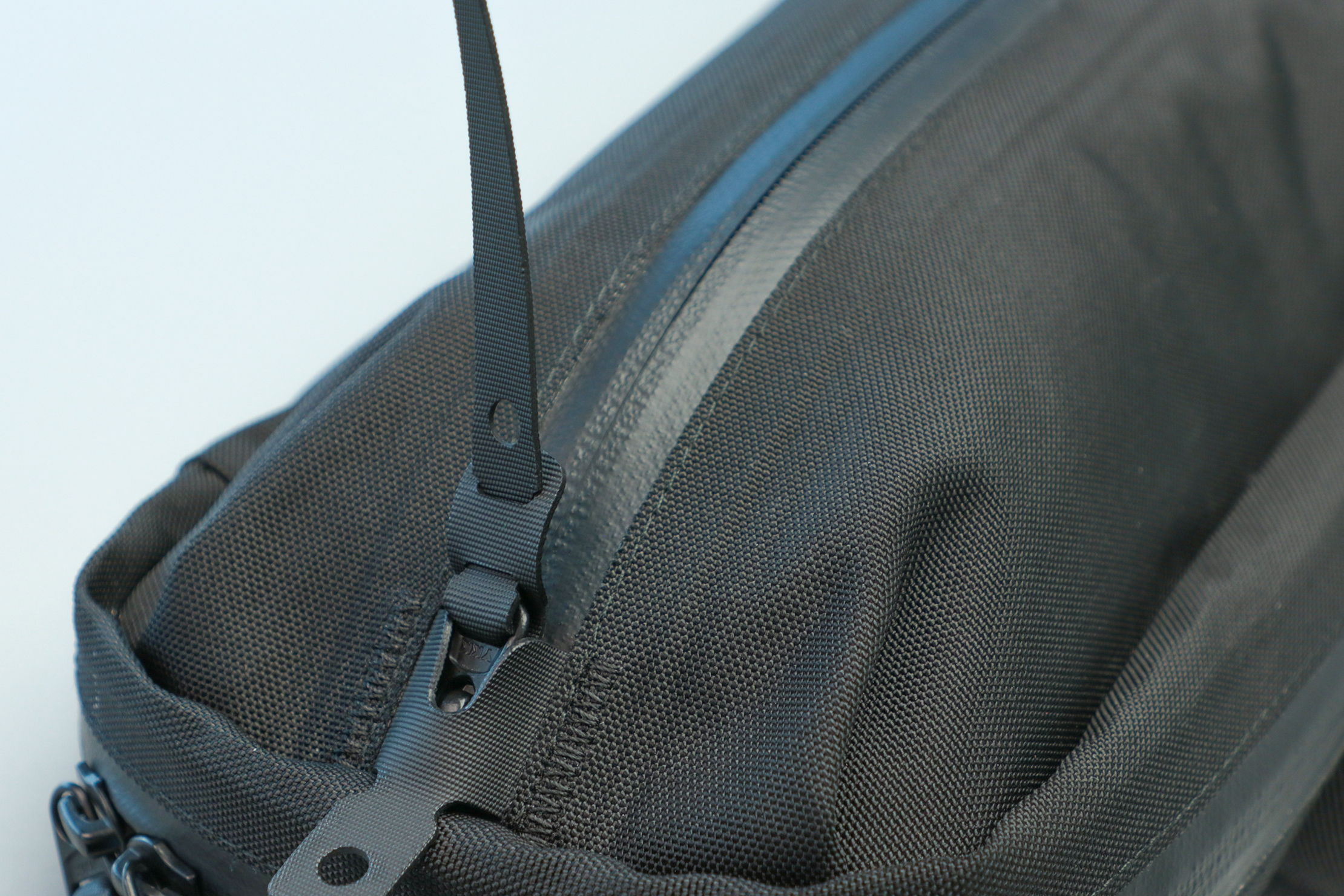 With its strap tucked back into the back panel, the TKS looks less like a sling and more like a tech pouch. It's a clean look that keeps your desk less messy when it's fulfilling its role as a one-stop pouch for all your tech goodies. Whether it's across your black rain shell or sitting on your desk, the TKS fits in well.
Even better, Black Ember has doubled down on using plenty of quality materials. We've already mentioned the Hypalon zipper pulls that feel great and have added functionality, which we'll get into later. There are also Fidlock magnets for the main strap's buckle and internal hold-down strap, plus YKK AquaGuard zippers that keep things nice and dry inside. There's even Woojin hardware and an inner layer of Ripstop nylon thrown into the mix for good measure. Black ember has quite the impressive cast of materials and hardware on the TKS, and it certainly feels that way as well.
External Components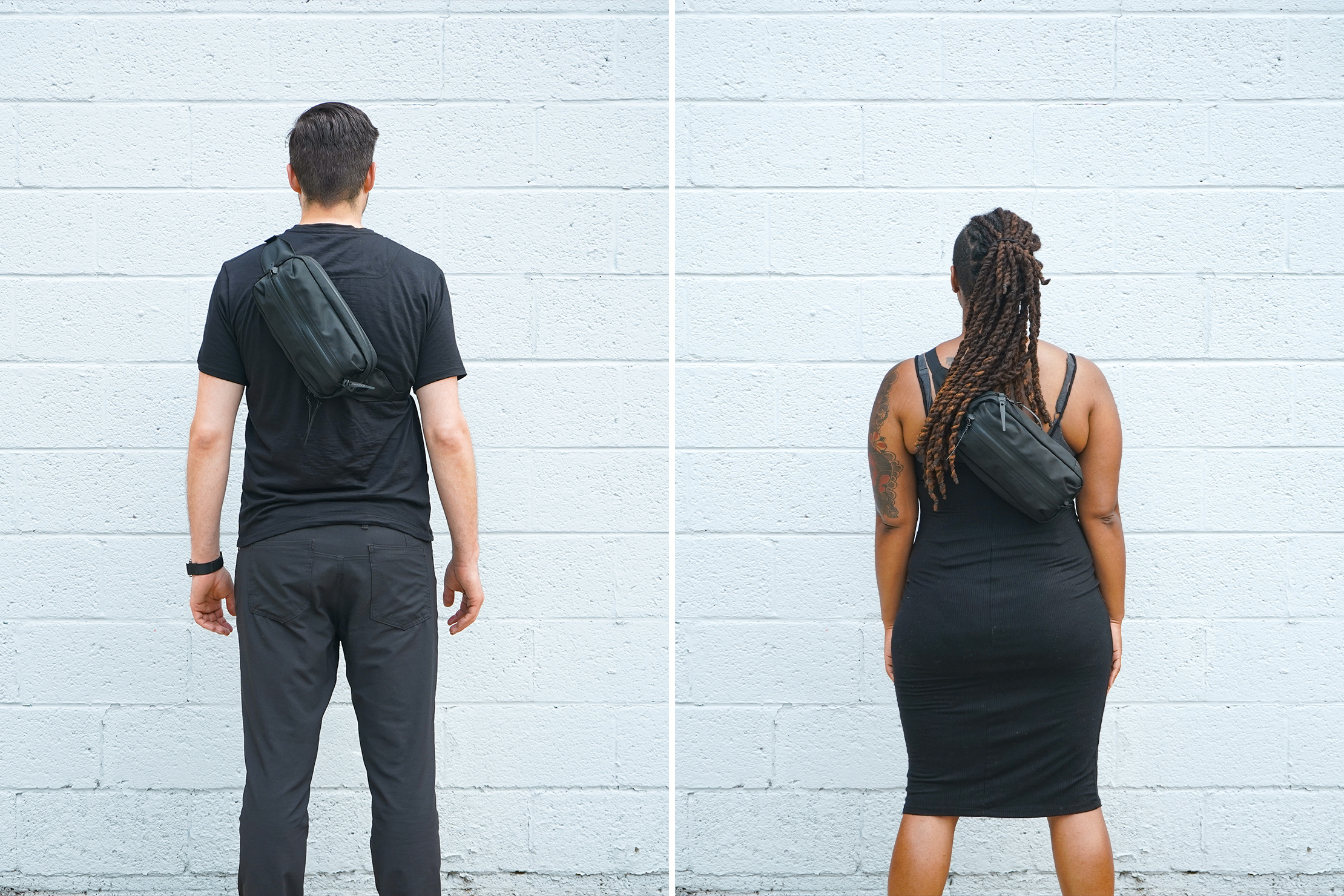 There are two ways to wear the TKS: sling-style and waist pack-style. We preferred carrying the TKS sling-style for the duration of the testing period. We observed that the TKS has a noticeable forward tilt that makes the bottom jut up against us in this mode. It's similar behavior to what we experienced with the NOMATIC Navigator Sling 1L. Coincidentally, both the Navigator and the TKS have their main straps attached straight to the sides of the main body.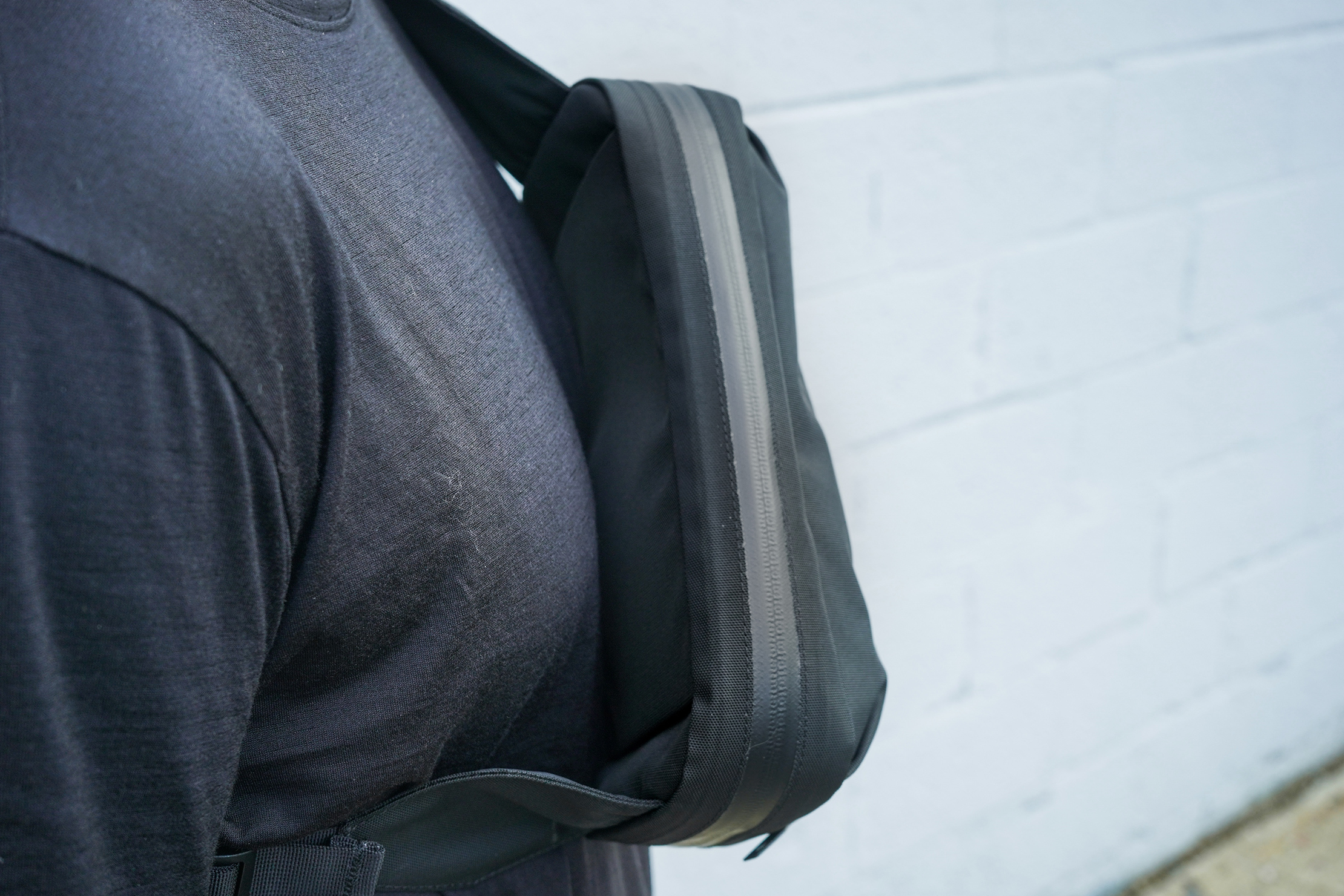 The jutting is not too uncomfortable, just noticeable. Though we're not bag designers, we can deduce that the strap comes out straight from the sides to carry well as a waist pack. Not the best in terms of comfort, but it works if you're a fan of both styles of carrying and want the option to switch between them.
On the strap, there are two adjusters on either side where you can adjust the length. This leaves you with room to play around with the positioning, allowing you to center or bias the buckle to your preference. In testing, we found the left adjuster more difficult to adjust than the right one. Interestingly, this left one has a Hypalon pull that should help with adjusting it, though it's still a bit tough to move. The buckle itself is a beefier-looking version of a simple side-release buckle. Instead of clips, it uses a Fidlock magnet with a pull tab for easy attachment and detachment. Last but not least, there's also a D-ring near the buckle that's also threaded through the buckle's assembly so that it's able to release tension if needed.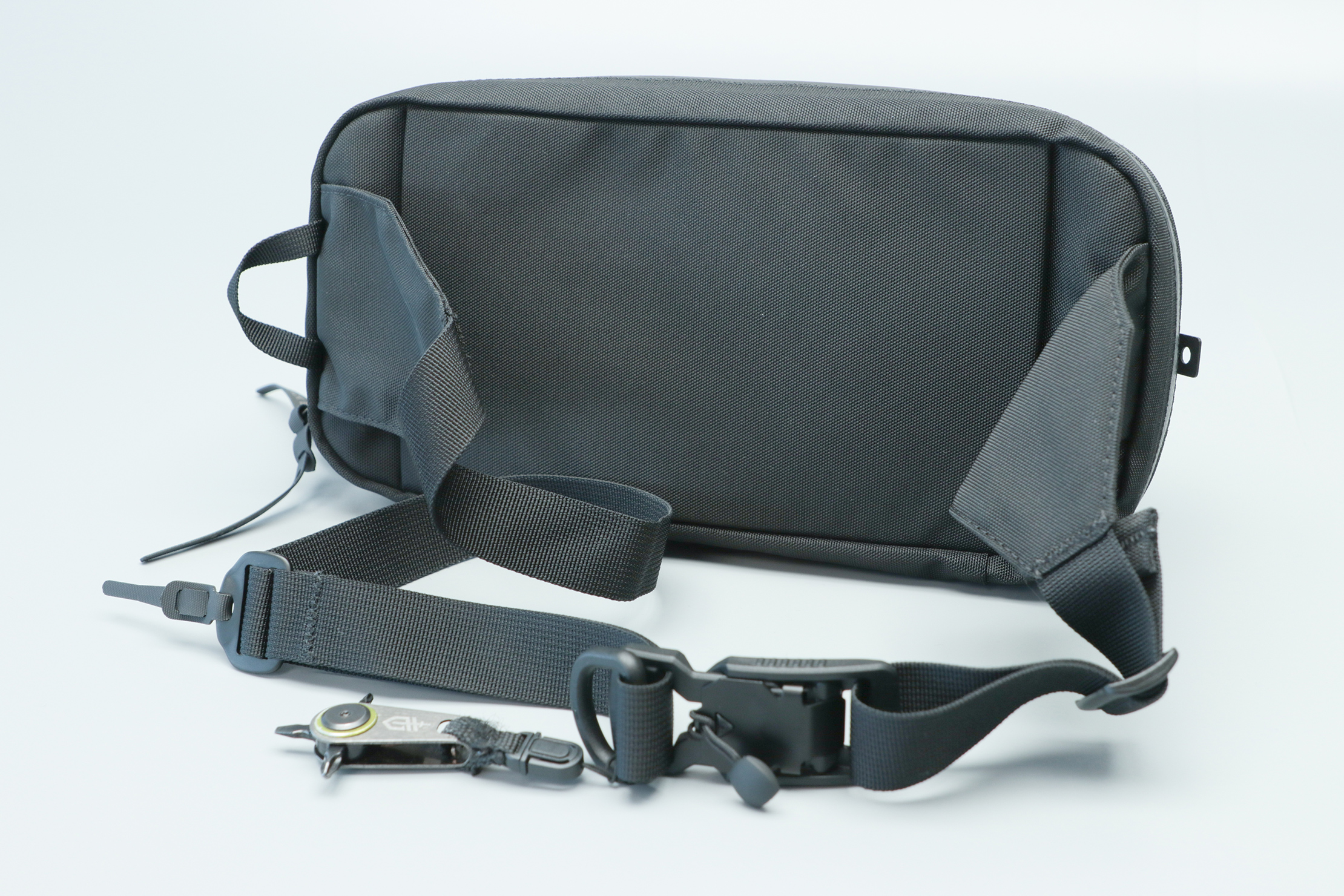 As mentioned, the back panel can hide away the strap if you need them to be hidden. It's stuffed with some foam padding so that the sling rests easier against you, and it gives the TKS some structure at the back. With the strap tucked away, the left-side loop can be used as a handle for carrying the TKS around or for attaching additional accessories.
Inside The Sling
Before we get inside the TKS' compartments, we have to talk about the zippers that guard them—more specifically, their Hypalon pulls. Not only are they nice and grippy, but also extra secure. Each of the main compartment pulls can thread through each other, while the front compartment's lone zipper has a fixed-place Hypalon tab on either side for the same purpose. We find this system fiddly to use—sometimes even cumbersome when we're in a hurry—because of how much friction there is between Hypalon materials rubbing together. On the other hand, that's part of what makes them secure against sleight-handed pickpockets.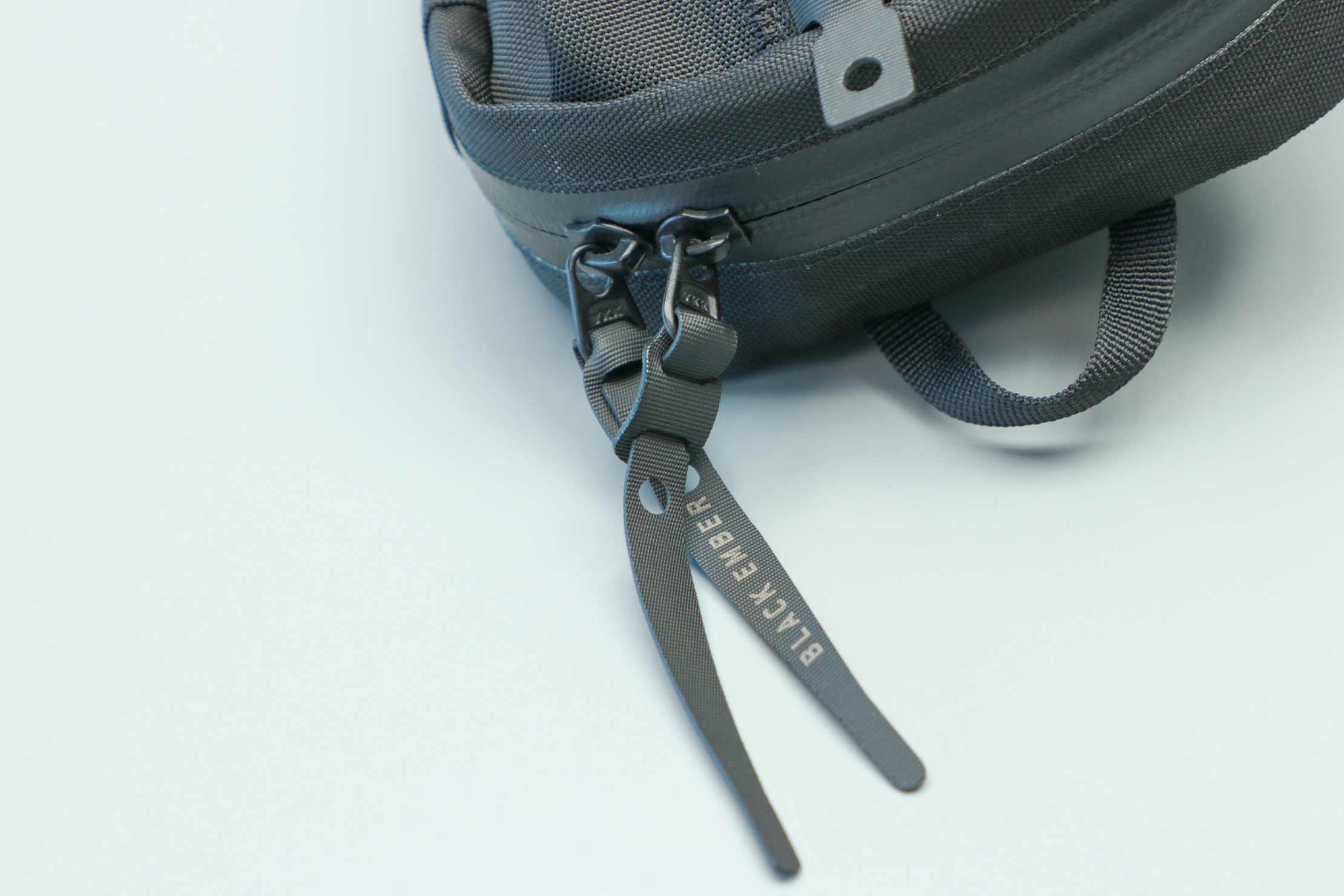 Once you get past all that, there's a ton of clever organization to be found inside the TKS. Inside the front pocket is a built-in key clip with—you've guessed it—a Fidlock magnet. We've had no problem attaching and detaching our keys to unlock doors, which is fortunate considering the rather stubby orange leash on the key clip. Apart from the Fidlock key leash, there's also a side-opening mesh pocket meant for a smartphone. You can tell it's meant for a smartphone because of the welded and laser-cut cable pass-through right next to it. It's not just a small hole, though; it's more of a slit, giving your cable room to move around.
The front compartment has some room inside. But, as you can tell from the picture above, its opening in the middle means it has a shallow floor. That, in turn, means less stuff you can just dump inside. The good news is this also means that the front compartment is more accessible when the TKS is lying on its back, as opposed to if the opening is along the top edge.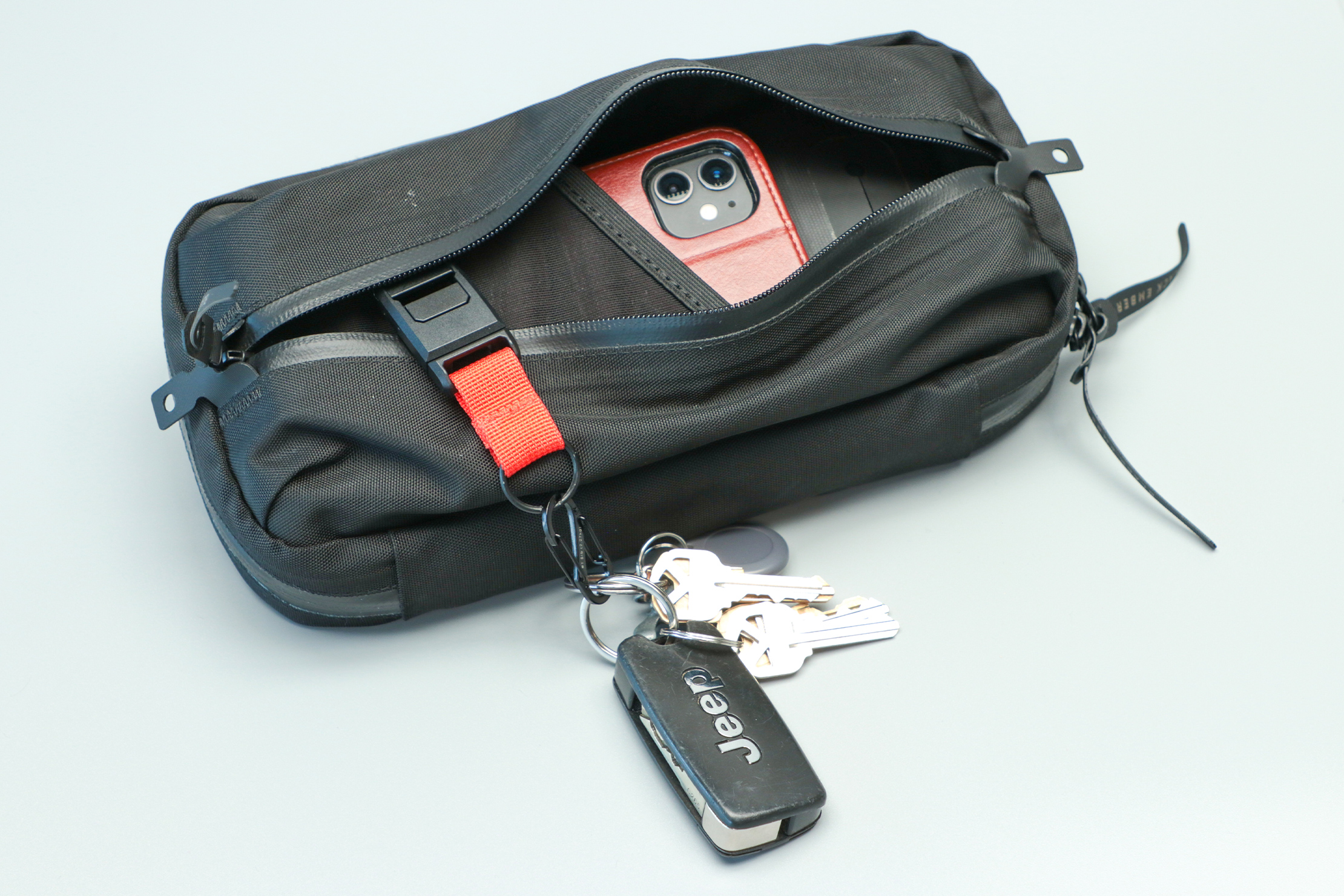 The main compartment is also more oriented for this kind of setup because of its clamshell-style opening. Fully opened, you're greeted with yet another Fidlock magnet, this time holding down a middle frame sheet. Near the bottom of the frame sheet is a Hypalon pen loop that holds well thanks to how grippy the material is. The downside is it's not stretchable for bigger pens like permanent markers.
Opposite the frame sheet is a zippered mesh compartment, which we found to be quite roomy despite how it first appeared. You can fully load it out with a bunch of adapters and batteries, and it can take it no problem, thanks to the generous depth it has. Again, the opening runs across the middle, making it very suitable for when the TKS is laid flat. In case you were wondering, yes, the zipper pull used here is also Hypalon.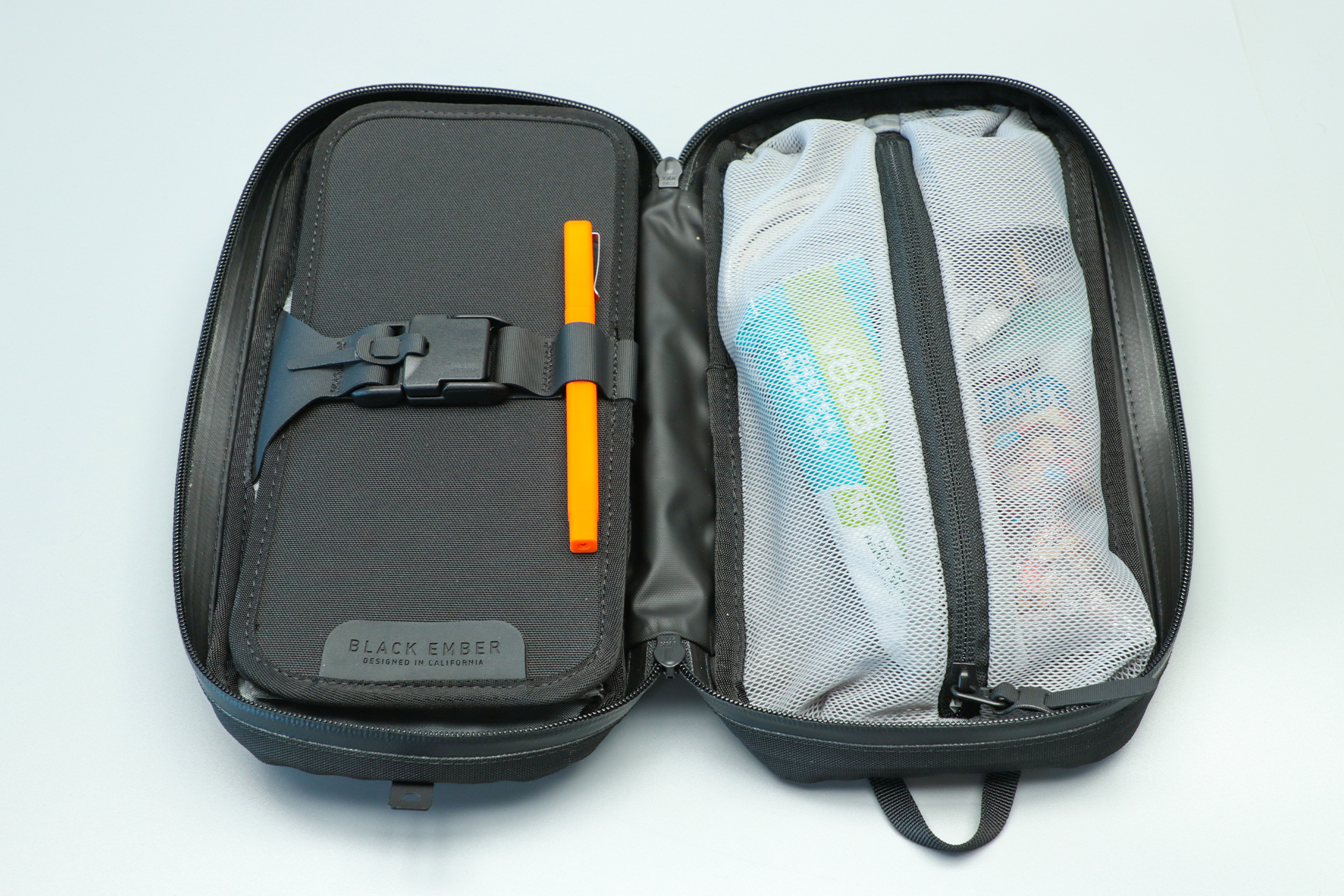 Undoing the buckle on the frame sheet frees up the accordion-style organizer hidden behind it. It has a total of six pockets: four small ones and two wide ones. The pocket closest to the front is meant for a power bank. It's connected to the front pocket via the cable pass-through. You can fill out the rest with cables, flash drives, etc., though be careful not to stack bulky items in adjacent pockets to avoid bulging. Since the buckle holds down the rigid frame sheet from the middle, the sides can bulge out like a sandwich.
Speaking of the buckle, it somewhat flops in the way when you open it. You can mitigate this by tucking it away inside the power bank pocket, but that's one extra step we wish we didn't have to do every time we needed to get something behind the frame sheet.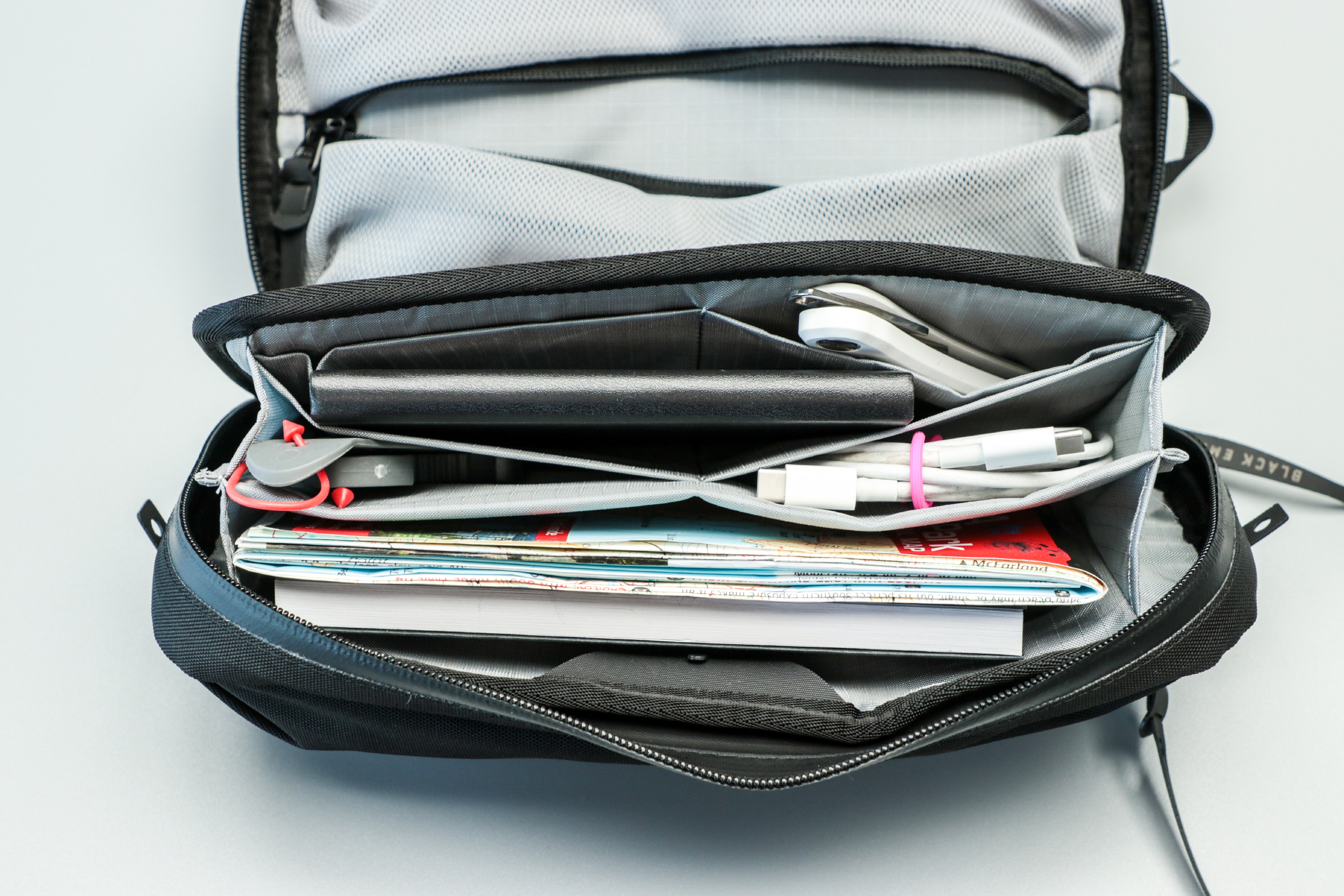 The TKS is an interesting hybrid between a tech pouch, a sling, and a waist pack. As a sling and waist pack, accessibility is a bit slow—especially if you fully utilize the interlocking Hypalon pulls—since the main compartment is partitioned into pockets. But as a tech pouch that can also be carried like a sling, the TKS excels in versatility.
Usage Timeline
Initial Usage
Condition: Excellent
Can also be worn as a waist pack
Opens up clamshell-style
The zippers have Hypalon pulls that can interlock
2 Weeks of Use
Condition: Excellent
The sling's structure can take some getting used to if you prefer something more flexible
Through 2 weeks of use, Black Ember's selection of premium materials becomes even more apparent
Cord passthrough is handy and best used with a small cable
Fidlock buckle is satisfying to use
Accordion organization is great if you use smaller, flatter items
Access the Pro Community Discussion
Get your questions about the Black Ember TKS (Tech-Kit Sling) answered from our team and the Pro Community right here on the page. Plus, join discussions with other members about gear, guides, and more.
Other Bags & Luggage Reviews