Black Ember Citadel Modular Backpack Review
The Black Ember Citadel Modular is a highly customizable travel pack with its own modular accessory system and a bunch of durable materials. Although we do think this pack is on the cutting-edge of the backpack industry, during our testing we found it to be a tad heavy and somewhat over-engineered.
Our Verdict
Unlock the Pro Summary
Save time. Get access to brief summaries of our reviews so you can browse and make decisions more efficiently.
Pros
Smart design with high customizability
Incredible attention to technical details
High weatherproofness
Cons
Heavy at 3.8 lbs with no accessories
Harness design is not ideal
Possibility of losing some exterior buckles
Technical Details
87 %
Carry-On Compliance (Beta)
Capacity

25l

Denier

900D

Weight (lb)

3.8 lb (1.7 kg)

(7.3 lbs with all accessories)

Dimensions

12.5 in x 19.5 in x 6.5 in (31.8 x 49.5 x 16.5 cm)

Notable Materials

Hypalon®, YKK Zippers, Aluminum, EVA Foam, Polyurethane, Polyester, ITW Hardware, Fidlock Hardware

Manufacturing Country

Vietnam

Laptop Compartment Size

15"

Warranty Information
Full Review
In this review, we are taking a look at the Black Ember Citadel pack. Specifically, we are looking at the modular version. For context, there are two versions of this pack—the minimal and the modular—that allow for varying levels of customization.
Basically, the minimal version gives you a clean, slick profile with nothing more than a couple detachable handles and compression straps. The modular version, on the other hand, has a bunch of attachment points that allow you to add on a boatload of pouches, straps, and other accessories.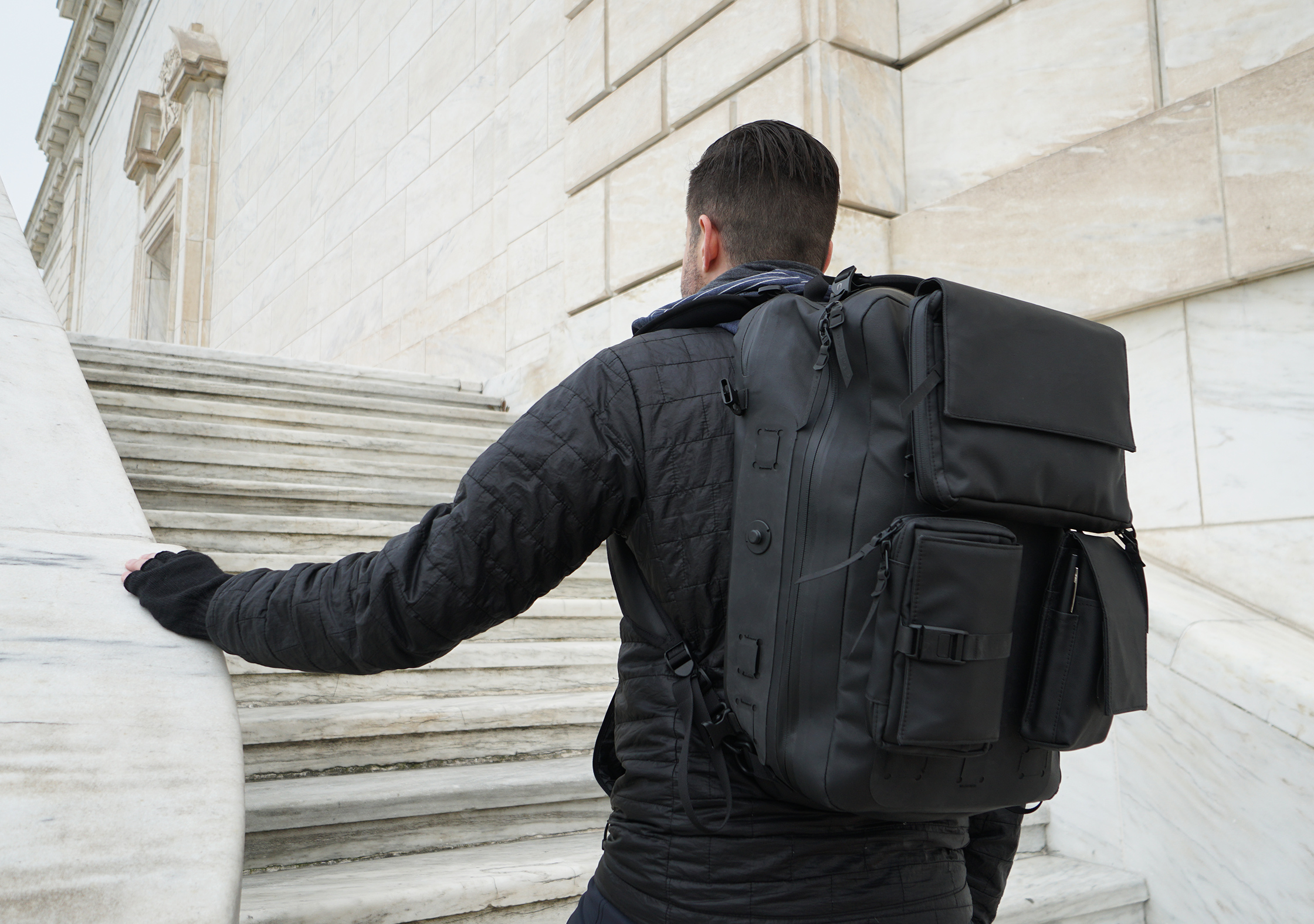 We've gotten our hands on the modular version and really enjoyed using it during our real-world testing. But the obvious question is…is this modular stuff really worth it? Is it actually useful? Well, we'll do our best to answer those questions—and many more—in our review below. Let's check it out.
Materials & Aesthetic
The overall look of this bag without any of the doo-dads attached is pretty minimalist. The modular version is obviously not quite as minimal as the minimal version, but Black Ember has still managed to create a pretty clean aesthetic even with all of those attachment points.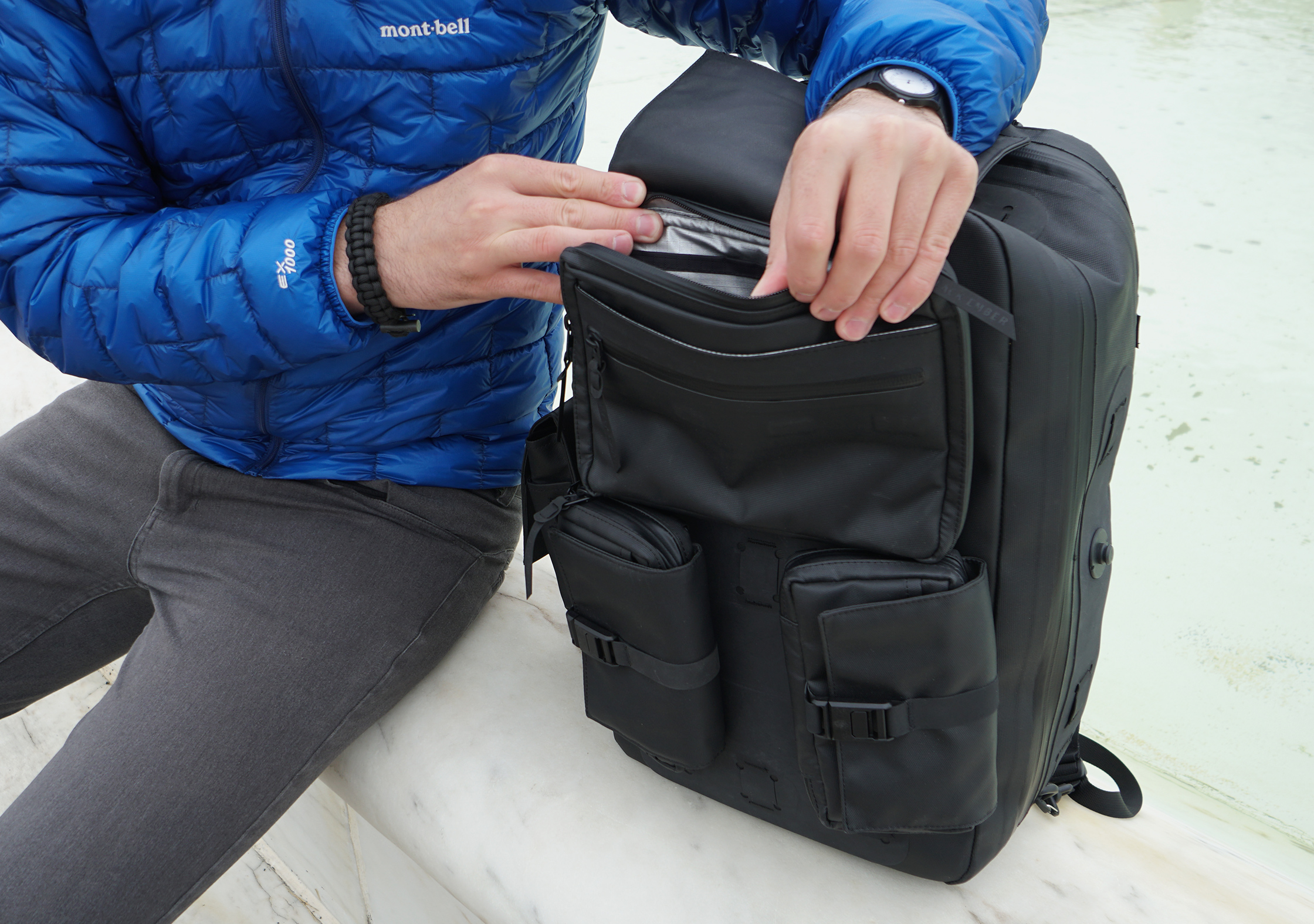 That being said, we polled our Instagram audience and the majority did not like the look. We'll leave it at that.
From a branding perspective, there isn't much going on with this pack. There are some logos on the zipper pulls and hardware, but it's black on black. Pretty tasteful, not very noticeable—we like it.
As far as materials go, this pack is made with a 900D three layer micro-hex fabric that is IP6 approved. That is almost a comical amount of fabric lingo for one sentence, so we'll break it down for you real quick. Basically, you've got a really solid, durable fabric that is one step below waterproof (AKA, very weather resistant). It's good stuff.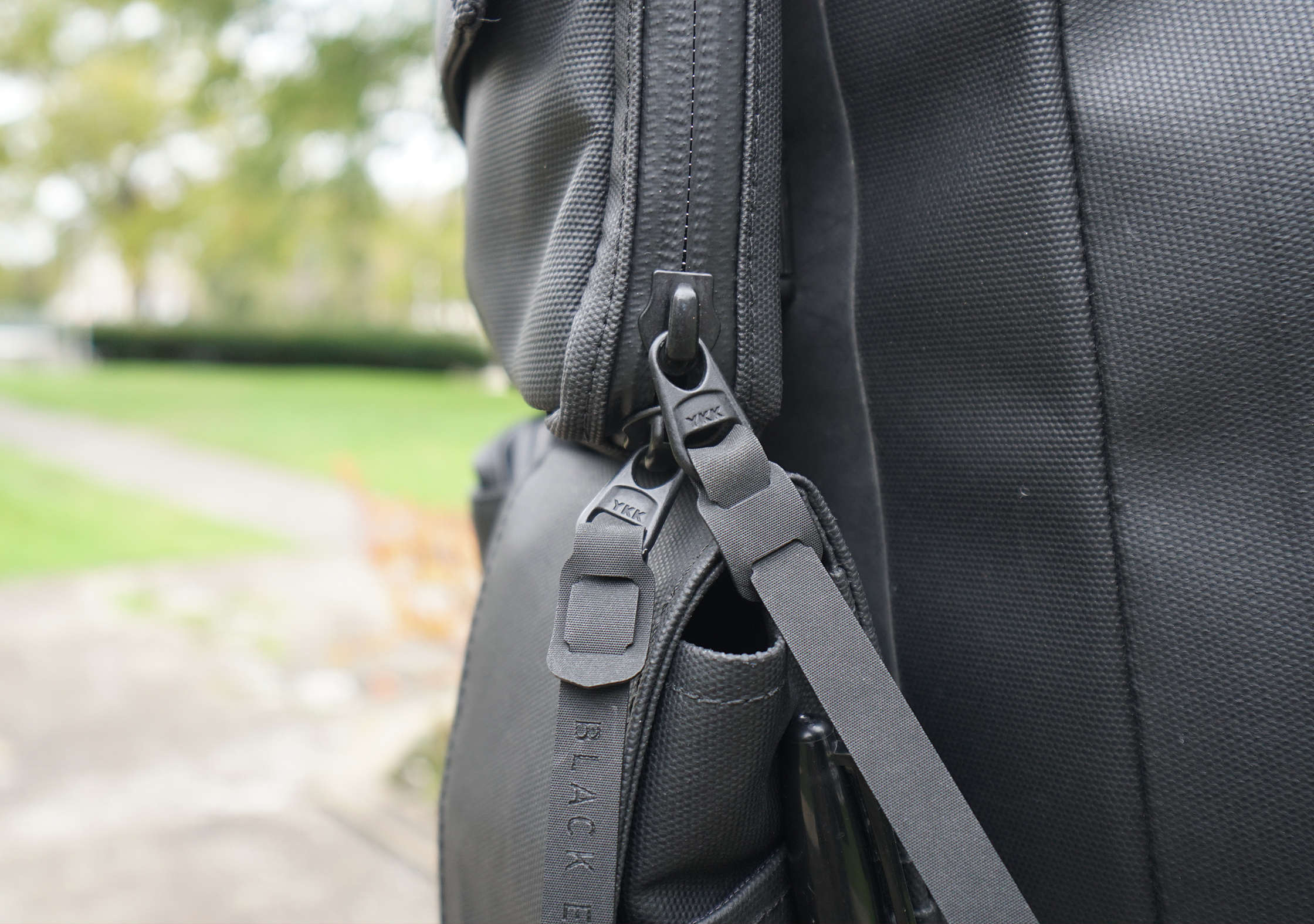 This bag also has YKK AquaGuard zippers, which add some additional weather resistance. Ultimately, we can say—with quite a lot of confidence—that this is one of the most weather resistant bags we've tested to date. It's not completely waterproof, but it's damn near close.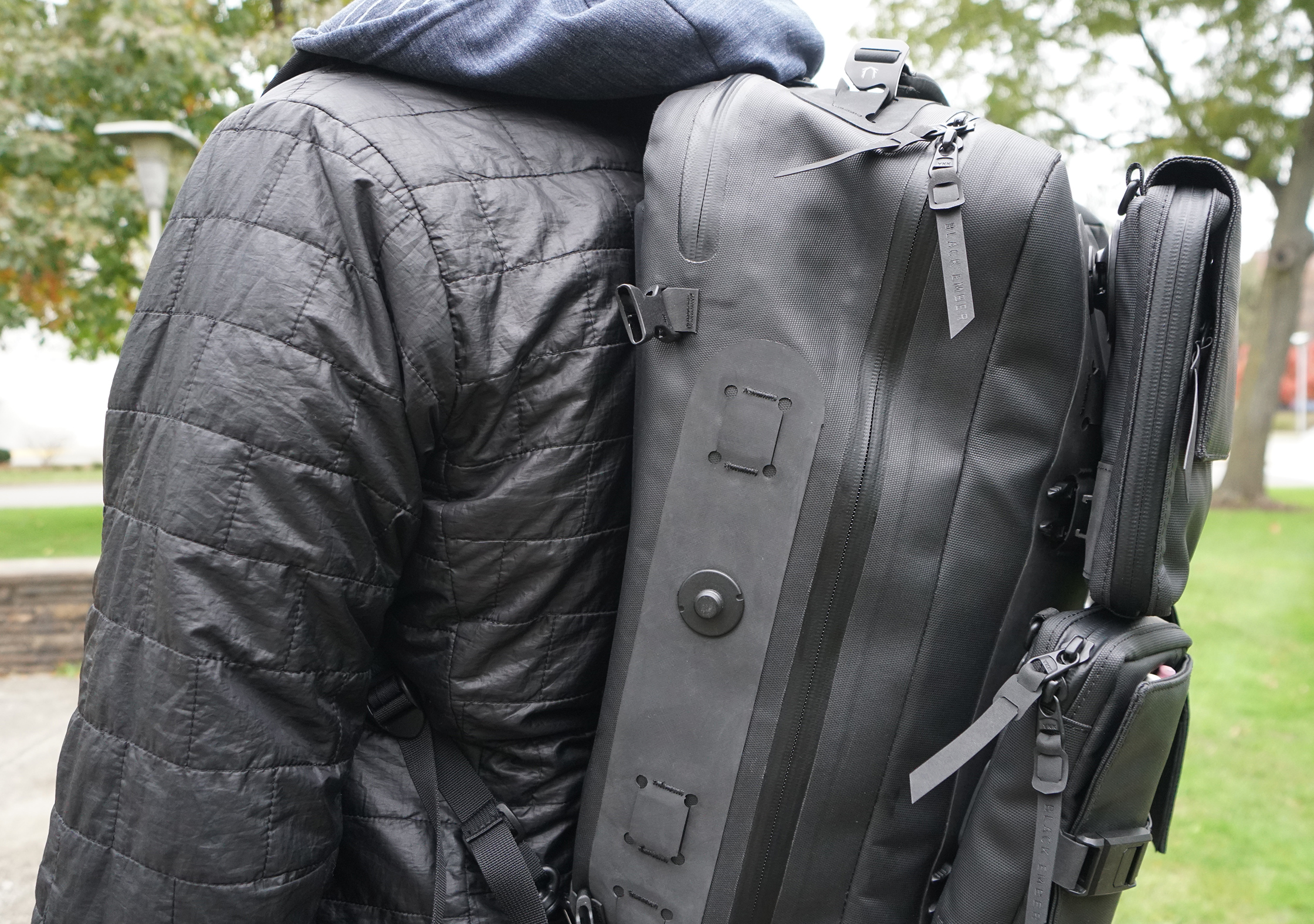 Moving on, you'll see that there are a bunch of modular attachment points on the exterior of this pack. They're basically laser-cut squares, which we think look a lot better when you actually have something attached. Without anything attached, you have these odd-looking tabs all over the pack…which is not exactly ideal.
One small note: we have found that as you use these attachment points they can start to loosen a bit. The material is definitely strong, but there's a little bit of stretching that happens during the break-in period. Not a big deal, we're just throwing it out there.
And there are a ton of other materials going on in this pack that are worth a mention…
The zipper pulls are made of laser cut Hypalon (a material used in military-grade rafts).
The metal hardware is made of "aircraft grade, anodized and laser etched" aluminum.
The straps and back panel have a bunch of EVA foam.
The exterior is coated with polyurethane for even more weather resistance.
The buckles and plastic hardware are ITW (which is a plastic company that makes military-grade buckles).
Most of the attachment points and some of the hardware contain "German Magnetic Fidlock Hardware," which is really just a nice magnetic buckle system.
We think all of this stuff comes together to make a solid, durable pack. Plus, we got a good chuckle out of some of that marketing lingo. (Does aircraft grade aluminum mean this thing can fly?!)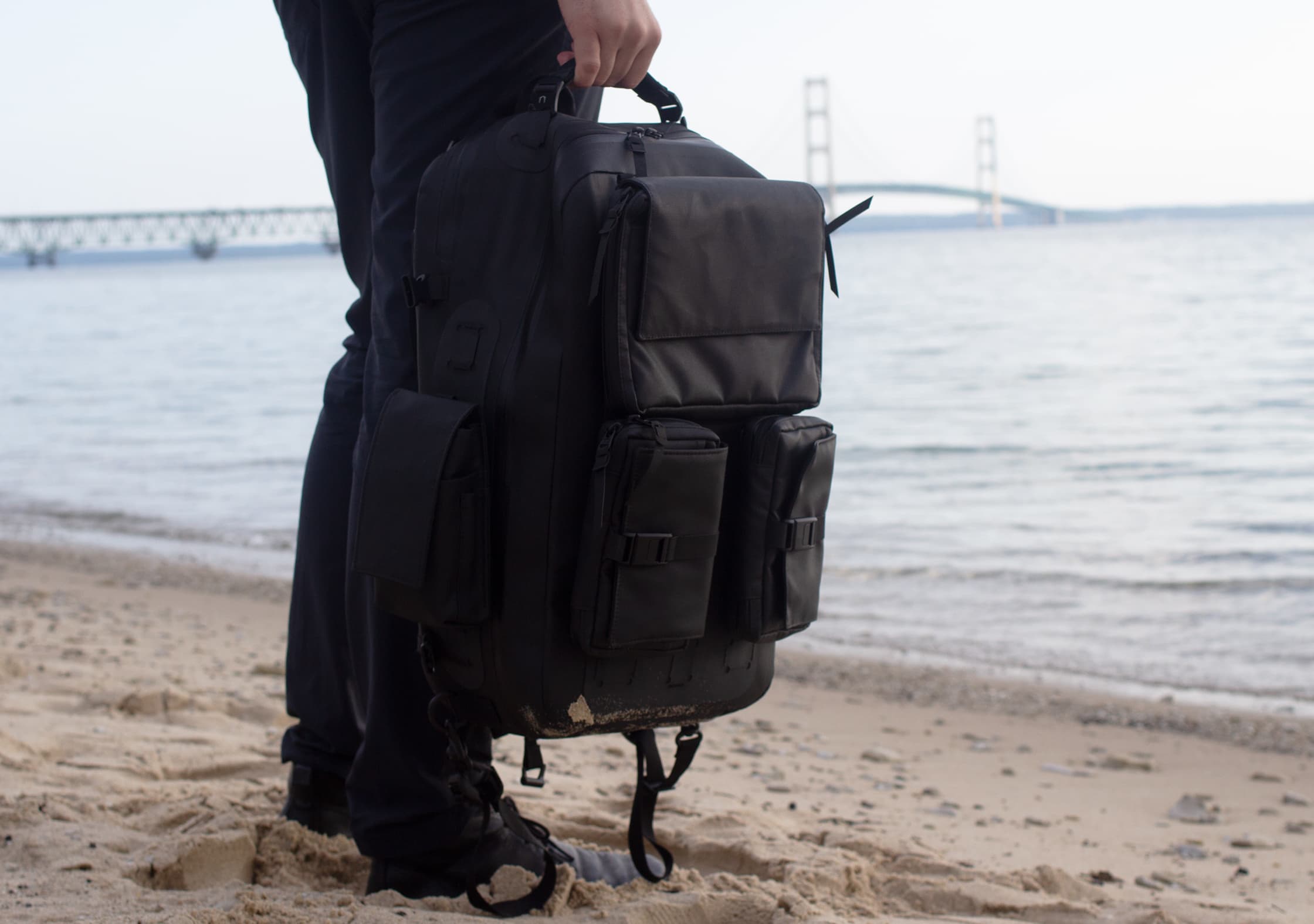 One final thing we have to mention is that without any of the additional attachments, this pack already comes in at a whopping 3.8 pounds when empty. So, while they have gone all-out with a lot of these materials it does come at a price. Ultralight travelers beware.
External Components
There is a whole lot to cover on the exterior of this bag, so buckle up (specifically, please buckle up with your ITW German Magnetic Fidlock hardware). Things are about to get wild.
Starting with the harness system, you'll notice that the back panel is slightly curved. This is designed to follow the natural curve of your back, but we should note that if you're on the tall side, the lower part of the back panel might stick into your back a bit. You can tighten up the load-lifters to get the bag a little higher up on your back, but depending on your height this may or may not fix the problem.

Now, the load-lifters themselves are not your average, traditional load-lifter straps. They are made with a little Velcro piece that attaches towards the top of the strap, which allows you to adjust where the padding is on the shoulder straps. Depending on your body type and the load you're carrying, you can adjust it as you see fit. We really liked seeing this customization here as you get the function of load lifter straps without adding bulk or additional adjustment straps that dangle and inevitably get in the way.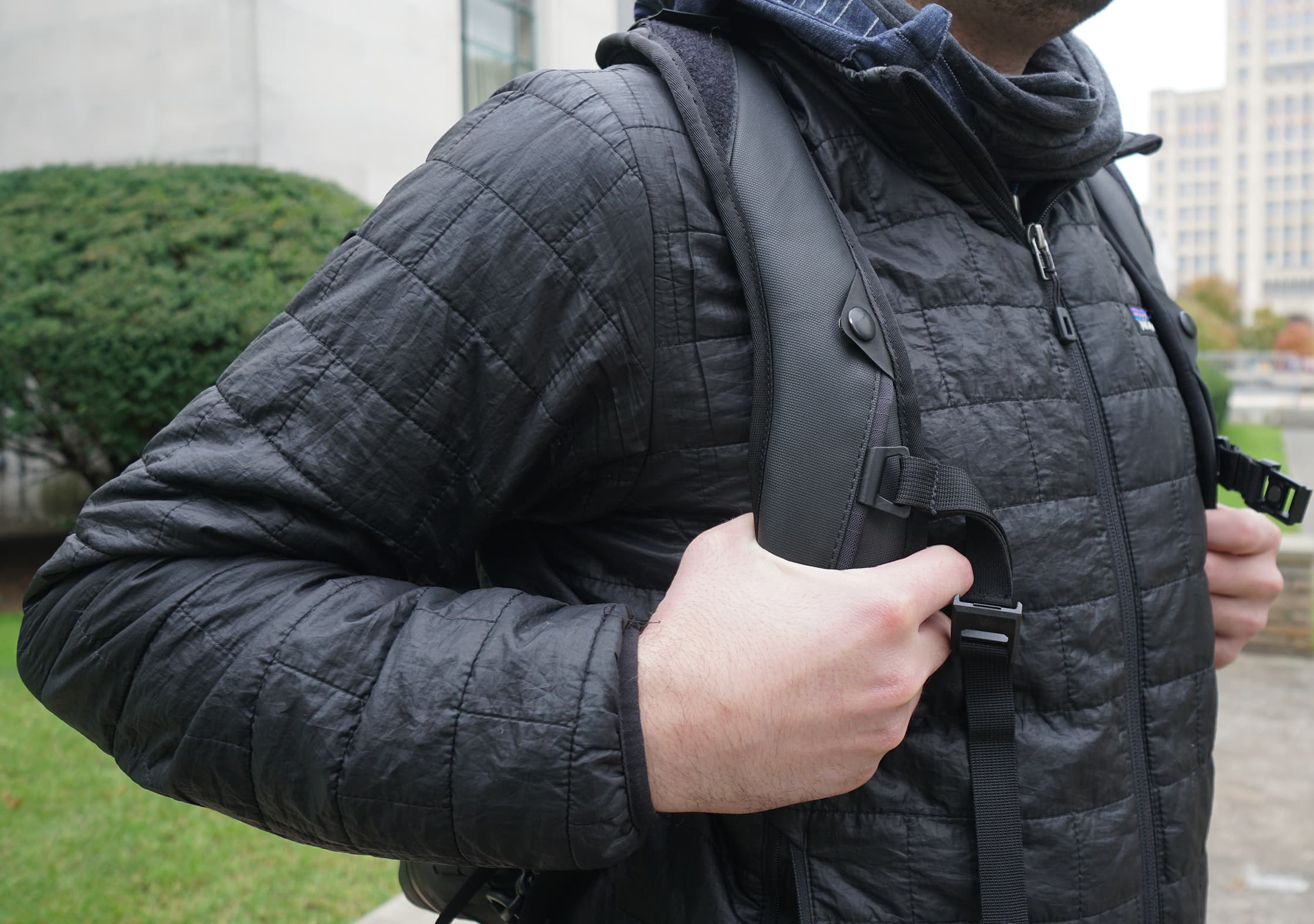 The shoulder straps themselves, however, seem to be a bit overkill. There is high-density foam on the outside and the straps are very heavily padded. They're decently comfortable, but when you have the pack on it actually feels like the straps protrude outward from your chest a bit more than most packs (because they do). It sort of looks like you're wearing a life jacket, which we're not huge fans of.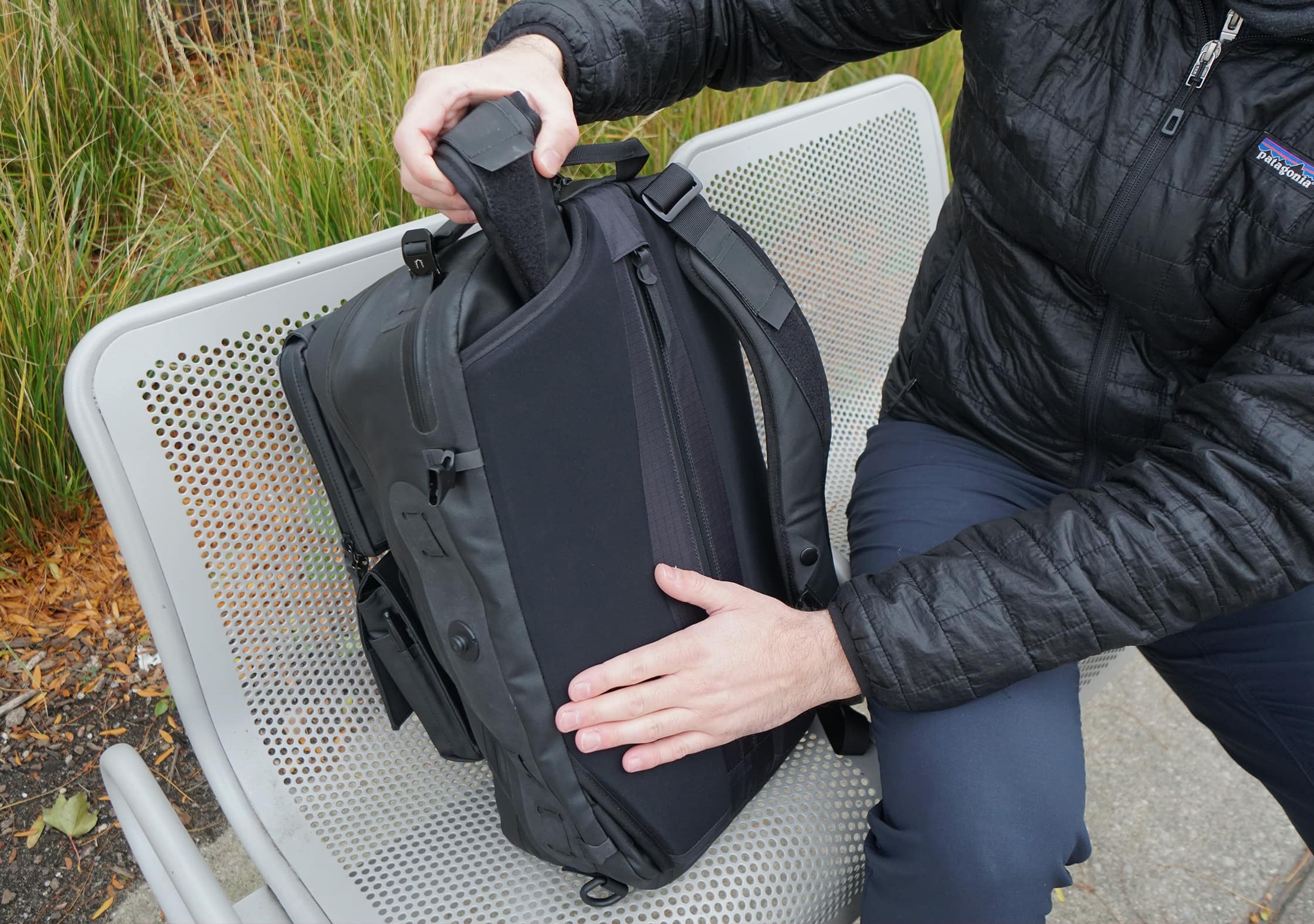 The good thing about these straps is that you can hide them if needed, via a triangular buckle on the bottom of the bag. All you need to do is unclip them and slide the straps into the two long sleeves running down the back panel. We really like how the buckles on the bottom rotate 360 degrees—meaning your straps will never get tangled up—and the straps are also managed really nicely with the plastic hardware on the bottom. Super easy to hide, no dangling straps—love it.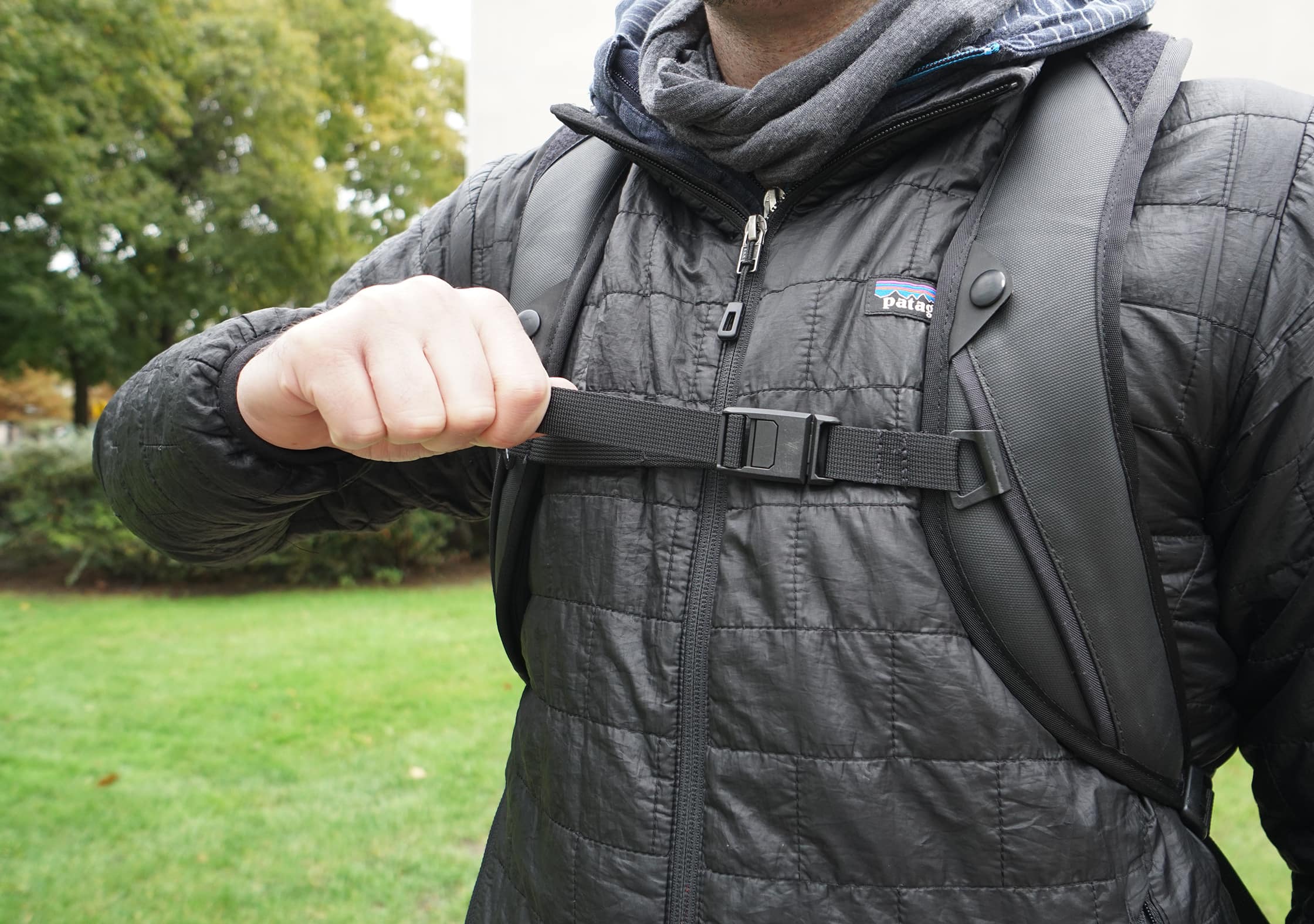 Moving on, the sternum strap works pretty well and has a Fidlock buckle that is super satisfying to clip and also very quick to unbuckle with one hand. The only caveat is that it can easily slide off of the attachment rail. There are two buttons near the top to help mitigate that, however, the rail ends a little bit earlier than you'd expect, so it's actually pretty easy to slide the sternum strap off without unbuttoning anything.
Great idea, but the execution wasn't so perfect. This whole "removable sternum strap that's actually too easily removed" is something we see on bags a lot more often than we'd like, to be honest.
Also, speaking of things that fall off the bag quite easily, the side compression strap buckles are quite easy to pull off. We actually lost one of these in testing—it just fell off the pack during normal use. This is some slick thinking from Black Ember, and we like that it's easy to attach and remove, but we think it's just a little bit too easy to remove. If you're going to use these compression straps, we'd recommend keeping them tightly buckled as often as possible so they stay in place. If they're just free-floating, they can easily get jostled around and fall off on their own accord. Not cool.
There is also room on the bottom of the pack for a hip belt—which is pretty stealthy and easily stowed. (You'll need to buy the hip belt separately, FYI.) We don't think you really need a hip belt with a pack of this size, but your mileage may vary.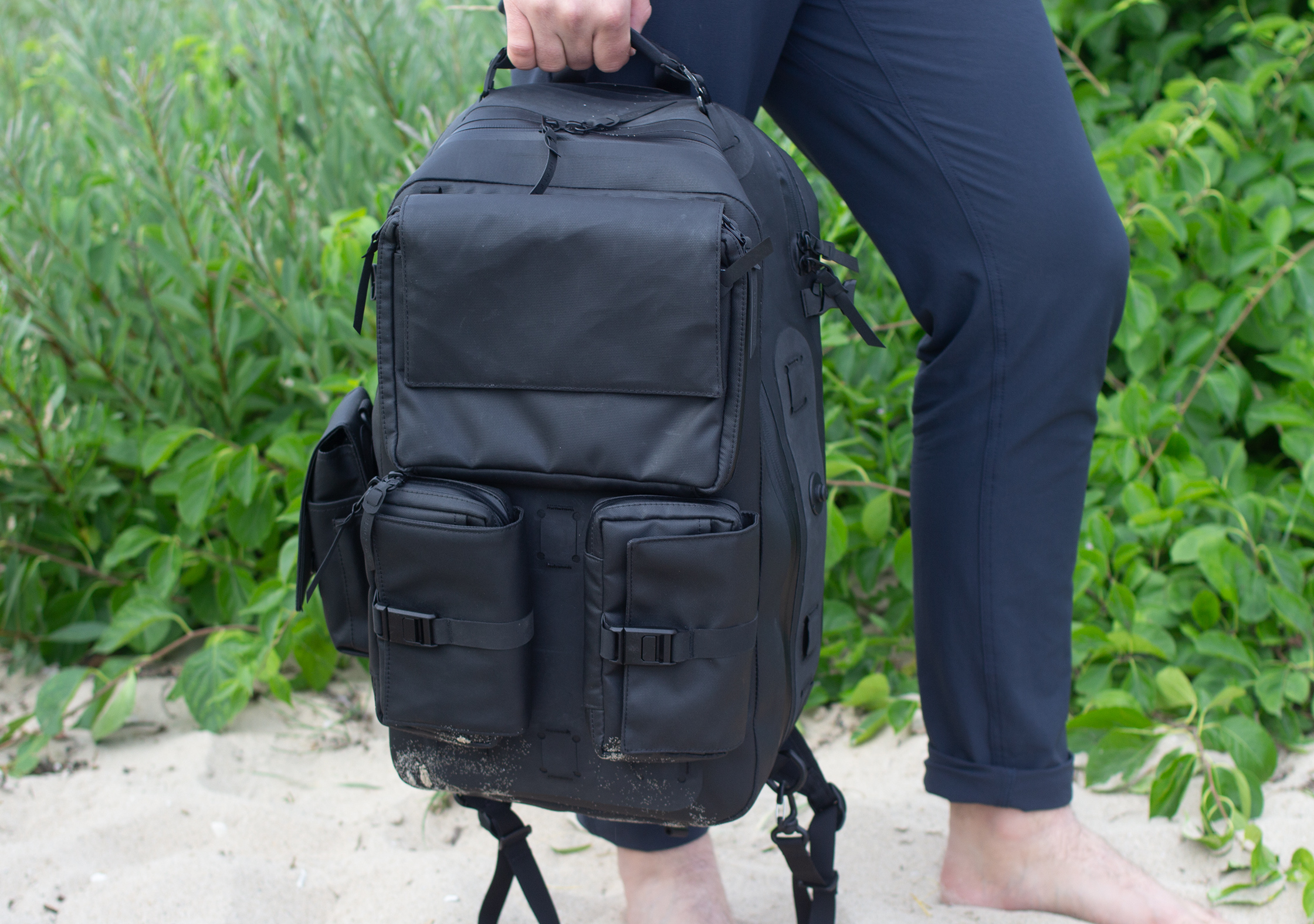 And now we're going to take a look at the main event of this pack, and the part that makes it so innovative and unique. The modularity. There are so many accessories and pouches you can put on this thing, it's pretty nuts. You can truly customize it to your little heart's desire, which we think is pretty sweet.
All the accessories attach in a similar fashion. There's a magnet attachment point—made by Fidlock—which stays attached very well but is still easy to remove when you need to do so. The key is that you just need to pull it in the right direction. It works by using a plastic prong, which slides into the laser cut webbing and then clips in for a more permanent attachment. We really like how this system works, especially because it is easy to attach/remove while still being permanent enough to stay on your backpack without worrying about it every two seconds, checking to make sure it hasn't fallen off. And just to note, we have found that the smaller accessories and smaller pouches are quite a bit easier to attach than the larger accessories.
As far as the attachment points, there is one at the top of the bag that you can use to attach a handle. (You can also attach additional handles to the sides of the bag if that's your style.) Pretty straightforward, the handle just attaches via the aluminum boulder hook.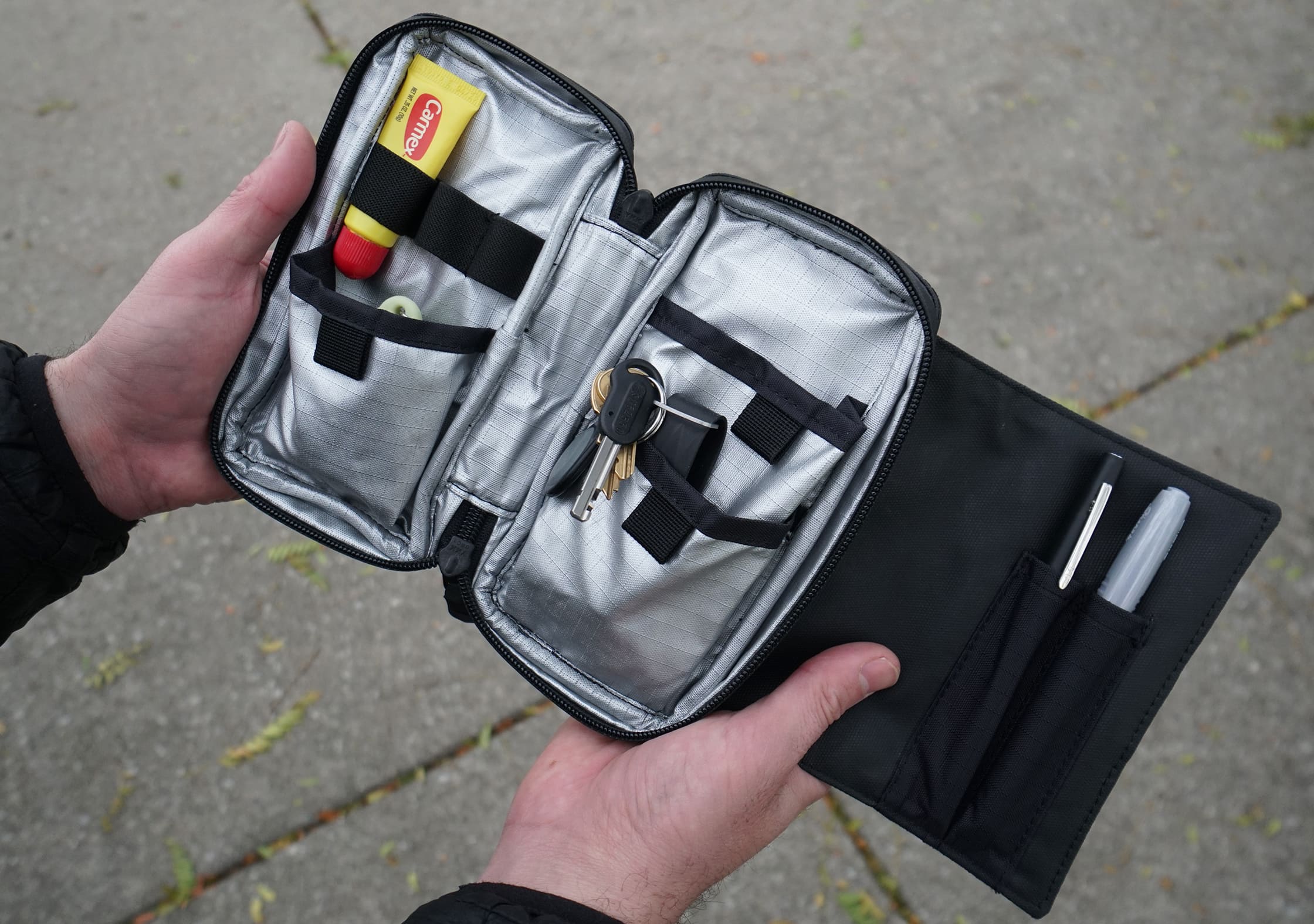 Moving on to the small admin pouch on the exterior, there are two D-rings on the back of this thing that you can use to attach a strap and carry it independently. The pouch opens with a (no surprise) magnetic Fidlock buckle, and there are spaces for two pens, pencils or styluses. On the other side of the flap opening, there's a small pocket on the exterior, and the entire pocket opens up clamshell style to showcase additional organization options.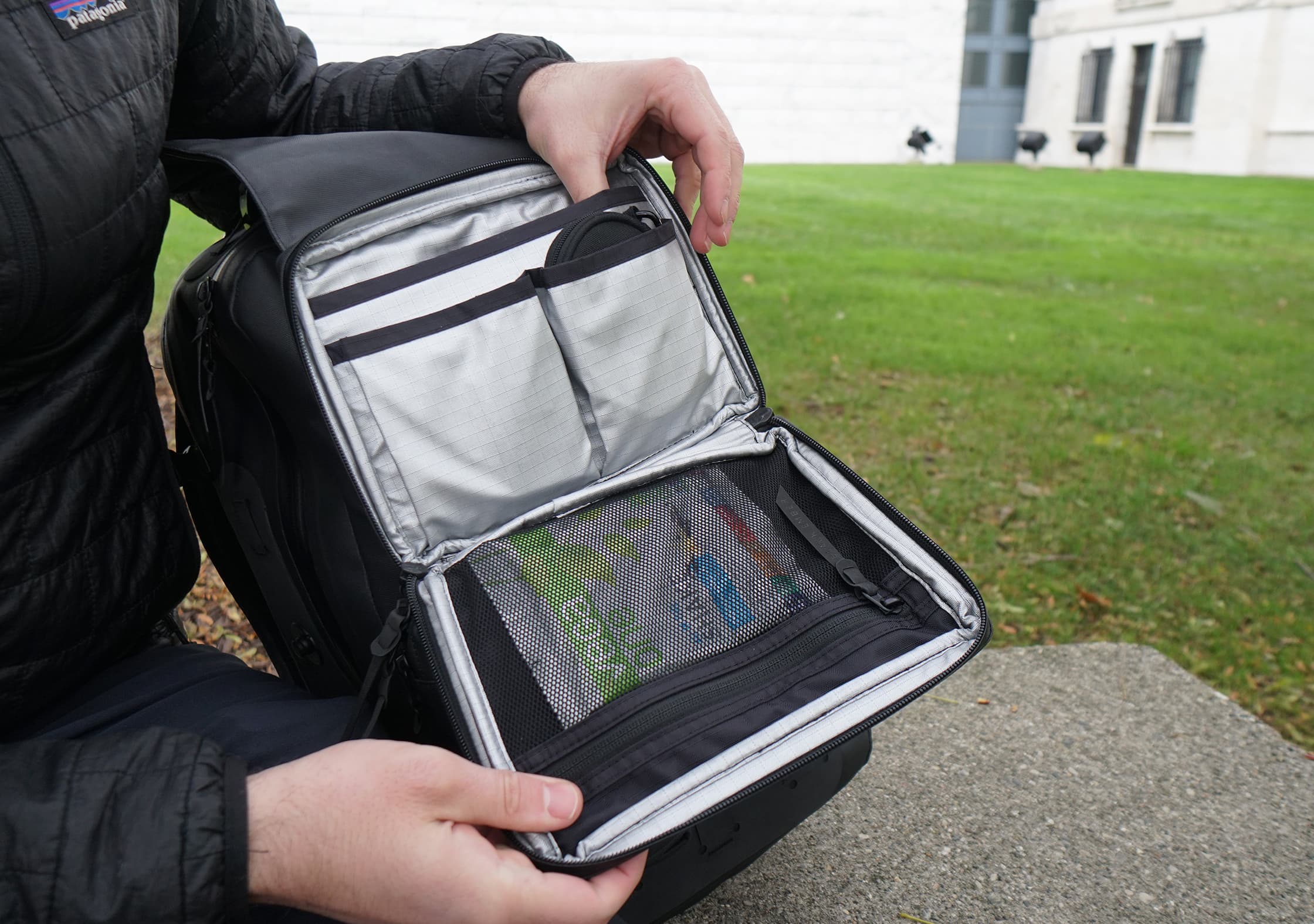 Next up is the large admin pouch. This features a magnetic flap closure, but no Fidlock buckle (sad face). Just like the smaller one, there are D-rings that allow you to carry this independently. Similar to the small pocket, this one has two external pockets and a clamshell main pocket with a bunch of organization.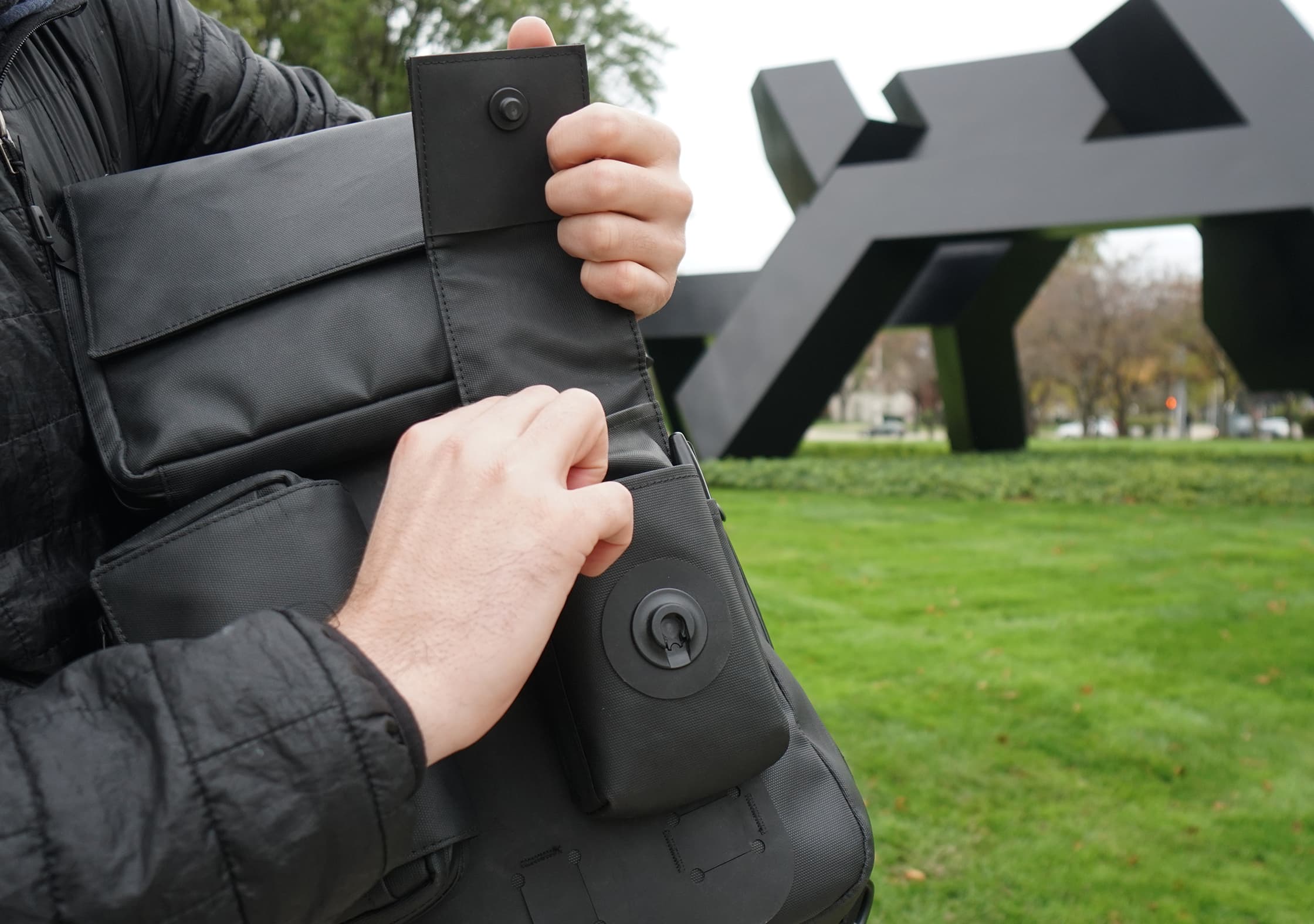 There's also the M&M pouch, which is to be used exclusively for storing M&M's and literally nothing else. (Jokes aside, it is pretty much the perfect size to fit a few bags of M&M's.) It has a singular D-ring at the top so you can use a shoulder strap with it, and there are two small pockets on the side for pens/pencils. It opens up with another—you guessed it—magnet Fidlock, which you can open by pulling down. And there are two divider pockets in the inside for a bit of organization. It's a pouch that you could, in theory, use for something other than M&M's—but we know what we're going to be keeping in here.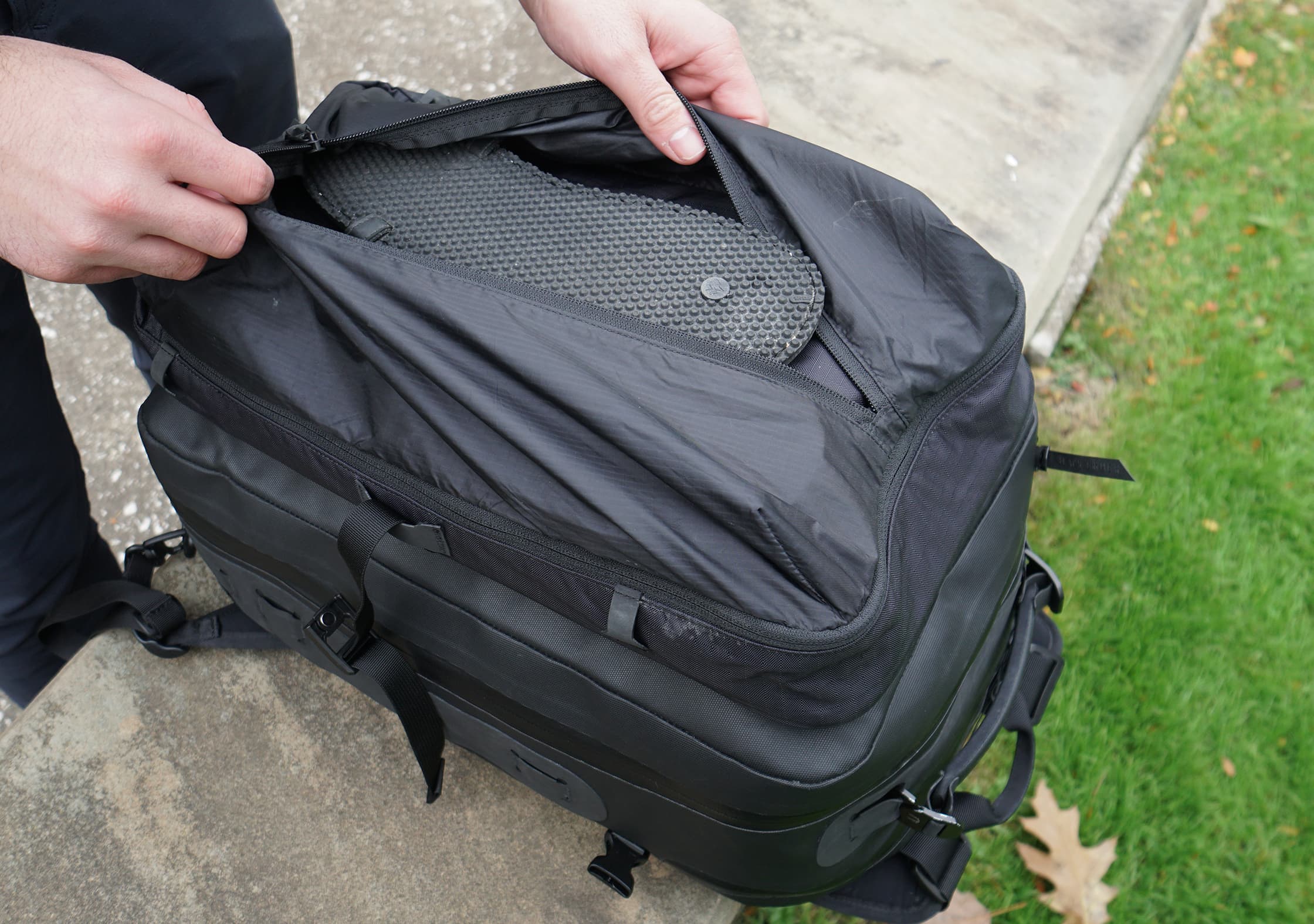 You do have the option to attach a sport pack that covers the entirety of the exterior of the pack, which really functions almost as another backpack on top of your backpack. It's made with a swishy, nylon ripstop type material, and it has a split pocket on the front which you can also open up clamshell-style. This pocket would be great for separating things that you don't want in the main capacity of your bag—like dirty clothes or shoes—or just giving yourself some extra capacity.
PSA: Depending on how much you've got in there, the sport pocket may compromise your carry-on-ability.
So, that is all the stuff that we've tested. Additionally, you can find some other accessories on Black Ember's website—including a DSLR mod for your camera gear, shoulder straps for the admin pouches, utility straps, and an SR strap that features cam locks to fasten down anything that's heavier.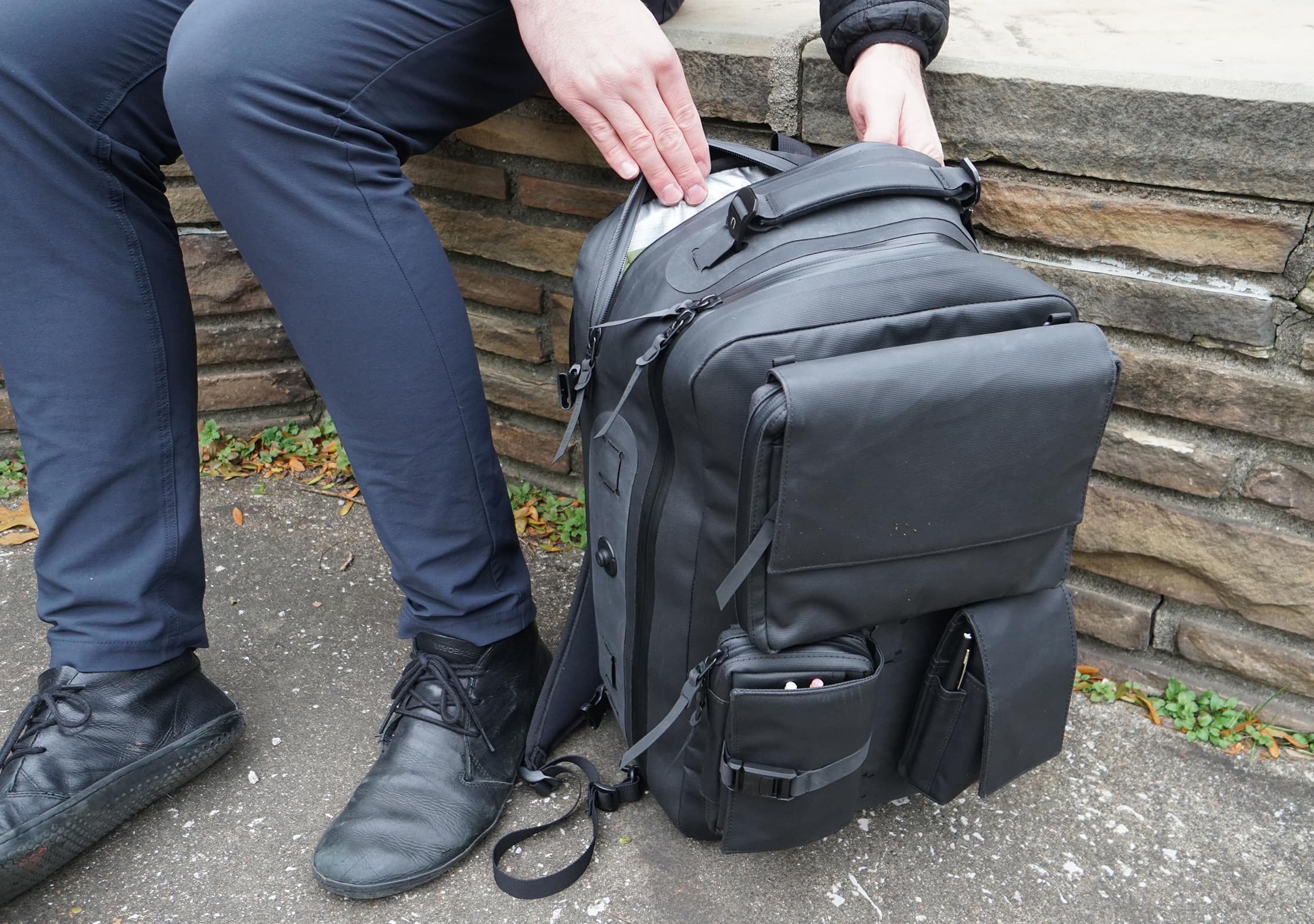 So that just about sums up the modular components for this pack. If you're the type of person who is going to nerd out on this stuff and you enjoy configuring a pack to your exact specifications, you're going to love this. If you want something that works perfectly right out of the box…you might not be super pleased with this. From a configuration standpoint, there are so many options with this thing and it's one of the most highly customizable packs we've tested to date.
Inside the Pack
Moving on to the interior of the pack, there are two pockets—and we'll start with the one on the back. This is a lay-flat pocket, which will be good for maps, flatter items, or things that you want to keep secure while you're traveling (because no one will be able to get access to it while you've got the pack on. There are two aluminum stays here that help with that curved frame sheet and shape—so this will also help keep your flatter items nice and tidy.
One interesting side note: if you look at the details near the zippers around this pack you won't see a lot of stitching, and that is because a lot of the attachment points or seams are bonded with heat and not traditional stitching. This creates a strong seal and helps provide additional water resistance. It's also pretty stinkin' cool.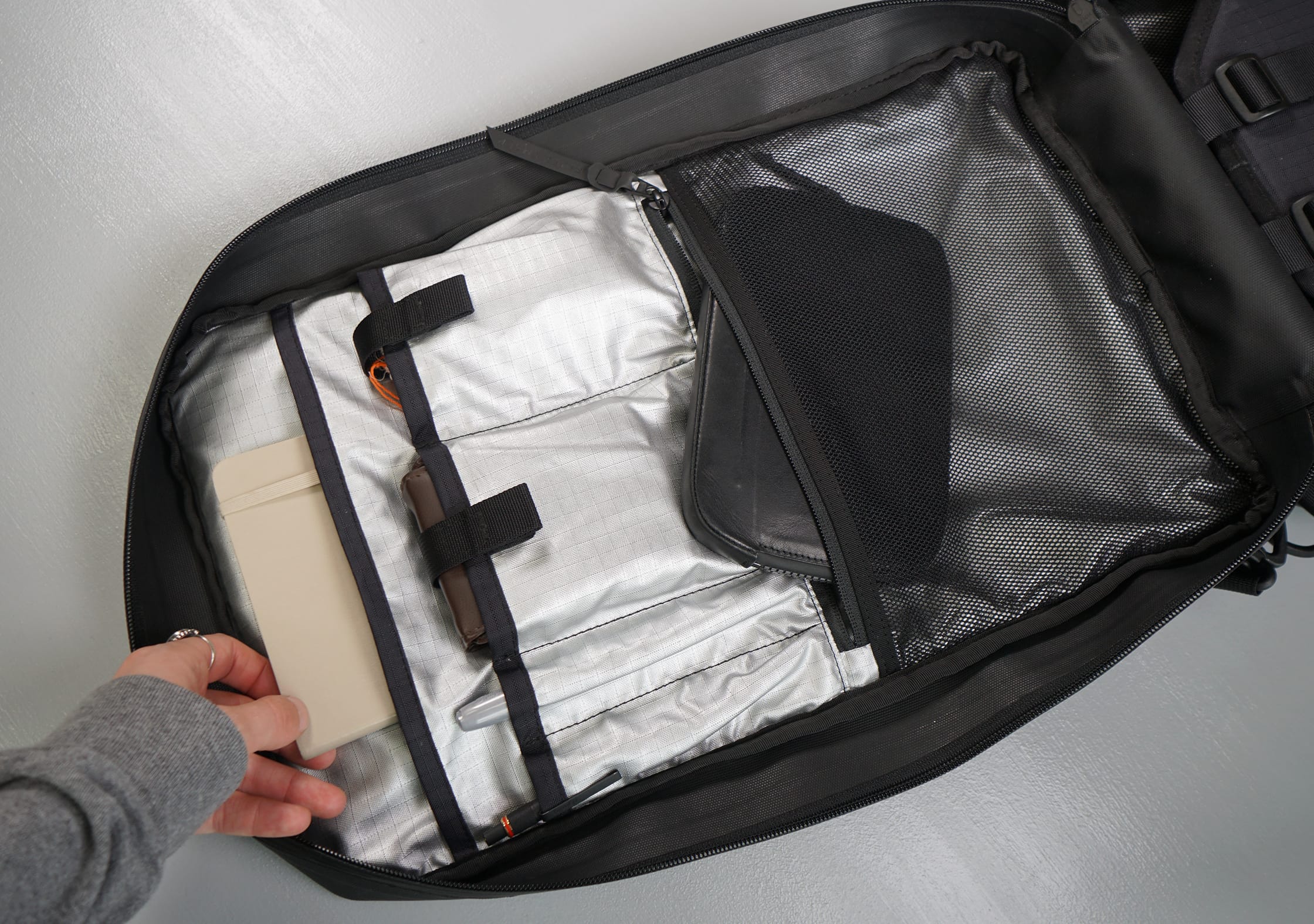 The main compartment opens up clamshell-style, and we'll start by going over the top flap. There is a sleeve in that flap that goes down the entirety of the front of the pack, plus some additional pockets that are equidistant in width. We love the Velcro straps on these pockets as they keep everything nicely in place and allow you to put smaller items in. On the bottom, there is a zippered mesh pocket. There's not a ton of depth to this pocket, so it's good for smaller, more flexible items.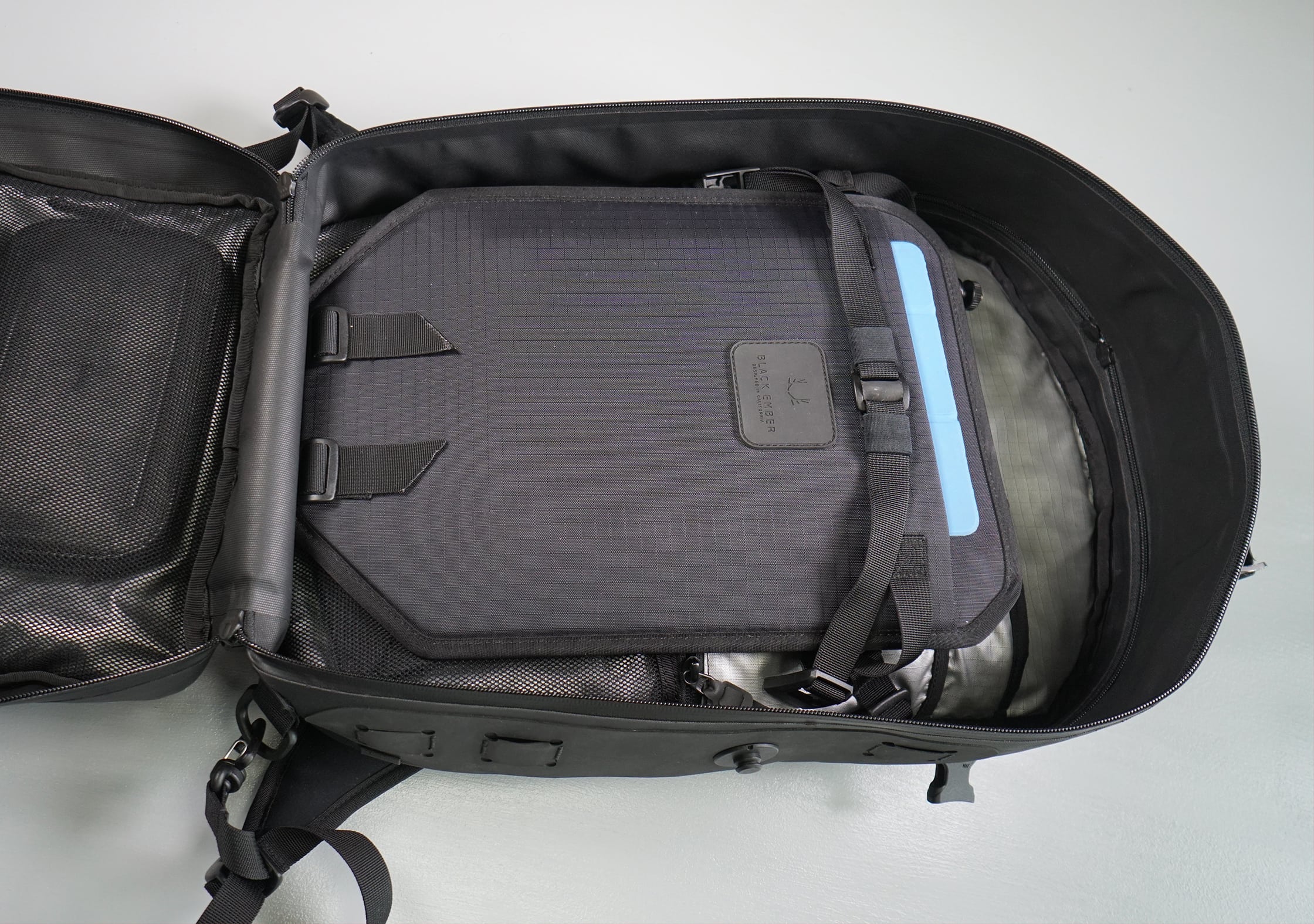 And on the other side is the main compartment of the pack. You'll notice right away that there's a stiff frame divider sandwiched right in the middle of the main clamshell. You can easily remove it, but ultimately this is here to help you keep things organized in the main compartment and prevent stuff from moving around too much as you're using the bag. We think it's supposed to be flat, however, ours has curved a little bit over time through the usage of the pack. There is also a pocket on the front that's good for holding a tablet.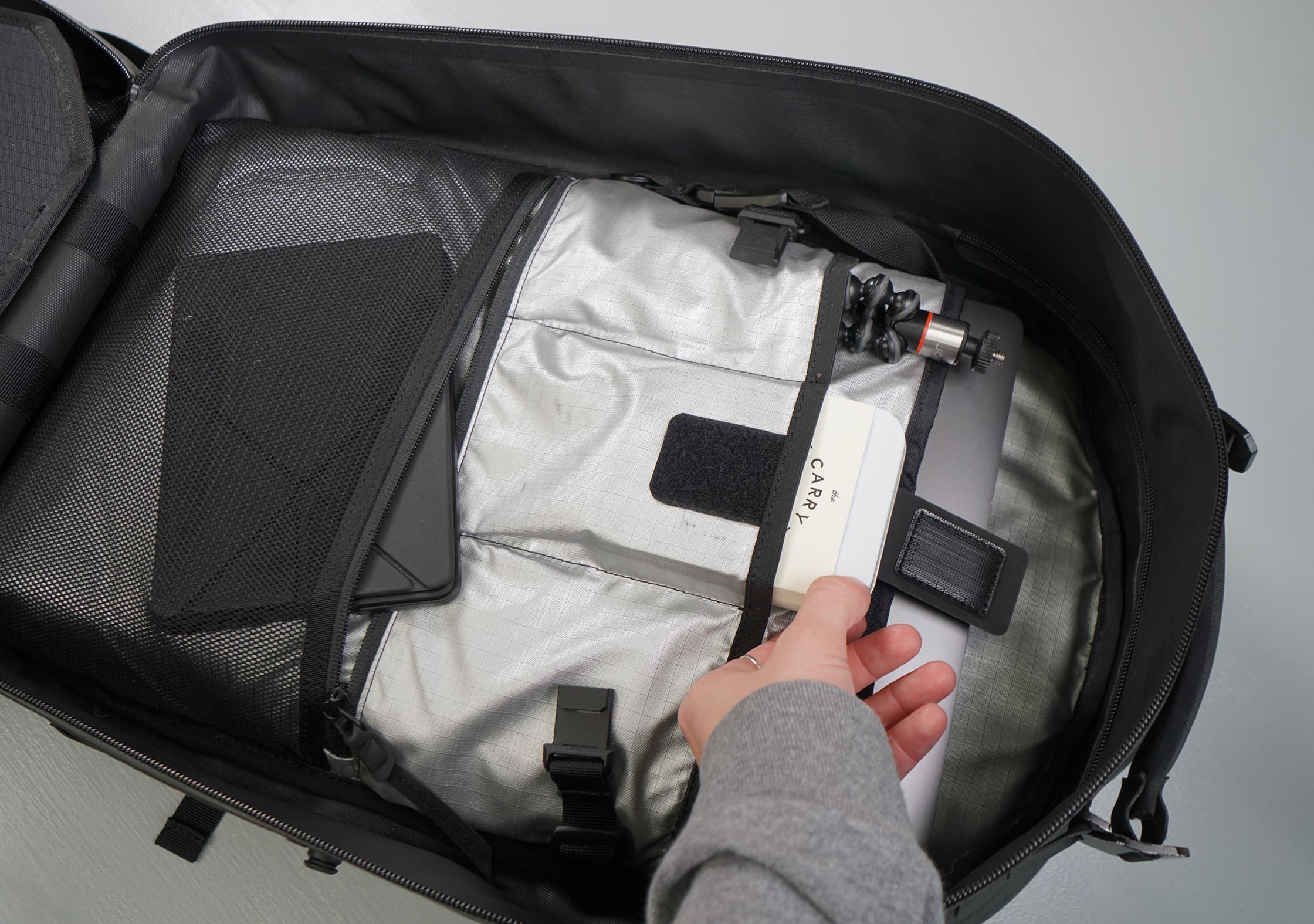 When you unclip this divider, you get access to the back organizers. Back here, there is a padded compartment for a laptop which is also accessible via a horseshoe zipper towards the back of the pack. There are three equally-sized pockets on the front and one velcro strap. And just a note that, like the pockets on the other flap, these things are not stretchy, which is a bit of a bummer depending on what you want to put inside. There's a keychain ring at the top, and lastly, a similar zippered mesh divider pocket that doesn't have a ton of depth, but is good for additional organization.
So there is plenty of organization going on in this pack—both on the inside and outside. Normally, we recommend using packing cubes or pouches to further organize your gear inside your bag. However, with this one, we're not really going to recommend that because there are so many nooks and crannies for you to store whatever gear you have.
Can you use packing cubes with this bag? Sure. Do you need to? Not really.
Durability & Testing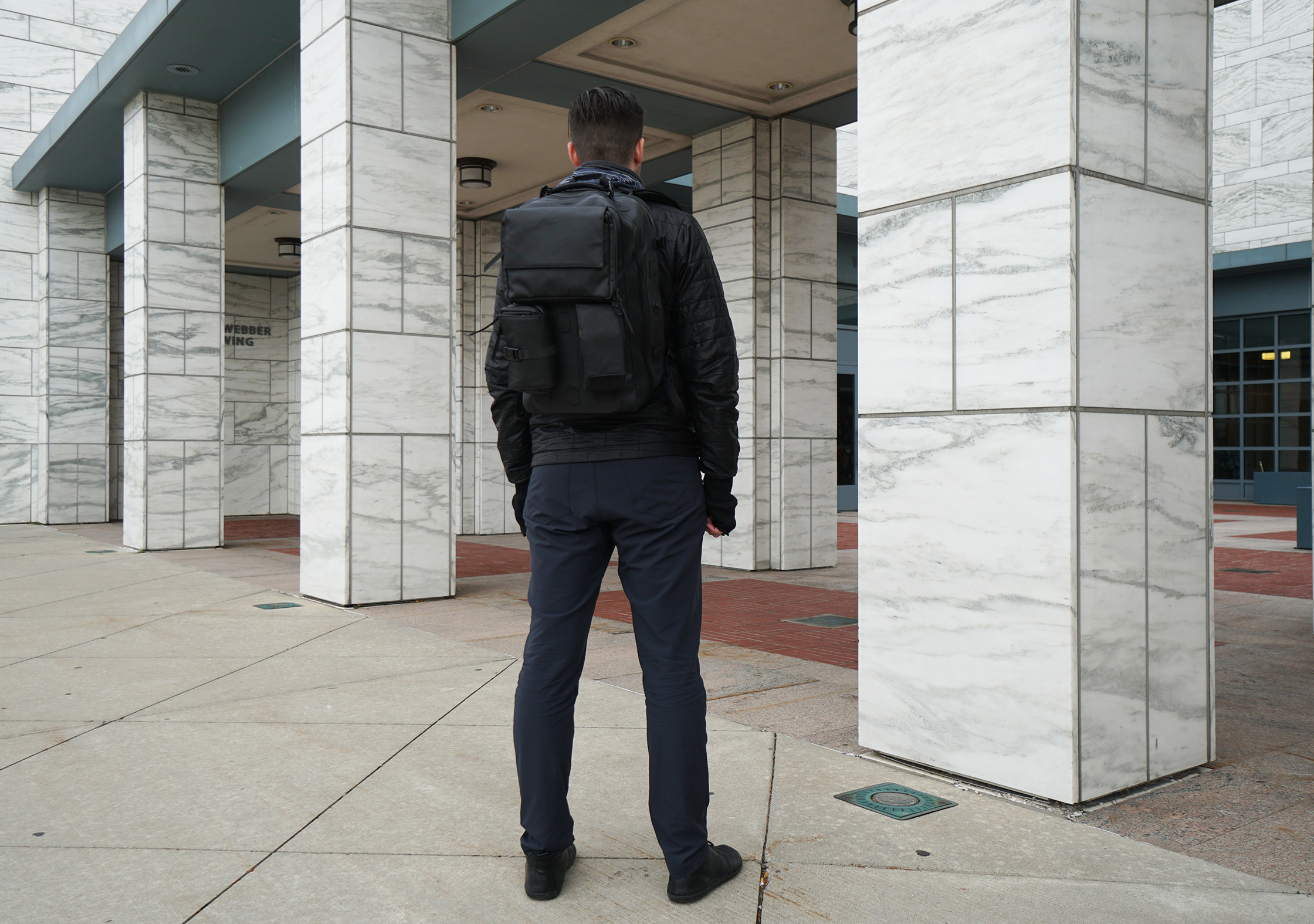 At the time of this review, we've been testing the Ember Black Citadel Modular pack for about a month of real-world usage. So far, it's held up really well—there aren't many exterior scuffs or dings, and it's been highly resistant to weather and other moisture.
In actual usage, we feel like this bag has been a bit over-engineered and it's also very heavy. We did also have some problems with buckles and straps falling off—mainly, we almost lost the sternum strap fell off once (luckily, it was attached to the other side via the Magnetic Fidlock) and we did actually lose one of the ITW buckles from the compression straps. You're probably better off removing those when the compression straps are not in use.
That being said, we love the thinking that went on here, and we have to give credit to Black Ember who is coming up with some unique and innovative ideas in the backpack world. They're definitely pushing the industry forward, which we really appreciate.
Usage Timeline
Initial Usage
Condition: Excellent
Love the innovative thinking and clean look of this pack. Works well, although the back panel might be a bit too curved.
1 Month of Use
Condition: Excellent
This pack has seen some solid testing and handled everything we've thrown at it. We are noticing the heavy weight though.
Access the Pro Community Discussion
Get your questions about the Black Ember Citadel Modular Backpack answered from our team and the Pro Community right here on the page. Plus, join discussions with other members about gear, guides, and more.
Other Bags & Luggage Reviews