Bellroy Travel Folio Review
Sleek, durable, and full of solid organization, the Bellroy Travel Folio is a great spot to keep all your documents, cash, and cards tidy on the road.
Our Verdict
Unlock the Pro Summary
Save time. Get access to brief summaries of our reviews so you can browse and make decisions more efficiently.
Pros
Soft, supple leather.
Great internal organization (including a SIM card pocket).
Comes with a handy mini-pen.
Cons
Leather can be more sensitive to the elements than synthetics.
Most boarding documents need to be folded to fit.
Two passports won't fit next to one another.
Recent Pack Hacker Video
Technical Details
Weight (oz)

5.95 oz (168.7 g)

Dimensions

6.8 in x 4.5 in x 0.8 in (17.3 x 11.4 x 2 cm)

Notable Materials

Leather, OOK Zippers, Polyester

Manufacturing Country

India

Warranty Information
Full Review
If you're looking for a place to store all of your travel documents—boarding passes, passport(s), cash, cards, SIM cards, visas, whatever—then the Bellroy Travel Folio should be on your radar.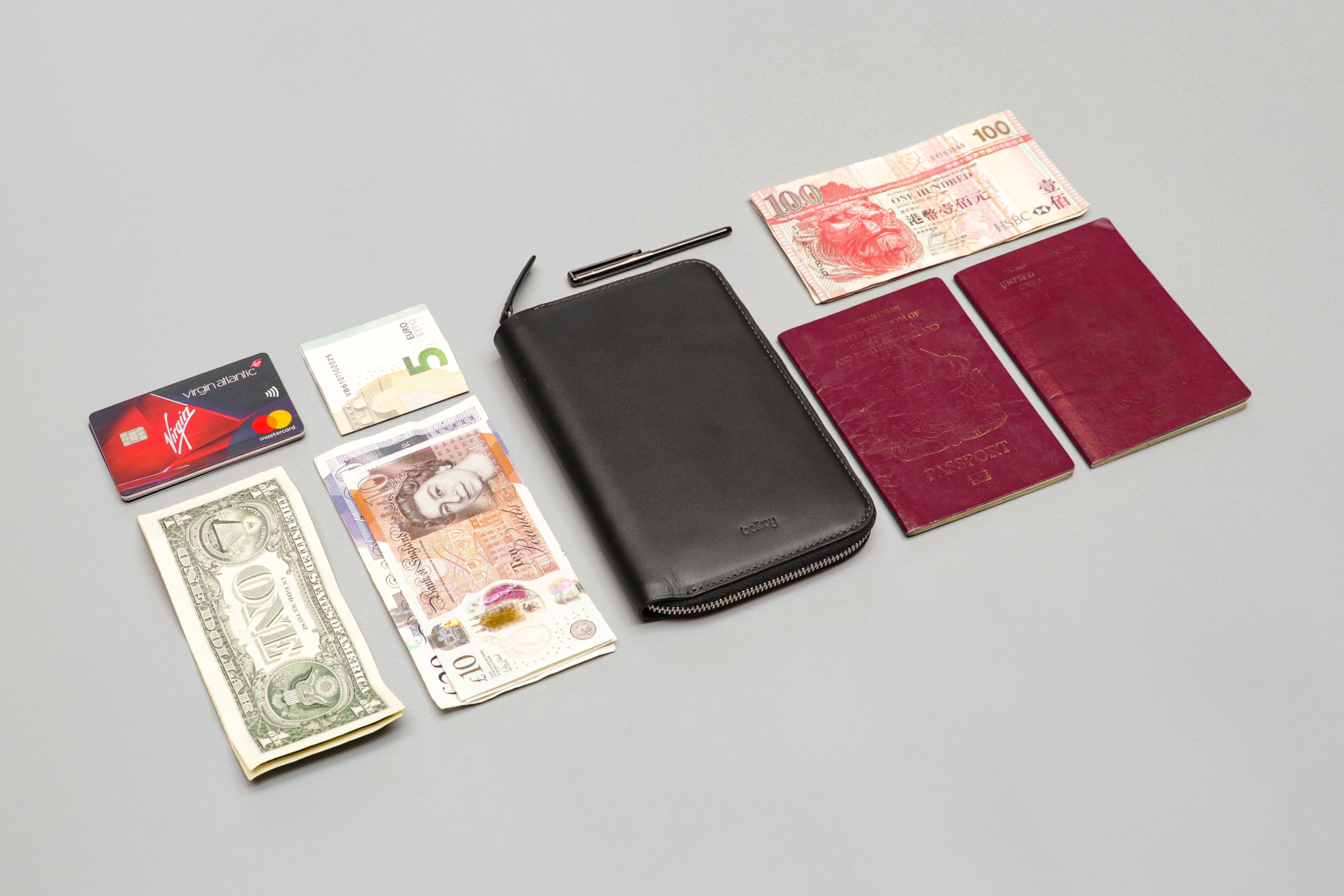 This nifty travel wallet is full of features. And—unlike some of its competition on the market—these features are handy when you need them and out of your way when you don't. What kind of features, you ask? Read on and find out.
Materials & Aesthetic
We're digging the simple, sophisticated look of the Bellroy Travel Folio. At the time of this review, it's available in four colorways—Navy, Black, Caramel, and Tangelo. We've been testing the Black, which we think is particularly sleek.
But the Black can blend in with its surroundings on dark surfaces or in your backpack. So if you're the type of person who may accidentally leave this folio on the table in an airport cafe (you know who you are) or panic and empty your entire backpack looking for it because you're not 100% you grabbed it that morning (you also know who you are) you may want to opt for a brighter color.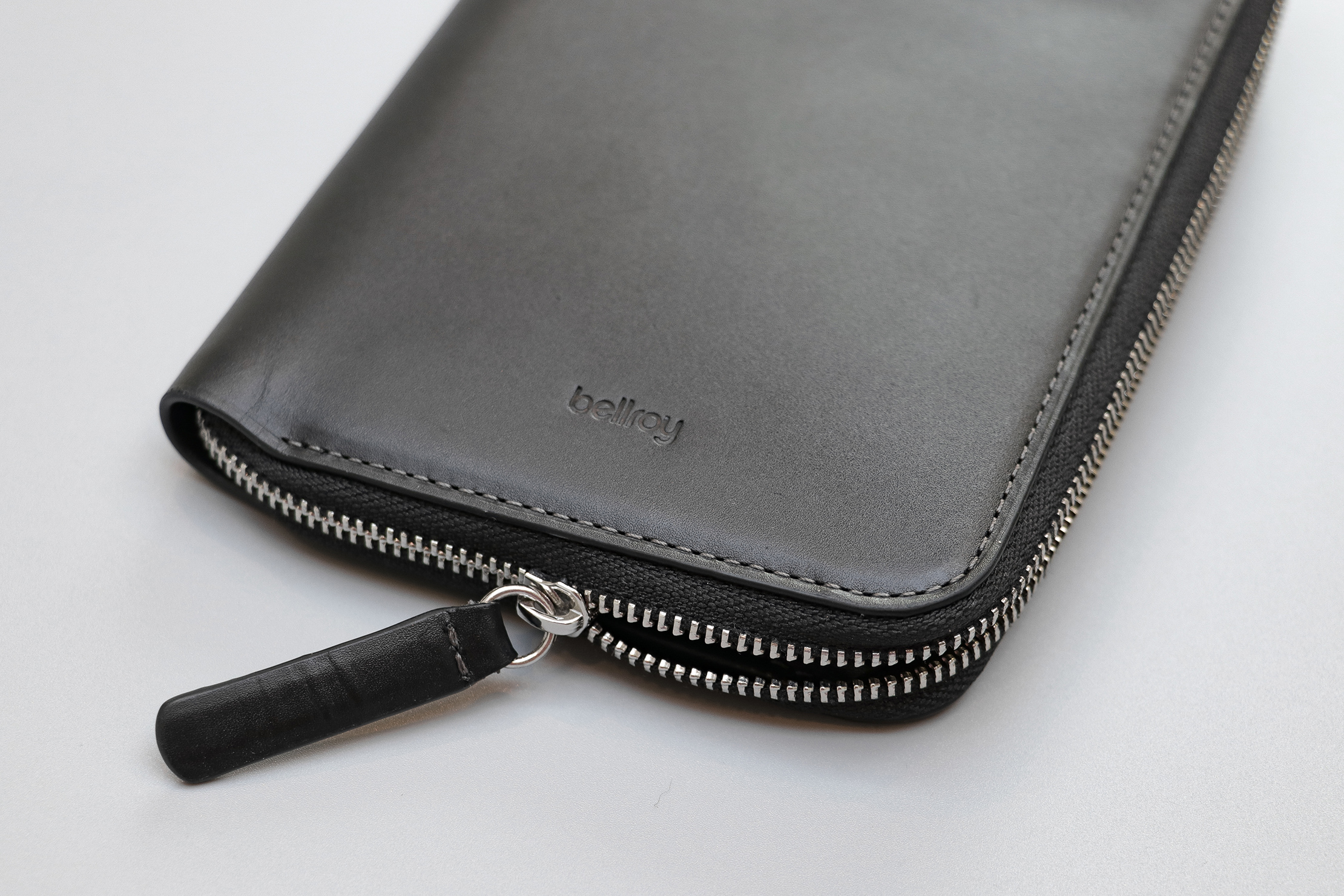 We love all the small details on this folio. The beautiful stitching along the perimeter, the Bellroy name stamped into the exterior, and the adorable owl logo on the interior—as well as the sleek silver zipper—all enforce its overall classy vibe.
Plus, this folio is made of premium leather. Bellroy's origin story involves a quest for creating high-end leather products, and the team has only gotten better at it as the company has grown. Bellroy uses leather from gold-rated Leather Working Group tanneries, which ensures the tanning process is done sustainably (as much as possible at present, anyway).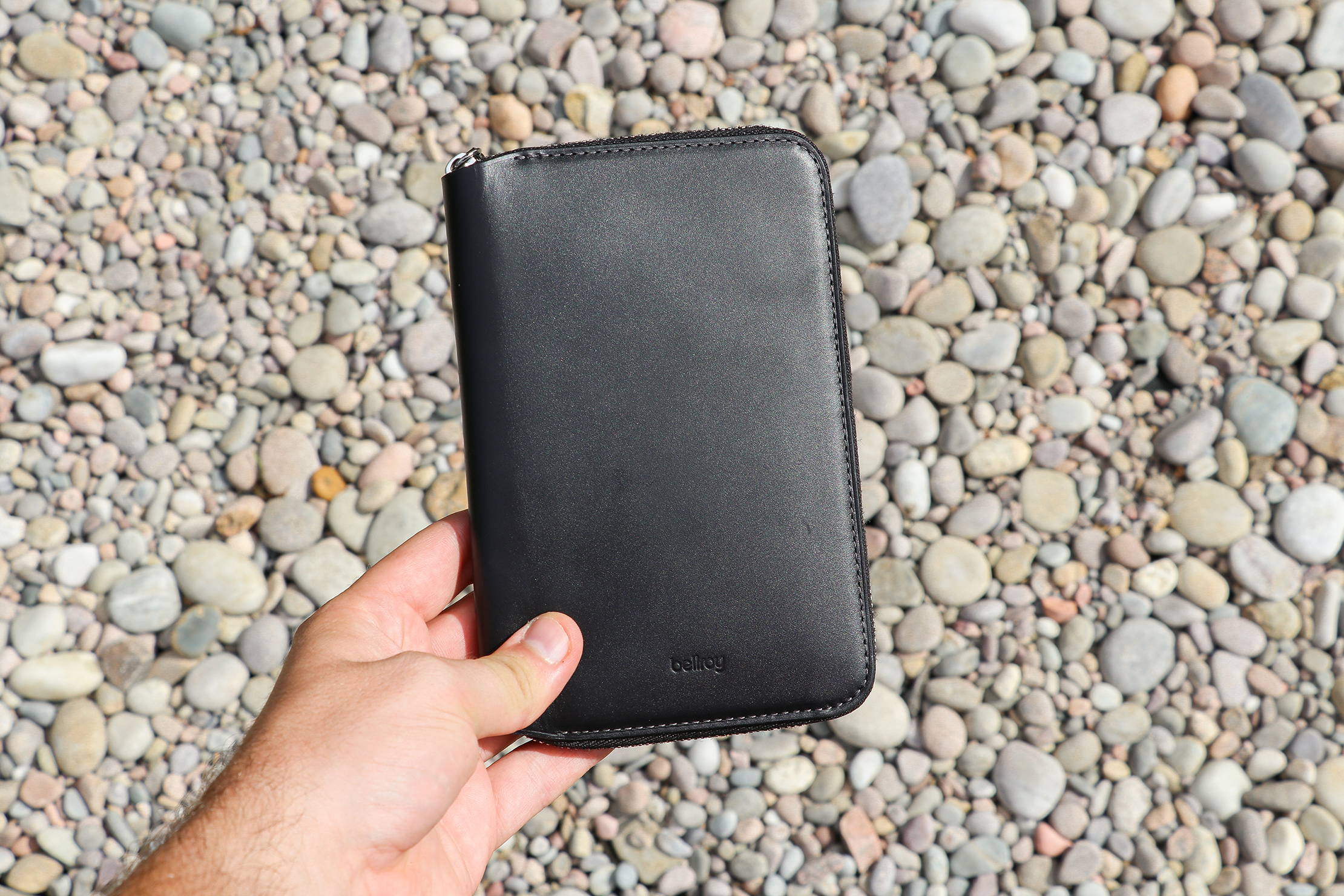 This leather is soft and supple. It's more sensitive to the elements than synthetic materials, but we like this sensitivity. It usually wears in such a way that's not only beautiful, but unique. Of course, you'll still want to take care of it so you don't end up with a water-damaged, scratched-up folio that's unique in how it's totally ruined.
Inside the Folio
While we like the sleek exterior of the Bellroy Travel Folio, we're really loving the interior—where all those aforementioned features come in to play.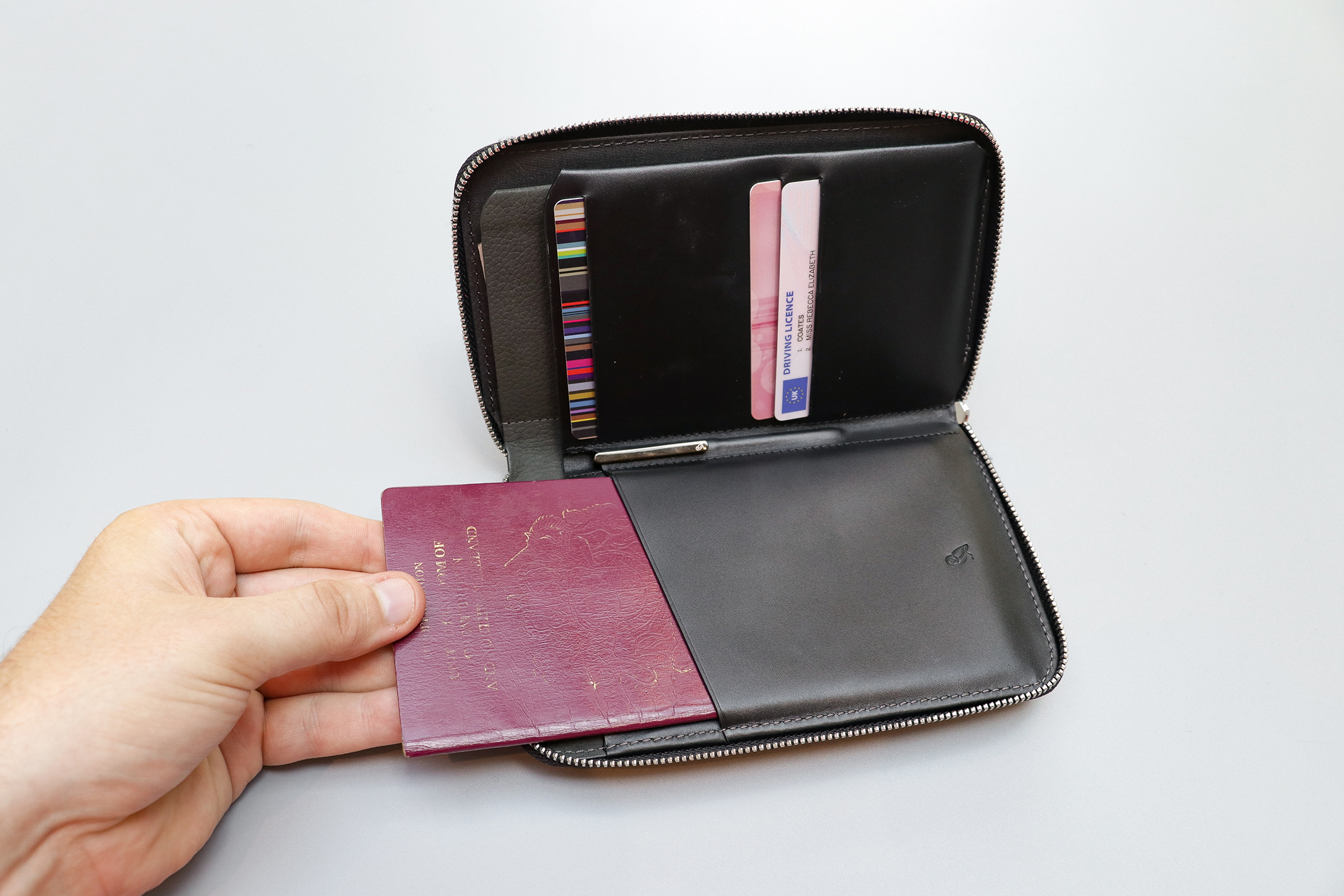 First up, we have the left side of the folio. This is where you can store your specifically-for-travel documents, including your passport, visas, and boarding documents. The front pocket is for your passport. It works really well, especially if you're a solo traveler. If you're traveling with a friend or partner, however, you can't successfully put two passports here—it'll be way too tight. And, unlike what's depicted in Bellroy's marketing materials, you can't keep a second passport in the sleeve behind it either. Again, it'll be too tight and cumbersome to access.
This is obviously not a deal-breaker because this folio isn't advertised as a great tool for traveling couples, but it would be nice to have a spot to keep two passports together. This folio does fit two passports, but we've had to put the second in a different spot (more on this in a second).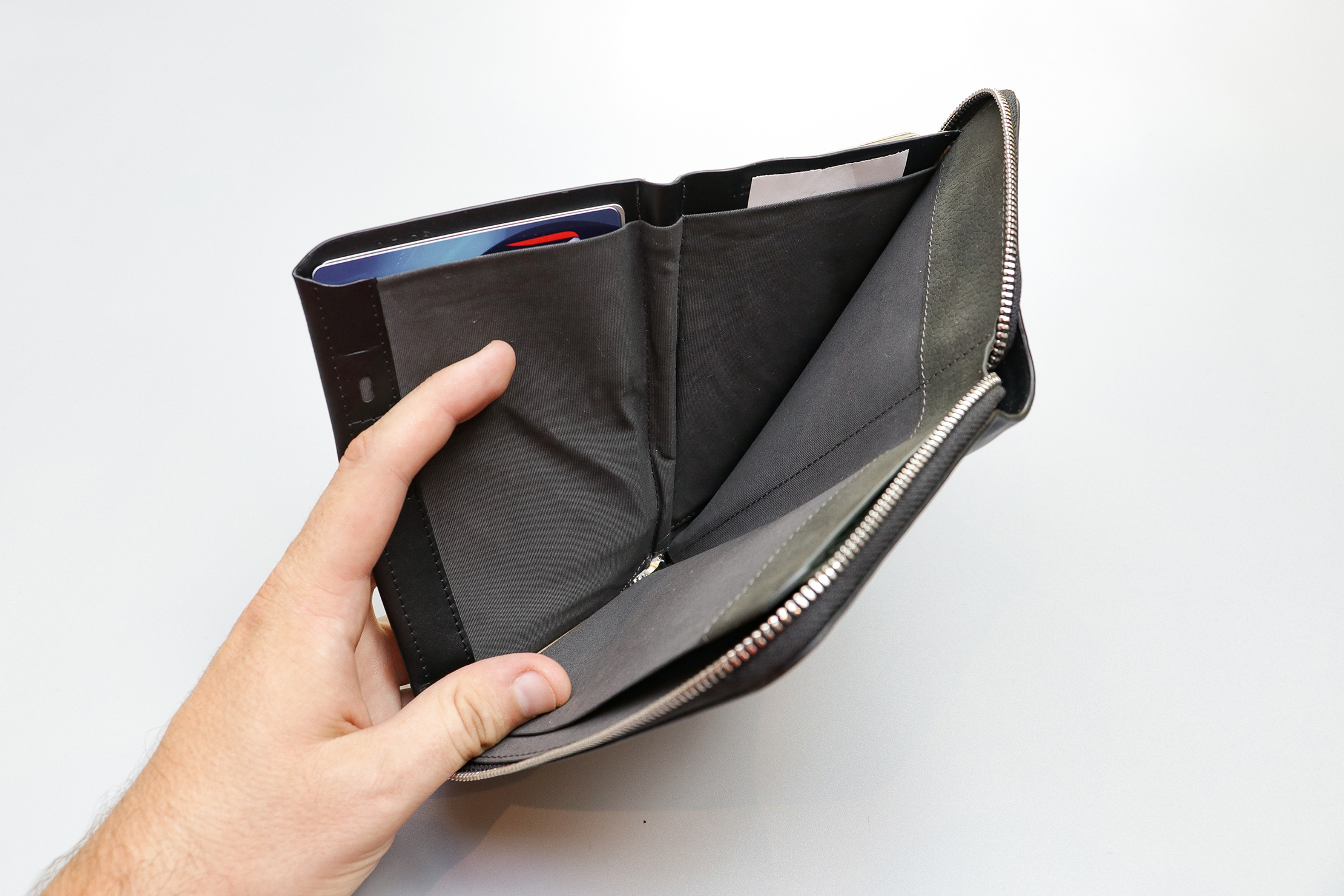 Behind the passport pocket is a sleeve for whatever random assortment of documents you end up collecting on the road—tickets, boarding passes, and visas most commonly. Now, we haven't had much success with fitting boarding passes or tickets here. They're almost always too long unless you fold them a few times (which isn't a huge deal).
For the most part, visas fit really well. But the size of the visa depends on the country, so we can't say it'll always work.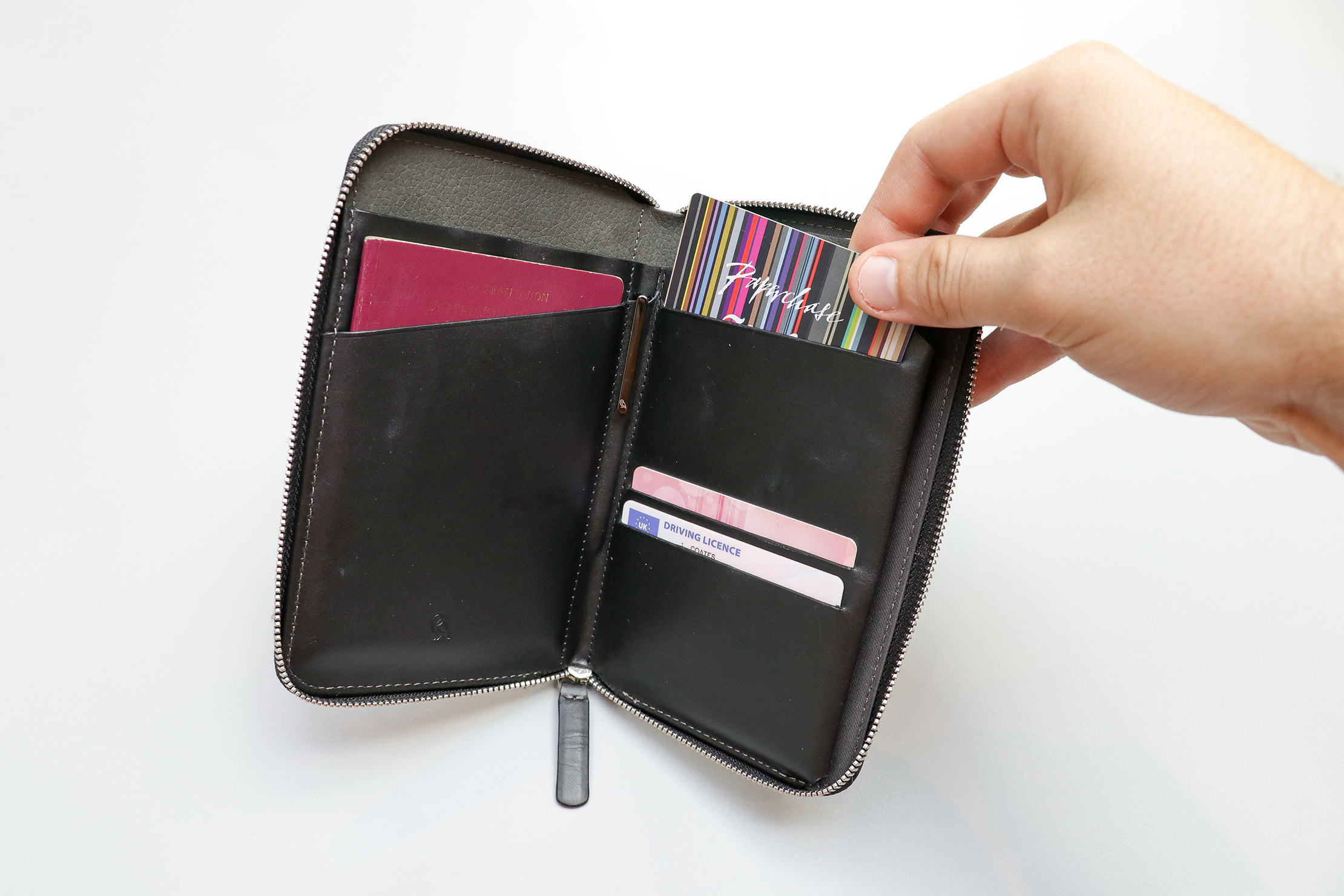 On the right side of the wallet, you can stash all your cards (whether they're of the credit, debit, or business variety). In the front, you have three slots for the cards you access most frequently. Behind that, you have a spare slot for those cards you need only every once and awhile. Bellroy advertises that you can fit up to eight cards total.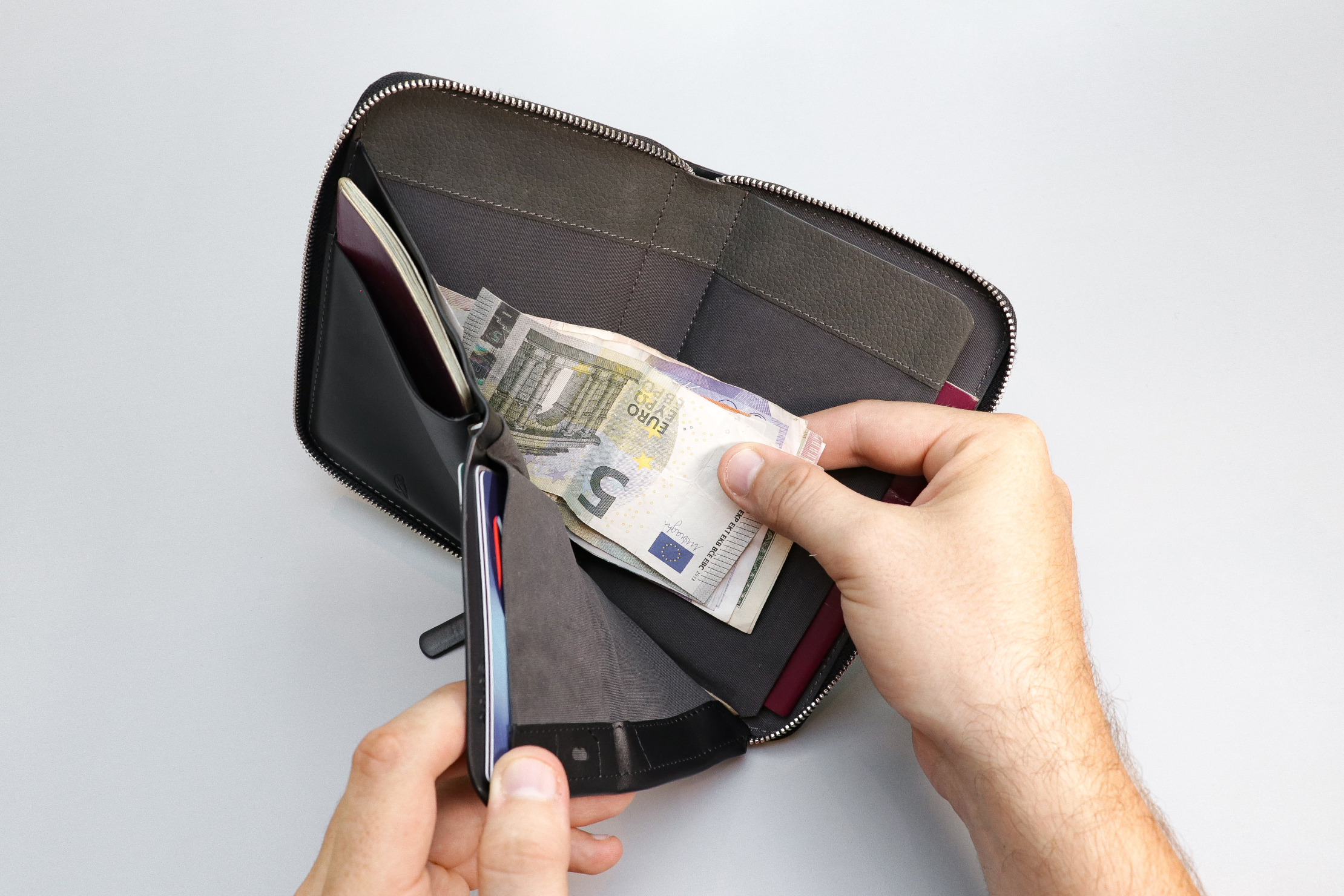 Behind the divider is a large spot for more random documents and any notes (whether they're of the currency, love, or to-do variety). We've actually had more luck folding up cash and sticking it in the spare card slot as it's easier to see and access. But you make this folio work for you.
Once again, boarding documents don't fit here super well. You'll have to fold them. And if you're the type who prints tickets out at home on a regular-sized piece of paper, you'll have to fold it into eighths to make it work. Even folded, it'll usually be caught in the crease when you close up this folio. Of course, this isn't a huge deal as long as you're not creasing it on any barcodes or things of that nature. So, be mindful.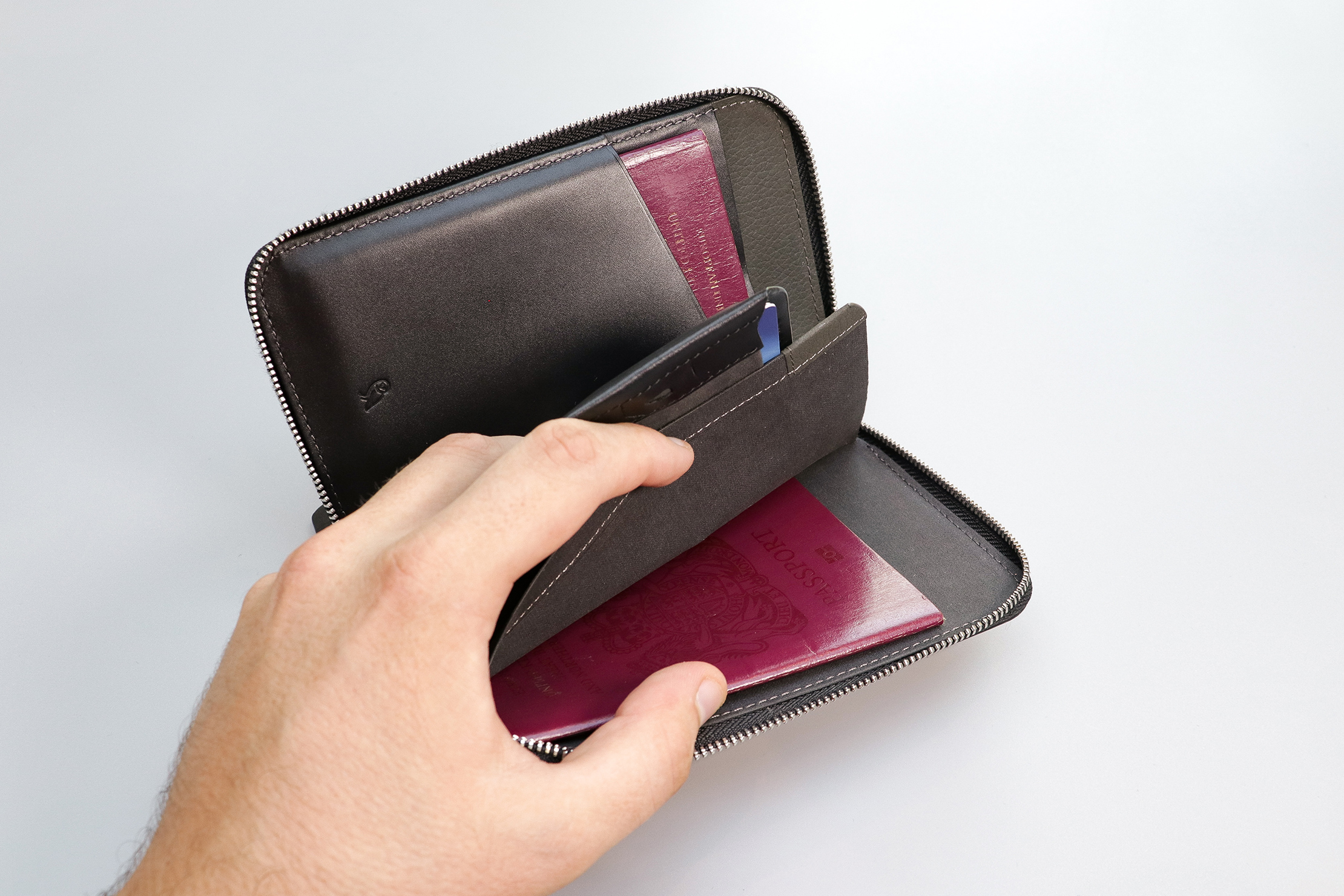 Behind that, there's also another large spot for whatever else you've got. Bellroy suggests cash, although we've used it for that second passport we mentioned earlier.
We really like that you can make this internal organization work for you. The pockets aren't so-perfectly sized that they'll only work for exactly what the designers at Bellroy intended—you do you. We also love that every compartment is easy to see and access.
Now, we're not actually done with the pocket tour just yet.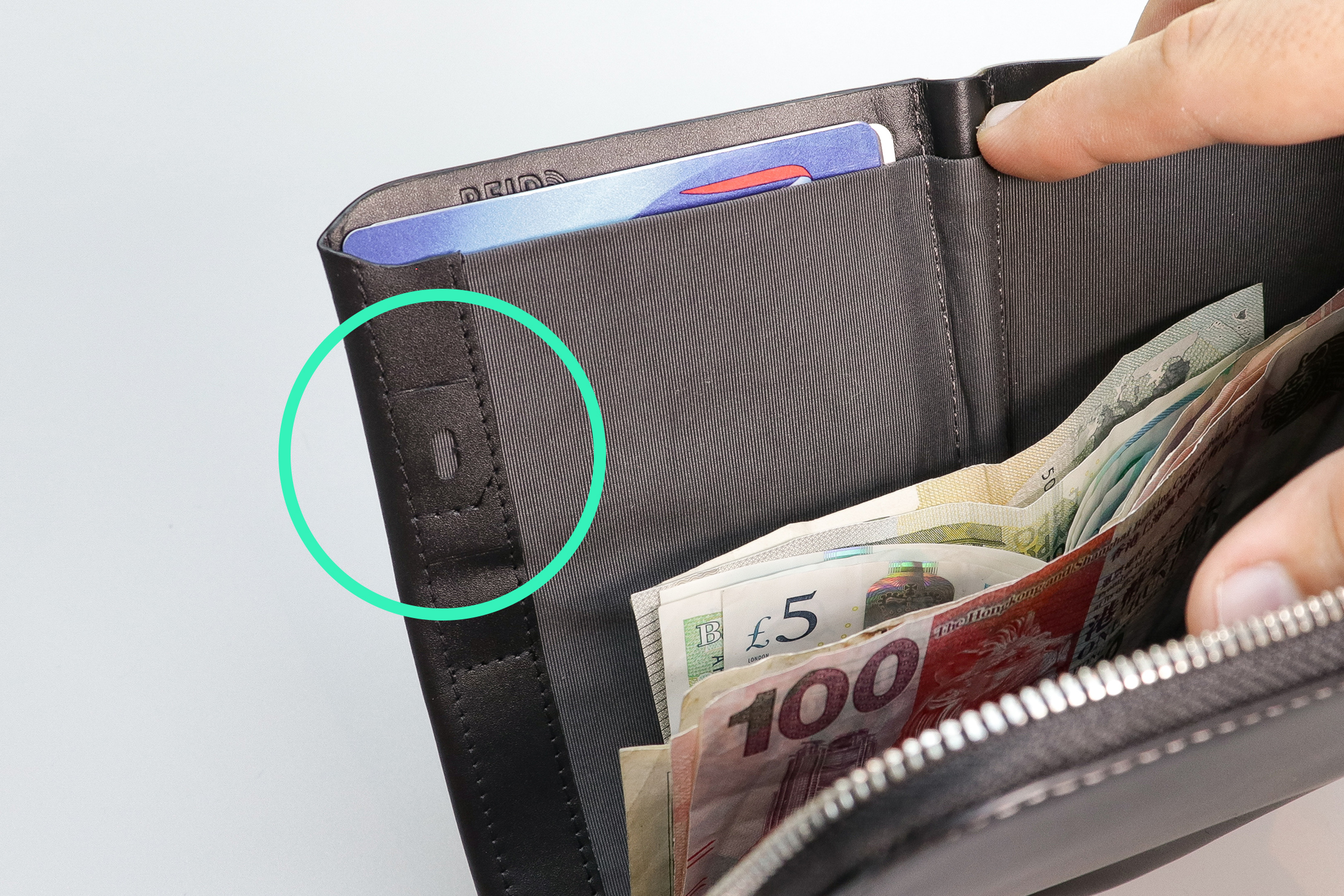 You'll also find a SIM card pocket, which is super handy while traveling. Beneath it is a tiny slit that holds your ejector pin to help make the SIM card transfer process as seamless as possible. They're both discrete—there if you need it, out of the way if you don't.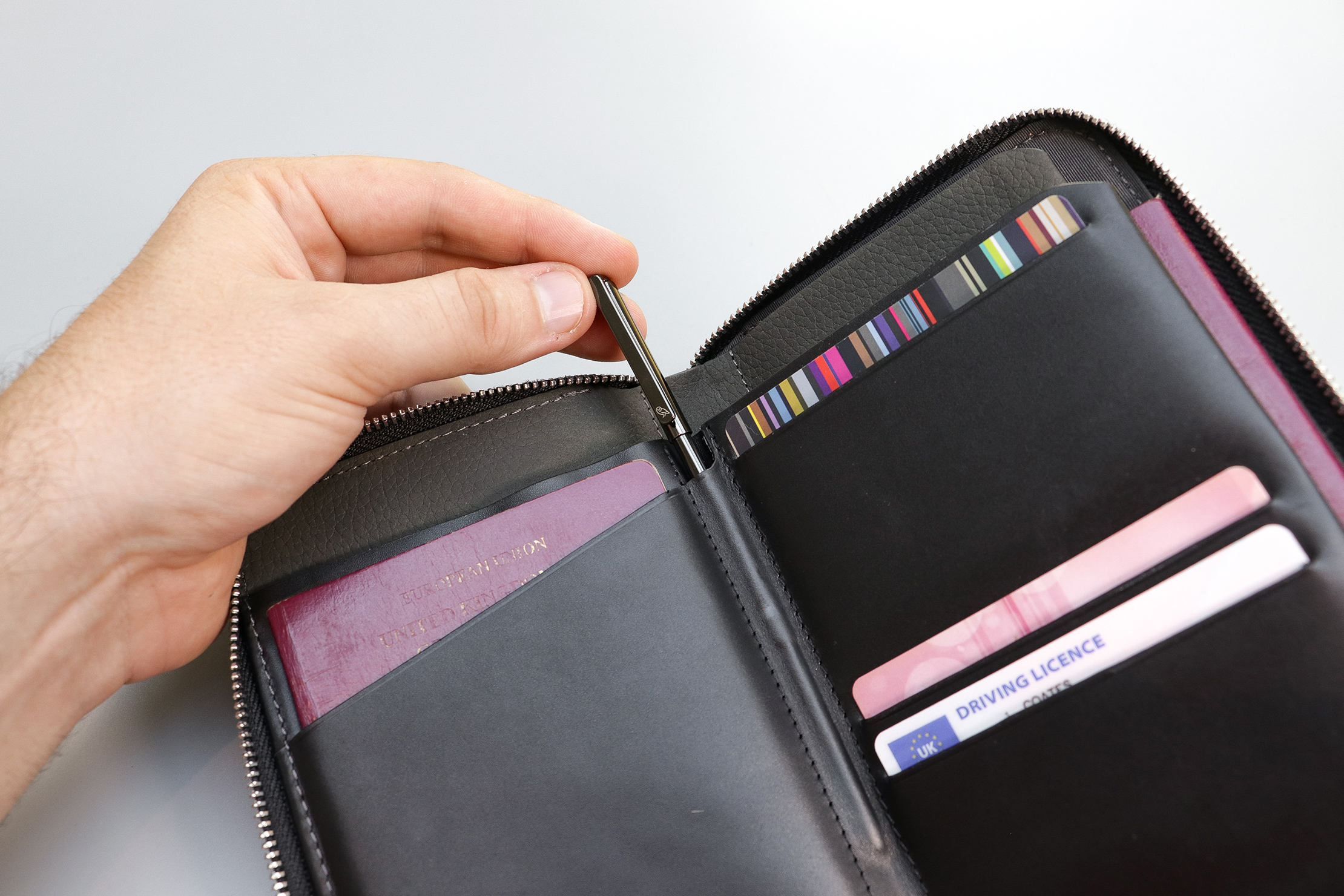 The same thing can be said for the Bellroy mini-pen that comes with this folio. We're huge fans of this pen and love the fact that it's included. We always keep pens on us while traveling, but they're not always the sleekest to carry. This pen—which is tiny—stays tucked away in the small pen slot in the middle of this folio until you reach for it. We actually tend to forget about it until we need it, which happens often when you're zipping around the world.
The not-so-glamorous or Instagramable truth of traveling is that it tends to involve paperwork. A lot of paperwork. So having a pen with you comes in handy.
Of course, this pen is not ideal for novel writing. It has nothing on fancy pens with magical ink, but it's great for scribbling down our answers on customs forms and whatnot. However, if you're a pen snob (no judgment—some members of our team are too!) Bellroy claims you can stick other pens in this slot. Which is true…sort of. You just have to use a pen slim enough to fit.
Either way, we like that there's a pen spot that doesn't add any extra bulk.
Features & Usage
The Bellroy Travel Folio is decently small for a travel wallet (just look at the Aer Travel Wallet or the Fjallraven Passport Pocket) which is both good and bad, although we tend to see it as mostly a positive. It'll fit in most quick-grab backpack pockets, which is always a huge plus. But it won't seamlessly fit boarding documents unless you fold them. We're okay sacrificing the latter for the former, but there are bigger travel folios out there if you'd prefer crease-free documents.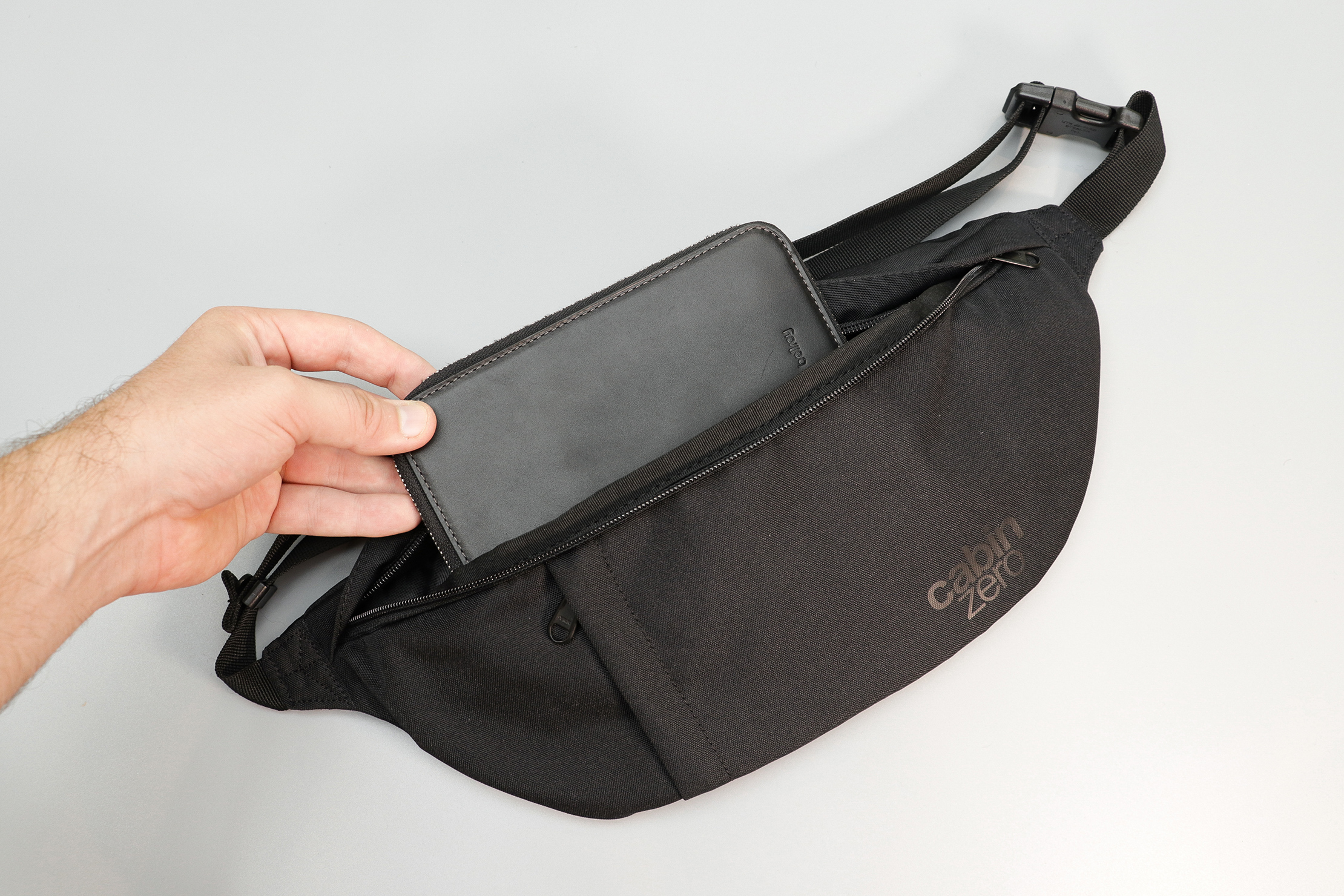 This folio is also RFID-blocking, which is certainly a feature. While there are no hard numbers on how many RFID financial crimes are committed (it can be hard to determine how credit card information is stolen once it's already been stolen), not having to worry about the possibility always provides peace of mind. You also won't have to worry about your passport information or hotel key card information being collected by criminals with an RFID reader.
Durability & Testing
We've been testing the Bellroy Travel Folio for two months now in multiple U.S. states and around the U.K.—and it's been a great travel companion.
The easiest way to have a tough time traveling is to get disorganized. Nobody wants to scramble to find that boarding pass you-just-know-is-in-your-backpack-somewhere—but seriously where is it!?—as the boarding line builds behind you (turns out it was in your back pocket the whole time).
Keeping your documents, cash, cards, and SIM card in one spot is super handy. And the usefulness of having a tiny pen to fill out paperwork as you exit and enter a country, or rent a car, or anything else on the go, can't be understated.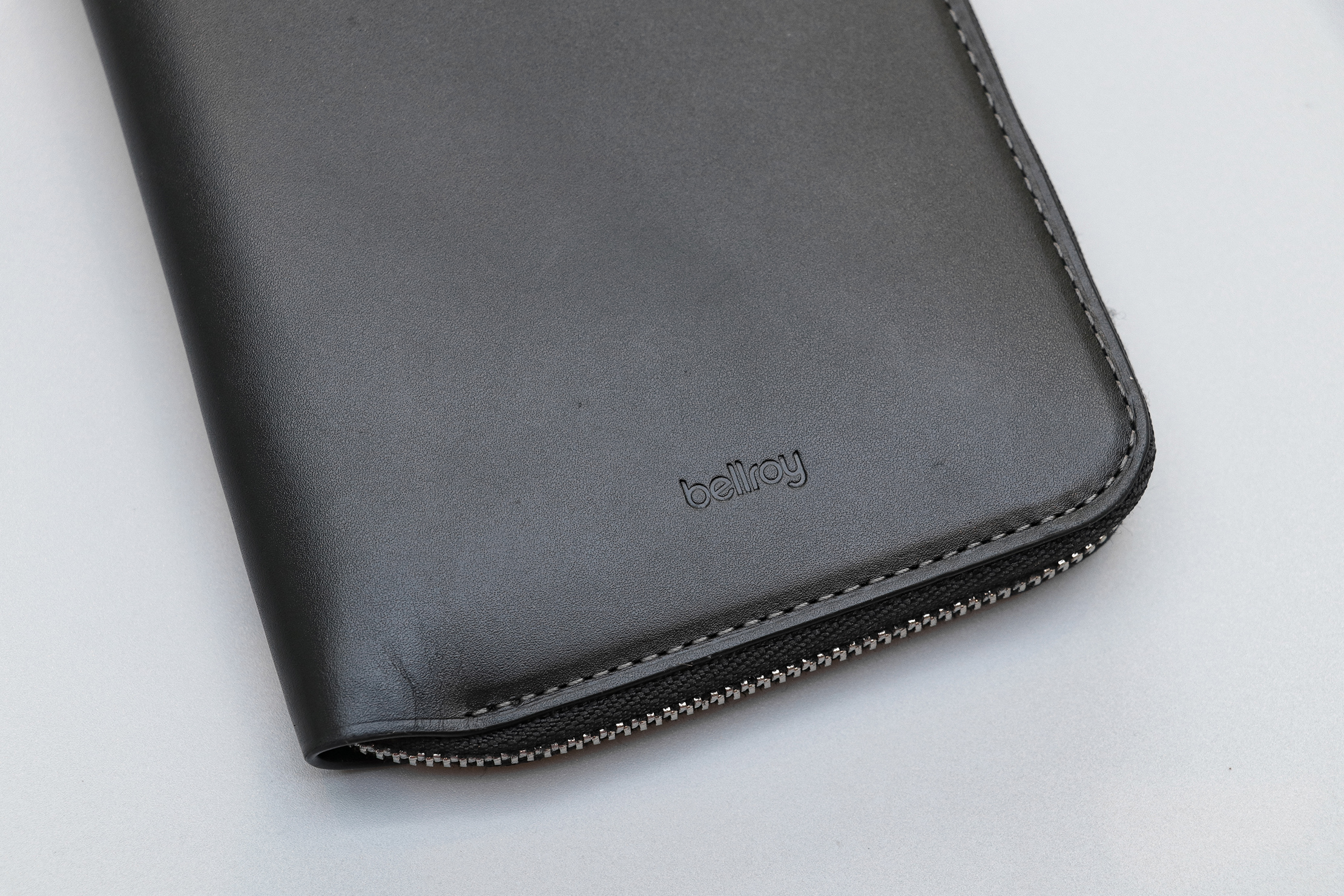 And it's held up well so far. Although a few small scratches have marred the leather exterior, it's not in a bad or super-noticeable way—you have to know they're there to see them—but still, something to note.
Usage Timeline
Initial Usage
Condition: Excellent
Lots of internal organization.
We're digging that we can use this to keep all of our travel documents, cards, and cash in one place.
Also includes a micro pen, which is super handy.
1 Month of Use
Condition: Excellent
Everything still looks great!
2 Months of Use
Condition: Good
We've noticed a few small scratches on the exterior.
Access the Pro Community Discussion
Get your questions about the Bellroy Travel Folio answered from our team and the Pro Community right here on the page. Plus, join discussions with other members about gear, guides, and more.
Other Organizers & Pouches Reviews