Bellroy Classic Weekender Review
The Bellroy Classic Weekender's adjustable opening and large capacity make packing that much easier, even without cubes.
Our Verdict
Unlock the Pro Summary
Save time. Get access to brief summaries of our reviews so you can browse and make decisions more efficiently.
Pros
Cavernous compartments for storing more gear
Comfortable to carry despite minimal-looking strap
Main opening can be widened for better accessibility
Cons
Front pocket could use more granular organization
Key leash is still the flimsy ribbon type
Floppy structure makes packing tricky sometimes
Recent Pack Hacker Video
Technical Details
Capacity

45l

Weight (lb)

2.16 lb (1 kg)

Dimensions

14.96 in x 25.6 in x 15.75 in (38 x 65 x 40 cm)

Notable Materials

Recycled Polyester, rPET (recycled polyethylene terephthalate), YKK Zippers

Manufacturing Country

Philippines

Warranty Information
Full Review
Have you ever overpacked for a weekend trip because you got carried away by the hype? Hey, don't sweat it; you won't hear any judgment from us. Spontaneity can be that extra spice that can take the weekend trip the extra exciting mile. As such, a bag where you throw in as much gear as you can without thinking about it too much is a good option to have. Fortunately, there are plenty of these options, and you'll be spoilt for choice.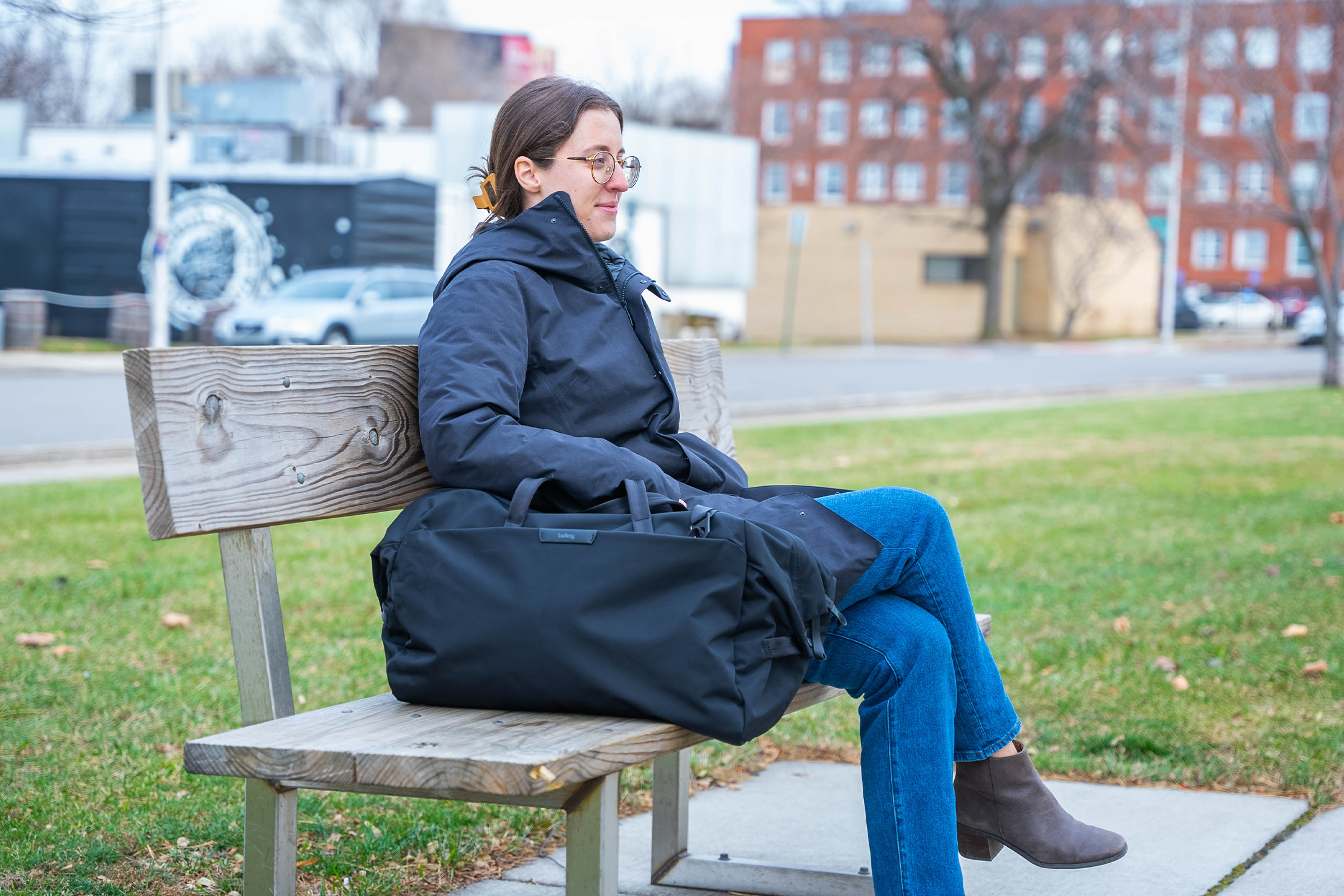 The candidate in this review is a large duffle bag from Bellroy called the Classic Weekender. Standing at a whopping 45 liters, it can probably pack the rest of the lineup and ask for seconds. As big as it is, though, it suffers in a diametrically opposite way, namely, its lack of more granular organization. Still, it's nothing a few packing cubes and pouches can't fix, so it should still be a good bag for a weekend trip, right? There's only one way to find out.
External Components
This is, of course, a bag from Bellroy, so it's probably a good idea to start with the material. The brand often brandishes a lot of colorway and fabric options on all their bags, and the Classic Weekender is no exception. Okay, there's only one type of fabric for this one (recycled polyester), but at the time of writing, there are four colorways: Black, Slate, Navy, and Saltbush. That last one may be of particular interest to some because it's the sole leather-free option, plus it has a heathered look to it that gives it a bit of flair.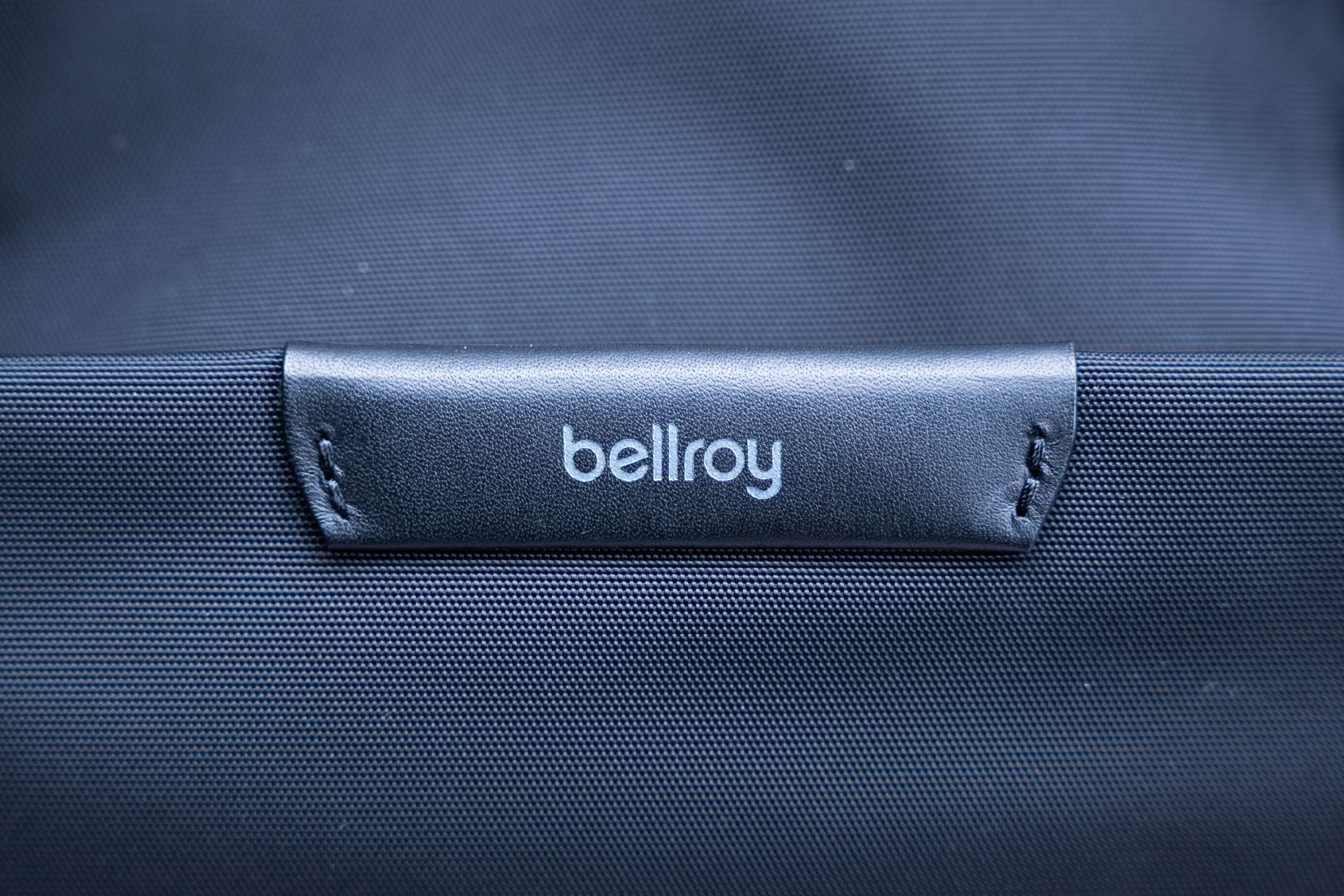 We here at Pack Hacker are fans of anything that comes in black, so we're sampling that one. Bellroy hasn't gone overboard with the leather accents, instead opting to keep it consistent with the likes of their smaller slings. There's a leather tab for the logo and lengthy leather pulls for the zippers, and that's it.
Overall build quality is good, with no obvious defects or damage over the course of testing. Fabric quality is consistent across the vast expanse of this 45-liter duffel, and there are no loose threads to speak of. If we had to point out a "weak" part of the exterior, it's the low-profile nylon handle at the back. Still, it's not really a handle you're meant to use full-time. Rather, it's for pulling the Classic Weekender out of a trunk or other tight spaces, so its bar-tacked stitching and relatively thin material should more than suffice.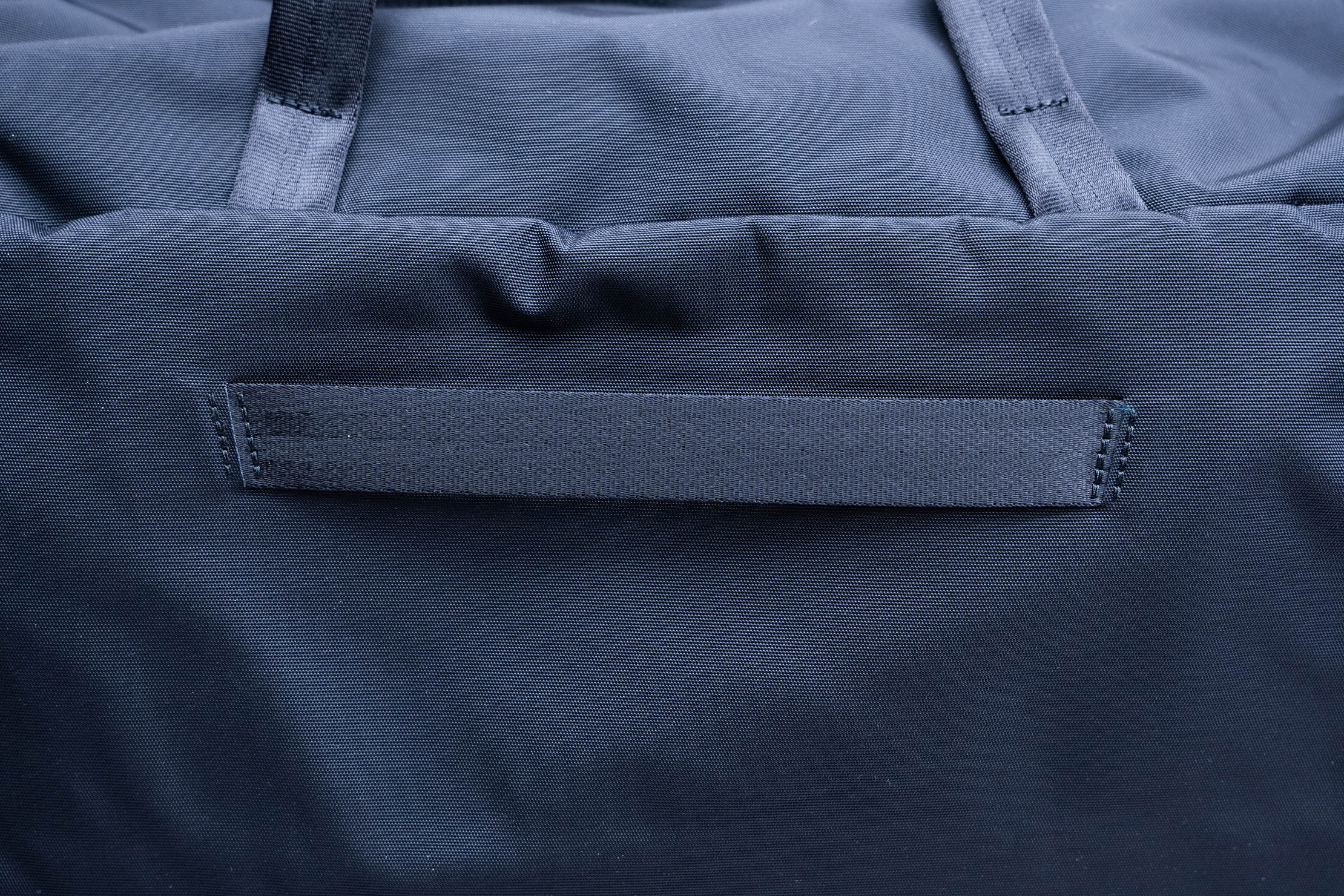 You also get a pair of grab handles at the top. These are your main handles, featuring substantial padding for a comfortable grip. You may be able to wear them on your shoulder as you would with large tote handles, but your mileage may vary since they're not very big.
There are also grab handles on the sides of the Classic Weekender. These also feature some padding, but like the handle at the back, these are more for quick pullouts. Most of the time, though, you'll be using them as mounting points for the main compartment's expandable opening. There are snap fasteners that allow the ends of the main compartment's opening to attach to these handles. We'll go into more detail about how that works in the later section.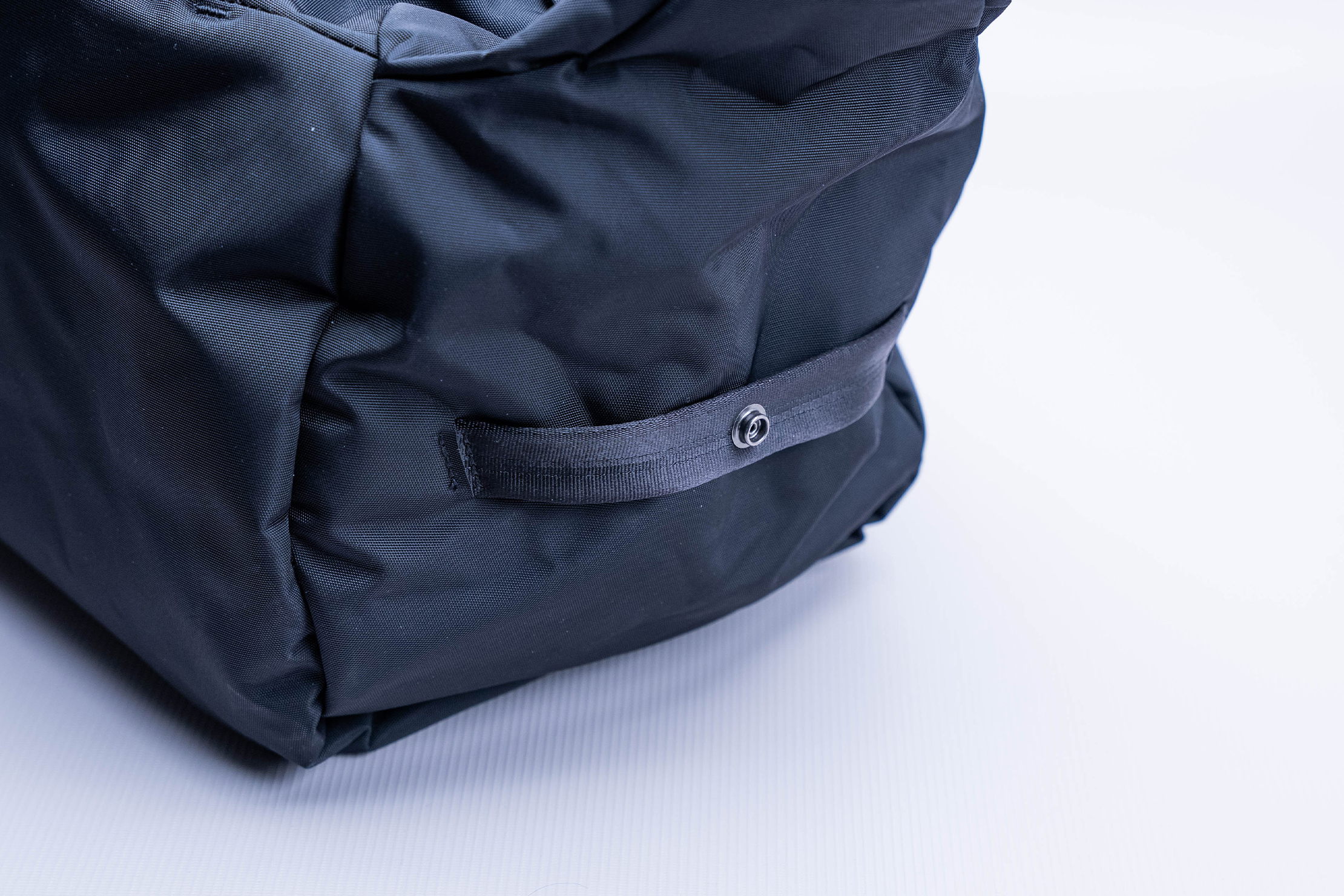 Lastly, on the exterior is the included shoulder strap. First impressions are a bit apprehensive because of how minimal it looks, particularly in terms of width. It's a given that big bags come with big weights, and you need a good surface area on the strap to spread that weight on your shoulder.
The good news is that the Classic Weekender's shoulder strap features ample padding to cushion all the weight we've loaded into it. The only downside is that the section that's padded can't be repositioned, though it's long enough that it makes decent contact with the shoulder in most carrying situations.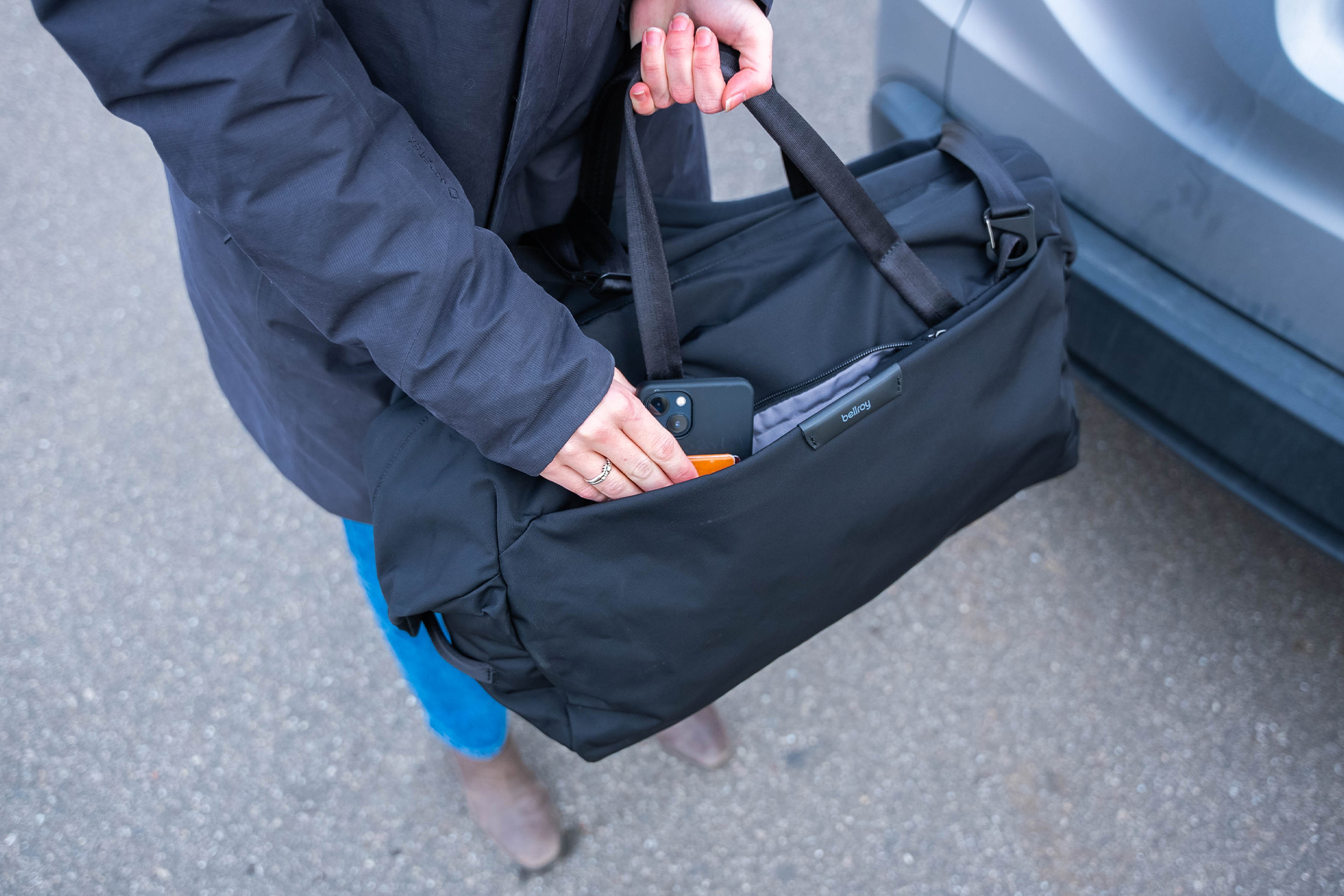 In case you are dissatisfied with the included shoulder strap, the good news is that it's removable. It mounts via clips on small loops located diagonally across the Classic Weekender. Oh, and the clips aren't the frustrating gatekeepers, by the way. They're big carabiner-style clips that are easy to disengage even when you're in a hurry.
Fit Notes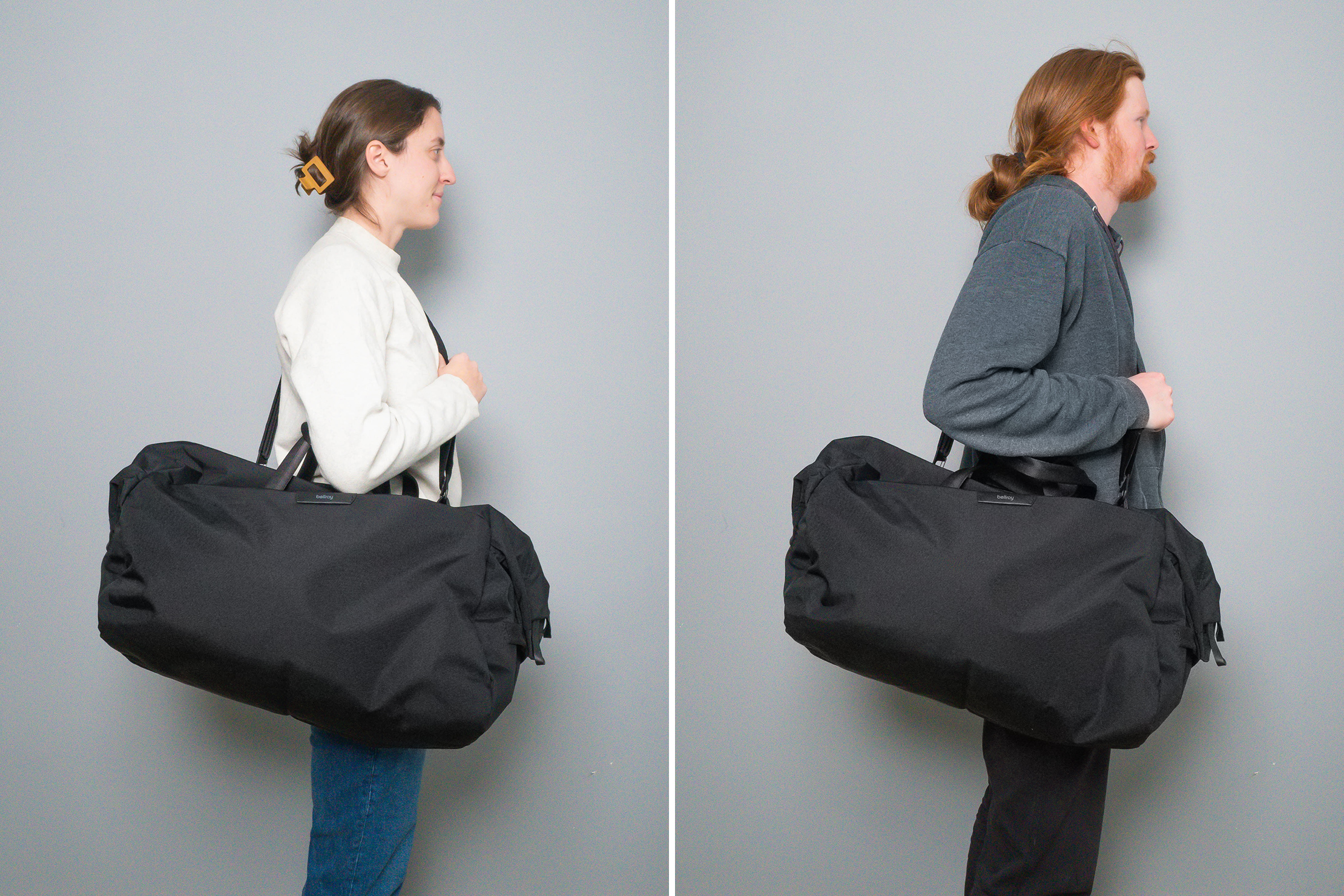 The Classic Weekender in this Black colorway looks very sharp, especially by duffle standards. Compared to the adventure-y and outdoorsy vibe of the Patagonia Black Hole Duffel Bag 40L and The North Face Base Camp Voyager 32L, the Classic Weekender comes off as more refined and smart. It probably can't take as much punishment, but if you want to blend in with the classier parts of town, this is the duffle to bring.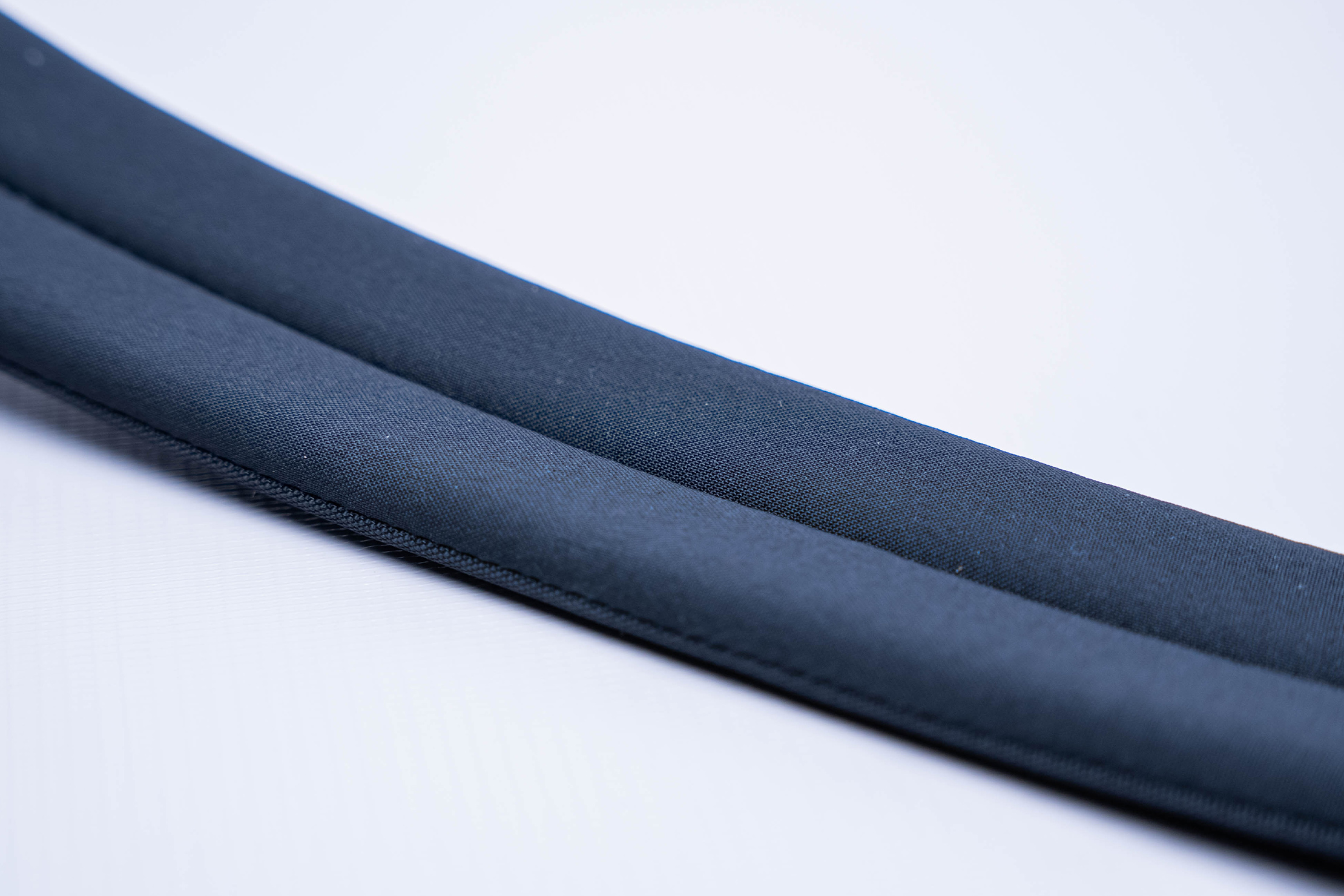 In terms of carrying comfort, the included shoulder strap does surprisingly well. Whether we wear it in crossbody mode or hang it off on one shoulder, the weight's impact is reasonably stifled. One clear symptom of a strap failing to deliver comfort is its edges digging deeply. Fortunately, the Classic Weekender's strap fares well in this regard as well, with minimal signs of digging in.
Inside The Duffle
Despite the Classic Weekender's size, it only has two compartments: the main compartment and a front pocket. This makes it rather bare since some duffles come with much more, sometimes to their own detriment. That said, perhaps the Classic Weekender can wow us with its internal organization to make up for this.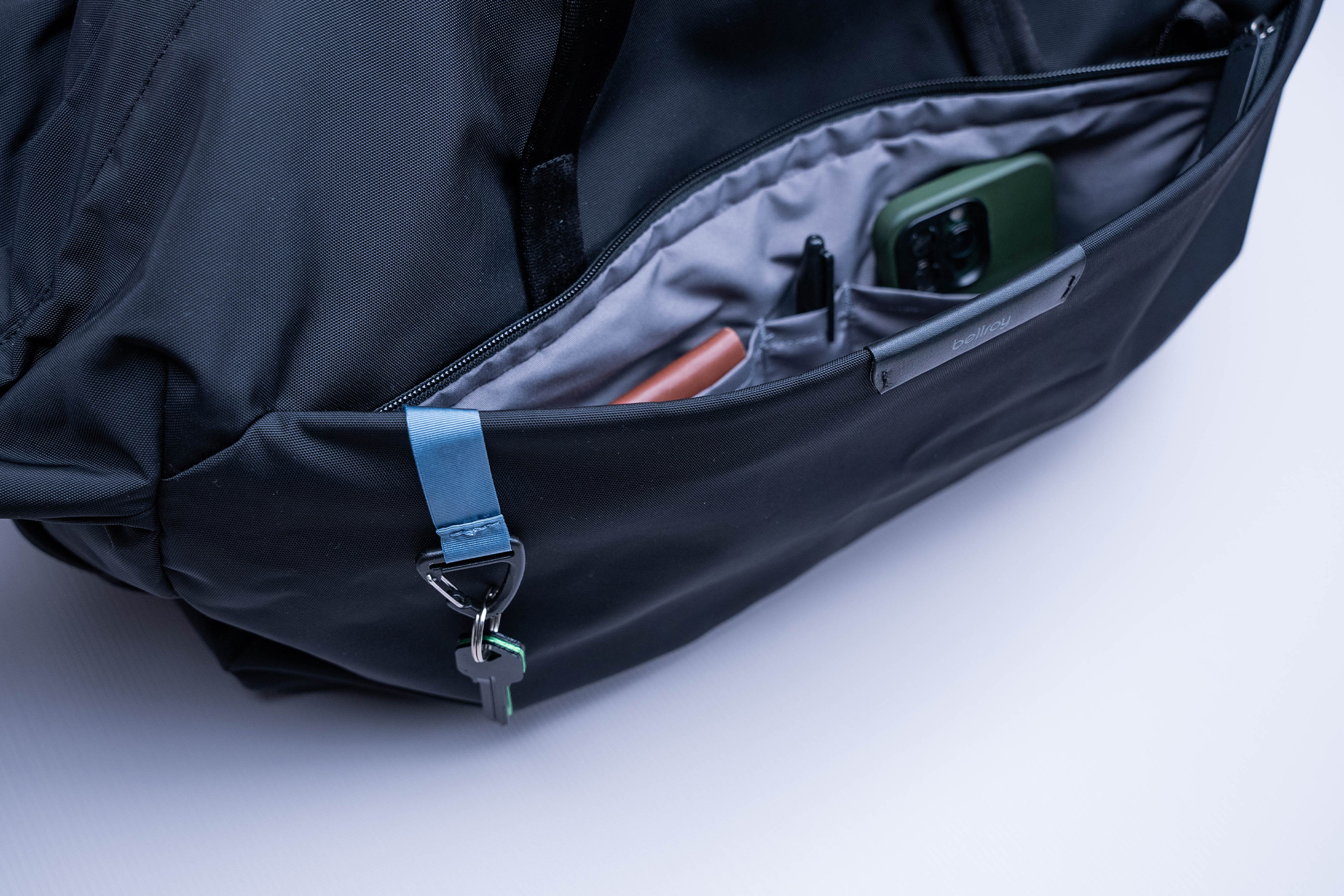 The front pocket is situated behind a fabric welt that forms an upward lip. It's more of an aesthetic choice from what we can see, and it's part of Bellroy's design language, as you'll be able to tell from a lot of their gear. Inside you'll find two liner pockets flanking a large pen pocket in the center—and that's it. For all the available space inside the front pocket, there are too few means of organization.
If, say, you carry tech accessories with you like thumb drives and dongles, you'll have no other option but to put them in one of the liner pockets where they'll get mixed up. This is where tech pouches come in to save the day, but we still wish there were more built-in options as well. The large pen pocket best exemplifies the lack of granular organization. You can probably squeeze in two pens with how big it is, and we wish Bellroy split it as such.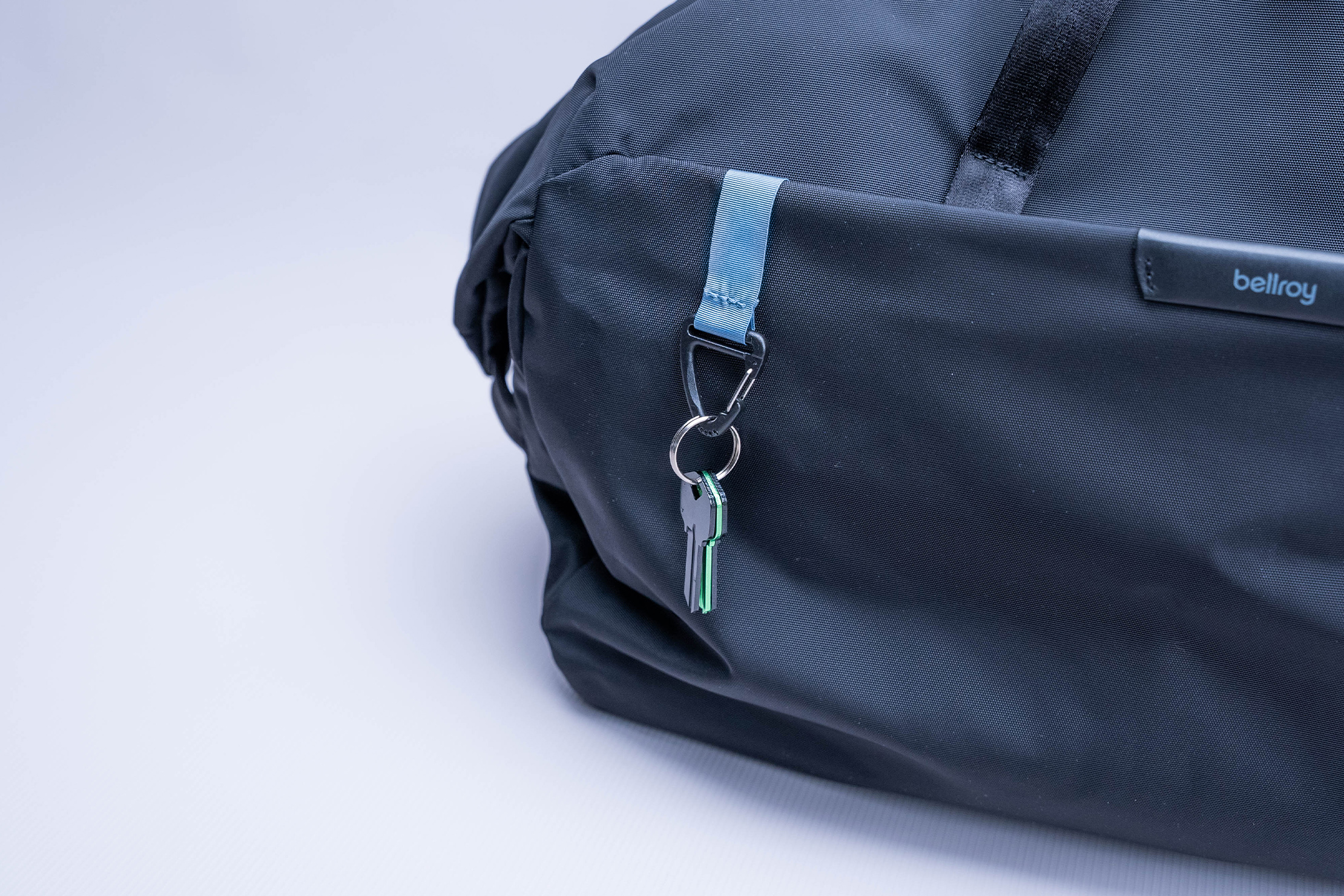 The lack of granular organization is largely forgivable, especially if you carry bulkier gear than we do. However, something we can't overlook is the flimsy key leash. Mind you, the clip Bellroy's using here is fine; it's the ribbon-like quality of the thin leash that we have an issue with. The rest of the Classic Weekender looks and feels topnotch, but this is the lone exception.
Now we've arrived at the main compartment. Unlike the duffles from Patagonia and The North Face we've mentioned earlier, Bellroy opts for a straight zippered opening instead of a foldaway flap. Don't think this limits accessibility, though, as the tips of the opening can be detached from the aforementioned snap fasteners, granting a much wider opening.
Not only does it widen accessibility, but it also makes unzipping much easier. Like the front pocket, the zipper track is also obscured by a fabric welt. This protects it from the elements as much as it cleans up the Classic Weekender's aesthetic. However, the fabric also catches on the chunky #10 YKK zippers. Fortunately, unfolding the tips and easing the tension on the fabric mostly solves this.
The wider opening also gives you better access to the upper corners of the main compartment that would otherwise be obstructed. Sure, it doesn't create more space, but this makes packing a lot easier. That said, the Classic Weekender does suffer from a rather floppy structure. Parts of the fabric collapse due to the sheer size of the bag, so you have to shift it around to maneuver clothing or packing cubes inside.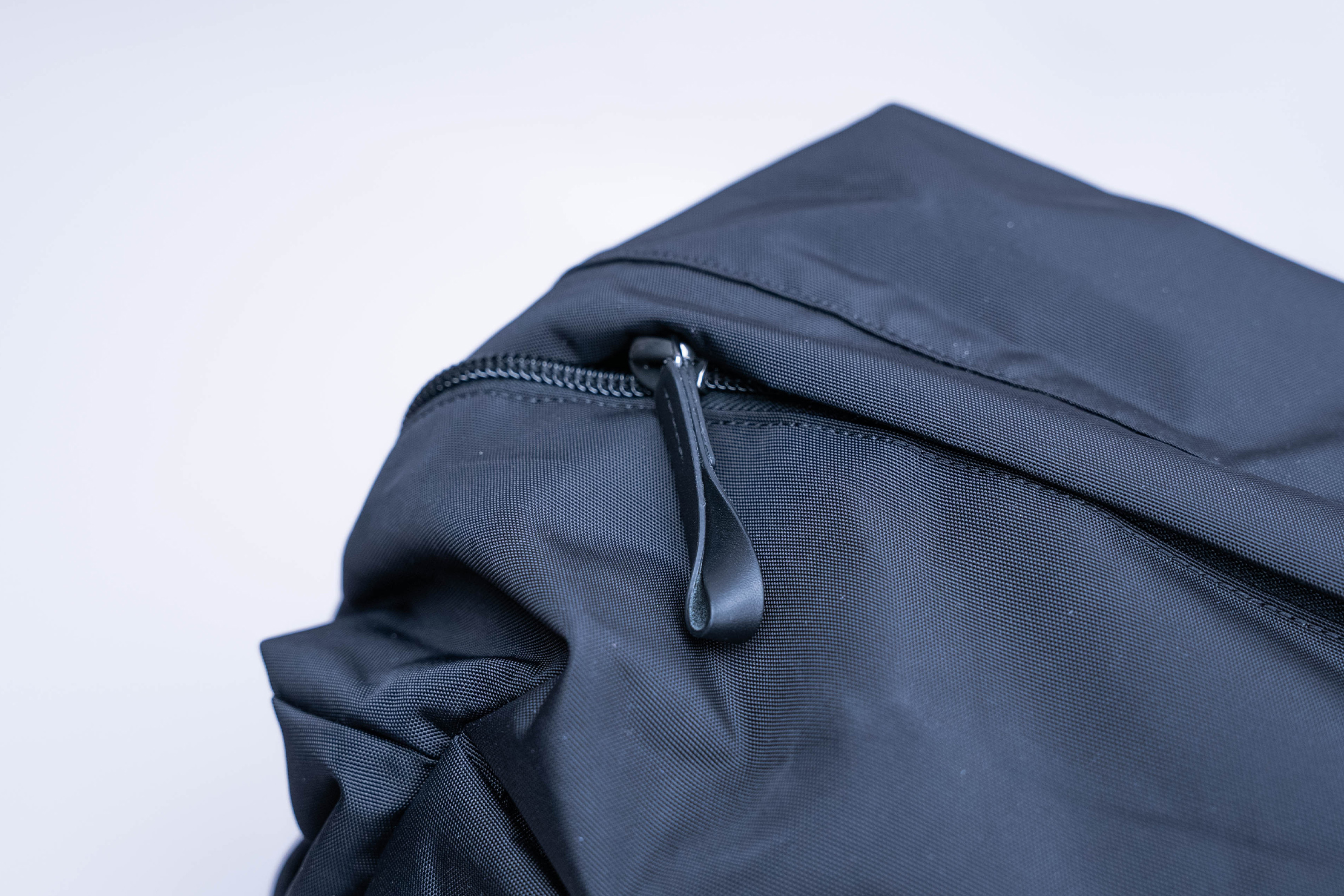 As for organization, you get a zippered pocket near the opening. Its position above the main compartment's internal load prevents it from being crushed. Therefore, it's an ideal pocket for fragile items like your sunglasses. You also get two liner pockets on the opposite side where you can put items like toiletries and smaller clothing.
The sheer amount of space should come as no one's surprise, given the Classic Weekender's 45-liter rating. Yet, we sometimes find ourselves struggling to max out every ounce of space. Your mileage may vary depending on your packing habits, but our experience of trying to fit five days' worth of clothing left us with room to spare. We weren't even hacking it by using compression cubes; just straightforward putting clothes into clean stacks. Mind you, without using packing cubes, clothing can get disorganized, so proceed with caution.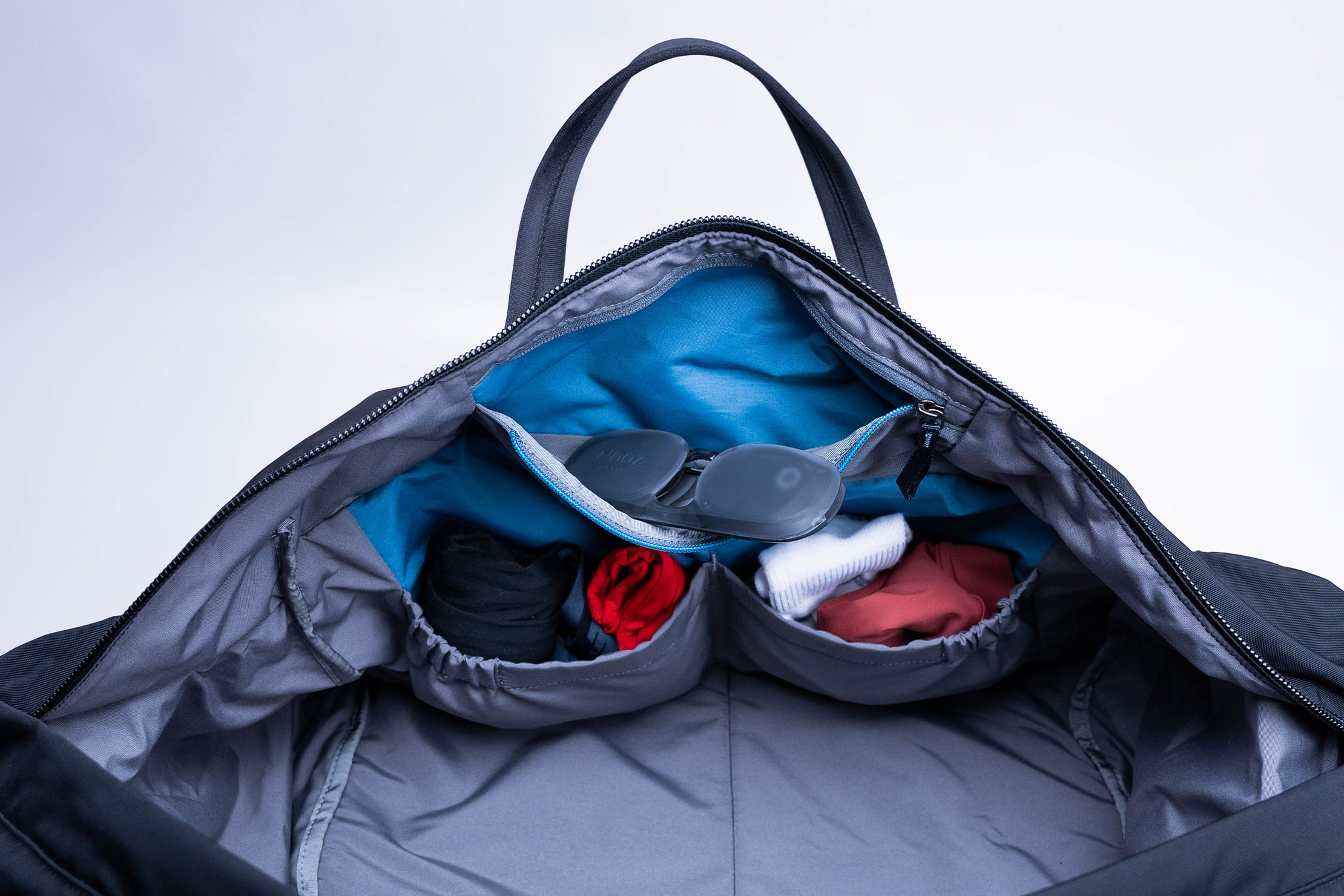 That's not a bad thing, though. The Classic Weekender doesn't really give off the hardcore packing vibe some bags do. Its simple design and classy aesthetics make for an easy packing experience, the fabric collapsing under the bag's sheer size notwithstanding. The expandable opening is a subtle feature that really drives this point home, preserving the bag's clean profile when you're carrying it while facilitating easier packing when needed.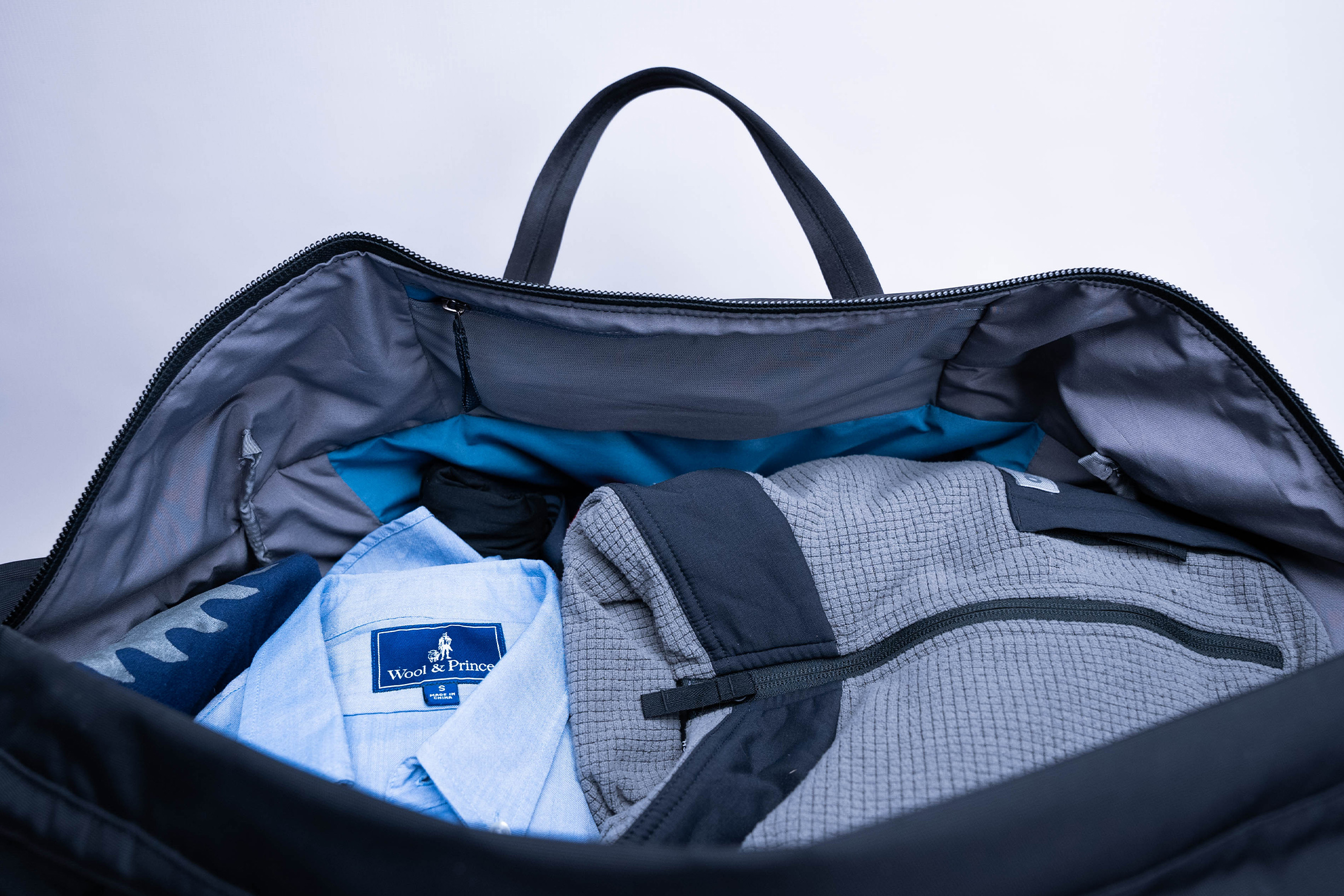 So yes, it's a good bag to pick for a weekend trip, and it won't even stress you before you step out the door.
Usage Timeline
Initial Usage
Condition: Excellent
Opens wide for easy packing
Internal organization is pretty minimal compared to other Bellroy duffels
Interested to see if the strap is wide enough to be comfortable
2 Weeks of Use
Condition: Excellent
Material is a bit floppy, so it can be hard to load even with the wide opening
Comfortable to carry even when it's super full
So much space that it's almost hard to fill it all!
Access the Pro Community Discussion
Get your questions about the Bellroy Classic Weekender answered from our team and the Pro Community right here on the page. Plus, join discussions with other members about gear, guides, and more.
Other Bags & Luggage Reviews