Arkadia Elfin Packing Cubes Review
The durable and lightweight Elfin Compression Packing Cubes by Arkadia are a superb addition to an already competitive marketplace.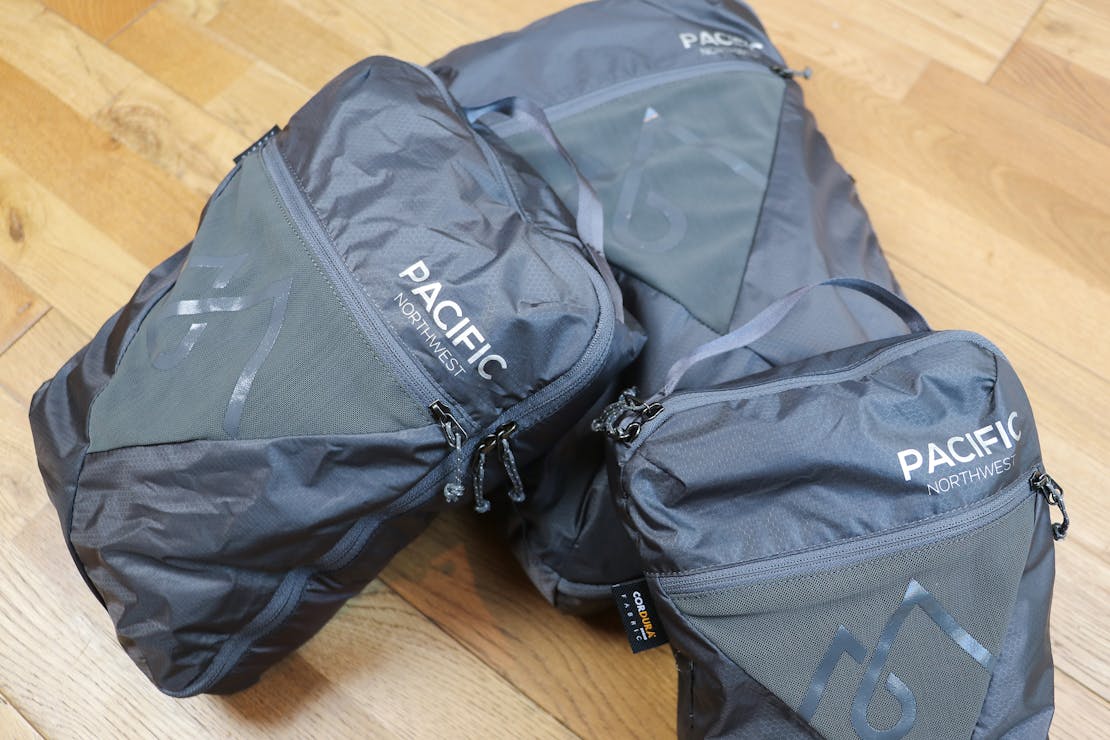 Our Verdict
Pros
Super lightweight and thin.
Quick-grab front pocket.
Made of durable materials.
Cons
Arkadia claims they're waterproof—they're not.
Loose stitching after three months of testing on one of the cubes.
Technical Details
Weight (oz)

8.8 oz (249.5 gm)

For all three combined

Dimensions

14 in x 10.4 in x 3.6 in (35.6 x 26.4 x 9.1 cm)

Dimensions are of the slim size. Also available in small (7.8x6.3x3.6in) and medium (10.4x7.2x3.6in.)

Notable Materials

Cordura Ripstop Nylon, YKK Zippers

Manufacturing Country

China

Warranty Information
Full Review
Here at Pack Hacker, we're always on the lookout for solid travel gear—especially packing cubes, which we pretty much can't live without. So naturally, we were excited when Kickstarter success story, Arkadia—who raised over 500 thousand dollars for their Sea to Sky Packable Daypack in 2017—ventured into the game with their Elfin Compression Packing Cubes.
Competition in the packing cube market is strong at the moment, with every company seemingly vying for a slice of the cube. Who knew packing cubes were such a cutthroat industry? We've previously reviewed the Ultra Light Packing Cubes by eBags, the budget option AmazonBasics Packing Cubes, and our current top-dog, the Pack-It Specter Cubes by the veterans over at Eagle Creek. So where do the new Elfin Compression Packing Cubes by Arkadia sit within the market? And are they any good?
They certainly look they'll do the job, and Arkadia tends to make some pretty bold claims… So let's find out if they stack up.
The Arkadia packing cubes come in three sizes—small, medium, and large. When full, the small size comes in at 7.8" in height, 6.3" in width, and 3.6" in depth, which is perfect for underwear, socks, and smaller/thinner garments of clothing. The medium sized cube comes in at 10.4" x 7.2" x 3.6," which is great for t-shirts and shorts. Finally, the large size comes in at 14" x 10.4" x 3.6", ideal for more substantial items like sweaters and pants. We have the full set of three packing cubes, but you'll be glad to know the sizes are also available individually—which is great, as you can purchase whatever sizes you need for your use case.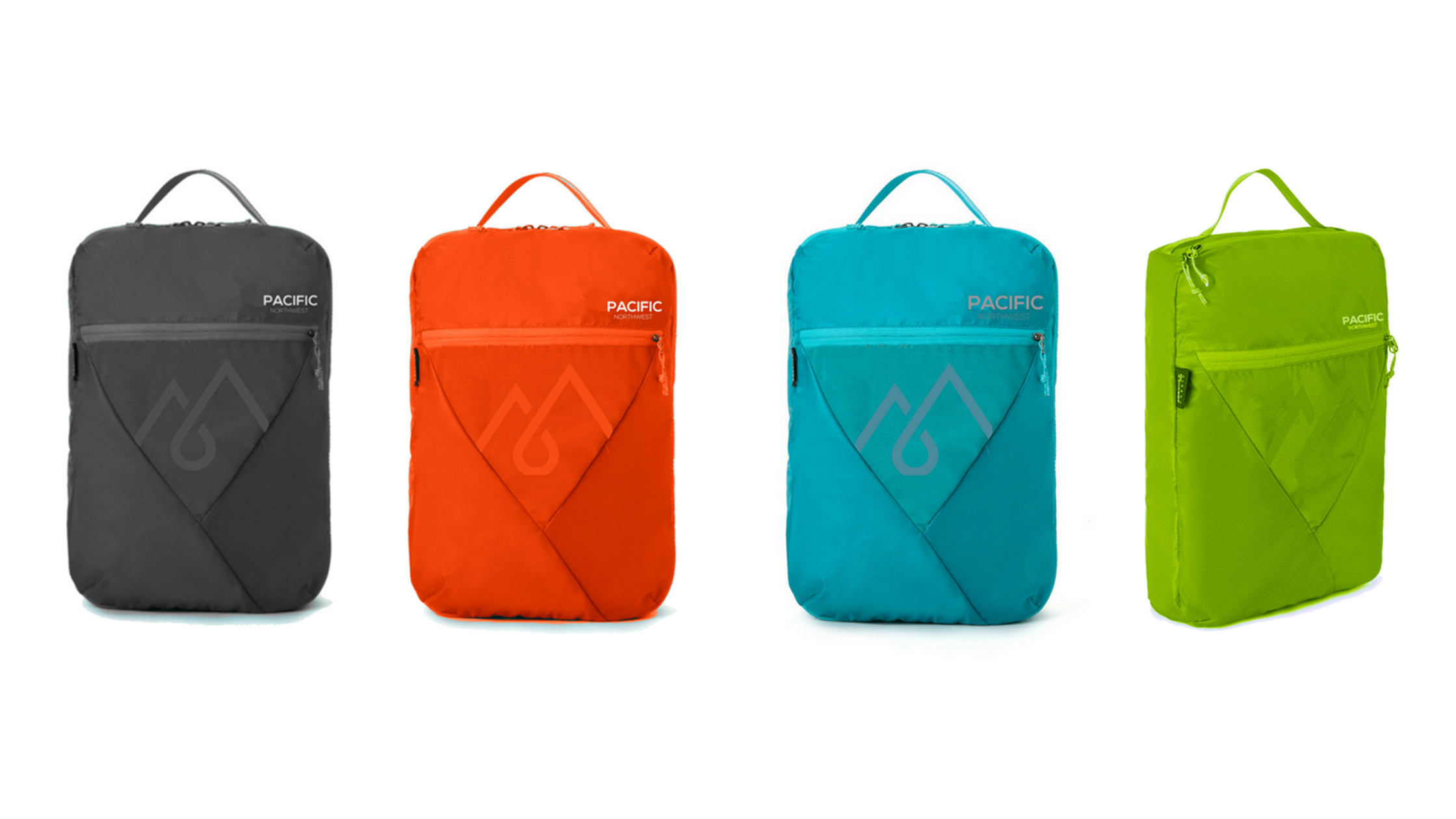 The packing cubes are available in four great colors—black, blue, orange, and green—that should cater to pretty much anyone's taste. Whether you prefer a brighter color that will stand out in your dark backpack, or you fancy the inconspicuous and dependable black (like us), Arkadia has you covered. It is important to note that while we are big fans of the colors available, the "black" version we have is actually more "gray," which is not a big issue to us but worth noting.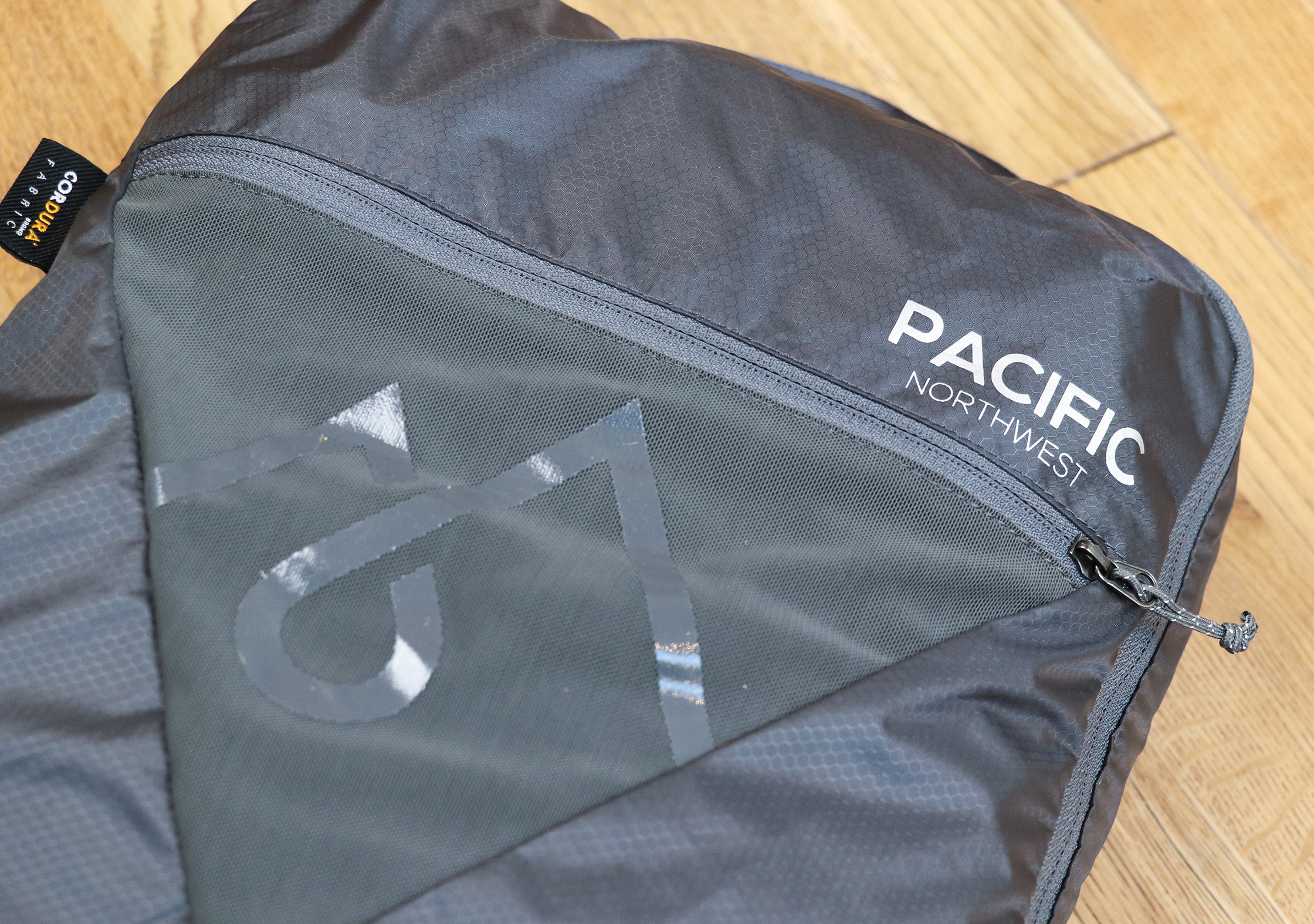 Aesthetically, we dig these compression cubes—they really do look great. It's easy to over-brand at times, but Arkadia have just about gotten away with it, even though they've managed to squeeze not one, but two relatively large logos on the front. At first, we were scared the "Arkadia" wordmark on the top right and their logo imprinted on the mesh at the front could be susceptible to a bit of wear and tear—but we're happy to report they've shown no signs of wear after three months of testing.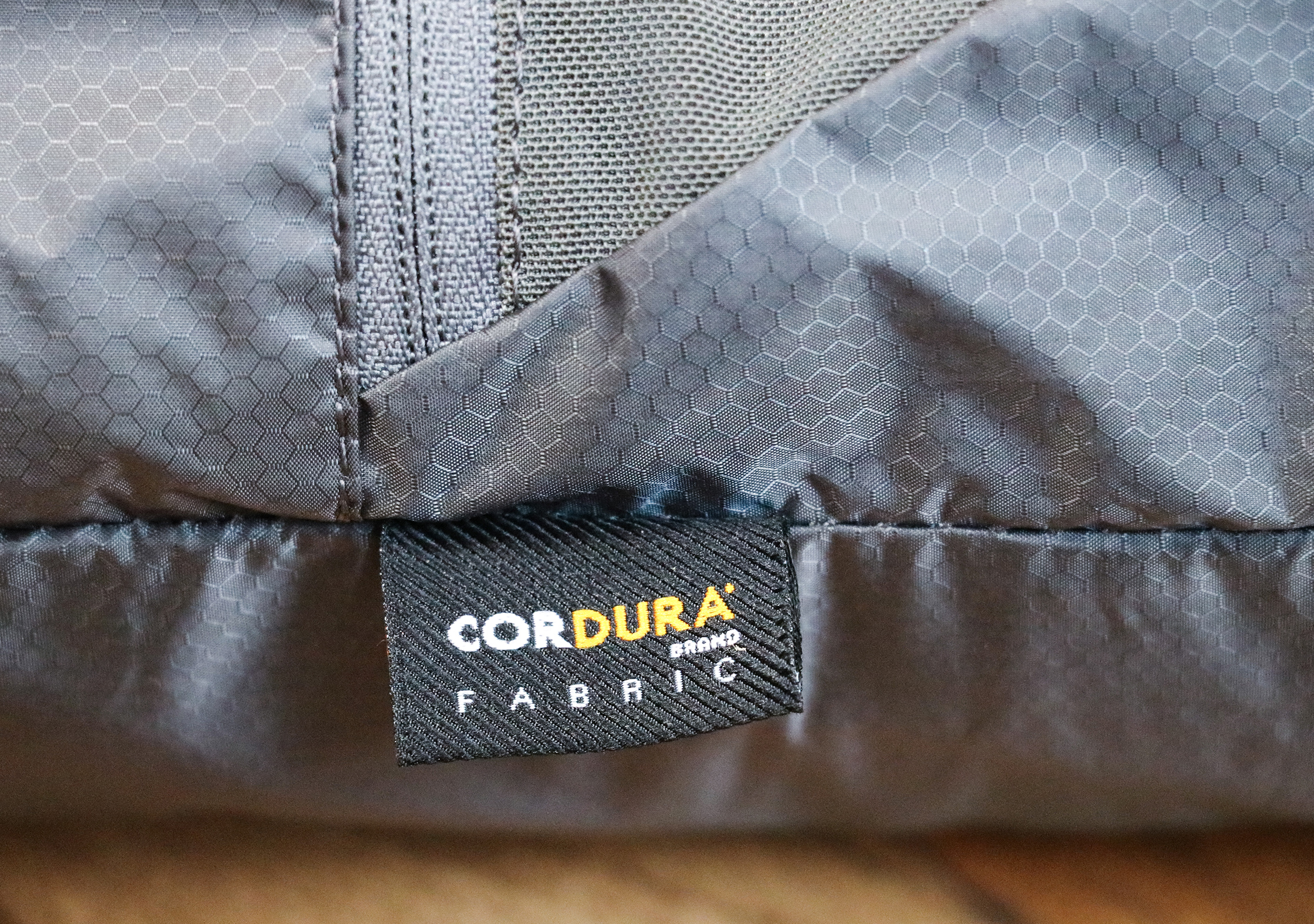 Knowing your gear is reliable and durable is a significant weight off your mind when you're traveling. That is why we are pleased to report that these packing cubes are made of 30D CORDURA® nylon ripstop. CORDURA® is well renowned for making highly durable and resistant fabrics. Plus, the ripstop is a great addition because if any tears or rips do happen—however unlikely—this material will stop them from getting any bigger.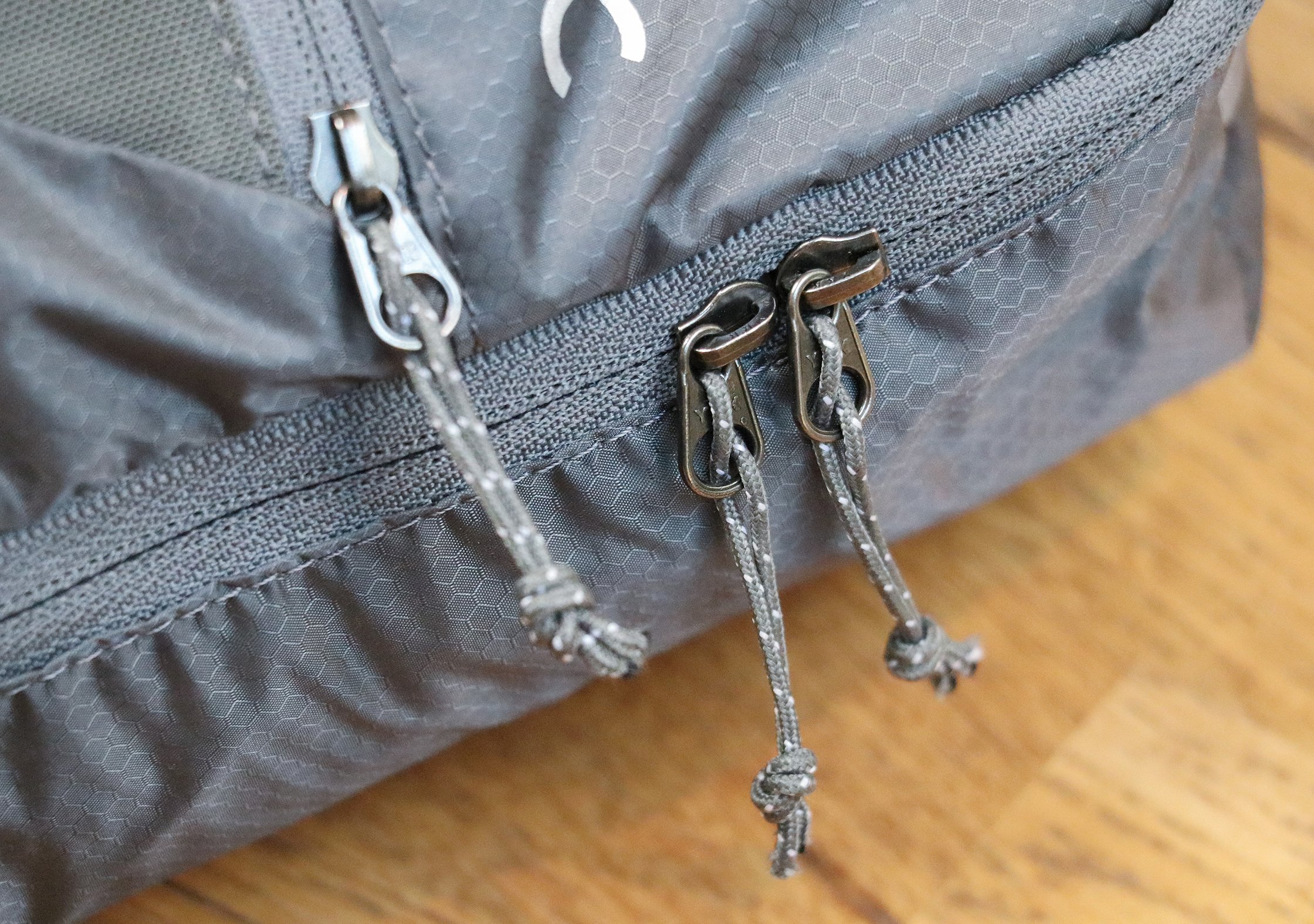 Another check on the durability scale of these packing cubes is the YKK 3C zips. YKK manufacture some of most reliable zips on the market, and it's cool to see that Arkadia hasn't scrimped out here. Over the last three months of testing, we've crammed these cubes to the brim, and so far they've held up as we would have imagined—perfectly. The zipper pull attached to the zips are a nice touch too, allowing you to zip up your cube as quickly and efficiently as possible—fantastic when you're traveling and continuously on the go.
We've established that these packing cubes are durable and made out of suitable materials, but there is an issue we need to call out Arkadia on—they claim on their website, and on the actual packaging, that these packing cubes are waterproof… They're not! From our testing, we have found the 30D CORDURA nylon ripstop material is pretty much waterproof.
Great, so what's the problem? The problem is that the zippers aren't waterproof at all!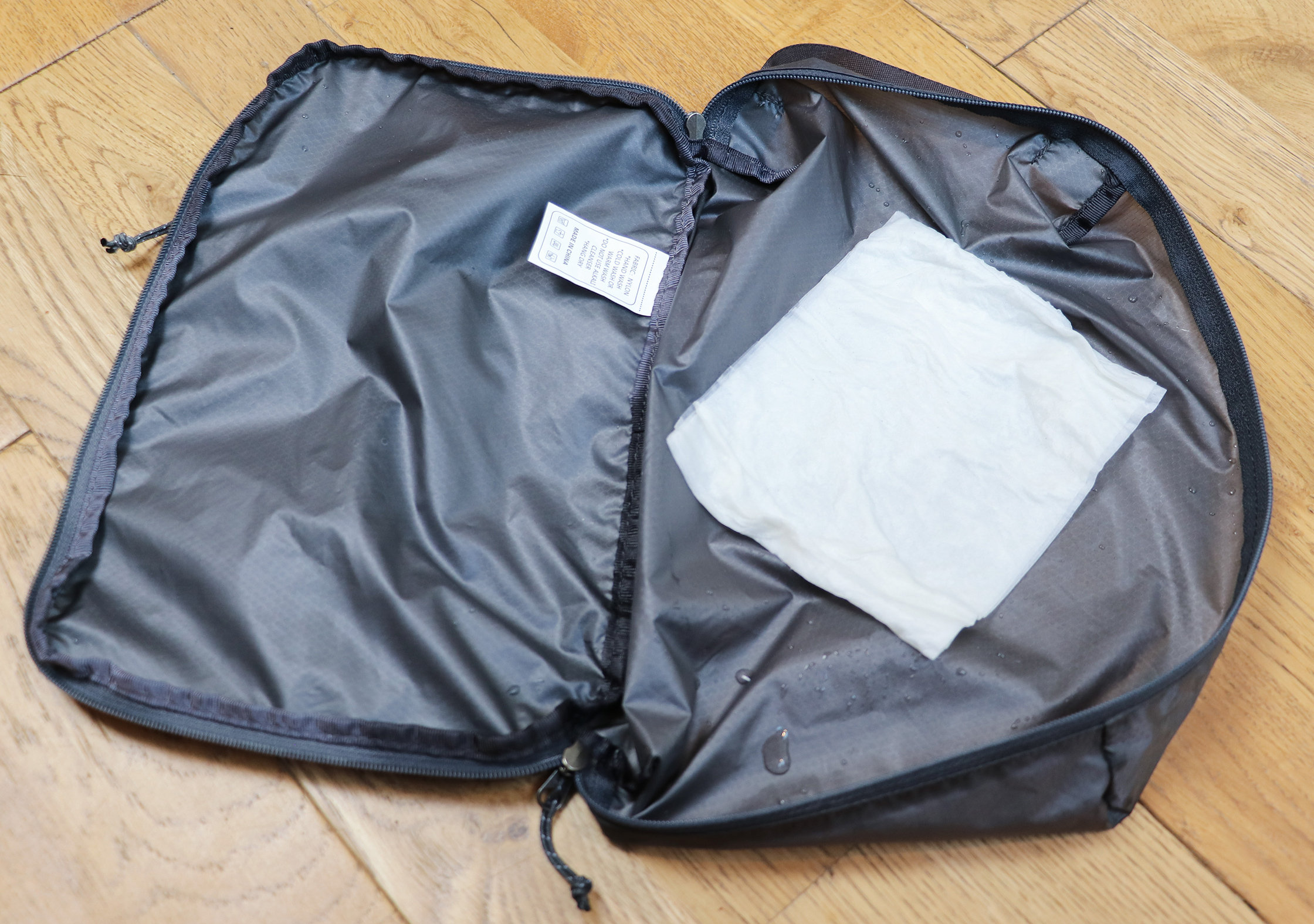 We tested this out by popping some toilet paper in the compression cube, and sticking it under a tap—and it came as no surprise that the water had seeped right through the lining of the zips, soaking the toilet paper inside. To be honest, this doesn't really sit well with us for a couple reasons.
First of all, packing cubes don't need to be waterproof since they sit within your bag, so why make the bold—and frankly, untrue—claim? And since the primary material is pretty much waterproof, all you'd need to do is swap out the current zips for some aquaguard zips and you up the waterproofness even more. As a note, most cubes and bags out there are not waterproof (meaning submergible), but with aquaguard zips, they're much more water resistant, and even submergible for a small period of time.
The bottom line is this all boils down to misleading wording—Arkadia should clearly state that it is water resistant, or made of waterproof materials, as opposed to implying the whole packing cube is waterproof—because it isn't. Regardless, as a consumer, we're not bothered whether these packing cubes are waterproof or not, since we're not planning on having them come into contact with water at any point.
But this isn't about us. It is about you, our fabulous reader—you expect us to give the legit low-down on all this stuff. And for that, we have to call Arkadia out on this. We too, are disappointed by this mishap.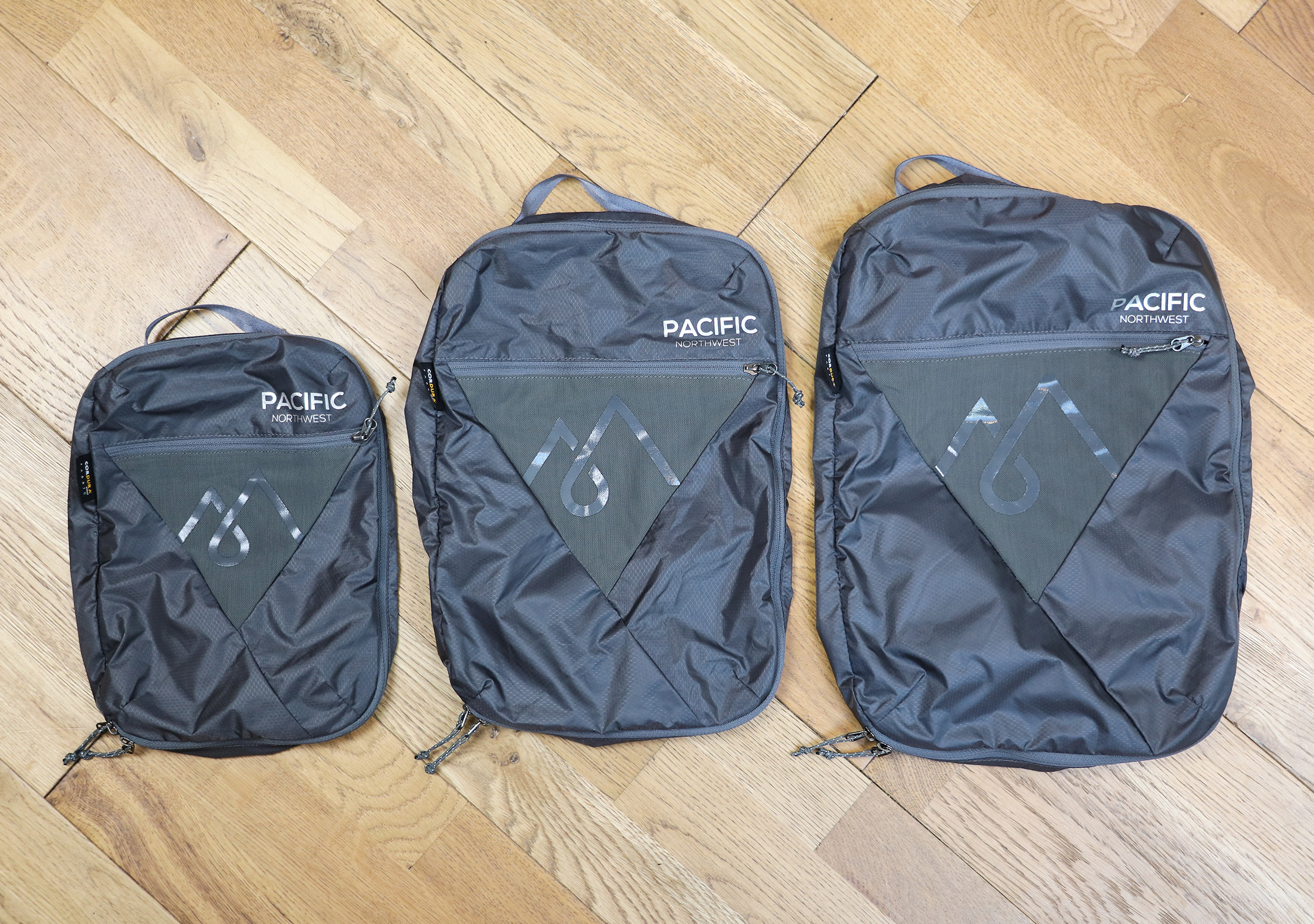 Apologies for that negative interlude, time to get back to some positives! These things are super lightweight. The small, medium and larges sizes weigh in at 2.1oz, 2.9oz, and 3.8oz respectively. The main material is also incredibly thin, so not only are these things lightweight, but they also take up minimal room within your pack. As we all know, when you're traveling carry-on only, weight and space are at a premium, and the Elfin Compression Packing Cubes are trying their best to help you out on both of these fronts—thanks Arkadia!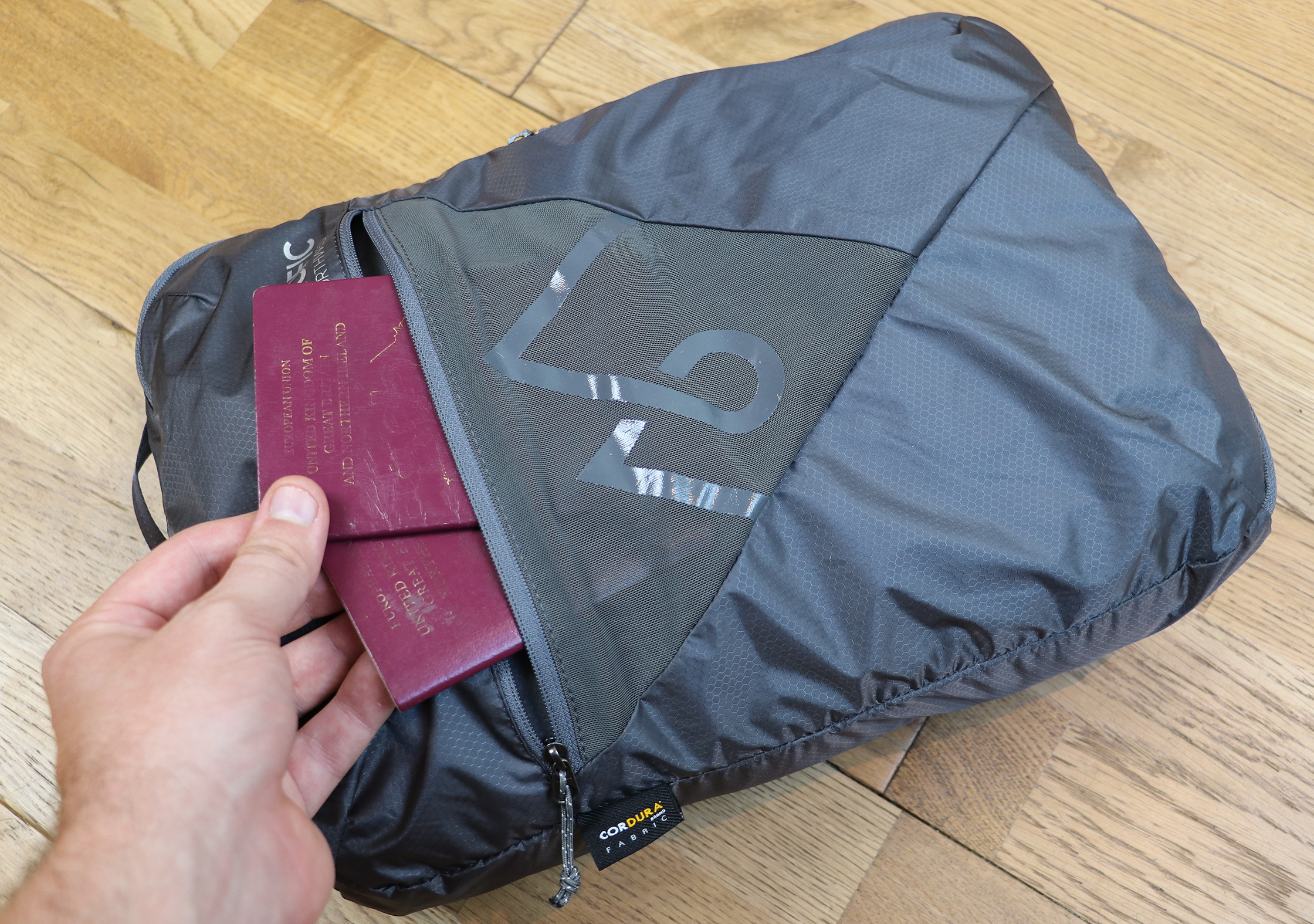 On the front of these packing cubes, you'll find something you won't be accustomed to seeing on your typical packing cube—a quick-grab pocket. We like this feature. More pockets equal more organization, and we're (generally) all for the benefits that added organization can bring. The great thing is you don't need to use this front pocket if you don't want to, as it sits completely flat when not in use and doesn't interfere with the cube at all. However, If you do find yourself needing to store an item of clothing—or anything else for that matter—that you'd like quick access to, or don't want it to get lost within the main cube, then this front quick-grab feature is awesome.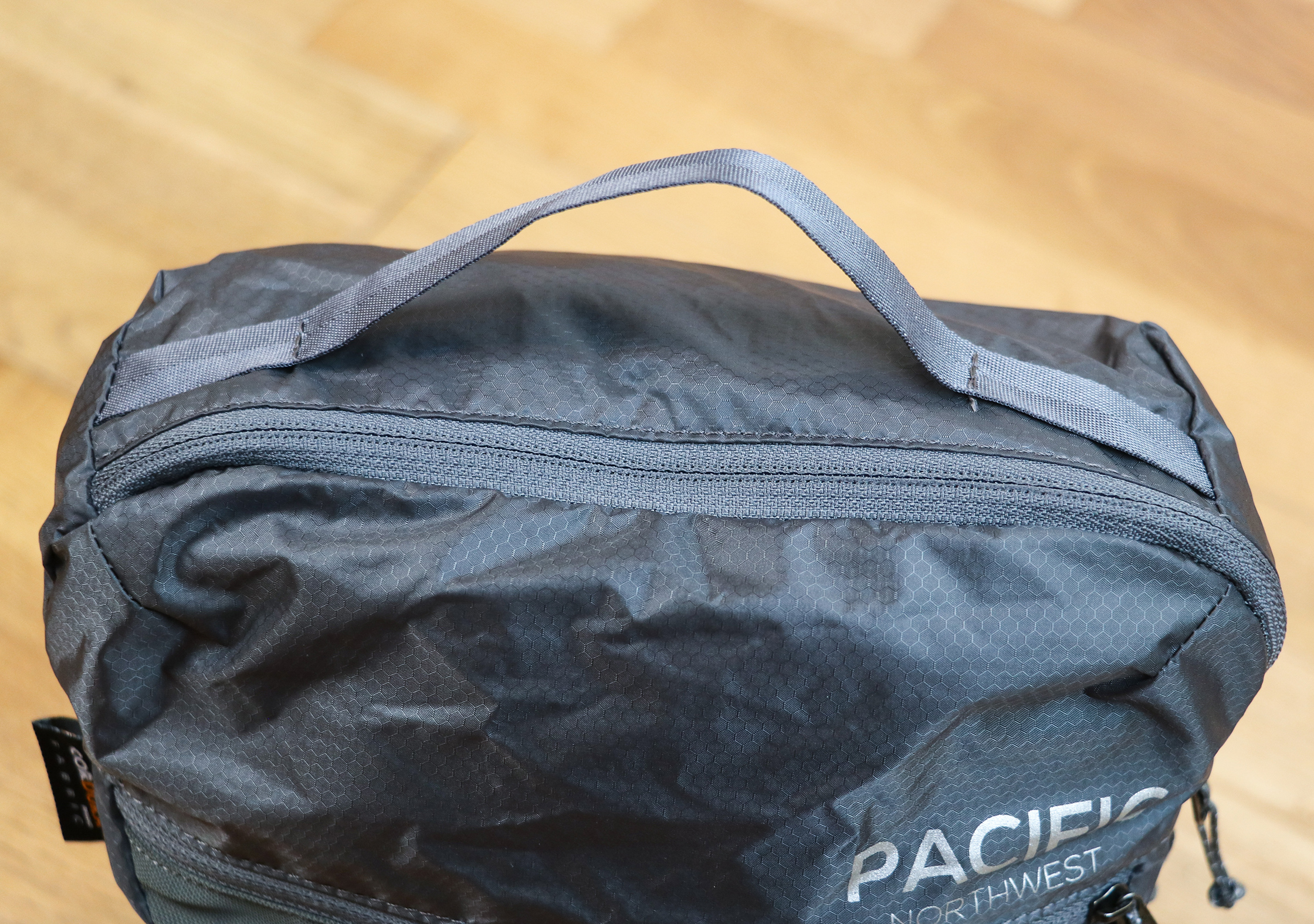 At the top of each packing cube, you'll also find a handle—it's nothing fancy, but we like it. This top handle will come in useful if you need to grab the cube quickly, especially so if you've got a top loading pack.
In testing, we've found these cubes to work perfectly, and they do precisely what they're supposed to—keep your items organized and compressed within your pack. Even when crammed to the brim, the cube still holds its shape—remaining slim and compressed—and it is surprising how much you can fit within these things.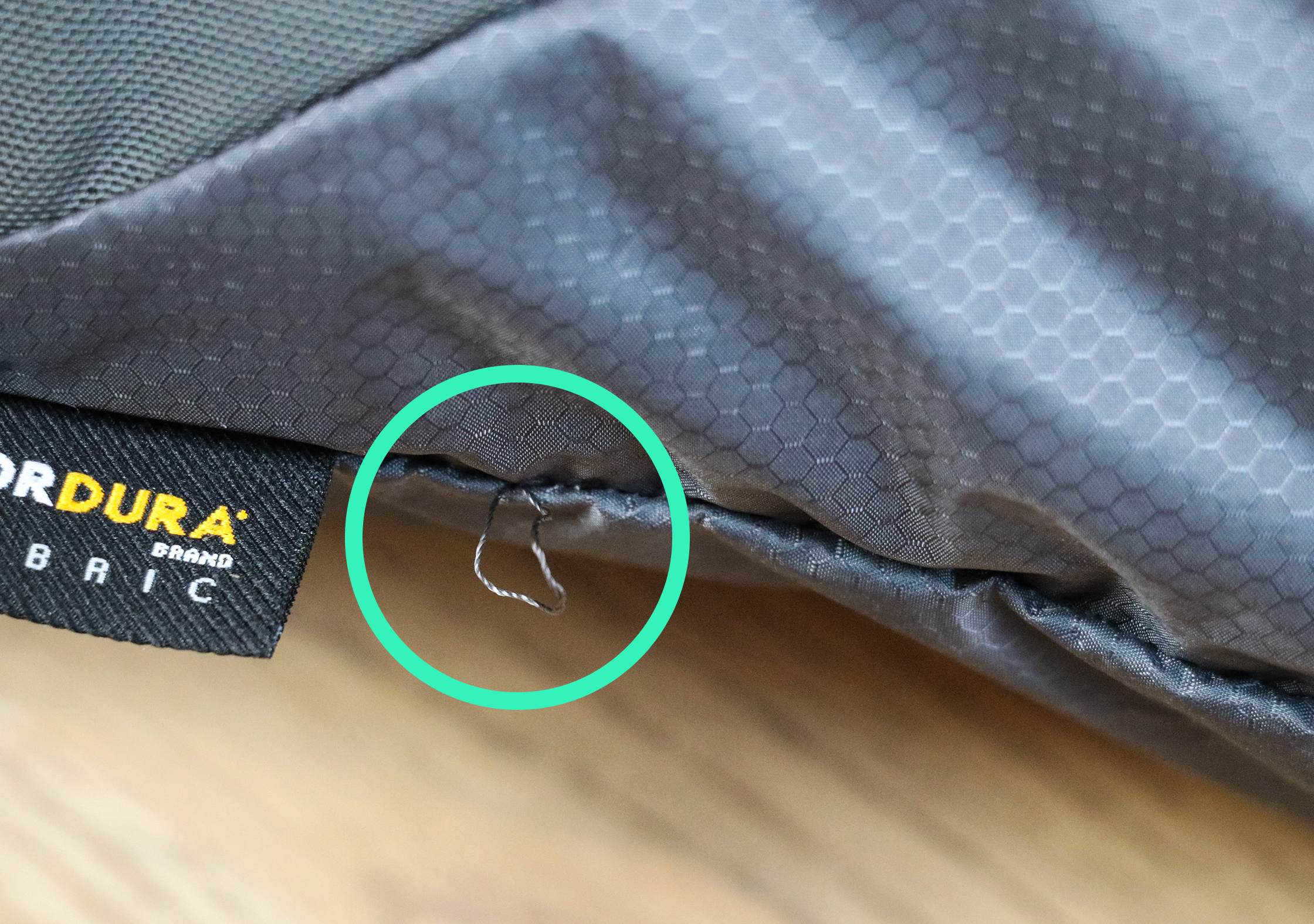 With all that said, we can confirm that over the last three months of testing, the Arkadia Elfin Compression Packing Cubes have held up well. There is one small thing to note: we did find a tiny bit of loose stitching on the side of one of the cubes. This shouldn't be anything to worry about, but we will keep the usage timeline updated below to see how things go.
Usage Timeline
Initial Usage
Condition: Excellent
Digging the aesthetic, and all three sizes are really useful.
1 Month of Use
Condition: Excellent
Impressed at how well the cubes work in testing, it's surprising how much stuff you can cram inside of these things.
2 Months of Use
Condition: Good
Found some loose stitching on the side of one of the cubes, we'll keep an eye on it.
Other Organizers & Pouches Reviews