Allbirds Wool Loungers Review
Lightweight, flexible, and oh-so-soft, the Allbirds Wool Loungers are nearly as good as advertised. We only wish they had better odor-resistance.
Our Verdict
Unlock the Pro Summary
Save time. Get access to brief summaries of our reviews so you can browse and make decisions more efficiently.
Pros
Super soft and comfortable
Lightweight and flexible
Made using environmentally-responsible materials
Cons
Not as much odor-resistance as we expected
Not great in temperature extremes (really, really hot or really, really cold weather)
Slipper vibes
Recent Pack Hacker Video
Technical Details
Notable Materials

Merino Wool, Rubber

Manufacturing Country

Italy

Warranty Information
Full Review
Let's be real, you're probably not going to buy the Allbirds Wool Loungers because of their haute aesthetic. These shoes, made from primarily Merino wool, have serious slipper vibes. (Especially if you pick them up in one of the gray colorways.)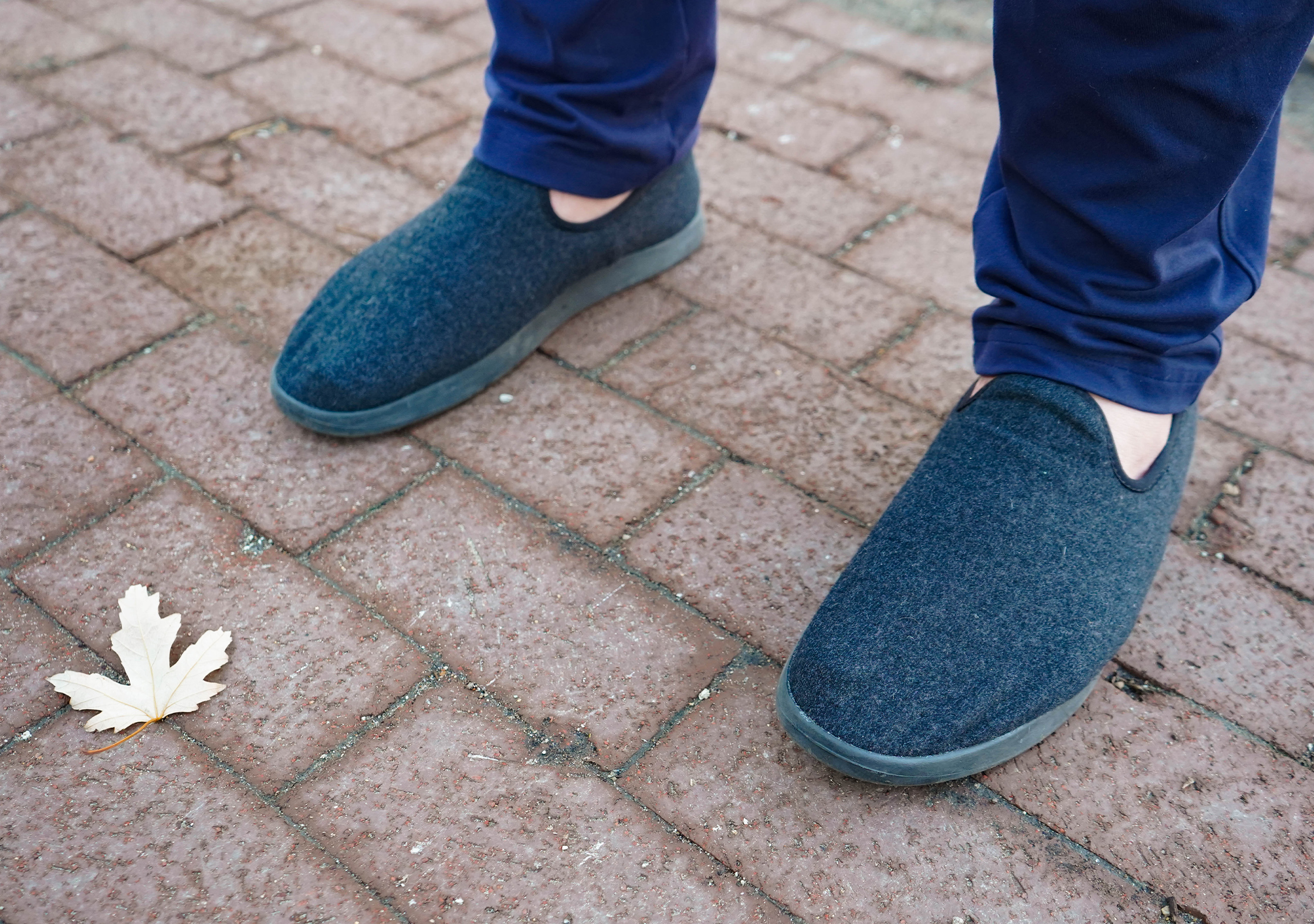 You're probably interested in the Allbirds Wool Loungers because of all the features they boast. Allbirds claims on their website that these loungers are:
Cozy
Soft enough to go sockless
Flexible
Thermoregulating (cool in the heat and warm in the cold)
Moisture-wicking
Odor resistant
Machine washable
And have a low carbon footprint
Which, dang, is a lot of features for a pair of shoes. It comes as no surprise that Allbirds has taken off these past few years, getting shout outs from Hollywood celebs and features in the New Yorker and Time.
But are the Allbirds Wool Loungers as good as advertised? Let's take a look.
Fit, Fabric, & Features
It's no secret we love Merino wool here at Pack Hacker. We've written thousands of words about this magical, eco-groovy fabric and some of the highest-rated travel clothing on the site is made from the stuff. So we can definitely get behind shoes that use all of the inherent, awesome properties of Merino.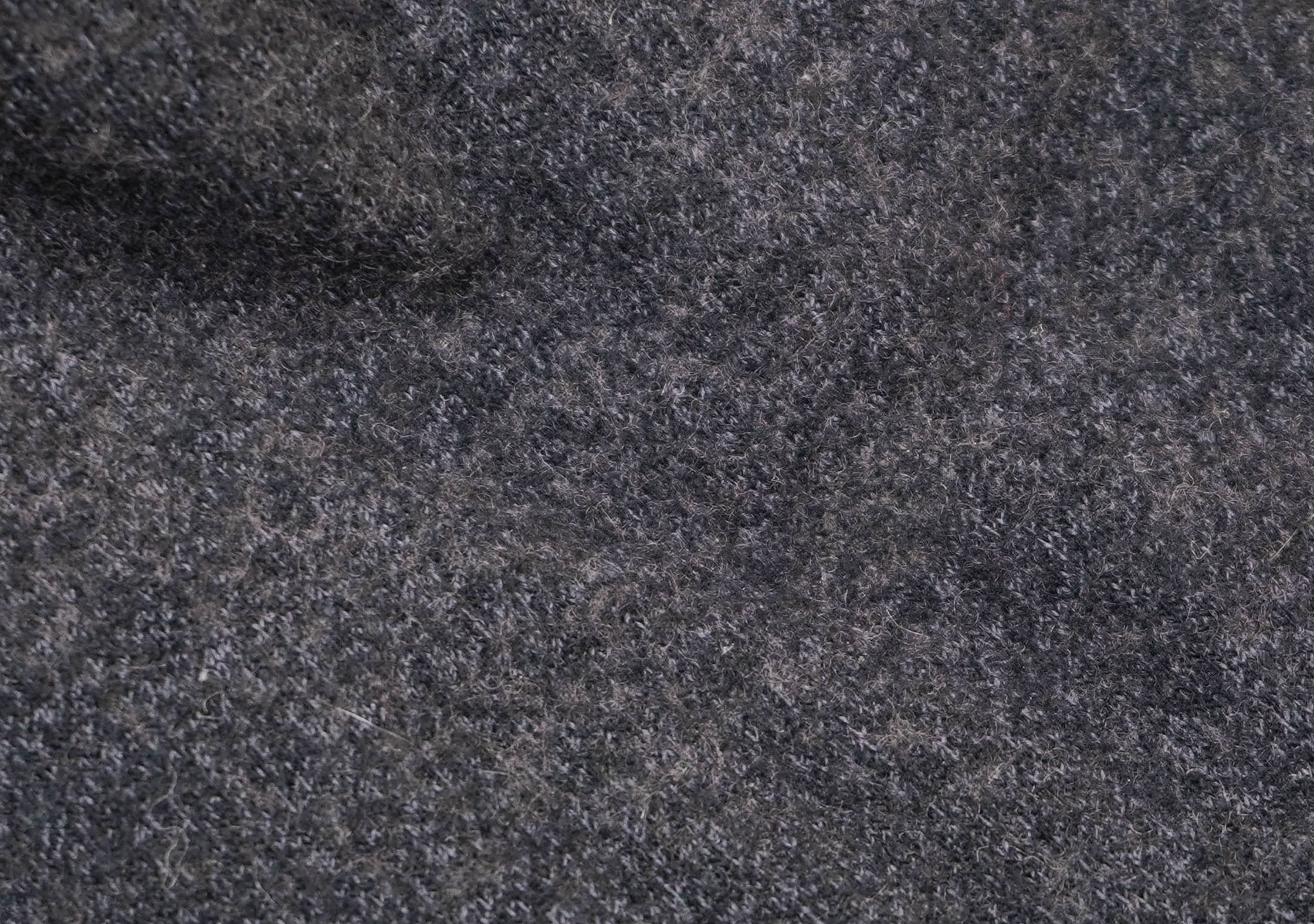 The Loungers are made from 17.5 micron Merino wool. To get technical for a moment, a micron describes the diameter of a wool fiber and the smaller the number, the finer and softer the fabric. At 17.5, these shoes are pretty dang soft. And don't worry, Merino wool isn't itchy like that sweater your grandfather gifted you last year.
We've been testing these loungers sans socks and, have to say, they're as comfortable as Allbirds says. If you can't stand wearing socks with shoes for whatever reason then you're going to fall head over heels for these guys (Heels…get it?) They're soft and oh-so cozy.
That said, despite Merino's inherent antimicrobial and sweat-wicking properties, we haven't been impressed with the Wool Lounger's odor or moisture resistance. To be frank, we still sweat in these shoes and that sweat smells like, well, sweaty feet. Sure, it's a little better than if we rocked a regular ole pair of sneakers sockless, but it hasn't blown us away by any means.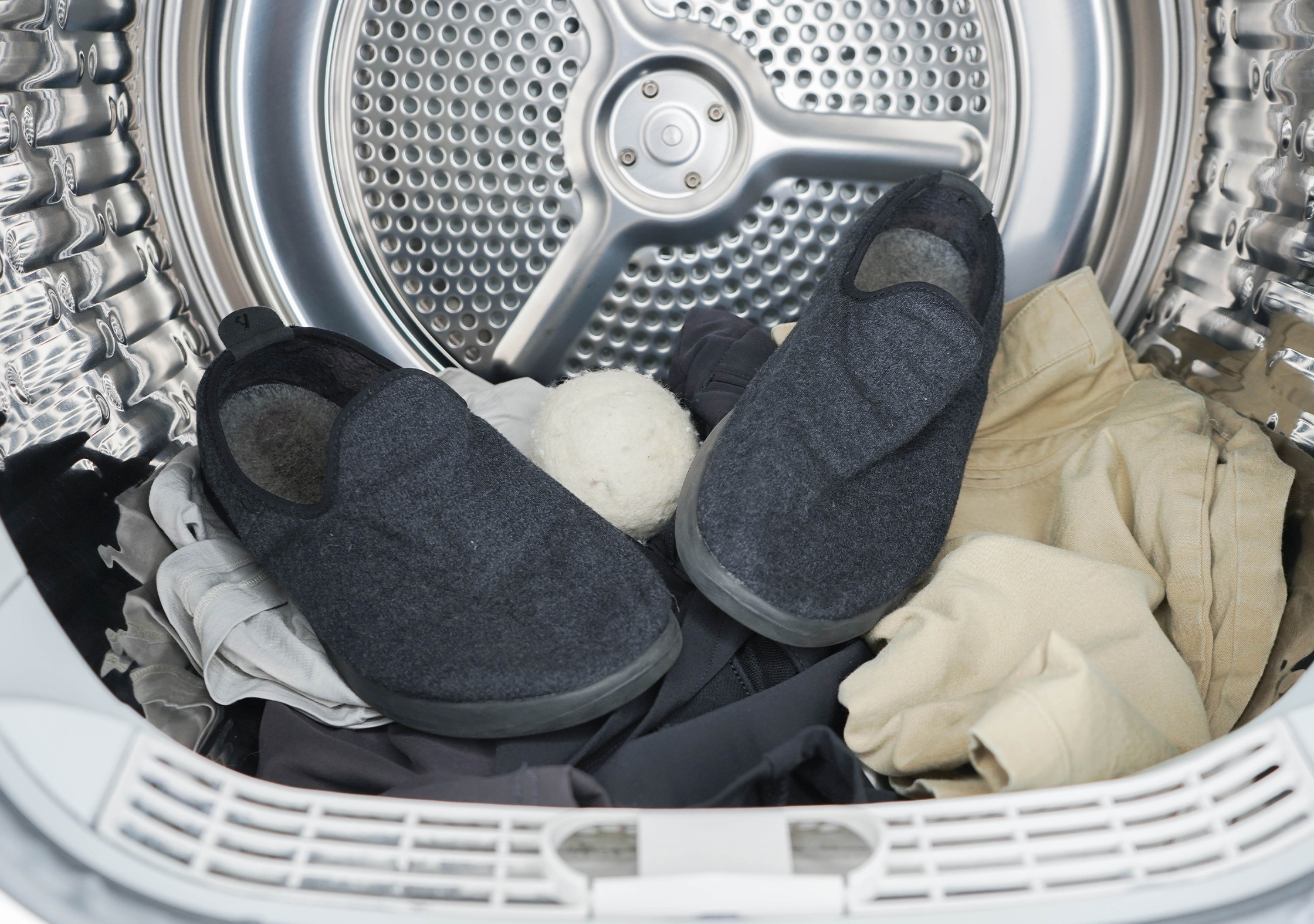 Luckily, Allbird's claims that you can toss Wool Loungers in the washer holds up. We've washed them by taking out the insoles and putting them in the washer on the delicate setting with Granger's Merino Wool Wash. And we're happy to report that they've come out of the washer intact and squeaky clean—if a bit creased on the upper. Don't worry, the creases come out as you wear the Wool Loungers around.
The shoes dry completely in a few hours (you should never put Merino wool in the dryer), which may seem like a long time, but for a pair of shoes that's not bad. Especially as they don't hold on to any water, trap any musty odors, and the soles don't get soaked.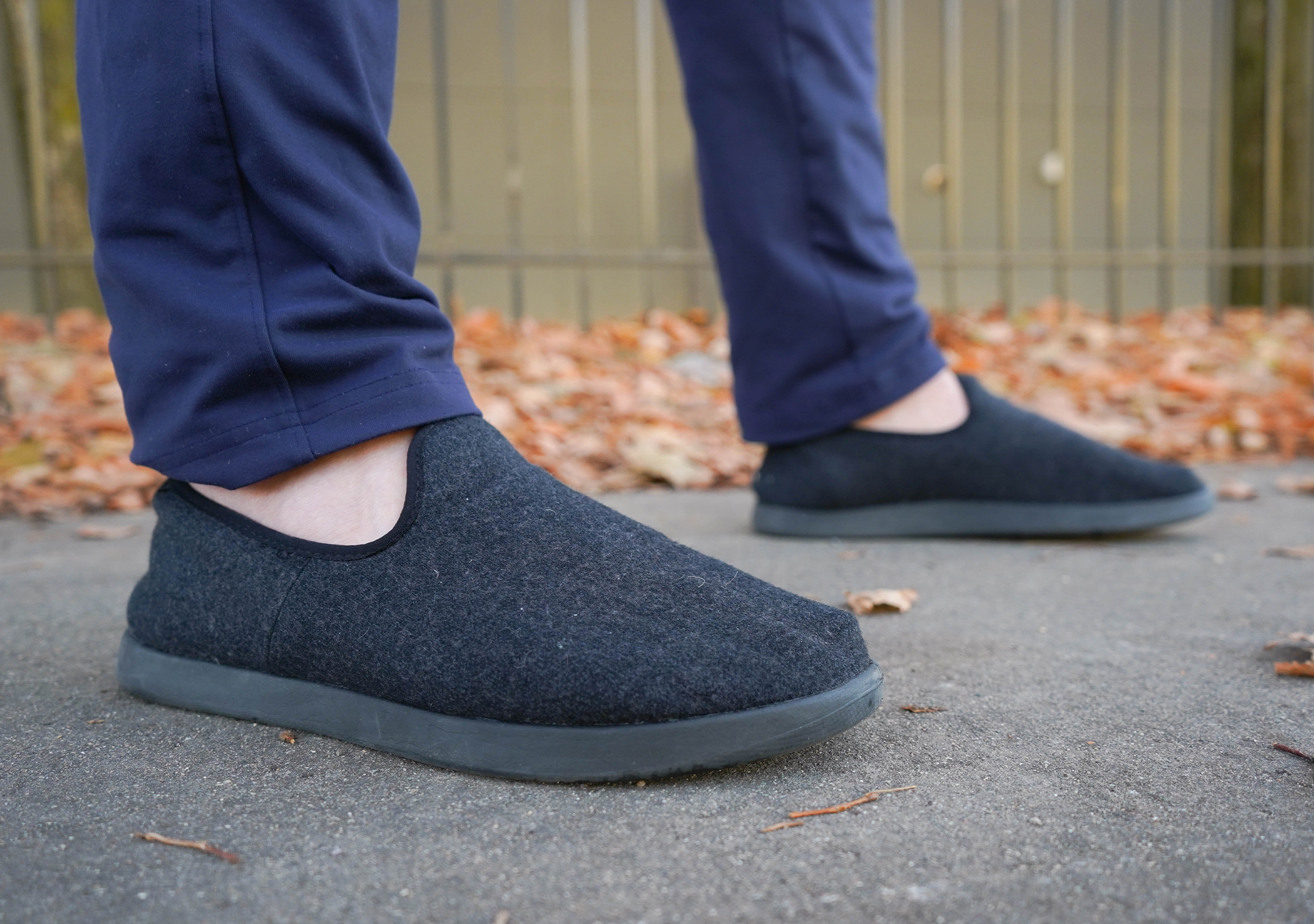 Which brings us to Merino's last benefit: thermoregulation. While these shoes will keep your feet warm-ish in the winter, they're not going to do as well for you as a pair of boots. Wool stays warmer when wet than other fabrics, but it doesn't have much water-resistance—so that icy snow will seep through the wool upper. Of course, if you live in a place where the temperature only marginally drops in the winter and the only snow in your life is on an annual ski trip, these shoes should work just fine.
The Loungers are also breathable, meaning they're pretty good in hot temperatures, but we don't recommend wearing them on scorchers. The sweatiness we mentioned earlier will become an issue.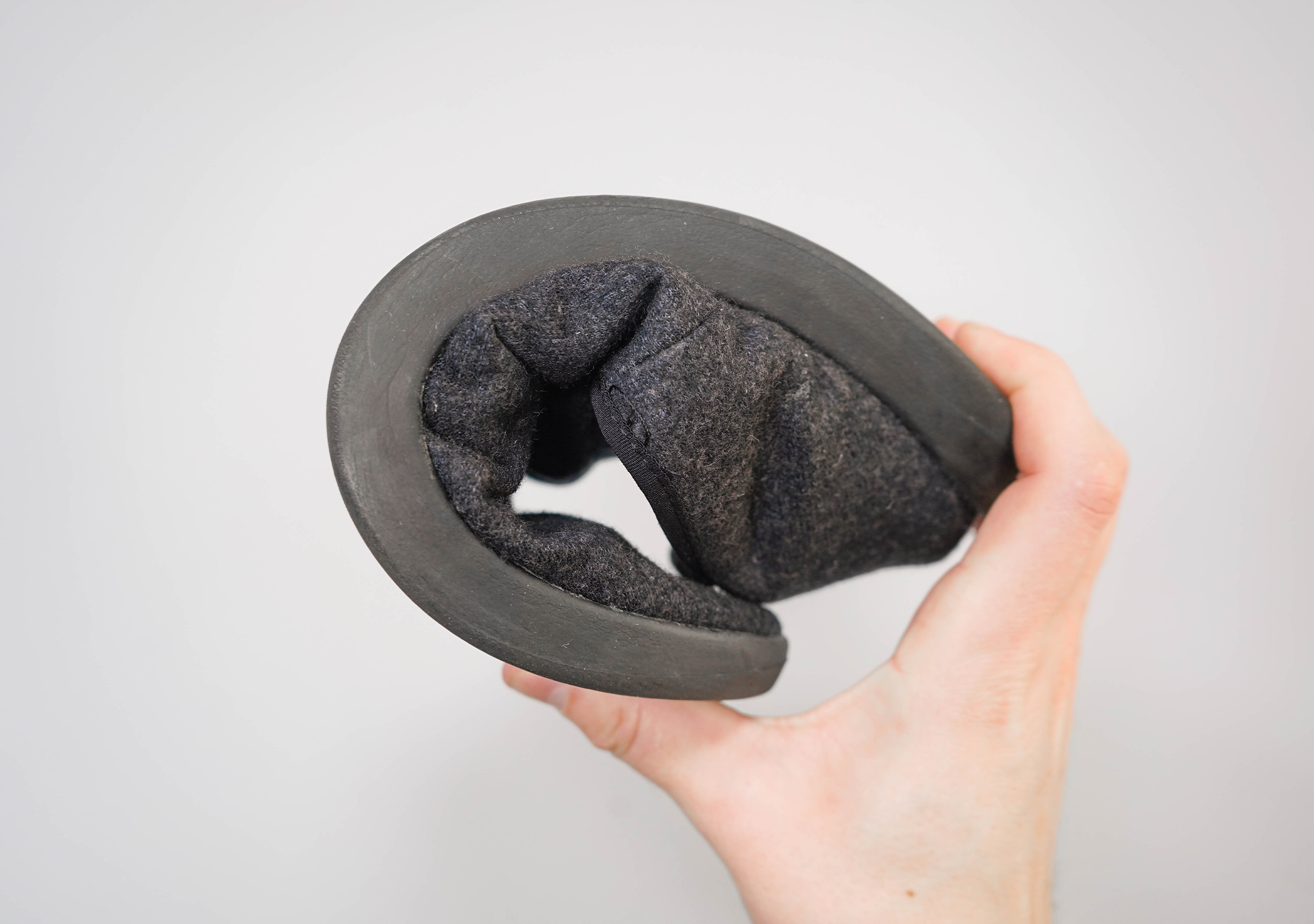 The last two features Allbirds boasts regarding the Wool Loungers—flexibility and environmental responsibility—aren't unique to Merino. But they're both important and, better yet, true.
These Wool Loungers are not as flexible as a pair of minimalist shoes but are far more flexible than your traditional pair of loungers, which is great for both comfort and packability. Coupled with the fact that these shoes are super lightweight, they're great for travel.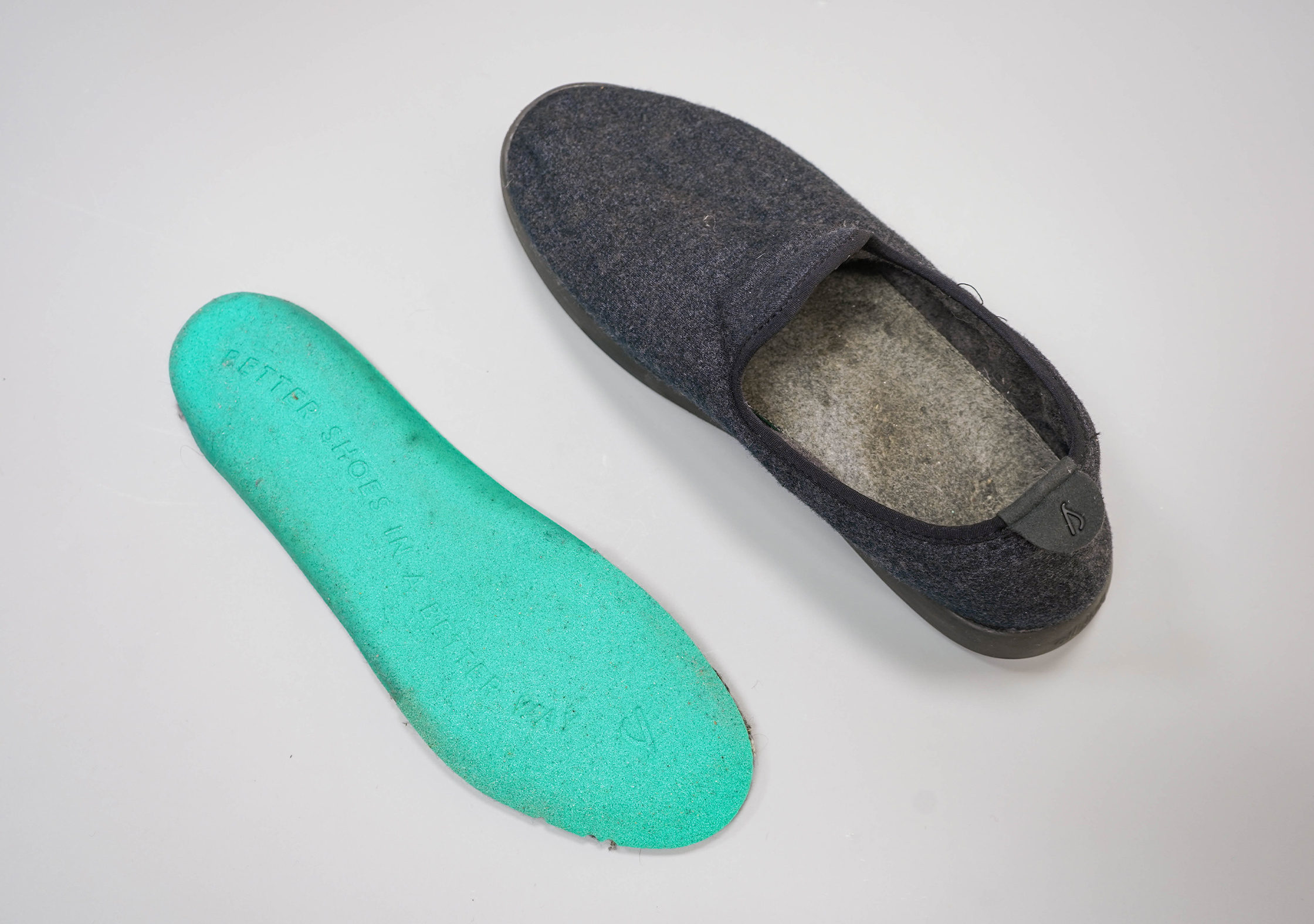 As far as environmental responsibility is concerned, Allbirds has a few great things going on. First of all, they use eco-groovy materials in their shoes. Allbirds reports that its Merino-lined insoles are made with castor bean oil (as opposed to petroleum-based foam) and that the Lounger sole is made from Brazilian sugarcane, called SweetFoam™. (The folks at Allbirds also say SweetFoam™ is the "world's first carbon-negative green EVA.")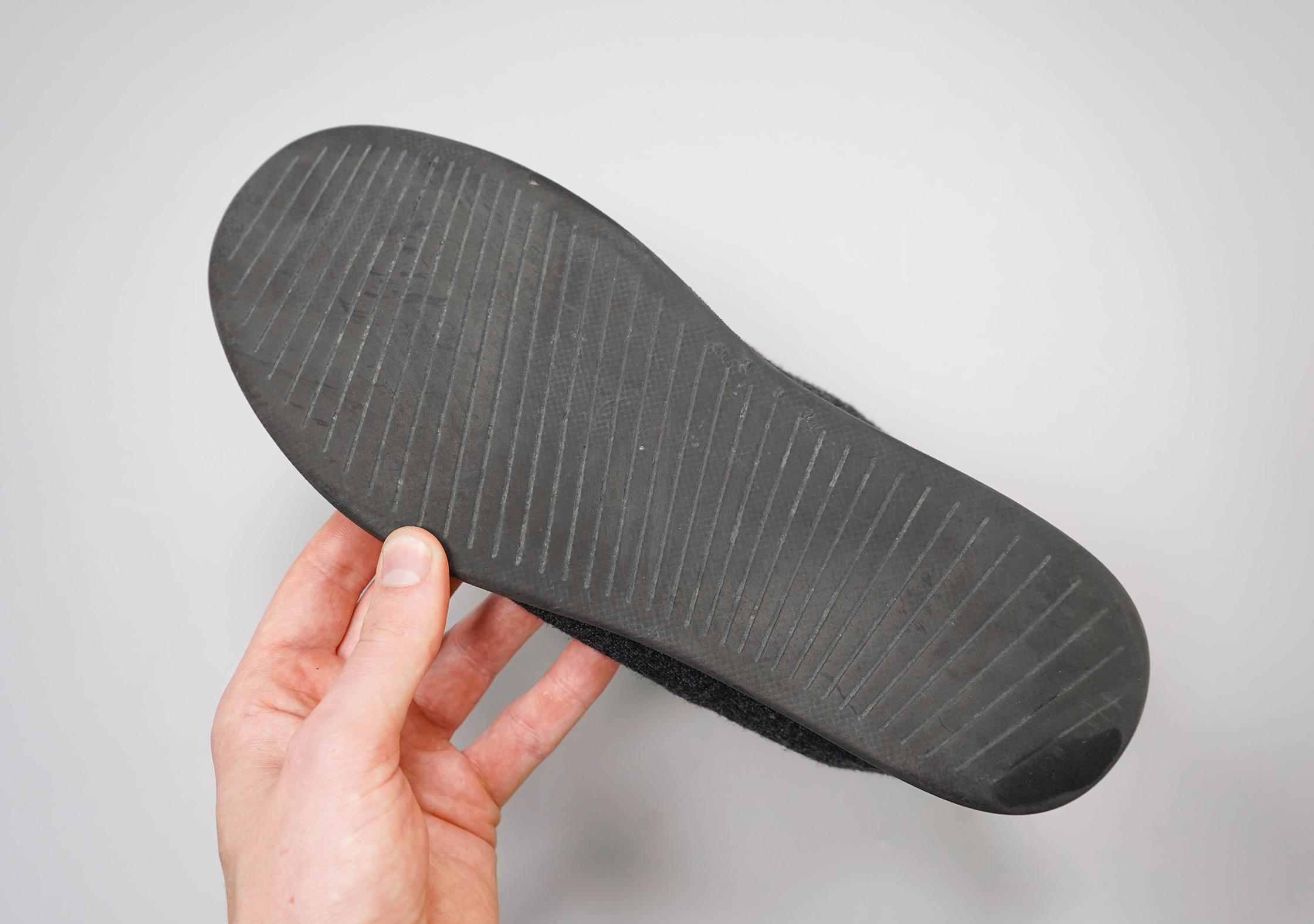 Allbirds is also a certified B-corp, which as stated on the B-corp website, means they folks there are legally required to "consider the impact of their decisions on their workers, customers, suppliers, community, and the environment." Allbirds also claims they are going carbon neutral in 2020 (with the help of carbon offsets), which definitely gets a big thumbs up from us.
Finally, the packaging used to ship the shoes out to customers is made from 90% recycled materials and is 100% recyclable. There are actually more neat things to say about this packaging, which you can read all about on our review of the Allbirds Wool Runners if you're interested.
Before we wrap up, we also want to point out that these shoes are versatile. Yes, they have that slipper-thing going on, but they're plain and only available in subdued colorways—which means they'll work with most outfits and won't call too much attention to themselves. We think the Wool Runners are more versatile than the Wool Loungers, but you could definitely get away with wearing these shoes for most casual situations.
Besides, Allbirds shoes are trendy. So you may get comments about your awesome new kicks as you strut down the street.
Durability & Testing
We've been testing the Allbirds Wool Loungers for over two years now. While we're not huge fans of the dad-aesthetic (no offense dads), we're digging all of the shoes' long list of features. For the most part, everything Allbirds claims is true—odor-resistance being the only thing we're not that impressed with.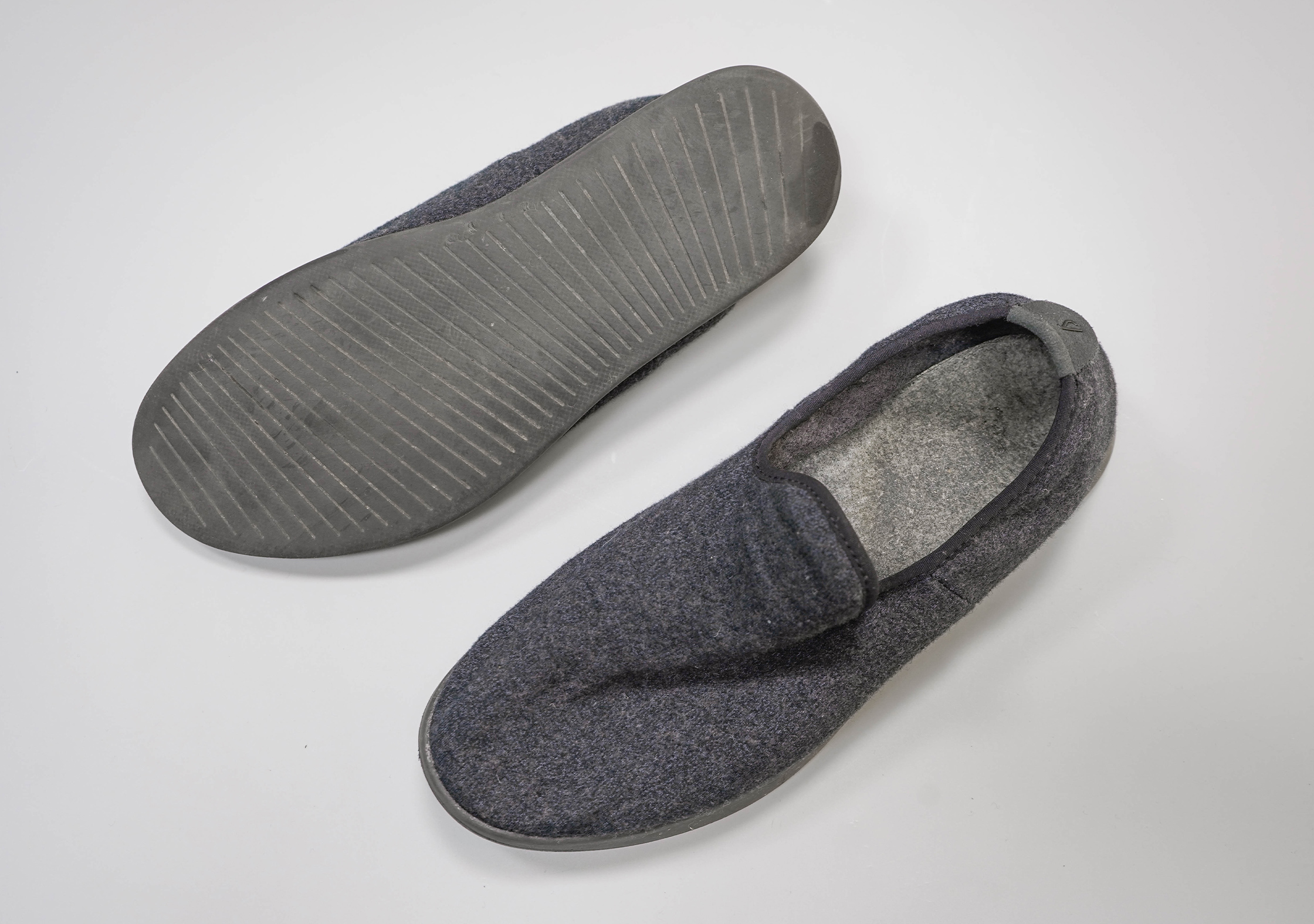 For having these shoes for two years, we haven't noticed much as far as durability is concerned. There's minimal pilling on the insole, but nothing of note on the upper. And the sole is still going strong.
Usage Timeline
Initial Usage
Condition: Excellent
Wool seems like an interesting choice for shoes, but so far they've proven to be a comfortable fit
Comfortable to wear without socks
1 Month of Use
Condition: Excellent
Really soft, but we're not digging the aesthetic as much as the Allbirds Wool Runners.
2 Months of Use
Condition: Excellent
We're mostly wearing these shoes as slippers—and what great slippers they make. So cozy!
3 Months of Use
Condition: Excellent
Haven't found the naturally antimicrobial Merino to help mitigate odors. Not like it does on a shirt, anyway.
6 Months of Use
Condition: Excellent
All good. Nothing new to report.
9 Months of Use
Condition: Good
Temperature-regulation is pretty good unless the weather is extreme. Don't expect these things to keep your feet warm outside in a Michigan winter.
1 Year of Use
Condition: Good
There's some pilling on the insole—nothing wild, though.
1.5 Years of Use
Condition: Good
2 Years of Use
Condition: Good
Nervously tossed them in the washer—sans insoles—with Granger's Merino Wool Wash, but it turned out better than we thought it would. The shoes are clean and intact! Plus they dried within a few hours, ensuring no mildewy smell developed.
Access the Pro Community Discussion
Get your questions about the Allbirds Wool Loungers answered from our team and the Pro Community right here on the page. Plus, join discussions with other members about gear, guides, and more.
Other Clothing & Accessories Reviews