Aer Go Sling 2 Review
The Aer Go Sling 2 has stellar organization that can hold everything you'd typically throw into your pockets, although it might be too small for some.
Our Verdict
Unlock the Pro Summary
Save time. Get access to brief summaries of our reviews so you can browse and make decisions more efficiently.
Pros
Plenty of internal organization for a small sling, and it works well
The strap closure is small, easy to use, and stays closed when you want it to
The Cordura crinkle nylon is durable and feels nice to the touch
Cons
At just 0.8 liters, there isn't a ton of room for gear
Zipper can get caught going around corners
Internal organization doesn't work well with larger gear
Recent Pack Hacker Video
Technical Details
100 %
Carry-on Compliance
Capacity

.8l

Weight (lb)

.3 lb (0.1 kg)

Dimensions

9.5 in x 5 in x 2 in (24.1 x 12.7 x 5.1 cm)

Notable Materials

CORDURA® Nylon, YKK Zippers, Duraflex Hardware, Woojin Hardware, Hypalon®

Manufacturing Country

China

Warranty Information
Full Review
Get up to 10% off Aer • Join Pack Hacker Pro
The Aer Go Sling has seen a complete redesign from the previous iteration. The first model was shaped similarly to a portrait-style photo, whereas the new offering from the San Fransisco-based modern bag company is shaped like a beautiful vast panorama. It looks a lot sleeker, but how does it perform? Let's dive in and find out.
External Components
The sling is crafted from 210D Cordura crinkle nylon. It's bluesign® approved, which means that the materials are sustainably sourced, which is a great shout. All Aer products we've tested since the release of the Travel Pack 3, Flight Pack 3, and Day Sling 3 have had such a designation—so this isn't a one-off—but it's worth commending.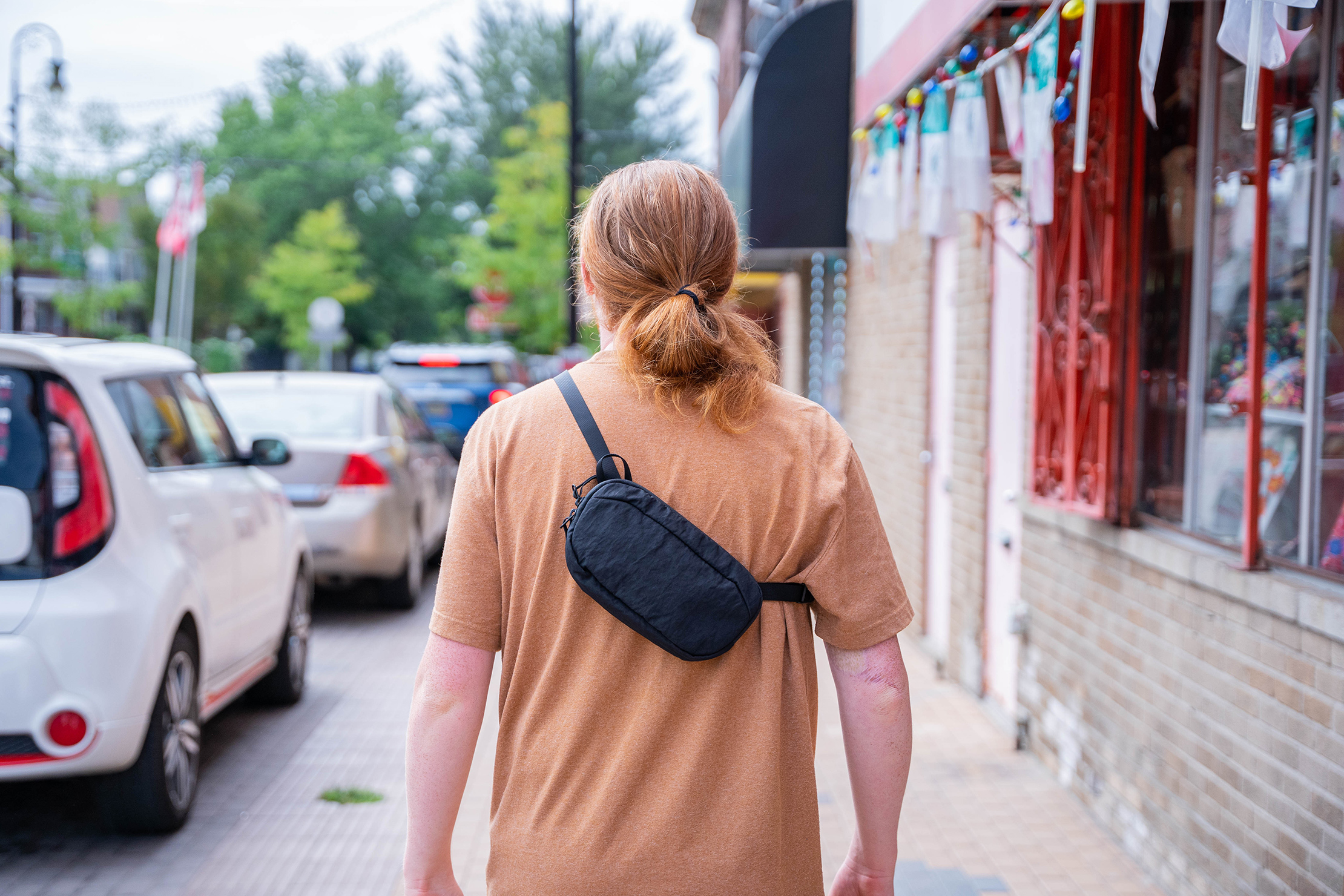 Throughout the pack, we have YKK zippers, which work as we'd expect them to. If you try to open the pack with one hand, the zipper can get caught in the corner occasionally, but most of the time, there isn't an issue. The exterior zipper pulls are made of Hypalon, which is easy to grab onto and feels sleek. The adjustment hardware is from Duraflex, and changing the strap length is easy. The buckle is from Woojin, replacing a larger FIDLOCK on the previous iteration. We find this one a lot easier to use and a lot more minimalistic. It doesn't come open when we don't want it to, which is the most crucial feature regarding closure.
The strap is extraordinarily thin but works for the sling's size. At 0.8 liters, you can't fit a ton of gear inside to overload the strap. There's a strap keeper to ensure no extra material bothers you while you're going about your business. There's a loop on the left (or right side if you're wearing it) which makes hanging it up easy. You can throw it over a post, attach a carabiner, or use it as a fidget when a mariachi band comes onto the subway while you're talking seriously with your partner about your future. No matter which way you choose, it's helpful.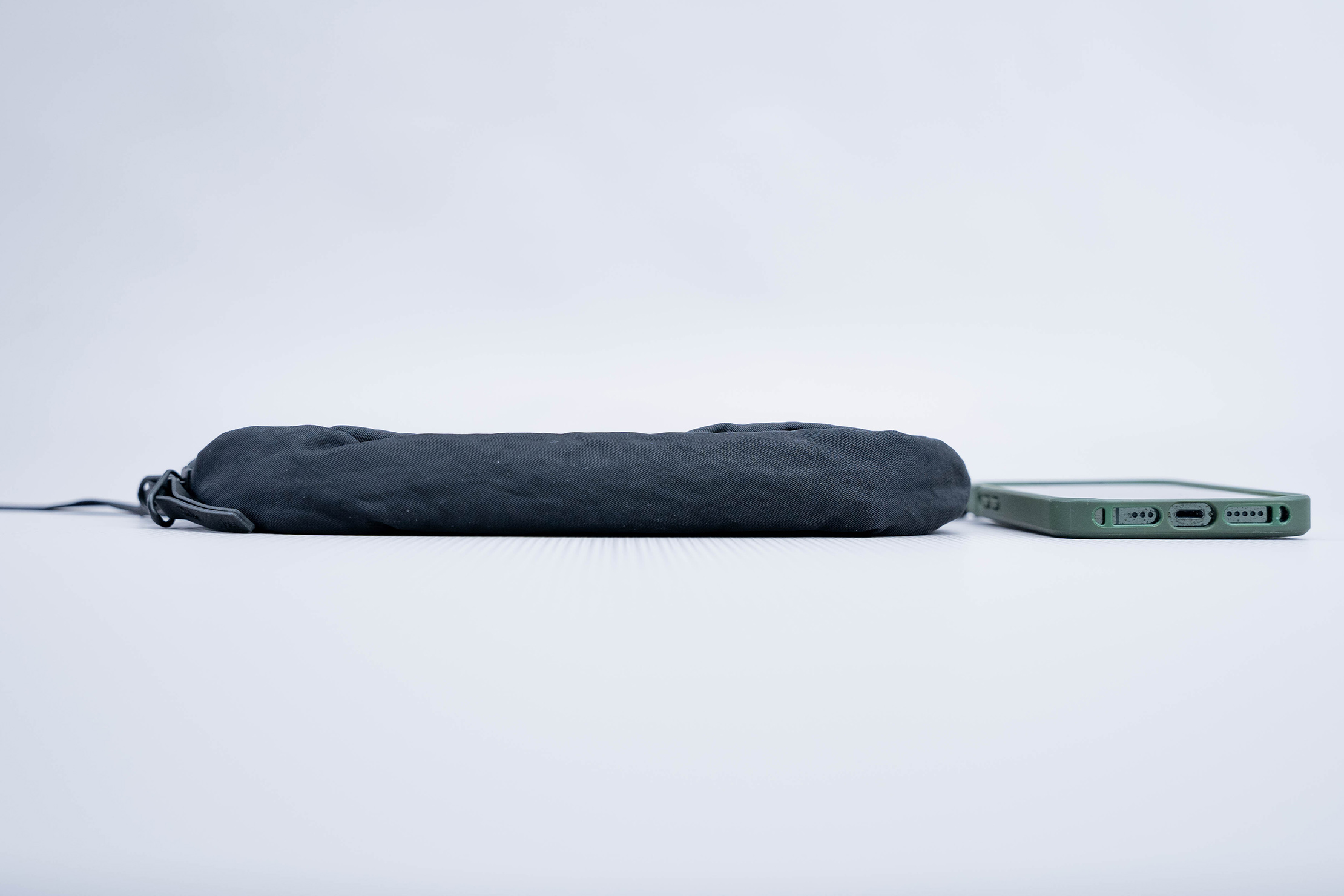 Overall, the materials are lightweight and don't take up much room. When there isn't anything inside the sling, you can easily stow it inside your daypack or travel backpack. In addition to compressing to be nearly flat, you can fold it up to slide inside a pocket on another piece of equipment. When rolled, it's roughly the size of the skinnier cans of pop you see in Europe, and it fits in the palm of your hand. Although you can't hide them completely, the straps slide into the main compartment fairly easily. This means that they won't act like a lasso inside your pack, get stuck on your underwear like a bull, and come flying out when you're trying to grab your sling in the middle of a crowded train station. Our references have been oddly specific so far, but that shows you how well we've gotten to know this sling in testing!
Fit Notes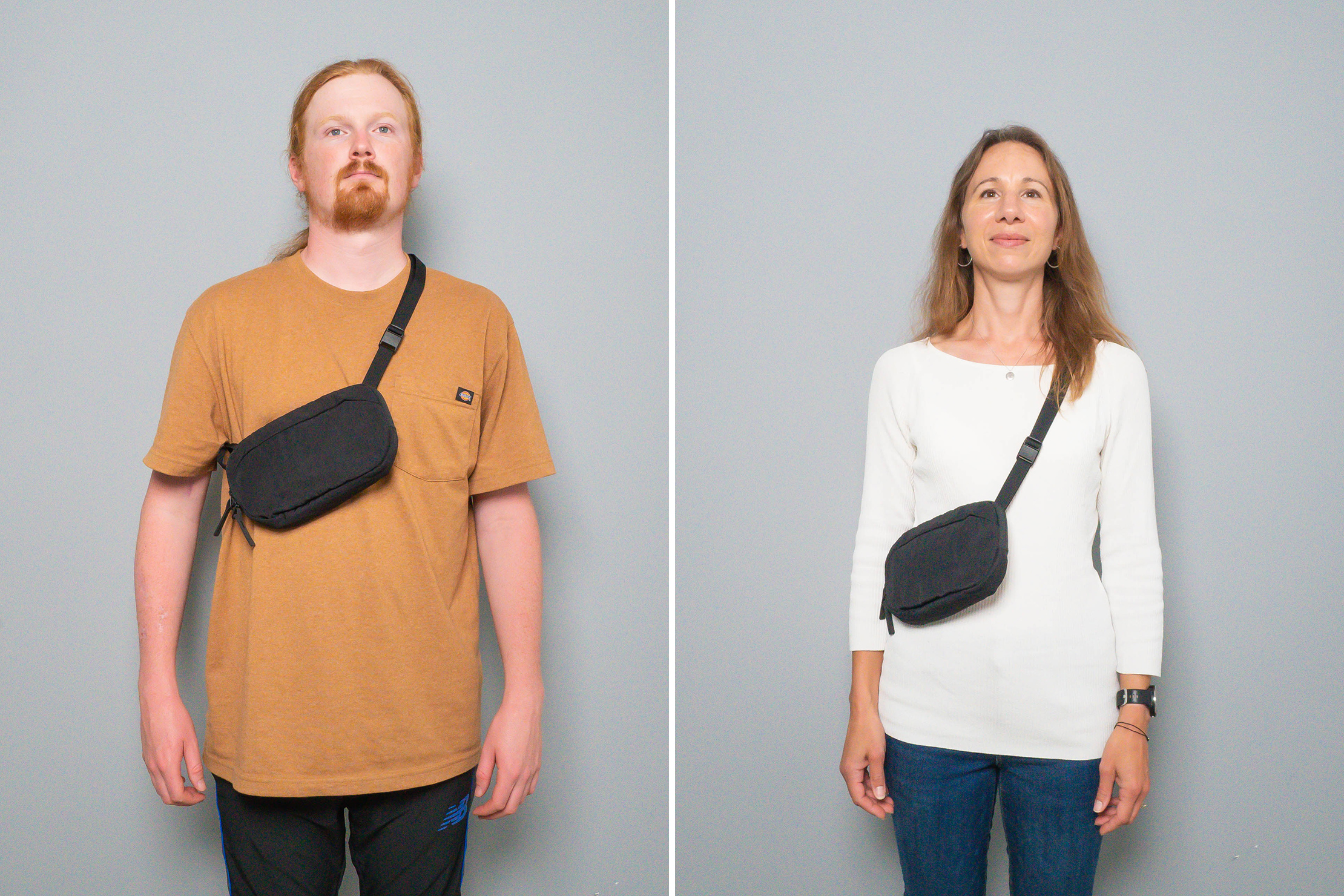 There isn't a back panel—or at least there isn't any aeration or padding to speak of. There's material there, but it's the same as we see on the front side of the pack. The Crinkle nylon is comfortable to hold in your hand and is semi-soft, so it won't feel rough if you're wearing a tank or crop top.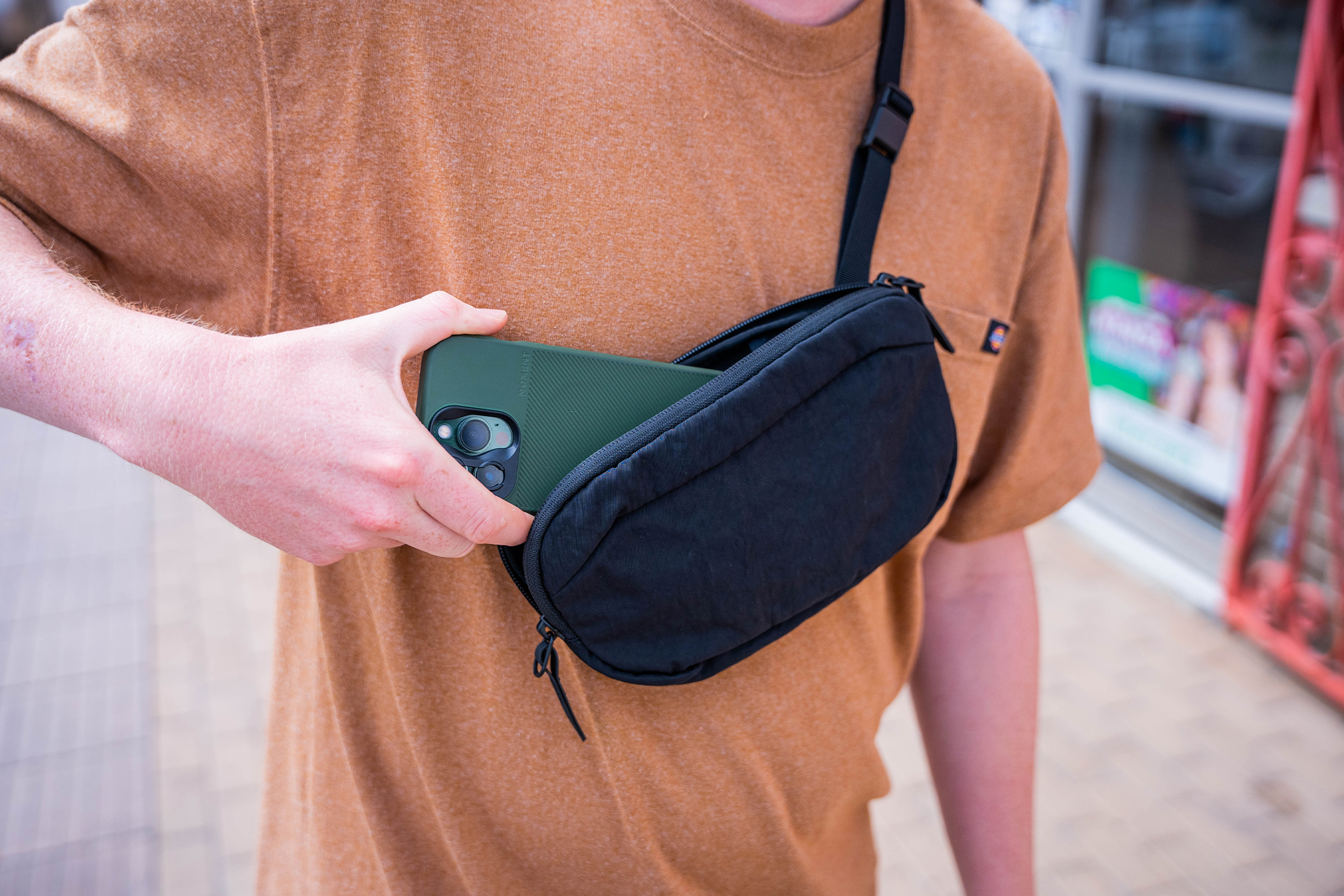 The strap doesn't have any padding or aeration either, though it isn't overwhelmed due to the sling's size. If you were to fill it up with dense items, like all the tech in your tech kit, or rocks, you might start to feel it digging into your shoulder. However, we never have such an issue unless we purposely pull on the sling to try to feel the effect.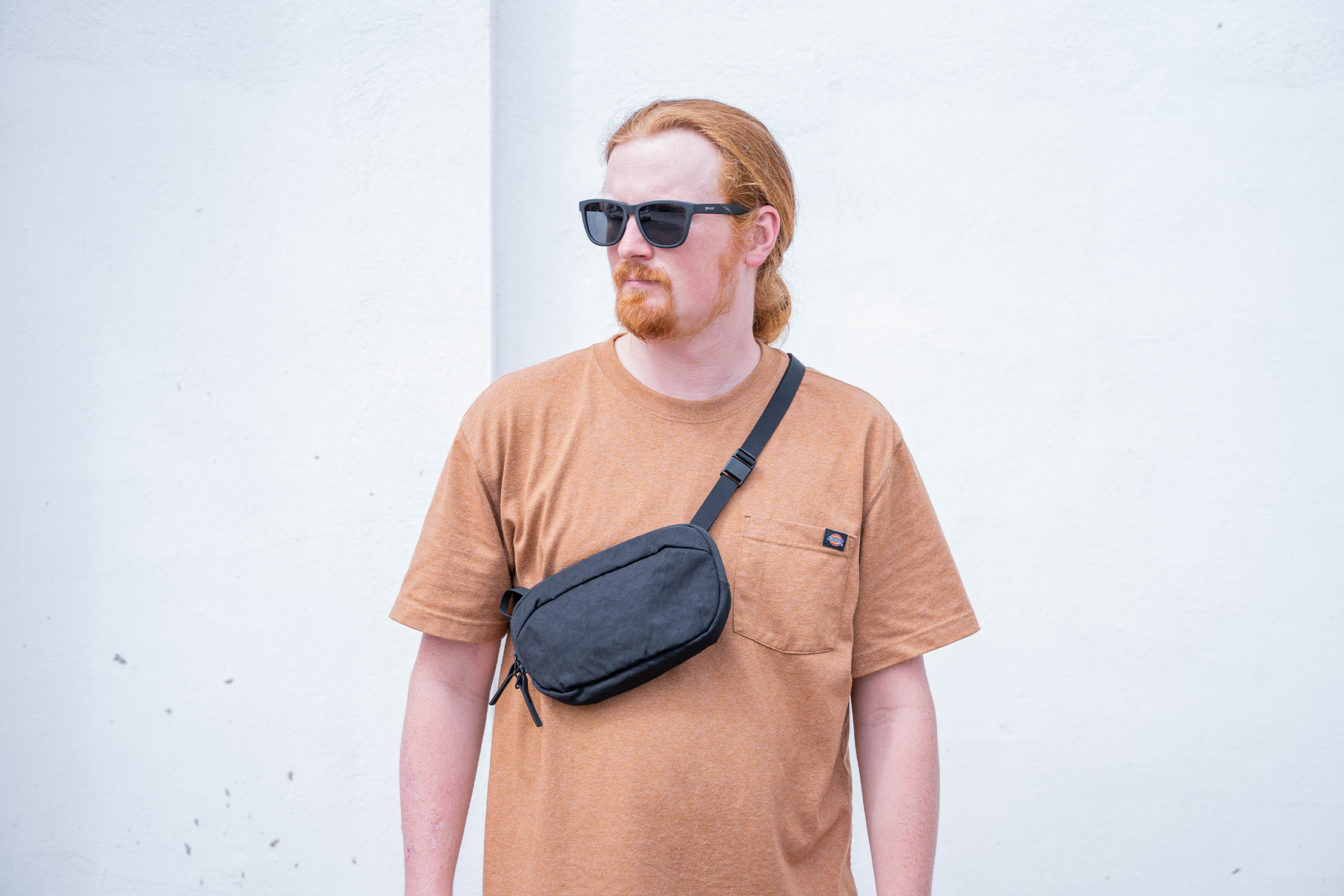 The strap isn't removable like it was on the first iteration of the Go Sling, but that doesn't bother us much. This isn't a piece of equipment you would need to remove the carry function from—it operates as a sling and not much else—and we dig that.
Inside The Sling
The Go Sling 2 has a fair amount of organization for such a small piece of gear. Two elastic pockets on the front side of the main compartment's interior are large enough for a wallet, charging cables, or other handheld gear.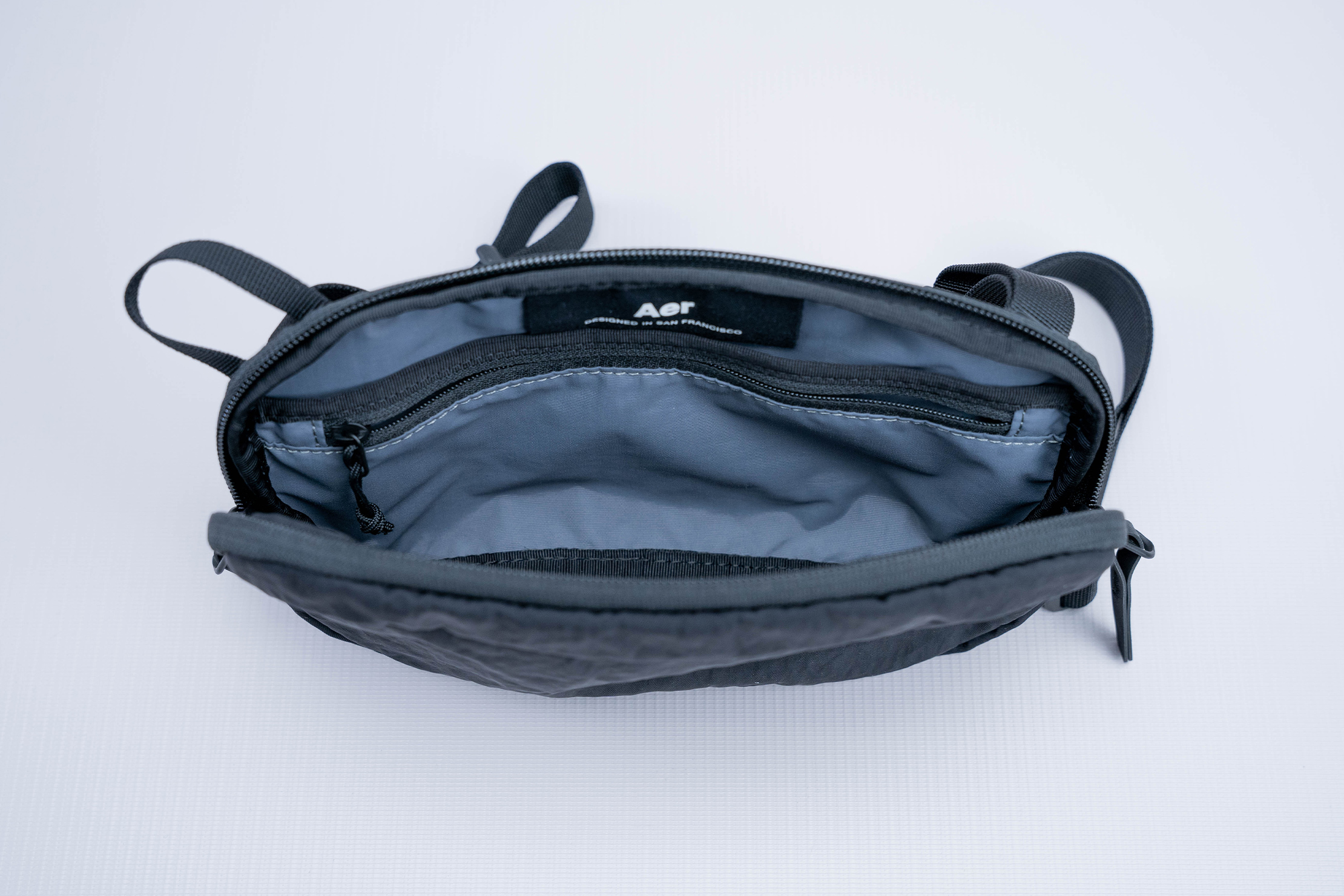 A liner pocket on the back side is suitable for a phone, small notebook, or similarly sized item. It isn't large enough for a kindle or tablet, which is a nod to the nature of this sling. It's for what you'd typically throw in your pockets should you not have them, or if you want to keep something else in your pockets so your EDC gear can live in here instead.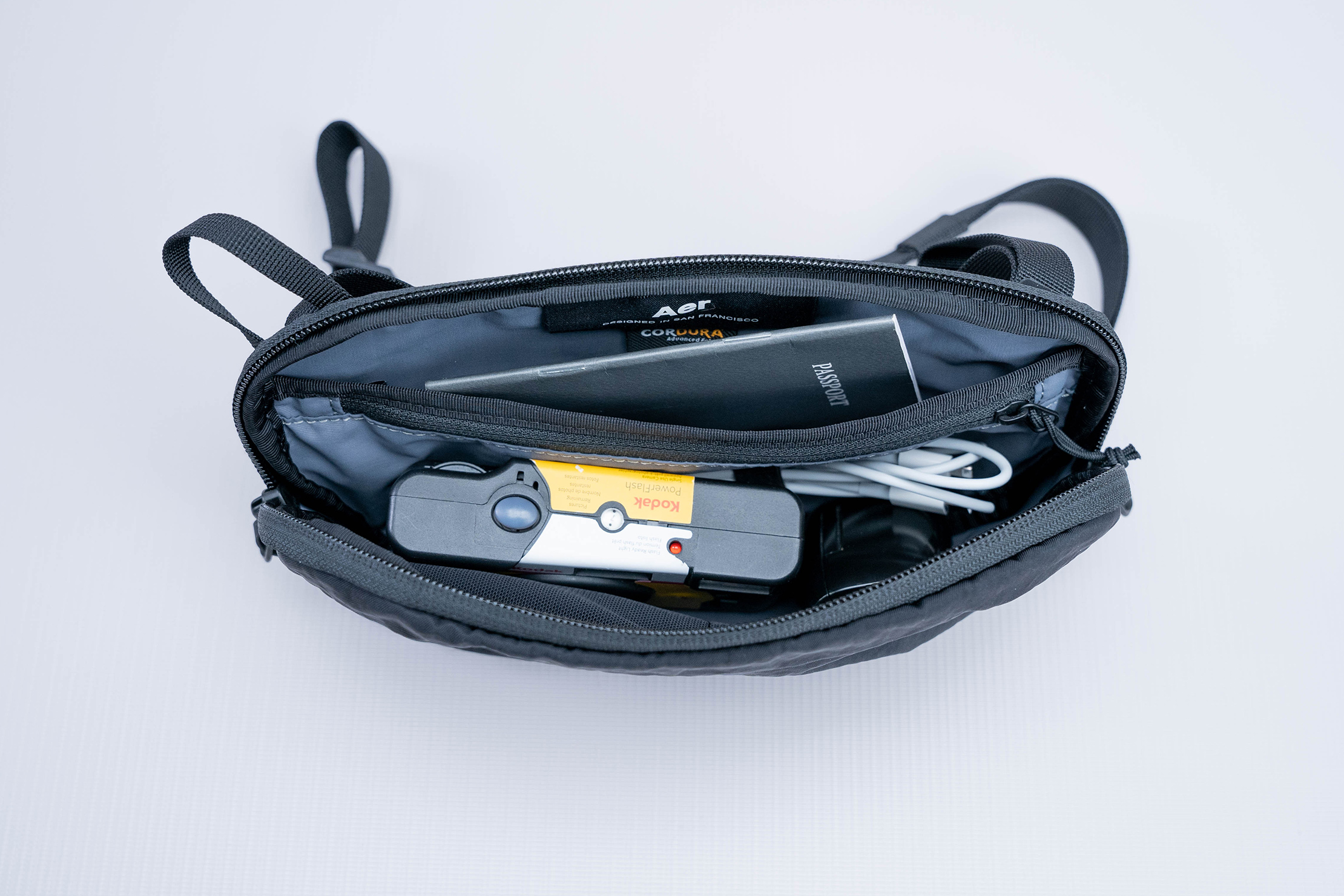 On the outside of the liner pocket, there's a zippered compartment with a YKK #3 zipper. This is an intelligent addition because the other places to stow smaller gear don't have a closure, so this becomes the place for the gear you want to lock down. An uncased or smaller phone will fit here, but larger phones or those with significant cases won't. A passport won't work either, which is a bummer for those who like extra security, but it will fit in the liner pocket.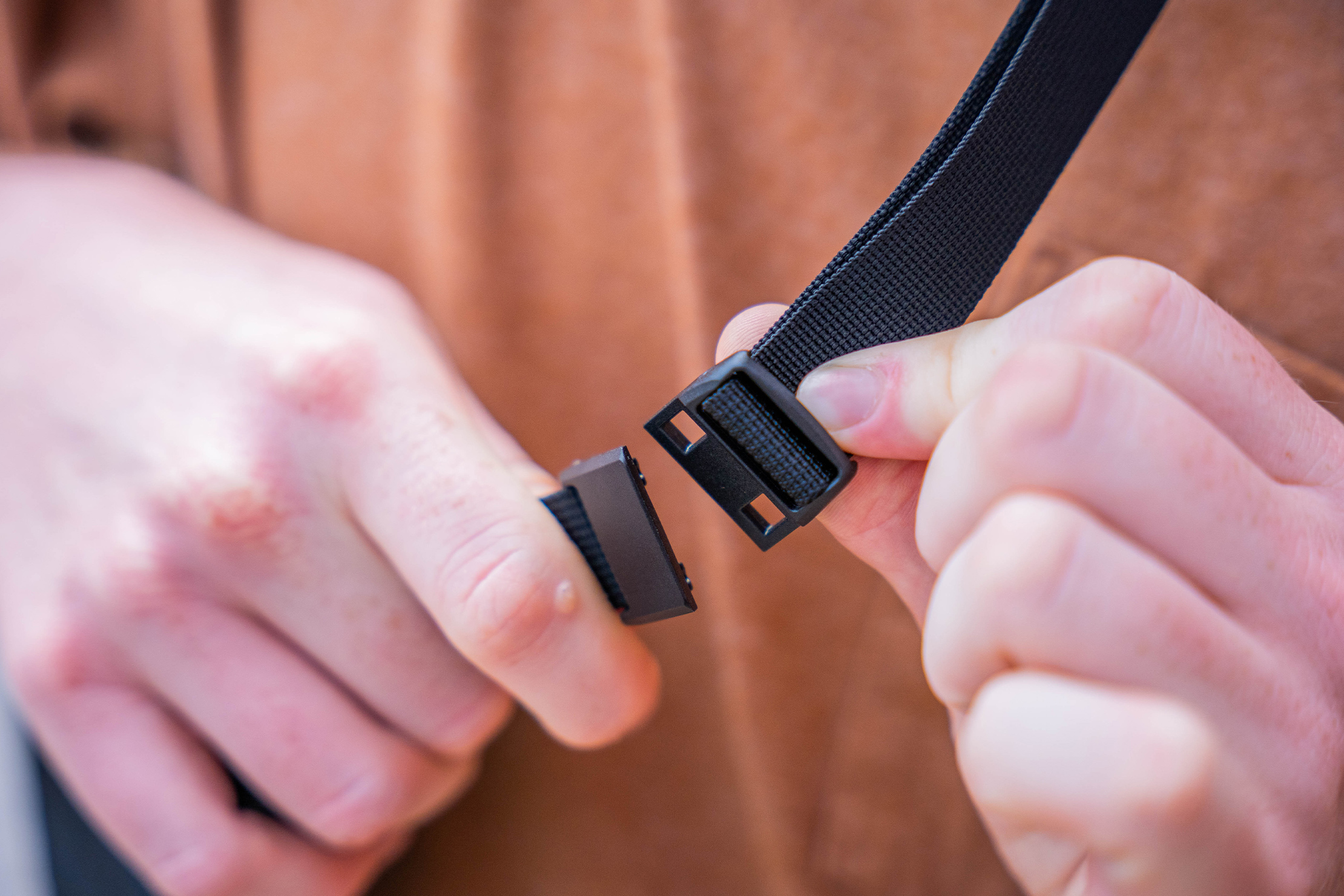 Overall, the Go Sling 2 is a great companion for travelers of all sorts. If you want a sling to help take the load off your pockets, it's a great shout. Or, if you like to keep things as minimal as possible but can't cut a sling out of your packing list, the Go Sling 2 is a perfect fit. It probably won't work if you like to bring everything and the kitchen sink along for the ride. Well, unless you get five…but that might be overdoing it!
Usage Timeline
Initial Usage
Condition: Excellent
A complete redesign from the first iteration—with a sleek and minimalistic design
The YKK zippers, Woojin hardware, and Duraflex adjustors feel very competent for a sling of this size
The inclusion of bluesign® approved materials is commended, and they appear to be durable
2 Weeks of Use
Condition: Excellent
Materials are holding up well—no abrasion or noticeable marks
The strap is comfortable, even when the sling is full
Zippers stick on corners occasionally but work well otherwise
Access the Pro Community Discussion
Get your questions about the Aer Go Sling 2 answered from our team and the Pro Community right here on the page. Plus, join discussions with other members about gear, guides, and more.
Other Bags & Luggage Reviews