Whether you're traveling for work or pleasure, we all need to slow things down now and then. Bringing along a travel yoga mat is an excellent way to wind down after a long day, get ready in the morning, and keep up your daily routines while traveling to avoid getting out of sync with your body's needs.
Before diving too far into what mats you should consider, we should discuss what to look for. There are two primary kinds of portable yoga mat models: folding and rolling. Some foldable yoga mats can be rolled and vice versa; however, just because it goes one way doesn't mean it goes the other. When choosing your yoga mat, first decide what you have space for in your bag.
Regarding thickness, most travel mats are between 1.5 and 2mm, but there are a few exceptions to that rule. A standard yoga mat is typically between 3 and 5mm, so you should expect to feel more through the surface than you're used to. However, that doesn't mean you should be uncomfortable. Some mats have unique or rugged materials to combat this.
Depending on what kind of travel backpack or daypack you have, you might have to get a certain type of yoga mat. Bringing a long rolled travel yoga mat without external attachment straps will be difficult. However, a folding mat will fit inside most packs without issue, so long as you've left enough space.
Now you're ready to look for your next travel yoga mat! Let's dive in.
1. JadeYoga Voyager Mat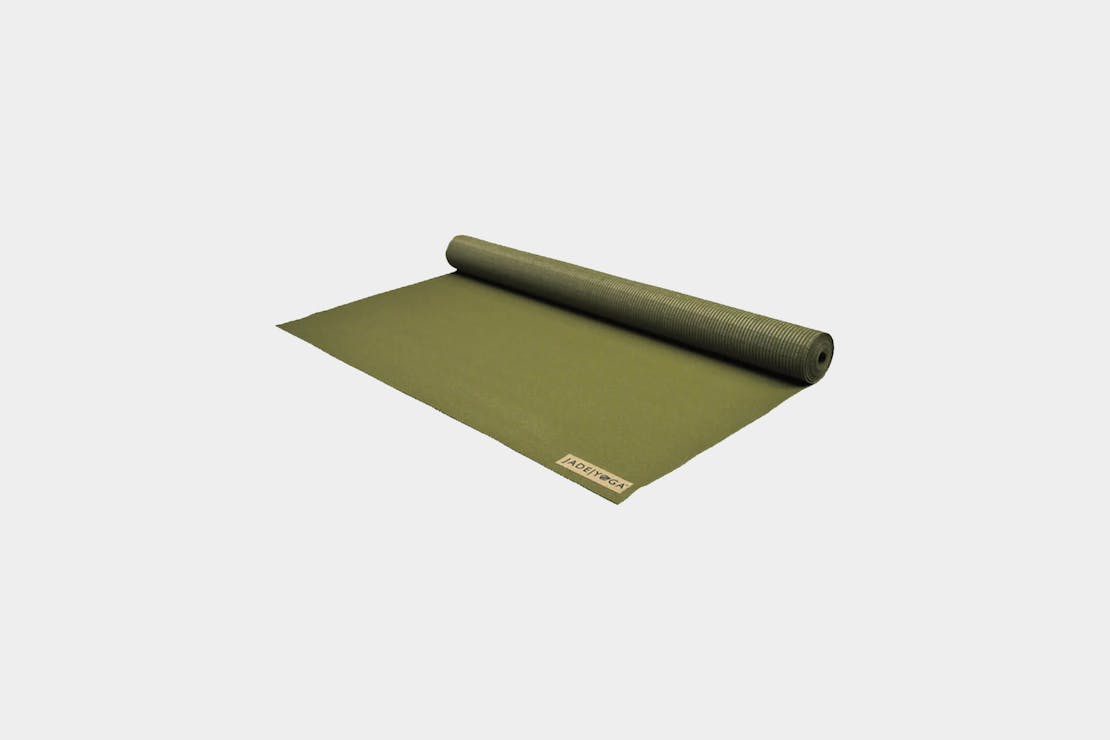 The perfect mat doesn't have to be overly synthetic. The Jade Voyager Mat uses natural materials without PVC, EVA, or other synthetic rubbers and is made in the United States of America. We rarely find a lightweight yoga mat without synthetic materials, so we're here for it. Plus, Jade plants a tree for every mat sold. Yay, foliage!
There isn't a ton of padding to speak of on this portable yoga mat; however, at 1.59mm thick, it's a more than capable contender for your next trip because of its packability. It's surprisingly comfortable, even as you Downward Dog on the rough ground of the shores of Lake Huron, and the natural rubber is super grippy, so you won't slip out of your pose. With several colorways available, you can get one that matches your travel gear.
It rolls up tightly, or you can fold it into a block when you're ready to store it, making it one of our favorite foldable yoga mat models on the market.
Why We Like It
Uses natural materials instead of synthetic, which feel good on your body
Rubber provides better traction than some other materials
What You Should Know
The strong rubber smell dissipates fairly quickly
The grippy texture can attract dirt and pet hair
See Details & Buying Options
So there you have it: some of the best travel yoga mat models on the market. Hopefully, by this point, the yogi in your heart is ready to balance your way to new and exciting destinations. Happy travels!