Manduka eKO SuperLite Yoga Mat Review
Whether you're an avid yogi or just looking for a spot to zen out while traveling, the Manduka eKO SuperLite Yoga Mat is an eco-friendly choice that can be packed up smaller than your average yoga mat.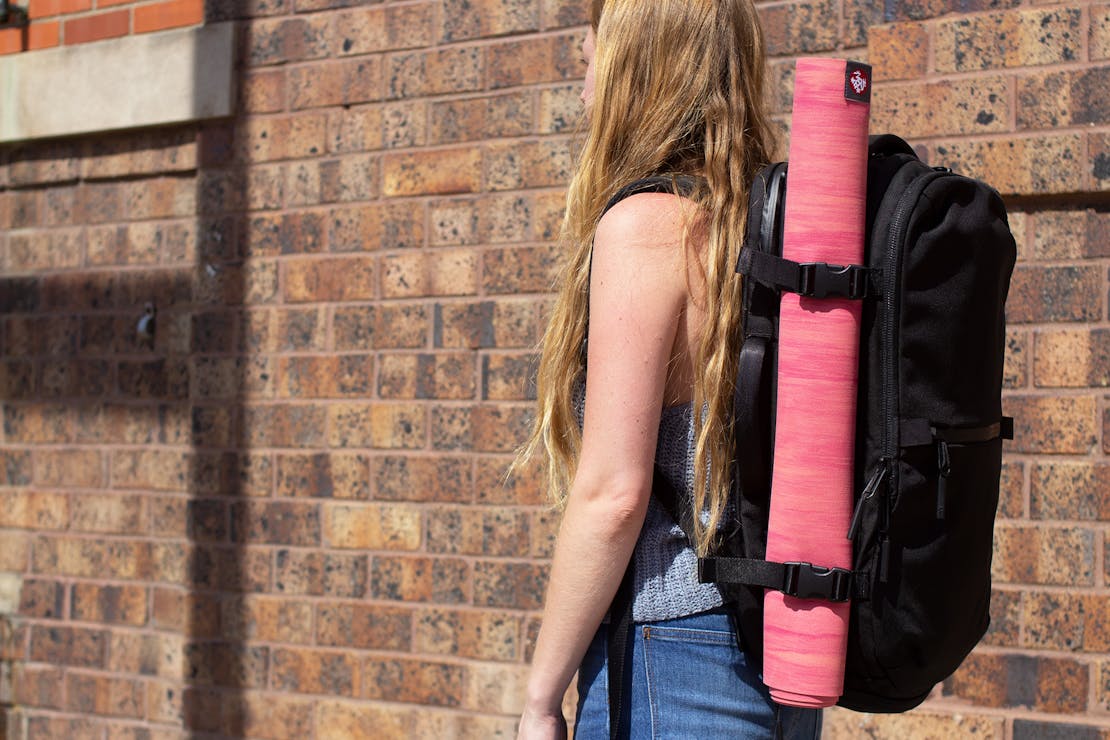 Our Verdict
Unlock the Pro Summary
Save time. Get access to brief summaries of our reviews so you can browse and make decisions more efficiently.
Pros
Can be folded up and fit into your travel bag—unlike your average yoga mat
Very slip resistant—perfect for hot yoga
Made ethically AND Manduka offers a recycling program for the mats
Cons
Can develop scratches fairly easy
Not much padding to it
Recent Pack Hacker Video
Technical Details
Weight (lb)

2.2 lb (1 kg)

(Slight differences around 0.5lbs may occur due to unique make of every mat)

Dimensions

68 in x 24 in (172.7 x 61 cm)

1.55 mm thick

Notable Materials

Natural Rubber

Manufacturing Country

Taiwan

Warranty Information
Full Review
The Manduka eKO SuperLite Yoga Mat's name fits it well. The mat is lightweight and can be packed down to niftily fit inside any travel bag. If you're an avid yogi, or just someone looking to stay healthy during travels, this mat may be a great choice for you.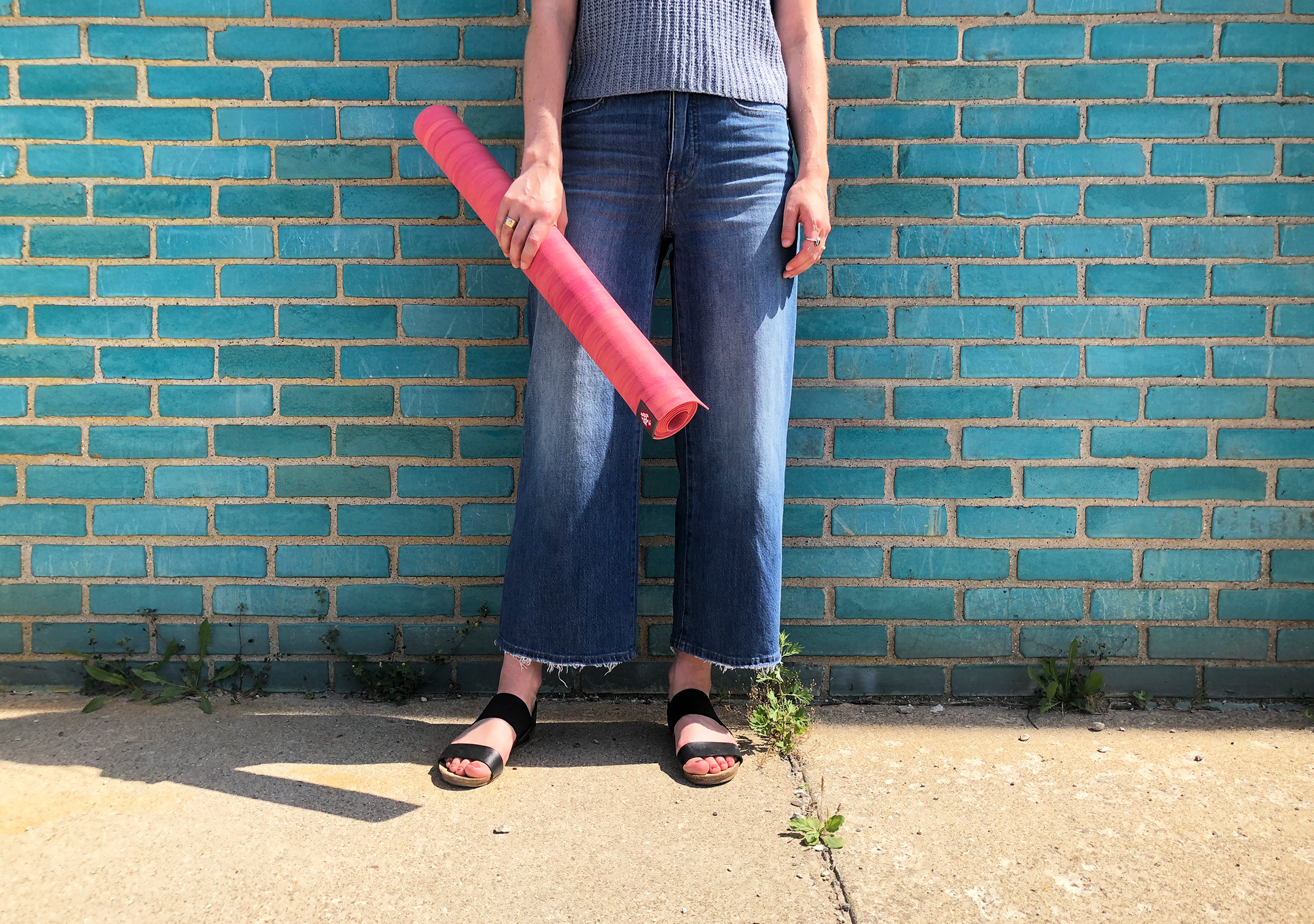 Materials & Aesthetic
The mat can be found in several different colors—we've seen quite a few choices cycle out in the past couple months, so keep a look out if you don't find a color you particularly love. We chose kin, which is basically a mat made up of various shades of pink. Surprised we didn't choose black? We really had to step out of our comfort zone for this one.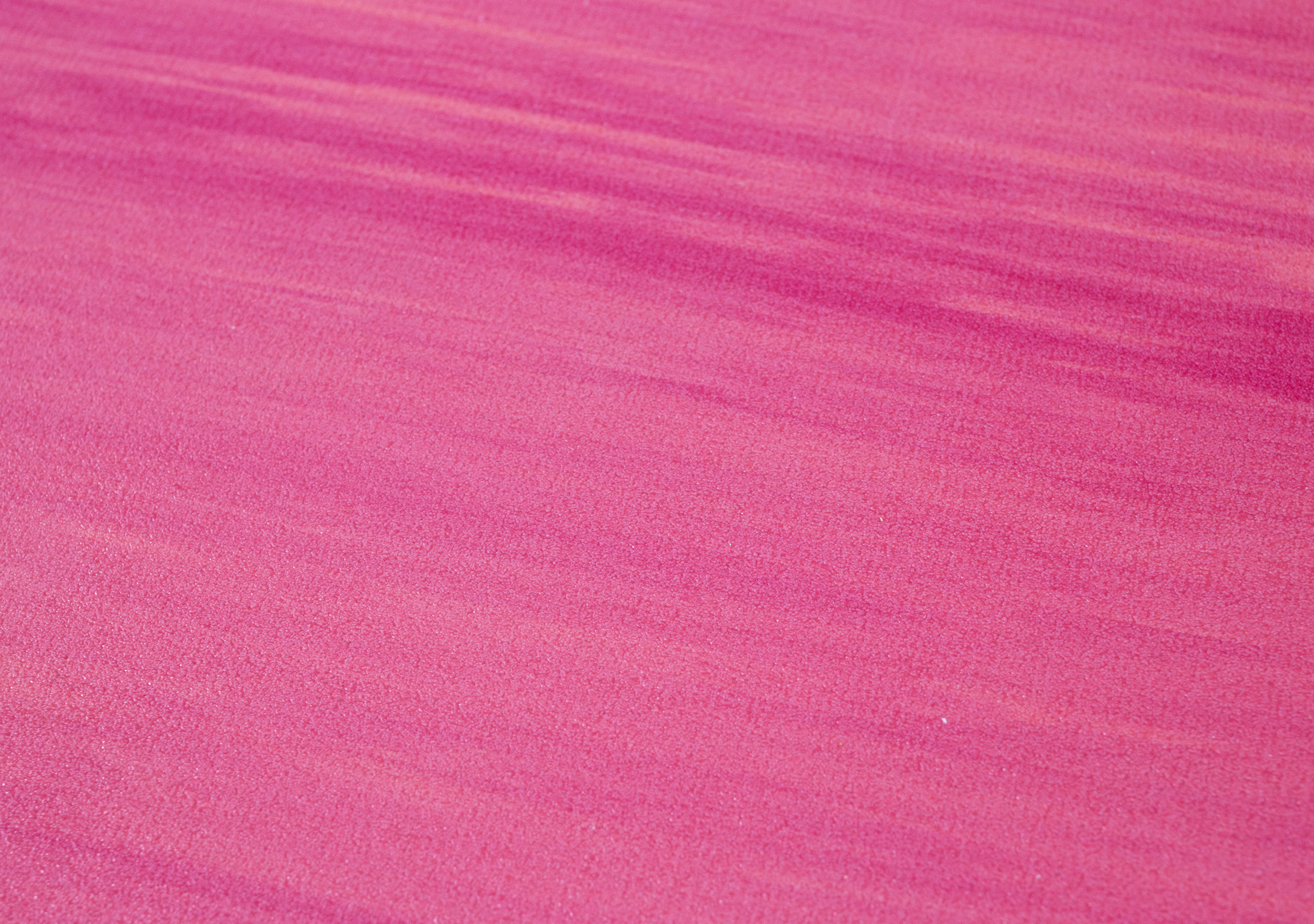 Every mat is made from 100% natural tree rubber. This stuff just happens to also be 99% latex free with no PVC, no toxic plasticizers and absolutely no harmful dyes. If you care about the earth then you'll probably want to opt out of other mats and buy this one because it's seriously earth-friendly. You're welcome, Mother Nature.
Each mat is made uniquely, so Manduka has made sure to tell their customers that each mat should weigh around 2.2 lbs, BUT a slight difference in around 0.5 lbs is totally possible. If you're meticulous about the weight of your travel pack when traveling, then keep this in mind, however it's a pretty small amount to get too worried about.
Components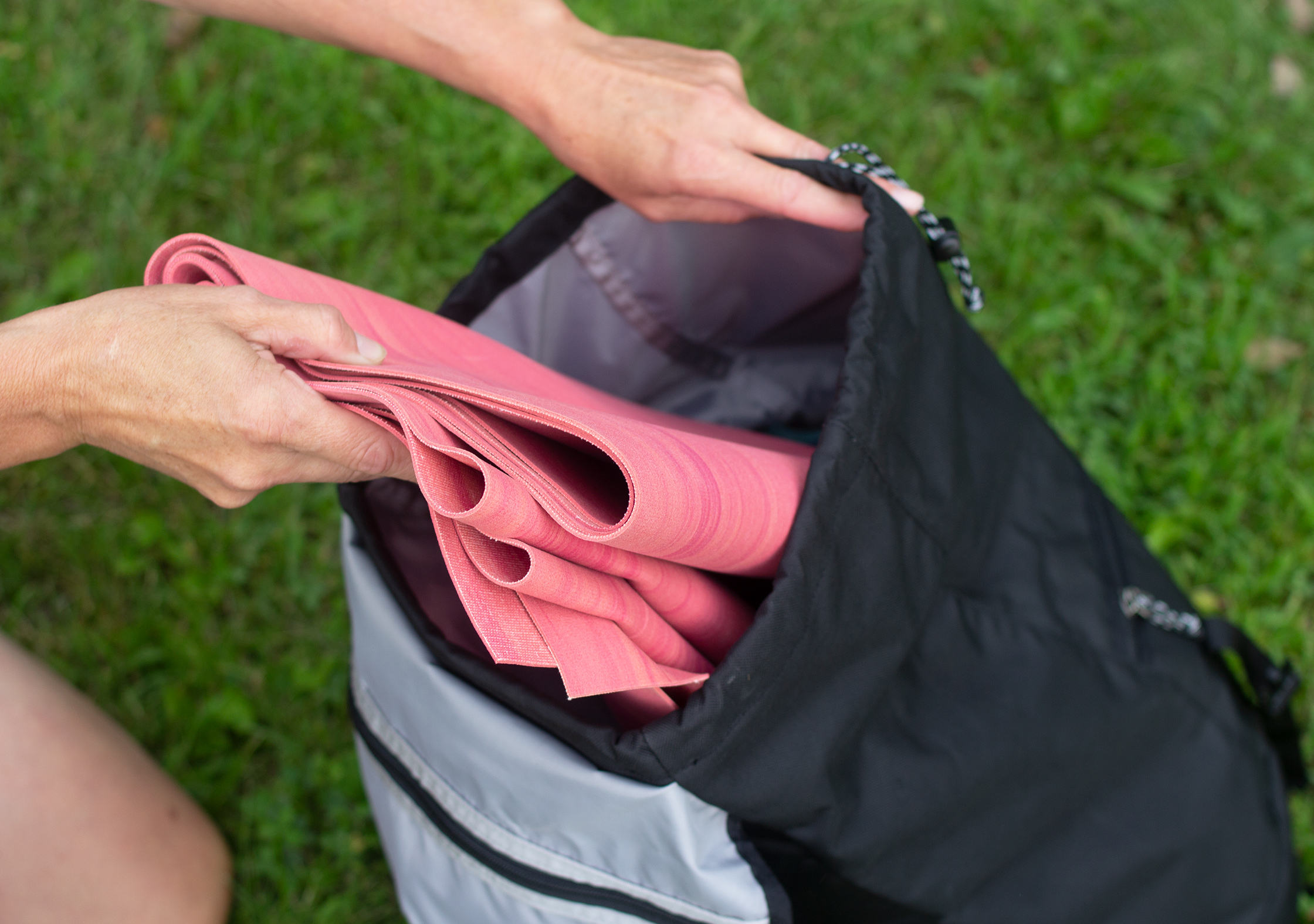 When you receive the mat in the mail, you'll probably think to yourself, "Gee, this looks just like the average yoga mat I already own!" EXCEPT it's super thin. The great thing about this is that it can be folded up into a smallish square to fit inside any travel bag or rolled up to attach to your pack (if your pack has compression straps or some sort of external carrying system). We've tried both and typically chose to place it in our compression strap system, like we did with the Aer Travel Pack 2. Although, at the end of the day, it really just depends on how much room you have to spare inside your pack. The folding method takes up a bit more room than we'd like, but is great considering other mats don't normally fold up this small.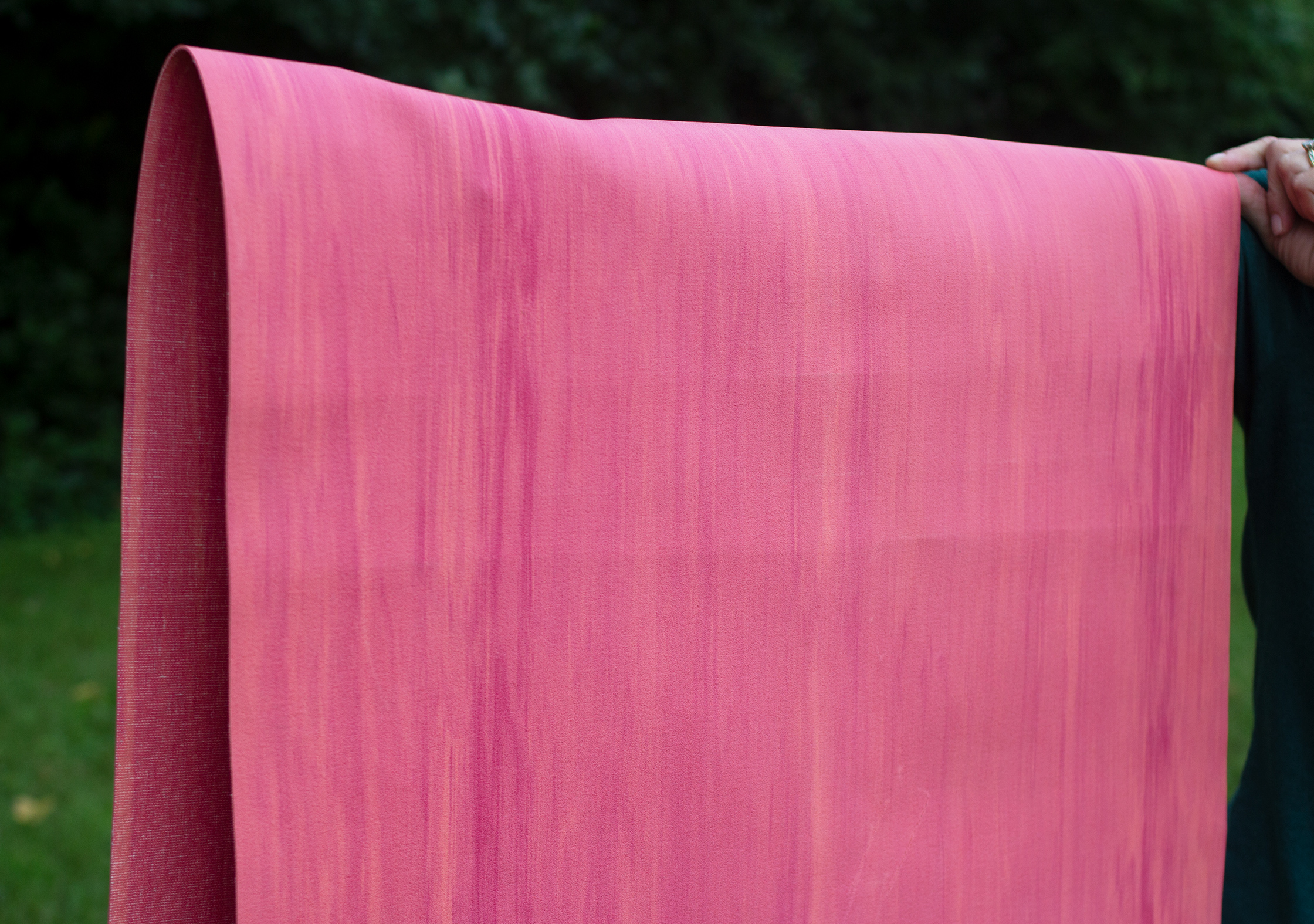 However, if you are planning to fold the mat up while traveling, we don't suggest storing it that way for too long as your mat may develop crease marks over time like ours has shown.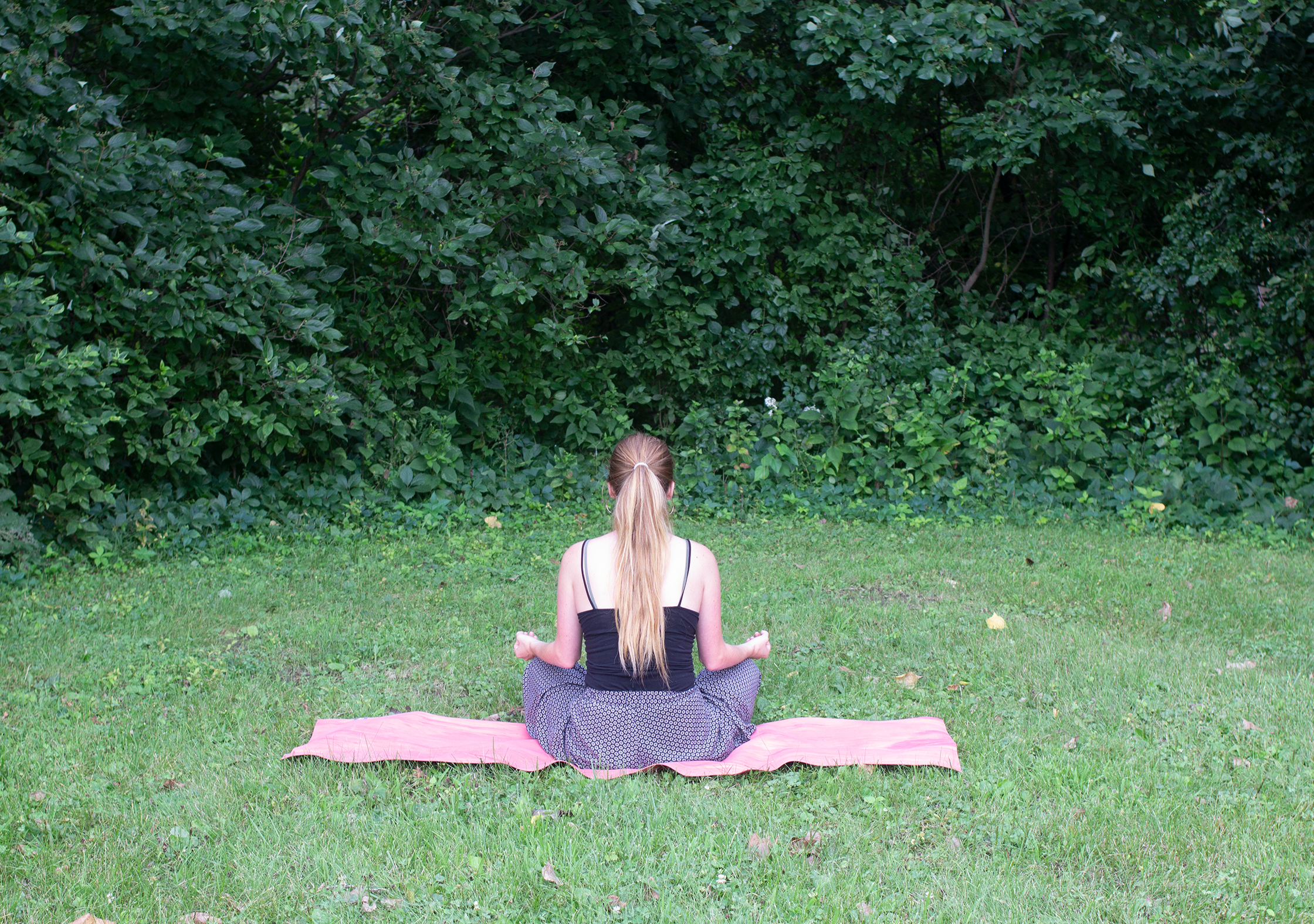 Since the mat is made of thinner materials, this also means a compromise in the amount of padding offered. We didn't mind this but if you're planning to do floor exercises on the mat just remember there won't be a ton of support if the mat is placed on hard surfaces. We found it more comfortable to place the mat on a carpeted hotel floor or on grass during usage.
The mat has an almost sticky-like quality to it on both the bottom and top. The bottom has a grip-like texture to ensure the mat won't be moving anywhere during usage and the top has a sticky quality to it so your feet will stay firmly planted.
It's the good kind of stick, like when a gymnast sticks it after a floor routine. It's great for sweaty situations—like when you're nailing those yoga poses in hot yoga class or doing pilates in the desert. Point being, wherever you are with this mat, you're going to be pretty secure. However, because of this quality, you're going to want to wipe down the mat after each use. Manduka says to use a damp cloth, which we think works just fine.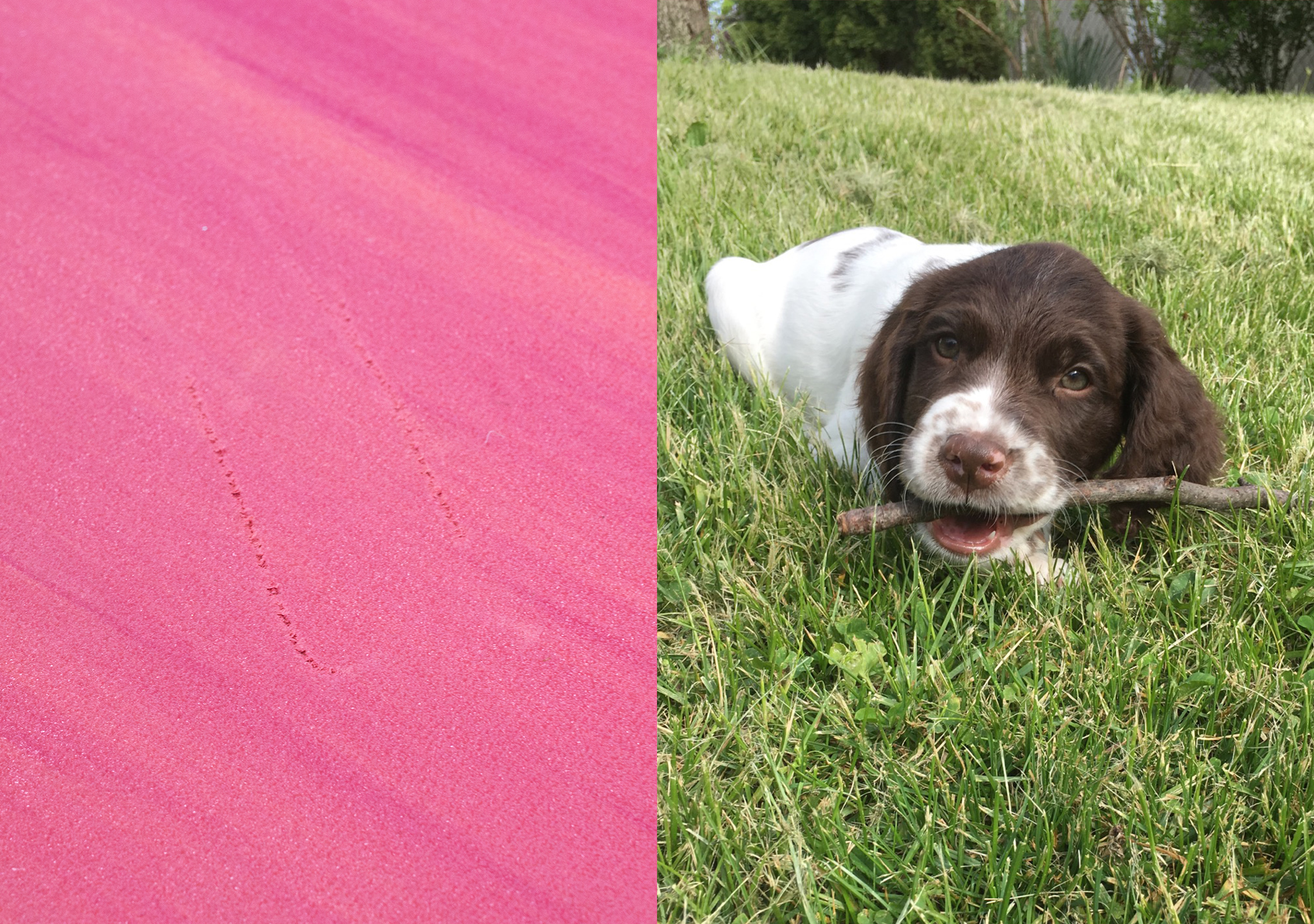 The mat does pick up shoe prints pretty easily, so we also recommend rolling it up and storing it somewhere when you're not actively using it to prevent this. With that being said, if you have a small puppy we also suggest not letting he or she run on top of the mat! This can cause little scratches from their adorable puppy paws to develop all over your mat—which are not so adorable.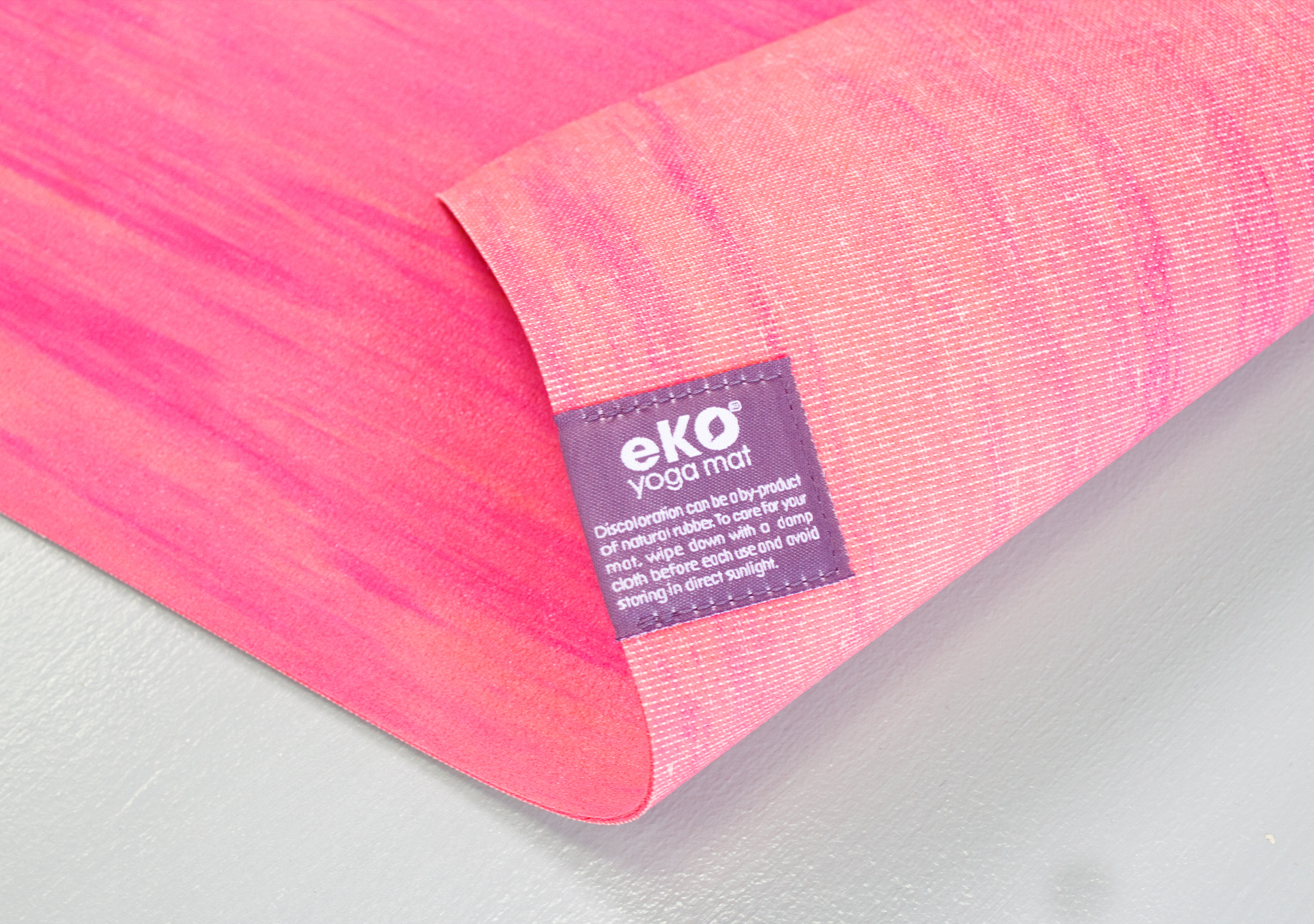 If you happen to forget any of this, Manduka added a small tag to the corner of the mat as a reminder on how to clean the mat and to keep it out of direct sunlight. We haven't seen any discoloration in ours from the sun—but we'll update this if we do! For now, we suggest following the no direct sun rule.
Even though we think this mat will last for a long time, when it does comes time to trade it in for something new, Manduka offers a program called LiveOn where they will responsibly recycle your old mat. At the time of a new yoga mat purchase you can send in your old mat (of any brand) and they'll take care of the rest! The old mat will then be sent to The Renewal Workshop where it's recycled into materials for new apparel and gear. Their zero waste process is something we really love and will definitely keep us coming back for more!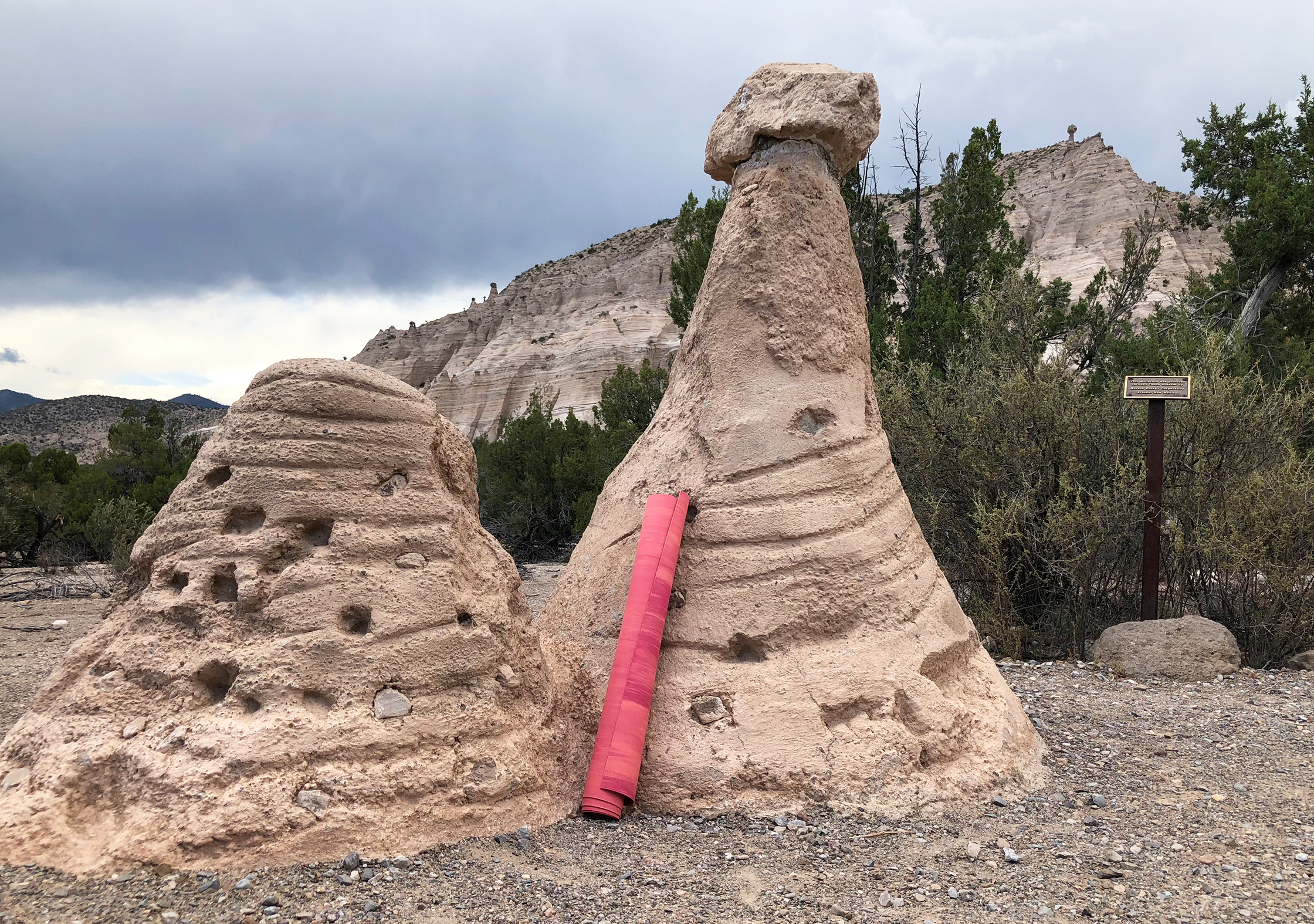 After anonymously talking with a Manduka employee we feel even more confident about their commitment to sustainability. A customer service member told us, "Manduka enforces fair labor practices in our manufacturing facilities for our products and apparel. We value ecological responsibility, fair labor practices, non-toxic manufacturing and emission-free facilities, ideals implemented in all of our manufacturing processes." These are all great qualities and things we value in a company—another thumbs up for Manduka!
Durability and Testing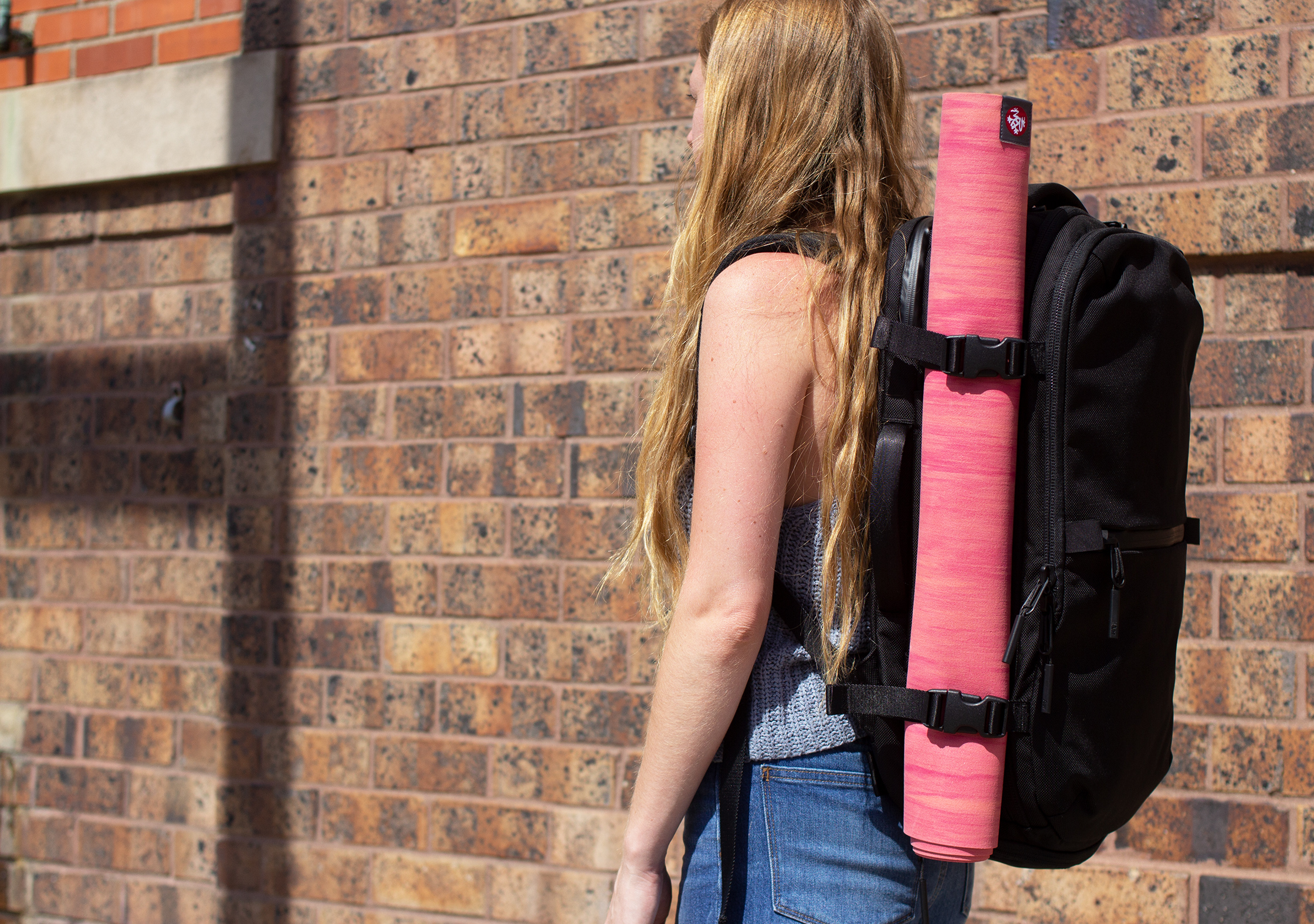 The Manduka eKO SuperLite Yoga Mat has held up really well for us—with the exception of a few scratches. We're happy with the color we chose because any dirt or scuffs that develop over time aren't as noticeable on the blended color as they would be on a solid color. The mat has seen use on a few trips and we've learned it can be used for more than just a workout accessory, it can also be a great beach companion—it is very comfortable to sit on while soaking up the sun. This does sort of go against what Manduka recommends as far as not storing it in direct sunlight—but if you're only in the sun for a couple hours or lay a microfiber towel over it, such as a Packtowl, you probably won't see much of a difference in color. Plus, we like to live life on the edge.
We've also found that the mat can be a great accessory to bring along with you to yoga class even when you're not traveling. It can double as a mat topper to help with slip resistance. If you don't own an average yoga mat already, no worries, you're still in the right place! We've used this solo many times and it still works great! Just be aware that there will be significantly less padding than the average mat.
Usage Timeline
Initial Usage
Condition: Excellent
Looks great! Similar to your average yoga mat – but extra thin.
1 Month of Use
Condition: Good
A couple small scratches and creases but other than that all looks good!
Access the Pro Community Discussion
Get your questions about the Manduka eKO SuperLite Yoga Mat answered from our team and the Pro Community right here on the page. Plus, join discussions with other members about gear, guides, and more.
Other Miscellaneous Reviews