Zojirushi Cool Bottle (SD-CS50) Review
The Zojirushi Cool Bottle is lightweight and easy to carry around, but the built-in straw makes an odd noise if you drink too hard from it.
Our Verdict
Unlock the Pro Summary
Save time. Get access to brief summaries of our reviews so you can browse and make decisions more efficiently.
Pros
Cap disassembles for thorough cleaning
Quick-deploying built-in straw
Lightweight
Cons
Doesn't keep drinks cold for an entire day
Straw makes noise when drinking
Contains small, easy to lose parts
Recent Pack Hacker Video
Technical Details
Capacity

17.5oz

Weight (oz)

9.5 oz (269.3 g)

Dimensions

9.63 in x 2.75 in x 3.13 in (24.5 x 7 x 8 cm)

Notable Materials

Stainless Steel, Plastic

Manufacturing Country

Thailand

Warranty Information
Full Review
An insulated bottle with a built-in straw is a pleasure to use, especially for those with sensitive teeth. Then there are those situations where tilting a bottle is either impossible or awkward, like in a crowded bus or a train. Even as we phase out single-use plastic, it doesn't make the straw any more obsolete as a tool for consuming our favorite beverages (for the record, ours is water).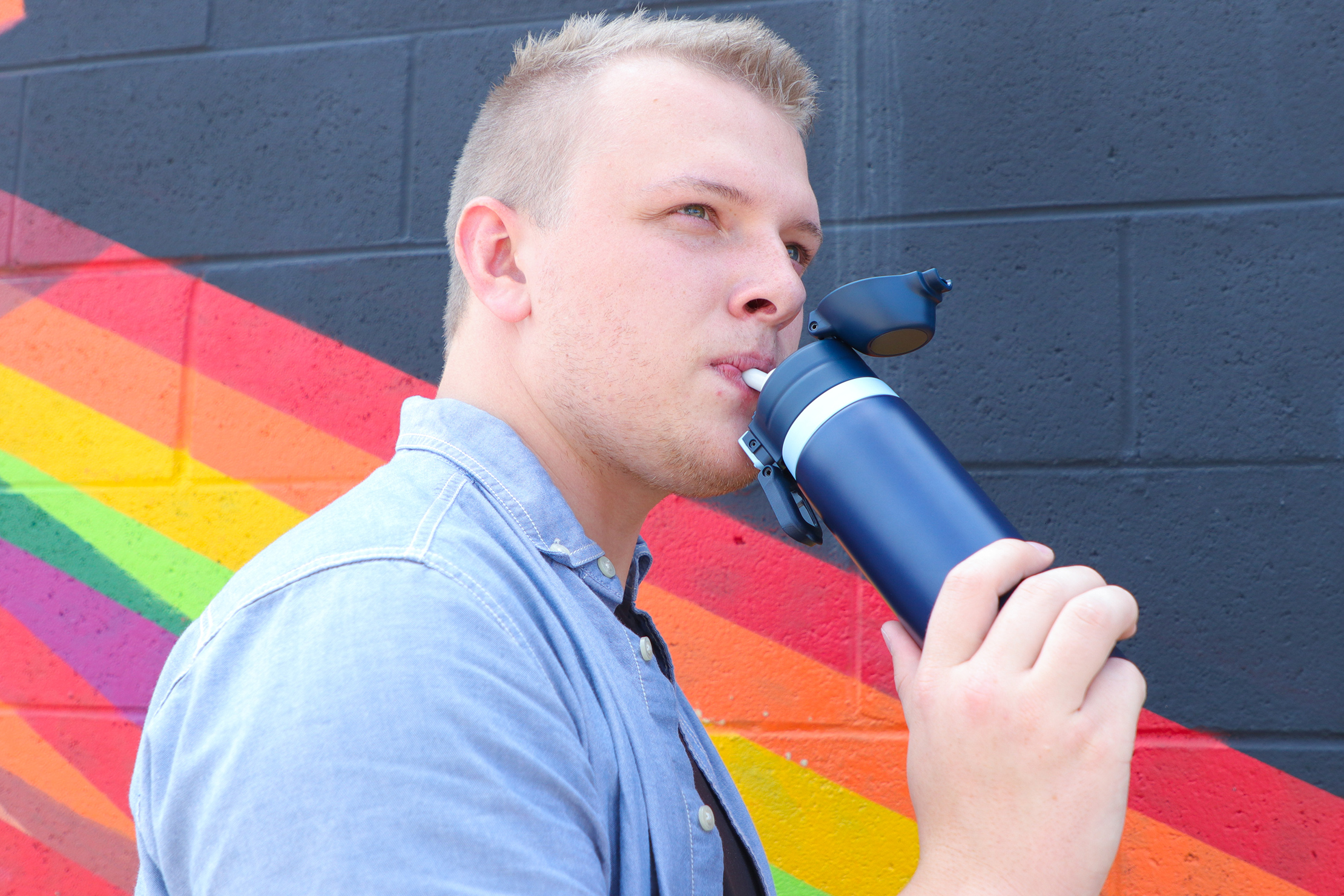 The answer? Well, one of them is a built-in straw, and it's a welcome addition to any insulated bottle we've used, such as the subject of this review, the Cool Bottle (SD-CS50) from Zojirushi. Insulated bottles come with many types of lids and spouts, but a built-in straw has to be one of our favorites for cold drinks. However, a built-in straw doesn't automatically earn a bottle a spot in our good graces, so let's check out if the Cool Bottle holds its own.
Materials & Aesthetic
Like most insulated bottles, the 17.5-ounce Cool Bottle is made out of primarily stainless steel and BPA-free plastic. These two are pretty much the basic ingredients—stuff you can't go wrong with when you have an insulated bottle in mind. That said, some companies would add other materials into the mix like ceramic or powder coating, so the Cool Bottle does come off a bit basic amongst a sea of insulated bottles.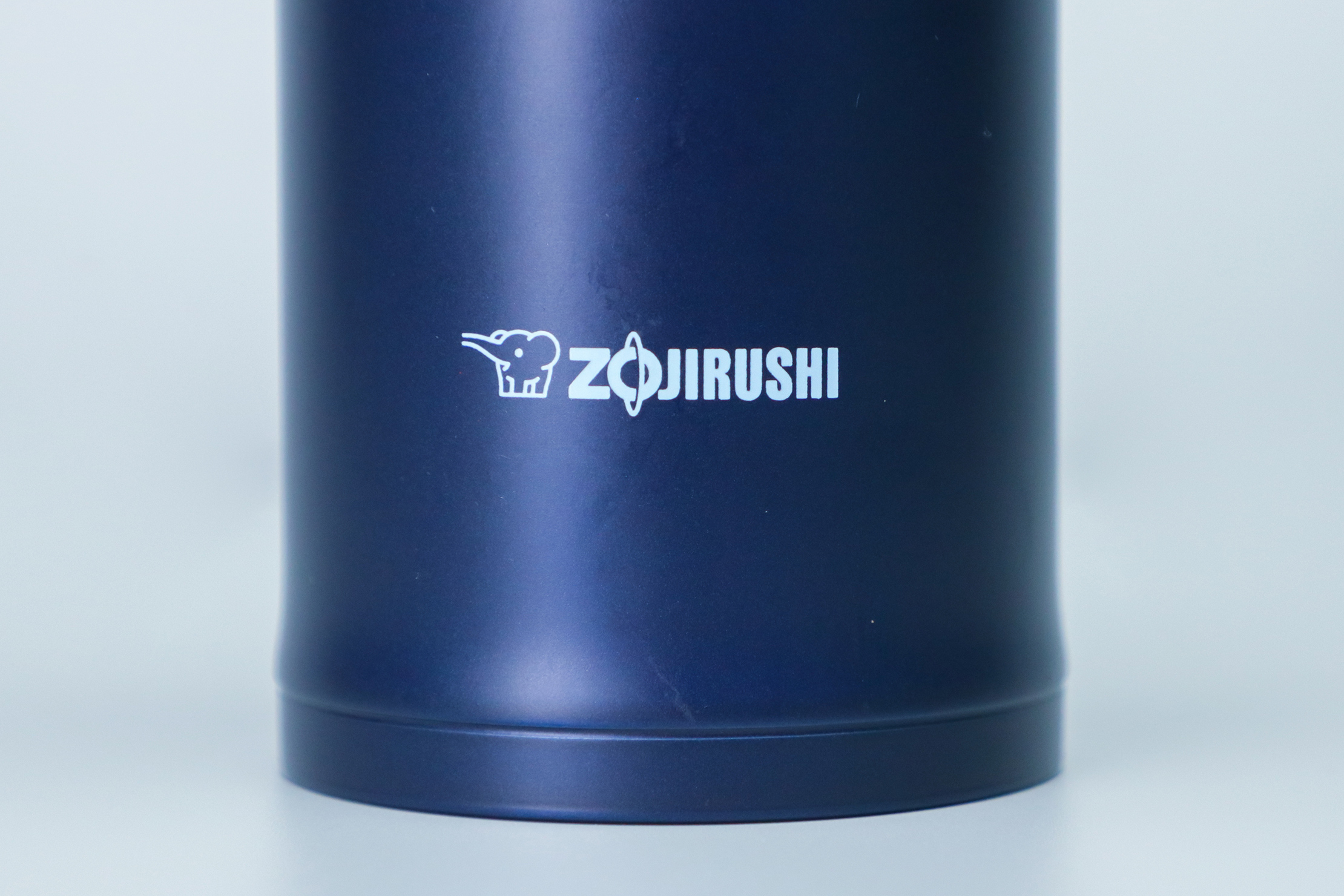 The styling is in line with what we've seen from Zojirushi before. That is to say, they lean more towards function while trying to hide the mechanisms with style. For example, the release button for the Cool Bottle's cap is encased in molded plastic that appears to make it look more space-age. The body has a subtle curve that, once you notice it, is definitely there, and the light blue trim on our Navy colorway variant gives it a hint of coolness. That's probably not a coincidence either, since the Cool Bottle is available in exclusively shades of cool, blue colors at the time of writing, namely Navy and Mint.
Admittedly, it's not the most stand-out insulated bottle we've seen thus far. But, on the plus side, we haven't observed any noteworthy scratches on the exterior despite the unusually light weight of the bottle. Oh, and if we were to make any aesthetic changes to the bottle, we only wish to put a small space helmet on the Zojirushi elephant logo to match the space-age vibe we're getting—it'd be adorable too.
Usage & Features
As hinted above, one of the more immediate aspects we took notice of about the Cool Bottle is how light it is. According to the official spec, the 17.5-liter SD-CS50 (that's the Cool Bottle's more formal name) weighs in at approximately 9.5 ounces (270 grams), making it very lightweight. For comparison, the similarly sized 18-ounce YETI Rambler weighs in at a whopping 16.3 ounces (462.1 grams), while the 18-ounce Hydro Flask comes in at a more moderate 11.3 ounces (320.3 grams).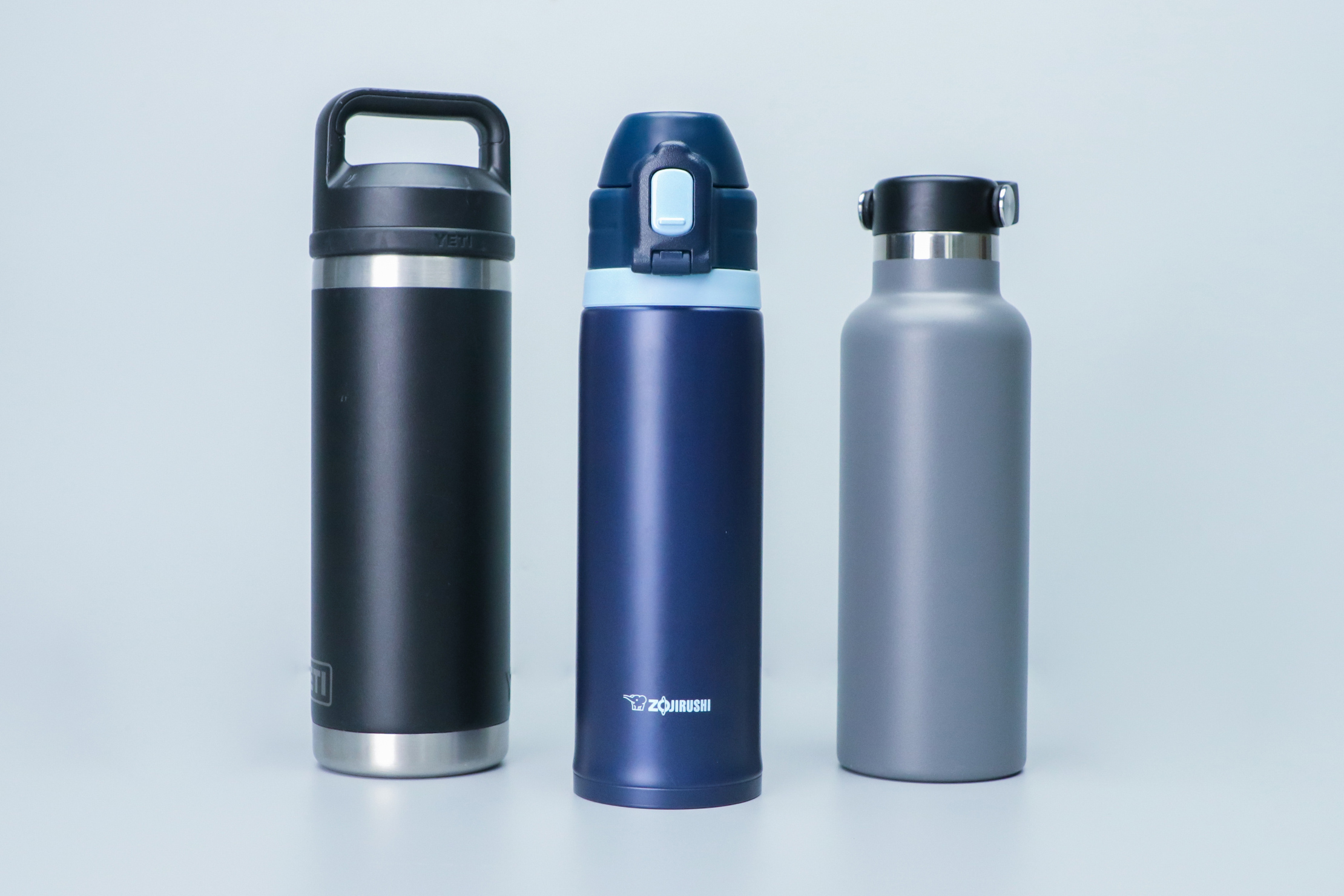 In addition to a lower weight, the Cool Bottle is packing a more intricate mechanism under its cap compared to the Rambler and the Hydro Flask. However, the caveat is that the Cool Bottle doesn't do as great as the other two thermally. Cold water doesn't remain cold for 24 hours, though it keeps it sufficiently cool for an entire 9-hour workday period.
In short, the Cool Bottle isn't ideal for long stints like a road trip or a trek through the woods. It's more suitable for day-to-day, in-the-city usage, where you can top up during the morning and then sometime in the afternoon. The good news is that while thermal performance isn't the best, condensation buildup was virtually nonexistent around the exterior. We like to carry around a lot of sensitive equipment like cameras and laptops, and an insulated bottle is a worthwhile investment that minimizes moisture near or in our bags.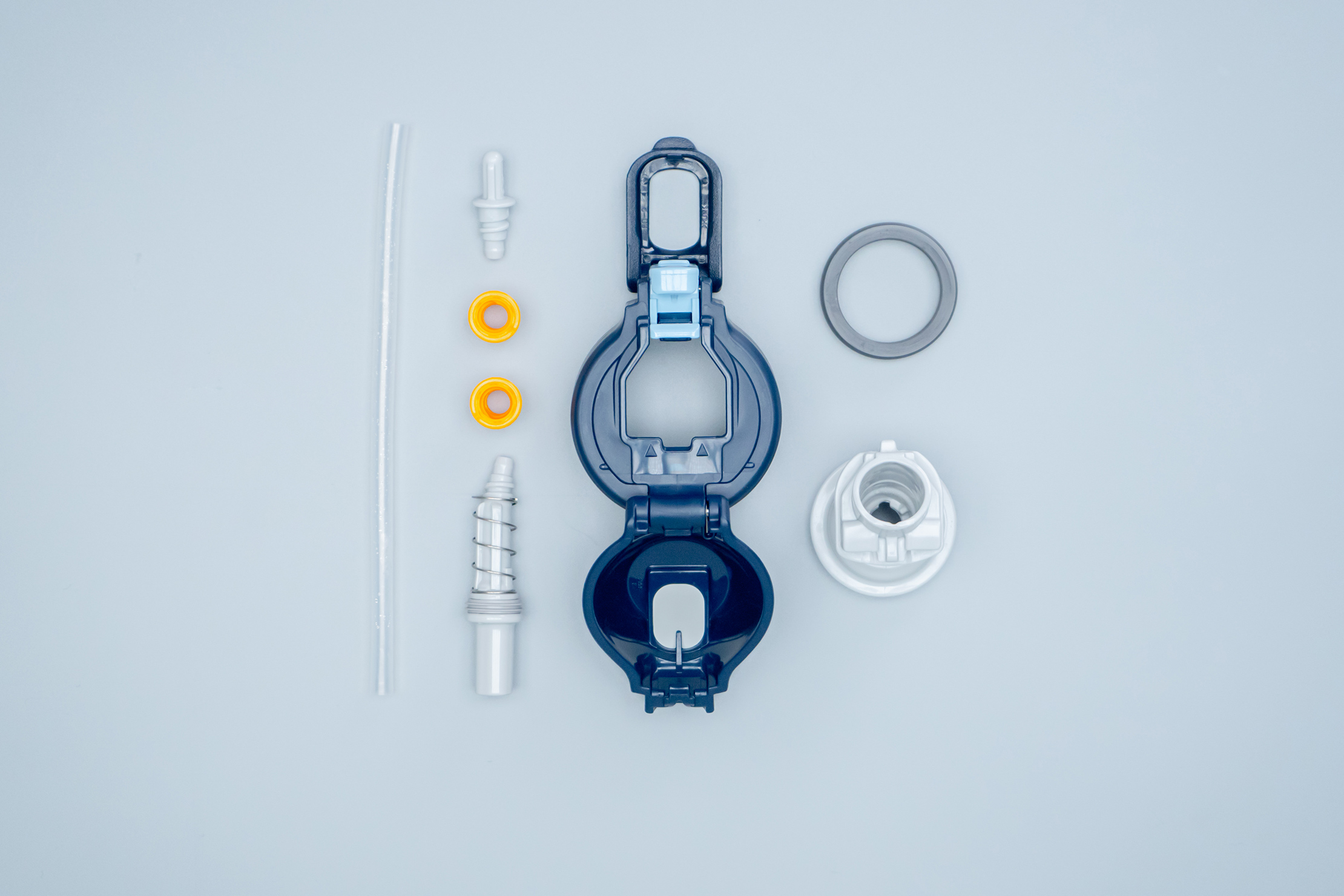 The Cool Bottle's spout is a rather intricate one with all of its moving parts. The manual refers to it as the "stopper set," and it breaks into at least eight separate parts. That's a bit on the excessive side for our taste, and some of these parts are very small, which is a concern if the sink you're washing the bottle in has an open drain. On the flip side, it does help with performing a deep clean of the bottle—we just wish it didn't feel like we were building a model kit afterward.
The straw is flexible enough that it can reach where the water level is at, though it's not long enough to reach the farthest edges of the bottle. Attached at the end is the tube tip, perforated on two sides so that in case one side is clogged, liquid can still pass through the other.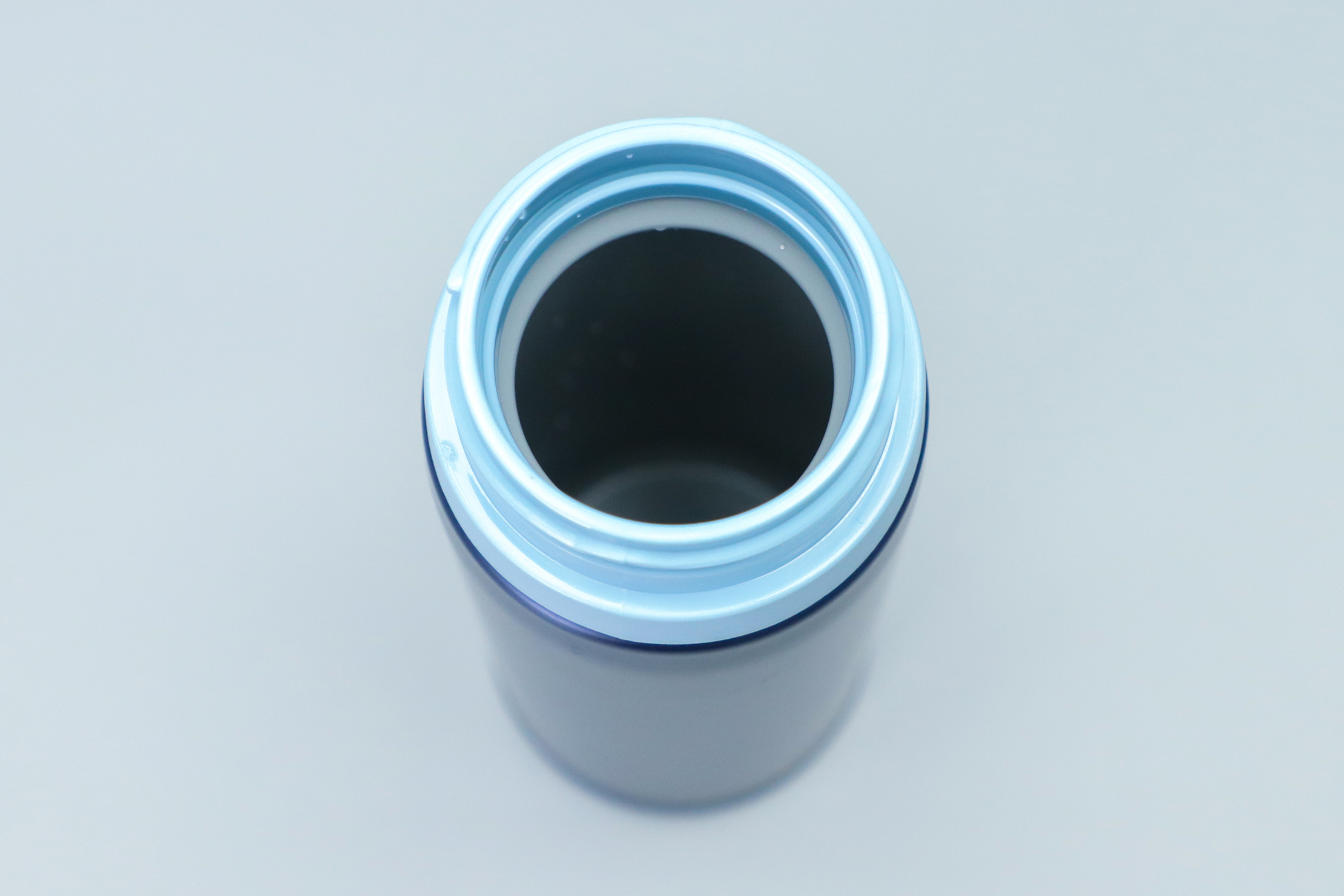 The main bottle's opening is 4 cm (1.57 in.) wide, a good measure to keep in mind if you're planning to put ice cubes inside. When refilling the bottle, one tip we can give is to make sure not to fill it past the light blue portion of the neck. The cap's inner portion occupies that space, and any fluid caught in there will spill over once you screw in the cap. It's a good demo of Archimedes' principle, but a messy one, to be sure.
But the question is, does it work? The answer is yes. Simply remove the cover, push the button, the lid flips up, and the spout simultaneously springs out from underneath the stopper cover. That sounds like something out of NASA's mission control room, but the GIF below should show how much faster it is in practice. It's less procedural once you actually do it, and it feels more like a scene from Top Gun and less from Interstellar.
Okay, but is it easy to drink from? Once again, that's affirmative, but with an asterisk. The straw works, and the spout even comes out at a slight angle, so you don't have to tilt the Cool Bottle too much just to align it. The trouble is if you sip from the straw hard enough, it makes a very noticeable oinking noise, which is a bit embarrassing if you're drinking in a public area.
We can trace the problem to how well the Cool Bottle is sealed. When we sip, not enough air goes in to replace the fluid we're drinking. In other words, casual drinking is where it's at for the Cool Bottle. Just play it calm and cool, yo.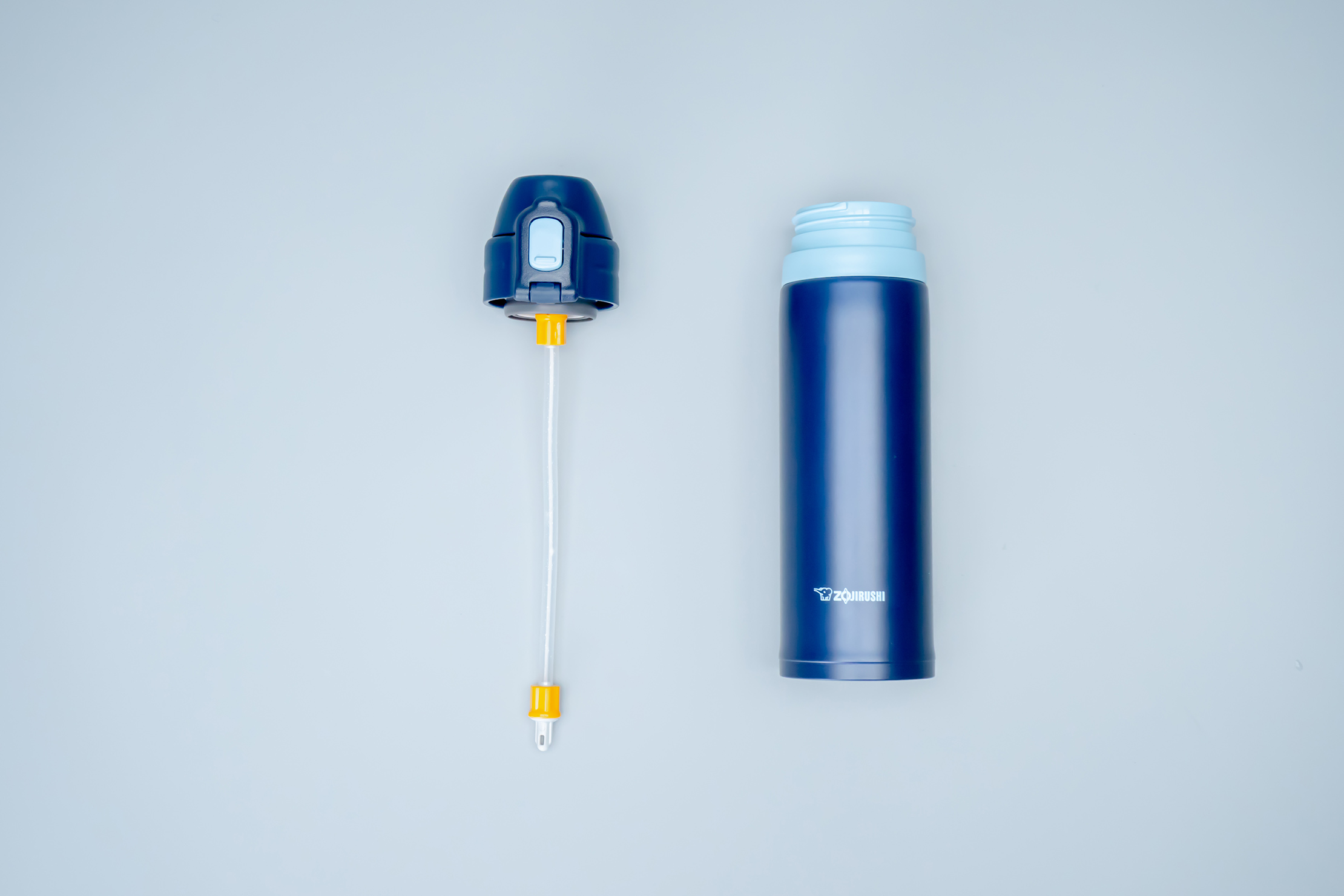 Unfortunately, the Cool Bottle has a lot of strikes against itself. There are a lot of components to keep in check when cleaning, the thermal performance is average at best, and the straw requires a casual demeanor while drinking, which is hard to do when you've eaten something spicy or are very thirsty. However, it is very light, and it does well enough thermally for day-to-day use. Plus, having a squeaky straw versus having none at all may be a trade-off worth considering.
Usage Timeline
Initial Usage
Condition: Excellent
The lid has a built-in straw
It also disassembles for easy cleaning
For cold beverages only
2 Weeks of Use
Condition: Good
Latch system on the lid keeps straw compact
No condensation on the outside of the bottle even on warm days
Excess water can spill when overfilled, though hard to measure it
Makes a weird noise when drinking too fast out of the straw
Access the Pro Community Discussion
Get your questions about the Zojirushi Cool Bottle (SD-CS50) answered from our team and the Pro Community right here on the page. Plus, join discussions with other members about gear, guides, and more.
Other Miscellaneous Reviews