Uniqlo Ultra Light Down Jacket Review
The Uniqlo Ultra Light Down Jacket is lightweight, compressible, and stylish. Plus, it comes in significantly cheaper than its costlier competitors.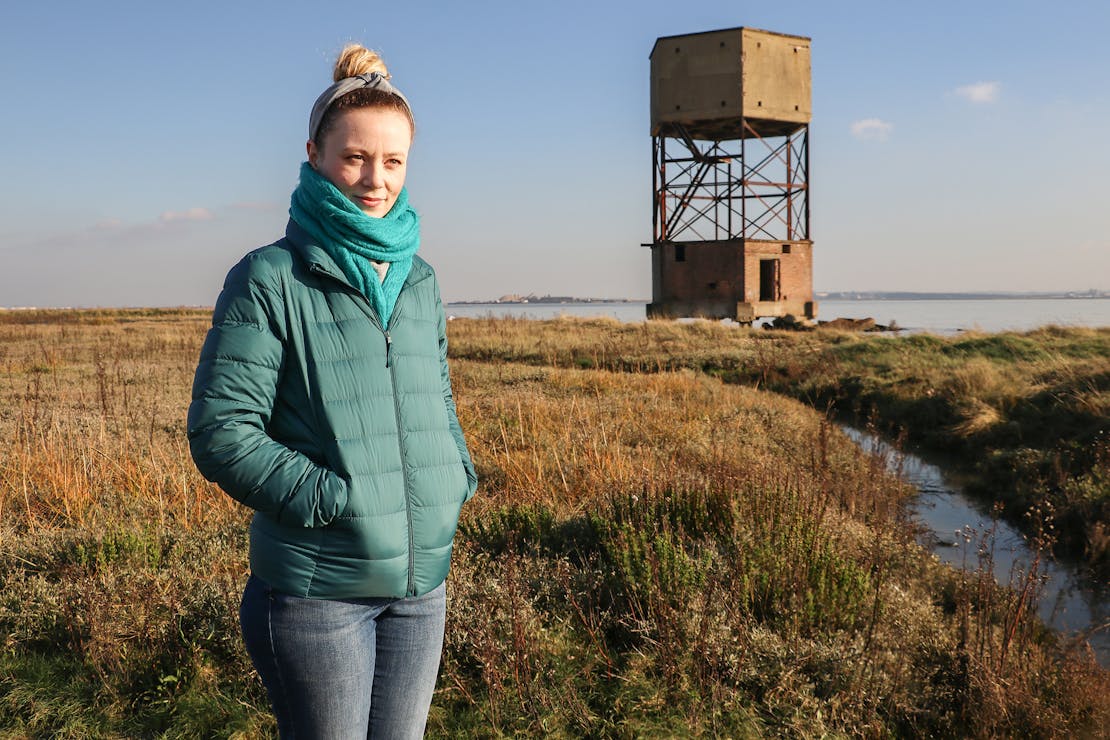 Our Verdict
Unlock the Pro Summary
Save time. Get access to brief summaries of our reviews so you can browse and make decisions more efficiently.
Pros
Lightweight and compressible
Handy zippered pockets
Great range of colors to choose from
Cons
Vague on their sourcing of down (though it is ethical)
No warranty
Less heavy duty material requires greater care
Recent Pack Hacker Video
Technical Details
Weight (oz)

7 oz (198.4 g)

Women's Medium

Denier

20D

Dimensions

8 in x 4 in x 4 in (20.3 x 10.2 x 10.2 cm)

When compressed

Notable Materials

DWR Coating, Nylon, Down, Synthetic Down, Feathers

Manufacturing Country

China

Warranty Information
Full Review
In this review, we'll be taking a look at the Ultra Light Down Jacket from Uniqlo. If you haven't heard of Uniqlo already—where have you been? It's a global Japanese clothing chain that offers a wide range of products at very reasonable prices. We've tested out a handful of clothing and travel-related items from them, and overall we tend to be impressed with the quality, given their extremely low price points.
Just a note: We've been testing the women's version, but a men's version is also available. There are no differences between the two, and all of the information in this review is transferable.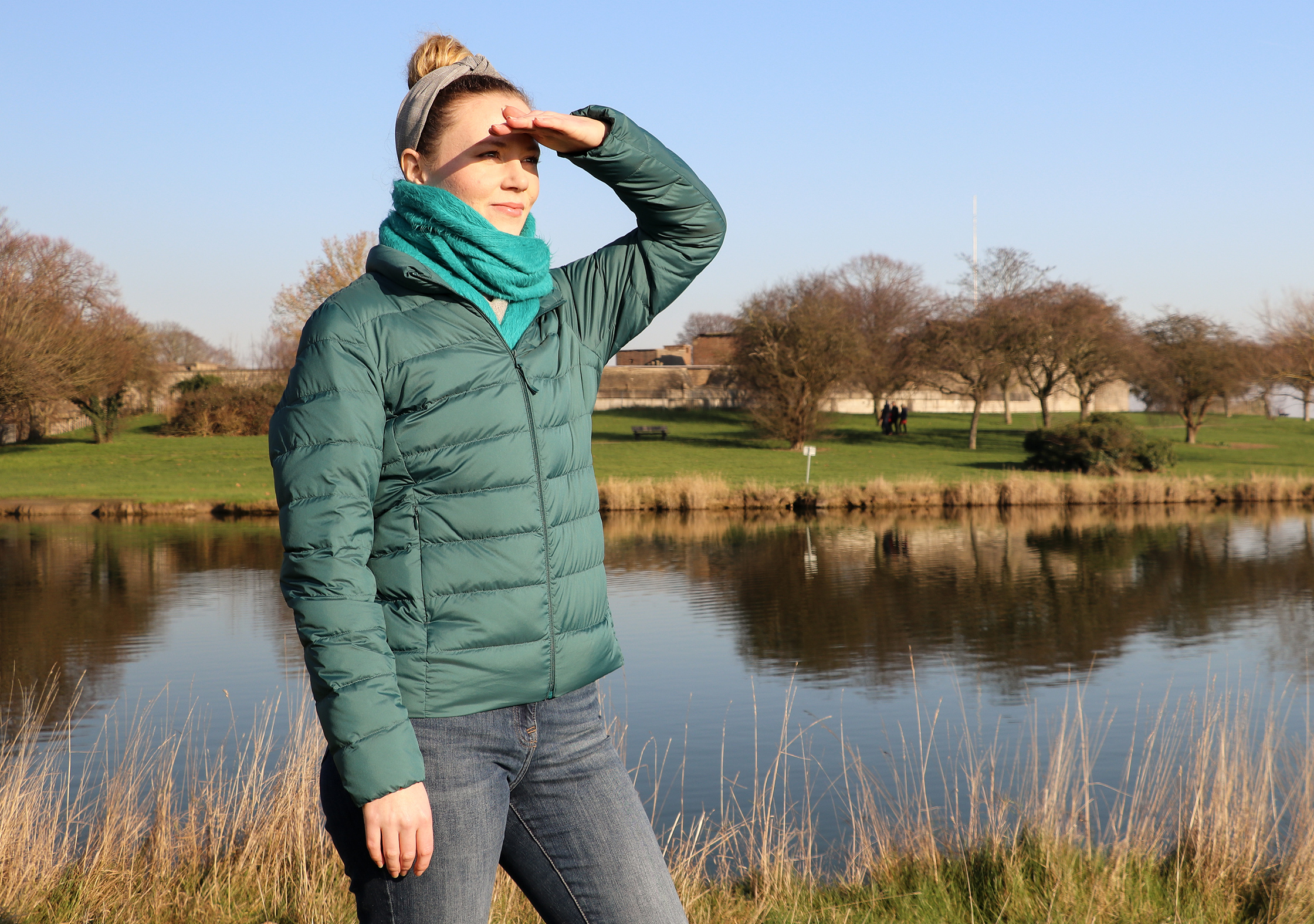 In our opinion, an ultralight jacket is one of the best things that you can buy for travel. Choose wisely and you can use one of these as a top layer, a mid layer underneath a rain jacket, or even as a pillow when compressed. These jackets tend to be extremely lightweight (hence the "ultralight") and take up barely any space, making them an essential item for one bag travel.
So, the question is, can this jacket hold its own against the costlier alternatives we've reviewed, like the Montbell Plasma 1000 and the Patagonia Micro Puff? Let's find out!
Material & Aesthetic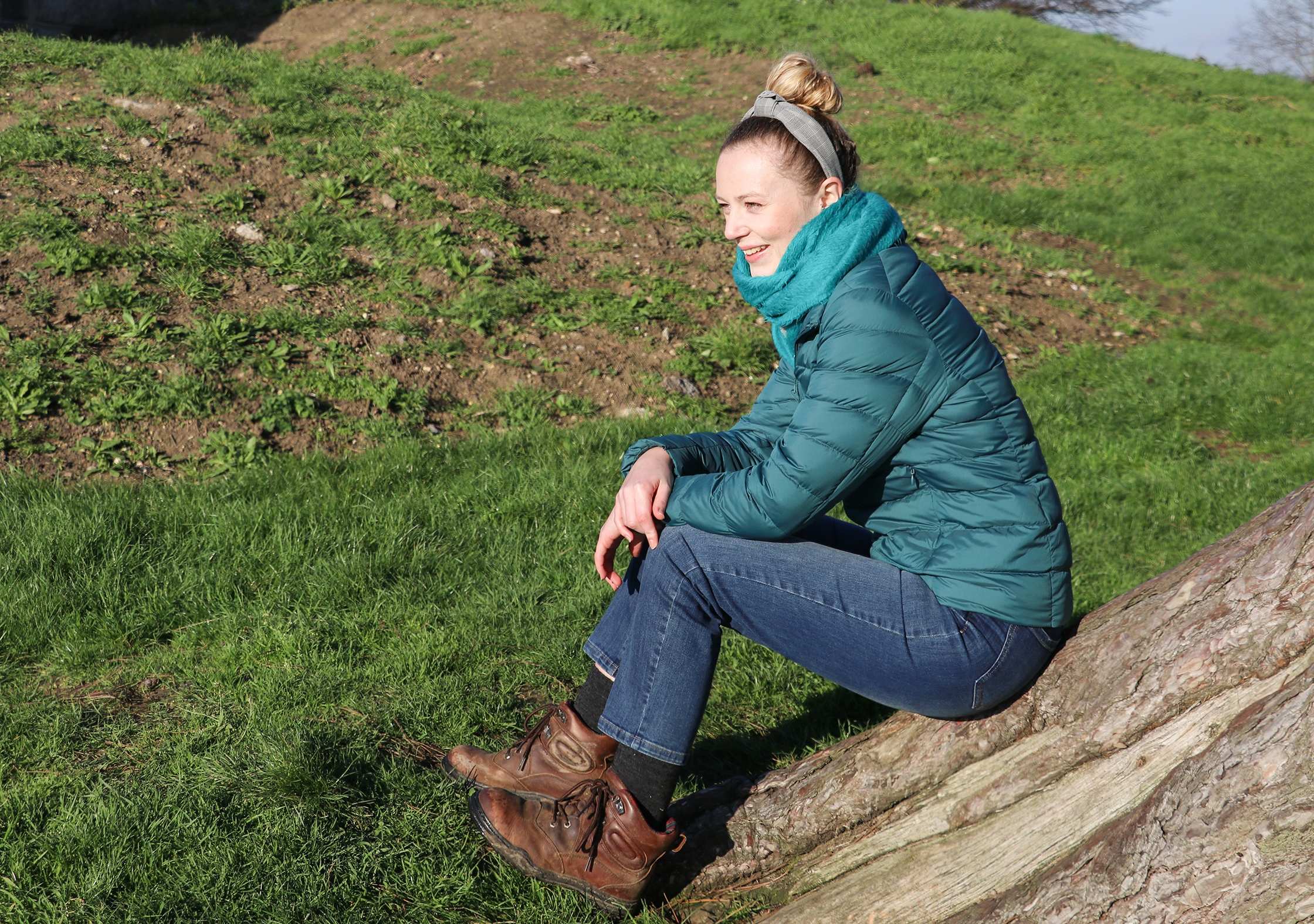 In our opinion, we think this jacket looks great. You can dress it up or down to fit in with almost any environment, so it gets a big thumbs up here for its practicality and versatility.
This jacket is available in a large variety of colors. We went for green because we've found that darker colors are safer for travel. In our opinion, black is the safest bet, but sometimes you just need a pop of color!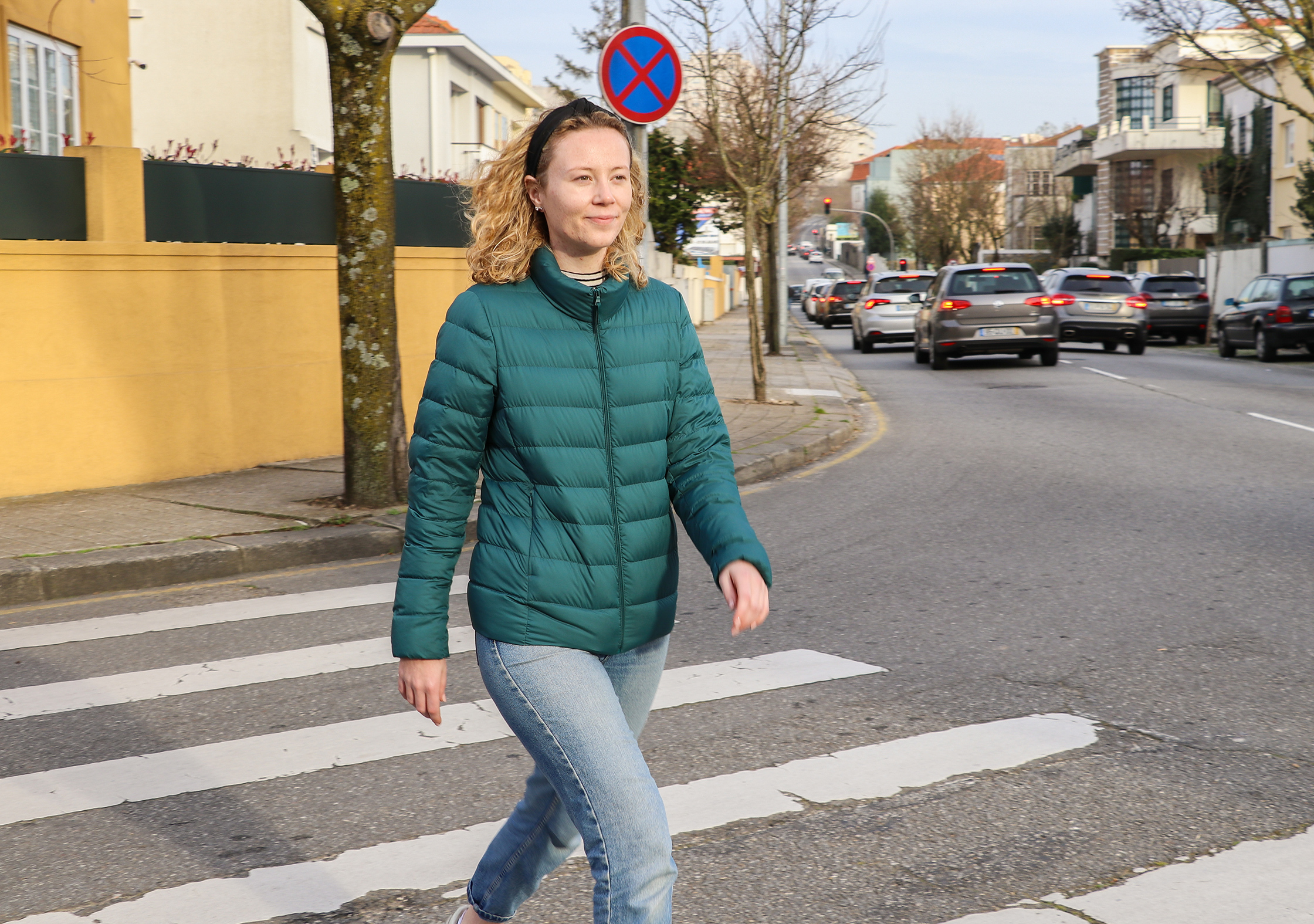 When it comes to external branding…there isn't any! This is something Uniqlo does on all their products which is pretty unique. We think it provides an aesthetic bonus, and it's a great change (unless you're a fashion forward fan who likes to rock a logo).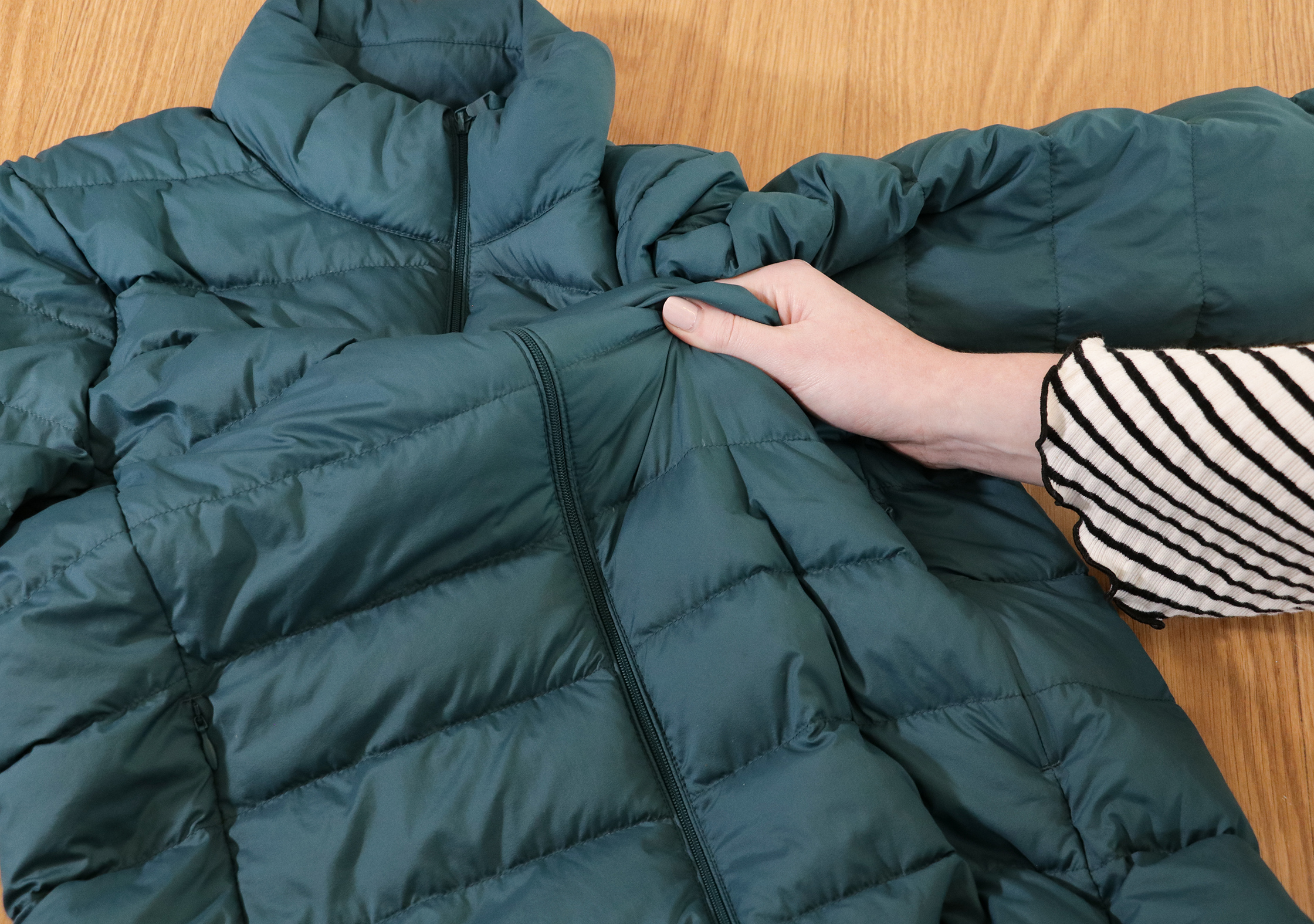 Moving on to the materials, the filling in this jacket is created from a mix of real and synthetic down. If you're not already aware, down can be a touchy material because it is often associated with the unethical treatment of birds. So, when we're shopping for jackets we always look for real down that is sourced ethically.
In this case, we did a bit of research and found this statement from Uniqlo on the matter;
"UNIQLO does not source down from farms that practice live plucking. We aim to use traceable down and feathers which have been certified by Responsible Down Standard (RDS) by 2020."
So, the good news is that Uniqlo does not source from live plucking—which is a start—however, they are not currently using down and feathers which have been certified. In fact, when it comes to the cold hard facts, Uniqlo is pretty vague on this topic.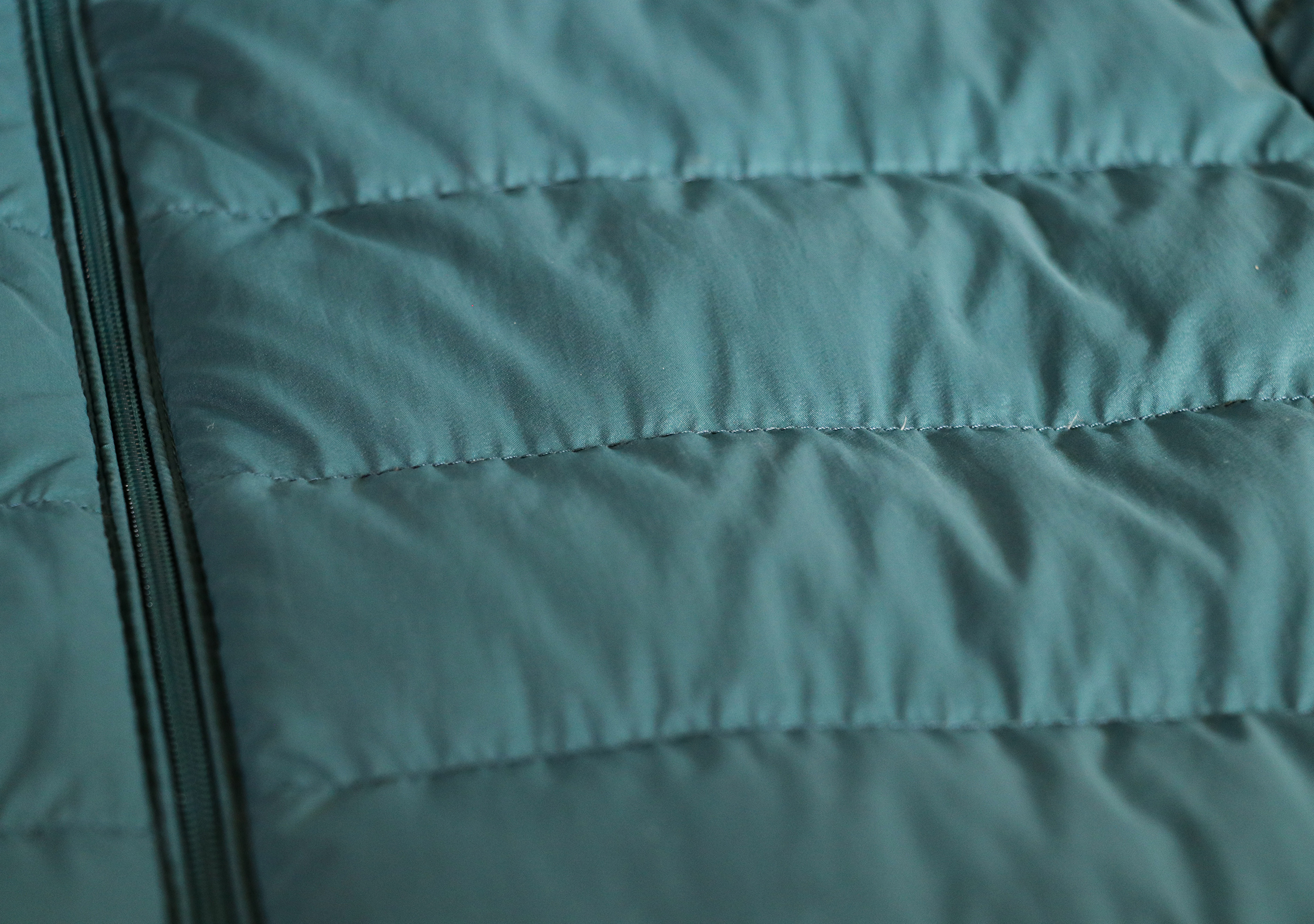 All we know is that the filling is 90% down and 10% feathers. We're unsure whether it's goose or duck down (or even both), but we can say that this is also mixed with synthetic down somewhere along the line. (Which is not abundantly clear on the website, either.)
If you're thinking of opting for a more ethical option or looking for a more 'guilt-free' buy, we'd recommend checking out the Patagonia Nano Puff which is made from 100% synthetic down instead.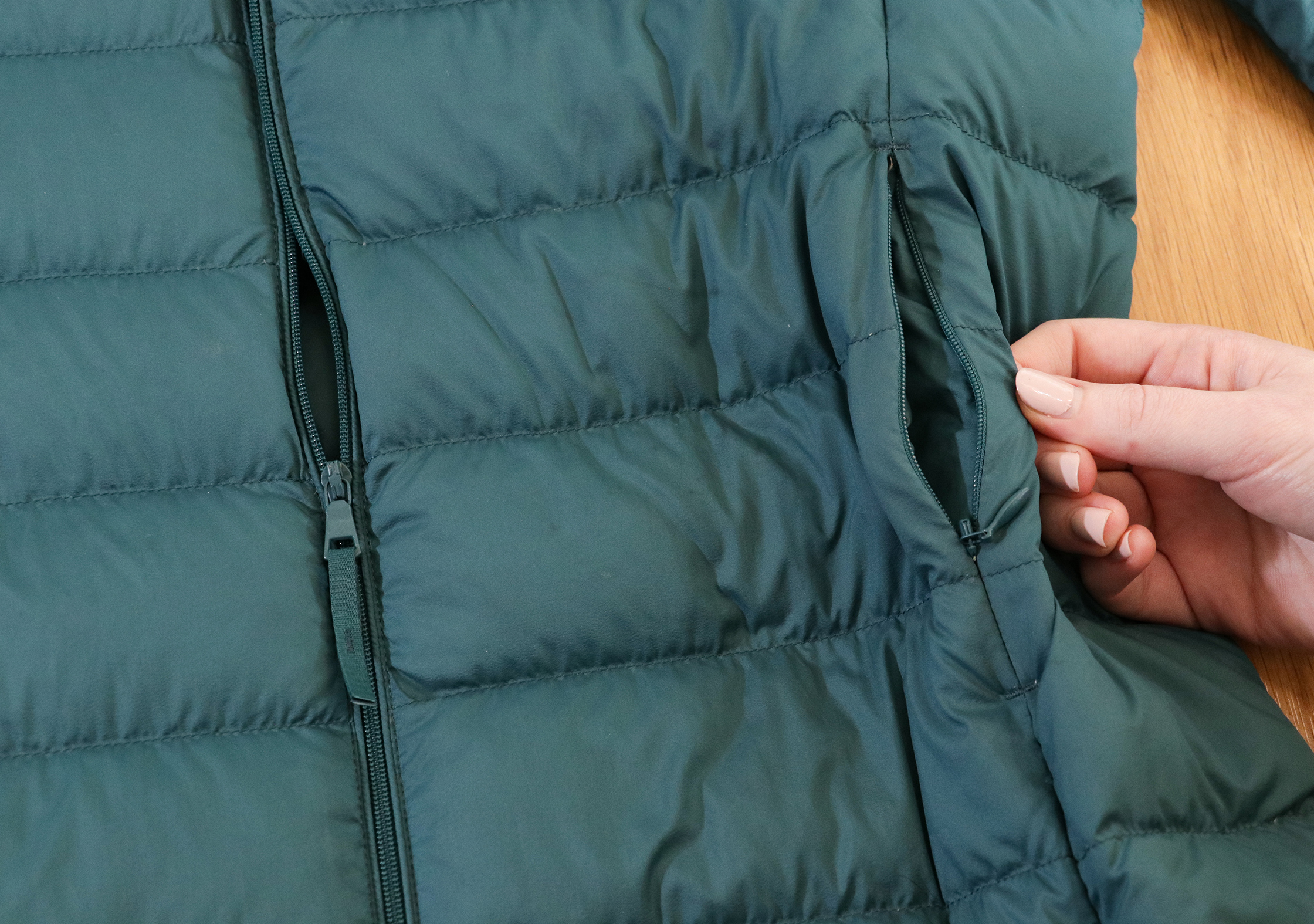 The materials on the shell of this jacket are a bit more straightforward. The shell and lining on this coat are made of 100% nylon—a light, strong and abrasion-resistant material. The nylon is then coated with DWR—a waterproof, breathable coating—for added weather resistance.
All the zips on this jacket are YKK, which we like to see. There's a YKK #3 zip on the main zipper and the pockets have YKK #2 zippers, which are super small! YKK zippers are strong and durable, so you can rest easy knowing this jacket will keep up with you on your adventures.
Features & Benefits
One of the best features of this jacket is that it's super lightweight, making it great for one bag travel (and just travel in general). Weighing in at only seven ounces, it's the same weight as the women's version of the Patagonia Micro Puff. Or to put that into perspective, it weighs about the same as eight donuts. It took us a while to find the right analogy here, but we're pretty sure we've nailed it. Also, the donuts were delicious.
Uniqlo's lightweight down jacket is also compressible, which is more or less essential for one bag travel. When you're living out of a backpack for months—or years—on end, size and weight are at a premium. This jacket excels in both categories, taking up minimal space and weight while still providing a whole lot of warmth while you're wearing it. And for that, we love it.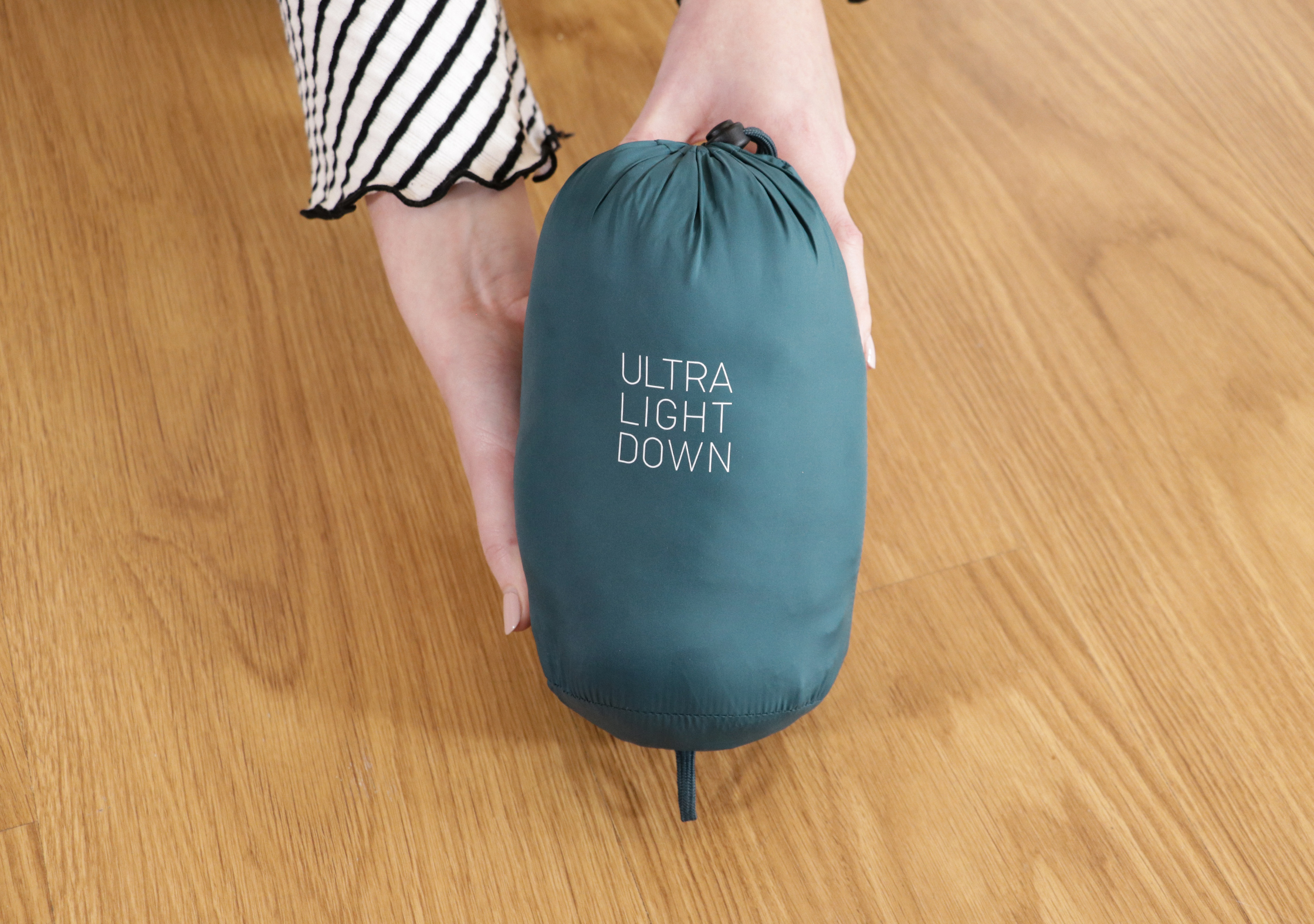 The jacket comes with a compression pouch which you can use to—you guessed it—compress the jacket. Now, this pouch does a decent job of compressing the jacket but we think it could be compressed even further. There's still room inside the pouch. We have heard that compressing down too much can cause durability issues later on and affect the warmth of the jacket, so that might be why they've gone this route. However, we've also seen other down jackets that compress more than this one—so we can't make any definitive claims.
We're not experts on down by any means, but we can say this: if you have a compressible down jacket, you're not going to want to store it compressed for long periods of time. That will definitely have an impact on the down as the jacket ages, so it's best to keep the jacket uncompressed, on a hook or hanger in your closet.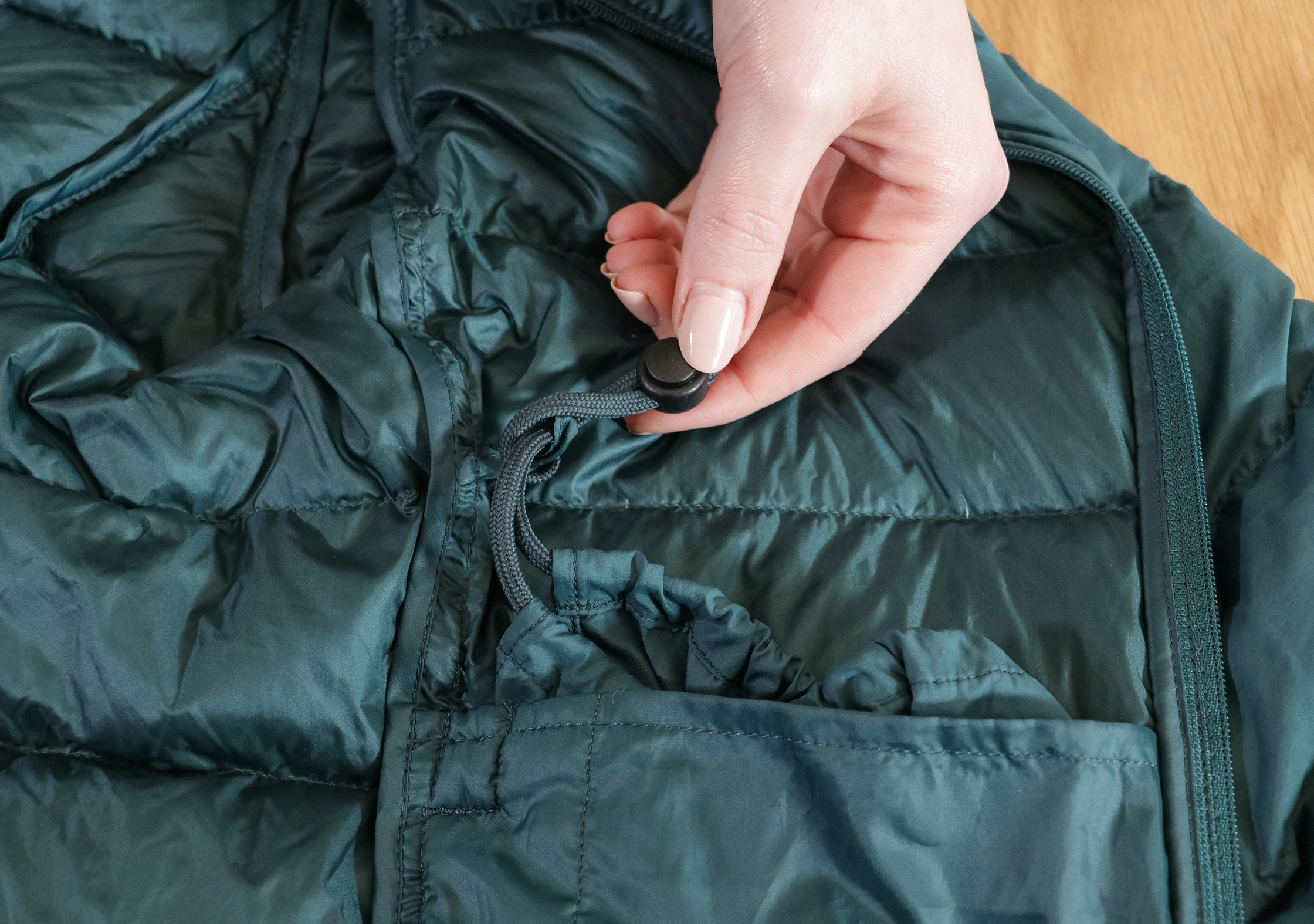 That being said, it still saves a lot of space compared to a regular jacket. This pouch can be attached to the inside of the jacket via a loop—and although we like that this has been considered, it's not a permanent fix, meaning it can still get lost on the road if you're not careful.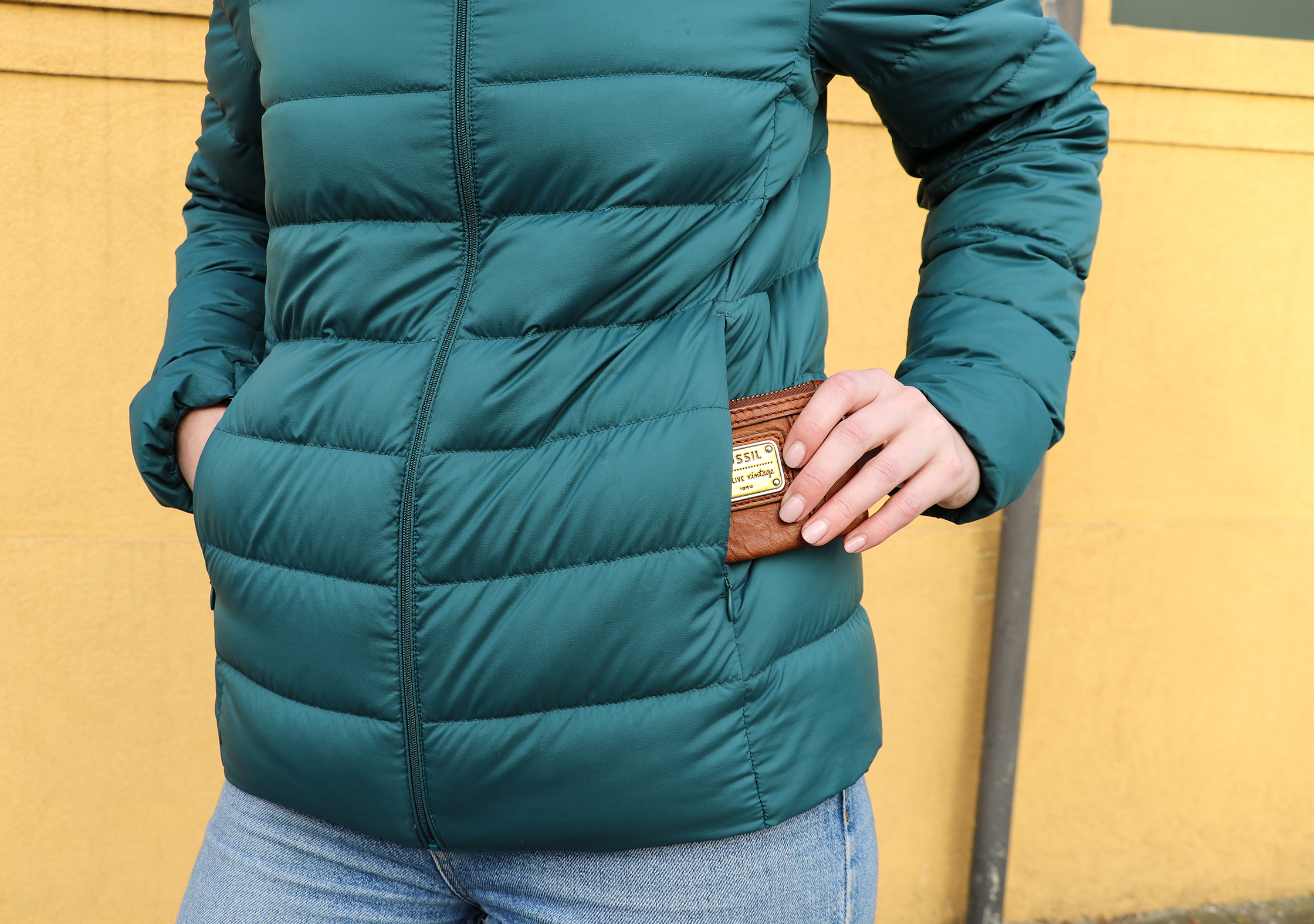 Now, moving on to one of our favorite features…the pockets! This jacket has POCKETS! Yes you heard that right. This is great for the women's version specifically, because women's clothing rarely has pockets that are actually practical. The two pockets on either side of the jacket are deep enough for your phone, passport and keys. They are zipped too, so you don't need to worry about anything dropping out.
In testing, we've found this jacket has a great warmth to weight ratio, with the collar and elasticated cuffs helping to retain heat. Despite being lightweight, it does a great job at keeping you warm without feeling weighed down. In fact, it's so light you almost forget you have it on most of the time!
Durability & Testing
We've been testing the Uniqlo Women's Ultra Light Down Jacket for nearly two months now in the hard English winter and the slightly warmer winter climate in Porto, Portugal.
We are happy to report this thing still looks brand new. The jacket is holding up well, but it's important to note that while we don't foresee any durability issues, lightweight jackets aren't incredibly durable, so tears can happen. We'll keep an eye out and update our usage timeline below if it does.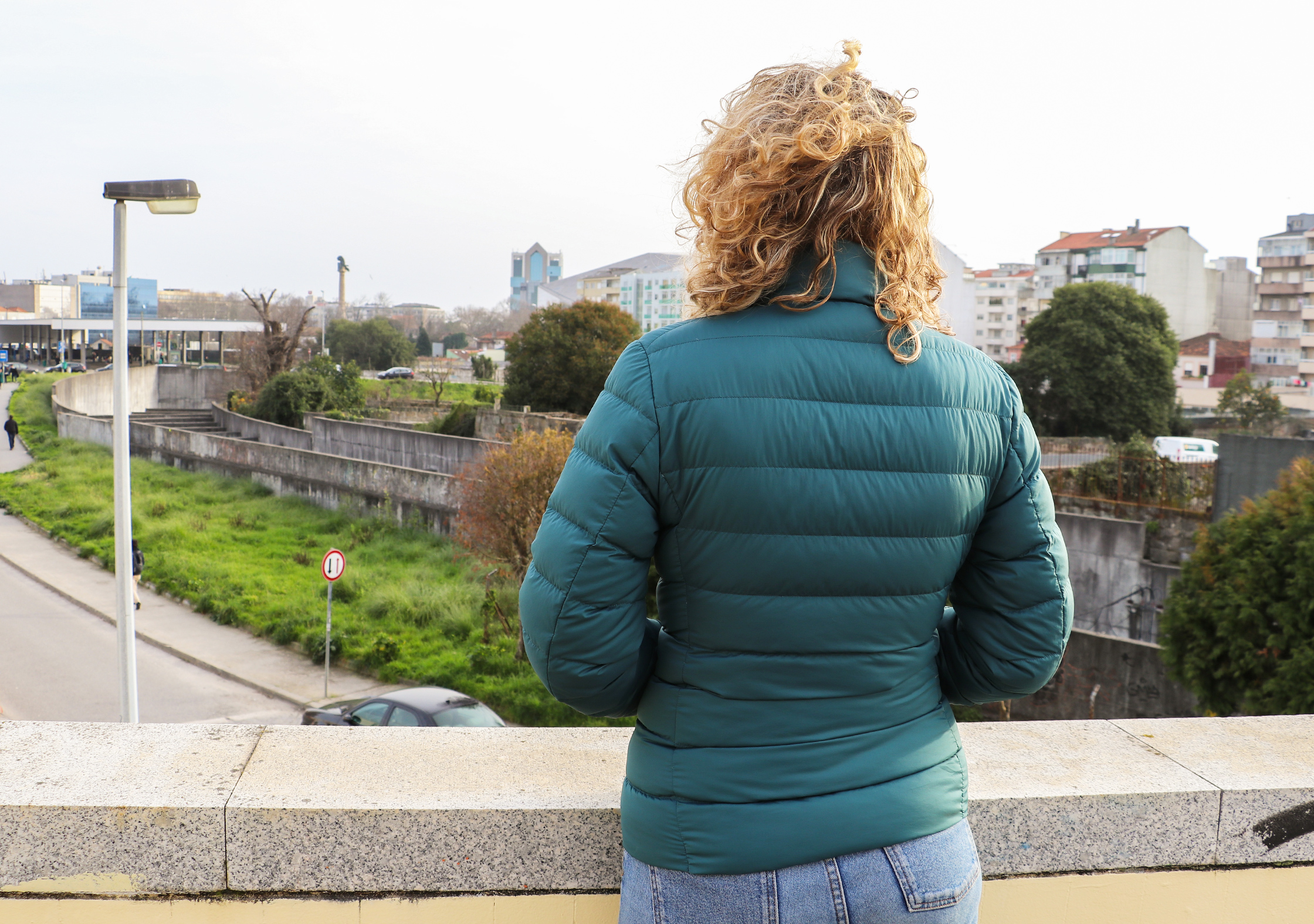 The versatility of this jacket really impressed us. It was easy to adapt to different climates, which could make this your only jacket for extended one bag travel. For colder climates, you can layer this thing up and use it a mid layer with an outer shell on top. Then, for the slightly warmer climates, this jacket will work well as a top layer for those brisk mornings or evenings.
We have noticed that when you first decompress the jacket, it will looked creased and wrinkly. But don't panic—this soon smooths out and you'll be looking fresh in no time.
This jacket also makes a surprisingly good windbreaker and, while it's not waterproof, it can handle a light shower. Nevertheless, if you are heading somewhere with heavier rainfall, it's super easy to pop a rain shell over the top.
In general, this thing is a great everyday jacket to wear, especially when it's a bit chilly outside. It has been our go to jacket for whenever we leave the door, either being worn or compressed in our daypack.
Usage Timeline
Initial Usage
Condition: Excellent
1 Month of Use
Condition: Excellent
Comfortable and lightweight.
2 Months of Use
Condition: Excellent
Works well in different environments and climates.
Access the Pro Community Discussion
Get your questions about the Uniqlo Ultra Light Down Jacket answered from our team and the Pro Community right here on the page. Plus, join discussions with other members about gear, guides, and more.
Other Clothing & Accessories Reviews