Twelve South PlugBug Slim Review
The Twelve South PlugBug Slim won't fast charge your phone, but it can fit places most other wall chargers can't and reduces bulk in a tech pouch.
Our Verdict
Unlock the Pro Summary
Save time. Get access to brief summaries of our reviews so you can browse and make decisions more efficiently.
Pros
The plastic is durable enough for daily use
White indicator light looks subtle in a dark room
Can hang onto loose plugs without falling out
Cons
Can't fast charge your phone
Not for charging larger devices like a laptop
Only USB-C options available
Recent Pack Hacker Video
Technical Details
Weight (oz)

1.59 oz (45.1 g)

Dimensions

3.08 in x 1.4 in x 0.64 in (7.8 x 3.6 x 1.6 cm)

Notable Materials

Plastic, Metal

Manufacturing Country

Vietnam

Warranty Information
Full Review
Get up to 20% off Twelve South • Join Pack Hacker Pro
Upon first inspection, the Twelve South PlugBug Slim is a wall charger with a small footprint, can fit into tight spaces, and looks sleek. All of that is great—but will we miss fast charging and the ability to juice up laptops and other large devices? Let's find out!
The Rundown
The Twelve South PlugBug Slim is crafted from matte plastic, which looks professional and fits into the Apple Ecosystem nicely. Even if you don't have an iPhone or other fruit-related device, it looks professional and won't draw too much attention.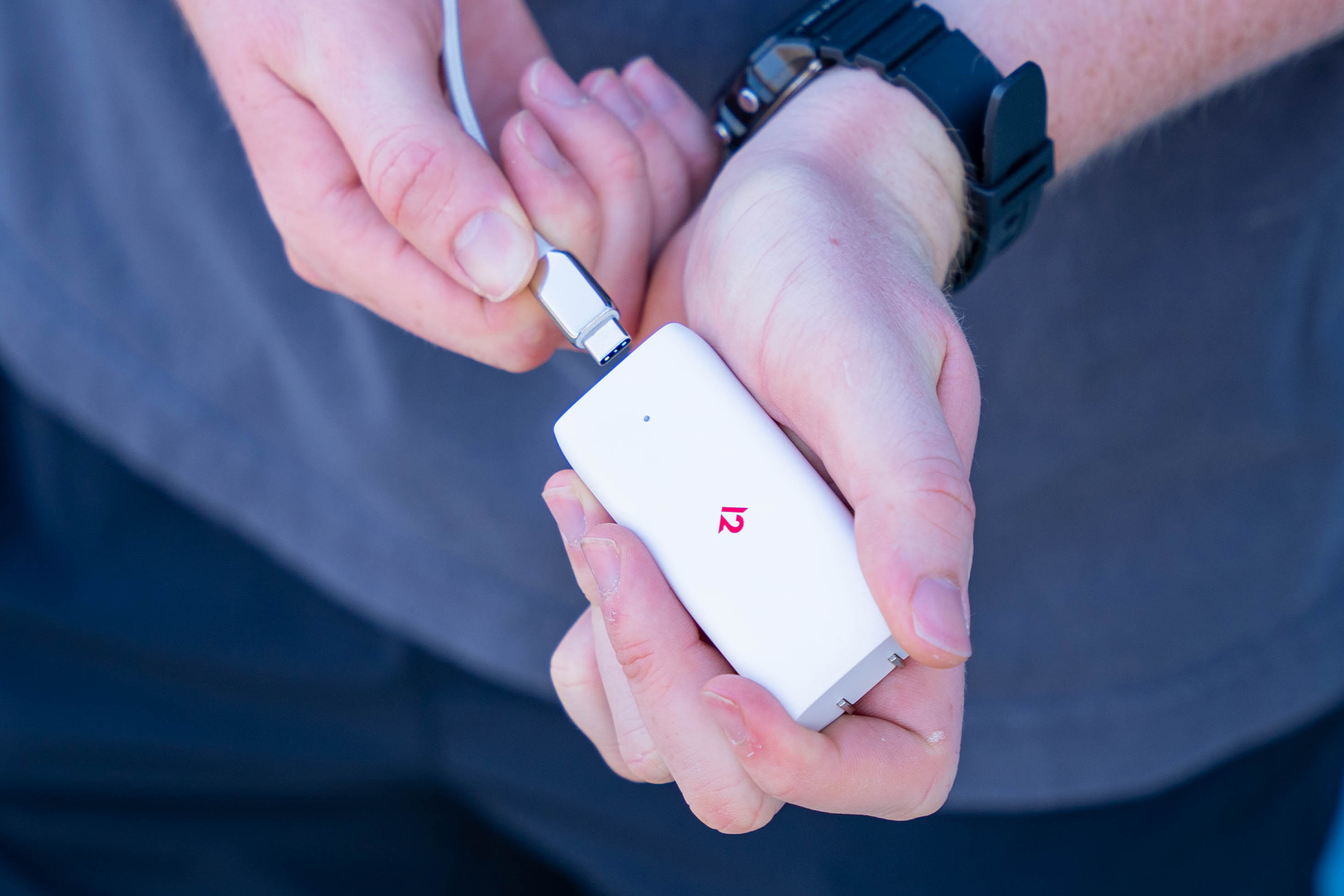 The front side of the power adapter has a small Twelve South logo and an indicator light. The logo is red and, when rotated, reads 12. It isn't too in your face, which we dig. The indicator light is a nice inclusion, especially while traveling. Depending on where you're staying, plugs in hotels, Airbnbs, and coffee shops can be spotty. As soon as you insert the PlugBug Slim into the wall, you know whether or not you've got power. There's no questioning whether the adapter has broken, your cable stopped working, or if it's the outlet. You'll know right away, which saves time and stress.
In testing technology devices, the Pack Hacker Community continues to tell us that they don't like it when devices have a bright light on them. This is especially true if you keep the device on your bedside table or somewhere that light could reach your eye while sleeping. The PlugBug Slim's soft white light is bright enough to see but won't keep you up at night should the only plug in your hostel be right in front of your face. It's a small thing, but one we're certain Twelve South did on purpose.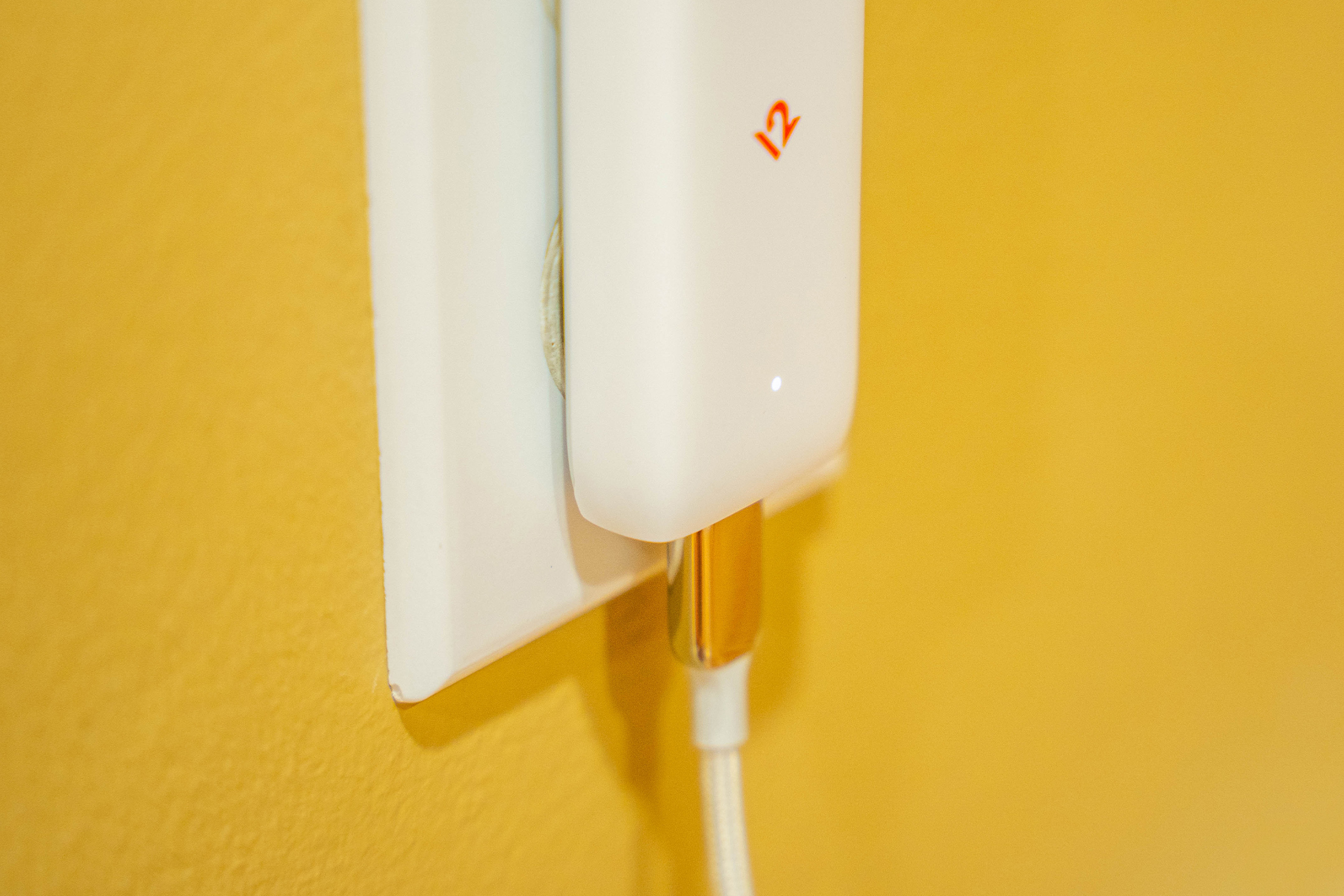 On the back side of the adapter, there's a ton of technical information. We're used to seeing this on tech, so no surprises here. The data is printed in gray, so it doesn't stand out too much. The actual plug is just above the technical information, and it snaps out when you want to use the device. The plug extends over the end of the plastic by a few millimeters so that you can easily pop it out. You can use your finger to do this—you don't need to use your nail. It pops into place firmly to not adjust when you don't want it to.
Last but surely not least, the bottom of the device features a female USB-C input. The PlugBug Slim only comes in the USB-C variety at the time of writing—so if you're still using USB-A cables, you will have to upgrade or go with something else. This doesn't appear to be due to Twelve South abandoning USB-A ports, as their PlugBug World still uses one.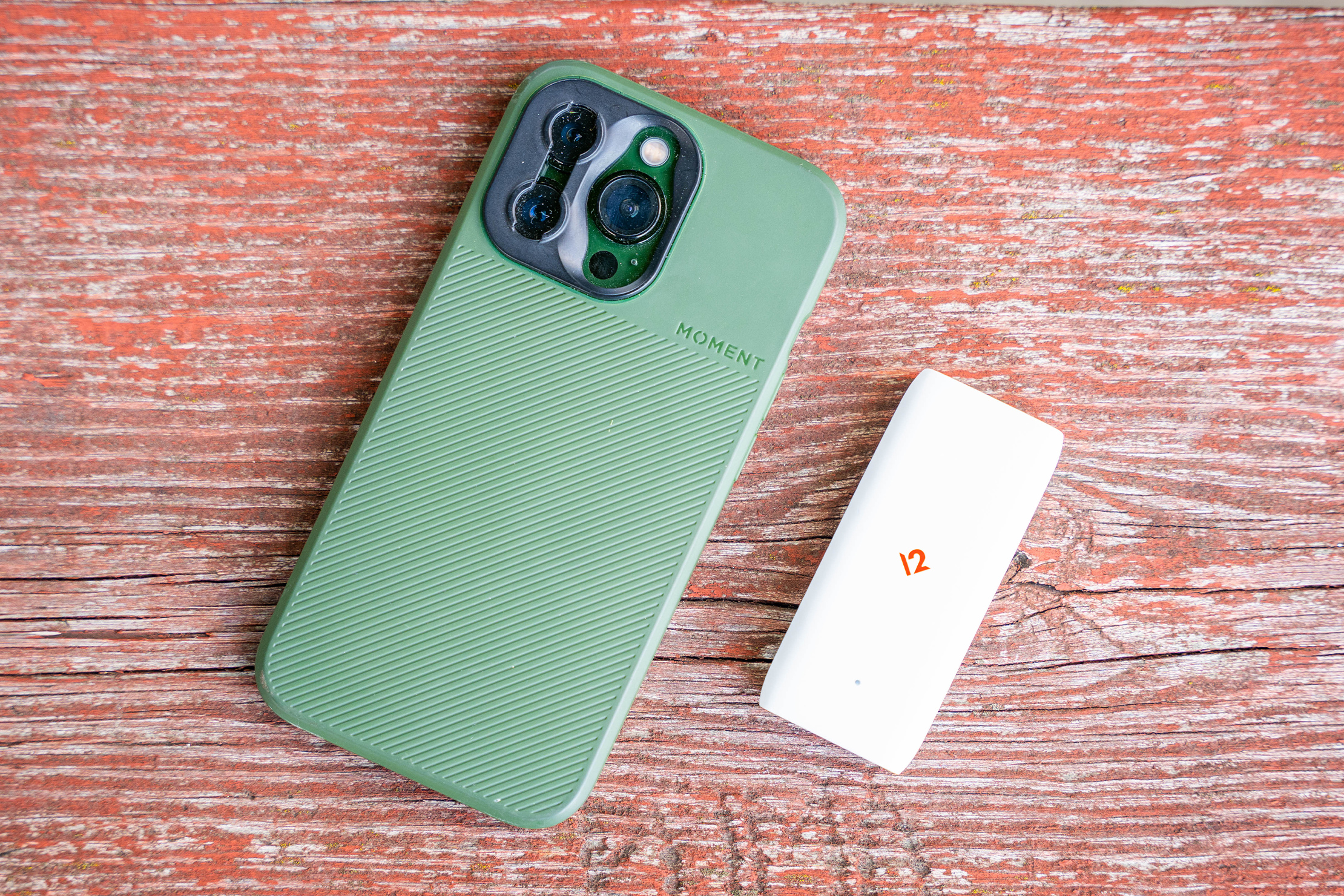 Speaking of size, this adapter is relatively small. It easily fits into the palm of your hand, and has roughly the same footprint as the first and second-generation iPod Nanos. If you're too young to know what an iPod Nano is—look it up; they were baller. They even had Brick, Parachute, Solitare, and a little music quiz to see how well you knew your music on the device. Ah, the good old days…but where were we? Oh yeah—size.
The PlugBug Slim is ideal for tight situations. It's long but extremely skinny, so it can fit into tight corners and behind tables and desks. This is ideal for hotel rooms where the plugs are hidden behind furniture, if your TV stand backs up to the wall, or if your desk doesn't have much wall clearance. We're able to fit the PlugBug Slim in many places where we couldn't fit a standard Apple charging block—though it has a few pitfalls.
If you are using a powerstrip and the only adapter you have is the PlugBug Slim, you have to place it in the last space. Otherwise, it covers up the other plugs. Sometimes power strips reserve the last spot for USB-A plugs or a transformer outlet, which can be problematic because you have to cover up plugs or use the outlet that's dedicated to a block adapter. Or, if you're using an outlet at a hotel or coffee shop and there's something wired into the bottom plug, and there isn't enough clearance on the other side of the outlet, you may be unable to fit the PlugBug Slim there. These use cases are few and far between, though they're worth bringing up.
Packability
Given its slim profile, it's easy to slide into the liner pocket of your daypack, travel backpack, or even your sling. Whereas the width of a standard plug may not fit into a tighter pocket, the footprint of the PlugBug Slim enables it to slide in easily.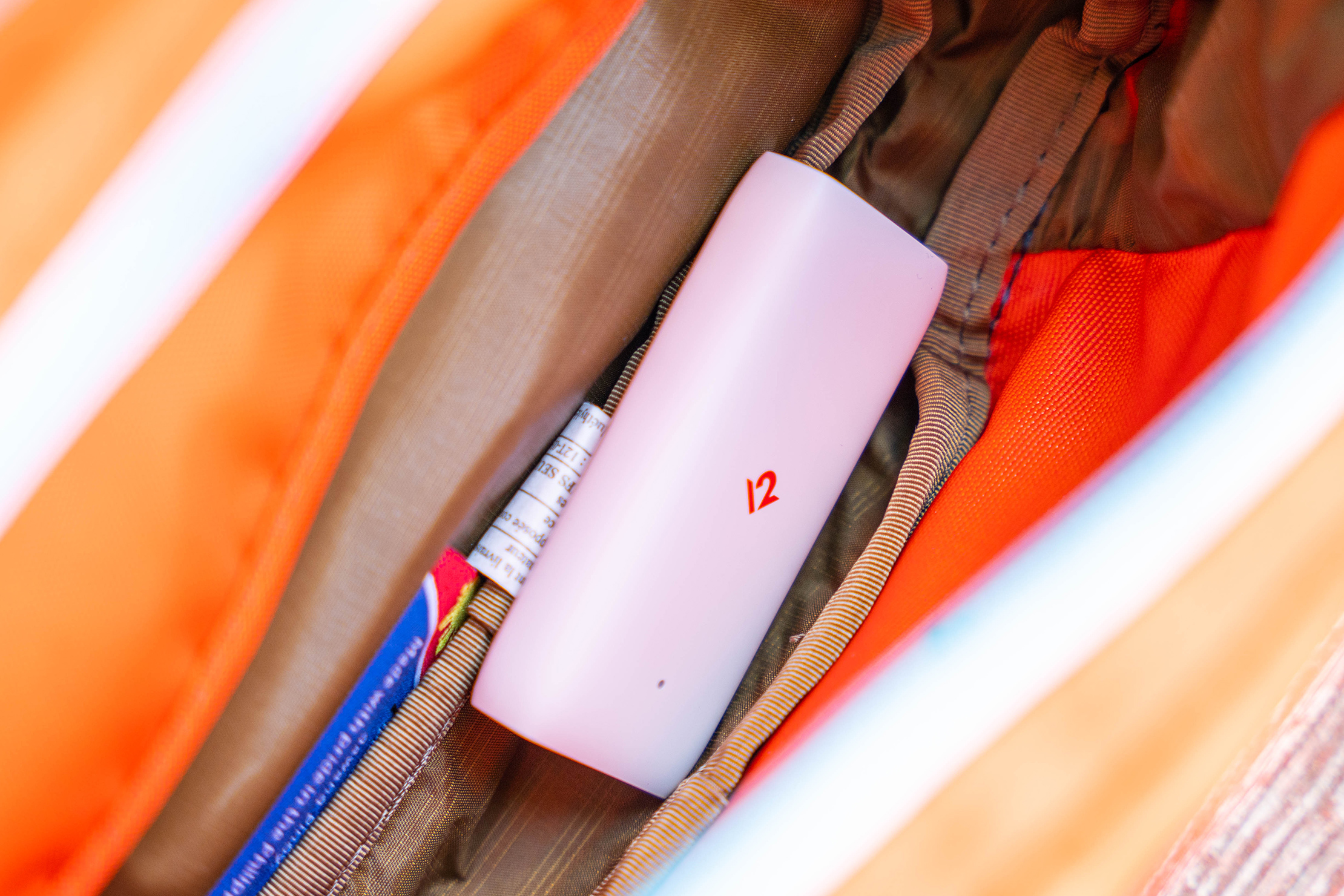 Conversely, if a compartment isn't very tight, a standard brick might have enough gusto to make the fabric right, whereas this offering from Twelve South would be too thin and may fall out. However, it feels much more comfortable in your pants pocket than a standard brick because it isn't as wide, which is convenient for quick trips to the coffee shop.
Quick Comparison
The Anker Nano II 65W Charger may seem like a different beast, but it's one of our favorite wall chargers at the time of this review and pretty standard in size and shape compared to others, so we feel it's worth a comparison. It's 65 watts, which enables it to charge your MacBook and other large devices, which the PlugBug Slim can't do efficiently, or at all, due to its 20-watt output. The Anker will fast charge your phone, too—the Twelve South can't do that either.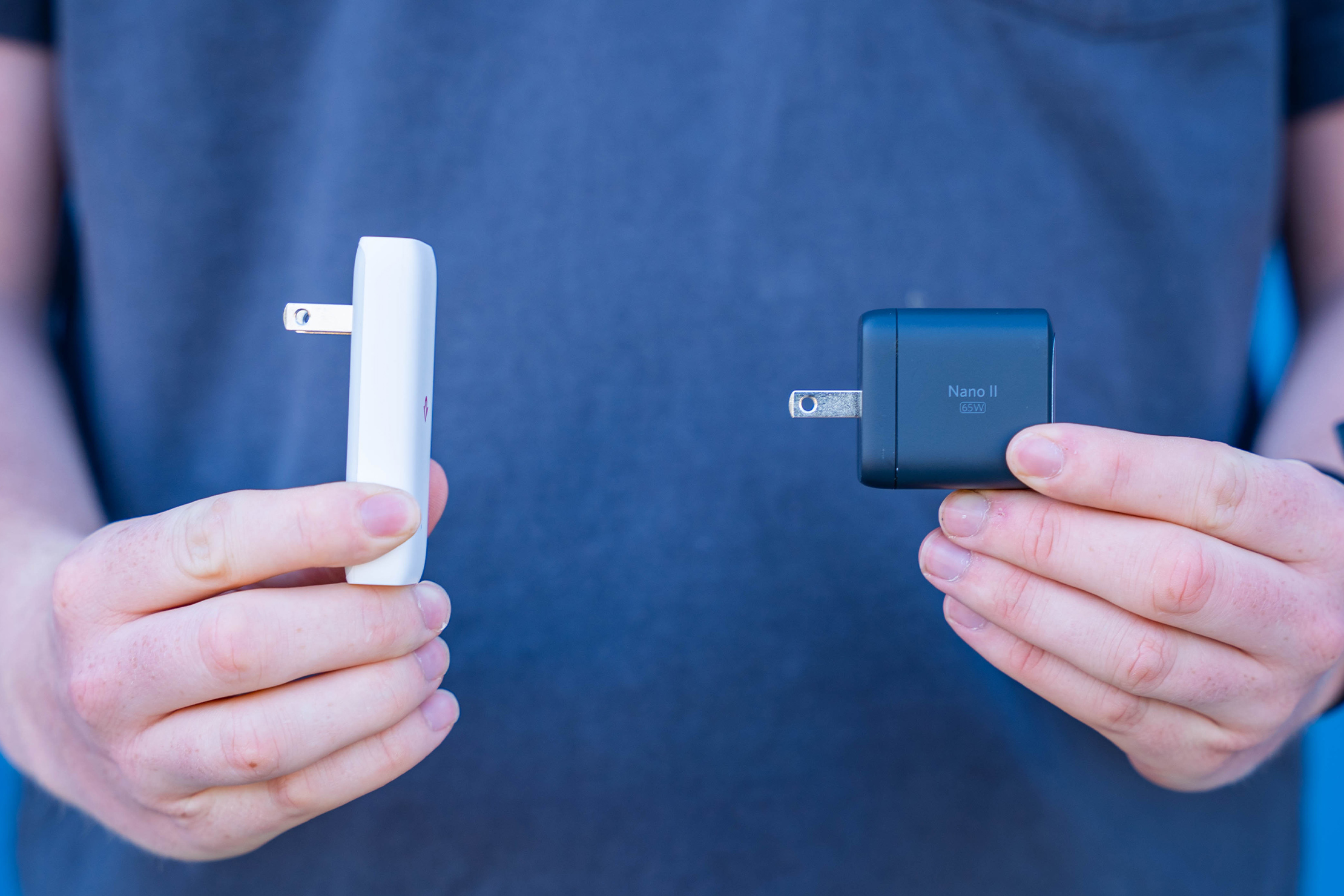 The Nano II comes in at 4.13 oz (117.1 g), whereas the PlugBug Slim is just 1.59 oz (45.1 g). If you're going for an ultralight packing list, every ounce counts. In addition to weighing more, the Nano II is similar to a standard Apple Charger in that it's quite bulky. It feels awkward in your hand and doesn't fit into your pants pocket.
Another thing we love about the PlugBug is its versatility. Do you know those pesky outlets that allow plugs to slip out? If you encounter one in the wild and only have the Nano II, odds are, it will keep falling out due to its weight and compactness. Because the PlugBug Slim is so lightweight and its mass is spread out more, it can stay plugged into outlets that can't seem to hold onto anything.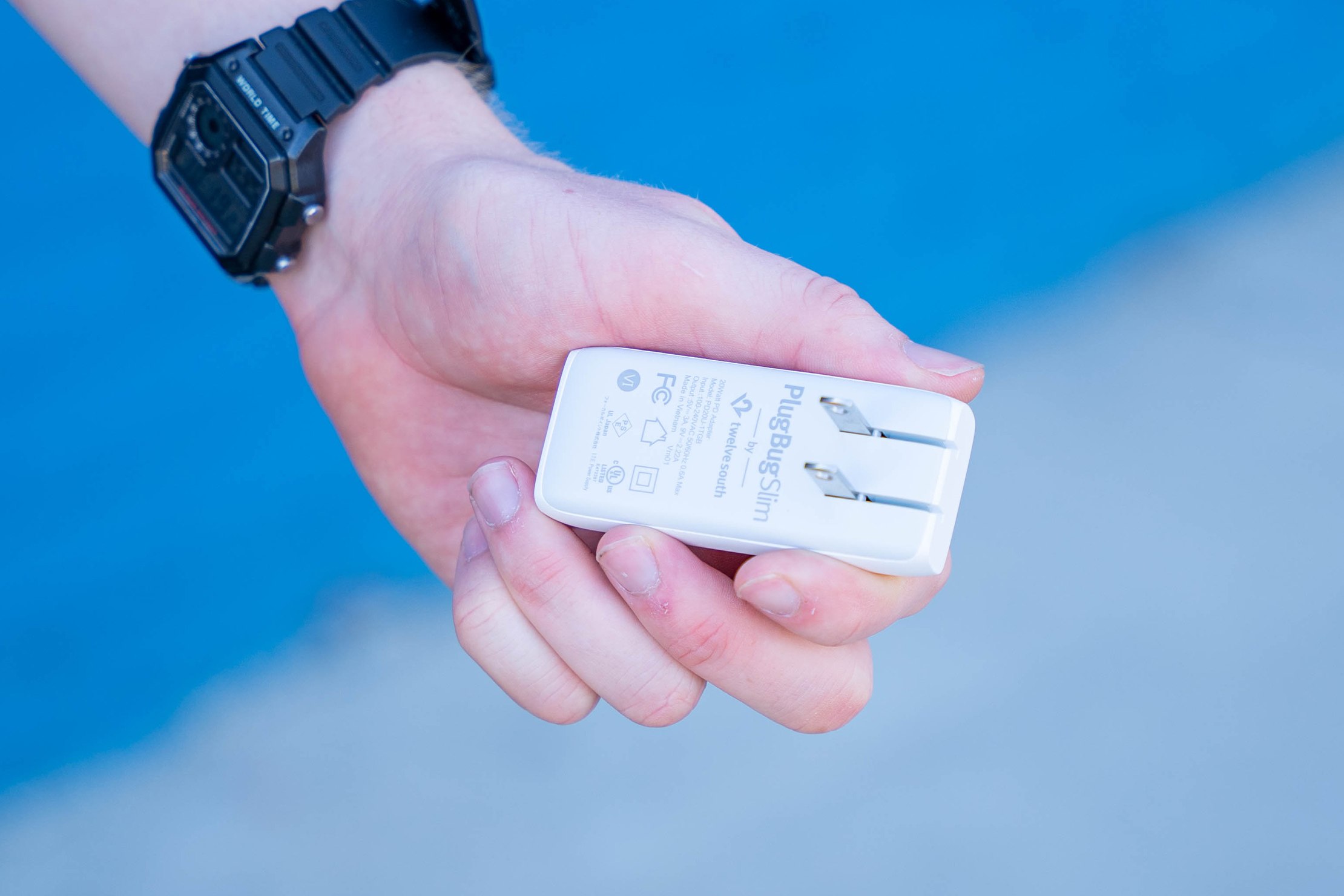 If you're looking for something that can charge any of your devices and power up your phone quickly, the Anker Nano II is a good bet.
However, if you want to save some space and don't need to charge a laptop, the Twelve South PlugBug Slim is a great option. It can fit into hard-to-manage places, has a light to ensure you know the outlet has power, and fits just about anywhere. It's a lovely little travel companion—even if it doesn't have Brick, Parachute, Solitare, and a little music quiz.
Usage Timeline
Initial Usage
Condition: Excellent
Space-saving design feels comfortable in your hand and can plug into outlets in tight spaces
The exterior has a sleek design, although the red logo is very noticeable
The plastic feels durable, but we're worried the white color might scuff up
2 Weeks of Use
Condition: Excellent
No marks, dings, or scuffs on the exterior
The plug flip-out function is still snappy after dozens of uses
We wish there was a black option for those who like darker moods
Access the Pro Community Discussion
Get your questions about the Twelve South PlugBug Slim answered from our team and the Pro Community right here on the page. Plus, join discussions with other members about gear, guides, and more.
Other Productivity & Tech Reviews