Tribit StormBox Micro 2 Portable Speaker Review
The Tribit StormBox Micro 2 has capable sound quality for its compact size and works as a battery bank in a pinch.
Our Verdict
Unlock the Pro Summary
Save time. Get access to brief summaries of our reviews so you can browse and make decisions more efficiently.
Pros
Impressive sound quality for its size
IP67 rating ensures it survives your trip in any climate
Works as a battery bank in a squeeze
Cons
Attachment strap doesn't work in all situations
Uneven surfaces can obstruct bottom airflow
Buttons can be confusing when answering calls
Recent Pack Hacker Video
Technical Details
Weight (oz)

11.1 oz (314.7 g)

Dimensions

3.93 in x 3.93 in x 1.69 in (10 x 10 x 4.3 cm)

Notable Materials

Plastic

Manufacturing Country

China

Warranty Information
Full Review
Without looking into the details, the Tribit StormBox Micro 2 is a capable speaker with good sound quality for its size and price. However, with the bonus of using it as a battery bank in a squeeze, the Tribit might be the perfect speaker for your next trip to the beach. Let's dive in!
The Rundown
The bottom of the speaker is a hard plastic that feels similar to silicone. The top portion has a similar feeling to tightly woven fabric—comfortable to touch yet durable.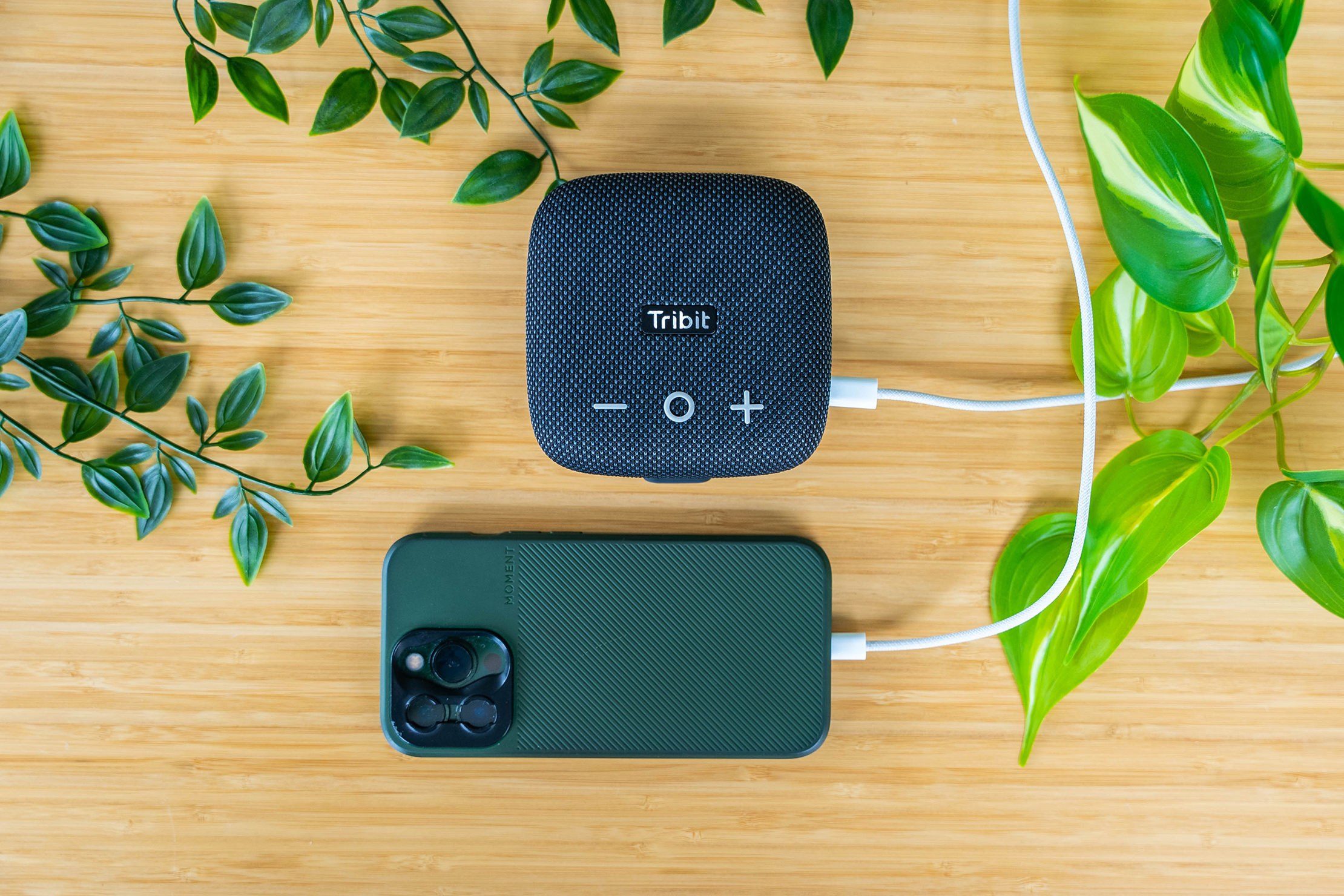 The bottom has four feet to stand on, so the sound isn't muffled when sitting on a flat surface. It still occurs occasionally on uneven surfaces, like a thick bed comforter or sand, but the sound can escape both of those, so the sound is still quality.
There's a strap on the bottom so you can attach it to your belt, shoulder strap, or bike handle while you're out and about. It's relatively stretchy and feels durable. If you put it on something with 360-degree clearance, like a bike handle, it may flip upside down, especially if you hit a bump. While that's not the end of the world, the music then points toward the asphalt, not your ears.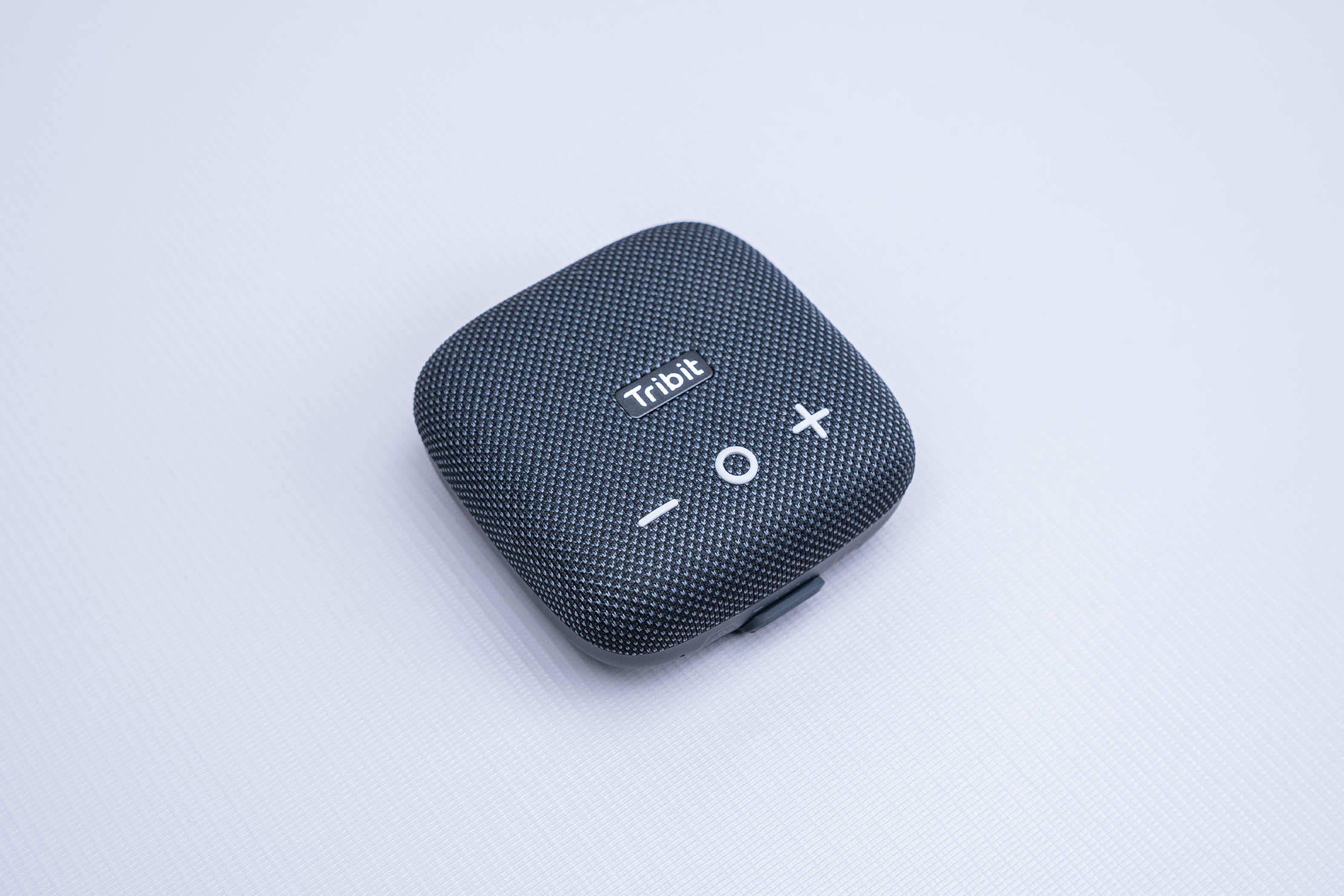 The strap only runs one way across the speaker, so you are semi-limited in how you can attach it. Connecting to a daypack or travel backpack is easy, so you can take it anywhere.
The speaker has an IP67 rating, similar to the iPhone's, so it won't get ruined if you accidentally drop it in the water or the mud, and it will survive similar situations as phone. There isn't any glass, so you might get away with treating this thing rougher than your phone.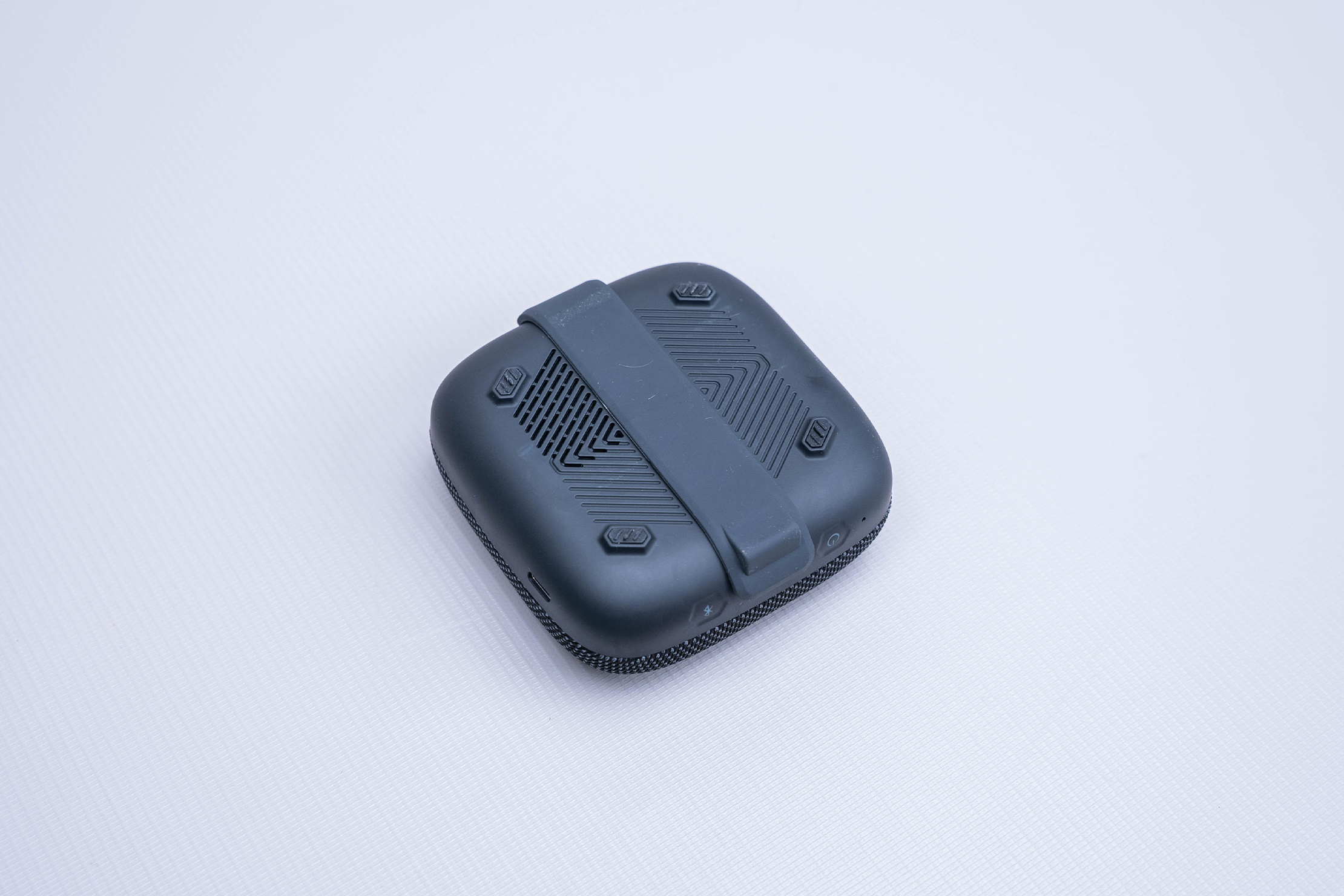 Across the top and side, the speaker has five buttons in total.
On the side, there are power and Bluetooth buttons. The same button that turns the speaker on and off also resets the speaker if you hold it down. Press the Bluetooth button to pair a new device or another speaker, or you can hold it to unpair every synced device.
On the top, there are minus, plus, and circle buttons.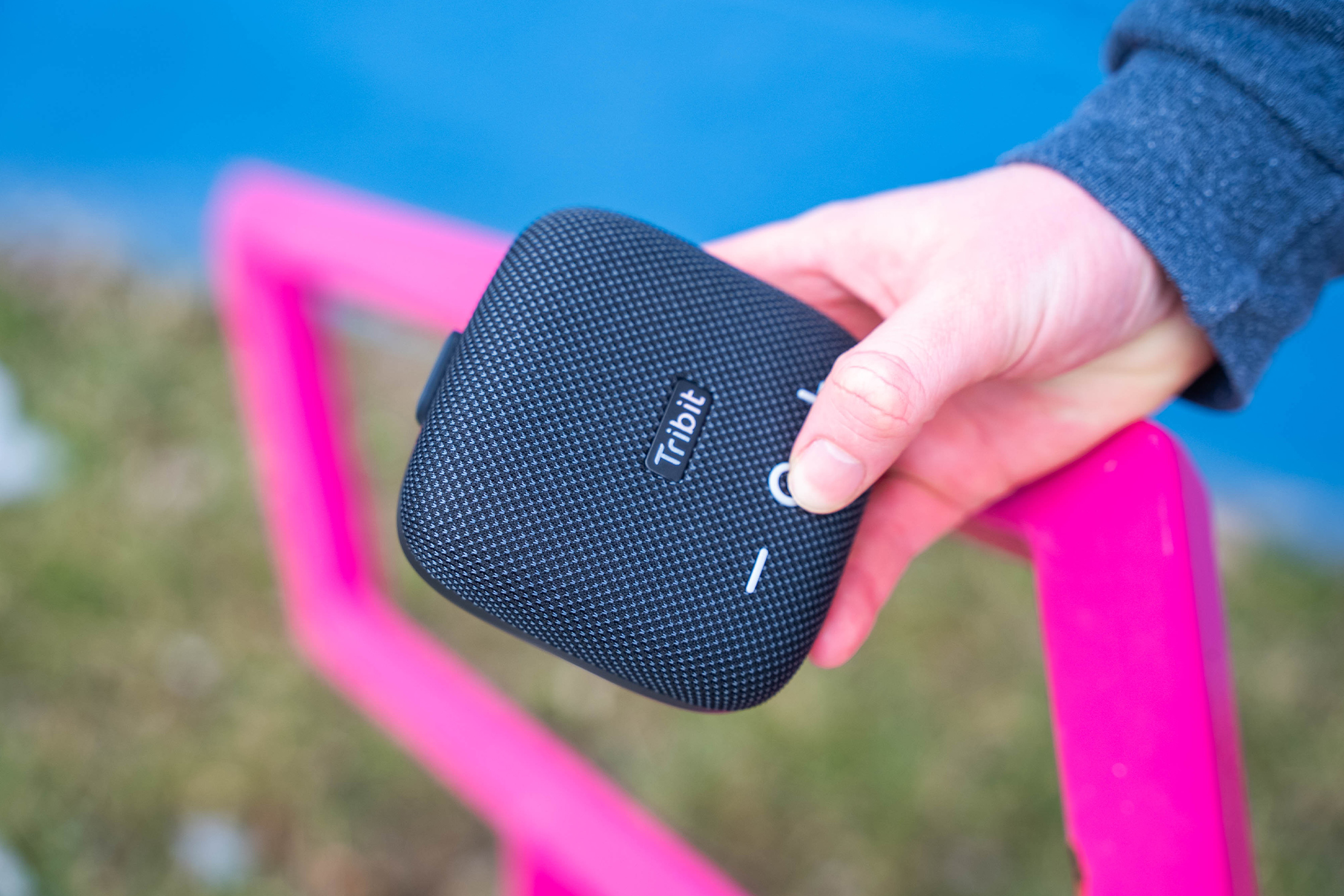 The minus button turns the volume down one notch with a click, or you can hold it down for a continuous decrease in volume. The plus button works the same way to increase sound. The circle acts as a play or pause button, and you can also hit it twice to go to the next song, three times to go back a track, or hold it to use Siri on your iPhone. When you're on the phone, click once to answer a call or hang up, hold it to reject the call, or tinker with it a little more to place a call on hold, switch calls, etc.
The manual has a wealth of knowledge, so it's worth keeping it around and reading before using the speaker.
The battery on the speaker has 4,700 mAh, which is pretty capable for a small speaker. It charges with an included USB-C cable, although the one you already have at home will work too. In addition to powering the speaker, you can use the battery to charge your phone or another device. It isn't a massive jolt of juice for your phone, yet it works well in emergencies when your phone is dying on the way home from the beach or after a long day of exploring a new city.
Last but not least, the speaker is listed as 'Tribit StormBox Micro 2' when you try to connect to it with your phone or computer.
Packability
The Tribit StormBox Micro 2 Portable Speaker isn't the smallest model, but it's easy to bring along for the ride. While it won't fit into your pants pocket or inside a small sling, it slides effortlessly into a daypack or 4+ liter sling.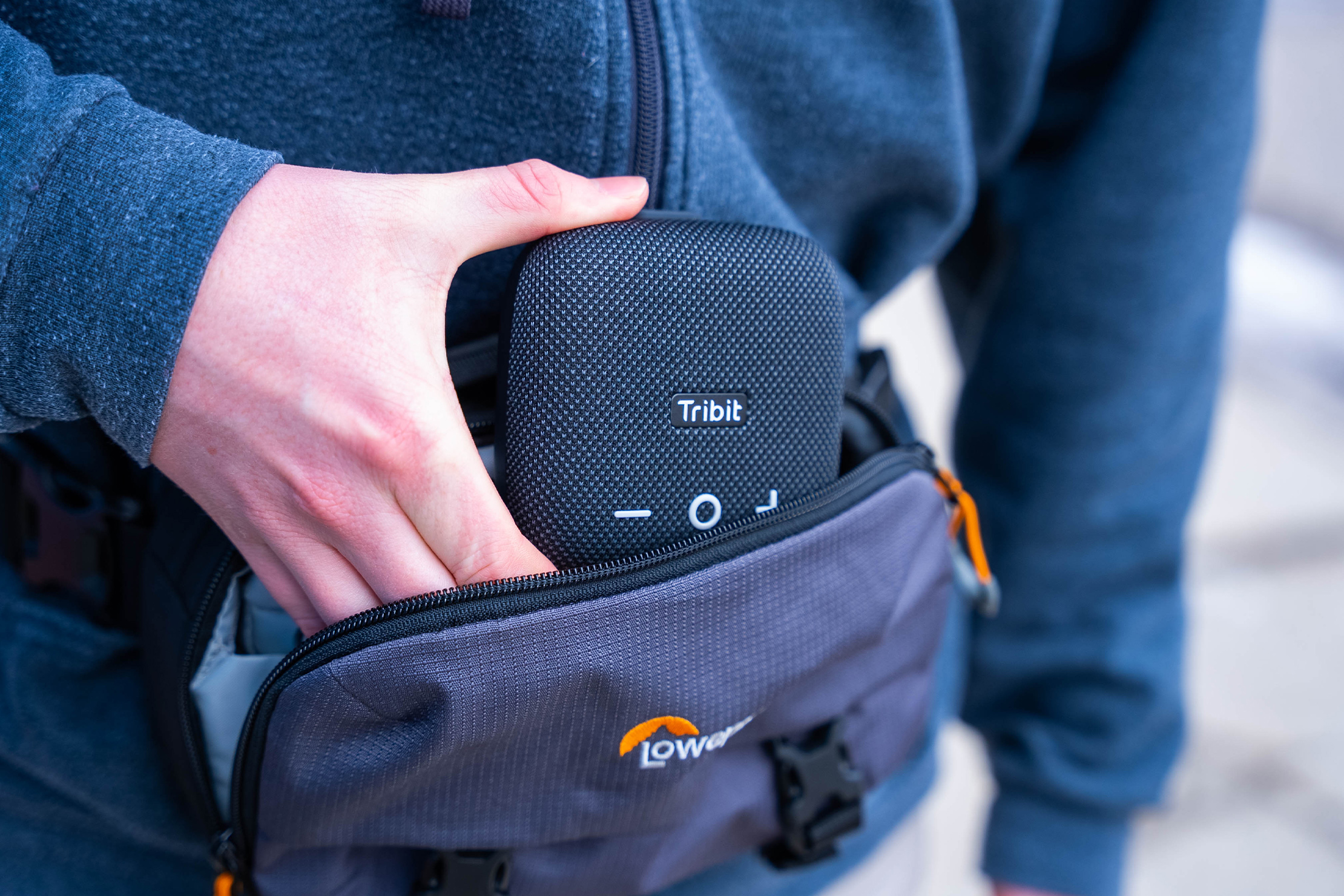 The strap makes it easy to attach to the exterior of your bag or person while out and about. Having a soundtrack for your adventures is always fun, although it's essential to ensure you aren't playing music too loud for the situation.
This speaker has excellent sound quality and surprisingly good bass for its size. Let's be honest; it isn't going to shake the floor as it fits into the palm of your hand. However, it sounds pretty good for its size and how much you're paying.
Quick Comparison
The speaker is similar in size to the JBL Clip 4. We've also found the sound quality to be equal, too, though the Tribit has the edge on the lower end of the sound spectrum.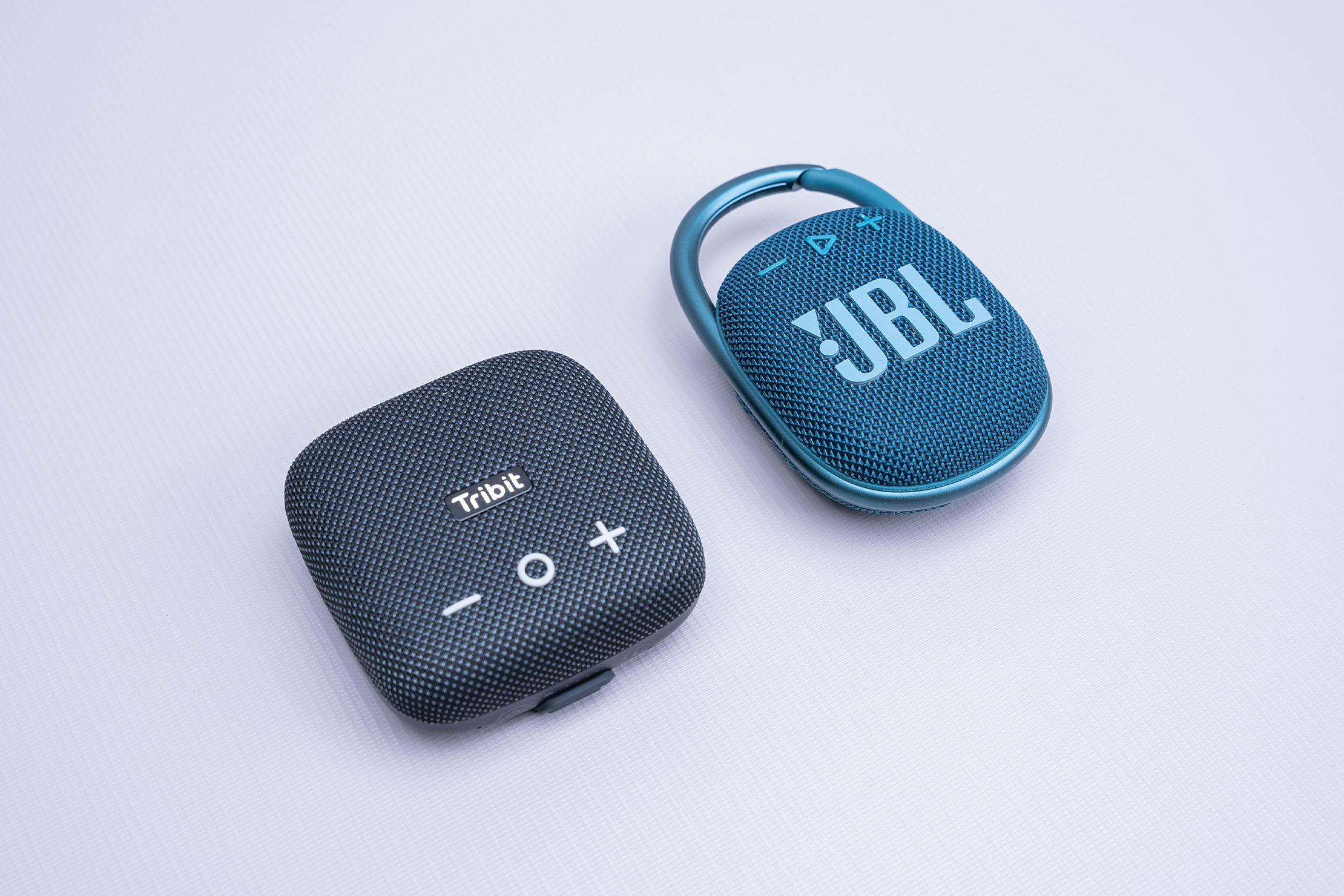 The clip on the JBL is convenient and is easier to attach to things than the Tribit. However, it doesn't latch down onto the attachment point, so it moves around a lot.
The feet on the Tribit are helpful on flat surfaces, and neither speaker excels on uneven surfaces.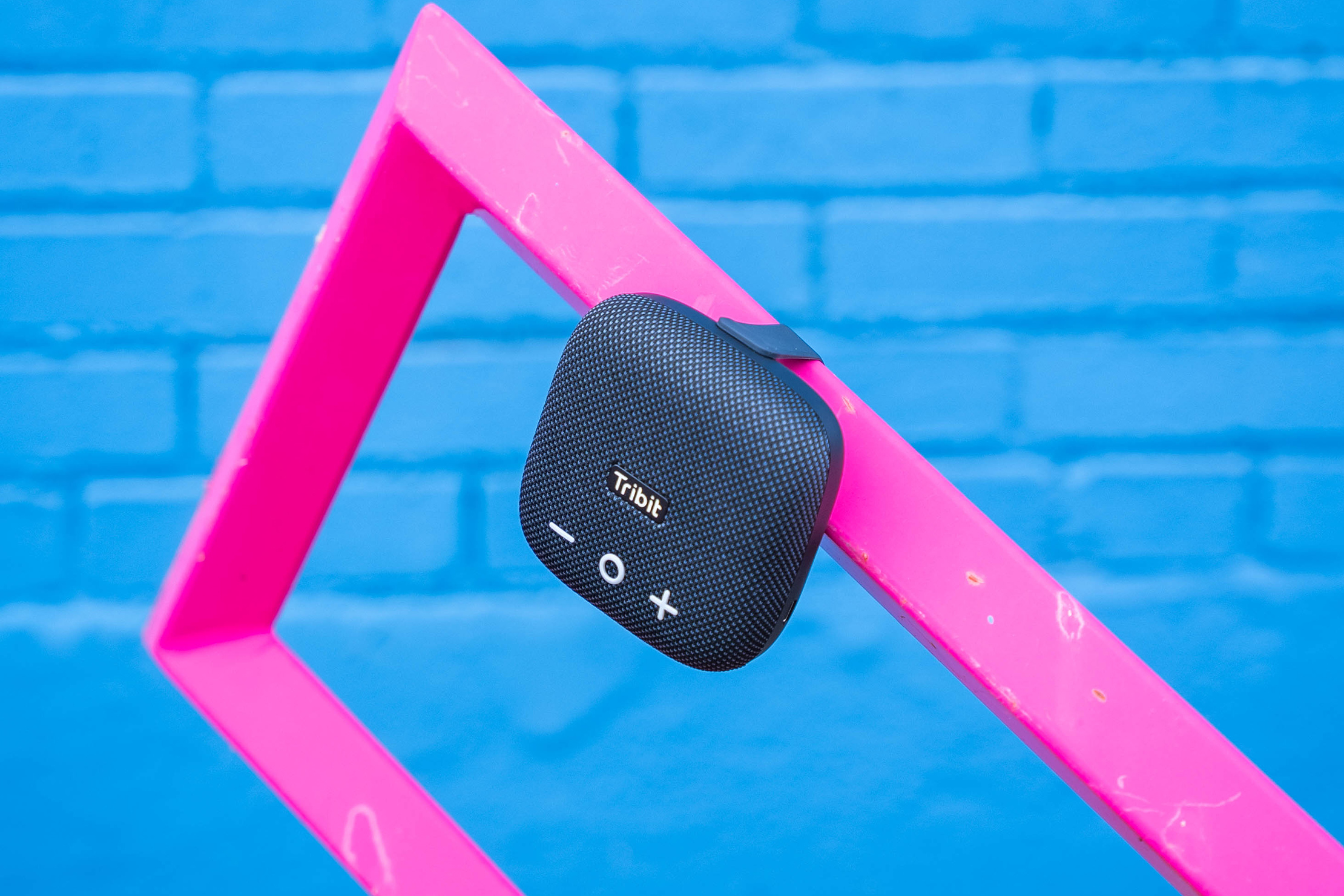 Where the Tribit diverges from the JBL is the emergency battery bank. If you don't usually carry a power bank, this can mean the difference between enough juice to call an uber and a long walk home with a dead phone. It isn't a feature you'll use every day, but it comes in handy on your daily commute or when crossing the globe.
Usage Timeline
Initial Usage
Condition: Excellent
The materials feel durable and look sleek
It has tiny feet to ensure the sound isn't muffled
With a 4700 mAh battery, it may work well as an emergency battery bank
2 Weeks of Use
Condition: Excellent
Using the same port for charging the speaker and using it as a battery bank is smooth and easy
Materials have held up well, even when in contact with water and dirt
Battery life appears to be as advertised
Access the Pro Community Discussion
Get your questions about the Tribit StormBox Micro 2 Portable Speaker answered from our team and the Pro Community right here on the page. Plus, join discussions with other members about gear, guides, and more.
Other Productivity & Tech Reviews