Topo Designs TopoLite Hip Pack Review
The TopoLite Hip Pack from Topo Designs lacks common features we're used to on EDC slings but packs down small enough to make up for their exclusion.
Our Verdict
Unlock the Pro Summary
Save time. Get access to brief summaries of our reviews so you can browse and make decisions more efficiently.
Pros
Materials are lightweight and pack down small
Can attach gear to the external micro cord
Enough organization inside to keep an eye on smaller gear
Cons
No back panel, so oblong items can poke out
Strap can dig in when the sling is packed out
When compressed, the pack can still be shrunk more, but pressure is needed
Recent Pack Hacker Video
Technical Details
100 %
Carry-on Compliance
Capacity

1.6l

Weight (oz)

3.17 oz (89.9 g)

Dimensions

6 in x 11 in x 2 in (15.2 x 27.9 x 5.1 cm)

Notable Materials

Ripstop Nylon, YKK Zippers, Woojin Hardware

Manufacturing Country

Vietnam

Warranty Information
Buying Options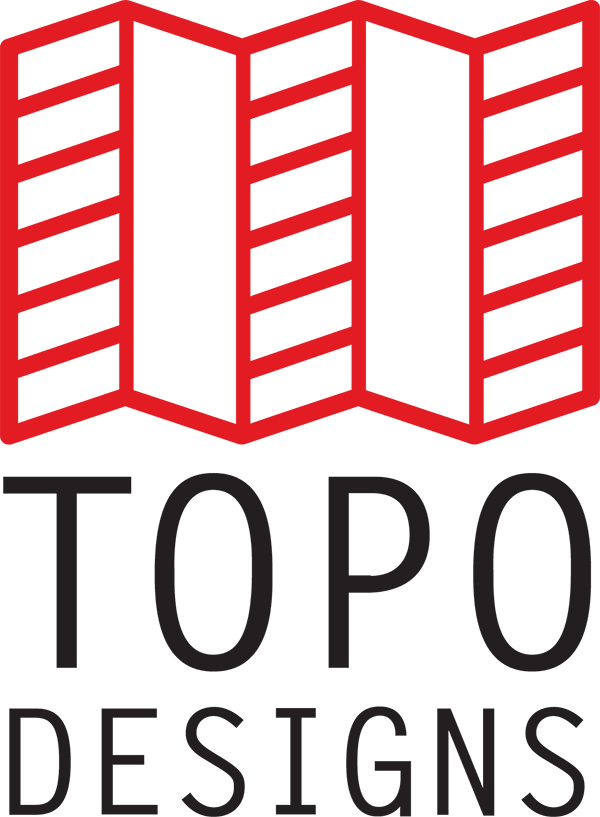 $39.00

$39.00
Full Review
Get up to 15% off Topo Designs • Join Pack Hacker Pro
We've tested some packable slings in the past, but this thing is the real deal. It comes in at 1.6 liters and is absolutely tiny when compressed. We dig Topo Design's travel backpacks and daypacks, but we're curious if they had to compromise on some of the features we expect from them to make a sling that can pack down this small. Will it still function like we hope it will, or will we be left disappointed? Let's find out.
External Components
The pack is crafted from 40D recycled nylon. It's extraordinarily thin, which may affect long-term durability. This far, there haven't been any issues with holes or abrasions, which is excellent news.

The fabric has a water-resistant silicone coating, which does a reasonably good job of keeping your gear safe from the elements. It's a bit shocking at first because you'd expect such a thin material to be about as water-resistant as Pokemon cards in the pocket of a child who forgot they were there while swimming in the Netherlands. Yes, that one is personal. Weirdly personal anecdotes aside, this material has held up well so far.
There isn't any padding to speak of, so you can see the gear you have stowed inside from the exterior. This isn't a big deal if your objects fit the container they're placed into, like a sweatshirt, but this isn't the case for a point-and-shoot camera or water bottle.
There's a Topo Designs logo on the front side of the sling in the center. It matches the primary pack material well and blends in nicely to keep the minimalist look of the pack. The material of the patch feels more durable than the primary pack fabric, which is a little funny but not a real issue.

There are two zippers on this pack—both from YKK. The pulls are crafted from a paracord-like material with a knot on the end. They're easy to grab onto and are comfortable to use.
The buckle and adjustor on the strap are from Woojin. The closure feels a little large for the strap that it's connecting, but it's snappy and doesn't open unexpectedly.
One of the first things you'll notice about this pack is a micro cord running diagonally across the front face like a lightning bolt. It is oddly reminiscent of a football's laces, but, unfortunately, this won't help you throw the pack further. The end of the cord attaches to a tab in the center with a metal carabiner. Plastic adjustors are on the pouch's bottom to tighten or loosen the cable.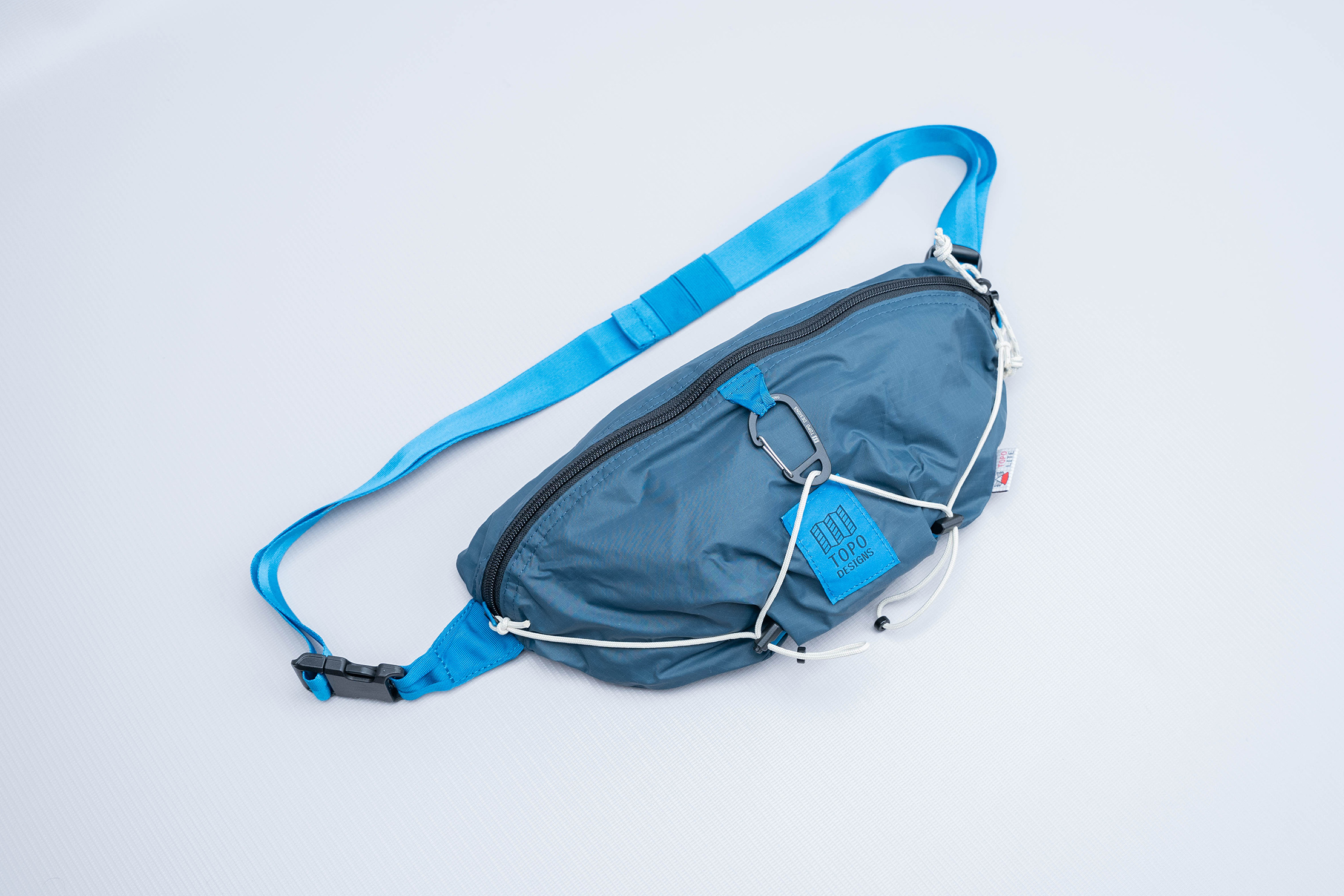 The cable's primary purpose is to attach gear to the front of the pack. You can attach a collapsible water bottle, another carabiner for gear, a hat, or anything with a clip. We find it's better in concept than in practice; however, it's nice to have the option to use it should you need some extra space.
Fit Notes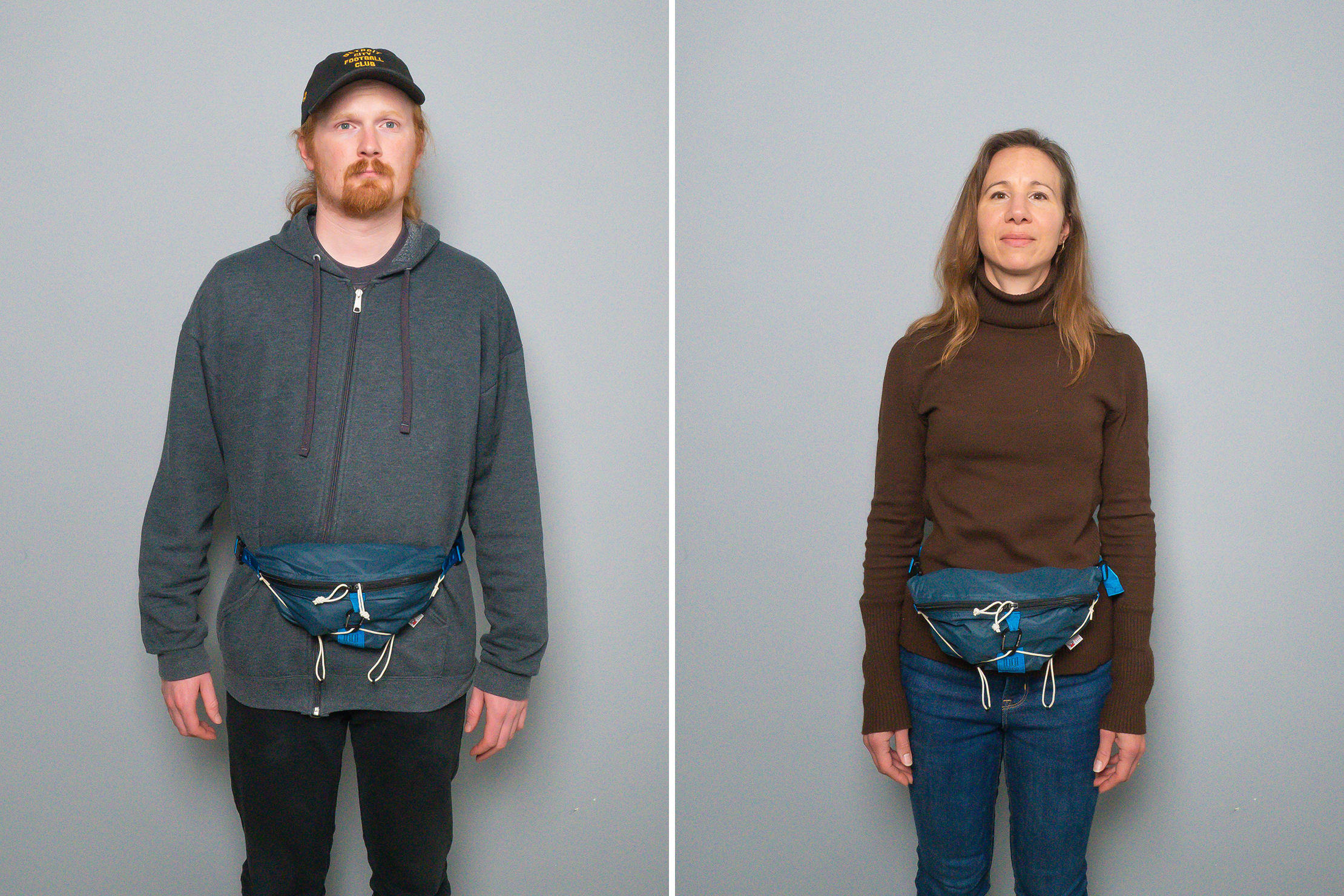 When it comes to a back panel, there isn't one to speak of. The rear end of this thing is crafted from the same pack material as the rest of the sling. There's no padding, no aeration, and no channels for airflow. But, to be honest, we didn't miss them. This thing is supposed to be as compact as possible for traveling and accomplishes that super well.
With that being said, it can be awkward to wear when your items don't have a flat backside. If you have more oblong-shaped items, like an apple or a rounded glasses case, you can feel those items poking into you wherever you're wearing the sling. When you have a lighter load, this isn't an issue, but when you've got it packed out, it's hard to navigate getting poked. Again, we'll take this because of how small it compresses, but it's worth noting.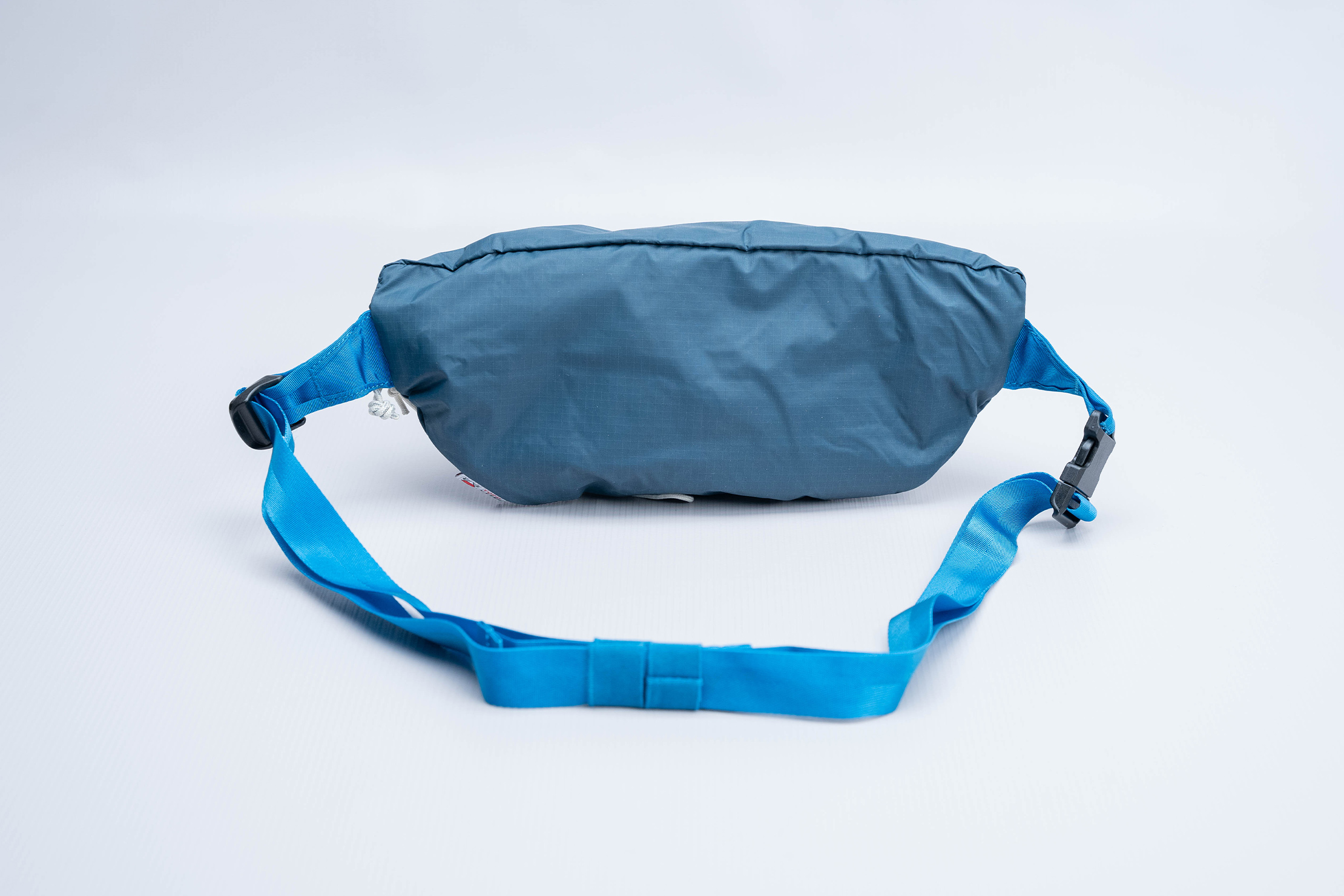 The strap is relatively thin, saving a lot of weight and surface area, but it can be uncomfortable when you pack out the sling. It will dig into your shoulder or hip, which is an issue if you have a thin shirt or tank top on. This is only the case when we pack this thing full of gear—moderate loads didn't have such issues.
There are strap keepers to organize the extra material, which we dig. The strap connects to the pack's body with a broader, more durable slice of material that acts as a hip-hugger. It adds comfort and makes the sling feel like part of you while wearing it. It's a small design inclusion, but we're happy it was made.
Inside The Sling
This sling has no secondary pockets, just an amply-sized main compartment. There's a simple straight zipper to access it—no fancy curvature here.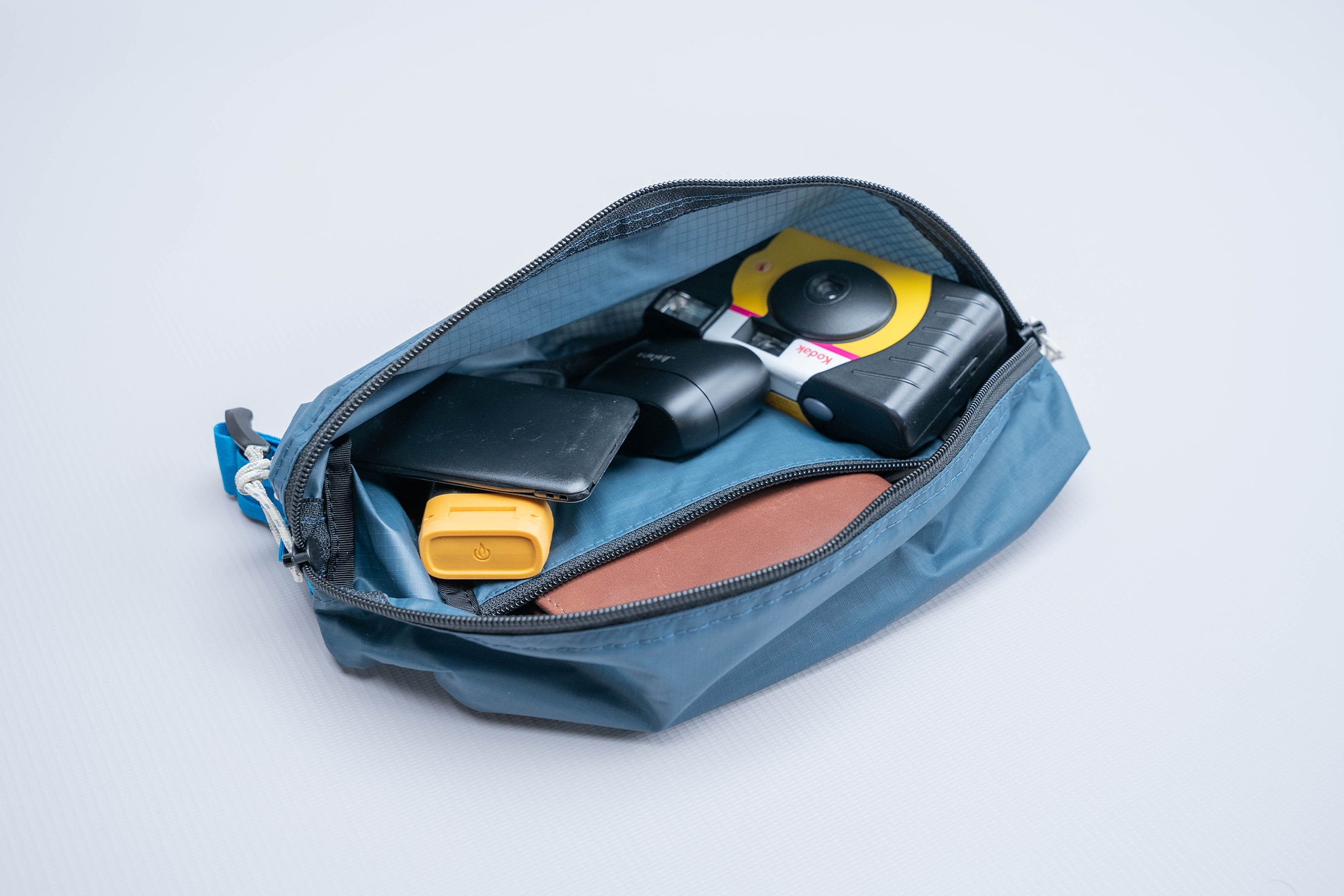 Inside, there isn't much organization. There's one zippered pocket with a reversible YKK zipper. We've got the same pulls as on the exterior, and they work just as well inside. This is an excellent spot to lock down smaller items you don't want to fish around for in the main compartment, but your iPhone isn't going to fit inside here. Well, maybe if you're still using an original iPhone 4. If you are, how's life without Siri?
This small pocket also acts as a stuff sack. You can shove the entire sling into it and stow it away until you need it. Although, when compressed, this sling fits into the palm of your hand, you can easily make it even smaller than that with a little force. If you place it between more oversized items in your pack, it will shrink even more, and it doesn't feel boisterous in your pants pocket. You can take it just about anywhere, no matter what you're wearing or carrying, and that's important. You don't need to have a travel backpack or daypack with you—it'll fit anywhere.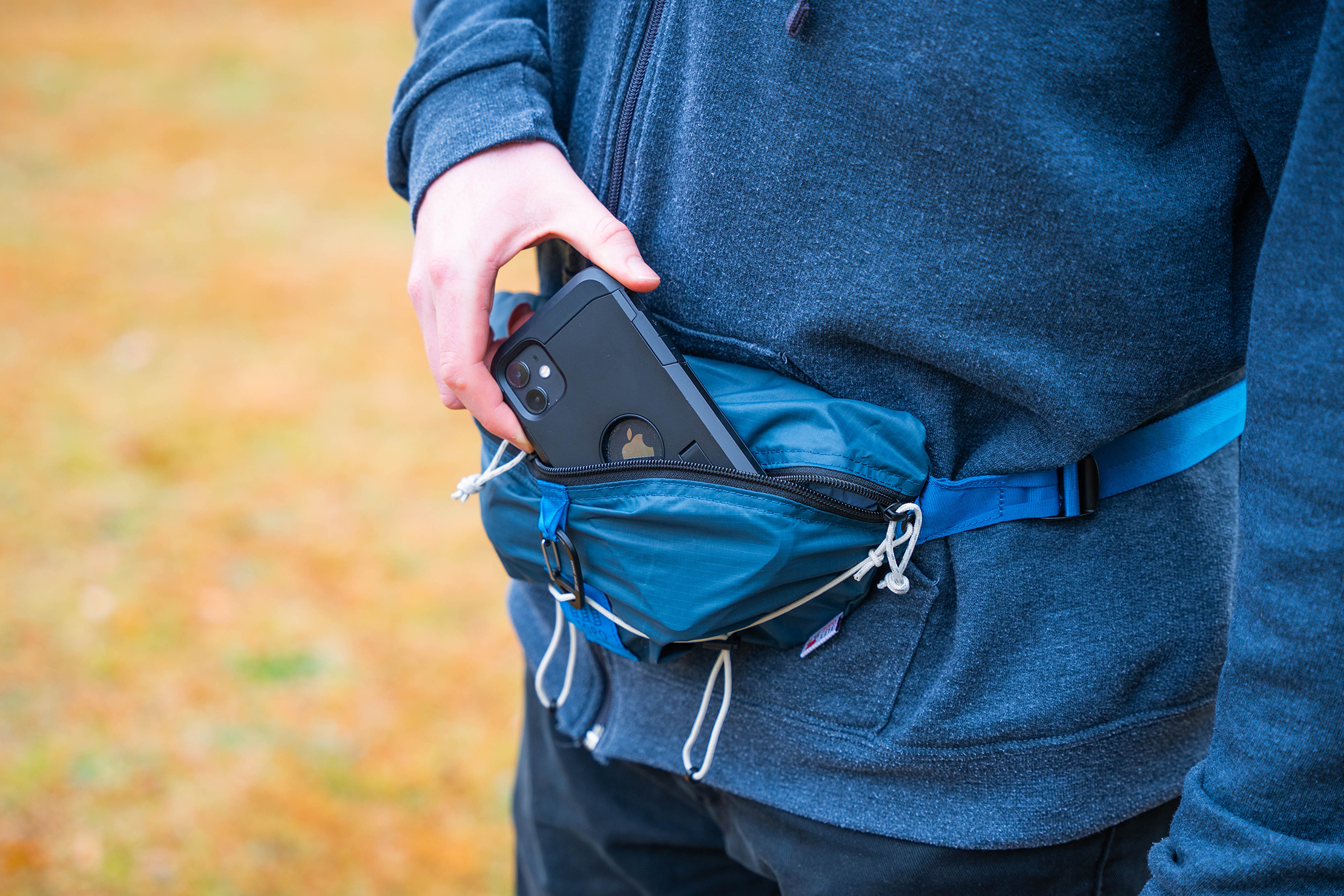 For that reason, we think this is a perfect just-in-case sling. You aren't going to want to carry it every day of your life, but it's a great tool to have on you should you need a little more space than your pockets can offer you. Plus, if you fill your pockets and the sling's 1.6 liters, you can attach things to the exterior micro cord. It isn't the easiest thing to do—but you can, and it will get the job done. Whether you're looking for a sling to help you get comfortable on a plane ride without constantly getting into your pack or want something to give you the peace of mind you need to leave your daypack at the hotel for a day of adventuring, it will get the job done. Maybe next time, we'll put the Pokemon cards in here, so they don't get ruined!
Usage Timeline
Initial Usage
Condition: Excellent
Materials are extraordinarily lightweight but feel durable enough and have a water-resistant coating
Comes with hardware we trust—from YKK and Woojin
It packs down small enough to stow anywhere, which is great for mobility
2 Weeks of Use
Condition: Excellent
Materials still giving us durability concerns, but nothing to report damage wise
The compressed size isn't tiny, but you can constrain it more with a bit of elbow grease
The strap keepers can overlap, which is funky in use
Access the Pro Community Discussion
Get your questions about the Topo Designs TopoLite Hip Pack answered from our team and the Pro Community right here on the page. Plus, join discussions with other members about gear, guides, and more.
Other Bags & Luggage Reviews