Topo Designs Classic Duffel Review
The Topo Designs Classic Duffel is a simple, robust bag that fits plenty of stuff. Just don't expect anything too fancy.
Our Verdict
Unlock the Pro Summary
Save time. Get access to brief summaries of our reviews so you can browse and make decisions more efficiently.
Pros
Made of quality, durable materials
Grab handles are well designed
Digging its simple organization
Cons
Leather accents make it unsuitable for those avoiding animal products
No exterior pockets (which could also be considered a pro)
Key clip isn't great
Recent Pack Hacker Video
Technical Details
Capacity

40l

Weight (lb)

2.3 lb (1 kg)

Denier

1000D

Dimensions

12 in x 24 in x 12 in (30.5 x 61 x 30.5 cm)

Notable Materials

CORDURA®, Nylon, Packcloth, Duraflex Hardware, YKK Zippers

Manufacturing Country

United States

Warranty Information
Full Review
Get up to 15% off Topo Designs • Join Pack Hacker Pro
If you're looking for a classic duffle, the Topo Designs Classic Duffel will fit the bill (it is in its name, after all). There's not much going on—it's just a solid duffle bag that's performed well during testing.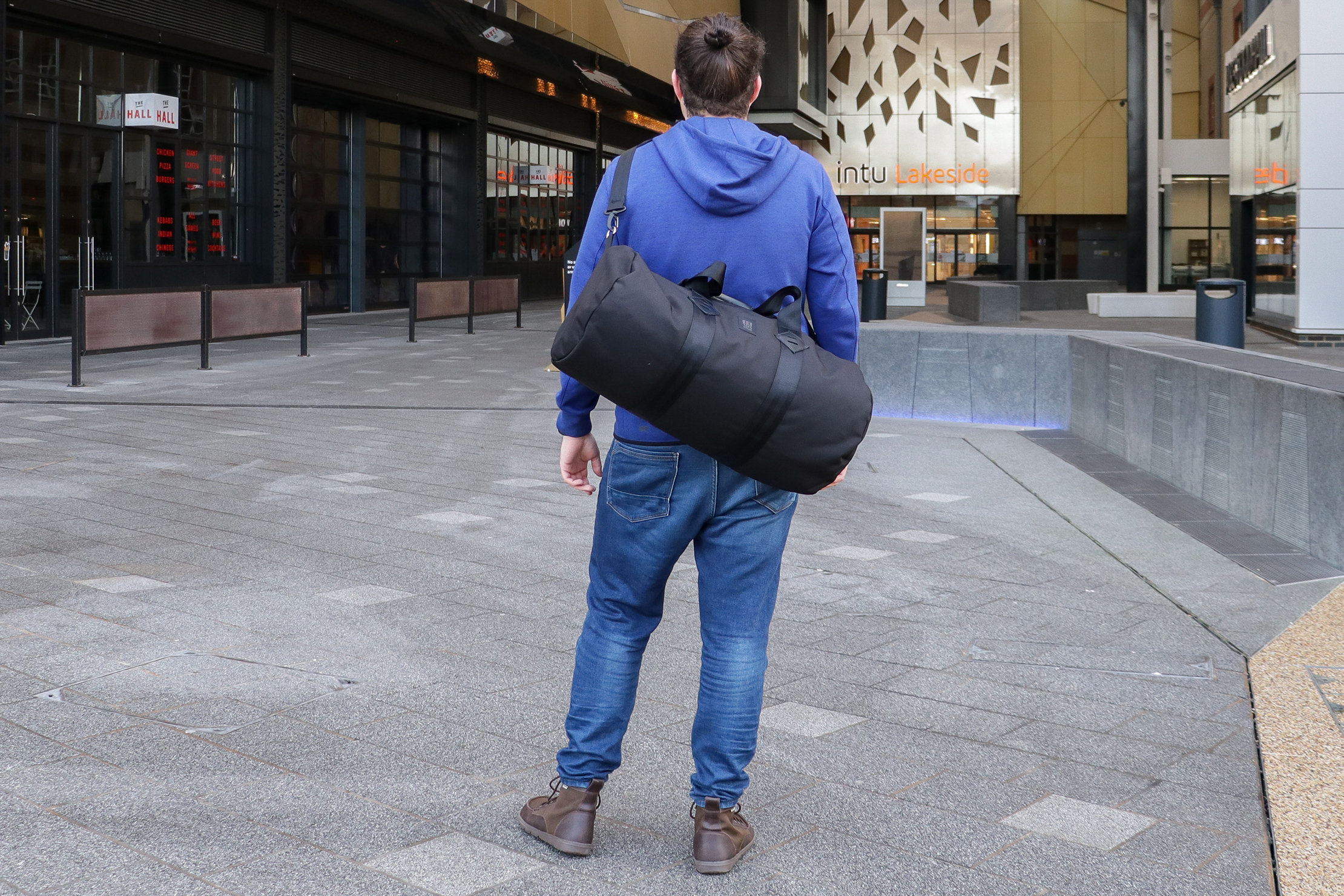 That said, you can't expect this duffle to be something it's not. If you want primo organization, a duffle that will hold your laptop and other expensive gear, or a bag that's comfortable to carry long distances, the Topo Designs Classic Duffel won't have much for you. But if you're in search of a classic duffle bag, you're likely not after all of that—just a durable bag that you can haul from place to place.
Let's check it out.
Materials & Aesthetic
Handmade in the Rocky Mountain West, you can see the outdoor influence in the aesthetic of the Classic Duffel, while its barrel-shape is reminiscent of the traditional style of duffle bag popularized in the late 20th century. At the same time, there's a touch of modernity. In the end, you get a heritage, utilitarian, contemporary duffle that'll fit in on the bustling streets of New York City or the rural backroads of the U.K. (Trust us, we've tested it in both.)
At the time of this review, it's available in four different colorways: Black, Charcoal, Olive, and Navy. It's a surprising collection of colors from a company that's known for bold, bright colorways (or, at the very least, strategic pops of color). Based on product photography, it seems that at one point Topo offered a bright orange colorway that aligns with said style. Who knows, maybe they'll offer it again by the time you're reading this.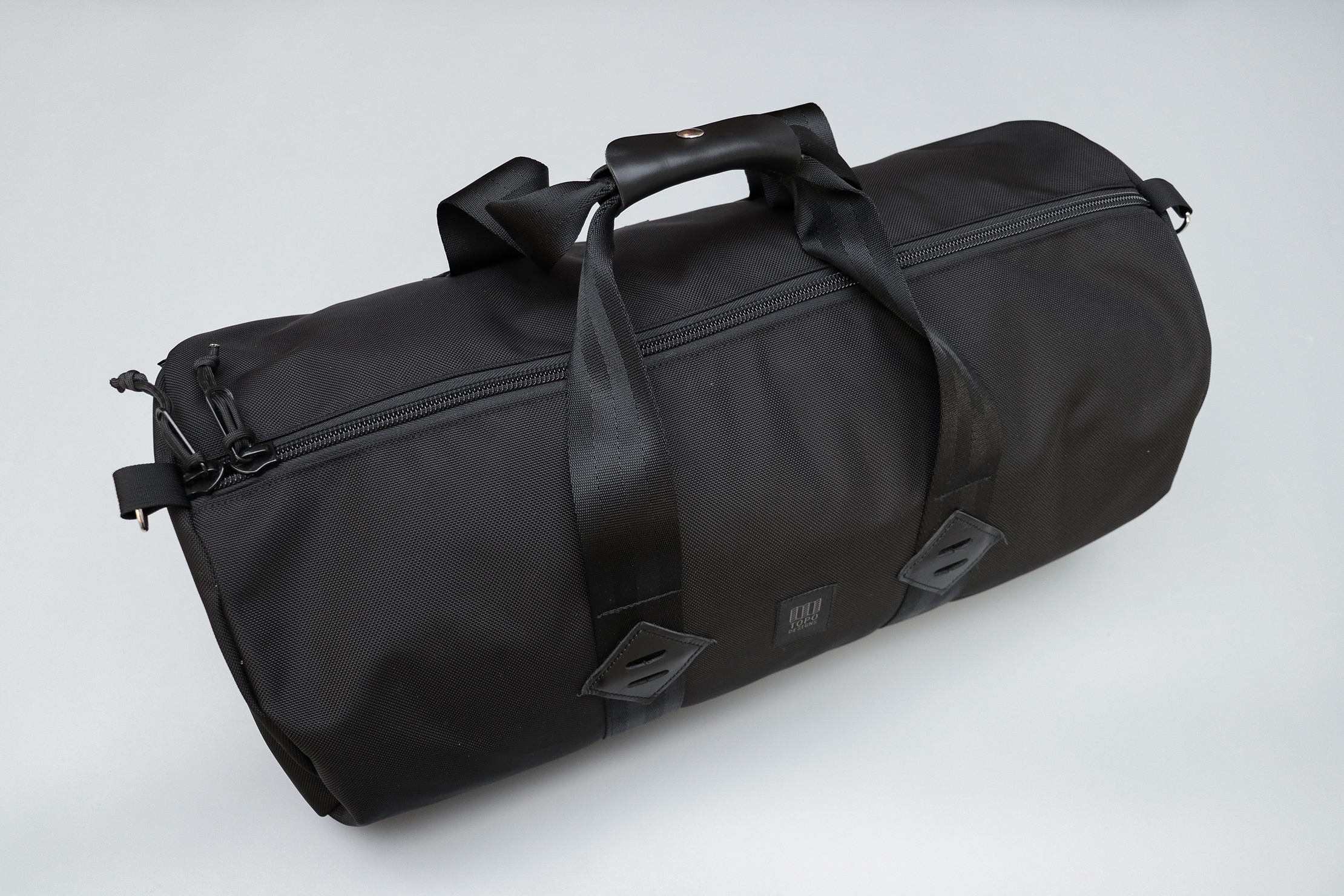 Anyway, we're partial to subdued colors for travel, so we don't mind these options. And by "don't mind" we mean we're really feeling them. We've opted for the black color that features a black-on-black logo tag, black leather accents, and a black interior lining. It's slightly more urban and less heritage than the other options. We're digging it!
The black version also has a different exterior fabric. It's made of CORDURA® ballistic nylon, while the others are made from CORDURA® nylon. Since CORDURA® guarantees quality, both exterior fabrics should keep up with all you throw at them…to a point. Don't go blaming us if you ruin your duffle by taking a pair of scissors to it.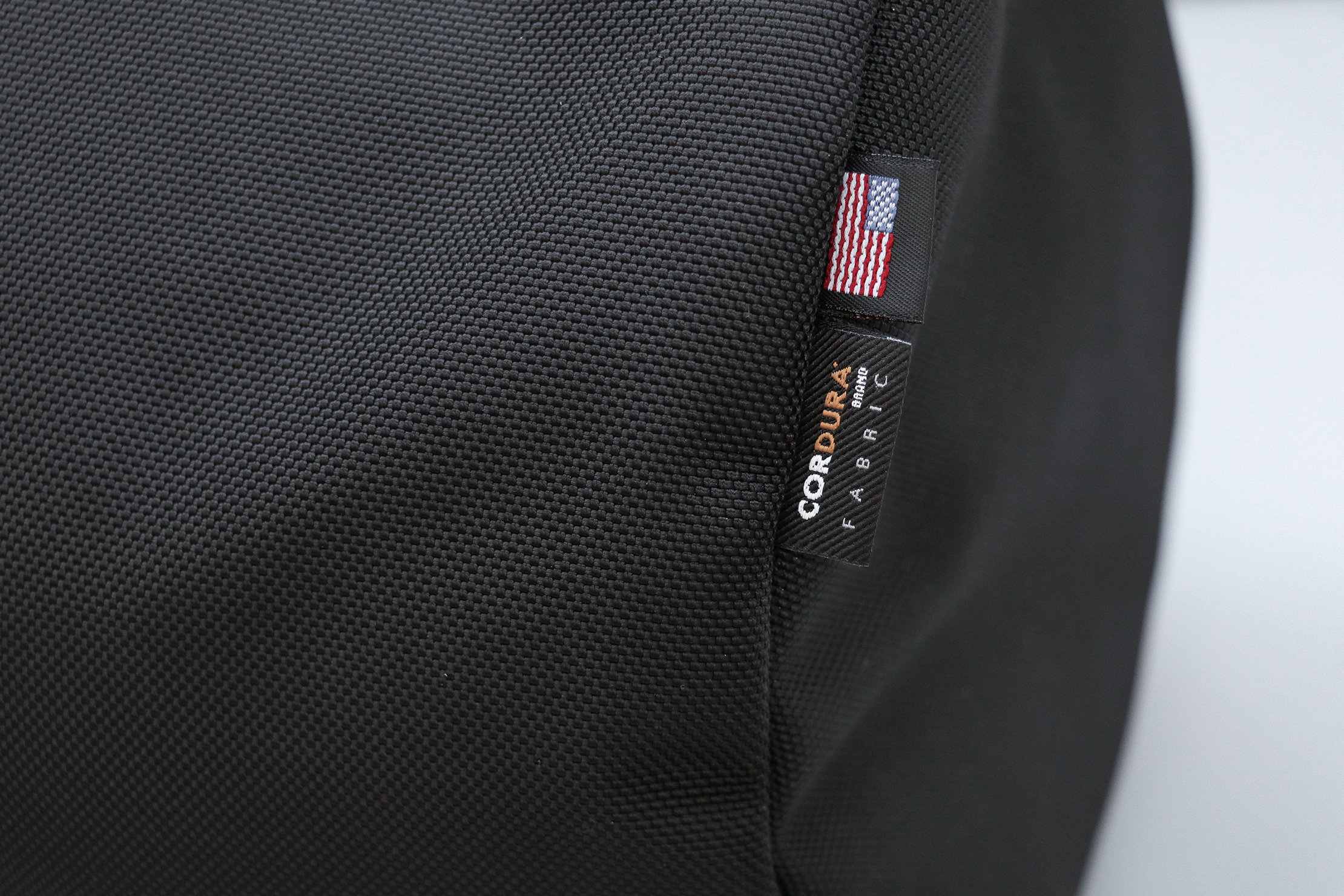 The interior is made of nylon packcloth that should do just fine. On all of the colorways except black, the packcloth is a bright color that helps you to spot your gear (particularly in a low light situation or for darkly-colored gear). The black version has a black interior, which is nice looks-wise but makes seeing your stuff fairly difficult. Not a big deal, especially because you can choose a version with a bright interior, but worth noting.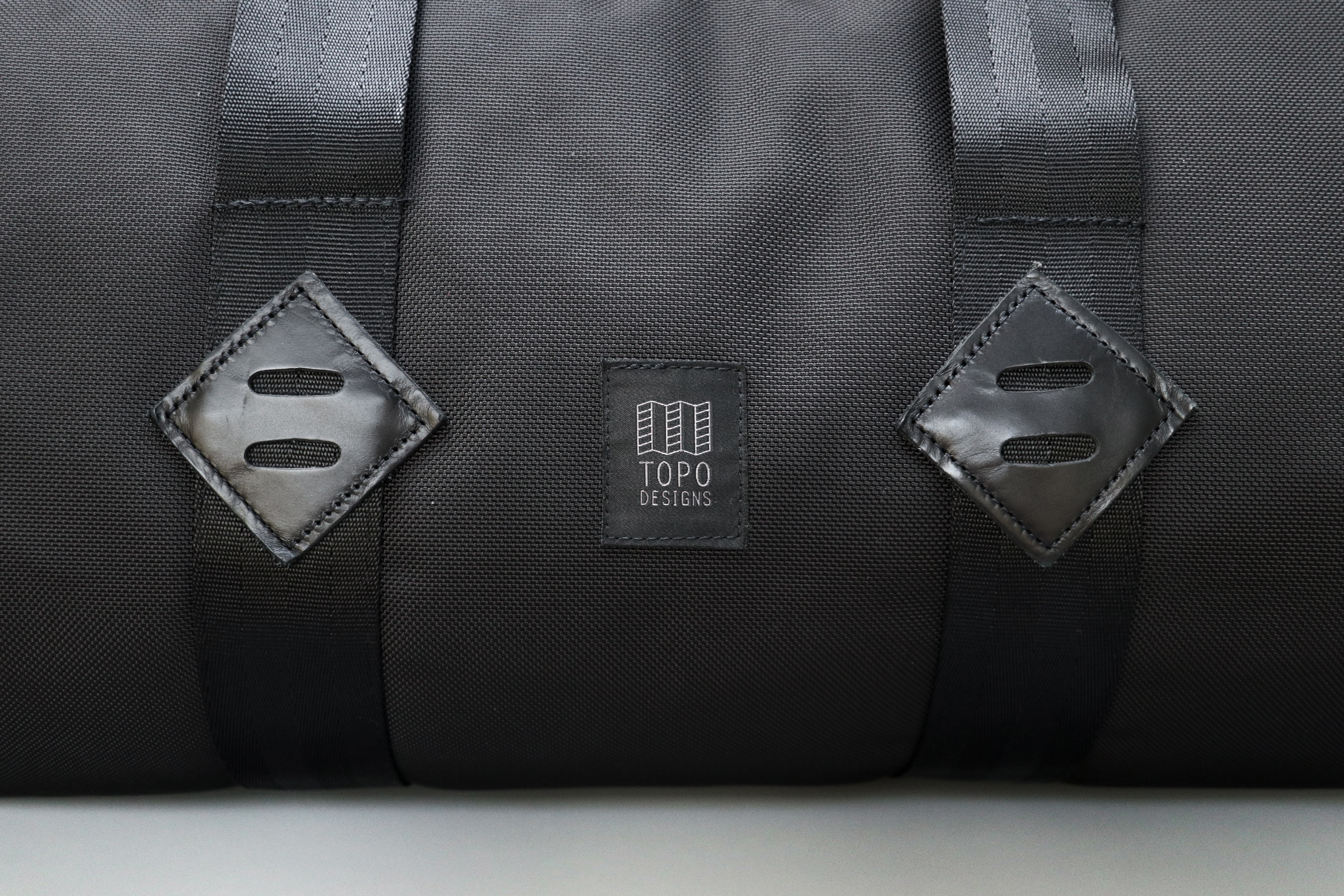 You'll also find leather all over this duffle—black leather on the black version, tan on the other colorways. The leather lash tabs and handle add to that heritage, classic duffle look. And because leather ages so well, these accents will only get nicer with time. But unlike other Topo products that have versions made without leather, all four colorways have leather accents at the time of this review. Not great if you avoid animal products.
Alright, let's talk about the zippers. The beefy, YKK #10 zippers scream Topo Designs (the company has featured them on a ton of its products, even a small sling bag). They fit better on the duffle than other Topo gear—plus they're unlikely to break on you. The single exterior zipper track features two zippers, which is nice to have when you're stuffing as much gear as possible into the main compartment.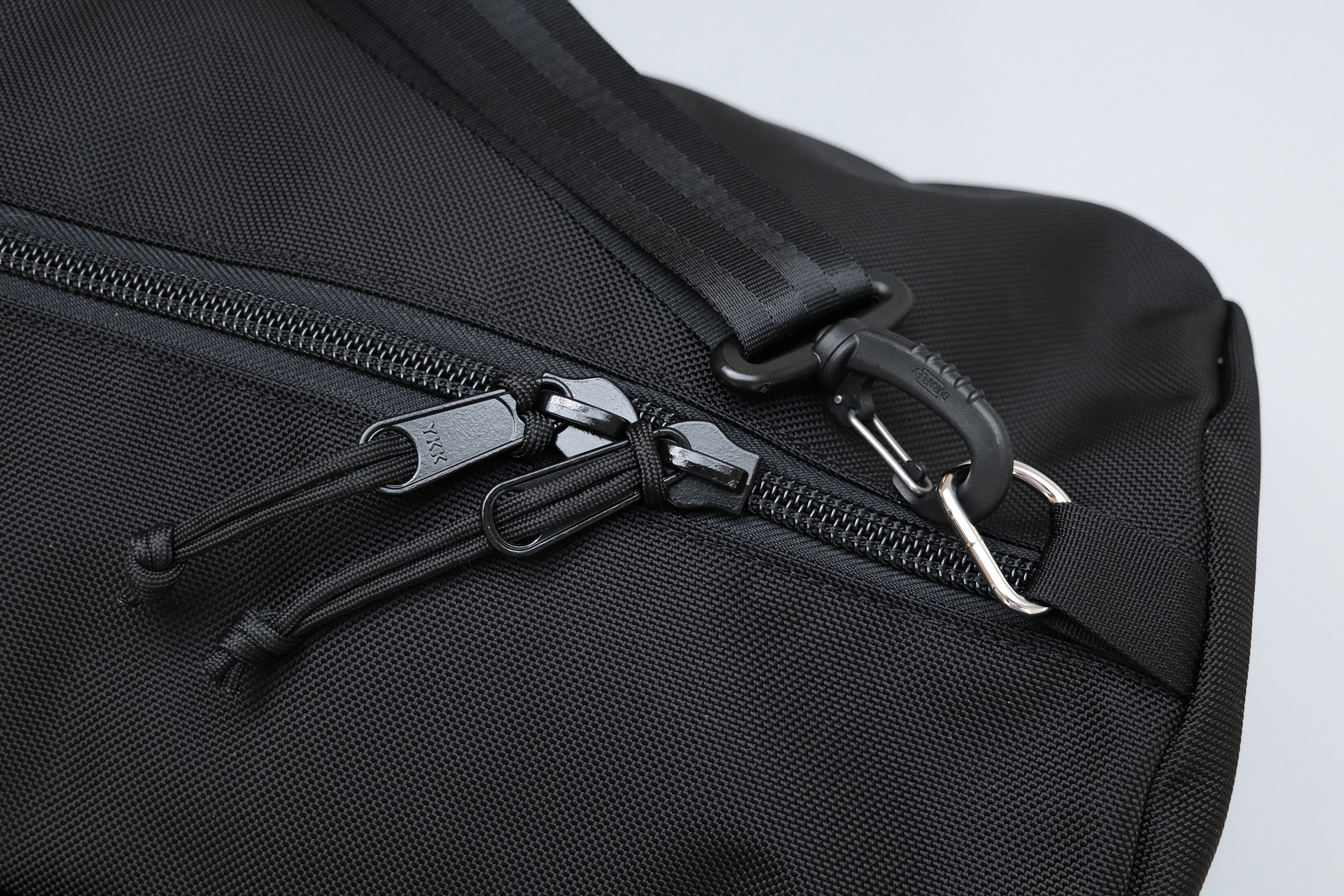 Finishing off the materials, you'll find stainless steel on a few places throughout the duffle. All in all, this duffle bag has been built to last.
External Components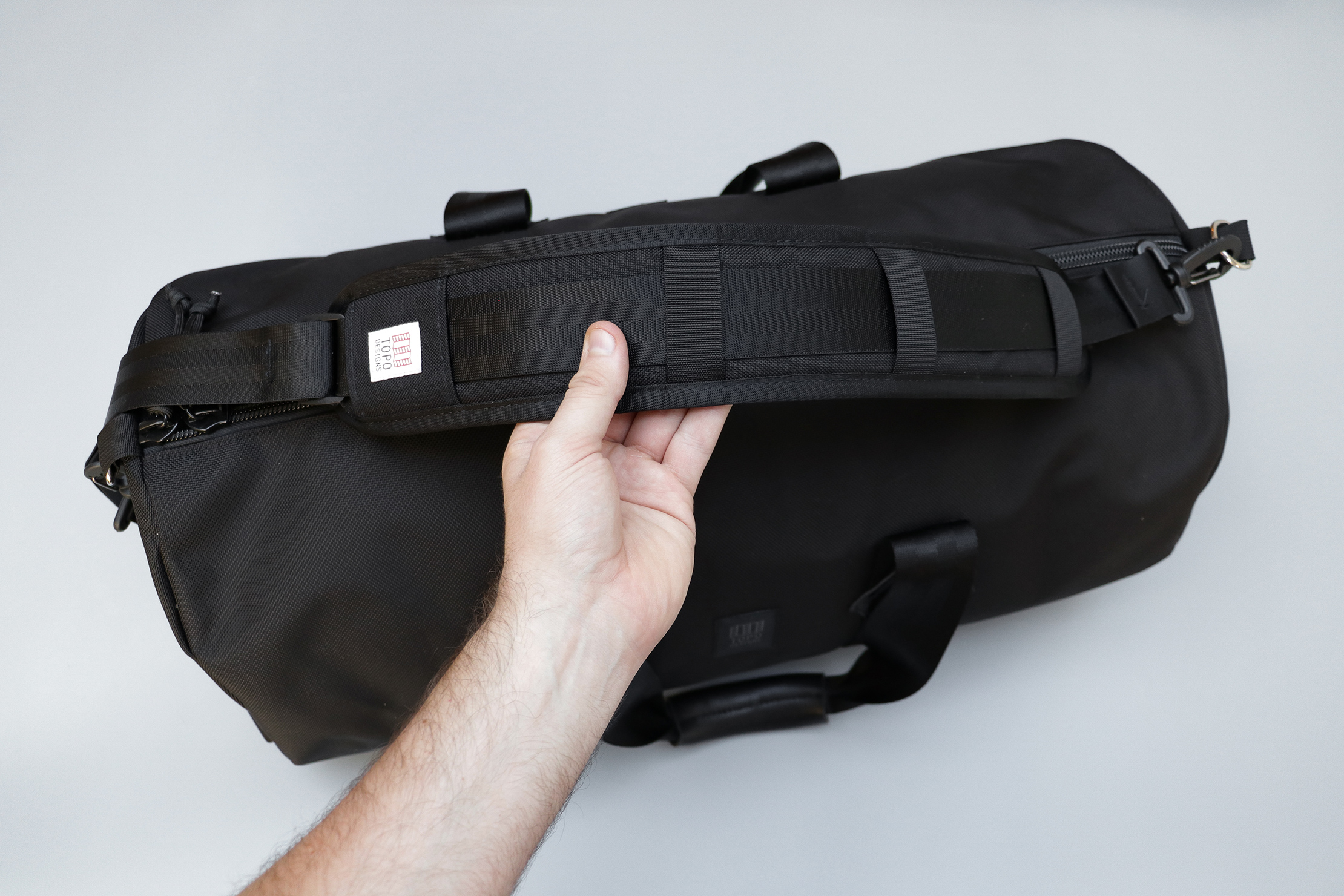 Before we open this sucker up, let's take a look at its exterior features. First up, we've got the shoulder strap. With the caveat that duffles tend to get uncomfortable to carry after long periods of time—more so than backpacks—this strap is quite nice.
It's made of a smooth, seatbelt-esque material with dense padding along most of its length (particularly the part that sits against your body). It attaches to the body of the bag with a clip that spins 360 degrees, so it'll move with you. It also doesn't dig into your neck at all, which can't be said for all crossbody duffle straps.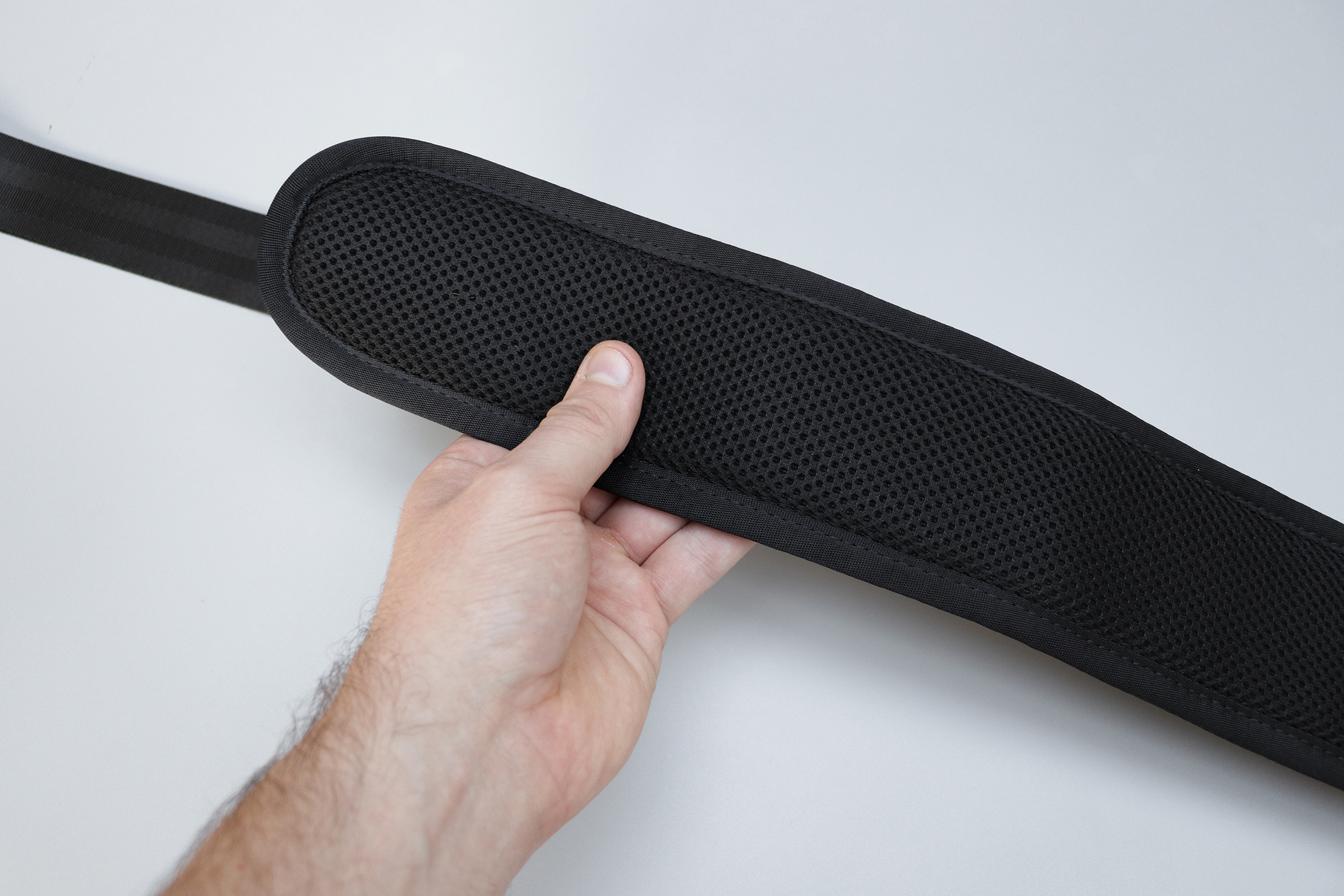 Plus, it detaches. We like having this option for those situations when you don't need a strap or actively don't want one—say if you're planning on checking your duffle and don't want it to get caught on anything.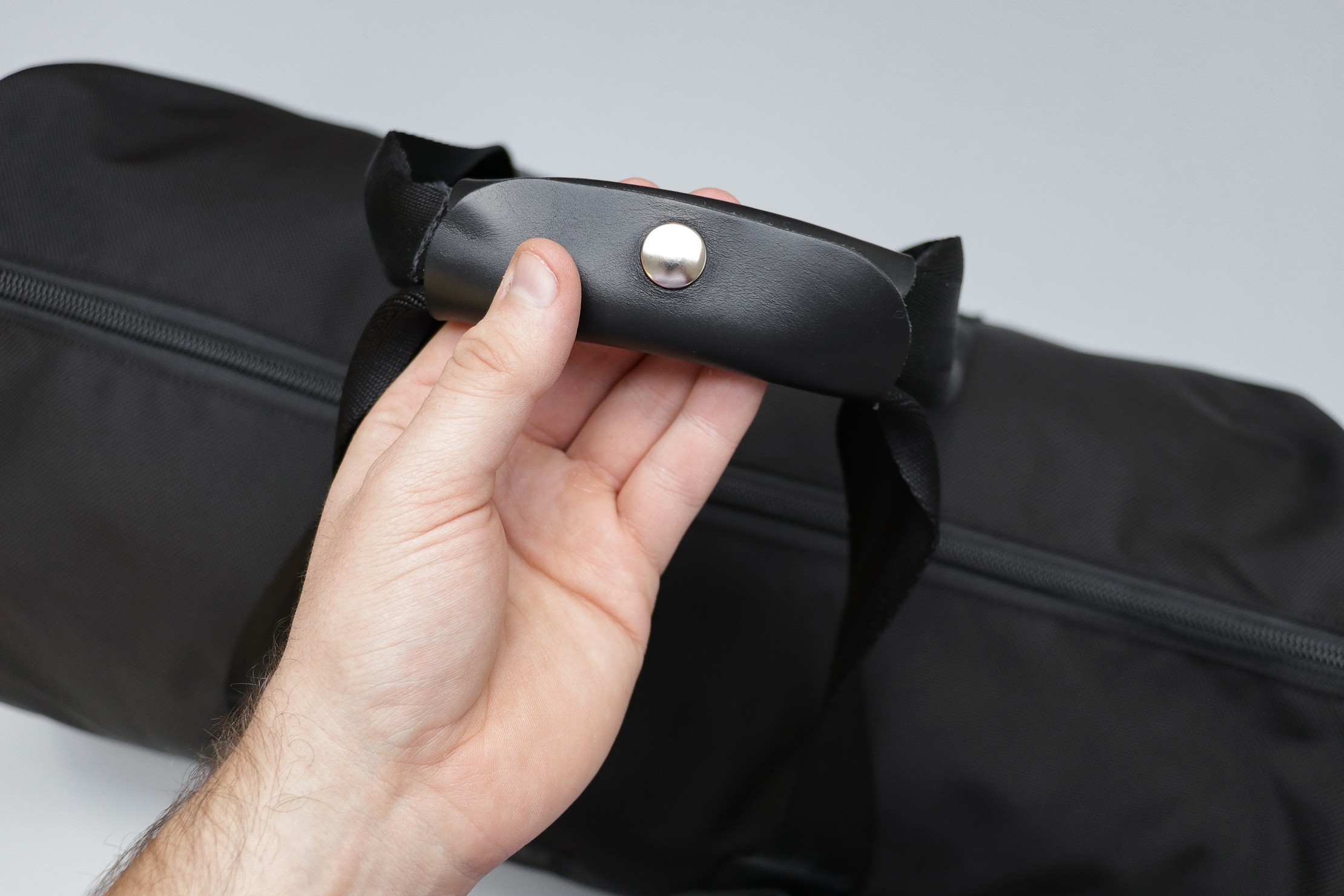 Up next are the handles. We love these handles—they're one of the best parts about this bag. The handles snap together to form one mega-handle with a thick, smooth, leather cover that's pleasant to hold. This feature is great because it makes it super easy to grab your bag and go. You don't have to play that awkward game of trying to grab both handles that seem to be actively avoiding your grasp by flopping to opposite sides.
Finally, you'll find a couple of lash tabs (also called pig snouts for obvious reasons). Beyond looking fun, the lash tabs are there so you can store some of your gear externally.
Inside the Duffle
The inside of the Topo Designs Classic Duffel is nearly as simple as it gets. There is only one compartment on this thing. That's worth repeating—the main compartment is the only compartment on this duffle. You won't find any exterior quick-grab pockets, shoe pockets, water bottle pockets, or anything like that.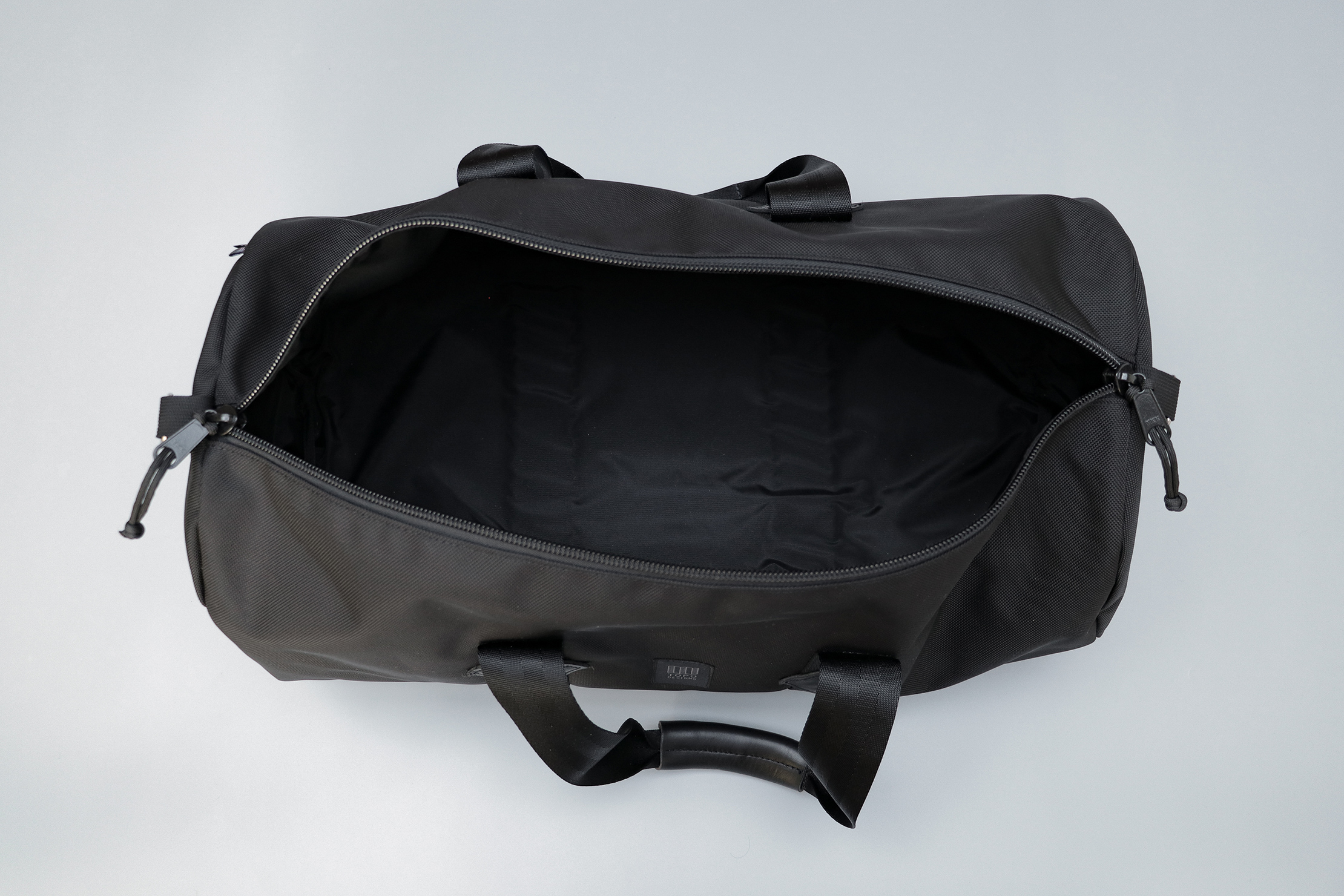 Whether or not this is a big deal depends on you. We've liked this simplicity during testing, but not everyone will.
Inside the main compartment, there are two zippered pockets—one that spans nearly the entire length of the duffle and one that's approximately half of that length. We've used these as quick-grab pockets, separating out smaller stuff from everything else. Think wallet, phone, notebook, etc.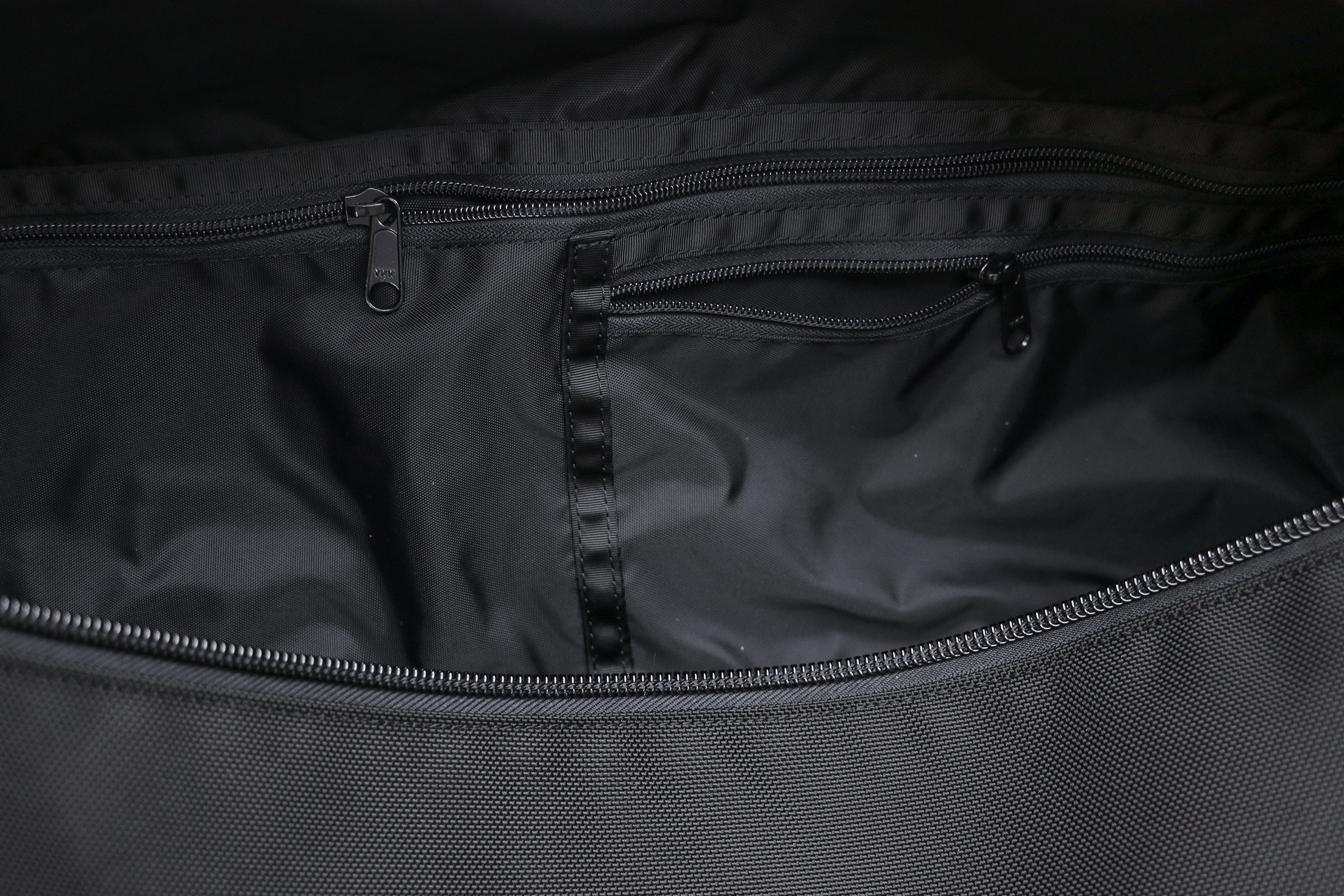 There's also a bright red, plastic key clip. It's not our favorite—plastic isn't known to stand the test of time. Plus, it falls into the cavernous space of the main compartment instead of one of the aforementioned zippered interior pockets, which doesn't make sense to us. But it's there if you want it.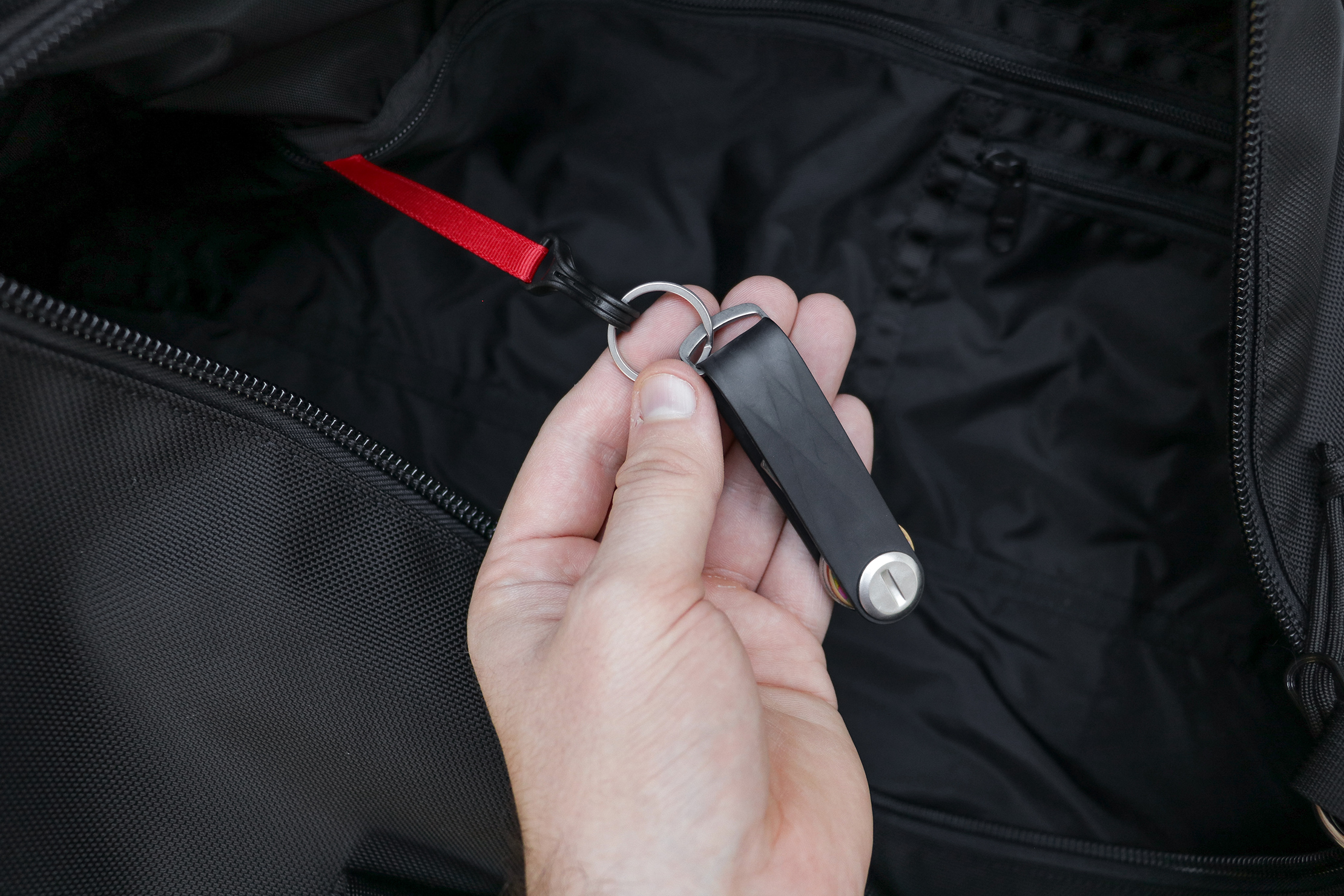 The rest of the space is a giant bucket to do with what you will. At 44.5L, it'll hold a good amount of stuff. We've tested it with packing cubes, which keeps everything tidy and organized. But the great thing about duffles is that you don't need to optimize your packing to fit a ton inside. You can throw your clothes, toiletries, collection of nature magazines, in and go.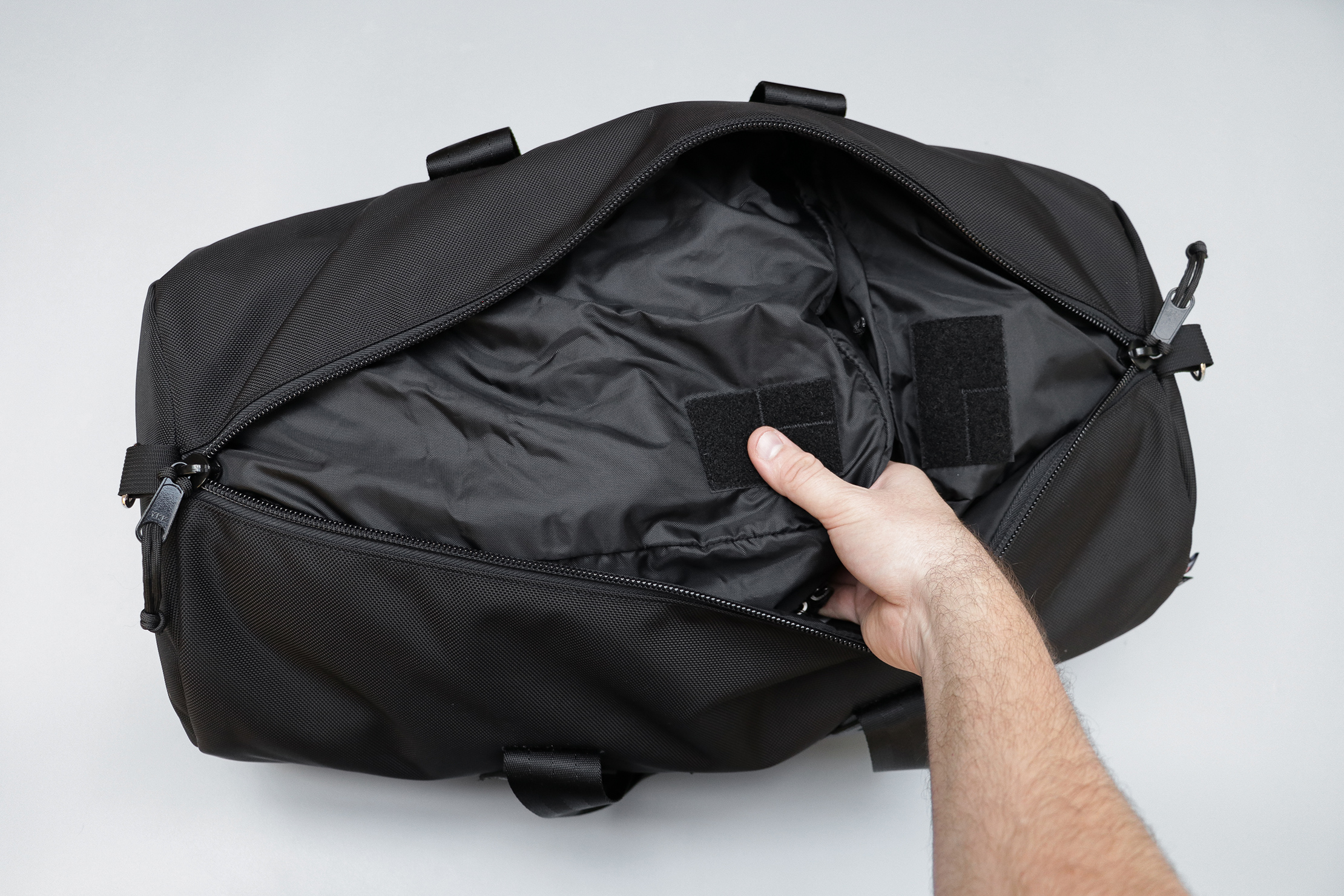 Durability & Testing
We've been testing the Topo Designs Classic Duffel for nearly one month. We've taken it on a domestic flight from Detroit to New York City and a transatlantic flight from New York City to the U.K. We've really been enjoying testing it. It's a great place to throw the bulk of your stuff if your traveling with another pack to organize tech gear and smaller items. Plus—as we said earlier—it's been built to last. So far, everything has held up beautifully.

We also want to note that we've tested it as a carry-on bag, though it's not technically carry-on compliant if you look at its dimensions. But it's been built in such a way that it looks carry-on sized. We've had no problems walking onto a plane with it.
Usage Timeline
Initial Usage
Condition: Excellent
Extremely large shoulder strap makes it a comfortable carry
Inside organization including one side pocket that runs the length of the bag and one that runs about halfway
Sleek and sturdy design and construction
2 Weeks of Use
Condition: Excellent
While it's not technically carry-on sized, we have been able to get away with using it as a carry-on.
1 Month of Use
Condition: Excellent
Looks as good as new, even after multiple flights.
Access the Pro Community Discussion
Get your questions about the Topo Designs Classic Duffel answered from our team and the Pro Community right here on the page. Plus, join discussions with other members about gear, guides, and more.
Other Bags & Luggage Reviews