Tom Bihn Pick-Up Truck Review
The Tom Bihn Pick-Up Truck is a great size for quick trips to the store or other errands—we just wish it had at least one zippered pocket.
Our Verdict
Unlock the Pro Summary
Save time. Get access to brief summaries of our reviews so you can browse and make decisions more efficiently.
Pros
Simple, customizable organization
Durable material
Stands up on its own
Cons
At least one zippered or secure pocket would be nice
No way to keep the handles together
Main compartment is completely open (which could be a pro depending on use case)
Technical Details
Capacity

11l

Weight (oz)

12.9 oz (365.7 gm)

525 Ballistic Version

Denier

525D

525 Ballistic Version

Dimensions

9.8 in x 13.4 in x 8.5 in (24.9 x 34 x 21.6 cm)

Notable Materials

Ballistic Nylon, Polyurethane

Manufacturing Country

United States

Warranty Information
Full Review
Tom Bihn has been designing functional bags made from durable materials since 1972. And the Tom Bihn Pick-Up Truck is no different.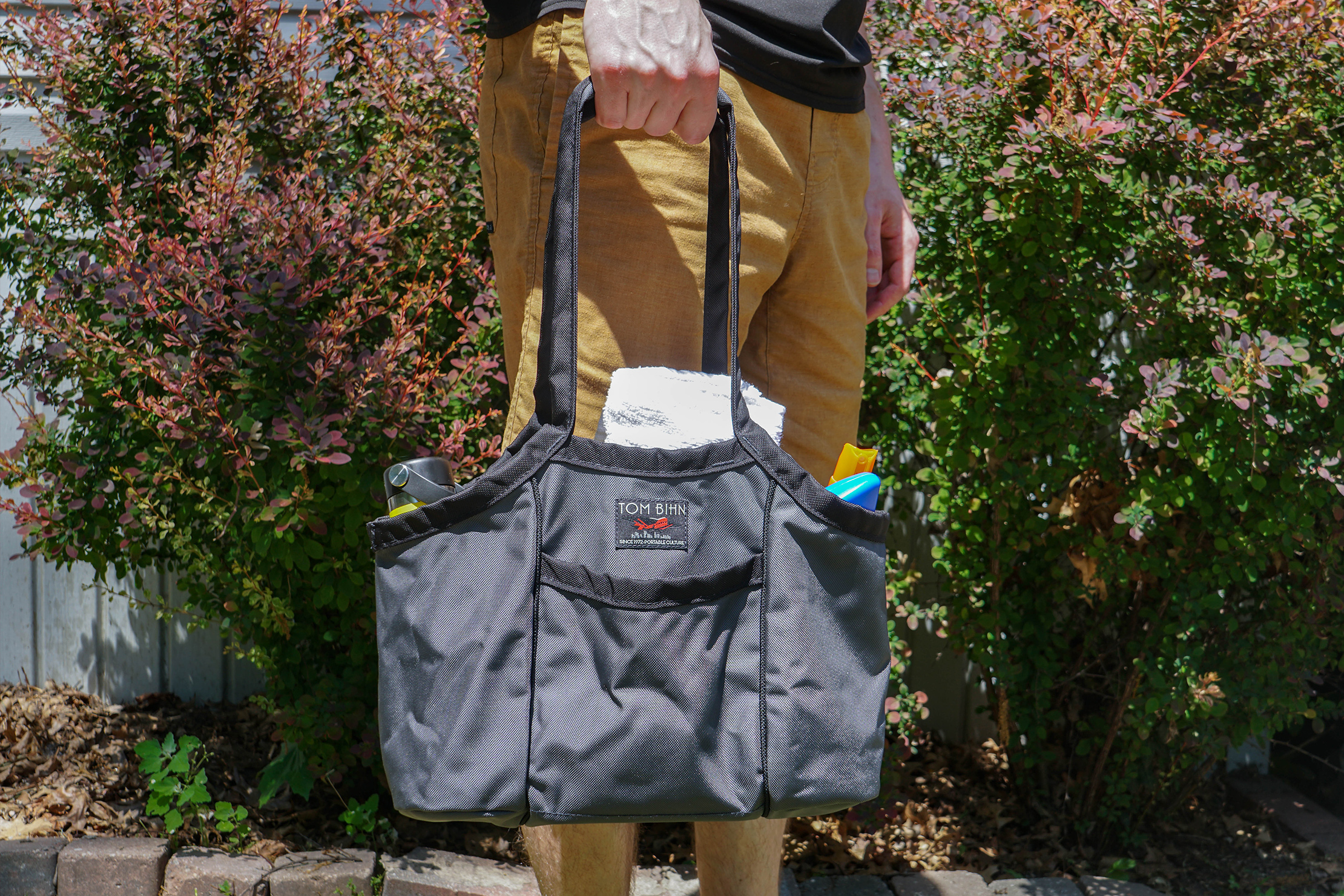 At 11L, this simple tote bag is the smaller version of the Tom Bihn Truck (25L), and an even smaller version of the Tom Bihn Monster Truck (38L). It's great for ventures like grabbing a few groceries, taking some wine and cheese out for a small picnic, or tossing your EDC items in for short trips out and about.
We've been trucking along with this bag in tow for about three weeks now, and are excited to share our thoughts. Let's dive in.
Materials & Aesthetic
At the time of this review, the Tom Bihn Pick-Up Truck is available in a handful of different colorways—so you should be able to find one that speaks to you. Regardless of what color you choose, this tote is a cute and functional one—it's small but strong.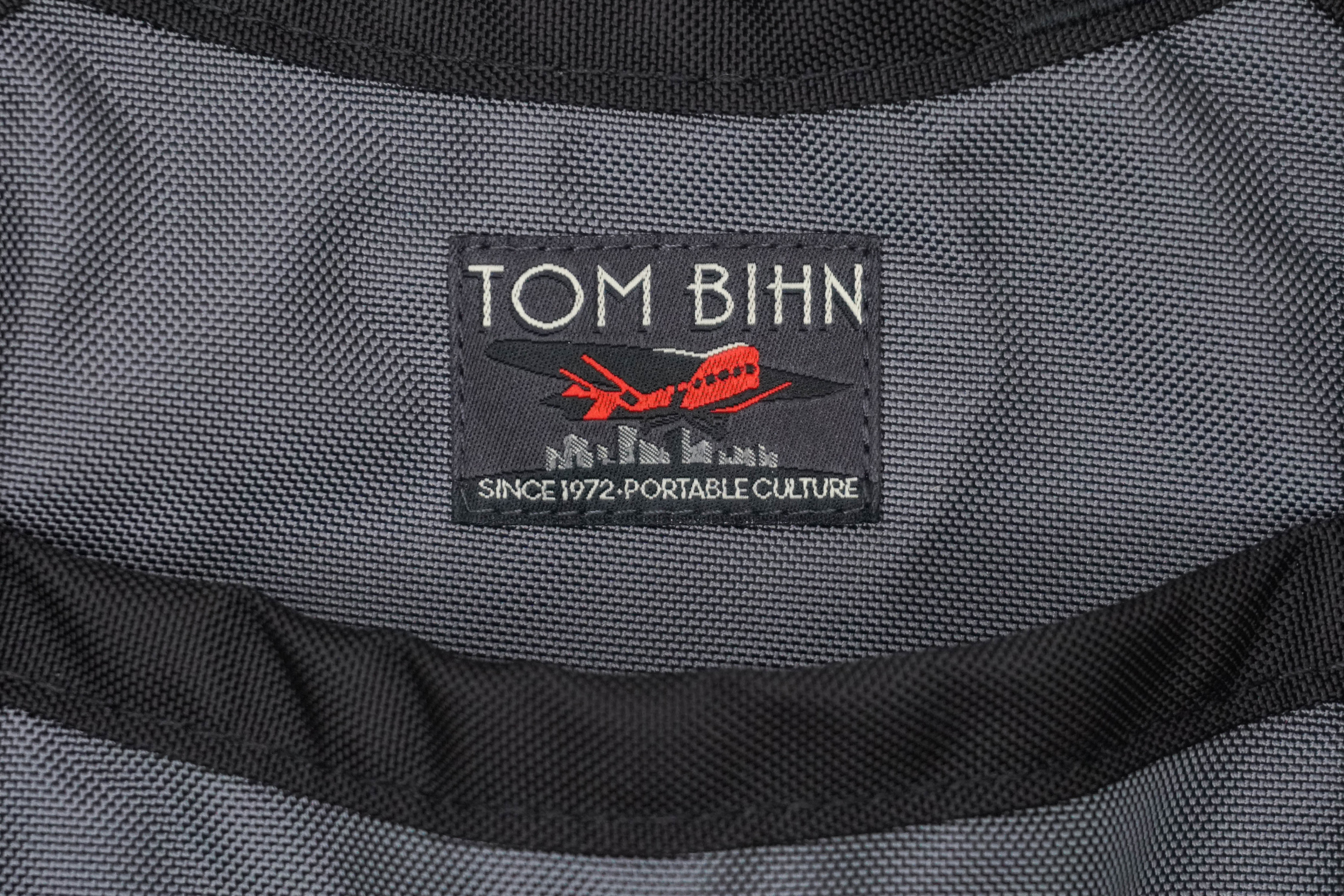 On the front of this tote, you'll find the Tom Bihn logo. And like we said before, you know that when you see that little airplane, you're most likely looking at a bag made with quality materials.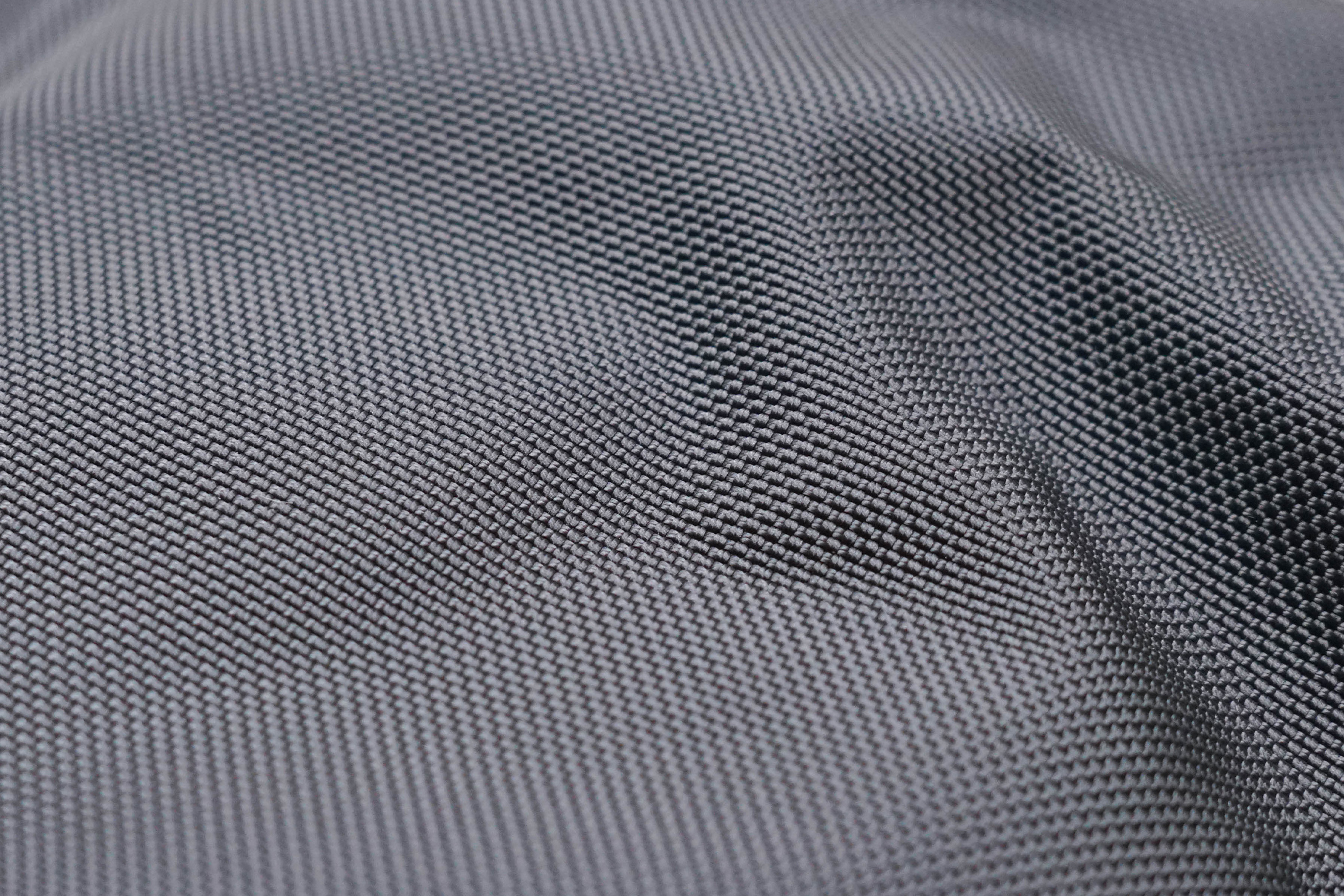 But what are those materials exactly? On the Pick-Up Truck, you have the choice between 525D and 210D Ballistic nylon—which material you get depends on the colorway you choose (or vice-versa). The Nebulous Grey we've been testing is the 525D. Either way, the Ballistic nylon is tough, durable, and makes the bag feel sturdy. Plus, both options are manufactured in a bluesign® certified fabric mill, meaning they have an ethical and environmental stamp of approval, which we dig.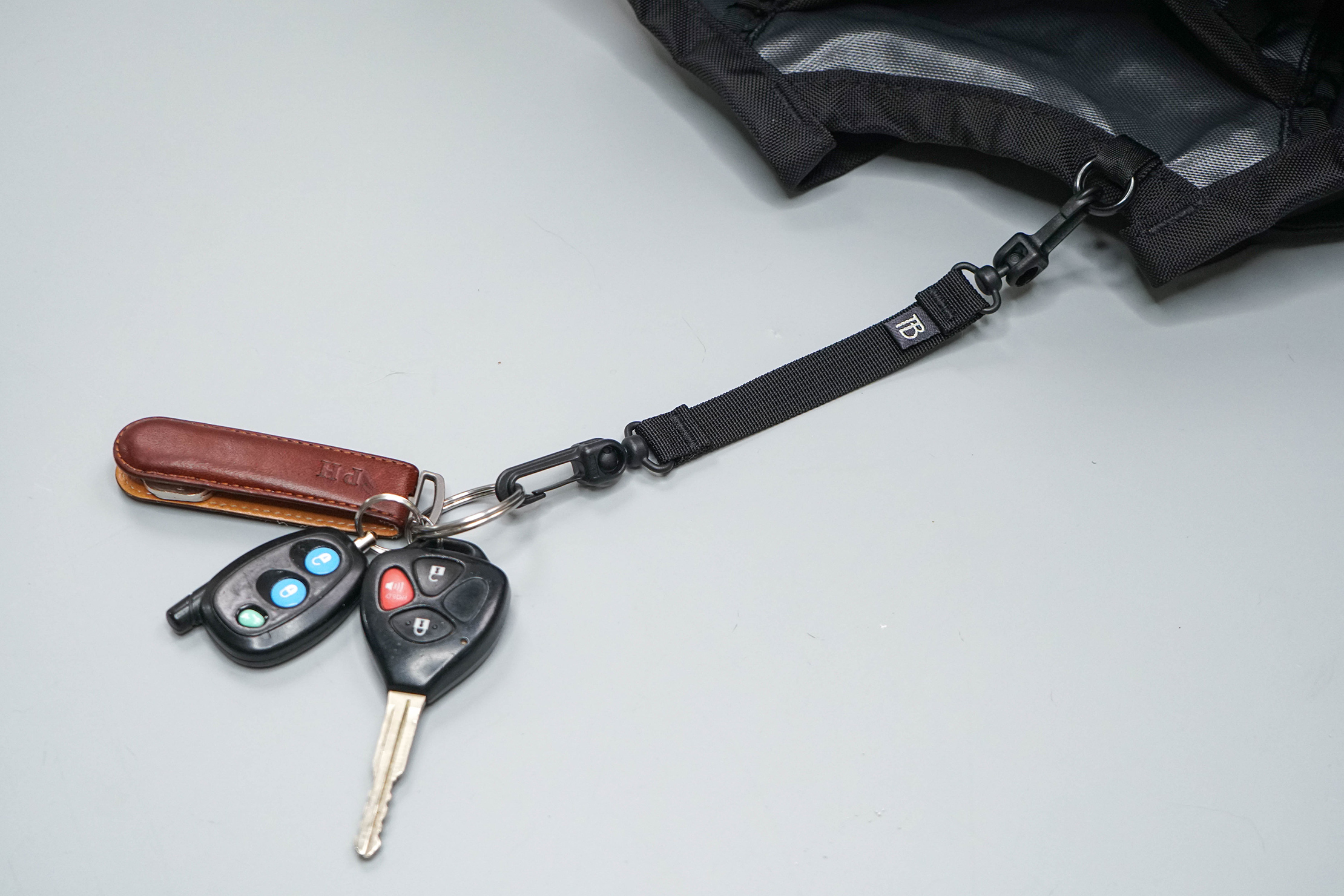 Wrapping up materials, you'll also get a Key Strap, as Tom Bihn calls it, with the Pick-Up Truck which uses YKK swivel snaphook hardware to attach to the various O-rings throughout the bag (which we'll talk about later in the review). We typically have good experiences with YKK, so no concerns there.
External Components
The folks at Tom Bihn have kept things simple on the exterior of the tote bag. Maybe a little too simple. Although, there's nothing overcomplicated that becomes a hassle when packing and unpacking, which we can appreciate for certain use cases.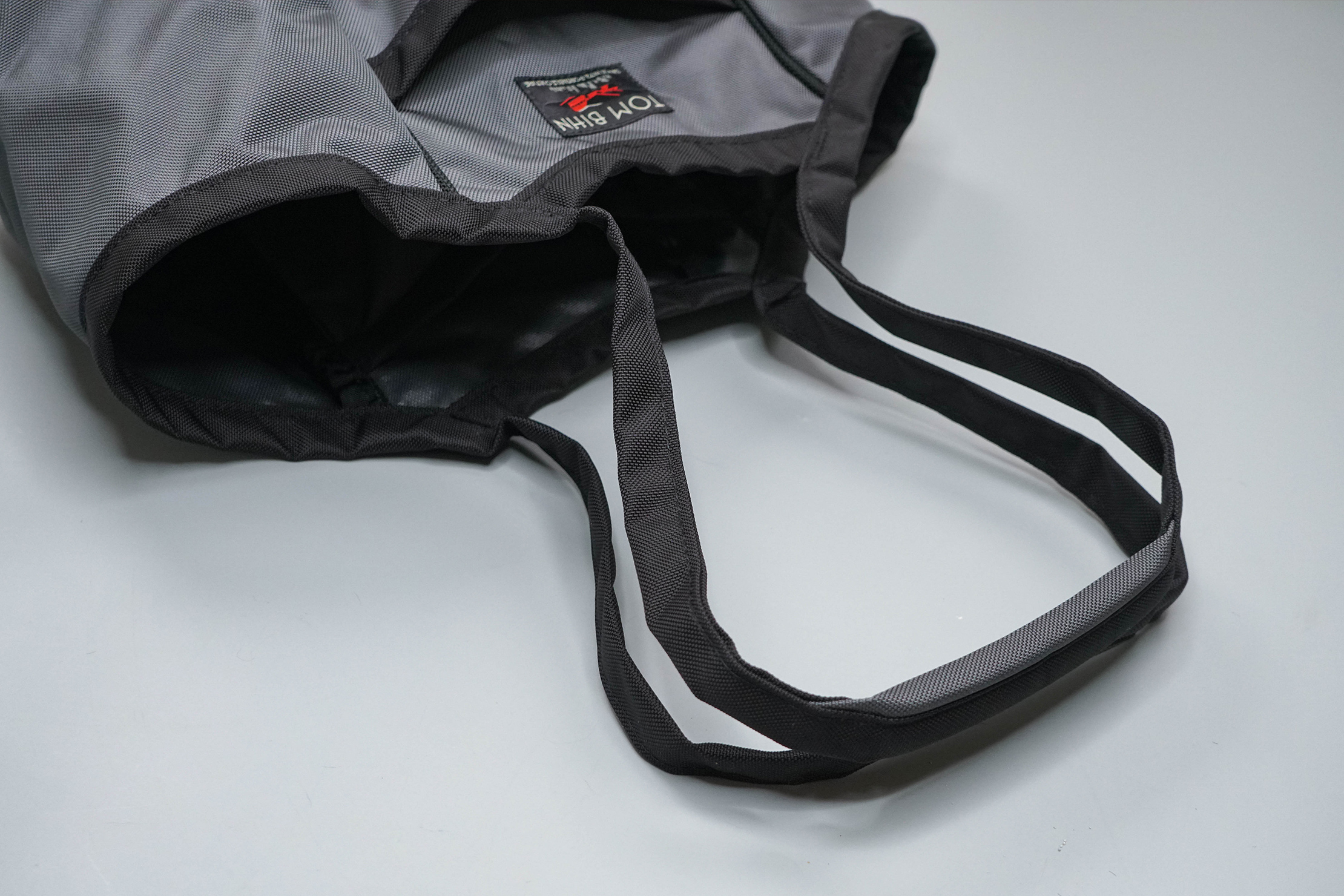 While thin and minimal, the handles on this tote are padded with dense PORON® foam making them comfortable to hold. And they're long enough that you have the option to throw them over your shoulder if you don't want to carry the bag by hand. (The foam padding helps here too.) This over-the-shoulder carry may or may not be tight depending on your body type and preference. It's worked well for us during testing, however, we've noticed that they tend to easily slip off your shoulder. Since the top of the bag is completely open, we recommend you exercise caution—one slip, and everything's on the ground.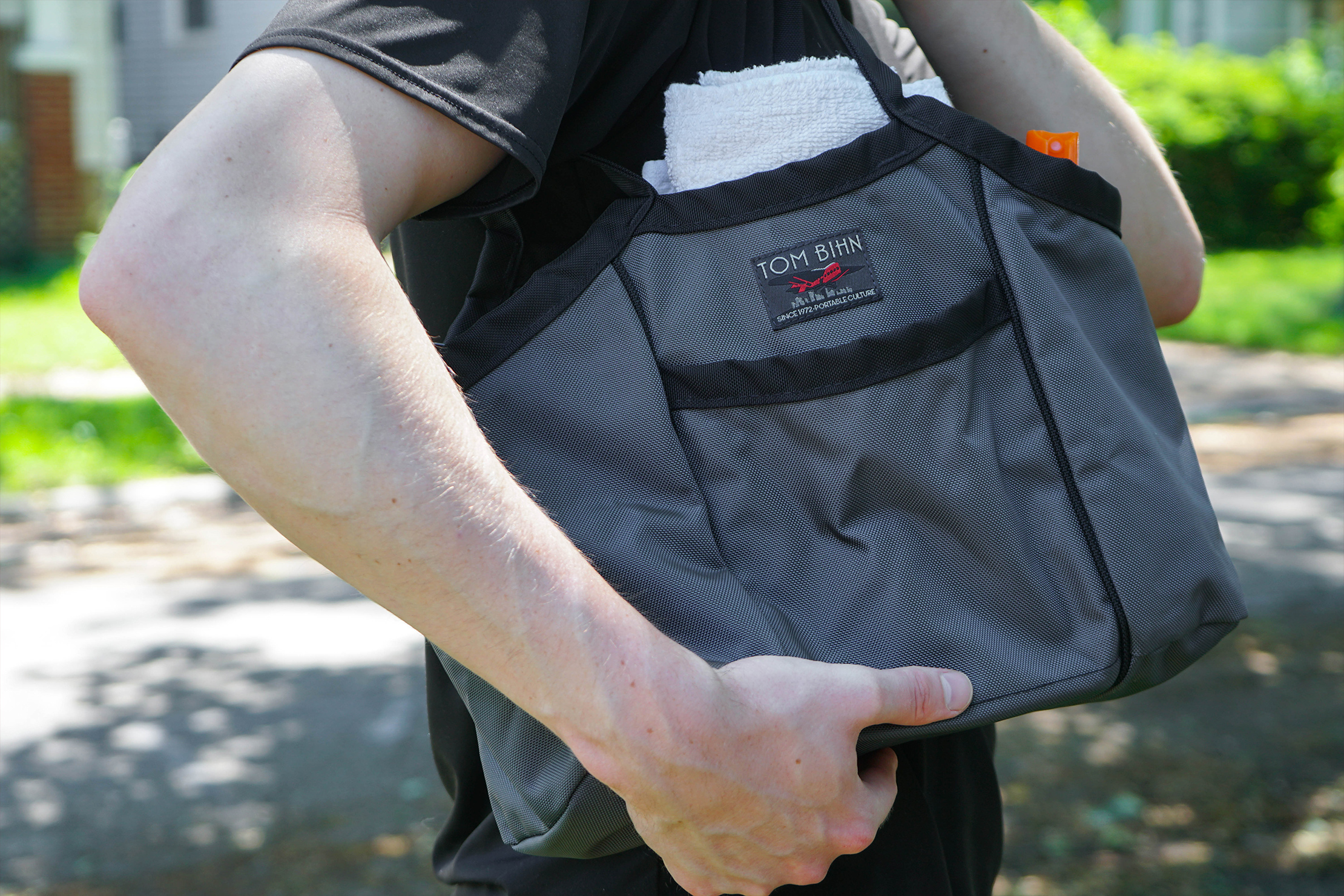 Note that there is no way to connect the two handles together. This means when you set this bag down, they flop to each side (and taunt you when you struggle to grab them…just us?). It's definitely not a deal-breaker, but we typically prefer some way to to keep the carry handles on totes and duffle bags together—whether it's a snap, velcro, magnets, whatever—so it's quicker to grab and go.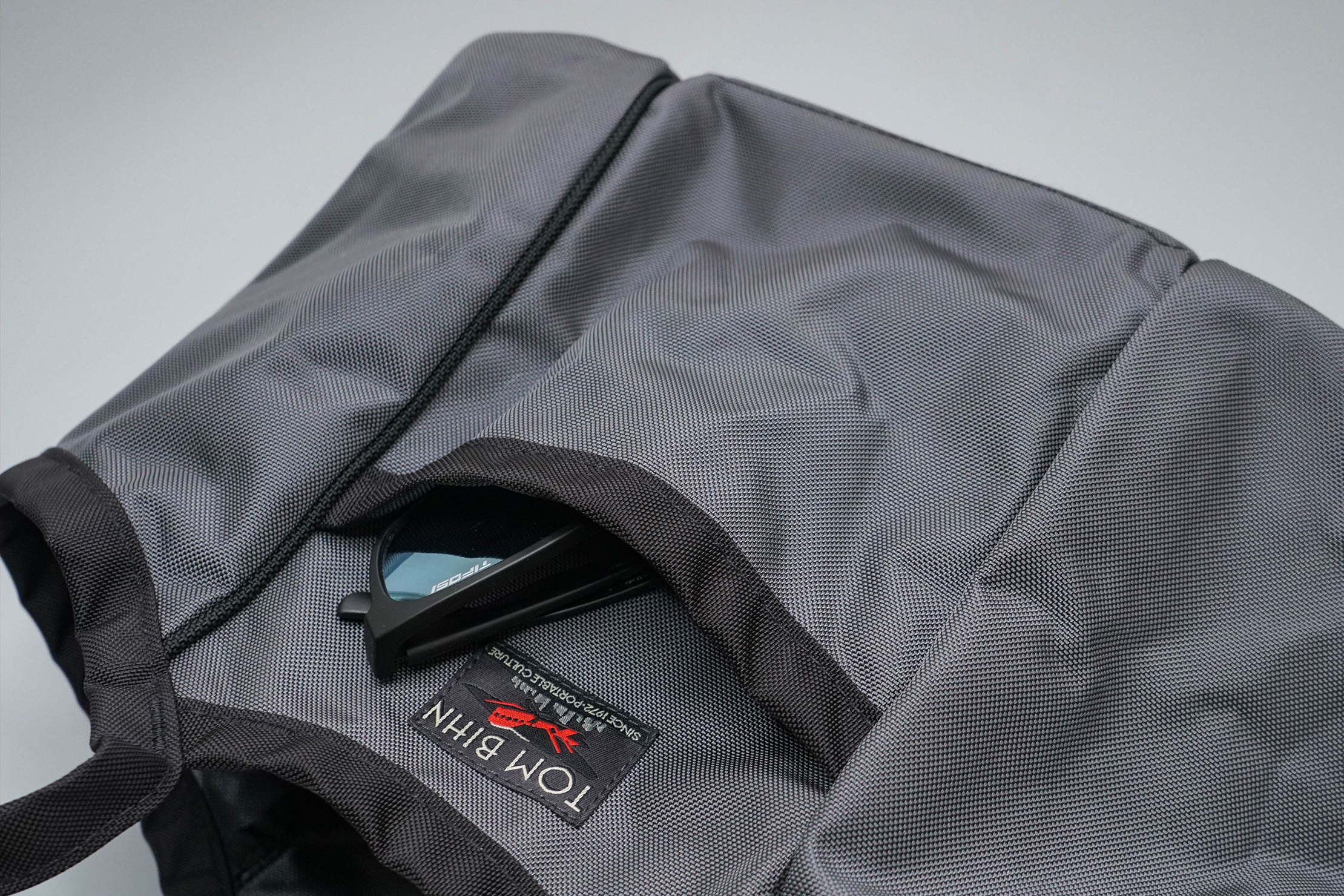 There are two medium-sized pockets on the outside of the Pick-Up Truck—one in the front (facing out when holding the bag) and one in the back (toward your body). You can keep a small planner, some pens, even a snack in one or either of these pockets. You'll also find an O-ring inside of each one. We've attached the Key Strap in one of these to keep our keys handy, which works well. These pockets aren't zippered or secured in anyway, so we don't recommend putting anything too valuable in here—it wouldn't be hard for a wandering hand to slip in or for your things to fall out. The O-rings do offer a little security, but we would've appreciated some sort of actual closure.
At the bottom of the bag is a frame sheet that keeps all your items on solid ground and keeps your bag from sagging under their weight. (It might be the cutest little frame sheet we've ever seen.) It also means that this tote can stand up on its own (!) which makes loading and unloading quite easy. A small but handy feature.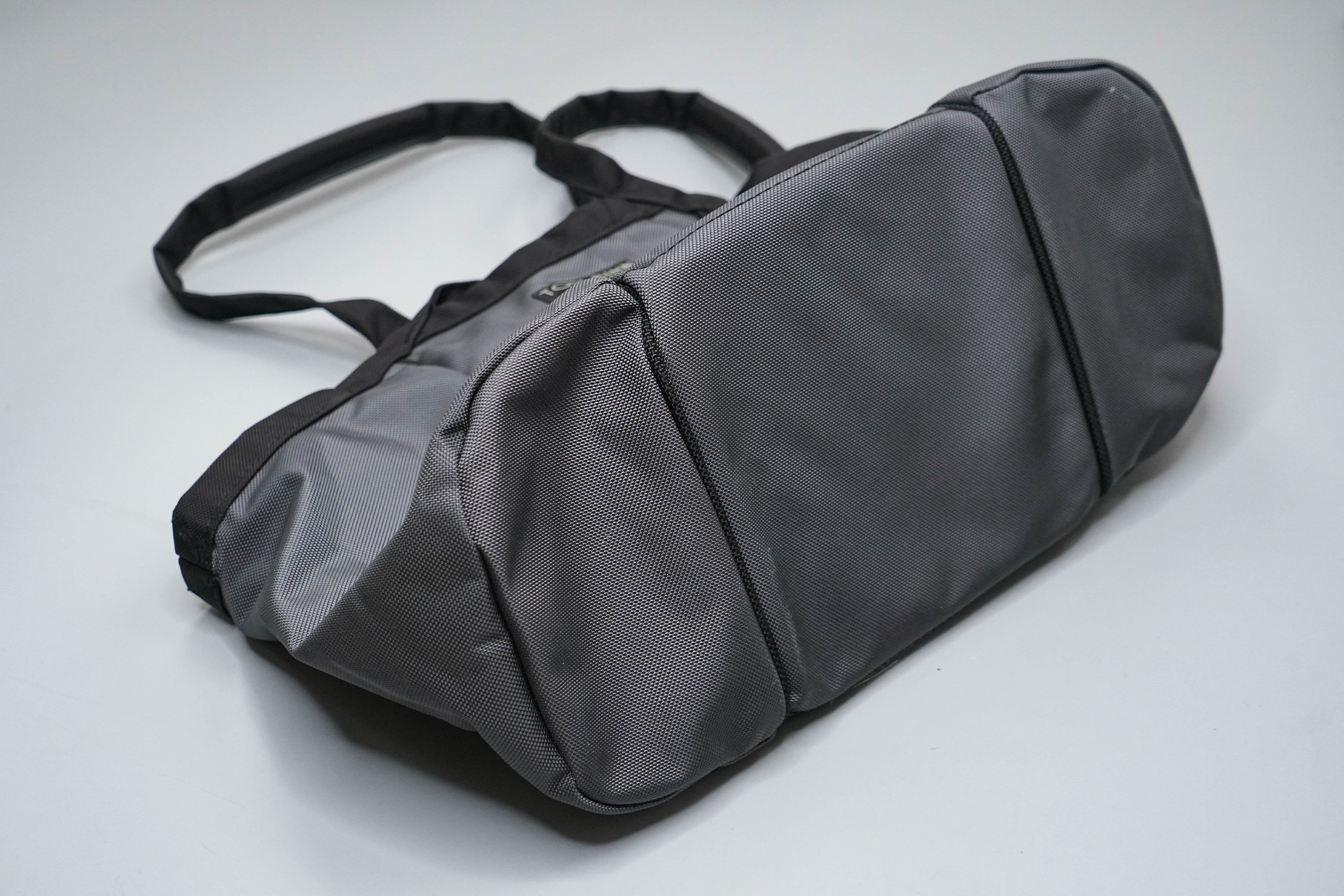 However, it does hinder the collapse of the bag a bit—you can still compress the bag pretty small, but the bottom will not fold as conveniently. Still, this shouldn't cause too much of an issue if you're trying to pack into a larger bag or stow it away for later use—like we said, you can still get it relatively flat.
And that's it. We told you it was simple.
Inside the Tote Bag
First up, the main compartment of this tote is completely open—there's no zipper or way to close it. Depending on your use case, this may be a pro or a con. It hasn't been an issue during our testing (as long as you're aware that your stuff could fall out). If you're digging this tote but would prefer the open to secure the main compartment, you may want to check out something like the Tom Bihn Pop Tote.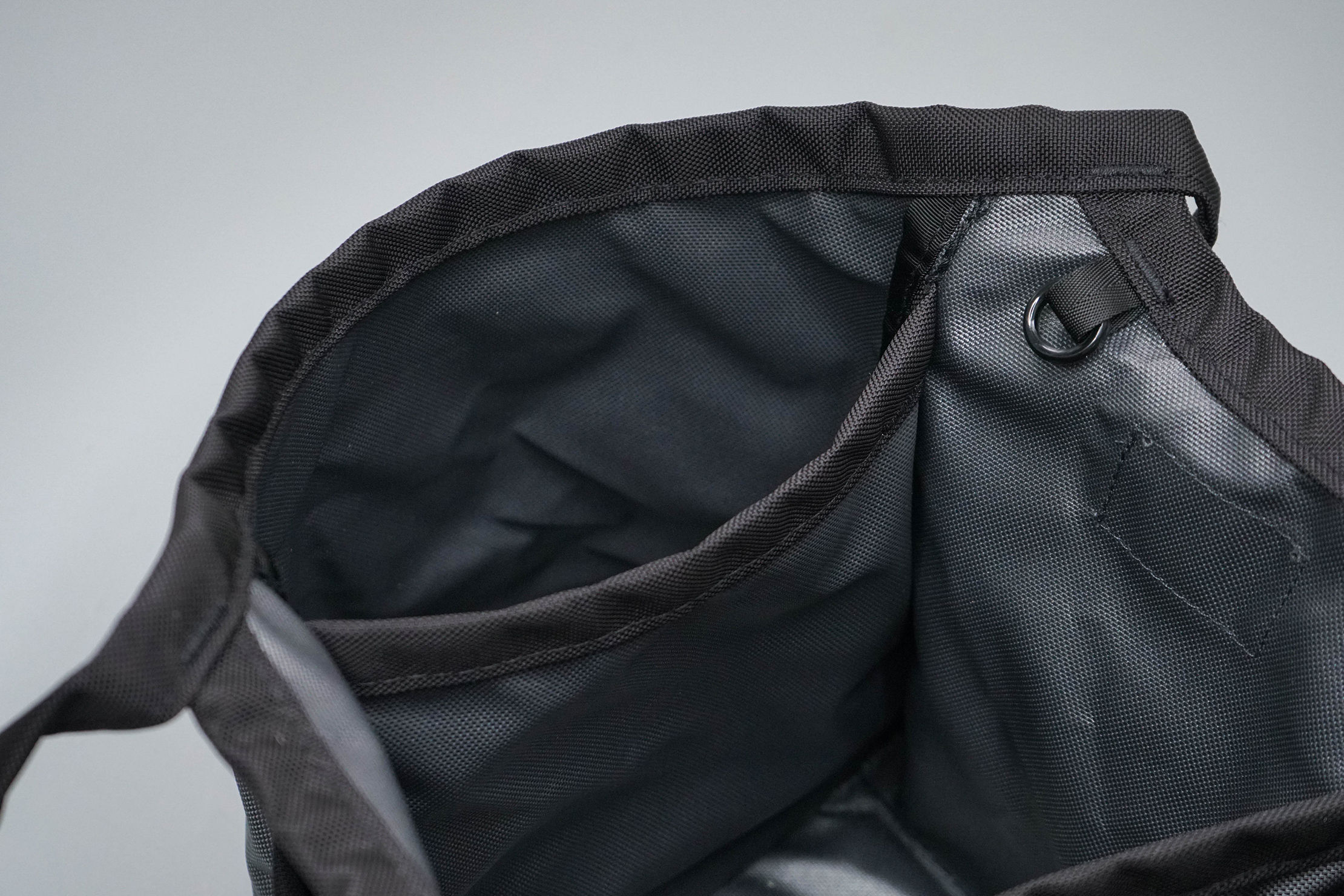 As far as organization is concerned, you'll find two partitions that divide the bag into three sections. If you're taking the Pick-Up Truck to the grocery store, the two compartments on the left and right are large enough to fit a bottle of wine (or two), a two-liter of soda, or other similar-sized items. You have the most space in the middle, which is a great place to put produce or other larger food items. And these dividers are tall and sturdy so you don't have to worry about anything squishing anything else. To be clear, they're not rigid but they work well for compartmentalization.
Of course, you can use this bag for more than just groceries! If you're heading to the library or bookstore, these compartments have ample space for your books, magazines, and notebooks. If you're heading to the beach, throw a towel, a swimsuit, and sandals for easy carrying. For when you're on the way to work, toss in your lunch, utensils, and water bottle.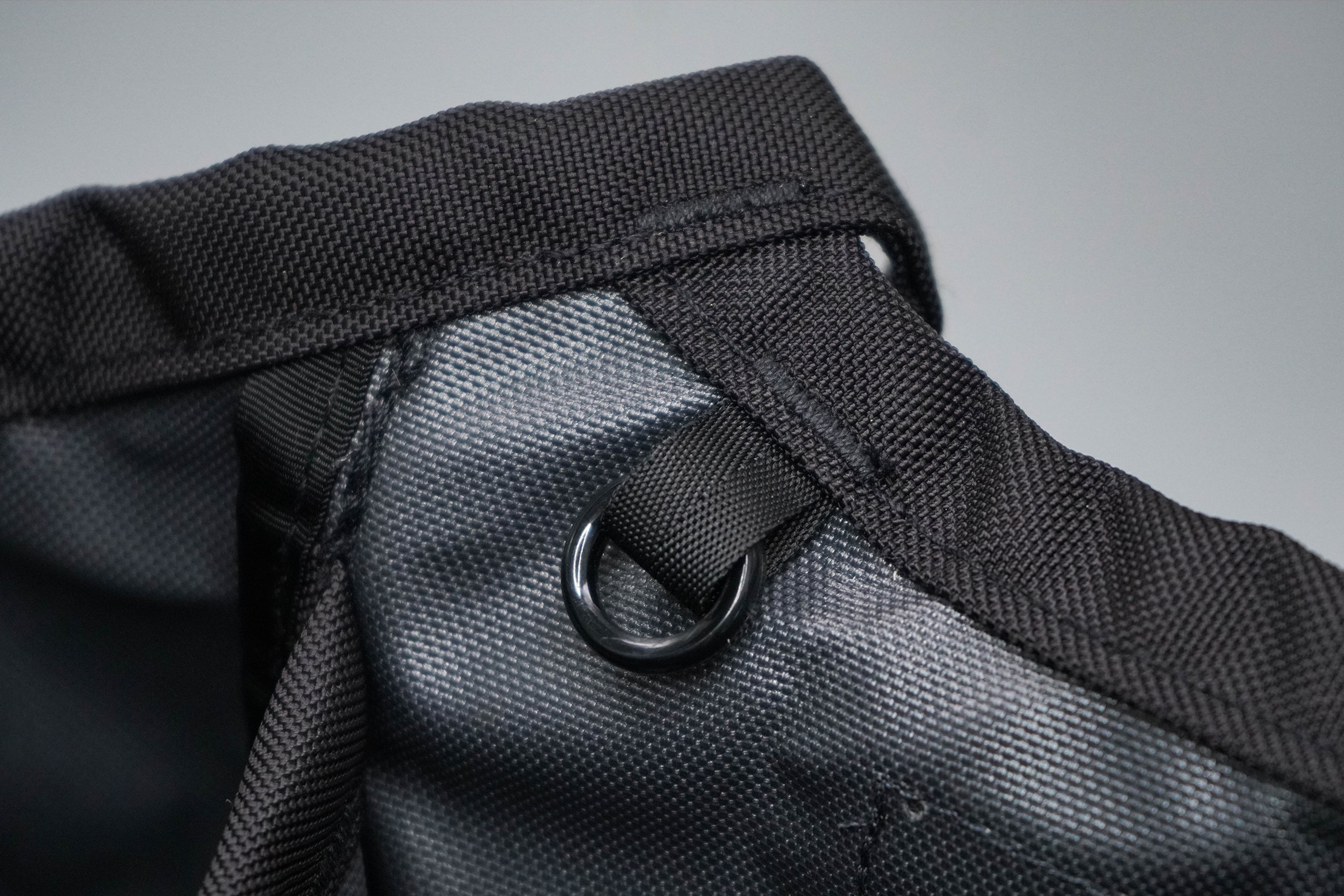 In standard Tom Bihn fashion, this tote presents a second layer of organization with six total O-rings placed throughout the bag—two in the middle compartment, one in each side compartment, and then one in each exterior pocket. You can attach the Key Strap (as we noted earlier) or several other Tom Bihn pouches and organizers to these O-rings to create your very own custom organization system that suits your needs. This versatility is, how you say, O-mazing. (We're not all comedians, okay?)
Durability & Testing
We've been using this Tom Bihn Pick-Up Truck as an everyday tote for our everyday things for about three weeks. We've found the dividers in the bag are a good size for storing our water bottles and other daily gear. And they're simple—they offer enough organization for our stuff without getting in the way.
We've also used it as a shopping bag during trips to the grocery store. While it works well for quick trips when you're just grabbing a few things, we'd probably go with a larger Tom Bihn Truck or Monster Truck for larger hauls.

Something we want to reiterate is that again, this bag doesn't have any sort of closure—no zippers or clips or magnets. This means it's always open at the top of the main compartment and every pocket, and always liable to a spill (if you're as clumsy as we are). This isn't a deal-breaker, we just something to keep in mind.
Usage Timeline
Initial Usage
Condition: Excellent
Smaller version of Tom Bihn's popular Truck Tote
Handles are long enough to carry over your shoulder
Great size for a quick shopping trip or a visit to the library to grab a few books
2 Weeks of Use
Condition: Excellent
This is a great little tote bag that just gets the job done. The dividers help things a little organized but not too much where they get in the way. The only issue is that if you are a little clumsy (we admit nothing), everything can fall out since it is wide open on top.
Access the Pro Community Discussion
Get your questions about the Tom Bihn Pick-Up Truck answered from our team and the Pro Community right here on the page. Plus, join discussions with other members about gear, guides, and more.
Other Bags & Luggage Reviews