Tom Bihn Pop Tote Review
While the organization inside the Tom Bihn Pop Tote is very minimal, we've been impressed with its low-profile, expandability, and overall design.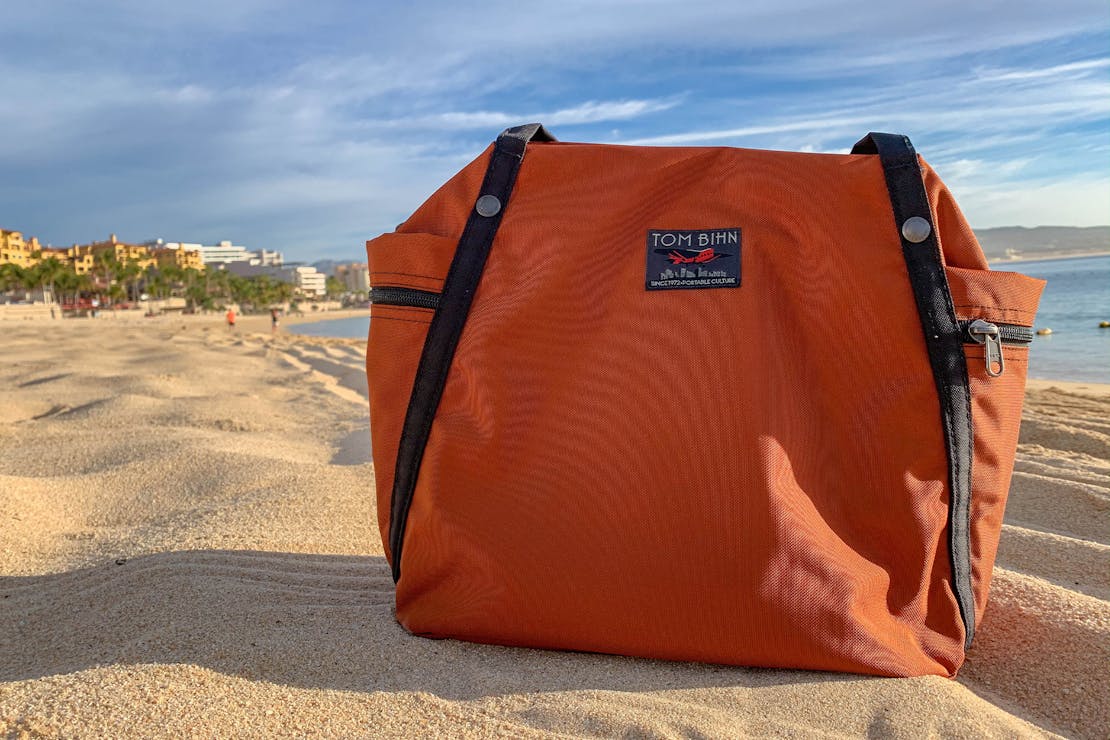 Our Verdict
Unlock the Pro Summary
Save time. Get access to brief summaries of our reviews so you can browse and make decisions more efficiently.
Pros
Well-padded handles
Low-profile
Expandable, large main compartment fits a lot of gear
Cons
The main compartment has zero organization
Would've appreciated more O-rings in the main compartment
Zippered pockets can be tricky to access when the side pockets are full
Technical Details
Capacity

19.5l

Weight (oz)

15.2 oz (430.9 gm)

Denier

525D

Dimensions

12.2 in x 13.4 in x 10.2 in (31 x 34 x 25.9 cm)

Notable Materials

Ballistic Nylon, Polyurethane, YKK Zippers, Duraflex Hardware, Woojin Hardware

Manufacturing Country

United States

Warranty Information
Full Review
The folks at Tom Bihn say that the Tom Bihn Pop Tote debuted as the gift bag at the 2017 Kennedy Center Mark Twain Award for Humor honoring David Letterman. That doesn't have much to do with anything, but it's a fun fact that we had to share.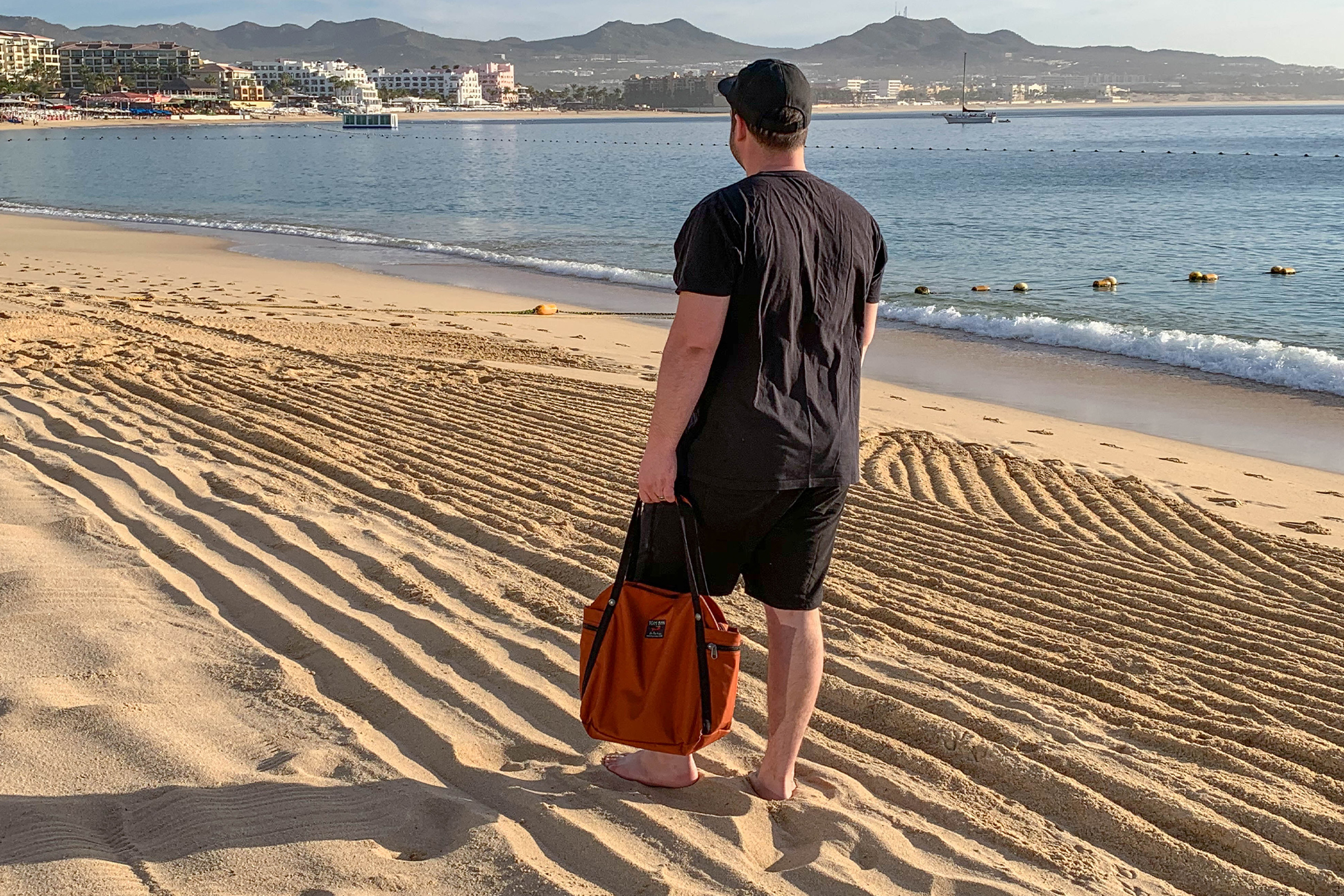 More importantly, the Tom Bihn Pop Tote is a durable, clever (albeit simple) tote bag we've enjoyed testing for two weeks. We've used it as a personal item on a couple of international flights as well as a day tote/beach bag in Cabo San Lucas, Mexico. Of course, this wouldn't be a Pack Hacker review if we didn't have a few nitpicks as well.
So let's dive in.
Materials & Aesthetic
Considering that the Pop Tote is from Tom Bihn, we're not surprised that the materials feel nice and robust. The bag is made from 525D HT ballistic nylon. That's to say, it's strong, abrasion-resistant, and lighter than you might expect. The fabric is also made in a bluesign® certified fabric mill, which is a certification of environmental and social responsibility—and something we always appreciate.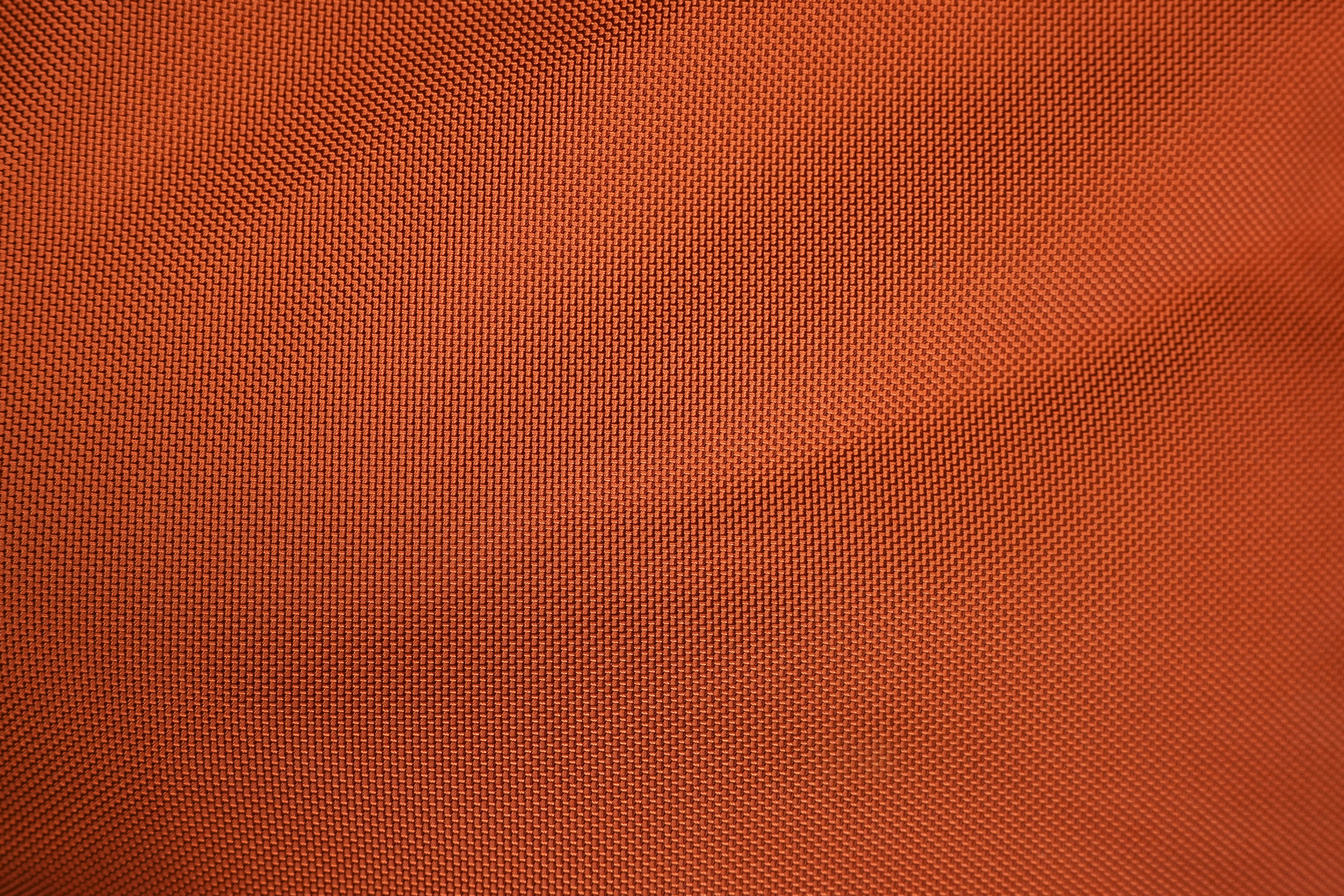 The pack features #8 YKK coil zippers, which are as beefy as they are durable. That's to say, we don't foresee them breaking any time soon. After all, YKK is one of the most—if not the most—reputable zipper brands out there.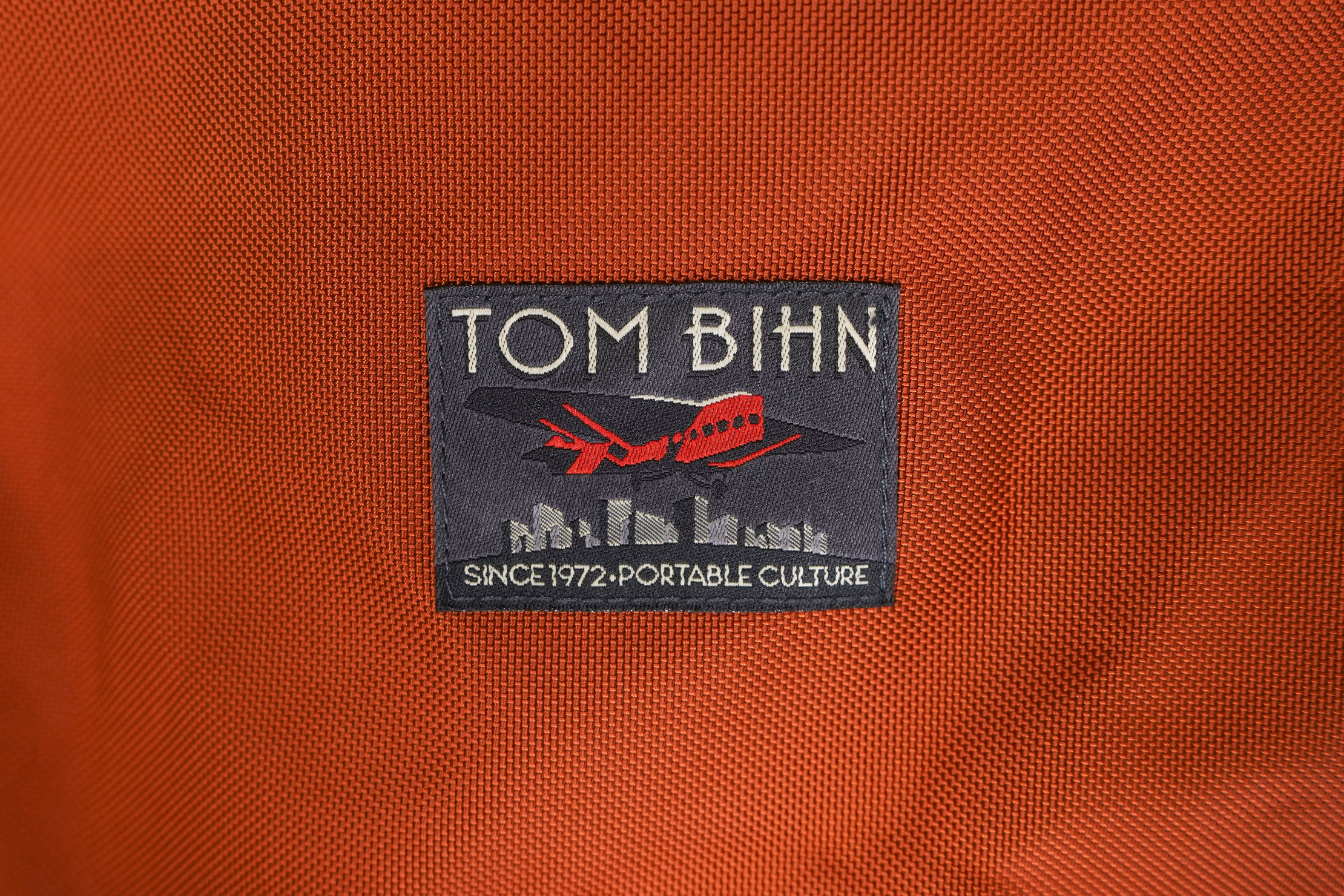 Looks-wise, the Pop Tote looks like, well, a tote. You'll find the Tom Bihn logo front and center. It's not massive, but you'll never forget where you picked up this bag.
At the time of this review, it's available in seven different colorways—Mars Red, Cloud, Black, Alphaviolet, Aubergine, Nebulous Grey, and Burnt Orange. We've been testing the Burnt Orange colorway—and digging it. It's a fun change of pace from our usual black. Note that Tom Bihn frequently changes out and adds colorways—there are five additional colorways in production as of writing this. Just keep that in mind if you're digging this tote, but none of the available colorways.
External Components
While thin, we've found the tote handles to be rather nice. They're densely padded and, while you're holding them, they tend to naturally stack on top of each other. If you do the very difficult math then you'll realize that this gives you double the padding, which makes the carry even more comfortable.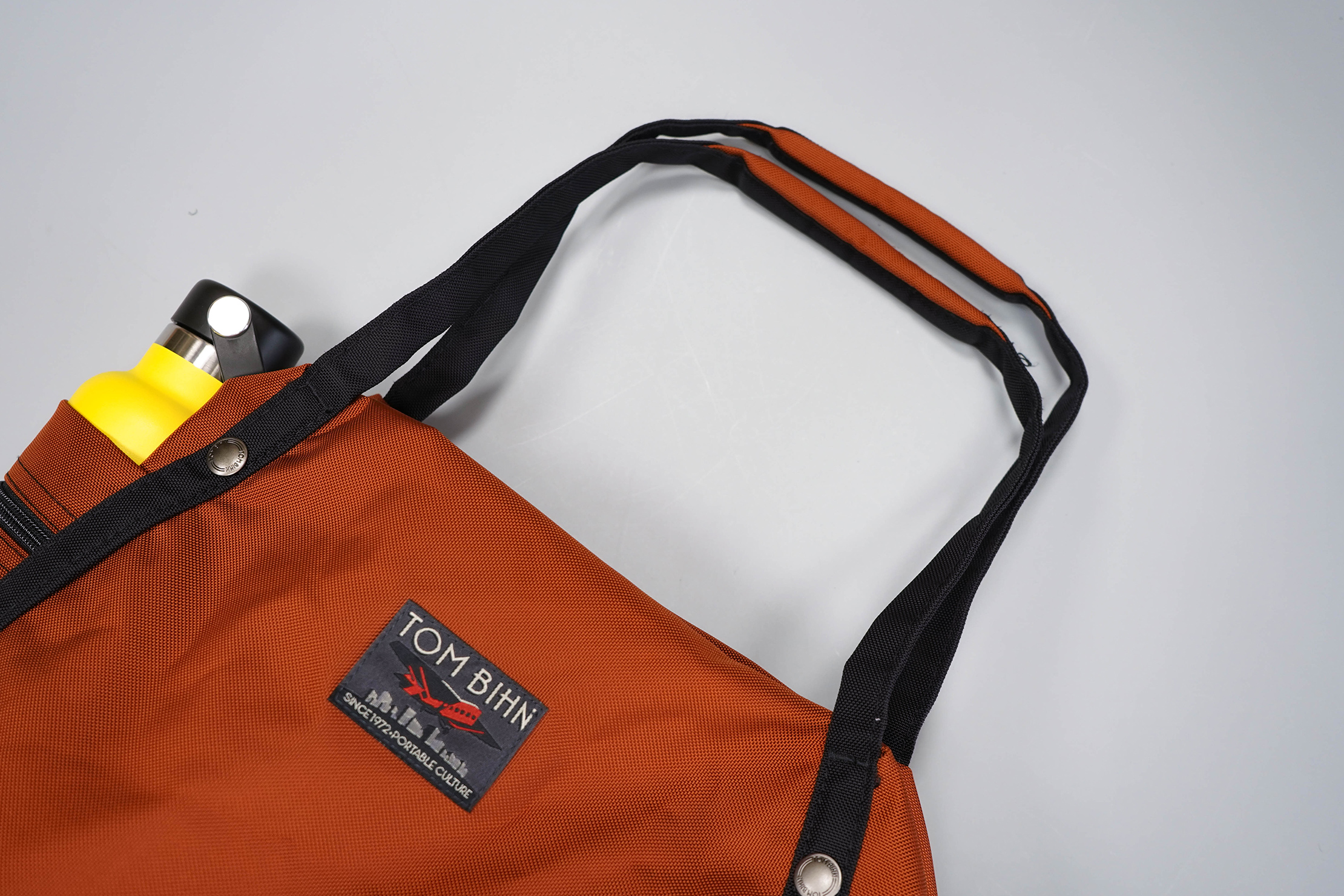 They're also long enough that you can throw them over one shoulder if you want to carry the bag that way. It may be tight to your armpit, depending on your body, but it has worked for us.
There are two open pockets—one on each side of the tote. They make great water bottle pockets—although they won't fit oversized bottles—and, of course, they work for other things too. Because there's not a lot of organization going on inside of the main compartment, we've found ourselves stashing quick-grab items in these side pockets. You know, sunglasses, sunscreen, snacks, headphones.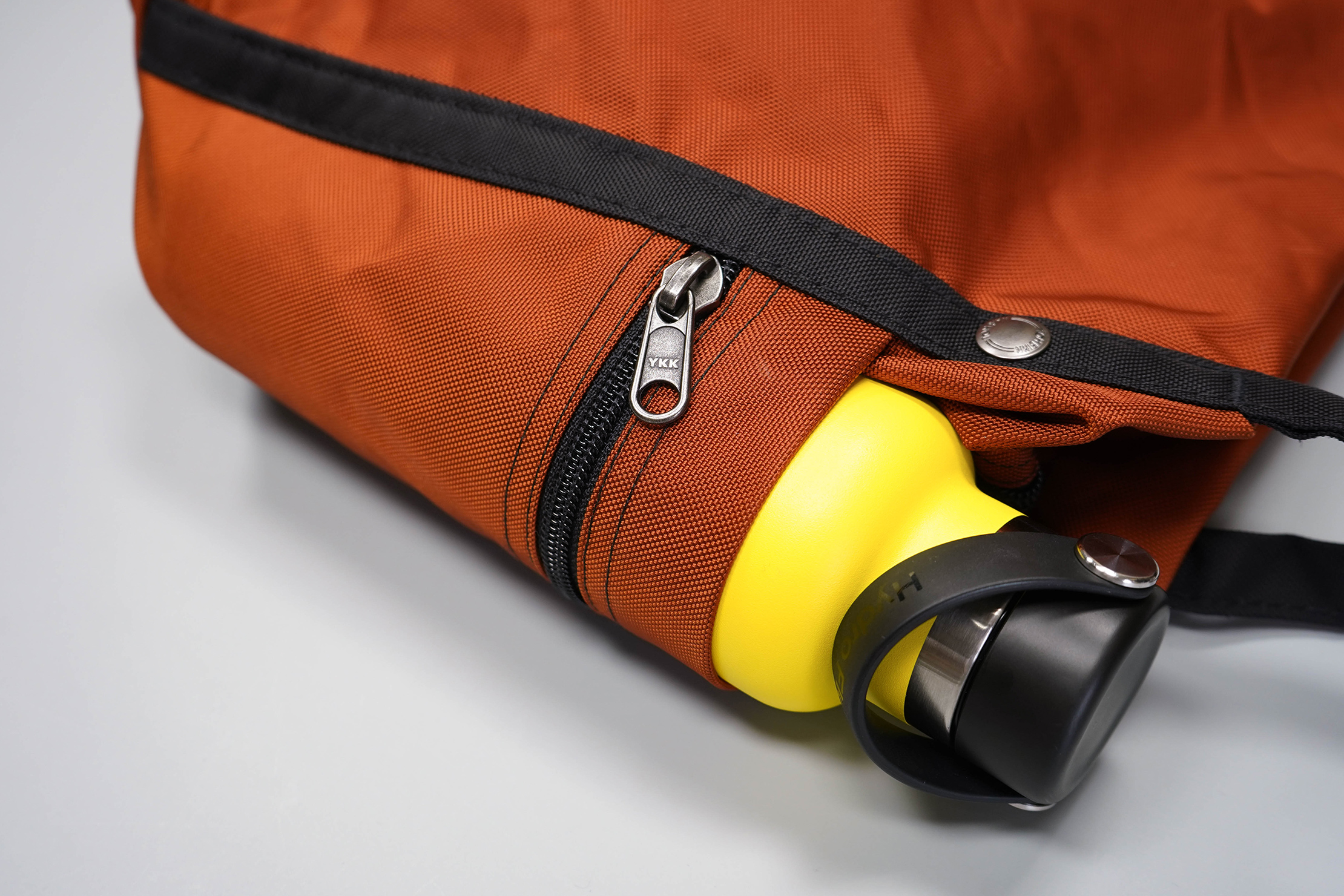 In front of each open pocket, there's a zippered pocket (for a total of two zippered pockets, one on each side of the tote). The zippered pockets are quite thin—there's not a lot of dimension to them—so keep that in mind. Plus, the zippered pockets share space with the open pockets we just mentioned. Meaning, if you have a water bottle tucked into the open pocket, the access on the zippered pocket will be tight.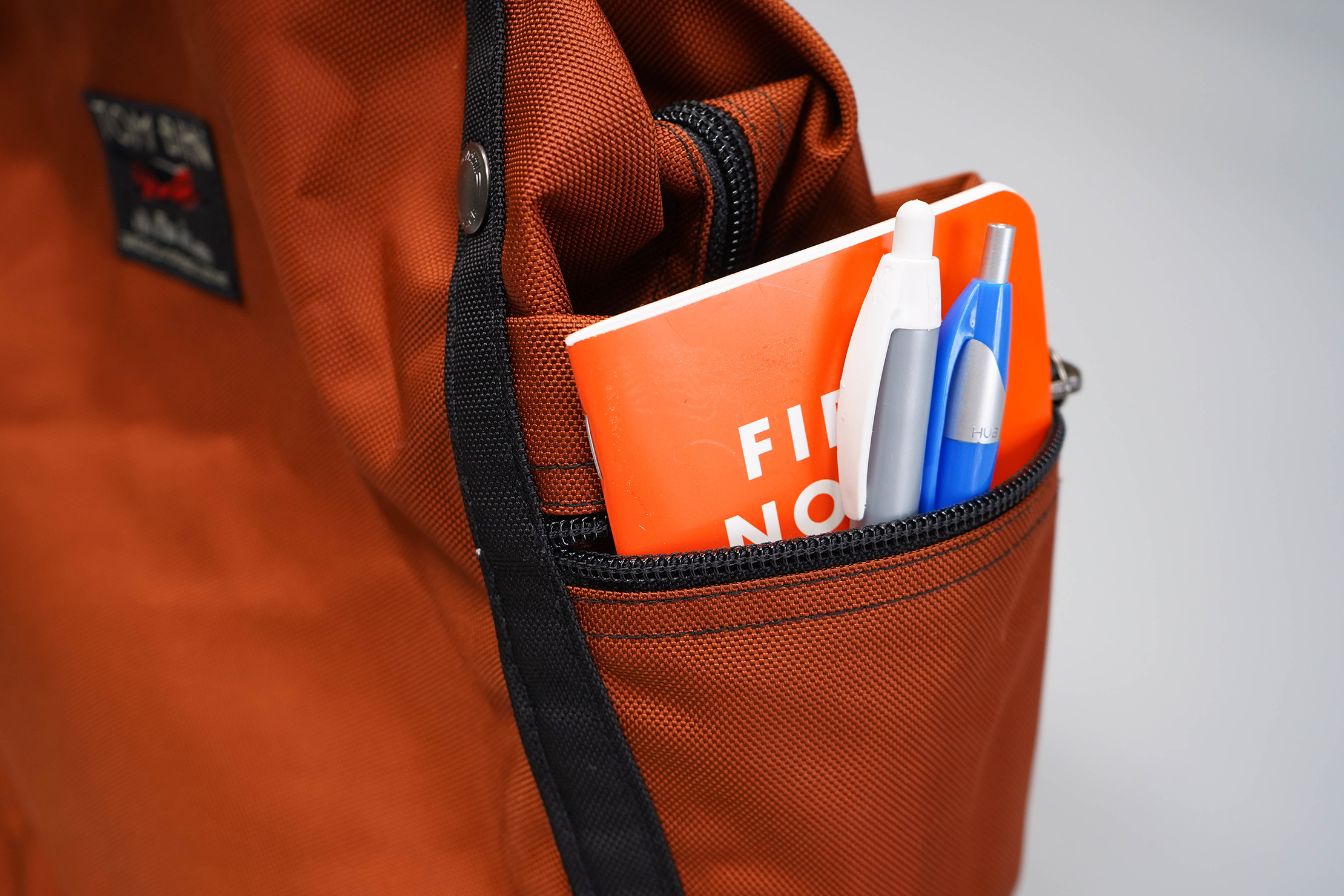 We've found the zippered pockets work best for smaller items. Pens, medicine, breath mints, and so on. They also fit a passport—as long as you don't have anything bulky inside the open pocket. We've enjoyed keeping a passport here since it's still easily accessible, but more secure than if you tossed it into the open pocket.
Inside each open pocket, there's an O-ring. If you're familiar with Tom Bihn then this comes as no surprise. The company is famous for including O-rings inside most of their bags, allowing you to attach all of their accessories (like pouches and leashes). In this instance, you could even attach a Tom Bihn shoulder strap to the O-rings for a crossbody carry if that's more of your thing. Note that these O-rings may not have been specifically placed there for a shoulder strap, but O-rings are oh-so-versatile and that's part of what makes them awesome. Speaking of versatility, you could also use a carabiner to attach other accessories not from Tom Bihn.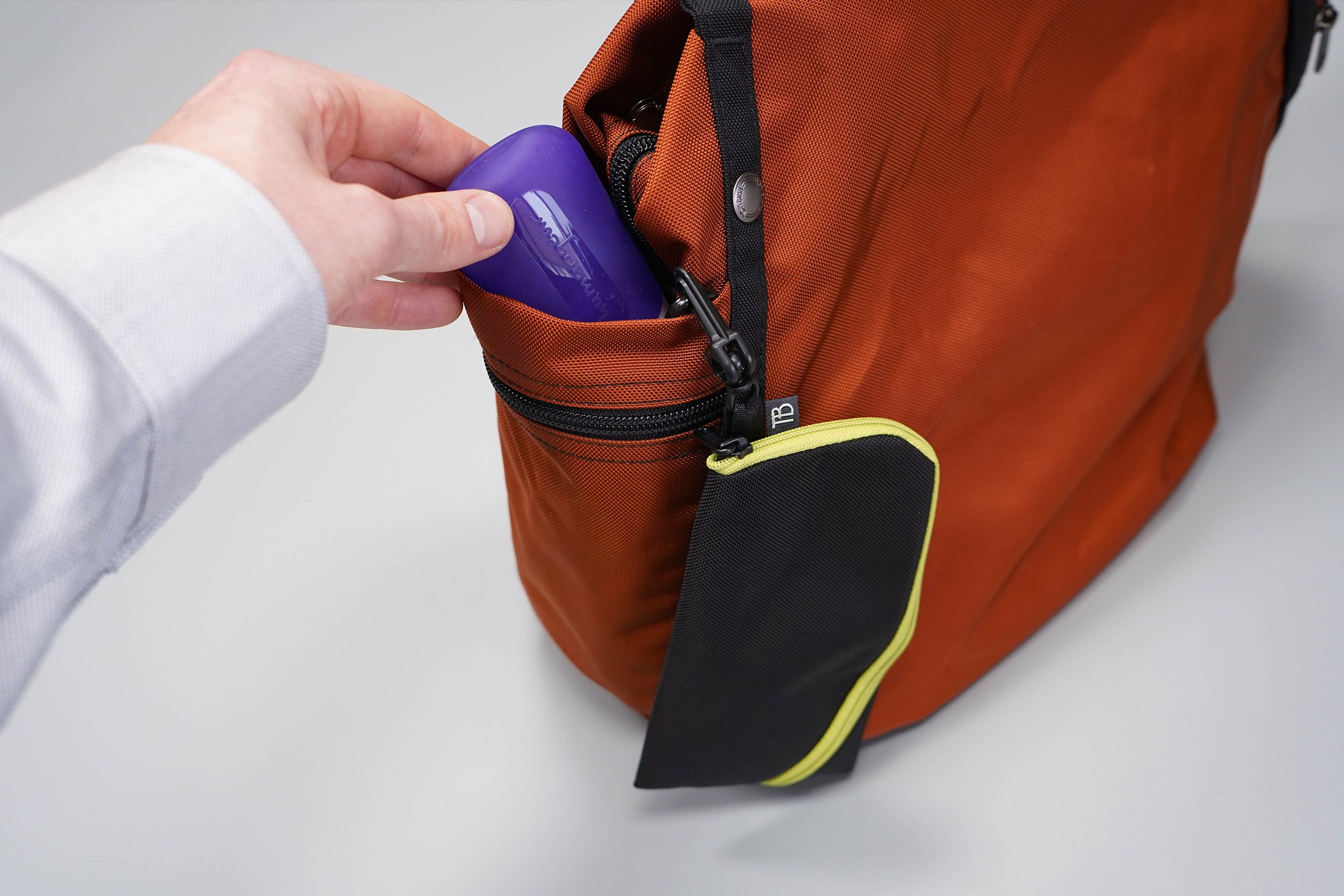 Finally, let's talk about the motivation for the Pop Tote's name. There are two snap buttons on each side of the main compartment (for a total of four). Pop them open and boom, more space inside the main compartment. The snaps also play into the three modes of carry. You can have the pack snapped and unzipped, which leaves the top of the bag completely open with the top edges tucked out of the way. Ideal if you're carrying around tall items that don't fully fit inside the main compartment. Or, you know, groceries.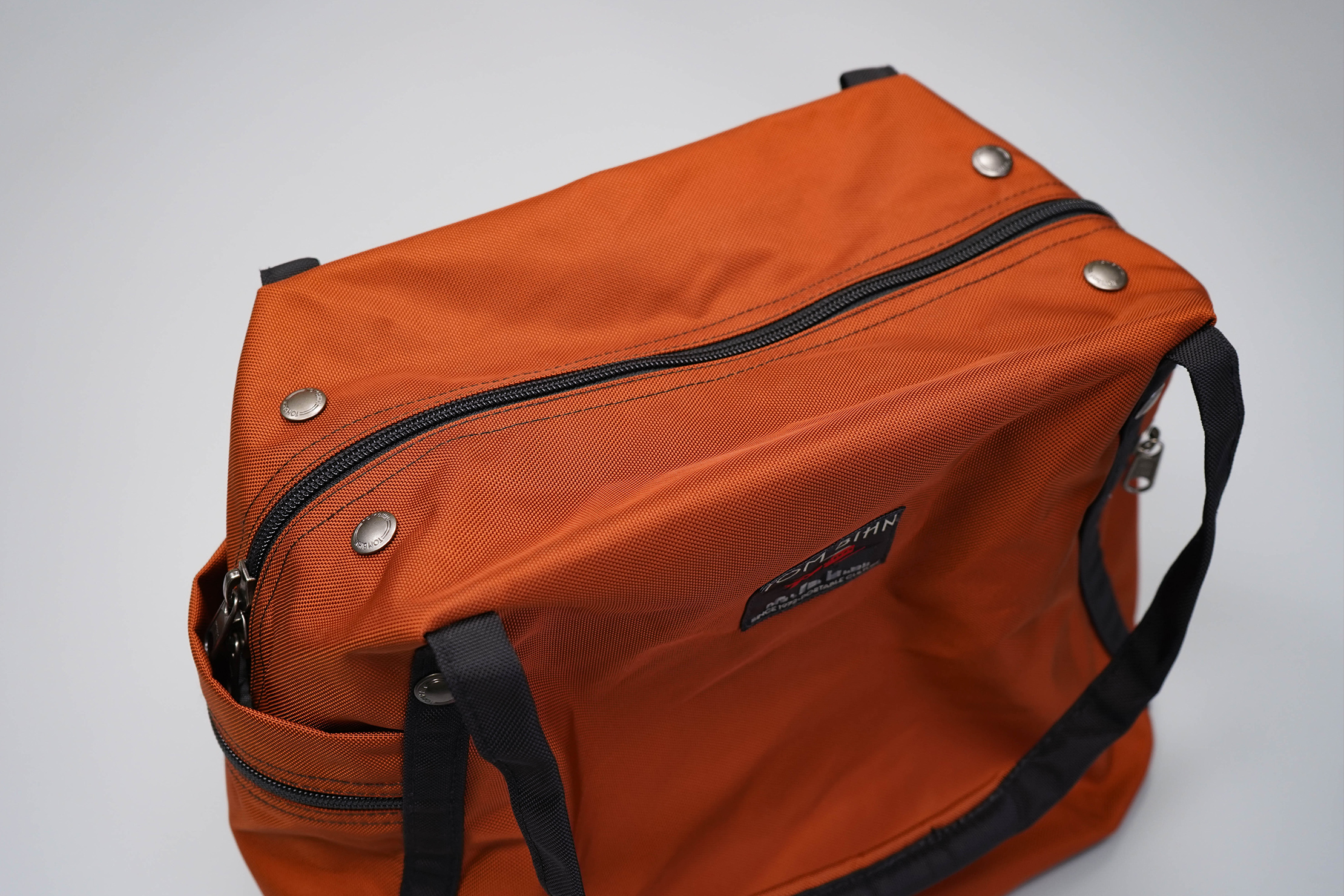 The second mode is unsnapped and zipped. This gives you a good amount of space inside the main compartment while keeping everything inside safe and sound.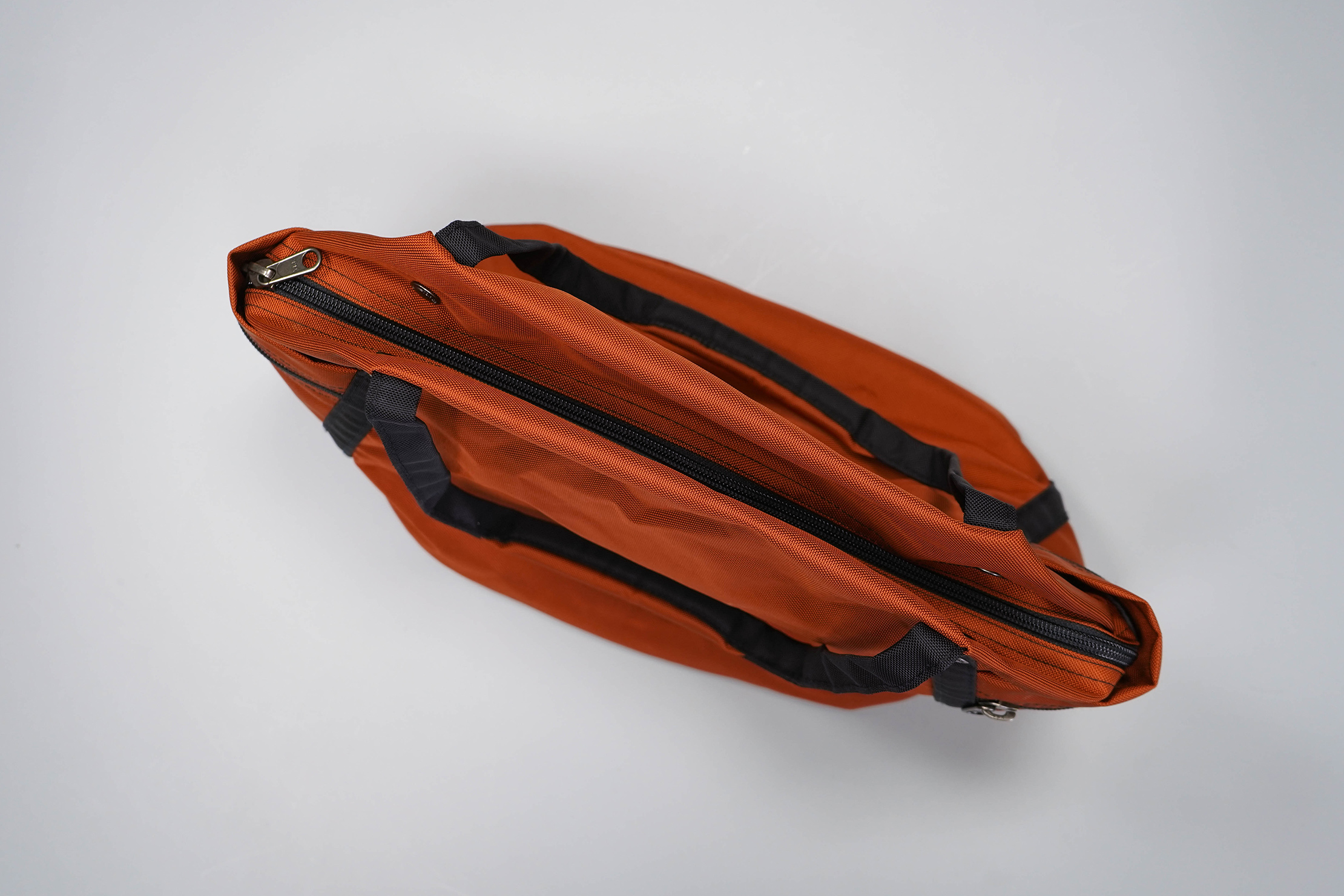 The third mode is snapped and zipped. This gives the top of the bag a concave shape, which may be a good thing or bad thing depending on your taste. It limits the internal capacity but does allow you to stow a jacket or sweater in the open space beneath the handles.
Inside the Tote
Okay, on to the inside of the Tom Bihn Pop Tote. There's only the main compartment and when you open it up you'll see one big bucket of space. And that's it. There's no organization going on. Usually, Tom Bihn makes up for that with the aforementioned O-rings where you can attach pouches and make your own organization. While there are a couple inside of this pocket, there are only a couple. As in two. As in not very many. (One of the O-rings has an included key tether attached to it for…keys. Of course, if you don't like the key tether here, you can move it to one of the outside pockets. Or remove it altogether.)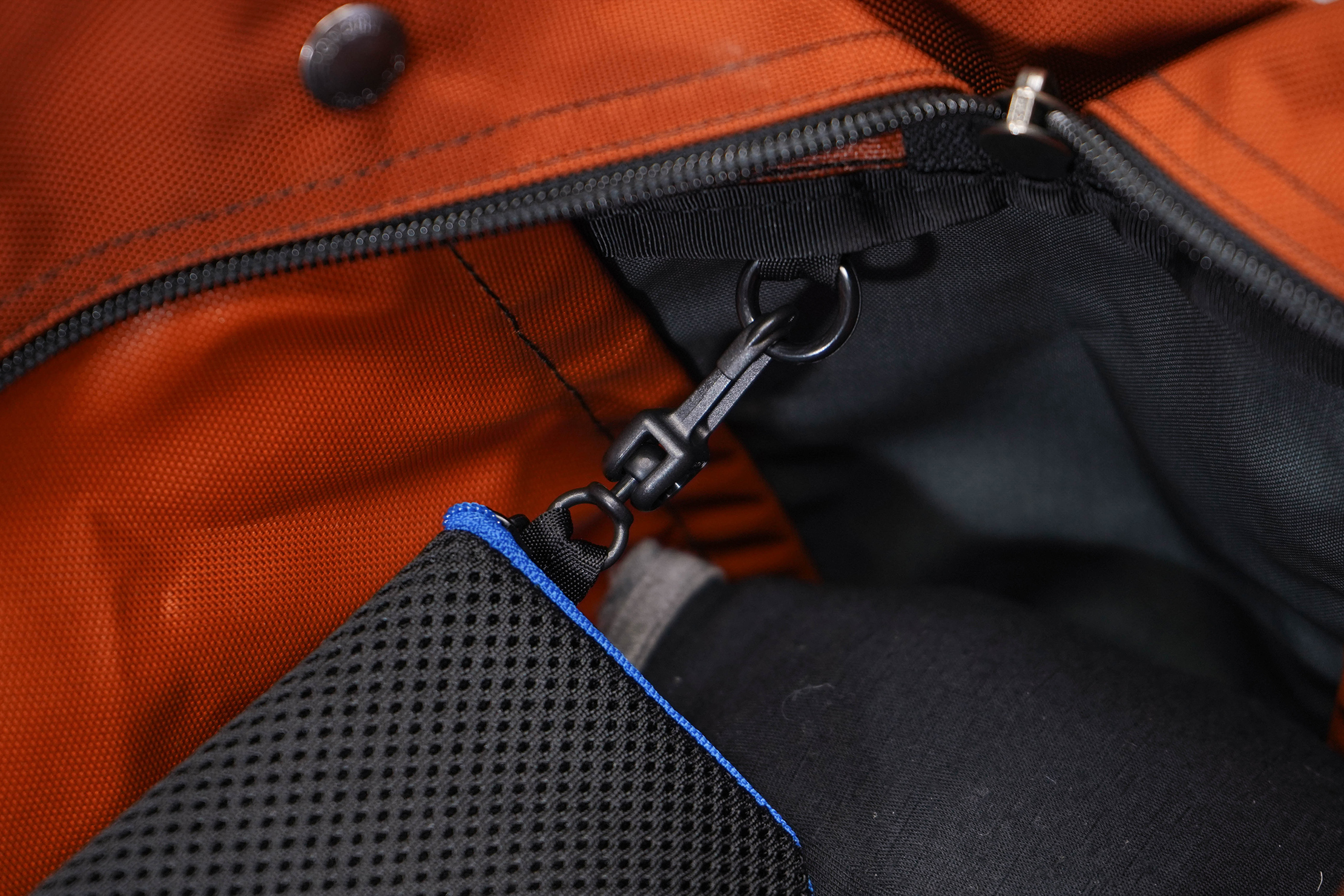 What we're trying to say is we would've appreciated a few more O-rings, if not a small amount of organization. Say a pocket or two. As it stands, all of our stuff has frequently ended up in a jumbled mess that we've had to rummage through to find what we need. Of course, this is more or less of a big deal depending on use case.
It works well as a day tote or beach bag. When we toted (ha) this thing to the beach, we threw in a couple of towels, books, water bottles, and a few other random beach accessories, and were good to go. So if you're planning to use this tote for picnicking, grocery shopping, or things of that nature, you'll probably be okay without organization. You may even appreciate the large, open nature of the compartment—it certainly holds quite a bit.
On the other end of the spectrum, we found using the Pop Tote as a personal item to be frustrating. Sure it fit everything we needed perfectly, but the lack of organization was annoying when trying to be efficient in the airport. We had to dig to find the appropriate documents, pens, snacks, and so on.
So if you want a pack to take to work, use on flights, or for situations that involve a ton of small items and a need for efficiency, this tote (likely) isn't for you. That's not to say you can't get creative with pouches and packing cubes, though.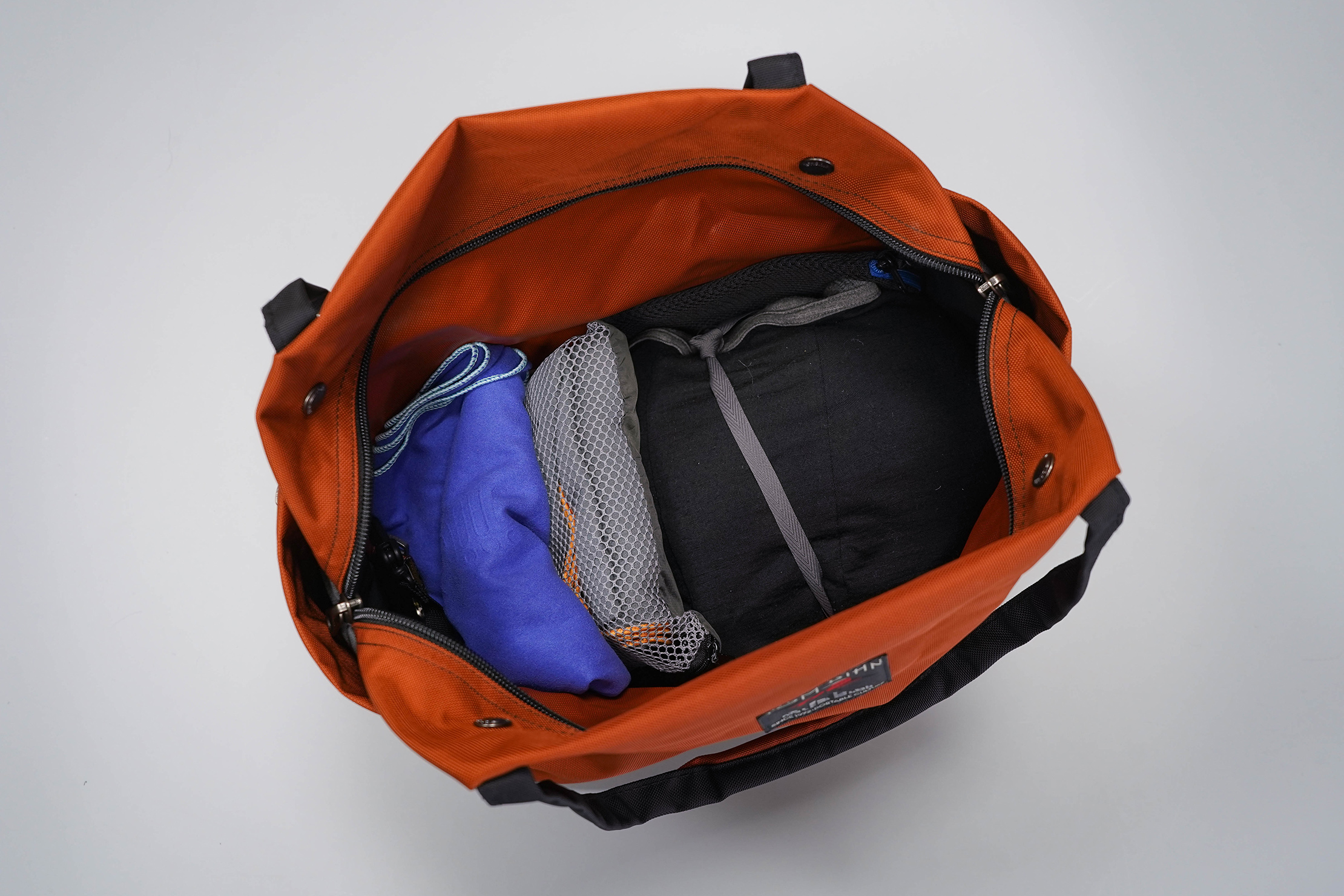 On a more positive note, we're digging the tote's overall size. It fits a lot more stuff than expected. That's partially due to the fact that it expands with the snaps (as we mentioned in the external components section).
In expanded mode, we fit a few books, a tablet, a few drinks, snacks, tech accessories like headphones, chargers, and battery banks, two passports, and two sweatshirts. It's like the bottomless Mary Poppins bag.
Even full, the tote maintains a streamlined look and feel. Plus, it packs flat and can roll up pretty small, which makes it a solid companion to larger travel bags.
Durability & Testing
As we mentioned at the beginning of this review, we've been testing the Tom Bihn Pop Tote for approximately two weeks and taken it on a trip to Cabo San Lucas, Mexico. We've both liked and didn't like it, depending on the situation. The lack of interior organization can get really bothersome. Who likes to go rummaging through a mountain of stuff to find the one thing they're looking for? (No one, that's who.)
But there are other times when organization isn't necessary—say when you're carrying larger gear or don't need to be efficient (i.e. a beach trip). So make sure to keep your use case in mind.
From a durability perspective, everything is looking good. We have nothing to report.
Usage Timeline
Initial Usage
Condition: Excellent
Classic style tote bag with a bucket style main compartment
Snap buttons on top help keep this tote compressed and low-profile when not fully packed
Well padded handles make for a comfortable carry
2 Weeks of Use
Condition: Excellent
We've been using this tote as both a personal item and beach/day bag on a trip to Cabo San Lucas, Mexico. The lack of internal organization proved to be a little frustrating while trying to smoothly get through the airport (everything falls to a jumbled mess). But it holds a surprising amount of stuff—which is great for a day out exploring.
Access the Pro Community Discussion
Get your questions about the Tom Bihn Pop Tote answered from our team and the Pro Community right here on the page. Plus, join discussions with other members about gear, guides, and more.
Other Bags & Luggage Reviews