ToeSox Bella Half Toe Grip Socks Review
Although the Bella Half Toe Grip Socks from ToeSox make traveling as a yogi a whole lot easier, we don't think they can entirely replace your mat. But they'll come close.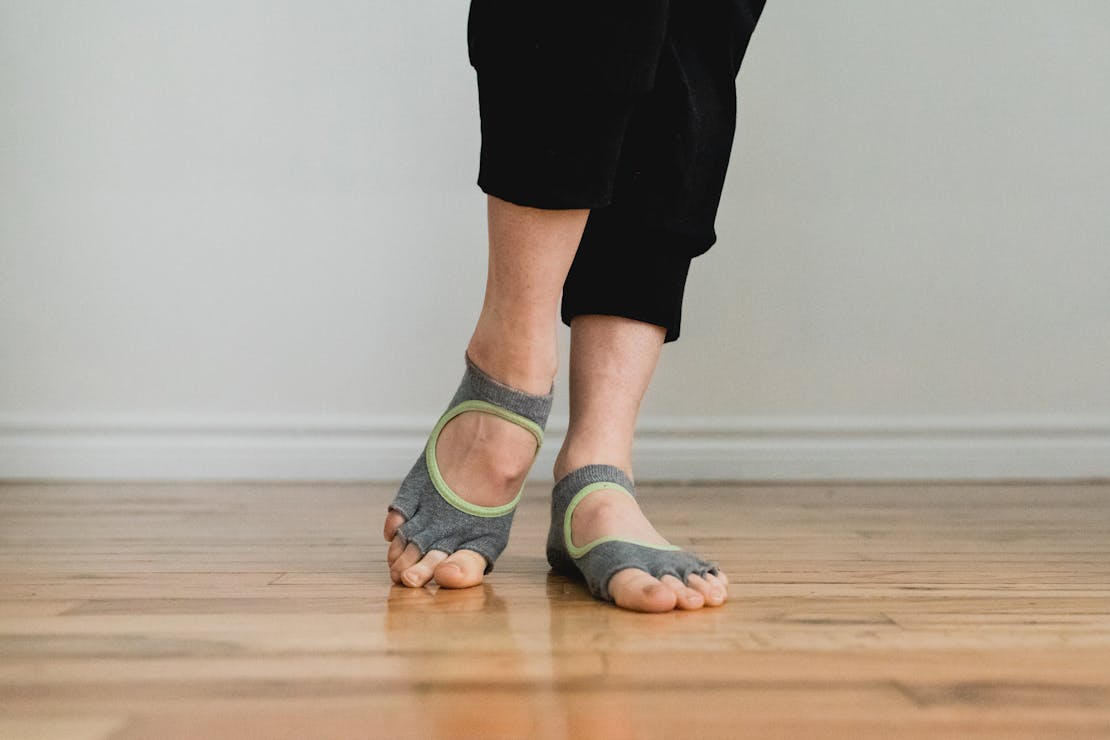 Our Verdict
Unlock the Pro Summary
Save time. Get access to brief summaries of our reviews so you can browse and make decisions more efficiently.
Pros
Packs smaller than a yoga mat
Grippy—no slipping while doing yoga
Hygienic way to practice in public places
Cons
More awkward to put on than your typical socks
Not quite as sticky as your yoga mat
Elastic around top of feet is a bit on the tight side
Recent Pack Hacker Video
Technical Details
Weight (oz)

1.6 oz (45.4 g)

Notable Materials

Spandex, Elastane, Cotton

Manufacturing Country

China
Full Review
ToeSox is a Canadian company that is shifting what it looks like to head to a yoga class. By now you're probably used to the iconic imagery of someone heading to or from their yoga class with a mat tucked under their arm or slung over their shoulder. Whether you do yoga or not, you can almost certainly conjure up that image in your mind.
But what if you didn't have to drag your yoga mat with you everywhere in order to continue your practice? ToeSox is making that possible with their grip socks. For any activity where you could use a little extra grip than just your bare skin, these socks are for you.

Yoga mats can be cumbersome while traveling, especially if you are a minimalist traveler. Even the more compact travel mats—like the Manduka eKO SuperLite—will take up a good chunk of your valuable space. That being said, it's hard to abandon your practice while you're exploring new places, and you could probably use a stretch or two after long flights or a full day of walking around a new city.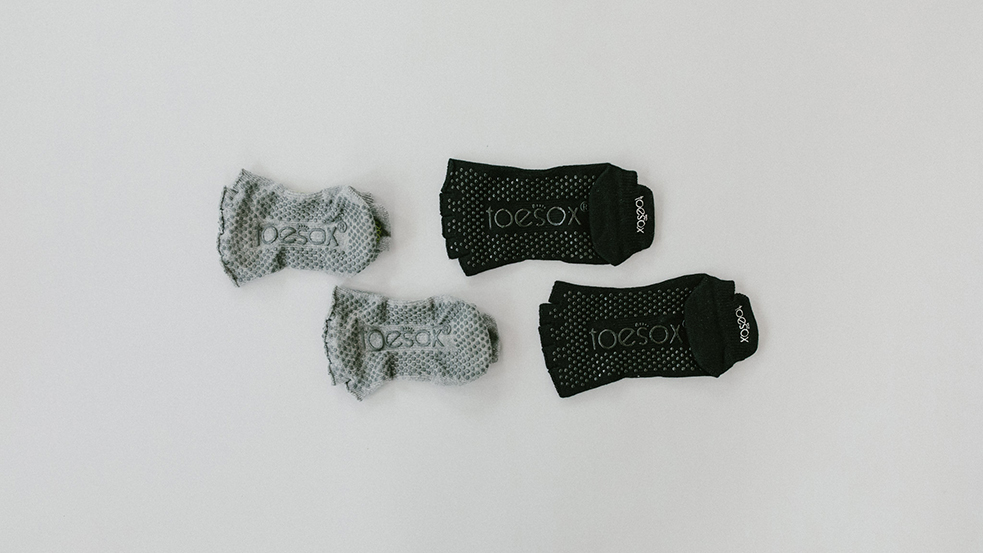 This is where the ToeSox Bella Half Toe Grip Socks can come in handy. We've been testing these things for over a year and we're still using them to this day.
They pack as small, if not smaller, than your average pair of socks and can replace your yoga mat for short periods of time. The entire underside of the Bella Grip Sock is covered in grippy dots that give you some of that stick you've come to know and love from your yoga mat. They're very comfortable—in fact, you might not even notice they're there, outside of the fact that you can't pull off that classic Risky Business move in them. (Which we find ourselves doing fairly often, oddly enough.)
Now, let's get real for a second. Are these socks going to give you the same level of stickiness and security you've come to expect from your yoga mat? No. Depending on your use case, you might not be able to completely abandon your yoga mat, but we think these can save even the most accomplished yogi from a few headaches while on the move.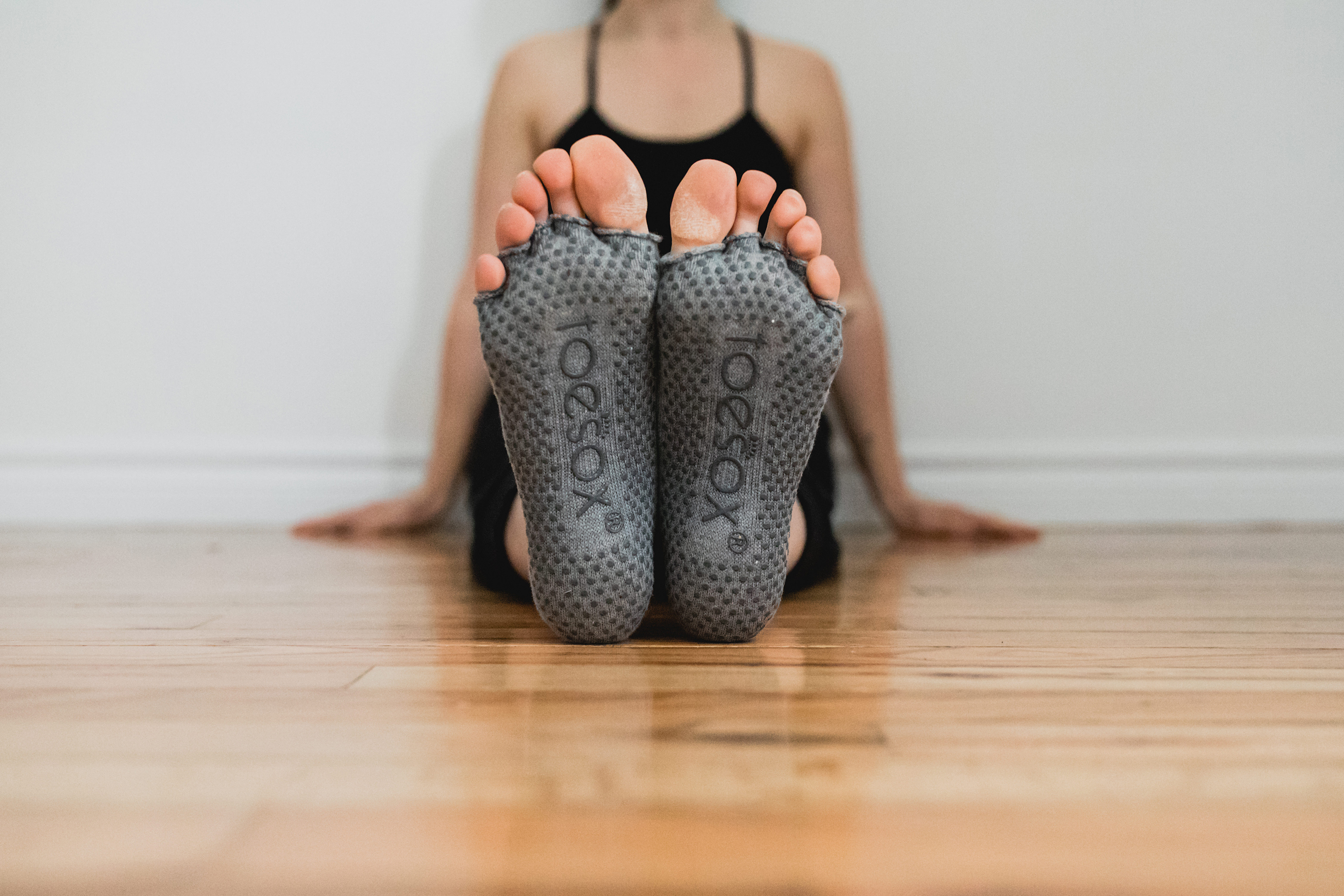 The design of the socks is a key element to their appeal. They may look a little silly, but there's method to the madness. The five-toe design helps spread your toes more than a regular sock and even a little more than just being barefoot. This is great for circulation and beneficial for your yoga practice as it allows you to really spread your toes out and ground yourself more. It also helps you avoid bunching or shifting of the sock. Who doesn't hate that? The heel of the sock comes up a little higher and curves around your foot so it won't slip down while you move about.
These socks come in a number of styles. You can opt for a full toe or half toe design, plus you can also choose which length you'd like them to be. Depending on your use case and personal preference, chances are they have something for you. We tried the half toe version, and we have to say that despite being called a half toe, the openings leave almost your entire toe exposed. We actually like this, as it feels more like being barefoot. You have more air reaching your toes and full extension/movement, plus we think that having some sense of the surface below can keep you more connected and grounded.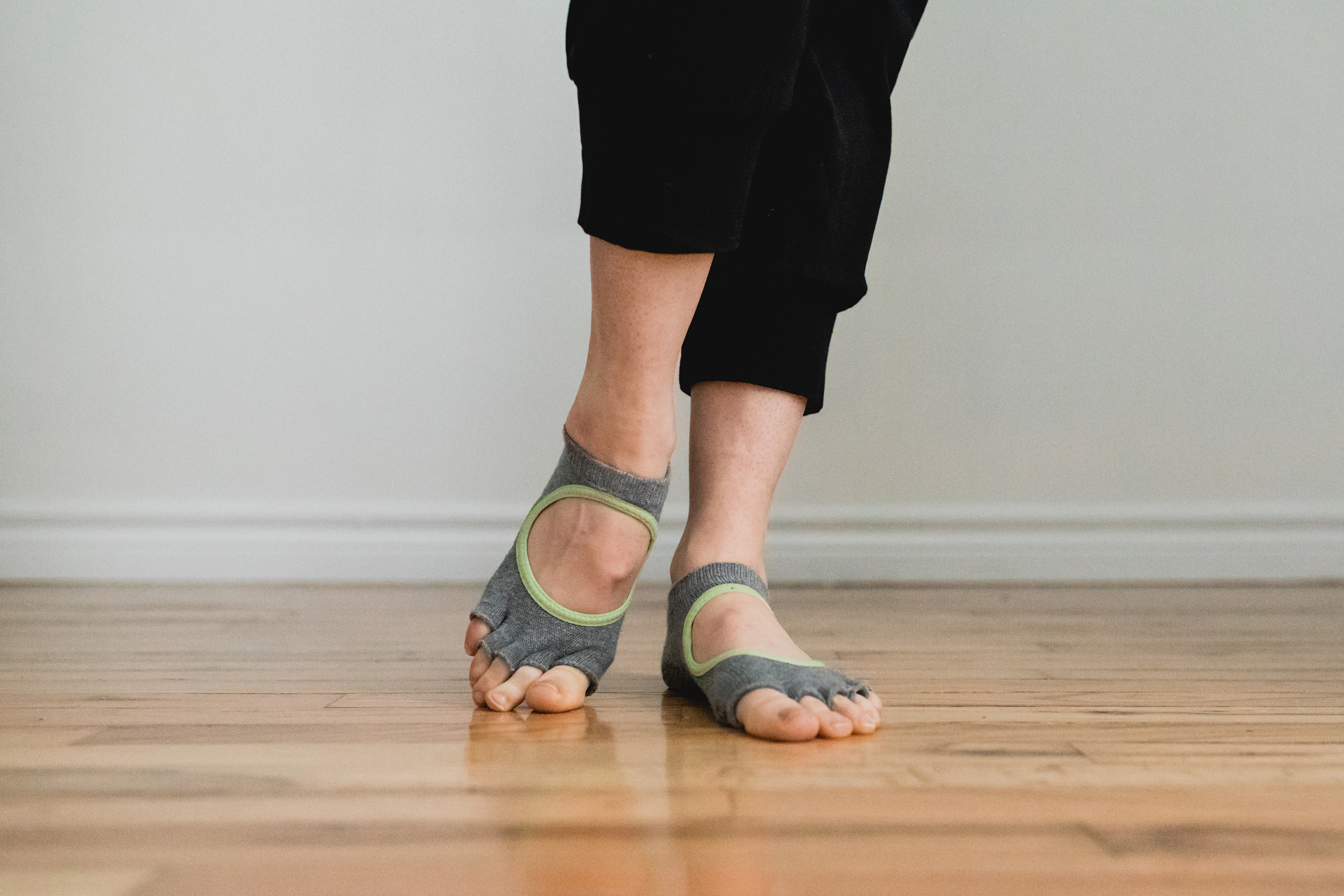 With the open toe and open arch of the sock, they do feel almost like being barefoot. Almost. They take a bit of getting used to and they'll probably feel a tad uncomfortable when you first put them on, especially if you're not used to wearing barefoot designed footwear. They're also a little trickier to put on than a typical pair of socks, and you may have to fiddle with them to get your toes into the right spots—that is, unless you have magic toes that can move independently. In which case, what's your secret? We must know!
The Bella Grip Socks are made from organic cotton and elastane. There's quite a lot of give in them, which helps keep them in place. That being said, we did find them to be a little on the snug side and felt like they were starting to cut off circulation after wearing them for a couple hours on a hot day. We'd recommend maybe avoiding these for hot yoga, or keeping a second pair that's a little bit bigger for that scenario.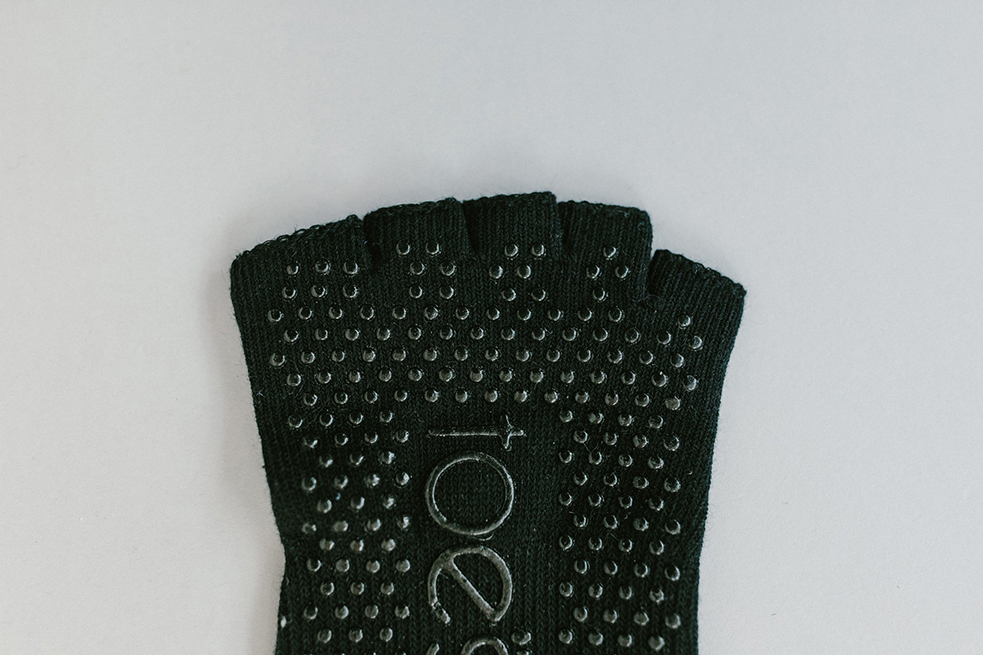 In addition to the grippiness (which is not a word, but it will be—trust us), these barefoot style socks are a more hygienic option than going barefoot. This may not be applicable for those who just practice yoga at home, but for anyone heading to a studio, it's never a bad idea to have a bit of a barrier between you, the floor and the sweat from the last class. That barrier is also good for avoiding blisters.
The care instructions for these socks are pretty straight-forward. Machine wash, lay flat to dry. Skip the bleach and don't iron them. Can you imagine not having to iron your socks!? Dreamy! To keep the grips on the bottom of the sock lasting longer, we recommend washing them inside out.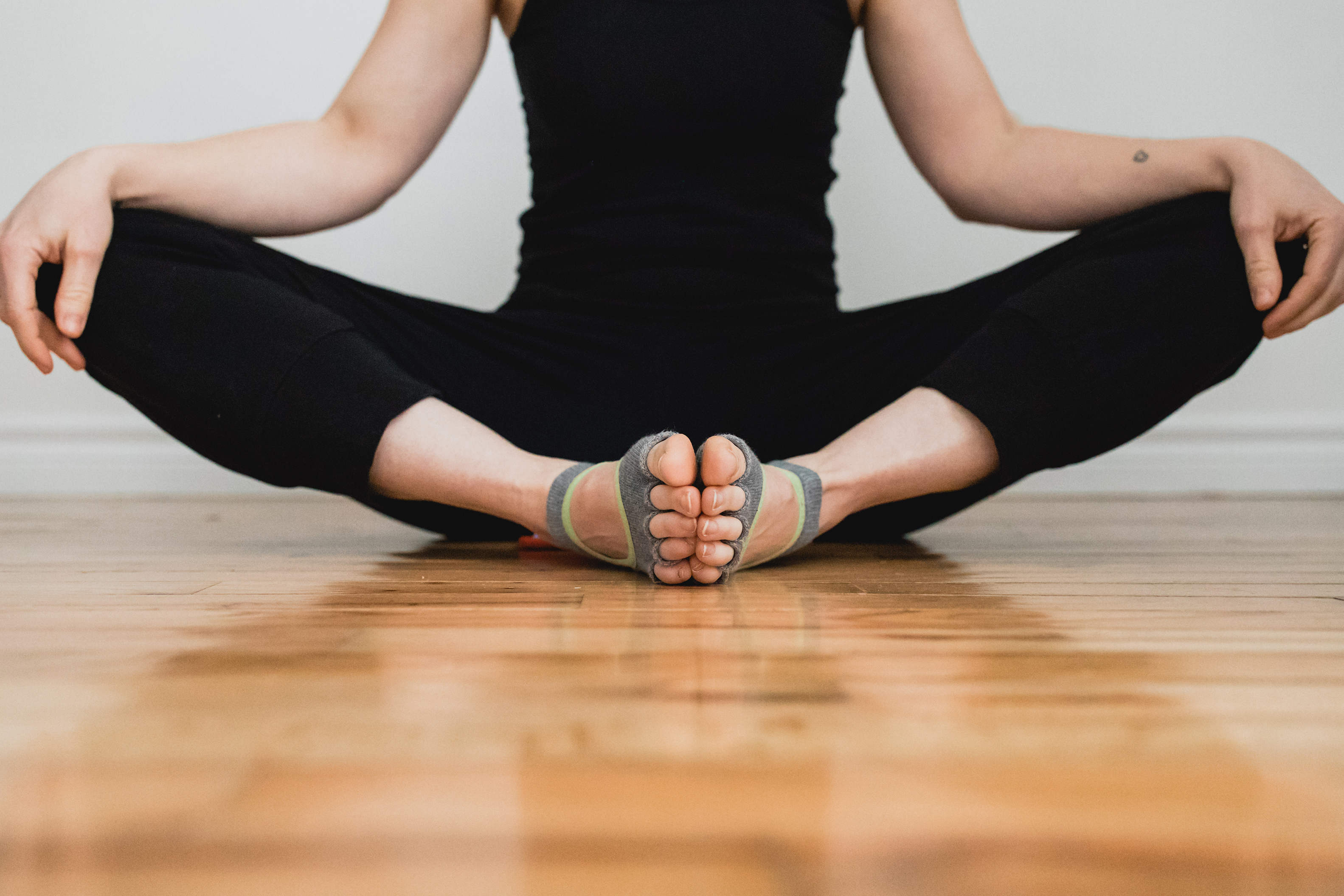 The Bella Half Toe Grip Socks are an excellent addition to your travel kit, but we wouldn't suggest packing up all of your yoga mats and shipping them off to Goodwill just yet. You'll love the convenience of being able to pack these with you instead of your mat, but you're still going to prefer your mat at home.
Usage Timeline
Initial Usage
Condition: Excellent
They feel a bit funny, but they're grippy.
1 Month of Use
Condition: Excellent
Still feel funny, but they do the trick.
2 Months of Use
Condition: Excellent
Fantastic for on the road yoga.
3 Months of Use
Condition: Excellent
6 Months of Use
Condition: Excellent
Not quite as sticky as a regular yoga mat, still no wear.
9 Months of Use
Condition: Excellent
Grips are all still present, no sign of wear.
1 Year of Use
Condition: Excellent
Surprised these things haven't fallen apart yet. No real sign of wear.
1.5 Years of Use
Condition: Good
Some of the rubber grips are starting to wear a little thin, but still present.
Access the Pro Community Discussion
Get your questions about the ToeSox Bella Half Toe Grip Socks answered from our team and the Pro Community right here on the page. Plus, join discussions with other members about gear, guides, and more.
Other Clothing & Accessories Reviews