Timbuk2 Never Check Backpack Duffel Review
We're digging the organization and versatility of the Timbuk2 Never Check Backpack Duffel—but the access and carry modes could be improved.
Our Verdict
Unlock the Pro Summary
Save time. Get access to brief summaries of our reviews so you can browse and make decisions more efficiently.
Pros
Digging the tech organization
Versatile carry options
Blue interior is a nice touch for style and visibility
Cons
Access can be slow and cumbersome
The handles and crossbody strap can get uncomfortable to carry
The laptop compartment will only hold thin 15'' laptops or smaller
Recent Pack Hacker Video
Technical Details
Capacity

34l

Weight (lb)

3.5 lb (1.6 kg)

Dimensions

14.2 in x 20.5 in x 7.48 in (36.1 x 52.1 x 19 cm)

Notable Materials

CORDURA®, Polyethylene, YKK Zippers, Duraflex Hardware

Manufacturing Country

Indonesia

Laptop Compartment Size

15"

Warranty Information
Full Review
All you need to know about the Timbuk2 Never Check Backpack Duffel is in its behemoth of a name. This 34L duffle has been designed to work as a carry-on pack, so you never need to check it. Plus, you can carry it as both a backpack and a duffle bag.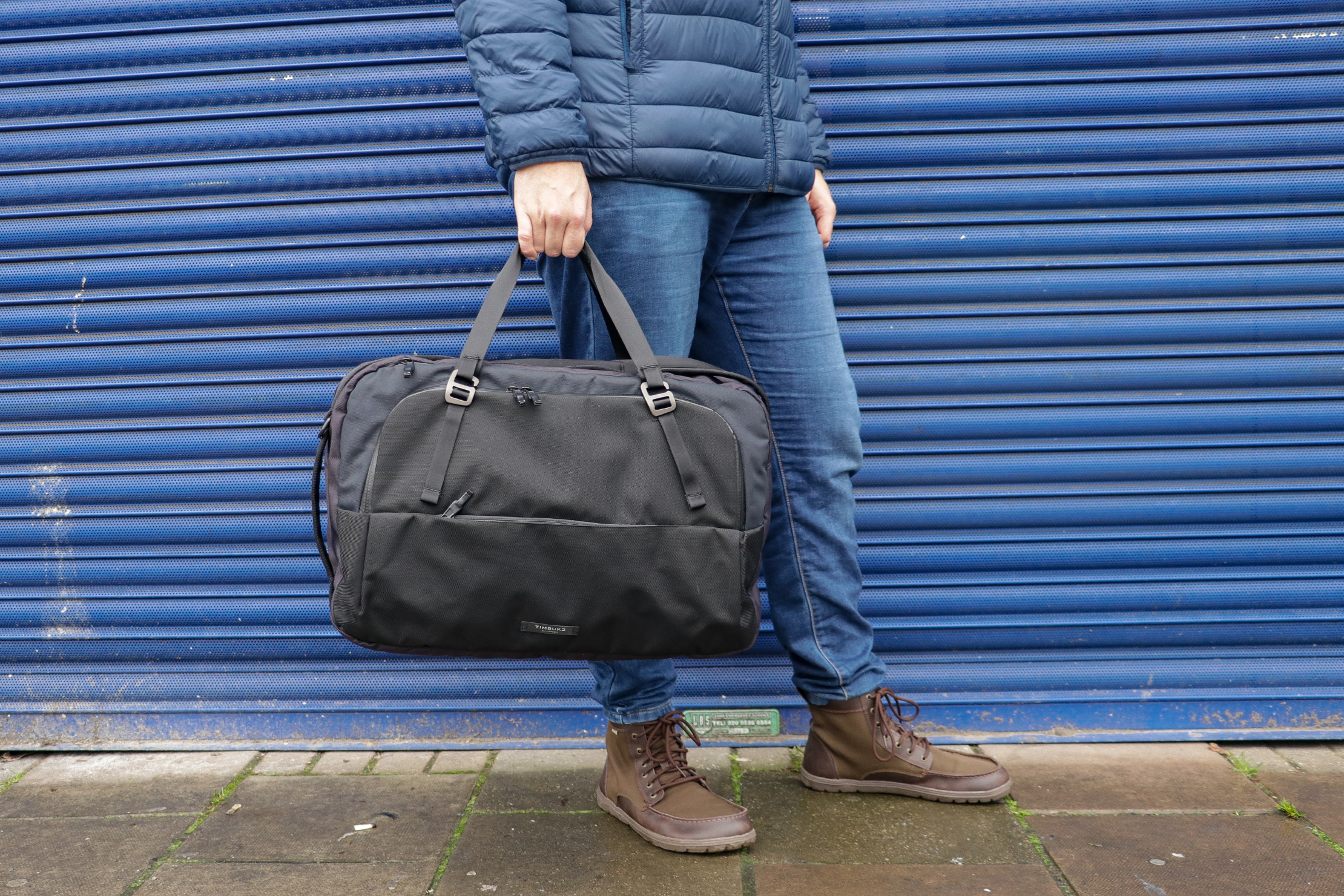 Okay, that's not actually all you need to know. After testing the Never Check Backpack Duffel for a month in Detroit, New York City, and on a transatlantic flight to the U.K., we have a lot to say about it.
So let's dive into the full review.
Materials & Aesthetic
Overall, the Timbuk2 Never Check Backpack Duffel has an urban aesthetic. Less cabin-in-the-woods and more condo-with-a-view-of-downtown. It's professional enough for work trips or the daily grind.
At the time of this review, the duffle is available in one colorway—Night Sky. The name is almost poetic, as the color is a gradient of black, blue, and dark purple. Yet from afar, it looks black. Most of us here at Pack Hacker appreciate Timbuk2's attempt to paint the night sky on a duffle, but you may be less impressed. (Let's be real, some of us here would've preferred a classic black.)
Still, the color is muted and won't draw attention to itself. Always a plus for travel.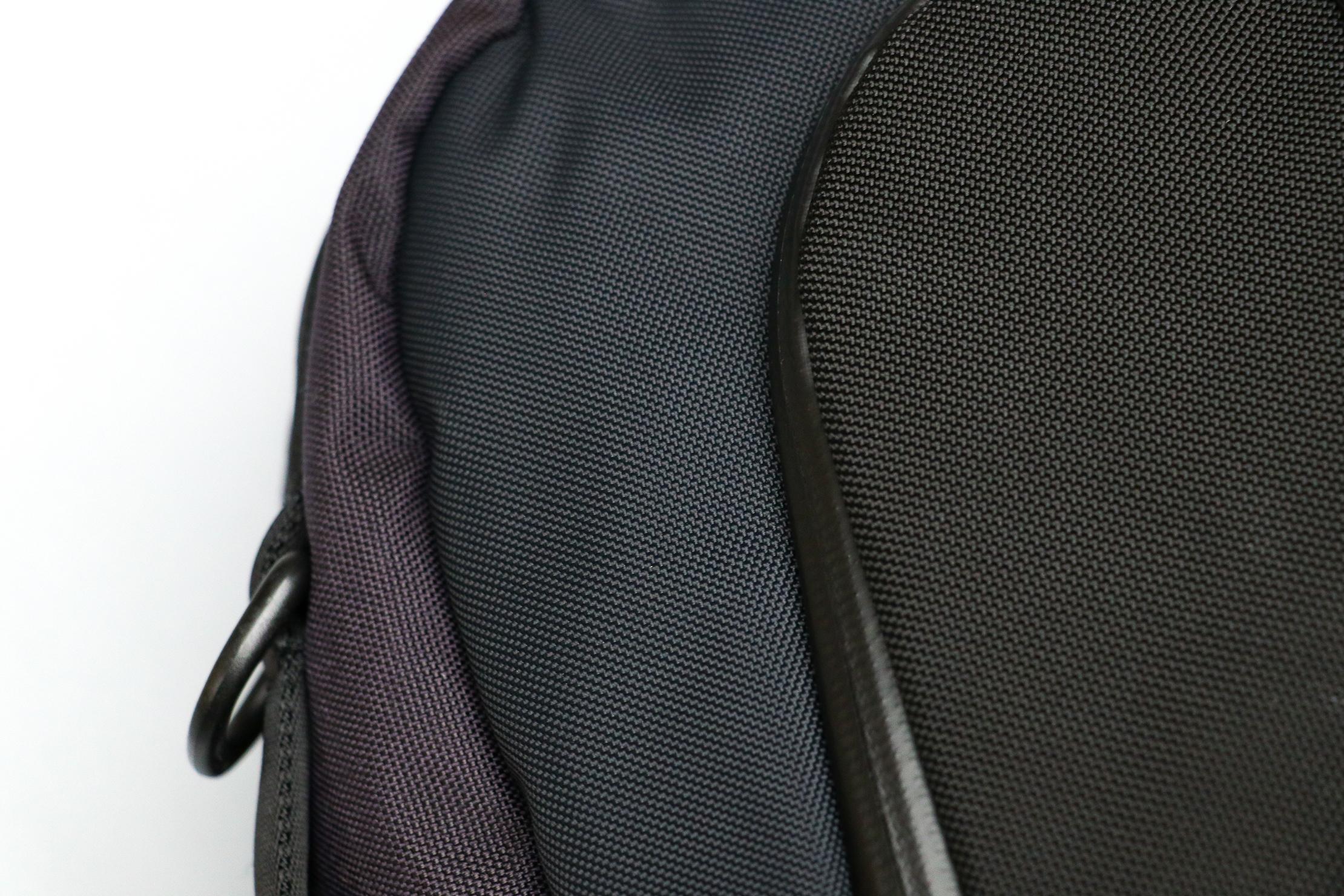 That said, we think it looks almost too sophisticated for one-bag travel—it'll look a little odd paired with the joggers and sweatshirt you wore on that two-day bus ride and should've washed yesterday. But we suppose it's better to have a pack that elevates your style than detracts from it.
The duffle is made of durable CORDURA® fabric. The purple section of the duffle appears to be a thinner weave than the black section and picks up lint/dust/pet hair easily. Just a note to be careful if you'll be traveling to a cat cafe or a particularly linty place.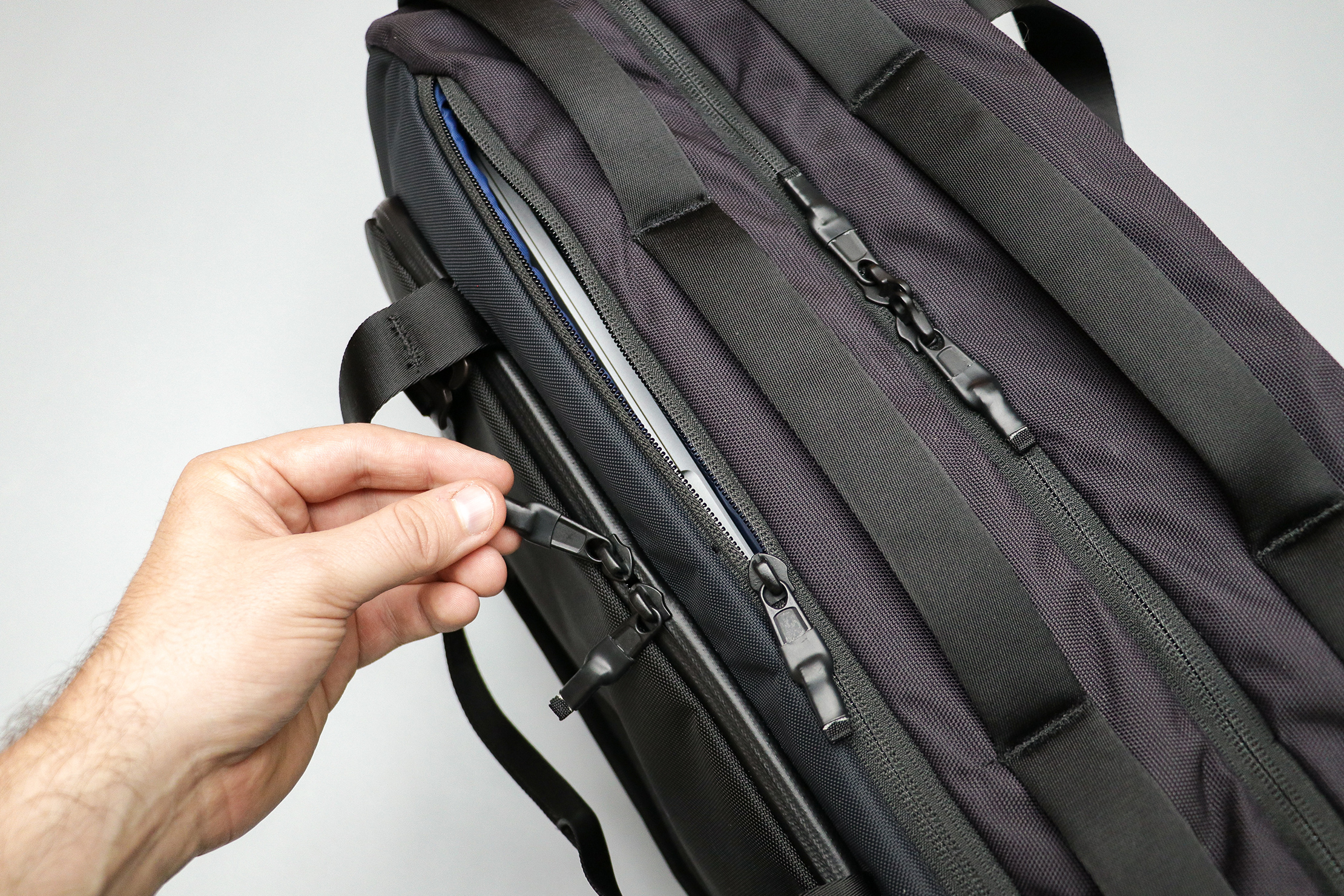 Wrapping up the rest of the notable materials, the zippers are YKK and the hardware is DURAFLEX, both of which are brands that we've had positive experiences with.
External Components
One of the main features of this duffle is the multiple ways you can carry it—as a briefcase, shoulder/crossbody bag, and backpack.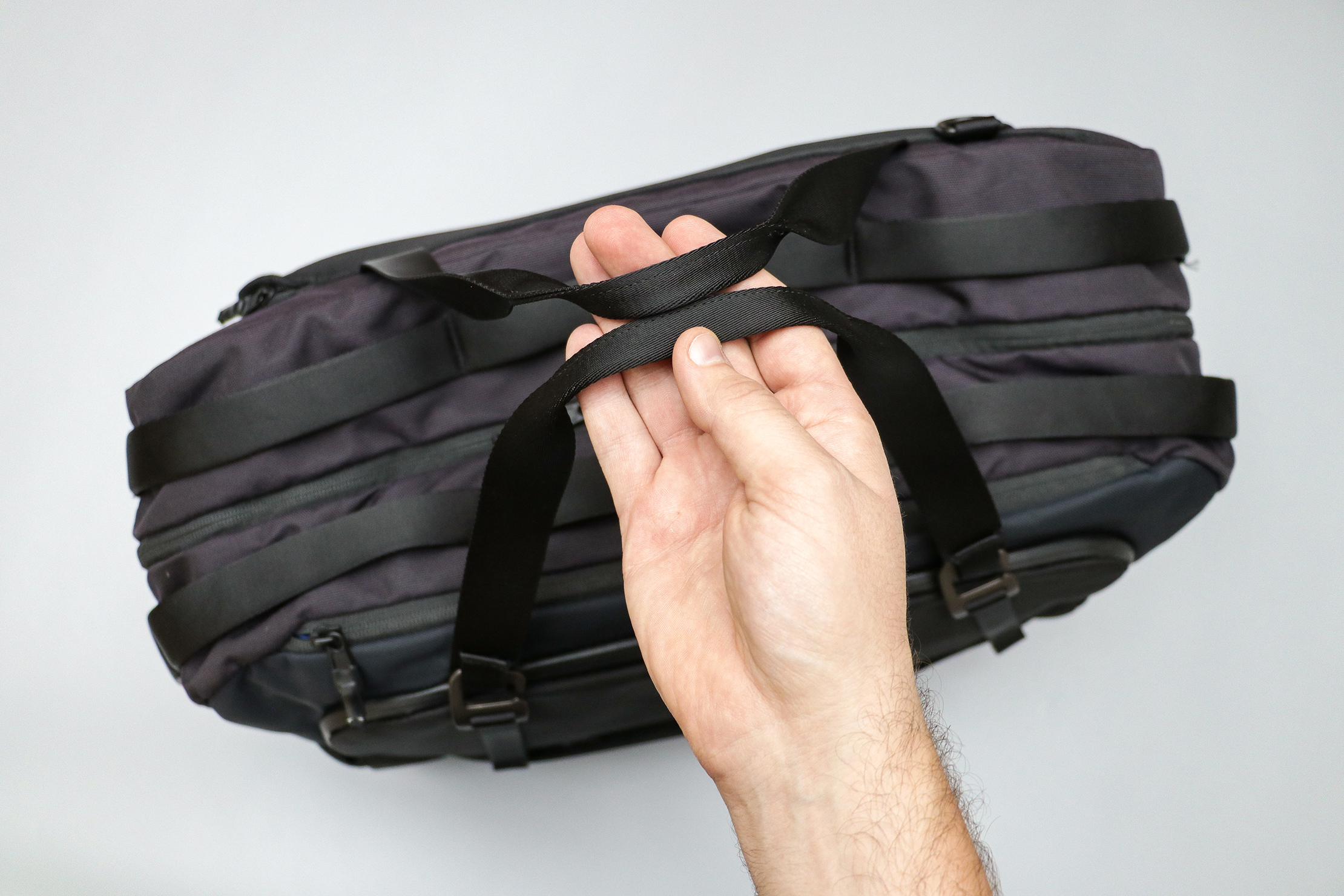 Starting with briefcase mode. The two top handles are alright. They're thin and lack anything fancy—like padding or a snap to keep them together. But the duffle has a thin profile, so the handles sit close to each other, making them comfortable to grab and hold. As long as you're carrying this thing in briefcase mode for only short distances and times, the handles should treat you well enough. Although, it will get uncomfortable to hold for long stretches.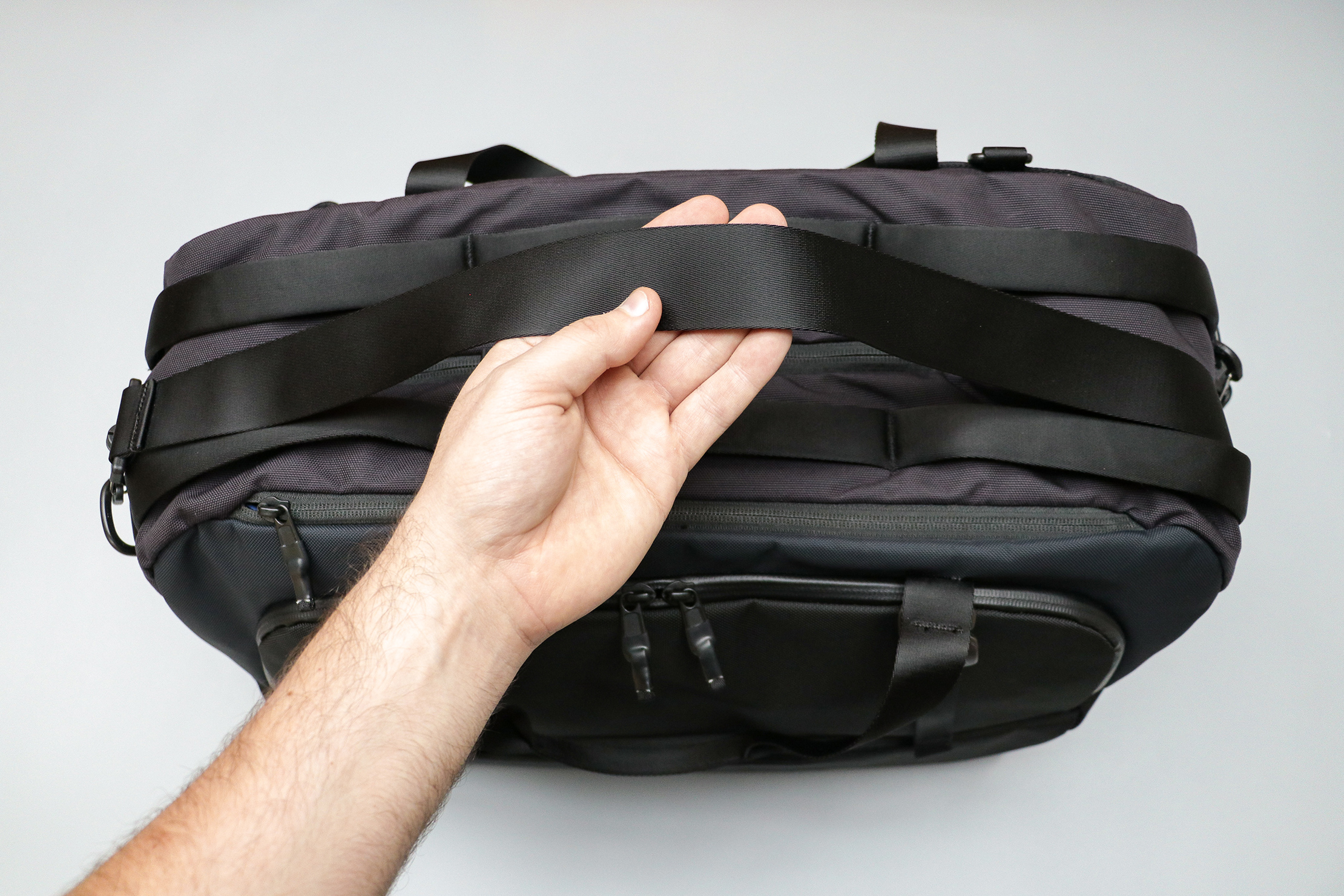 The detachable crossbody strap is similarly simple—basically a thin, nylon strap. You can toss it over one shoulder or across your chest. It frustrates us that it doesn't have any padding whatsoever. With a capacity of 34L, this duffle can get heavy, and the crossbody strap can dig into your skin. Yeah, not good. We do like that it's detachable, though.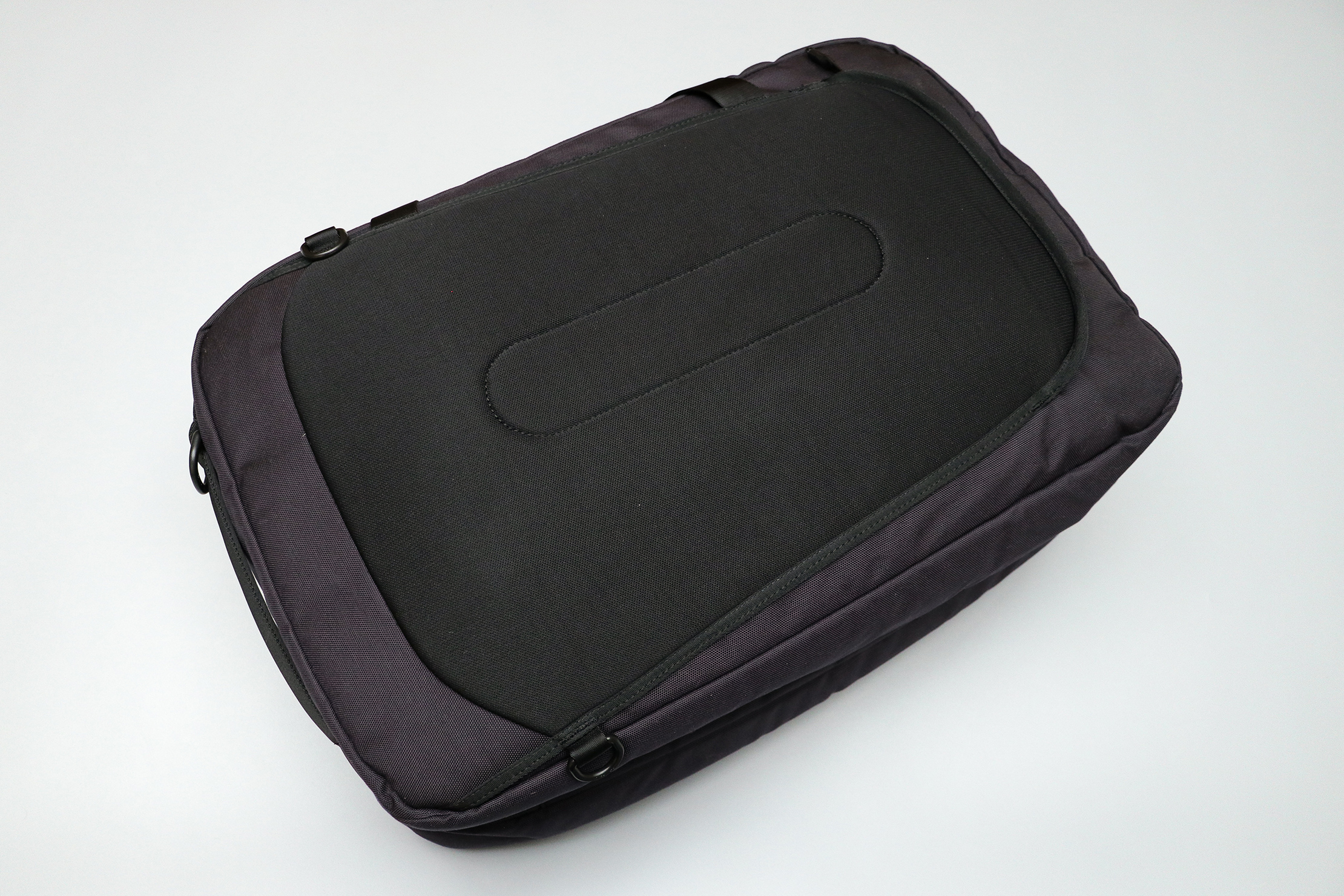 And that brings us to the backpack straps. They're hidden behind the back panel, enclosed by a zipper. To use them, you simply tug the straps out of the back panel and clip them in place. We like the way this system has been designed. The straps stay out of your way when not in-use, but are easy to pull out when you need them.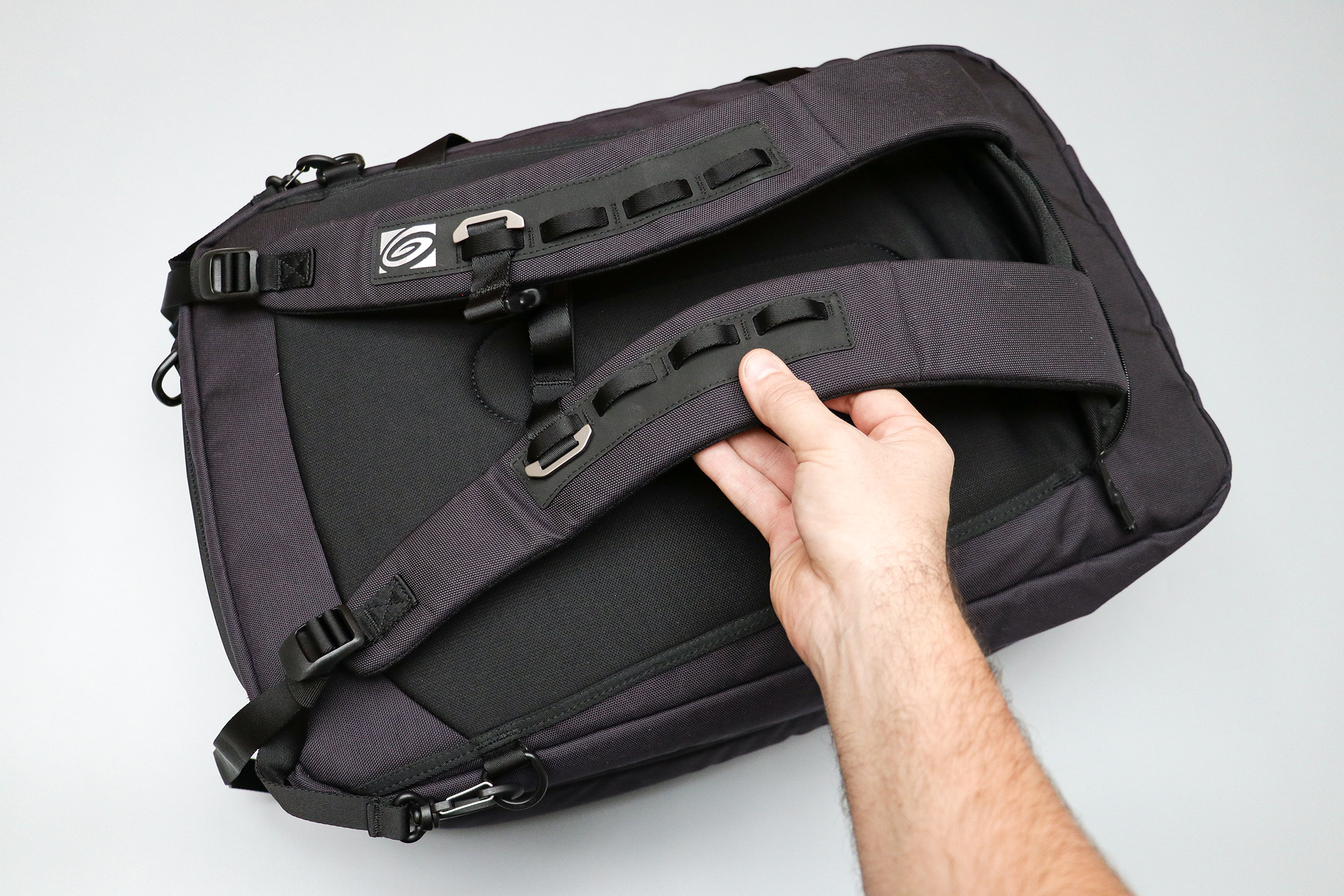 And the straps themselves are pretty good—they're slightly contoured and padded. There's also an adjustable sternum strap. The sternum strap does its job well-enough, but the way it's adjustable makes us concerned. We've tested packs with a similar design and the sternum strap has slipped out. So far we've managed not to lose this particular sternum strap, but it's only a matter of time (and bad luck).
You'll also find numerous grab handles on the sides of the Never Check Backpack Duffel—perfect for maneuvering the bag or quickly grabbing it.
Two of these grab handles sit on either side of the main compartment, which is a clever design. When you've unzipped the main compartment, you can hold the handles and carry the duffle almost like a tray. While it may seem like a little thing, it's super handy when you're in your hotel and needing to move your bag around.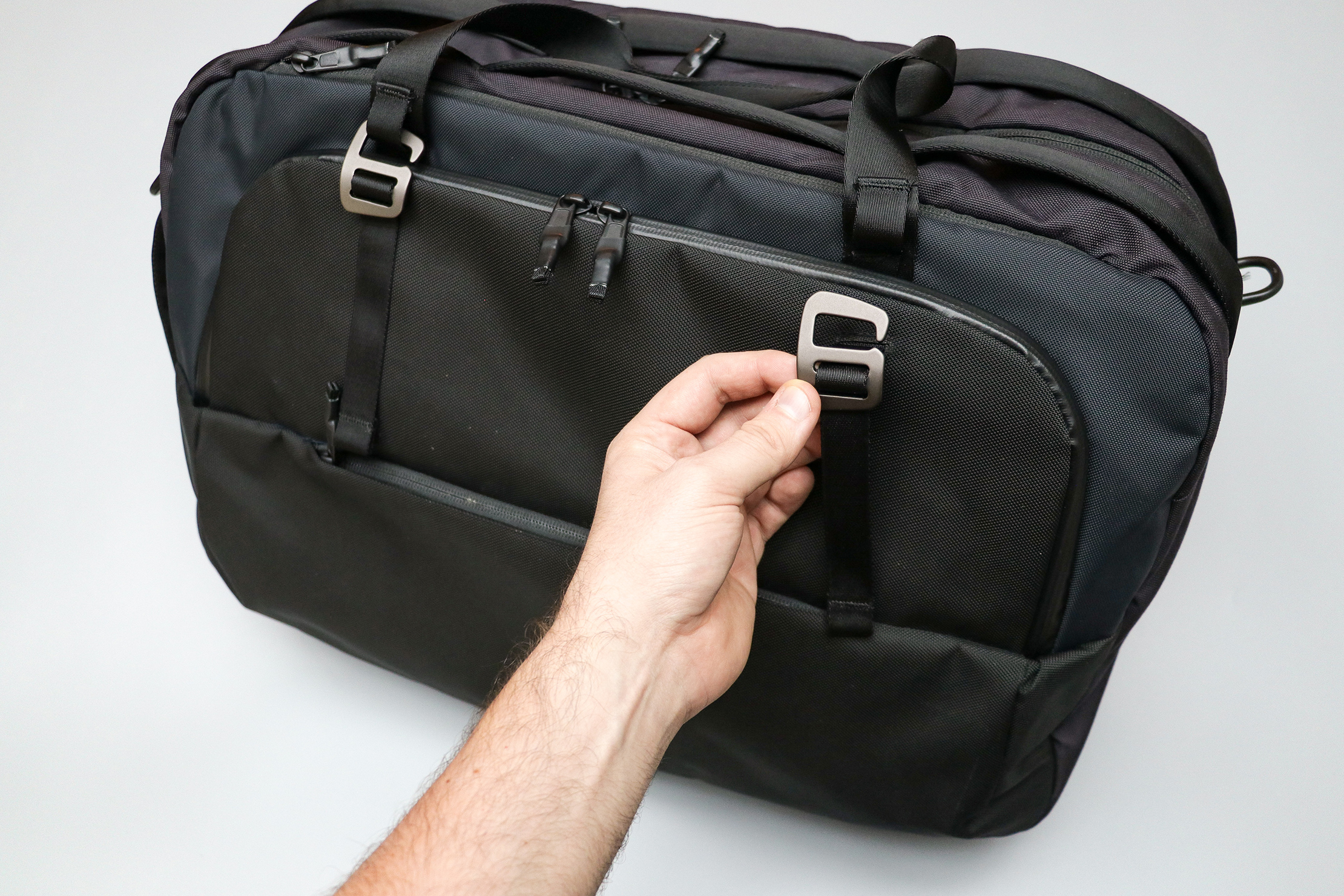 Finishing off the external components, you'll find two G-hook buckles, which cover the zipper of the tech compartment. To get inside the tech compartment, you need to undo these clips, which is as annoying as it sounds. To be frank, we're not sure why they're there. They're not compression straps. They're not great at carrying gear externally. Maybe they're there as an extra layer of defense against pickpockets? Or for style? To help support the top handle? Either way, they're frustrating, and accessing your stuff would be easier without them.
Inside the Duffle
When it comes to bags, some people like robust internal organization while others like absolutely nothing. If you're partial to the former then you will love this duffle—there's a lot going on.
The pockets are all oriented with the duffle carry in-mind. That means the access points run along the sides when you're carrying this thing in backpack mode. It looks a little silly, but more than that, it can be a little precarious. If you accidentally leave any of the zippers open, your stuff may fall out.
With that said, let's zip this sucker open.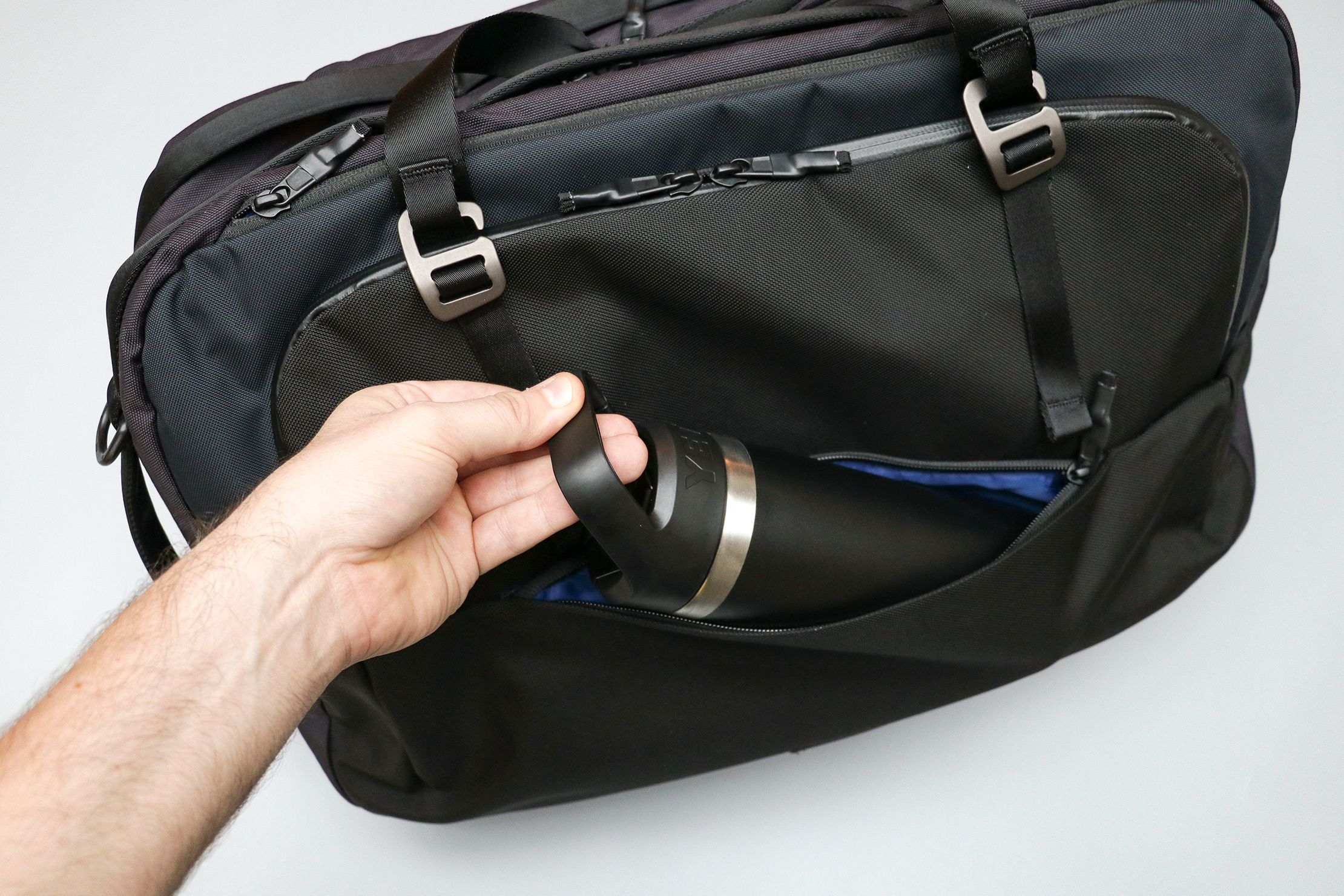 The small, front pocket—which has no further organization inside of it—is a great place to stash those things you want to be able to grab quickly. We've also had luck using it as a water bottle pocket (with the water bottle laying on its side).
We're digging the bright blue interior you'll find in this compartment and the rest of them. It's a fun pop of color and makes seeing your stuff a whole lot easier.
Behind that is the tech compartment (the compartment protected by those annoying G-Hook buckles)—basically for all of your tech that's not your laptop. A laptop could fit in this compartment, but there's a separate laptop compartment that's better suited to protect your expensive machine. This compartment is shielded by a YKK AquaGuard zipper, which repels water and moisture. While it's not waterproof, it's highly water-resistant, which is a nice touch for a pocket that's built to hold your expensive gear.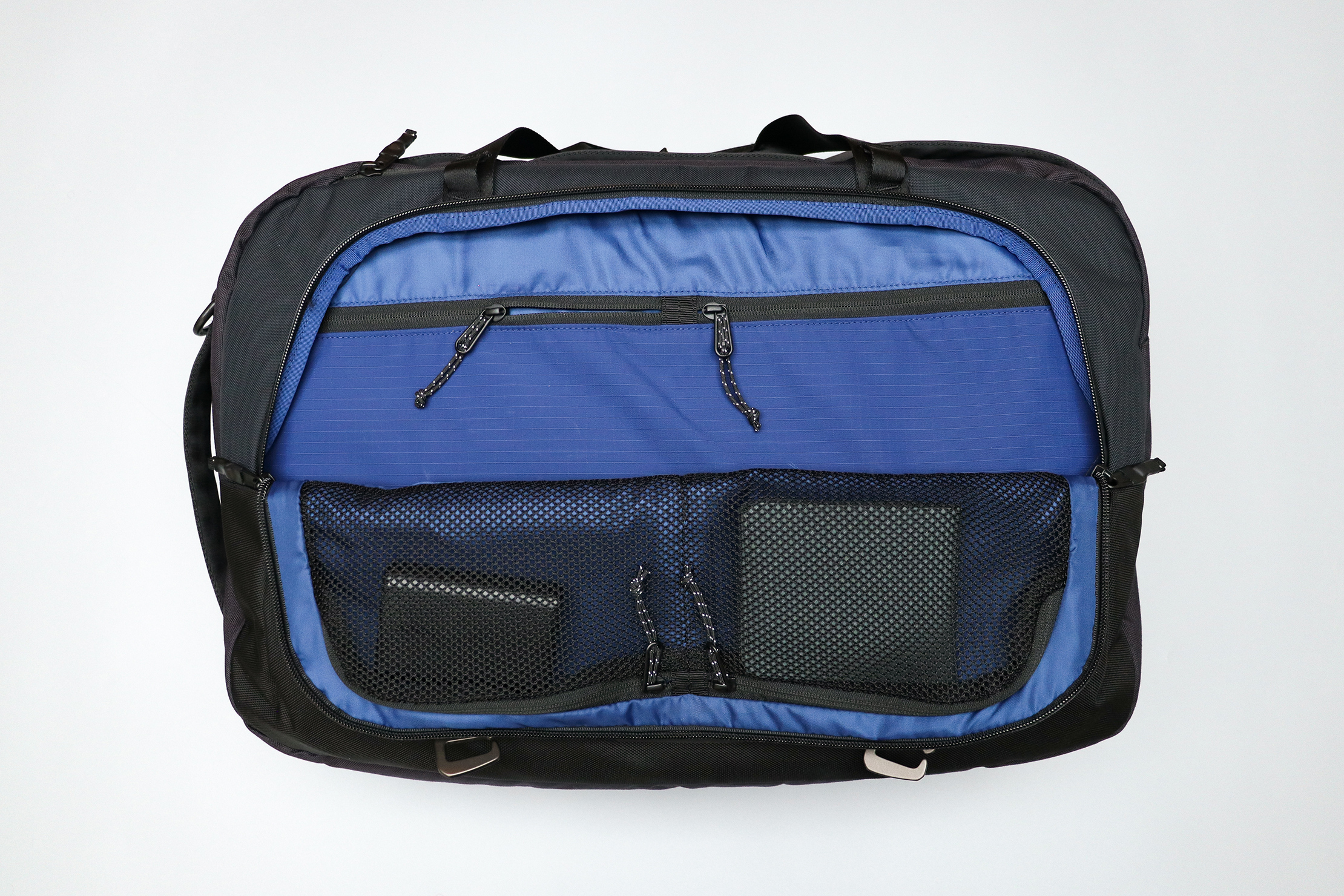 Inside, there are two zippered divider pockets against the back that we've used to store chargers and headphones. Opposite that are two mesh zippered mesh pockets that we've used for a small lock and wallet. The compartment itself has a load of space. You can throw a book, Kindle, Nintendo Switch, tablet, MacBook charger, or other bulky items here.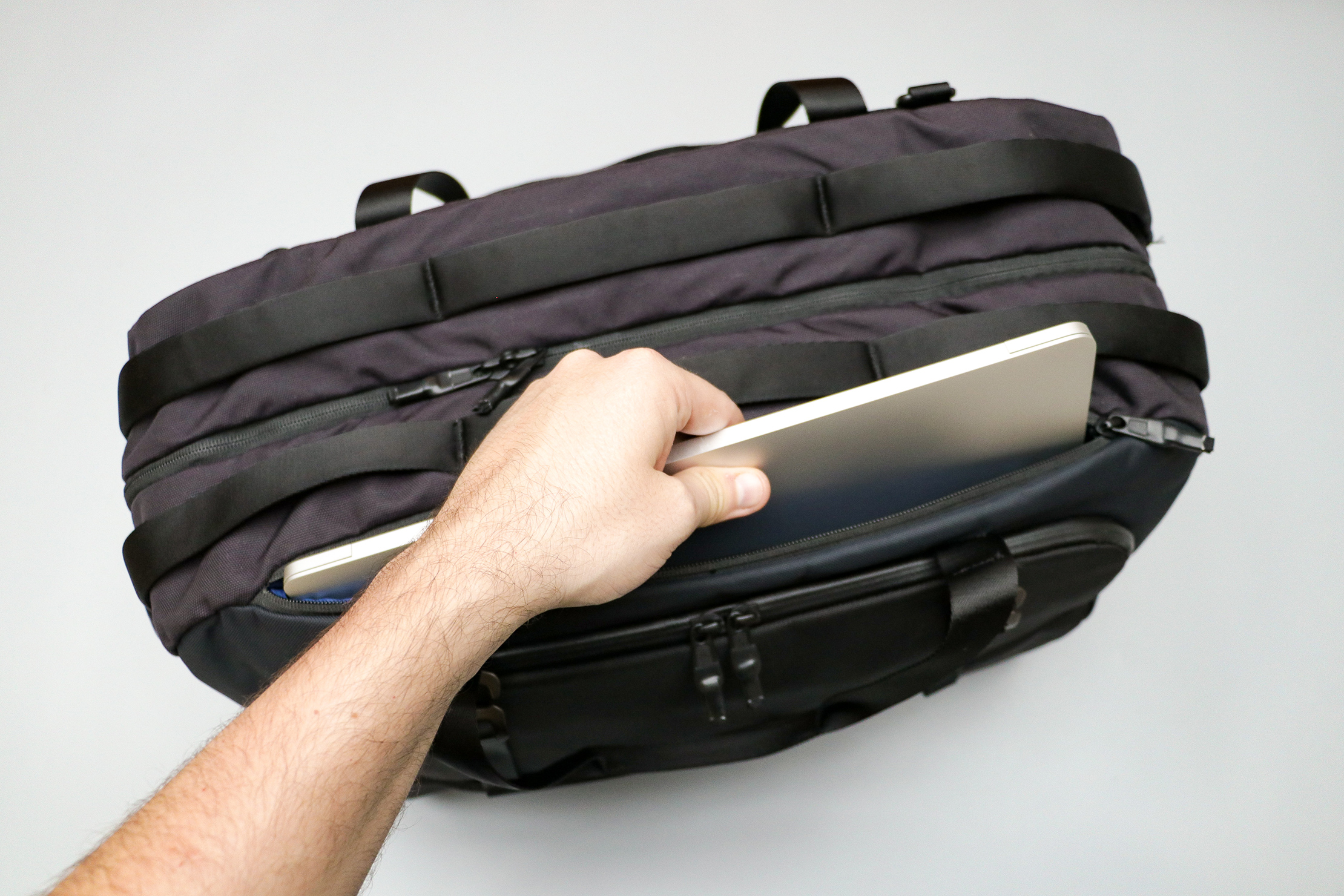 The laptop compartment sits behind the tech compartment, which is a nice touch since it'll be protected from drops on every side. And the compartment itself is nicely padded. But it's small. A 15'' laptop with a hardy case won't fit inside. A chunkier 15'' laptop even without a case also won't fit. So basically, unless you have a 13" laptop or a thinner 15" laptop without a case you won't be able to use this compartment. You could toss a bulkier laptop in the tech compartment, but that's not definitely not ideal. We think an extra inch on the opening would fix all of this.
We would've liked this laptop to be protected with an AquaGuard zipper—like the tech compartment is—but for some reason it's not. We're a little confused as to why the folks at Timbuk2 thought to protect the tech compartment, but not the laptop compartment. If anything, we would've preferred the other way around.
Alright, we're nearing the end, folks. Still with us? Good because it's time to talk about the main compartment.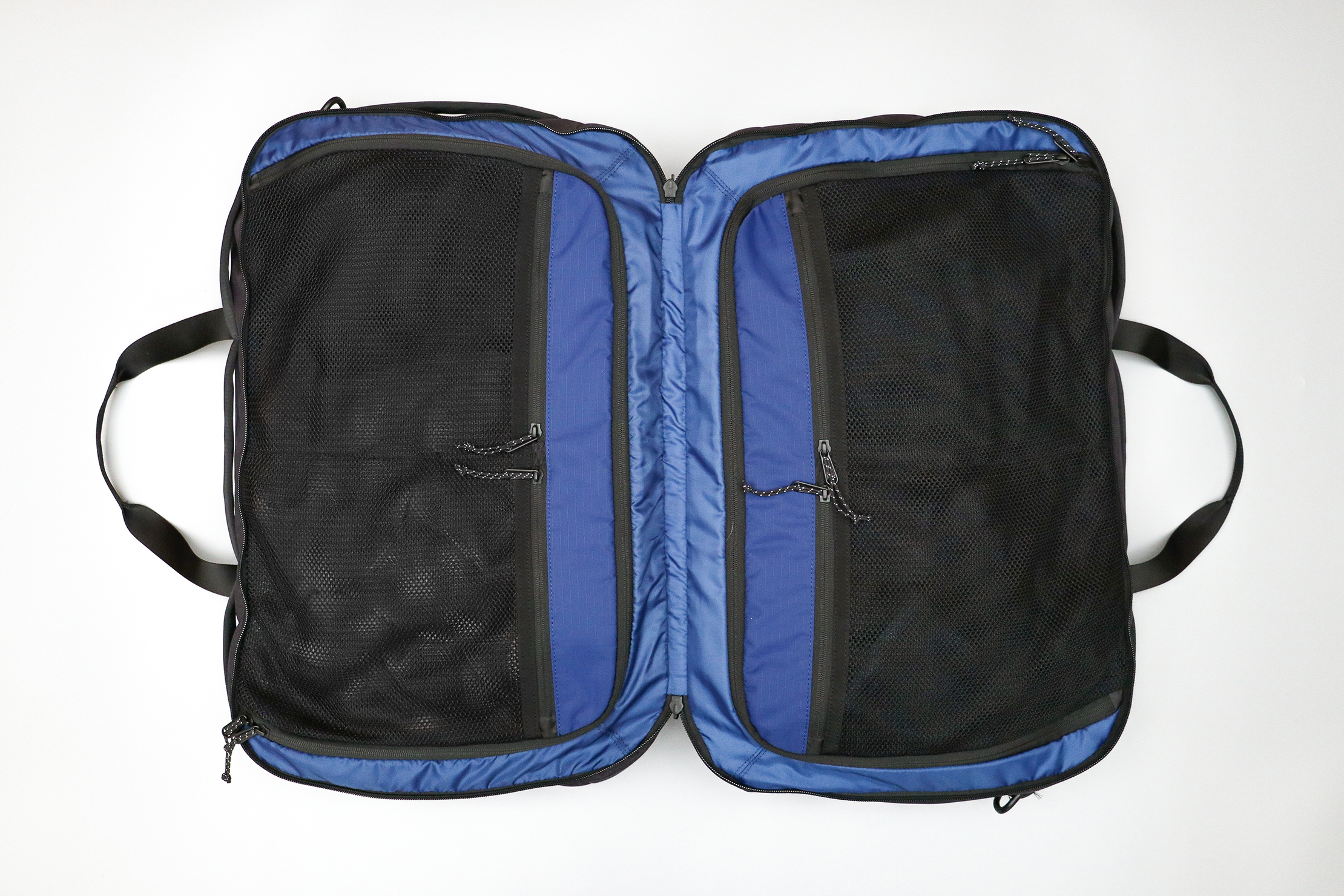 The compartment opens all the way around, clamshell-style. Being able to open this duffle up like a suitcase is a major plus. The design means you can organize your bag—and shove a bunch of stuff in there—easily and quickly.
Once open, you'll see that the two halves of the compartment are both secured with a zippered mesh divider. Each of the dividers have two mesh pockets on them. During testing, these pockets didn't get used much. The way they're designed means the pockets can't really hold anything of substance. A flat, thin, short notebook may work or a couple of folded up papers.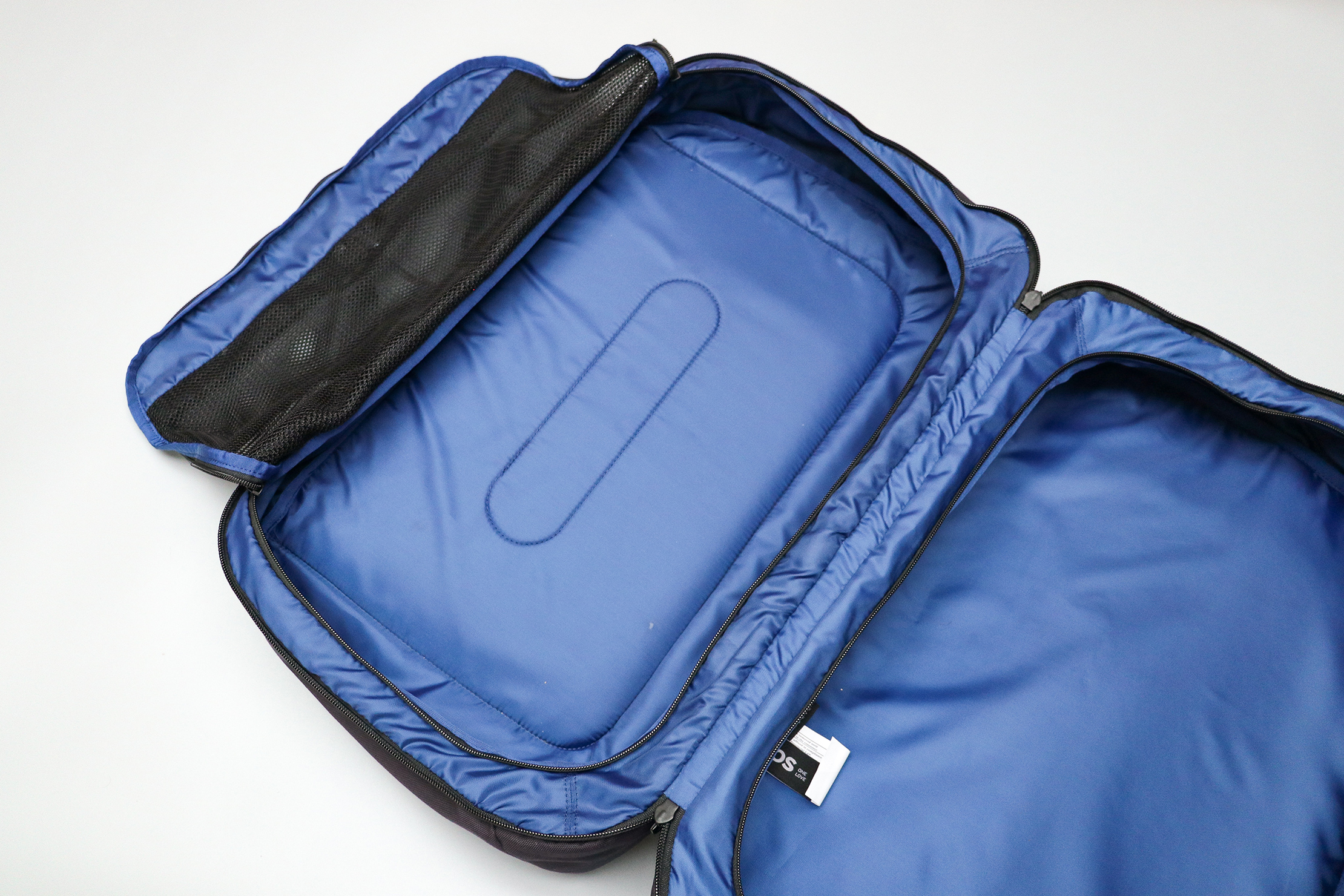 Unzip the dividers and you'll be greeted with cavernous buckets to throw the rest of your stuff. We suggest packing cubes to make the packing process stress free.
While we love a lot about the main compartment, there's one seemingly small thing that's incredibly frustrating in-practice. The zippers are the wrong way around, sitting on the bottom of the bag. To access your stuff inside the dividers, you need to fully open up the compartment. You can't partially unzip the compartment, grab something, and be done.
It's such a small thing—something the folks at Timbuk2 could've easily changed—which makes it almost more irksome. This compartment is so close to being great and yet so far.
Durability & Testing
Even though so many small details on the duffle don't seem to have been thought out, we've enjoyed testing the Timbuk2 Never Check Backpack Duffel over the past month in the U.S., and the U.K.
At 34L, this pack would work for one-bag travel if you're clever about packing and don't need much stuff. But we would suggest taking a packable daypack with you since this duffle doesn't compress to any smaller size. Plus, the carry would get uncomfortable on long days out and about.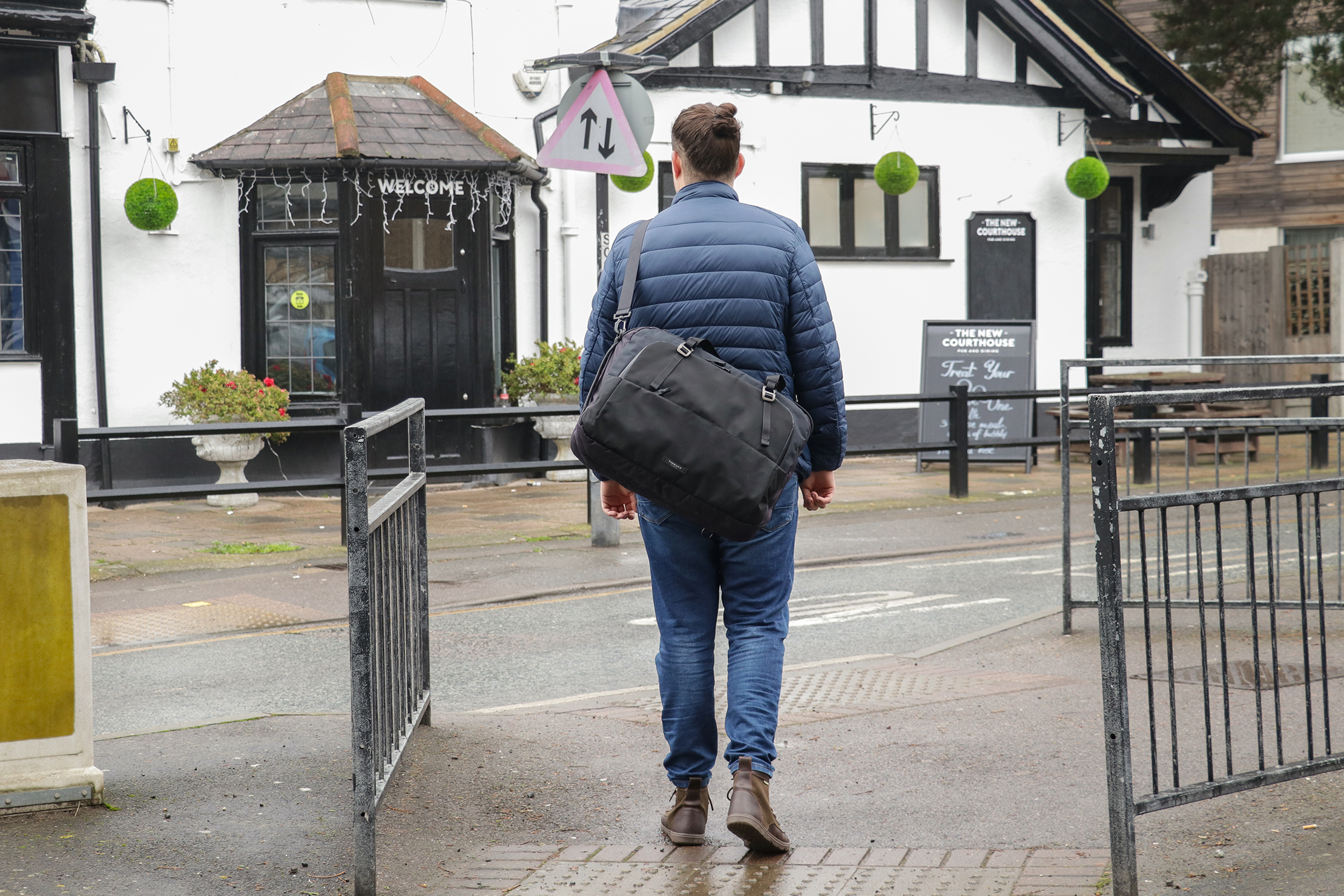 But the pack would be so much better if the folks at Timbuk2 took more time to think about how this bag would function in the real world. Details like orienting the interior zippers on the main compartment differently, adding padding to the handles and crossbody strap, protecting the laptop compartment with an AquaGuard zipper (and making it a touch bigger), and getting rid of the G-hook buckles could add up to a much better experience overall.
From a durability perspective, things are looking okay. We have noticed a lot of loose threads on the interior, which is simultaneously not a huge deal and not a good sign. We'll keep you updated in the Usage Timeline down below if things get worse.
Usage Timeline
Initial Usage
Condition: Excellent
Opens up completely clamshell for easy loading and unloading
Laptop compartment is well padded and is positioned in the center of the bag so your laptop is protected from drops on every side
Backpack back panel is well padded and doubles as storage for the backpack straps
2 Weeks of Use
Condition: Excellent
Really liking the organization inside of the tech compartment, but the G-hook buckles make getting inside the compartment slow.
1 Month of Use
Condition: Good
Noticing some lint and cat hair collecting on the purple exterior fabric. More worrisome, however, are the loose threads we've found on the stitching inside the main compartment.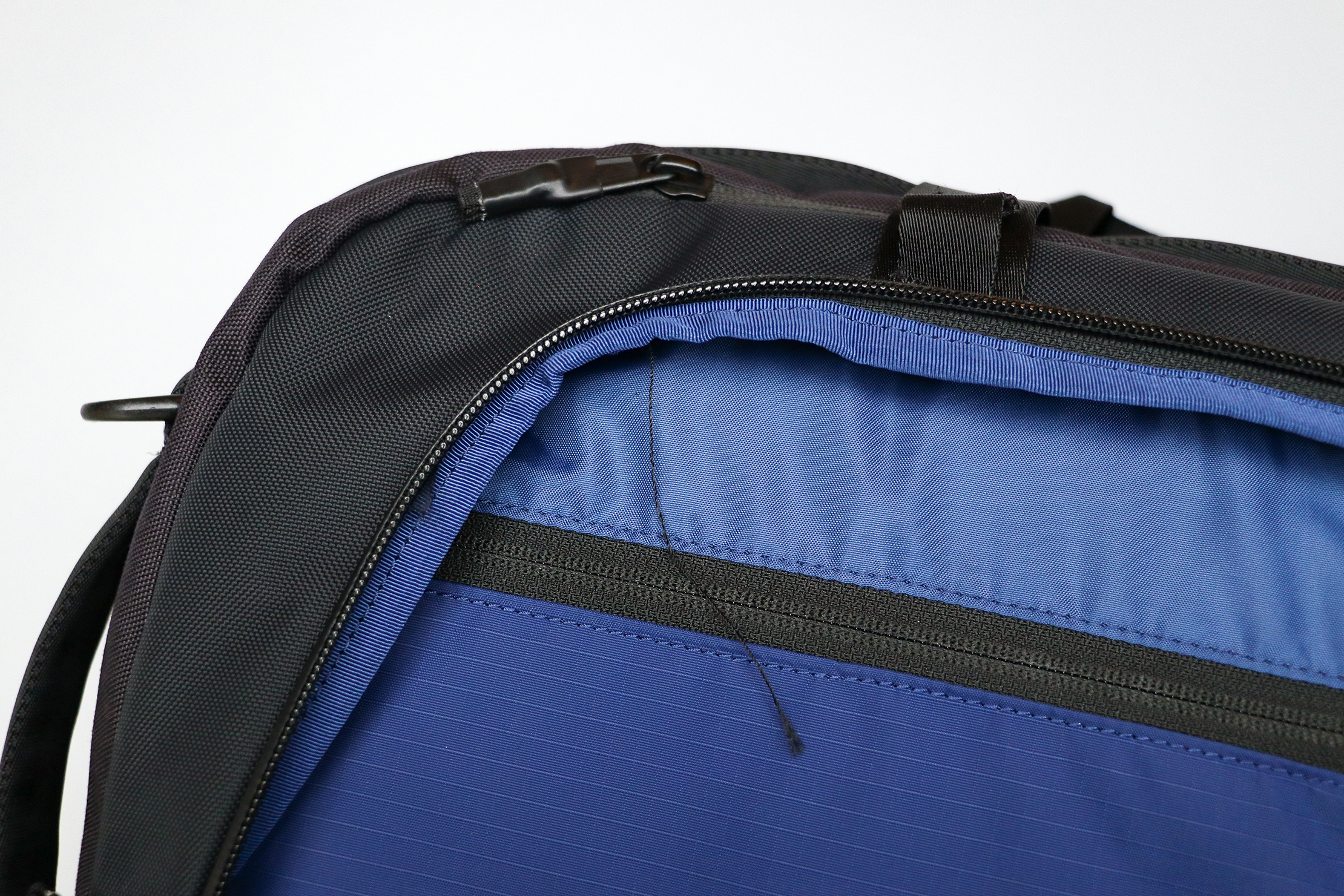 Access the Pro Community Discussion
Get your questions about the Timbuk2 Never Check Backpack Duffel answered from our team and the Pro Community right here on the page. Plus, join discussions with other members about gear, guides, and more.
Other Bags & Luggage Reviews